What sight combines a red dot and old school irons?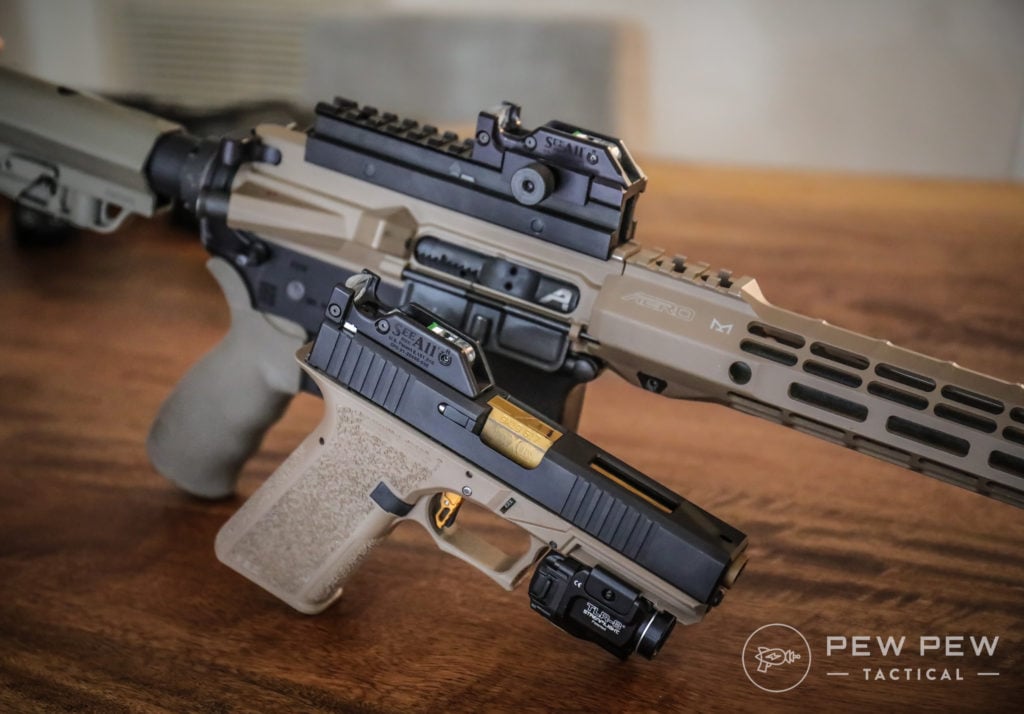 The answer is…SeeAll Open Sights ($95-$195).
I heard about these a few years ago but their initial reviews weren't that great due to ugly lettering in the sight picture and a weird set screw mount.
They've fixed all that AND added tritium for some glow-in-the-dark goodness.  Let's see if that's enough for redemption.
Most Different
95
at Amazon
Prices accurate at time of writing
Prices accurate at time of writing
How Does it Work?
The SeeAll is electronic free but still offers nearly parallax free targeting like in red dots.  That means when you move your head around…the reticle stays on the target.
It does this with a magnifying lens in the front…and a smaller green/tritium section more forward that holds the reticle.  In my case…a nice triangle that makes it very easy to figure out the point of impact.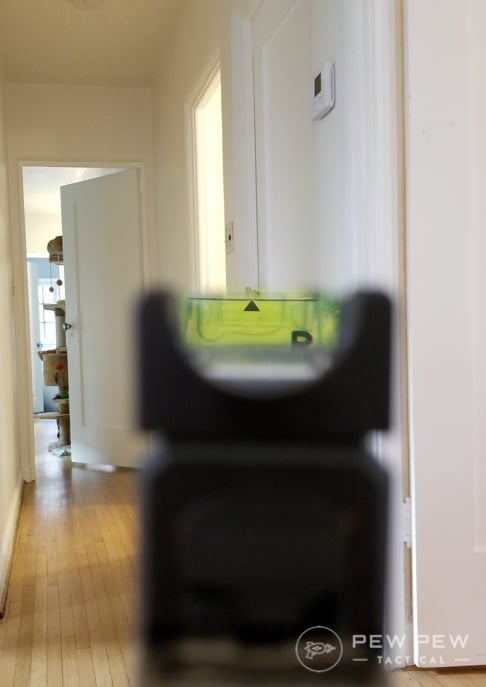 Original versions had some lettering visible in this view so you can see how that would be distracting.  There's still a "R" to the bottom right but it's barely visible when you're on target.
How's It Shoot?
SeeAll sent me two versions of their MK2 tritium models for testing.
Pistol Version
One for pistols which attaches via a dovetail insert.  Make sure you have a pistol sight pusher since it took a little while to go on my Glock slide.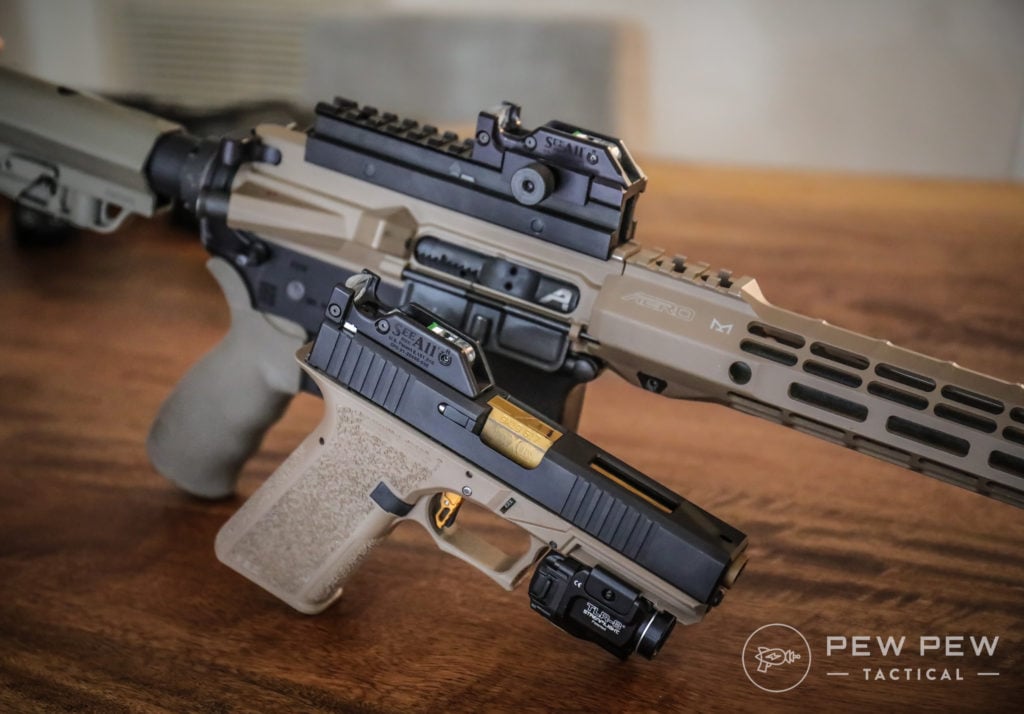 I shot with the pistol version at the range a few times and also once for low-light competition.  I figured that way the tritium could help out.
Here's how the tritium insert looks in a dark closet.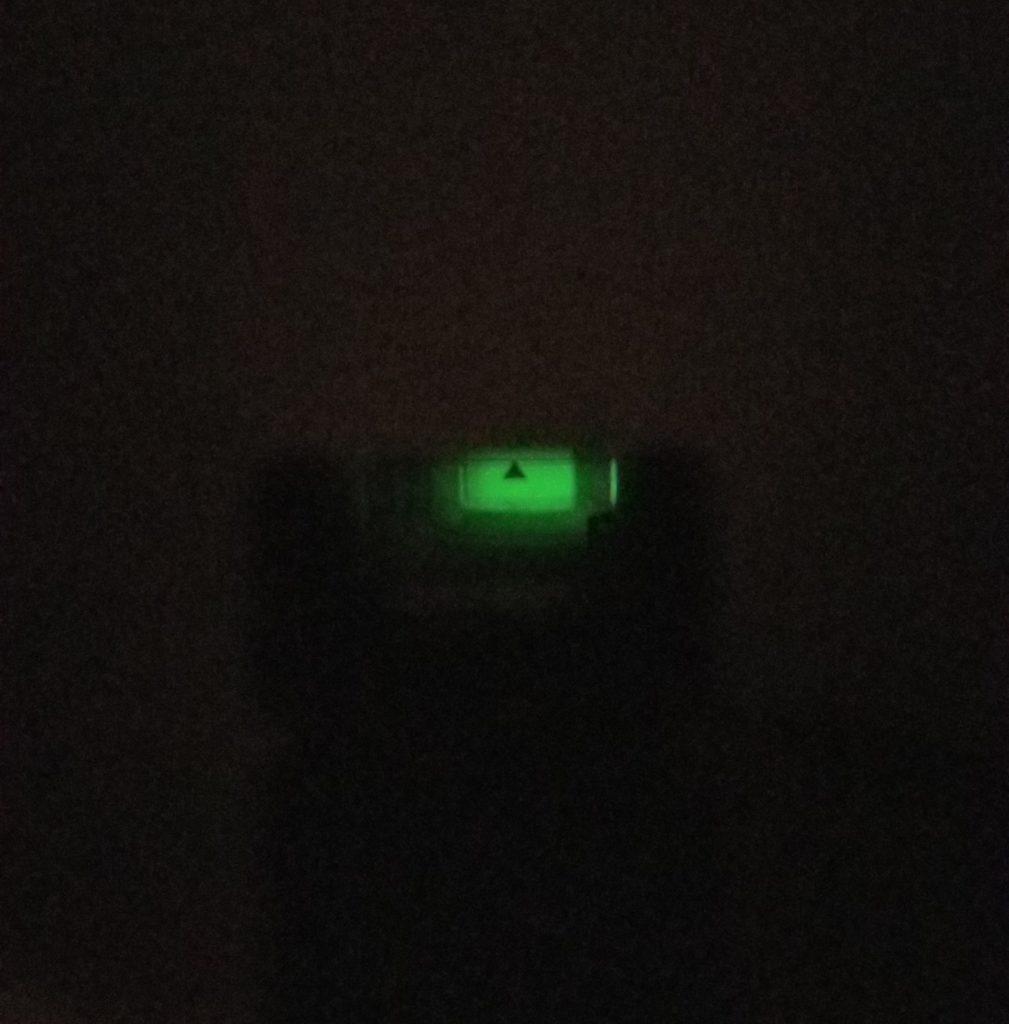 And it with me in action.
Since I was running a TLR-8 flashlight I depended on that more instead of the tritium (see the Best Pistol Flashlights article for more).  But it's as bright as my normal tritium night sights.
I didn't practice TOO much with the SeeAll on my pistol and I found it took more time to find the triangle.
My best explanation is that when you have a "U" or two-dot rear sight plus the front sight post, you can see how to adjust your handgun to line everything up.
With only the triangle to look for, especially in low-light, I found it more difficult than regular night sights to acquire the sight picture.
Therefore, I suggest pistol use only if you really train with the SeeAll, or if speed isn't that much of a concern (the triangle system does seem plenty accurate).  I can also see it great for beginners that are having some trouble with focusing on the front sight in a traditional rear/front system.
However…it's different with a rifle.
Rifle Version
The rifle version of the SeeAll comes with a good large knob Picatinny mount.  No more set screw nonsense.
Note that you'll need a riser for the AR for a comfortable shooting position.
I used the UTG .5″ Riser ($14) but have also tried the .83″ Super Slim Mount ($12) which will save you a few ounces since you don't need all that rail space.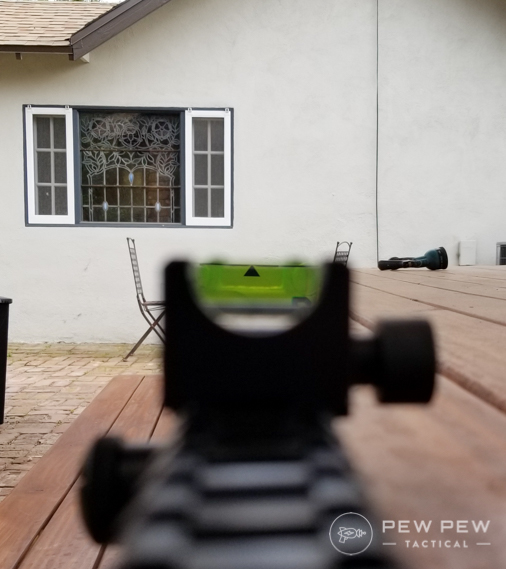 On a rifle, I can get pretty consistent with my cheekweld and buttstock position.  That made it a lot easier to acquire the triangle target.
Hitting 100-yard steel plates became a breeze.
This is where the SeeAll really shined.  Now you get something that doesn't need batteries…but still offers nearly parallax free shooting.
Here's a video from SeeAll themselves on what it looks like when you're actually shooting.
However, for both versions of the SeeAll…I wished it didn't obscure the bottom part of the target as much.  For something called the SeeAll…it needs to do better in that department.
By the Numbers
Function: 4/5
Pistol requires some more extensive training to acquire the target at my normal speed…but was easy on a rifle.  The sight also cuts off too much of the target…especially when you're comparing it with red dots.
Reliability: 5/5
I didn't torture test it but it seems pretty robust in a machined metal casing and the lens is really beefy and recessed.  Plus tritium has its great half-life of 12 years.
Accuracy: 5/5
The triangle target is more precise than standard pistol irons.  And it was more than enough to hit plates at 25 yards.
Looks: 4/5
Most people have never seen one…so be prepared to get asked what it is.  Fit and finish were great.  But I do wish that it was a little shorter in height profile…especially when on a pistol.
Bang for the Buck: 3.5/5
The tritium version (Gen 2) sells for $195 on Amazon while the regular (Gen 1) is $94.  There's a lifetime warranty…AND a 30 days no-questions return policy.
Overall Rating: 4/5
Conclusion
If you're looking at a non-powered optic that gives you nearly parallax-free viewing…AND has tritium for low-light shooting.  You should give the SeeAll a try.
Most Different
95
at Amazon
Prices accurate at time of writing
Prices accurate at time of writing
If you're looking for more traditional…take a look at our Best Budget Red Dots and Best Holographic Sights articles.