So, you want to learn about guns….
The most important thing is getting your hands on a gun to practice.
Collecting guns is like a lot of hobbies where you can get folks who are waaaaay too into it and can give you the specs from every kind of gun to ever hit the market…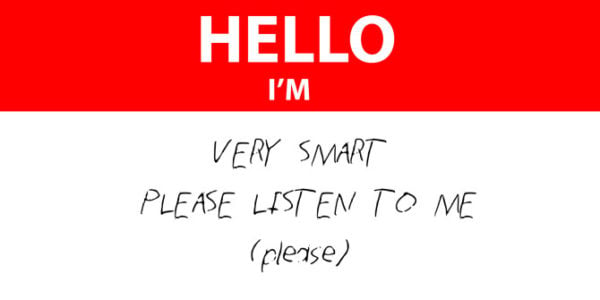 These kind of people can make it hard for the newbies to get into gun collecting and shooting.  We think that attitude is a load of BS.
Everyone has to start somewhere, and here you are… starting.
We're going to go over some of the best guns out there for anyone looking to start a collection, or just see if this gun thing is for them.  All of these guns are excellent choices for anyone's first gun…or fiftieth and will serve you well for their given purpose.
Best Guns For New Shooters
Best Shotguns 
A good place to start your collection is with a shotgun.  A shotgun is arguably the most versatile and useful of all the guns you can buy.  You can use it for everything from home defense to hunting.  Even when you're hunting there is a wide variety of game you can hunt with a single 12 Gauge shotgun.
Some of the game you can hunt using a 12 gauge are:
Deer

Duck

Turkey

Quail

Rabbits

Squirrels

Wild Hogs
Some of the common shotguns allow you to swap the barrel with a small amount of effort.  Swapping barrels and using different ammo lets you have a single gun for multiple types of game.
Something else you look for in a shotgun is a gun with interchangeable choke tubes.  These change the shot pattern.  You can play around with different choke tubes and different types of ammo to get the pattern and impact which are looking for.
This makes competition, from a local turkey shoot to skeet and trap shooting something anyone could do… and is a great stepping off point to things like USPSA and 3Gun.
Runner-Up Best Pump Shotgun
400
at Brownells
Prices accurate at time of writing
Prices accurate at time of writing
The Remington 870 Express is one of the most common shotguns you'll find.  Because of popularity, you can buy it at almost every sporting goods store that sells guns.
 You can also buy all kinds of accessories like extra barrels, sights, magazine extension tubes, stocks, and just about anything else you can think of.  This makes it a great first choice because it can grow and change as your tastes and needs grow and change. 
446
at Kygunco
Prices accurate at time of writing
Prices accurate at time of writing
The Mossberg 500 is a direct competitor of the Remington 870.  One of the main differences is the Mossberg has a polymer stock where the base 870 is typically wood, but look hard enough and you can get either one with whatever stock you want, and changing them out is pretty straightforward.
Gun guy tip: Talking to some Sheriffs here in Wisconsin, they switched to the Remington 870s because they handle the cold weather and moisture better than other shotguns they used.
Best Rifles 
Rifles are a little bit different.  You're more limited with the ammunition and game you can hunt.  What I mean is, if you have a 22 rifle, you're not going to be hunting deer.  If you have a .308 rifle, you're not going to be hunting squirrels.
Because of this, you'll want to have more than one rifle depending on what you're looking to hunt.  If you aren't sure, check out our rifle caliber guide.  You can also check out our best beginner hunting rifle recommendations if that's what you're looking to get into.
If you're looking for something specifically to take to the range, give our best precision rifles guide a look.
For budget options, lets start with…
289
at Kygunco
Prices accurate at time of writing
Prices accurate at time of writing
The Ruger 10/22 is one of the best all-around 22 rifles on the market, so you'll see it everywhere.  There are lots of versions, so you can find one to fit your specific needs.
For example, they have a competition version with a sweet looking barrel, a takedown version (this separates into two pieces and fits in a bag for easy carrying), a carbine, and more.
Also, one of the nicest things about the 10/22 is the number of accessories and awesome mods available for it.
Most of the Ruger 10/22 rifles are in the $250-$400 range.  It really just depends on how tacti-cool you want to be.  For the most part, all of them are the same rifle; barrel, trigger, stock… All similar.
300
at Brownells
Prices accurate at time of writing
Prices accurate at time of writing
The Remington 783  rifle is based on one of the most popular rifles Remington makes; the Remington 700 ($700).  Remington rifles are known for their quality bolt action.  A bolt action rifle is about as simple as it gets when it comes to rifles and is great for learning how to shoot a rifle.
The main difference between the Remington 783 and the 700 series, are some of the parts are downgraded a bit.  This doesn't compromise the function of the gun, but you do lose a few features.  Fortunately, the features aren't something you'll miss if you're looking for a starting rifle…and the savings more than make up for it.
 It comes in a wide variety of calibers so you can get the right one for the game that you're hunting, and it can reliably punch paper or hit any target that's normally reachable with the round you've chosen…provided you've chosen the right scope.
Another nice thing is because it's more cost-effective than some rifles, you can buy multiples.  Instead of trying to figure out which caliber rifle will work best in multiple scenarios, by two different rifles with two different calibers you can hunt deer with one, and smaller game with another.
Best AR-15s
An AR-15 style rifle is another good choice.  As you might already know, they are extremely easy to accessorize to your liking.  You can build one by buying the parts separately and assembling it yourself, or you can buy one that's premade.
Either way, you can add or replace parts you don't like at any time.
With the AR rifle platform, it's really easy to get into the $1,000 to $3,000 range when you're building a gun.  Below are two choices that are a little bit more cost-effective.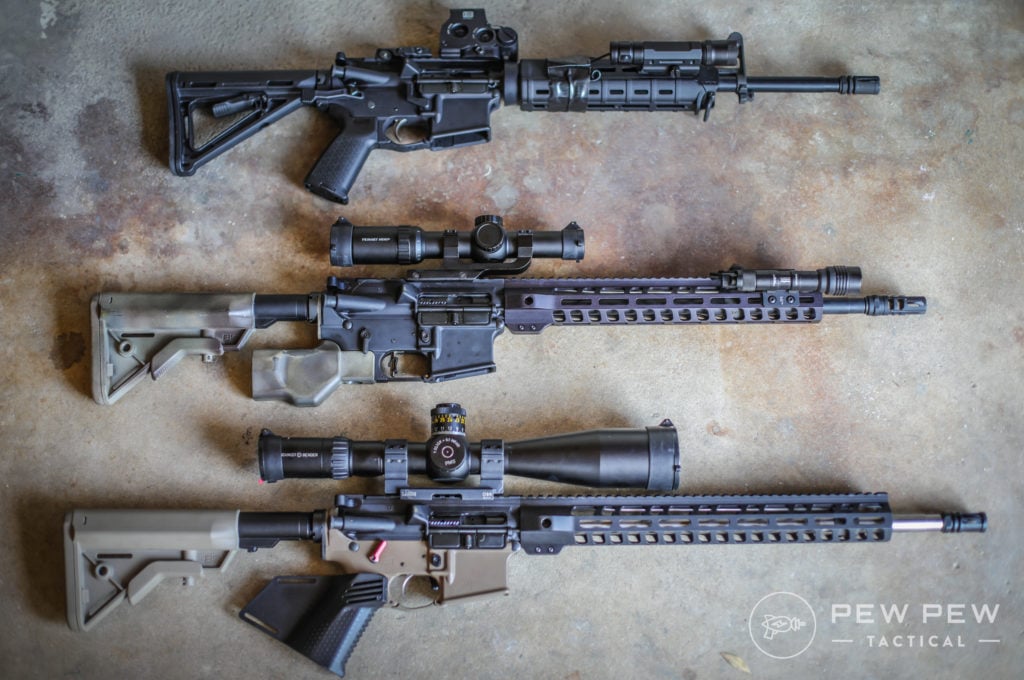 There are others available, but these are common, reliable, respectable first choices for an AR platform rifle.
The MSRP for most of these is in the $700-$800 range.  However, keep in mind that most of these can be found for under $700 if you take the time to do some research or wait for sale.
When you are buying a pre-assembled AR, the rifles around $700 range will have roughly the same features, components, and specs.  Because they are all pretty similar, I'm just going to list off a couple brands for you to check out…but if you want more info, be sure to check out our extremely popular AR-15 Buyers Guide.
Most Affordable AR-15
699
at Palmetto State Armory
Prices accurate at time of writing
Prices accurate at time of writing
The M&P-15 Sport is a solid all-around rifle, and it's used by everyone from amateur shooters to law enforcement.  It offers a good solid starting point for those looking to just buy an all-in-one pre-assembled AR.  You can easily add all the bells and whistles that you want to make it as tacti-cool as you'd like it to be.
600
at Brownells
Prices accurate at time of writing
Prices accurate at time of writing
The same goes for this Ruger.  The Ruger AR556 is a great choice in the 223/556 caliber, too.  You'll have differences from the S&W, like the twist of the barrel, the sights, and other small variations.  When you are starting out, you won't notice the difference between a 1:8" righthand twist versus the 1:9.
Fortunately, differences like these are task specific.  By that I mean, when you're starting out, you will likely need a lot of practice and buy less expensive ammo for the range.  
You probably won't be bothering yourself with the fact that a 62-grain bullet works better with a different twist than a 72 grain…for now.
If you're buying the rifle for a specific purpose, then you might know which caliber, or grain, or sight you might need to have and better choose your entry level rifle.
499
at PSA
Prices accurate at time of writing
Prices accurate at time of writing
When it comes to budget AR-15s, PSA is the king of them all. Rarely will you find any new AR-15 priced lower than a PSA. Granted, these rifles are a little rough around the edges sometimes – but in our testing and personal use, they have always been reliable.
PSA also makes a large line of complete uppers and complete rifles in a range of calibers including 6.5 Creedmoor, .308 Win, 6.8 SPC, 9mm, and several others.
We've hands-on reviewed 3 of their AR-15s, their AR-10 in .308, their AR-15 upper in .224 Valkyrie, and their 9mm PX9 PCC. All of them have been excellent!
Best Handguns
Picking your first handgun is a challenge, whether you're a new shooter or you've just only owned long guns before.  I'd recommend shooting several different brands and sizes before you buy, if you can.  Some feel better in your hand than others. Some sights are easier to use.  Many gun ranges rent guns so you can try a few out before you commit to one.
Gun guy tip: Don't use the brand Hi-point in a conversation unless it's the butt of a joke.
Most Dependable
559
at Palmetto State Armory
Prices accurate at time of writing
Prices accurate at time of writing
The Glock 19 is an extremely common gun to own.  It's a compact design so it fits in the average person's hand nicely.  It's also small enough to use as a conceal carry weapon.  The majority of Glocks are double stack magazines.
While the Glock will hold more ammo than many CCW guns, they are thicker and heavier than other similarly sized single stack competitors.
If you want something a little smaller, the Glock 26 is the subcompact 9mm offering from Glock.
What's your take on the Glock 19 for new shooters?
Great Value (Sub-Compact)
449
at Palmetto State Armory
Prices accurate at time of writing
Prices accurate at time of writing
The Smith & Wesson compact and subcompact handguns are a little smaller and thinner than their Glock counterparts. 
When you jump to the Smith & Wesson M&P Shield 9mm, S&W's premier subcompact pistol, you get a great gun you can easily hide on your person and carry all day. The M&P Shield 9mm measures in at 6.1" overall length and .94" wide.
One thing you will notice is the grip on the M&P Shield 9mm will accommodate more of your hand than a Glock 26 will.  More hand on the grip is a lot easier for most people to learn on.
Looking for more?  Check out our Best Beginner Handguns for Self Defense.
Conclusion
Now that you have a few choices to start your gun collection, it's time to figure out which one to get first.  Personally, I went with a Glock27 for concealed carry first, then a .22LR rifle.  I am not really a hunter, so I really don't need a higher caliber rifle.  Well, other than an AR project rifle that it.
What are you thinking your first purchase will be? Do you know a good first gun that we left out? Let us know in the comments below!
If you're on a budget…we totally understand…but don't skimp out on training.
That's why we created Gun Noob to Gun Slinger…our beginner handgun course that save you A LOT of time.  We only cover the most important stuff…and without the attitude.