---
Price categories are almost like fighting weights when it comes to handguns, and the middleweights are the scene of some fierce competition.
Coming in around that $400 mark, the Beretta APX A1 is a top contender.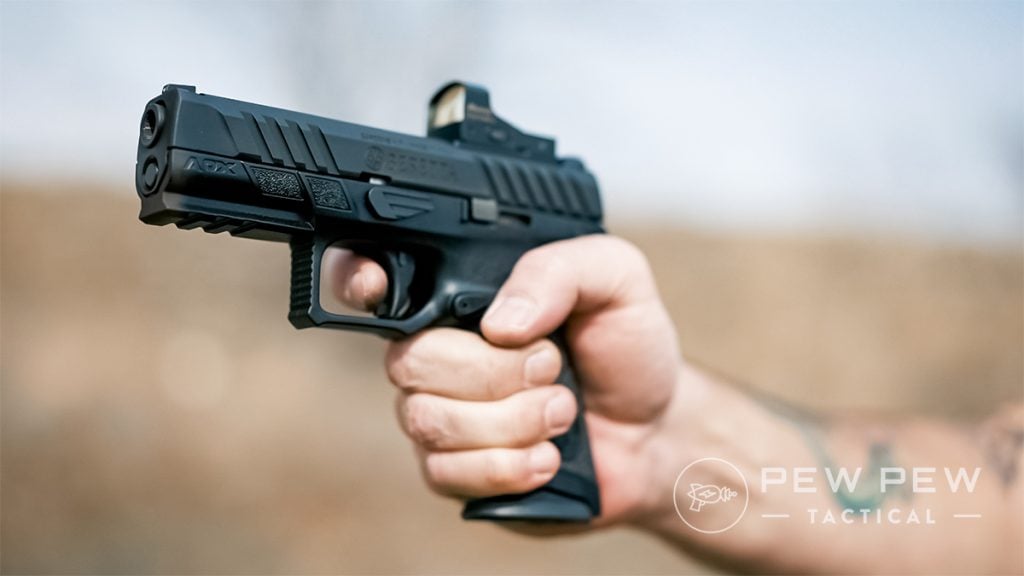 It's impressive just how many features some companies are willing to pack into firearms to rule this segment, and the APX A1 is a great example of this.
That said, we aren't a sucker for some slide serrations and mounted optics!
We took a full-size APX A1 out to the range to find out if Beretta's pistol had as much "go" as it did "show." So keep reading as we run you through its specs, features, and overall performance.
Table of Contents
Loading...
Beretta APX A1 Review at a Glance
Pros
Affordable
Good ergonomics
Reliable
Cons
The Bottom Line
The Beretta APX A1 is a great value in this price range. It's packed with features that show attention to detail and provides good accuracy and solid reliability.
399
at Palmetto State Armory
Prices accurate at time of writing
Prices accurate at time of writing
Beretta APX A1 Specs & Features
Specs
Caliber: 9mm
Action: Semi-auto strike-fired
Width: 1.3"
Length: 7.5"
Barrel Length: 4.25"
Height: 5.6"
Weight: 29 oz.
Capacity: 17+1
Comes with: Plastic case, two magazines, magazine loader, owner's manual, 2 grip modules, lock
Features
Optics ready
Slide serrations
Ambidextrous
Specification Source: Beretta USA
A Little History on the Beretta APX
In 2016 Beretta released the APX, and while this pistol did well, the APX A1 shows marked improvements.
For instance, the A1 has improved ergonomics despite the pistols being nearly the same size.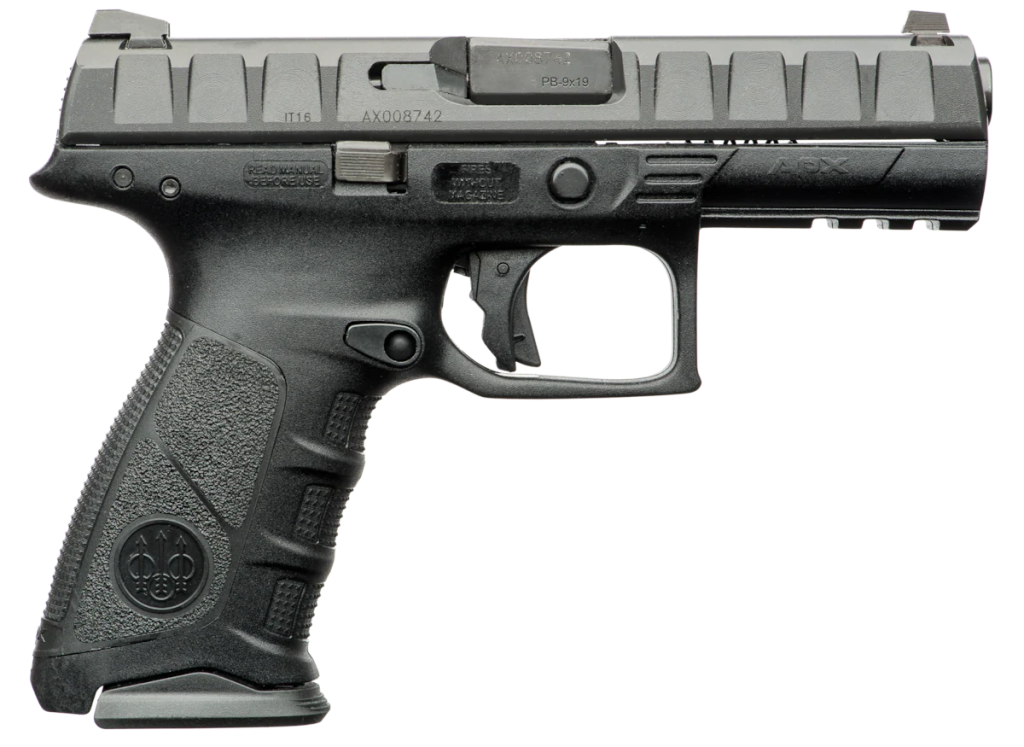 The trigger guard features a deeper undercut, allowing for a higher grip. In addition, there is a substantial beavertail as well as various grip modules to help you customize to your preference.
Who Is It For?
Based on the features, you can tell the A1 was designed as a defensive pistol. Combining the feature set with Beretta's marketing, the A1 is intended for law enforcement or personal security.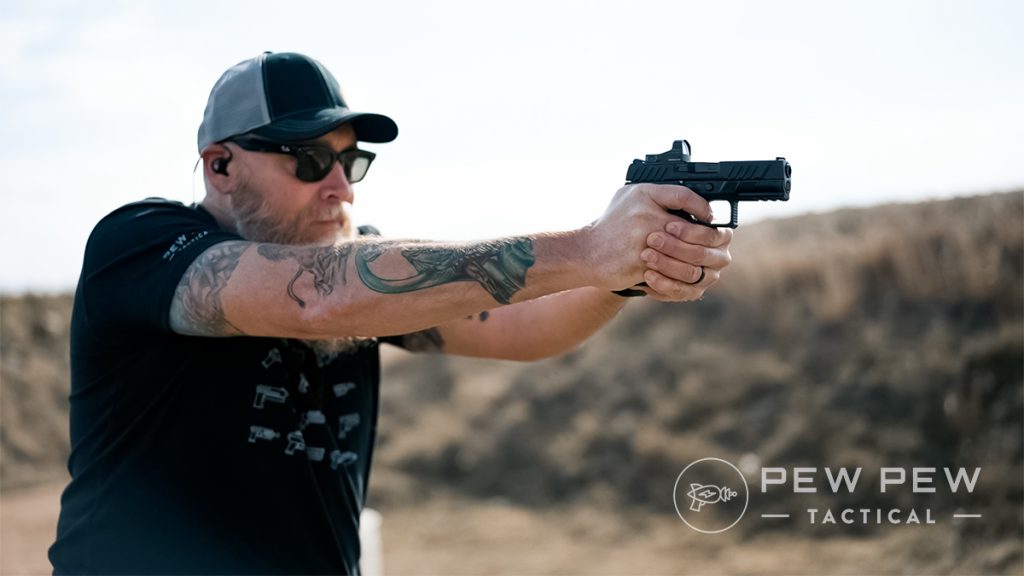 The gun's performance demonstrated it would serve nicely in either role. With solid reliability and decent accuracy, the A1 is a great value for the price.
Fit & Feel
When empty, the A1 feels pretty heavily weighted toward the muzzle, and looking down at the top of the slide, one is reminded of another blocky handgun hailing from Europe. However, the slide serrations make that comparison soon stop.
Compared to the original A1, these serrations are much closer together and angled, arguably making them more useful. There are also different areas of serrations, distinctly front and rear.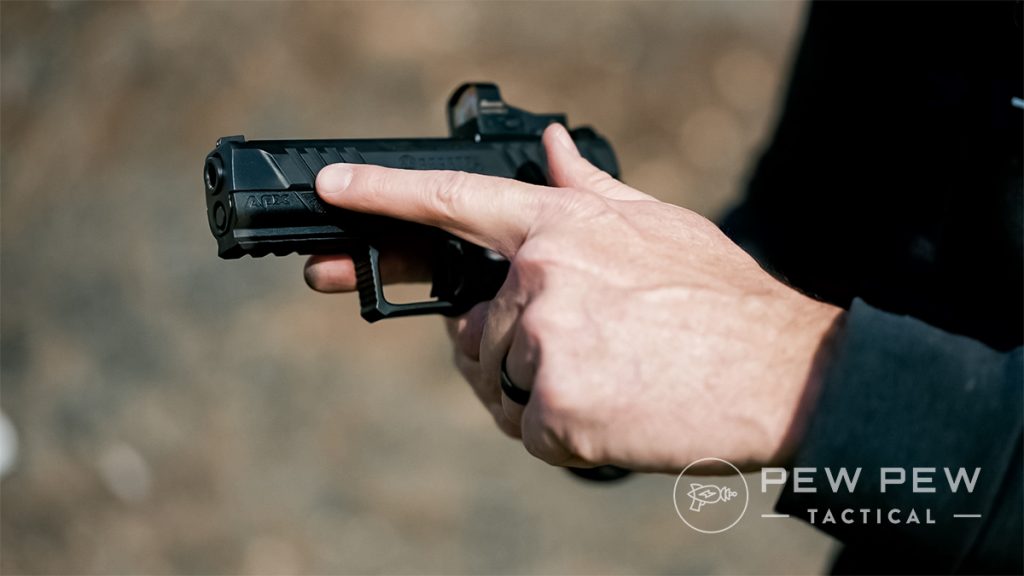 The grip is a good size, somewhat narrow with the base grip module, and ovular in shape. Grip texture is fairly aggressive on the front strap and back strap, though more relaxed on the sides.
The undercut on the grip allows shooters to place their main shooting hand nice and high on the grip, which helps mitigate recoil. Its beavertail is nicely extended and does a great job of protecting even my 2X hands.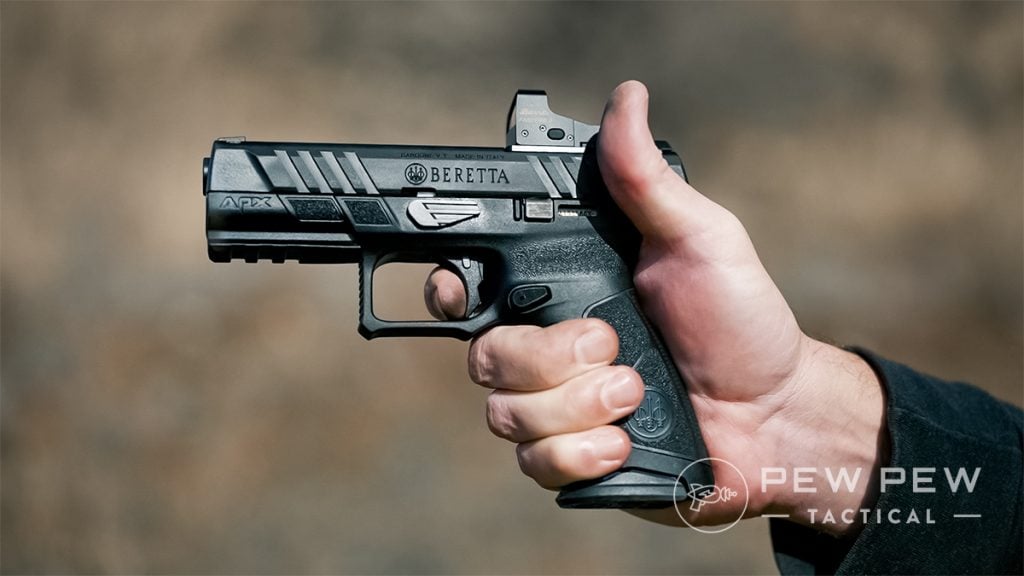 The trigger bow is nicely done, with a wide, flat surface and a gentle curve. Additionally, the trigger broke on an average of 4 pounds, 4 ounces on the Lyman digital gauge.
I noticed a couple of millimeters of pretravel before hitting a defined wall. The break was crisp, and reset was audible and tactile, occurring after a short distance of release.
Sights on the APX A1 are metal and consist of a white dot in the front and black rear. I was shooting a packaged gun that came equipped with the Burris Fastfire 3 and could not co-witness the standard height sights as a result.
199
at OpticsPlanet
Prices accurate at time of writing
Prices accurate at time of writing
A1 magazines are metal bodied with plastic base pads.
Beretta spent some time here as the bottom of the grip features a cut that mirrors a swelling on the base pad of the magazine, allowing shooters to grab the magazine and pull it out with some force if needed.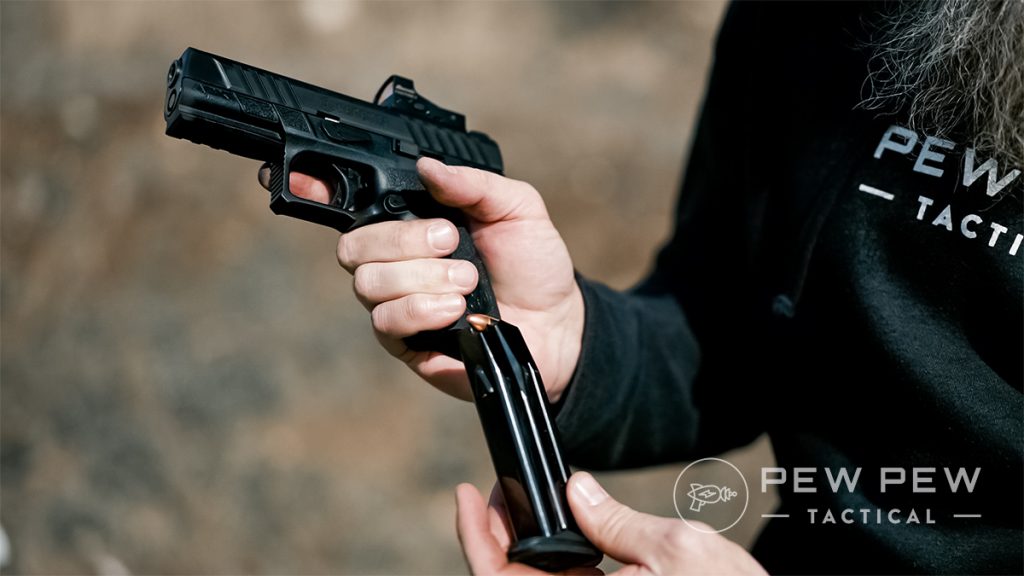 Additional features include texturing on the forward portion of the frame where thumb tips tend to end up, an accessory rail under the muzzle, and grooves on the front of the trigger guard.
How Does It Shoot?
Running through our normal range drills, I found the A1 did a great job. In the beginning, I focused on how the ergonomics affected my use of the gun.
I enjoyed how the deep beavertail and undercut trigger guard complimented my high grip. The grip texture was strong on the front and rear and allowed me to mitigate recoil pretty well.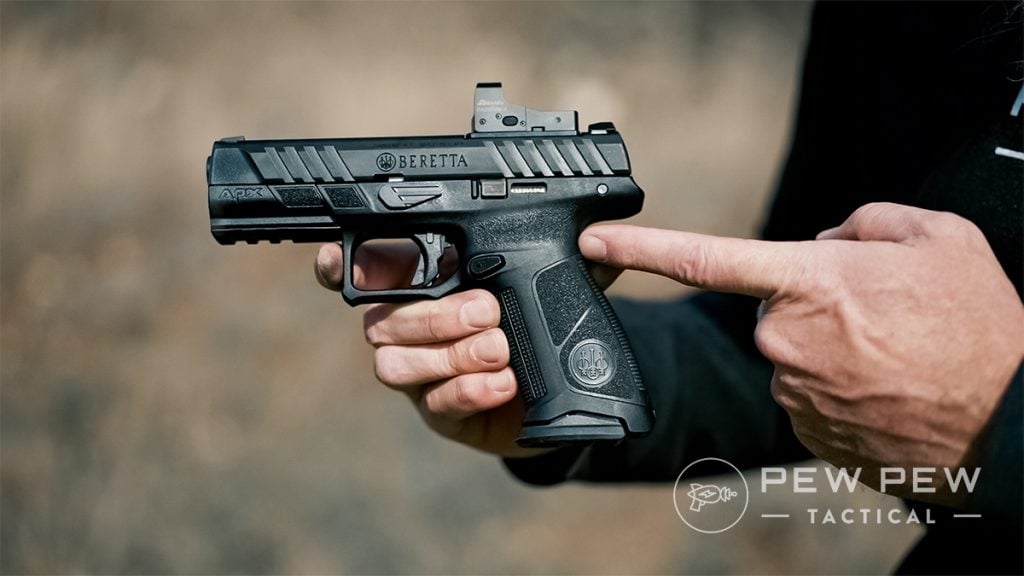 The slide, although a bit blocky, was very functional, and the serrations made it easy to manipulate for reloading and press checking. I appreciated the textured patches along the frame where my thumb tips rest, further improving stability during recoil.
During accuracy drills, I liked how the trigger hit a very defined wall before I broke the shot. This enabled me to refine my sight picture before sending the round downrange.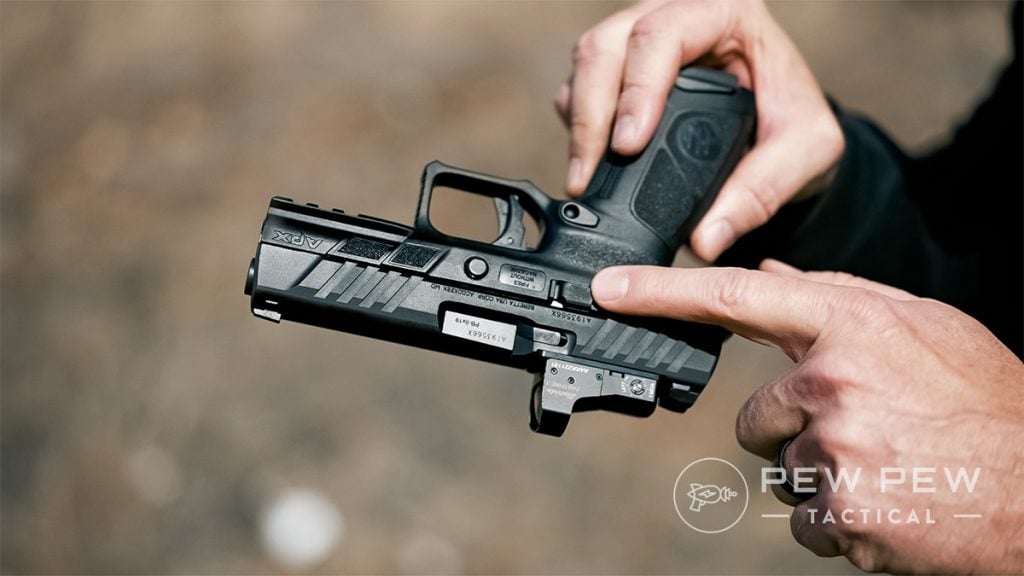 Additionally, the gentle curve and flat surface of the trigger created a great contact patch for my finger. Even when shooting drills at speed, I never lost my preferred spot on the trigger.
I would call the recoil impulse average, but the grip angle, texture, and ergonomics worked well to get the A1 back on target after firing. The whole package was impressive for its functionality.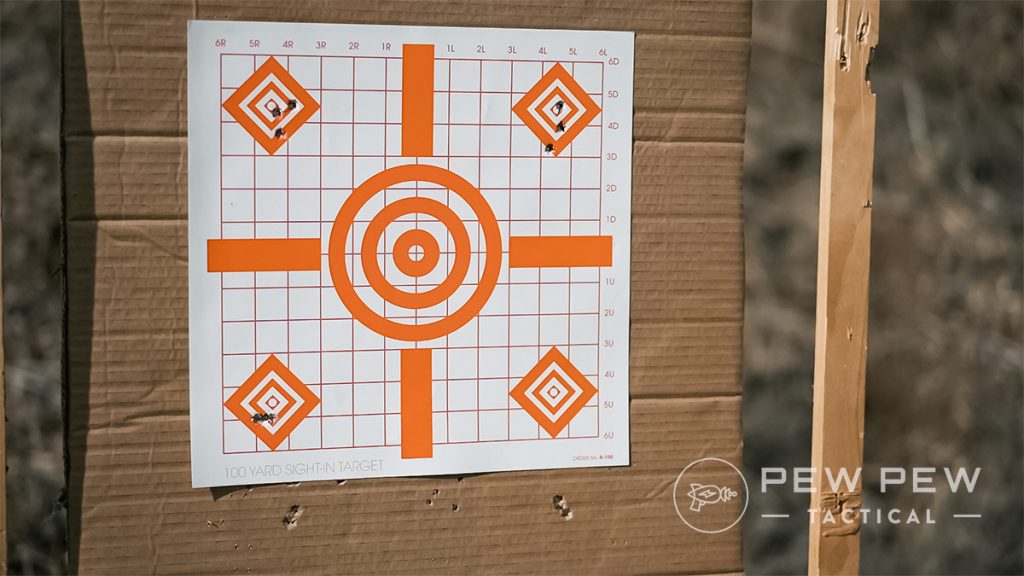 Accuracy started out decent in the 2- to 3-inch range, shooting 3-shot groups at 7 yards. With short practice, I learned the trigger, and by my third group, I had all rounds touching.
What Sets It Apart?
The APX A1 is a feature-packed pistol that performed very well in our testing.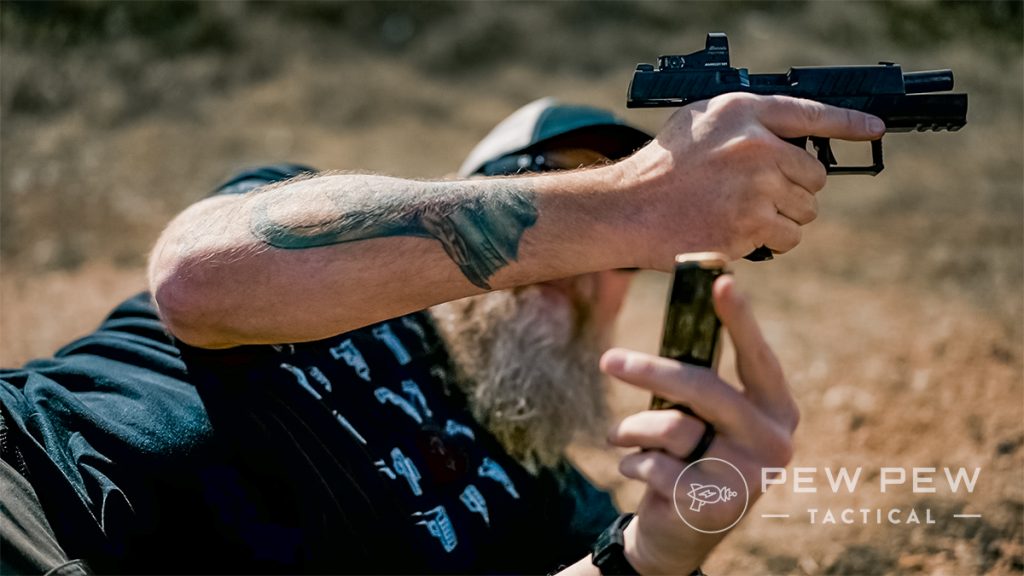 While there are a few contenders in this category, the fact that you can pick up such a quality handgun for around $400 is something that makes the A1 tough to beat.
| | | | |
| --- | --- | --- | --- |
| | Beretta APX A1 Full Size | Beretta APX A1 Carry | Beretta APX |
| Barrel Length | 4.25″ | 3″ | 4.25″ |
| Overall Length | 7.5″ | 5.63″ | 7.55″ |
| Width | 1.3″ | 0.9″ | 1.3″ |
| Height | 5.6″ | 4.17″ | 5.6″ |
| Weight | 28.24oz | 19.8oz | 24.24oz |
| Capacity | 17 | 6 | 17 |
Beretta APX A1 Full Size vs. APX A1 Carry vs. APX
By the Numbers
Reliability: 5/5
Over the course of our test, which consisted of approximately 500 rounds of 115 grain and 147 grain in three different brands, the A1 fed, fired, and ejected without failure.
Ergonomics: 4/5
The base grip is very well done, and control placement was solid, with everything well within reach. The reversible mag release makes this a true ambidextrous capable pistol.
Accuracy: 4/5
The trigger on the A1 is good, and the defined wall contributed greatly to the overall accuracy.
Customization: 3/5
This is a relatively new pistol, so the number of custom options is limited, though you can mount up a number of optics on the slide or accessories on the rail. There is a full-size tactical version available, as well as multiple colors of a smaller, carry version.
Value: 5/5
MSRP for the A1 is $499 on the Beretta website though I've seen them going for $400 on some online retailers. The Fastfire 3 package runs around $500 with the included optic.
Overall: 4/5
399
at Palmetto State Armory
Prices accurate at time of writing
Prices accurate at time of writing
Upgrades for Beretta APX A1
We tested out a package deal Beretta is offering, which includes the Burris Fastfire 3 already mounted. However, Beretta does sell additional plates so you can mount up a variety of different optics.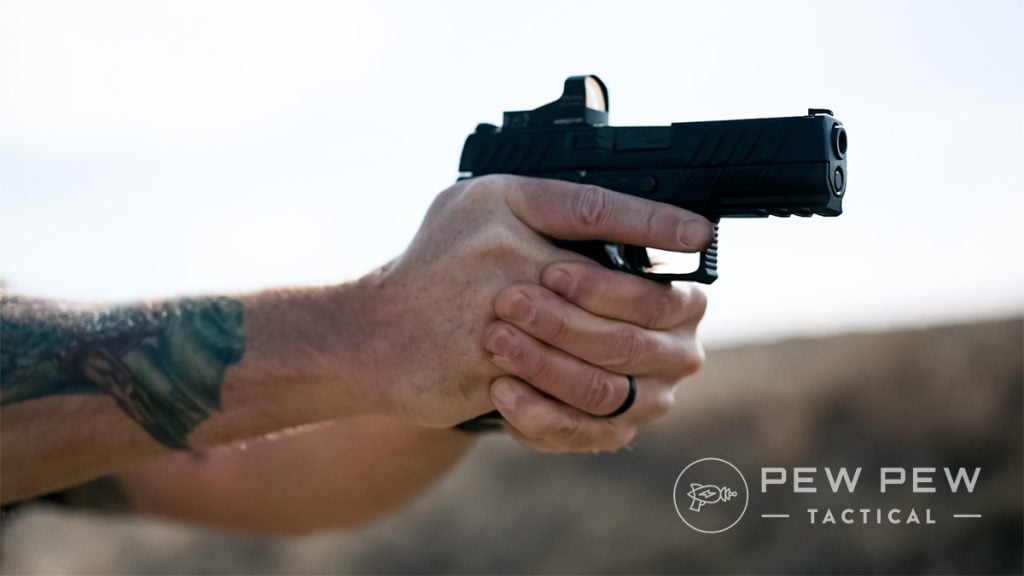 We found the Fastfire 3 to be a decent optic with an automatic light adjustment and three manual brightness settings.
The brightest setting was a bit difficult to see in glaring sun but otherwise did great in all other lighting scenarios.
199
at OpticsPlanet
Prices accurate at time of writing
Prices accurate at time of writing
Need more red dot options? We have even more to choose from in the Best Pistol Red Dots.
Final Verdict
Beretta has a real winner on its hands.
The APX A1 Full Size pistol has good ergonomics, slide serrations, grip texture, is optics ready, accurate, and reliable, with good capacity is noteworthy. Selling that handgun at a low price is downright tantalizing.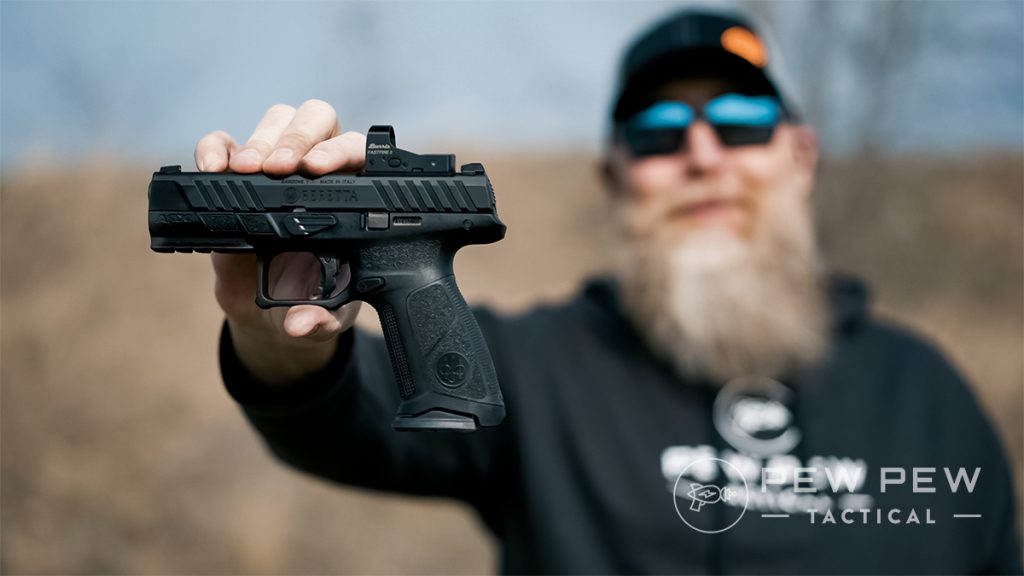 We'll keep testing this one for sure, but as long as the reliability holds up, you can bet the A1 will be a contender for the belt in this weight class!
Will you be picking up an APX A1 as a budget option? Let us know in the comments below! Be sure to check out Best Affordable Full-Sized Pistols for Under $400 for more options!