Getting overwhelmed with all the upper receivers out there?
Find out the best AR-15 complete upper receiver for you depending on your end use, such as precision shooting, general use, or close quarters combat.
Let's talk budget…are you looking for the best bang for the buck or are you fully loaded? We'll have recommendations at all different price points.
Now let's get started!
What is an AR-15 Upper Receiver Assembly?
Quick refresher on AR-15 uppers and lowers.
Chances are you already have a complete AR-15 rifle or at least the serialized complete lower. By pushing out two pins, you can connect a new upper to your lower and have basically a new gun.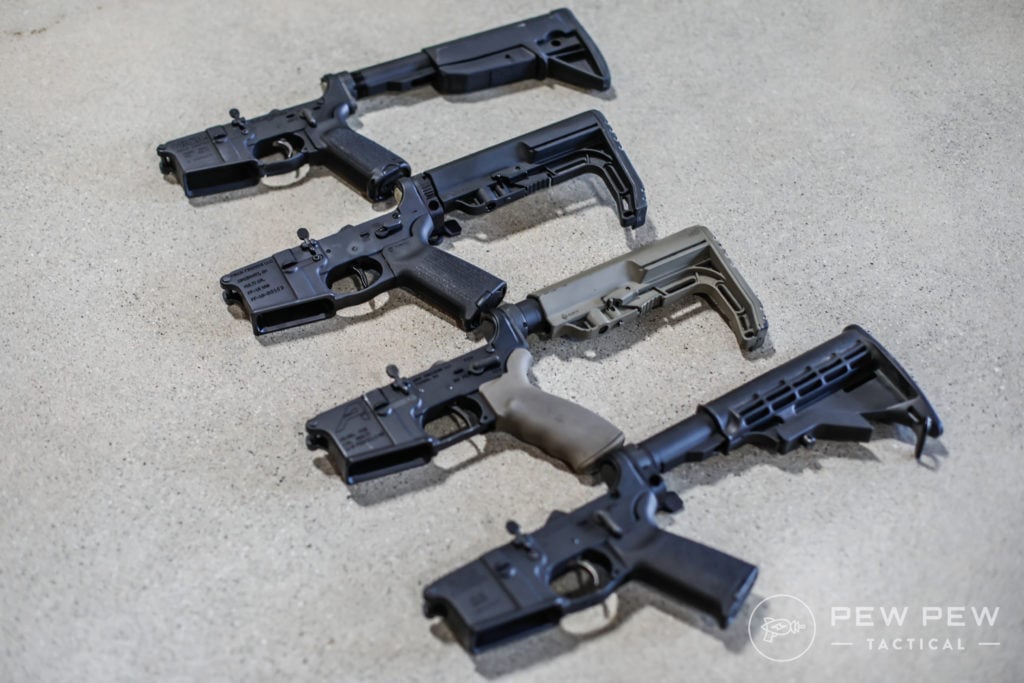 We'll be going over completed AR-15 upper assemblies or groups, instead of just the stripped upper. But don't worry, here's our guide for the best stripped uppers for your build. And how to put it all together: Upper Guide & Lower Guide.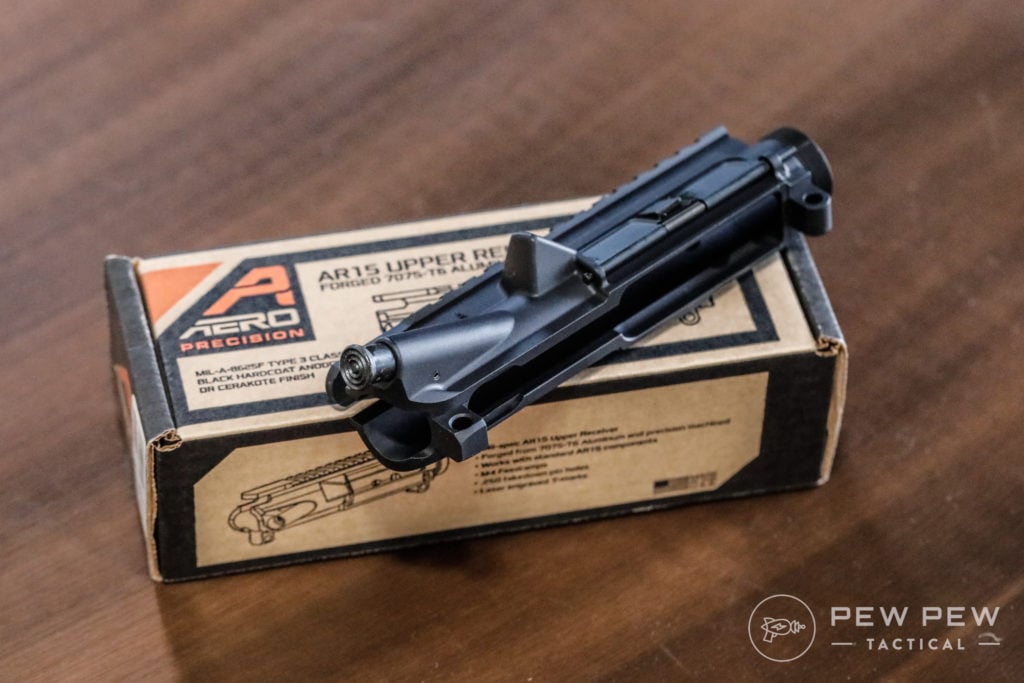 Why Not Just Get a New AR?
This question comes up a lot…why not just buy a new complete AR instead of just buying a upper. Here's some of the reasons:
Saving money: If you're not looking to get two guns and just want a different AR, getting the upper will save you at least $100-200 if not more.
Saving time/paperwork: Since only the lower is serialized, you don't need to go to a FFL and file paperwork.
Like the current loadout: You've already modified your trigger, buttstock, or grip to your liking and don't want to do it again.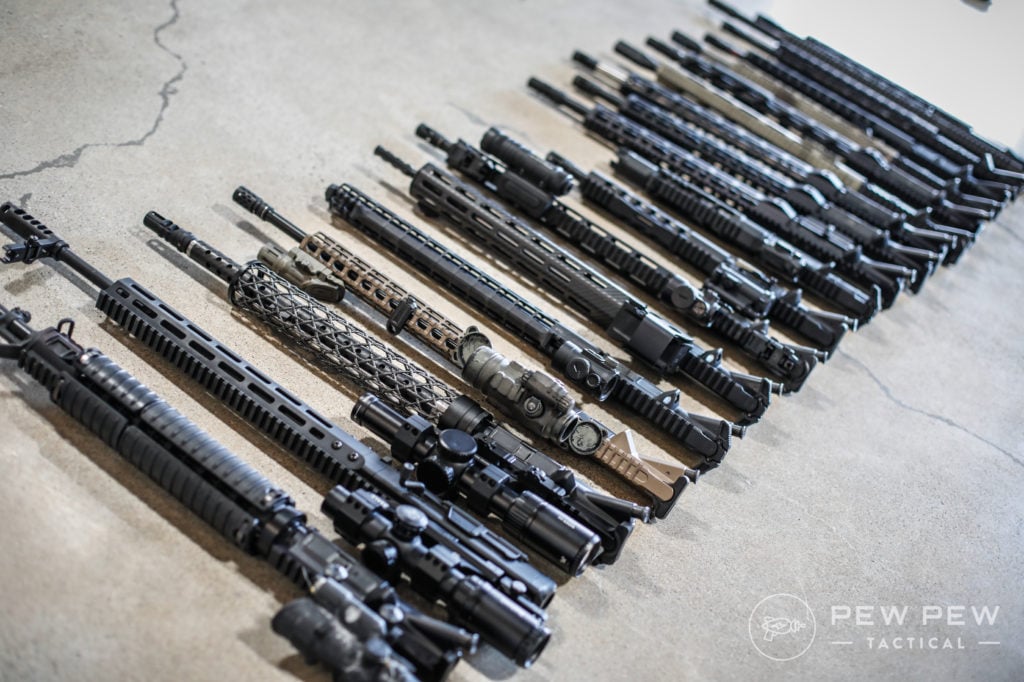 Background and Brands
Still with me?
Technical Background
We're going to presuppose that you already know some stuff about AR-15's, such as the different barrel lengths, gas systems, and BCGs. If you'd like a refresher, check out our Guide to AR-15's.
We're also sticking with direct impingement guns (normal). If you're looking for Piston uppers…check out Best Piston Uppers & Kits.
Brands
These are our perceived top tier brands that don't skimp anywhere and cost a little bit more. If you're looking to trust your rifle with your life, we recommend going to these proven brands.
Bravo Company (BCM)
Colt
Daniel Defense (DD)
Larue
Lewis Machine & Tool (LMT)
LWRC
Noveske
Yankee Hill Machine
And these are our mid-tier brands. There's nothing wrong with them and we own a couple ourselves for plinking and competitions. But we recommend testing them thoroughly before you decide to use them for defensive purposes. These will typically cost less than the top tier brands.
Anderson
Aero Precision
FNH
Palmetto State Armory (PSA)
Rainier Arms
Ruger
Sig Sauer
Smith & Wesson
Spike's
While these are the budget tier brands. Cheapest of the bunch but great for a starter build. Probably missing some accessories such as a free-floating barrel.
Bushmaster
Delton
DPMS
Olympic
Rock River Arms (RRA)
Stag
Now the good stuff!
Best 16″ AR-15 Upper Receiver Assemblies
These are the most popular upper receivers since they are in the sweet spot of 16″ barrels that is the minimum barrel length for a rifle under the National Firearms Act (NFA).
However, we'll still include some 14.5″ barrel uppers that have muzzle devices pinned and welded to meet the length.
We prefer mid-length gas systems for 16″ barrels since they allow a little more space for pressures to drop and therefore give a slightly softer shooting impulse.
Other things such as handguard, front sight block (FSB), and barrel profile are user preference.
Daniel Defense DDM4 V7 16″
Our go-to high-end upper with top notch just about everything is the DDM4 V7.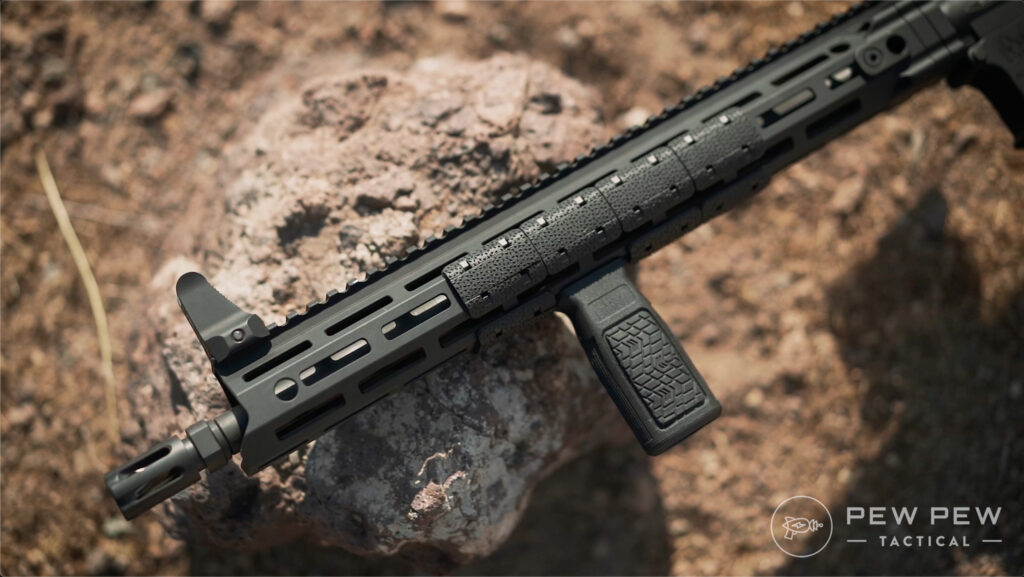 16″ cold hammer forged mid-length with pinned gas block. Gold-standard DD BCG, nice M-LOK rail, and all the fixins.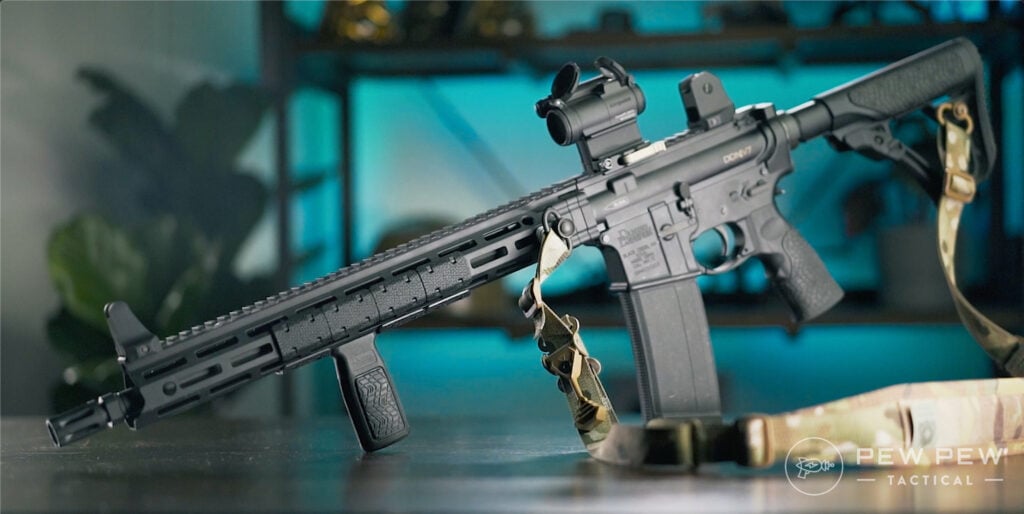 See it in action:
And in our complete review with tons more video.
Free floated quad rail with a mid-length gas system, 1:9 barrel twist for common 55gr bullets, flip sights, and a flash suppressor. ($950)
Another favorite top tier brand that we've been testing extensively (review coming soon).
This upper utilizes their 15″ MCMR handrail in M-LOK to give you tons of space to mount anything your heart desires. ($684).
Check out full review with video.
Softer shooting mid-length gas system, 16″ CMV barrel, choice of free-floating rail, but you will need to add a BCG and charging handle for about $120 more (use the "Finish Your Build" tab). ($429)
Probably the best deal for a quality nicely-finished free-floating mid-length upper. Check out my in-depth review of the previous generation with thicker rails.
A new version has thinner ATLAS rails that are easier for gripping. Also comes in Pencil Barrel (shown above) which I just received.
Tons of options from PSA but here's our list of 16″ mid-lengths sporting a M-LOK free floating handguard. You can still choose BCG, sights, and barrel profile (~$300).
From raw materials to finished product…PSA does it all in-house so that's why their prices are so low.
You'll hear the occasional complaint about finish and shipping time…but they are well known online for reliability. At the end of the day that counts the most.
I got a few of their uppers in-hand, so check out my full review. So far…100% reliability.
What's your take on PSA uppers?
Best Precision/Varmint/3-Gun AR-15 Upper Receiver Assemblies
These types of builds have longer barrels such as 18″ or 20″ for increased bullet velocity and may even use stainless steel barrels barrel for better accuracy. Their handguards will likely be free-floated for enhanced accuracy too.
.223 Wylde chambering adds additional accuracy by having a smaller chamber throat compared to 5.56 but will still shoot both .223 and 5.56 NATO.
Reach out and touch something with this upper in soft-shooting rifle gas length configuration. 1:7 twist stainless steel barrel is perfect for precision shooting with heavier bullets. Comes with flash suppressor. ($1300)
This BCM sports a stainless 18″ barrel with a rifle-length gas system for soft-shooting and accuracy. Also comes with the 15″ Alpha KMR KeyMod rail.
Working with a budget but need something that will always go bang and hit its target? I'm liking PSA's 18″ rifle-length gas system for extra velocity and reduced recoil. Again, tons of options but I've selected M-LOK handguards for you to be future-proof. If you're shooting mostly bench…you can opt for the 20″ barrel. (~$350)
Hands-on review here!
Rifle-length gas system for the softest shooting and with the more accurate Wylde .223 chamber that still works for both 5.56 and .223 rounds. Different thin free-floating handguards and colors available.
Need to purchase BCG and charging handle ($120 in the "Finish Your Build" tab) but still makes it a great deal. ($479)
Best AR-15 Short Barrel Uppers
These barreled uppers are for Short Barrel Rifle (SBR) applications or the easier to do AR-15 pistol configuration. Make sure you follow all laws such as having a pistol lower already before purchasing.
I like the minimum length to be at least 10″ if not 11.5″ because of increased dwell time. I've heard too many reliability issues with barrels and gas systems shorter than that.
Current rifle being provided to USSOCOM (US Special Operations Command). 10.3″ government profile, 1:7 twist, carbine length gas system, and flash suppressor. ($1100)
11.5″ M4 contour barrel with 1:9 barrel twist, FSB, and A2 flash hider. Easy entrance into the SBR or AR pistol world. ($450)
Great combo of the 11.5″ barrel for extra dwell plus carbine gas length. Comes with a 10″ KMR Alpha KeyMod rail for enough space and grip for most jobs.
Not wanting to have much barrel length AND out of pocket expense? Again…it's PSA to the rescue. Normally short AR's have reliability issues but so far so good with PSA. (~$350)
We conducted a full-review with their 10.5″ and 7.5″ (for those who want to go ultra-short).
Complete with videos of both so you can see the difference in recoil impulse…plus shot groups. And there's a BIG difference.
Which length is the best for you?
Carbine length gas system and A2 flash hider. Comes in a variety of free-floating handguards and colors. Need to purchase a BCG and charging handle ($120 in the "Finish Your Build" tab). ($399)
Best Lightweight AR-15 Uppers
We're working on adding more lightweight uppers…but here's our favorite so far.
Faxon ION Upper
The flagship rifle/upper from the renown barrel manufacturer is the Faxon ION.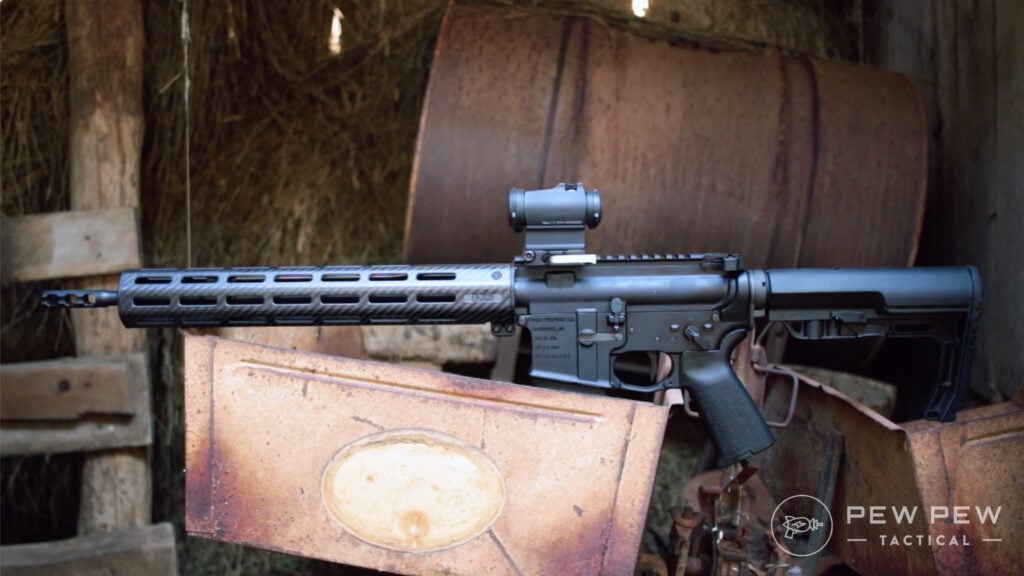 Lightweight barrel with integrated brake, carbon fiber handguard, lightweight BCG, and more bring the entire gun to under 5 lbs.
If quick movement between targets and minimizing weight is your goal…you can't go wrong.
Check out our full review here with more video.
Best Non-Traditional Caliber Uppers
The beauty of the AR-15 is that you can slap on a different upper and gain a whole new barrel length and even caliber.
One of my favorites is the .300 Blackout which gives you a much bigger and heavier round that's perfect for short barrels and suppressed systems.
Check out our favorite picks in Best .300 Blackout Uppers.
And of the newest flavors of this year is the .224 Valkyrie which slings ~90 gr bullets up to 1300 yards…in an AR-15 lower platform!
I go in-depth with this round in .224 Valkyrie [Complete Guide] and do a full-review of PSA's budget platform here.
Best Left-Handed AR-15 Uppers
Stag has been in the left-handed game for years and offers a transferable owner and infinite round-count guarantee. I like this model for the super cool rails although there are other options if you want a front-sight block. Although, there are other options here.
Conclusion
So there you have it…our recommendations for the best AR-15 complete upper receivers out there. Please check out the rest of our AR-15 Definitive Guide for upgrades, best optics, cleaning, and more.