If you're a leftie, you've probably noticed that a lot of gun gear and firearms are built for right-handed people.
While we know you've also likely dealt with this all your life (and learned how to adapt, because ya'll rockstars) sometimes you deserve things that are truly your own.
But if you're just diving into guns, you might not which left-handed parts and ARs deserve your attention. So, if you're interested in buying or building a left-handed AR-15, we've got you covered.
We're going to go over everything you need, including uppers, BCGs, lowers, controls, and even pre-built rifles if you don't want to roll your own on this one.
Summary of Our Top Picks
Let's start with the parts you need to make an AR-15 a little more lefty-friendly.
Left-Handed AR-15 Uppers
First, let's talk left-handed uppers because this is where most people will start.
Most lowers are ambidextrous these days, so the upper receiver is where most people will really start their build.
Why is a leftie upper a nice commodity?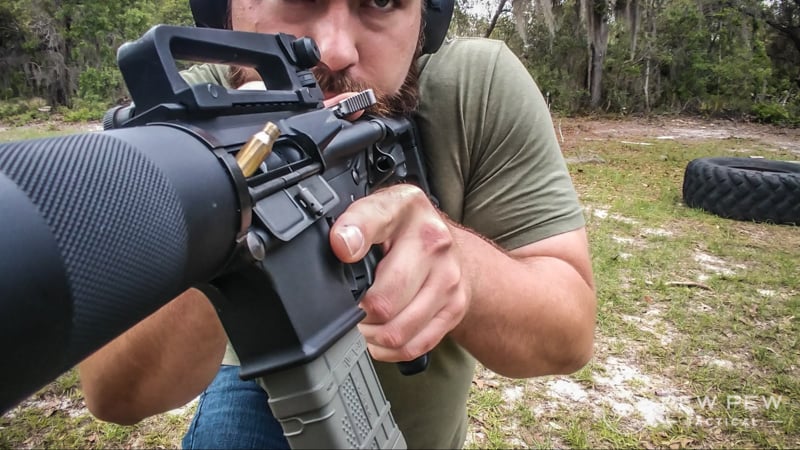 Well, it keeps you from getting ejection port gases right in your mouth, nose, and eyes, which is certainly nice, especially if you're running a suppressor.
We've gathered a list of the left-handed uppers we think work the best.
1. Stag Arms Complete 3 Gun Elite Upper Receiver Left Hand
Stag Arms is basically the name in left-handed AR-15s, so we're going to start off with their Complete 3 Gun Elite Upper Receiver Left Hand.
This upper is built around an 18-inch 416R stainless heavy barrel.
It sits in a free-floated M-Lok upper, making it perfect for 3-Gun or general use.
Whatever you need an AR-15 for, if you're going with a left-handed option, the Stag 3-Gun Elite series deserves some very serious consideration.
2. Cross Machine Tool UPUR-1LH Left Hand Eject Billet Upper Receiver
Next up, we have the CMT UPUP-1LH upper.
This upper is machined from a solid aluminum billet and is a great no-frills option.
If you're looking to get a left-handed AR-15 built without breaking the bank, this should be your go-to.
Don't mistake cheap for cheaply made, however.
Everything CMT produces is high-quality, with excellent machining and finishing. That's all you can really ask out of a stripped AR-15 upper.
3. Gibbz Arms Left-Handed Side-Charging AR-15 Upper
Lastly, we have the Left-Handed Side-Charging Upper from Gibbz.
Side chargers are cool because you don't have to move your head or support hand to charge the rifle, meaning you can keep your firing position when clearing a malfunction.
Also, they're just plain cool in general.
Nothing wrong with adding a little uniqueness to your AR-15 to make it stand out, certainly not when you're also adding really useful functionality.
Best Left-Handed Bolt Carrier Groups (BCGs)
One of the most important things for your leftie AR-15 is a left-hand ejecting BCG.
Without one of these, you're not going to be able to really use your rifle. So, be sure to pick one up if your upper doesn't include one.
4. Black Rain Ordnance Left-Handed BRO-BCG
Black Rain Ordnance's Left-Handed BRO-BCG is a great drop-in solution if you're in need of a leftie bolt carrier group.
This one is nickel-boron coated to maintain smoothness and to help prevent carbon fouling from sticking to the steel too terribly badly.
As we'd expect from BRO, it's a solid product that offers a good value for the cost and won't let you down when you need it.
5. Stag Arms Left-Handed BCG
Again we have Stag Arms, this time with its Left-Handed Bolt Carrier Group.
This one is designed to work with any left-eject upper. All in, it's a great option if you're already running other Stag parts.
It has a mil-spec staked gas key and a manganese phosphate coating with chrome lining in the bolt area and gas key.
6. F-1 Firearms Durabolt Left-Handed BCG
F-1 Firearms nails it again with their Durabolt Left-Handed BCG.
These are some of the most durable BCGs around, as the name implies.
They are machined out of a hardened Carpenter 158 tool steel and then coated to prevent corrosion and to improve slickness.
The coatings also can prevent wear and keep carbon from binding to the steel — which makes it easier to clean!
Best Left-Handed/Ambi AR-15 Lower Receivers
We're going to keep this short, just because we could do a whole article on the best ambidextrous AR-15 lowers.
In fact, we have done an article on the best ambidextrous AR-15 lowers. So yeah, leave this tab open, click that link, and go find a lower over there that you like. They rock.
Best Left-Handed/Ambi AR-15 Charging Handles
Charging handles are another topic that we've covered before, this time in our best AR-15 charging handles article.
But we want to highlight some that are specifically great and also ambidextrous and therefore leftie-friendly.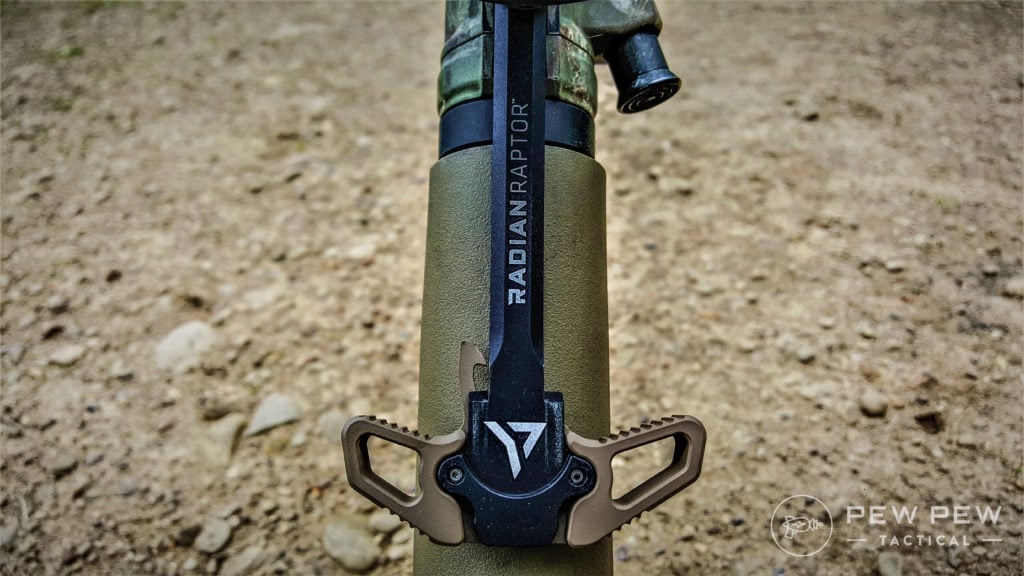 7. BCM Gunfighter Ambi Charging Handle
Bravo Company Machine is one of our favorite brands here at PPT, and their Gunfighter Ambi Charging Handle is a good indication of why.
These handles are well machined, with large, easy to disengage latches that work well with or without gloves — really the most important thing you can ask for in a charging handle.
They're also available in a variety of finish options so you can get exactly what you want to match your build.
8. Radian Raptor AR-15 Charging Handle
You probably already knew the Radian Raptor was going to be here, but just in case you didn't, let's talk about it anyway.
Simply put, this was the industry standard for a while when it came to higher-end, aftermarket charging handles.
There simply weren't a huge number of options available for a long time, certainly not many that were this high-quality.
Radian has more competition these days (a lot more) but that says more about the industry than it does about Radian.
If you're looking for a great charging handle with perfectly designed latches and an impressive pedigree, the Radian Raptor is a great choice.
Best Left-Handed/Ambi AR-15 Safety
An ambi safety is something we actually think every AR-15 should have, but more obviously lefties are going to want one.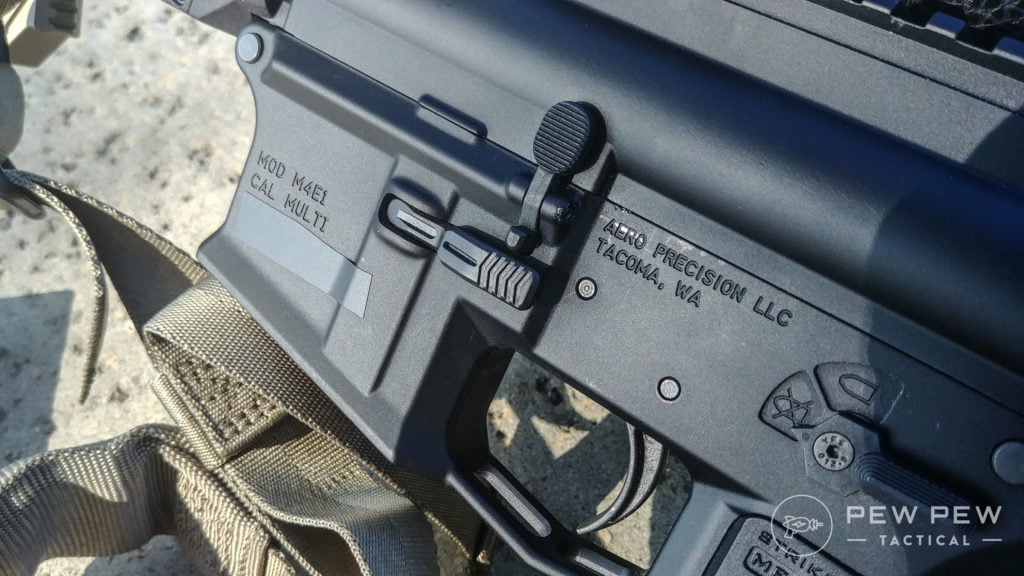 They're easy to install, and they add a lot of functionality for support-side shooting, which you may have to do in certain training scenarios, or worse if your strong-side arm or hand is injured.
9. Battle Arms BAD-ASS
The Battle Arms Development BAD-ASS Safety Selector is one of the most popular around, and not just because of the name.
This awesome little ambi safety has mil-spec 90-degree as well as short-throw 60-degree throw options.
It's also truly ambidextrous, and you don't need a special trigger to make use of the short-throw function.
10. Seekins Precision Ambi Safety Selector
Lastly, for the safeties, we have the Seekins Precision Ambi Safety Selector.
This one is just as high-quality as the BAD safety above, but it has the added benefit of being available in cool colors.
If you're looking for a nice blue, green, or red anodized accent, this is a great choice.
Or you can be boring and get the plain black one. Up to you.
Best Ambi/Left-Handed Mag Releases and Bolt Releases
If you're going to swap your mag release over to the left side (as you should) then you need an ambi release button and a compatible bolt catch.
An ambi mag release is also just useful in general for doing support-side shooting drills.
11. Forward Controls Extended Serrated Ambi Mag Release
Forward Controls makes a lot of neat stuff for AR-15s, and their Extended Serrated Ambi Mag Release is a good example of that.
This little guy is a bit on the expensive side, but it does give you the option of hitting your mag release with either hand and on either side.
And, it does so reliably, without much risk of accidentally dropping a mag. What more can you ask for?
The bolt release is also great, and installs quickly and easily, especially if you're used to building ARs and have done a lower receiver build before.
12. Troy Ambidextrous Magazine Release and Bolt Release
Troy also makes a number of really great AR-15 parts and accessories.
Its Ambidextrous Mag Release and Ambi Bolt Release are both rock-solid, reliable, and not too terribly expensive for what you get.
Overall, Troy just makes really good stuff. Both releases don't do anything to tarnish their reputation as an excellent manufacturer.
Best Left-Handed AR-15 Rifles
Of course, if you read all that and still think "screw all that, I want to buy a pre-built AR" we've got you covered.
Here are the best left-handed AR-15s that are ready to go straight out of the box.
14. Stag 15 Retro LH CHPHS
If you're looking for something a little more retro, the Stag 15 Retro LH is the way to go.
This A2-styled rifle captures that classic M16 look, but with a left-handed setup and a semi-auto-only fire control group.
Sorry, no giggle switch here.
Other than that, this is a faithful recreation of those old-school rifles, albeit with modern materials and design. So, they should be more reliable than those old workhorses.
The one we tested ran like a dream and was great at popping clay pigeons resting on a berm all the way out at 200-yards.
15. Stag 15 Tactical LH QPQ
Next, we have the Stag 15 Tactical QPQ 7-inch.
This little guy is absolutely great if you're a leftie in need of an AR-15 pistol or SBR.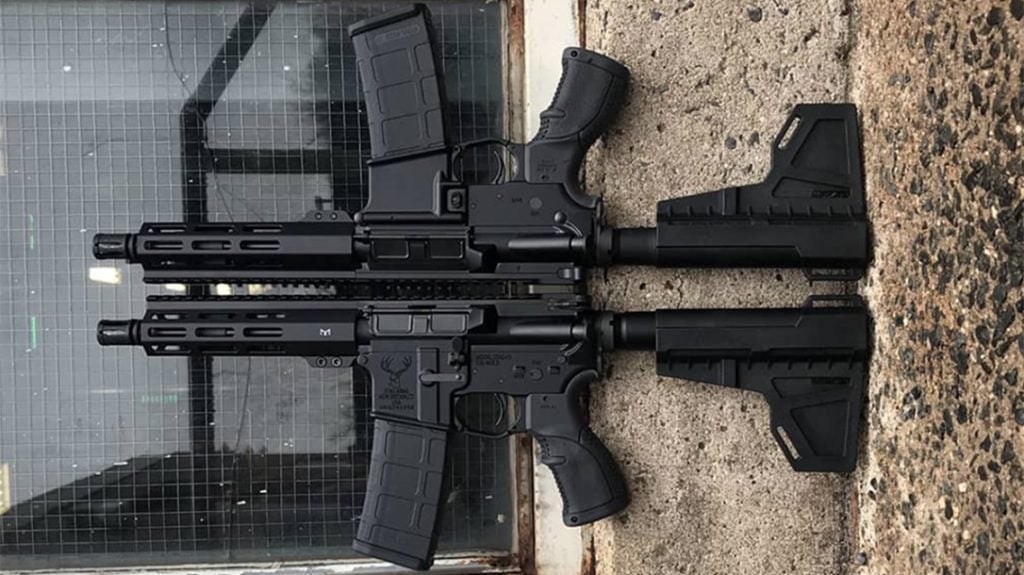 These come with the excellent SBA3 pistol brace, pistol-length gas system, and a short 7-inch barrel shrouded in a free-floating M-LOK handguard.
This thing makes a great truck gun, range toy, or even home-defense weapon. Just be ready for that big fireball when you touch off a round in the dark.
Tried the Stag? What do you think? Rate it below!
16. Faxon Firearms ARAK-21
This isn't technically an AR-15, but it has mostly AR-15 compatible parts and is also damn cool.
The ARAK-21 is a modern, modular rifle based on the AR-15 platform. But its design goals go a little further than "spruce up the ole AR."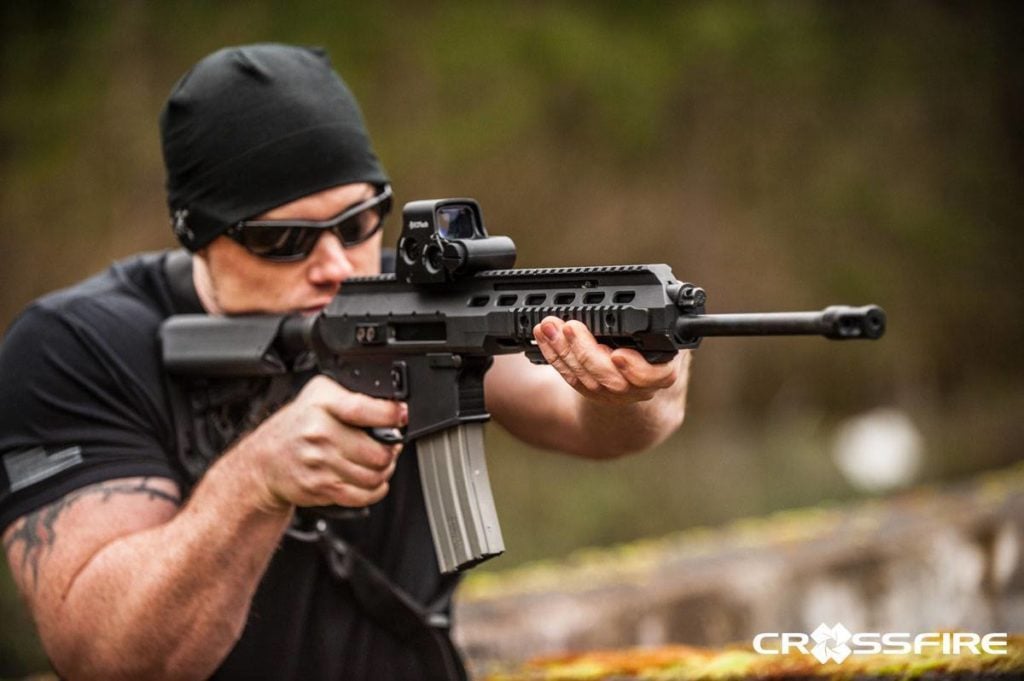 Faxon has made something really cool here, but the main thing we're interested in is the ambidextrous ejection.
Beyond that, you can swap this upper onto your existing AR-15 or buy the complete rifle. Then you have a platform that can swap from 16-inch and 20-inch 5.56 NATO or .300 BLK barrels in just a couple of minutes.
17. STAG 15 Tactical 16-inch
For a reasonable price, Stag offers yet another great value option for the more creative-oriented segment of the population with the Stag 15 16-inch in FDE.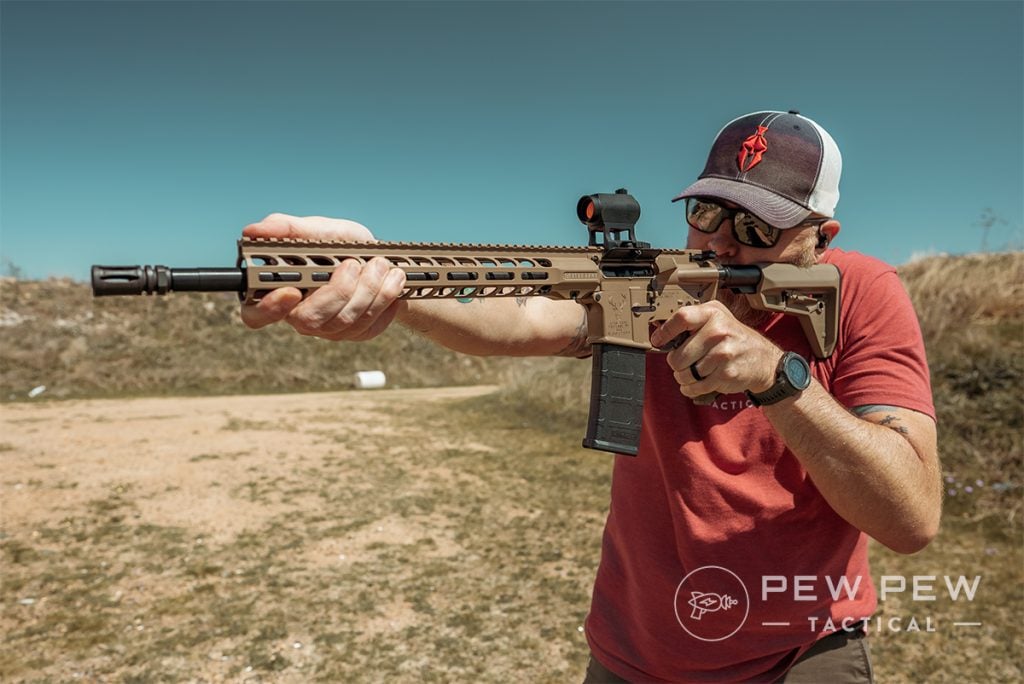 Keep in mind, that this is not an ambidextrous option. While the mag release and bolt catch/release are standard orientation, the ejection port orients left and the fire controls are set up for the left thumb.
Other great features such as a 13.5-inch free-floating handguard replete with M-LOK, a mid-length gas system, and Magpul MOE furniture make this rifle fun and functional.
Oh and the color? It's a dreamy FDE that matches the furniture making sure lefties not only have a great rifle, but they can choose a different color too.
Conclusion
Left-handed AR-15s are a huge upgrade for wrong-handed left-handed shooters and make range days a pleasure instead of a pain.
Having left-handed controls and a left-handed ejection really make life easier.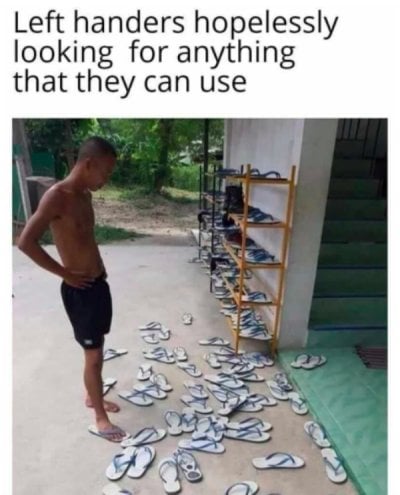 If you're looking for a left-handed AR-15, you should have everything you need to know to build or buy your own leftie version.
Are there any parts that will make it into your next build? Let us know in the comments! Also, check out our list of the Best Guns for Left-Handed Shooters for more lefty-friendly firearms. And for more AR-15 parts, see Best AR-15 Upgrades.