It's not a secret that we love the AR-15 around here.
That said, there are some things the AR-15 just can't do.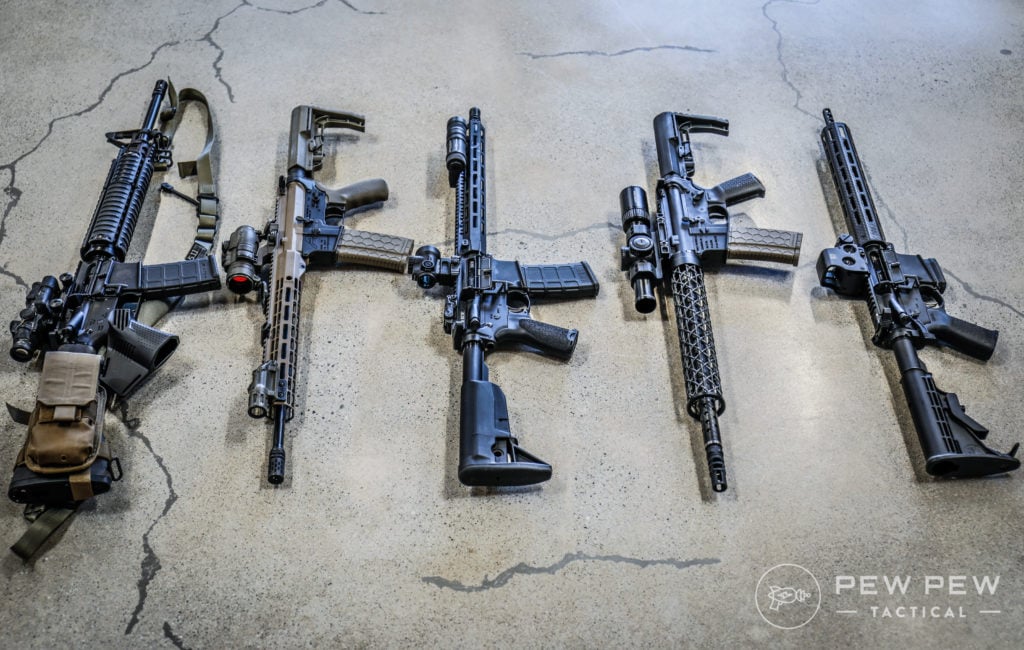 Namely, the AR-15 can't handle "long-action" cartridges…so there's a limit on the power or distance you can get out of a round fired from an AR-15.
So if you're looking at getting AR-10…look no further!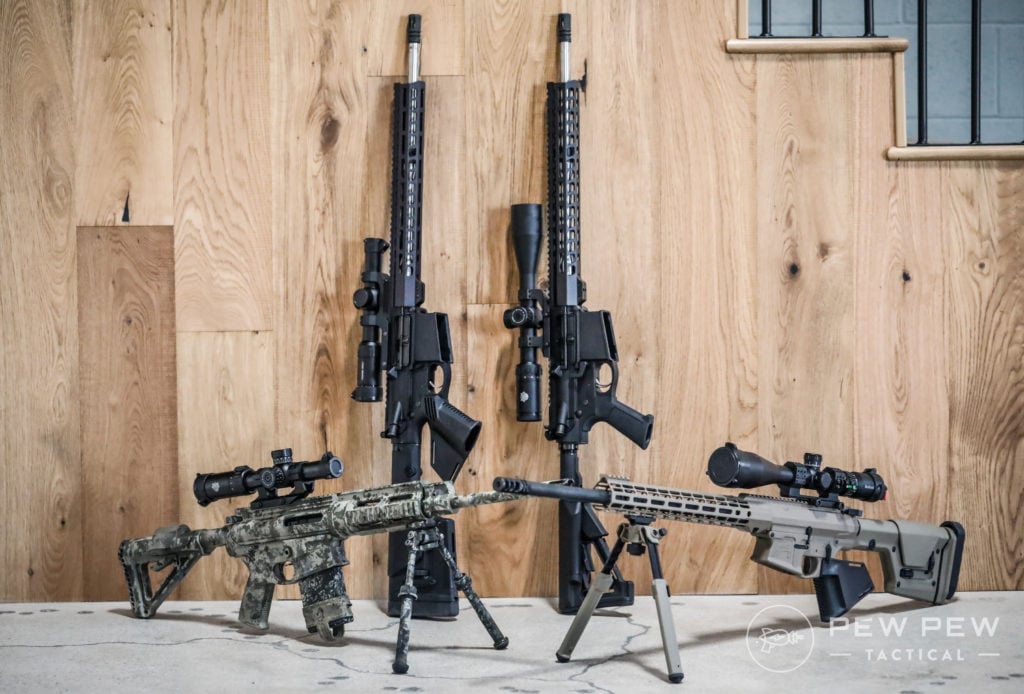 We're looking at the best complete rifles here.
So without further ado…
Summary of Our Top Picks
Best AR-10 Rifles
1. Aero M5E1
We're big Aero Precision fans.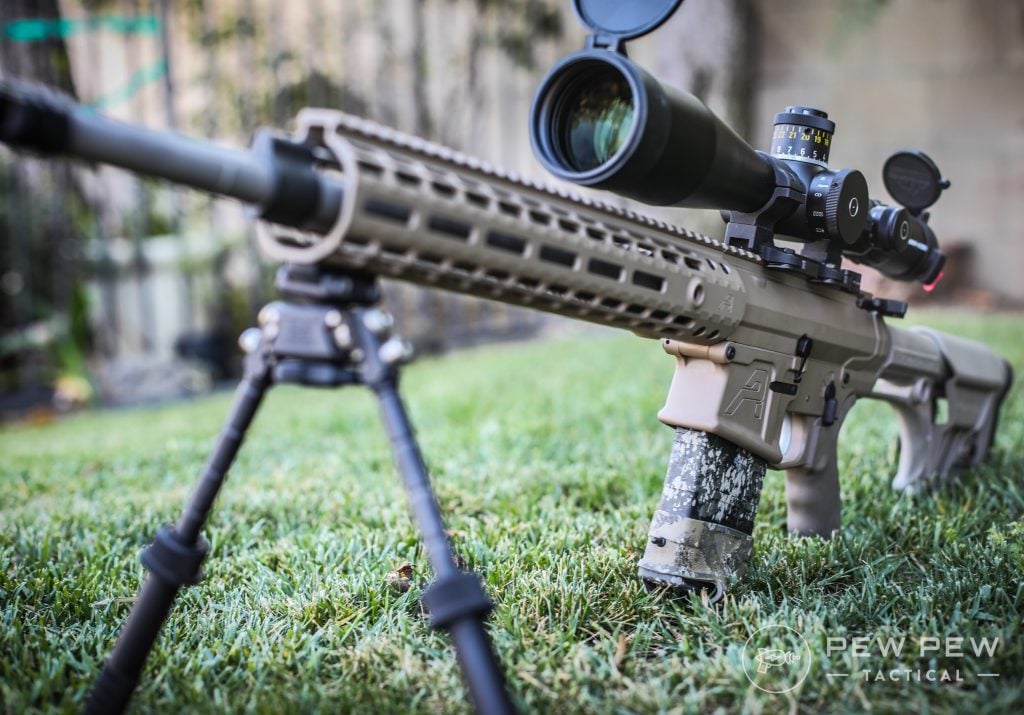 They're known in the industry as one of the biggest quality manufacturers of lowers and uppers for other AR makers. They also offer a wide variety of build kits, including various Cerakote options that are available as limited runs.
Between the Pew Pew staff, we have a LOT of Aero builds. We're price-conscious and like solid quality, and Aero delivers on that.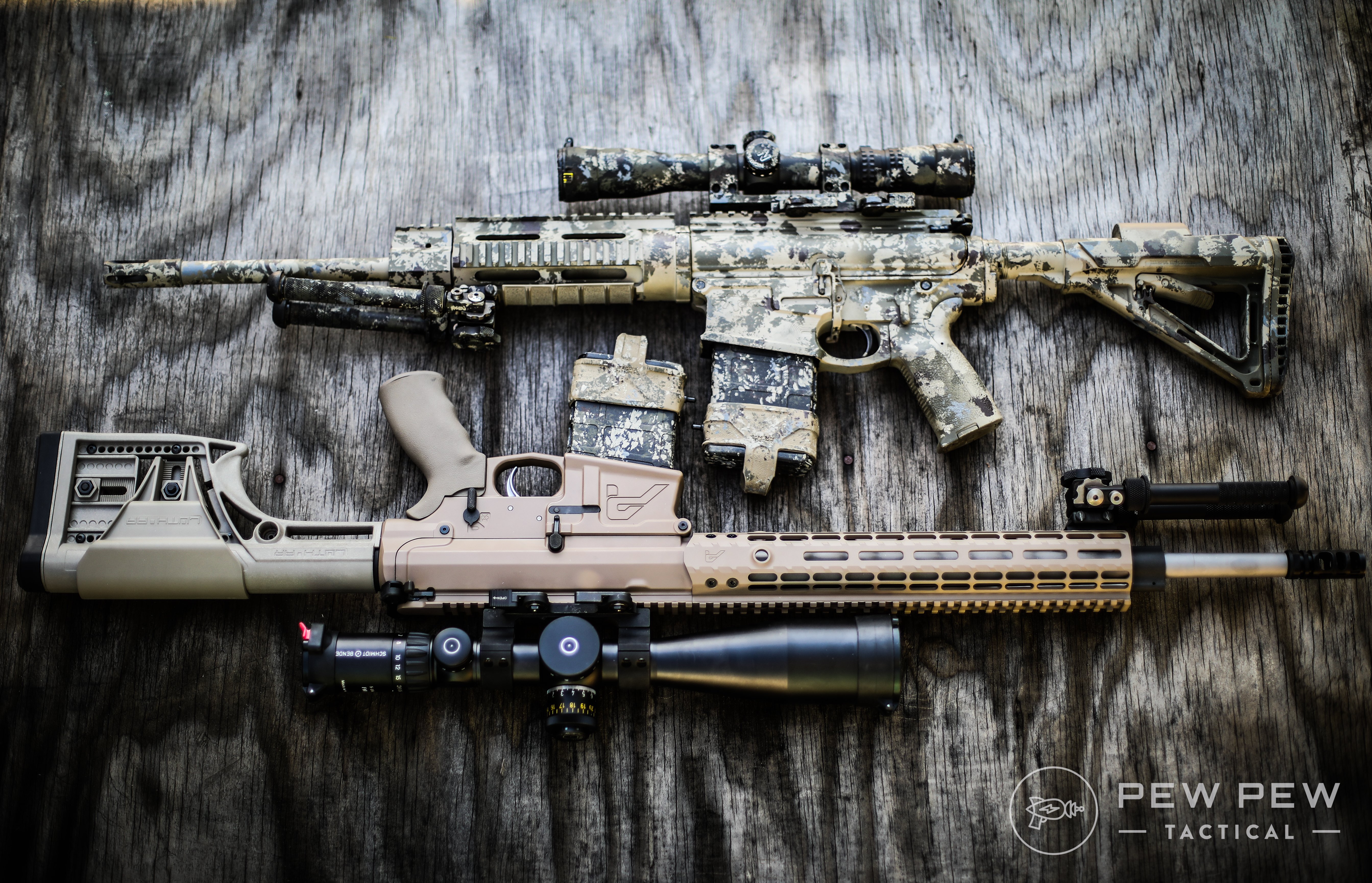 So, all that out of the way, what about the Aero M5E1? Why does it make it on my list of the best AR-10s? I'm glad you asked, friend.
The Aero Precision M5E1 Complete Rifle is built with Aero's excellent Enhanced Upper and M5E1 Lower, both of which are available for purchase separately and often available together if you want to get them both for a build.
279
at Aero Precision
Prices accurate at time of writing
Prices accurate at time of writing
How Does it Shoot?
Good ammo is always a must when testing a firearm; never forget that!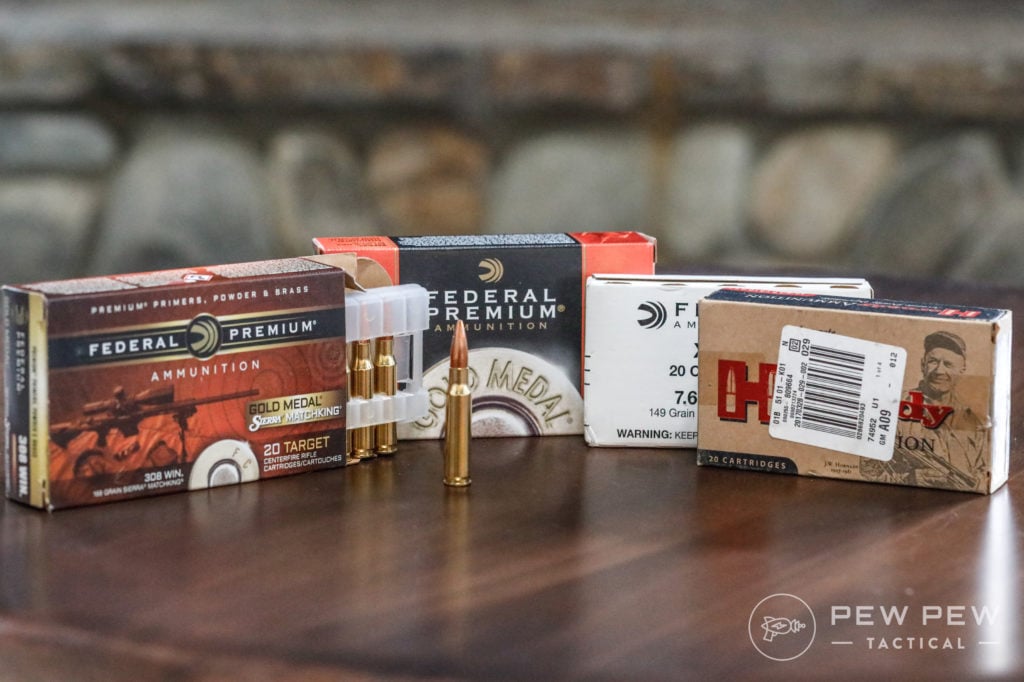 These are the rounds recommended by Aero themselves:
As you can see, the top recommendations were the ones tested, and Eric shot between 1.5 and 2 MOA, which is perfectly respectable for a sub $2,000 .308 rifle with factory ammo.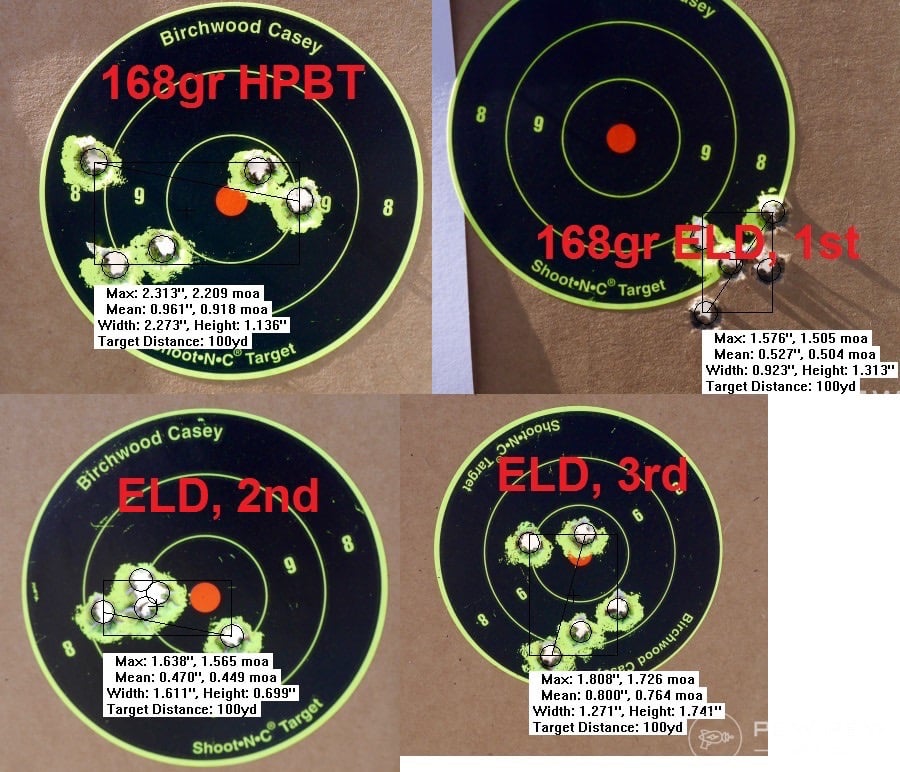 With hand loads, we believe the gun is capable of around 1 MOA to Sub-MOA accuracy.
Eric's full review here.
While Eric used a complete Aero AR-10 upper, I went a more custom route for my 6.5 Creedmoor AR-10.
This is one of the things we really like about the Aero Builder's Kits; they allow for a lot of flexibility.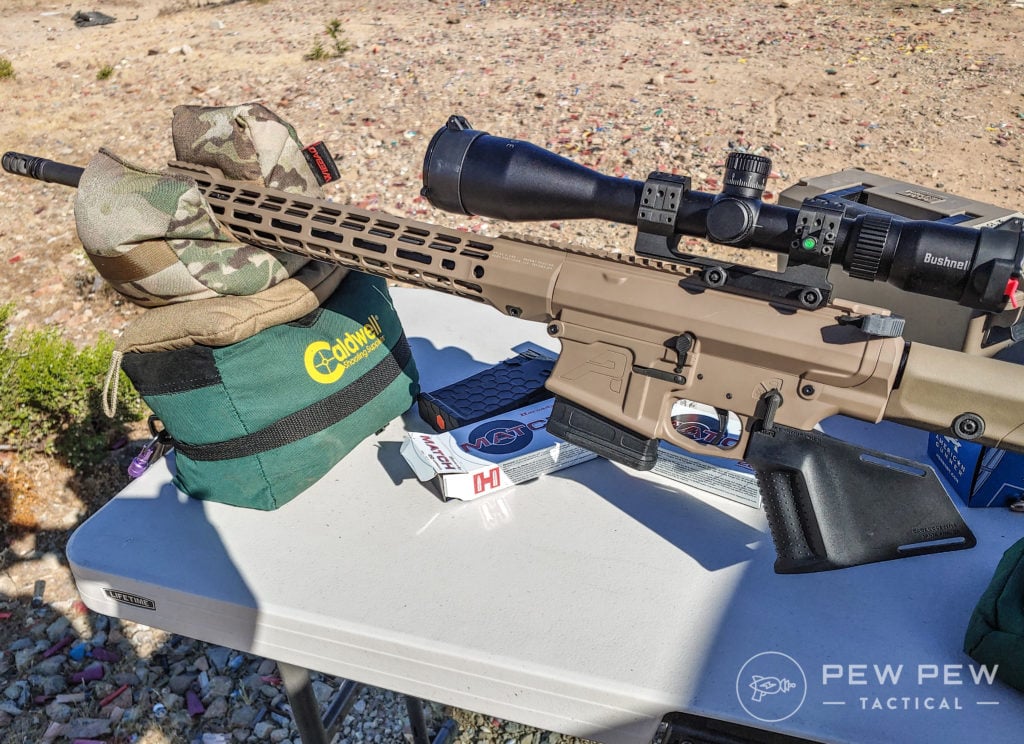 I started off with the Aero Precision M5E1 FDE Builder's Kit and an FDE Magpul PRS stock.
From there, I added a Criterion heavy barrel, VG6 muzzle brake, Aero lower parts kit, Radian Raptor charging handle, and an Aero BCG with JP enterprises bolt.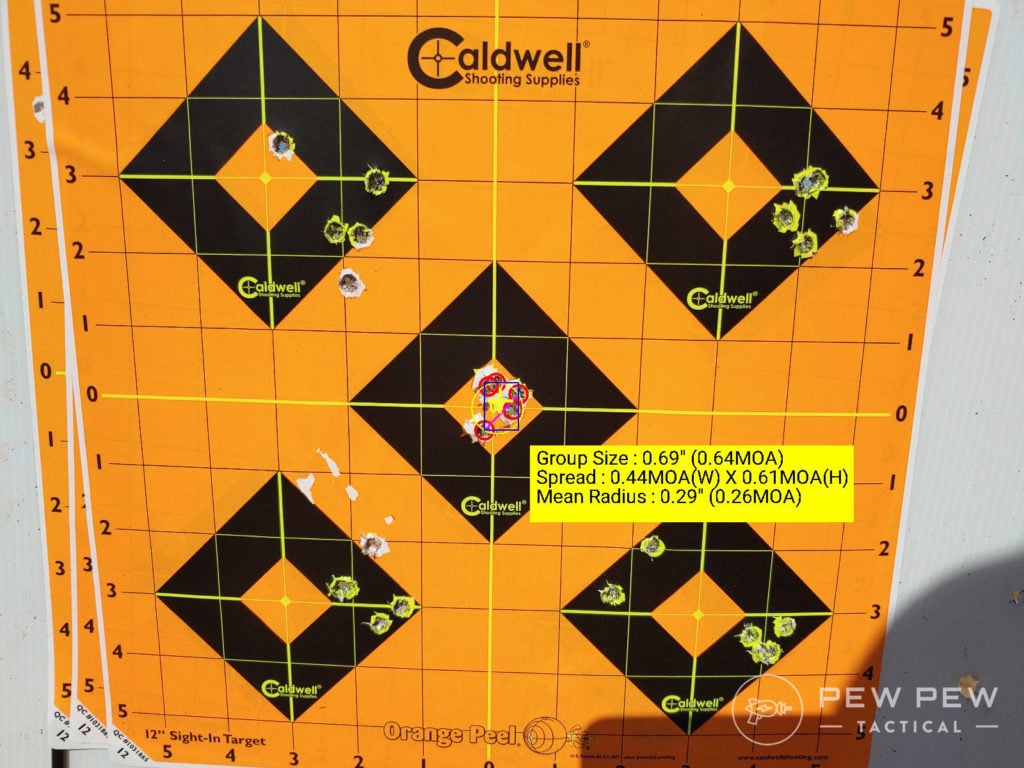 I've only gotten to push my Aero build out to 650 yards so far, but the experience has been outstanding! I'm well over 500 rounds into this rifle with zero malfunctions.
376
at Aero Precision
Prices accurate at time of writing
Prices accurate at time of writing
The bottom line?
Be it in .308 or 6.5 Creedmoor, Aero built or custom parts, the M5E1 is a solid platform.
2. LWRCi REPR MKII 7.62 Rifle
Okay, first of all, it's pronounced "Reaper," which is either cool or a little too "edgy teenager with dark eyeliner," depending on your perspective.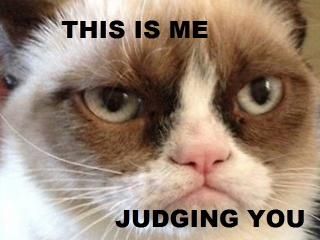 But really, a name has never once caused a gun to perform better or worse. What matters, as the infomercials will tell you, is one simple question: will it blend?
Well, in this case, it will absolutely blend. Or shoot. It's a weird metaphor, just go with it.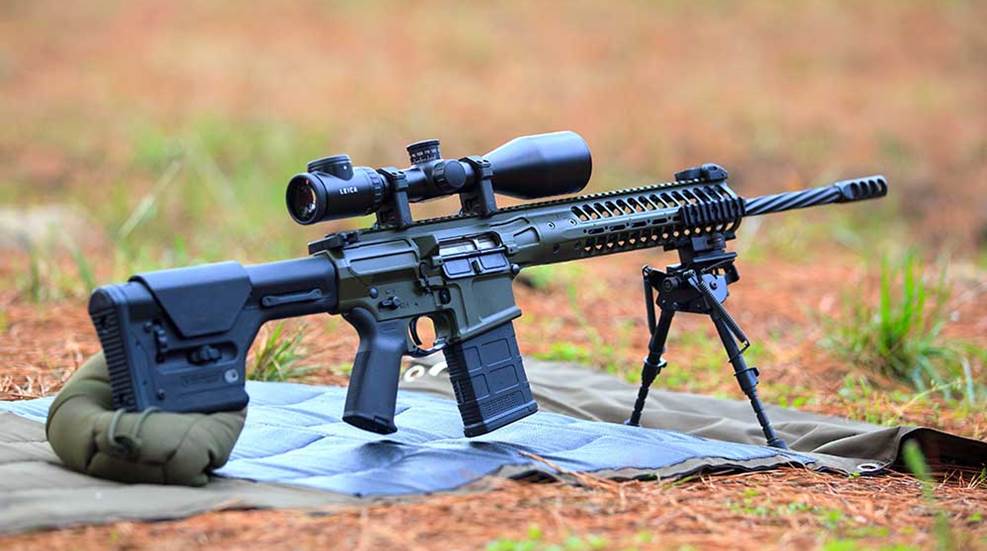 LWRC originally created the first version of the R.E.P.R. for the military's CSASS (Compact Semi-Automatic Sniper System) competition. While they lost that contract to H&K, they certainly didn't do poorly.
The LWRCi R.E.P.R MKII is an updated version of that rifle and is built to the same exacting standards as the already awesome first version.
The main difference between that version and the MKII is the gas system. The new gas system is adjustable to 20 different positions as opposed to the suppressed and unsuppressed settings of the first R.E.P.R's gas block.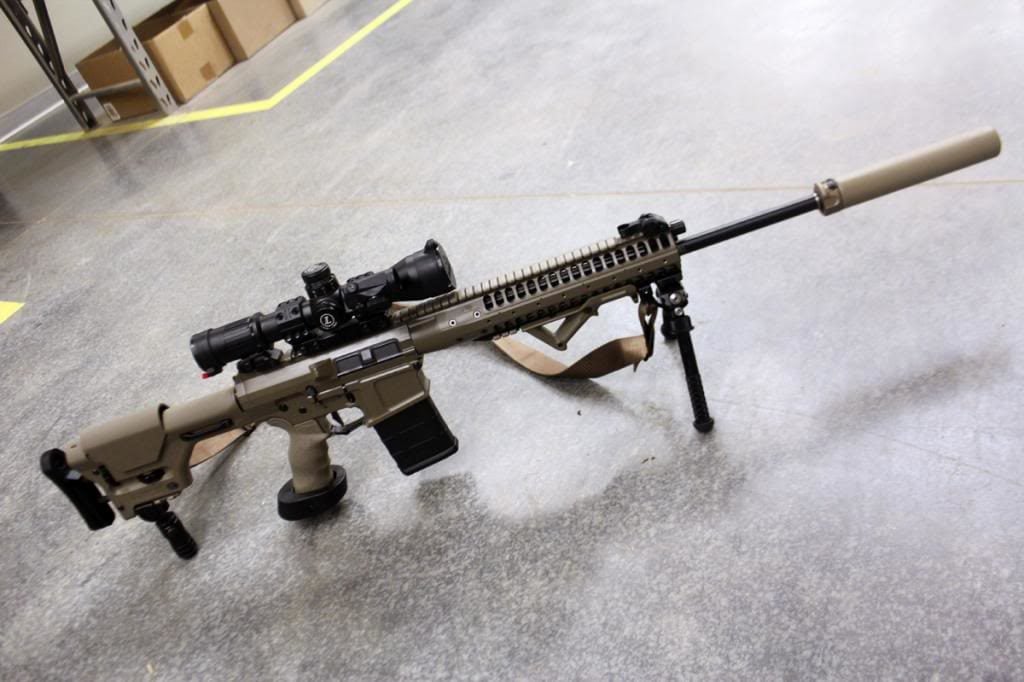 How Does it Shoot?
Really good. Okay, freakin' great!
Using Federal Gold Medal Match 175 GR, Matt put five rounds into a one-inch circle at 200 yards. For those of you playing along at home, that's a half-MOA performance.
Not only is the R.E.P.R incredibly well built, but it's also crazy accurate. The price is steep, but you get what you pay for.
Best High-End AR-10
3648
at Kygunco
Prices accurate at time of writing
Prices accurate at time of writing
LWRC also makes a great line of AR-15s that deliver the same level of performance and reliability as their AR-10. I highly recommend you take a look!
3. Daniel Defense DD5
Daniel Defense makes good stuff — that shouldn't be news to you. They hold a number of military contracts, and with good reason. Their guns shoot, they shoot well, and they shoot every time.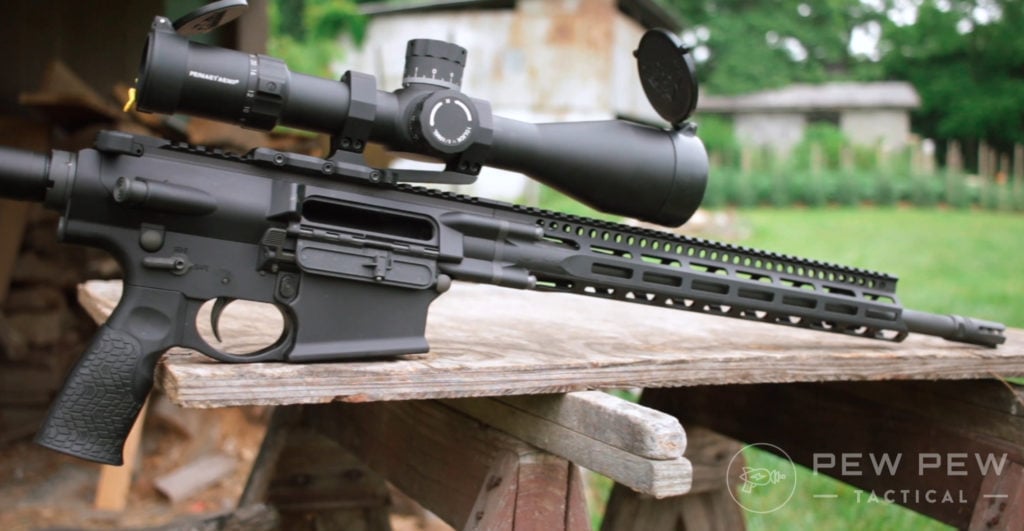 Specs
Four-bolt system fastens barrel and handguard attachments
Geissele SSA two-stage precision trigger with 2.5-lb. take-up
Oversized cam pin, enhanced extractor geometry, and dual ejectors
Lower receiver with oversized trigger guard and flared magazine well
How Does it Shoot?
Like a dream. We've killed deer with it. We've rung the gong at 800 meters with it. We've put half a mag in a half-inch hole at 100 yards. Never had a problem with this gun and never expect to.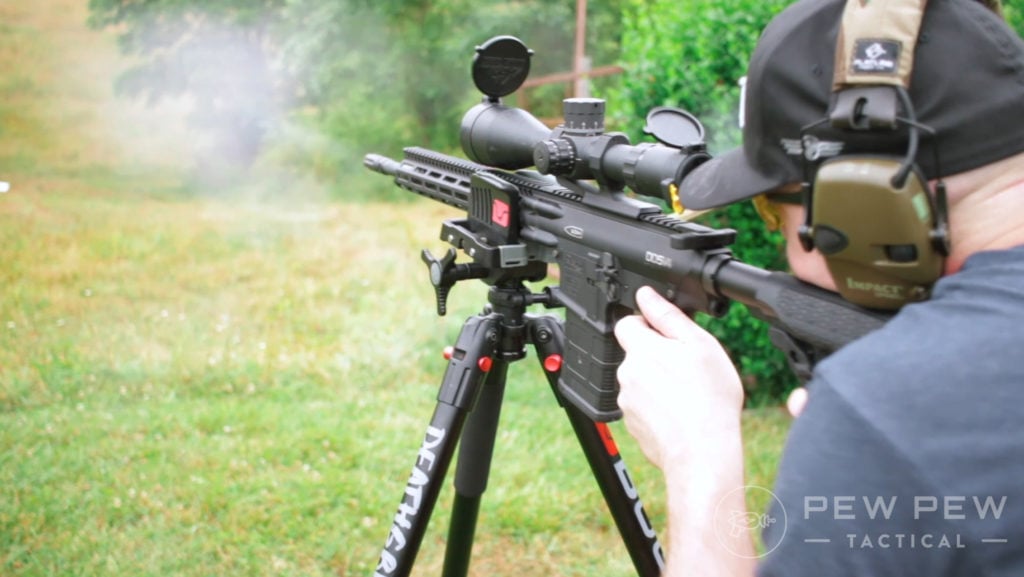 If you're looking to use this gun for competition, hunting, or even home defense, the gun will do its part if you do yours.
One thing I will say, particularly about this gun and the LWRC: you get what you pay for.
With some guns, you don't, and when it comes to expensive guns like this, that price tag gets harder to justify the bigger it gets. All of these guns made this list because they are worth the money.
2224
at GrabAGun
Prices accurate at time of writing
Prices accurate at time of writing
Want more? Watch our review below!
4. Ruger SFAR
Normally I am a little hesitant to recommend something that is newer to the market. But while the Ruger SFAR lacks a long-term track record, it makes up for it with some great features.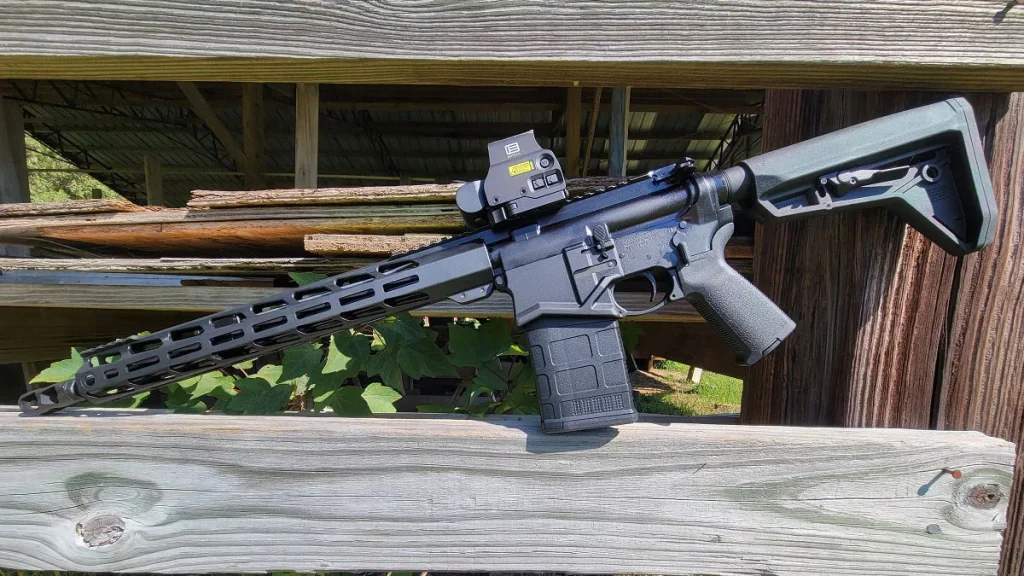 So what sets it apart? Well, for starters, it weighs in at an amazingly-light 6.8 pounds. Ruger achieved this by utilizing a true AR-15-sized platform that stretches the magazine well to accommodate the .308 cartridge.
Ruger employs a toughened 8620 steel bolt carrier, and a proprietary super steel bolt and barrel extension to ensure that it can withstand the increased recoil and wear produced by the larger cartridge.
The gas system is mid-length and features a 4-position adjustable gas block to help ensure reliability and function for most common ammunition on the market.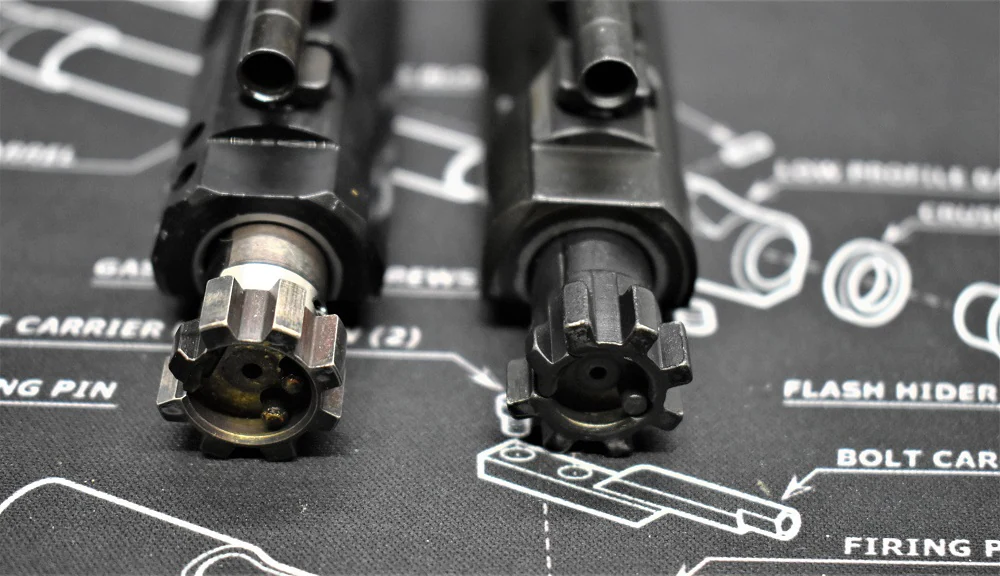 On top of all that, you get a 15-inch free-float M-LOK handguard, 2 port muzzle brake, Ruger Elite 452 2-stage trigger, and Magpul MOE furniture.
And the best part about all of this? It clocks in right around the $1,000-1,200 mark, making it one of the more affordable AR-10s out there.
How Does it Shoot?
While we haven't gotten our hands on one yet, other reviewers have.
Lightest AR-10
965
at GrabAGun
Prices accurate at time of writing
Prices accurate at time of writing
The general consensus is that the rifles shoot anywhere between .5 and 1.5 MOA, depending on the ammunition and the shooter. That puts the SFAR right in the ballpark with some of the other guns on this list. Considering the price and other features, that isn't too shabby.
5. Palmetto State Armory AR-10 (PA-10) Gen 3
The PA-10 is probably the most affordable one on this list…and that's because from raw materials to final product…PSA does it all in-house.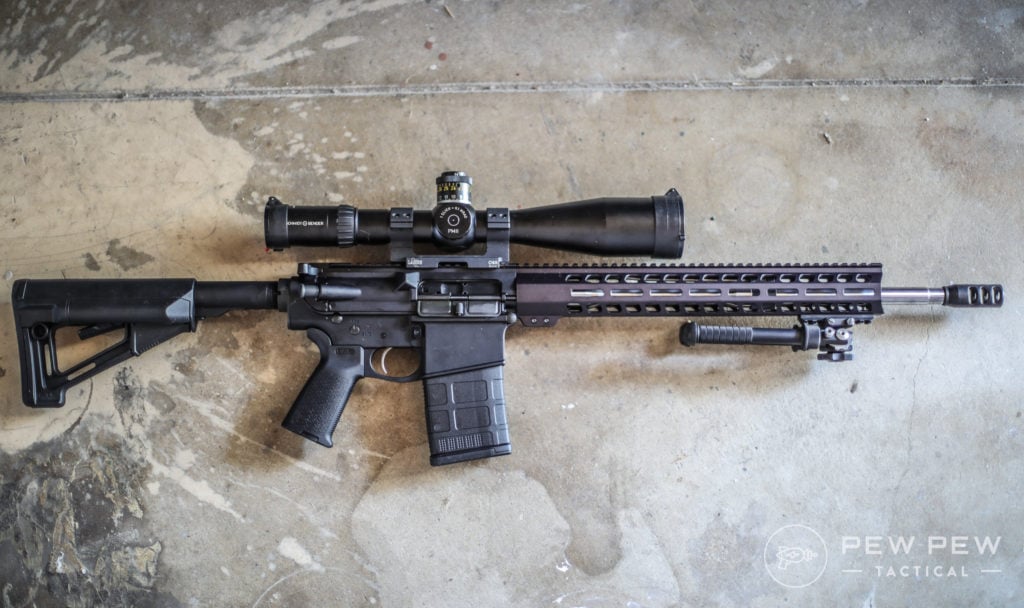 We've tested the Gen 2 for years and now have updated our full review with the Gen 3.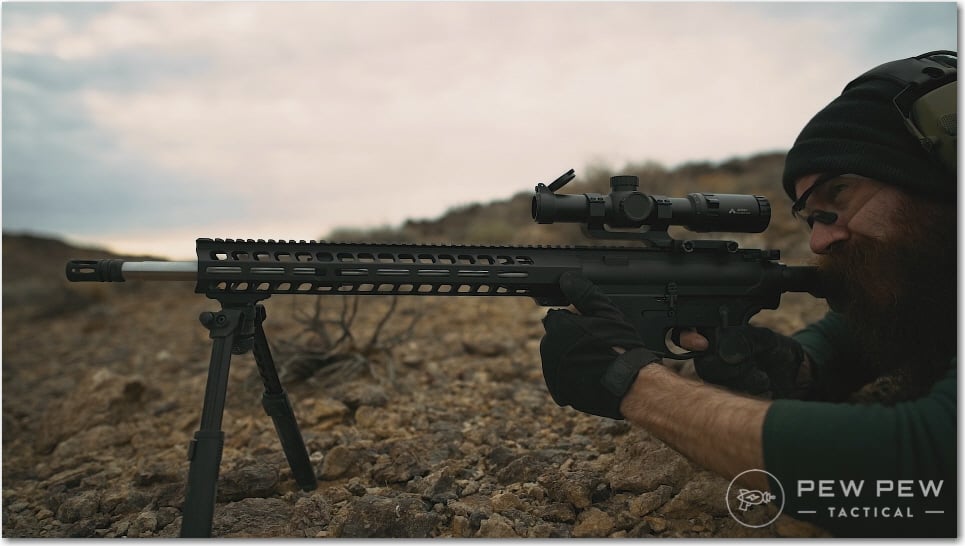 One of the best updates to the Gen 3 model is the inclusion of an adjustable gas block.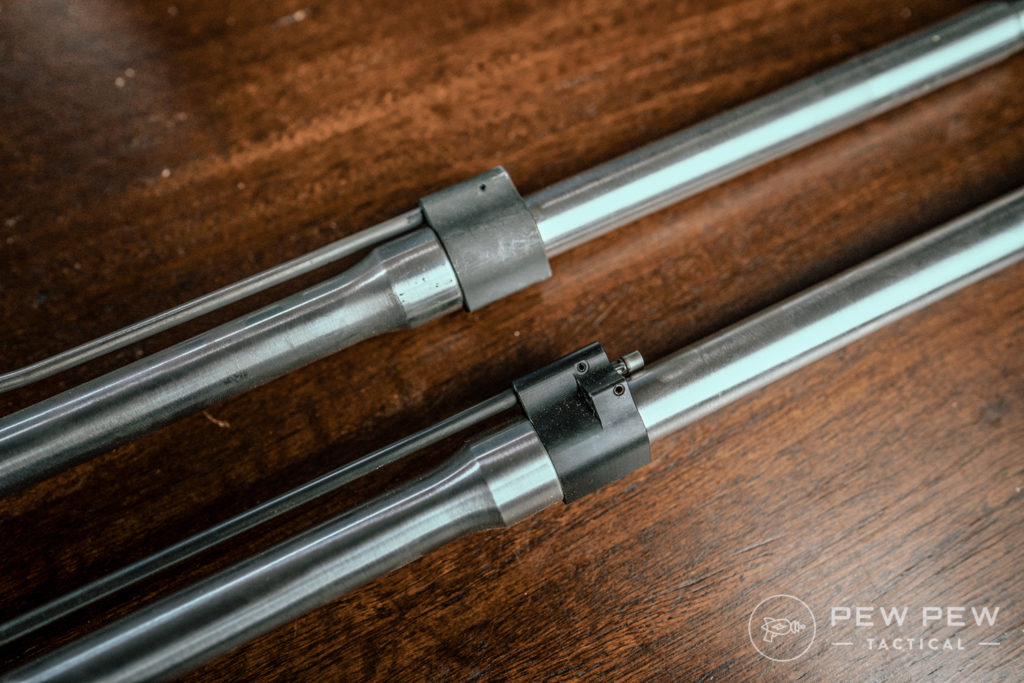 It doesn't magically make recoil zero…but it helps dampen the .308 cartridge when you configure it for your specific load.
A lot of the time, PSA's complete rifles are out of stock.
Best Budget Option
749
at Palmetto State Armory
Prices accurate at time of writing
Prices accurate at time of writing
Plus, you get slapped with an 11% completed rifle tax.
But since AR-10s are also pretty modular, you can buy a complete upper and complete lower separately.
It saves you some money and gives you more control over furniture/trigger options.
For lowers, I like their STR buttstock and 2-stage trigger.
169
at Palmetto State Armory
Prices accurate at time of writing
Prices accurate at time of writing
And for uppers, I'm a fan of going 18-inch to wring out some extra accuracy and velocity of the bigger rounds. Plus, it's not as unwieldy as the 20-inch.
Make sure you get a combo WITH bolt carrier group (BCG) and charging handle (CH) included.
449
at Palmetto State Armory
Prices accurate at time of writing
Prices accurate at time of writing
How Does It Shoot?
Pretty well! Especially when it's supported with a decent bipod.
It will run reliably out of the box and shoot decent groups for a rifle around $600.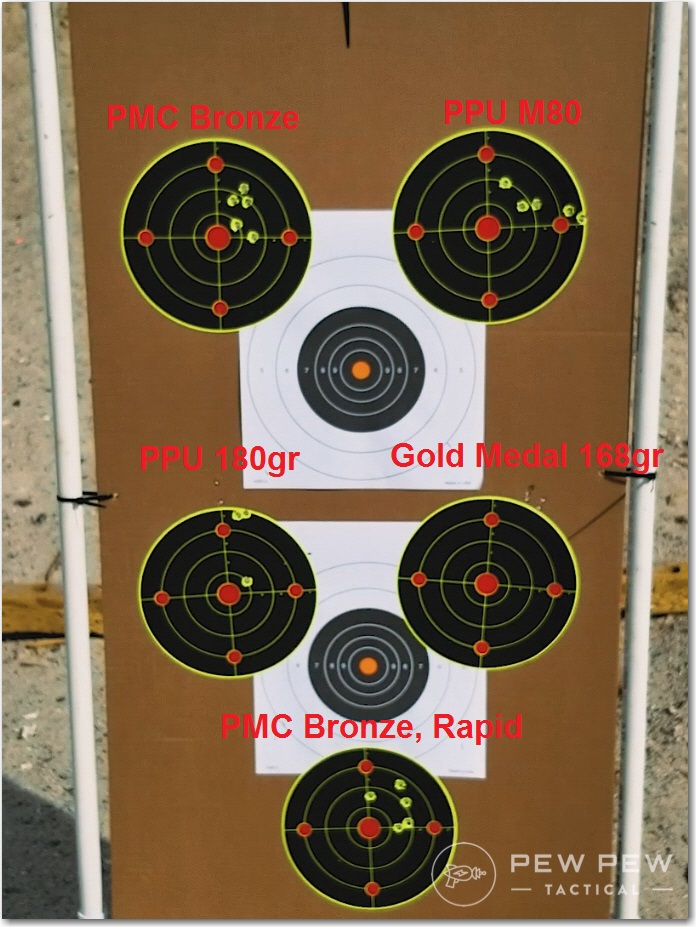 Truly the best bang for the buck in the AR-10 world…if it ever stays in stock long enough!
Reviews
I've had the pleasure to shoot two AR-10 offerings from PSA.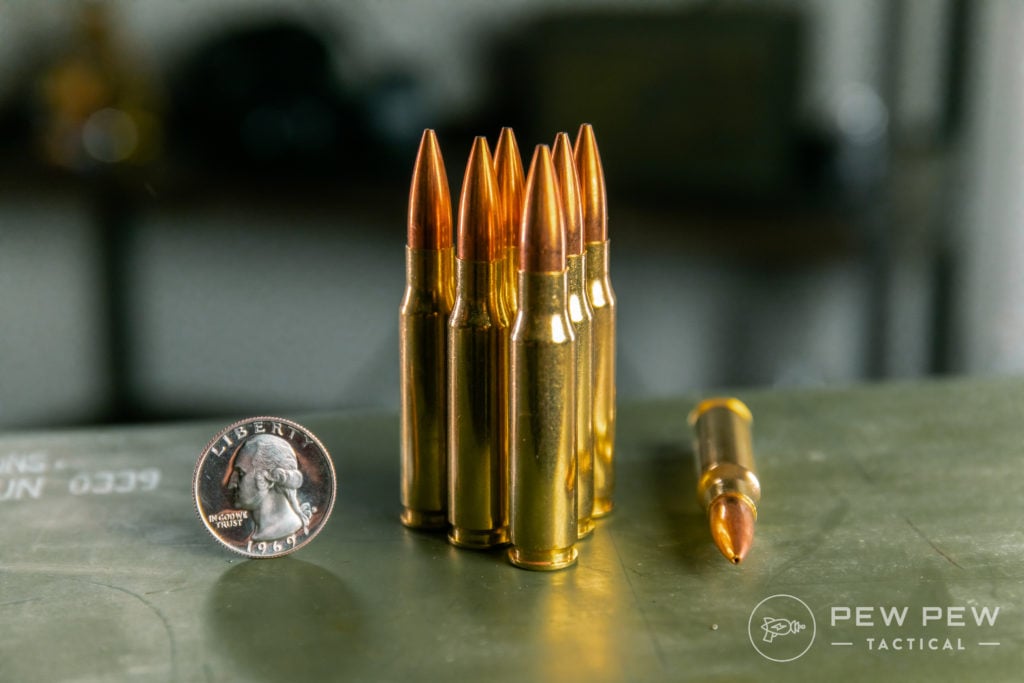 The more common one is the .308 version (full review here) which shot great. Check out the review for videos of me hitting 600 yards with ease.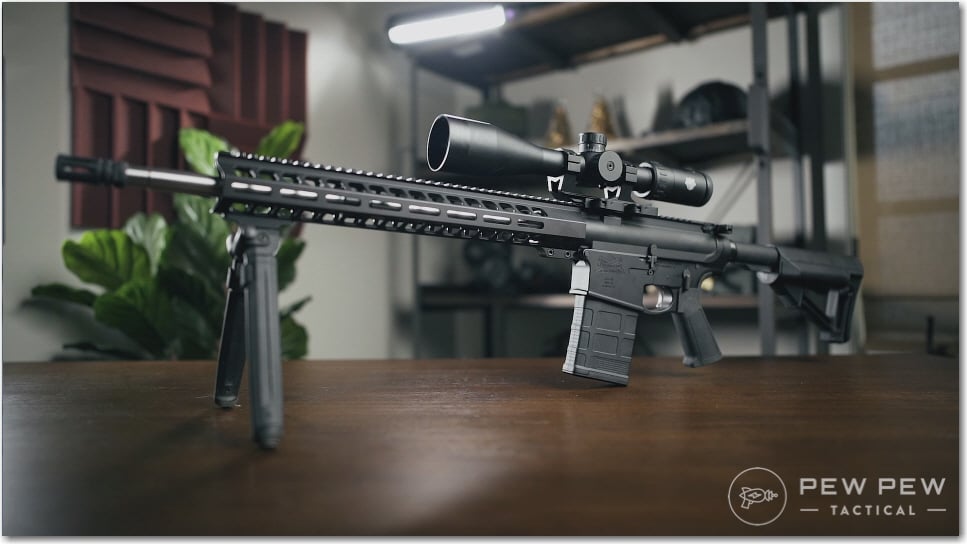 And just in…our full YouTube review of the PA-10 Gen 3:
Need to go further?
The AR-10 in 6.5 Creedmoor will stay supersonic to 1,200 yards and still pack a punch further than that.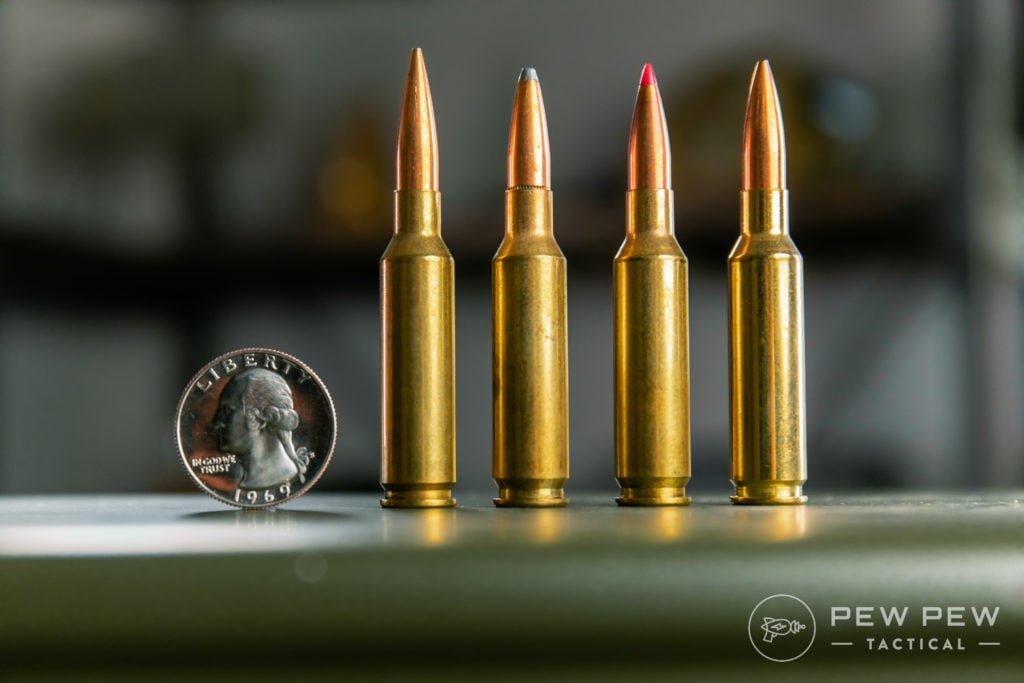 Check out our full review of PSA's 6.5 Creedmoor!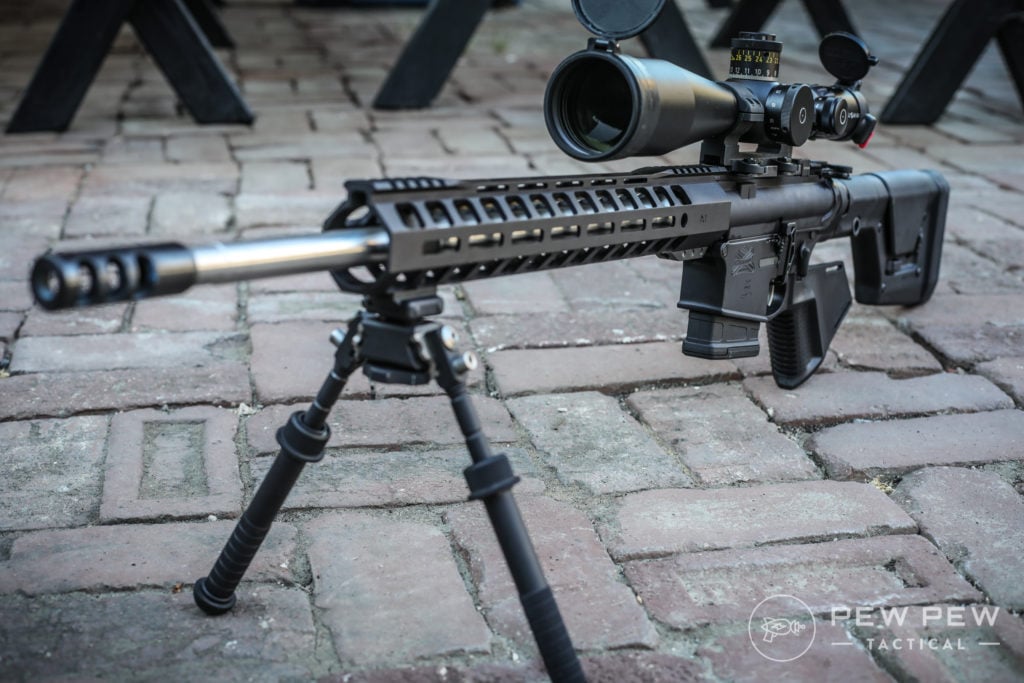 What's your take on the PSA line of AR-10s? Rate it below!
6. Sig Sauer 716i Tread
Most of the PPT staff has had the chance to shoot the 716i Tread, and we are in agreement that it rocks!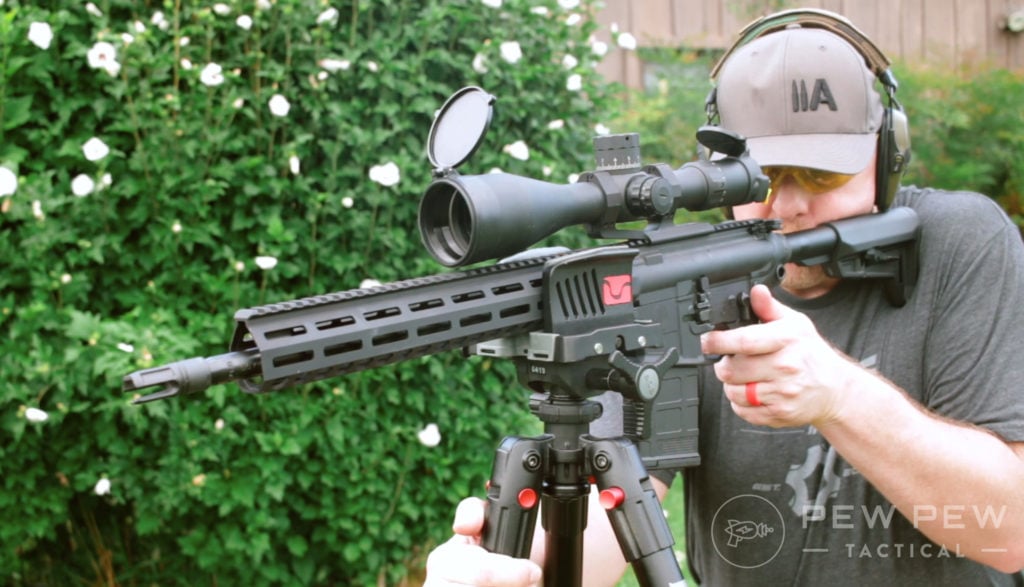 Johnny was the lucky one that got a 716i sent to him for complete testing, he loved it so much that he insisted on buying it for his personal collection — that really should tell you a lot.
He has a complete video review on it, so take a look at that or read our article for all the details!
This puppy shoots. Right out of the box, the groups are outstanding, the recoil is soft, and the system as a whole is clearly well-tuned.
It also features almost completely Ambi-controls, a Magpul stock, and M-LOK handguard.
But the trigger isn't perfect, and the charging handle is bleh. Still, this delivers a LOT of rifle for the price.
Best Mid Level AR-10
1499
at Kygunco
Prices accurate at time of writing
Prices accurate at time of writing
Between this or the Aero Precision M5E1…it's a really close call.
Final Thoughts
All in all, I love the AR-10.
It's a sometimes-finicky rifle that, when done well, can be one of the greatest joys to shoot, and one of the most versatile options in your gun safe.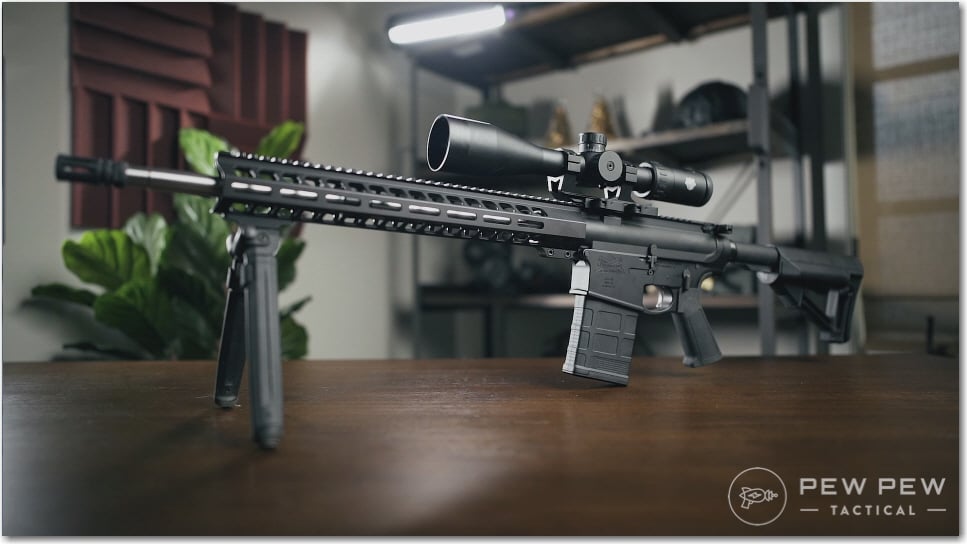 These guns are the best of the best in their particular niches and are perfect if you find yourself needing to hit something very far away with a very large bullet.
What are your thoughts on the AR-10 and our list? Let us know in the comments below. Also, check out our hands-on reviews of the Best AR-10 Muzzle Brakes and Best AR-10 Buttstocks. Already have an AR-10 and are looking to add a scope? Check out our recommendations here!