It's crazy how fast the tactical industry changes.
When I began in the tactical world, a chest rig was a massive piece of gear made by a company like Blackhawk.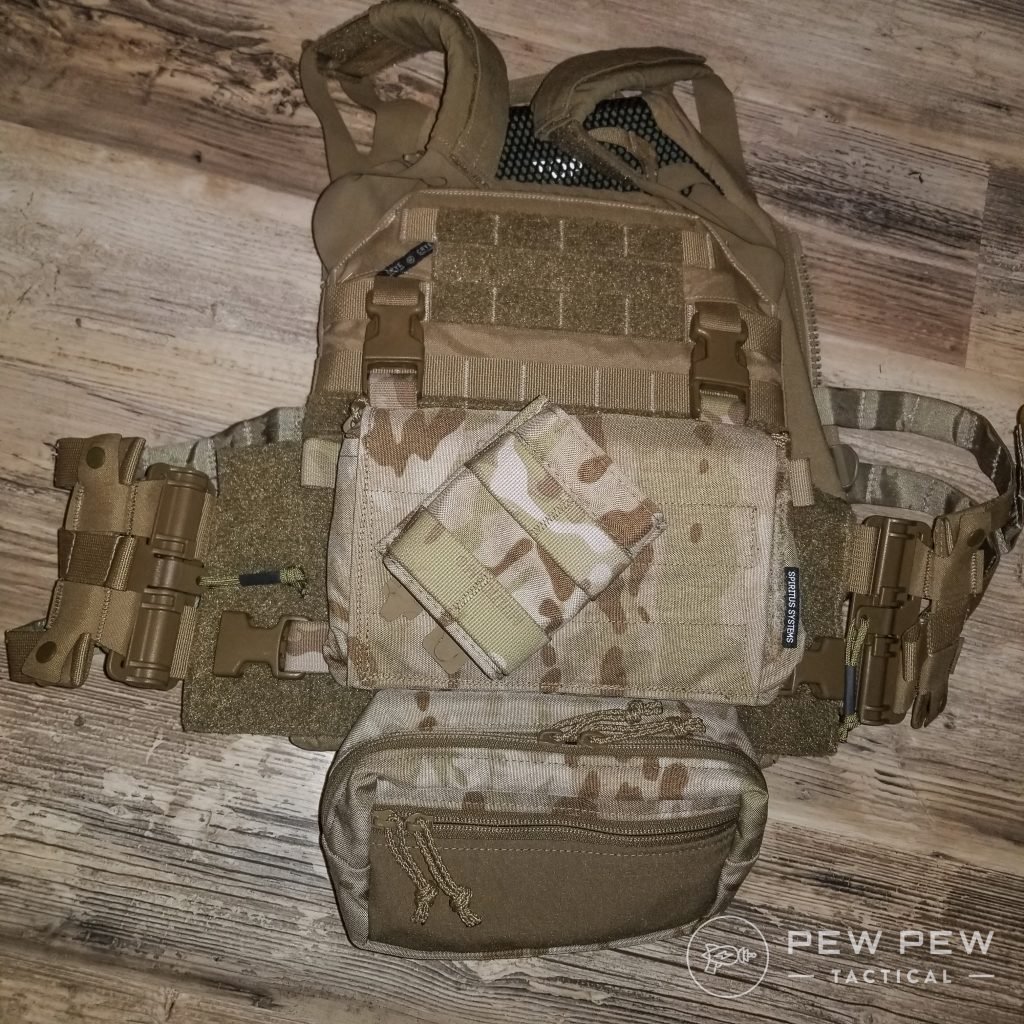 These rigs were often adorned with magazine pouches for rifles and pistols, an admin pouch, and maybe a pistol holster.
Ten years later, the plate carrier is common, and the chest rig has shrunk considerably.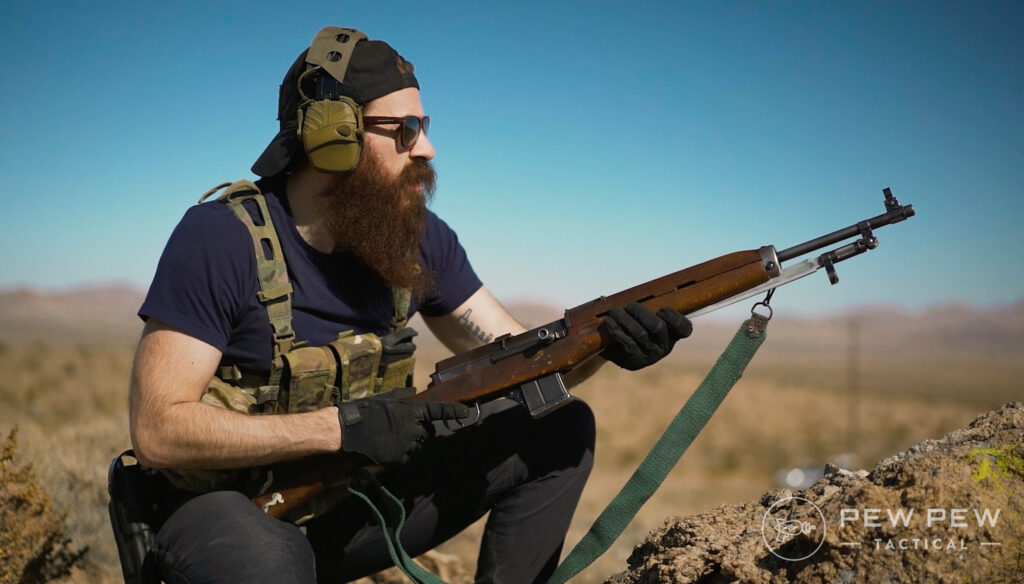 A minimalist rig provides a lightweight option for a lightweight fighting load.
Sometimes you don't need a big hefty plate carrier and 210 rounds of 5.56 to get the job done.
I love minimalist loads because weight sucks, and so does heat. And minimalist chest rigs keep things light and cool.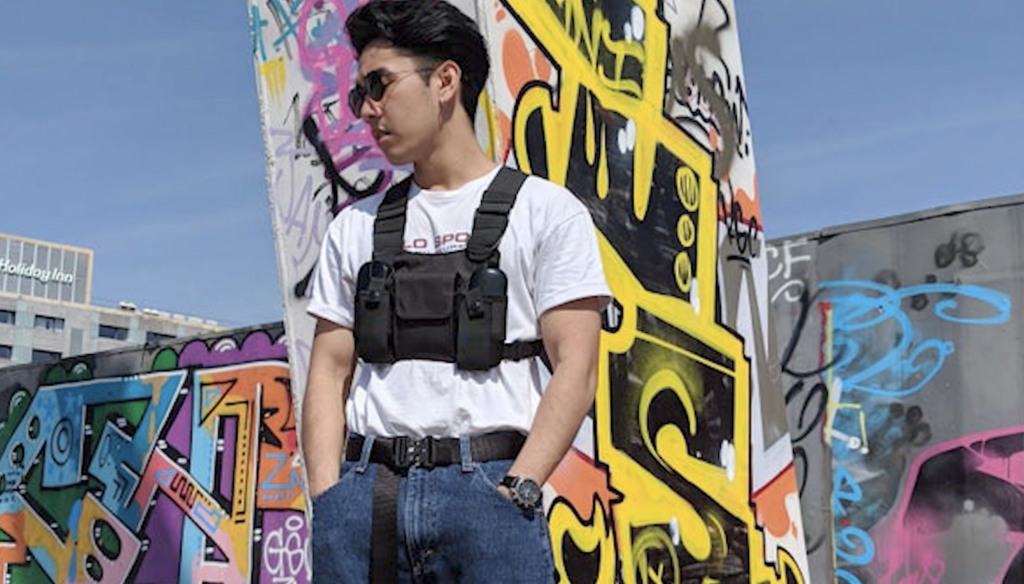 Today we are looking at some of the best minimalist chest rigs on the market. I'll talk about which I prefer and what makes them great.
So without further ado, let's dive into my seven favorite minimalist chest rigs.
Best Minimalist Chest Rigs
1. 5.11 Tactical All Missions Rig
What's interesting about the new All Mission Rig from 5.11 Tactical is the fact they really mean all missions.
At its core, the rig is a beefy set of shoulder straps and a panel of hook and loop — that's it. The idea is that you make it what you want it.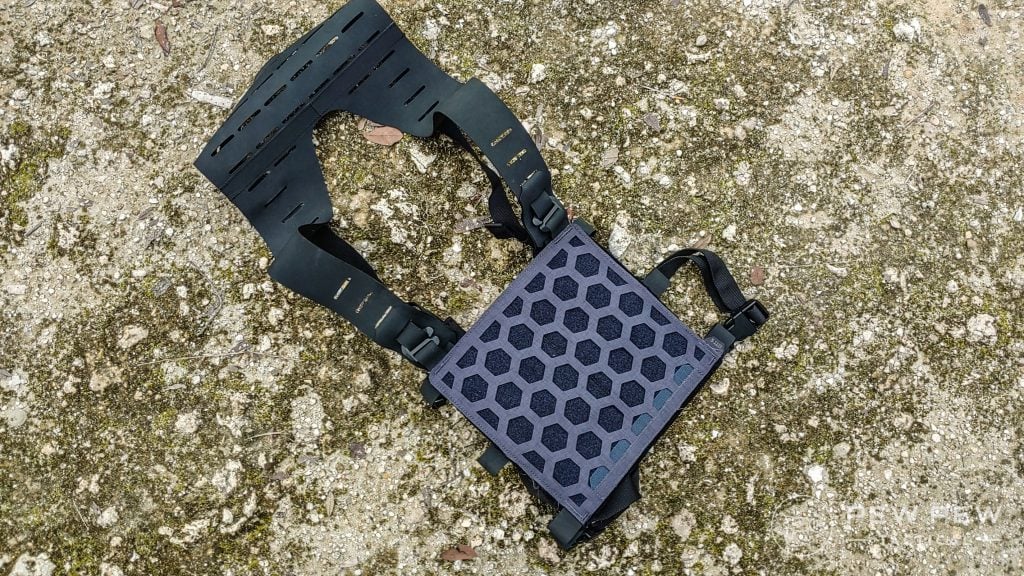 That little panel of loop material can be wired any which way you want…add placards or MOLLE panels, or direct attach pouches using hook and loop, etc.
If you want to go tactical, you can. But if you'd rather a survival or hunting rig, it's not tough to set that up either.
You can equip it with pouches for camera gear, fishing gear, rifle mags, or whatever else you could ever want to carry.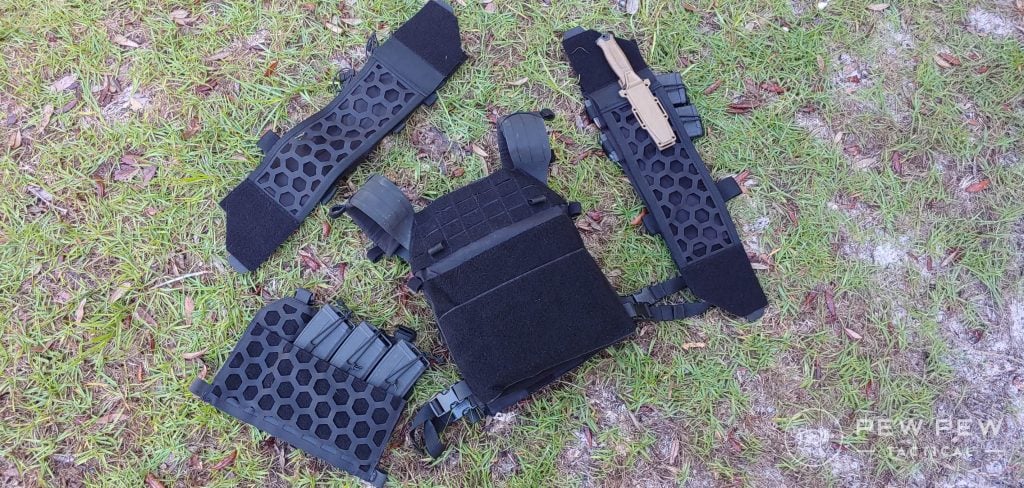 I tossed a Hex grid panel on mine so I can mount accessories at various angles.
I'll likely end up setting it up for my field gear at my day job, with pouches for a radio, PPE, a water source, and the like.
The shoulder straps and rear portion are massive for a minimalist chest rig. That said, they provide a ton of support for whatever gear you're strapping to your chest.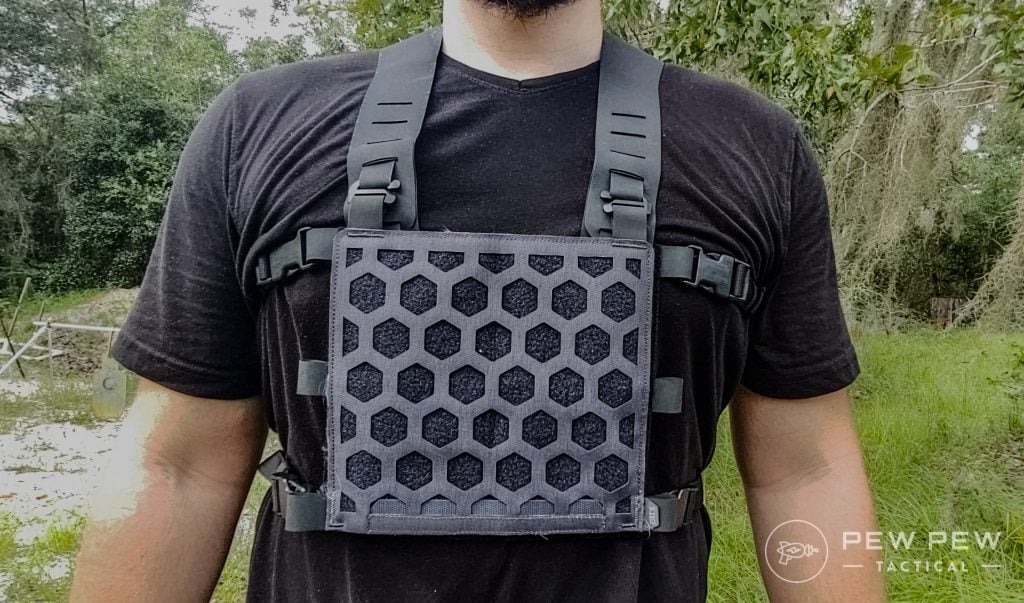 The rear of the harness features a laser-cut MOLLE panel for attaching other goodies.
You can attach the 5.11 Tactical AMPC mini backpack, a hydration source, or MOLLE compatible katana sheath.
Bottom line…this minimalist chest rig rocks.
Most Versatile Minimalist Chest Rig
280
at 5.11 Tactical
Prices accurate at time of writing
Prices accurate at time of writing
Read my full review on the 5.11 Tactical AMP Chest Rig here.
2. Vertx Firebase Parabellum
Vertx is primarily known for making some outstanding packs, including my favorite sling bag, the Commuter.
I love Vertx, and when they revealed they were releasing a chest rig, I was thrilled.
The Firebase Parabellum from Vertx might be their first try at the chest rig game, but it's a clear winner.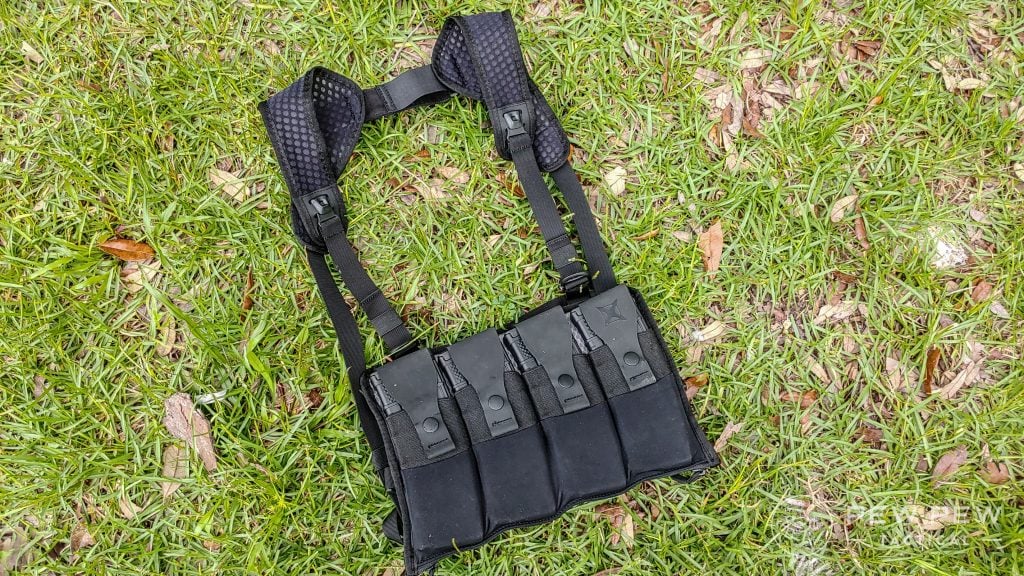 The Firebase Parabellum comes in an AR-15 or PCC configuration. I've got the AR-15 rig, but I really want the PCC rig too.
The front portion of the rig is a placard that's removable and attachable to a chest rig or whatever else.
As a chest rig, it offers you just enough room for the four magazine pouches and a small admin/map pouch behind the magazines.
The real magic to the Firebase Parabellum is the ability to swap its various configurations around.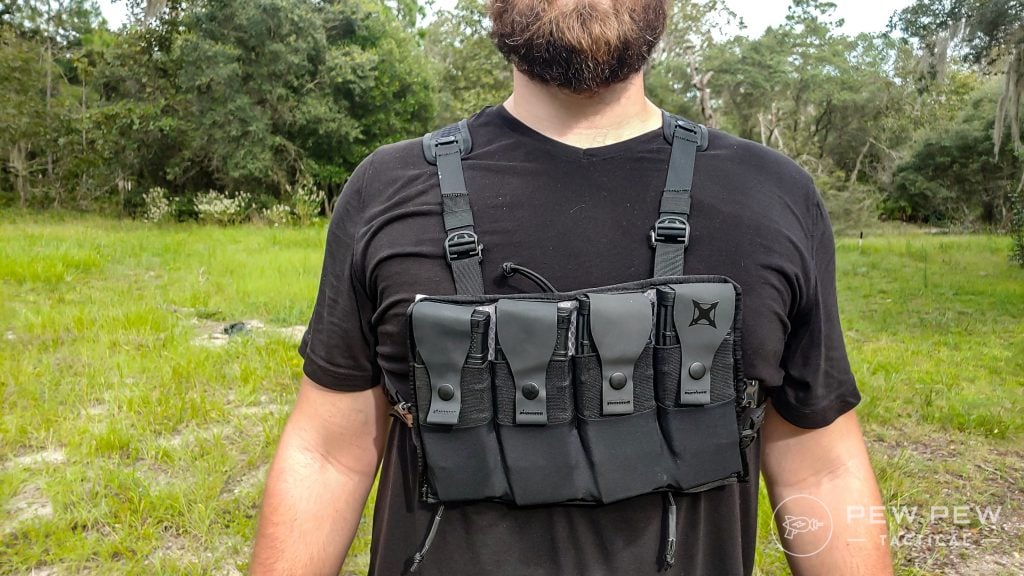 You can wear the Firebase Parabellum as a chest rig, or with a swap of some straps, it can become a bandolier and ride beneath your left or right arm.
Not to mention, you can also orientate the magazines point up or pointing down. The button-sealed flaps combined with elastic retention ensure the magazines never fall out when run upside down.
I like my magazines right side up for the chest carrier and upside down when using the kit as a bandolier.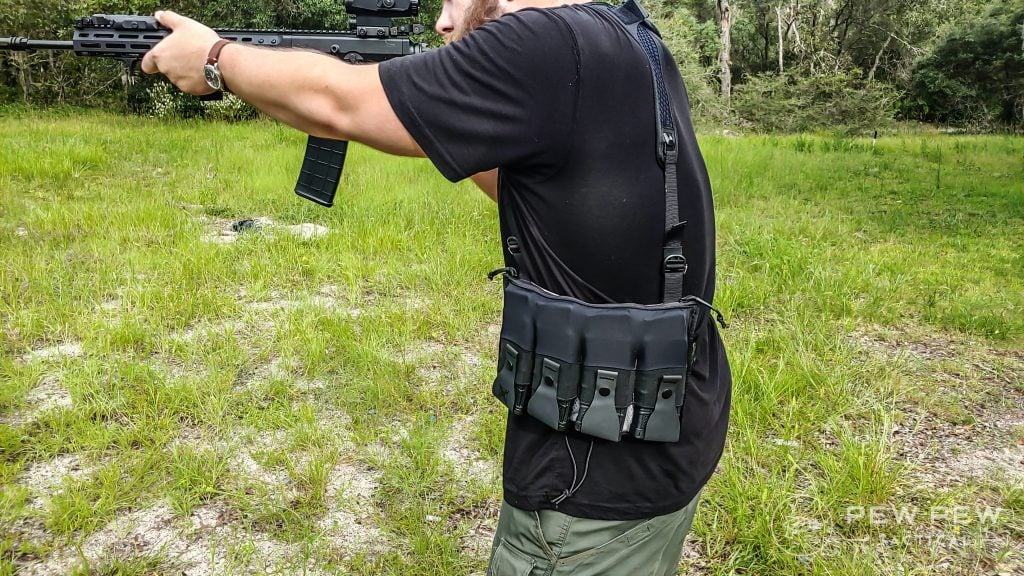 The shoulder straps are overengineered and comfortable, resembling the straps from a good shoulder holster more than that of a chest rig.
Vertx has done a fantastic job with the Firebase parabellum, and I'm excited to see what they do next. (I hope it's making a shotgun version.)
Best AR-15/PCC Minimalist Chest Rig
65
at Amazon
Prices accurate at time of writing
Prices accurate at time of writing
What do you think of Vertx? Rate it below!
3. Blue Force Gear Ten-Speed Rigs
Right off the bat, I'll hit you with a quick plug-and-play option that will cover a multitude of firearms.
Blue Force Gear's Ten Speed chest rigs are an awesome option for shooters who want something simple and effective to carry their mags and a little extra gear.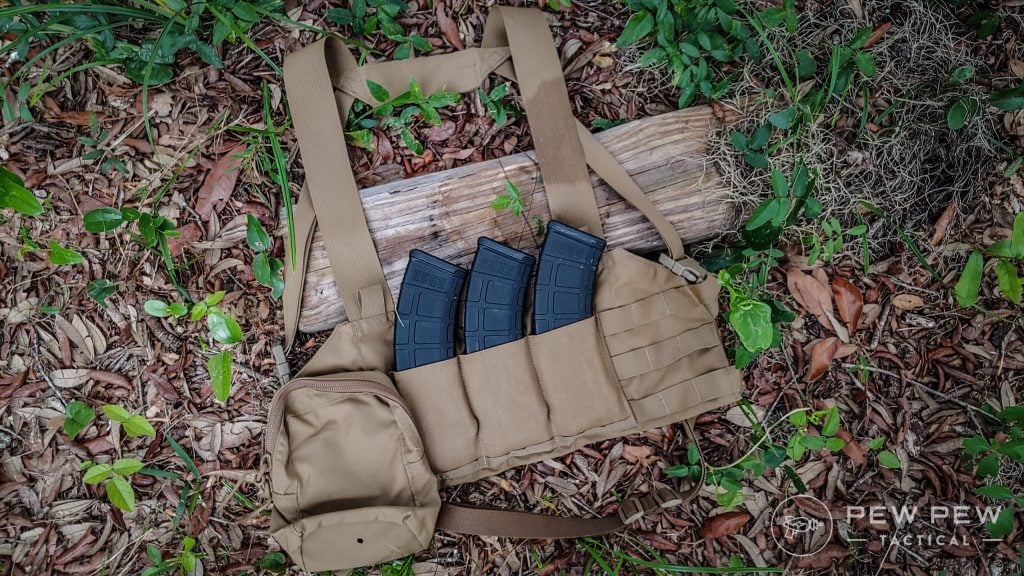 There are three versions of this rig — the MP7 which fits most PCC magazines, the M4 rig for AR-15s, and the .308 rig for G3, FN FAL, AK-47, and AR-10 magazines.
I own both the M4 chest rig for my 5.56 friends and the .308 rig for my AK series rifles. The MP7 rig has five mag pouches, the M4 has four, and the .308 version has three.
The magazine pouches utilize Ten-Speed elastic material that clings to those magazines. Retention is outstanding, but retrieving a magazine isn't difficult either.
It's perfect for running and gunning.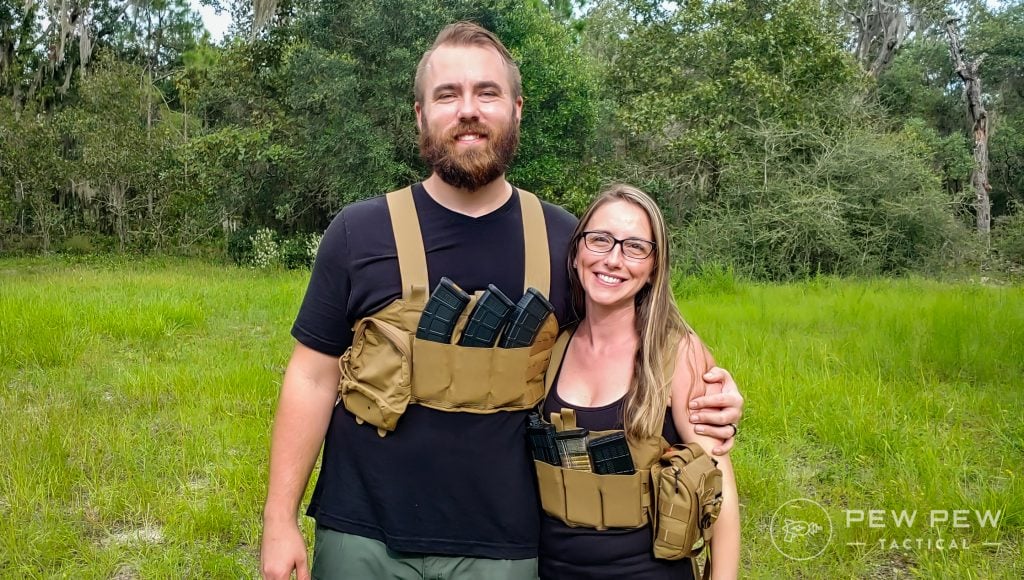 The straps at the rear are very adjustable, and you can run the kit over armor or beneath a concealment garment without issue.
Plus, it can be tightened down and can fit a wide variety of users, both big and small.
The rigs also have two wings of three MOLLE rows on either side of the magazine pouches for an IFAK, admin pouch, cup holder, etc.
93
at Blue Force Gear
Prices accurate at time of writing
Prices accurate at time of writing
4. Gadsden Dynamics Shotgun Chest Rig
Chest rigs for shotguns are few and far between. Minimalist chest rigs for shotguns are even harder to find.
Leave it to Gadsden Dynamics to create an extremely low-profile chest rig for the shotgun enthusiast.
It's small and compact, and it's perfectly paired with a short-barreled shotgun or Mossberg Shockwave-like firearm.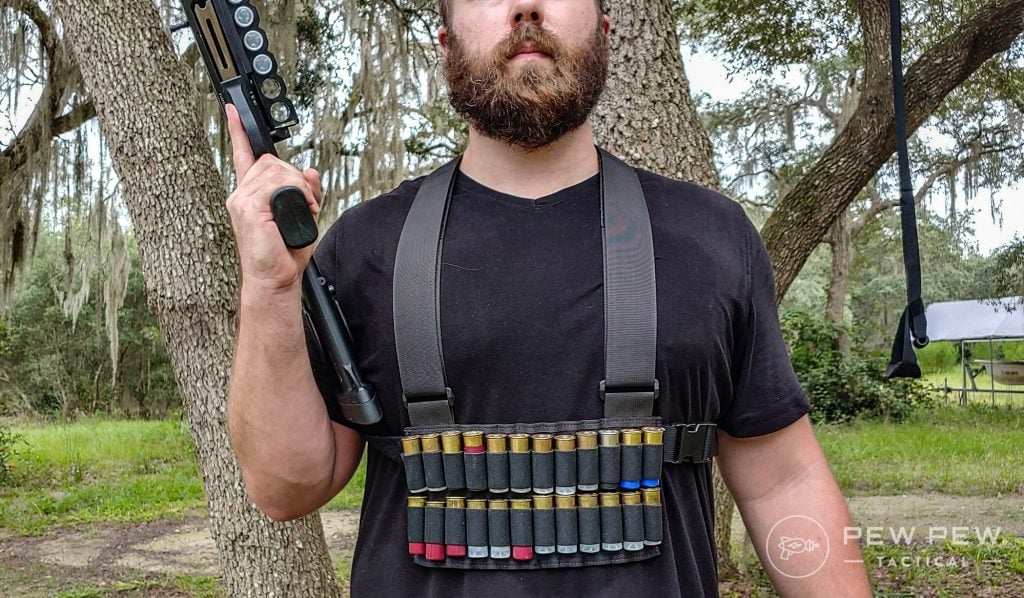 The Gadsden Dynamics chest rig is pretty simple. It's a square with two rows of elastic loops to accommodate 24 rounds of 12-gauge.
There's not much to it, and that's a good thing.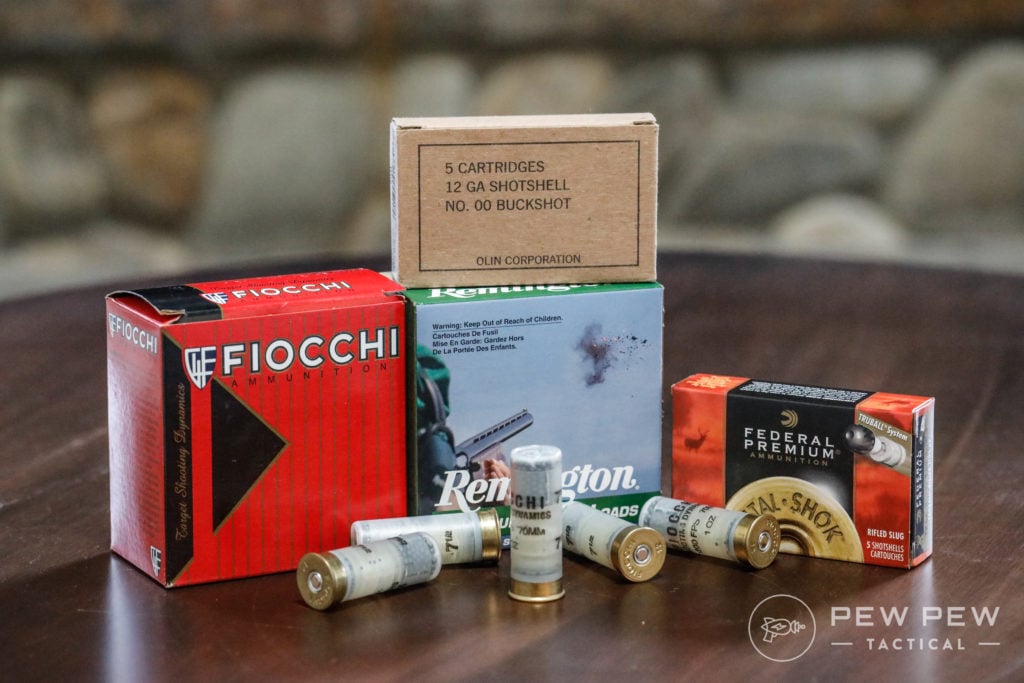 This type of rig is the definition of minimalism. It's perfect for tossing over an armored carrier and would appeal to me if I drove a patrol car with a shotgun.
If I need the shotgun, I might need the extra ammo. As such, having a small but easy to don rig would be massively beneficial.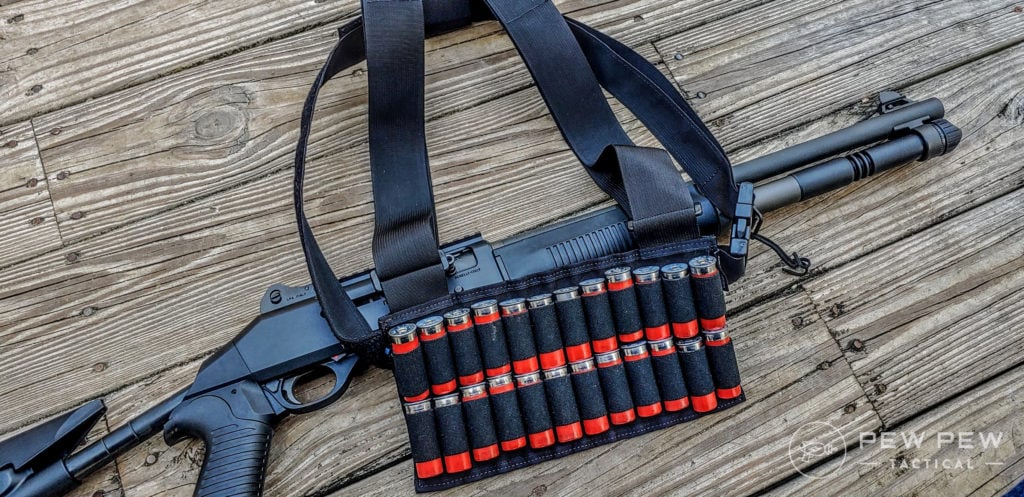 The H harness is included and very easy to adjust to fit different shooters or to fit over armor when necessary.
It's super comfy and supports the weight of the rig well.
Gadsden Dynamics is a small company with a focus on minimalist gear, so make sure you give their various rifle rigs a peak as well.
86
at Gadsden Dynamics
Prices accurate at time of writing
Prices accurate at time of writing
5. Beez Combat Systems PCC Chest Rig
Beez Combat Systems is another small but very talented company making a variety of textile gear for the tactical industry.
They make a ton of great gear, including an awesome shotgun rig.
Today, however, I want to show you guys an outstanding option for the pistol caliber carbine enthusiast.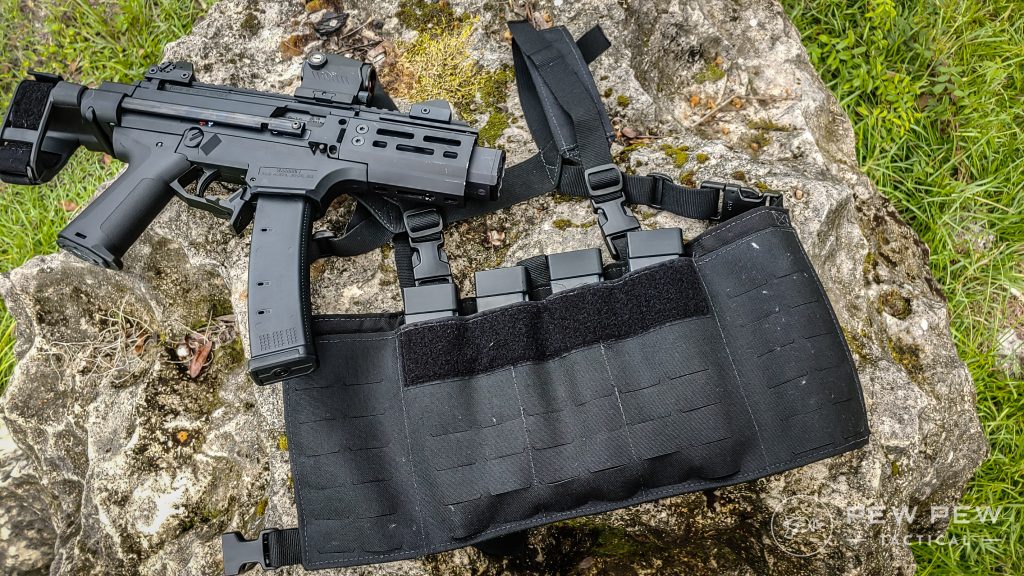 The Beez Combat System PCC Chest Rig provides sub-gun users with four magazine pouches capable of fitting their favorite PCC magazines.
We got coverage for Glock magazines, CZ Scorpion mags, MP5 mags, Uzi mags, Colt SMG mags, and so many more.
The pouches are generous, but I don't think our average PS90 user would be covered so take note.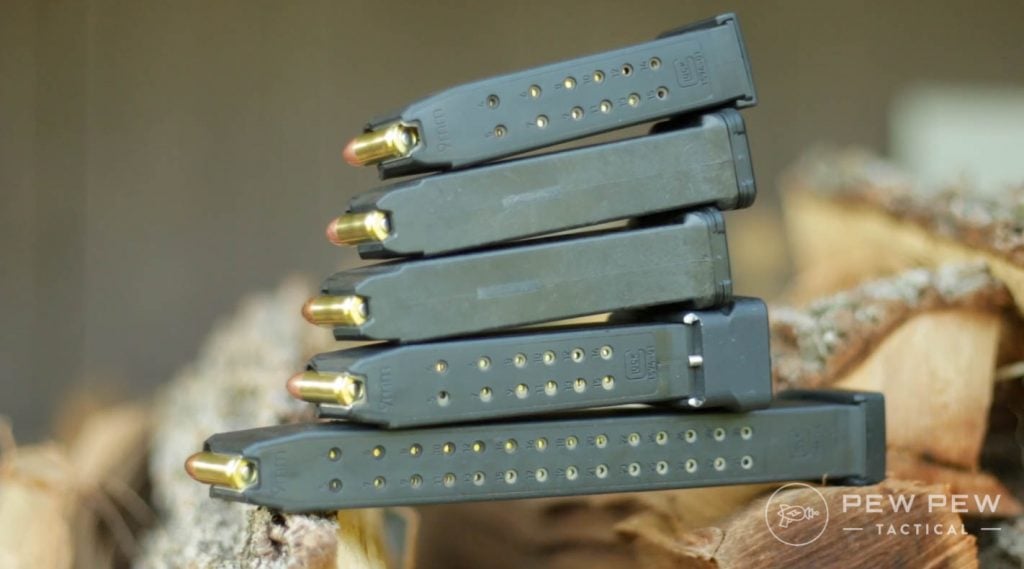 They offer standard MOLLE webbing on the outside of the grid laser-cut gear. I chose the grid model.
You can keep this bad boy low profile or attach all the goodies you could ever want. Plenty of room to expand if you desire to do so.
If you want to stay low profile, that's not a problem either.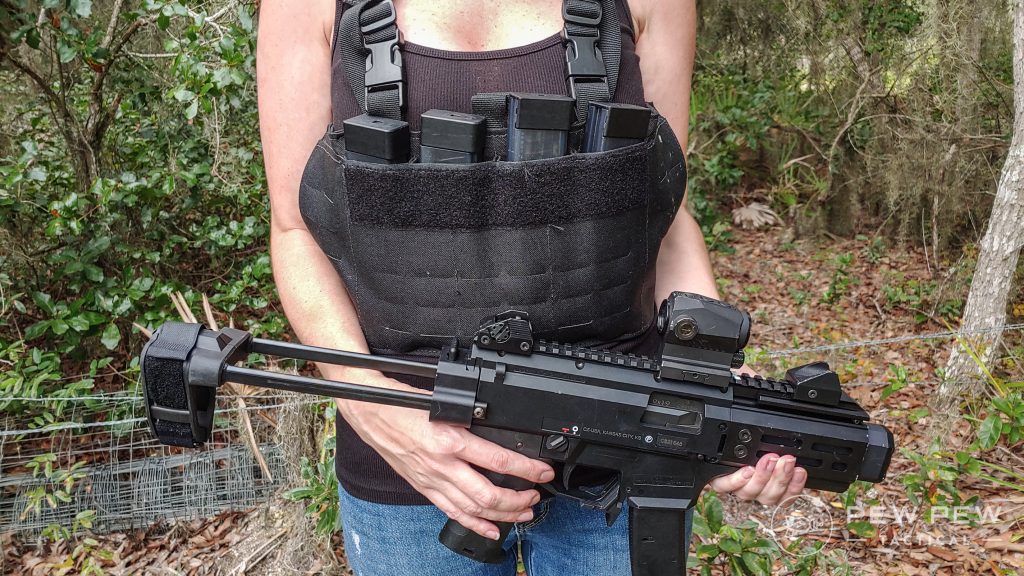 The removable flaps guarantee retention, but if you're like me, you prefer a fast reload and remove them. It's easy to do, and adding them back on isn't an issue either.
The generous straps provide plenty of comfort and allow you to tighten things down for a good fit for multiple body types.
The 2-inch wide harness also supports the weight of 120 to 140 rounds of handgun ammunition very well.
Those wide straps make adding accessories and weight to the chest rig a non-issue.
79
at Beez Combat Systems
Prices accurate at time of writing
Prices accurate at time of writing
6. Fenris Gen 2
As a former infantry Marine, I have a bias towards my fellow Marine infantrymen. When they make good gear, I try to highlight them as much as possible.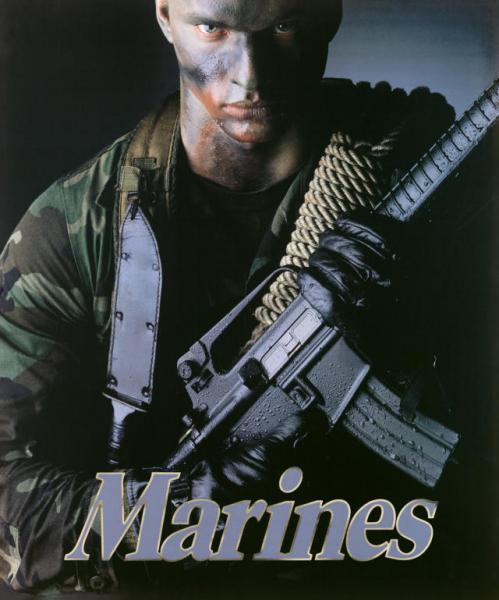 As such, I ran across a little company known as NightFighter848 that just happened to be run by a former Marine grunt making minimalist chest rigs in a unique way.
The Fenris Gen 2 does things way different than most, and it's designed to be a rig that's easily concealable.
I see it as a Heat 2021 chest rig, and maybe that's why it gets my imagination running.
Nightfighter848 does things differently than other gear companies.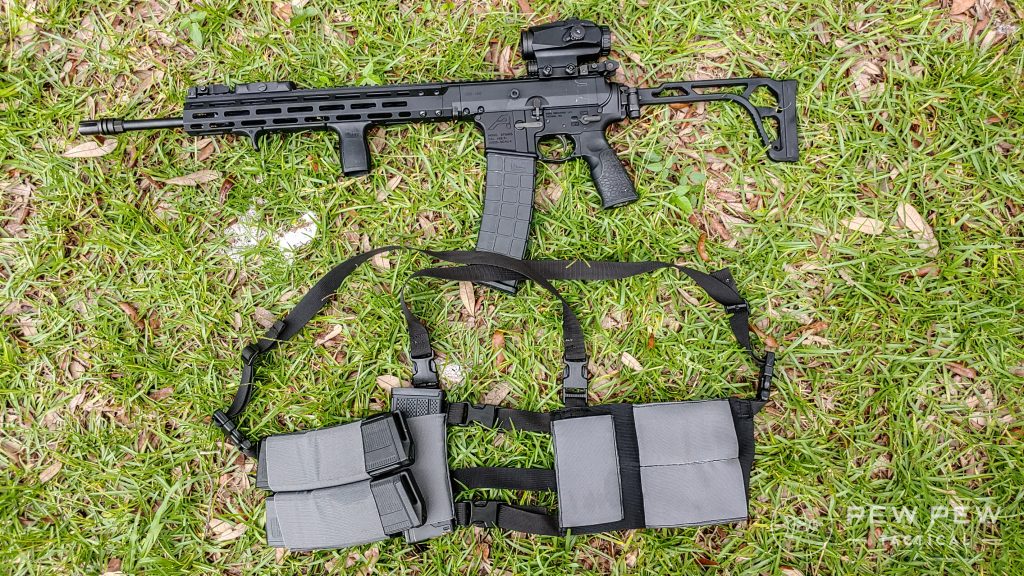 The Fenris Gen 2 mixes up the orientation and location of magazines.
It's split into two pieces with six magazine pouches divided between the two sides. Each side has one magazine running vertically and two magazines running horizontally.
I won't lie. It's not as comfortable as other rigs, but its unique design makes it very compact.
It's not painful, but anything under your arms will be a bit bothersome. However, it's the only rig of its kind I'm aware of, and I dig the Heat vibes.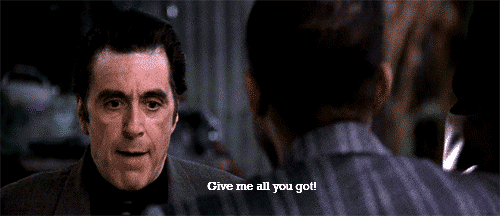 You'd be surprised at how fast you can draw from a horizontal magazine pouch. I practiced, and I was just as fast with the Fenris as I was with a traditional chest rig.
The magazines are placed in a manner that clings them tight to the body and makes them very minimalistic in design.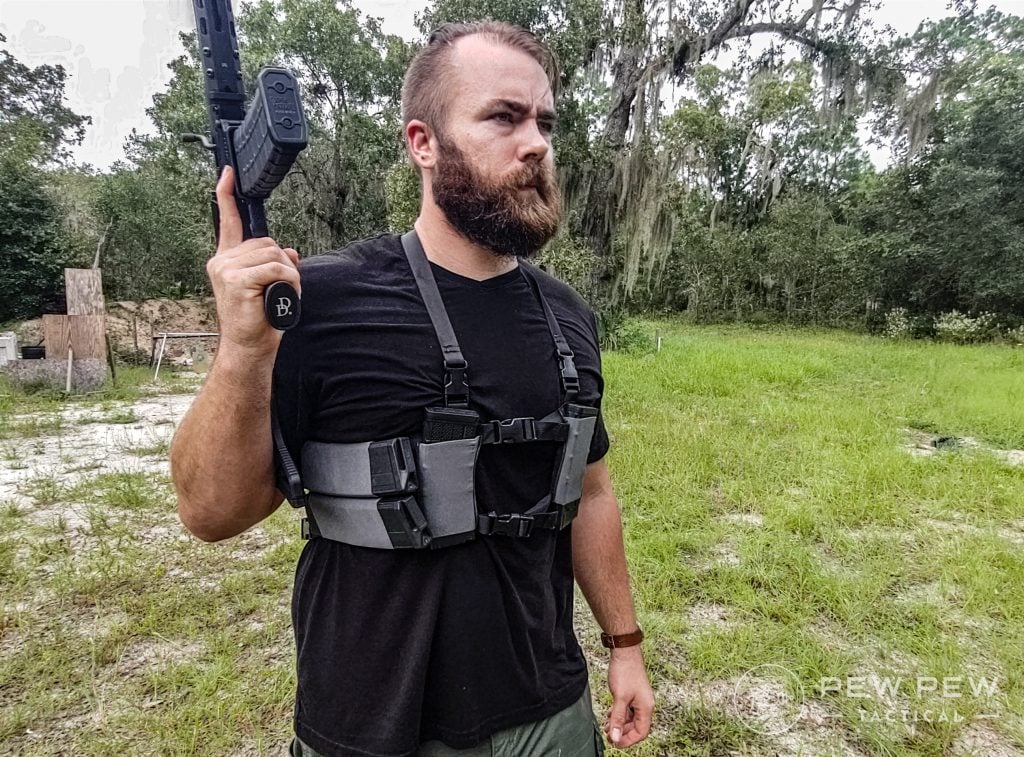 The pouches are sized from AR-15 magazines, but on request, NightFighter848 can make PCC and .308 sized magazines.
Contact NightFighter848 on Instagram if you're interested in a Fenris rig.
7. Unobtanium Gear Dank Robber
Last but not least is a very budget-friendly setup that maximizes efficiency and plug-and-play compatibility.
The Unobtanium Gear Dank Robber comes in at a great price point and comes ready for use with 5.56 rifles and pistol/PCC magazines.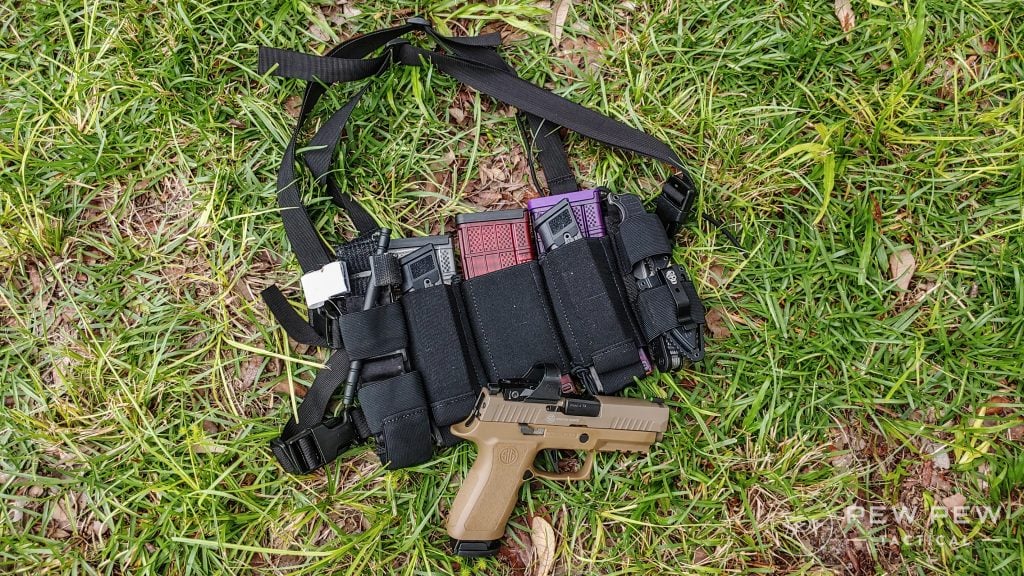 The kit shaves off anything extra while still staying small and capable.
The Dank Robber has three AR-15 type magazines at its core, and in front, we have three pistol/PCC magazine pouches. This is a rare take for a minimalist PCC but one I can get used to.
Having three rifle mags and three pistol mags in a minimalist kit is rather nice. The pistol pouches could also be used for tools, lights, and other slender gear.
To the side of the mag pouches, we get two bonus pouches.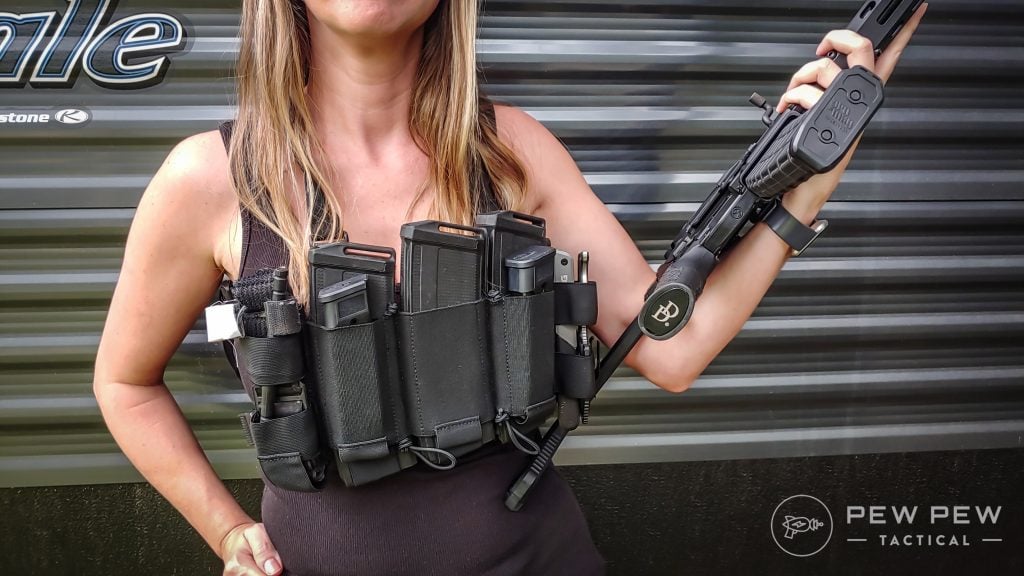 One's a perfect size for a grenade or similar item. On the opposite side, you have a slot that's perfect for squeezing in a squad-sized radio.
At the bottom of the rig are two elastic cord attachments to toss a TQ into.
All this in a super small piece of kit that's easy to hide under a good flannel or windbreaker.
You also can't beat how affordable this kit is.
89
at Unobtanium Gear
Prices accurate at time of writing
Prices accurate at time of writing
Conclusion
Minimalist chest rigs have something to offer everyone and therse are some of my favorite kits.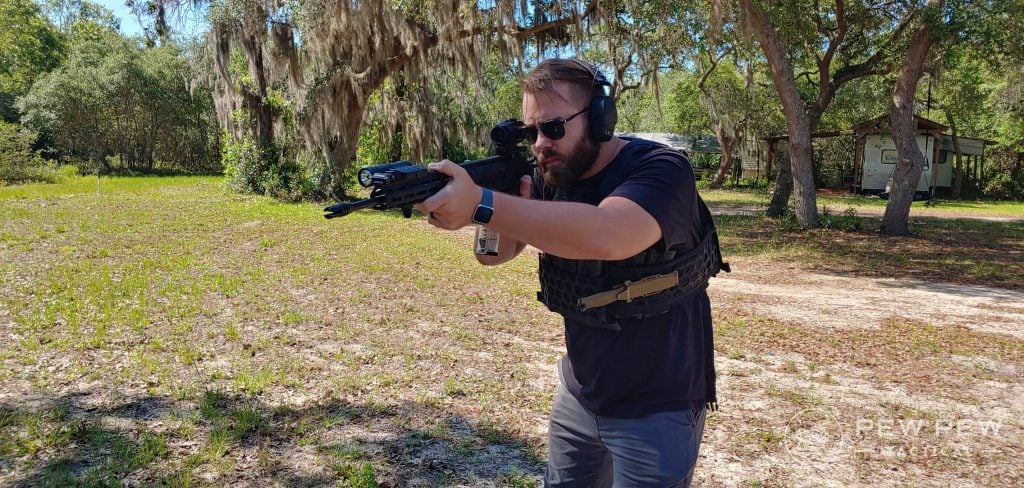 They make it easy to carry plenty of ammo, keep things low profile, and are extremely comfortable.
Plus, they keep the weight down and help me stay cool when I'm larping at the range.
Which of these kits appeals to you? Let me know what you think. Want more plate carriers? Check out our guide to the Best Plate Carriers.