Pretty much everyone who shoots and collects guns has an AR-15 of some kind or a Glock [random number] in their safe.
In fact, I'd venture to say that your average firearms hobbyist actually has both stored away.
And why not?
The AR-15 is an American classic that has isn't only one of the top performing tactical rifles, it's also one of the most iconic ones.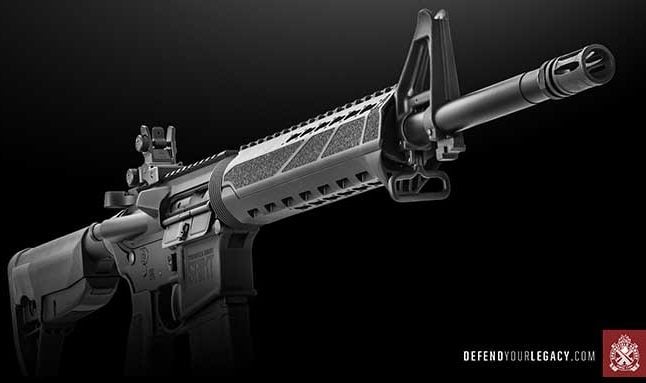 Then there's the Glock, hands down one of the most trusted handgun manufacturers of all time. It's no surprise that both of these guns belong in the shooter's quintessential gun collection.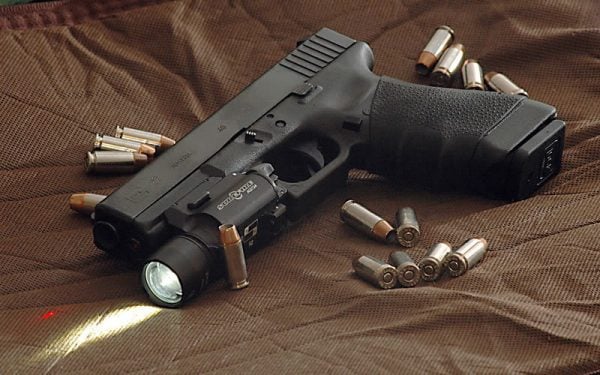 Get You a Gun That Can Do Both
As you've probably already noticed, the AR-15 and the Glock are two of my all-time favorite firearms platforms. Between the two, I don't know if I could choose which I liked more.
And why would I want to choose when I can look at a gun that has the best of both worlds?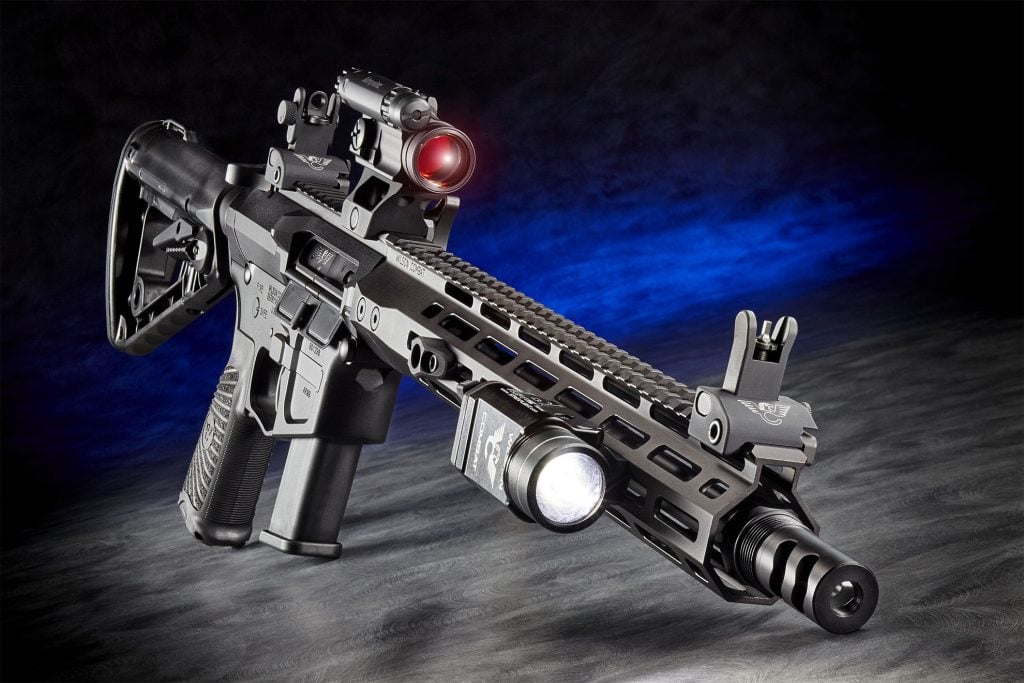 Got some Glock magazines lying around that aren't getting used anymore? Not for long, because today we're going to look at Glock compatible AR-15s.
But Why Would I Want an AR-15 "Glock"?
The better question is "why wouldn't I want an AR-15 'Glock'?"
For starters, pistol-caliber carbines are fun and they tend to be cheaper to shoot, meaning you can unload boxes off at the range without any of the guilt.
They can also offer certain tactical advantages in home-defense scenarios because of their size, which you can read more about by visiting our pistol-caliber home defense guide.
More specifically, AR-15s that work with Glock magazines are more convenient for a number of reasons.
Most gun owners have at least one Glock lying around, and Glock was ingenious enough to make many of their magazines cross-compatible with models, across all generations.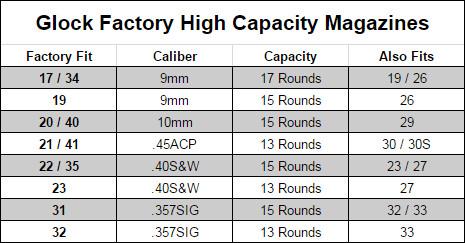 This means that the same magazine you use for your G19 can be used for a carbine, as well as your G26, G17, and G34. If that's not convenience then I don't know what is.
Today, we're going to take a look at two popular Glock-compatible carbines:
Wilson Combat's AR9
Angstadt Arms UDP-9
And we're also going to look at one carbine mod that could make your reloading much easier.
Now that we've got the introductions out of the way, let's look at some guns.
Best AR-15 Pistol Caliber Carbines
The AR9 SBR is a beautifully crafted pistol-caliber carbine that looks like something straight out of the movies – and with an MSRP of $2,000, it's easy to see why.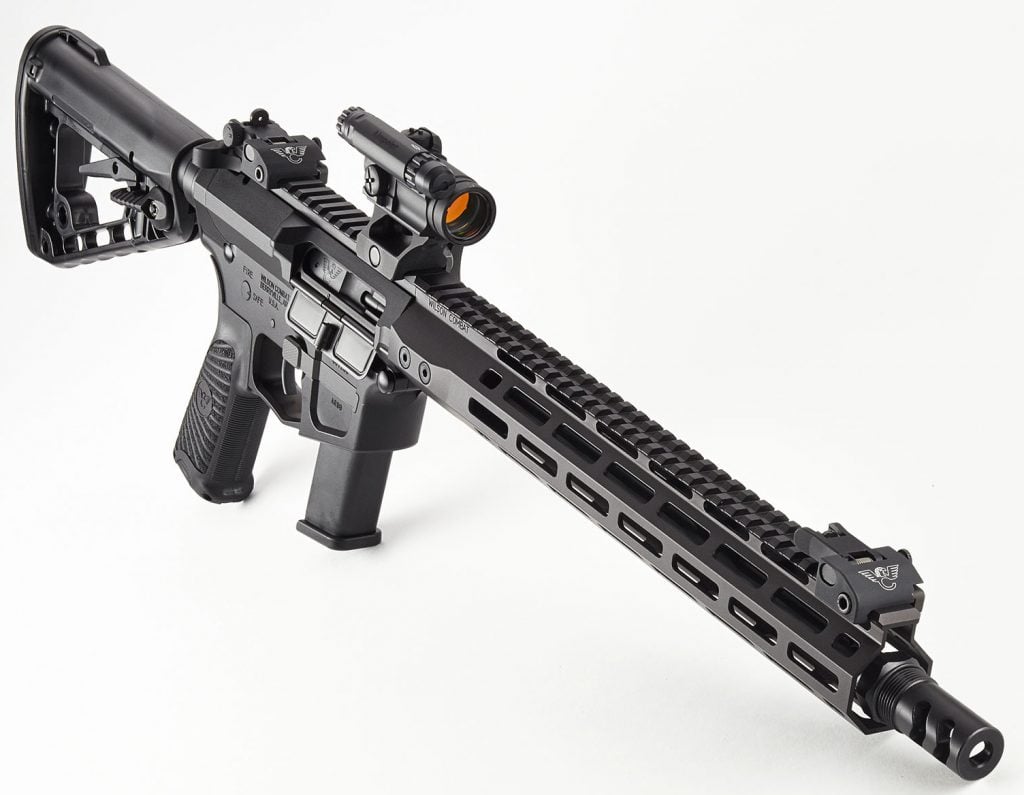 The AR9 SBR comes available in three versions based on magazine compatibility, but today we're going to talk about the Glock variant which works smoothly with 9mm Glock magazines…
…And like most other Glock carbines, expended Glock magazines will free fall when released for quicker reloading.
Wilson also makes an AR9 with a 16" barrel, but the SBR (short-barreled rifle) is clearly the better choice if you're searching for a weapon that can be used in tight spaces, like in a home-defense scenario.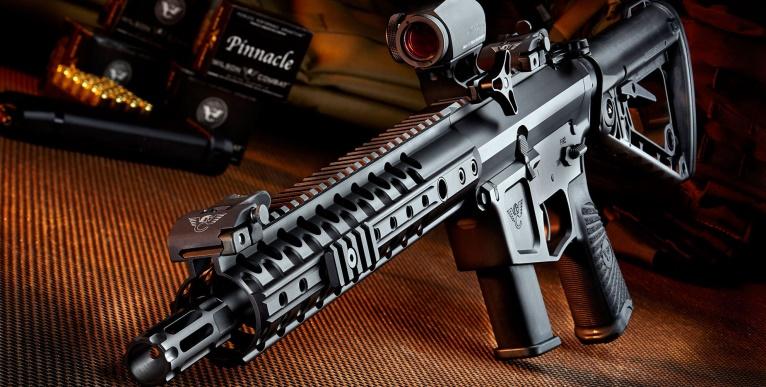 And yes, NFA rules do apply when purchasing and operating this gun.
In terms of shootability, the AR9 SBR can be best described as silky smooth. You can spend the entire day on the range popping targets 50 yards away without worrying about any malfunctions provided your magazines are in top condition.
This means that the AR9 SBR isn't only a fun gun to shoot, but also dependable enough for self-defense purposes.
The UDP-9 is a finely-tuned 9mm AR-15 carbine that's compatible with Glock and Glock aftermarket magazines.
It's a lightweight, tactical carbine that weighs just at 5lbs. It comes a Magpul MOE stock and K2 pistol grip, a 16" threaded barrel, and one 15-round Glock magazine. The UDP-9 has an MSRP of $1,500.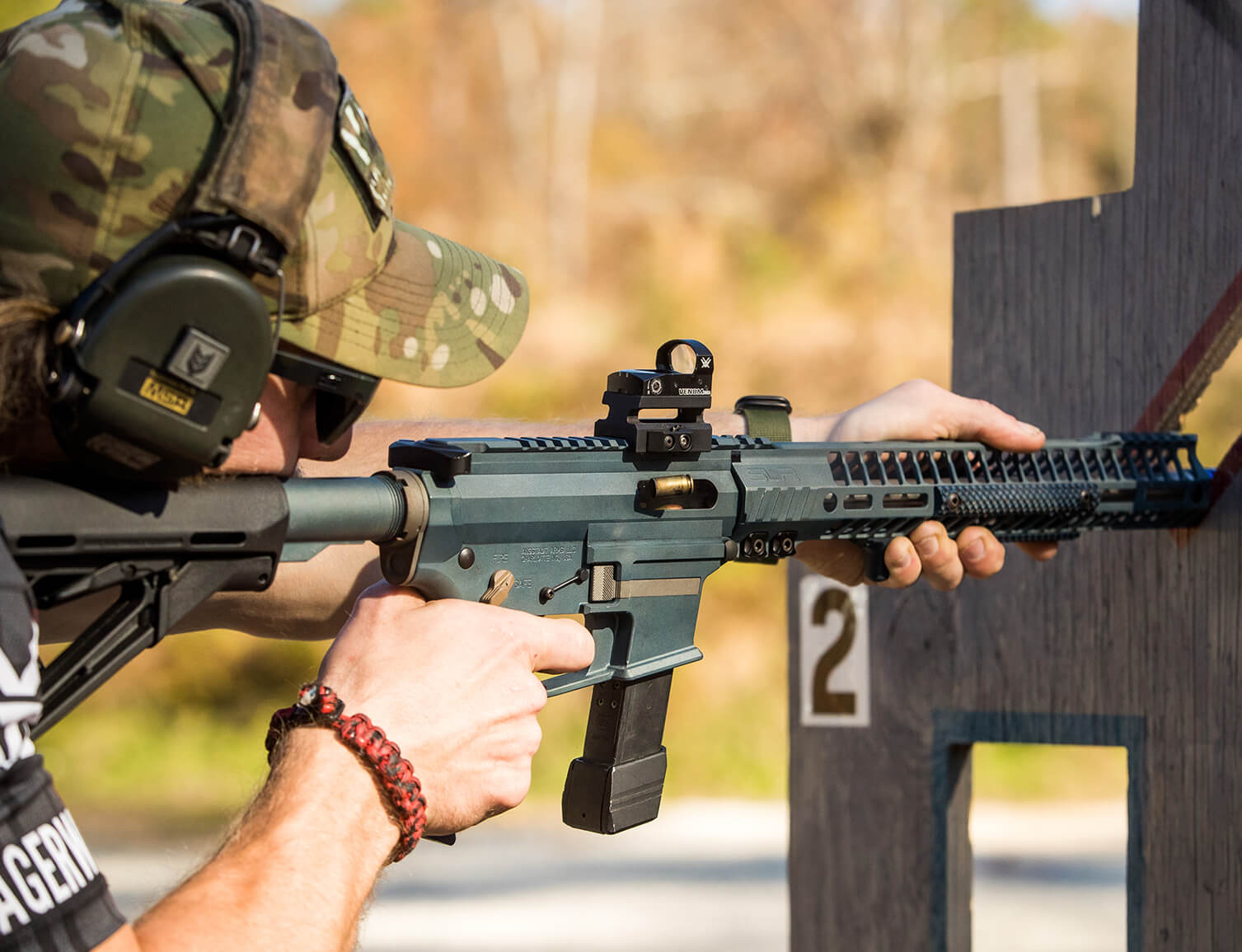 For $150 less, you can get the short-barrel variant of the UDP-9 which is lighter and has a 6" barrel. If you're looking for something purely home-defense, this may be the optimal choice.
In terms of reputation, Angstadt Arms is still a new kid on the block. But don't let that dissuade you because even at first glance, you can already tell that the UDP-9 is going to be an exquisite gun.
While it does have a pretty hefty price tag, there were no corners cut when making this weapon.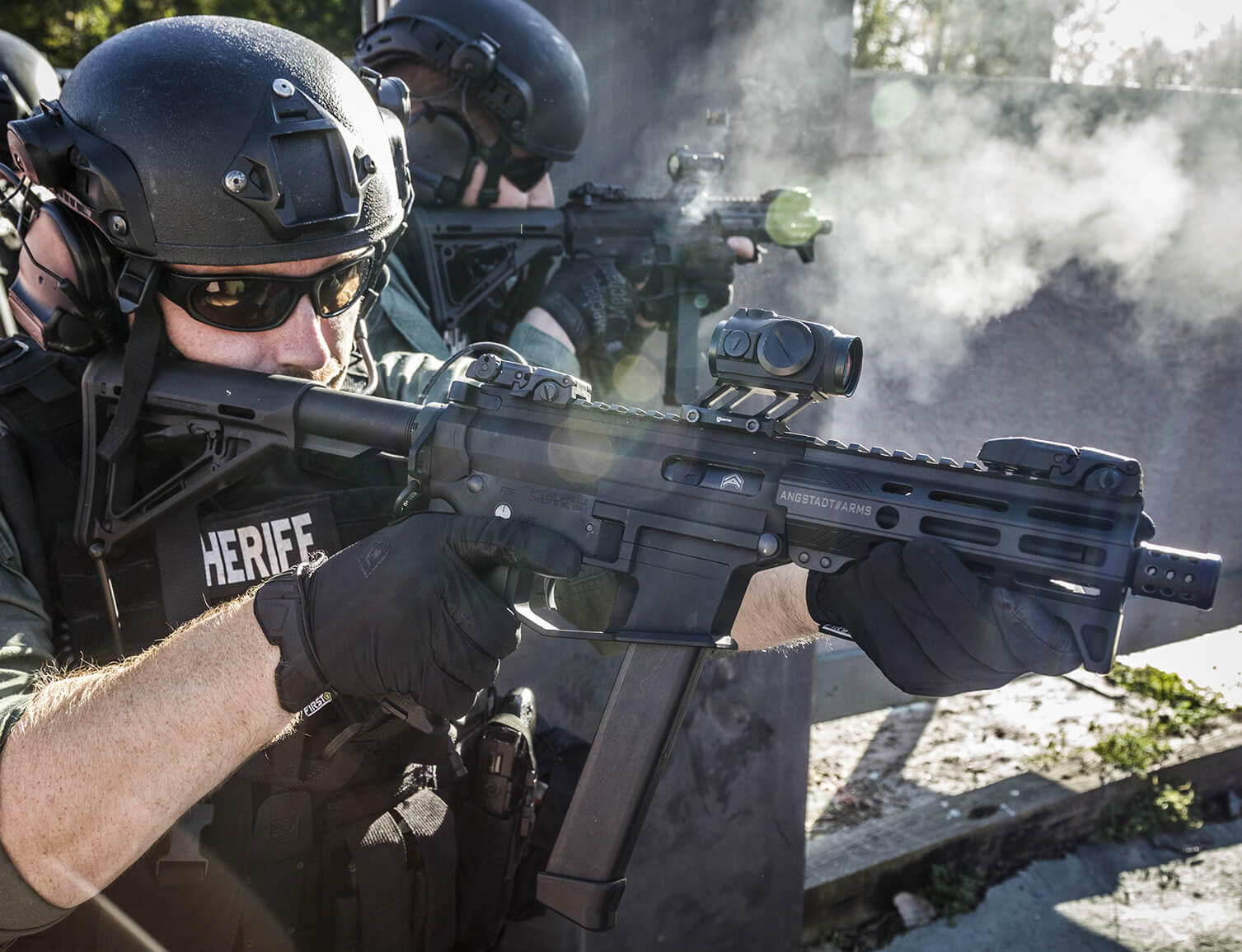 Since the UDP-9 functions like every other standard AR-15, you don't have to worry about getting adjusted to new controls when shooting it for the first time.
Are you wondering about its shootability? Overall, the UDP-9 performs just like you'd expect a $1,500 to. It's relatively light, dependable, and easy to operate.
Angstadt also makes a UDP-9 AR-15 pistol variant that comes with the Shockwave Brace attached, which some shooters have complained about being uncomfortable to shoot with because.
So if you're looking for a short-barrel version, you might want to stick with the SBR if you can.
We have a complete article on the UDP-9 or you can check out the video below!
A major name in budget options for a wide range of firearms, the PSA AR-9 is another solid installment in their lineup. Although, they seem to be chronically out of stock.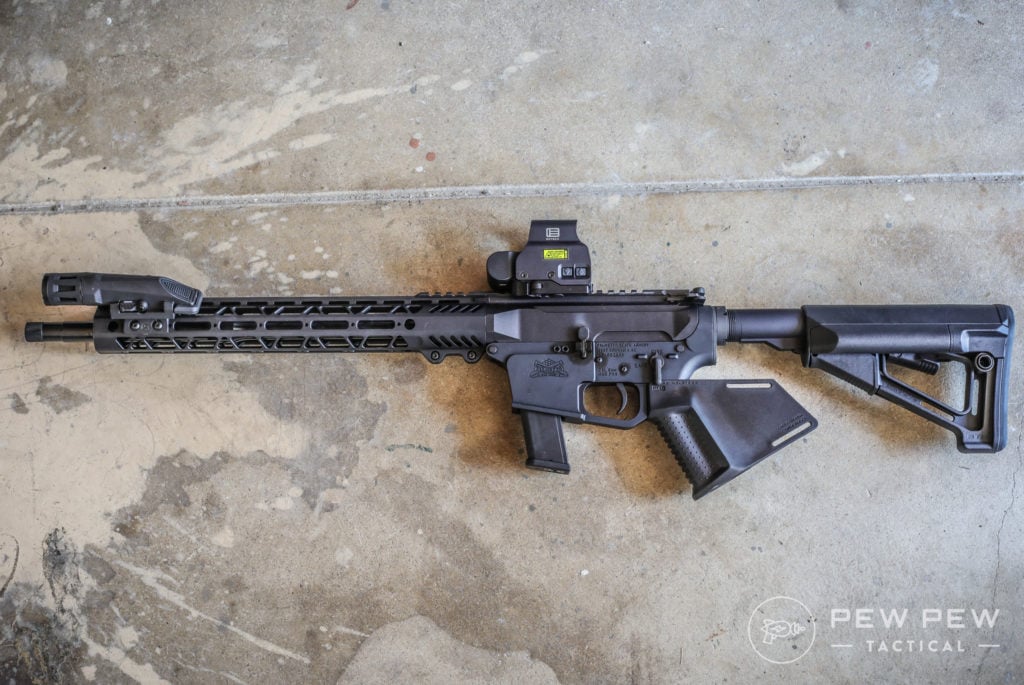 PSA stocks everything from part kits, mags, to complete carbines and pistols, or if you're looking to build your own AR-9 PSA also offers complete lowers to start you off!
Best budget AR-9
549
at Palmetto State Armory
Prices accurate at time of writing
Prices accurate at time of writing
However, it should be noted that most PSA AR-9s do not have Last Round Bolt Hold Open.
But they do make some of the best looking AR-9s we've seen (or shot!).
Check out our full review here.
What's your take on the PSA?
4. Palmetto State Armory AR-V
PSA hits our list again, but this time with the AR-V — decently priced PCC with a unique twist.
Using either PSA's proprietary AK-V/AR-V magazines, the AR-V can also use CZ Scorpion EVO mags.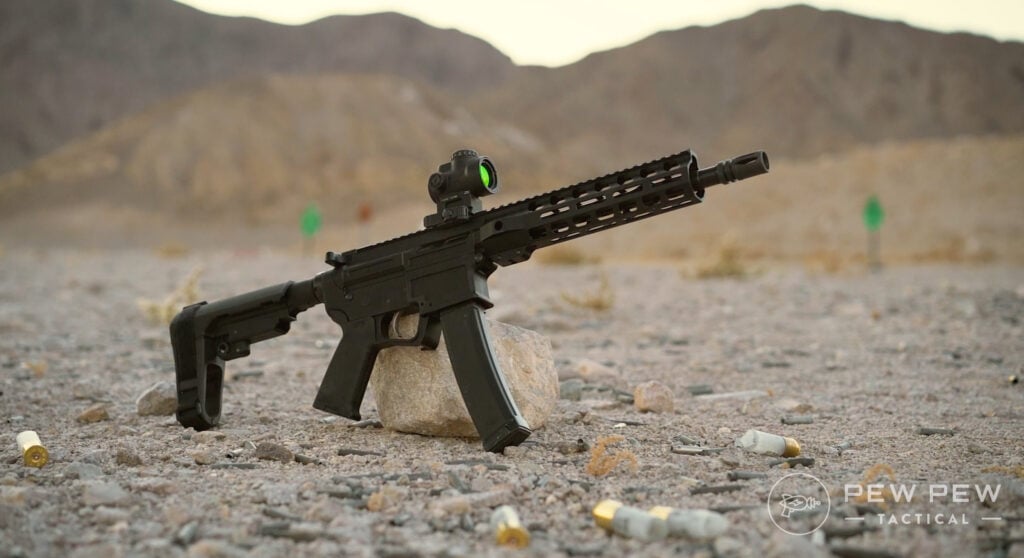 We dig this PCC's ability to give you some options in terms of mags, especially if you already own a Scorpion.
Operating with a 10.5-inch barrel covered by a PSA 9-inch M-LOK handguard, we found the AR-V to be pretty reliable and accurate.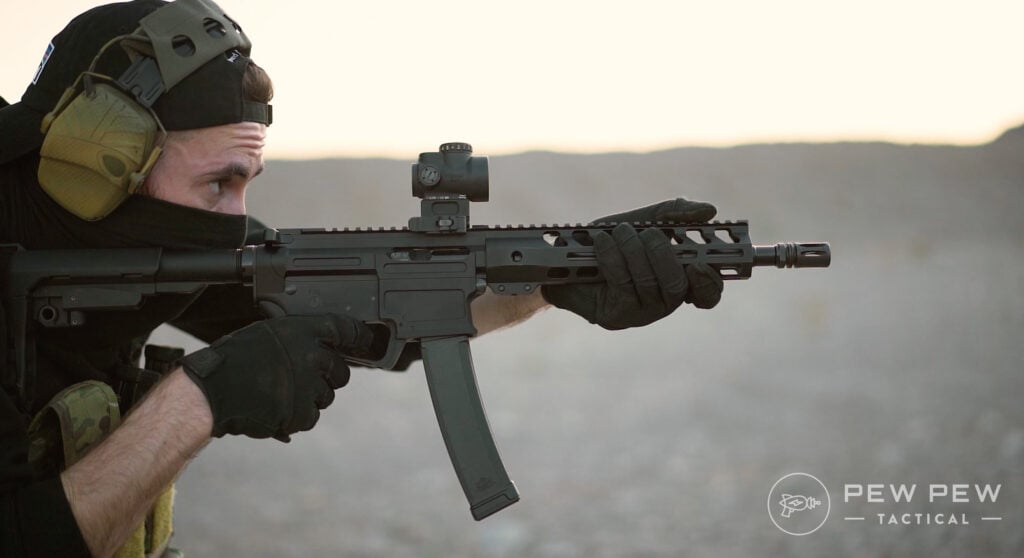 Of course, you can check out the review here to learn more or watch the video below.
990
at Palmetto State Armory
Prices accurate at time of writing
Prices accurate at time of writing
Bonus Gear for You
We all love tactical gear, and the best part about anything Glock related is that there's never a shortage of tactical equipment available.
The folks over at TriTech Tactical have come up with a minor adjustment for your Glock carbine that could make magazine swapping 10x easier than it already is with their A2 grip replacement.
Unlike the current AR-15 grip on your carbine, this one has been modified to hold your spare Glock magazine so you don't have to fumble around when it's time to reload.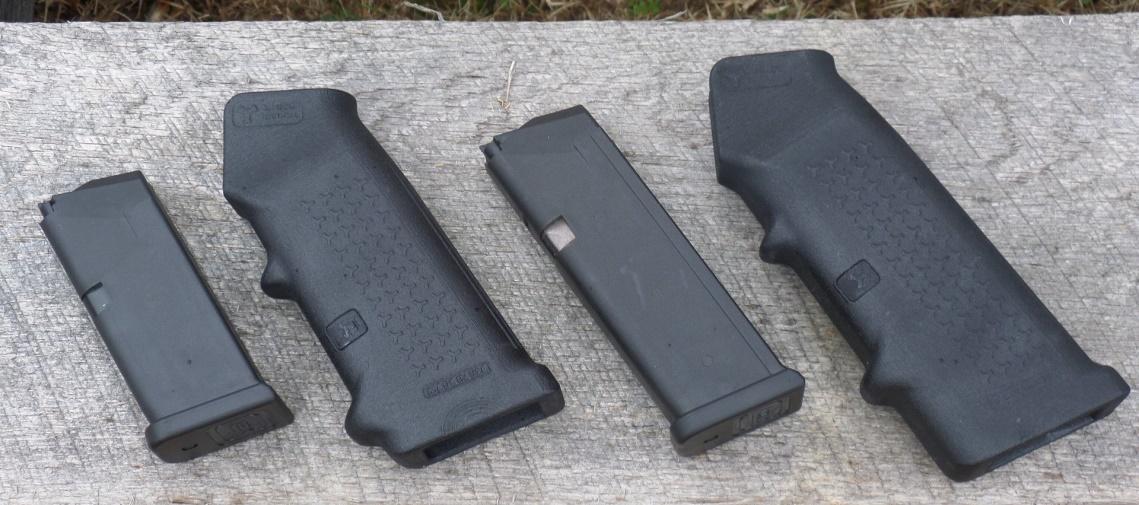 TriTech Tactical's AR-15 grips will run you about $40. They come in two sizes, subcompact, and standard length, and support Glock's 9mm magazines.
Like your Glock's grip, TriTech Tactical' (storage) grips come with a magazine release button that ejects your stored magazine.
While this is a nifty option, you might want to spend some time getting used to ejecting and swapping out magazines so you don't forget which mag release button to push when it comes time to reload in the field.
Glock, Stock, and Barrel
Because Glock is the world's most popular handgun, it's only natural to choose a pistol-caliber carbine that supports Glock magazines.
But if you're not already a Glock owner and you're searching for a carbine, you might want to take a look at some of the other ones on the market before you go out and buy a UDP or AR9.
If you'd like some other ideas that aren't limited to Glock builds, try looking at our ultimate guide of competition-grade pistol-caliber carbines.
There, you'll find a few good carbines that are on and off the AR-15 platform.
If you've had any experience shooting these Glock AR-15s or you've got a preferred pistol-caliber carbine of your own, be sure to let us know in the comments!