Chances are you have a Glock or might buy one down the road.
It'd be nice to have a carbine that shares both ammo and mags right?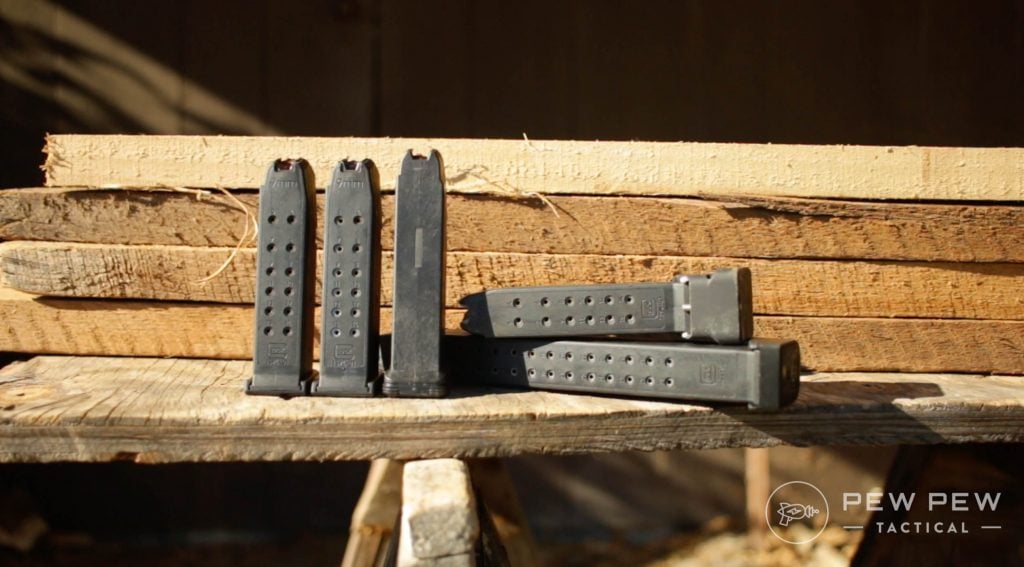 And how about something that might be already familiar to you in the ergonomics and function of the AR-15?
Boom!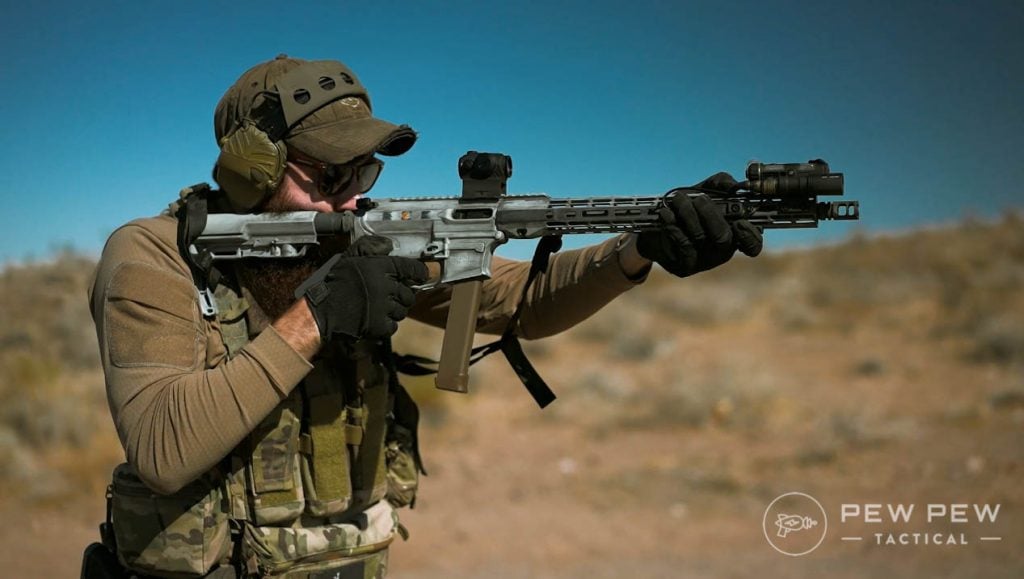 The AR-9 was born and has taken over the market ever since.
Let's go over why they make sense and then a couple of our favorites.
Why Pistol Caliber Carbine (PCC) AR-9s?
I probably already spoiled it above…
But it simply makes sense to have both your long gun and sidearm in the same caliber and magazine. Especially if you aren't looking to expand your collection past a few firearms or are looking primarily at home defense.
Plus we love our Glocks (Best Glock Models) and our AR-15s (AR-15 Buyer's Guide).
And as opposed to handguns which take a lot more skill and training to shoot well…you have many more points of contact and a longer sight radius in a PCC.
Plus with pistol-braced variants you can have everything in a shorter package without sacrificing much.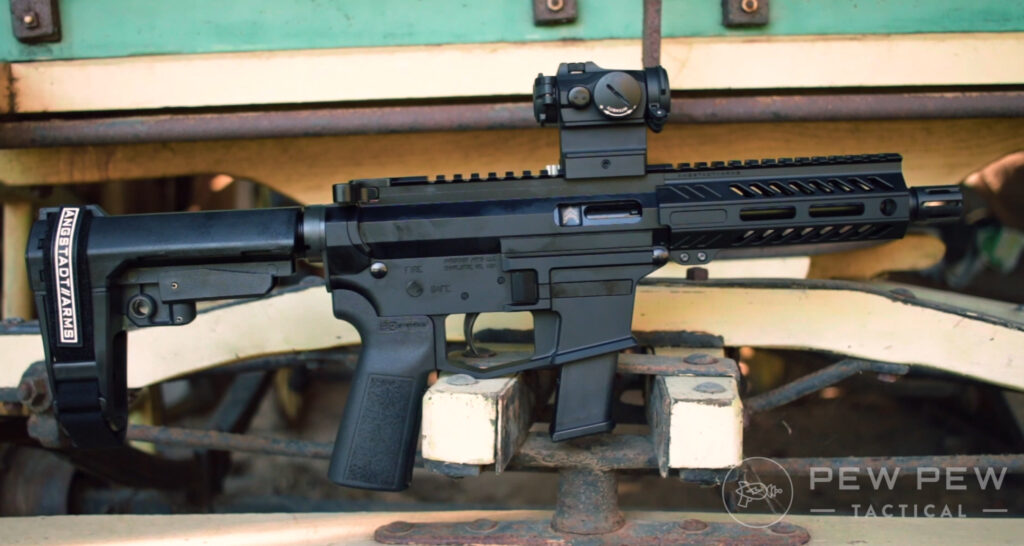 That shorter length also allows you to add a suppressor and since it's an AR…endless upgrades.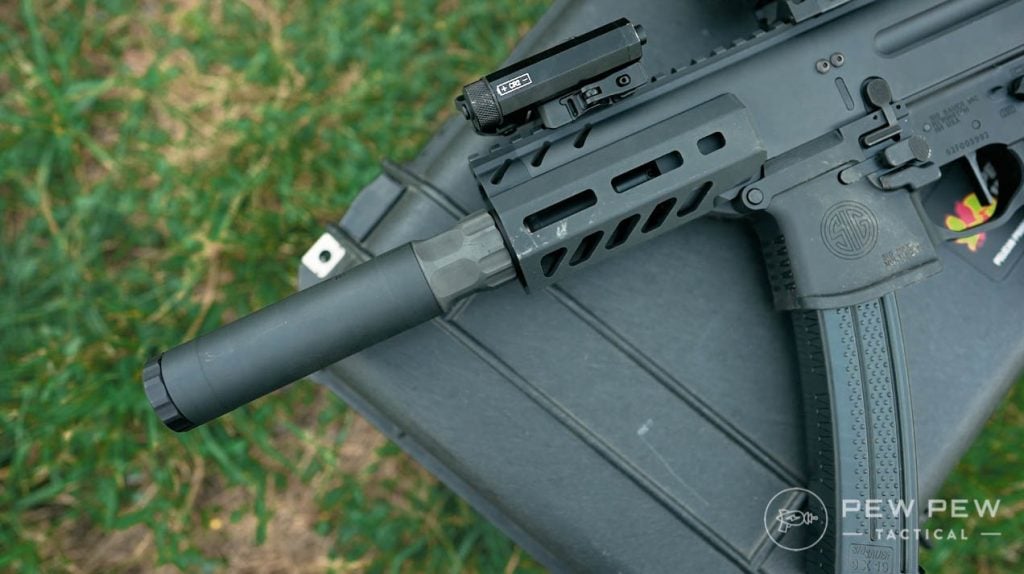 AR-15 & AR-9 Parts Compatibility
A big question that comes up…how much of an existing AR-15 can you keep?
Most things are the same…but you'll see a big difference in lowers.
First is the ejector: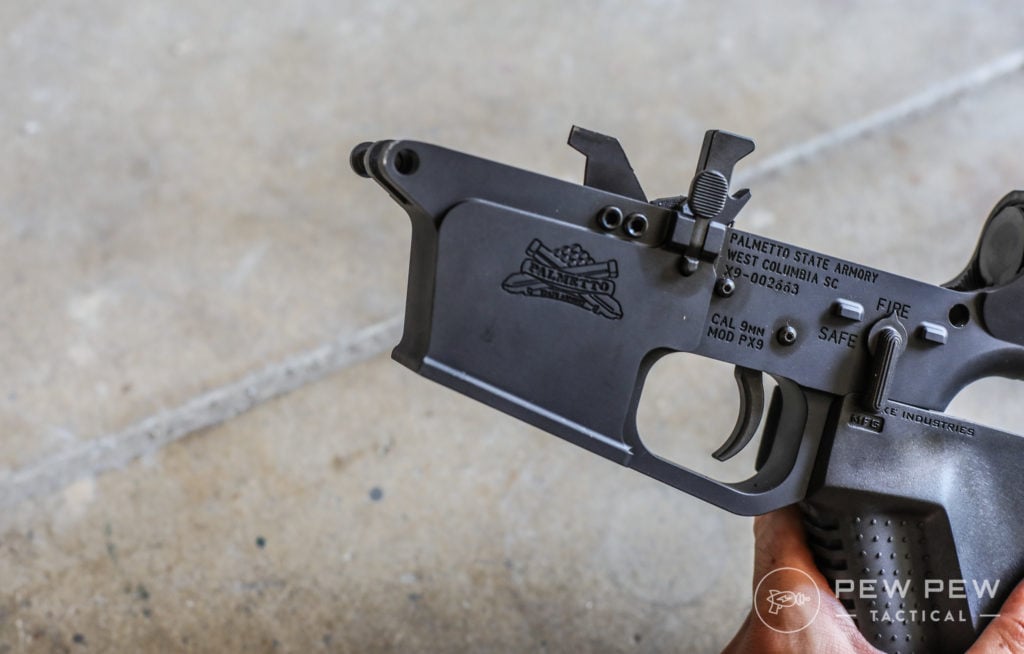 And also a different magwell to handle Glock (or other pistol mags).
Also on the lower is a different magazine catch style that I actually prefer to standard AR-15s. Different manufacturers will differ slightly…but it's a larger/longer catch.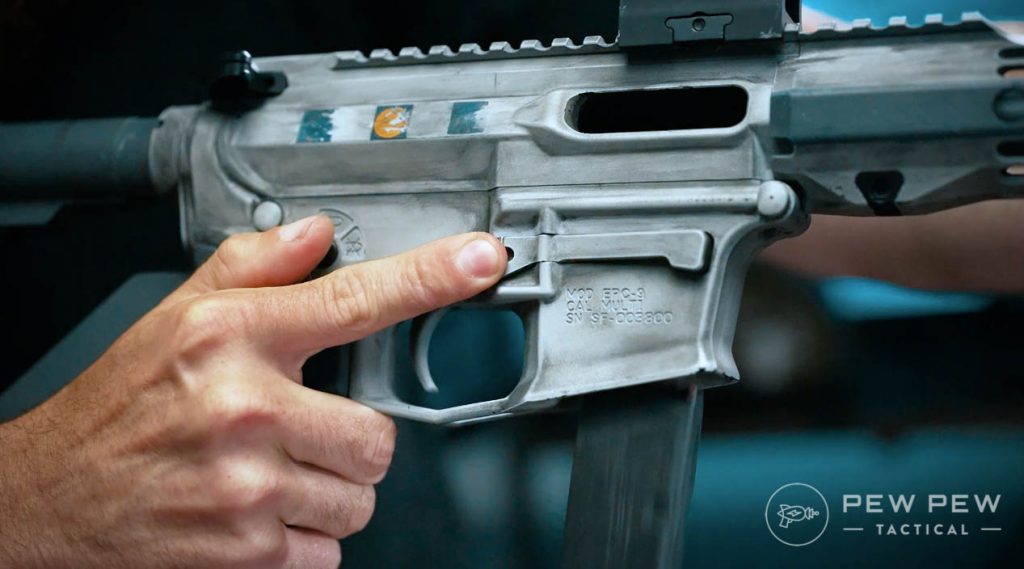 One the upper you'll have a different bolt for your specific pistol caliber that's simpler due to most guns being direct blowback. That also means no gas block or gas tube!
And of course a caliber specific barrel.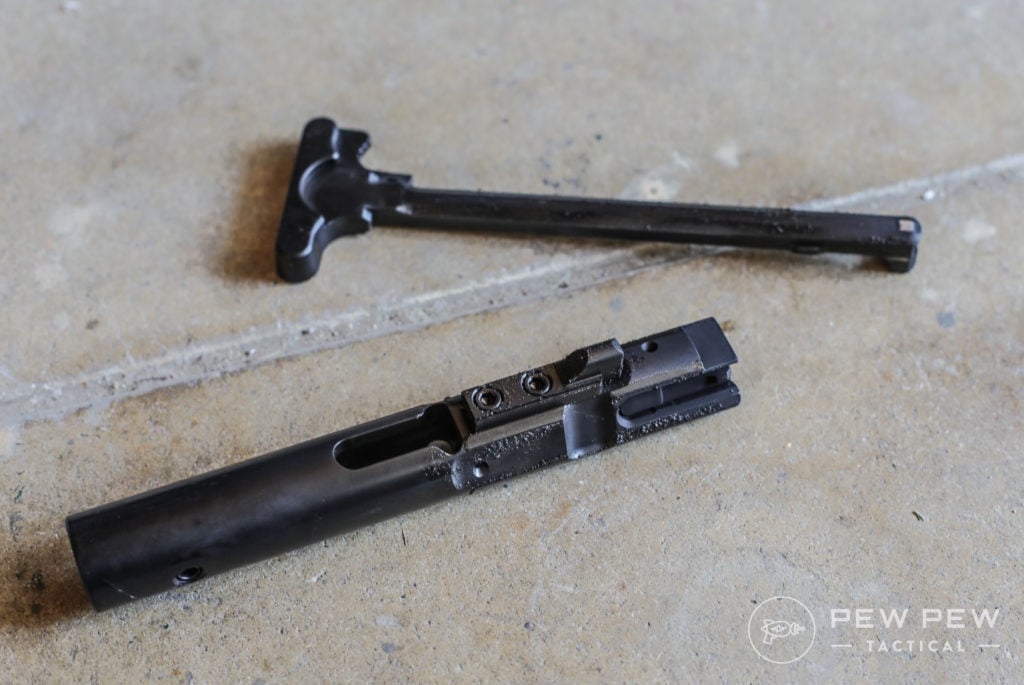 And though the lower will take any mil-spec AR-15 trigger group…I'd opt for something specifically built to handle the more recoil of the AR-9. Check out our suggestions in Best 9mm AR-15 Triggers.
Otherwise…you're good with swapping everything else out!
Best AR-15 Pistol Caliber Carbines (AR-9)
1. Palmetto State Armory (PSA) PX-9
A major name in budget options for a wide range of firearms, the PSA PX-9 is a solid installment in their lineup.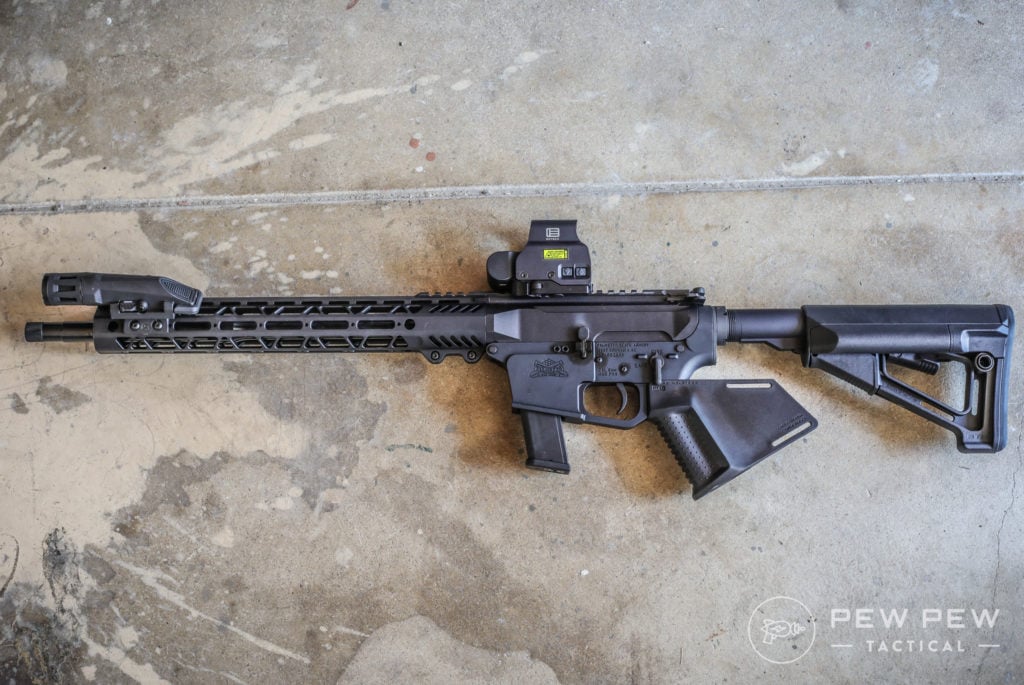 And one of the best bang-for-the-buck starter AR-9s you can get.
Fit and finish is decent but it will always go bang. And in the end that's what really matters, right?
I've used them for a couple PCC competitions and had a blast.
Best budget AR-9
549
at Palmetto State Armory
Prices accurate at time of writing
Prices accurate at time of writing
PSA stocks everything from complete carbines to complete lowers and complete uppers so you can build to your heart's content.
However, it should be noted that most PSA AR-9s do not have Last Round Bolt Hold Open.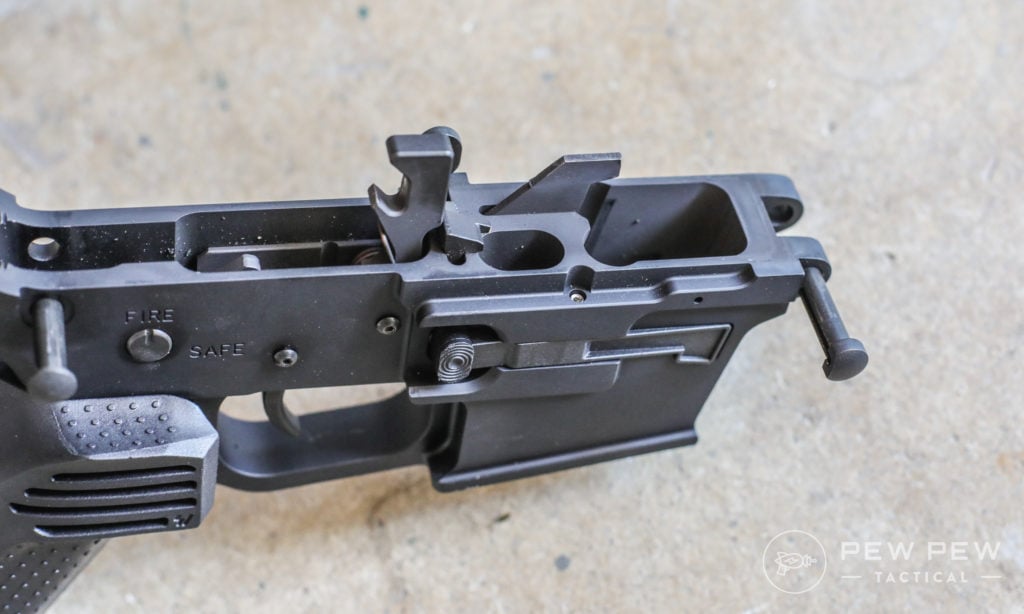 But they do make some of the best looking AR-9s we've seen (or shot!).
Check out our full review here.
What's your take on the PSA?
2. Aero Precision EPC
Looking for something a little more refined…and perhaps with a last round bolt hold open (LRBHO)?
Our recommendation mirrors our regular AR-15…and that's to check out Aero Precision with their EPC (Enhanced Pistol Carbine).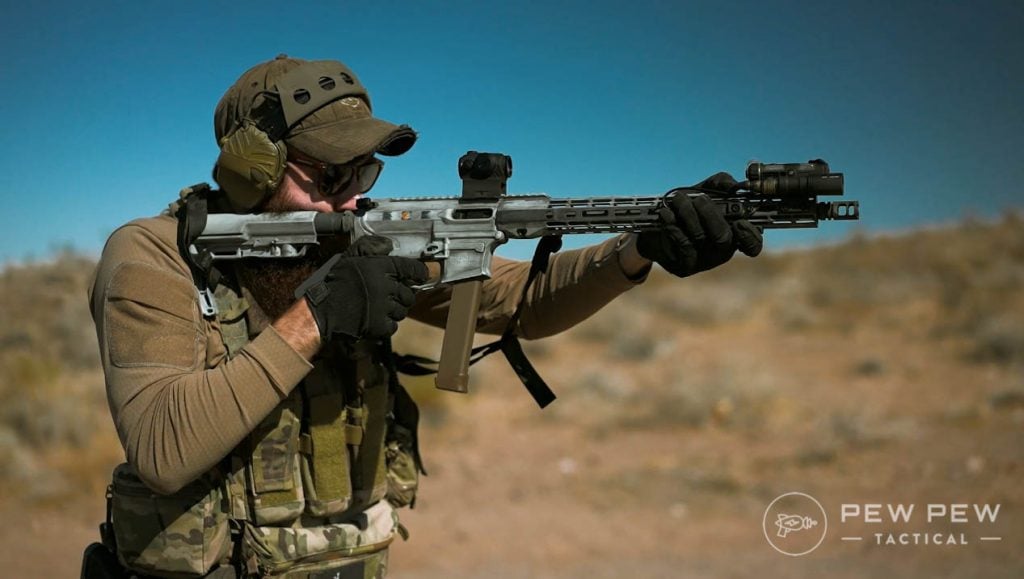 It's definitely enhanced with the LRBHO as well as some small niceties that make building and using it an upgrade.
Remember the mag release? The EPC's might be our favorite.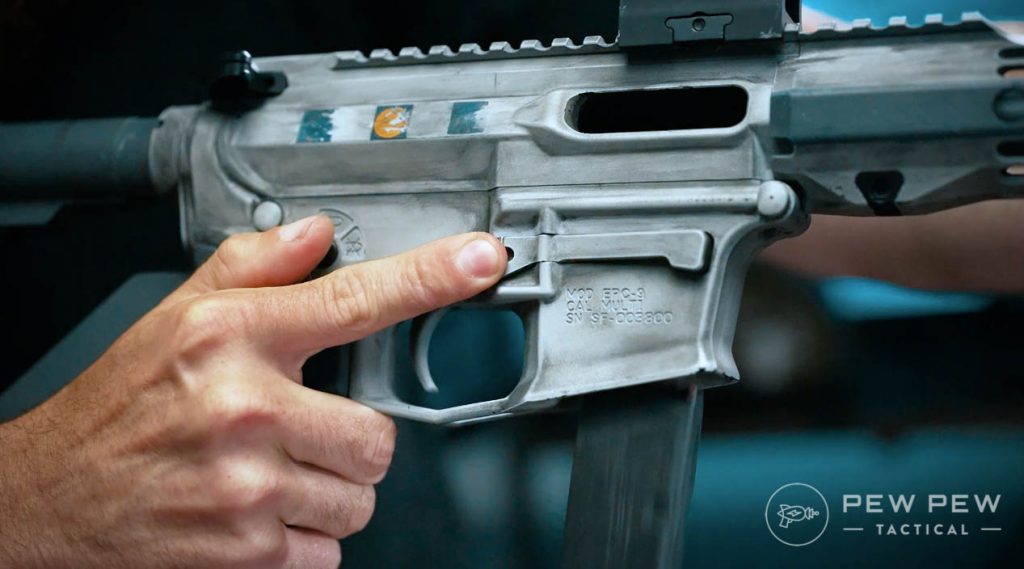 And if you're building your lower from the ground up…you'll appreciate a threaded bolt catch to avoid marring the finish when installing.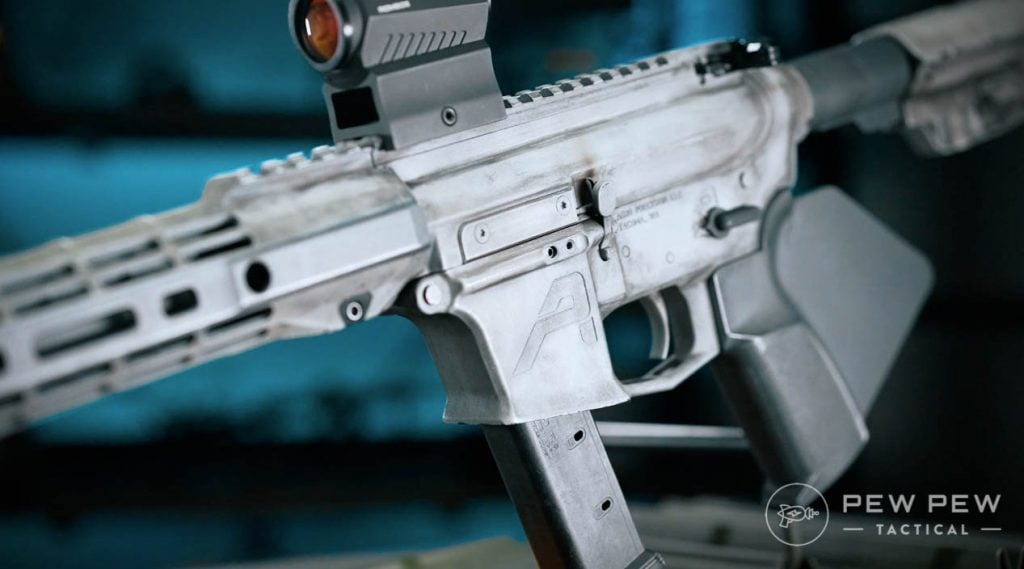 The fire control group also has hardened pins to deal with the extra recoil from the blowback system.
But how does it shoot? In one word…great.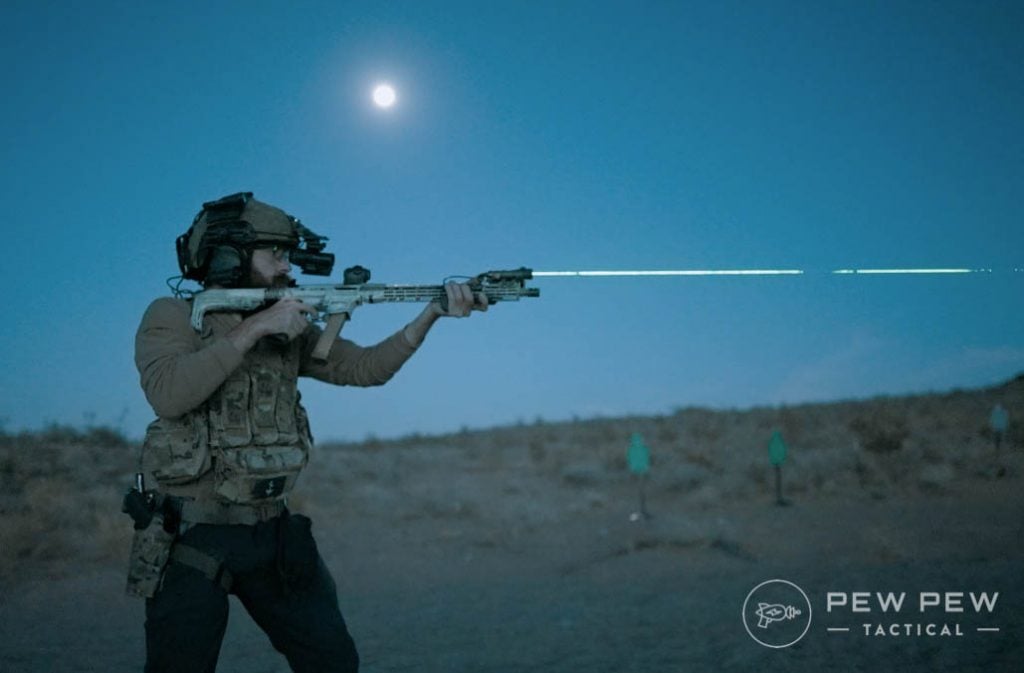 Check out our full review of the Aero EPC here.
Want to snag one? Aero is meaning it to be mostly built at home…but there's plenty of complete uppers and lowers to choose from!
314
at Aero Precision
Prices accurate at time of writing
Prices accurate at time of writing
Oh yea…we also have a video review too:
3. UDP-9 by Angstadt Arms
The UDP-9 is a finely-tuned 9mm AR-15 pistol that's compatible with Glock and Glock aftermarket magazines.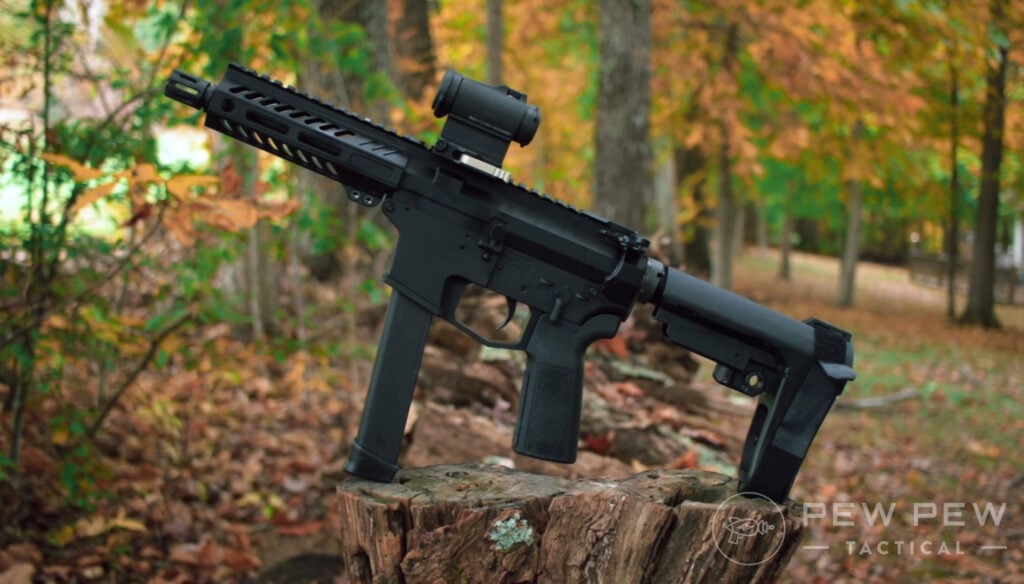 While it does have a pretty hefty price tag, there were no corners cut when making this AR-9. Plus it's not afraid to eat only the steel-cased stuff.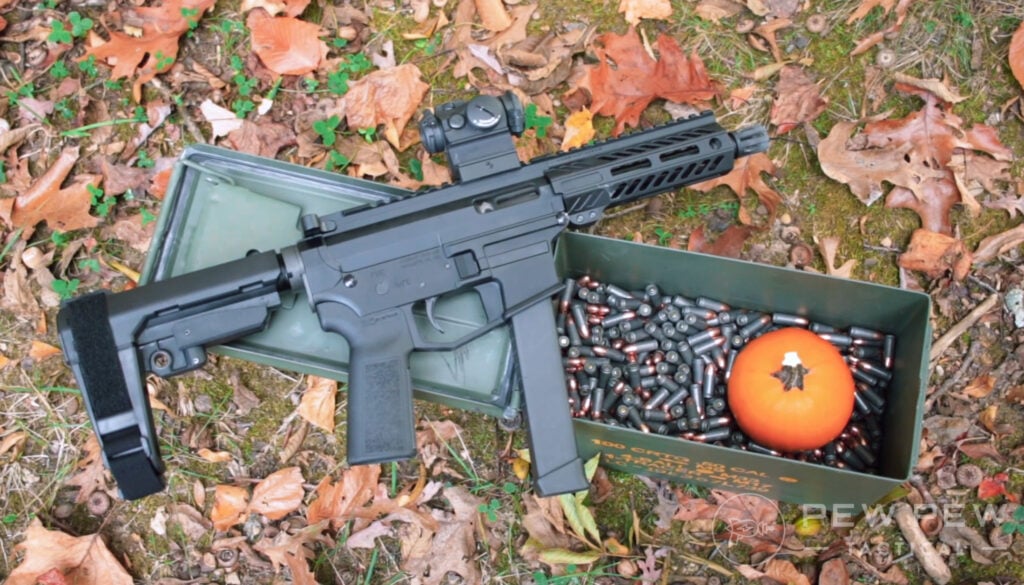 Since the UDP-9 functions like every other standard AR-15, you don't have to worry about getting adjusted to new controls when shooting it for the first time.
We have a complete article on the UDP-9.
If you're looking for a high-end AR-9…check out the UDP-9.
1369
at GunPrime
Prices accurate at time of writing
Prices accurate at time of writing
And you know it…a video!
4. Foxtrot Mike FM-9B
Looking for the ultimate backpack AR-9? Check out the Foxtrot Mike FM-9B.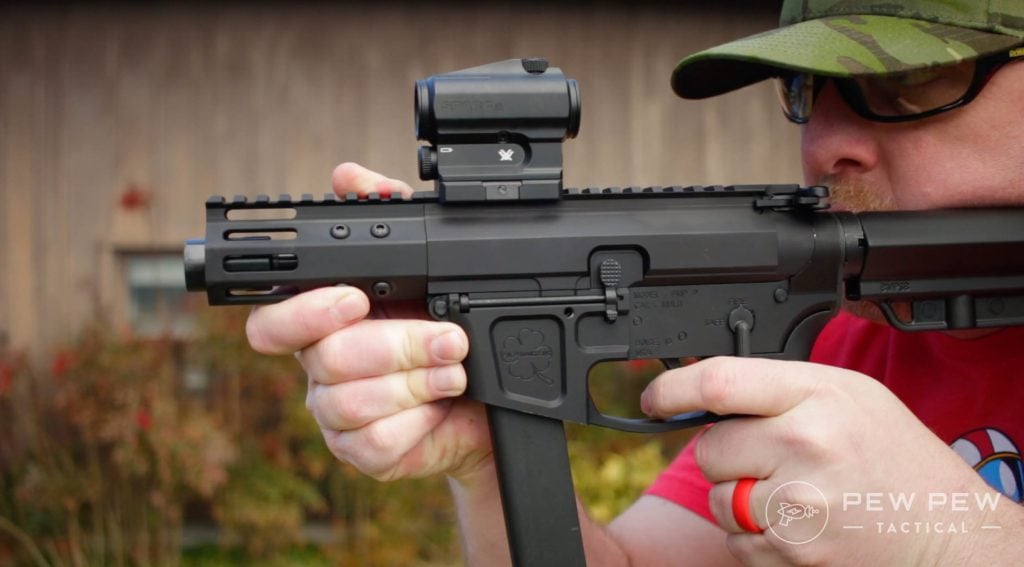 There's 10″, 5″, and 4″ variants. And here we have their tiniest bois!
A little too close for my comfort but even without a folding stock you're good to go inside a gray man backpack.
I'd much rather have a QD suppressor ready if you go with the 4″ variant.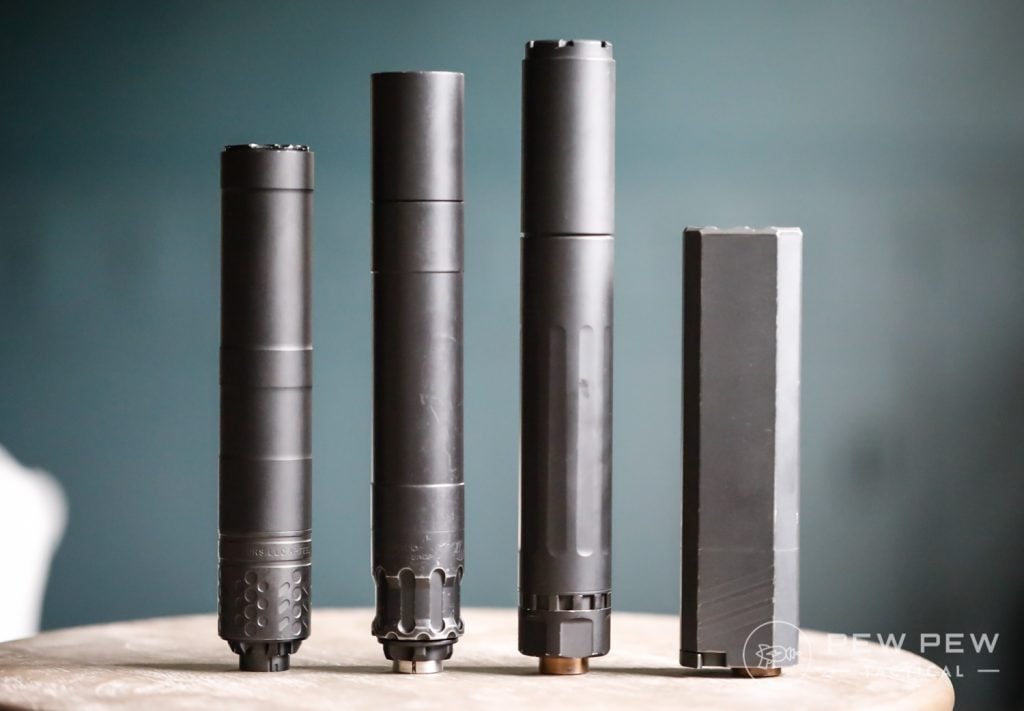 But 10″ will give you a good amount of usable rail space and lower the possibility of losing some digits.
It's also reasonably priced and comes with last round bolt hold open.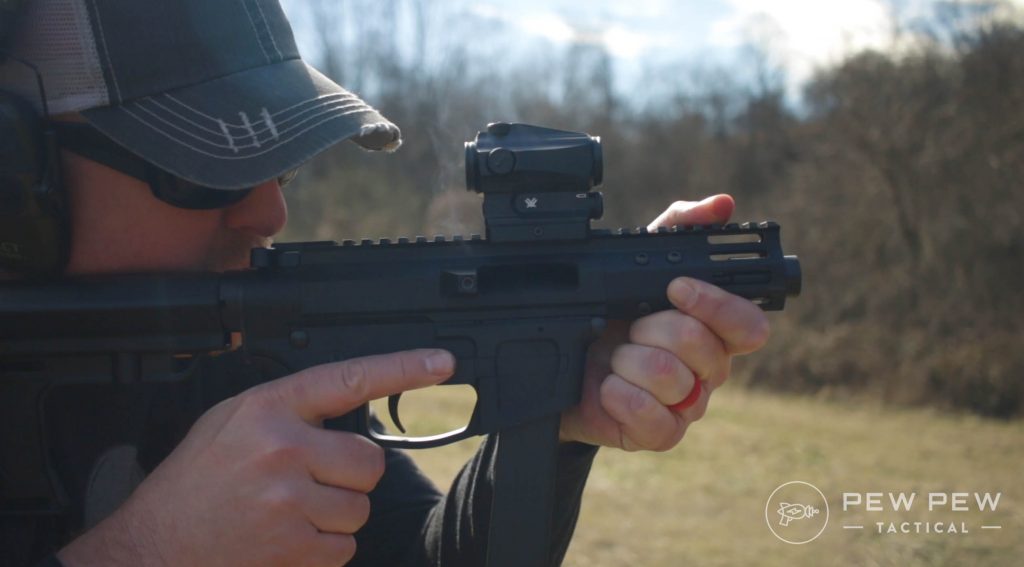 Check out our full review of the FM-9B to see what other aspects we liked.
670
at Brownells
Prices accurate at time of writing
Prices accurate at time of writing
And we also have a video review as well:
5. Palmetto State Armory AR-V
PSA hits our list again, but this time with the AR-V…a decently priced PCC with a unique twist.
Using either PSA's proprietary AK-V/AR-V magazines, the AR-V can also use CZ Scorpion EVO mags.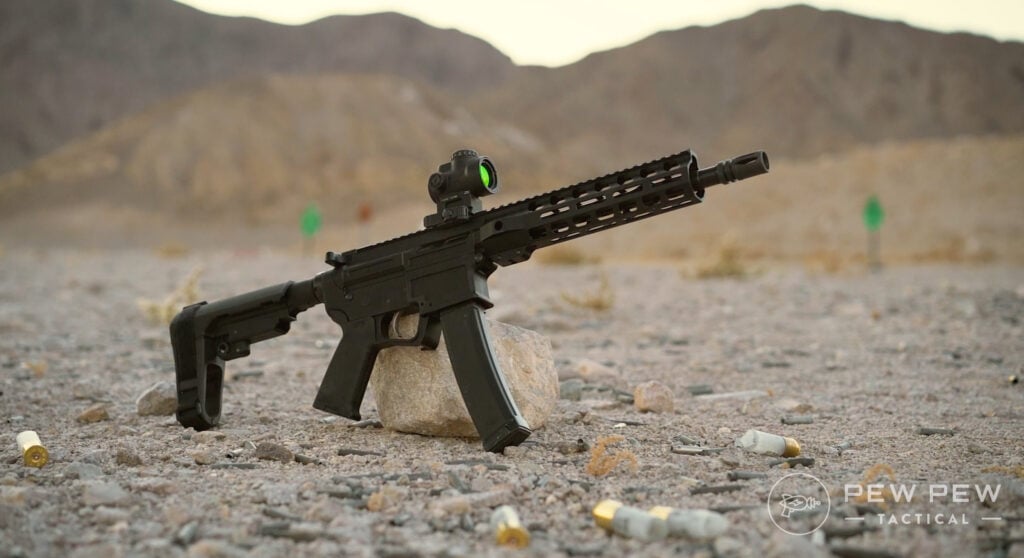 We dig this PCC's ability to give you some options in terms of mags, especially if you already own a Scorpion or PSA's 9mm AK variant.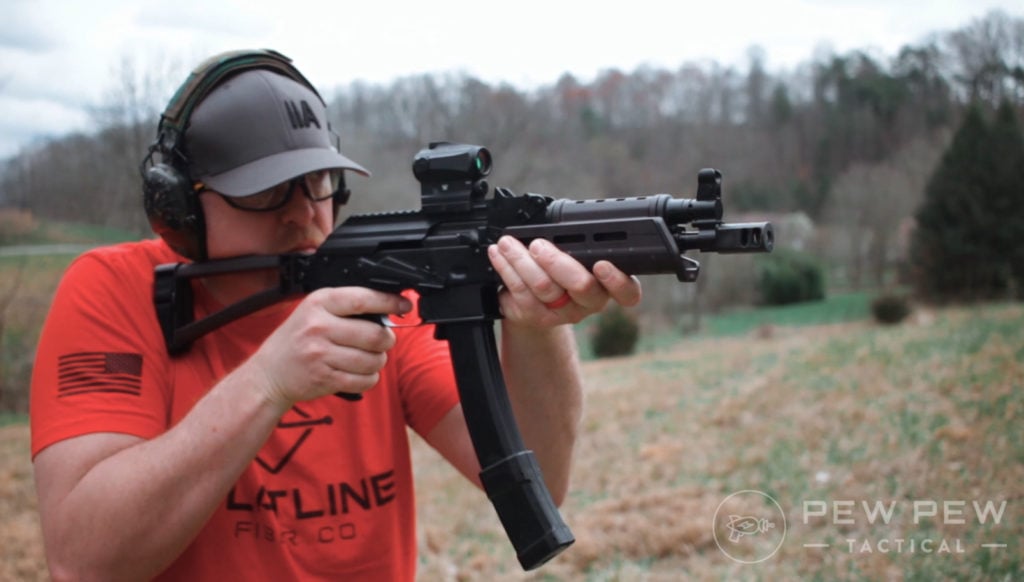 Operating with a 10.5-inch barrel covered by a PSA 9-inch M-LOK handguard, we found the AR-V to be pretty reliable and accurate.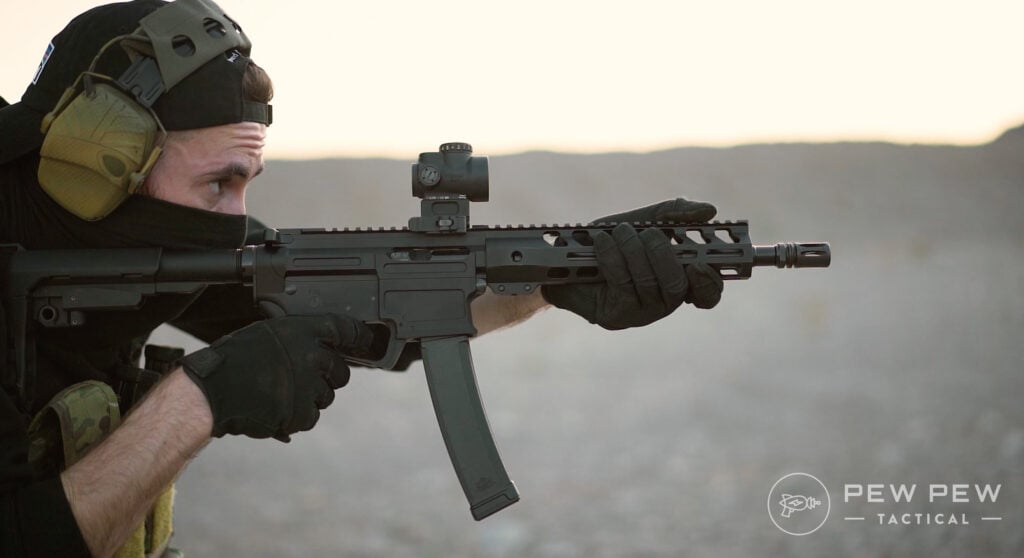 It has a matching mag release that is on the AK-V and takes a little bit getting used to…but is great once you do.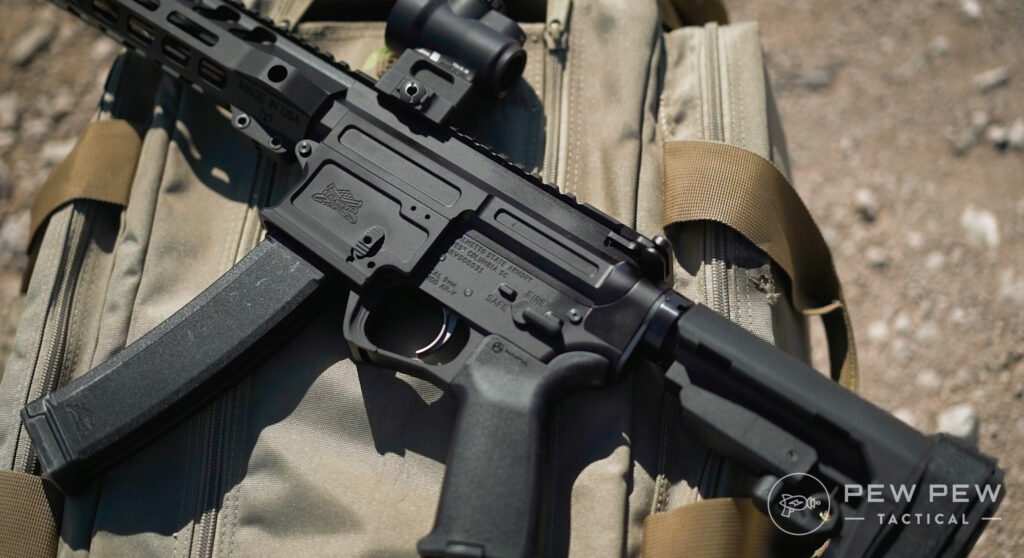 Of course, you can check out the review here to learn more.
990
at Palmetto State Armory
Prices accurate at time of writing
Prices accurate at time of writing
And yes…a full video review on the AR-V!