Every gun owner should own at least one .22 LR firearm. The ammo is ubiquitous…and affordable at around 5 cents a round.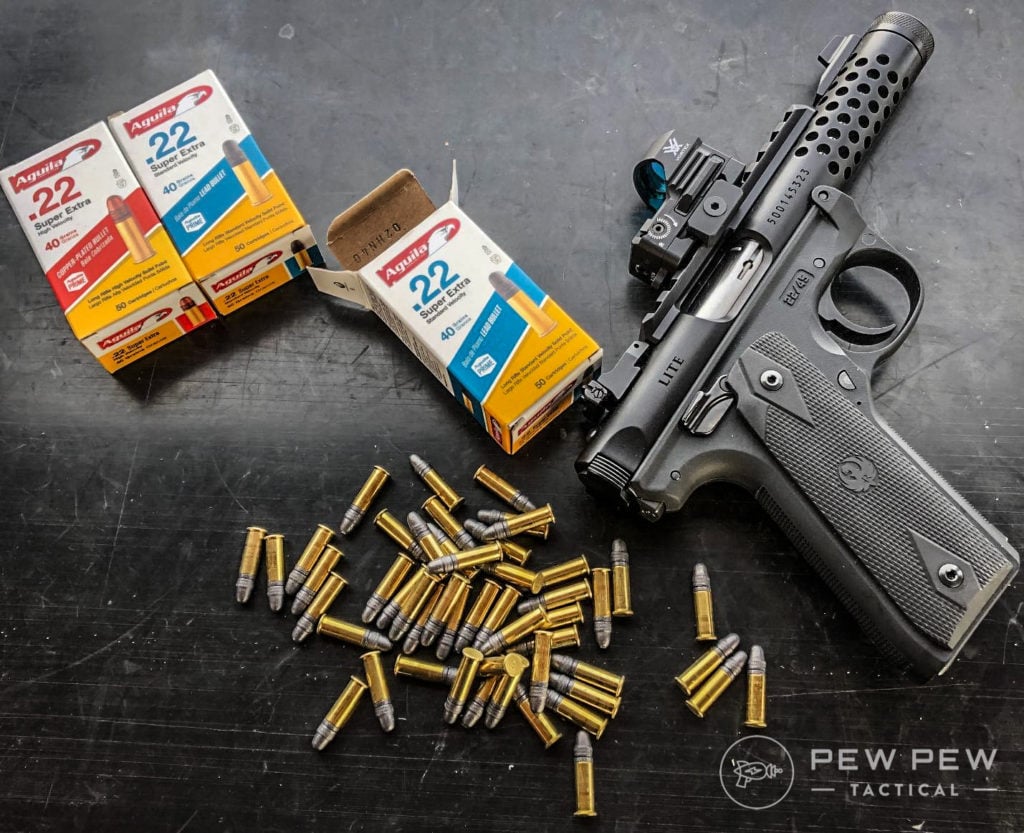 .22 Long Rifle can be used for hunting, target shooting, practice, plinking, and even defending yourself in a pinch.
There are even competitions you can enter with rimfire firearms like the .22 LR that are loads of fun.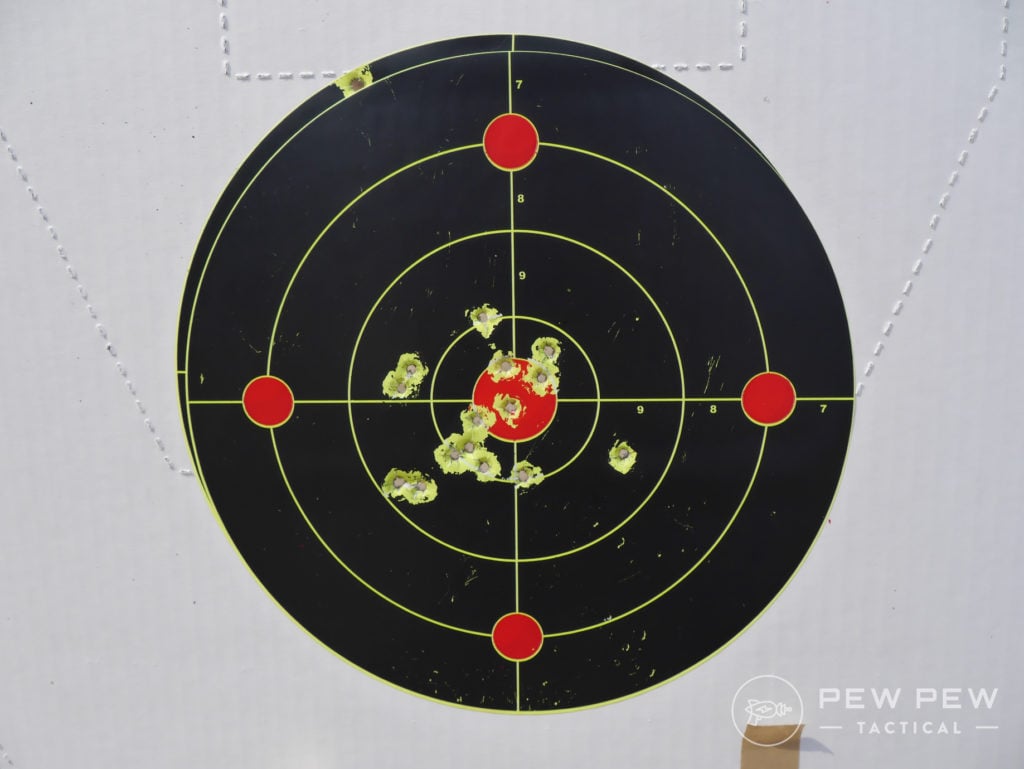 Now, we've talked about the Best .22LR Rifles before, but we haven't tackled .22 LR handguns.
So today, we change that. Let's go over the best .22 LR handguns and also talk about how to choose the right one for you.
So keep reading if you've been considering a .22 LR handgun.
Summary of Our Top Picks
Table of Contents
Loading...
How to Choose a .22 LR Pistol
For me, there are a few things I'm looking for in a .22 LR handgun.
First, I look at accuracy.
The humble .22 LR is a surprisingly accurate round at close ranges, so it's worth getting a gun that can hit what you aim it at.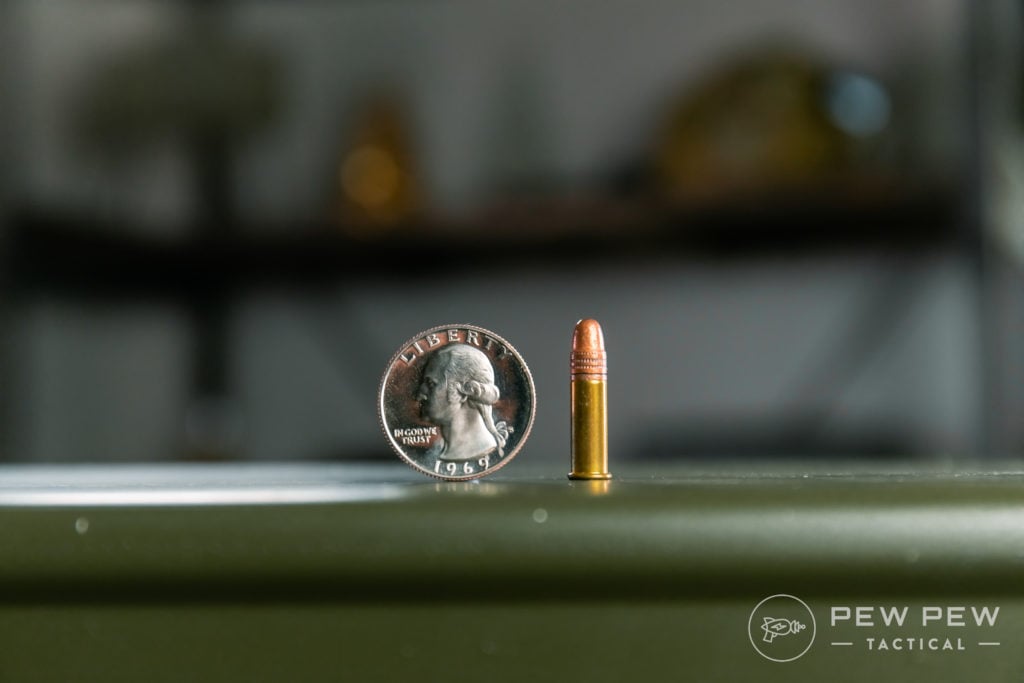 You'll have a lot more fun hitting those cans set up on a hill than you will watching shots land just a hair away.
Next, I look at shootability and ergonomics.
I want something that I'm going to enjoy shooting, not something that's difficult.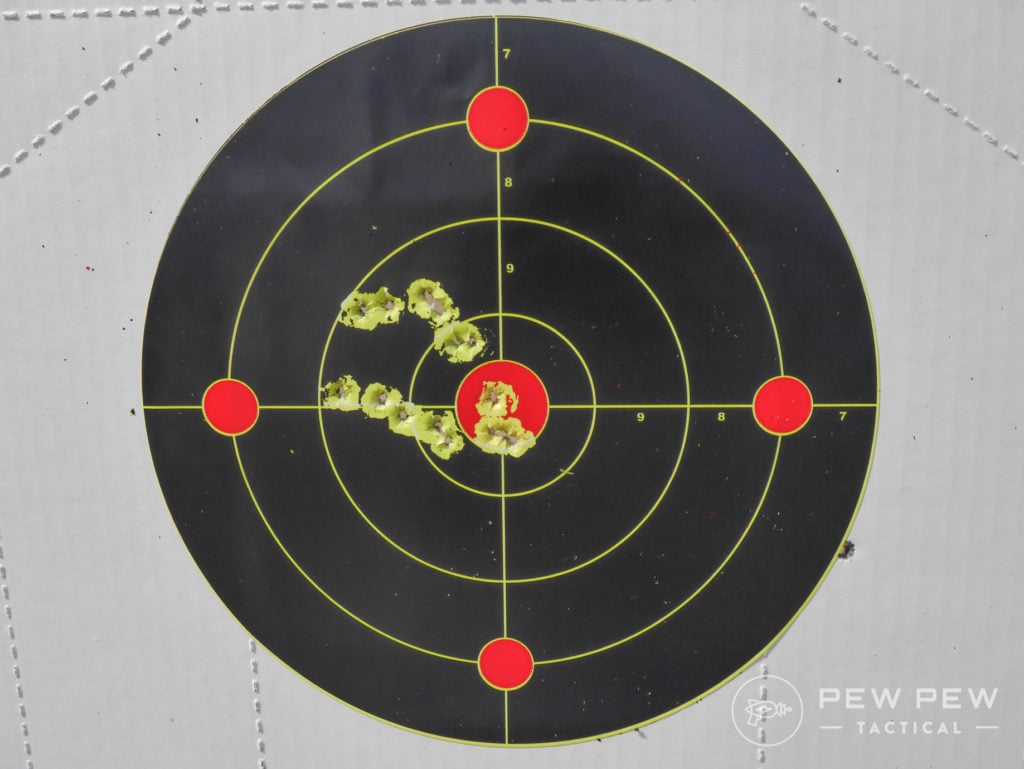 Finally, I consider availability and aftermarket support.
There's nothing worse than a $200 gun with $50 mags. I want something with a lot of support and options.
As far as the aftermarket, rimfire handguns and rifles (particularly the Ruger 10/22) have a ridiculous number of aftermarket manufacturers with triggers, stocks, conversion kits, sights, extractors, magazines, mag releases…the list goes on and on.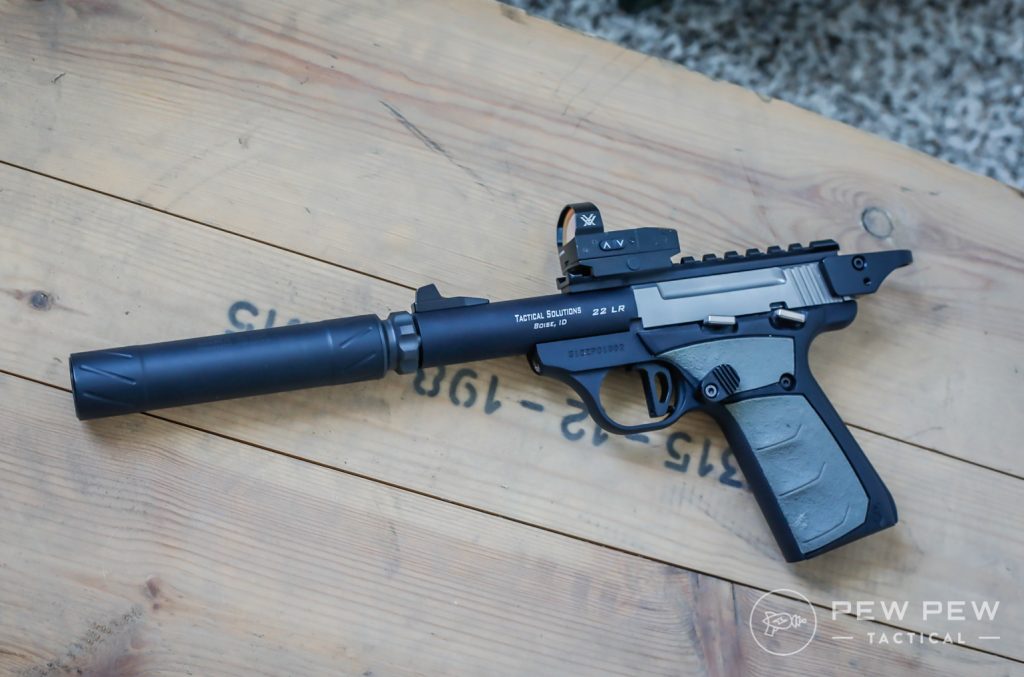 And with the low cost of entry (usually sub-$400) to a rimfire firearm, you can experiment and really go all out on the upgrades and accessories — without much worry that you're going to ruin something expensive.
With that said, let's dive into our favorite .22 LR pistols and handguns.
Best .22 LR Pistols and Handguns
1. Ruger Mark IV
There are a number of excellent .22 LR pistols with designs that harken back to the iconic Luger shape.
This design is as robust as it is prolific, with a long development history that began almost a decade before John Moses Browning's masterwork, the 1911.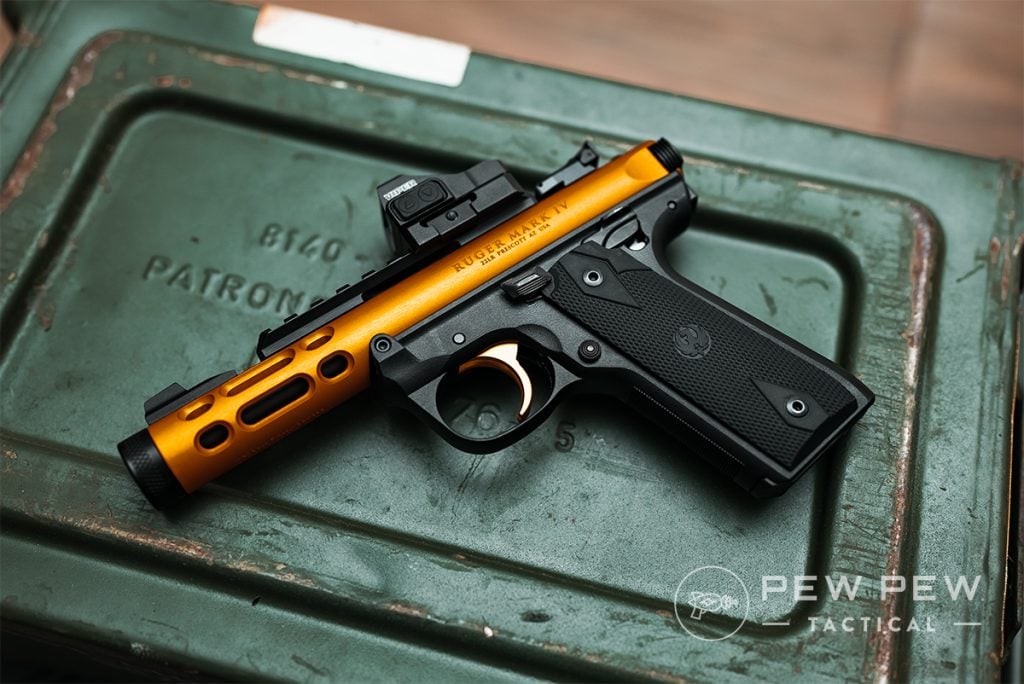 The Ruger Mark IV is perhaps one of the finest examples of this design — capturing classic lines while updating the older toggle-lock design to a simple, modern blowback design.
It offers a 10+1 capacity that is a pleasure to hold and shoot. The heavy bull barrel makes recoil management a cinch.
If you're used to shooting centerfire cartridges of any size, this gun is going to feel like an absolute pushover by comparison.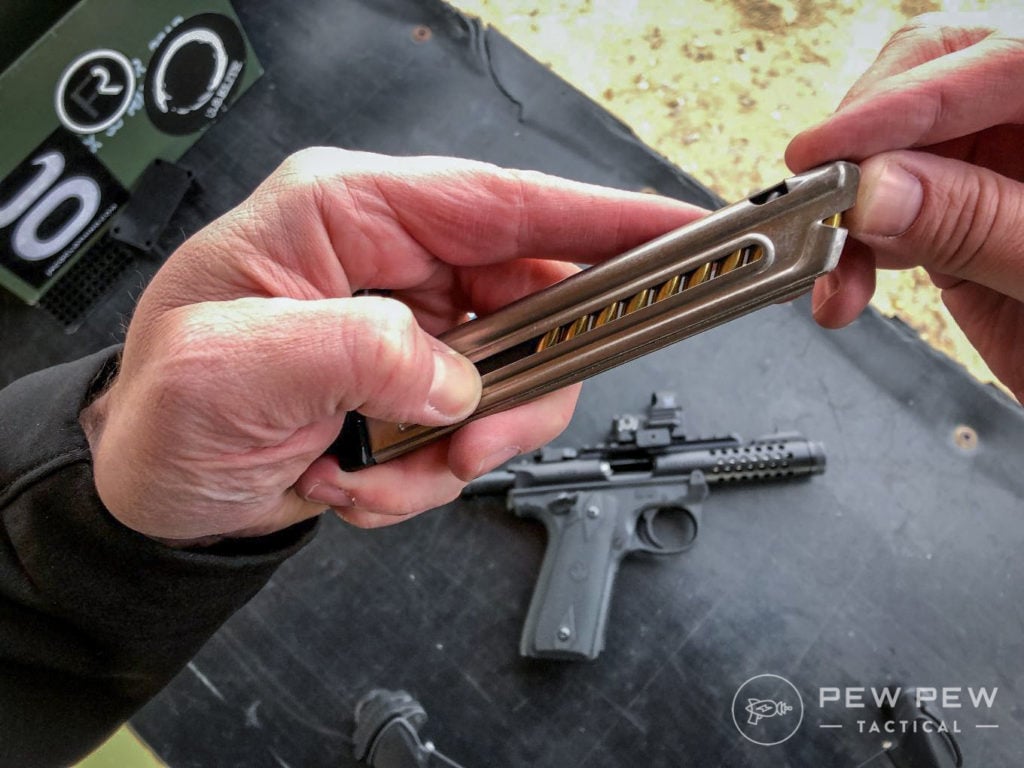 Long plagued by complaints from owners that the Ruger Mark X series was a pain to take down, the new Mark IV solves that problem effortlessly.
In previous models, reinstalling the frame was relatively easy, but then you had to try and finagle the bolt-stop pin back in, and it was a nightmare fit to make a grown man weep in frustration.
Now, press a button on the rear of the slide, and the gun opens up almost like an AR-15, ready to be cleaned, lubed, and reassembled without fuss.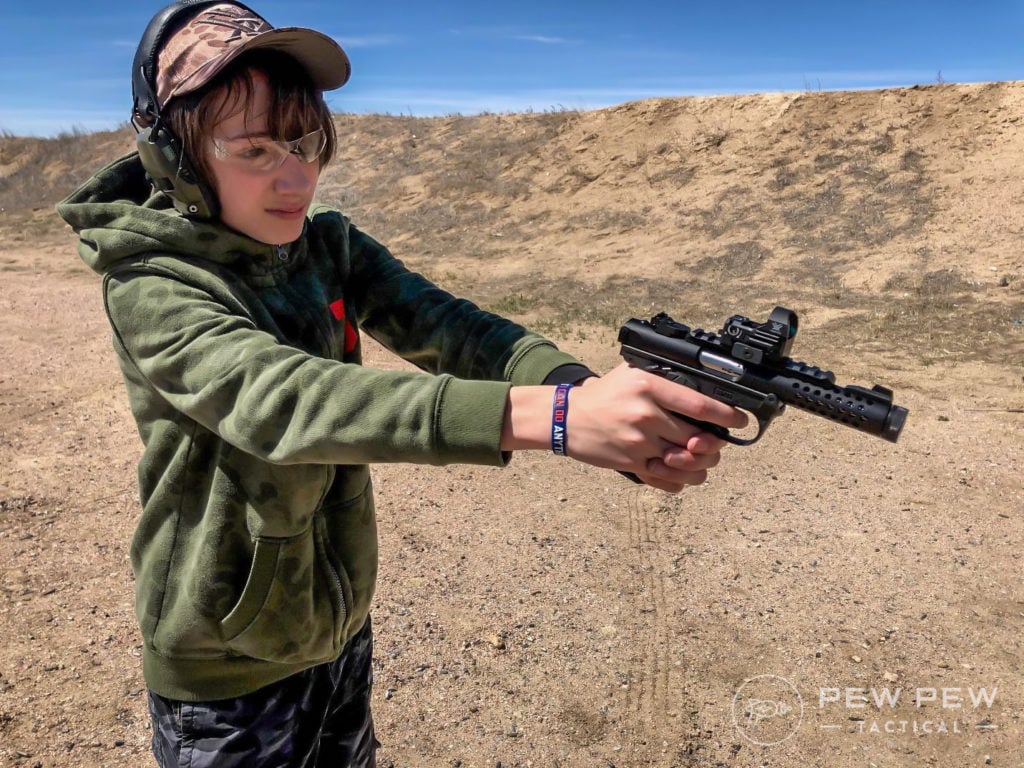 Like the other two Luger-centric pistols on this list, the Mark IV is as accurate as the ammo, and your skill will allow, so don't try blaming the gun for your misses.
Fortunately, as with any .22 LR, practice is cheap, and so is good ammo (relatively speaking), so no excuses.
Best Luger Inspired Model
419
at Kygunco
Prices accurate at time of writing
Prices accurate at time of writing
We looked at the Ruger Mark IV, so check out our review here.
2. SW-22 Victory
The SW-22 Victory is another Luger-inspired gun. Smith & Wesson approached the design with their typical eye on quality of materials and design.
It's one of the most reliable, especially with mixed ammo.
I shot ammo that came from a ziplock bag — several different bullet types and manufacturers present — and I didn't have an issue with the Victory.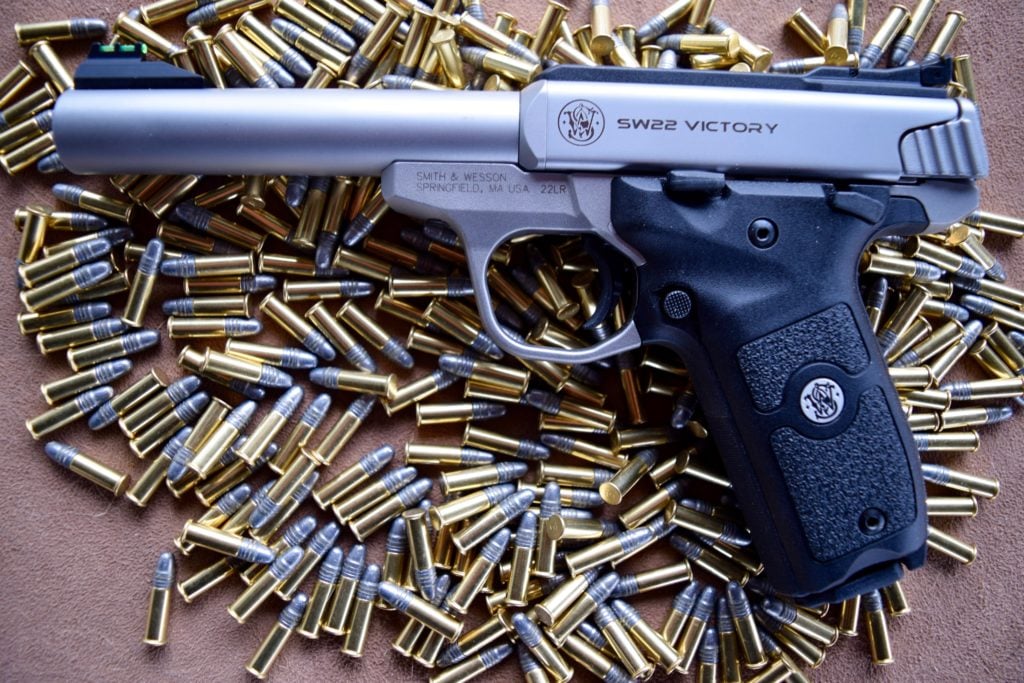 Like the Mark IV, it's a 10+1 capacity, mag-fed firearm with a bull barrel, typically a 5.5-inch one. But there are a host of options available from Smith and others.
Where it falls short is aftermarket support.
So if you're looking for something that'll get the job done without breaking the bank, this is certainly a strong contender.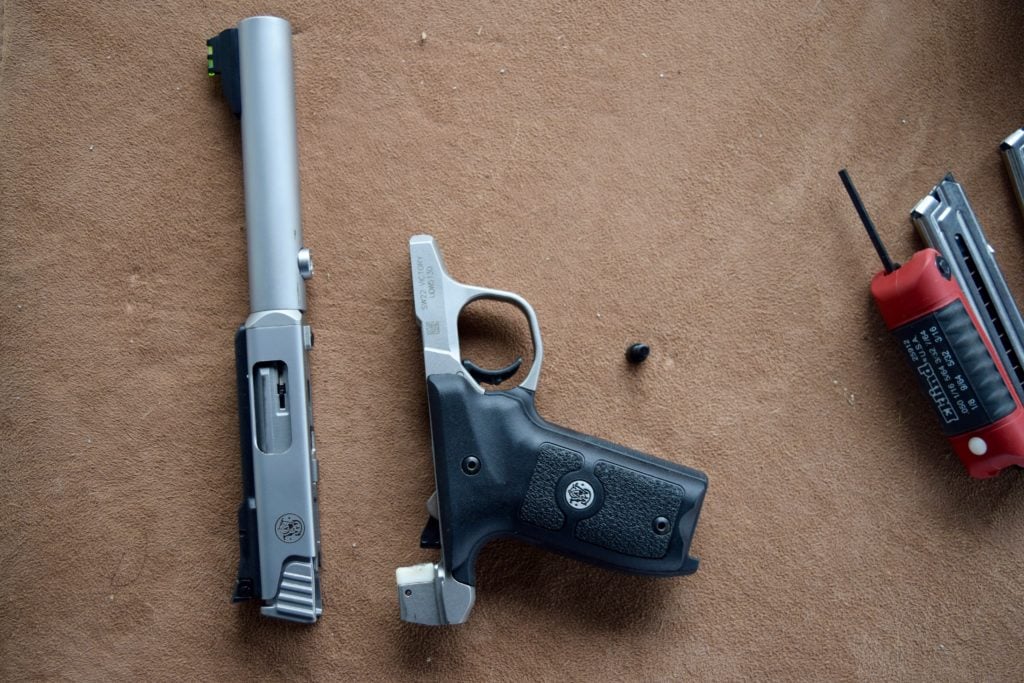 Fortunately for the SW-22, it also has one of the lower MSRPs of any of the Lugeresque options.
While aftermarket options and some carefully applied gunsmithing knowledge can certainly make it better, it's perfectly adequate for most folks out of the box.
Most Reliable
417
at Kygunco
Prices accurate at time of writing
Prices accurate at time of writing
Check out our full review of the SW22 here.
3. Browning Buckmark
We round out the Luger-style guns with my personal favorite — the Browning Buckmark.
What makes it stand out?
First, it has the nicest trigger of the three Luger styles out of the box. For me, that's a big benefit. I really enjoy a nice, crisp trigger, and the Buckmark certainly has that.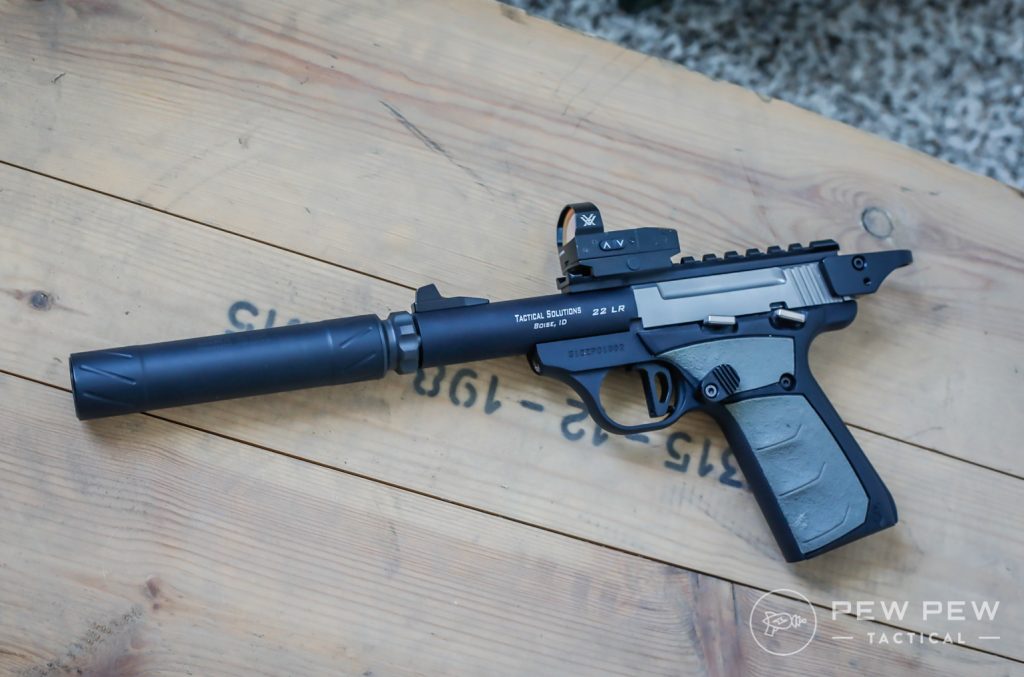 It also has a ton of factory options available, which makes it easy to find the Buckmark that best suits your needs.
The one area that really drags it down is, well, taking it down.
To clean the other two Luger knockoffs, you have either a button to push or a pin to rotate, and that's pretty much it. Baddabing, baddaboom, you're done.
The Buckmark requires you to remove the slide bridge, which is annoying enough by itself. But it also means you need tools, yes, tools, plural, to take the thing down.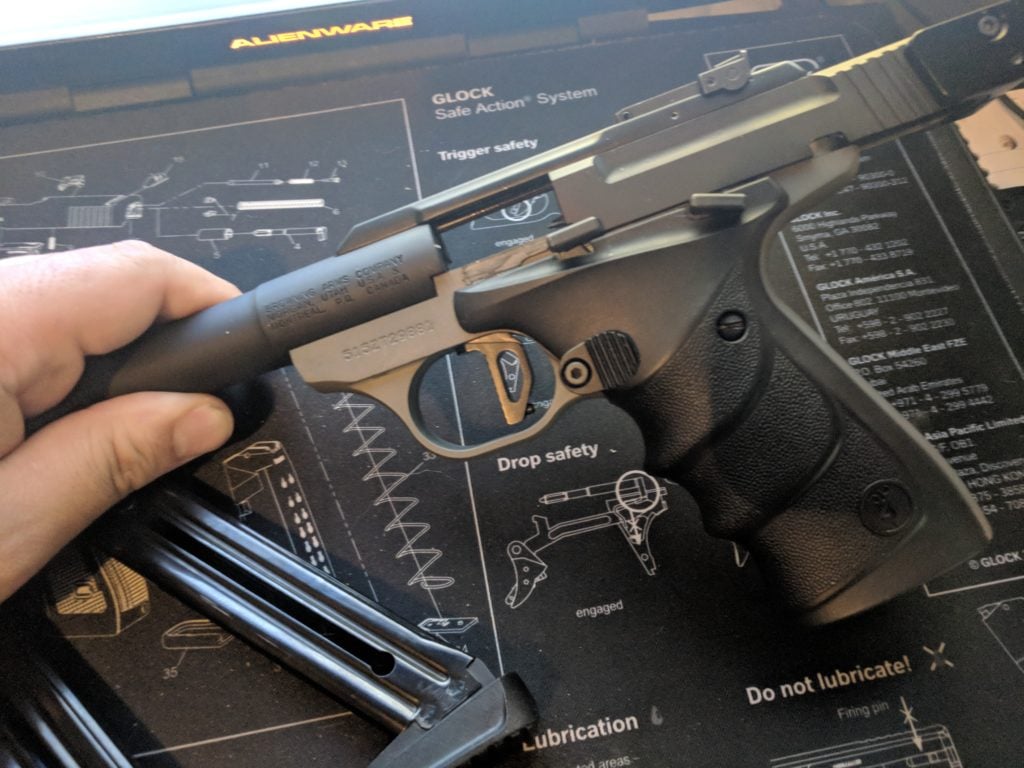 Yes, it's just two Allen wrenches, and no, it's not particularly difficult. But it is needlessly complicated.
Of course, the Buckmark also excels in other areas. Like just about every mag-fed gun on this list, it comes in a 10+1 capacity and a 5.5-inch bull barrel.
For aftermarket accessories, I'd recommend Tandemkross, just like I would for the Ruger and the Smith above.
Check out all the best Buckmark Upgrades. And here's how it shoots…fully upgraded:
Reliability-wise, I'd put it above the Mark IV and below the Victory. Looks-wise, I'd put it at the top of the heap.
Also Great
430
at Kygunco
Prices accurate at time of writing
Prices accurate at time of writing
What do you think of the Browning Buckmark? Give it a rating below.
4. Walther P22
The legendary Walther P22 was noted for its awesome trigger, clean design, and tactical styling.
All in all, it was an excellent little gun save one thing…it only worked when it felt like it, and overly tight tolerances meant you got one mag of reliable function out of it before it needed cleaning.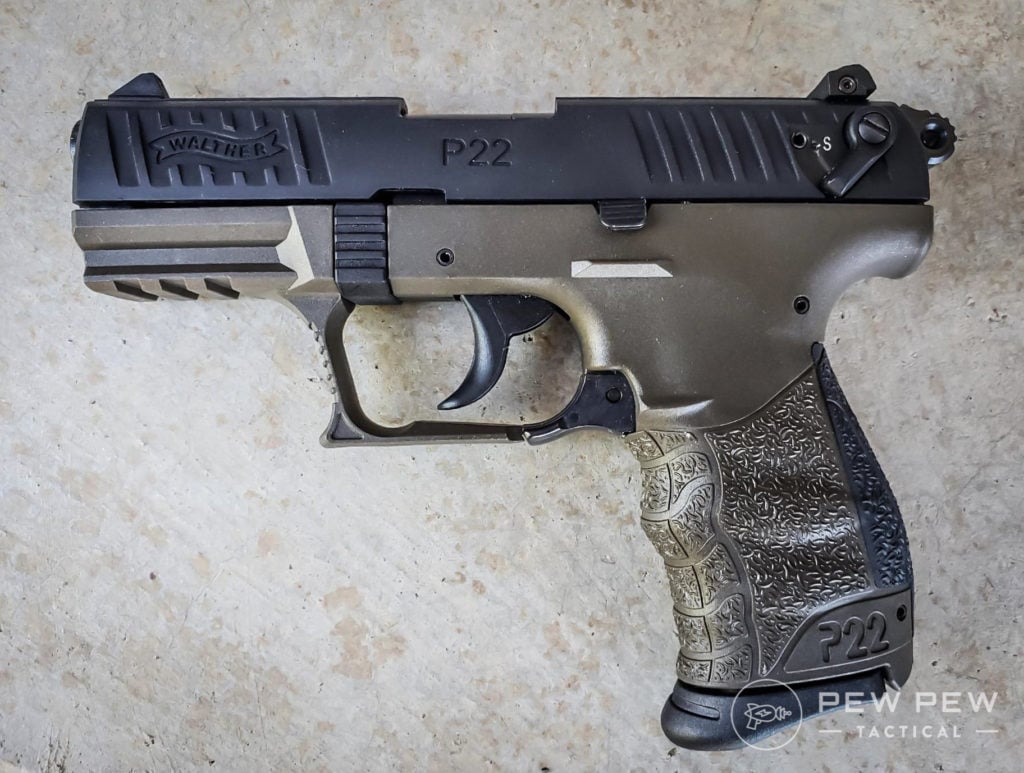 The new QD model solves this issue and updates the classic design. Not to mention, it keeps that amazingly nice trigger.
Best of all, the P22 is a DA/SA pistol, so you have that second-strike capability if you have a light primer strike — which is a common issue with .22 LR ammo.
In DA mode, you'll be dealing with a stiff but smooth 11-pound trigger pull. With the hammer back, you'll get an incredible crisp break at 4 pounds of pressure.
Honestly, this is the gun I'd have if I could only own one from this list.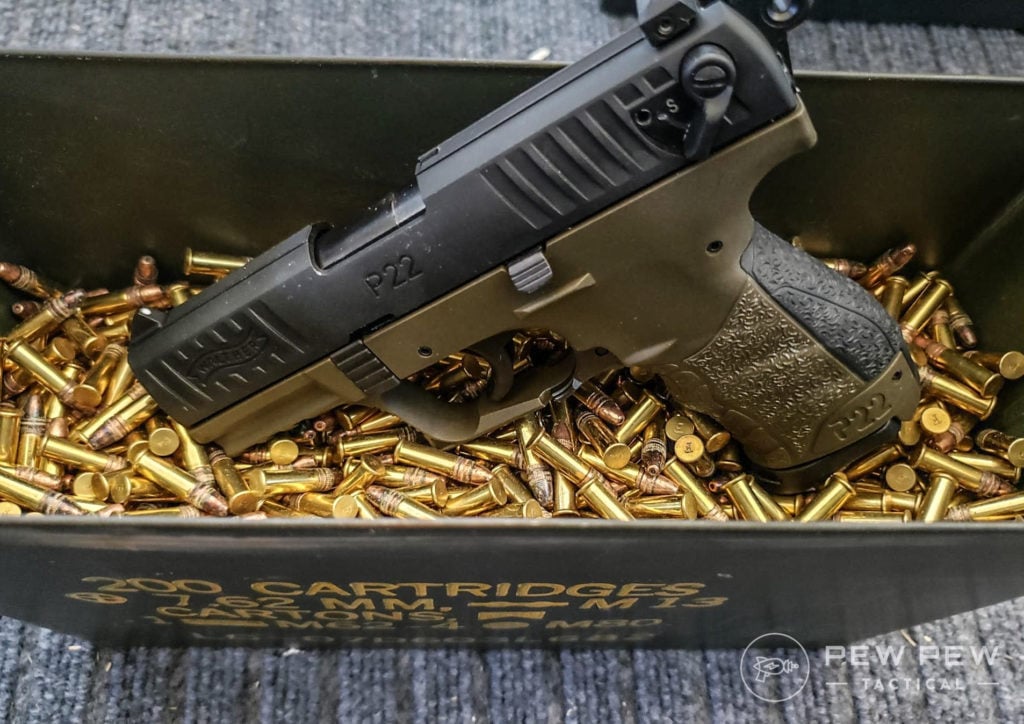 The slide serrations also make it easy for those with low hand strength to rack a round. Though the sights are a cheap polymer, they're more than accurate enough for self-defense distances.
It brings a 10+1 capacity, and while it doesn't have a lot of aftermarket support, it doesn't need a whole lot.
If you're going to carry an easy-to-shoot .22, this is the way to go.
Best Semi-Auto
313
at Sportsman's Guide
Prices accurate at time of writing
Prices accurate at time of writing
Check out our full review of the P22.
5. Heritage Rough Rider .22
If you're looking for something a little more classic but just as fun, the Heritage Rough Rider is a strong contender.
A single-action 6-shot, like those wielded by your favorite Western heroes, the Rough Rider might just have the best fun-to-money ratio of any gun on the list.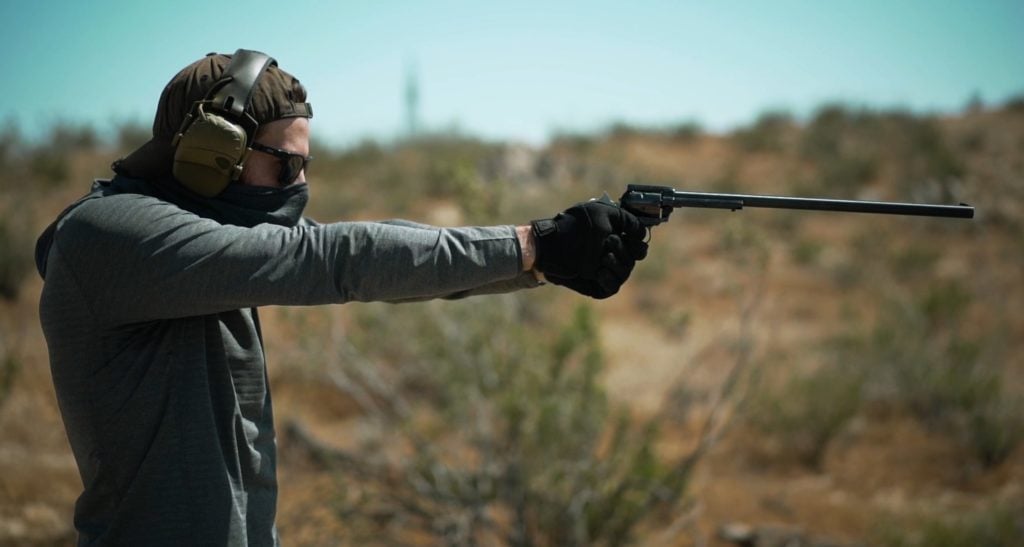 The single action and loading-gate design mean you have to pull back (or fan) the hammer for each shot — loading and unloading each round individually.
All in all, it's a very slow-paced, almost zen experience to shoot one. You can really stretch a box of ammo for several afternoons at the range.
It's also a great gun for working on your accuracy, as the low round count and almost-but-not-quite painfully slow reload will have you picking and placing your shots carefully.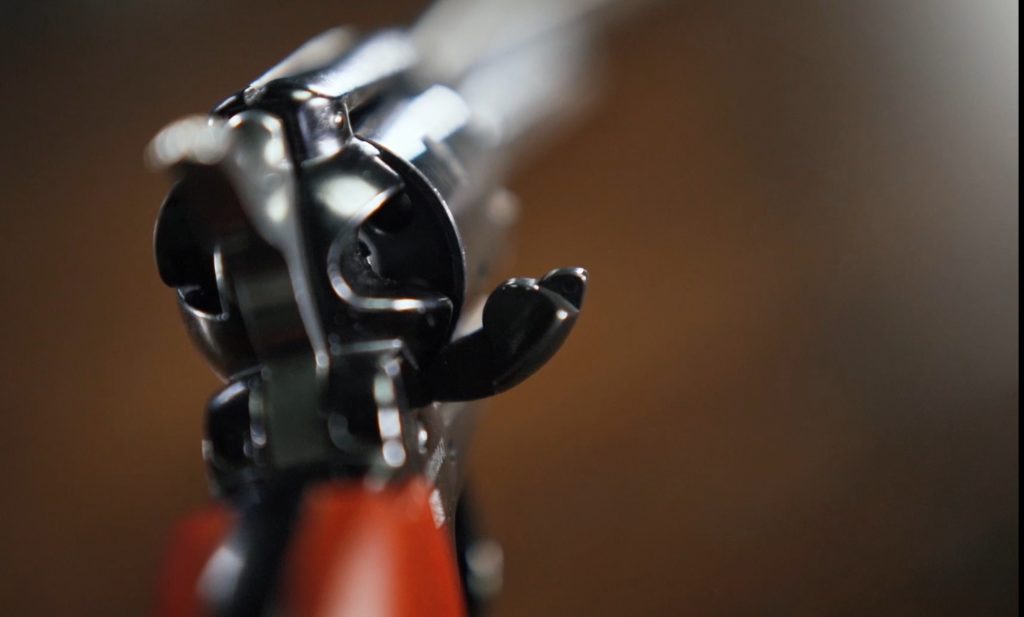 The trigger is surprisingly good, no doubt a product of the simple single-action design more than anything, but that's okay.
It's more than good enough for the gun's real purpose…having the most fun for the least money.
Yeah, it'll shoot snakes or discourage predators of the two and four-legged variety. It'll certainly make a good training tool for youngins and new shooters, but fun is what this gun is all about.
Most Fun
119
at Palmetto State Armory
Prices accurate at time of writing
Prices accurate at time of writing
Read our review of the Heritage Rough Rider here or watch the full video review below.
6. Ruger GP-100 .22
One of the most legendary DA/SA revolvers to ever exist, the Ruger GP-100, was once only available in a 6-shot .357 model.
But now, I'm seeing more and more .22 LR versions on the shelf at my local gun store.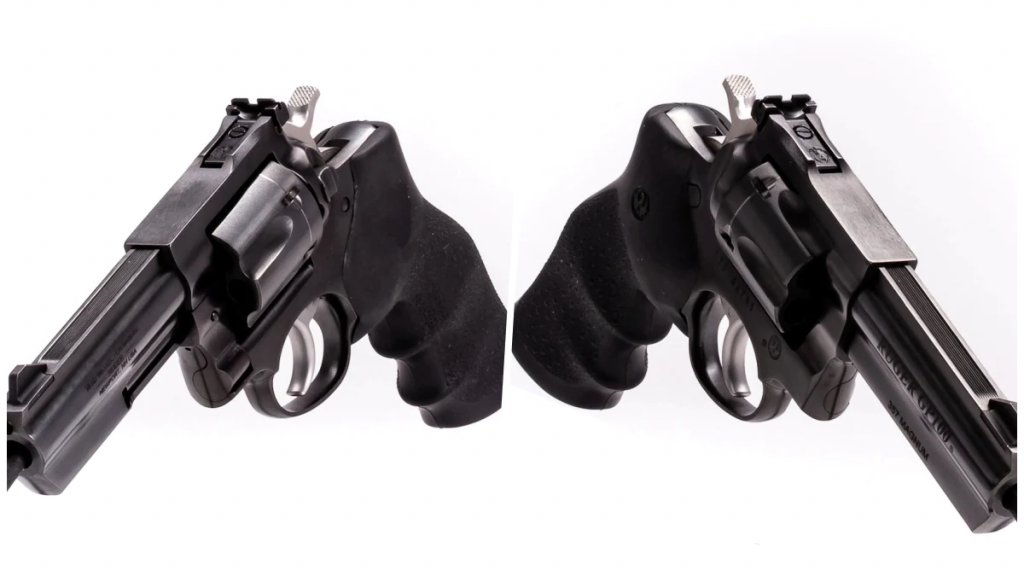 I can't sing the praises of the GP-100 enough.
Its rugged monolithic design means that it'll almost certainly outlive you and possibly your children and grandchildren as well if it's cared for.
The .22 LR version is a 10-shot model available with a 4-inch and 6-inch barrel. It's just about as accurate as you could want, something that's in no small part due to the better-than-average trigger and factory fiber optic front sight post.
It is one of the pricier guns on this list, but you're getting one of the best .22 LR revolvers around.
Best Revolver
749
at GrabAGun
Prices accurate at time of writing
Prices accurate at time of writing
7. FN 502
FN dove into the .22 LR market in 2021 with the FN 502. It's a first for the company, which is best known for its tactical-style striker-fired handguns and sweet rifles.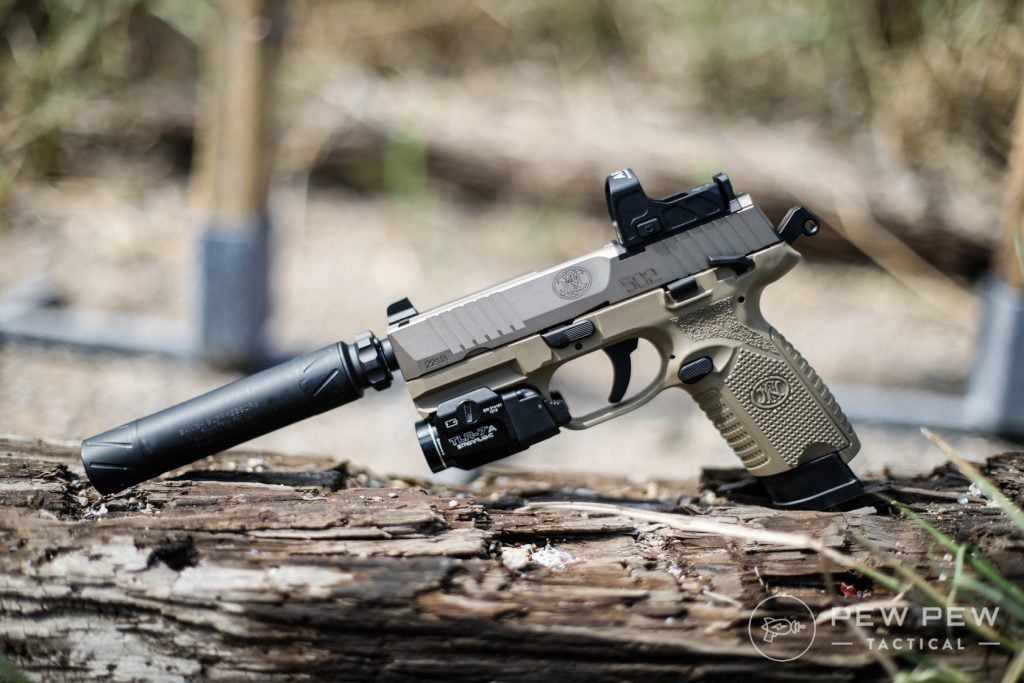 The hammer-fired 502 brings an FN 509-inspired frame with a low-profile optics mounting system. This makes adding your favorite red dot super easy.
Ergonomics on the FN 502 are great, and the ambidextrous controls win it some favor among the left-handed crew.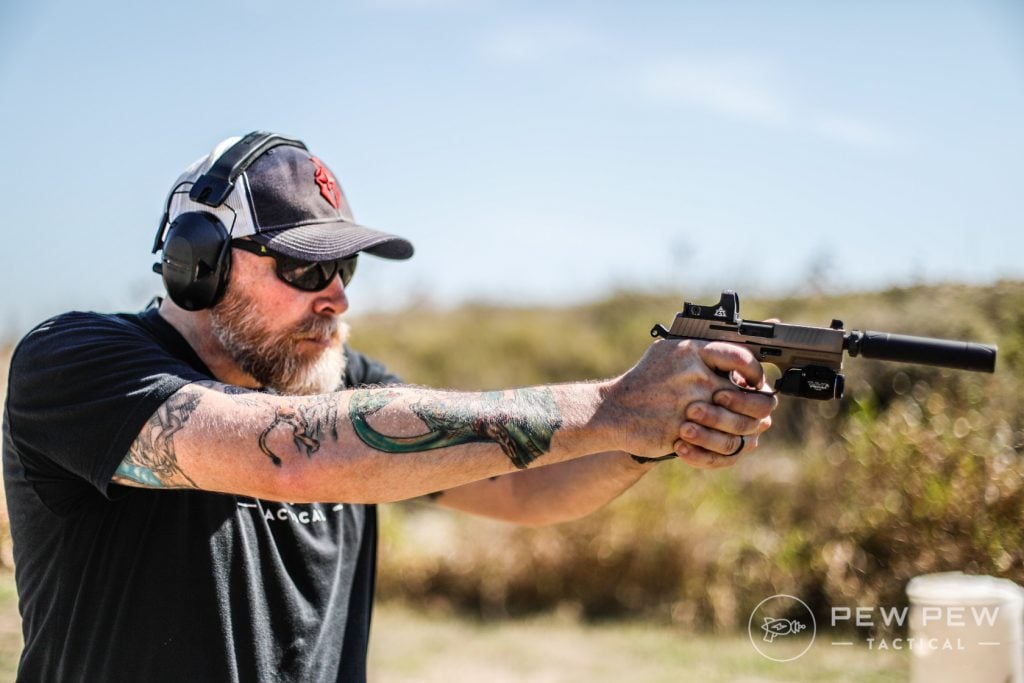 The gun sports a manual safety and threaded barrel. Yep, you heard me, so toss on your favorite suppressor.
FN touts the pistol as super reliable and accurate. Given the company's stellar reputation, the PPT team thinks the FN 502 falls in line with the rest of FN's firearms.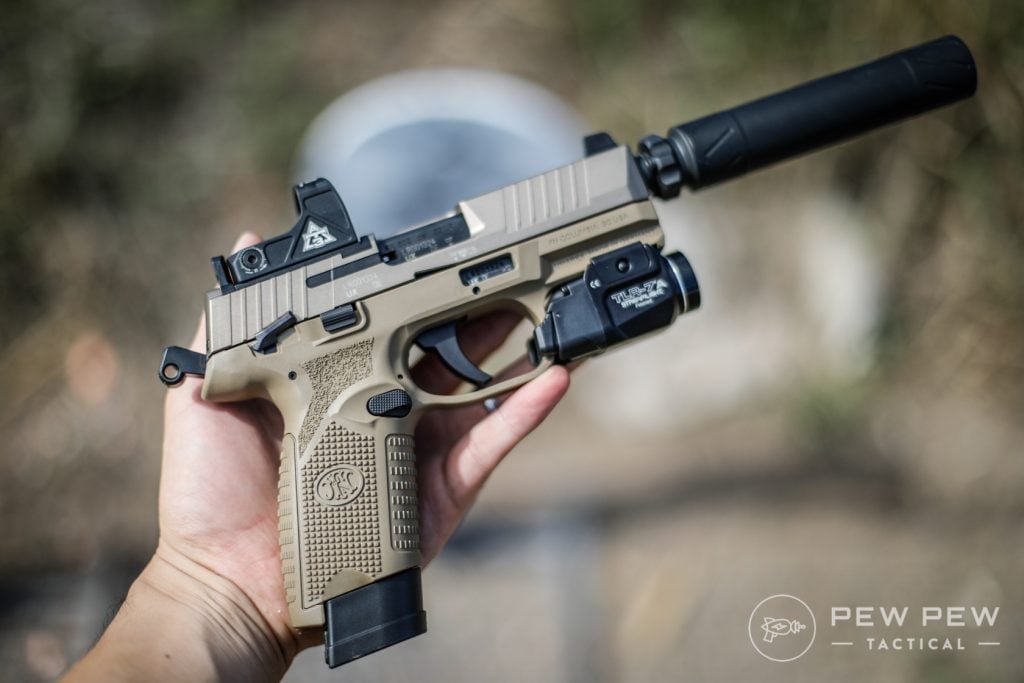 (Need some recommendations, check out our favorite pistol red dots.)
See it in all its suppressed glory:
Check out our full review of the FN 502 Tactical here!
Best .22 LR Trainer
499
at Kygunco
Prices accurate at time of writing
Prices accurate at time of writing
8. Glock G44
If you're a Glock fan but don't want to fool with 9mm or above, then the G44 is for you.
The G44 offers a classic Glock look…seriously, it looks just like a G19, with similar dimensions too.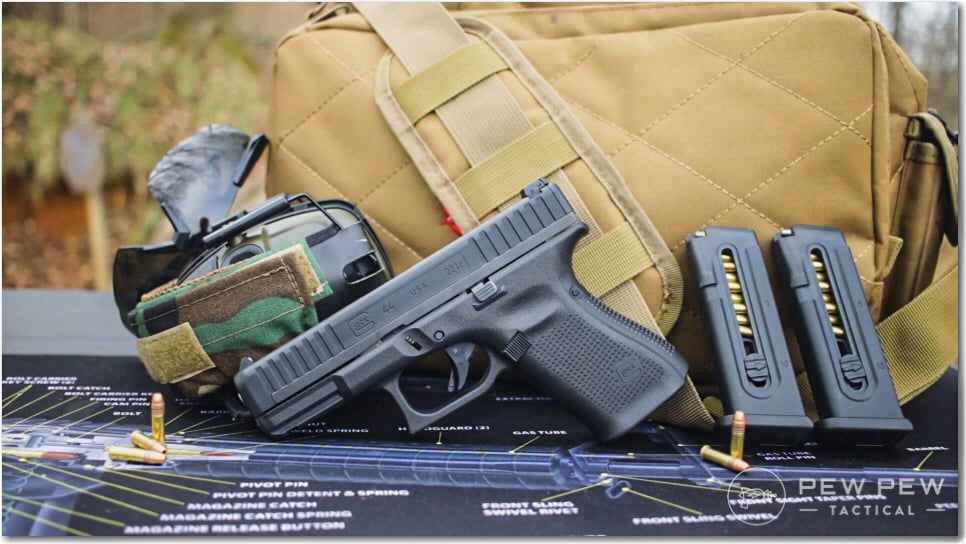 Perfect for cheaper training at the range, the G44 brings the same controls and ergonomics as its older sibling, the G19.
While some may roll their eyes at the need for a .22 caliber Glock, the PPT team sees the benefits.
For one, .22 LR ammo tends to be cheaper, so you can easily train with the G44 without breaking the bank.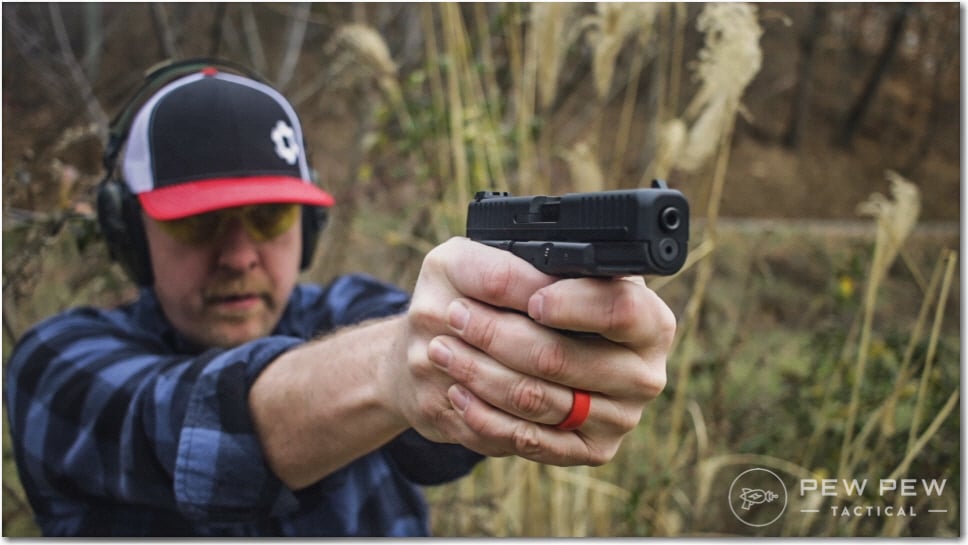 And it's a great starter gun for newbies.
It does feel like it's worth a mention that some reviewers experienced cracking on the G44 slide. That said, when PPT reviewer Johnny tested it, he didn't have any issues.
For those that want a Glock but in a rimfire format, the G44 fits the bill.
359
at Kygunco
Prices accurate at time of writing
Prices accurate at time of writing
Check out our written review or watch the full video review of the Glock G44 below.
9. Taurus TX22 Competition
The Taurus TX22 Competition is a fun option for those looking to burn some rounds at the range.
It offers simple controls and a 16-round capacity in a flush fighting magazine. The TX22 brings a striker-fired, polymer-framed pistol at an affordable price point.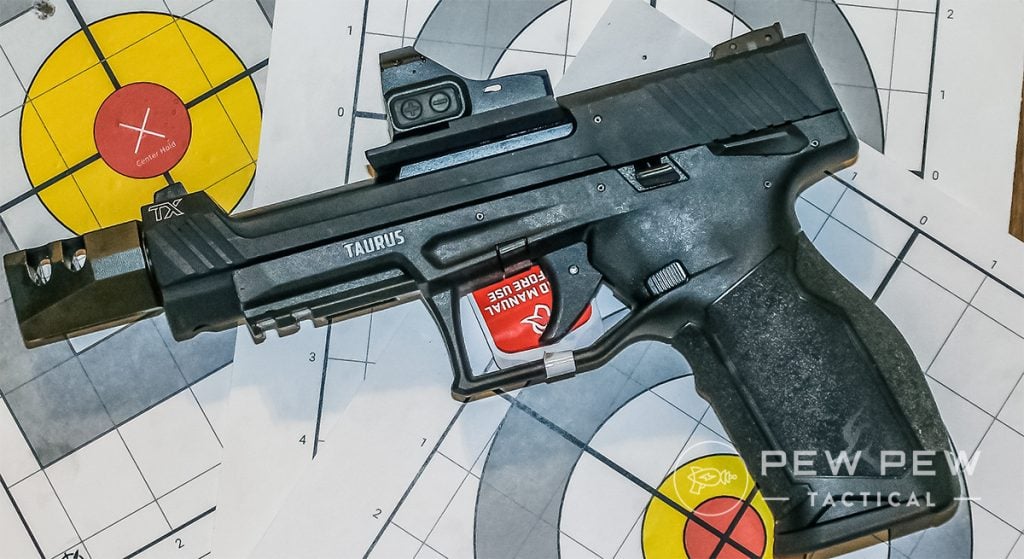 For a street price of around $450, you get three 16-round mags, a red dot-ready slide, a muzzle compensator, and a very nice trigger.
Add in the lightened slide, adjustable rear sight, plus locked-in reliability and accuracy, and you have a winner, winner chicken dinner!
Best .22 LR Competition Pistol
412
at Kygunco
Prices accurate at time of writing
Prices accurate at time of writing
Do we have a review? You betcha. Head on over and read up on the TX22.
Final Thoughts
I know there are roughly a billion other options out there, but these are just a handful of our favorites.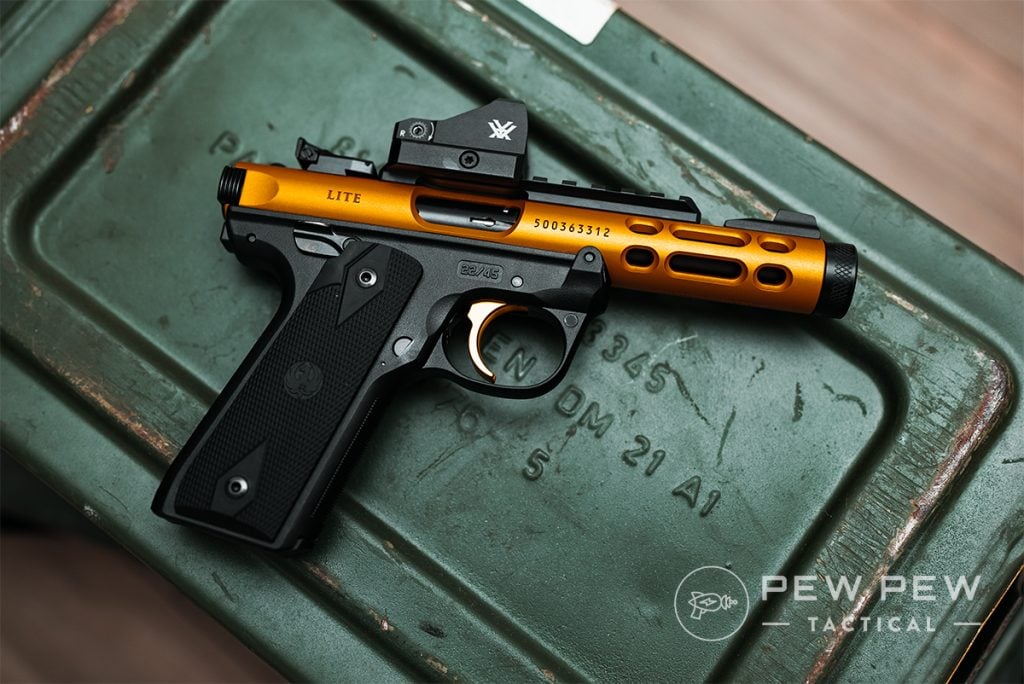 Whether you are looking to varmint hunt, plink, or brush up on some skills, these models are a great option to get you started in .22 LR.
What's your favorite .22 LR handgun? Let us know in the comments below. Looking for ammo or rifles? Check out the Best .22 LR Rifles and Best .22 LR Ammo.