The .22 LR is a great starter rifle for new gun enthusiasts and is still a staple for veteran firearm aficionados.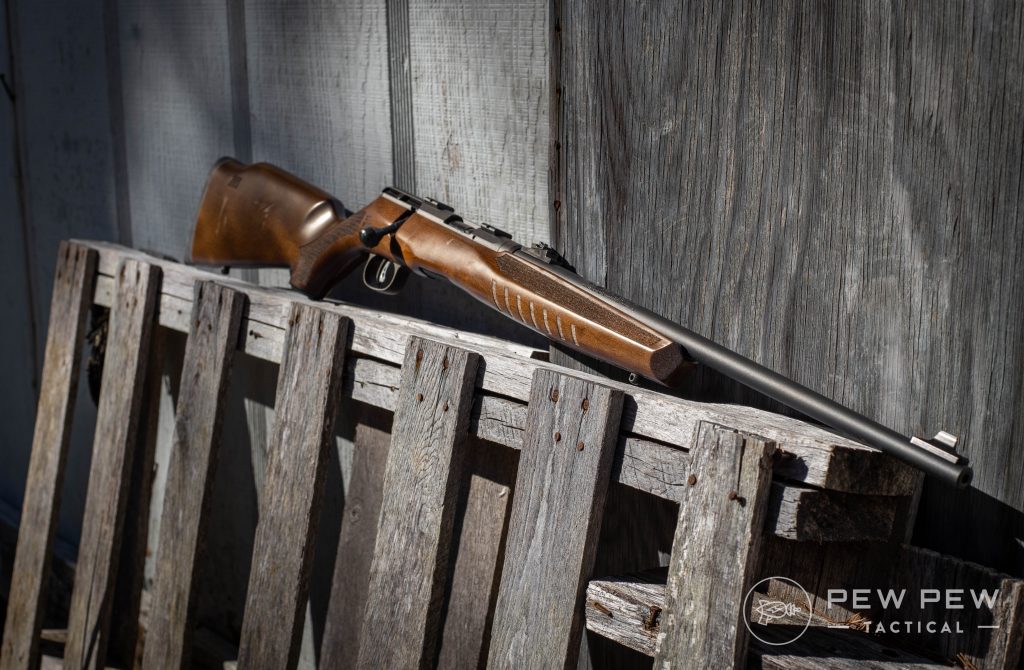 It's a great general-purpose rifle for pleasure shooting, hunting, and home defense.
.22 LR Ammunition is affordable and easy to find. Plus, the caliber's small size, especially when compared to the size of a rifle, makes it manageable for even small shooters.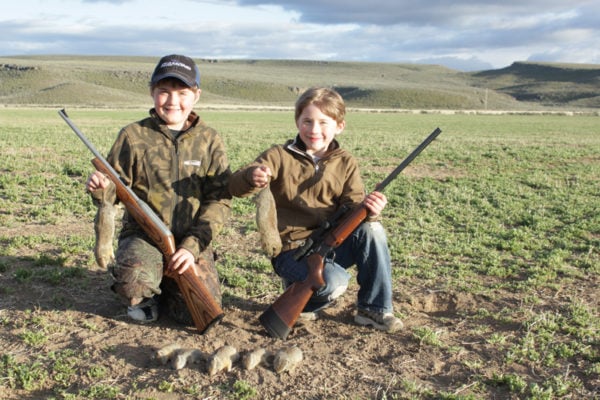 Because .22 rifles are so popular, every manufacturer makes at least one.
Many make several. So with the market so flooded with .22 LR rifles, how do you know which one is right for you?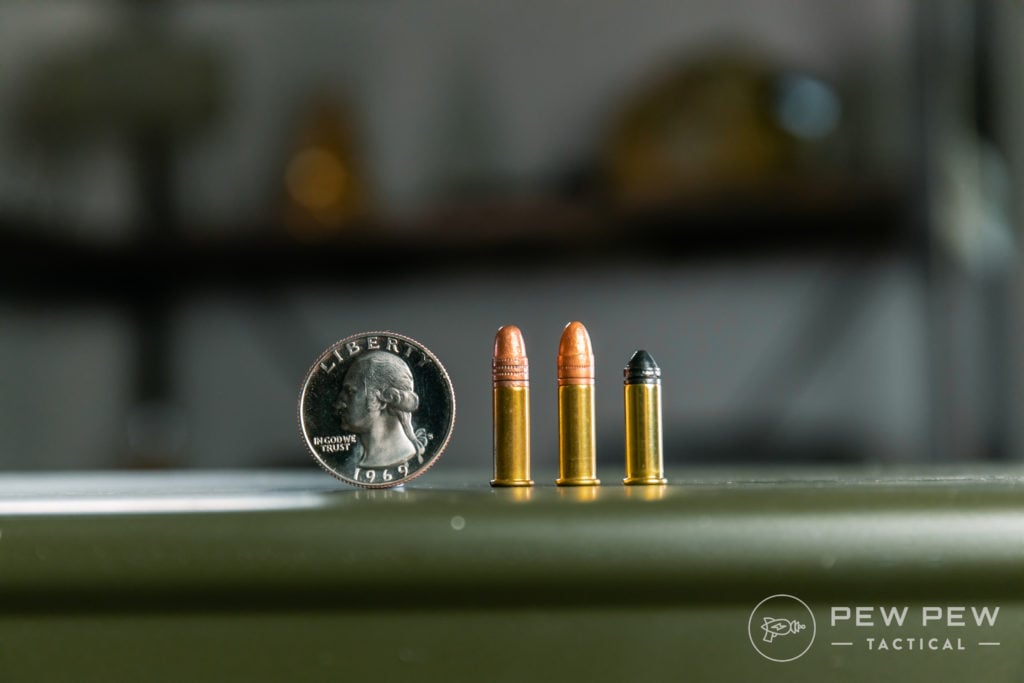 That's where this list comes in. We've assembled a list of .22 LR rifles that are among our favorites for a variety of shooting activities.
So if you've wanted to add a .22 to your gun safe, keep reading…
Best .22 LR Rifles
1. Marlin Model 60
Having been in continuous production for almost 60 years (though it's now made by Remington) and is, according to the manufacturer, the most popular firearm of its kind in the world.
249
at Gunprime
Prices accurate at time of writing
Prices accurate at time of writing
The Model 60 features a hardwood stock with a walnut finish, full pistol grip, and a Mar-Shield finish.
It also has a brass inner magazine tube with a 14-shot capacity. If you can find one manufactured before 1968, you can expect an 18 round capacity.
The Model 60 is self-loading with right-side ejection (sorry, lefties), a straight blowback design, and both manual and automatic "last-shot" bolt hold-open.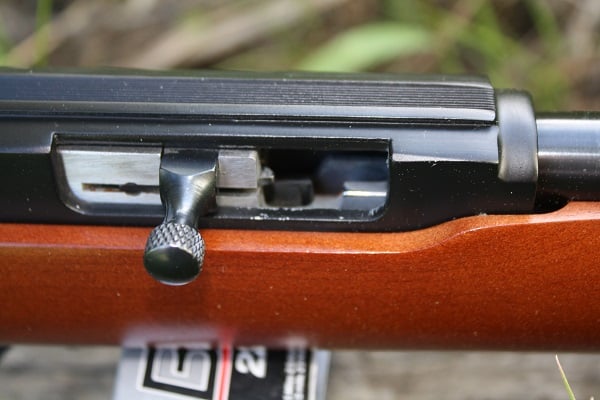 Above the trigger is the cross-bolt safety, easily accessible for even small-handed shooters.
Another high point is a 19-inch micro-groove barrel. The 16 shallow grooves and quality crown make the rifle very accurate.
Some shooters have complained that the gun is slow to reload. But the high capacity and corrosion resistance of the brass magazine help counterbalance this flaw.
In addition, there's an adjustable rear sight and open front sight, plus grooving in the receiver for mounting a scope.
2. Henry AR-7 Survival Rifle
This rifle was originally designed in 1959 for use by the United States Air Force but is now a favorite among civilians for all the same reasons it was popular with military pilots.
Best Survival .22 LR Rifle
318
at Guns.com
Prices accurate at time of writing
Prices accurate at time of writing
The AR-7 Survival Rifle is lightweight (only 3.5 pounds), reliable, and compact.
It's also highly portable thanks to its ability to be disassembled and has all parts of the rifle stored in the impact-resistant and water-resistant stock.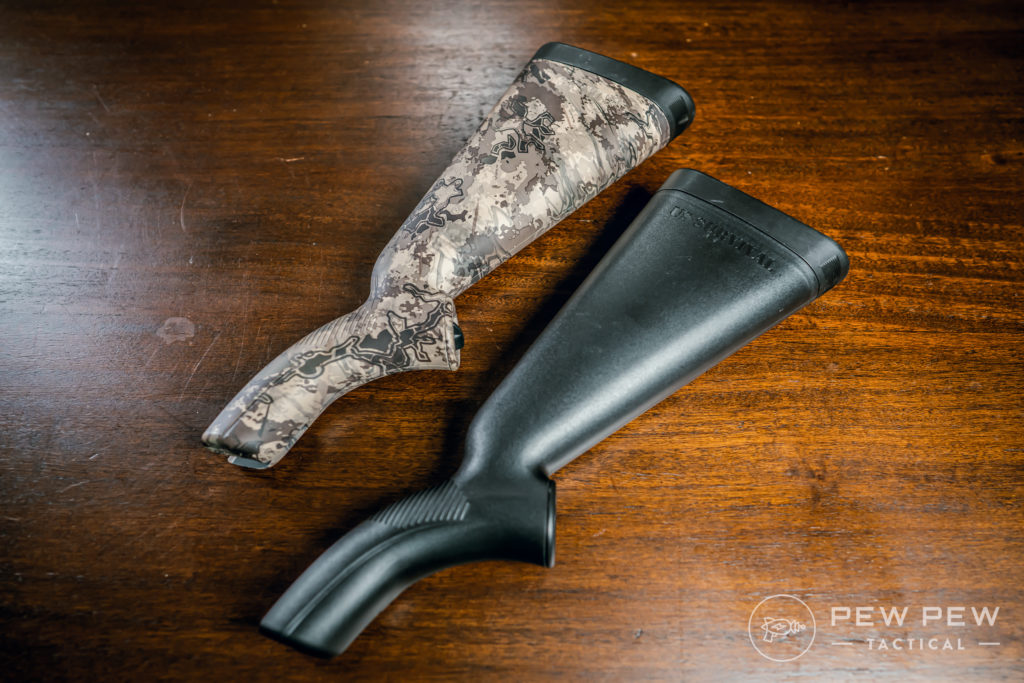 While the full length of the assembled gun is 35-inches, the AR-7 Survival Rifle is only 16-inches long when all components are stowed.
That's small enough to fit in almost any backpack or the cargo area of even small planes and boats.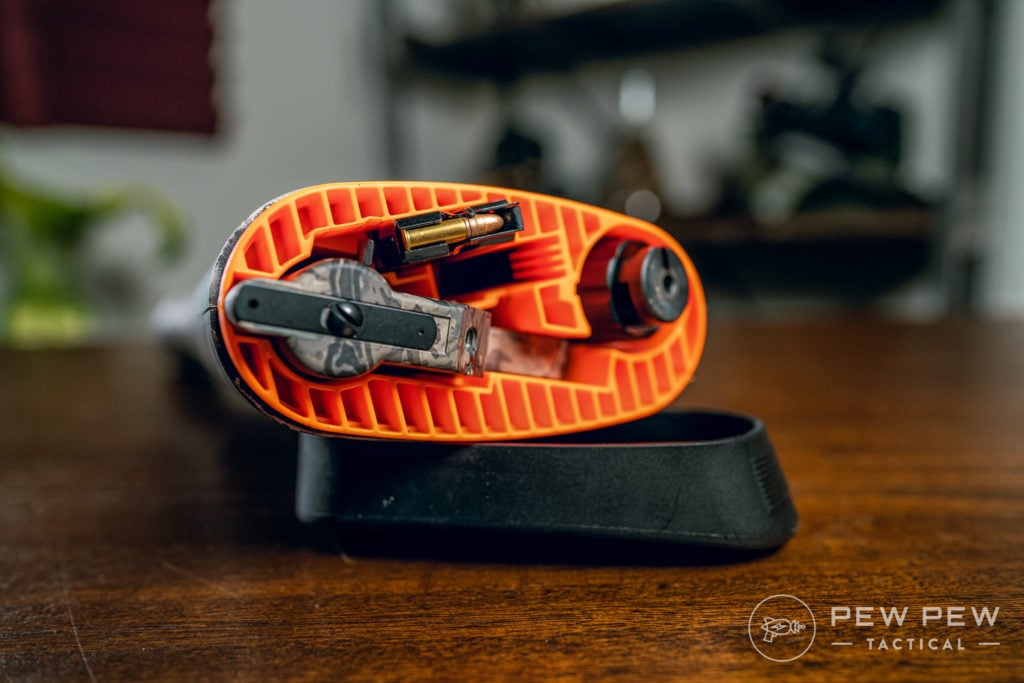 Assembly is also incredibly easy. All you have to do is attach the receiver to the stock, insert the barrel, and tighten the nut. No tools are needed.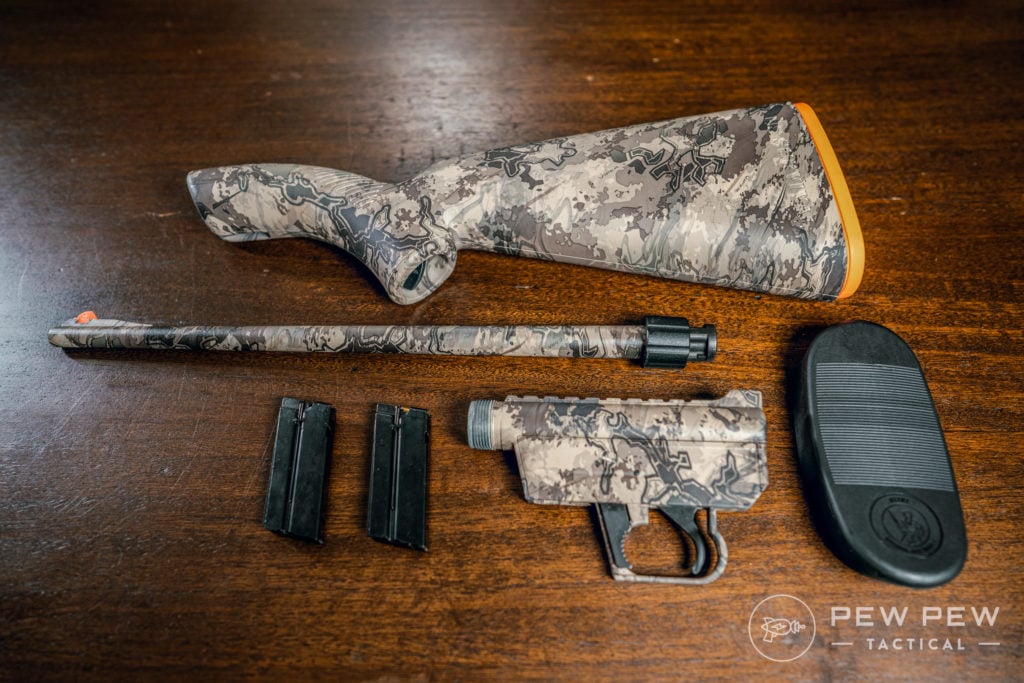 The hardy stock is made of durable ABS plastic with a rubber buttplate pad.
Its 16-inch barrel is comprised of a steel liner surrounded by a composite housing, while the receiver is cast from aluminum.
The entire rifle is Teflon coated. Like all Henry firearms, the AR-7 Survival Rifle is made in the United States.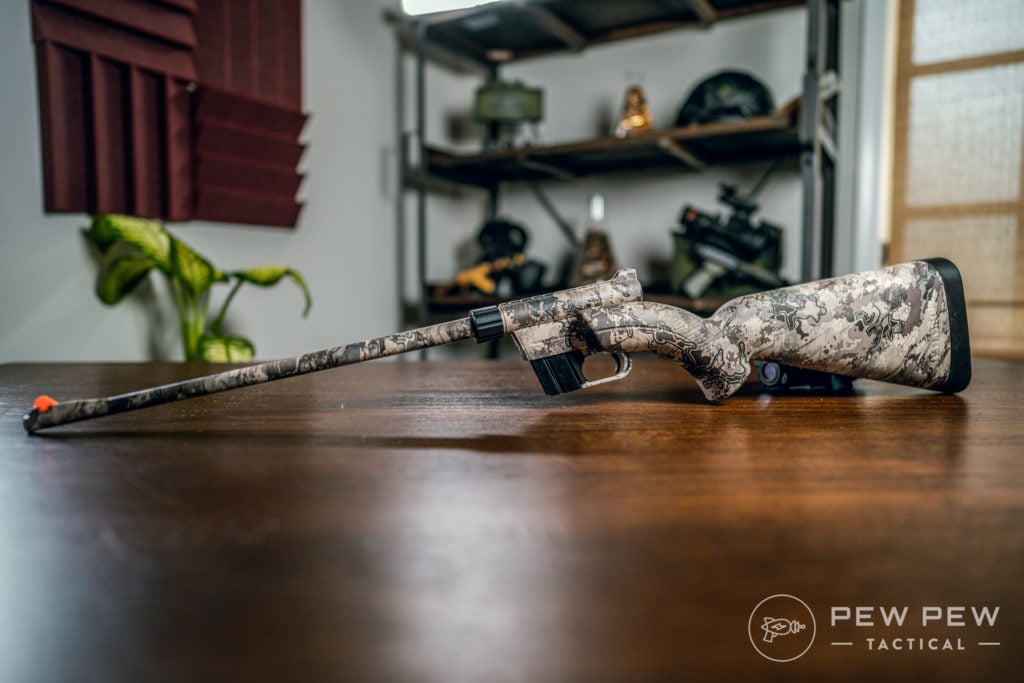 The rifle features an adjustable peep rear sight and fixed-blade front sight and has a ⅜-inch grooved receiver for scopability.
Plus…it shoots pretty nicely.
The AR-7 Survival Rifle comes with two 8-round magazines. Its low capacity is a disadvantage for this rifle, but two mags certainly help make up for it, as does the rifle's excellent portability.
See our full review here.
3. Ruger 10/22 Takedown
Ruger claims that the 10/22 Series is the most popular .22 series in the world.
If you look at the Ruger 10/22's outstanding reputation for durability and reliability, Ruger's claim isn't at all surprising.
Today, however, we want to specifically focus on the 10/22 Takedown.
419
at Kygunco
Prices accurate at time of writing
Prices accurate at time of writing
It's similar to the Henry Survival Rifle AR-7 in that it can also be taken apart and reassembled with incredible ease and convenience.
However, instead of storing within its own stock, the Ruger 10/22 Takedown comes with a backpack-style storage case in which it can be stowed.
In addition to the rifle, the case has room for ammunition and accessories.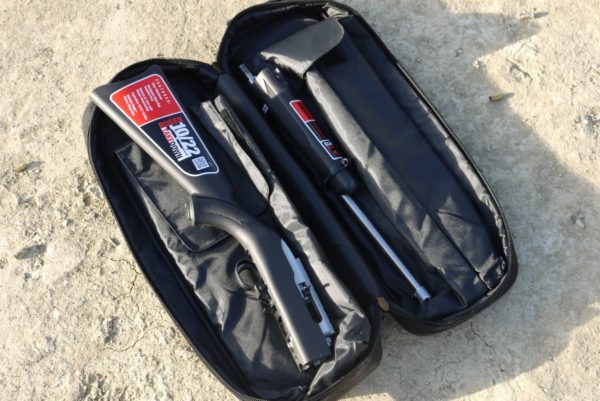 This gives the Takedown the same storage convenience as the Henry Survival AR-7, but it's not as protected from moisture or impact unless you store it in a different case.
On the other hand, the 10/22 Takedown has a higher capacity, with a removable 10-round magazine.
Some reviewers also claim that the Takedown is more reliable, though both rifles are highly dependable.
The Ruger 10/22 Takedown is available in two barrel lengths, an 18.5-inch barrel and a 16.62-inch barrel ($350).
The 18.5-inch barrel option features a brushed aluminum receiver designed to look like stainless steel.
While the 16.62-inch barrel option has a black alloy receiver. Both are heavier than the Henry AR-7 with the 18.5-inch barrel option weighing 4.67 pounds, while the 16.62-inch barrel option weighs in at 4.3 pounds.

Regardless of length, the threaded rifle is precision rifled and cold hammer forged. Both length options have a black synthetic stock.

The Ruger 10/22 Takedown also features a positive, push-button, cross-bolt manual safety, and a combination scope base adapter for both Weaver-style and .22 tip-off scope mounts.
And like other 10/22 models…there's an awesome amount of upgrades.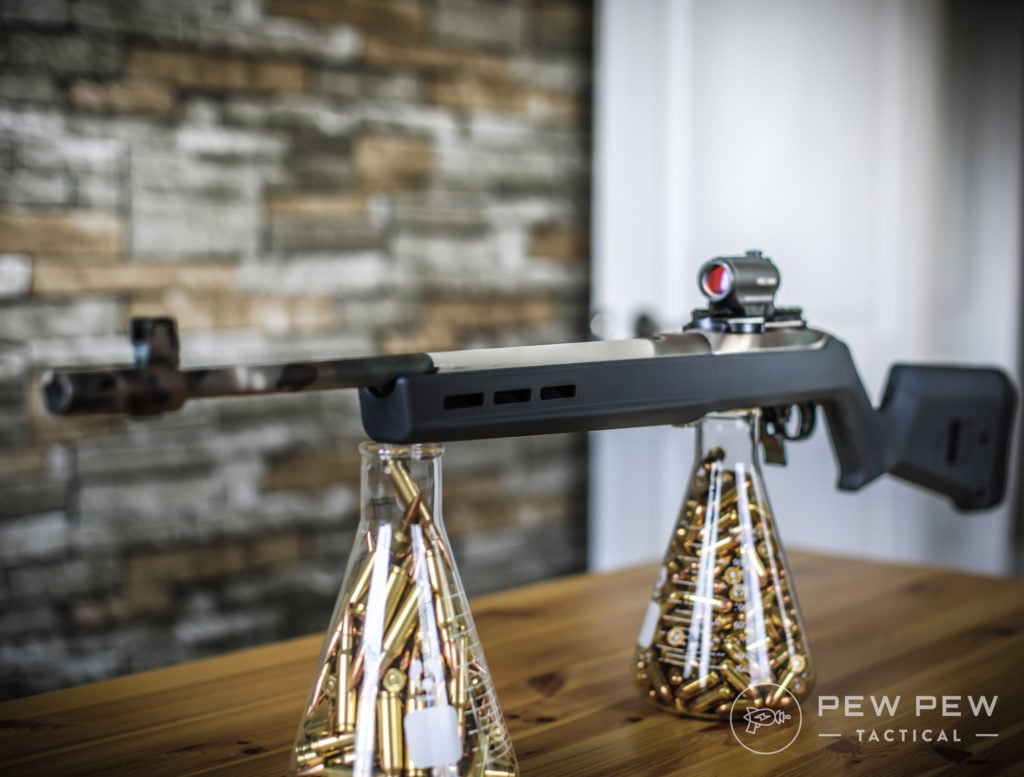 If the takedown isn't your style, then check out the 10/22 Charger.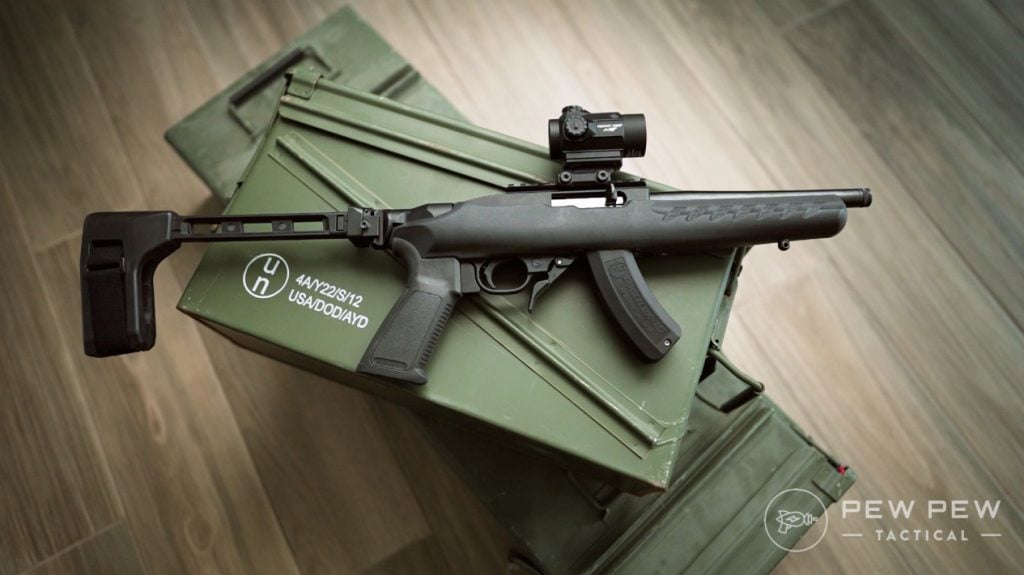 Coming in at just 17 inches overall, the Charger is full of features worthy of consideration. Plus, you can apply all those aforementioned upgrades.
350
at Guns.com
Prices accurate at time of writing
Prices accurate at time of writing
John did a review on the 10/22 Charger so be sure to check that out below or read up on it here.
What's your take on the Ruger?
4. CZ-455 American
One of the newest in the CZ-455 lineup, the American is a follow-up to another great .22 rifle, the CZ-452.
Though the 455 American doesn't have the long history of the Marlin Model 60 or the collapsibility of the Henry AR-7 Survival Rifle or Ruger 10/22 Takedown, it is rather neat.
Most Accurate Starter .22 LR Rifle
399
at Sportsman's Warehouse
Prices accurate at time of writing
Prices accurate at time of writing
The CZ-455 American's interchangeable barrel system allows you to shoot several calibers for the price of a single rifle.
While the rifle may not have the stowability of the Henry AR-7 Survival Rifle or Ruger 10/22 Takedown, it saves space by fulfilling the purposes of multiple rifles in one.
Barrels are easy to switch out, using twin set screws to fix the barrel into the frame.
Furthermore, actions can be swapped between any CZ-455 stock, not just among models from the American series for even greater interchangeability.
The stock is American-style constructed from Turkish walnut and is designed for use with telescopic sights via an 11mm dovetail rail along the top of the receiver.

It also features an adjustable trigger mechanism and two-position safety.
The CZ-455 American is one of the larger guns on this list with an overall length of 38.2-inches and weight at 5.85 pounds.
5. Smith & Wesson M&P 15-22 Sport
Lacking the more classic look that most of our other rifles possess, the M&P 15-22 stands out from the other .22 rifles on this list because of its AR styling.
419
at Brownells
Prices accurate at time of writing
Prices accurate at time of writing
However, the M&P 15-22 Sport is considerably more lightweight than an actual AR. It weighs only 4.8 pounds, because of its use of polymer, rather than aluminum. It also sports a proprietary 25-round magazine ($22).
Other than its badass appearance, one advantage of the AR styling is that the M&P 15-22 Sport features a 10-inches handguard that incorporates Magpul's M-LOK system.
This allows M&P 15-22 Sport rifle owners to customize their rifle with any M-LOK compatible accessories without removing the handguard.
M&P 15-22 Sport rifle owners are also able to mount Picatinny rails for even further accommodation of accessories. One 2-inch rail is included with purchase.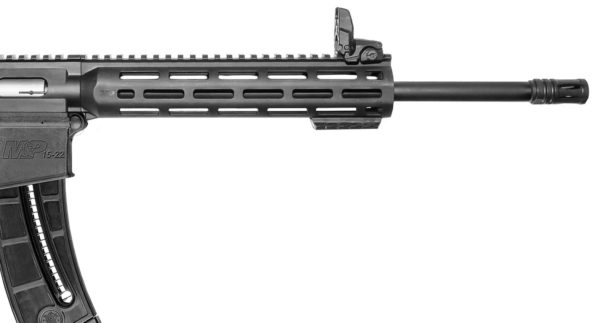 In short, the M&P 15-22 Sport is compatible with most standard AR-15 components and accessories.
Additionally, the M&P 15-22 Sport features Magpul MBUS sights, a six-position CAR stock, and a functional charging handle.
The rifle has a two-position receiver mounted safety lever, as well as a shell deflector.

Ultimately, the M&P 15-22 Sport is a great firearm either for training shooters new to the AR world or just for those who want an alternatively styled or particularly accessory-friendly .22 rifle.
6. Browning 22 Semi-Auto Rifle
The Browning 22 Semi-Auto is a classically styled SA-22 — another takedown rifle, disassembling into two parts, the buttstock/receiver and forearm/barrel.
A mounted scope is able to stay in place when the rifle is disassembled, saving shooters time and energy by eliminating the need to re-zero the sight.
599
at Sportsman's Warehouse
Prices accurate at time of writing
Prices accurate at time of writing
The one downside here is that the SA-22 neither self-stows nor includes a carrying case, so you may need to purchase a case separately.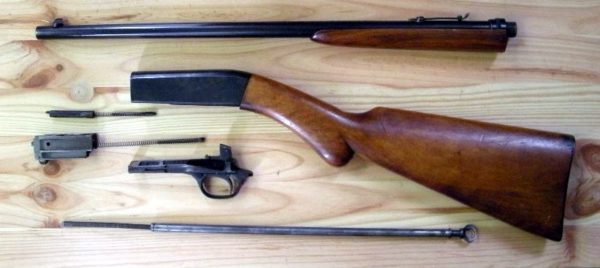 The SA-22 features a stock and forearm made from checkered American walnut with a glossy finish as well as a blued steel receiver and trigger mechanism.
The 19.25-inch barrel is precision rifled and drilled to accept a scope mount, though the receiver is not.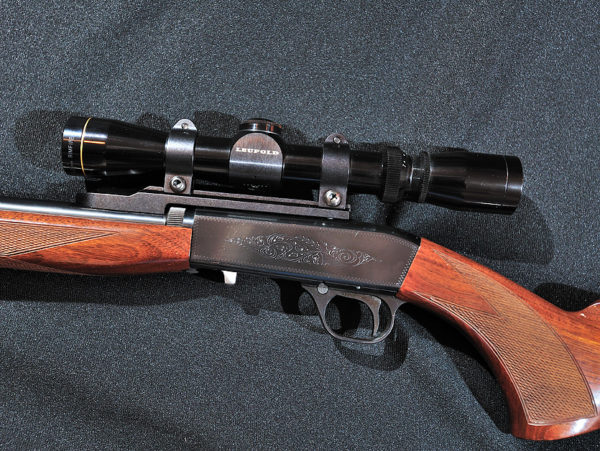 The rifle has a gold bead front sight and adjustable folding leaf rear sight.
And unlike other rifles on this list, the Browning SA-22 has a bottom brass ejection, making it a great choice for lefties and ambidextrous shooters.
7. Henry Golden Boy
We are big fans of Henry's rifles, mainly because they just work.
The Golden Boy is no exception. This lever-action rifle went through several hundred rounds with us with no failures. Not to mention it's just a fun plinking rifle.
629
at Brownells
Prices accurate at time of writing
Prices accurate at time of writing
It's worth noting, it feels a little front-heavy, but the rest of its ergonomics are pretty comfortable.
The Golden Boy weighs in at 6.75 pounds with an overall length of 38.5-inches. (Barrel sits at 20-inches.)
You can get a rail adapter for this one to mount your favorite optics. We found the installation of the adapter to be pretty easy…but it took two tries to get our scope mounted properly.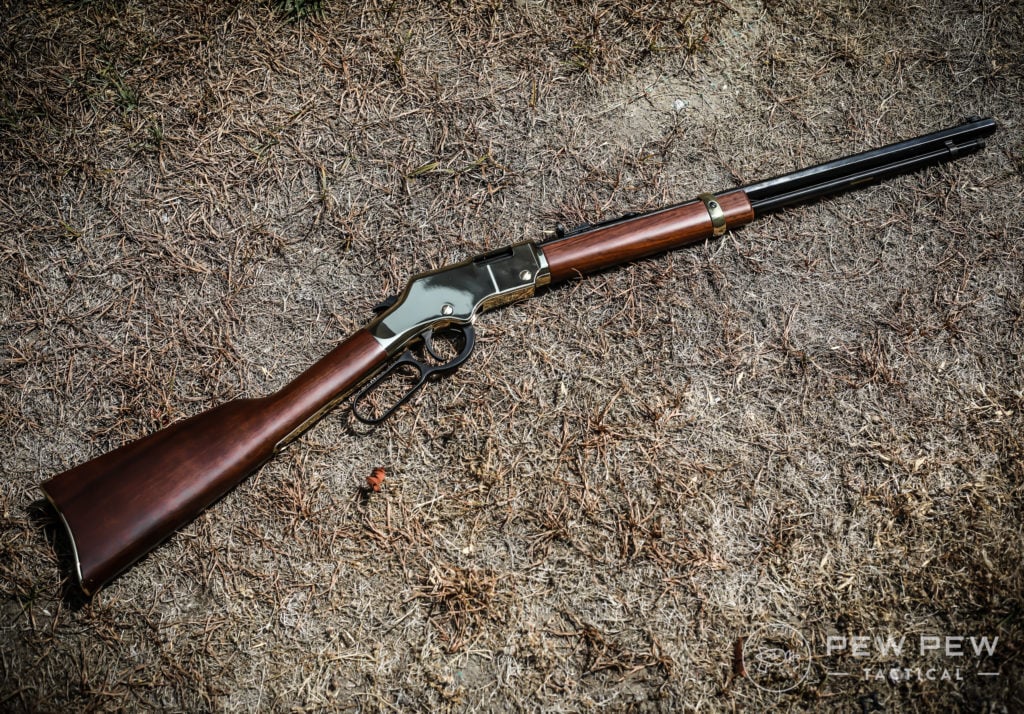 While we finally made it work, to be honest, it kinda ruined that old-school-cool vibe of the Golden Boy.
All in all, though, the Golden Boy is a solid lever-action option for those that like a classy look rifle.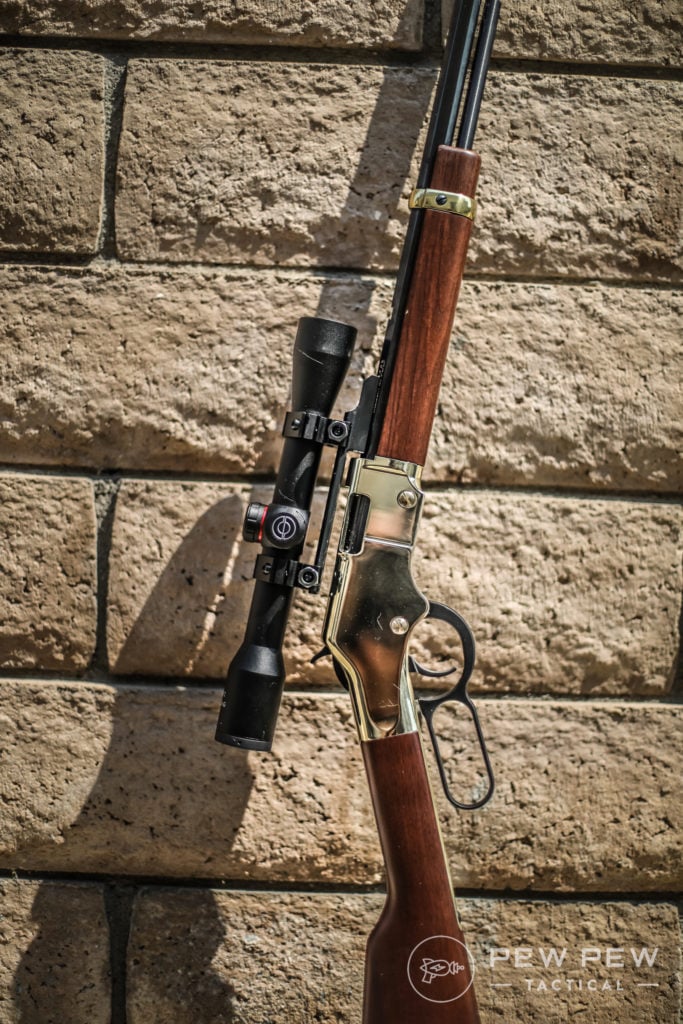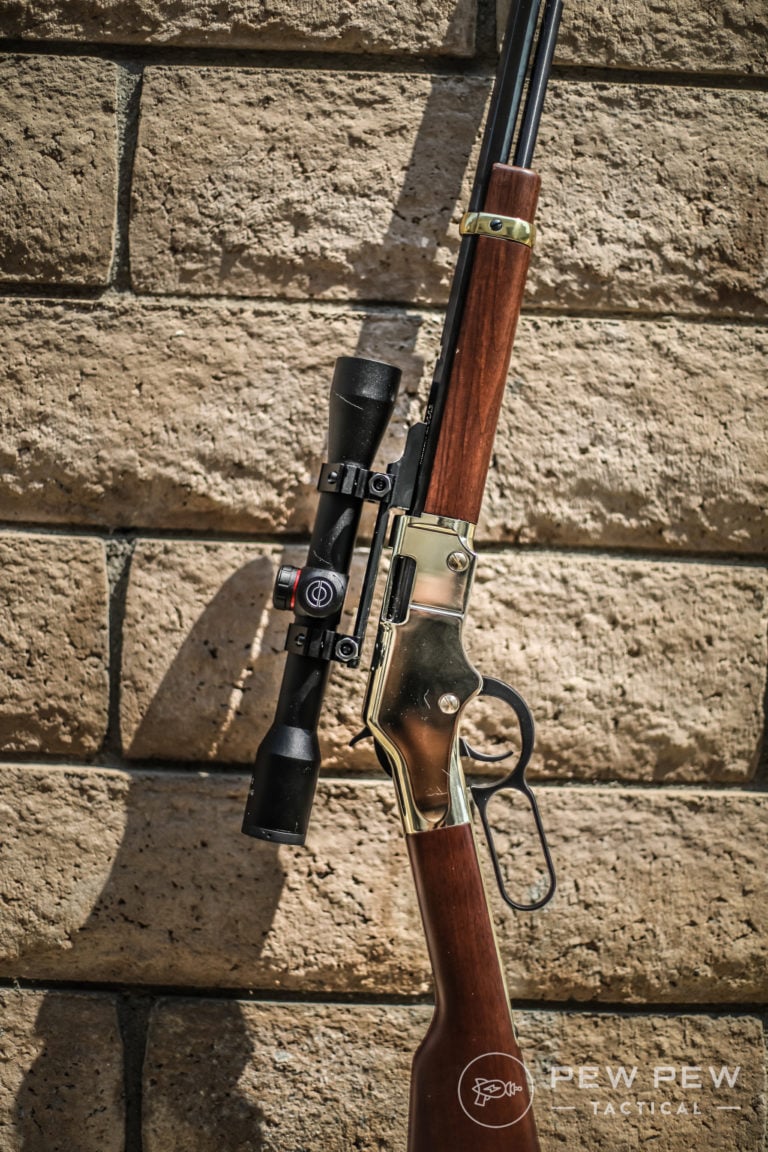 You can check out Eric's recent review of the Golden Boy for more (and more detailed) info.
8. Ruger Charger
Rounding out our list is the Ruger 10/22 Charger. It's basically a chopped-down 10/22 made into a pistol.
It's a fun choice for plinking at the range or keeping in a bag or backpack.
350
at Guns.com
Prices accurate at time of writing
Prices accurate at time of writing
Personally, we love it just because it's fun!
It measures just under 20-inches and its folding pistol brace makes it extremely easy to pack away.
We also like the fact that it's easy to suppress…and c'mon, who doesn't want to toss a can onto a little plinker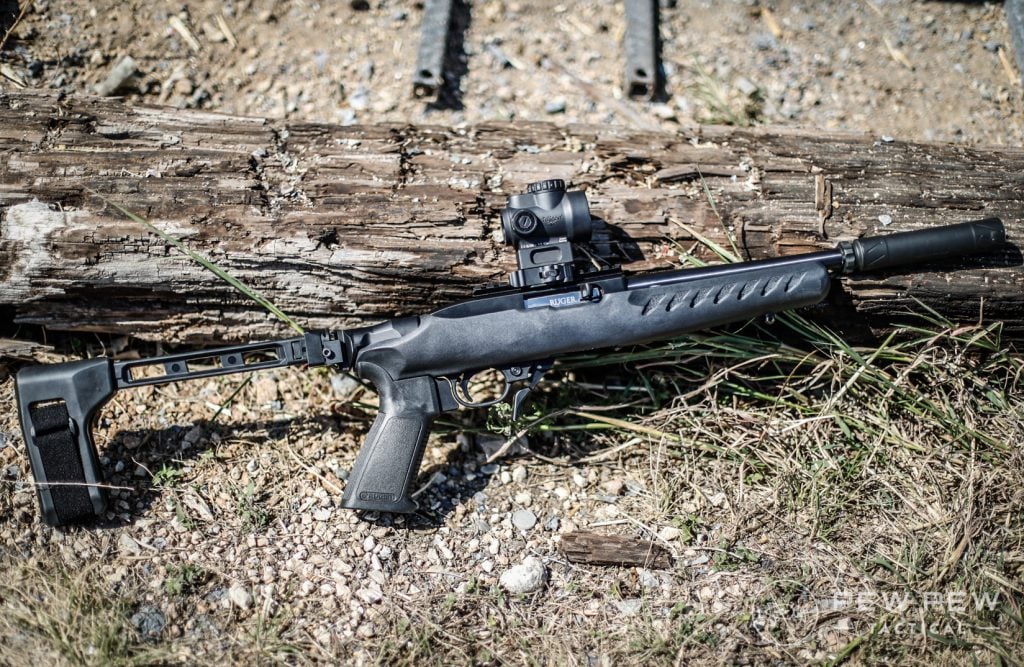 Overall, this gun could easily take care of pesky varmints in your yard or pack up for an easy day at the range. Either way, you won't be disappointed.
Love AR pistols? Check out more recs in our Best AR Pistol roundup.
Conclusion
From Henry to Smith & Wesson to Ruger, these are some tried and true workhorses from some of the best gun manufacturers in the industry.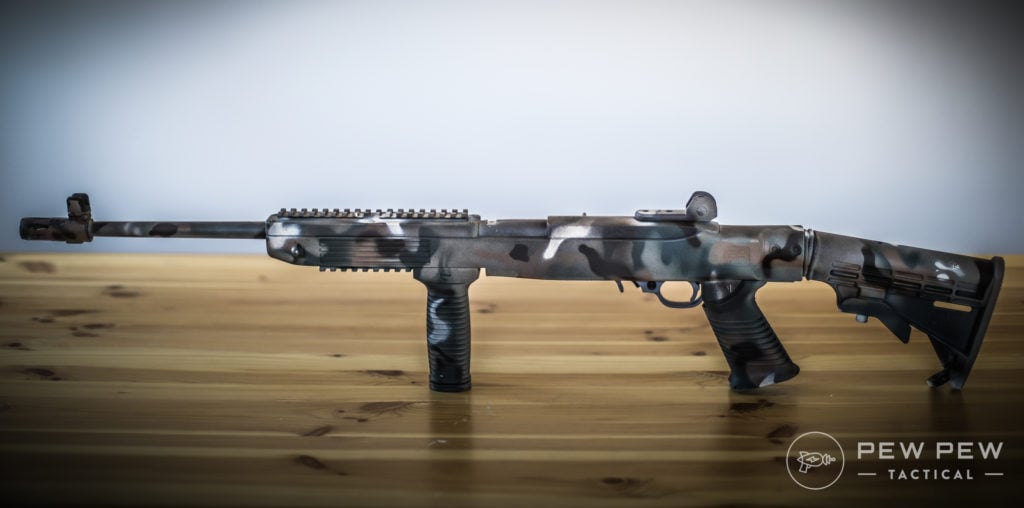 With a range of offerings, we hope we've helped you narrow down the choices to find the perfect .22 LR rifle for you.
What's your favorite .22 LR rifle? Let us know in the comments below. For more .22 LR goodness, check out our list of the Best .22 LR Pistols and our Favorite .22 LR Ammo.