What Are Gun Actions?
Chances are you'll see a bunch of lingo in gun descriptions about their action.
We're here to help you figure everything out!
Simply put, a gun's action is just how it works in relation to ammunition…how it loads, locks, fires, and extracts the casings.
Some of the most common actions in handguns are single action and double action.  We'll start by describing these two in the world of revolvers before diving into the slightly more complicated world modern "autoloaders" or semi-automatic handguns.
Table of Contents
Loading...
Single Action Revolvers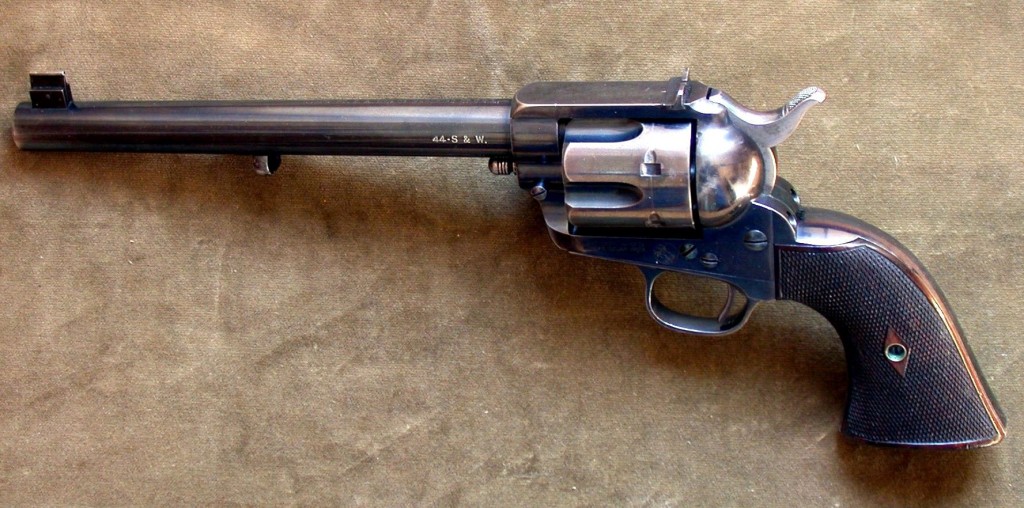 The gun that won the West where good guys and bad guys had to cock the hammer back before they are able to fire each time.
Most of the time you would use your thumb, but we all know these scenes…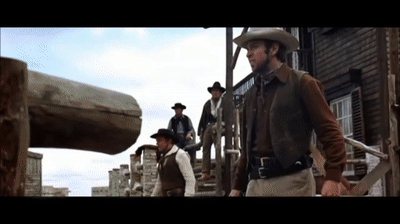 I like to remember single action as pressing the trigger only does one action…release the hammer so the gun goes boom!  If you don't cock the hammer manually and just press the trigger, nothing will happen.
Since the only action that happens is releasing the hammer, single action trigger pulls are usually smooth, crisp, and short with a weight of a few pounds.
One big downside is that unlike more modern revolvers, the cylinder that holds all the ammo is fixed so you can't just swing it out and eject all the cartridges at once.  You have to eject one by one…and then load one by one.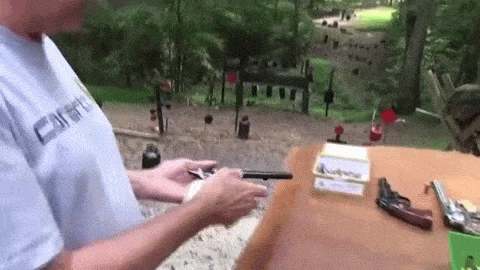 Double Action Revolvers
Editor's Choice
949
at Palmetto State Armory
Prices accurate at time of writing
Prices accurate at time of writing
Chances are unless you know a revolver is single action, it is likely double action.  So in this case, the trigger does two actions…cock the hammer back and also release it.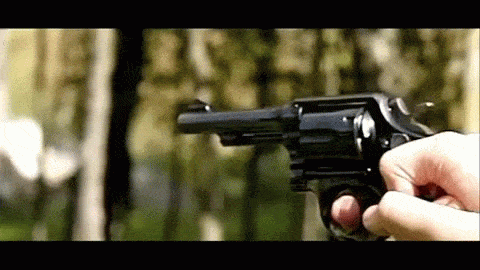 The trigger pull of a double action revolver is longer and heavier since you are moving the hammer back before firing and can be around the 10+ lb mark before it breaks.
Each subsequent pull of the trigger will be the same.
The great thing is most double action revolvers with the hammer exposed can be turned into single action by manually cocking the hammer before pressing the trigger.  This brings the trigger in line with single action standards of a crisp light pull.
Some concealed carry revolvers are double-action only since there is no exposed hammer to prevent snagging.
Best Bang-For-Buck CCW Revolver
519
at Kygunco
Prices accurate at time of writing
Prices accurate at time of writing
Still with me?
And double action revolvers also have the flip out chamber which enables much quicker reloads.  Blink and you'll miss it with Jerry Miculek who shoots 12 with a reload in under 3 seconds.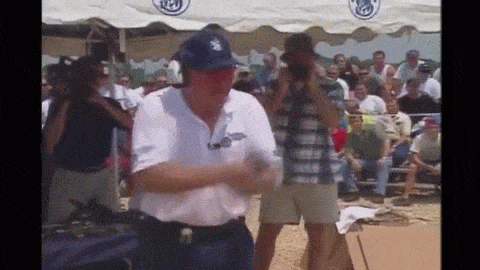 Single Action Autoloaders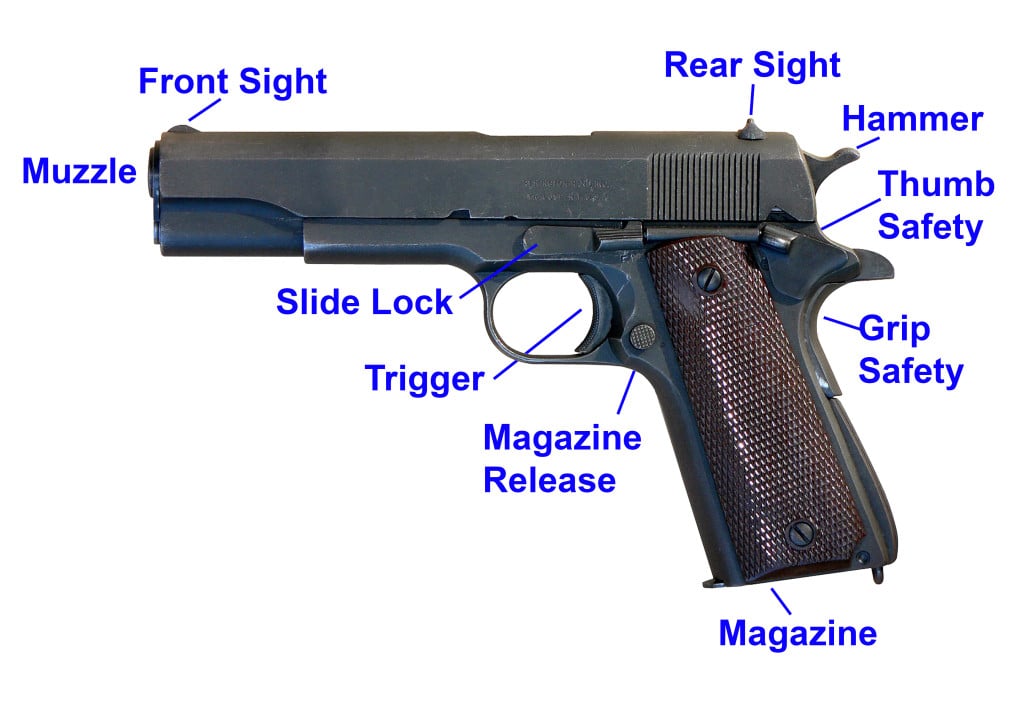 Now it's diving into more modern territory.  An autoloader is exactly what it sounds like…it can automatically load the next round without the use of a revolver's rotating cylinder.  This usually means the use of a magazine.
Now how can a regular handgun be single action?  You never see people in movies cocking modern looking handguns between each shot.  They only unnecessarily do it before for dramatic effect!
This is because when you load one round into the chamber by racking the slide, you also move back the hammer.  With each subsequent shot, the movement of the slide re-cocks the hammer again.  A good example of a single action autoloader is the 1911 which is known for its crisp light trigger.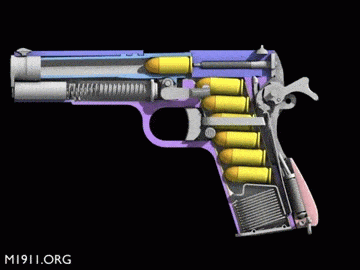 Most often the 1911 is carried in "Condition 1" or "Cocked and Locked" since a round has been chambered, the hammer is cocked, and the safety has been engaged (locked).  To shoot, you only need to disengage the safety and pull the trigger.
Some may find this a little intimidating, when compared to double action or striker, fired autoloaders.  Which is why I recommend beginning shooters not start with a single action handgun until their skills improve.
Don't forget to take a look at our top picks for the Best Affordable 1911s!
Double Action Autoloaders
Double Action / Single Action
Most double action autoloaders are actually merely double action for the first shot and single action afterward (DA/SA).
If you see an exposed hammer on a modern looking handgun, chances are it is DA/SA.  This hybrid action has the long trigger pull for the first shot while subsequent shots are single action as the movement of the slide automatically cocks the hammer.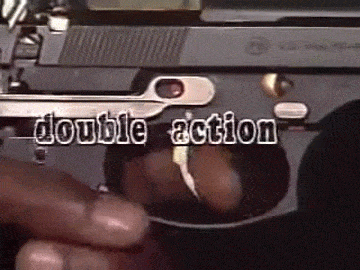 Some of the best well-known DA/SA handguns are the Beretta M9 used by the US military, it's 92FS civilian counterpart and most Sig Sauers.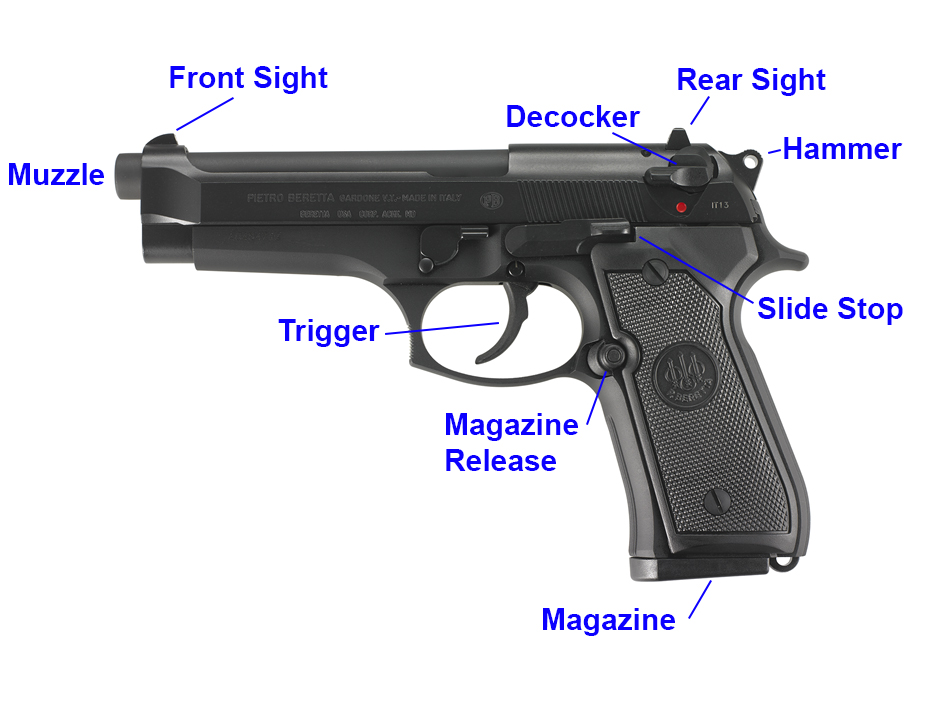 For many, this is the perfect blend of preventing accidental discharges due to the heavy first pull and easier follow-up shots.  But always make sure to follow the 4 rules of firearms safety regardless!
629
at Sportsman's Warehouse
Prices accurate at time of writing
Prices accurate at time of writing
Double Action Only
Now you run into more rare actions which include the double action only (DAO) which came about likely since law enforcement wanted something even "safer" for their officers.  Examples include Sig Sauers with DAK triggers ("Double Action Kellerman") and some H&K variants.
You'll see that even when the slide is racked to simulate a shot, the hammer still stays uncocked until the trigger is pulled again.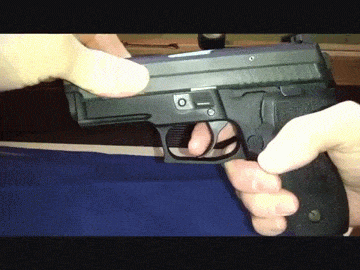 Only one trigger action needs to be learned but there's a weird quirk of two reset points.  The first reset point has a ~8 lb trigger pull and allows for rapid fire, but the second reset point has a ~6.5 lb trigger pull.  Sig recommends that you allow full reset so you only use the ~6.5 pull.  My brain hurts a little from this…so let's move onto my favorite action.
Striker Fired Autoloaders
Striker-fired autoloaders such as the Glock are easy to spot since they don't have an exposed hammer…it is pretty much just flat in the back.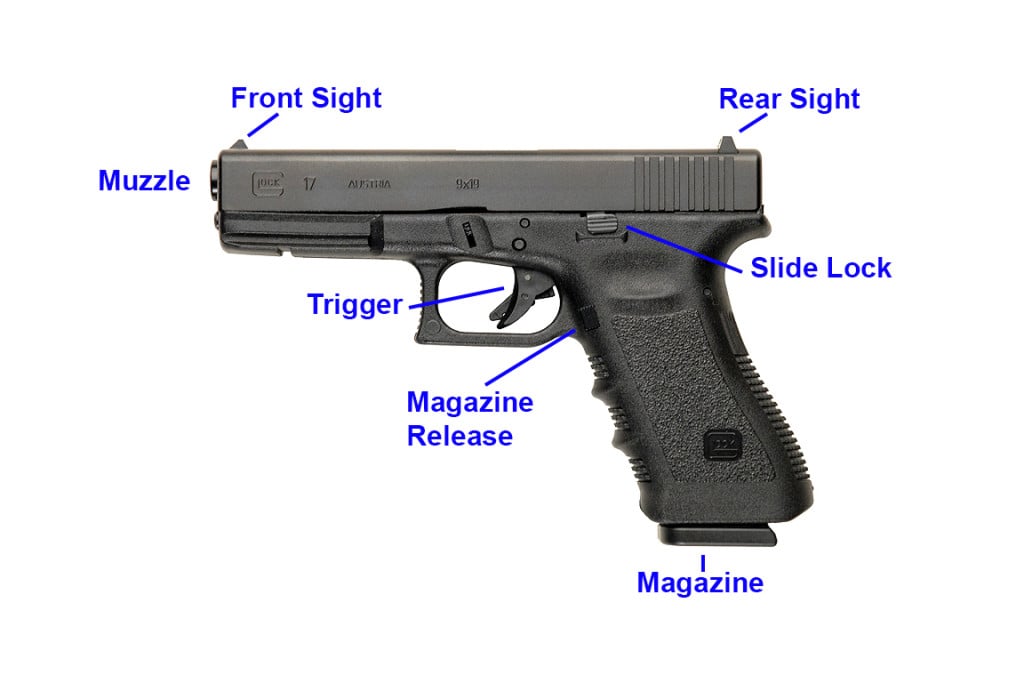 Striker-fired guns are a variation on the DAO theme but without two resets.
They have a long but pretty light (~5 lbs) take-up stage that increases in weight as you get closer to the break.  During this take-up stage, a spring is compressed and released at the break to propel a "striker" firing pin forward.  Each subsequent trigger pull is the same.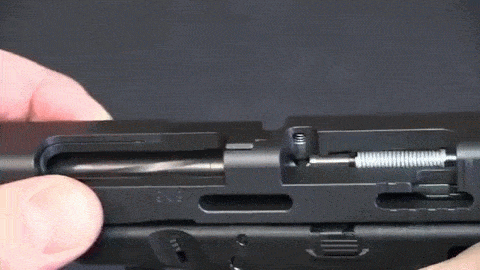 And let's be honest, the break is nowhere close to a nice single action like the 1911 but is totally acceptable judging by the number of striker-fired fans.
There's also no external safety to fiddle with except for a lever in the middle of the trigger that only allows the trigger to be depressed when a finger-like item is pressing…things that snag the trigger on the side should not affect it.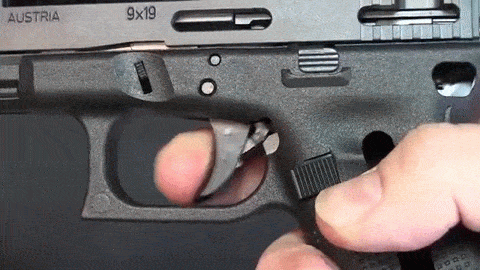 While striker fired guns will never have as good of triggers as a solid 1911, you can improve Glock triggers for competition, duty, and home defense use.
Conclusion
Hopefully, now you have a much better sense of the differences between single action vs double action for both old-school revolvers and modern autoloaders.
Since I know someone is going to ask…I prefer striker-fired pistols since they have the same trigger pull each time and do not have a manual safety you need to flip.  I've had several experiences during classes where when I was under stress and forgot to release the safety on my 1911.  Great trigger for competitions…but I'd rather have my Glock for home defense.
What do you prefer and why?  And if you're new to guns…check out our Beginner's Guide to Guns which goes over everything important you need to know.