If you like this video, don't forget to the Pew Pew Tactical YouTube channel!
---
Sometimes you just need some silly in your life, and during times like these maybe we need a little more silly than normal.
Well, if it's comic relief you're looking for, the Heritage Rough Rider with a 16″ barrel is exactly the medicine for you.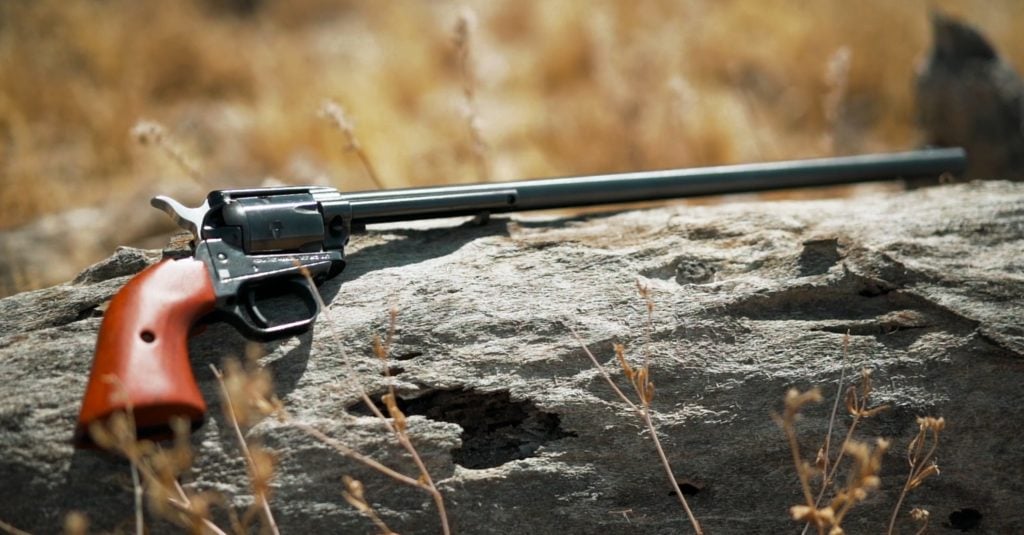 We bought one and tried it out because we're serous professionals, so from CCW to range plinking fun let's take a look at this totally-not-the-Joker's .22 LR pistol!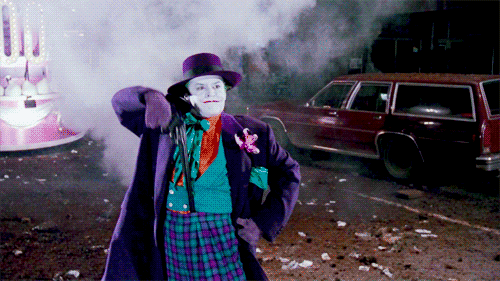 Or if you want to see us doing some totally badass revolver tricks, watch the video, and don't forget to subscribe to the Pew Pew Tactical YouTube channel!
Table of Contents
Loading...
The Origin of the Rough Rider
Shockingly, the long barrel single action army design is… like a real gun, maybe. The Colt Buntline was, allegedly, a real thing — a Colt single action army with a 12″ barrel.

If you believe the writings of Stuart Lake, a novelist that helped propel Wyatt Earp to household-name fame, the Buntline was a commissioned revolver presented to 5 lawmen in 1876 by Ned Buntline, a dime-store novelist.
Supossidaly, Buntline commissioned the revolver as a thank you gift to the lawmen for the countless stories they had provided him.
The lucky 5 were Wyatt Earp, Bat Masterson, Bill Tilghman, Charlie Bassett, and Neal Brown.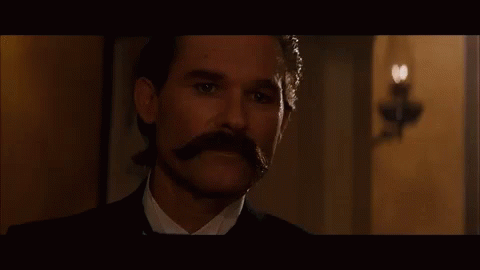 But… two of them weren't lawmen in 1876 … and according to Lake, only Earp kept his in the stock 12″. The other 4 cut theirs down.
Colt has no records of the sale, and Colt keeps very good records, so the likelihood of this story is not high.
Still, it's cool.
169
at Palmetto State Armory
Prices accurate at time of writing
Prices accurate at time of writing
Heritage Rough Rider, But Long
If you've handled a Rough Rider before, then you basically know what you're getting with this 16″ version. It's modeled after a Single Action Army but has some changes.
First off, it has a safety!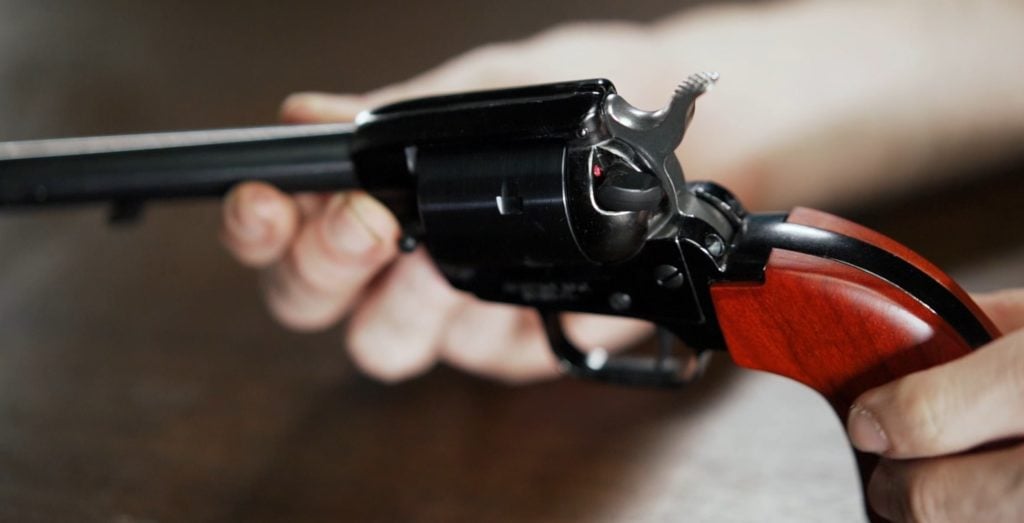 Why we're not really sure, but it's there.
The action is smooth and reliable, simply cock the hammer and pull the trigger.
A half-cock notch allows the cylendar to spin freely for loading and unloading.
To load, open the gate the drop your rounds in one at a time.
Unloading is done by way of the spring loaded ejector rod.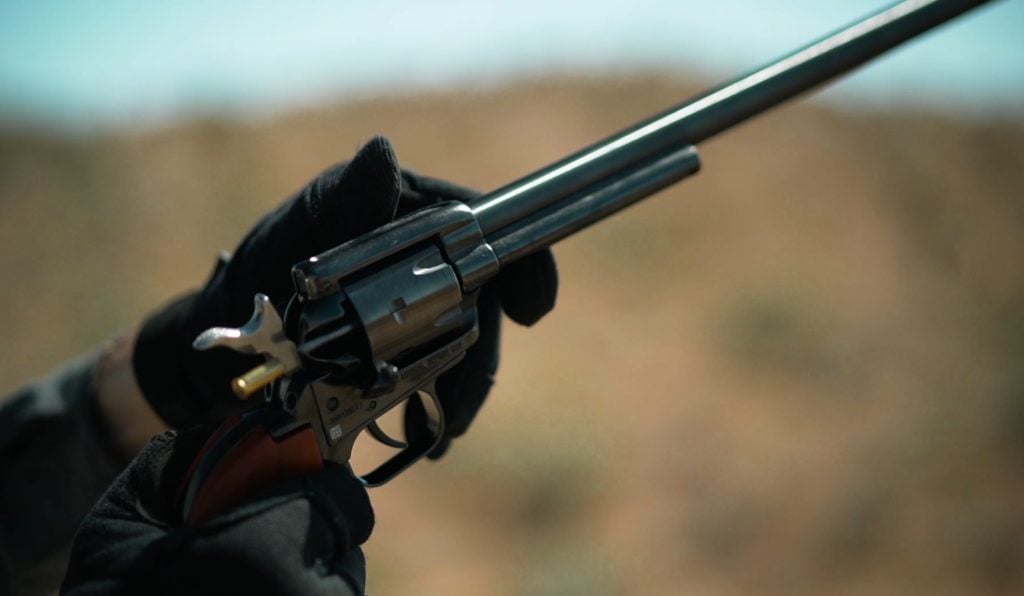 When it comes down to it… this is a SAA replica with a really long barrel.
Range Report
Taking this out for fun and games was a good time. The Rough Rider runs well and ate all of the Federal Champion ammo we tried to feed it.
3
at Palmetto State Armory
Prices accurate at time of writing
Prices accurate at time of writing
Due to the fact that this has a huge barrel and weighs in at a thicc 3 pounds, it's kind of awkward to shoot.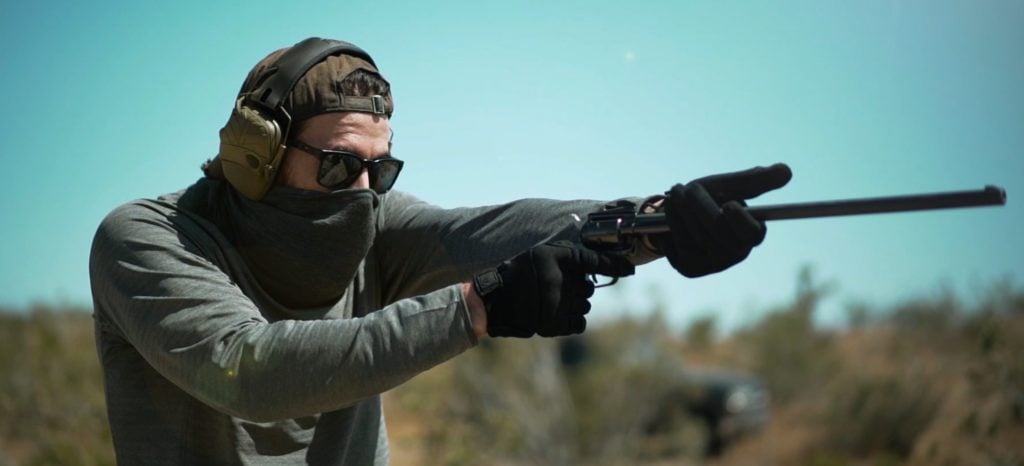 If you're expecting to just C-clamp the barrel, you should reconsider. The gap between the cylinder itself and the chamber means there is a decent amount of hot gas and crud that gets expended every shot.
C-clamping the grip means you get all of that shmoo blasted into your forearm.
Not fun.
And since this is so front heavy, trying to one- or two-hand the grip feels kind of weird also. But it works.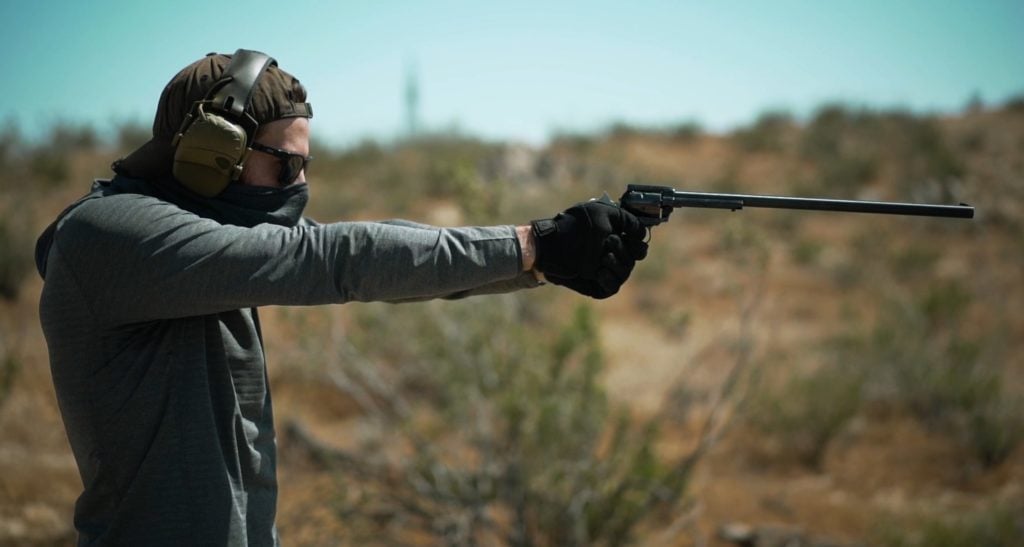 As long as you don't get into a gun fight with this, it's totally fine for a fun day of plinking at the range.
What Is It Good For?
This is a fun gun. You get it to have fun.
Okay, if you really want to push it into a "role" you might want to take advantage of the cylinder conversion kit and take this .22 LR and turn it into a .22 WMR.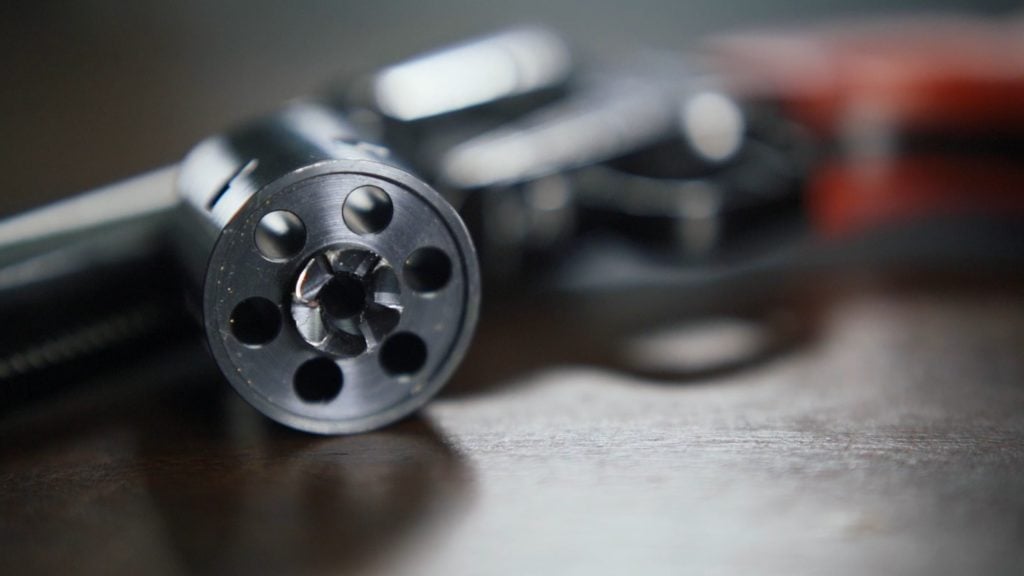 .22 WMR has some more punch and can help take advantage of the long barrel more effectively. But do you really want to be trying to put down rabbit with this thing?
If you do bag some game with this… let us know and send a picture!
As for the fun, it has it in spades. It's a silly gun that is not pretending to be anything else.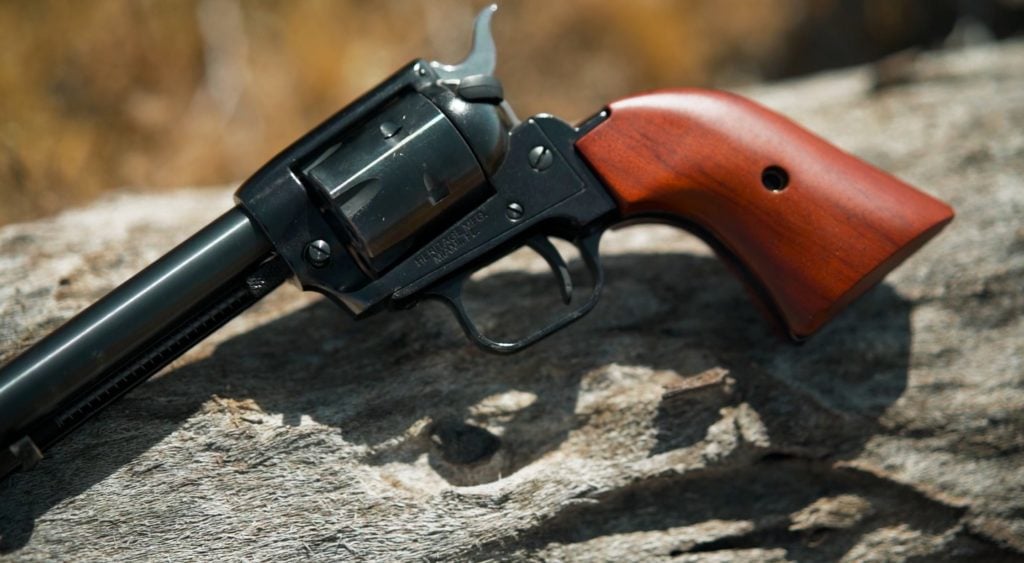 And come on, for this price — that's a lot of fun to be had for not much money!
By The Numbers
Reliability: 5/5
Hey, it's a single action army. It works!
Accuracy: 4/5
You can't expect much from something like this, but we were able to ring steel at 100 yards so that's a lot better than we thought!
Ergonomics: 1/5
Ugh. So front heavy.
Looks: 5/5
Wood grips, nice deep bluing, it's a nice piece for the price.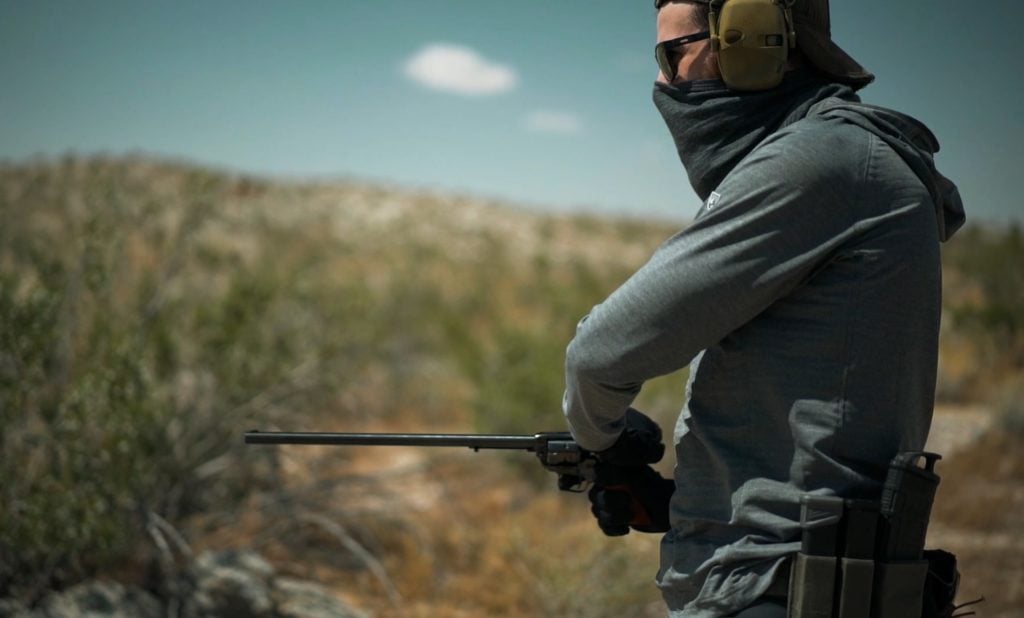 Customization: 1/5
Sadly, we can't find anyone that offers a stock for the Rough Rider. That would be cool though, maybe the crafty among you can knock one together.
Bang for the Buck: 5/5
This can normally be found for $170 or less, and for that price… it's a great deal. You'll get hours of fun with this every time you take it to the range with some friends.
Closer to $200 if you want the .22LR + WMR combo.
And around $125 for the standard 6.5″ .22LR version.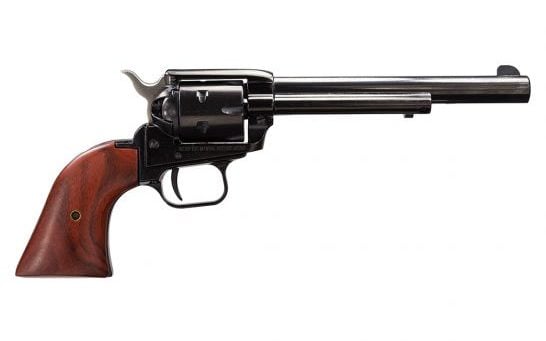 Overall: 4/5
Ya, we like it. We wouldn't carry it or anything, but it's a fun gun that delivers what we want from it.
Heritage Rough Rider 16″ Gun Deals
Palmetto State Armory
Save $96
Conclusion
The Heritage Arms Rough Rider 16″ .22LR Revolver falls squarely in the category of "fun gun." It's good value for the price but the long version is extra heavy in the front and loading/unloading 6 .22LR at a time gets tedious. But fun for the range and a bit of nostalgia it can't be beat.
169
at Palmetto State Armory
Prices accurate at time of writing
Prices accurate at time of writing
This isn't the normal kind of gun we review around here, but that doesn't mean it doesn't have a place in your safe. Shooting can be a sport as much as it is for self-defense or hunting, and sports should be fun.
So get out there have have a good time!
What is your favorite "fun gun"? What else do you do to just have a good time at the range? Let us know in the comments!
If you're looking for a more classic SSA but still need to stay on budget, take a look at the Ruger Wrangler! Or if you need a real caliber — check out the Pietta 1873!