.22LR is not only great for plinking, but a great round to introduce to new shooters as well.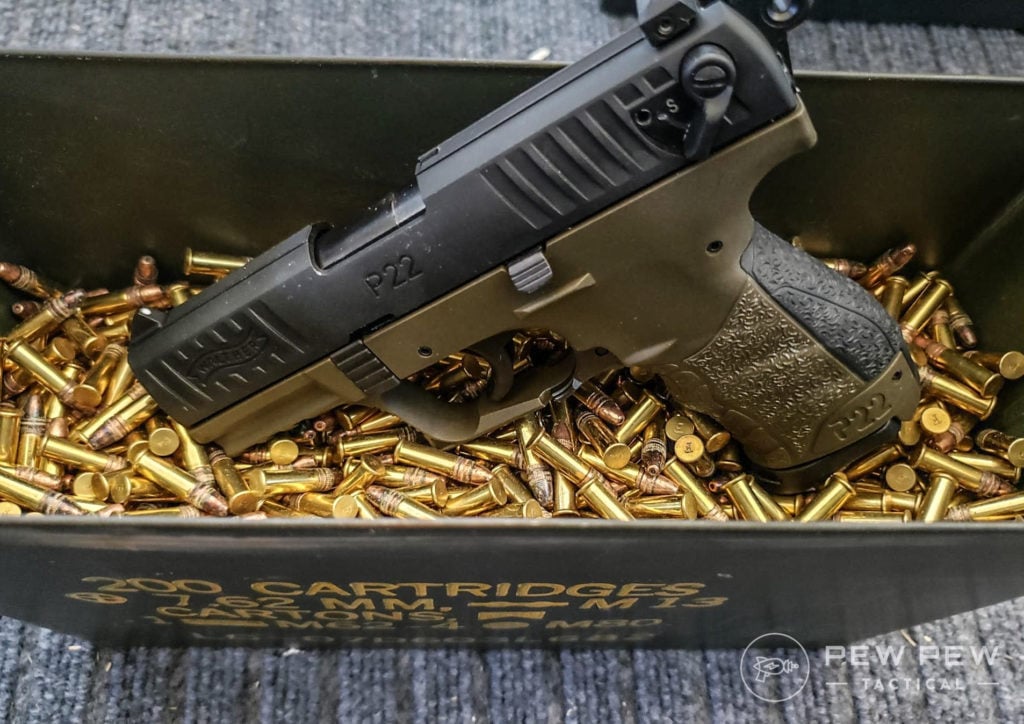 I bought the Walther P22 to teach my wife to shoot, and after thousands of rounds, and plenty of new shooters, I can say that it is not just a great training tool but also a TON of fun to shoot! 
With features you would expect on a more expensive handgun, it is a great way to train or just have a fun day at the range, without putting a huge dent in your ammo budget.
Cheap prices for 22lr ammo and the low price of the Walther P22 make it a no brainer purchase if you don't already own one!
399
at Palmetto State Armory
Prices accurate at time of writing
Prices accurate at time of writing
Fit & Feel
The P22 is a solid handgun that has the fit, finish, and features of a much more expensive gun. A lighter polymer frame is the perfect match for the softer shooting 22lr caliber. 
Barrel
Like most 22lr caliber handguns, the P22 has a fixed barrel design so takedown is a bit different than most full-sized guns, but the additional steps are straight forward.
A nice feature of this barrel nut is that an adapter is all that's required to convert your barrel to a threaded barrel version if you live in a state that allows silencers. 
18
at Optics Planet
Prices accurate at time of writing
Prices accurate at time of writing
Even though it is fixed barrel, cleaning the barrel is easy as it removes quickly with the supplied wrench, or if you choose, you can simply clean it while it remains attached to the frame.
Slide and Frame
While this is a budget-priced gun, it does come with some features not normally found on lower priced guns.
A serrated slide for better grip makes the slide more easier to work, even with sweaty or wet hands. Even the hammer has serrations for added grip!
A loaded chamber window isn't what most would consider critical, but it is a nice feature that doesn't get in the way and gives you a simple way of seeing what condition your firearm is in.
Under the slide, you'll find an accessory rail to mount lasers and lights on making for some nice options.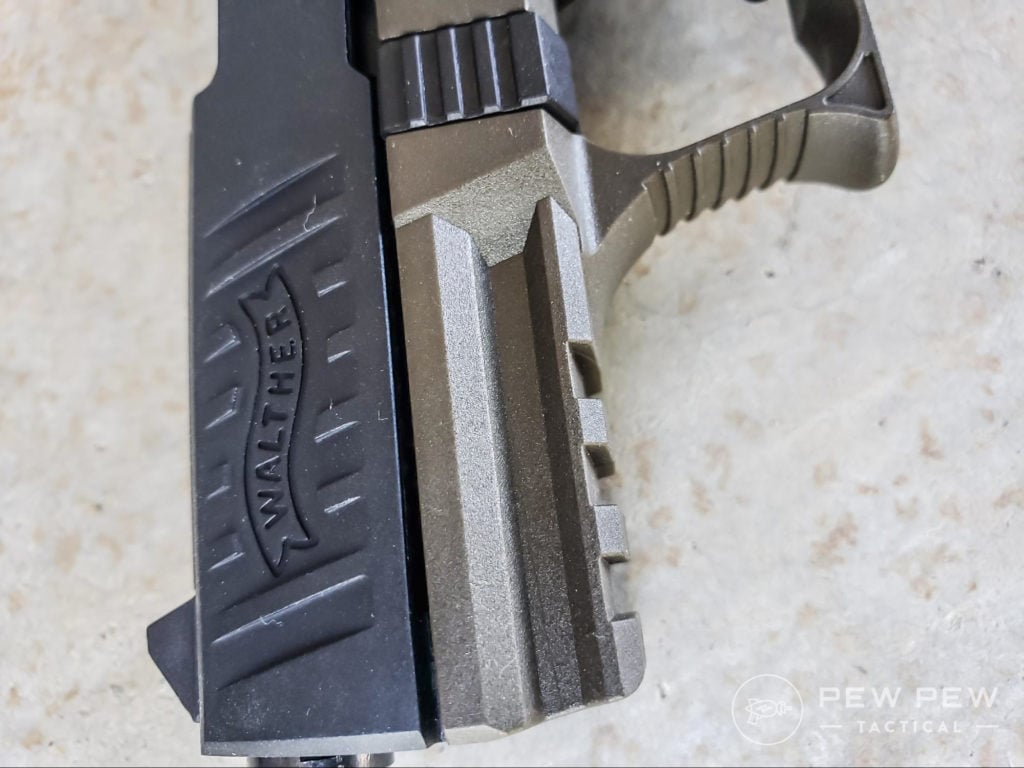 The magazine release and safety levers are ambidextrous but the slide stop is still built for right-handed shooters. 
I'm also not a huge fan of the safety lever on the actual slide, but it is engineered well, and easily accessed by my thumb without having to change my grip.
It also has a very positive feel so you know when you've placed the P22 in fire or safe mode.
Grip
Make no mistake about it, this gun is small, and therefore, the grip is also thin and small.
Finger grooves line the grip which is a nice texture; not too rough on contact but provides good grip.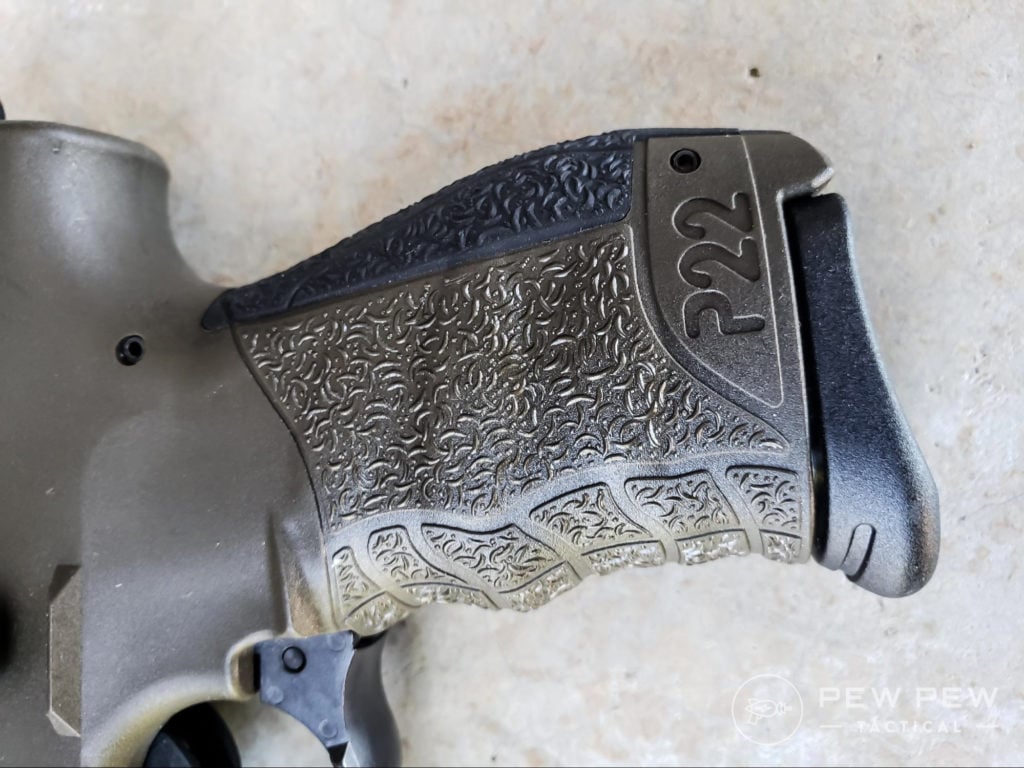 Out of the box comes an additional back-strap to better fit larger/smaller hands.
Most of the time, a very thin profile gun means an uncomfortable grip, but there are two things working in the P22's favor: First, the P22 comes with ergonomic panels, and second, 22lr is a such a low recoil round that the thinner grip doesn't create the hand fatigue a larger caliber might.
I find the grip is similar to the HK grip on the p30 or VP9 and it is straight up comfy. For my medium sized hands, I love how snug the gun feels.
What's even better is that my wife, who has small hands, loves the feel of the grip and overall gun.
Trigger
The action is a DA/SA with a manual safety. You have the mechanical safety on the slide, but the P22 also includes a magazine disconnect safety which prevents the trigger from being pulled unless there is a magazine in the gun.
Newer P22s also have a safety de-cocking feature that allows you to safely drop the hammer using the manual safety.
The DA/SA action is predictable but some may find the 11lb DA pull undesirable, but most of the time you are shooting it in the light 4lb SA stage.
Sights
For me, the only thing that feels "cheap" on the gun is the fact that it comes with what dot polymer sights. While this is good enough for range use, they are no one's favorite sighting system.
Ammo
I have never had an issue with ammo types in the P22, but I have seen that a lot of P22 users claim that their handgun is picky on ammo. Most agree that higher powered rounds don't have issues.
Federal ammo is the ammo I consistently run through my 22lr guns and I have always had great success.
25
at Brownells
Prices accurate at time of writing
Prices accurate at time of writing
Yes, there have been some rounds that stove-pipe or FTE, but I think that is to be expected in any 22lr gun.
I feed by P22 a steady diet of 36 grain Federal, 40 grain Federal Target, and 40 grain CCI. 
7
at Palmetto State Armory
Prices accurate at time of writing
Prices accurate at time of writing
Sub-sonic ammo will definitely be unpredictable as it the right might not have enough power to cycle the slide.
Keeping the gun clean is definitely important in keeping jams to a minimum. I try to clean my P22 frequently, especially the feed ramp and slide rails.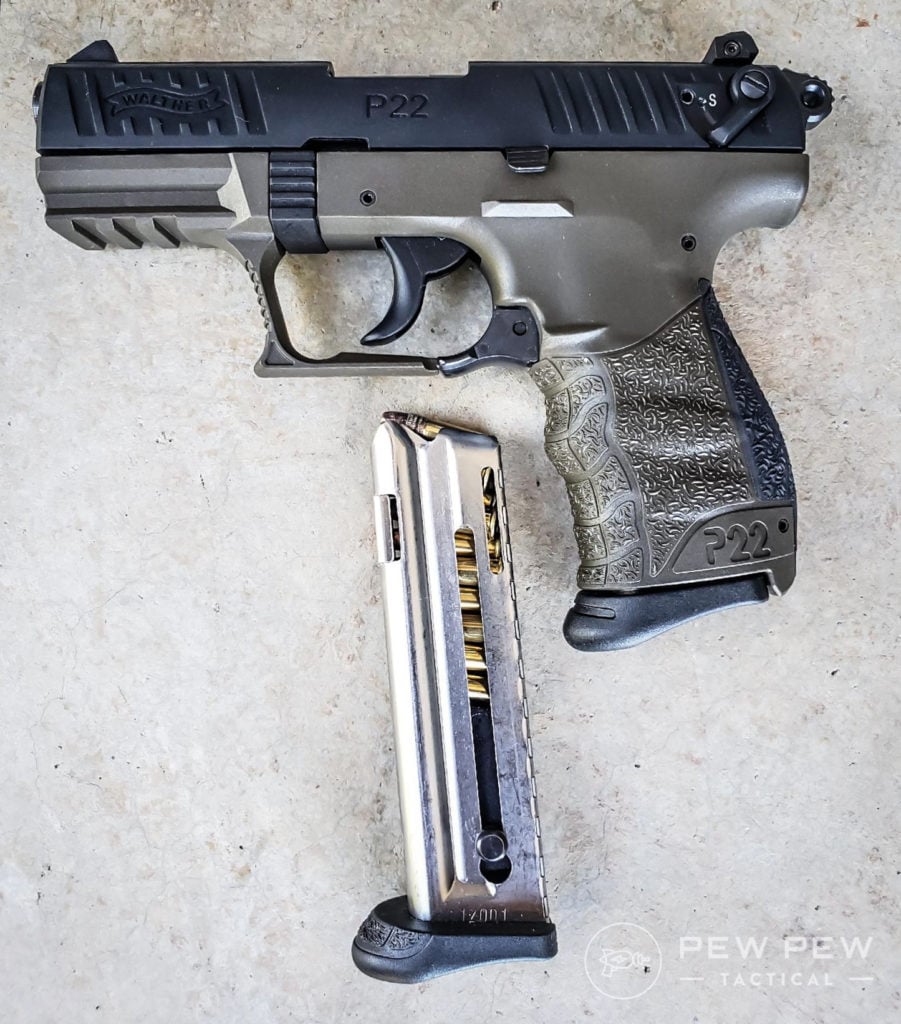 The P22 magazines are metal but pretty thin. Don't expect these to stand up to too much abuse – thankfully, extra mags won't break the bank.
24
at GunMag Warehouse
Prices accurate at time of writing
Prices accurate at time of writing
Accuracy
My view of 22LR ammo changed after I took my first Appleseed rifle marksmanship clinic. While this doesn't have anything to do with the P22, it does have everything to do with the round it shoots.
I showed up to the Appleseed clinic with my stock Ruger 10/22 (with a trigger upgrade) and bulk Federal ball ammo (not match, not high velocity). 1" Targets were set back 25 yards and was told to put 5 rounds inside the target with iron sights.
After balking and then realizing they were serious, I definitely cried some internal tears. But by the end of the clinic, not only was I able to do this (shooting prone), but I left with complete confidence in the accuracy of the 22lr round.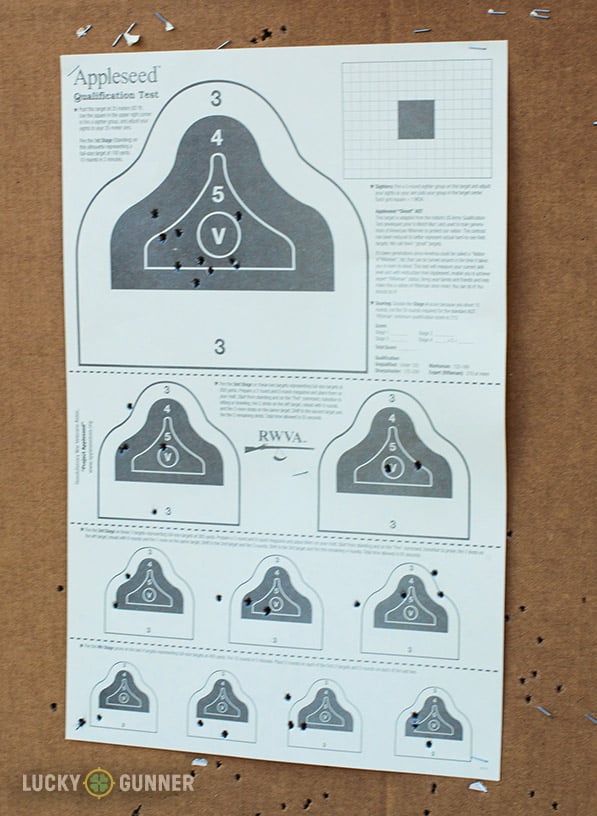 With the P22, it is accurate enough to make shooting enjoyable. We are not taking it to target competitions, but making my steel silhouettes ring is easy and a ton of fun.
My wife, who doesn't shoot nearly as much as I do, is able to comfortably put shots on target. This is due to several factors, which include grip comfort, the light weight of the gun, and the lack of recoil and sound.
Recoil
Anyone who has shot 22LR knows that the recoil is minimum.
Even in higher velocity rounds, it is still extremely manageable, making follow-up shots easy and accurate, especially since subsequent shots are single action with the lighter trigger pull. 
Resources
There are plenty of online videos of how to break down the gun (YouTube is our friend) as well as reviews on the p22.
Of course, with the advent of the internet, everybody is now an expert so just be aware who you are listening to!
While you won't find any videos on the P22 (yet) we will take this opportunity to shamelessly plug the Pew Pew Tactical YouTube Channel, because it's awesome.
By The Numbers
Ergonomics 4/5
The P22 is extremely comfortable, offering some customization of the rear grip panel. With a thin gun width, it is very comfortable to hold with both hands. All of the functions of the handgun (safety, magazine release, slide stop, trigger) are easy to manipulate. 
Accuracy 4/5
For having a fun day at the range, it does it perfectly. There is a target barrel that can be purchased which is a longer 5" barrel, but the shorter 3.42" barrel is plenty accurate for plinking. 
Reliability 4/5
22lr handguns get dirty, and it is true that these P22s need to be kept clean (like any other 22lr handgun). If you allow it to get dirty, you may begin to experience issues. I am notorious for not cleaning my guns often and I do notice it with my P22, mostly because of how dirty 22lr ammo is. 
Looks 5/5
For a 22lr, I think the P22 looks the best. Besides the fact that it is a small gun, it looks impressive. You can get the P22 in a variety of colors/configurations.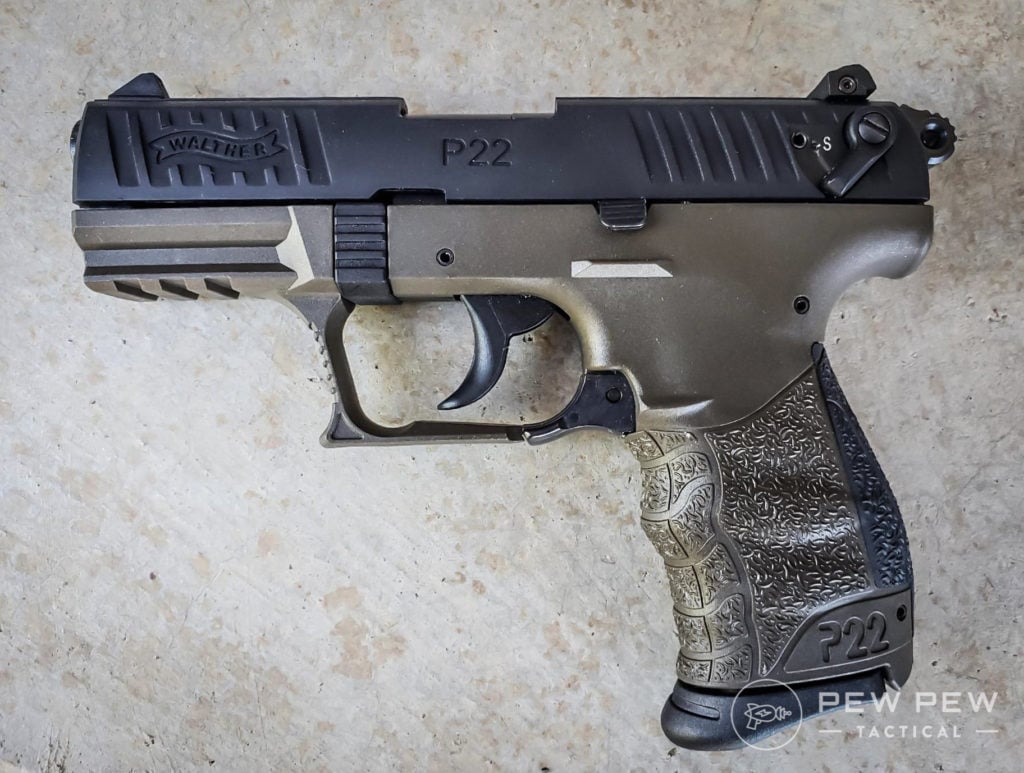 I love the military color scheme on my P22! The serrations on the slide with the Walther marking looks sharp with the grip stippling an attractive functional and beautiful addition as well. 
Upgrades: 4/5 
There isn't a huge selection of upgrade parts but there is a decent amount, most of them made or sold by most retailers. Having an accessory rail means that you can fit lights and lasers (or knives) on the end of the handgun 
Price/Value 5/5
The price is hard to beat! A fraction the cost of larger caliber handguns, the P22 is affordable, allowing you to invest your money into ammo and accessories. For the features it has, I believe it to be one of the best values on the market. 
Overall 4/5
I love the P22! There is something special about this lightweight, feature-packed gun. My friends love to shoot it and many have made their own P22 purchase after shooting mine.
It is so much fun to shoot and is great to teach friends how to shoot. Walther hit a home run with this gun and jammed something amazing into a perfect little pistol. 
Final Thoughts
This Walther P22 is just plain fun. How else can you send thousands of rounds down range without worrying about ammo cost?
The best part is not having to compromise comfort or features for that cheap and fun range experience.
399
at Palmetto State Armory
Prices accurate at time of writing
Prices accurate at time of writing
I can say from experience that the P22 is pure gold with plenty of features, accuracy, and comfort! 
How do you like your P22? Got another go-to 22LR plinker pistol that you love? Let us know in the comments! If you're ready for a rifle to go with your pistol, take a look at the Best Ruger 10/22 Models!