The night drew in at an unexpected rate.
I found myself alone, a glass of whiskey in one hand and a credit card in the other. Outside a mist settle across the moor, and the whiskey settled a mist across my mind.
I browsed through a selection of odd and interesting, the weird and fascinating. The scant noise of the Office episode 12, season 6 echoed through the hollow halls of my home. The hypnotizing orange checkmark and teal letters spelling prime held me tight…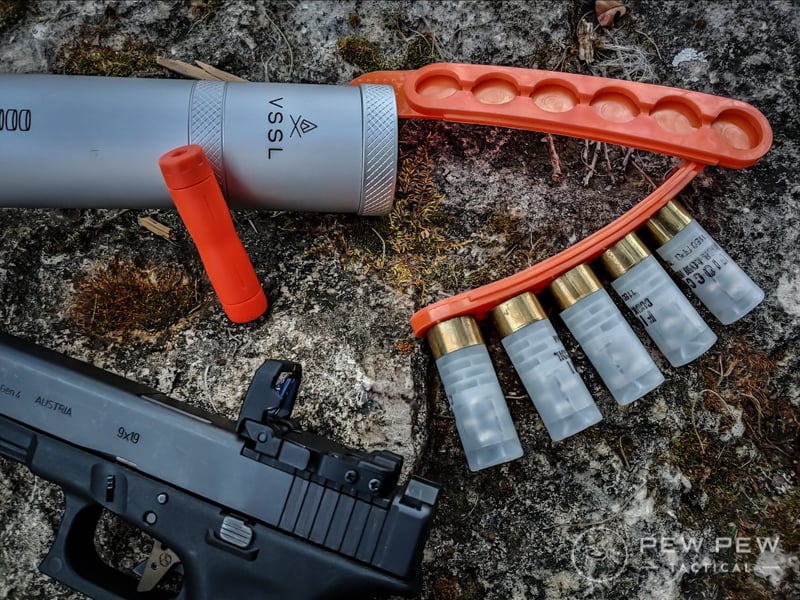 Before I even realized I had already checked out, and those oddities were now mine, and well on the way to my home. The next morning as the mist lifted from mind the memories of these oddities went with them.
A mere two days later a box arrived, and I uncovered the mysteries from a dark place known as AMAZON!
Okay, so this isn't necessarily a gun item, it's more of a prepper or camping tool than a gun item.
Let's face it though there is a lot of overlap between outdoor activities and guns, so the fine editors of Pew Pew Tactical have allowed me to include it in on this list.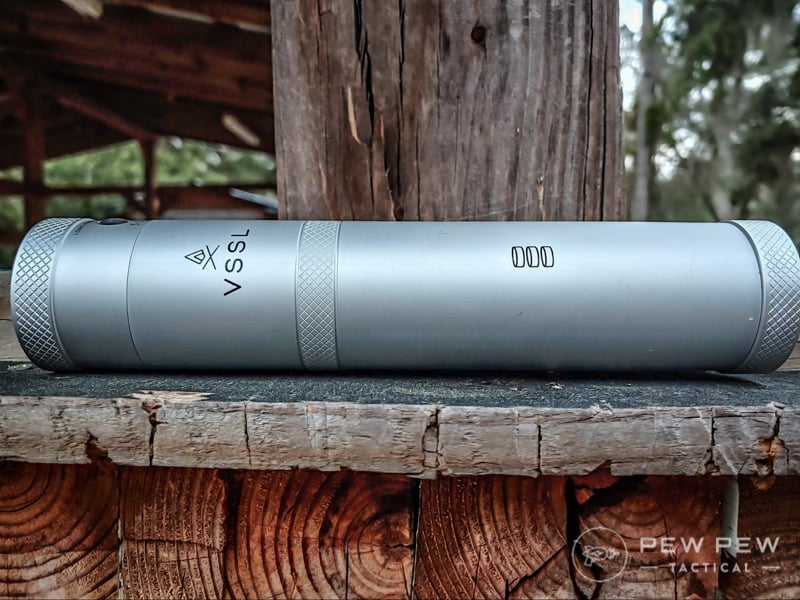 Mainly because I love these things, I like the idea of a purpose built survival cache. VSSL makes these are separate containers and produces several different models filled with mini VSSL tins. These tins contain different survival goods and can range from a shelter and first aid to an all in one spear.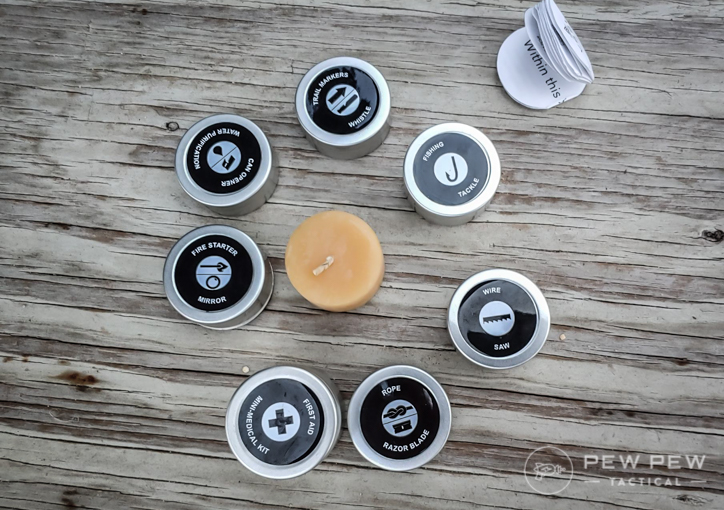 The VSSL Cache can come empty, or full of goodies. On Amazon, the number of options is limited so make sure you check out their website too. You can buy a variety of mini tins to fill the VSSL Cache. You can also create your cache and shove it full of all sorts of gear for camping and survival.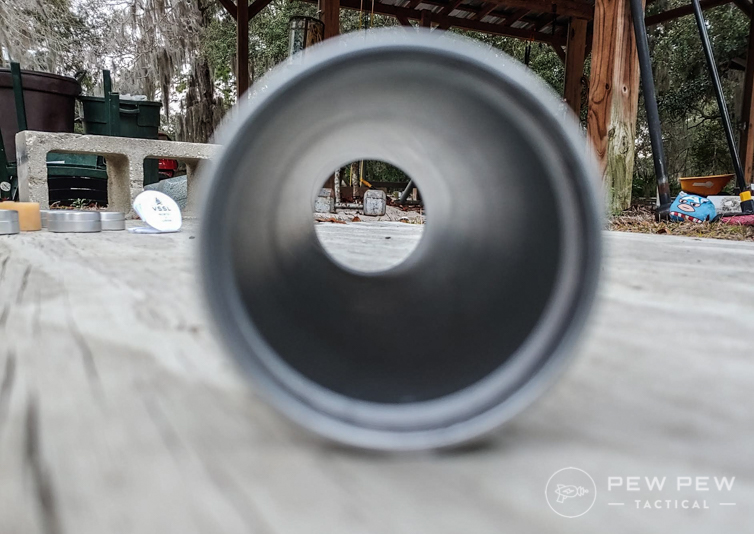 It's 9 inches long and 2 inches in diameter. You can squeeze in fire making gear, fishing gear, small medical gear and much more into the VSSL. There is lots of stuff you can squeeze in there to build a small survival cache.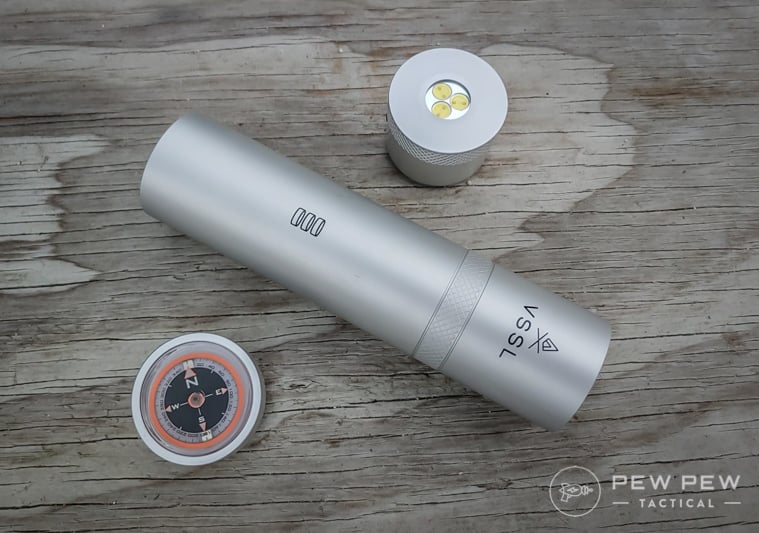 Since we are a gun page, it could be the most hardcore container for a gun cleaning kit to ever exist. Seriously you could fit anything in here and head into the wild knowing it will be well protected.
The cache container is both water and airtight. You could bury this thing, and it would be safe and keep the gear inside good to go. This does make it a handy piece of equipment when fishing or hunting in a rugged environment. You can have the necessary gear you need in a very safe container.
You can cache things like maps, batteries, car keys, fire making gear, a knife, etc.
You can also fill it full of Skittles, which is one of the best options you can go with really. The VSSL Container cache is a multi-purpose tool. It's also a flashlight and compass.
The front and rear of the cache are threaded, and both sides can be removed. The front portion is a flashlight, and the rear is a reliable little compass. The light can be used separated from the cache and is an all in one unit.
44
at Amazon
Prices accurate at time of writing
Prices accurate at time of writing
The light throws a big wide flood beam that can be both a flashlight and a lantern inside a tent. The flashlight has a standard constant on and an SOS mode. The compass is a compass, and it works well and isn't cheap. It's durable, and I've dropped it many times without an issue.
The VSSL Caches are a neat idea. Just fill it up with the gear you need to survive and stash it somewhere you can quickly grab it.
I usually detest the phrase Operator. It's quite overused, but I'll let it slide with the Operator Survival Tool because it's handy, affordable, and pretty useful. The OST 2.0 is a three in one tool that is so small it can be contained in the pistol grip or stock storage of a AR 15 with the right furniture.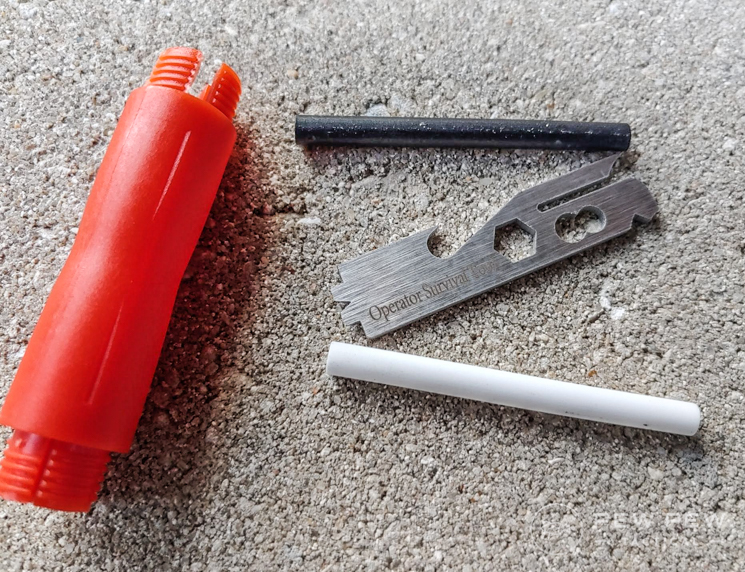 Grips like the Magpul MIAD and stocks like the Bravo B5 SOPMOD offer small storage areas. These storage areas are designed for items like CR 123 batteries, and the OST is intended to be the same size as two CR123 batteries that are stacked on top of each other.
The system is self-contained in a small orange capsule that also doubles as a handle. Once everything is packed away, it's straightforward to store on your weapon, so you are never far from it.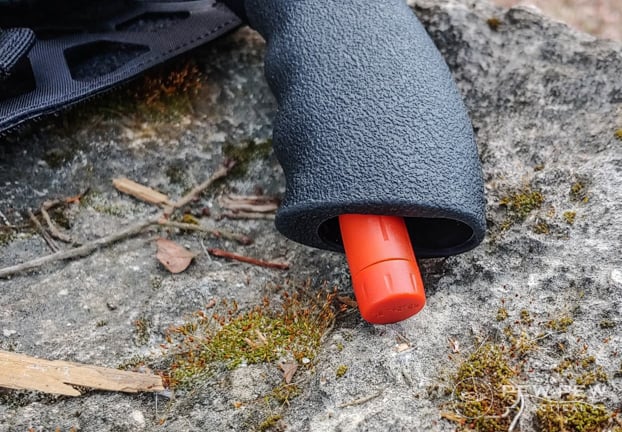 The OST 2.0's three tools are a fire starting rod, a knife sharpening rod, and a AR 15 carbon scraper. Let's break these tools down a bit.
The fire starting rod is a simple flint rod that can be used to spark a fire. The rod is mall but enough to start a fire more than once. Of course, if you've never used one, you might want to take the time to learn how to use a flint or ferrous rod to start a fire. It's not easy and takes some practice.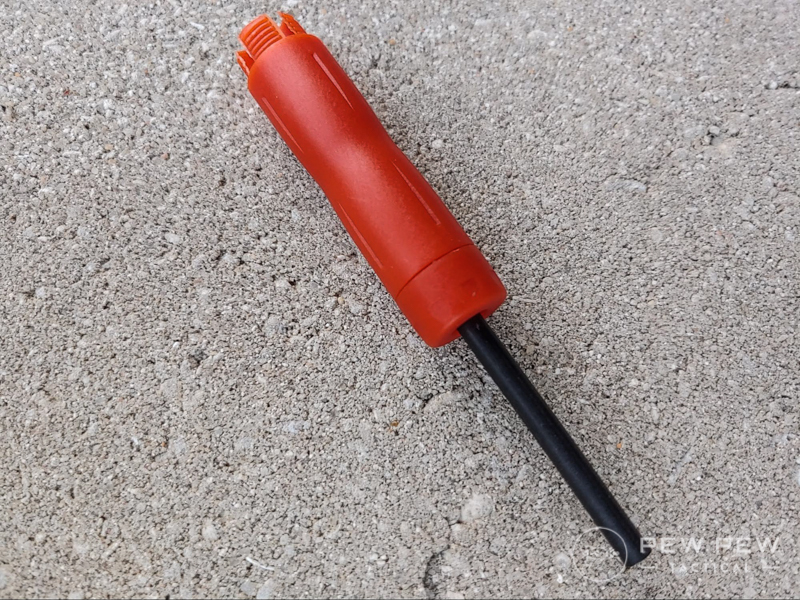 Because this rod is a little dainty, I do suggest grabbing a cheap ferrous rod and learning from it before chewing through the OST flint.  
The knife sharpener is a ceramic rod that is also small, but long enough for most EDC pocket knives. Using a rob to sharpen a knife also takes practice, and I am far from mastering this technique myself, but the rod is a handy item to have.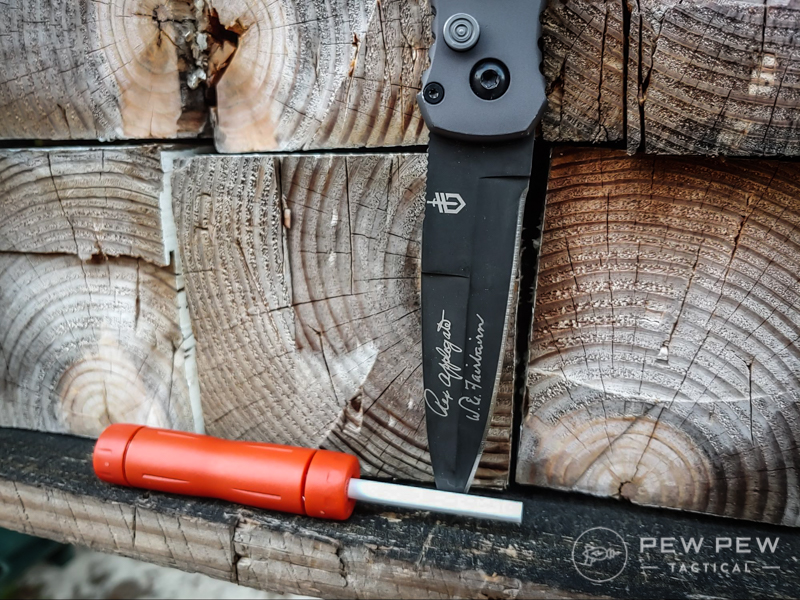 The orange container acts as a handle for both tools, and it's a helluva lot safer and more comfortable to sharpen a knife or start a fire with a handle on your instrument. Both of these tools are small and bigger is often better. However, I can't shove a full-sized flint or knife sharpener in my AR.
The carbon scraper is the star of the show. It can be used to strike and scrape the flint, but it's also a great cleaning tool. When I was an active duty Marine the best way, I avoided every work in the field was by regularly cleaning my weapon, and the dirtiest part of an AR style weapon is the bolt.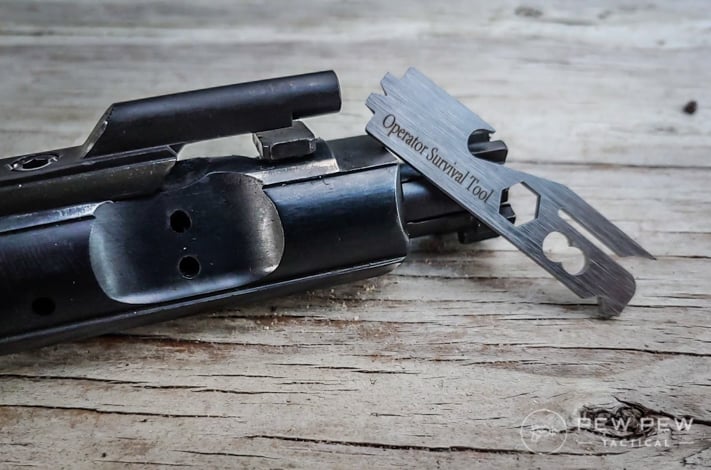 This scaper allows you to scrape the carbon off every part of the bolt. This includes the firing pin, the bolt, and the bolt carrier. You can get into every nook and cranny of the heart of your AR with this little scraper.
25
at Amazon
Prices accurate at time of writing
Prices accurate at time of writing
The OST 2.0 is such an affordable and cool little piece of gear I can't help but love it. I also can't believe I didn't think of it.
An optics from NC Star is undoubtedly going to draw some ire in the comments. Admittedly NC Star is part of a group of companies that are known for producing optics overseas and selling them at rock bottom prices. In the last few years, companies like NC Star, UTG, and Holosun has started making better optics at great prices. These optics are what I consider hobbyist optics.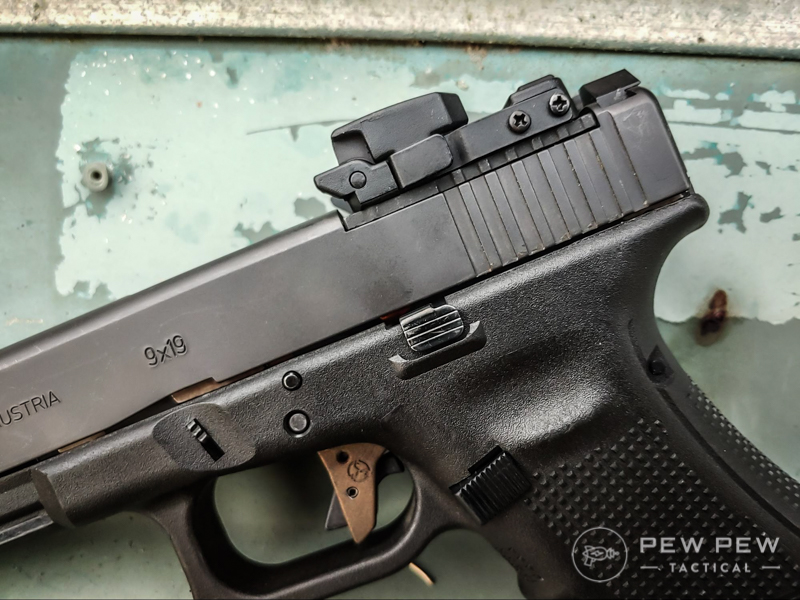 They go on guns that I don't use for defensive purposes. They work, are fun, but I'm not taking Fallujah with one. They occasionally make something pretty freakin' awesome, and the NCStar FlipDot appeared to be just that. A folding mini red dot optic designed to low profile tiny enough to fit on a handgun without adding much bulk or size to the gun.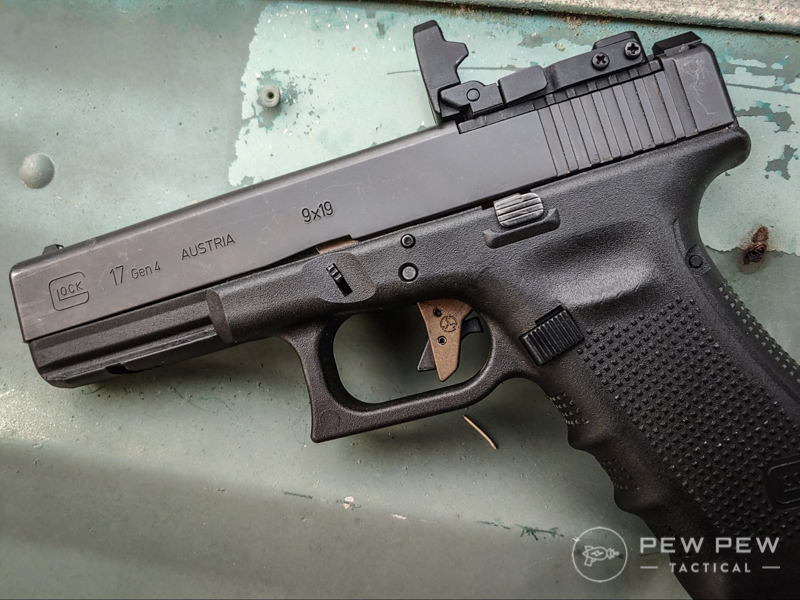 The Glock MOS changed the gun world by producing a factory optic's ready handgun that could accommodate a wide variety of different optics. MOS stands Modular Optic's system, and it allowed the use of over a dozen different optics via a series of different plates. A lot of different optics share different footprints, and the new NC-Star FlipDot is designed to share the footprint of the Trijicon RMR.
It attaches to the Glock easy enough and comes with a few different lengths set screws. Some for the MOS which requires longer screws and others for Glocks with milled slides. For Trijicon RMR pattern optics.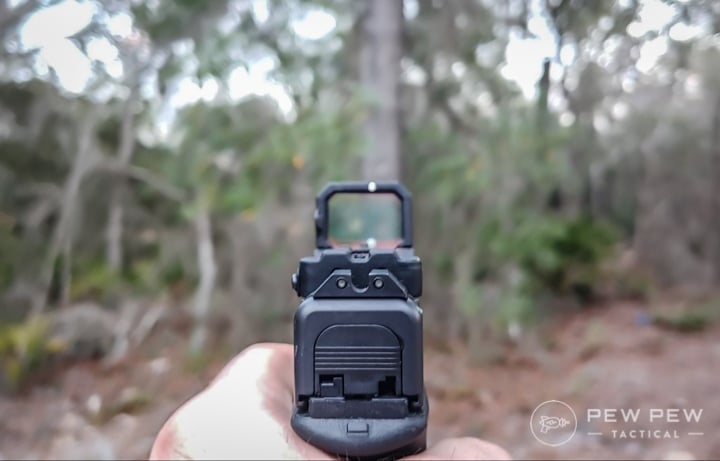 The window itself is tiny and thin, but functional. It's clear with a slight blue tint. The whole draw to this optic is the fact the window folds downwards and locks into place when not in use. This creates a smaller profile and adds less bulk to the gun.
To deploy the dot you hit a small switch on the side, and it springs into action. It springs up with some real force and at the same time its turned on and ready to rock and roll. It feels well built, and looks good but how does it work.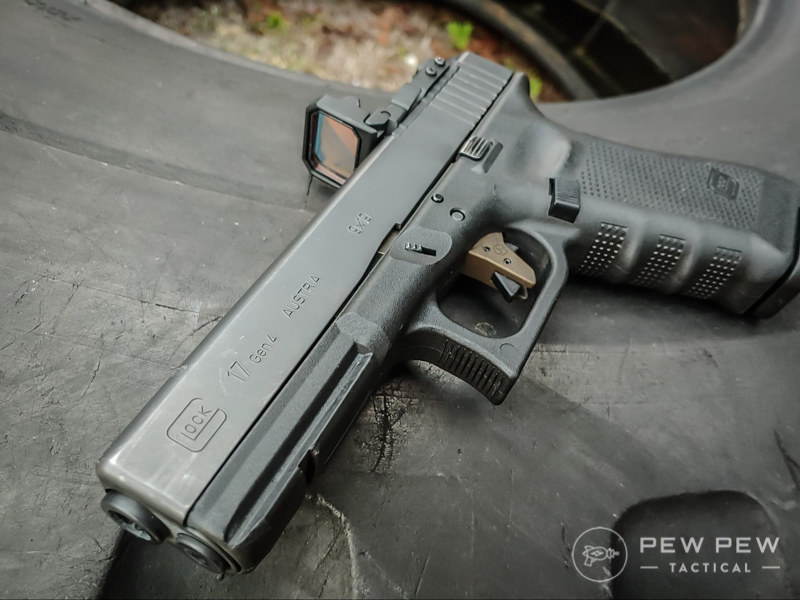 The best answer I can give is okayish. It's reliable, and it doesn't turn off between shots but its not perfect. With my preferred 9mm self-defense ammo, the optic will occasionally lock backward. This is 124-grain +P ammo, and with target ammo in the 115-grain range, it's perfect.
The dot itself isn't well defined and a bit blurry. It blooms just a bit. The dot is also rough to use at High Noon. Meaning Florida's bright sun doesn't like this dot. Inside the house, or an indoor range it's great. Bring it out during the day, and you'll have a hard time finding the sight.
There is no way, and I think if you could the optic will be a bit better.
It's effortless to zero, and it comes with the tools necessary to zero the optic. The optic's zero also never drifted. It remained true throughout all testing.
I will say the built-in rear sights are a nice touch. There are a small rear sight and a small front sight built into the kit that makes it easy to cowitness in case the dot does die. The sight radius is painfully short, but it does work as a backup.
90
at Amazon
Prices accurate at time of writing
Prices accurate at time of writing
The Flip Dot can be used on long guns, or guns with Picatinny rails with the use of a Trijicon adapter as well. Is it worth the cost? It's hard to say. It's certainly neat, and at less than a hundred bucks it's hard to hate.
It's not great for defensive shooting but would be neat for a 22 LR pistol you shoot for fun. At this price, it could be used by a shooter looking to experiment with a red dot on their gun at a low cost. I think ultimately with the right place for this optic is on my little S&W 22A pistol for plinking.
It's really neat, and I think a brighter gen 2 model with a locking window would be great for more serious use. As an optic that's for sale for under a 100 bucks I can't argue too much with it.
If you're a revolver fan, you are likely pretty familiar with speed strips. They are a quick method to reload your revolver and organize spare ammo. They are rubber strips with slots to accommodate the rim of a revolver cartridge.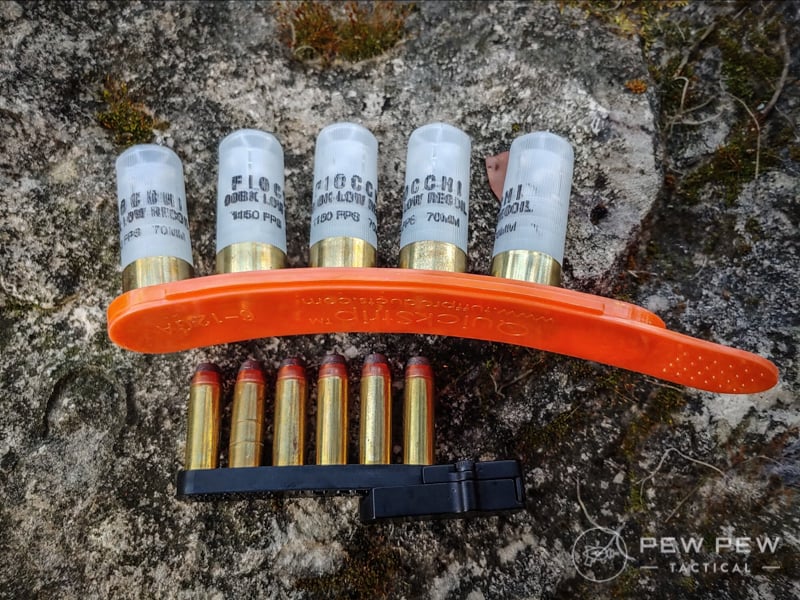 They hold ammo in a very convenient and easy to carry manner and make reloading pretty quick. A company called Tuff Strips makes these strips for a variety of different calibers, including 12 gauge shotgun. This is odd since the last 12 gauge revolver we got was the ill-named Street Sweeper which is considered a destructive device anyway.
The company advertises them as a handy way to feed your single and double-barreled shotguns, and they aren't wrong. However, are they needed for a double or single barrel gun? Not really, but as a dedicated shotgun enthusiast, I had an instant idea for these bad boys.
Part of the problem with a shotgun is ammo capacity and how slow it is to reload. Side saddles are must-haves for shotguns to top it off and keep it running continually. I've become a fan of loading the gun from the saddle and then reloading the saddle from a vest or other kit.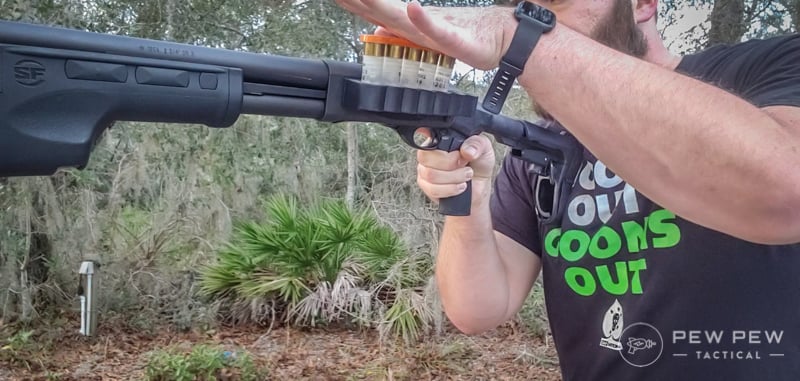 That is where I see these speed strips being handy for shotguns. You feed the side saddle of a semi-auto or pump action shotgun with the strips. In practice, it works to both completely refill a gun's side saddle or to top it off.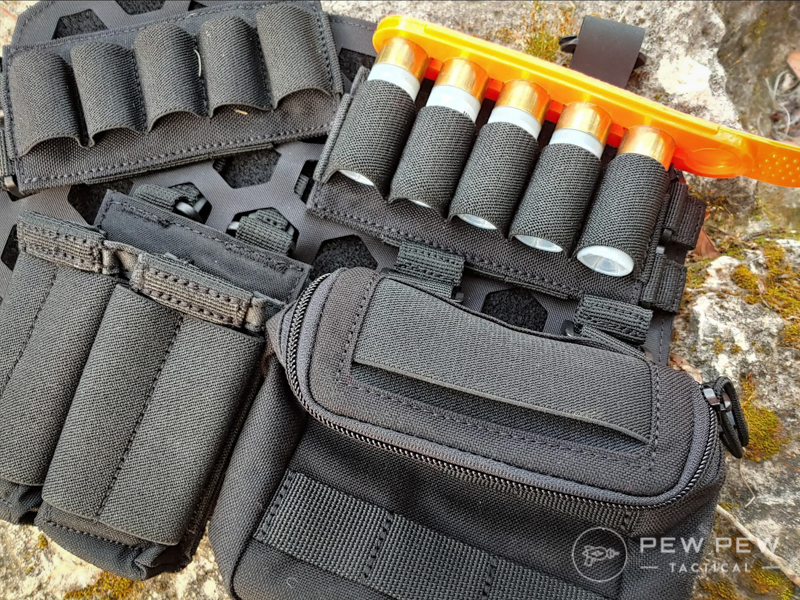 The Tuff Strips hold six 12 gauge rounds, but I only use five slots. This gives me a better grip on the strips and makes it easier to break them away and refill the side saddle. With the shells in place, you can easily fit the strips and shells into a standard bandolier style carrier.
Best of all, these are also affordable, and these two orange ones are ten bucks for both. The black ones are about 15 bucks for a pair. They are well made and seem to hold up use after use. Loading them is a real pain, but doable. You have to squeeze than rim in with some force.
10
at Amazon
Prices accurate at time of writing
Prices accurate at time of writing
As a shotgunner, I think they are, and I hope to keep working with them and developing better and better techniques with them.
Lost in the Amazon
Amazon has some weirdly cool stuff if you know where to look. Every time I look at a gun-related item I always make sure to look at the Products Related to this Item and Customers Also Shopped For tabs.
They are often full of gold.
I was relieved that nothing was a major disappointment in terms of items and I'm looking forward to the next installment of It Came From Amazon!
The weirder, the better.
Check out Part I for some more stuff too.
What weird thing from Amazon do you want to be reviewed? Did you get one of the knife bayonets? Let us know in the comments! If you want more awesome gear, take a look at our Editor's Picks!