One of the big advantages of automatics over revolvers is how fast you can reload them. The only thing slower than slipping one round at a time into a revolver is me ordering at an all-vegan restaurant.
To make revolver reloads faster, the gun accessory industry has primarily settled on three devices — the speed strip, the speed loader, and the moon clip.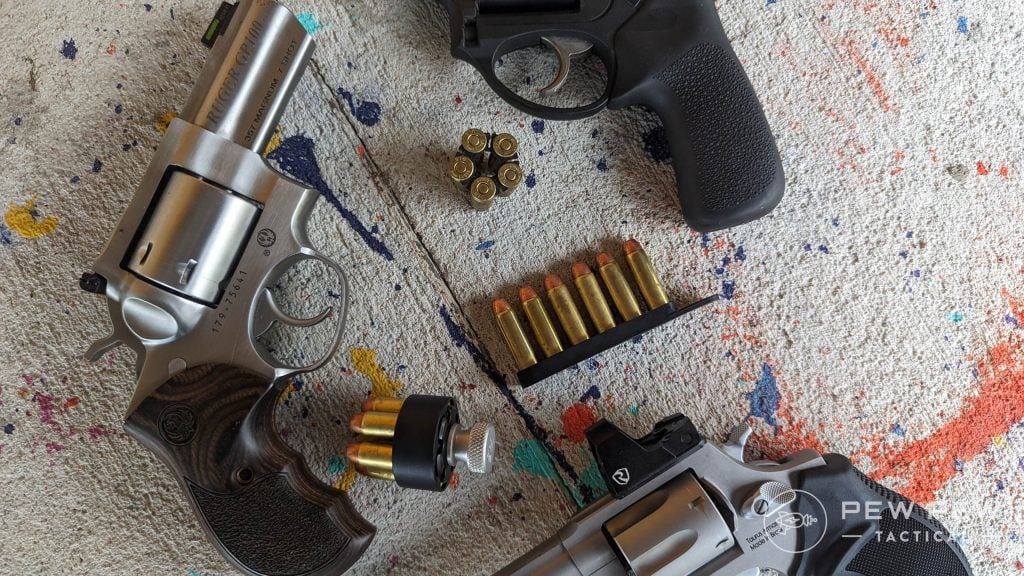 These devices have made it much easier to reload your revolver and get it back in the match, the fight, or the fun.
So, which is the best? That's a tough question, especially in the context of your average civilian defender. The fastest doesn't always mean the best.
There are a ton of variables, so let's dive right in!
Table of Contents
Loading...
Why You Should Trust Us
Before becoming an NRA-certified instructor and concealed carry trainer out of Florida, I was a Marine infantryman. So, I know my way around guns.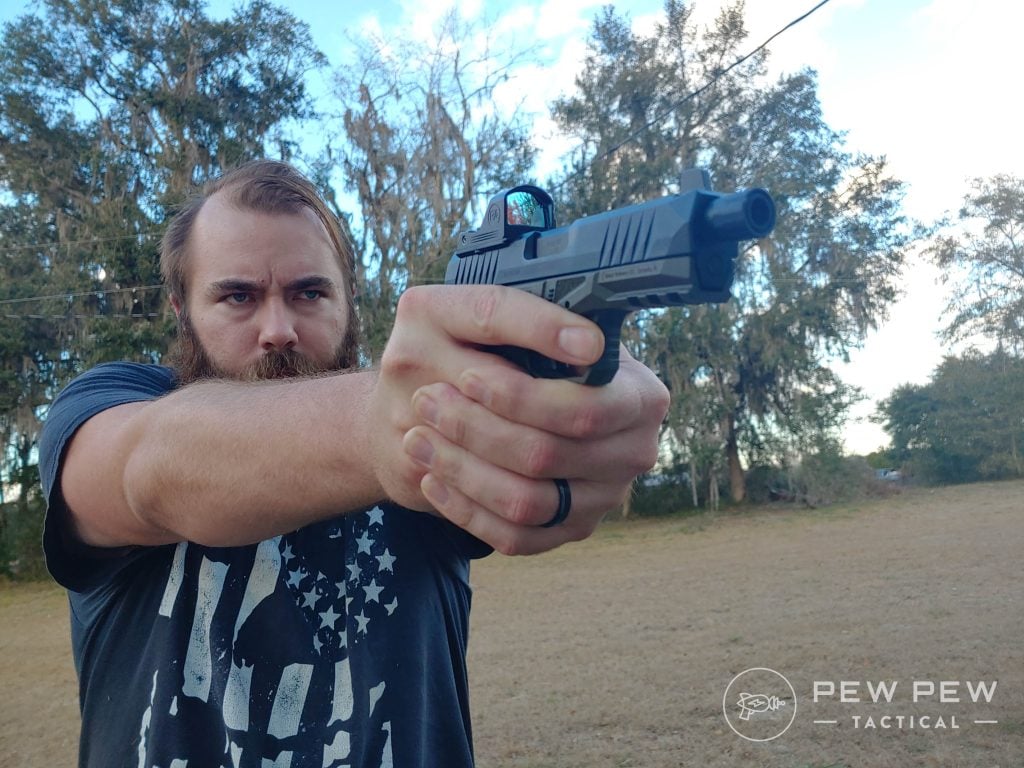 I've gotten my hands on several revolvers as well as a number of options aimed at making reloads faster. Over time, I've experimented with moon clips, speed strips, and speed loaders to discover the ins and outs.
What is a Speed Loader?
In a nutshell, speed loaders are devices that hold revolver rounds in a circular pattern.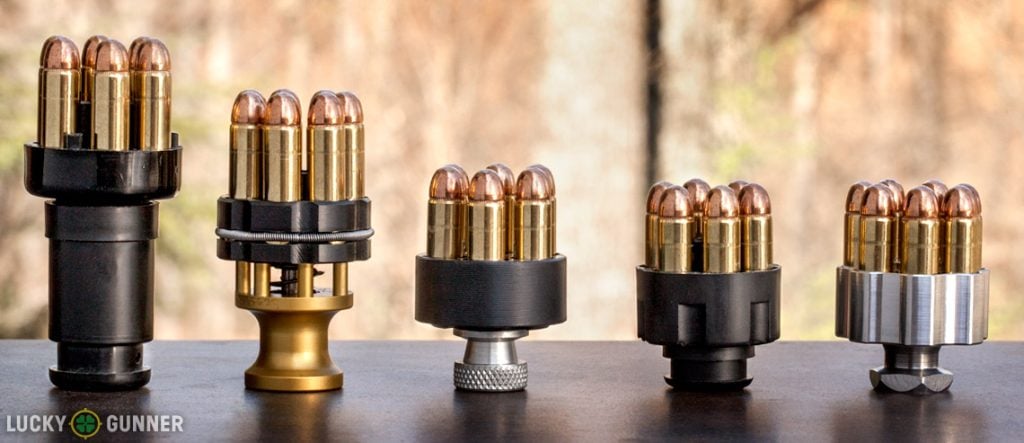 They typically feature some sort of mechanism on the back that allows all of the rounds to be dropped from the speed loader and into the cylinder at the same time.
Speed loaders date as far back as 1879. One of the more famed practical examples comes from 1893 from a Brit named William de Courcy Prideaux, which was intended for use in top-break Webley revolvers.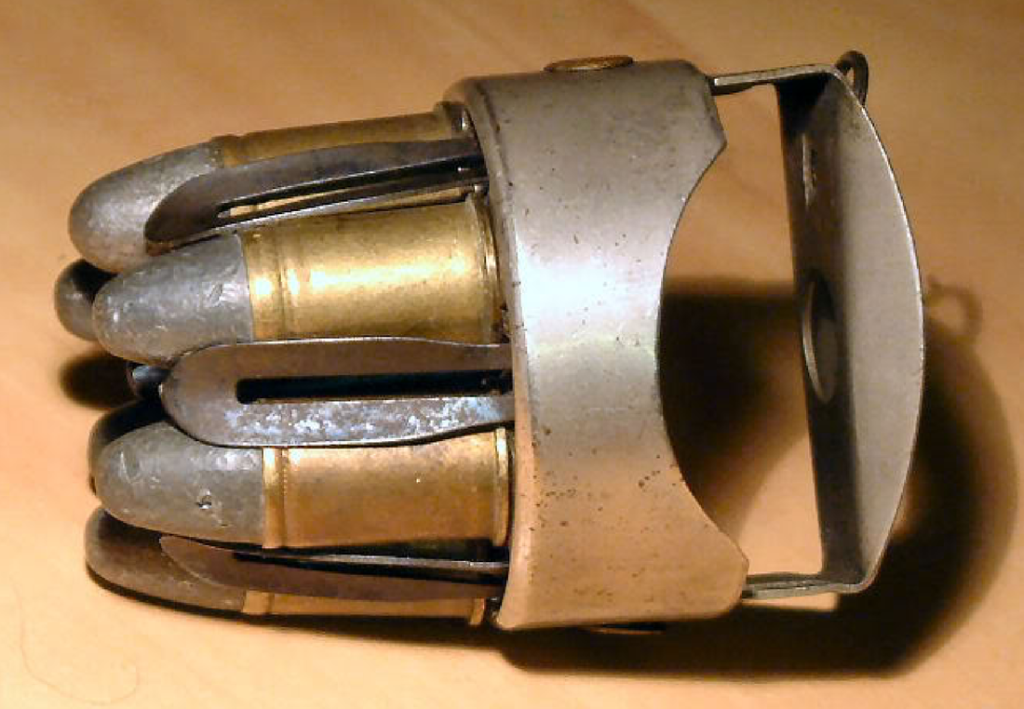 Since then, we've seen the technology adapt and evolve into various forms. The most famous modern speed loaders come from HKS and Safariland, who make them for many popular revolver models.
The Safariland models are geared toward competition. The user presses the loader downward, releasing the spring tension and dropping the rounds into the cylinder. While they are typically the fastest speed loaders, they are also a bit bulkier.
15
at OpticsPlanet
Prices accurate at time of writing
Prices accurate at time of writing
HKS uses a twist to lock and release. Twisting the knob one way locks the rims in place to hold them, and twisting the other way releases them into the cylinder. It's simple but not always as fast as the push-release options.
However, HKS takes the cake for the sheer amount of calibers and revolvers they accommodate. Plus, they tend to be very affordable and easy to find.
9
at Brownells
Prices accurate at time of writing
Prices accurate at time of writing
What is a Speed Strip?
John Bianchi designed the first speed strip in the 1960s made from rubber with a spring steel center.
Speed strips hold the round secure, and then the user peels the speed strip away from the cartridges, which releases the cartridges into the cylinder.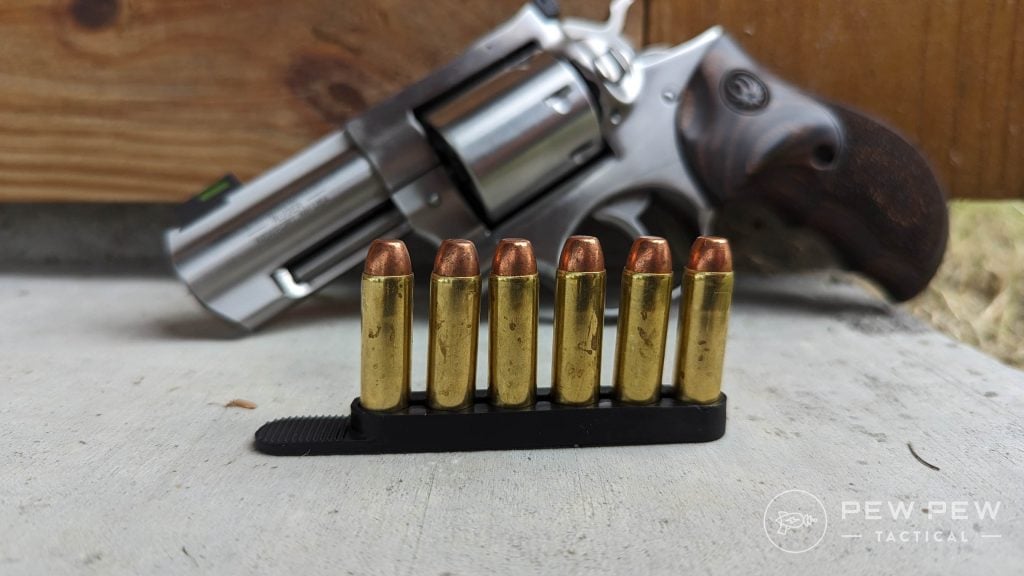 Bianchi eventually dropped the spring steel center and transitioned to completely making them from rubberized material.
Small circular cuts hook around the rim of the cartridge, and you can get speed strips that hold anywhere from five to eight cartridges in a row.
Bianchi still makes speed strips, but many other companies offer them now. Tuff Products makes some great ones, as does DeSantis and other companies.
10
at OpticsPlanet
Prices accurate at time of writing
Prices accurate at time of writing
What is a Moon Clip?
Moon clips were created by Daniel Wesson during World War I for the .45 ACP M1917 revolver
Colt and S&W could produce .45 ACP revolvers quickly, but the .45 ACP cartridge doesn't have the rim needed to eject or headspace.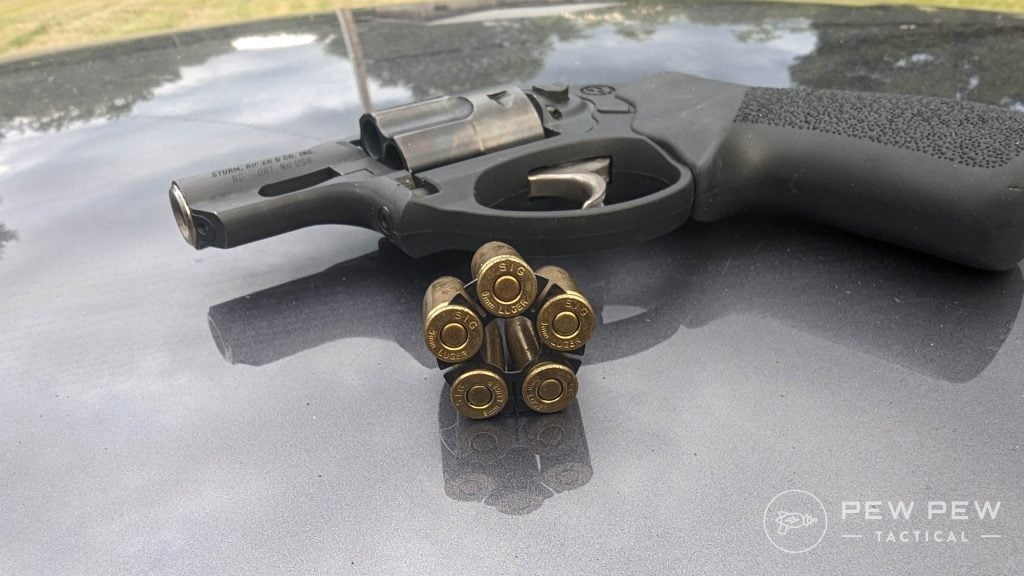 To allow for the use of a rimless cartridge in a revolver, moon clips were employed to act as the rim. At the same time, they make reloading revolvers relatively quick and intuitive.
Full moon clips are the standard these days, typically holding five to eight rounds. They sit in the cylinder with the ammo and are ejected along with the cartridges, still holding the cases together.
Moon clips are often made from very thin metal, which allows them to sit inside the cylinder without creating any issues with cylinder rotation.
5
at OpticsPlanet
Prices accurate at time of writing
Prices accurate at time of writing
Most revolvers that fire automatic rimless cartridges use moon clips to secure the rounds and ensure ejection. However, they are sometimes used with standard revolver cartridges, like .38 Special and .357 Magnum.
Pros & Cons of Speed Loaders
The speed loader lives up to its name. Working with an HKS speed loader and a Taurus 856 Defender, I discovered just how fast you could reload a revolver.
Jam the cartridges in place, rotate the knob, and then let it fall and close the cylinder, and you're back on target before you know it.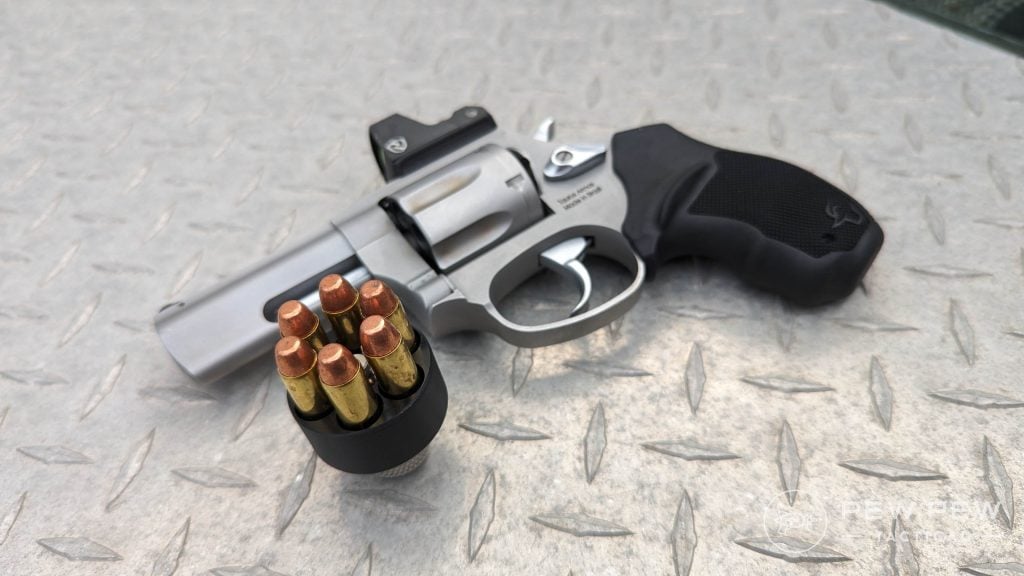 We get some serious speed with the HKS speed loaders, but the Safariland push-to-load is even faster.
There are a few different ways to reload a revolver, but I prefer a Massad Ayoob-style reload from Stressfire. I use my dominant hand for most of the reload.
I release the cylinder with my right thumb and push the cylinder out with my left hand. My right thumb pins it in place, and I tilt it to the sky and use my left hand to hit the ejector rod.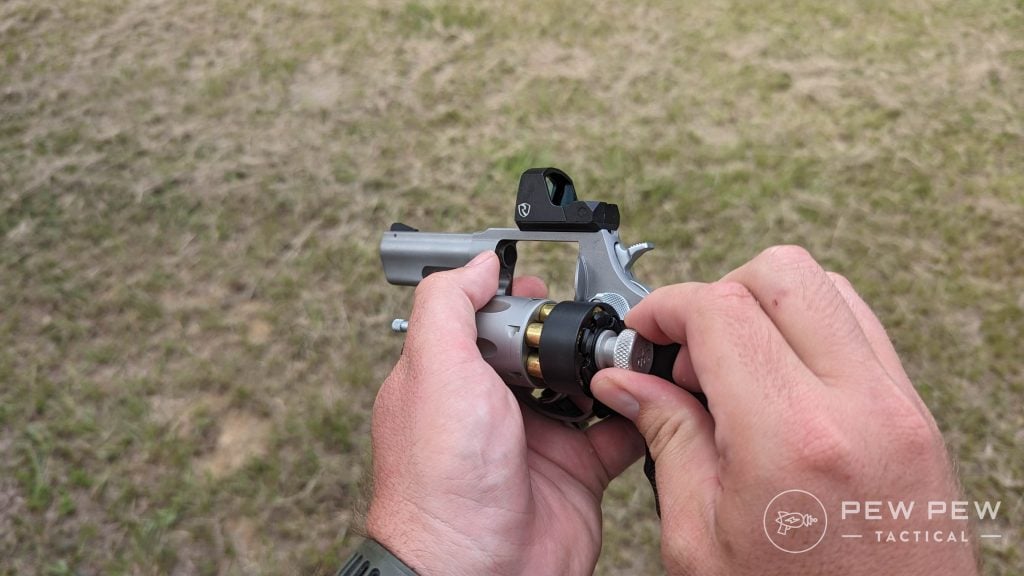 Then, using a very simple finger and hand transition, my left hand takes control of the revolver and tilts it back to the ground.
My right hand retrieves the speed loader and slams it into the gun. A quick turn of the knob and I release the speed loader and close the cylinder.
One thing I learned was to avoid grabbing the speed loader by the knob, as it is very easy to turn the knob and release the rounds accidentally.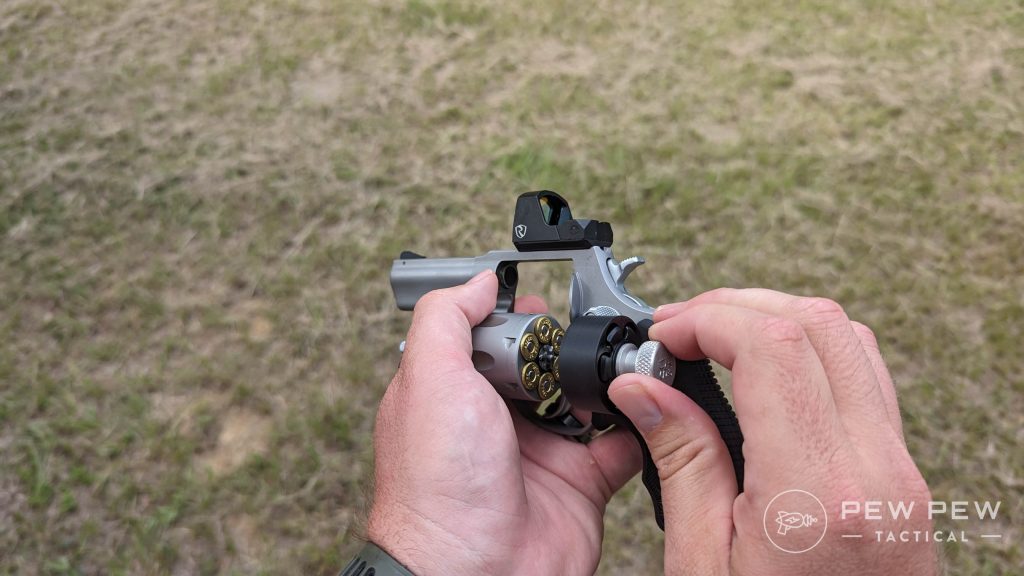 However, there are some downsides to speed loaders.
First, speed loaders require a dedicated pouch to carry. They are round, meaning the pouch doesn't always lie flat on the belt. This also makes them tougher to conceal.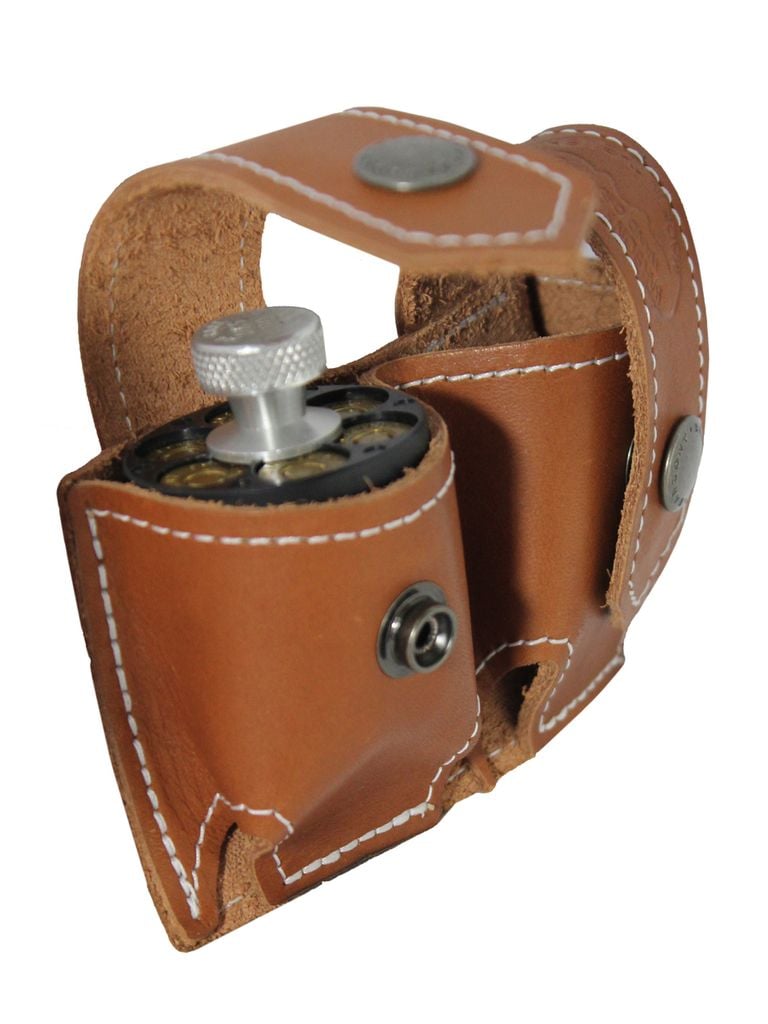 Speed loaders rely on a mechanical release system that is often small and seemingly fragile. Proper maintenance and cleaning of speed loaders is required to avoid rounds getting stuck or mechanical failure.
Additionally, speed loaders are all-or-nothing loaders. If you have fired three of your six rounds, you have to dump those other three live rounds to use your speed loader if you want to reload.
20
at Amazon
Prices accurate at time of writing
Prices accurate at time of writing
Speed loaders can have issues interacting with certain guns. Smaller frame revolvers have a cylinder that often sits tight to the body, which can cause issues with getting the speed loader past the grips.
My 856 Defender is cut right to fit the speed loader, but I'd lose that capability if I added bigger grips.
The Pros and Cons of Speed Strips
Speed strips are a handy little way to get your revolver topped off and ready to shoot. Speed strips are so charmingly simple that it's crazy they weren't invented until the 1960s.
These days, there are speed strips for every caliber you could ever imagine.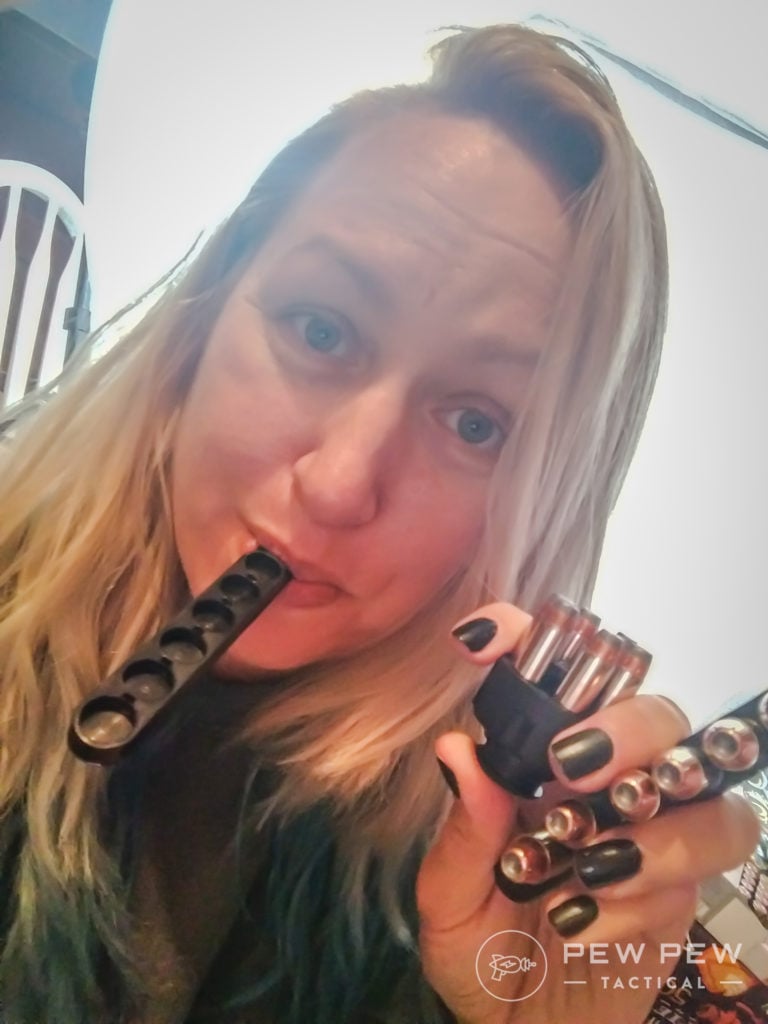 I used the DeSantis Speed Strips in my testing. These are 6-round speed strips made from flexible and durable molded polymer.
After a while, I still thought they were a bit clumsy and difficult to use. I eventually discovered that the key to using these things was to leave one of the cartridge slots empty and load five instead of six rounds into the speed strip.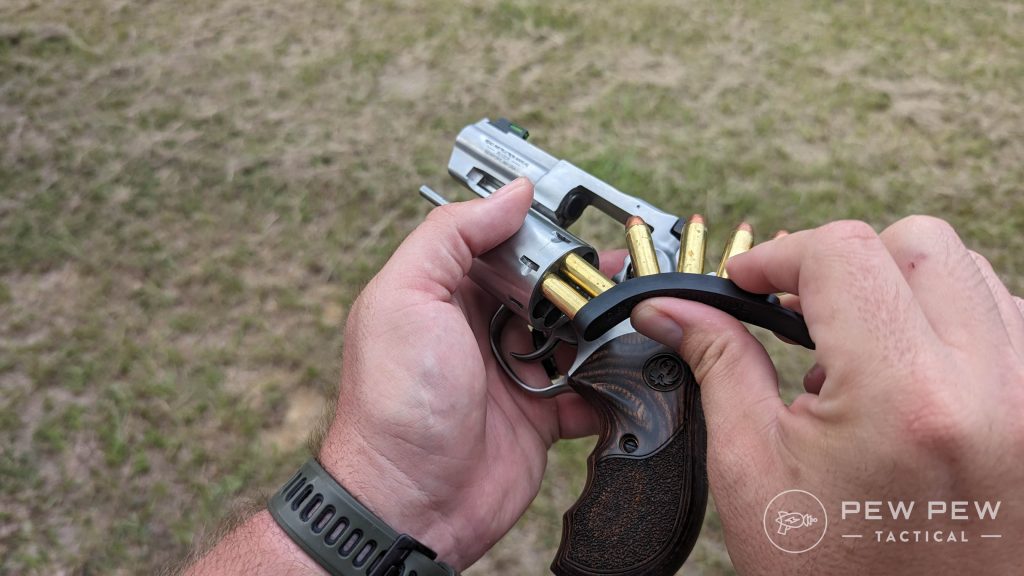 I load mine with two rounds at the furthest point from the handle, then an empty slot, and then three rounds. The empty slot allows me to place my trigger finger in this slot to control the speed strip as I reload the weapon.
One of the main benefits of speed strips is how convenient they are to carry. They lay flat against the body and are very easy to conceal. They are lightweight and can be easily carried in your pocket.
Speed strips also work with all modern revolvers. The grips can't get in the way, and you don't need specific speed strips for a specific revolver aside from getting the right caliber.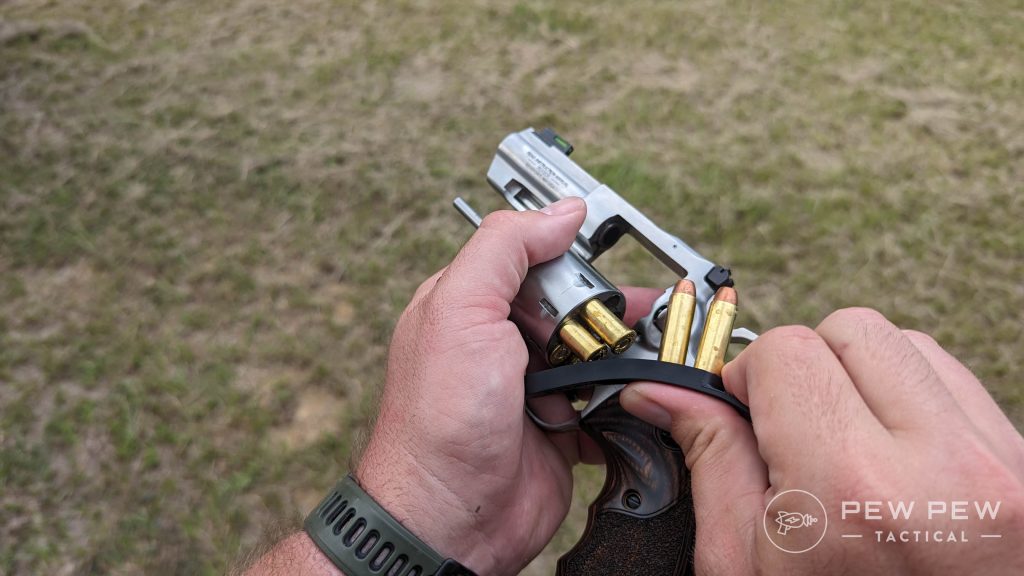 Another benefit of speed strips is the ability to load only one or two rounds as necessary. A speed strip lets you top off a revolver if needed without dumping live rounds.
For many, the biggest downside to speed strips is how slow they reload. Speed is relative, and compared to moon clips and speed loaders, these things are slow.
Speed strips also require a good bit of practice to become competent with, and they aren't nearly as intuitive as a speed loader.
9
at Amazon
Prices accurate at time of writing
Prices accurate at time of writing
If you're like me, you bought a six-round speed strip for a six-round gun and found it a little tricky to wield. I'd buy a seven-round or, even better, an eight-round speed strip. Leave a few empty slots to get better control over the strip.
Pros & Cons of Moon Clips
Like speed loaders, full moon clips allow the user to instantly reload the entire cylinder.
On cartridges without a prominent rim, they allow the rounds to headspace and eject with ease. This makes them a must-have for revolvers that chamber cartridges designed for automatics.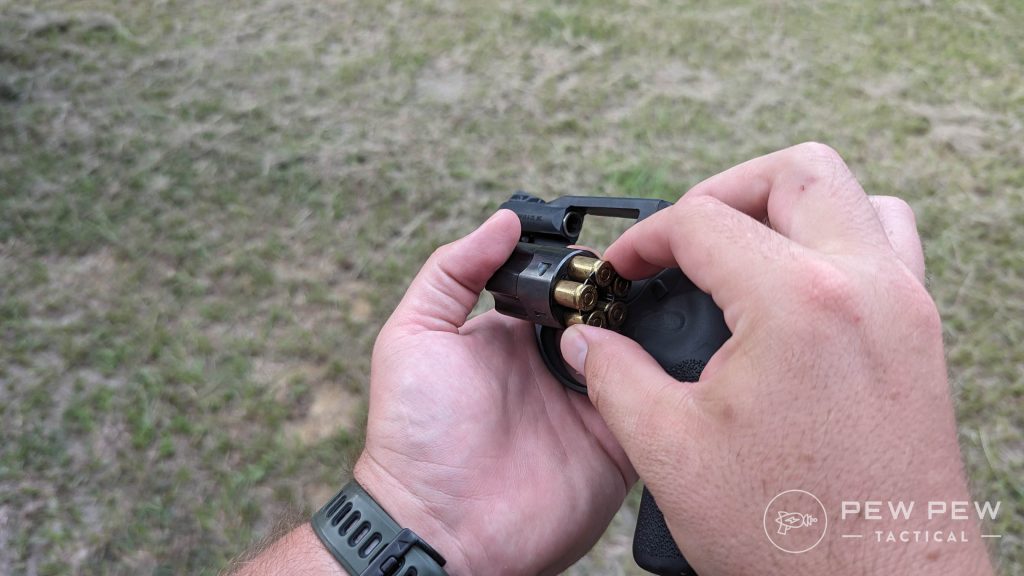 My Ruger LCR in 9mm uses moon clips and provides me with a great platform to practice my moon clip reloads.
I use practically the same reload method as I do with a speed loader. The main difference is I don't have to rotate or push anything to release the cartridges.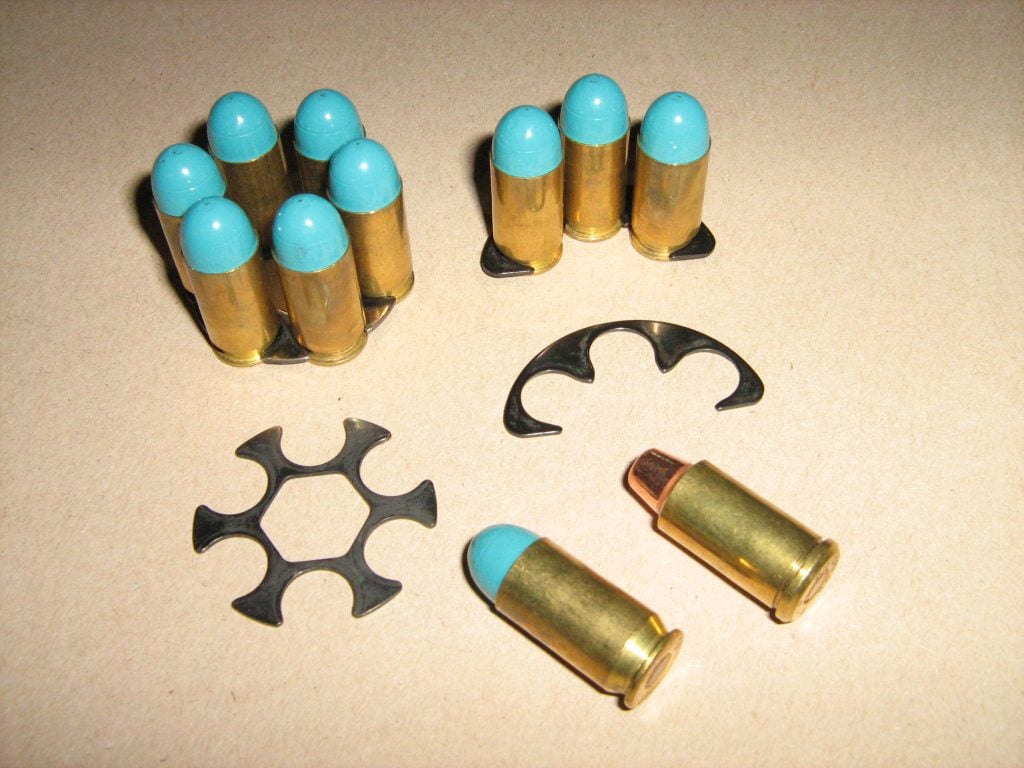 Of the three options, moon clips are the fastest. Drop a moon clip full of cartridges in, close the cylinder, and start shooting. You don't have to deal with a mechanism, and you don't have a speed strip in the way.
Plus, you don't have to worry about the grips getting in the way with moon clips since they are precisely cut for the size of the cylinder.
Most of the time, revolvers eject fine, but the occasional stuck case is an issue. This isn't a problem with moon clips because you get the combined weight of every case since they are connected.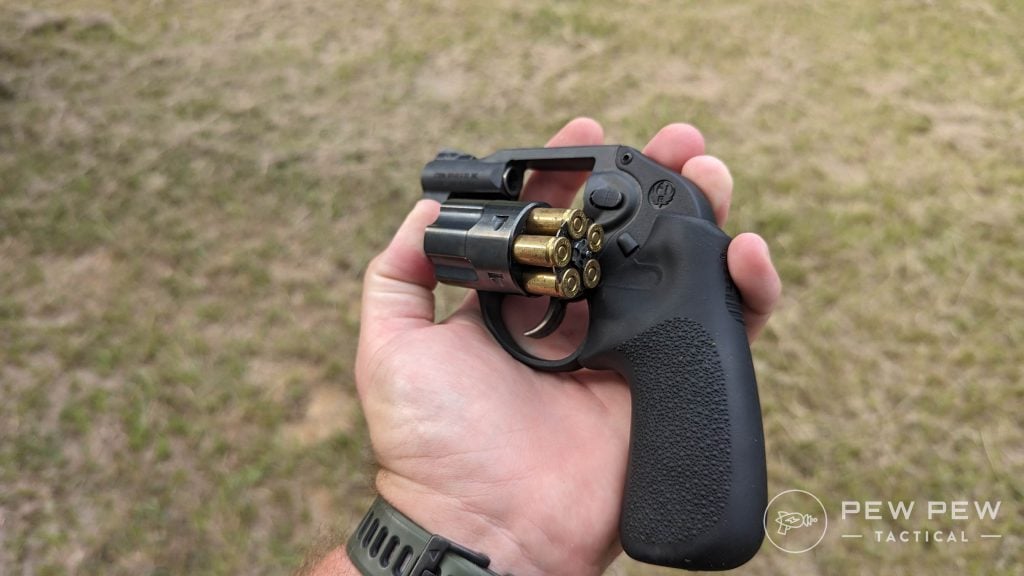 The downside is that your cylinder must be cut for moon clips. While some competition revolvers and most autoloader-chambered are cut for them, it's not a common feature on most standard .38/.357 revolvers.
Moon clips also tend to be fragile, and they can be prone to breaking or bending. They are basically disposable, and you won't get a ton of heavy use out of one. Even when I was practicing for this article, I broke one of my Ruger LCR moon clips.
5
at OpticsPlanet
Prices accurate at time of writing
Prices accurate at time of writing
Moon clips are also like speed loaders in that they usually require a pouch to carry them. There are a few other methods to carry them, but they are not as concealable as speed strips.
Final Thoughts
Reloading revolvers will never be as simple as reloading semi-autos, but who doesn't like a challenge?
Getting fast with a revolver feels like you're scratching an itch you didn't know you had. Understanding your options and the pros and cons of each can make getting a little extra lead in your revolver a lot easier.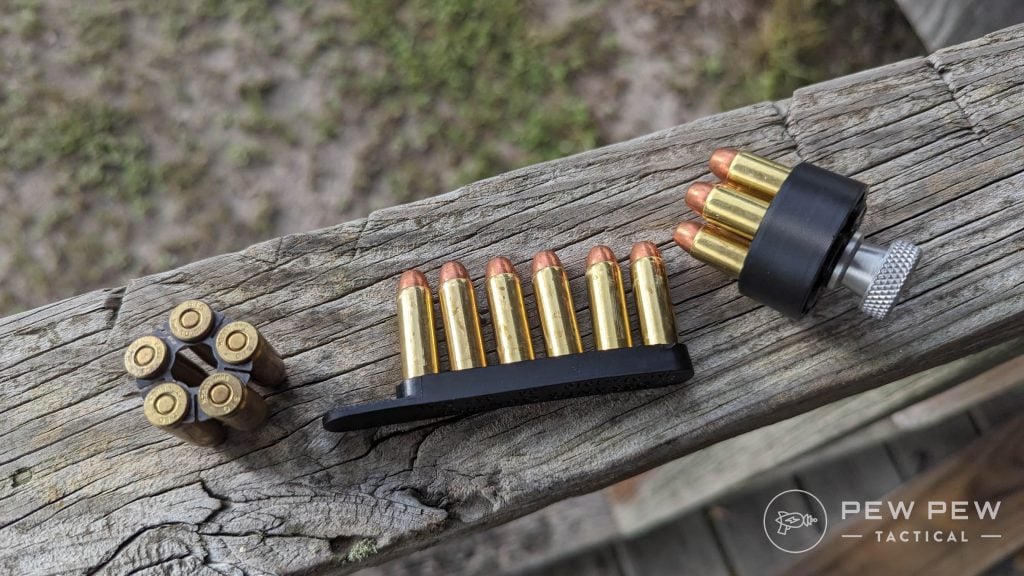 What's your favorite revolver reload option? Let us know in the comments below! Don't have a revolver yet? Check out our article on the 8 Best Revolvers of 2023!