Two companies rule the roost when it comes to American-made, pump-action shotguns, Mossberg and Remington.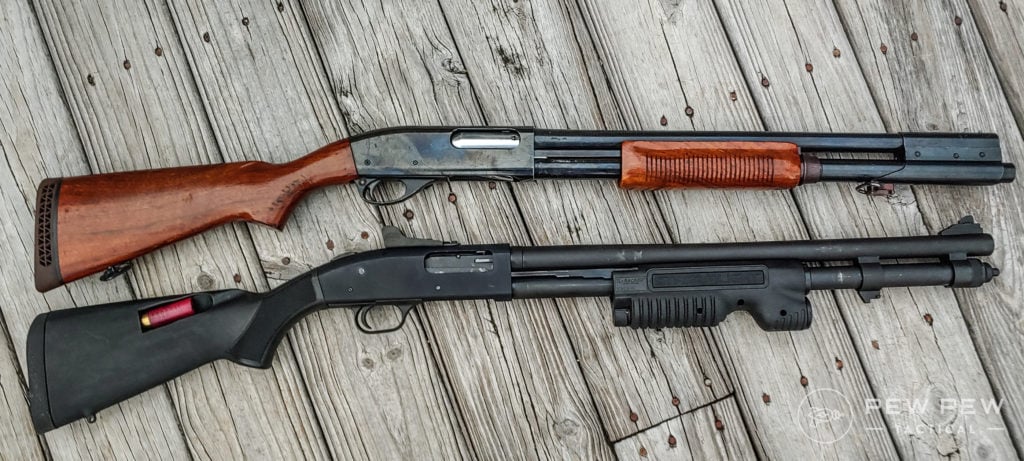 Of the two, Mossberg has consistently produced well-made, well-designed, and affordable pump-action shotguns.
Mossberg remains consistent, and their most famed product is the Mossberg 500 family of shotguns. Inside that family sit numerous different designs — the 835, 535, 505, and of course, 590 series.

Of all the subsets of the 500, the Mossberg 590 series are without a doubt the most popular.
Today we are going to discuss the differences between the 500 and the 590 series in glorious, almost silly depth. Buckle in, get ready, and let's dive into the Mossberg family of shotguns.
Table of Contents
Loading...
Mossberg 500 & 590: A Little History
Mossberg has been around since 1919, and along the way, they've designed numerous weapons, including handguns, rifles, and shotguns.
They famously produced a variety of bolt-action shotguns but didn't see massive success with scatterguns until the advent of the Mossberg 500.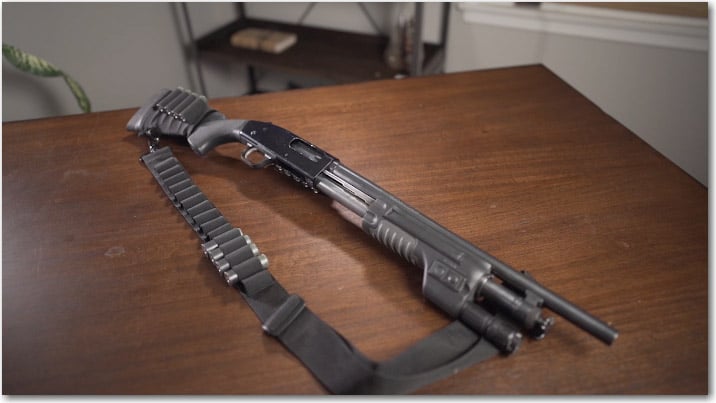 Carl Bensen designed the Mossberg 500 in 1961. The idea was pretty simple. Design a pump-action repeating shotgun that could compete with the pump actions of the time but make it more affordable. The 500 was just that.
Since the gun's premier, over 11 million units have shipped. Carl Benson designed the gun to be simple but modular, and users could swap various components to get what they wanted.
346
at GrabAGun
Prices accurate at time of writing
Prices accurate at time of writing
The design remained fairly unchanged until the 1970s when Remington's patent on dual action bars expired, and Mossberg quickly began producing dual action bars Mossberg's.
Mossberg designed the gun for hunters and sportsmen, but the low cost and high reliability brought in buyers from the police world. With that market tapped, Mossberg saw stars in its eyes and submitted the 500 to the military.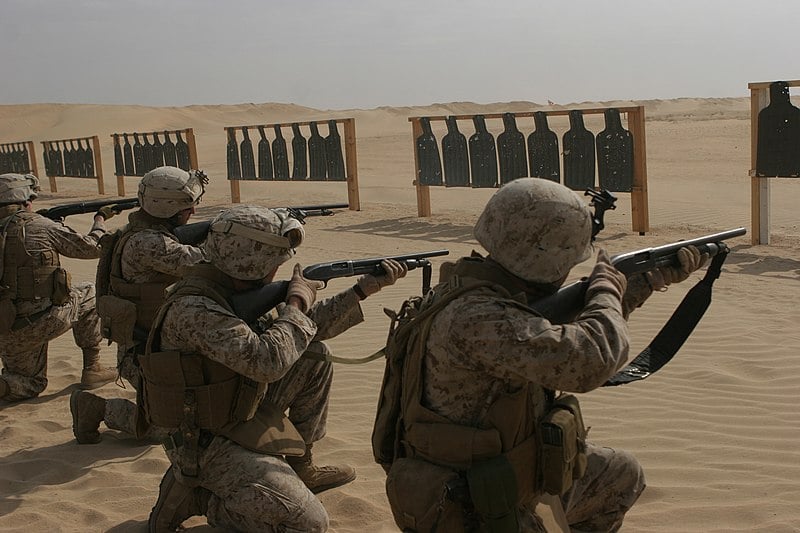 The 500 as is did not meet the spec. Mossberg took their licks and began altering the 500 to meet the provided specs.
These included changing the plastic safety, the plastic trigger unit and guard, and changing the magazine cap to make it removable without disassembly of the gun.
They produced this variant of the Mossberg 500 for some time but later decided to create an entirely new line of shotguns. In 1987, that line became the Mossberg 590 series.
This likely simplified things for Mossberg and allowed the 500 to have its reputation for utilitarian design and an affordable price tag.
419
at GrabAGun
Prices accurate at time of writing
Prices accurate at time of writing
What They Have in Common
Both guns are pump-action, tube-fed shotguns that come in a variety of calibers. These calibers are primarily the big three — 12-gauge, 20-gauge, and .410.
It bears mentioning that the 20-gauge and .410 variants are somewhat new to the 590 world.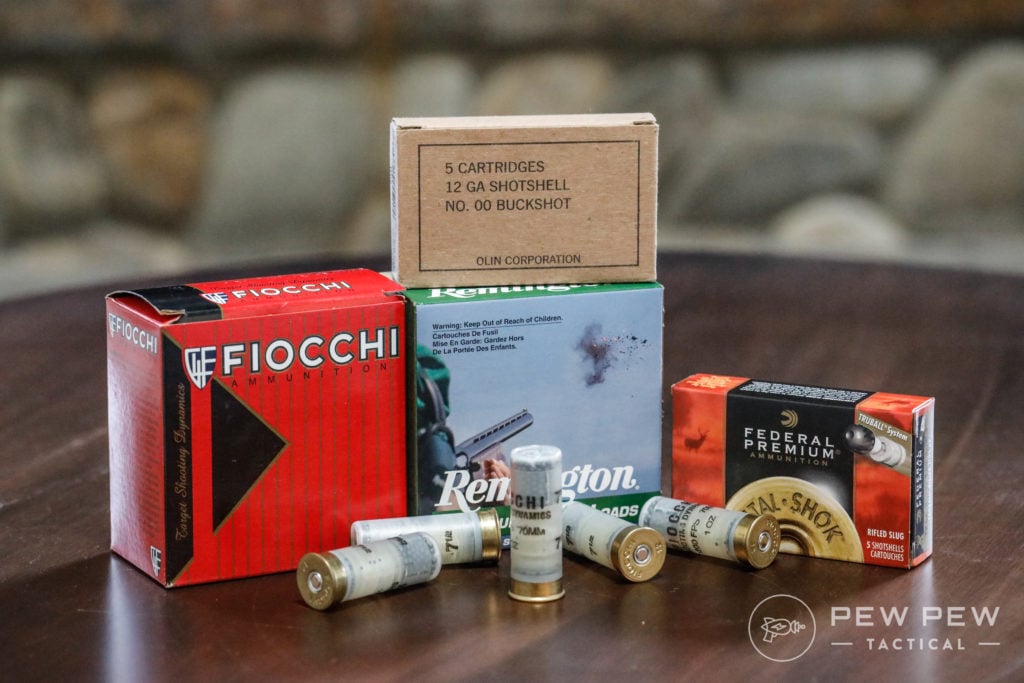 Both guns use the famed Mossberg tang safety, and both use the same furniture. If a stock works on the 590, then it works on the 500, and vice versa. Internally they are very similar and share a variety of parts.
Both guns are drilled and tapped for an optic's rail or mount as well. They are very similar guns and clearly related. If you've cut your teeth on a Mossberg 500, then a 590 won't be anything new to you.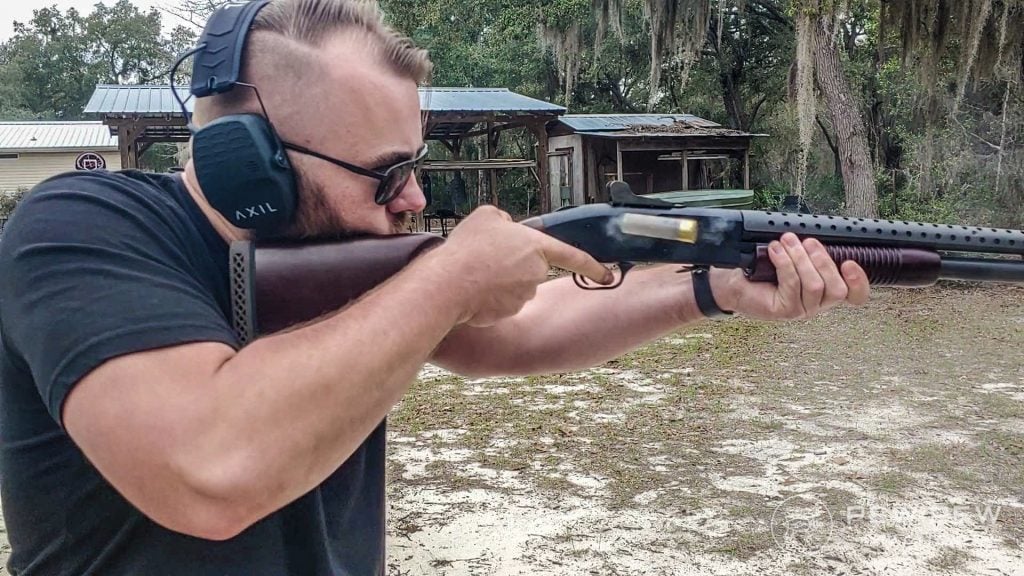 You might think that the 500 is a sporting shotgun and the 590 is a tactical shotgun. In reality, you're half right. The 590 is a tactical shotgun, but the Mossberg 500 can be either.
Mossberg has long produced security versions and tactical versions of the gun. Although, these days, there seem to be only two SKUs for security purposes, and that's the Retrograde and the ATI model.
819
at Kygunco
Prices accurate at time of writing
Prices accurate at time of writing
What's the Difference?
The original Mossberg 590 produced for the military featured a six-round magazine tube, a 20-inch barrel, a parkerized finish, and a metal safety and trigger kit.
These days the big differences all come from what model of the 590 you purchase. While the military 590s use a metal trigger unit, the 590s you see in gun stores likely have polymer triggers and trigger guards.
The 590A1 is built to the MIL-SPEC and a bit beyond.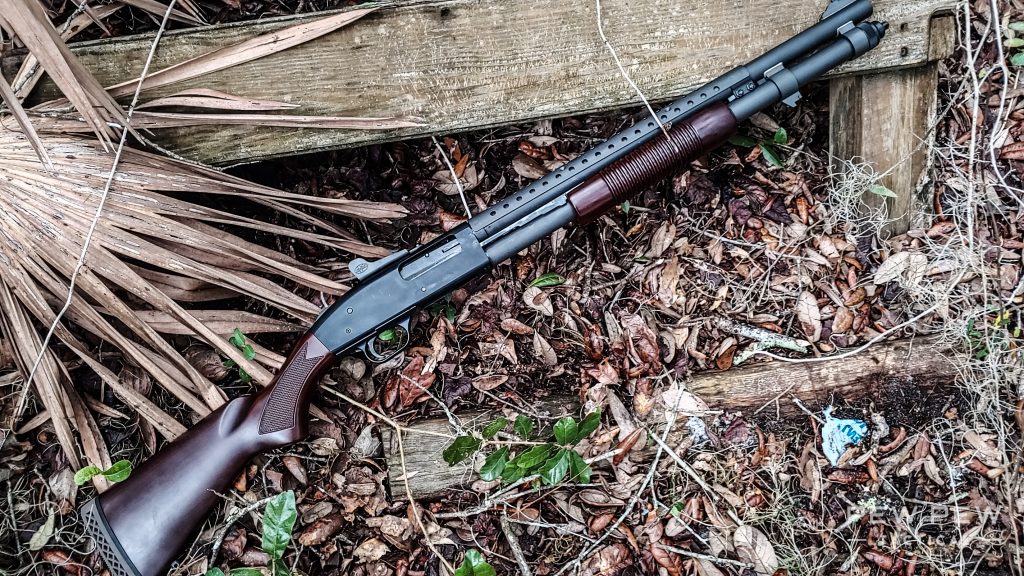 A real 590, as per the military spec, has a metal safety and a metal trigger unit, as well as a 590-style magazine cap.
The main difference between all commercial and military 590s and the Mossberg 500 is the magazine cap.
All 590s feature the clean-out cap, as Mossberg calls it. With the Mossberg 500, the barrel is connected to the magazine tube via the magazine cap. To access the inside of the magazine, you have to remove the barrel and do some trickery.

With the 590, the magazine cap just threads off, allowing you to easily clean the inside of the magazine tube. As a side effect, you can also add a magazine extension to the gun to increase capacity.
Well, It's Not That Simple
These are the main differences between the two guns, but I'd be leaving you with half the information if I didn't get into a little more nuance. Those Mossbergs made before the 590 were often known as 500MILS models.
Those 500MILS are still around and kicking. In 2011, I was issued a 500MILS in the United States Marine Corps. A 500MILS and a standard 590 are essentially identical. These guns had 20-inch barrels and held five rounds of 2.75-inch shells.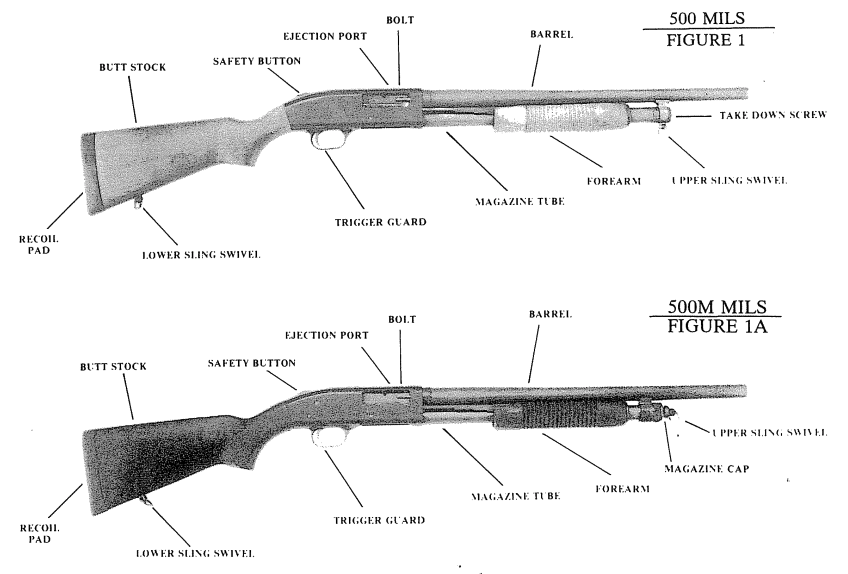 There is also the Mossberg 500A1 and 500A2. The A1 version features a heavy-duty barrel that's much thicker than the standard barrel. These guns have 17-inch barrels and feature an all-metal trigger and safety as well as a clean-out magazine cap.
With the 500A2, soldiers and Marines are getting what's essentially a 590 with a 16-inch barrel with a breaching muzzle device. There is also a Picatinny railed pump and six-position M4 style stock.
We can't forget about the 590A1, arguably the most beastly tactical shotgun ever created. Oddly enough, the 590A1s improvements came from the Navy. They wanted a bigger and better shotgun.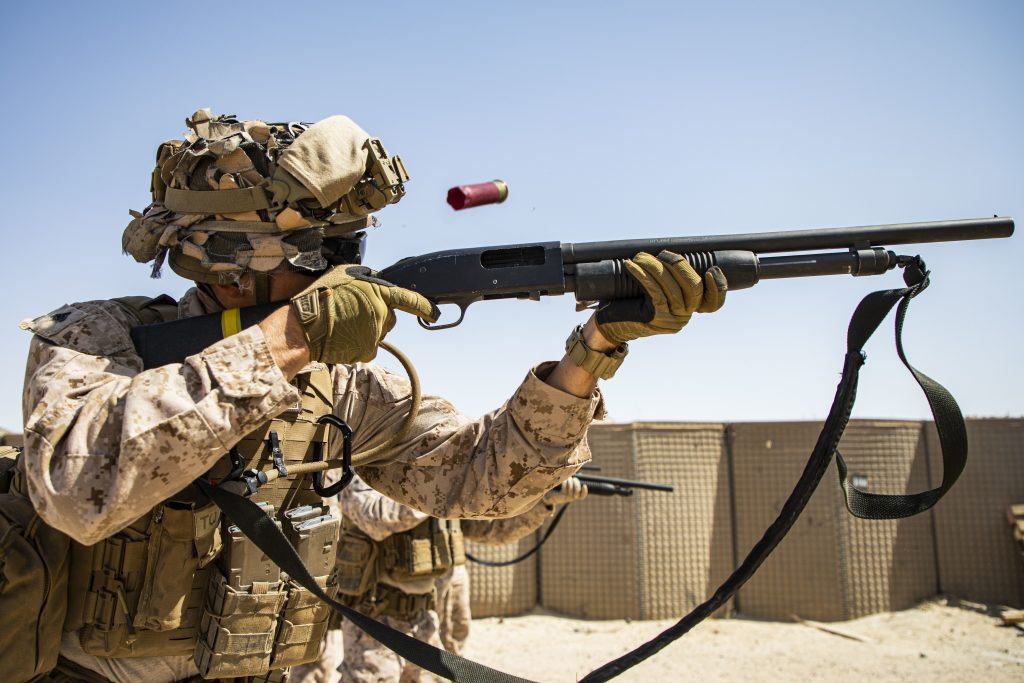 Ship doors are big and heavy and could bend thin barrels, so they wanted the thicker-walled barrel to prevent this. Additionally, a lot of these guns have heat shields, and most feature 20-inch barrels with 8-round tubes.
Don't forget the bayonet lug because if something is worth shooting, it's worth stabbing too.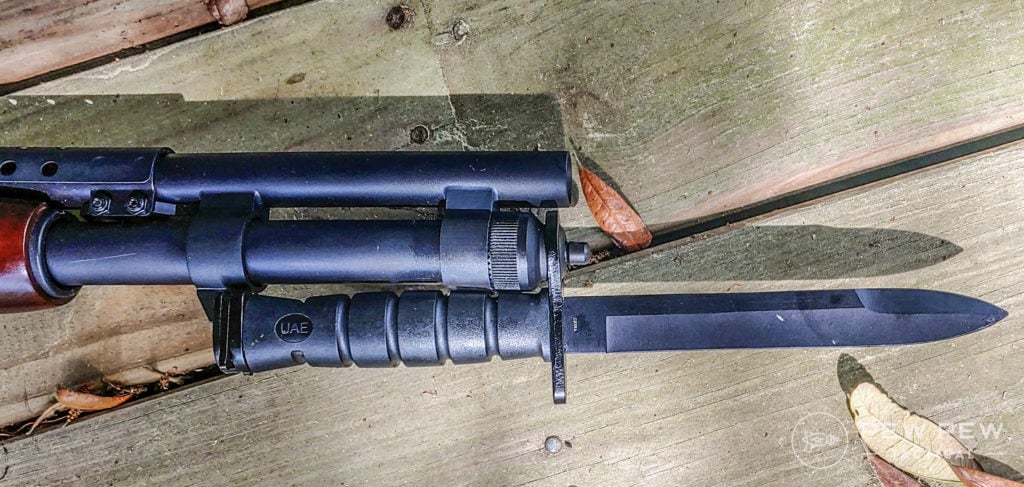 Steve Fisher of Sentinel Concepts once shared a nugget of knowledge about the 590A1s. They hold a much tighter pattern than other cylinder-bore guns. He theorized this was due to the multiple points of contact around the magazine tube, as well as the thicker barrel.
In my experiment, this is 100% true. My 590A1 holds a pattern almost 50% tighter than a standard Mossberg 500 with a MIL-SPEC buckshot load.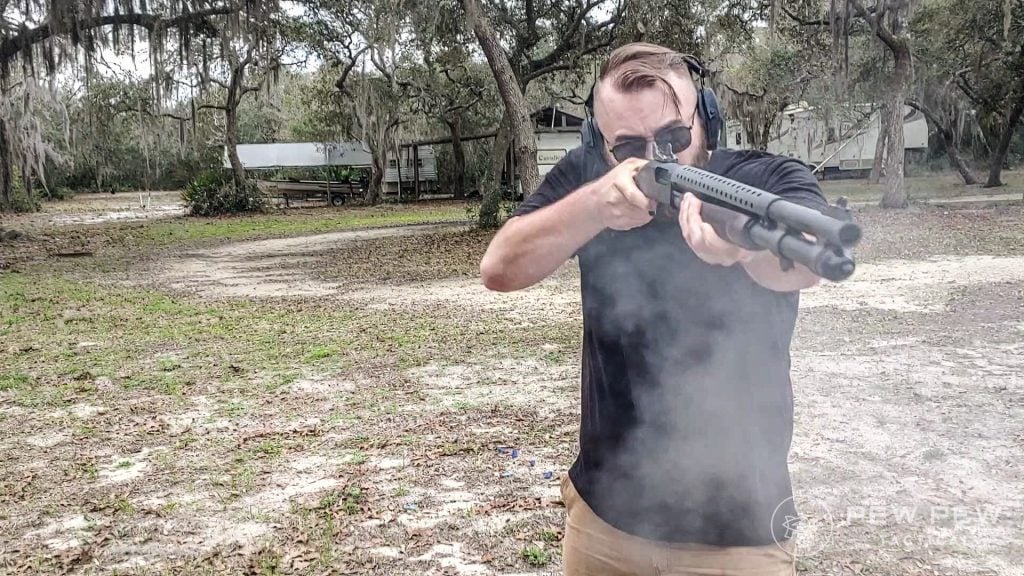 Most Popular Mossberg 500 & 590 Models
Besides the various military models, there are a number of different Mossberg 500 and 590s out there for various purposes, and here's a short rundown of the more common models.
500 Persuader
The basic riot gun version. It features an 18.5-inch barrel and a five-round magazine tube. Very light and very handy.
398
at Kygunco
Prices accurate at time of writing
Prices accurate at time of writing
500 Tactical
The now discontinued tactical model features an extended 7-round tube with a 20-inch barrel either with ghost ring or bead sights. These guns wore different furniture with everything from 6-position stocks and polymer forends to all Magpul models. 
465
at GrabAGun
Prices accurate at time of writing
Prices accurate at time of writing
500 Cruiser
Cruisers came with 18.5-inch barrels and five round tubes or 20-inch barrels and 7-round tubes. Cruiser designates a pistol grip-only configuration.
379
at Sportsman's Warehouse
Prices accurate at time of writing
Prices accurate at time of writing
590
Standard model 590s come with the clean-out cap, polymer safety, and trigger units, as well as bead sights. Capacities range from six to 8 rounds with 18.5 to 20-inch barrels.
419
at GrabAGun
Prices accurate at time of writing
Prices accurate at time of writing
590A1
The 590A1 features a 20-inch heavy-walled barrel, 8-round capacity, and either ghost ring or bead sights and a bayonet lug.
Best Pump Shotgun
701
at Kygunco
Prices accurate at time of writing
Prices accurate at time of writing
590M
The 590M series are your typical 18.5 or 20-inch 590s with a conversion to allow them to be magazine fed. The 590M series uses magazines ranging from 5 to 20 rounds. The standard model has a bead sight, and SPX has a set of ghost ring sights. 
Best New Range Toy
549
at GrabAGun
Prices accurate at time of writing
Prices accurate at time of writing
Shockwave
The 590 Shockwave series are firearms with 14-inch barrels, pistol grip-only stocks, and an overall length of at least 26 inches. These are not shotguns by law, but a non-NFA other.
Editor's Pick Not-A-Shotgun
419
at Palmetto State Armory
Prices accurate at time of writing
Prices accurate at time of writing
Final Thoughts
I could go on and on. Mossberg loves to make special edition guns, NFA variants, and more. They have at least guns with NSN numbers. However, I believe the above captures the variety of shotguns that fall into the Mossberg 500 and 590 families.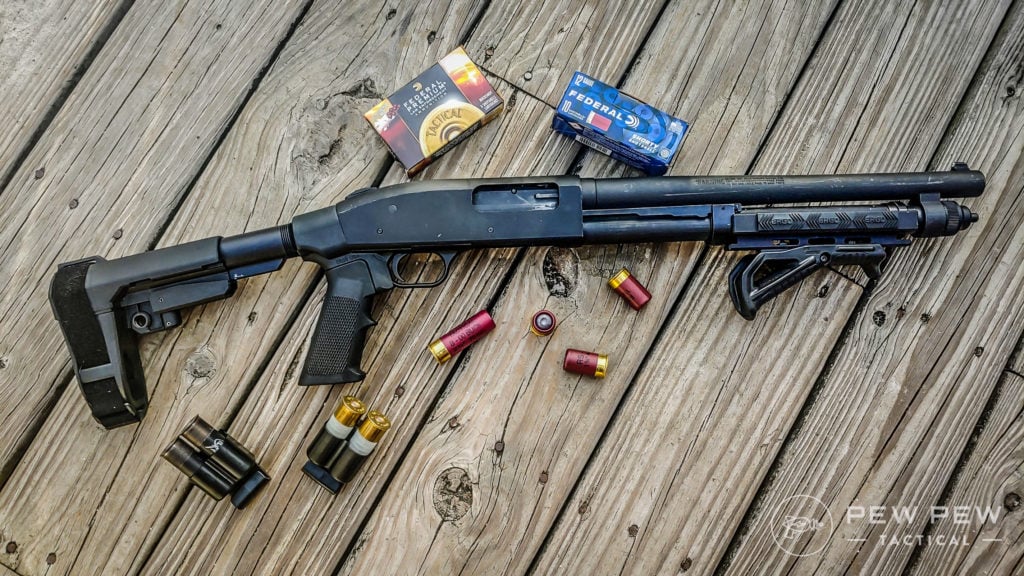 If you can dream it, Mossberg can probably do it. I hope we've cleared up the differences between the Mossberg 500 and 590 and explored the topic in depth enough.
If you have anything to add, feel free to comment below and let us know what's up! Need to upgrade your Mossberg 500 or 590? Check out the Best Upgrades we recommend.