Quick! Rock Island Armory…what's the first thing that comes to mind?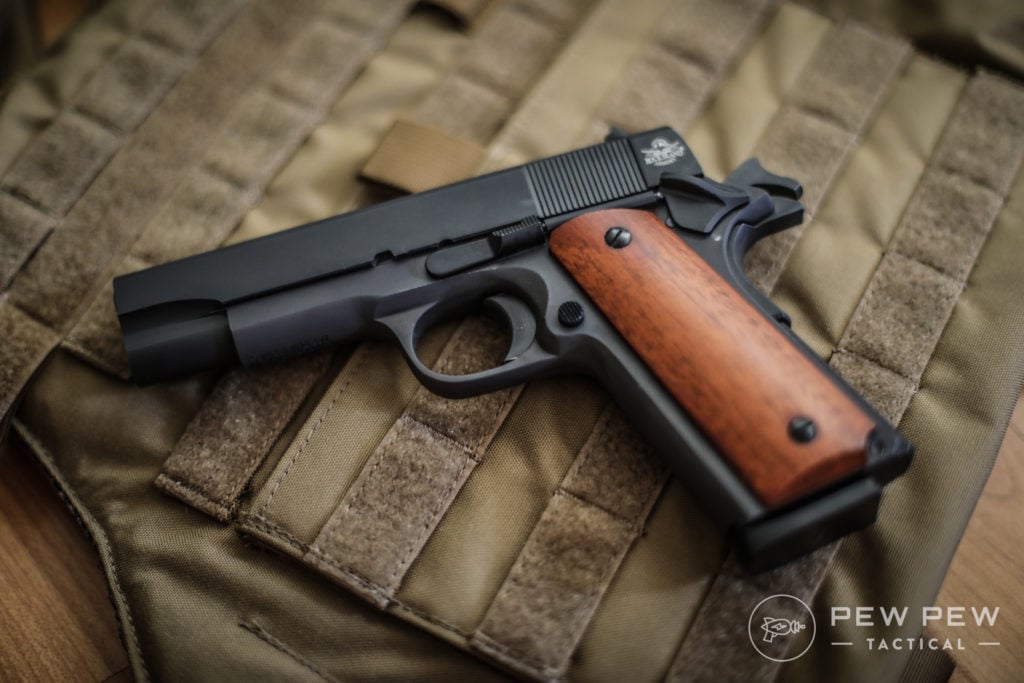 For me, it was…cheap 1911s.
And it's TRUE.
But in the best possible way.
Follow me as I put their sub-$500 GI Midsize 1911 through the ringer.
449
at Palmetto State Armory
Prices accurate at time of writing
Prices accurate at time of writing
Table of Contents
Loading...
Pros & Cons
Pros
Affordable at under $500
Reliable after break-in period
Decent Parkering finish
Cons
More recoil than a full-size 1911
GI sights (if you get the GI model)
More annoying method of removing guide rod
The Bottom Line
Great first 1911 if you want a fully functional and reliable one for under $500. But keep in mind there's some downsides and that you'll need some break-in.
Specs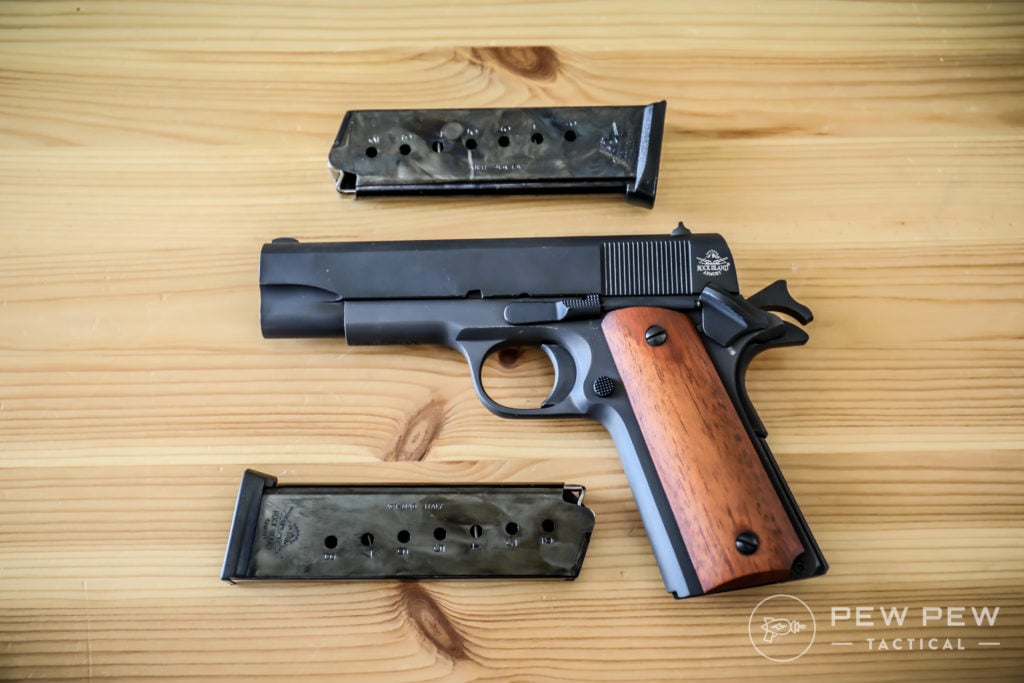 Action Type: Single Action
Barrel Length: 4.25″
Capacity: 8+1-Round
Cartridge: 45 Auto (ACP)
Finish: Parkerized
Front Sight: Fixed
Length: 8″
Weight: 2.38 lbs
Source: Rock Island Armory
The box is pretty bare bones…and I might have gotten an extra mag for testing.
35
at The Mag Shack
Prices accurate at time of writing
Prices accurate at time of writing
Background
Rock Island Armory (RIA) manufacturers their 1911s in the Philippines and passes on the savings to us.
When I ask people about RIA…words like "affordable" and "best-bang-for-the-buck" always come up.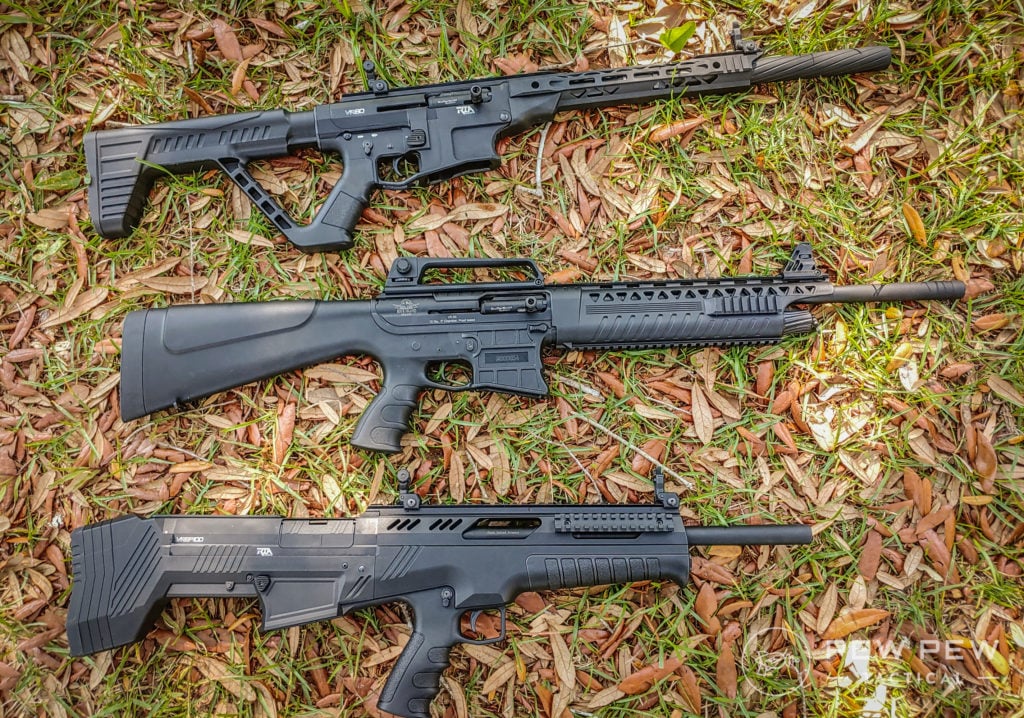 I've handled them in stores since it seemed all the local gun shops around me had them. But my first chance shooting them was at SHOT Show 2017.
And boy was it fun…especially with their 6″ competition 1911. Plus…they had one of the nicest crews out there.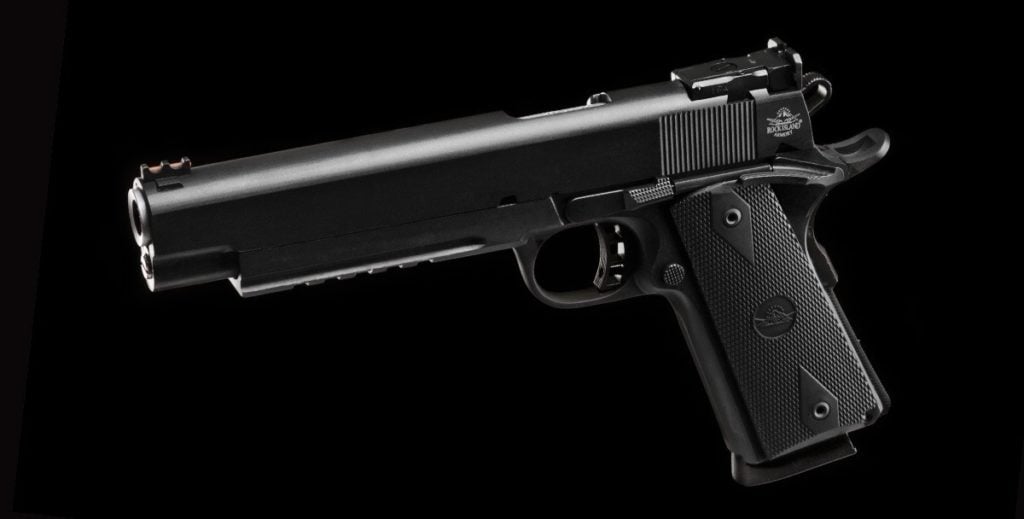 But since I'm mostly in California…I had less choice to choose a test gun. So I went with something out of the ordinary…a plain Jane GI (government issue) that faithfully reproduces what was issued as the WWII sidearm.
Except I chose the midsize which swaps out the full size 5″ barrel for a 4.25″.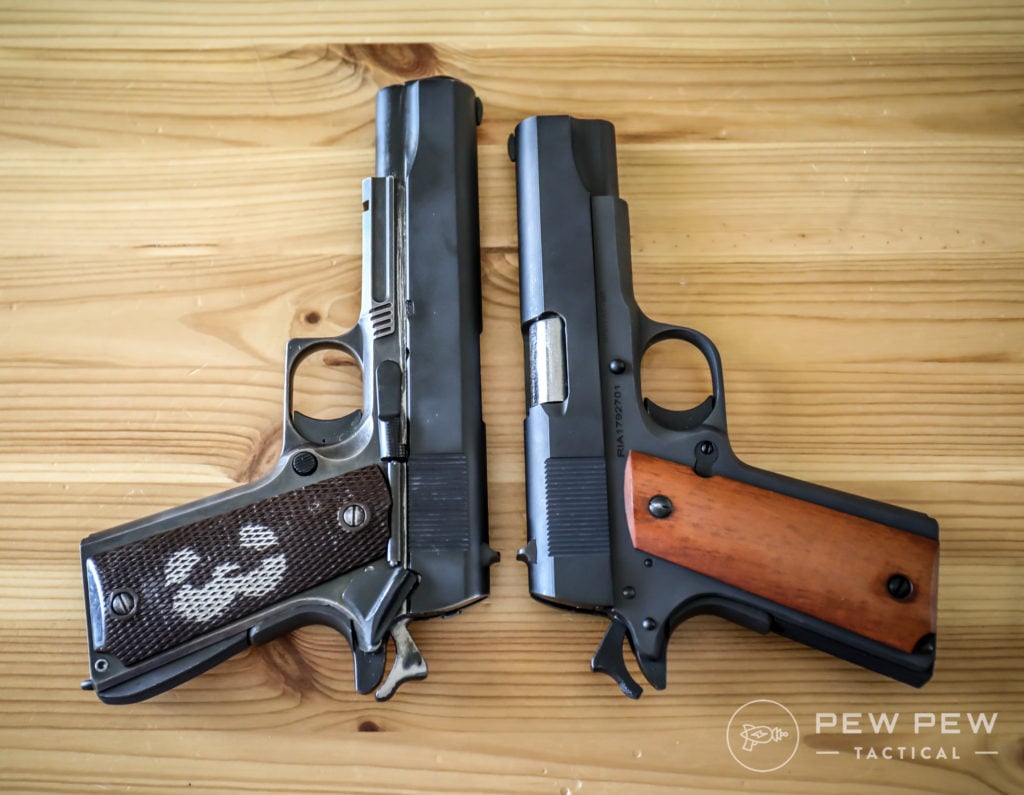 Who Is It For?
If you're looking at a pretty faithful reproduction of the first generation of 1911s…you can't go wrong with Rock Island. The midsize is the original "commander" size.
Or if you just really want a 1911 but don't have a lot of cash…the GI is a great place to start.
Fit & Feel
Of course, when most 1911s are much more expensive (check out our Best 1911s article), you're going to have to cut some things.
The parkerizing (black coating) was great and I couldn't find anything that was too thick or too thin.
But you can see the machining marks at some angles…like at the curve of the slide top.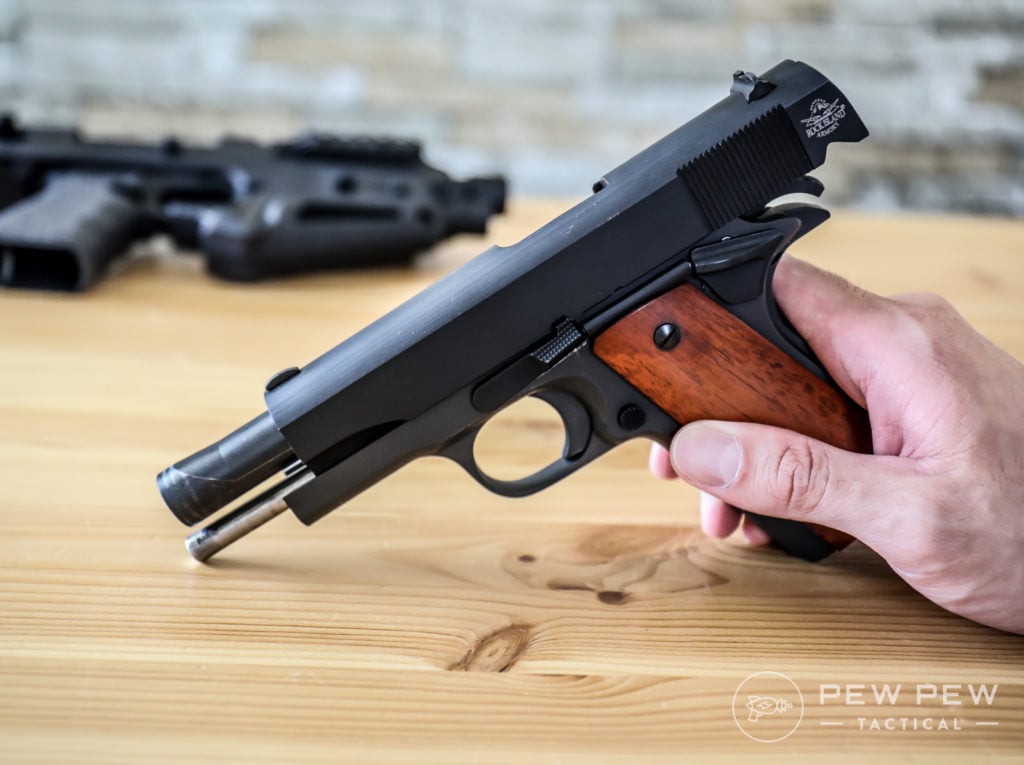 And personal gripe…it doesn't have a bushing to contain the barrel and recoil rod so instead they have a thicker barrel that requires a paperclip to remove. Lots of YouTube videos on it though…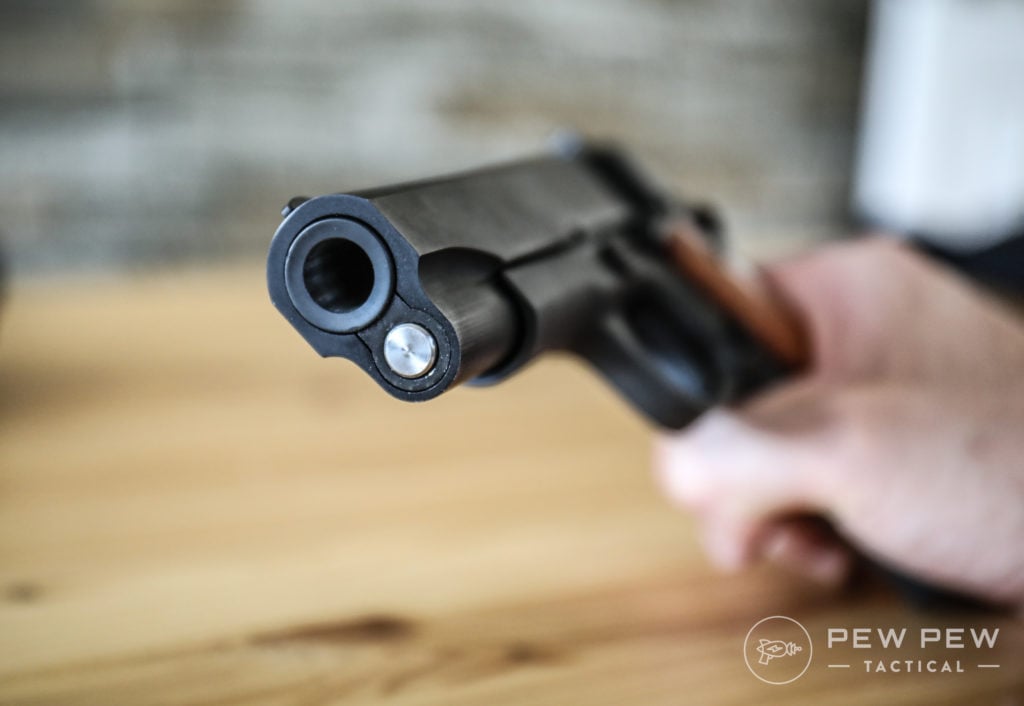 And since it's a GI model…they have GI sights. Low profile and easy to draw out…but not the best. Still…lots of options to switch them out afterward.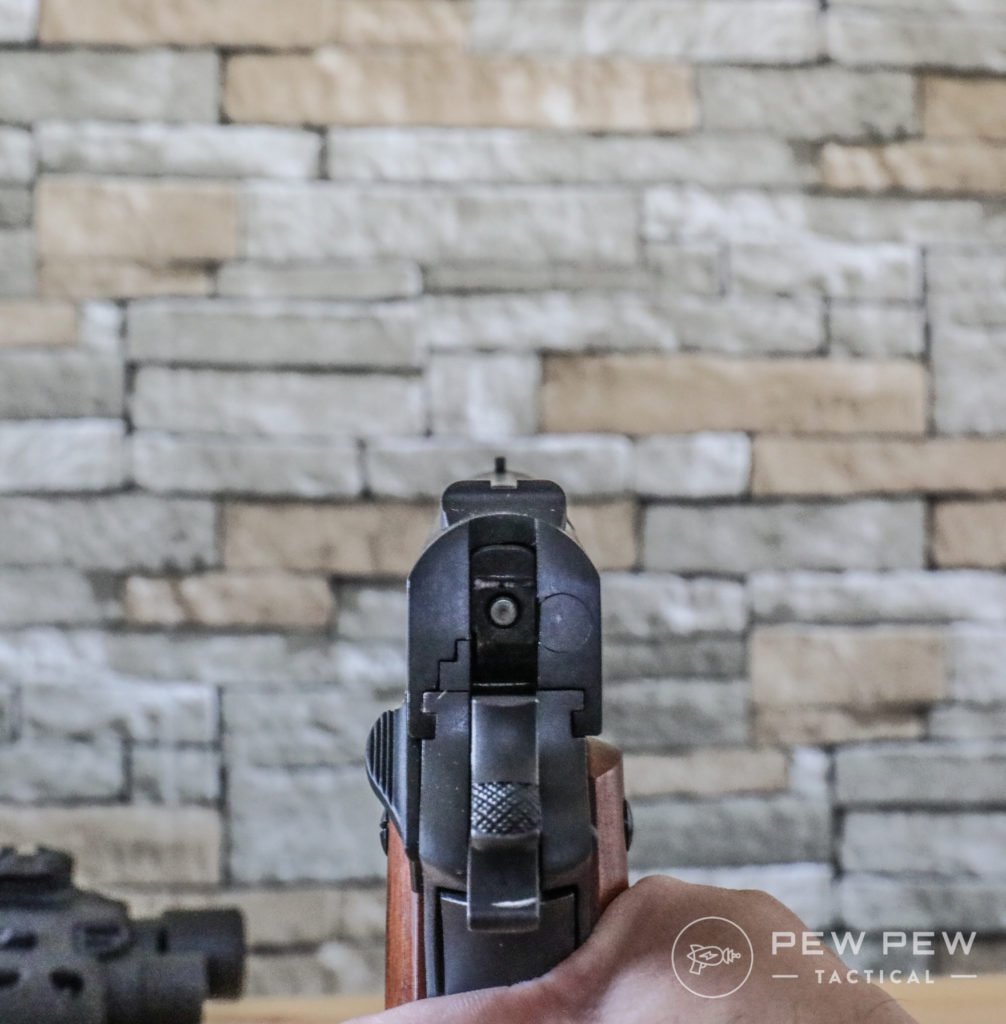 How about the trigger?
On this RIA…it was awesome. It averaged 4 lb 11 oz and with a glass rod clean break. Note…the other RIA's I've tried at gun stores were not this good.
Not saying that they polished up my trigger or anything…but it was better than my $1000 Springfield after I did a quick 1911 trigger job so it could be luck of the draw.
How Does It Shoot?
The .45 ACP round has some kick (Best .45 Ammo for Plinking and Self Defense). And when you have a shorter barreled handgun…you're going to feel it more.
So I expected it.
It wasn't excessive…but it wasn't fun either. I don't think I could shoot more than 100 rounds in one range session.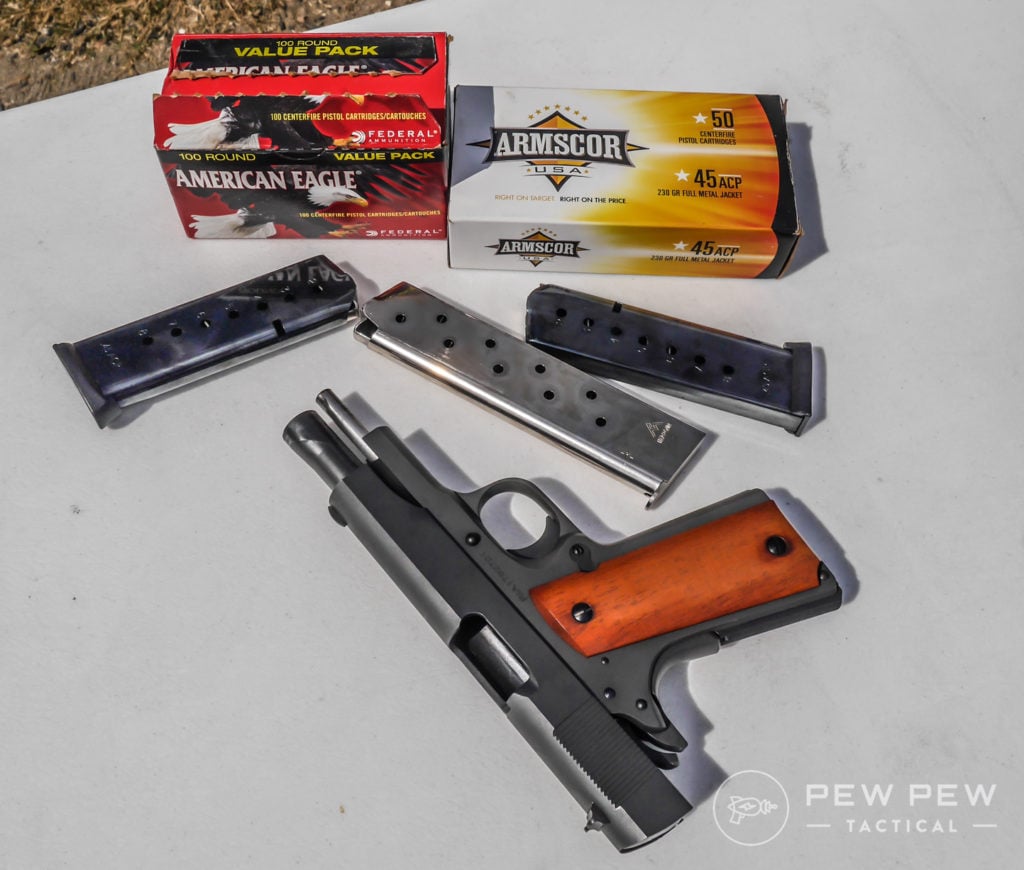 Accuracy
Now how about the accuracy? I shot some Armscor .45 ACP along with some American Eagle at 10 yards off a benchrest.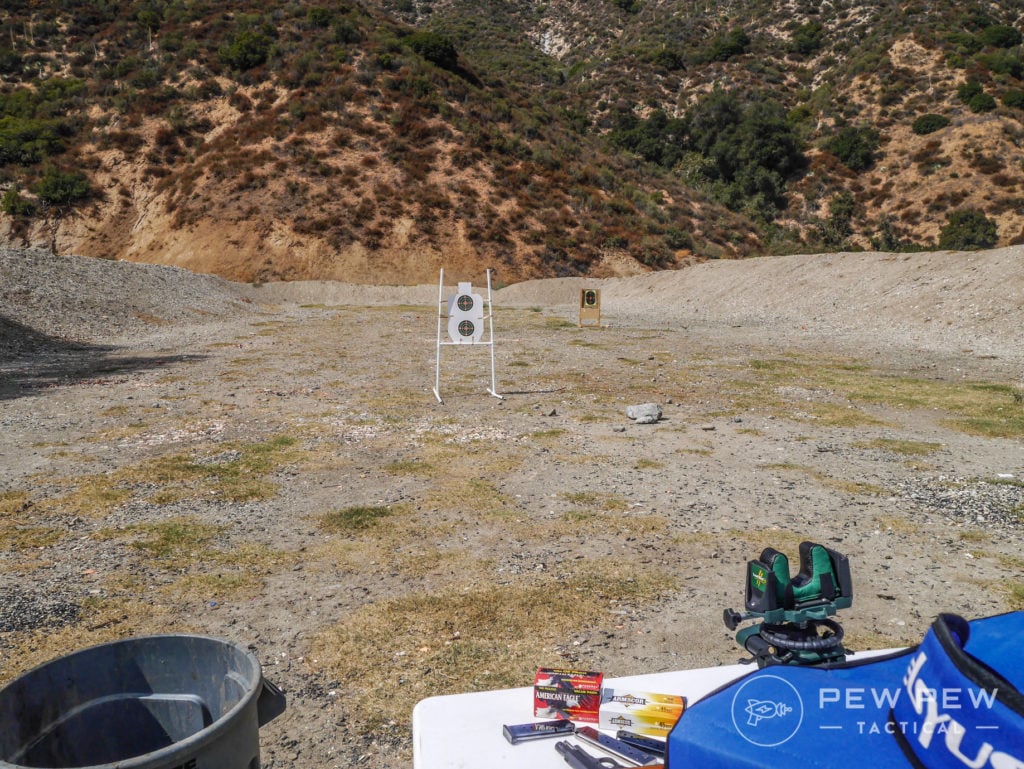 Here were the results of the Armscor and I'd estimate at 3 MOA.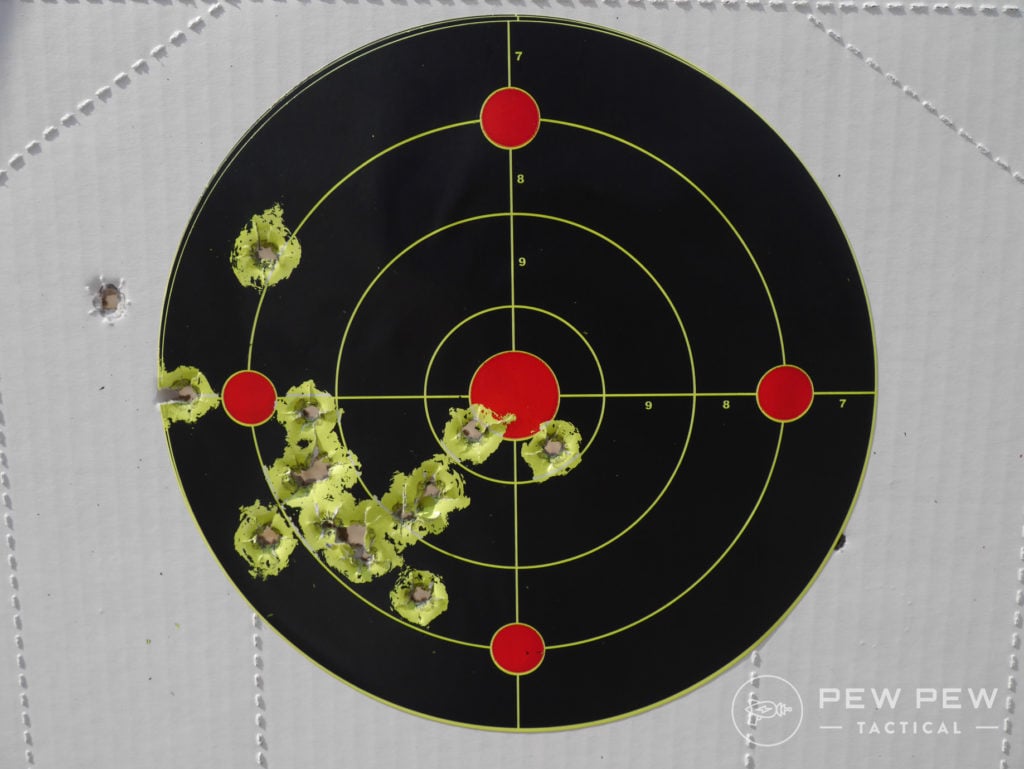 And the American Eagle with roughly the same results of 3 MOA.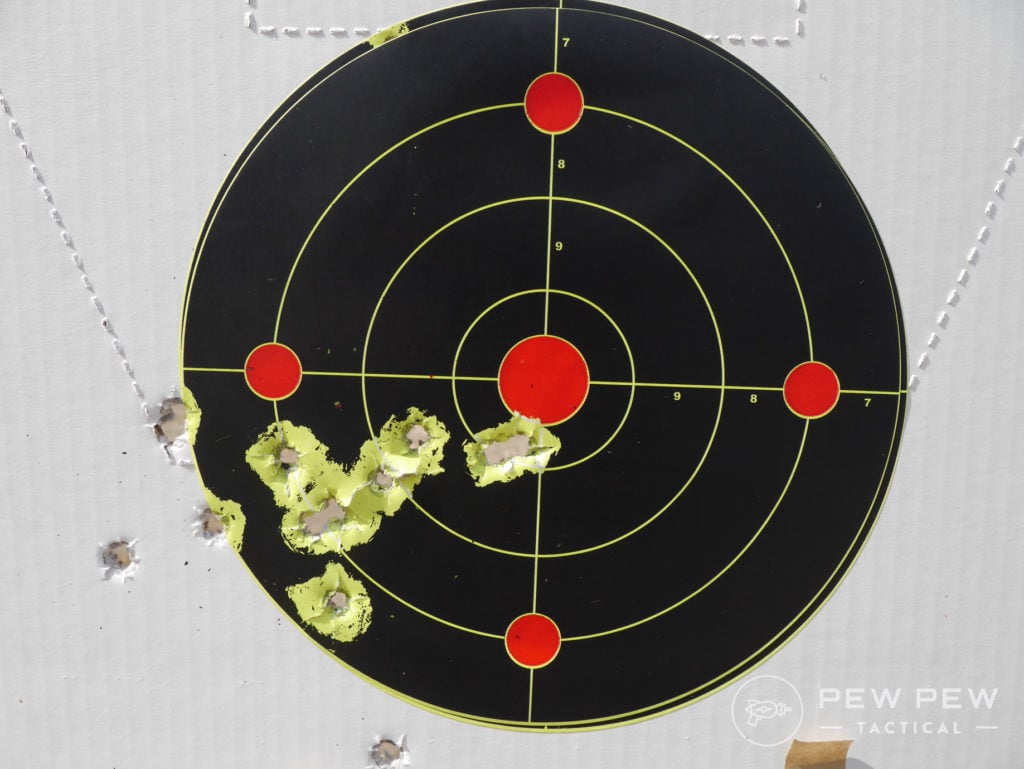 Pretty respectable and definitely minute of badguy.
Best .45 ACP Range Ammo
34
at Palmetto State Armory
Prices accurate at time of writing
Prices accurate at time of writing
I had 3 other friends shoot it and they all had it go towards 7 o'clock…so it wasn't me flinching. If you need to brush up on some handgun…check out our Ultimate Guide to Shooting Accurately.
Recoil/Shootability
I'd estimate recoil was 30-40% more than a full size 1911 shooting the same rounds. You're going to feel it.
And for two of us (hi Ryan)…we experienced some "biting" from the GI hammer and beavertail due to our very high grips. It's just what happens from the design.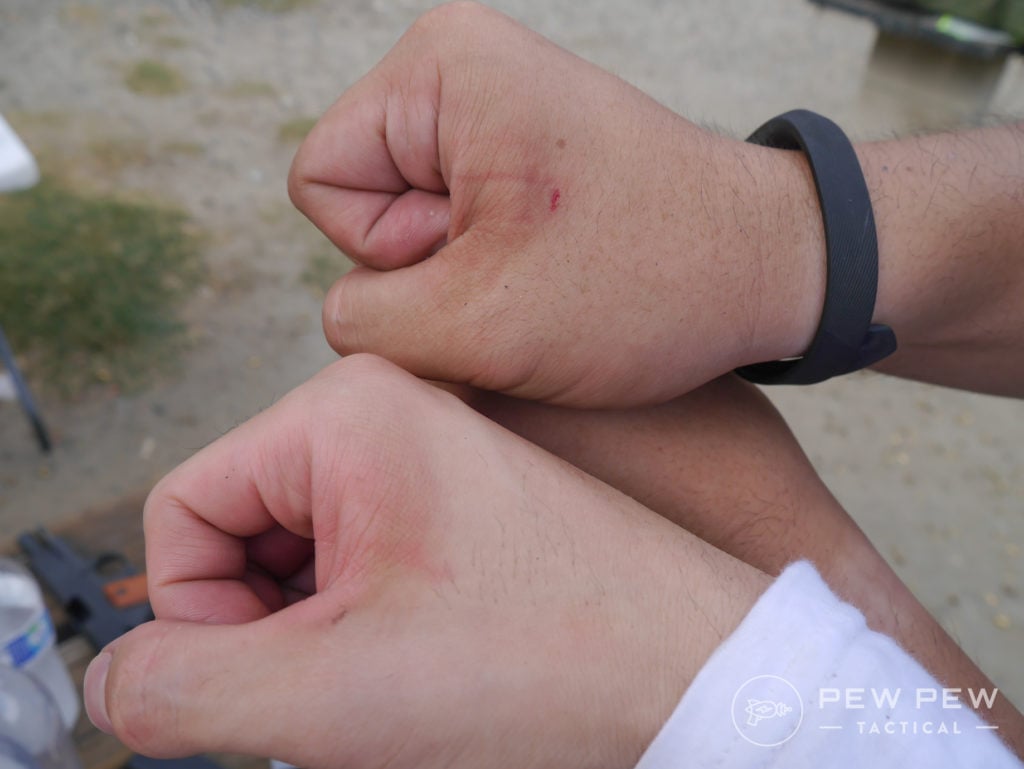 And afterward…I realized the hammer was indeed hitting the top of the beavertail. It made a decent dent in the metal itself.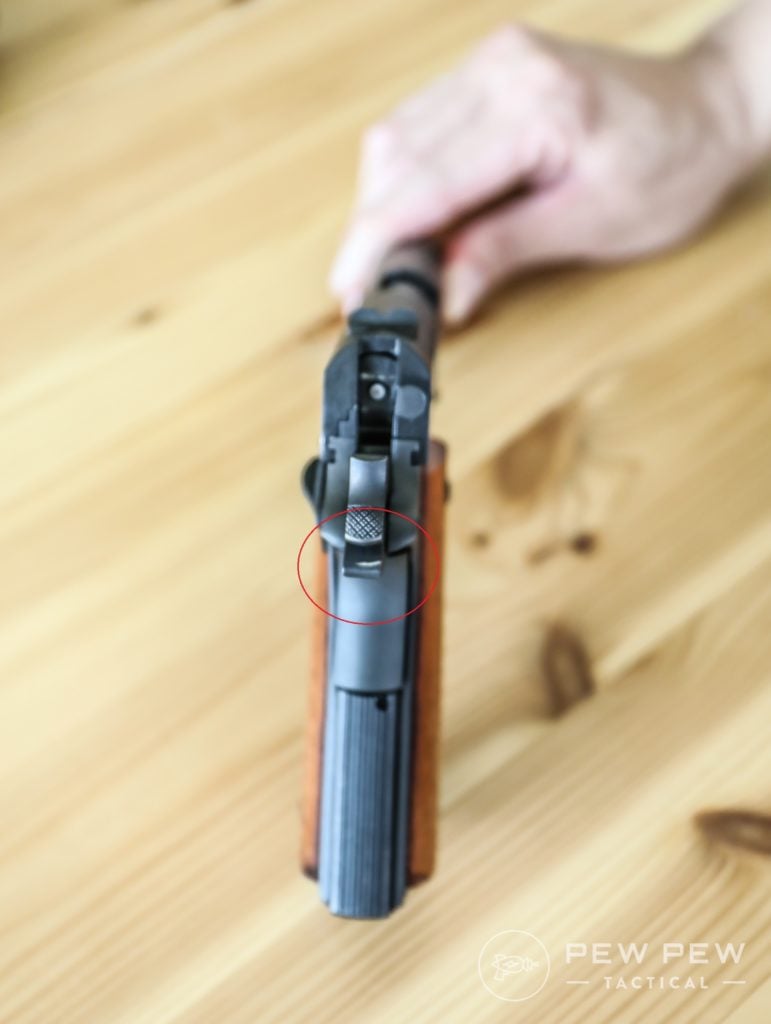 Reliability was great after a 50 round break-in.
For the first few mags, I had some double-feeds. But once I loaded up the mags (a mixture of factory and Mec Gar 8 and 10 rounders), and left them overnight…the 2nd range trip was flawless.
What Sets It Apart?
We've gone through this a bunch…the price! Where else can you get a full 1911 for under $500 from a reputable company that stands behind their product?
By the Numbers
Reliability: 4.5/5
Some reliability issues in the beginning but fine after 50 rounds and magazine break-in.
Accuracy: 3/5
It's not the barrel or the handgun…it's the standard GI sights.
Ergonomics: 4/5
I love the feel of 1911s and this captures that. The shorter barrel is also easier to move between targets. But the hammer bite kind of sucks.
Looks: 4/5
Great parkerizing and you have to really nitpick to see the machining marks. But remember…it's under $500 for a reliable 1911!
Customization: 5/5
It's a 1911 so the sky is the limit. Check out our Gunsmithing section for ideas.
39
at Rounded Gear
Prices accurate at time of writing
Prices accurate at time of writing
Bang for the Buck: 5/5
Again…it's a reliable 1911 for under $500!
Overall Rating: 4/5
Upgrades
As it comes in the GI model there's not too much you can do. But it's still a 1911 and if you end up with another model you can check out our Best 1911 Upgrades article.
However with a standard GI you're still able to add some gizmos…check out our guide How to Add Lights & Lasers to Your Unrailed 1911.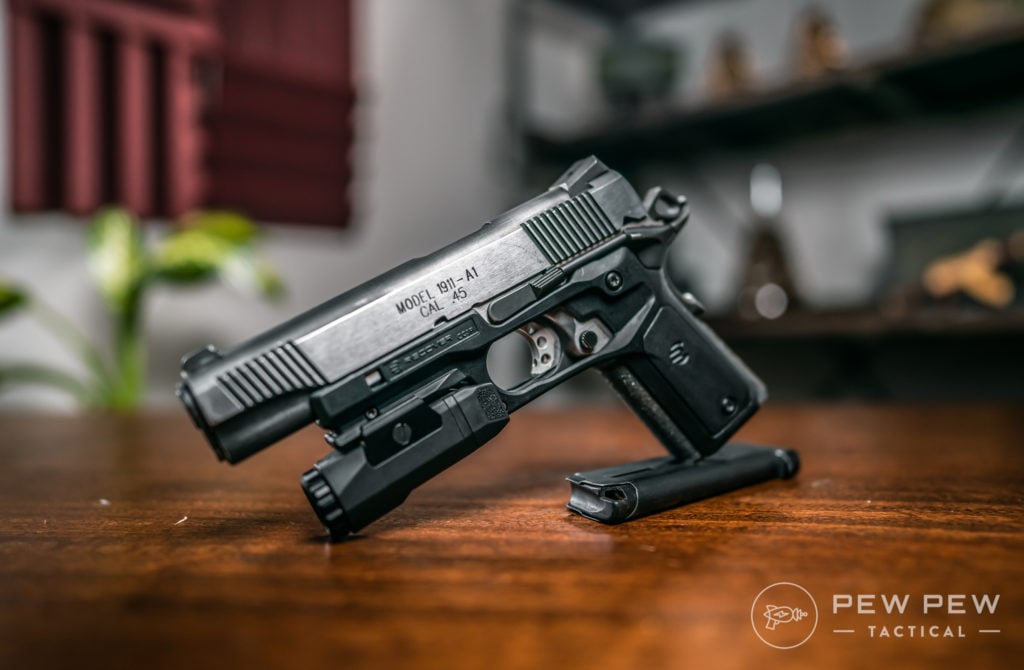 Oh…and of course you can never go wrong with more 1911 mags…check our our favorites.
35
at The Mag Shack
Prices accurate at time of writing
Prices accurate at time of writing
Verdict
The Rock Island 1911 is a great starter-priced 1911 around $500 that maintains the look of a standard GI model with decent parkerizing and surprisingly good trigger. But beware of some initial break-in, potential for hammer bite, and terrible GI sights.
So…am I purchasing the RIA 1911 GI Midsize?
449
at Palmetto State Armory
Prices accurate at time of writing
Prices accurate at time of writing
No…but if I could get one of their full-size Tactical 1911s…I totally would.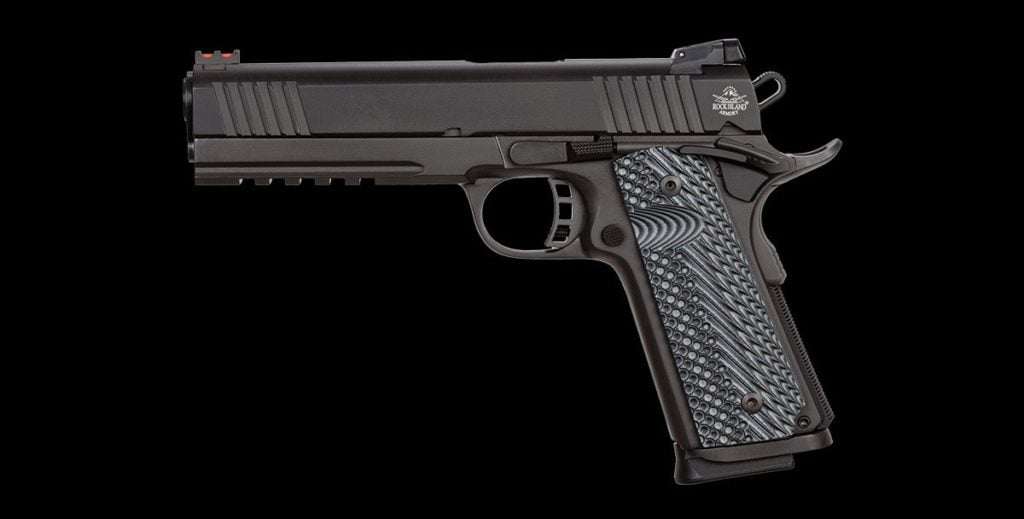 For about $100 more you'll get a rail, better sights (fiber optic), and a more robust beavertail (bye bye hammer bite).
With the test of the GI Midsize…I'm sold on the quality and reliability of RIA. And also learned that midsize is not for me.
449
at Palmetto State Armory
Prices accurate at time of writing
Prices accurate at time of writing
Do you have a RIA…or are you planning on getting one now? Let me know in the comments! Check out more of our favorite 1911s in Best 1911 At Any Budget.