What is it about the Beretta 92 series of pistols that make them so damn popular?
You could argue that they became popular because they were one of the first "wonder 9s."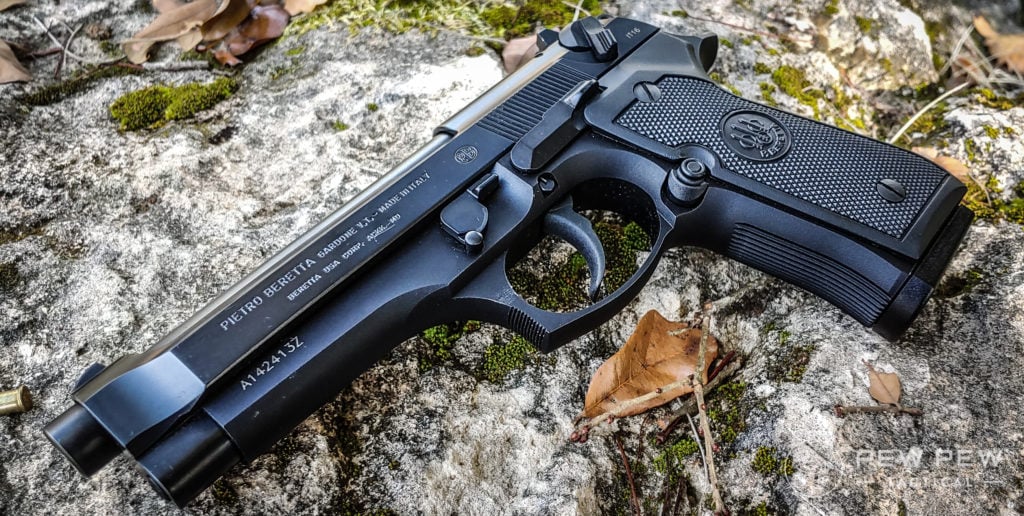 That's true, and they were one of the first Wonder 9s that gained wide acceptance.
The Glock 17 premiered years earlier, but the refusal to accept polymer frame guns helped the Beretta gain massive popularity.
It's 2019, and every gun is a "wonder 9," but the Beretta 92 keeps chugging along, coming out with the new M9A3. The popularity could be due to the military's adoption of the famed pistol. However, the Beretta faced a lot of opposition there too.
Get ready for a review that's been YEARS in the making.
Table of Contents
Loading...
Haven't I Seen It Somewhere?
Being the first 9mm handgun adopted widely by the United States military and following in the famed footsteps of the M1911 isn't an easy task. It certainly gained the hate of lots of people who wanted to validate their love of the M1911.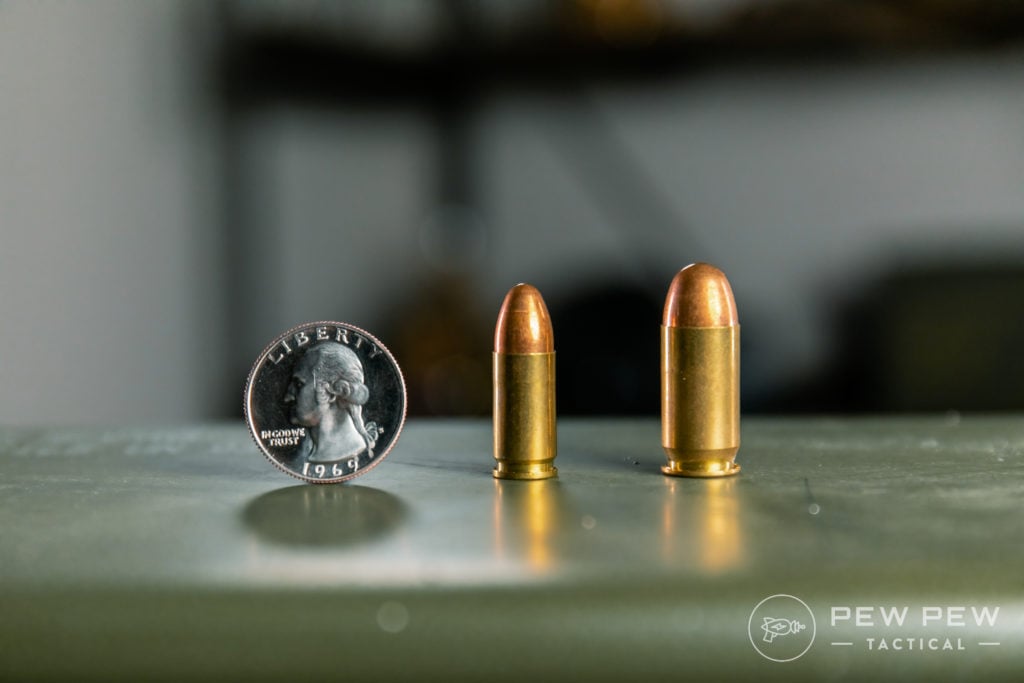 There is just something about the Beretta 92, specifically the 92FS and F series that people love. I know I do, and have always loved the Beretta series. My reasons are likely the reasons lots of people fell in love with the Beretta
Those reasons are simple, and I'll list them here.
Bruce Willis in Die Hard.
Chow Yun-Fat in A Better Tomorrow
Mel Gibson in Lethal Weapon 1 through 4
Jean Reno in the Professional
Flanery and Reedus in Boondock Saints
Keanu Reeves in The Matrix
Nicolas Cage in The Rock
Even Christian Slater in Kuffs makes this list.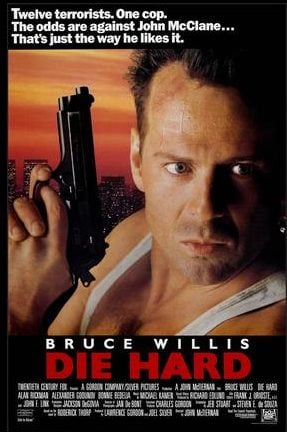 The list can go on and on and on because this gun has been in so many movies and TV shows, video games, and even Animes. However, in the hands of the heroes in legendary films like John McClane in Die Hard and Riggs in Lethal Weapon, the gun became legendary.
It's on the cover and poster for Die Hard, on three of the four covers for Lethal Weapon, and it's even on the poster for Pulp Fiction, even though it's not in the movie.
Believe it or not, Bruce Willis and Mel Gibson both shared the same prop Beretta in their films.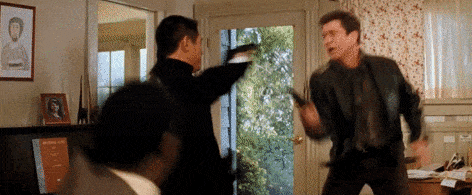 The Beretta 92FS has an eye-catching design that sets it apart from nearly every other handgun out there.
The unique slide with the exposed barrel is a Beretta trademark and gives the gun that superbly distinct look. It looks amazing, and even today it sits apart from the current mass market of polymer-frame striker-fired black guns.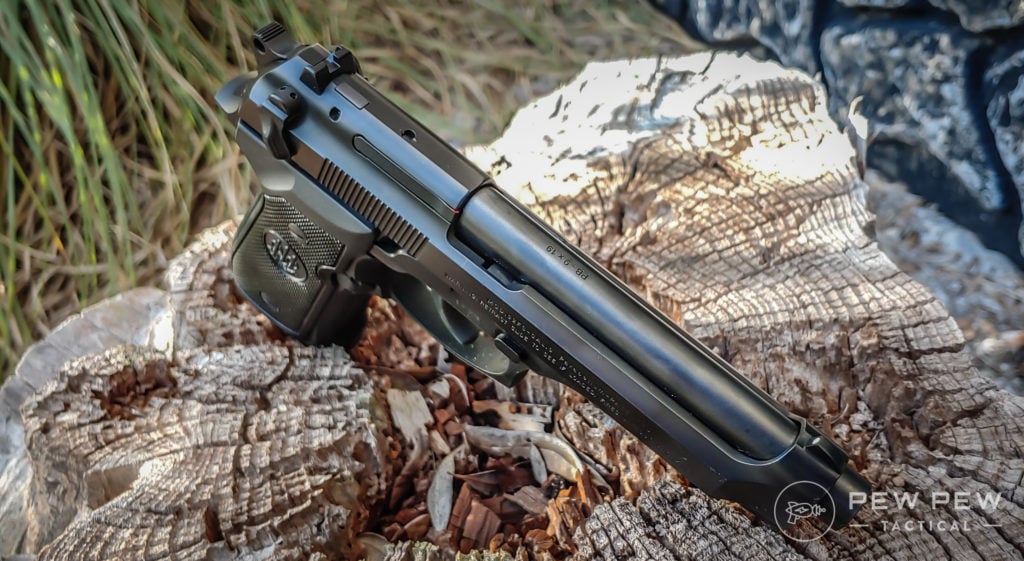 The thing is the gun looks good, but how does it function? That's what we are going to talk about today. My experience with Beretta includes my time as a Marine with the M9, and now I have a 92FS.
Some Size Numbers
The Beretta 92FS is a big gun, and when it came out, it indeed held lots and lots of bullets. The Beretta is a chunky full-sized pistol designed for duty. The Beretta holds 15 rounds in the standard mag with magazines going up to 30 rounds.
The Beretta 92FS in 8.5 inches long total and has a 4.9-inch barrel. The gun weighs a mighty 34.2 ounces empty. It's a big fella, and if you are trying to carry IWB, then it might be an issue. As a gun built for duty, then the weight and size isn't a big deal.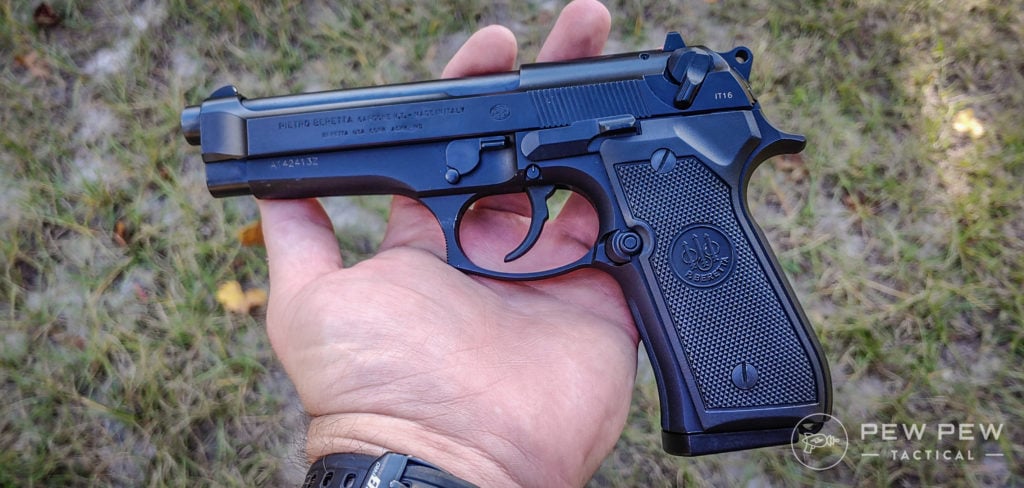 In fact, it's an advantage, but more on that later. The Beretta 92 series have tons of different models out there, and the line up is still expanding with the new X series. The 92FS is the most popular model, and it's what the military adopted as the M9 in 1985.
The Beretta 92FS is 9mm only, with the 96 being a .40 S&W caliber variant. The 92FS features the slide-mounted safety with decocker. The trigger guard is squared slightly, and the gun comes in a number of different finishes, including the two-tone Inox and all stainless models.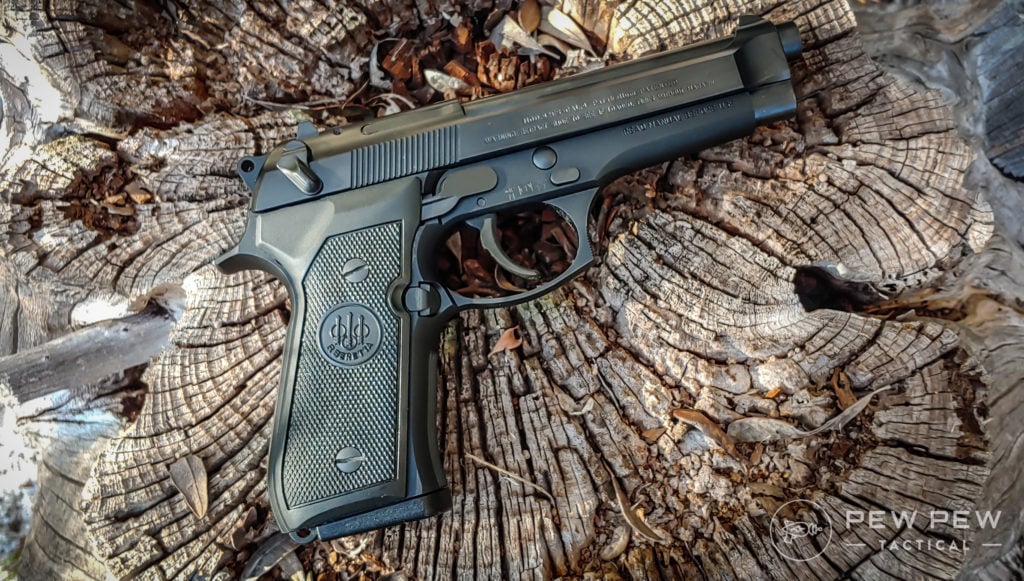 This model is the classic all Bruniton black 92FS, and it does lack the modern rail attachment so you cannot add a weapon light. The M9A1 and M9A3 systems were massive improvements over the original, and the presence of a rail for a light is nearly mandatory for modern guns.
Recover Tactical does have a rail system that replaces the grips and adds a rail to your gun. I have one for my 1911, and I'm surprised at how easy it is to use and how well it works. I have no issues suggesting one for the Beretta.
Ergonomics
The Beretta is a mixed bag ergonomically. The safety/decocker is often a common complaint, and it's one weakness I see with the gun. When it comes to manual safeties on DA/SA guns, I simply don't see the point.
I prefer the SIG method of using a decocker only. The 92FS can be converted to a 92G, and I suggest that. The reason the safety sucks is because it essentially takes a long reach to deactivate.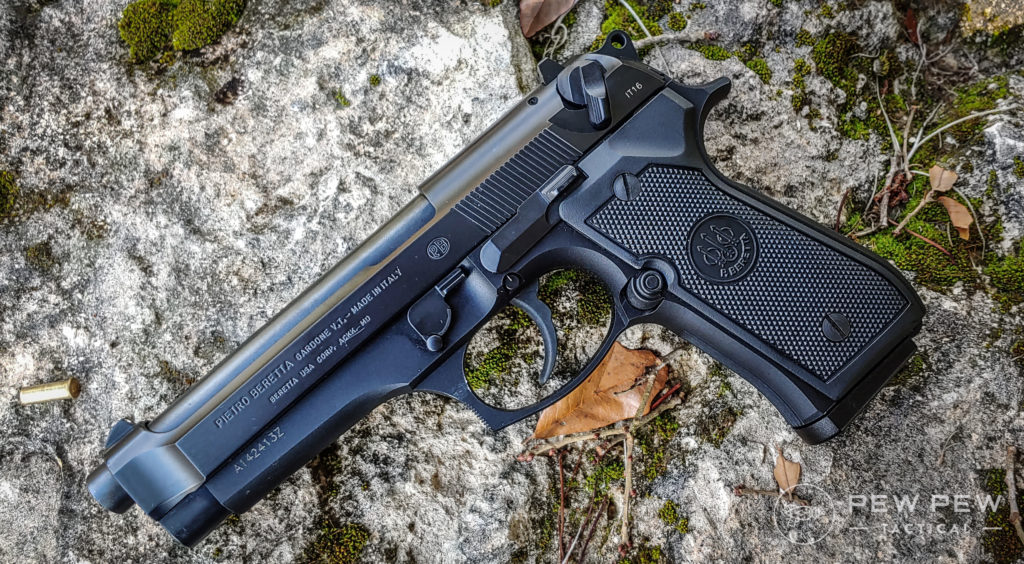 When drawing the weapon the biggest challenge is deactivating the safety and getting a shot on target with any kind of quickness. In my practice with the weapon it is very slow and easier to keep the gun decocked with the safety off.
The safety and decocker are entirely ambidextrous, and the gun gets points for that. The magazine release is also reversible for lefties, which is another nice touch.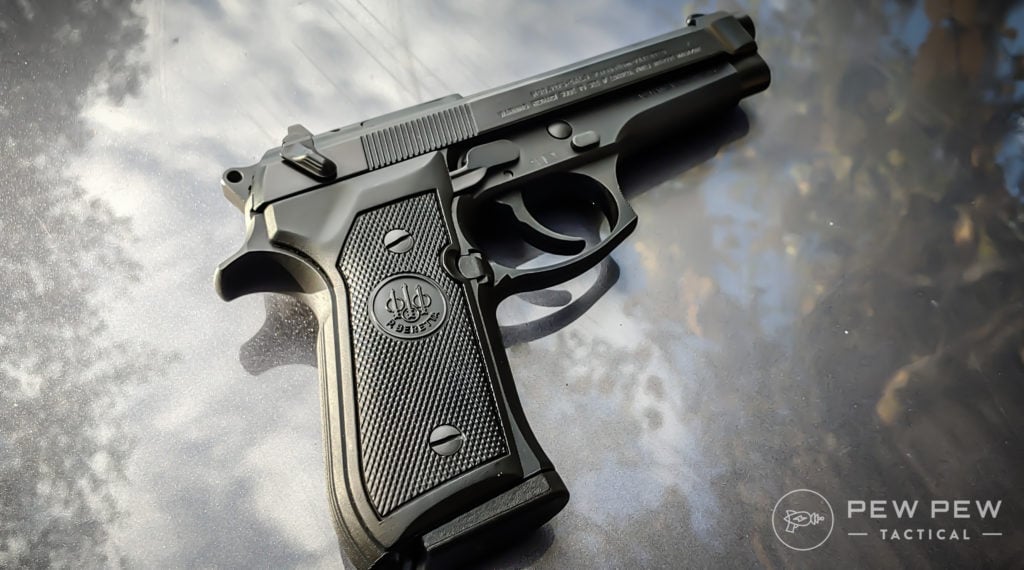 Another complaint I've heard is the combination of a wide grip, and a long trigger reach makes the gun hard for those with small hands to use.
I have big hands, but as someone who taught Marines how to shoot a handgun, I've seen new shooters of all sizes use the Beretta without issue.
But as a personal gun, a set of thin grips can really help. The Wilson Combat G10 Thin Grips are amazing for this.
75
at Brownells
Prices accurate at time of writing
Prices accurate at time of writing
The 92FS is a very comfortable gun to hold. The rear of the grip accommodates a small 'beavertail' which keeps the hammer from striking your hand and provides a good measure of control over the gun.
It allows you to assume a nice, high grip without worrying about hammer or slide bite, and if you've ever experienced either, you'll know how valuable this nub is.
Even the cheapo plastic grips that Beretta utilizes are very grippy and well made. Outside of the safety, I can reach the controls without much movement of my hand.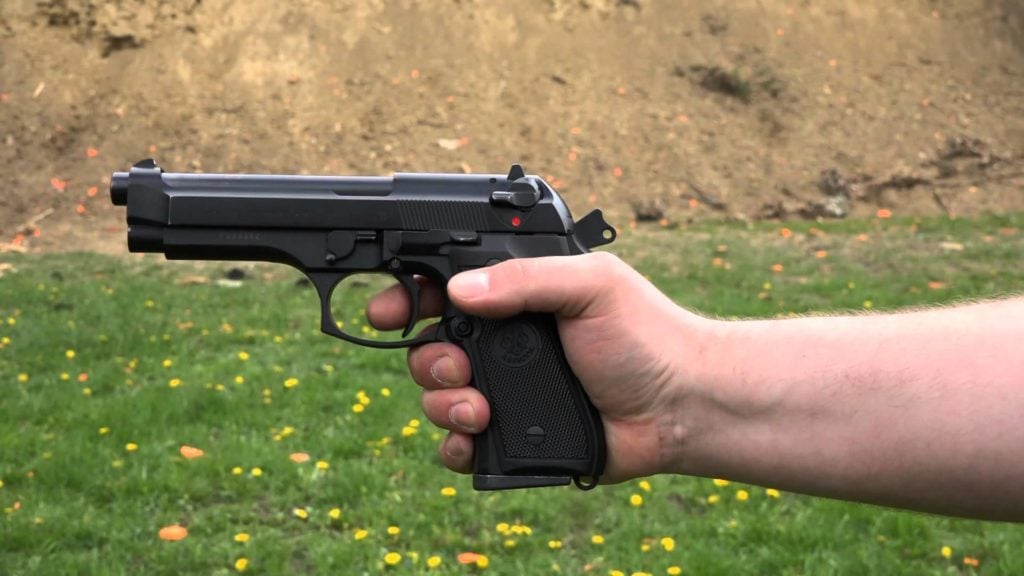 The magazine release is placed very effectively for an easy reach, and it's quite large and easy to find. Even when wearing gloves, I could still find and use Beretta's magazine release. Beretta also textures the magazine release with a circular-cut that engages your magazine release finger.
This circular design makes it easy to engage without sticking out like a sore thumb.
The slide lock is also one of the most well placed and designed. It's not hesitant about being big and beefy. In a world where Glock and SIG make huge handguns with subcompact slide locks, Beretta says "Naw" and goes big.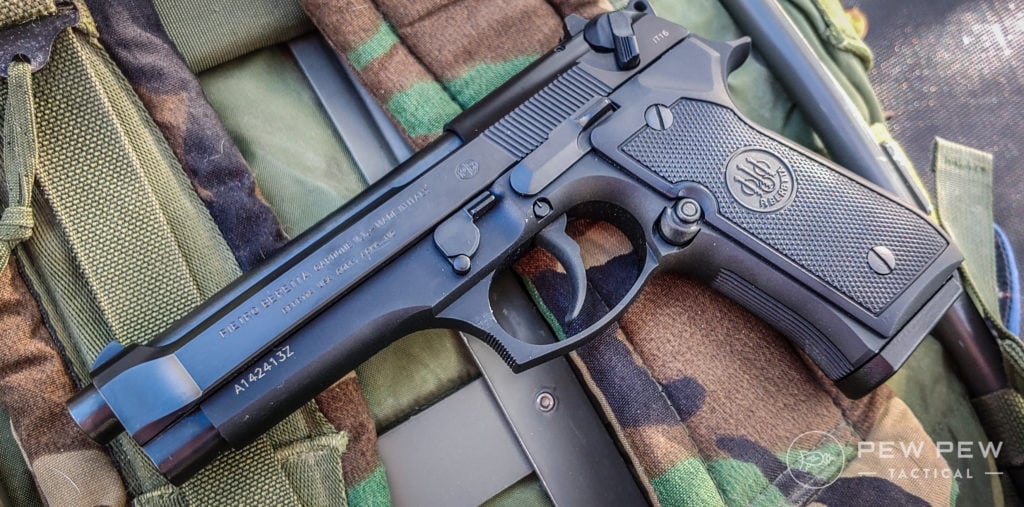 The slide lock is a big honking lever placed for easy engagement to both lock and drop the slide. My thumbs will disengage most of these locks in a firing grip rendering them useless, but not the Beretta's. It remains effective in my mighty paws.
The Open Slide Design
Admittedly one of the coolest factors about the Beretta 92FS and most of their guns ranging from 22s to 40 S&W is the open slide. This design isn't just about looking cool or unique, and it's actually a practical design.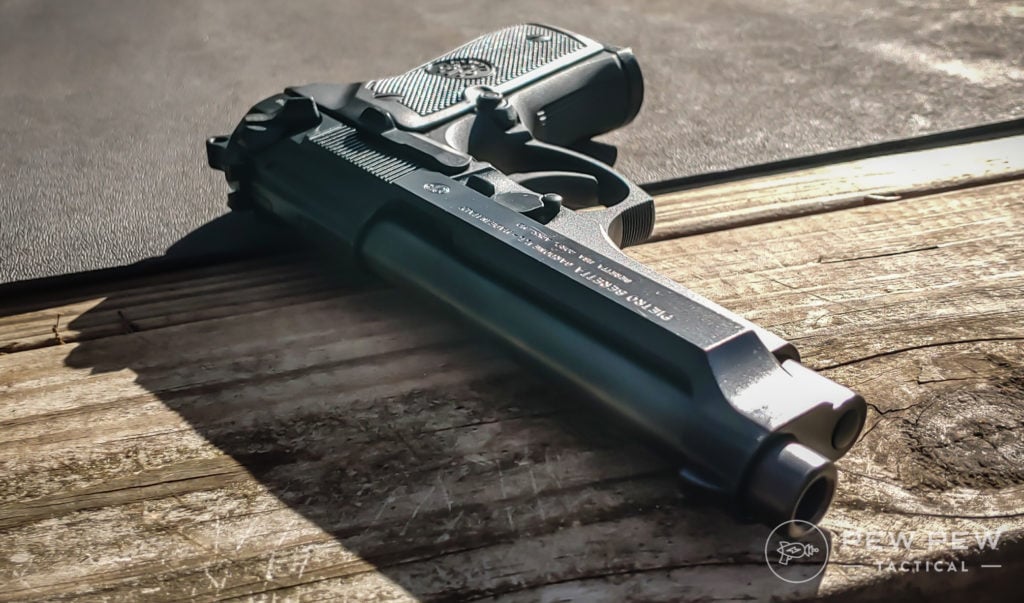 The first advantage is the reduction in weight. On a semi-auto handgun, the weight of the slide moving back and forth causes more felt or perceived recoil. Less slide mass means less mass moving around.
There is also a simple reduction in how heavy the weapon feels when aimed or carried, of course. The open slide also ensures the world is your ejection port, and there is a minimal chance for a round to fail to eject.
The open slide design also gives more direct access to the chamber in the rare event there is a failure. It's quick to fix with the max room possible to maneuver your hands to free an error.
This does mean the barrel can pose a little more risk of burning you because there is nothing between the barrel and your hand like a slide, but it also cools faster. I've never burned myself with a Beretta, and I doubt many other people have either.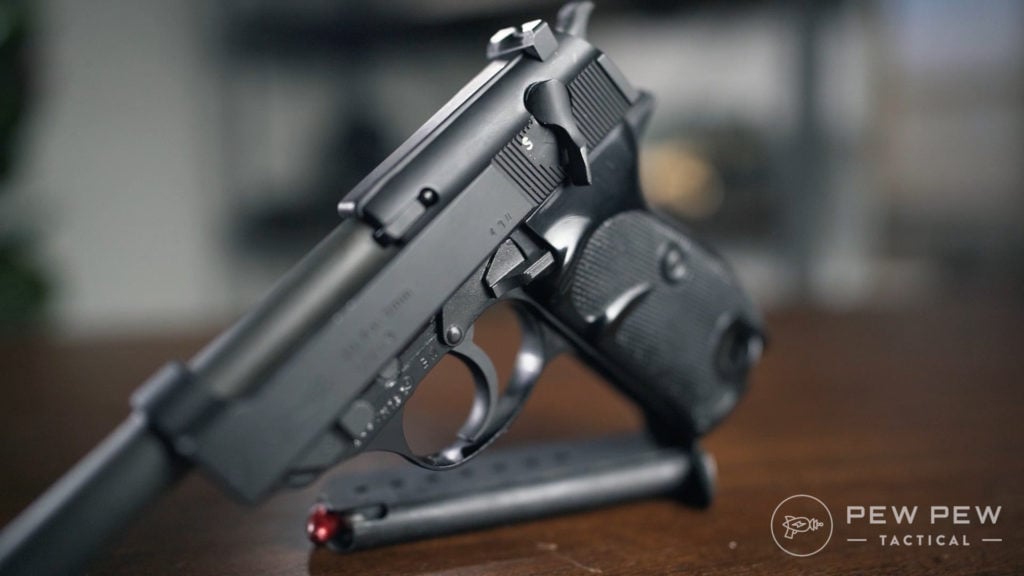 For a cool bit of firearms history, this design comes almost straight off of the Walther P38 of WWII fame. In fact, a lot of design elements of the P38 can be found in Beretta pistols and the 92 series in particular.
On The Range
Shooting the Beretta M9 is a real joy. The first time I ever taught structured firearms instruction was for the Marine Corps, and when it came to handguns, I'm glad it was the M9. It's a natural shooting weapon for beginners.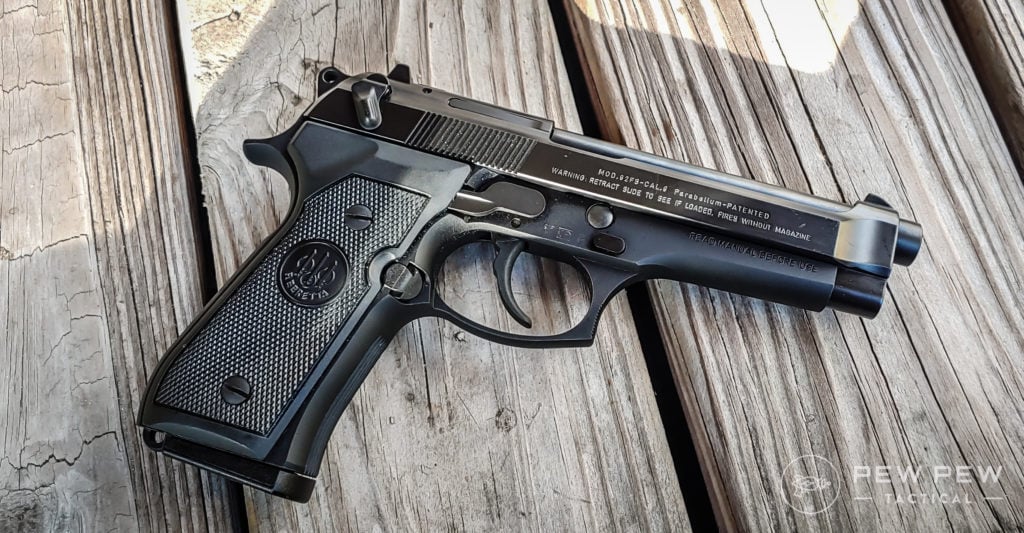 Yes, it's a big weapon, but that size and weight is an advantage. Recoil is very low, as is muzzle rise. It's easy to keep it on target and doesn't scare new shooters due to recoil or discomfort.
For more experienced shooters taking a practical shooting outlook, the Beretta excels. It's straightforward to control and to keep or get back on target.
Moving between targets or transitioning from a chest to a headshot can be done with no significant challenge. The little recoil and muzzle climb make it an excellent combat pistol. It's one of those guns that can be rapid fired and controlled without much difficulty.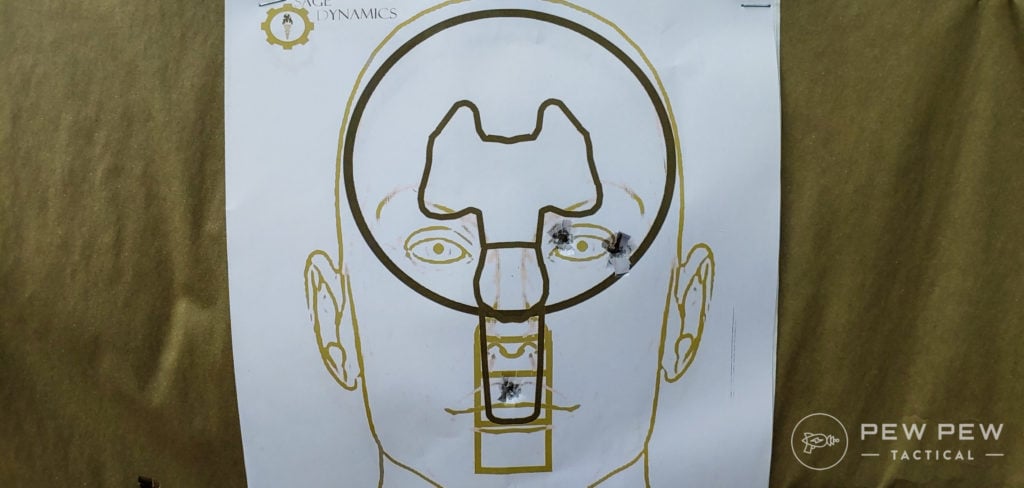 Even with 124-grain +P ammunition, the Beretta 92FS is very easy to control and fun to shoot. It's not all snappy or challenging to control. The Beretta 92FS isn't all rainbows and butterflies.
The trigger is a love it or hate it affair. The double-action mode is super long and very heavy. However, it's surprisingly smooth.
The single-action is very lovely. There is about a half-inch of takeup and then a slight wall then boom. The reset is short, not 1911 short, but almost SIG SRT short.
The single-action is a joy, and it's easy to master.
The Beretta 92FS is also an awesomely accurate gun. I was able to train Marines who had never fired a handgun in their lives and get them to qualify in just a couple of days with hardly any live fire practice. The gun's accuracy and excellent single-action trigger contributed quite a bit to that.
Remember that scene where Riggs shoots a smiley face into his target? Of course, you do. That's pretty possible with the Beretta and some practice.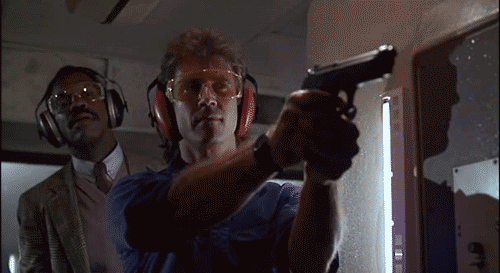 The gun is perfect for reaching out beyond 25 yards.
Out to 50 yards, the Beretta can hit the chest of a man-sized target. Of course, that target has to be standing completely still. It's still a very accurate gun, and the new 92X series aims to make the Beretta a competition standard.
Reliability and Military Issues
This is absolutely one of the most reliable guns on the market. I carried one that was likely older than I was when I was in the service, and it functioned flawlessly.
The Beretta, in general, has proven to be one of the most reliable pistols out there, passing three separate military tests without a hitch.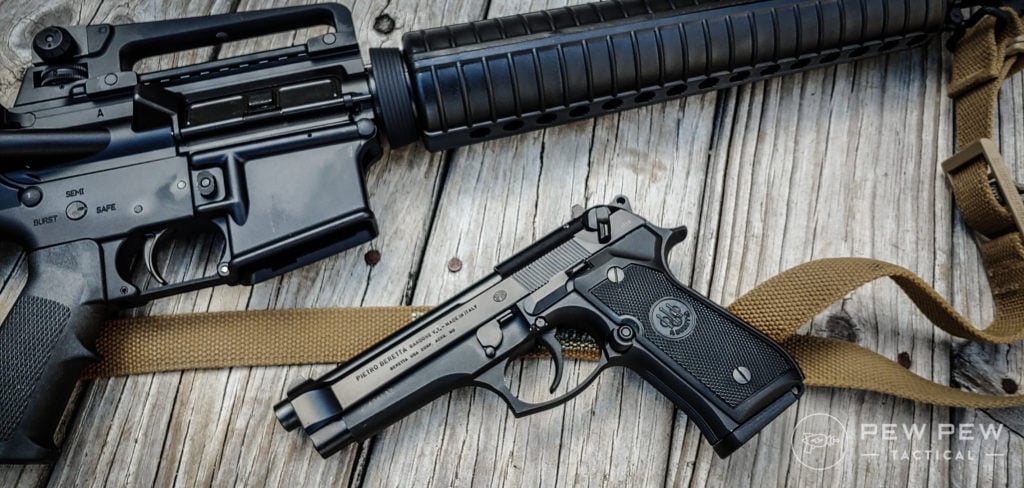 My civilian model is just as reliable as the M9 I used in the USMC. It has a direct feed system that removes the requirement for a feeding ramp. The magazine feeds directly into the barrel, and this reduces a failure point.
The military models did have reliability problems that soured a lot of troops on the gun, and this was mostly related to poorly made magazines.
That's been rectified, and as long as you stick with OEM magazines or Mec Gar mags, you'll be good to go.
30
at GunMag Warehouse
Prices accurate at time of writing
Prices accurate at time of writing
The Beretta 92FS is one of my favorite pistols. The numerous models can be confusing, and while the gun has its flaws, it's still an excellent weapon.
Even to this day, I'd gladly take the M9 to war and back again.
Best Beretta 92 Series Accessories
I've gathered a few standard accessories available for the Beretta 92FS, and some you fine folks may enjoy. One of the most significant downsides to this gun is the front sight. It's milled as part of the slide and can't be replaced cheaply. Wilson Combat can do it, but it ain't cheap.
1. Safariland 7360 Holster
While I carried my M9 in an issued SERPA, that holster admittedly has some issues.
For a quality duty holster, I'd suggest the Safariland 7360. This polymer low ride level 3 retention holster is a popular choice among law enforcement and, ultimately, a better tactical holster for the Beretta 92.
The Army and Marines agree and adopted a Safariland holster with the new M17 handgun. While the M17 may have replaced the Beretta, we can certainly disagree with that choice, but still, love the 7360 holster.
116
at Amazon
Prices accurate at time of writing
Prices accurate at time of writing
It's an excellent modular design from a company that knows duty holsters. Safariland is one of my favorite companies and is one of the most trusted in the industry.
2. Grips with Rail Recover Tactical
I mentioned this before, and they do give you an easy means to add a rail to your Beretta. These grips are quick and easy to install and is a non-permanent solution. The grips themselves are excellent overall and feel great.
40
at Amazon
Prices accurate at time of writing
Prices accurate at time of writing
If you are using a weapon or home defense, it needs a weapon-mounted light, and the Recover Tactical grips are a simple way to add a light to our handgun. Once installed, the rail is stiff and rock solid. It won't budget or deform and will hold a zero if you get a laser and light combo.
3. Streamlight TLR 1
The TLR 1 is my preferred weapon light for home defense. The TLR 1 is one of the few lights I'd trust for duty use, and it's a proven performer.
The TLR 1 is available in numerous different lumen models, and for home defense, the 800-lumen model is more than enough.
120
at Amazon
Prices accurate at time of writing
Prices accurate at time of writing
The TLR 1 is a great light and is only outshined by the much more expensive Surefire X300 series. For most users, the TLR 1 is more than enough light. If you have a set of grips that accommodates a rail, then you might as well have a light.
4. G Conversion
So the FS version is excellent, but the G version is better. A G Beretta 92 is a model with a decocker only, and you can turn your 92FS into a G model by merely swapping a part or two.
55
at Brownells
Prices accurate at time of writing
Prices accurate at time of writing
It's a cheap and essential upgrade to the famed Beretta.
The G conversion switch gives your Beretta a welcome respite from a slide-mounted safety. It's more ergonomic, makes more sense, and is a simple install.
5. Better Trigger
Ernest Langdon of Langdon Tactical is the Beretta guy. He is a famed pro shooter and instructor and the gunsmith behind most of the high-end Beretta upgrades.
The Beretta 92 has a good trigger, but Langdon Tactical wants to give you a great trigger.
160
at Brownells
Prices accurate at time of writing
Prices accurate at time of writing
Best of all you can install it at home! You can lower that action pull all the way to 5.6 pounds with this kit.
You'll get a cleaner pull and a better reset. The install is actually very simple, and you can do it with some helpful Youtube videos.
6. Threaded barrel
You ever play Hitman 2 Silent Assasin? One of the earliest silenced guns you get in that game is a Beretta wearing a can.
It's a beautiful and sleek look. There is something so cool about screw a direct attach suppressor onto the threaded barrel of a Beretta 92.
200
at Brownells
Prices accurate at time of writing
Prices accurate at time of writing
The 92's extension past the slide screams to be threaded, and with this barrel from Gemtech, it will be. Gemtech is mostly known for making cans, but all of their products are high quality and well-made pieces of gear. This is no different.
It's not only an easier way to attach a suppressor to your Beretta, but it's a damn fine barrel.
7. Magazines
As I mentioned above, I've had the best luck with Beretta factory magazines and Mec Gar mags. Hell, the factory mags might be made by Mec Gar, they seem to make everyone else's.
30
at GunMag Warehouse
Prices accurate at time of writing
Prices accurate at time of writing
If you wanna go big and let's be real you do, the extended magazine from Beretta gives you 30 rounds of 9mm. That's a lot of popping off to do. This massive magazine was made for the CX4 Storm but works perfectly in the Beretta 92.
If you want a high-quality magazine with the OEM price, the Mec Gar options give you 10, 15, 18, and 20 rounders for less price of factory magazines. Mec Gar is the only option besides factory I trust with basically all of my magazines except Magpul.
25
at GunMag Warehouse
Prices accurate at time of writing
Prices accurate at time of writing
They made good gear, and their mags are a steel steal if you know what I'm saying.
By The Numbers
Accuracy: 5/5
This is a very accurate and precise gun. It's a precise weapon that's consistent in its ability to hit your target. Even out to 50 yards, I could engage and destroy the chest portion of a man-sized target. Contributing to its accuracy is the fact it's easy to control, and you're unlikely to flinch firing it.
Ergonomics: 4/5
This gun feels excellent in the handle. The front and rear texturing is a nice touch, and the grip fits just right in the hand. The magazine release and slide lock are easy to reach and engage. It loses a whole point for the safety/decocker placement.
Looks: 5/5
It's rare that looks can actually kill, and the Beretta 92FS is a good looking gun. Its design is unique, and it's instantly recognizable as a Beretta.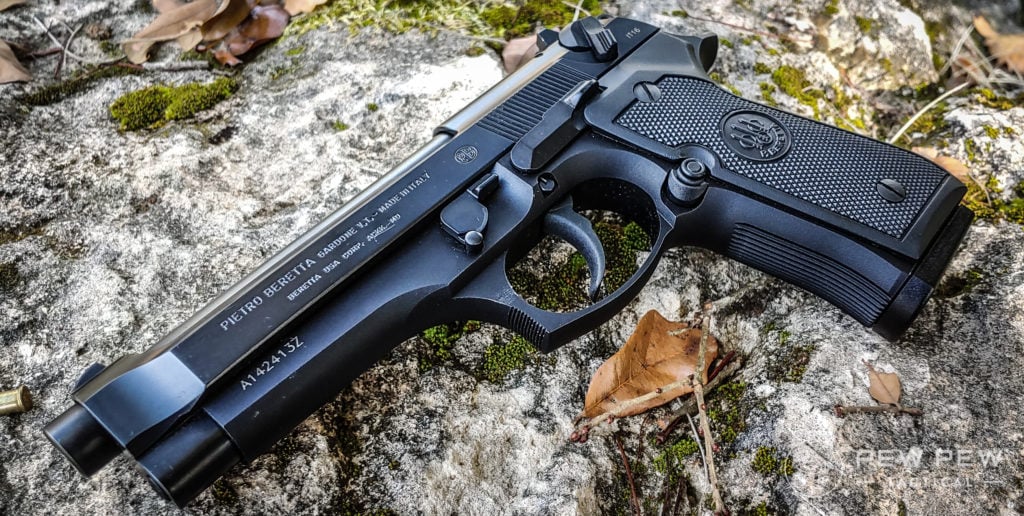 Customization: 4/5
While it's not as customizable as a Glck or 1911, there is plenty you can do to make the Beretta yours. The biggest downside is the inability to swap front sights easily, and I'm taking a point off for that.
Bang for Your Buck: 3.5/5
I very much like this gun, but I will admit it's dated for the price… sometimes.
Prices for the 92FS are all over it seems right now with some amazing deals on LEO trade-ins but also an MSRP that is kind of crazy for a, frankly, dated pistol.
And it should be said, the 92FS is not the pinnacle of the 92 series. The 92G, Brigadier, INOX, and others are arguably "better".
If you get a 92FS (and I highly recommend it) get it because you love it or love the idea of it, not because you want the best of the best full-size pistol on the market.
Overall Rating: 4.5/5
629
at Sportsman's Warehouse
Prices accurate at time of writing
Prices accurate at time of writing
Conclusion
Most people that have tried the 92FS either love it or hate it, there is no in-between. Its an older design and there are improvements that can be made and have been made, to improve it.
But the core pistol is dead-on reliable and proven on the battlefield in humid jungles, on snow-covered mountains, and scorching deserts.
I would trust my life to it and I just love plinking with it. If you don't have one, you need one!
Do you love the 92FS? Hate it? You gotta love it as a movie star, though, right? If you want to see what replaced the M9, take a look at our complete review of the Sig Sauer P320-M17!