Pistol-caliber carbines (PCCs): they're not pistols, but they're not quite rifles either.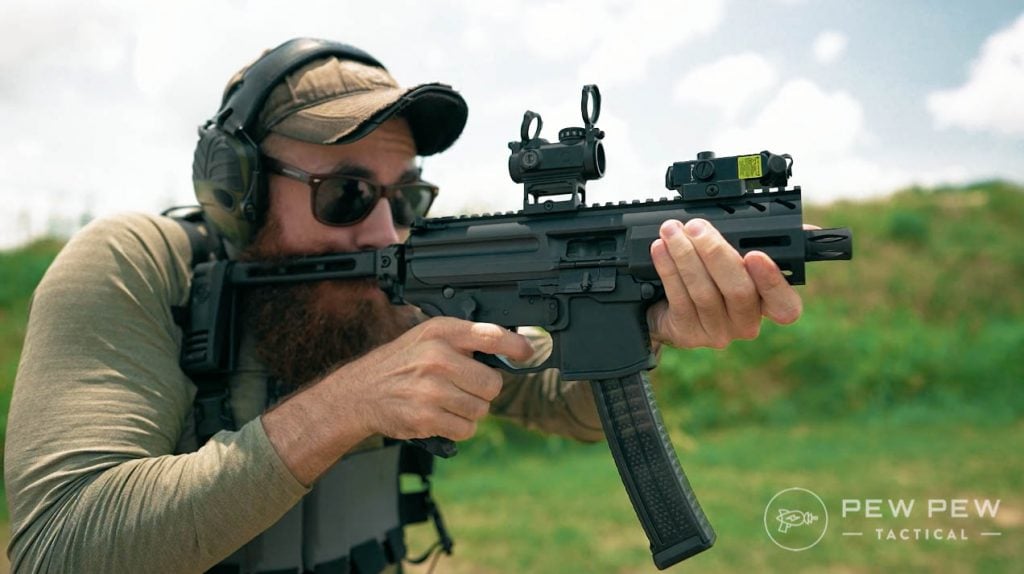 Some people might tell you that they're rifle-wannabes that are unnecessary and impractical, but I think pistol-caliber carbines are optimized for self-defense, competition, and FUN.
We're going to look particularly at pistol-caliber carbines for self-defense…particularly at home where these things really shine.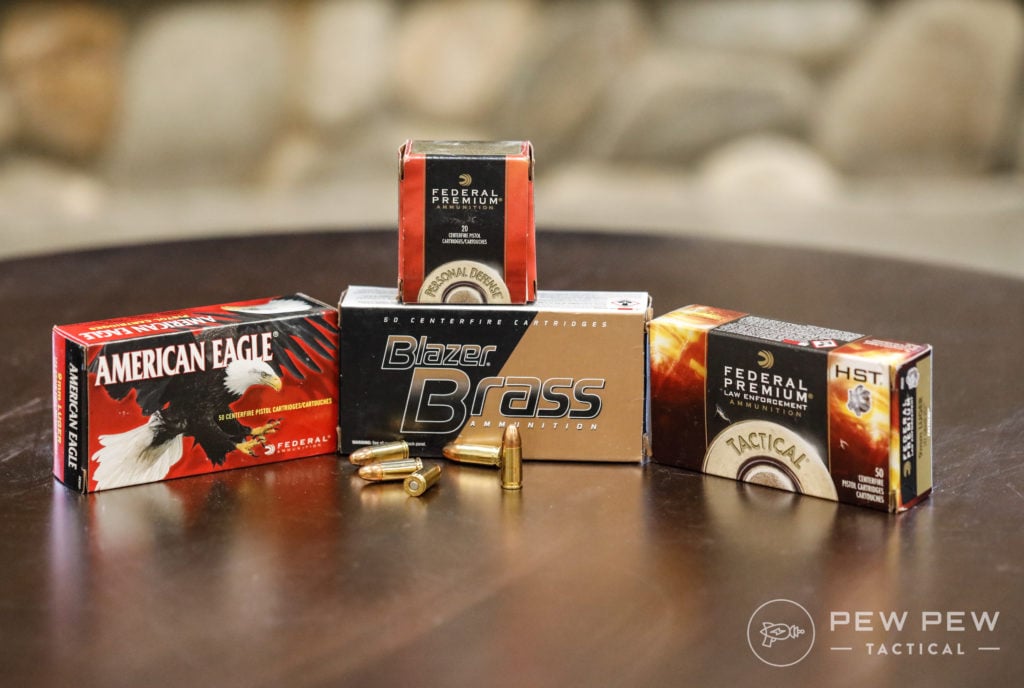 Plus some basics and layout just what a pistol caliber carbine is…and why you might want one. And of course, our favorites from standalone PCCs to AR-platform versions.
Summary of Our Top Picks
Table of Contents
Loading...
PCCs vs. Rifles
If you need a home defense gun that will be used primarily in open space to secure perimeters and neutralize threats outdoors, the AR-15 and AK-47 are great choices.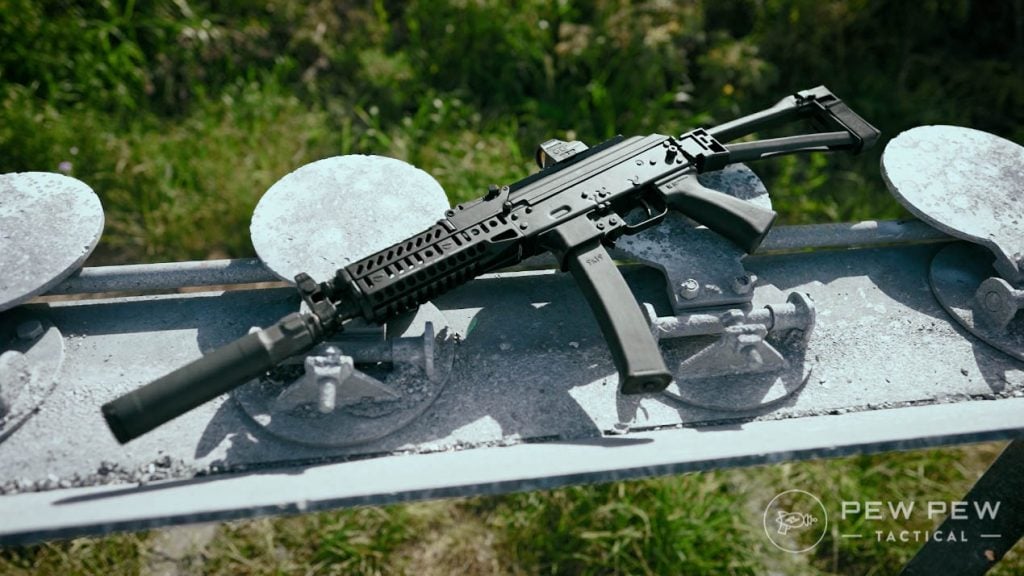 However, indoor home defense scenarios are a little different.
You want a gun that's smaller and allows for maneuverability in tight areas, like around doorways and down hallways. Most pistol caliber carbines are going to be shorter than any long gun, save maybe some of the nice bullpup shotguns and rifles out there.
Even with a suppressor.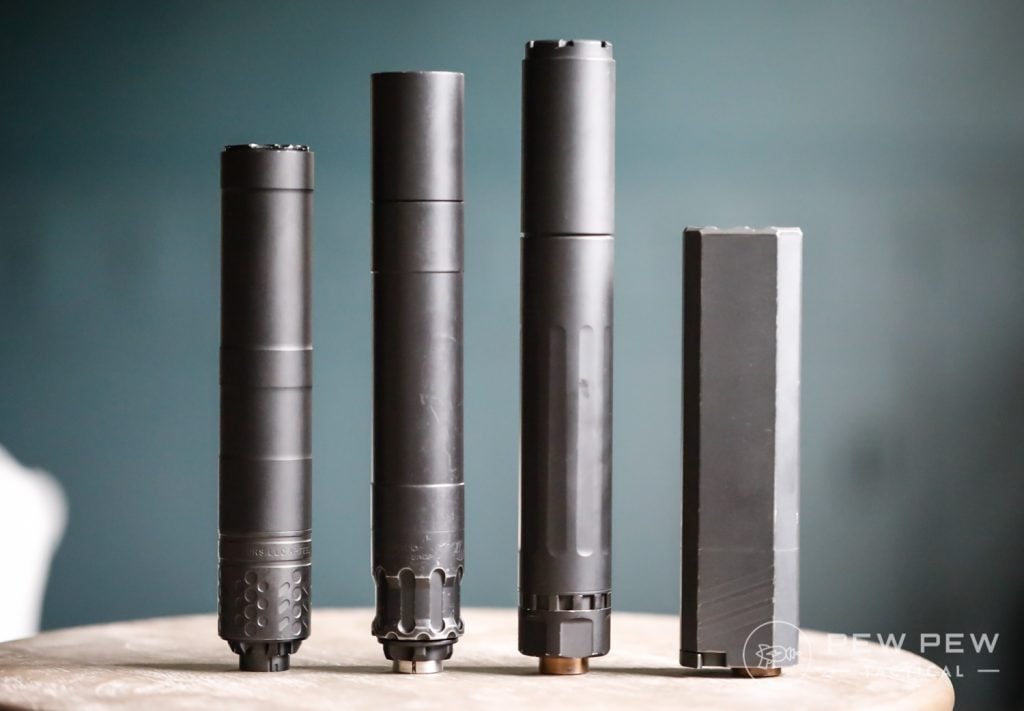 Simply put, you don't want to lug around a bulky rifle or shotgun if you're moving through a confined space. In addition, when comparing a pistol-caliber carbine specifically to the AK-47, you also get an added benefit of lower recoil.
PCCs vs Handguns
The biggest advantage that the pistol-caliber carbine has over your sidearm is stability.
Some of you may be crack shots who can shoot the wings off a fly with your trusty pistol.
For the rest of us, handgun accuracy tends to drop when shooting at a target from 15 – 25 yards away, especially in dangerous situations where adrenaline and stress levels are through the roof.
For these types of scenarios, pistol-caliber carbines give you that added stability to hit your mid-range target with more accuracy.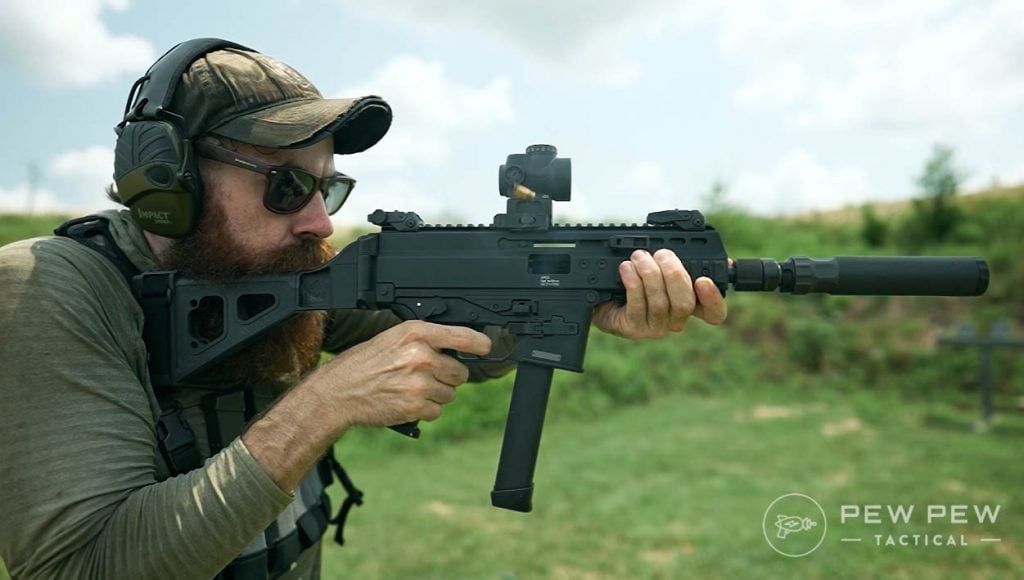 Another benefit of pistol-caliber carbines is that many of them are designed to work interchangeably with some of your favorite handguns, so you can use the same magazine for your PCC as you can for your Glock.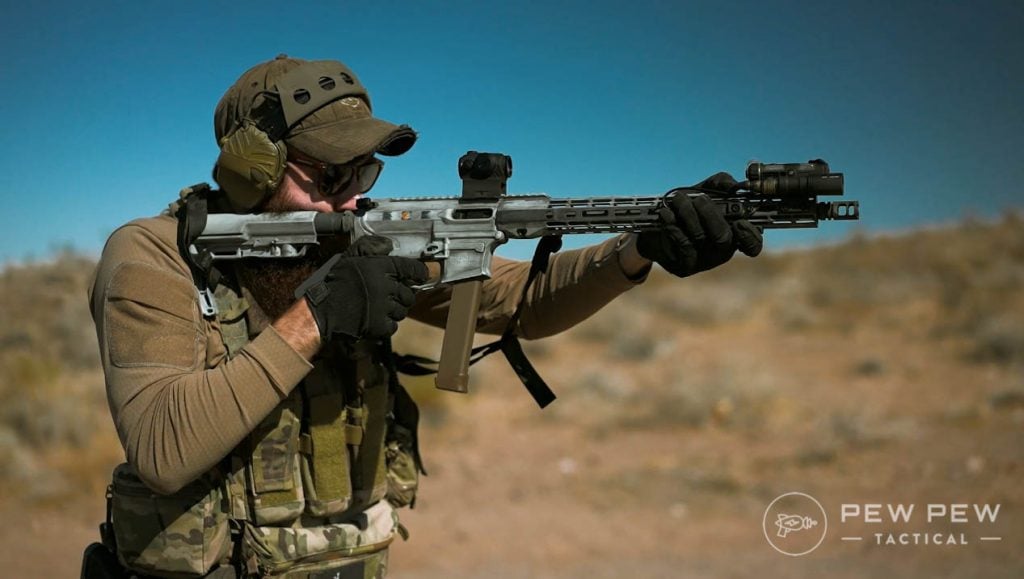 Check out this video of how to shoot pistol-caliber carbines in a home defense situation.
Choosing a Good Pistol-Caliber
There are some great home defense shotguns out there, but a shotgun might not always be the best option.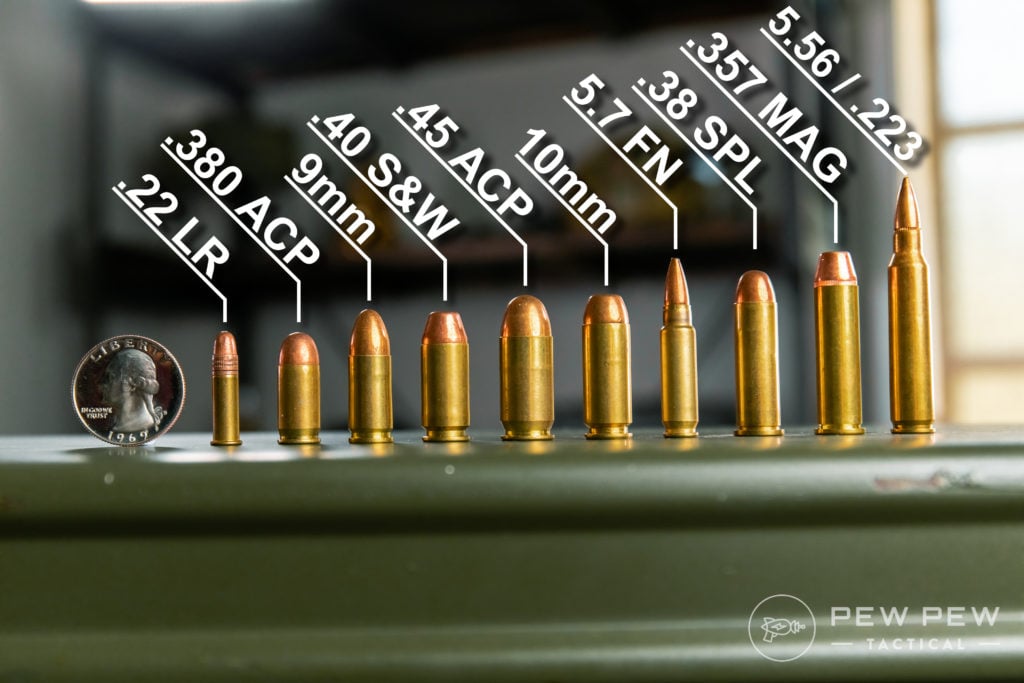 The average pistol-caliber carbine shoots either 9mm, .40 S&W cartridges, or .45 ACP, and less common are .380 and .357 SIG cartridges.
We even have a bigger bore 10mm one in there for you.
The benefit to this is that you'll find no shortage of ammo and in most cases, your pistol-caliber carbine is more affordable to shoot than the average rifle.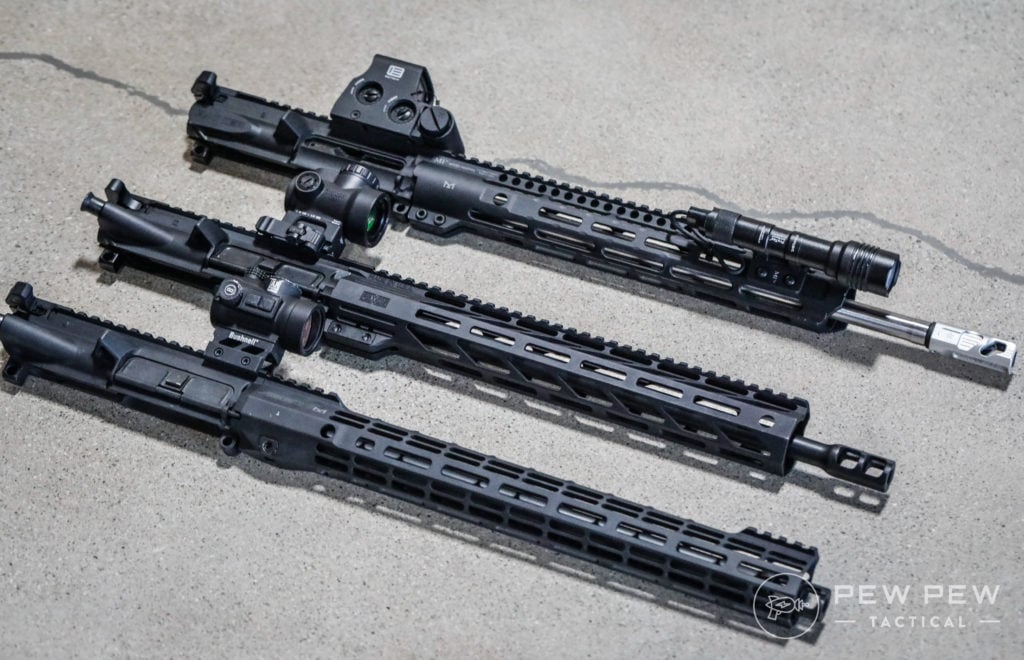 Now that we've covered some of the basics about pistol-caliber carbines, let's have a look at some popular carbine models.
We'll start off with non-AR PCCs and then dive into some AR-9s (9mm ARs…see, it kinda makes sense).
Best Pistol-Caliber Carbines
1. Sig Sauer MPX K
There's a lot of choices with PCCs now and Sig's MPX has always been up there. But now they are in their unofficial 3rd generation with all the kinks worked out.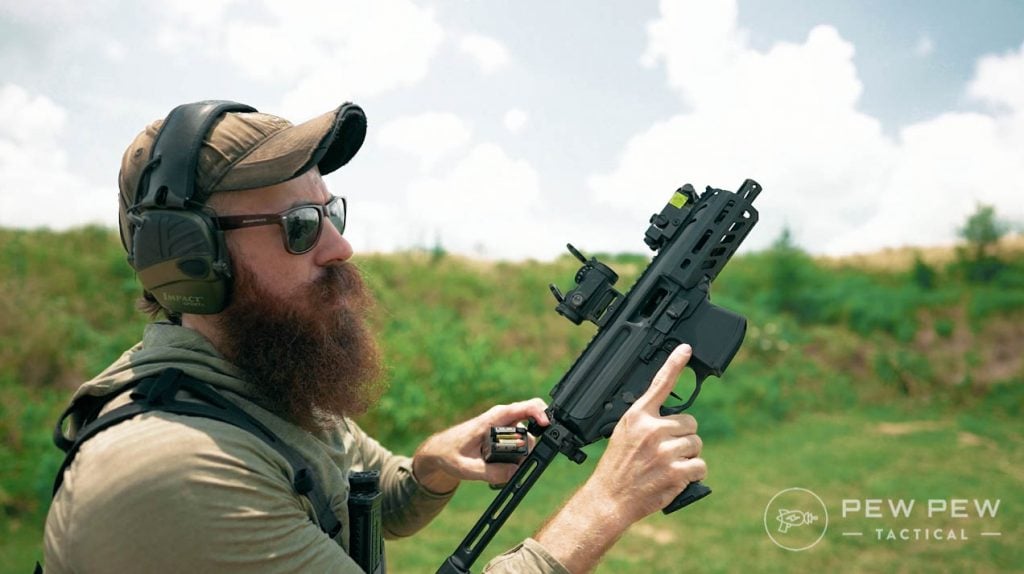 You get all the familiar AR-15 controls but now fully ambidextrous.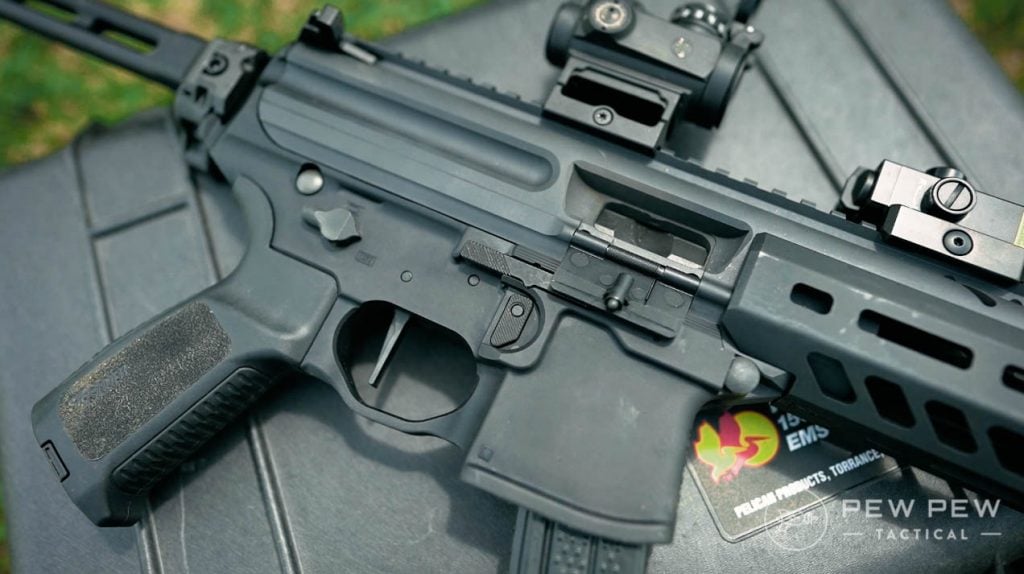 But with a short-stroke gas piston system that keeps everything a little tidier than the AR's direct impingement.
Another great thing is that there's no buffer tube system so you can add a folding stock/brace system.
It's been super reliable for us and shoots very pleasantly…especially with a suppressor.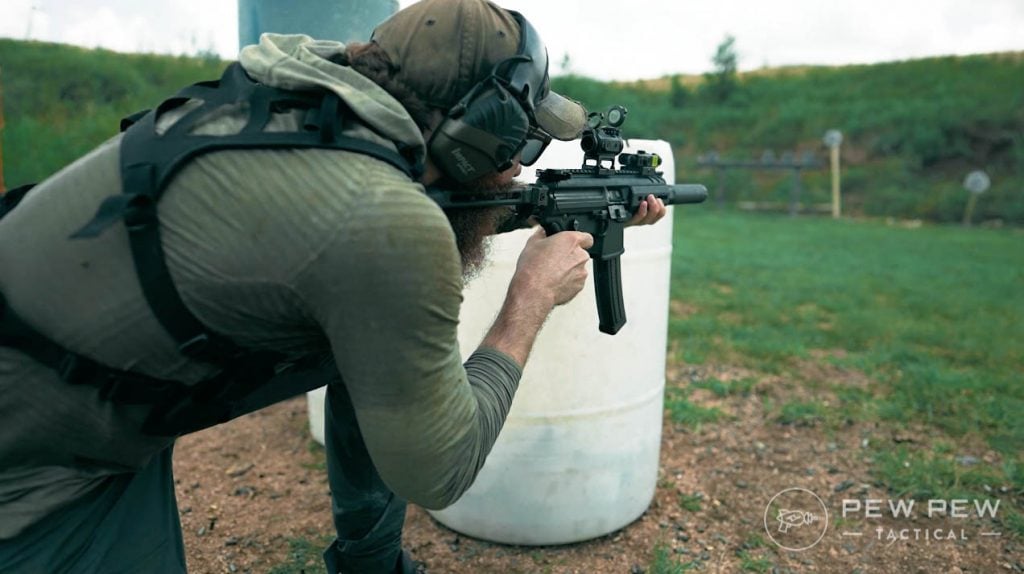 And not like it has an extra advantage at night…but we have some really cool night footage.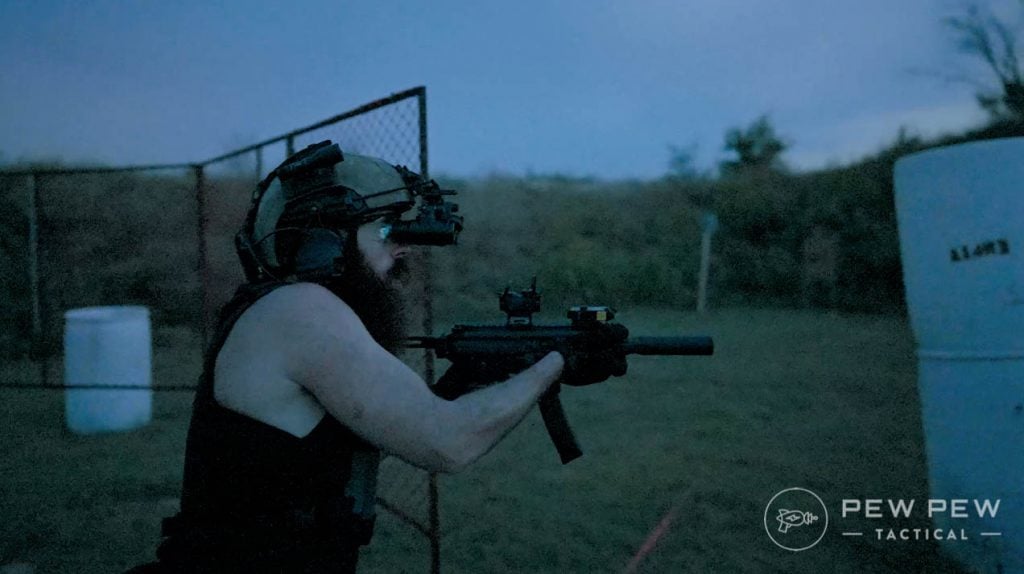 There's a bunch more to say so check out our full review of the Sig Sauer MPX K.
1999
at Palmetto State Armory
Prices accurate at time of writing
Prices accurate at time of writing
There's also a full video review with it too!
What's your take on the Sig MPX?
2. CZ Scorpion EVO Series
The CZ Scorpion EVO series encompasses both carbines and shorter pistol-braced variants.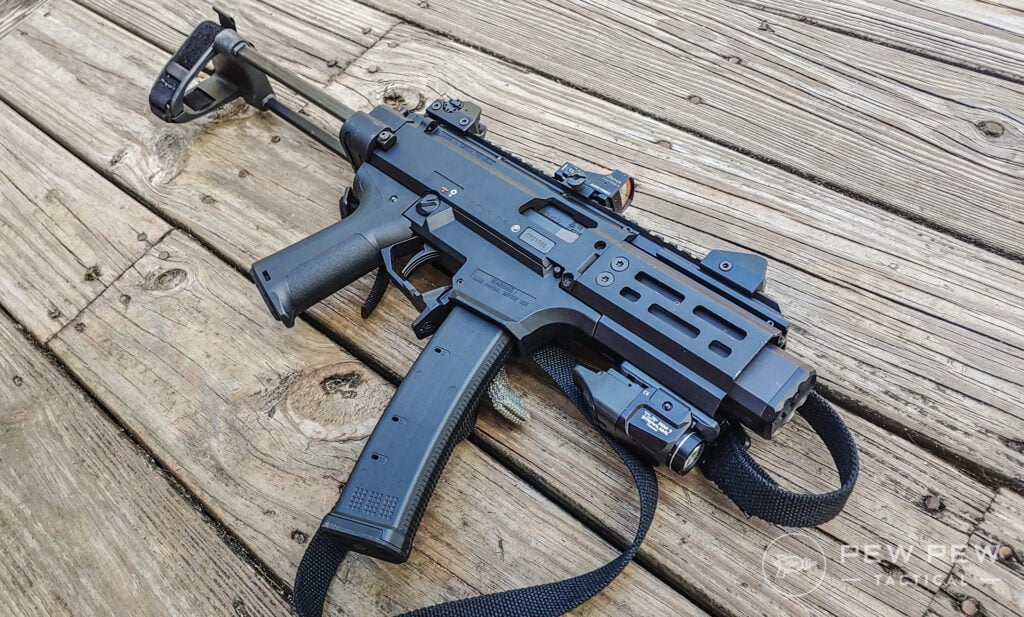 The CZ Scorpion EVO 3 is a 9mm carbine that takes CZ's classic Scorpion machine pistol and updates it to a modern (and civilian legal) design that is sleeker, and more reliable.
Best for Home Defense
1300
at Brownells
Prices accurate at time of writing
Prices accurate at time of writing
While the pistol variant gives you that maneuverability.
I'll save some space here and just send you to our complete CZ Scorpion EVO review…suffice to say its an excellent take on a classic and it will absolutely earn its keep in a home defense scenario.
3. Kalashnikov USA KP-9
Fancy a 9mm AK that's as close as you can get to the Russian Vityaz used by special forces?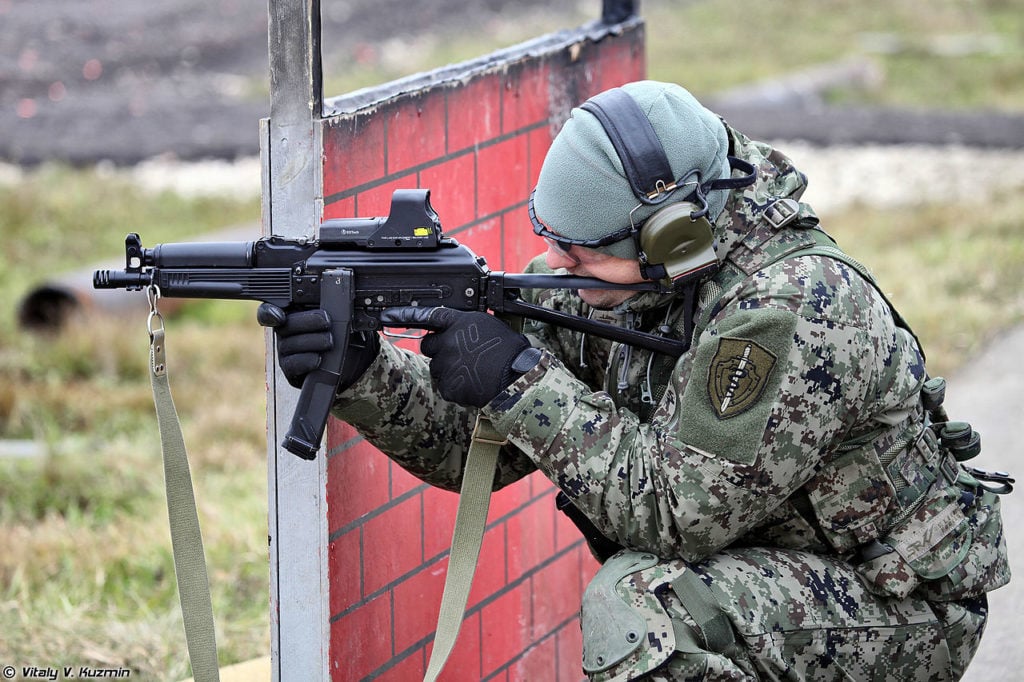 Check out the Kalashnikov USA KP-9.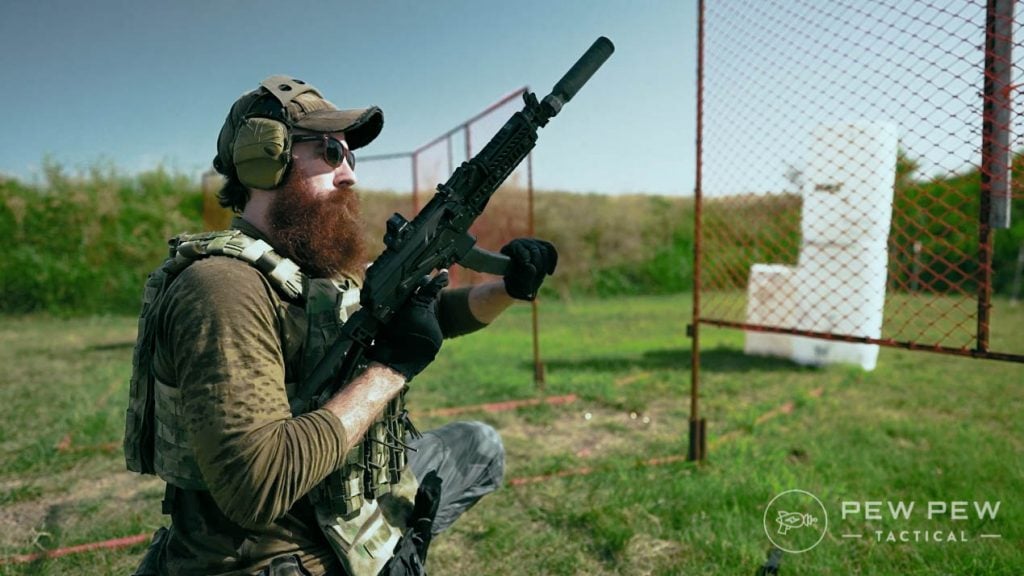 This might be the most fun PCC we've tested so far!
Controls are typical AK but we opted for a slightly upgraded safety selector lever that lets you lock back the bolt.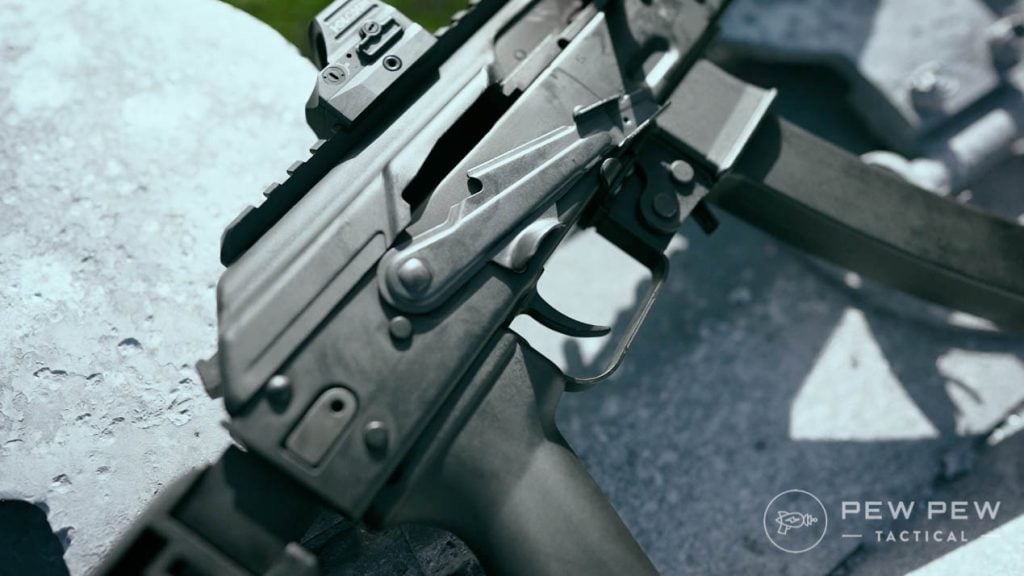 However you don't get any last round bolt hold open (LRBHO).
But you'll forget that when you're tearing up the range. It's a direct blowback system but you can't tell with how it stays on target.
And yes…it loves being suppressed.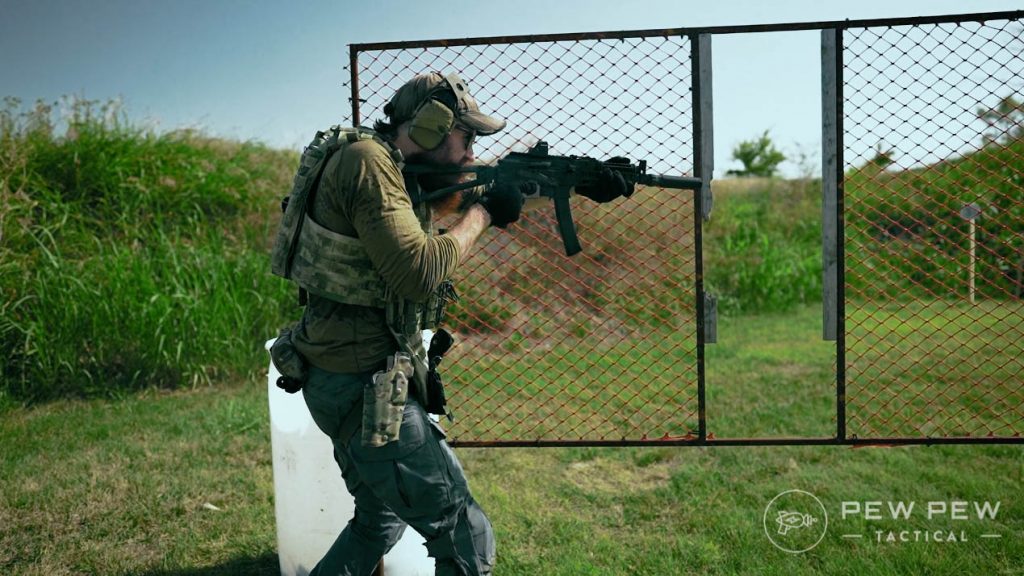 How about mags?
It uses proprietary Vityaz ones (sorry Glock fanboys). They are reasonably priced around $30 from K-USA. We also got some third party PUFGUN mags but they didn't slam home as nicely.
Words can't do it justice…check out our full review of the KP-9 here.
1079
at Gunprime
Prices accurate at time of writing
Prices accurate at time of writing
And of course the video:
4. PSA AK-V
Looking for a home-grown version that's an homage to the Vityaz? Check out PSA's AK-V.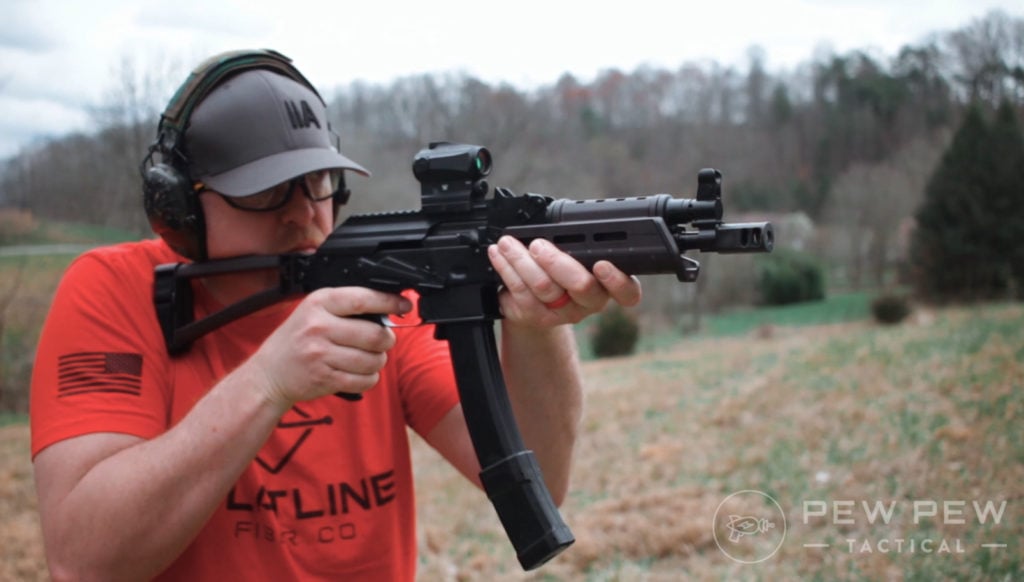 It's not an exact duplicate of the VP-9 but rather an homage. However, there's some nice additions like a last round bolt hold open and a buffer system in the back.
The LRBHO itself is worth the price of admission!
Plus a different mag-catch and it takes affordable & plentiful Scorpion mags.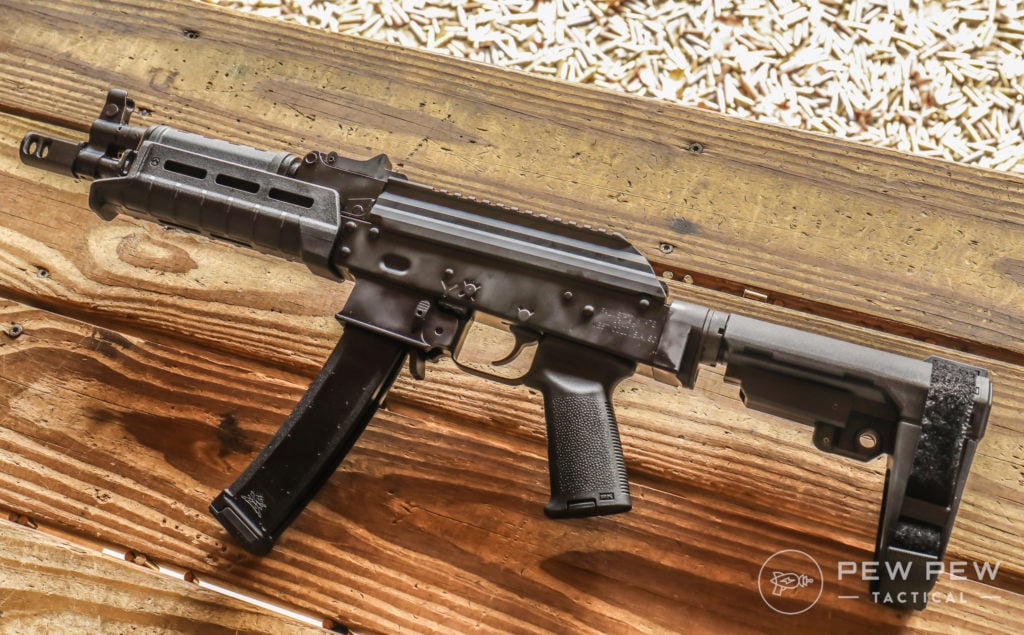 There were some initial hiccups in manufacturing but PSA has gotten it dialed in now. And the are staying in stock for a few days instead of minutes. I'd still sign up for alerts for special model combos.
Again we had a blast shooting it and can't wait to suppress it soon.
Check out our full review of the AK-V here.
Boom…video!
Best AK Pick
949
at Palmetto State Armory
Prices accurate at time of writing
Prices accurate at time of writing
5. Kel-Tec SUB-2000
The Kel-Tec SUB-2000 is a semi-automatic carbine that supports 9mm or .40 S&W cartridges, depending on your caliber preferences.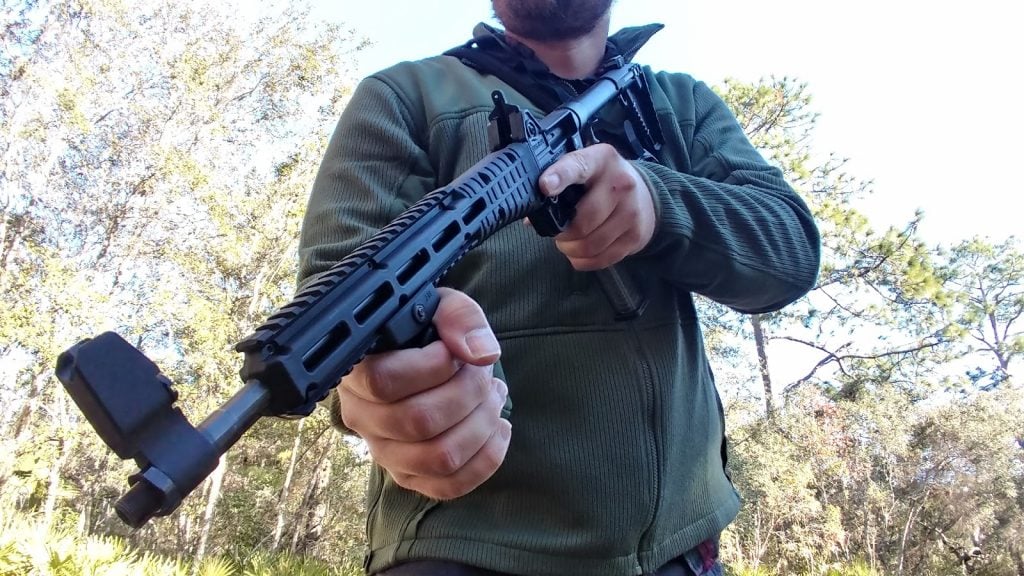 There's a lot to love about the SUB-2000 carbine. For starters, before you buy the gun, you can choose which handgun magazine that you want it to take so that you can use the carbine interchangeably with your favorite sidearm.
Compatible magazines include various Smith & Wesson, Sig Sauer, Beretta, and Glock handguns.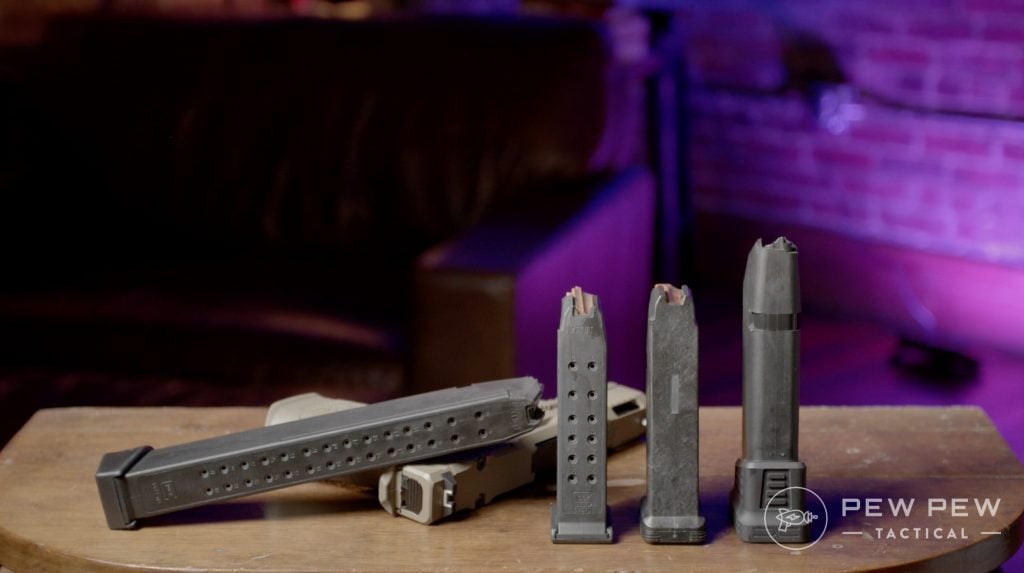 Don't let its simple design fool you. The SUB-2000 is anything but basic
When it comes to comfort and convenience, the SUB-2000 earns a gold star. It weighs a total of 4.25 pounds without ammo and is 30.5 inches in length, and it can also be collapsed and stored away in a compact location.
Great features include:
Fiber optic front sight for easily lining up targets.

The bolt is located underneath the buttstock in a convenient and out-of-the-way position.

Tons of aftermarket parts available.
Best Backpacker PCC
469
at Palmetto State Armory
Prices accurate at time of writing
Prices accurate at time of writing
The SUB-2000 is a solid gun that combines power, accuracy, and comfort, and is a great gun for its price.
Also, since it's a Kel-Tec, you're protected under a lifetime warranty in the event of something malfunctioning.
Check out our full in-depth review.
6. CMMG Banshee
The CMMG Banshee utilizes a proprietary "radial delayed blowback" gas system instead of gas blowback. Whatever it is…it seriously lowers the recoil especially during rapid fire.
There's 9mm and other "regular" calibers…but we hands-on tested a big boy 10mm version.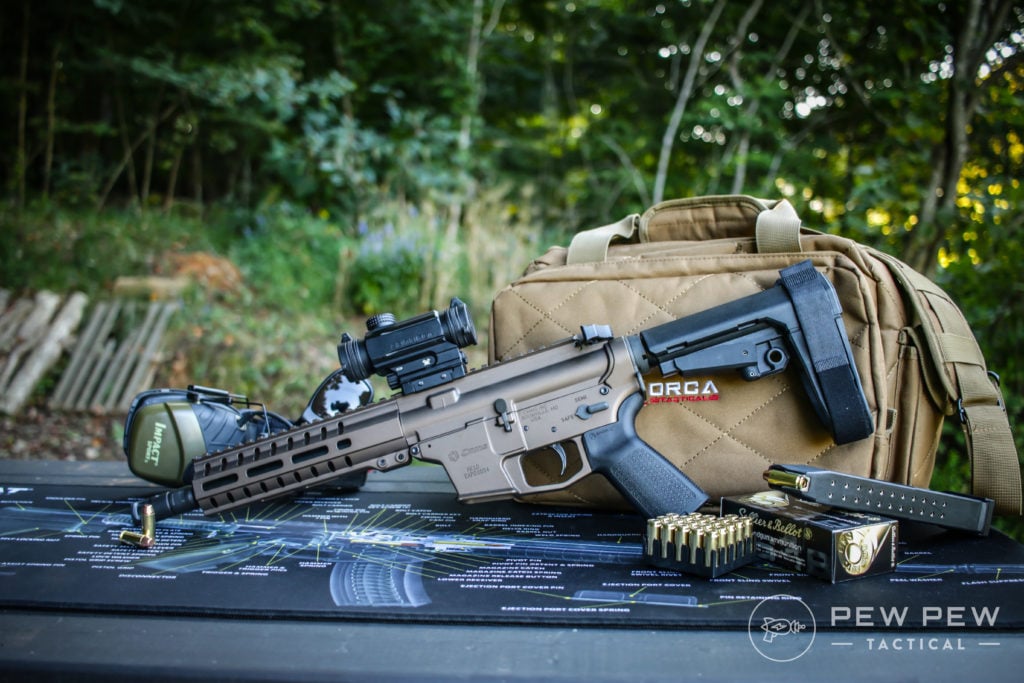 It ran like a scalded dog, ate up that extra 10mm recoil, and looked pretty to finish it all out.
There's different levels of CMMG guns from the 100 to 200 and 300. We had the 300 so everything was already decked out. However prices go up as fast as the model numbers!
Best Caliber Selection
1719
at Palmetto State Armory
Prices accurate at time of writing
Prices accurate at time of writing
Check the full review of the CMMG Banshee 300 in 10mm or even the 5.7x28mm version. But remember, it also comes in 9mm!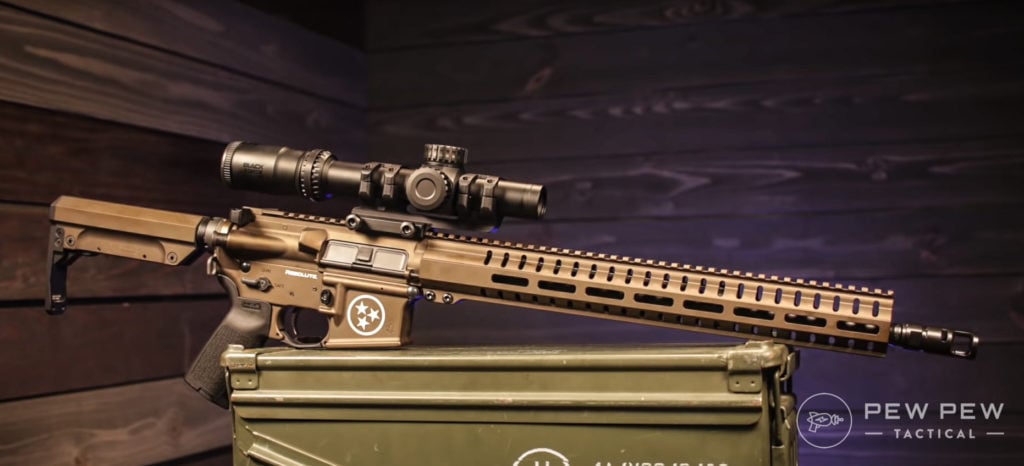 7. PSA 9mm PX-9
Our Editor's Pick for an entry-level 9mm AR-15 PCC that is reliable and takes Glock mags is the PX-9.
Apologies for the CA-neutered version below. It's been freed since!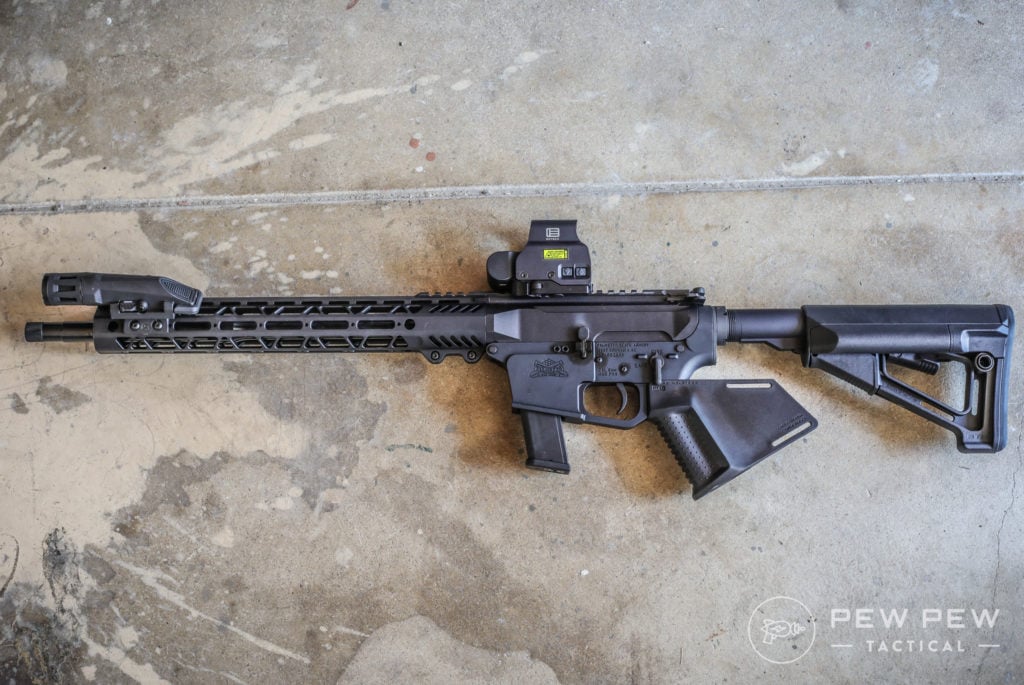 Though it doesn't have last round bolt hold open…it gives you the familiarity of the AR platform and all the potential upgrade potential.
Check it out in a night-time competition!
And with a slightly modded upper!
And our full review where we deep-dive into its reliability, accuracy, and more.
Best budget AR-9
699
at Palmetto State Armory
Prices accurate at time of writing
Prices accurate at time of writing
8. B&T APC9 Pro
Looking for something Gucci…and sort of recently chosen by the US Army for their sub-machine gun?
Check out the B&T APC9 Pro coming in from Switzerland.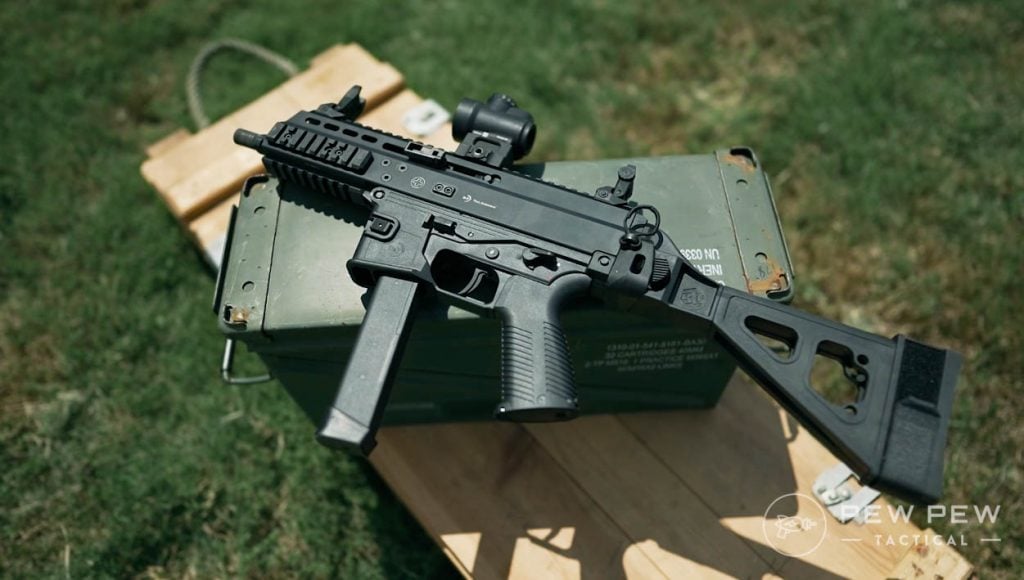 One cool thing about the APC series is that the upper half is the serialized portion…so you can get different lowers for different magazines. We opted for the Glock compatible lower while you can also go with B&T specific or even Sig P320 mags.
Best High End Option
2199
at Bereli
Prices accurate at time of writing
Prices accurate at time of writing
It has a nice non-reciprocating charging handle and controls very similar to an AR. But ambidextrous!
However, you're going to need a little training for this specific platform to get proficient if you're moving over from the AR platform.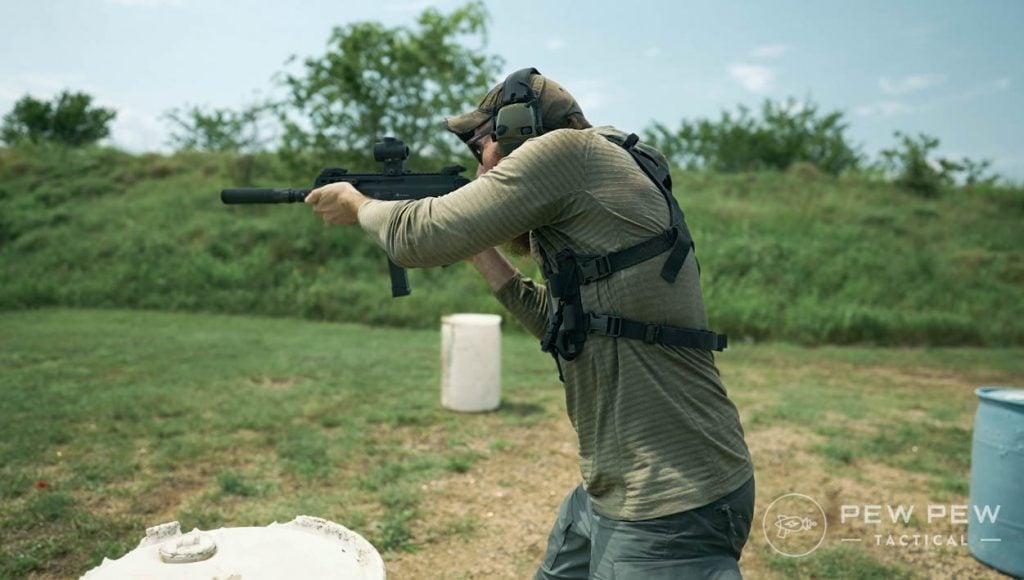 However, it's super soft-shooting and suppresses well. But keep in mind that it's a tri-lug adapter. We had to get a specific adapter to work with our 1/2×28 threads on our Banish 45.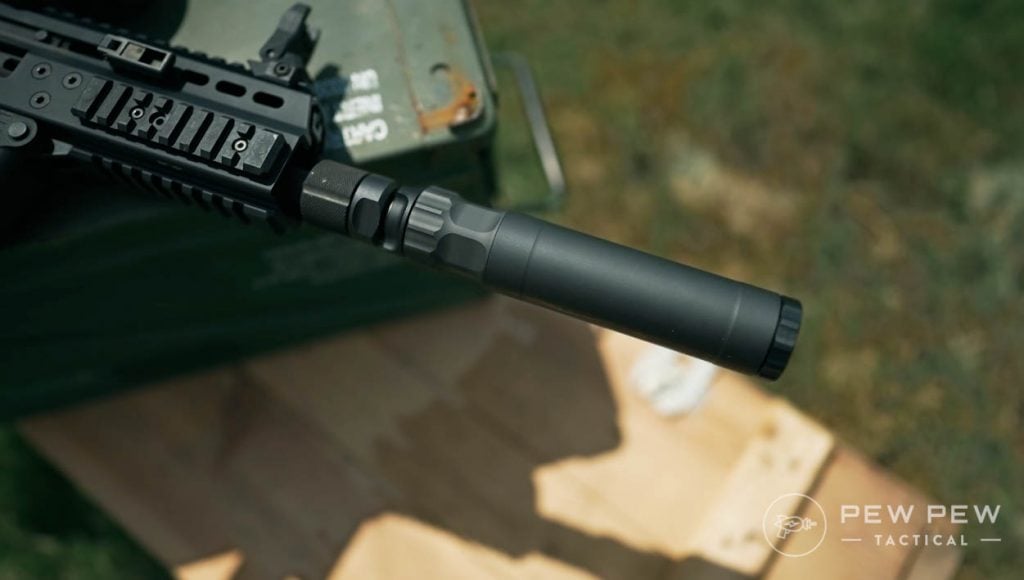 Check out our full review of the B&T APC9 Pro.
And ,of course, we have a video:
9. Aero Precision EPC
Aero's EPC (Enhanced Pistol Caliber) is definitely enhanced!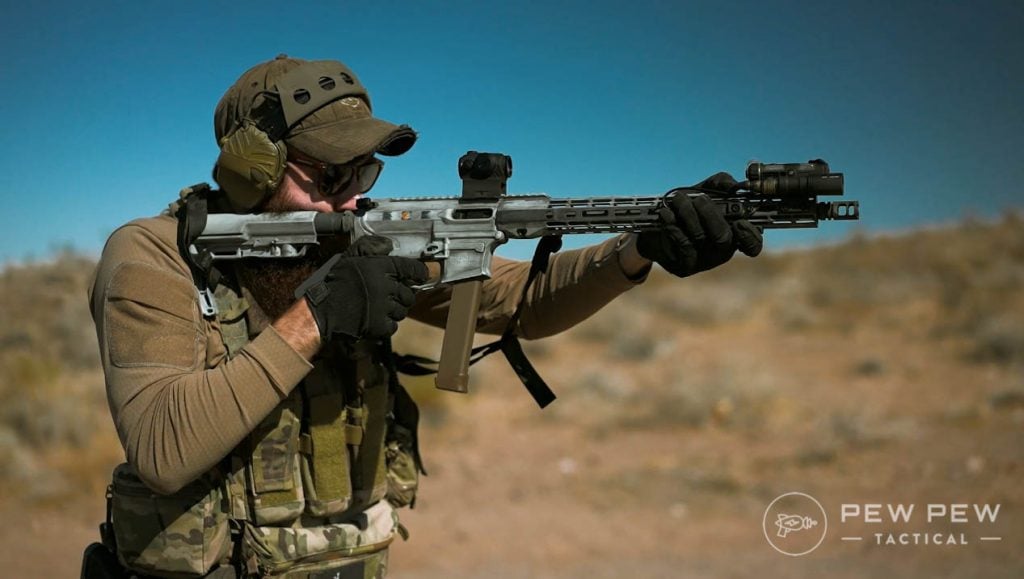 There are some small quality of life improvements to the AR-9 system that sets it apart from the PSA.
last round bolt hold open (yay)
threaded bolt catch paddle so you don't mar the finish if you choose to build the lower yourself
flared magazine well for easier mag changes
hardened fire control group to keep up with PCC recoil
All these things make it our current best bang-for-the-buck AR-9 on the market.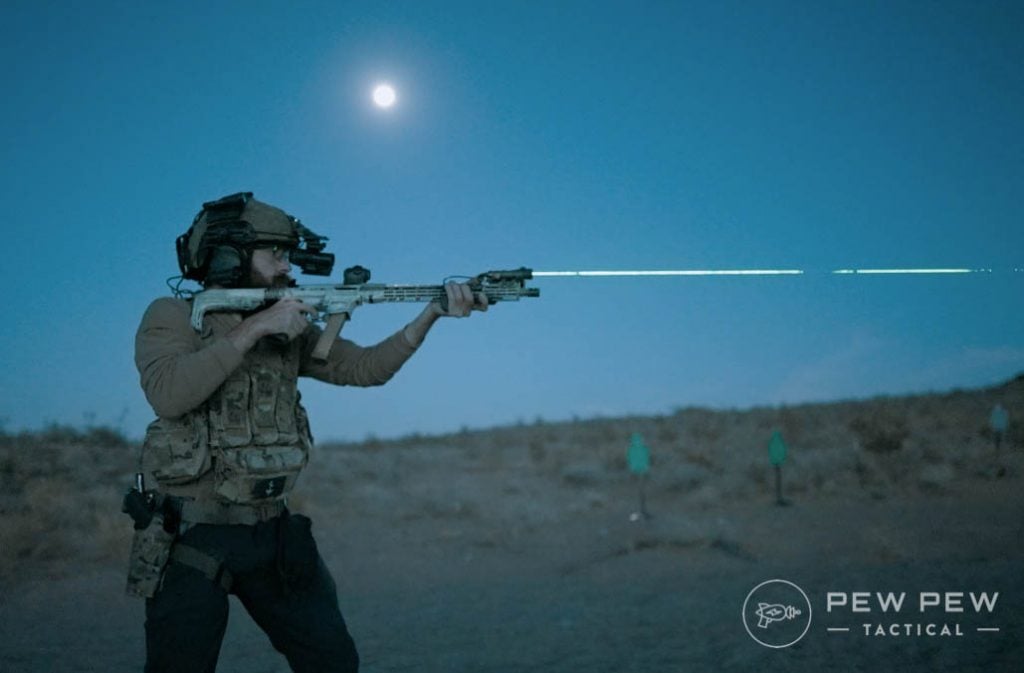 We had a lot of fun running it in the day (and night) out in the desert and it ate up all the rounds we could throw at it.
Plus, since it's an AR platform, we really dug its upgrade potential.
See the full review and list of upgrades in our Aero Precision EPC Review.
Want to grab one? Aero is marketing it more as a build-your-own type…but you can snag completed uppers and lowers below.
Budget Friendly Pick
314
at Aero Precision
Prices accurate at time of writing
Prices accurate at time of writing
Video time!
If you're looking for more AR-9s…check out our standalone Best Pistol Caliber AR-15s (AR-9) article.
10. Ruger PC Carbine
It should be noted that Ruger has long been a fan of pistol-caliber carbines, but they've never taken off for Ruger. There was the Ruger Police Carbine and the Ruger Deerfield Carbine.
Luckily Ruger's PC Carbine has been the hit Ruger deserves.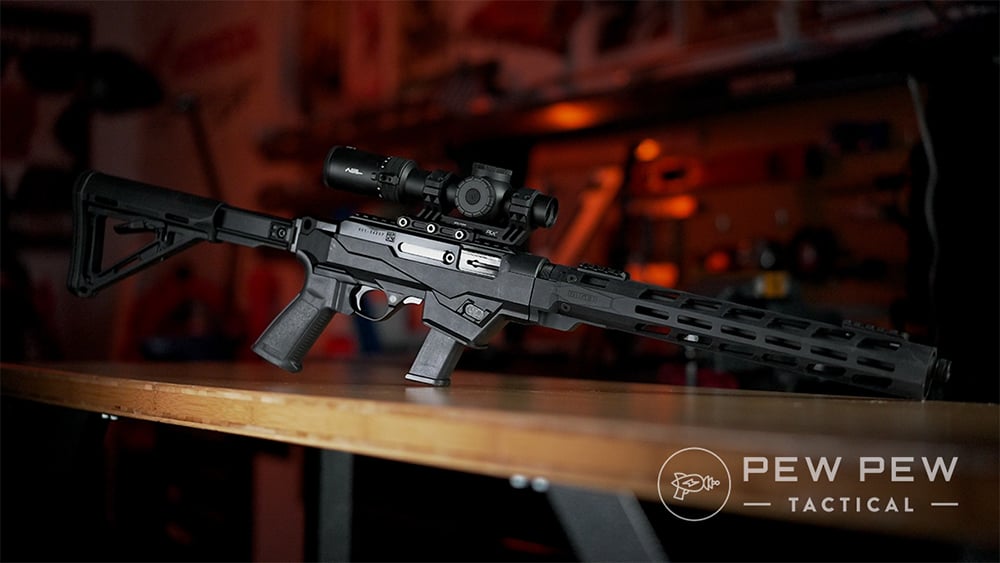 The Ruger PC Carbine packs tons of modern features into a rather tried and true design. It's not much different in layout than the 10/22 and the old-school PC Carbine design.
Ruger released many different models, and every one of them is a winner.
Ruger wisely integrated the takedown feature into the PC Carbine to make it extremely compact and easy to transport. The gun has a reversible charging handle that can be swapped for left or right-handed use.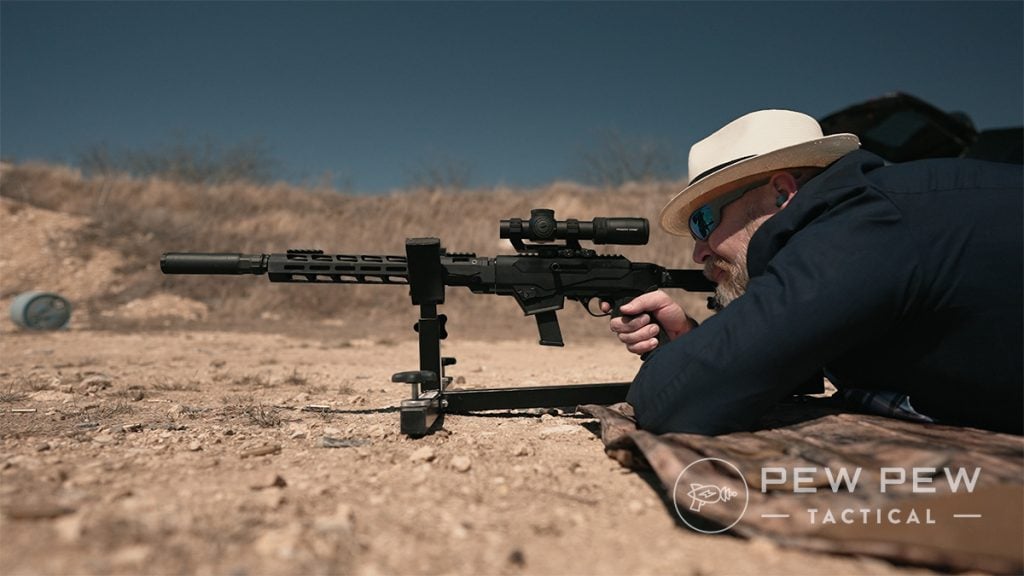 Also, the magwell can be swapped.
Ruger ships the gun with a Ruger magwell in place but also includes a magwell that allows the use of Glock magazines.
This humble but wise move opens Ruger PC owners to a ton of affordable and easily available Glock magazines in varying capacities.
Most Reliable
746
at Primary Arms
Prices accurate at time of writing
Prices accurate at time of writing
The integral system uses a blowback design unique to the PC Carbine series and features a tungsten weight. This dead blow blowback system helps eliminate the recoil associated with blowback systems and works rather well.
Sadly, tungsten increases the gun's weight; the lighter these guns are, the better.
If the PC Carbine is a bit too big for you, check out the PC Charger, a pistol variant of this gun compatible with various pistol braces.
Get more deets by watching our video below or reading the full review here!
11. Auto-Ordnance Thompson M1
Let's take a step backward, back to the days of World War II.
World War II was the submachine gun war – and one of the most legendary submachine guns was the Thompson.
Finding a transferable Thompson SMG is tough and expensive, admittedly, but finding a PCC variant isn't so tough.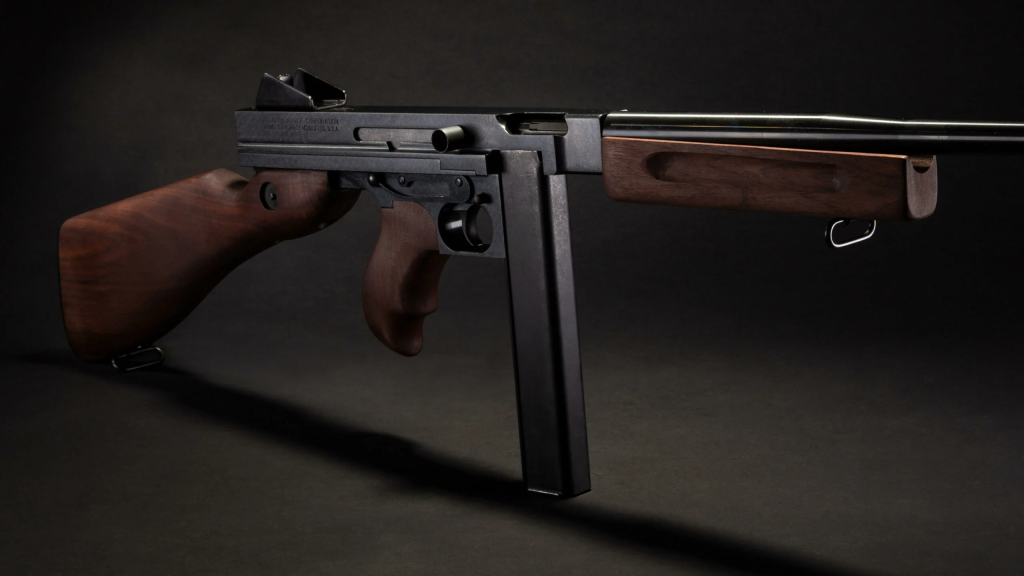 Auto-Ordnance produces a pistol-caliber carbine variant of the Thompson in various configurations, with my favorite being the famed M1 model.
Obviously, some changes are made, and the Auto-Ordnance variant features a closed bolt, semi-auto-only design with a 16-inch barrel to keep it off the NFA. (SBR variants are available as well.)
The Auto-Ordnance Thompson M1 is far from modern and is more for fun than any serious task. Boy, oh boy, is it a fun gun.
1503
at Gunprime
Prices accurate at time of writing
Prices accurate at time of writing
It's an 11-pound steel and wood gun that chunks out America's finest .45 ACP rounds. It's not made to be practical, and in a world where PCCs can weigh less than 5 pounds, the Auto-Ordnance is more about style than practicality.
This chunky beast is a ton of fun, though. For many of us, it's the closest we can get to a Thompson without tens of thousands of dollars.
While it might not be super practical, these guns are very well made. I've found them to be exceptionally accurate, very reliable, and 11 pounds makes them dang near recoil-free.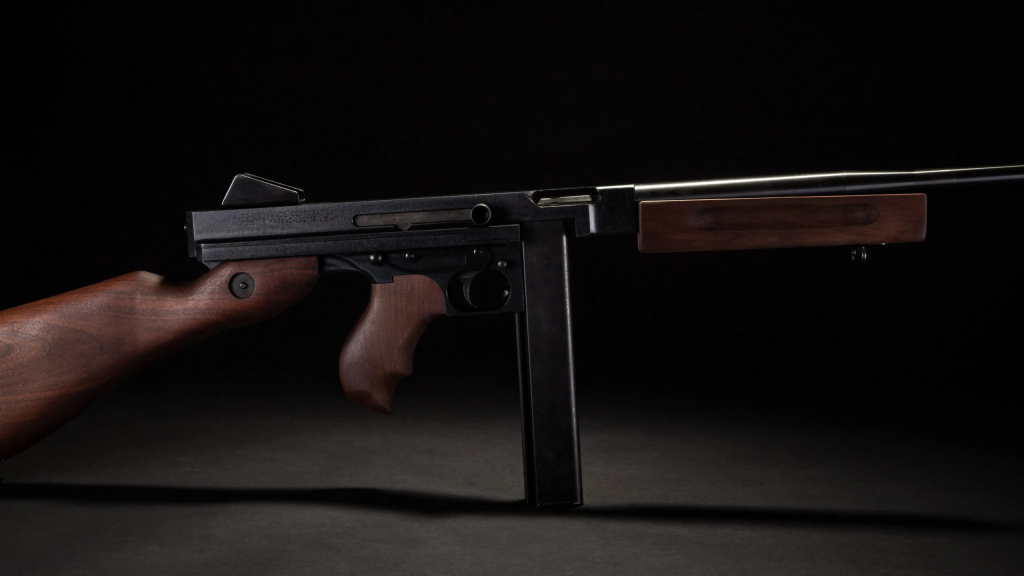 The Thompson M1 provides that scant World War II feel and look, and some may prefer the gangster grip-equipped 1927-A1 model.
Either way, you get a fun gun that will certainly gather some looks at the range and give you that feeling of historical goodness.
12. JP Enterprises GMR-15
With USPSA PCC competition becoming more and more popular, we will most certainly start to see certain guns popping up more and more.
One such model is the JP Enterprises GMR-15. GMR clearly stands for Gamer, and 15 is because it's an AR-15, or so I assume.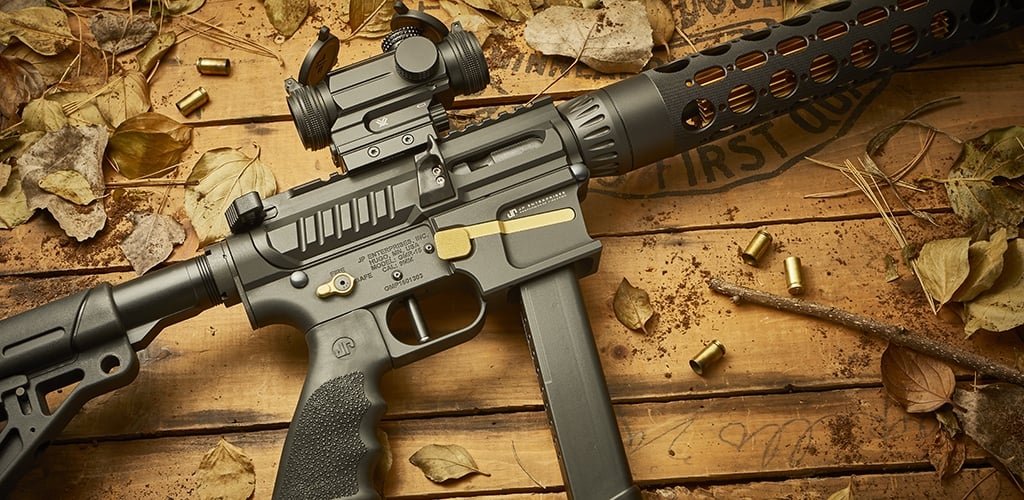 The GMR-15 is used by 22% of PCC competitors. It's a factory rifle that comes outfitted with many features that refine it into a state-of-the-art PCC competition rifle.
JP Enterprises produces tons of high-end AR stuff, and they seemingly tossed it all into this PCC. This includes the Supermatch barrel, which drives 9mm accuracy about as far as it can go.
When paired with the awesome JP Enterprises trigger, it makes placing 9mm holes in tiny paper and cardboard targets quite easy.
1661
at Rainier Arms
Prices accurate at time of writing
Prices accurate at time of writing
I love the dual-charge design that features a standard AR-15 charging handle and a side charging handle on the left side.
The buffer system is the JP Enterprises silent captured spring tuned specifically for the 9mm round. A nice compensator shakes up muzzle rise and recoil and keeps the gun super handy. It's going to be loud, but it's going to be controllable and easy to steer between targets.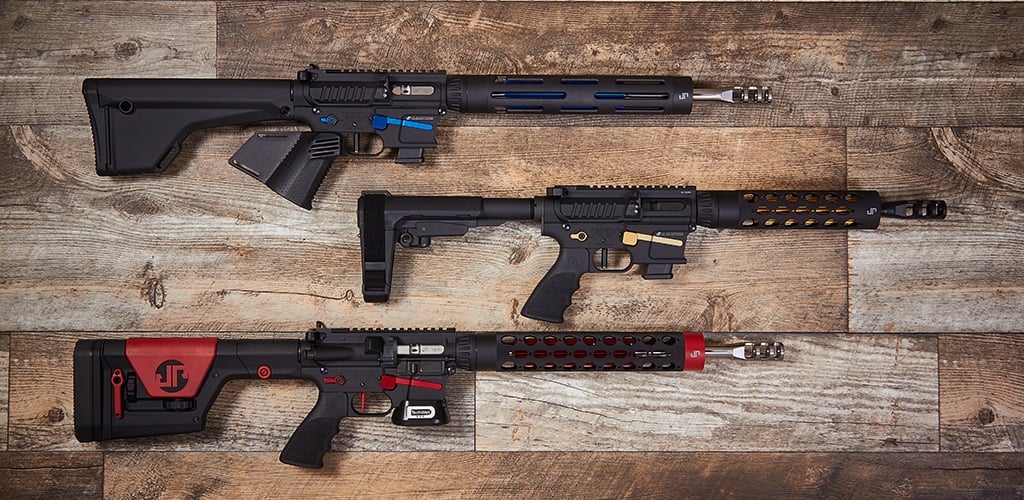 JP Enterprises also ensures the gun's ergonomics with a proper magazine release, a super lightweight handguard, and your choice of various rifle stocks.
The GMR-15 provides an out-of-the-box option, all you need to do is add an optic, and you can hit the competition ground running.
Oh, and yes, it takes Glock magazines.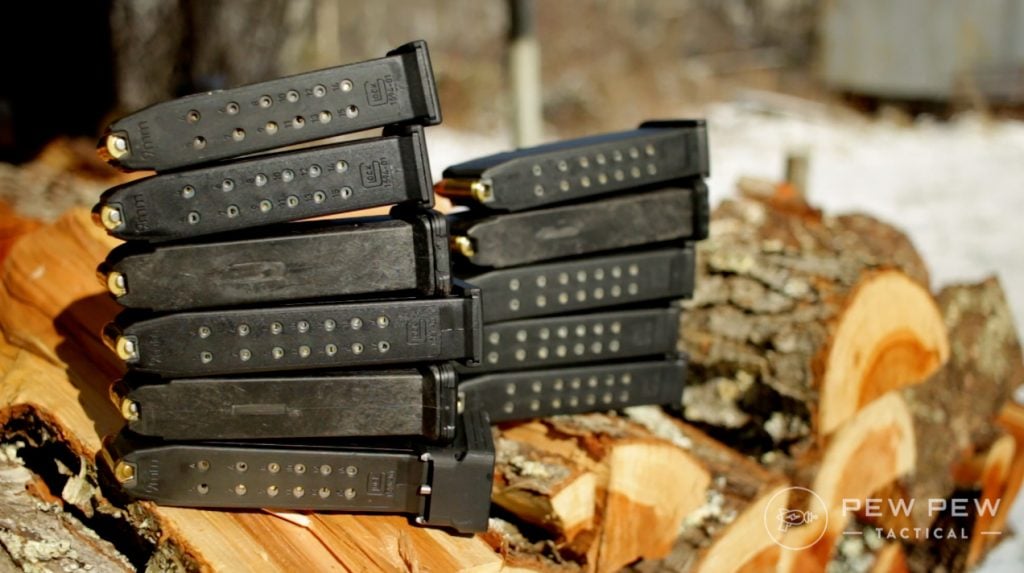 Conclusion
Here are some of the advantages of the pistol-caliber carbine:
They're lighter and more mobile than rifles.

They fire at a

higher velocity

than their handgun counterparts.

They're not as loud as most rifles and handguns.

Lower recoil than most rifles with the exception of .22 caliber rifles.

Virtually all of the same accessories that you can add to your rifles, like optics, flashlights, and vertical foregrips can be mounted on your carbine.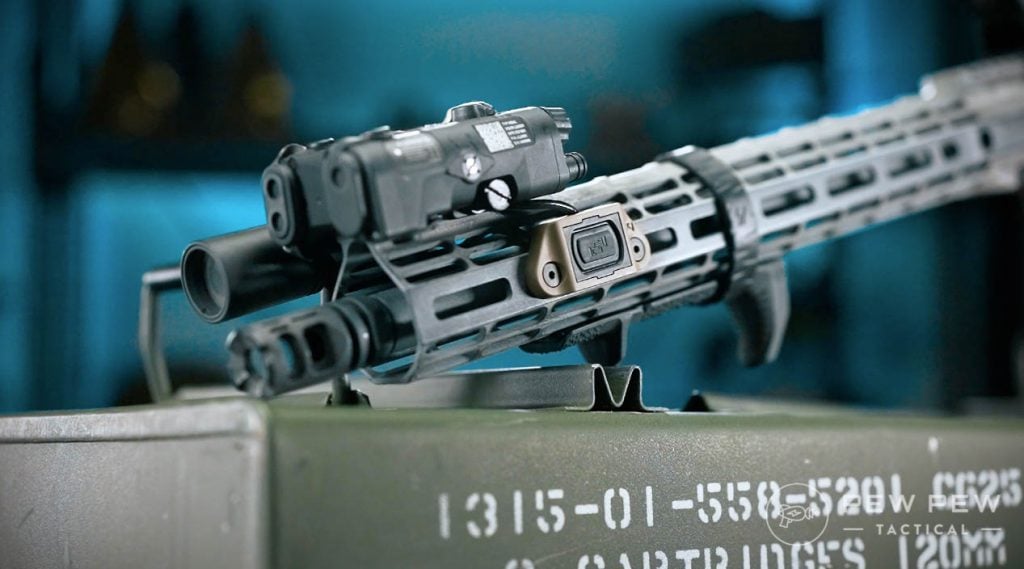 The caliber you choose depends widely on your personal preference, especially when you have to choose between a .45 ACP and a 9mm. Or even 10mm!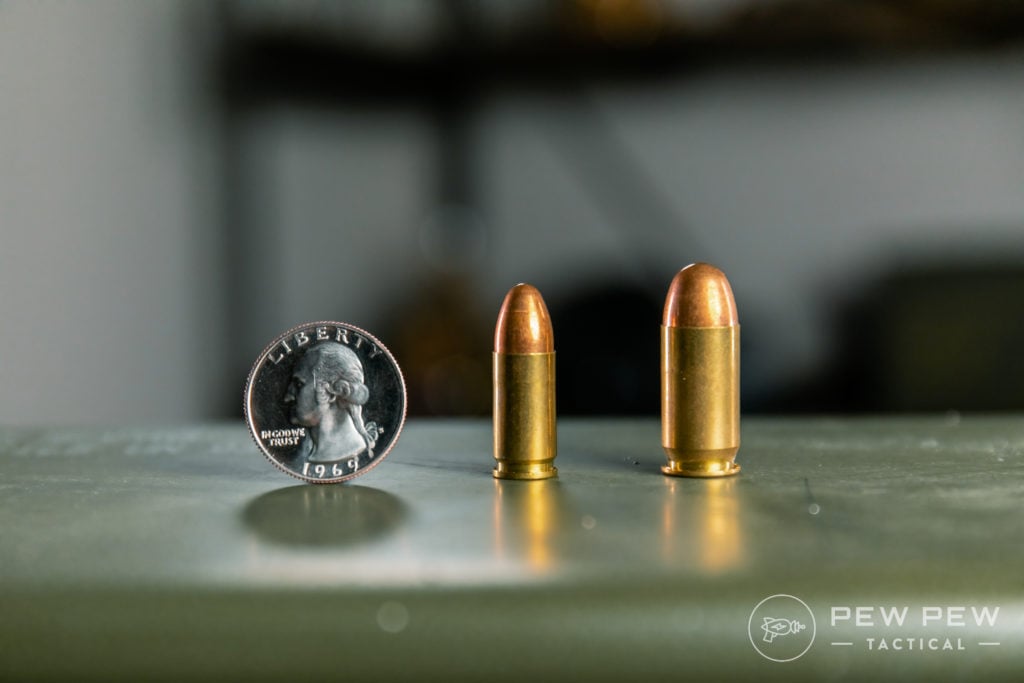 If money is a factor, remember that the 9mm ammo is significantly cheaper than all the other calibers.
Regardless of the caliber you go with, you'll get much more stability and accuracy with your carbine than with a handgun.
What's your take on PCCs…what did end up going with? Looking for the Best AR-9…we've got an article for that. As well as Best 9mm Ammo and Best 9mm/.45 ACP Suppressors to fully kit out your gun.