Pistol-caliber carbines: they're not pistols, but they're not quite rifles either.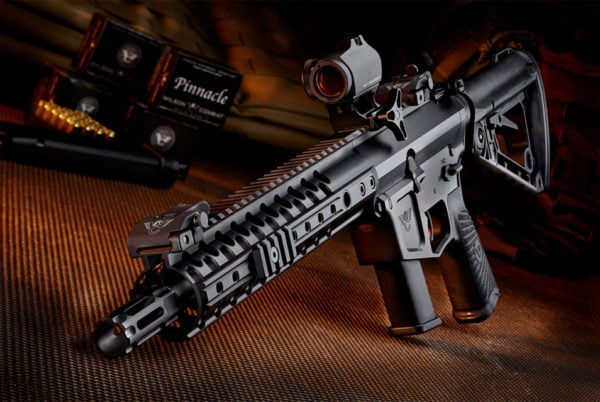 Some people might tell you that they're rifle-wannabes that are unnecessary and impractical, but I think pistol-caliber carbines are optimized for self-defense, competition, and FUN.
We're going to look particularly at pistol-caliber carbines for self-defense…particularly at home where these things really shine.
Plus some basics and layout just what a pistol caliber carbine is…and why you might want one.
Table of Contents
Loading...
Why a Pistol-Caliber Carbine?
One of the questions that I hear quite often from people who don't seem to understand pistol-caliber carbines (PCC) is: "why not go with a rifle instead? Surely an AR-15 or AK-47 can get the job done much more effectively, right?"
Yes and no.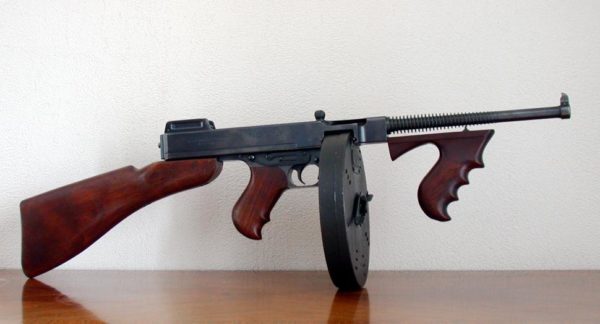 PCC vs Rifle
If you need a home defense gun that will be used primarily in open space to secure perimeters and neutralize threats outdoors, the AR-15 and AK-47 are great choices.
However, indoor home defense scenarios are a little different.
You want a gun that's smaller and allows for maneuverability in tight areas, like around doorways and down hallways. Most pistol caliber carbines are going to be shorter than any long gun, save maybe some of the nice bullpup shotguns and rifles out there.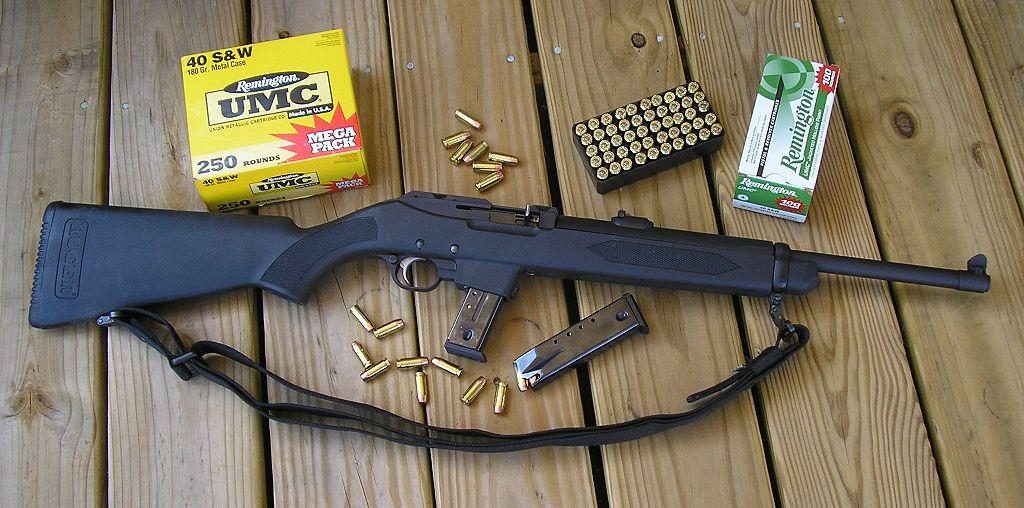 Simply put, you don't want to lug around a bulky rifle or shotgun if you're moving through a confined space. In addition, when comparing a pistol-caliber carbine specifically to the AK-47, you also get an added benefit of lower recoil.
PCC vs Handguns
The biggest advantage that the pistol-caliber carbine has over your sidearm is stability.
Some of you may be crack shots who can shoot the wings off a fly with your trusty pistol.
For the rest of us, handgun accuracy tends to drop when shooting at a target from 15 – 25 yards away, especially in dangerous situations where adrenaline and stress levels are through the roof.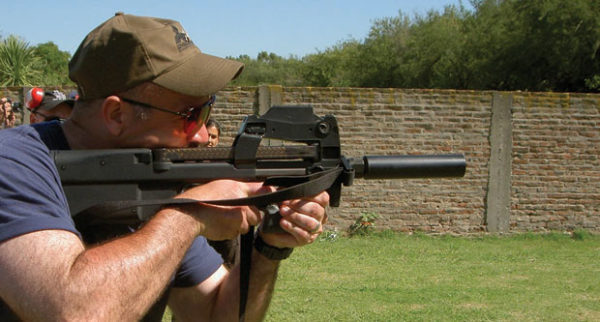 For these types of scenarios, pistol-caliber carbines give you that added stability to hit your mid-range target with more accuracy.
Another benefit of pistol-caliber carbines is that many of them are designed to work interchangeably with some of your favorite handguns, so you can use the same magazine for your Cx4 Storm as you can for your Beretta 92.
Check out this video of how to shoot pistol-caliber carbines in a home defense situation.
Many PCCs also take OEM and aftermarket Glock mags, making them a good choice for shooters who already carry Gaston's Greatest anyway and might have a few extra mags around the house.
Choosing a Good Pistol-Caliber
There are some great home defense shotguns out there, but a shotgun might not always be the best option.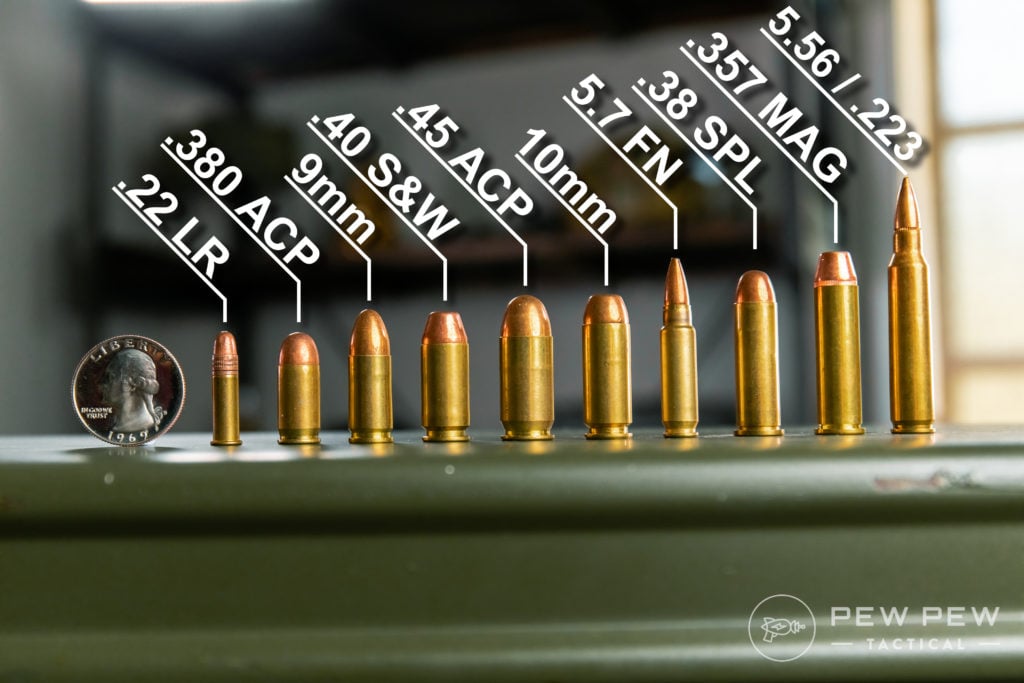 The average pistol-caliber carbine shoots either 9mm, .40 S&W cartridges, or .45 ACP, and less common are .380 and 357 SIG cartridges.
The benefit to this is that you'll find no shortage of ammo and in most cases, your pistol-caliber carbine is more affordable to shoot than the average rifle.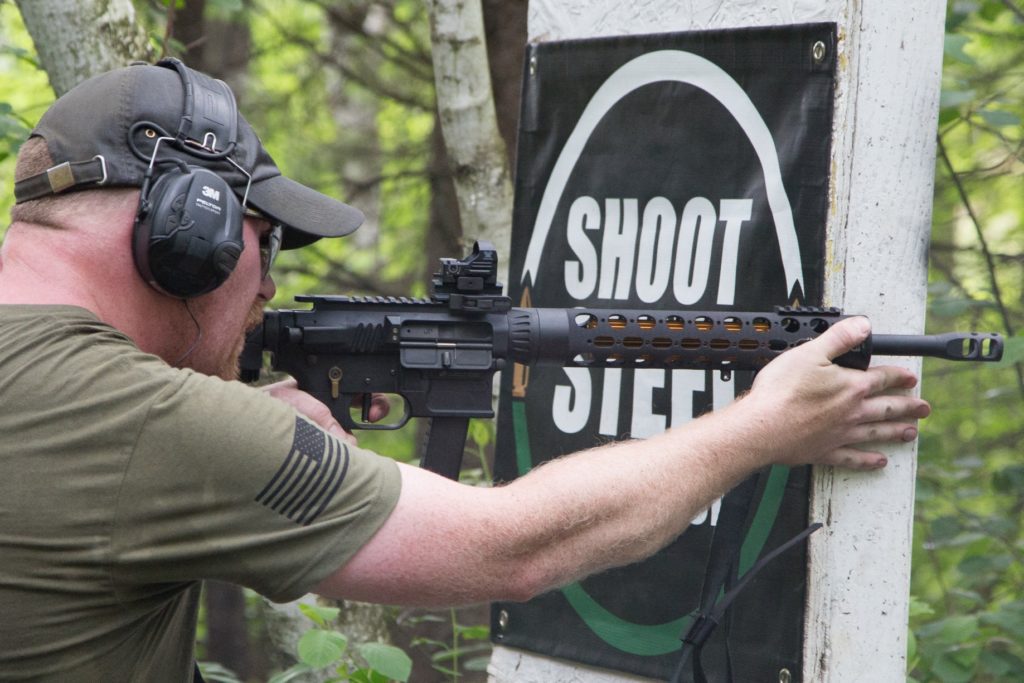 Now that we've covered some of the basics about pistol-caliber carbines, let's have a look at some popular carbine models.
Best Pistol-Caliber Carbines
1. Hi-Point 995TS
First up, is a doozie, but hang in here with me for a second.
We're going to get the controversial one out of the way up front. It's a Hi-Point. We know what that name means, and we know its not exactly a byword for quality.
All the same, it's on the list.
320
at Cabelas
Prices accurate at time of writing
Prices accurate at time of writing
The Hi-Point 995TS ($350 -$480) is a 9mm carbine that many shooters call one of the best budget PCCs around. It's sleek, reliable, surprisingly accurate given its price (and lineage) and weighs in at just 6.25 pounds.
Its tactical design gives the gun a menacing look while its size and weight make it comfortable to shoot.
In fact, many Hi-Point users report that the 995TS is much more comfortable to shoot than the company's handguns, which have received criticism for being unnaturally large and blocky…and genuinely terrible.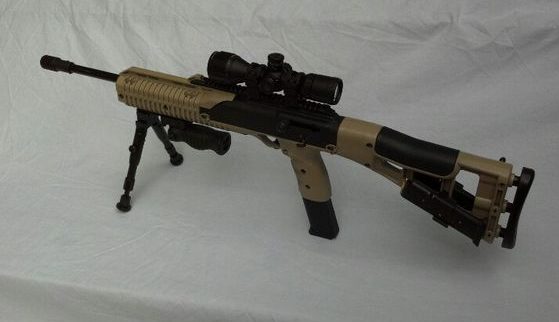 For whatever reason, Hi-Point did well with the 995TS. It's far more reliable than really any other Hi-Point offering, and certainly more comfortable to shoot.
Another nice feature of the 995TS is its iron sights, which are positioned high enough to make it easy to line up targets without the need of a mounted optic piece.
Overall, the carbine is comfortable to shoot and has an incredible accuracy (relatively speaking), and its low retail price makes it a great carbine for beginners.
The only thing holding this gun back from reaching its top potential is the Hi-Point name, which has been historically associated with cheap design and jamming malfunctions.
With that said, the 995TS is a great gun to have around the house. It's cheap to buy, cheap to maintain, and is great for the range or for dispatching the occasional varmint around the home.
This one I wouldn't necessarily recommend carrying into a life-or-death scenario…unless it's all you have, but a Hi-Point is still better than no gun at all, and the 995TS is certainly nothing to sneeze at when it comes to protecting yourself.
In particular, this bad boy makes for an excellent "truck gun."
320
at Cabelas
Prices accurate at time of writing
Prices accurate at time of writing
It fits nicely in a toolbox, and is cheap enough that you can keep one in a boat when fishing…just in case.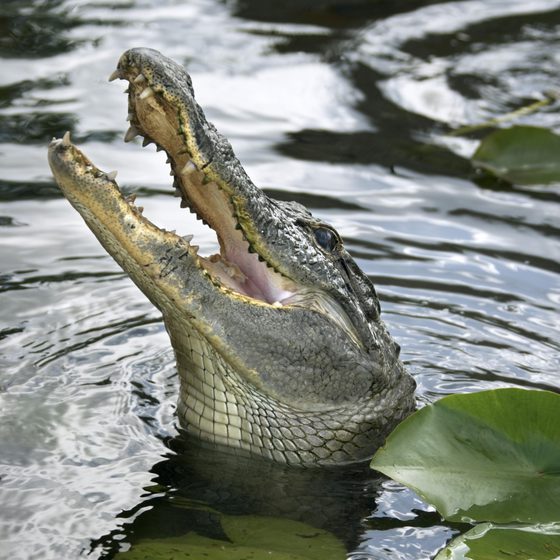 2. Kel-Tec SUB-2000
The Kel-Tec SUB-2000 ($400 – $500) is a semi-automatic carbine that supports 9mm or .40 S&W cartridges, depending on your caliber preferences.
Best Backpacker PCC
350
at Brownells
Prices accurate at time of writing
Prices accurate at time of writing
There's a lot to love about the SUB-2000 carbine. For starters, before you buy the gun, you can choose which handgun magazine that you want it to take so that you can use the carbine interchangeably with your favorite sidearm.
Compatible magazines include various Smith & Wesson, Sig Sauer, Beretta, and Glock handguns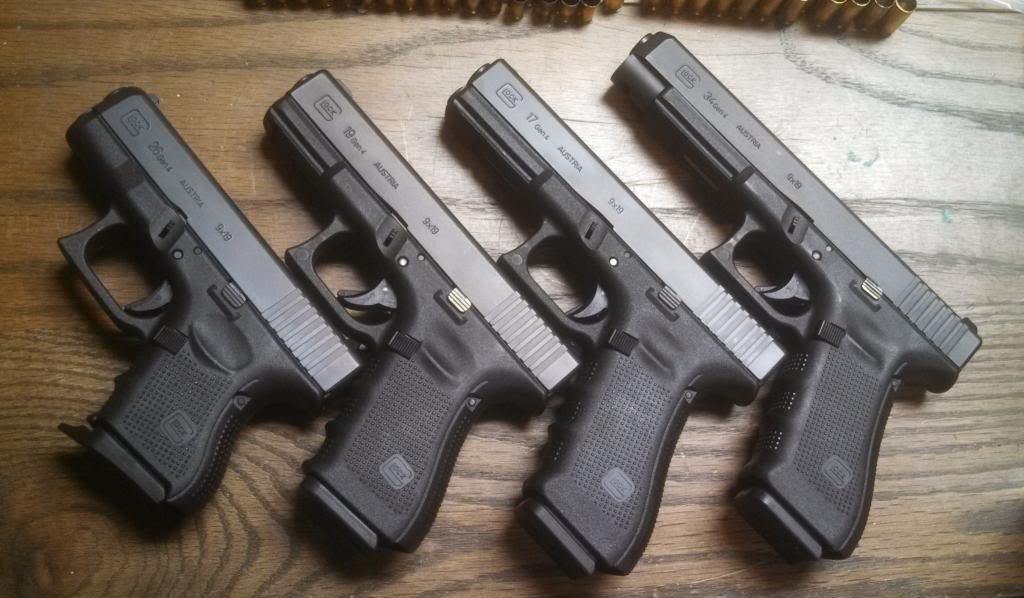 Don't let its simple design fool you. The SUB-2000 is anything but basic
When it comes to comfort and convenience, the SUB-2000 earns a gold star. It weighs a total of 4.25 pounds without ammo and is 30.5" in length, and it can also be collapsed and stored away in a compact location.
Great features include:
Fiber optic front sight for easily lining up targets.

The bolt is located underneath the buttstock in a convenient and out-of-the-way position.

Tons of aftermarket parts available.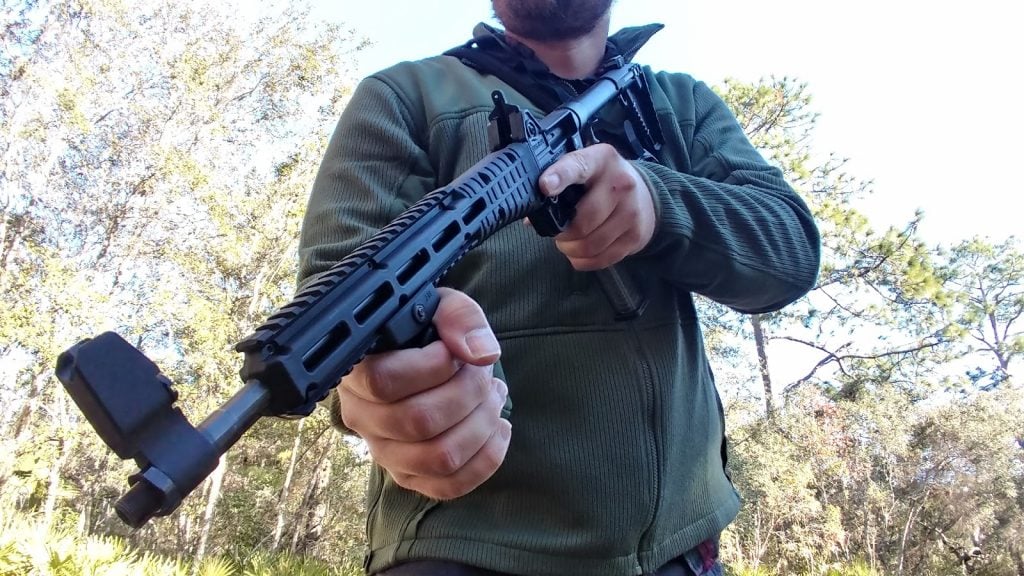 The SUB-2000 is a solid gun that combines power, accuracy, and comfort, and is a great gun for its price.
Also, since it's a Kel-Tec, you're protected under a lifetime warranty in the event of something malfunctioning.
Check out our full in-depth review.
3. Beretta Cx4 Storm
Next, we have the Cx4 Storm, a highly-acclaimed pistol-caliber carbine that is made to support the following cartridges: 9mm, .40 S&W, and the .45 ACP (recently discontinued, but there are models floating around).
698
at EuroOptic
Prices accurate at time of writing
Prices accurate at time of writing
Like all Beretta products, the Cx4 Storm is praised for being durable, dependable, and highly accurate, as well as being ergonomically designed and able to accommodate people of all sizes.
Straight out of the box, the gun is a bit basic and simplistic. You do have access to loads of aftermarket parts like vertical foregrips, flash suppressors, scopes, and flashlights or laser sights.
In fact, you can turn this $700ish gun into a $2000+ project on upgrades alone if you wanted to, but the benefit of the Cx4 Storm is that you don't have to invest any money into it to enjoy a high-quality carbine.
If you're still not impressed, watch it in action:
Some of the awesome features of the Cx4 Storm include:
Incredibly lightweight at 5.75 pounds.

More compact than most carbines with an overall length of 29.5".

Doesn't have the cheap and flimsy feel that some of the other polymer guns on the market have.

Magazines are inserted through the pistol grip, making it easier to reload in low-light or high-stress situations.

Picatinny rail on the top of the stock makes it easy to mount optics.

Can choose whether you want the magazines to be compatible with the Px4 or 90 series pistols, and with adaptors the Cx4 also accepts 8000-series magazines.
When it comes to innovative design and dependability, Beretta's a name you can trust
One of the only complaints about the Cx4 Storm is the trigger. It's plastic and many gun owners feel that its trigger pull of around 7.5 pounds is much too heavy for a carbine.
Fortunately, there are aftermarket accessories available to help you reduce the trigger pull down to something around 3 – 5 pounds.
Also, removing the trigger assembly is relatively easy, as seen in this video:
4. CZ Scorpion EVO 3 S1 Carbine
The CZ Scorpion EVO 3 ($900) is a 9mm carbine that takes CZ's classic Scorpion machine pistol and updates it to a modern (and civilian legal) design that is sleeker, and more reliable.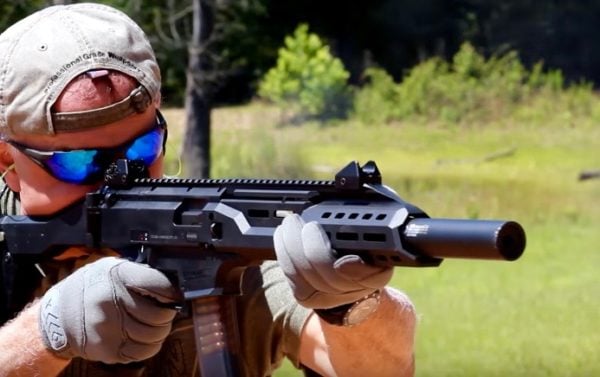 I'll save some space here and just send you to our complete CZ Scorpion EVO review…suffice to say its an excellent take on a classic and it will absolutely earn its keep in a home defense scenario.
Also, taking it to the range is hella fun.
Best Pick Pistol Caliber Carbine
1300
at Brownells
Prices accurate at time of writing
Prices accurate at time of writing
What's your take?
5. HK USC
My personal favorite.
Heckler and Koch are known for producing excellent military-grade weaponry, and the HK USC ($1500-$1800) is no exception to the rule.

This carbine takes .45 ACP cartridges and is the civilian version of the HK UMP, a popular submachine gun that is employed by various security forces around the world…and anyone who has ever played Call of Duty or Rainbow Six.
The USC delivers stopping power, reliability, and maneuverability. Its length is under 35.5" long and weighs less than six pounds, which means that operating it in confined spaces is a breeze.
Also, the gun's molded-in mounting points make it easy to attach optics, lighting, or other devices.
The USC has a submachine gun look and feel to it, which makes it great for home defense, and also really freaking cool. Never underestimate the value of looking cool in a tactical scenario.
The USC comes with a 10-capacity magazine which is made out of the same corrosion-proof polymer as the gun.
Some of the cooler features on this gun include:
Rubber buttstock pad and cheek rest for added comfort.

Ambidextrous safety.

Gun is completely corrosion proof and comes with a lifetime warranty.

327mm sight radius for easy aiming.
If you want a carbine that packs the punch that comes with a .45 ACP but is incredibly easy to shoot, the USC is right for you – and since it's based on the UMP's tactical design, you know that you're getting a gun that's been tried and tested for close to mid-range self-defense.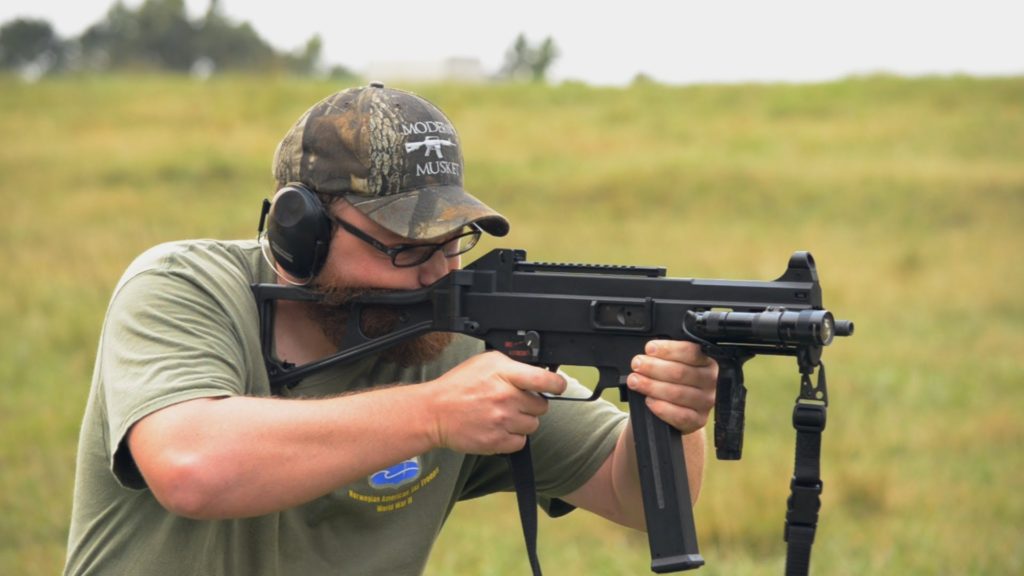 6. PSA 9mm PX-9
Our Editor's Pick for an entry-level 9mm AR-15 PCC that is reliable and takes Glock mags is the PX-9.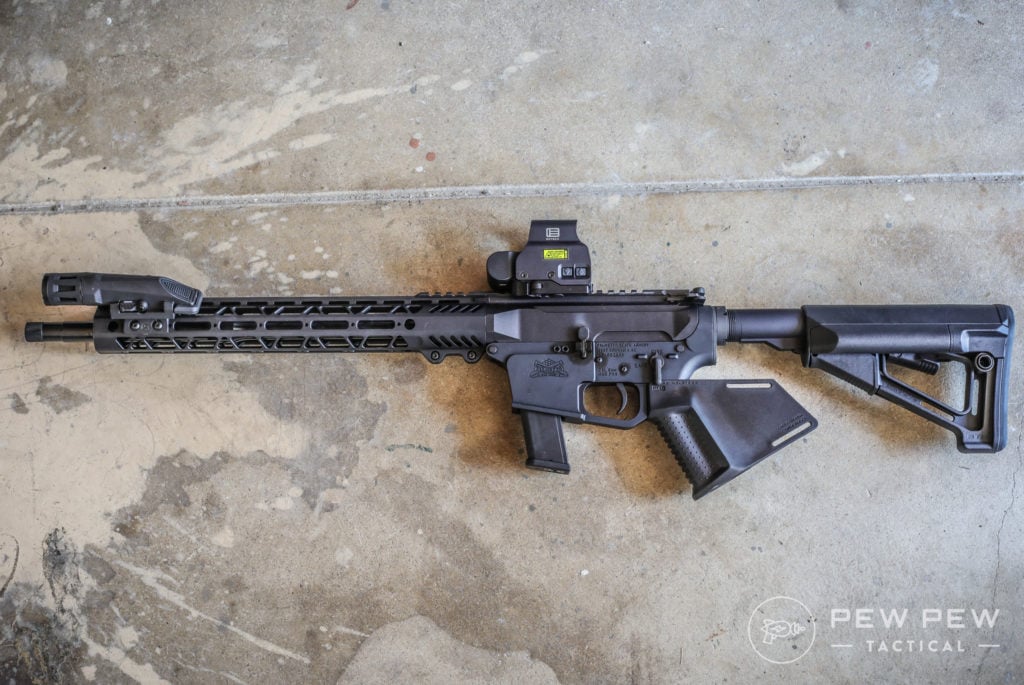 Though it doesn't have last round bolt hold open…it gives you the familiarity of the AR platform and all the potential upgrade potential.
Check it out in a night-time competition!
And with a slightly modded upper!
And our full review where we deep-dive into its reliability, accuracy, and more.
Best budget AR-9
549
at Palmetto State Armory
Prices accurate at time of writing
Prices accurate at time of writing
7. Lead Star Arms Prime 9mm
A new addition that I've been waiting to hit regular production ever since I shot one last year…
And it's finally here!
The Lead Star Prime is uber light and maneuverable. But they didn't remove so much material that it couldn't dampen the recoil or there was a trade-off with reliability.
I wish I got a nice picture with the PCC…but here's their AR-15 version!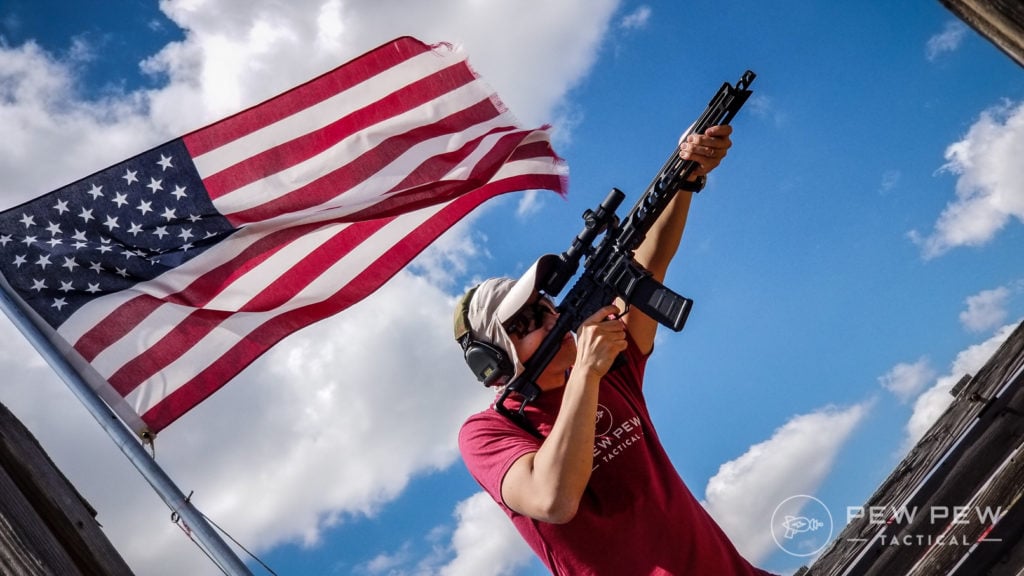 Oh yea…and it's helped a few shooters get some World shooting titles in PCC.
1700
at Palmetto State Armory
Prices accurate at time of writing
Prices accurate at time of writing
I'm hoping to get one in-hand to test in the near future.
But based on my experience (and the dozen or so other shooters that ran it through the stage)…you can't go wrong with it!
Let's Recap
Here are some of the advantages the pistol-caliber carbine:
They're lighter and more mobile than rifles.

They fire at a

higher velocity

than their handgun counterparts.

They're not as loud as most rifles and handguns.

Lower recoil than most rifles with the exception of .22 caliber rifles.

Virtually all of the same accessories that you can add to your rifles like optics, flashlights, and vertical foregrips can be mounted on your carbine.
The caliber you choose depends widely on your personal preference, especially when you have to choose between a .45 ACP and a 9mm.
Regardless of the caliber you go with, you'll get much more stability and accuracy with your carbine than with a handgun.
If money is a factor, remember that the 9mm ammo is significantly cheaper than .40 S&W and .45 ACP, as well as most other cartridges on the market.
Parting Words on Pistol Caliber Carbines
The opinions on, pistol-caliber carbines in the firearms community are mixed.
Some people love them, others think they're impractical, and a lot of people simply don't know enough pistol-caliber carbines to make an assessment because they're so overlooked.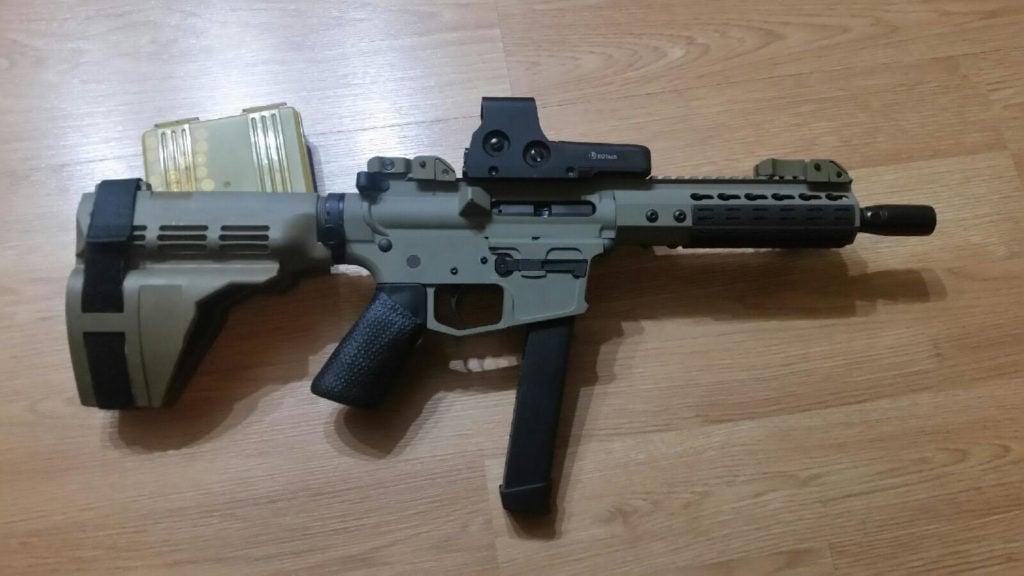 Before making your decision on whether you want to buy your first carbine or not, I recommend visiting the range and trying a few out. I personally think that carbines are equally as fun to shoot as rifles and much more fun than handguns.
The truth is that they're perfect for home defense because they provide the best of both worlds: maneuverability more similar to a handgun and the stability of a rifle. Plus dang fun for competitions.
If you already have experience shooting pistol-caliber carbines, what are your favorites? Know of one we missed? Want to yell at us for the blasphemy of recommending a Hi-Point? Let us know in the comments below!
Then check out other favorite guns & gear in Editor's Picks.