Forget everything that you've learned about conventional firearms.
Bullpup rifles and shotguns break all of the rules.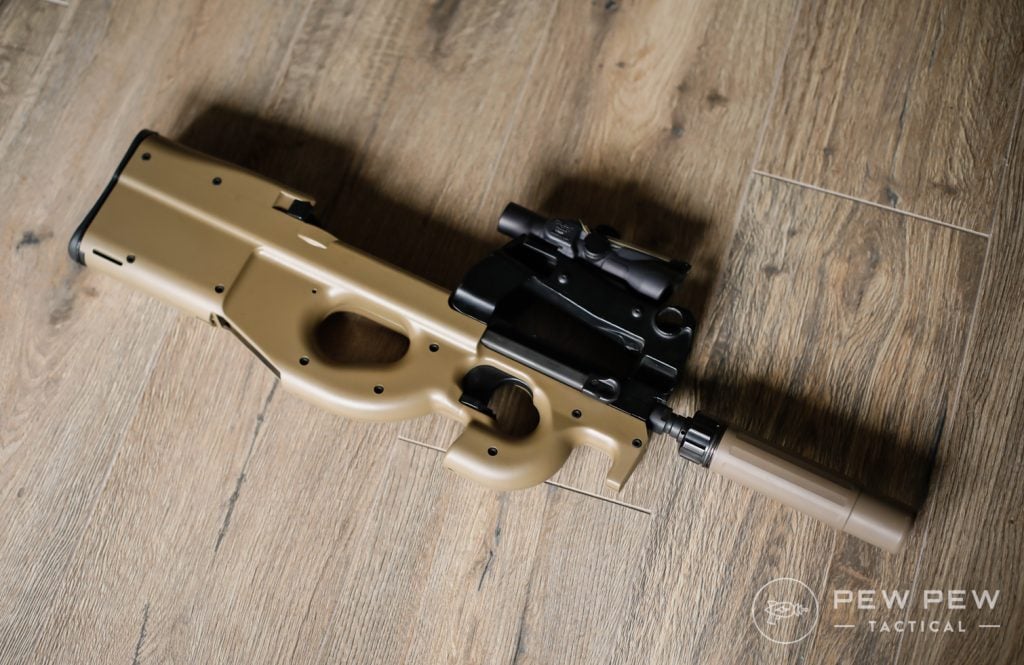 A "bullpup" is a type of firearm with its action and trigger behind the trigger group.
This setup reduces overall length and weight substantially while not sacrificing barrel length and velocity.
They're short, compact, and easy to handle, but still have the same accuracy as long-barrel rifles, shotguns, and sub-machine guns.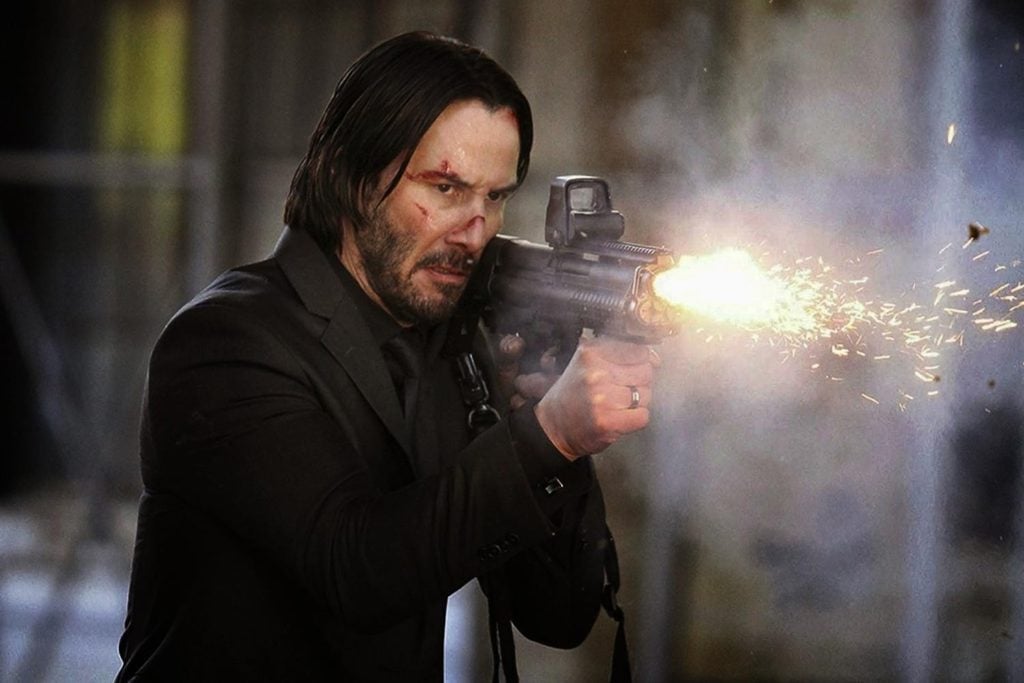 I'll cover more exactly what a bullpup gun is, the pros/cons, and the best models out there right now.
Table of Contents
Loading...
What Is a Bullpup Firearm?
Bullpups have the action located behind the firing grip.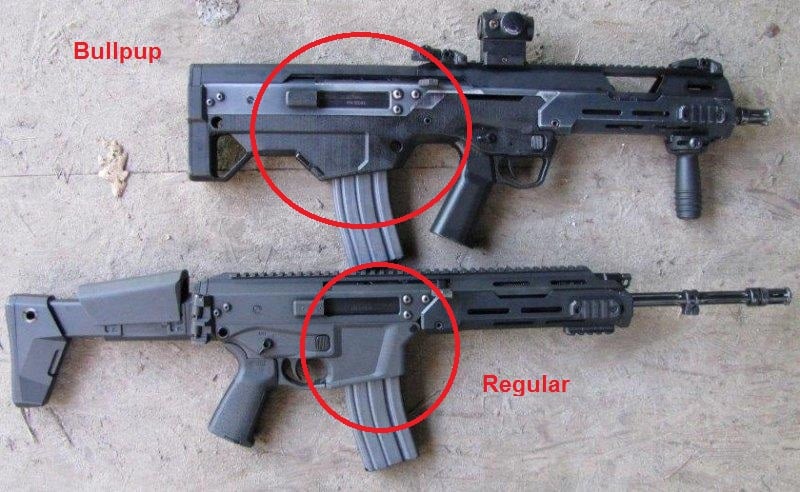 In other words, the part of the gun where the magazine, barrel, and bolt meet is positioned behind the trigger instead of in front of it, like with conventional guns.
Because bullpup firearms have a different design than their traditional counterparts, they need to be handled differently.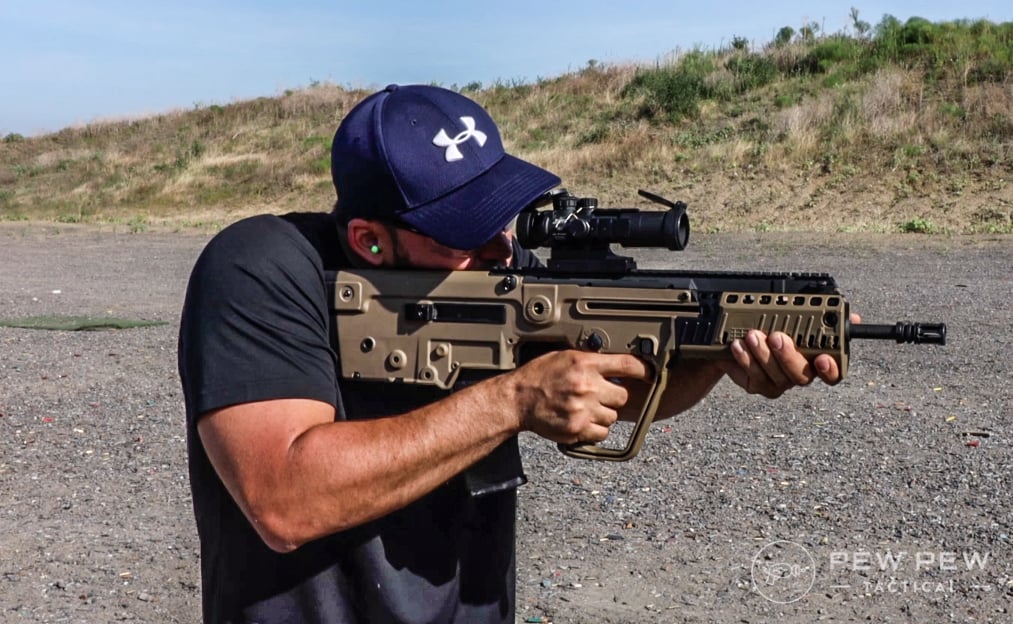 When shooting a bullpup gun, you'll need to hold the firearm closer to your body when aiming and shooting.
This, combined with the fact that bullpup guns generally have shorter overall lengths, makes them great for shooting in confined spaces.
Pros and Cons of Bullpup Guns
Bullpups are something many people either love or hate, and it can take a lot of practice before you master shooting one.
They have a lot of benefits in a tactical setting…which is why various bullpup guns have been used by armed forces around the world, including Britain, France, Israel, and Australia.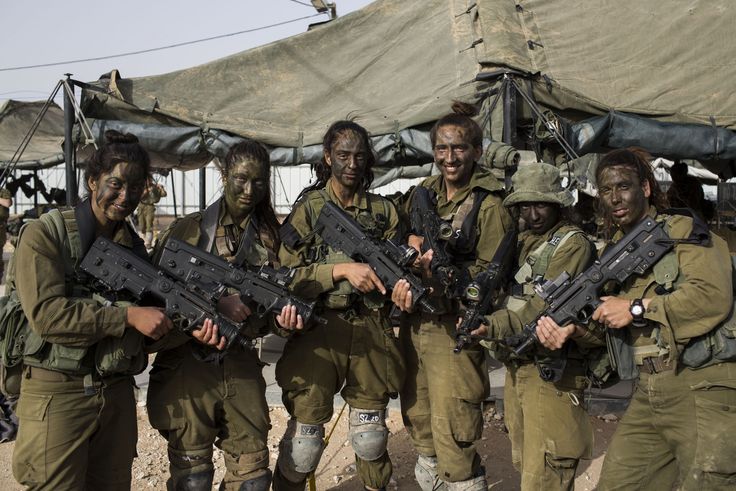 Pros of Bullpups
Many bullpup versions are more compact than conventional models, increasing their maneuverability.
In addition, the design allows for a longer barrel without sacrificing overall length, accuracy, and muzzle velocity that comes with a shorter barrel.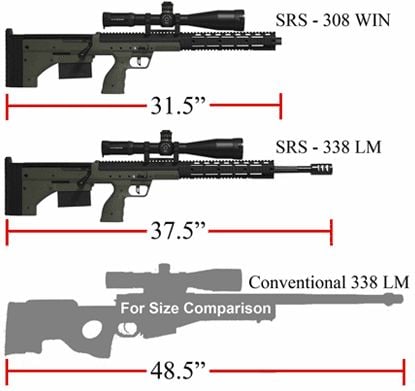 And since the gun has to be held closer to the body, you're less likely to experience fatigue from extensive shooting.
Your hand positioning helps you aim and shoot from a lowered position quicker than conventional guns.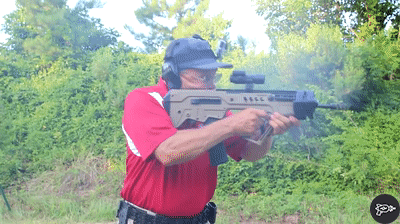 While it's true that bullpup weapons have some benefits that set them apart from traditional firearms…there are still a couple of cons.
Cons of Bullpups
Now for the downsides…
Bullpup guns that aren't specially designed to eject casings downward are prone to hitting left-handed shooters in the face. Fortunately, most newer bullpup firearms have found a way around this with downward and upward ejection features.
Also, many bullpups are back-heavy, which can affect the gun's balance and can cause the muzzle to rise significantly when being fired.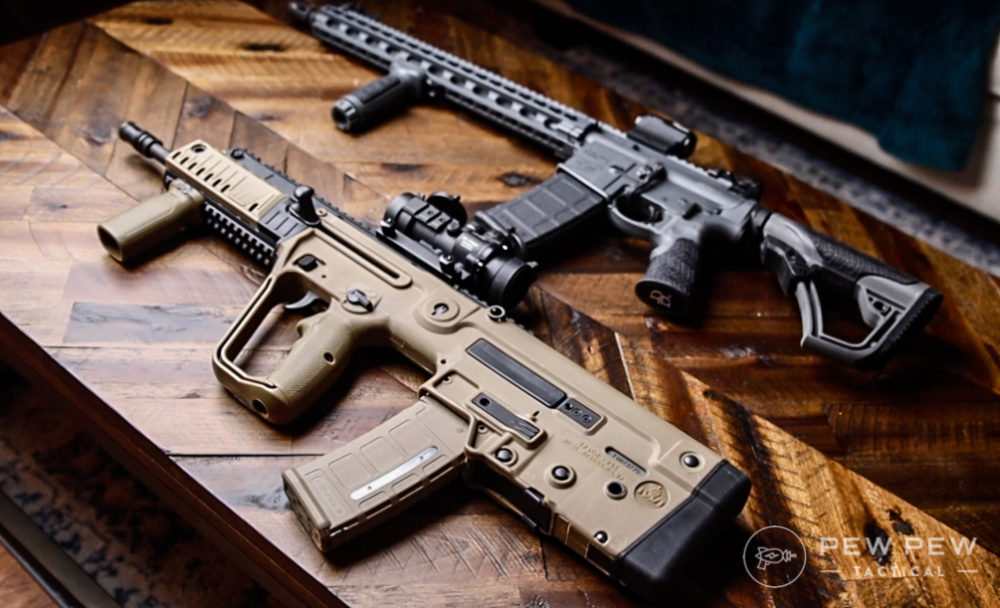 Not to mention, the positioning of the magazine can make it more difficult to rapidly reload bullpup guns.
In the rare and unlikely event that your bullpup backfires, the way bullpup guns are held means the explosion happens much closer to your face.
The Bottom Line
The advantage of using a bullpup gun over a conventional firearm is improved maneuverability, which is why bullpups are ideal for shooting in confined spaces.
Additionally, this is also why bullpup shotguns make decent weapons for home defense.
Best Bullpup Rifles & Shotguns
Now that we've covered the basics of what a bullpup is and why you might want one, let's have a look at some popular bullpup models…in no particular order.
1. IWI Tavor X95
Hands down one of the best and most widely adopted bullpups on the market is the Tavor X95 from IWI.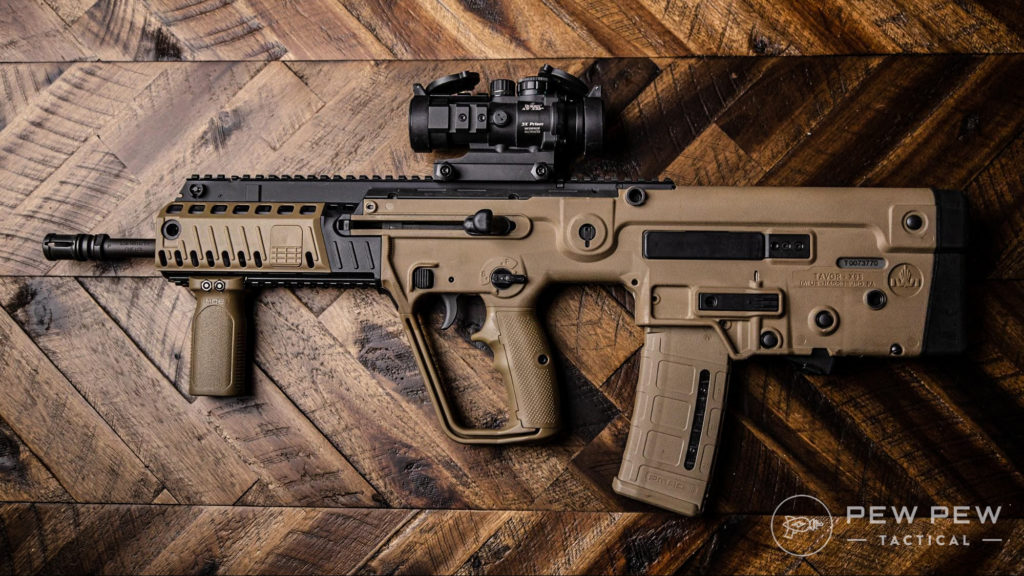 From the sleek styling to the ambi controls, the Tavor series of rifles have been a hit since the start — the X95 being the best of the bunch!
The short version though is that this gun runs. While the Tavor, in general, has always been a great bullpup, the X95 gains the benefit of iterative design and has improved the platform greatly.
Soft shooting, compact, ultra-reliable, if we were going to pick a king of Bullpups — it would be this one.
1795
at Palmetto State Armory
Prices accurate at time of writing
Prices accurate at time of writing
If you want the whole story, take a look at our hands-on Tavor X95 review!
2. Desert Tech SRS-A2
Don't let the size fool you this gun is a fantastic rifle.
The Desert Tech Stealth Recon Scout A2 is a bullpup, bolt-action model known for its accuracy and compact nature.
Its bullpup design makes it an effective sharpshooting rifle that's as compact as a submachine gun.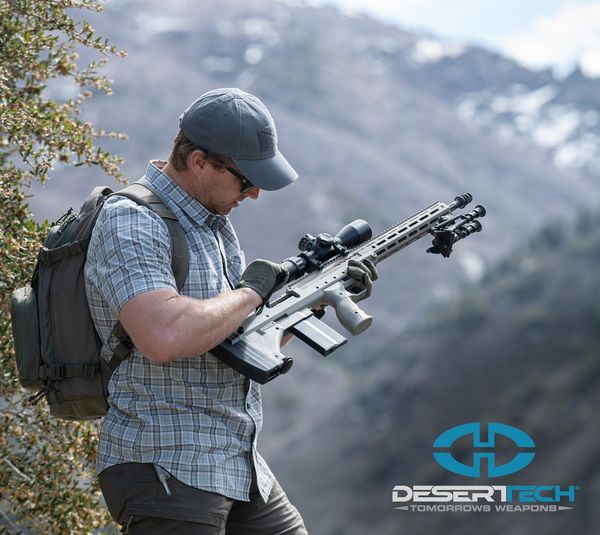 The SRS-A2 is a multi-caliber design, meaning that it can quickly convert from one chambering to another including .308 Win, 6.5CM, .300 Win Mag, and .338 LM.
Overall, this is a great sniper rifle with an innovative design that allows it to be short and compact without sacrificing accuracy.
Best Precision Bullpup Rifle
3849
at Desert Tech
Prices accurate at time of writing
Prices accurate at time of writing
Best Precision Bullpup Rifle
3. Desert Tech MDRX
Another innovative bullpup rifle coming from the people over at Desert Tech is the Micro Dynamic Rifle, or MDRX.
The MDRX is a one-of-a-kind gun that is lightweight, compact, and has an incredibly futuristic look to it.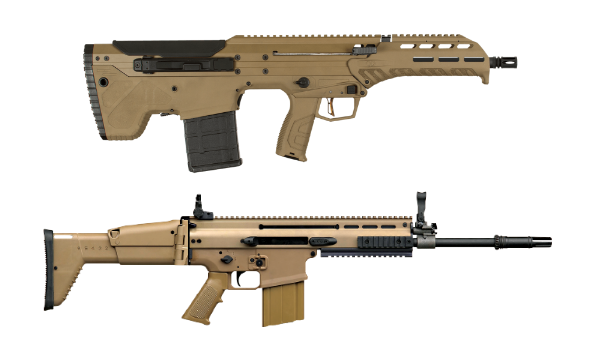 What makes the MDRX an incredible gun is a forward ejection mechanism, meaning the rifle is fully ambidextrous.
It's a favorite among left-handed shooters who're frustrated with bullpup designs that send casings flying in their faces.
Like its SRS sibling, the MDRX is multi-caliber and comes in .223 Wylde, .308 Winchester, and .300 Blackout in the 16-inch and 20-inch with the 20-inch also offered in 6.5 Creedmoor.
2325
at Guns.com
Prices accurate at time of writing
Prices accurate at time of writing
4. FN FS2000
Do you want a battle-tested rifle that's trusted by the Belgium Special Forces and Spanish National Police?
The FS2000 by Belgian company, FN Herstal, is the gun for you. This bullpup assault rifle fires 5.56 NATO rounds with amazing accuracy.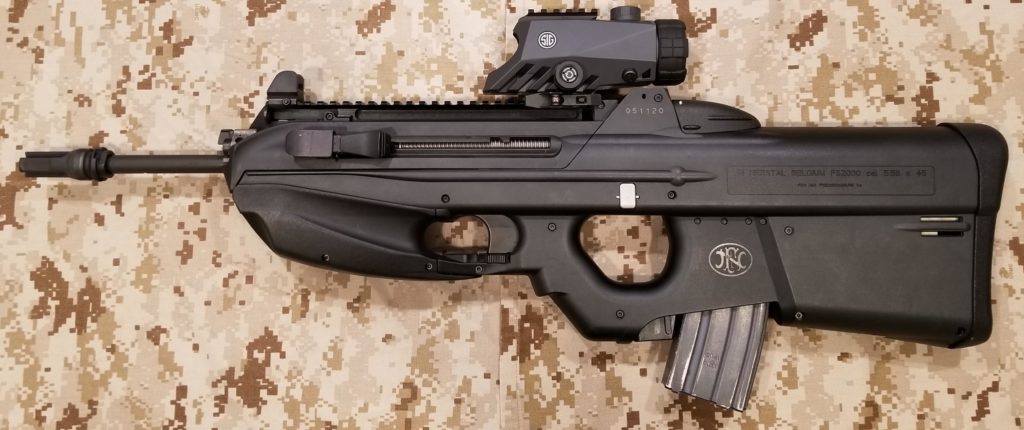 You might have seen the FS2000 feature in popular video games, like the Call of Duty Modern Warfare series, but did you know that weapons by FNH are often used by the Secret Service because of their excellent accuracy, dependability, and functionality?
In this regard, the FS2000 is no exception!
It's fully ambidextrous, so left-handed shooters don't have to worry about experiencing the discomfort that comes with other bullpup guns.
Also, it comes with a 1.6x telescopic sight. And forward cartridge casing ejection protects the faces of left-handed shooters.
The FN FS2000 might be discontinued but you can sometimes find them on the used market.
2888
at FN America
Prices accurate at time of writing
Prices accurate at time of writing
5. PS90
Another reliable bullpup gun manufactured by FN Herstal is the PS90.
This firearm, classified as a personal defense weapon (PDW), is often lumped in the category of submachine guns.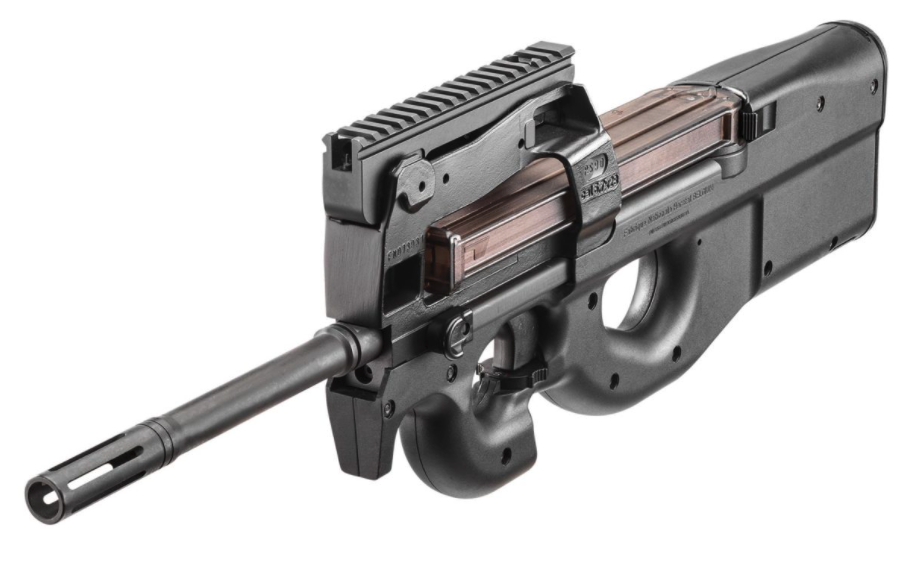 Even if you didn't know the PS90 by name, you've probably seen it feature in various forms of media, like the game Counter Strike and movies, including James Bond, Hunger Games, and X-Men series.
Although its unorthodox design does make it seem a bit far-fetched!
However, the PS90's reputation of excellence has made it a popular choice among LEOs in the United States on a local and national level, as well as the Taiwanese Armed Forces and various militaries in the EU.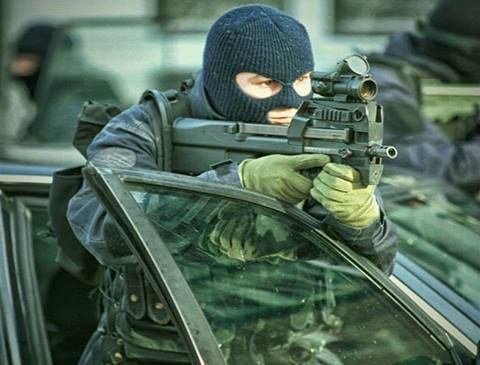 It brings a fully ambidextrous design so righties or lefties can use it.
And it ejects casings downwards, protecting the face of left-handed shooters.
And the magazine sits on the top of the barrel, rather than underneath.
Best Bullpup Rifle
1799
at Brownells
Prices accurate at time of writing
Prices accurate at time of writing
Best Bullpup Rifle
FN PS90
Prices accurate at time of writing
What's your take on the PS90?
6. Kel-Tec KSG
Do you want a bullpup weapon that's perfect for home defense?
The KSG 12-gauge shotgun by Kel-Tec is your best bet. It's smaller than your average 12-gauge but it still packs the same punch.
It doesn't have a long barrel, which means that it's perfect for shooting in narrow and tight spaces.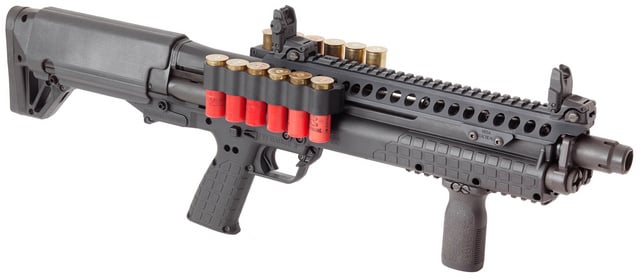 This pump-action shotgun is ambidextrous and can be easily fitted with red-dot sights, making it optimal for tactical scenarios.
Its reputation for reliability in the field has made the shotgun a popular choice among certain French and South Korean battalions.
Additionally, since the KSG utilizes downward cartridge ejection technology, left-handed shooters don't have to worry about shells hitting them in the face.
With a retail price under $1,000, the Kel-Tec KSG is a great weapon home defense weapon to have.
899
at Palmetto State Armory
Prices accurate at time of writing
Prices accurate at time of writing
7. Steyr AUG
You didn't think I'd write a review of bullpups and leave off the Steyr AUG, did you?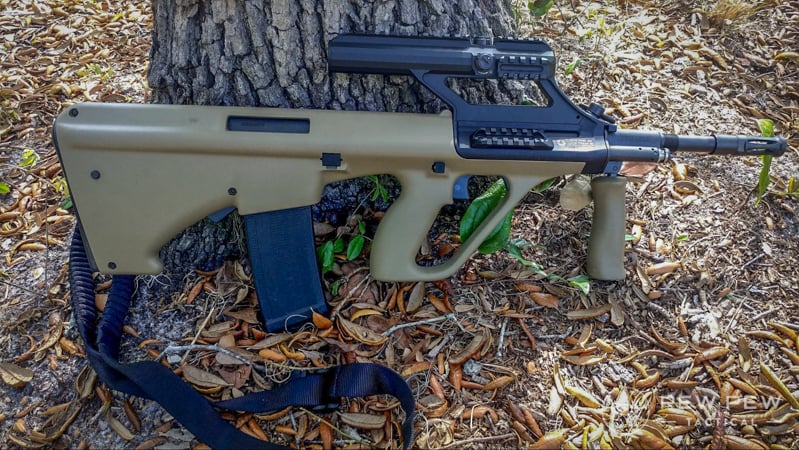 This Austrian bullpup rifle is one of the most recognizable and popular weapons in its field.
It shoots the 5.56 NATO cartridges and is used by a number of countries across the world, including the United States, Taiwan, the United Kingdom, and Australia.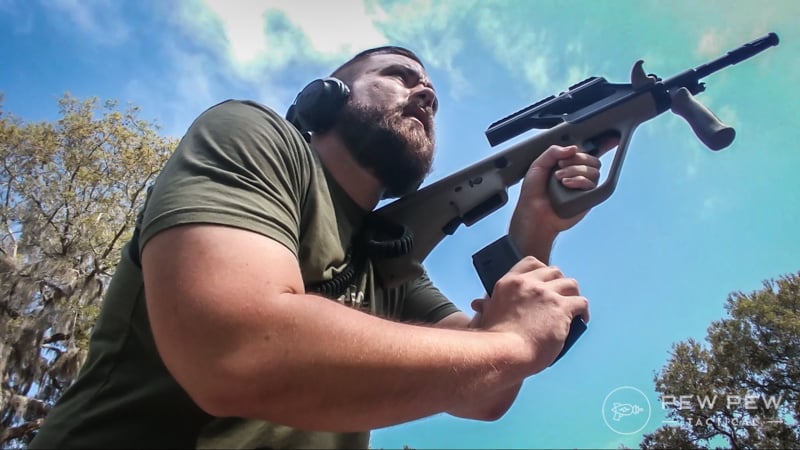 The Steyr AUG might be one of the most recognizable bullpup rifle.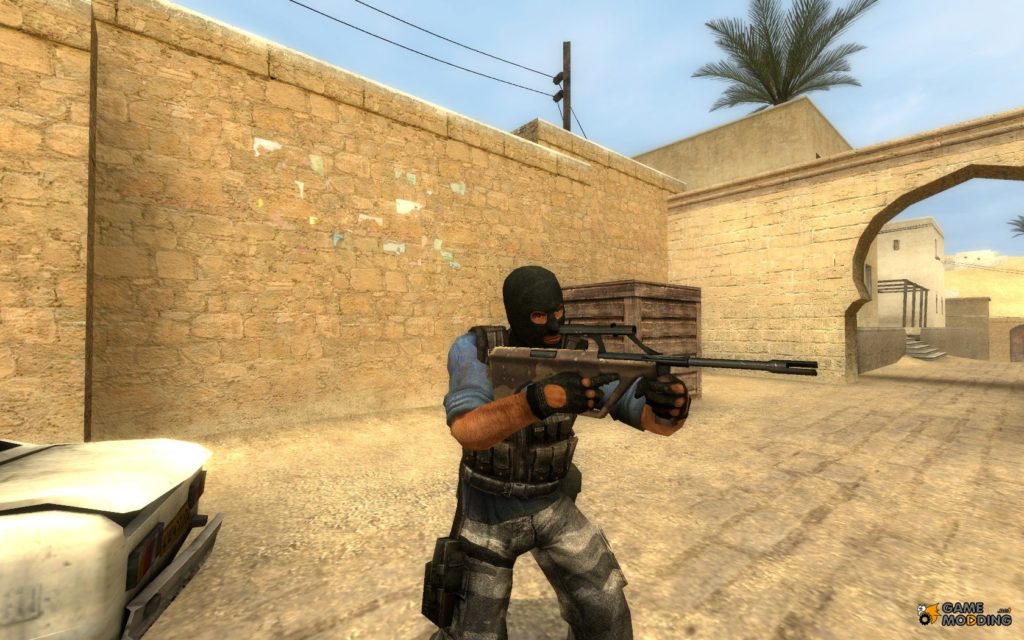 This gun offers an easy-to-use safety mechanism located above the grip.
And the gun can be configured for right or left-handed shooters by changing the bolt to a right or left-side model and sealing the ejection port on the side closest to the shooter's face.
Standard models come with a 1.5x optical sight and carrying handle.
Overall, the Steyr AUG accommodates right-handed and southpaw shooters and is easy to operate. This has helped make the gun a successful tactical piece for nearly 40 years.
2050
at Palmetto State Armory
Prices accurate at time of writing
Prices accurate at time of writing
Need a hands-on review of the AUG? We got you covered! Steyr AUG Hands-On Review!
8. Conversion Kits
If you have something like a Mossberg 500 or even a CZ Scorpion and you want to bullpup…there are ways.
Specifically, conversion kits that can take these and bullpup them.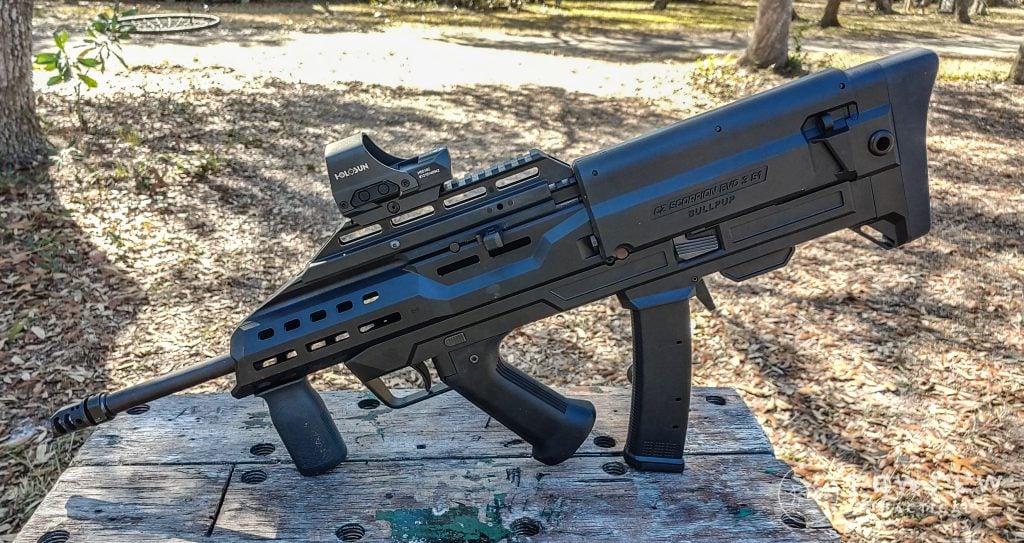 For the Mossberg, Bullpup Unlimited has a kit that you can DIY.
As for the CZ Scorpion, Manticore Arms is your best bet to bullpup perfection. Luckily, we have the deets on the Manticore build as fellow PPT writer Travis took it for a test. Read his full review here!
Best Pick Pistol Caliber Carbine
833
at Kentucky Gun Co.
Prices accurate at time of writing
Prices accurate at time of writing
Best Pick Pistol Caliber Carbine
If you own a Ruger 10/22, converting it into a bullpup rifle is cheap and relatively easy. For less than $250, you can order a bullpup conversion kit from High Tower Armory that turns your Ruger 10/22 into a tactical rifle.
The kit even comes with an attachable shell deflector, making it easier and more comfortable for left-handed shooters to handle.
The Ruger 10/22 bullpup is a favorite for a lot of hobbyists who enjoy modifying their guns.
275
at Brownells
Prices accurate at time of writing
Prices accurate at time of writing
Conclusion
Bullpups are cool little firearms that offer the advantage of navigating in smaller, confined spaces.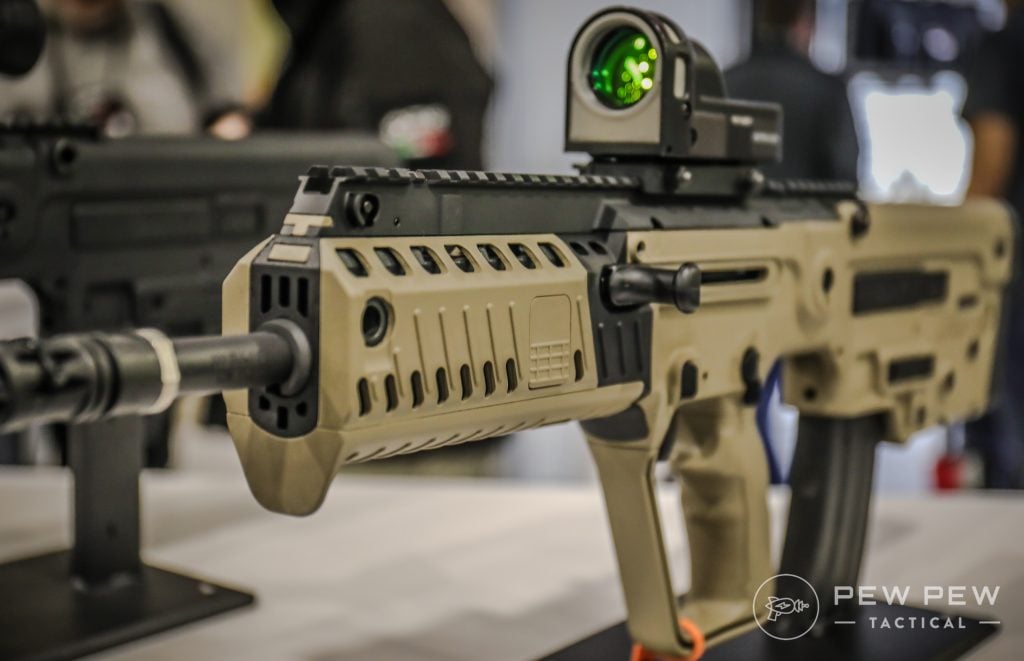 Whether you chose to buy a complete firearm or revamp a model you currently own, these guns won't disappoint.
What are your favorite bullpup models? Tell us in the comments! Also, be sure to read up on our recommendations for Best PCCs if subverting the regular AR is your thing.