Is the civilian pistol variant of the Army's new submachine gun worth adding to your stash?
Or is the B&T APC9 Pro a forgettable entry into the realm of pistol caliber pistols?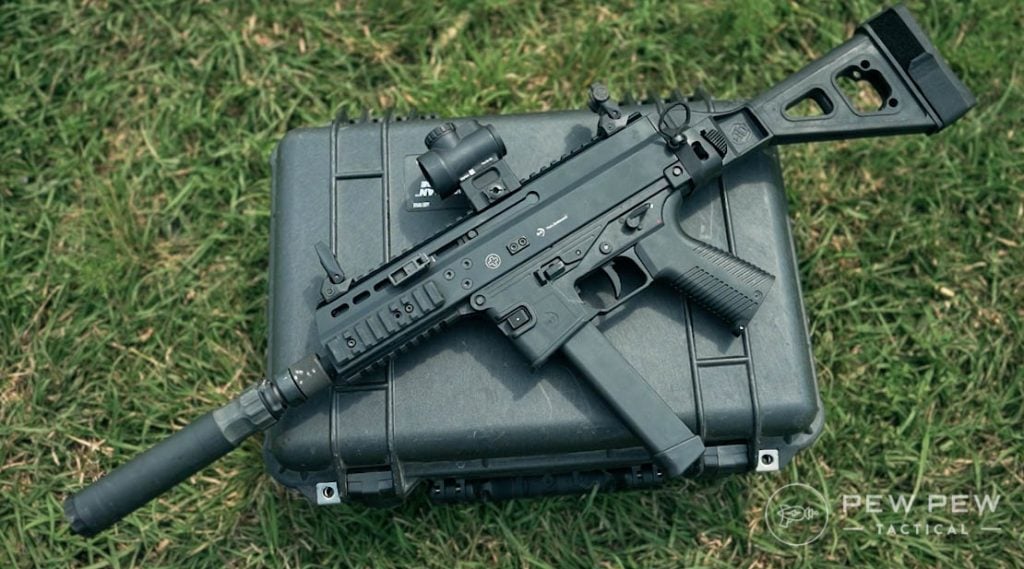 Well, today we're going to find out.
We got our hands on the B&T APC9 Pro to see if it can hold its own or if it's a hard pass for you PCC fans.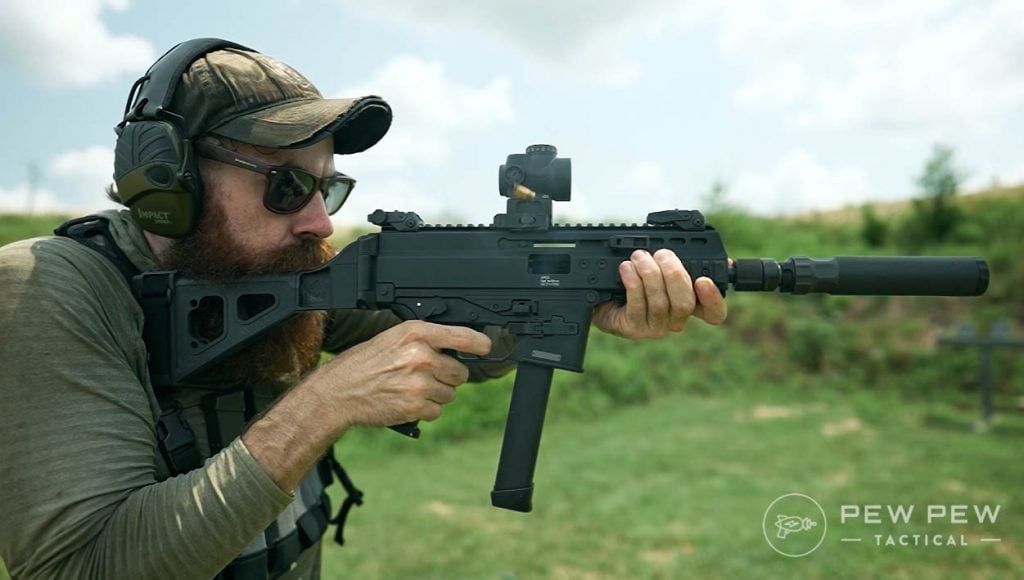 So, follow along as we walk through its history, specs, and features, and take it to the range to see if it is a worthy addition to your arsenal.
As always, if you want to see it in action check out the full video review below.
Also, be sure to head over to Pew Pew Tactical's YouTube channel for more guns and gear.
Table of Contents
Loading...
History of the APC9 Pro
Bruger and Thomet first introduced the APC9 series of submachine guns in 2011.
It was a way to field the gap between traditional submachine gun designs like HK's MP5 and B&T's own MP9.

That said, the original APC9 didn't really corner any of the military or police contracts B&T was after, so the design sat for a few years.
That is, until…by necessity… the company tweaked the platform to meet the U.S. Army's Subcompact Weapon solicitation in 2019.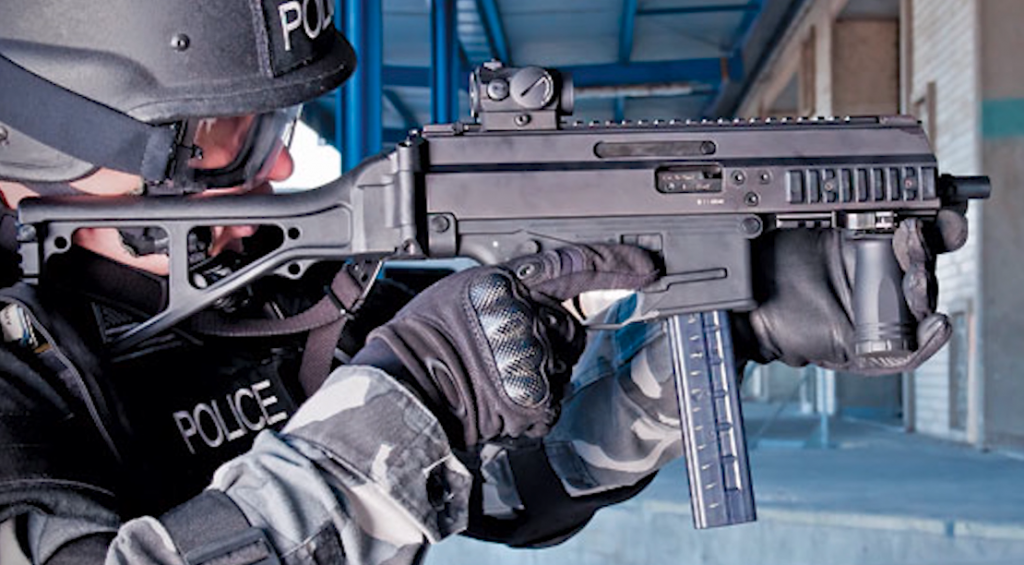 Coincidentally, this is also the year the B&T Pro saw its debut.
The B&T APC9 Pro brought a few modern features to the table compared to its awkward, mid-aughts earlier iteration.
This included a redesigned lower receiver that allowed for AR-15 style pistol grips, a non-reciprocating charging handle, several different stock options, and the inclusion of M-LOK slots on the front handguard in place of the original's non-modular Picatinny. However, Pic rails can still be added to the side.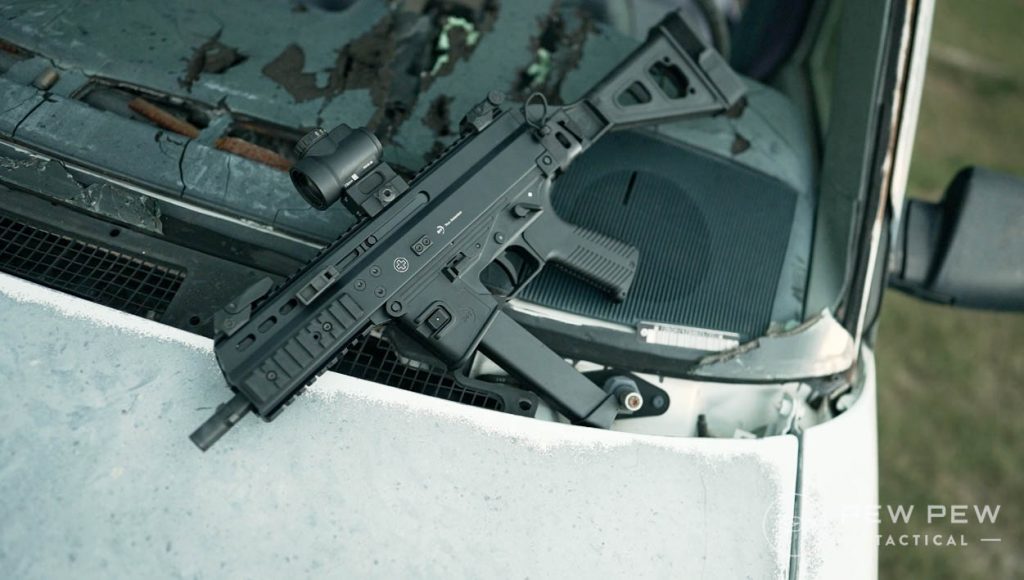 While there are a handful of key differences between the APC-9 Pro and the variant that won the Army's favor, they are largely the same direct blowback gun.
And it's the civilian variant of the design that we're looking at today.
2199
at Bereli
Prices accurate at time of writing
Prices accurate at time of writing
B&T APC9 Pro Features
From front to back, likely the first thing you'll notice is the barrel comes equipped with a European standard tri-lug setup.
You'll have to take that into account if you're thinking about running a suppressor or adding a muzzle device to the gun.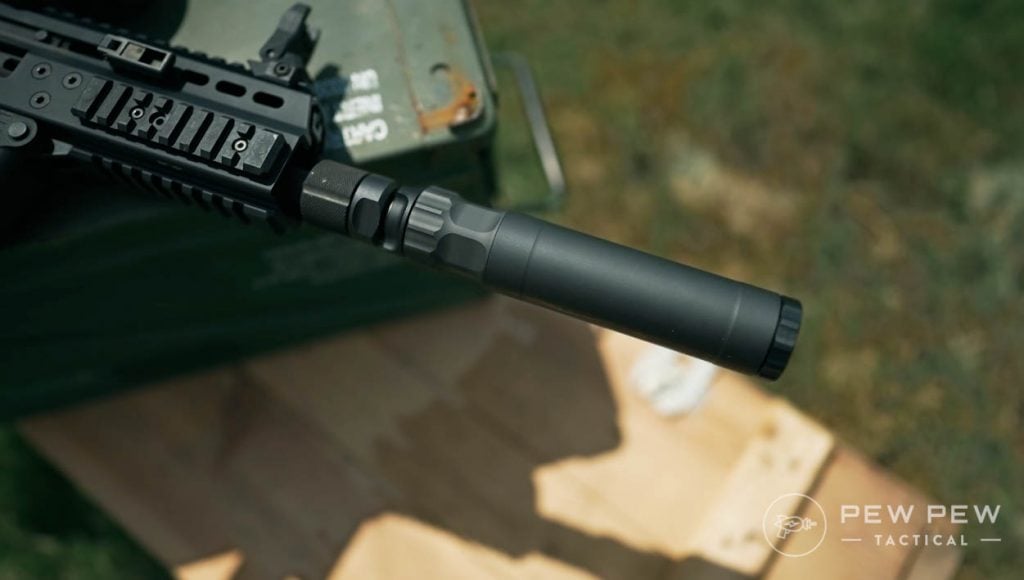 Our APC9 features a 6.68-inch barrel and an appropriately spaced handguard.
We've used a B&T Tri-Lug Adapter to give us the threads necessary to install a Silencer Central Banish 45 when running the APC9 suppressed.
The handguard is non-removable as it's a part of the one-piece "space-grade alloy" monolithic upper.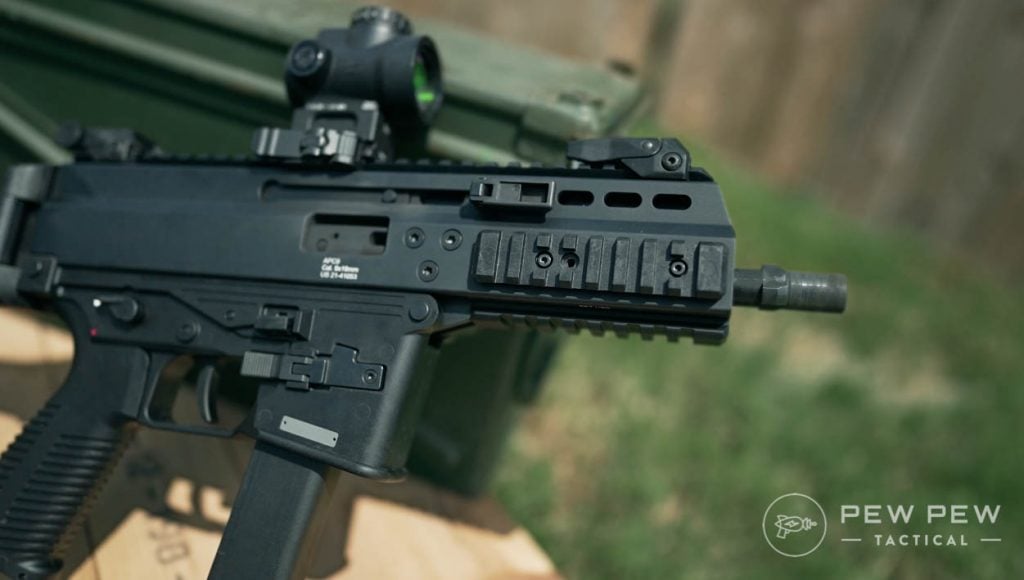 This gun's polymer receiver is perhaps one of the more interesting features, as it's swappable with the punch of a few pins. It allows the user to choose what type of magazines they want to run with the gun.
Users get the option of either the stock APC9 lower which takes APC9 or MP9 mags, a Glock lower that takes Glock mags, or a Sig Sauer P320 lower.
Also, there's the APC40 — a .40 S&W variant of the gun that only works with Glock 40 mags.
All told, you got options.
Ambi Controls & Other Features
Moving through the features, the standard AR-15 grip works well enough. However, as I said, it can be swapped out if you've got a more specific configuration in mind.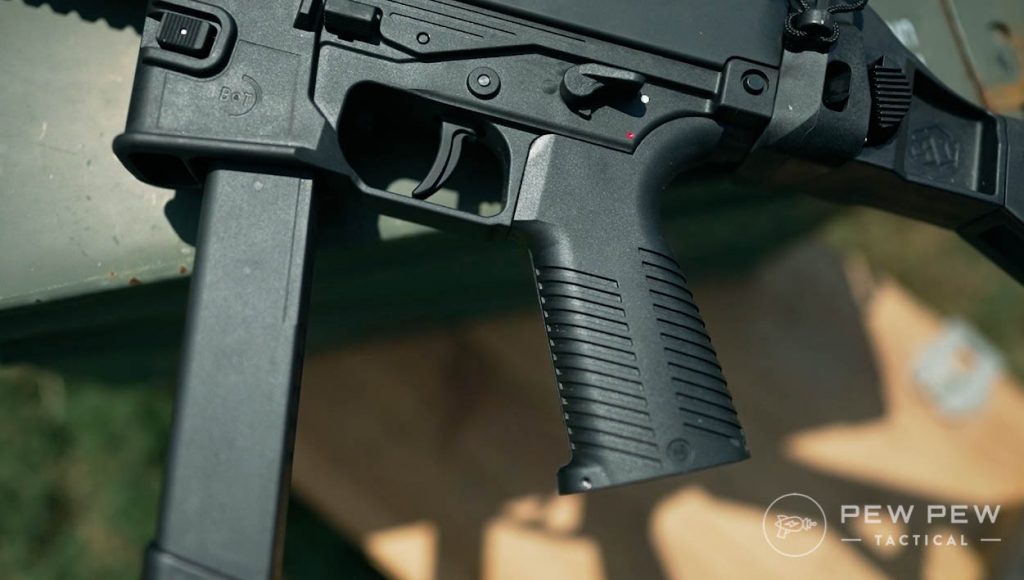 The gun boasts a Picatinny optics rail that spans the entire length of the gun. Additionally, there's a smaller Pic rail below for vertical grips.
As mentioned, while our version of the APC9 is equipped with 3- and 9-o'clock Pic rail segments for accessories, ditching them yields more modern, low-profile M-LOK slots beneath.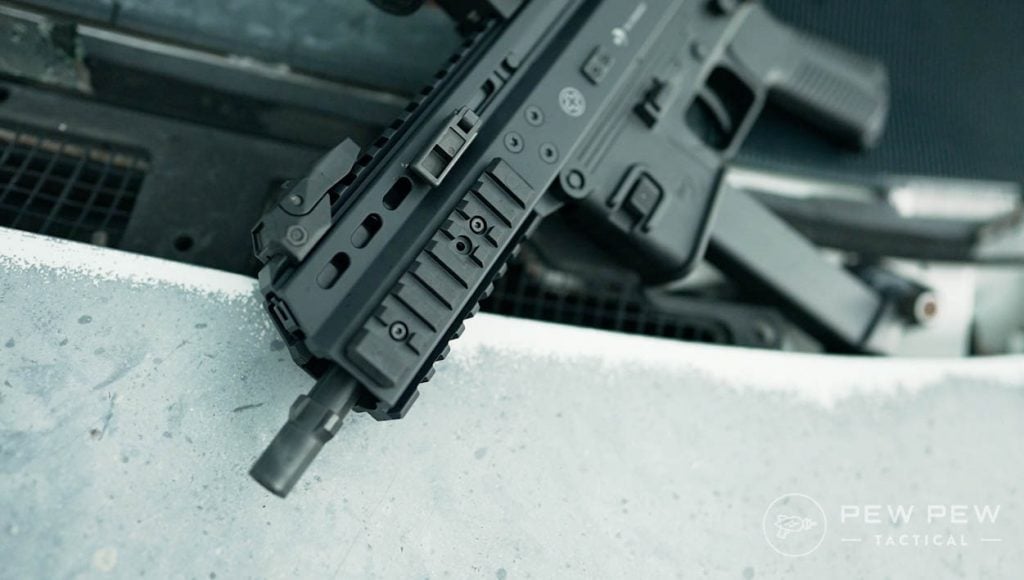 However, it should be noted that even the slightly larger APC variant that we've got here has pretty limited real estate for lights and lasers. So, keep that in mind if your desired front-end add-ons skew towards the bulkier side.
All of the APC9's fire controls — such as the selector lever, bolt release, and charging handle — are ambidextrous.
A flip-out lever that charges the bolt can be swapped to either the right- or left-hand side of the receiver depending on user preference and hand dominance.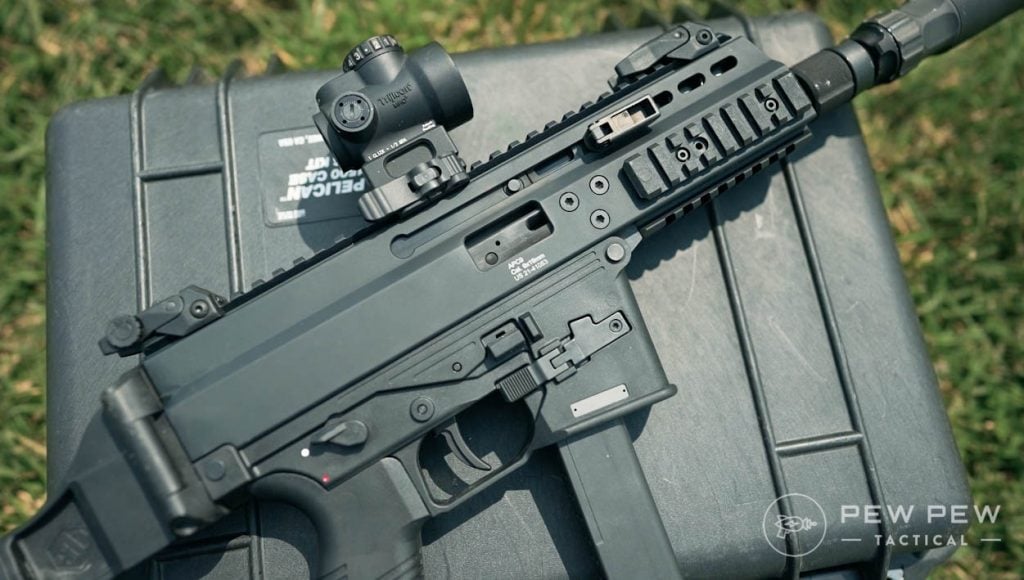 The gun includes flip-up sights in its stock configuration, and they work about as well as you'd expect. Though we almost exclusively ran a Trijicon MRO.
Best Green Dot
419
at Optics Planet
Prices accurate at time of writing
Prices accurate at time of writing
Lastly, the pistol brace at the rear might remind some of the UMP's side-folding stock. It's pretty similar, but it's actually based on the same B&T stock found on their grenade launchers.
There's your fun fact of the day.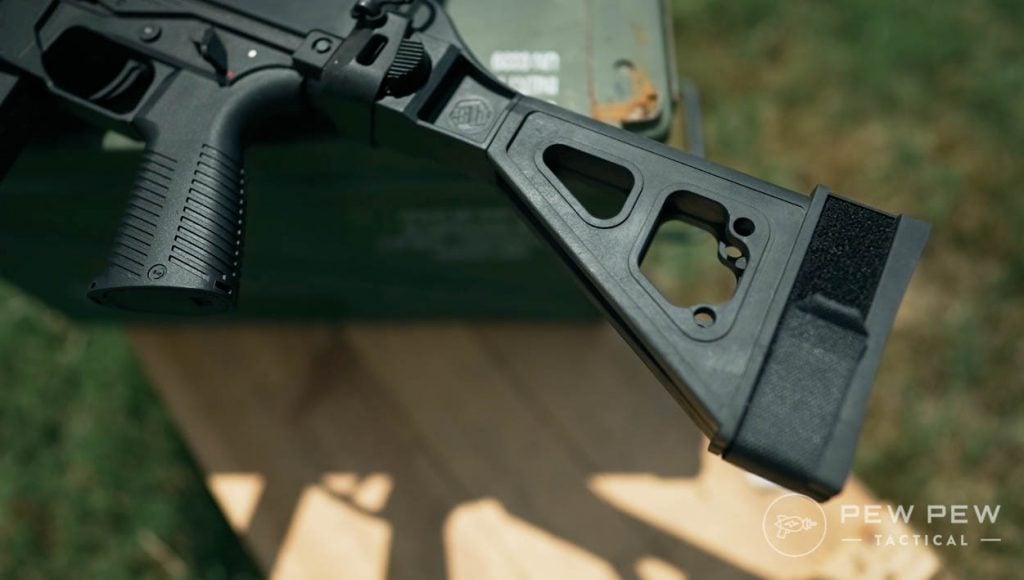 To the Range
At the range, we put close to 1,000 rounds through the APC9, and it ran mostly okay.
We did have a few minor hiccups, which we'll get to in a minute…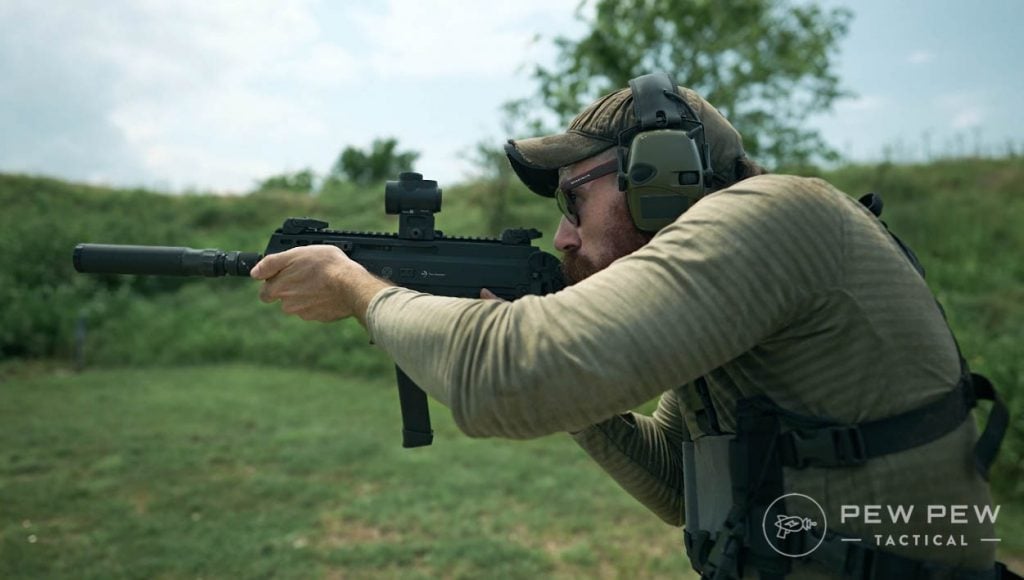 Overall, the APC9 is quite pleasant and fun to shoot.
While its ergonomics aren't quite as streamlined and AR adjacent as the Sig Sauer MPX, it's very close.
Shooters familiar with the AR platform should have no real issue making the jump over.
The gun's recoil impulse, especially when suppressed, is quite subdued and minimal — a tiny little thud that shouldn't disrupt rapid succession firing.
The mag release on the left side of the receiver is located essentially on the magazine well itself.
In my experience, I found my thumb naturally gravitated to that spot while half-gripping the mag well. This made reloads on the fly feel quick and easy.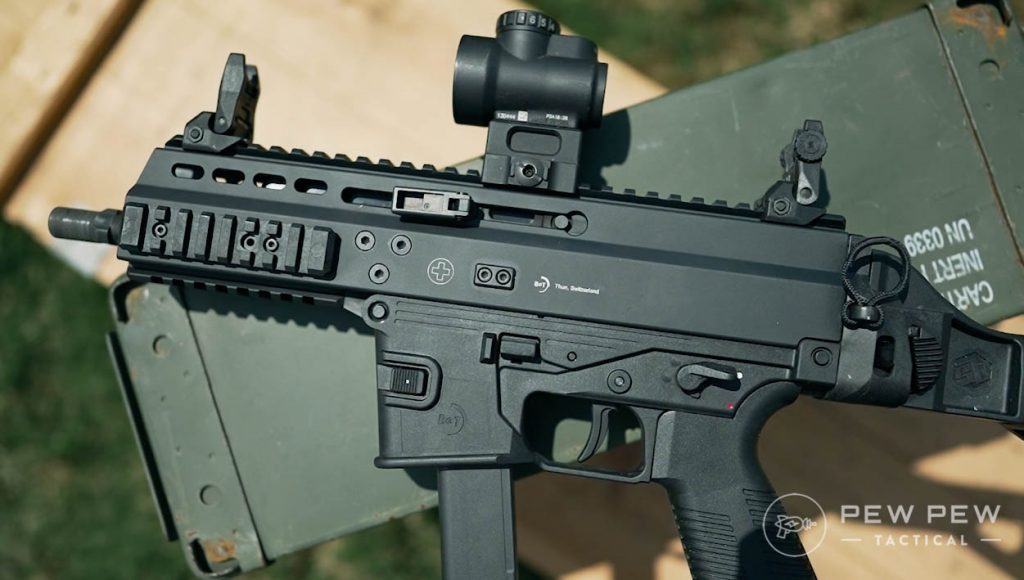 Loading a fresh magazine gets a bit clunkier. But that's related to a few factors unique to this particular version of the APC9 Pro.
The Problem with Reloads
Glock magazines deliver rounds into the chamber of a handgun at a slight angle. So, the Glock compatible lower receiver's magazine well cants forward slightly.
While this isn't a huge issue on its own, the APC9 felt like it had a long, narrow magazine well. In turn, that means that you've got to be cognizant of what angle you're inserting the magazine.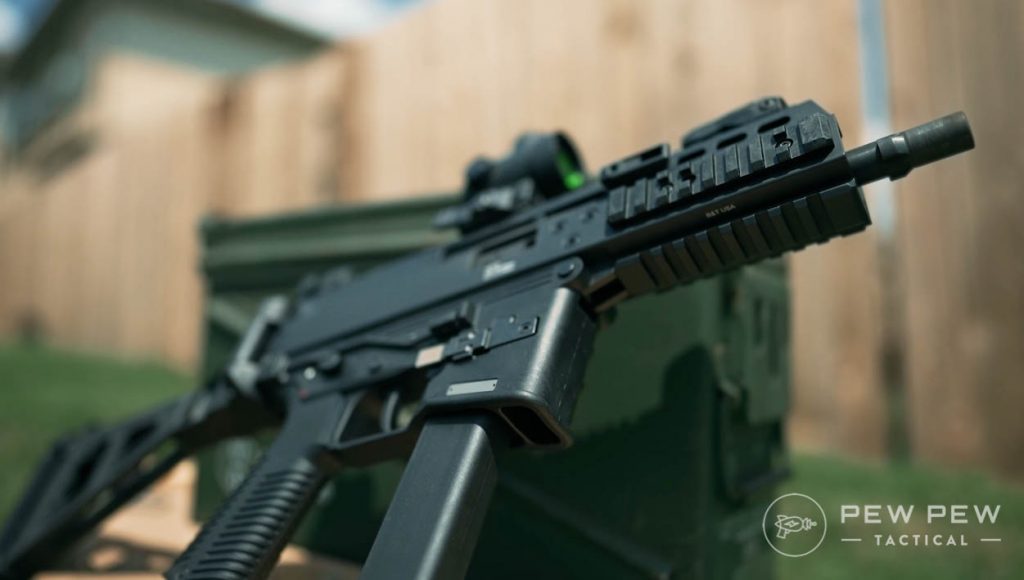 Come in too hot at the wrong angle, and you grind a polymer mag against a polymer lower, screwing up the reload or preventing the mag from fully seating in the gun.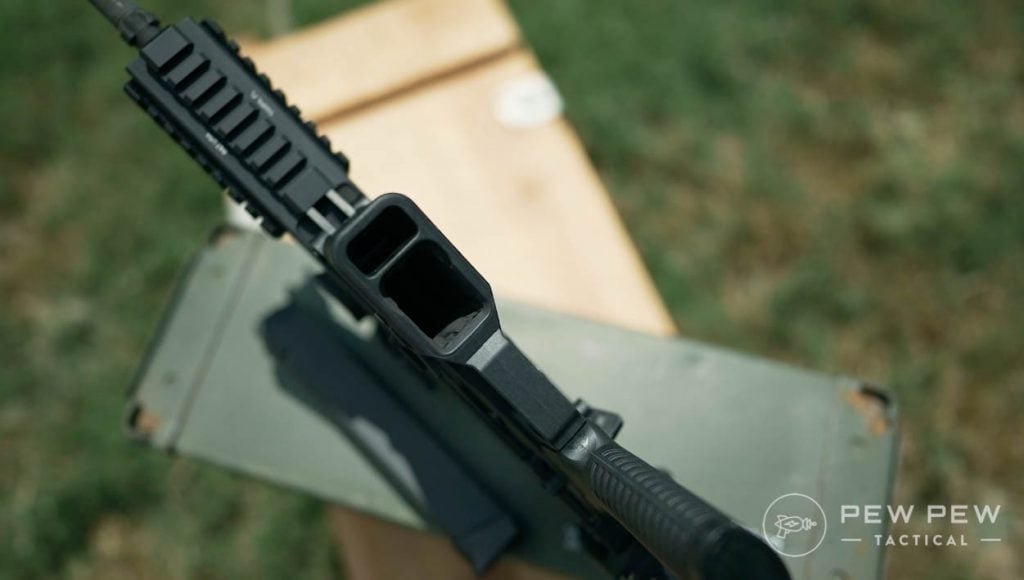 Like the MPX, B&T's solution to a Glock compatible lower comes down to a small polymer divider between the mag well itself some open space upfront.
If you're not careful, you can catch the lip of your magazine on that empty space when reloading.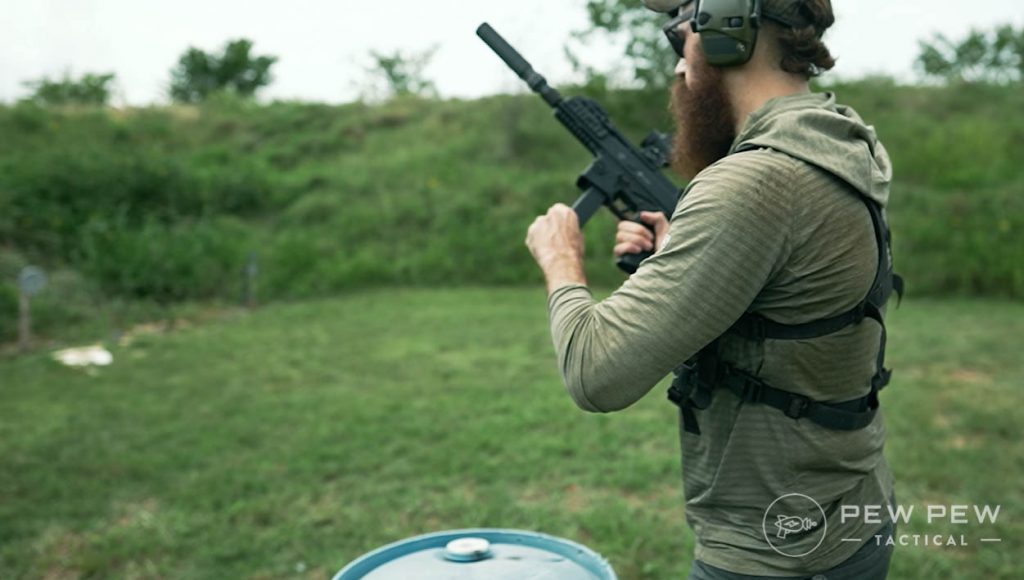 Granted, these are all essentially muscle memory gripes. Presumably, you plan on training with the APC9 regularly and circumventing these issues. But it felt worth mentioning.
While we're on the topic, the APC9's bolt does indeed lock back on an empty mag pretty reliably.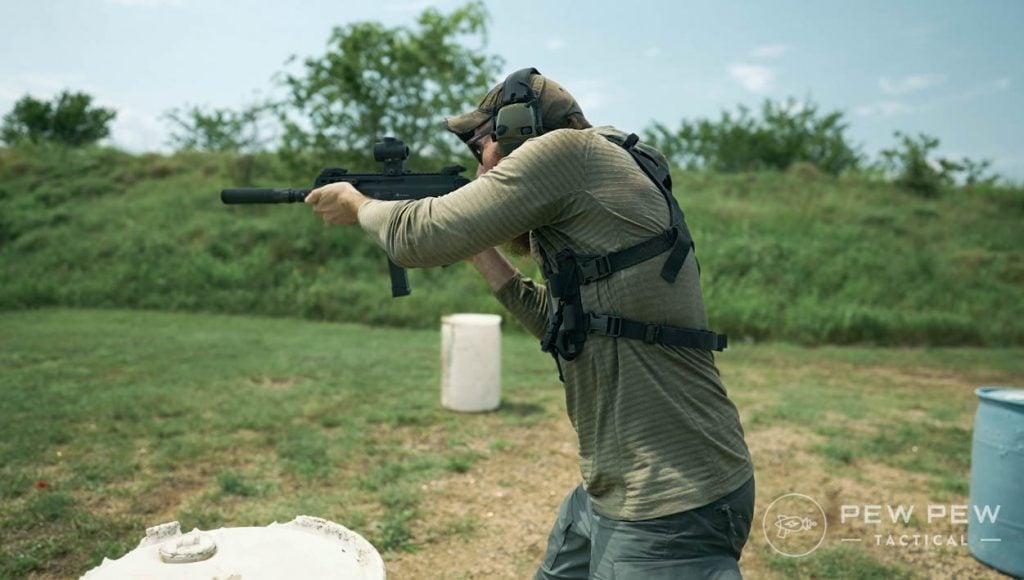 But I also found that dropping the bolt on a fresh magazine felt unreasonably difficult — to the point that I bypassed the bolt release entirely on reloads, opting to rack the charging handle.
It could just be that our gun is new and might need a bit more breaking in before everything really warms up.
But the issue didn't appear to be mag manufacturer one as it occurred across multiple Glock mag types.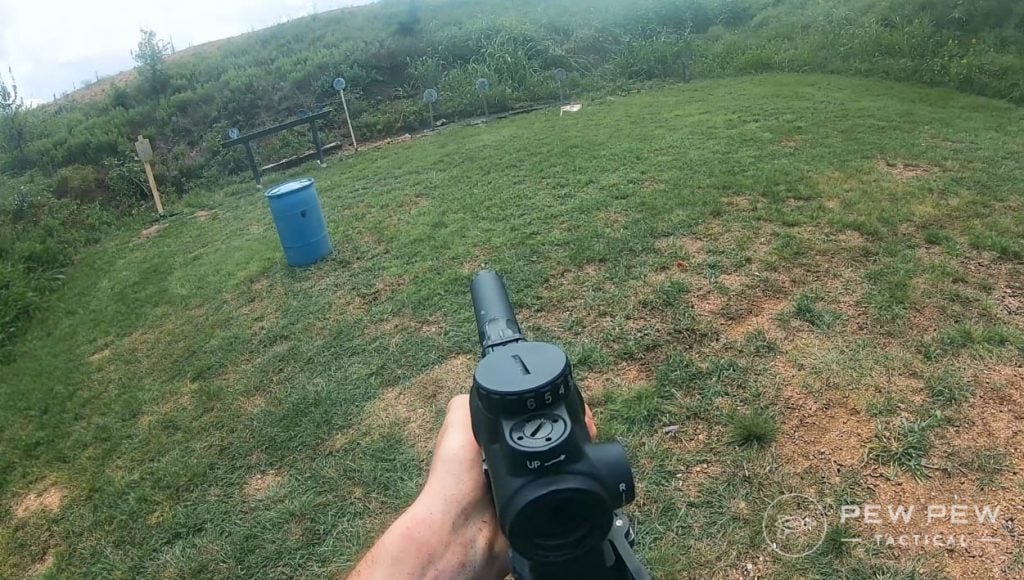 Again, your mileage may vary.
It's worth noting that I put a couple of mags through a select-fire APC9K graciously brought out for us to play with by Capital Armory.
Neither of the issues seemed to be present.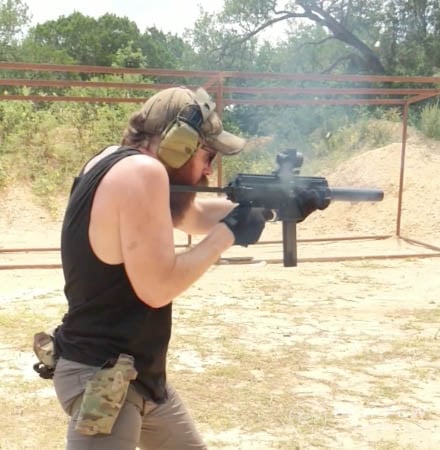 By the Numbers
Reliability: 3.5/5
Keep in mind, this is a sample size of one…but we had issues with dropping the bolt on a fresh magazine. It could need more of a break-in period, though.
Ergonomics: 4/5
The gun feels great, and recoil is minimal. It was a blast to shoot at the range.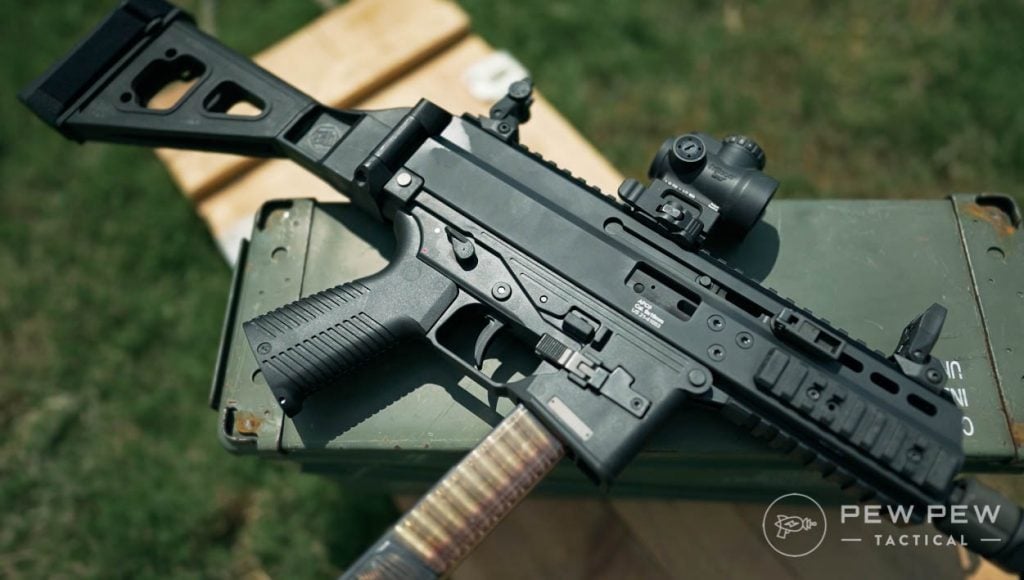 Accuracy: 4/5
The APC9 Pro performed well at the range, ringing steel like intended.
Customization: 4/5
You get some options with the ability to swap lowers – which is pretty cool.
Value: 3.5/5
For the money you're likely going to be shelling out here, close to $2,000 if not more, I think there are better options on the market.
2199
at Bereli
Prices accurate at time of writing
Prices accurate at time of writing
Overall: 4/5
If you specifically want the APC9 or have a stash of Glock mags ready to run through a PCC, then the APC9 looks like a good choice.
Conclusion
Overall, I enjoyed my time with the APC9. I find submachine guns or pistol caliber pistols that aren't AR-15 centric fun on the whole.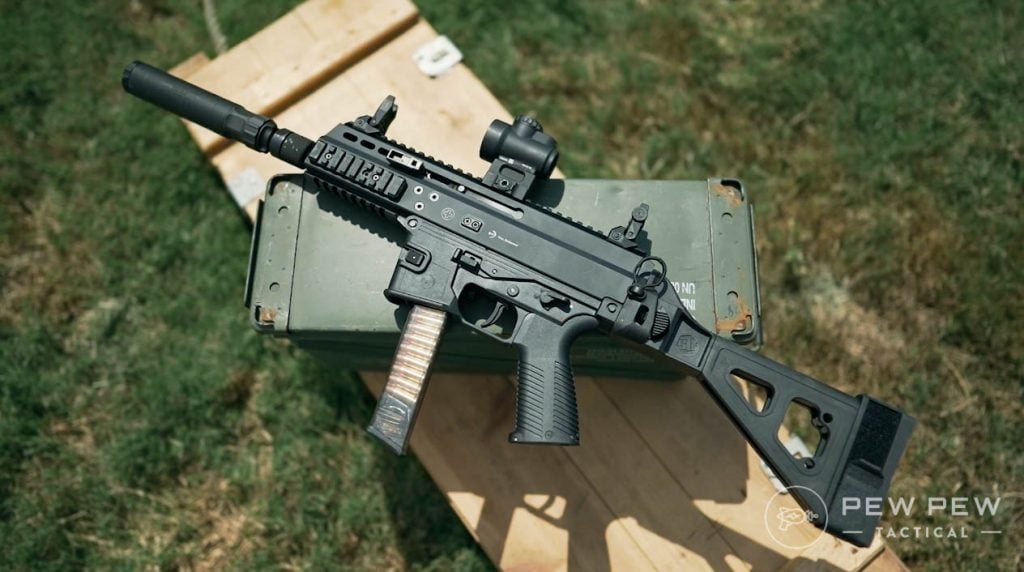 Even if I encountered some odd hiccups along the way, I don't think they're sufficient enough to tank the overall experience.
2199
at Bereli
Prices accurate at time of writing
Prices accurate at time of writing
I will add that between the APC 9 and its closest current civilian market competitor, the Sig MPX, I'm hard-pressed to find a reason to choose the APC9 over the MPX…unless you're sitting on a cache of Glock or Sig P320 mags and specifically want a compatible gun.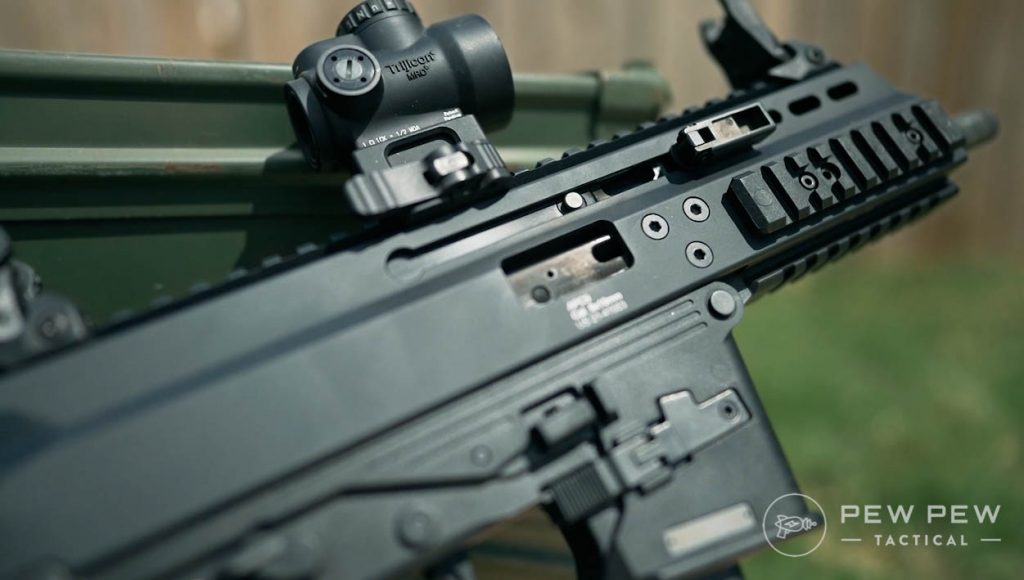 That said, the B&T APC9 Pro was fun to take to the range and a nice reprieve from your standard AR-15-esque rifles.
Again, see it in action in the video below.
What do you think of the B&T APC9 Pro? Let us know in the comments below. Want to read up on its biggest competitor? Check out our review of the Sig Sauer MPXK or shop for other pistol caliber carbines at the Best PCCs.