Pistol caliber carbines are the new hotness, with gun owners readily taking to the 9mm carbine platform.
Let's be real; you got a lot of options when it comes to PCC…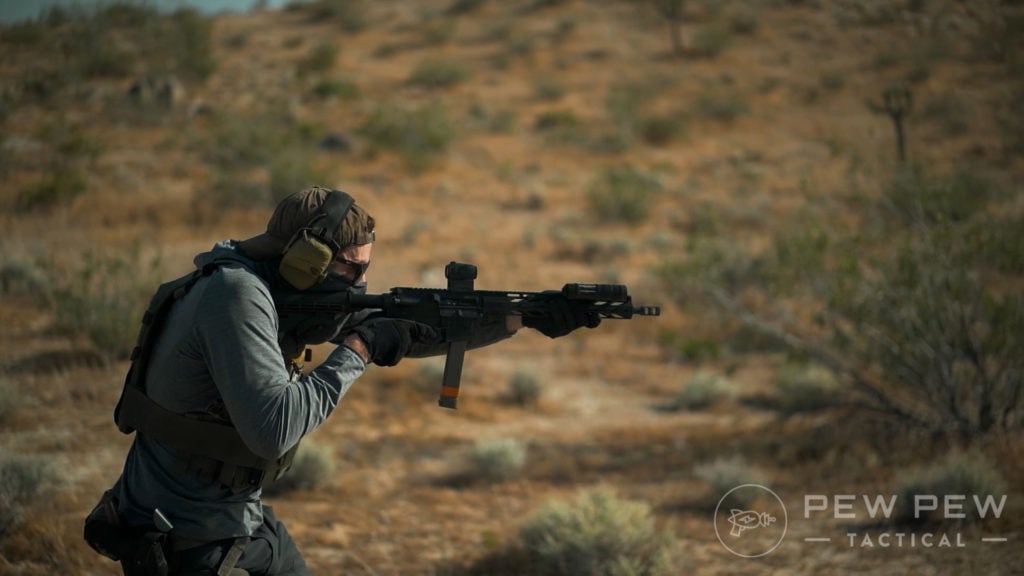 We review a decent amount of PCC offerings around these here parts. Honestly, most AR-type platforms, regardless of chambering, start to feel a little same to me.
That's not a bad thing, as obviously, the AR is one of the most prolific firearm designs of all time, with good reason.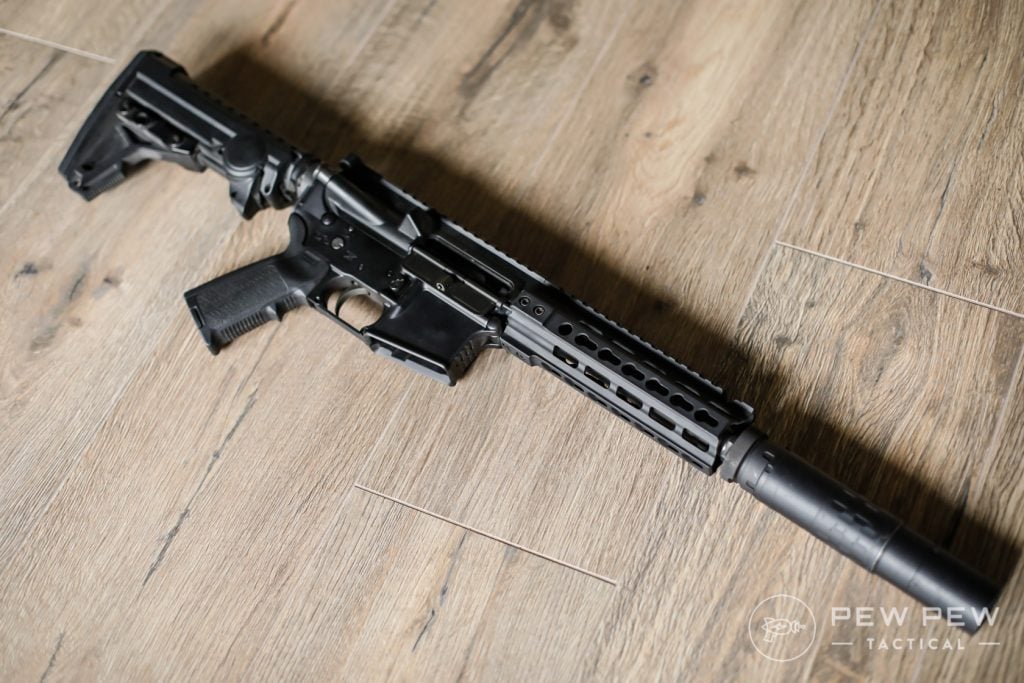 So, if that's the case, what makes the Sig Sauer MPX K worthy of its hefty $1,500 price of admission?
Well, dear readers, we're here to answer that. We'll walk through the MPX K's specs and features, then take it to the range.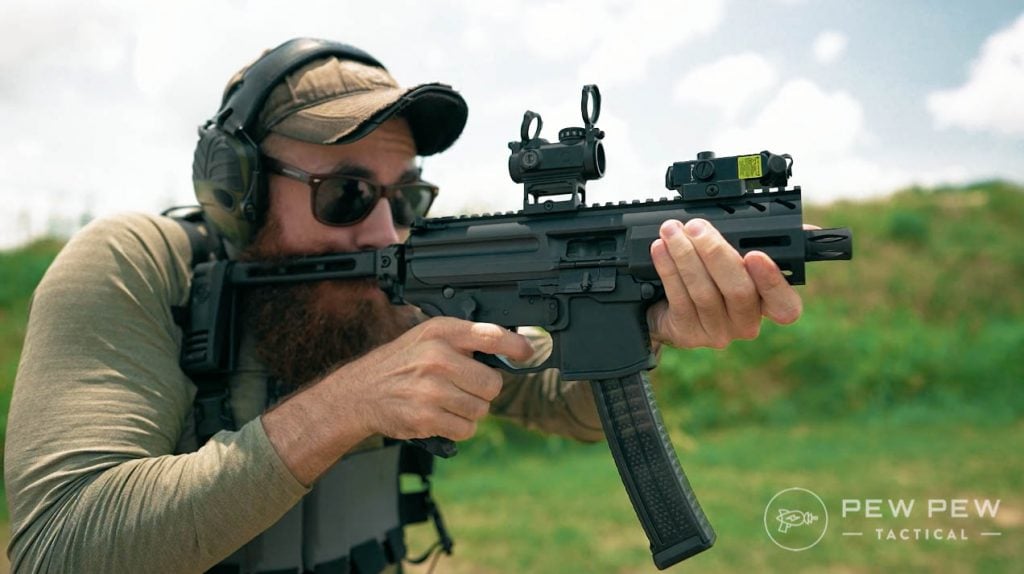 After that, we'll help you decide whether this Sig is worth your time and, more importantly, money.
If reading isn't your thing, we got ya' fam. Check out the full video review below.
And don't forget to head over to Pew Pew Tactical's YouTube for more guns and gear.
Table of Contents
Loading...
What is the MPX K?
Building onto the existing MPX series, the K brings a pistol caliber carbine option to those who want that 9mm goodness in a carbine length.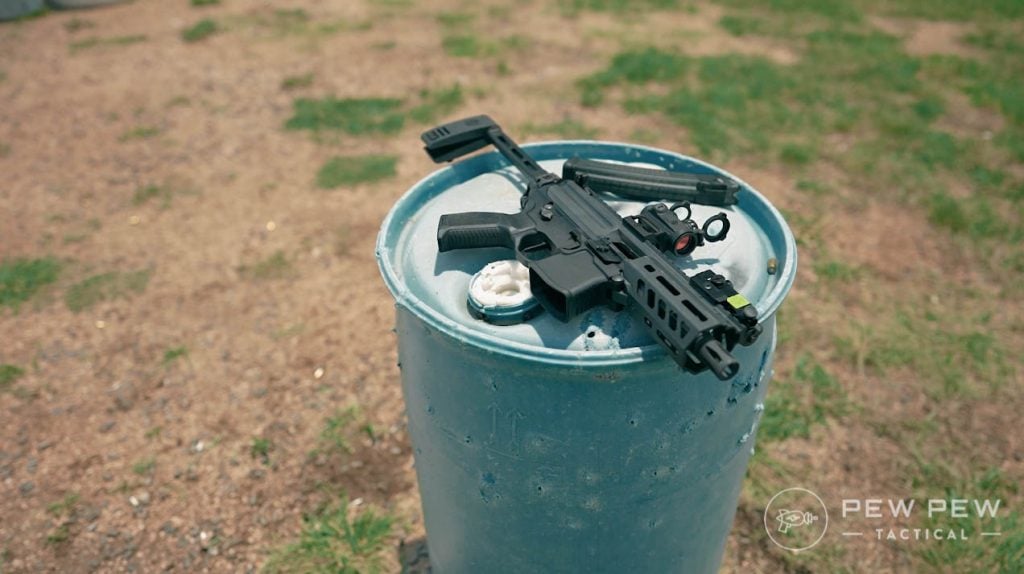 Though the Sig MPX traces some obvious familiar AR-like shapes in its overall design, it's a bit different than your standard PCC.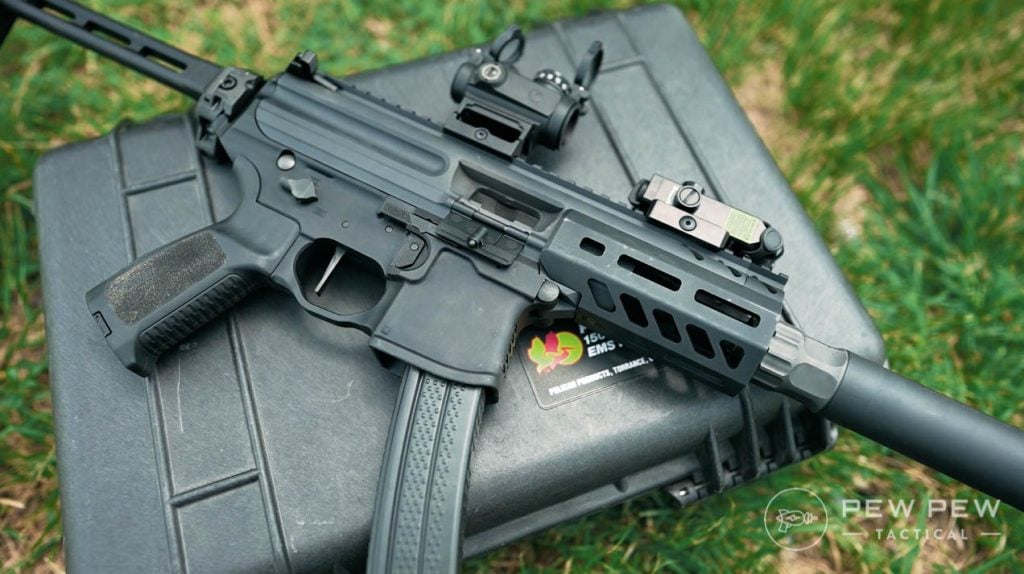 For one, the Sig MPX incorporates a short-stroke gas piston and a locking, rotating bolt.
This means gas from a fired round drives the piston rearward. In turn, the piston impacts the bolt and sends it rearward as well.
1999
at Palmetto State Armory
Prices accurate at time of writing
Prices accurate at time of writing
Worth noting, the piston doesn't travel the full length to the rear of the gun…because that would make it a long stroke system, and it's not. Again, we're working with a short stoke setup.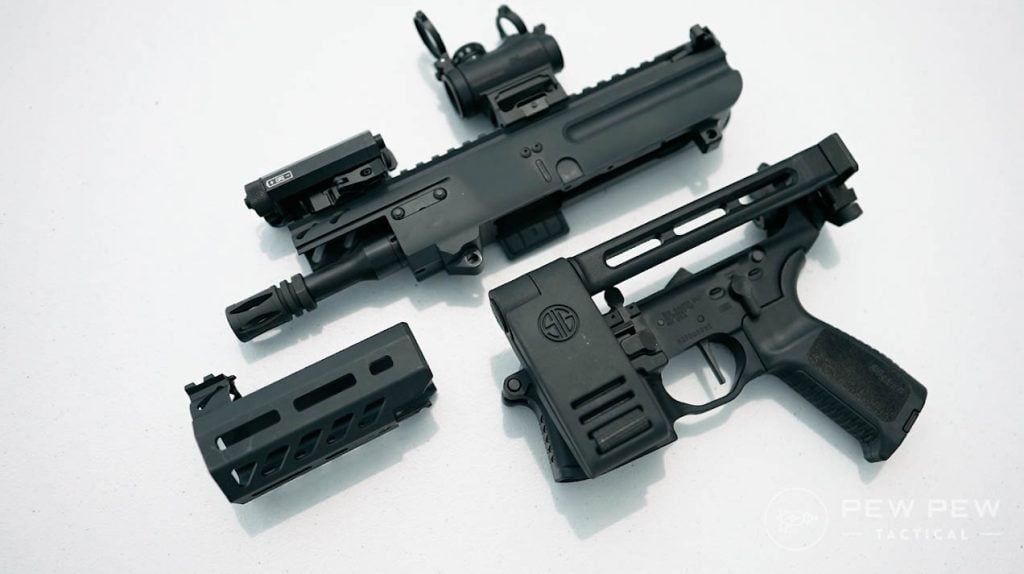 In comparison, most PCCs opt for a direct blowback system.
So, what does a short-stroke gas piston system mean for users? Well, you get a more reliable system overall.
Digging into the numbers, the MPX K delivers an overall length of 22.25-inches with a width of 2.4-inches.
It weighs in at around 5-pounds.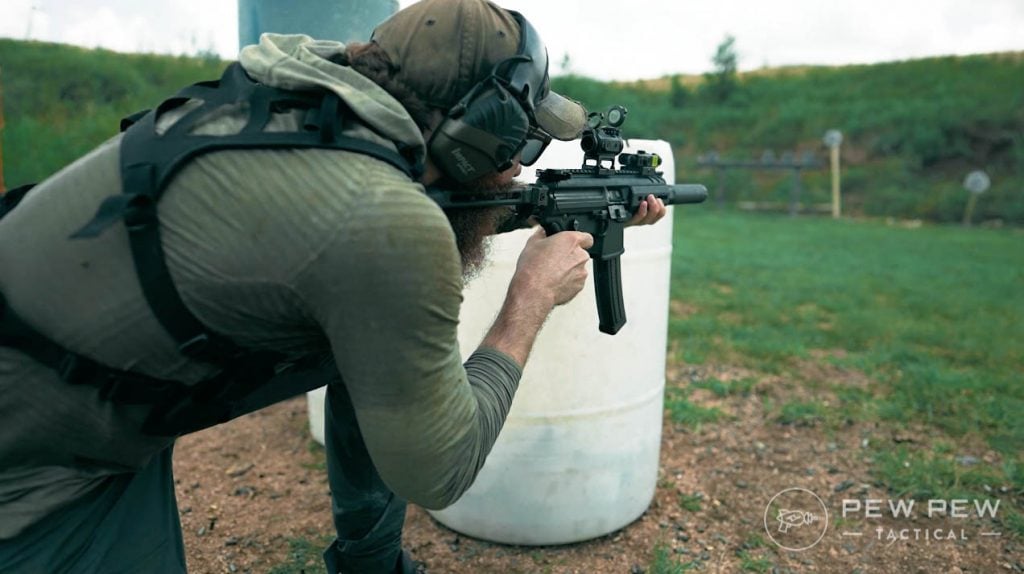 Tell Me the Features
Our MPX K came stock with a 4.5-inch cold hammer-forged barrel with a 1:10 twist crowned.
It sports Sig's version of a birdcage essentially. Although, the thread pitch is different than what's typically found on AR platforms.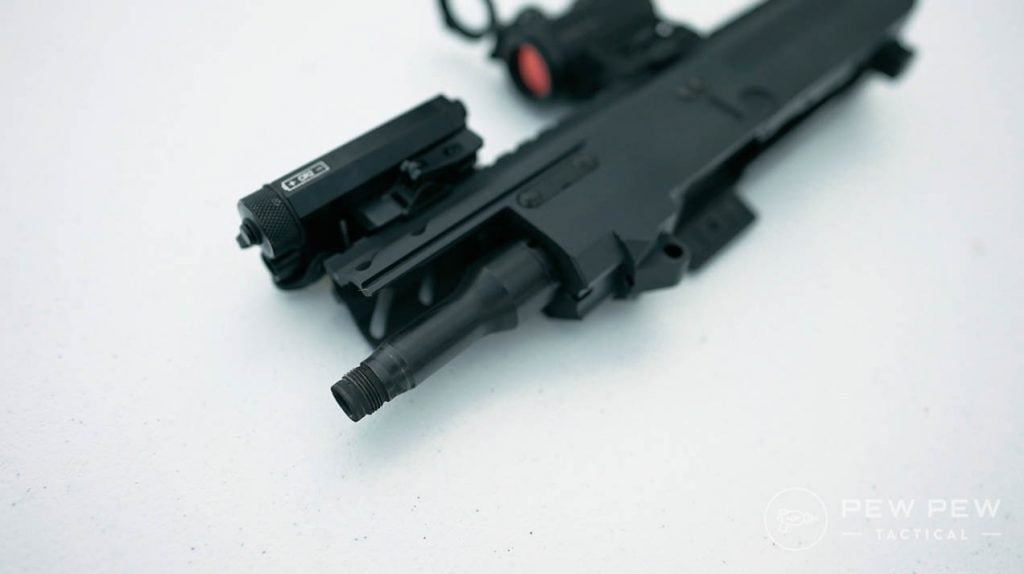 The handguard looks quite tiny but offers two M-LOK slots on the 3-, 6-, and 9-o'clock positions.
There's a Picatinny rail up top sitting flush with the optic rail on the receiver itself.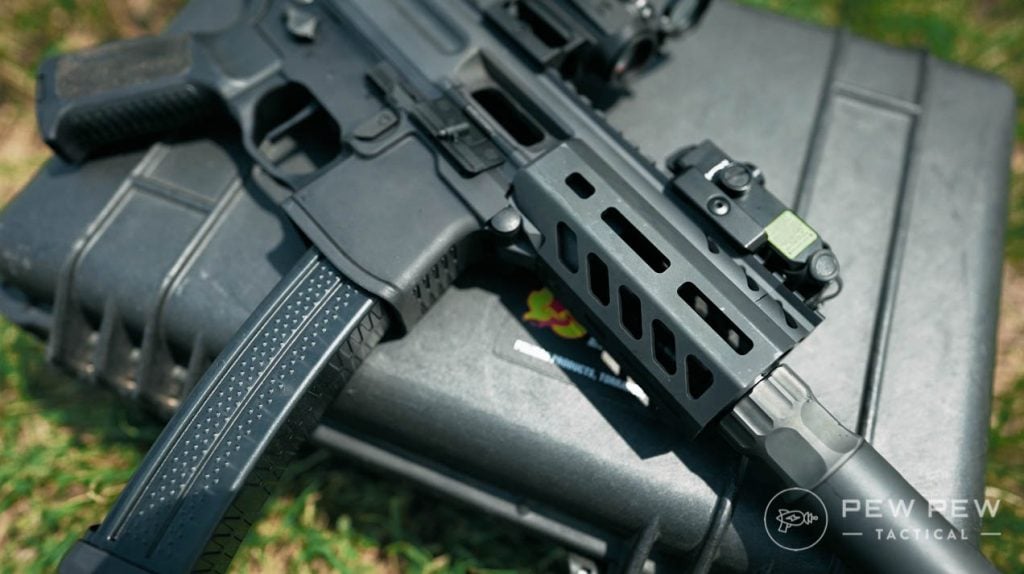 As compared to a normal AR-15 platform where you've got a barrel nut holding your handguard in place, the MPX's handguard can be removed.
Simply pop out the front receiver pin.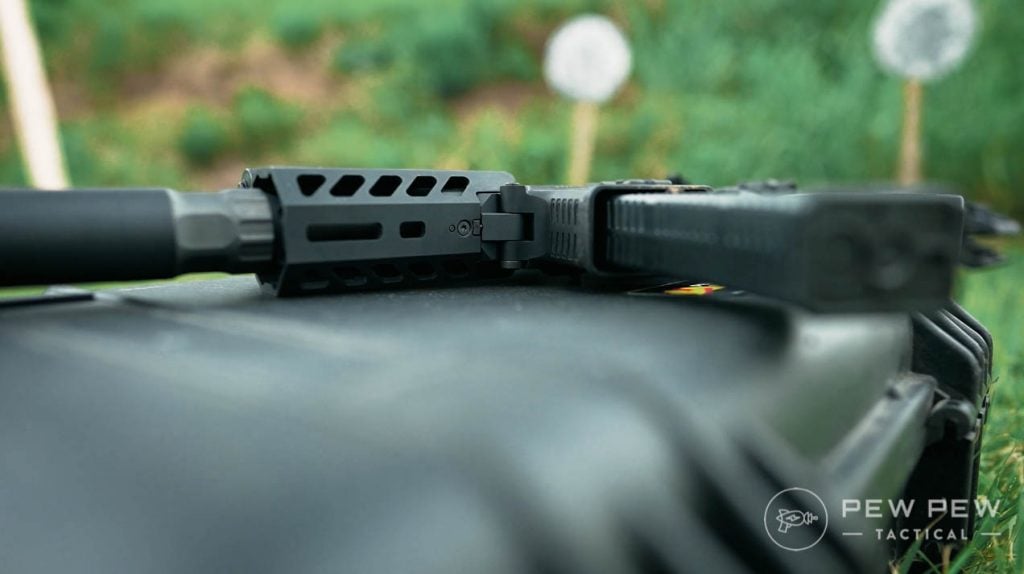 While I've never found much use for the "quick swap handguard," it does come in handy when installing accessories or if you want easy access to the muzzle device.
And on the topic of devices…you'll notice we ran a Silencer Central Banish .45 installed through an adapter.
949
at Silencer Central
Prices accurate at time of writing
Prices accurate at time of writing
The gun ran flawlessly for us despite some sordid history with suppressor usage on previous MPX generations.
To learn more about the Banish 45 from Silencer Central, check out our full review here!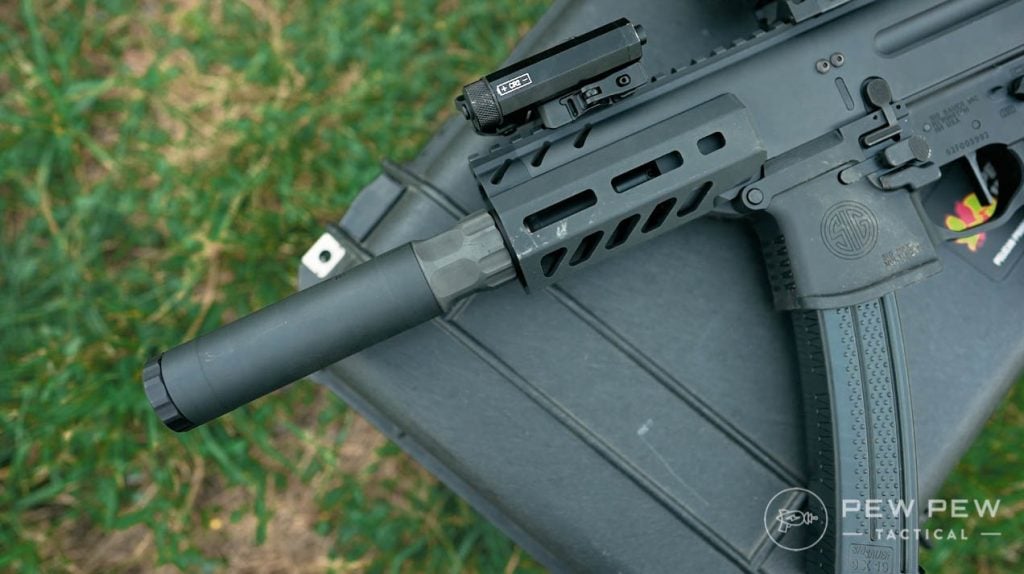 Fire Controls, Magwells, & Triggers…Oh My!
Sig's MPX fire controls are essentially identical to that of an AR-15 with a few enhancements.
Your mag release, bolt catch, and selector lever are all ambidextrous but pretty much exactly where you'd expect them.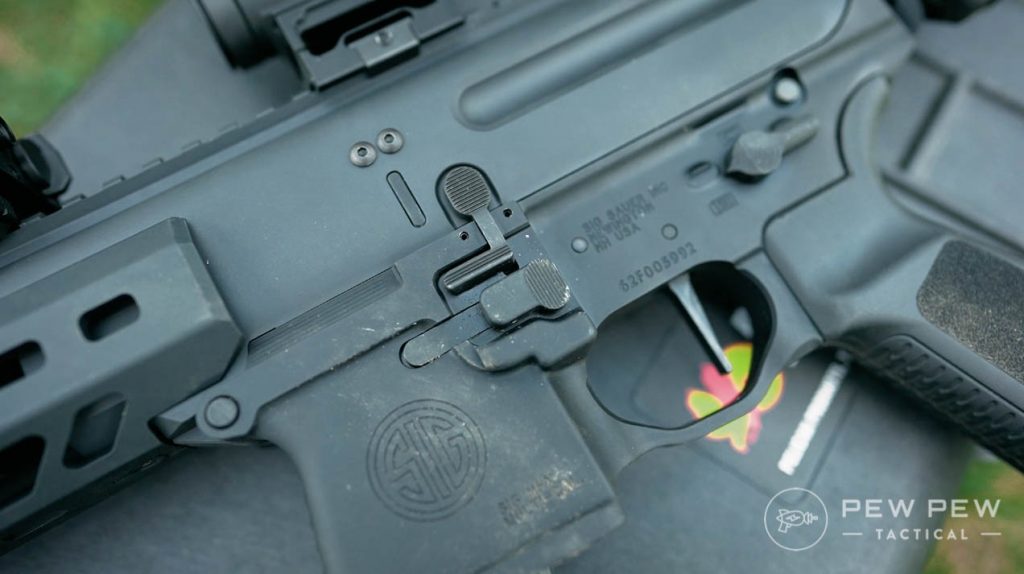 Personally, I feel they work great! It's always nice hopping over to a new platform importing most of your existing muscle memory.
Compared to a 9mm AR PCC, the MPX's mag well is flared substantially.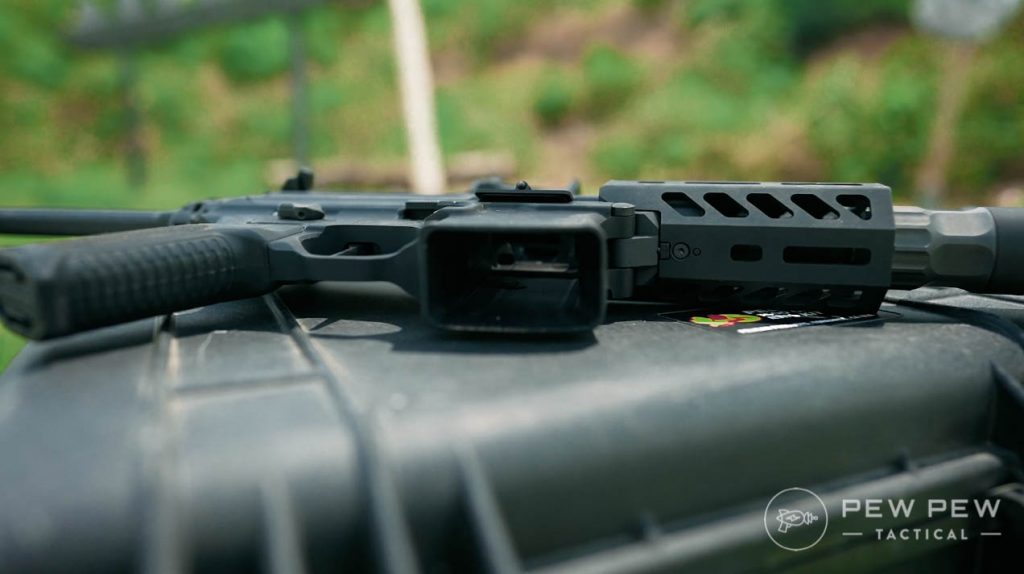 Combined with the nice grippy dotted texture of its proprietary 30-round magazines, this made reloads feel fast from the get-go.
The MPX uses a single-stage, flat profile trigger from Timney. (Side note, we quite enjoy Timney, running them in some of our other AR setups around the office.)
That said, the MPX trigger feels fantastic!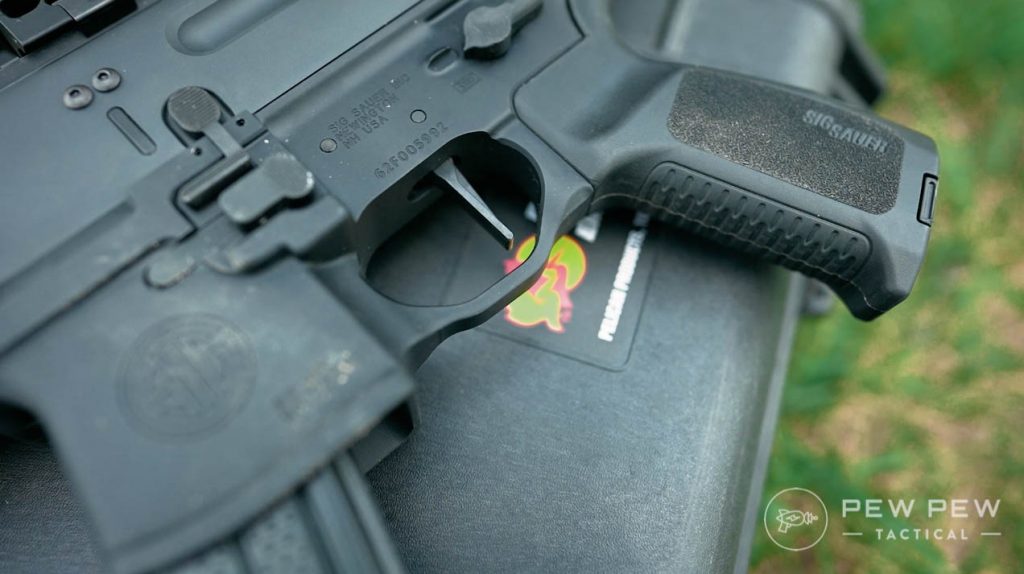 It features practically no take-up before a clean and obvious 4.5-pound break.
There's almost an imperceptible amount of travel before a tactile reset — meaning you can really run this thing.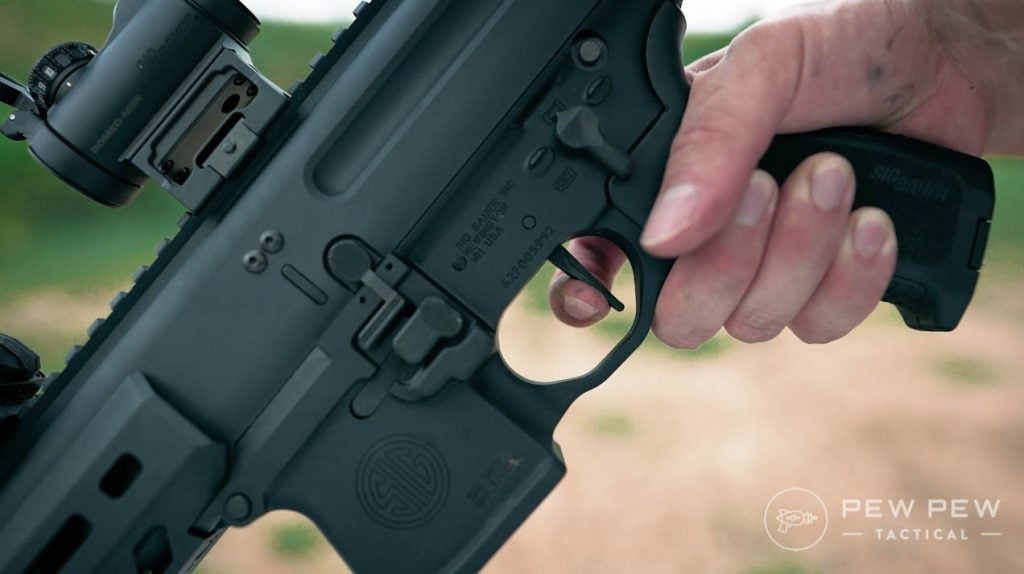 It takes a lot for me to get stoked about a trigger. But trust me when I say that this one…is good.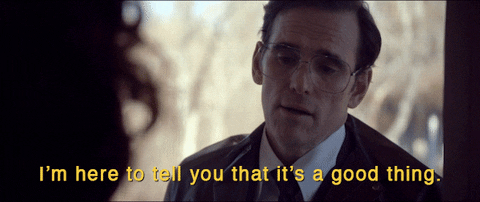 The MPX also utilizes a standard AR-15 pistol grip setup.
Though I found the standard grip sufficient, you can toss whatever grip you prefer on there if that's your style.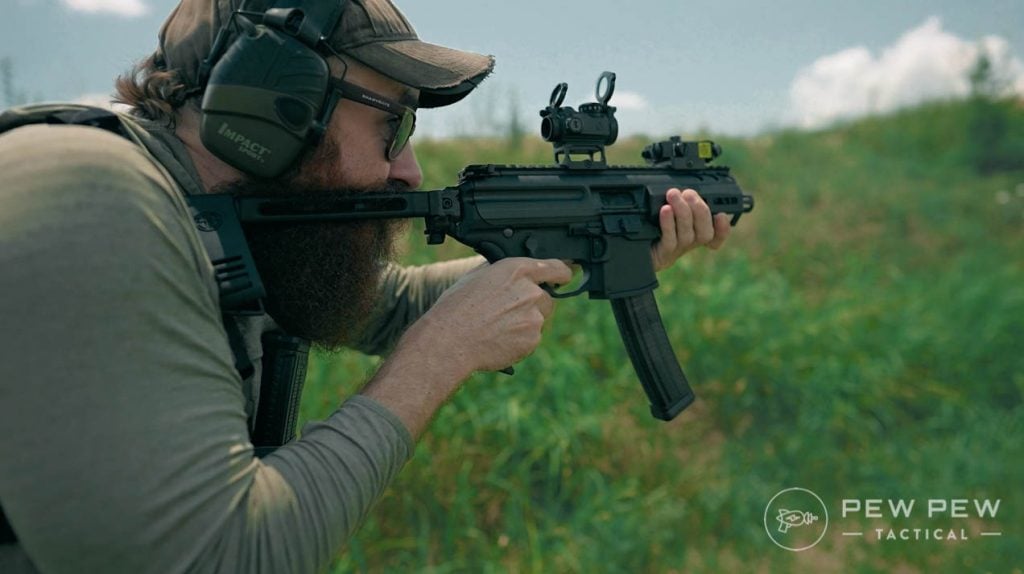 Let's Talk the Stocks & Charging Handles
The Sig's upper receiver features cutouts that allow for a collapsible stock if you've got one of those.
But, as this is a pistol setup, we've got the side-folding Sig Pistol Brace that ships with the gun.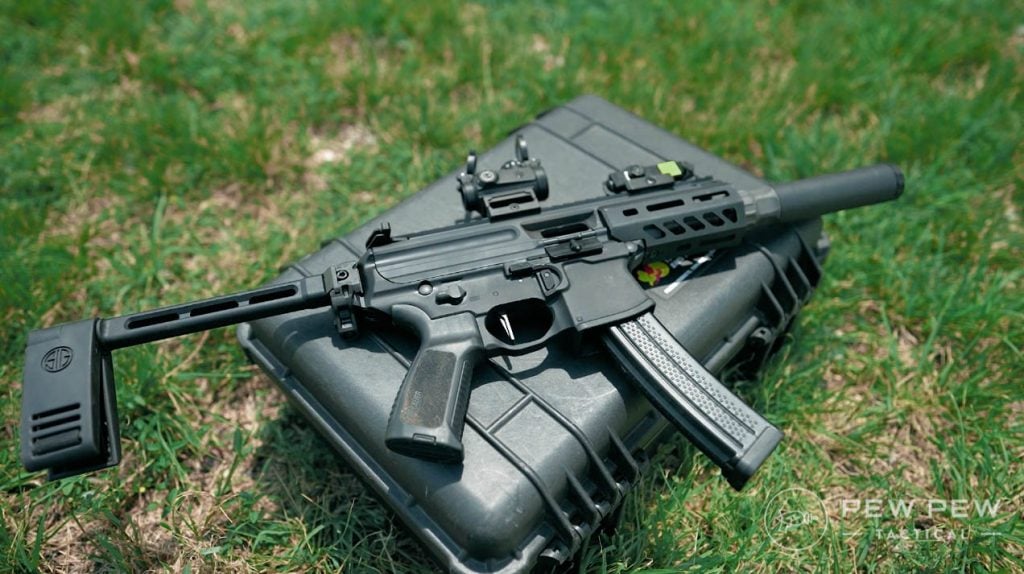 It is what it is. Unless you want to put in the effort to SBR this thing, it's what you've got to work with.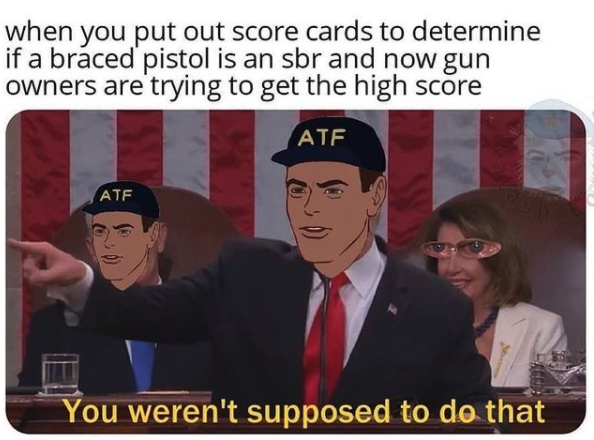 Lastly, the MPX offers a charging handle where you'd expect it. The charging handle works about as well as you'd expect.
While I've heard some folks expressing gripes about the stock MPX charging handle, I didn't notice any issues. Although to be fair, I ran the bolt release on reloads a majority of the time.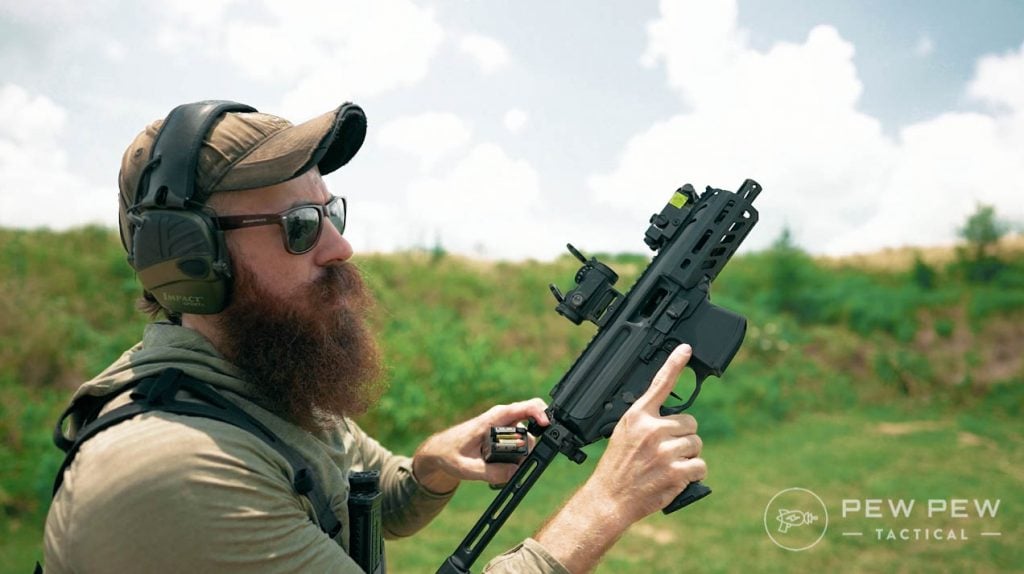 Out to the Range
We took the MPX K out to the range and put 1,500 rounds or so through it.
Overall, we didn't see any real issues with it, outside of a fully-loaded 30-round mag refusing to seat on a closed bolt.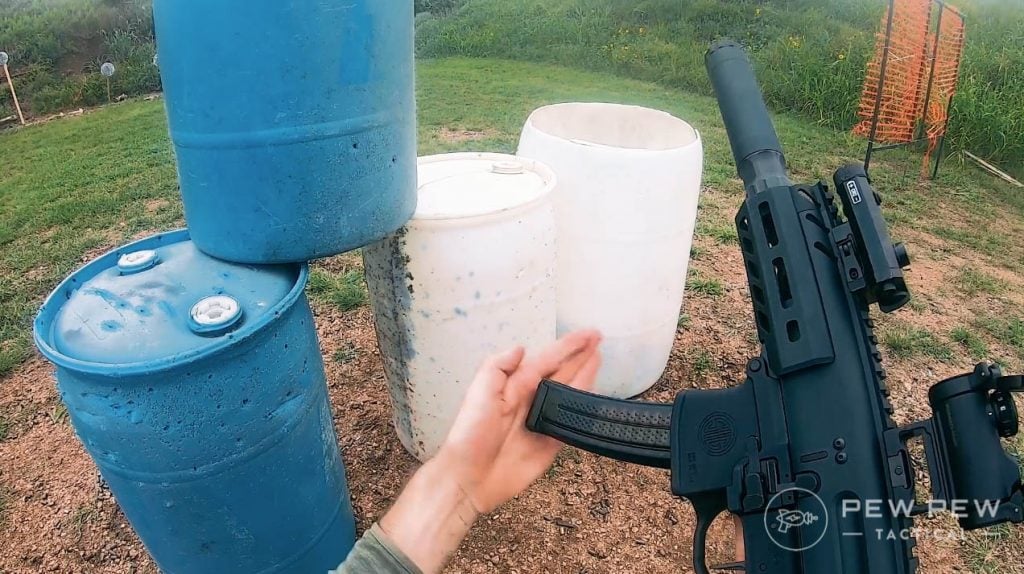 But downloading the mag by a round or two fixed the issue.
We didn't encounter it again afterward. I'm assuming that's just a particularly spicy magazine spring that'll break in with time.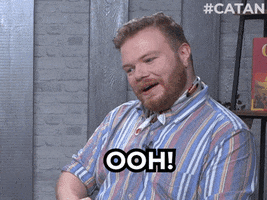 That said, there are some well-known issues with previous generation MPXs when water is introduced to the barrel.
Namely, this causes failures to cycle that'll need manual manipulation of the charging handle to fix.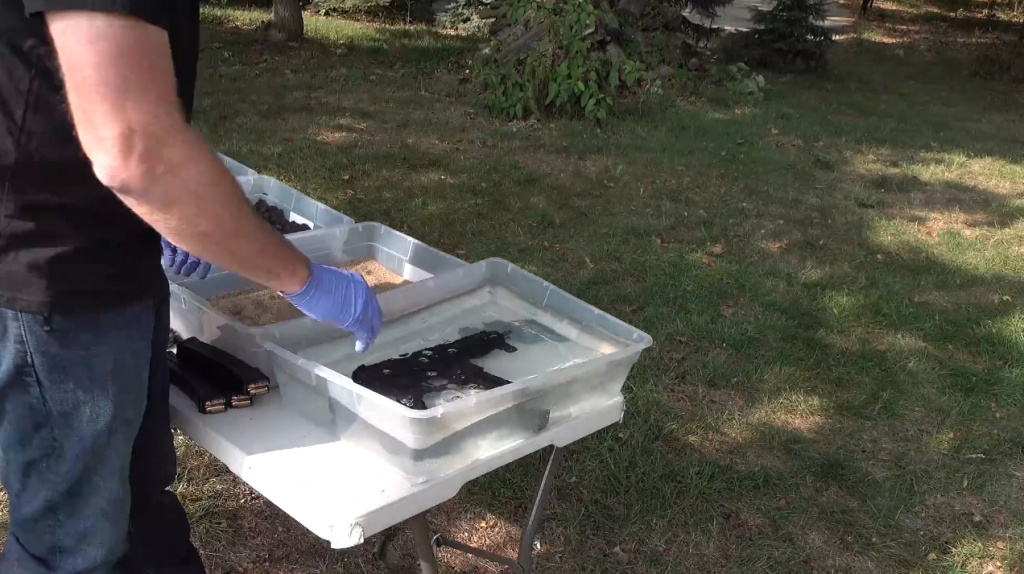 But TL;DR, the issue was addressed in the Gen 3 MPX by changing the shape of the excess gas port in the piston.
But that's not the only gripe people have with the MPX series.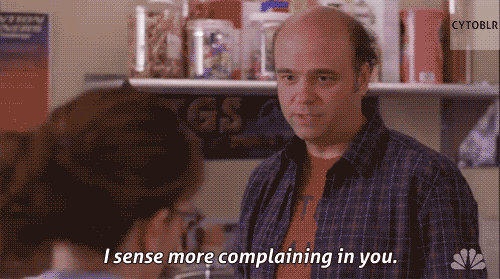 Some folks reported astoundingly inaccurate groups with the MPX with a suppressor attached… even at close ranges.
While we didn't experience that with our Banish 45, know it can apparently be a problem.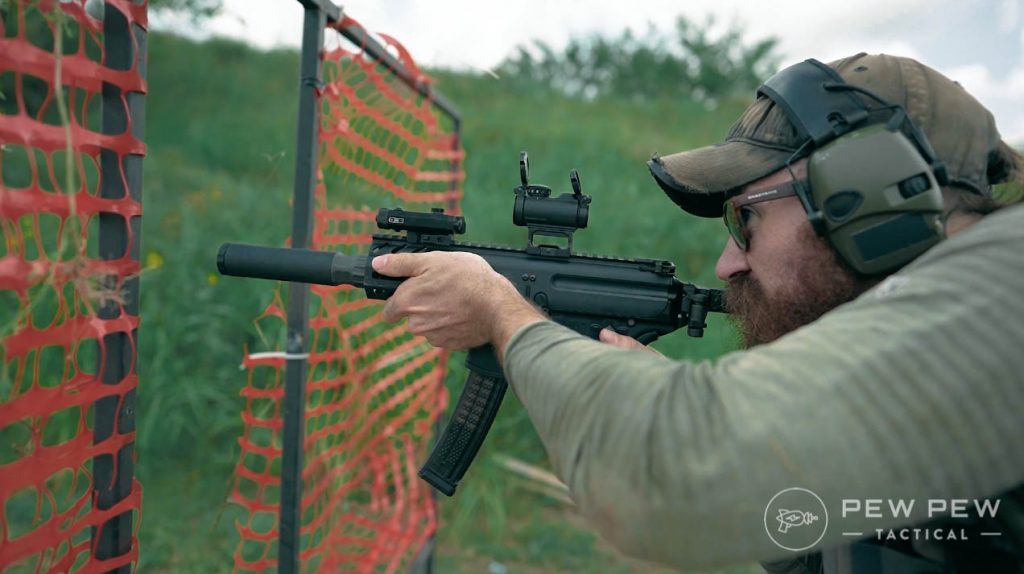 Outside of that, I had a fantastic time with the MPX!
As I mentioned, I felt immediately at home with its familiar fire controls and ergonomics. The gun felt crisp, snappy, and easy to run.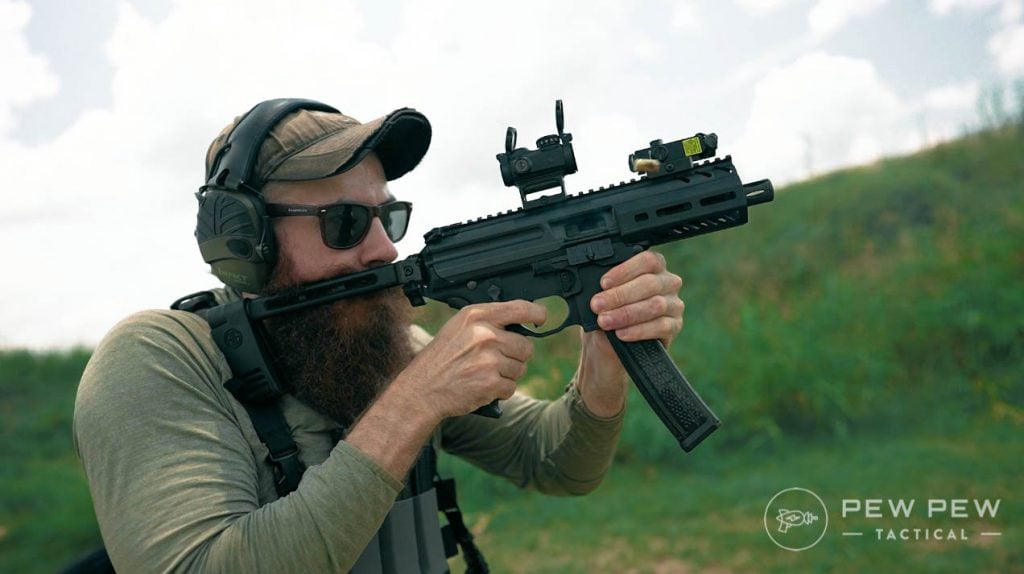 Obviously, 9mm doesn't induce much felt recoil, and the MPX shoots very soft for its size — both suppressed and in loud mode.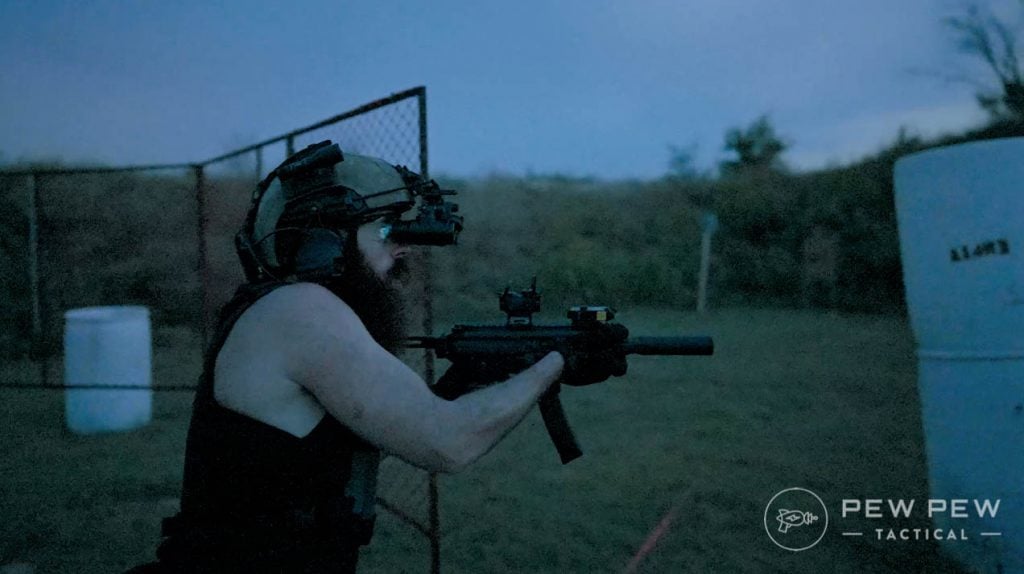 In fact, it's probably on par with my full-size 16-inch Aero PCC with a muzzle brake.
And that's impressive considering the 12-inch barrel difference.
The Sig Romeo MSR we mounted worked great, allowing for fast target acquisition running steel at close range.
79
at Optics Planet
Prices accurate at time of writing
Prices accurate at time of writing
The Holosun visible laser unit did its job admirably for nighttime stuff.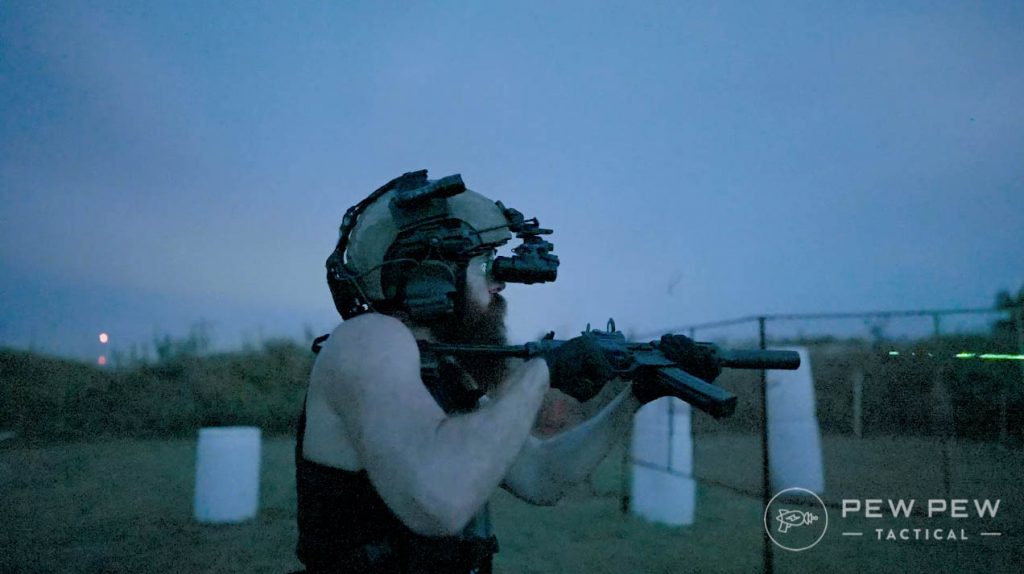 We did have one instance of the Holosun losing its zero due to a loose mount…but that's squarely on us.
269
at Brownells
Prices accurate at time of writing
Prices accurate at time of writing
By the Numbers
Reliability: 4.5/5
We had one experience where a fully-loaded mag wouldn't work with us…but that could be a mag issue. Outside of that instance, the gun worked great.
Ergonomics: 5/5
The Sig MPX K adopts a familiar AR style that feels right at home if you love the AR platform.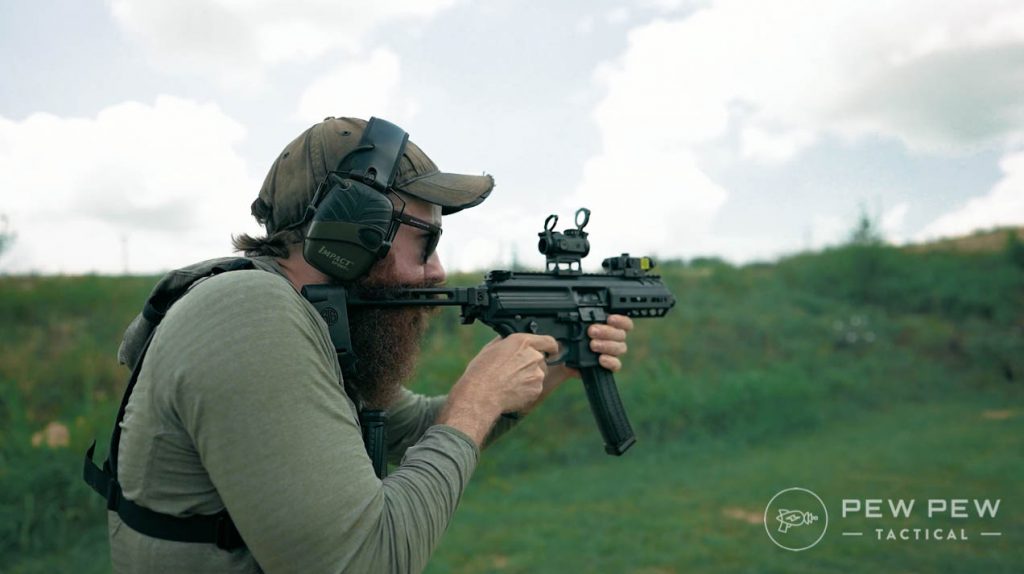 Accuracy: 4/5
We had a great experience with the MPX and rang steel, no problem. That said, there are user reports that a suppressor can throw off your shots.
Customization: 5/5
It's an AR-style PCC…do what you will with it.
Value: 4/5
It's pricey, and there could be a few issues you might need to throw some money at to fix, depending on your goals. (New barrel that plays nice with your can…) So, take that into consideration. That said, it's a pretty great setup that I enjoyed.
Overall: 4.5/5
The MPX was easily one of the highlights of the huge pile of guns I got to screw around with over the course of a week. When that pile also includes bucket list guns like the MP7 and P90, that's really saying something…In short, I think the MPX is worth it.
Conclusion
Despite some known issues that may require some attention, the Sig Sauer MPX is absolutely worth a look.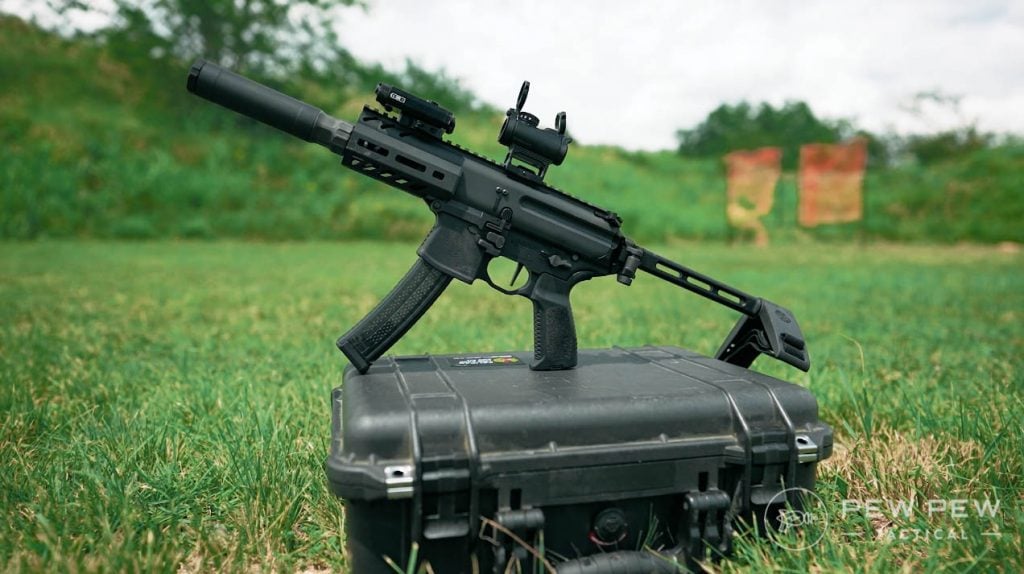 The combination of familiar ergonomics in a sensibly laid-out package is a winning one in my book.
And I think you'll get what I mean if you manage to get your hands on one.
1999
at Palmetto State Armory
Prices accurate at time of writing
Prices accurate at time of writing
While I feel like I don't have the background necessary to bestow it the sensational title of "MP5 killer," I do think it's a fantastic option for PCC users bougie enough to drop the cash.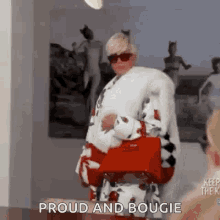 Again, make sure to peep the full video review below to see the gun in action.
What do you think of the Sig Sauer MPX K? Would you buy it? Let us know in the comments or drop a review below. For more PCCs, check out the Best Pistol Caliber Carbines: 9mm & Beyond.