Maybe you want something a little different than the venerable .223 Remington/5.56 NATO in your AR.
What is a good cartridge that is a jack-of-all-trades? Look no further than the 6.5 Grendel!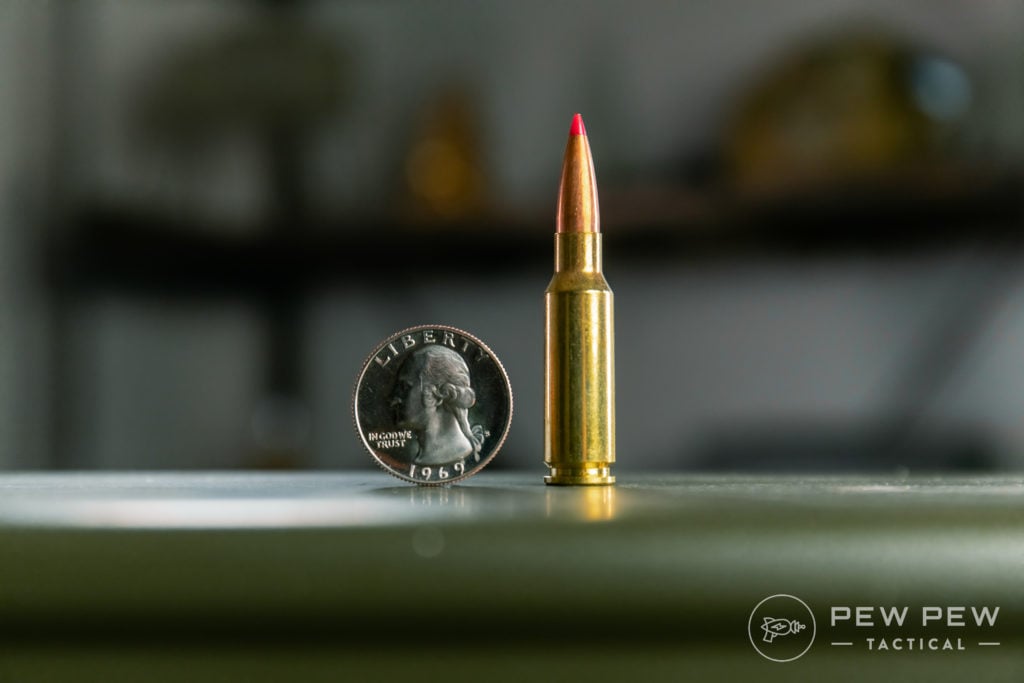 Look no further…I test some of the most popular 6.5 Grendel uppers on the market.
By the end, you'll know if you want a 6.5 Grendel (the answer is yes) and which one to get. So keep reading!
Table of Contents
Loading...
The Jack-of-All-Trades
The 6.5 Grendel has proven itself so far to be a great cartridge regarding target shooting and hunting within intermediate ranges.
Its parent case is the .220 Russian, which it shares with the 7.62x39mm.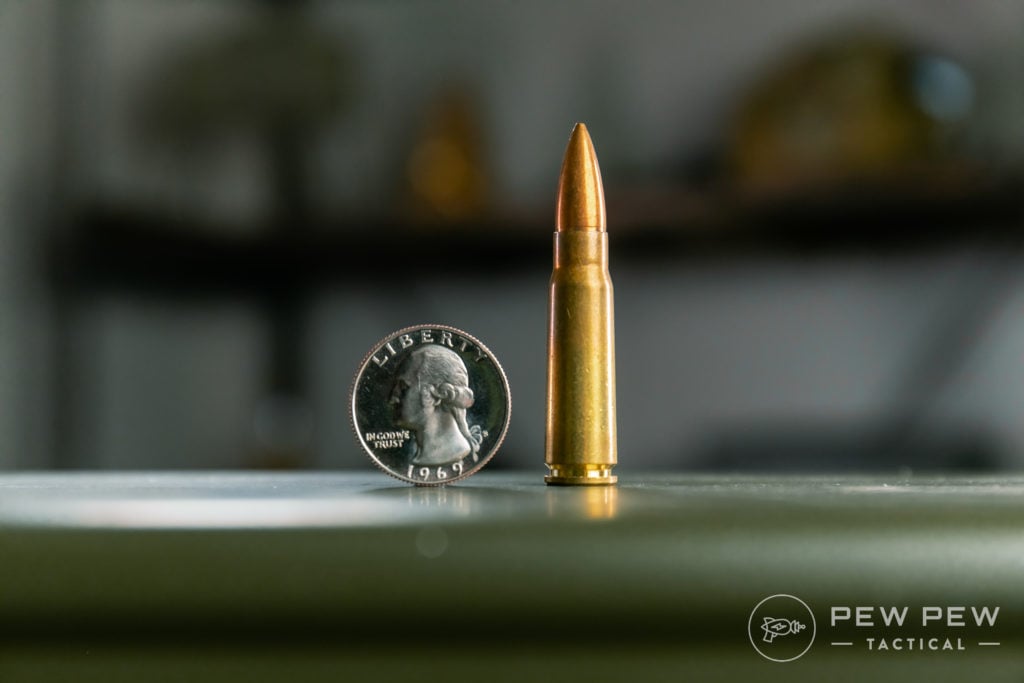 Unlike the 7.62x39mm though, this cartridge is built with speed in mind and drastically outperforms its cousin in ballistics and long-range performance.
With high-quality, factory ammunition becoming more available, the 6.5 Grendel is a great choice for anyone that wants to push further.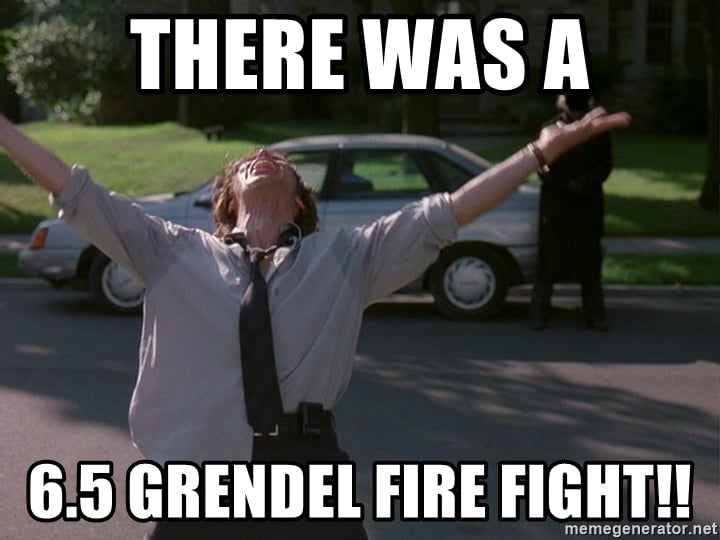 Offerings from Federal Premium, American Eagle, Hornady, and economical steel case ammunition from Wolf can be found at local gun shops and can easily be found online.
Lots of Choices
What 6.5 Grendel upper will fit your budget and your expectations?
I went about answering that question with different companies that offer 6.5 Grendel uppers!
All the mentioned companies come in at different price points for the 6.5 Grendel — ranging from $399 up to $549. Each upper was tested with either an 18-inch or 20-inch 416R stainless steel barrel, and all of them were a "Type 2" 6.5 Grendel chamber.
The companies are as follow:
Testing in Hilly Western Pennsylvania
During my time with these uppers, I was able to do some accuracy testing to shoot groups at 100 yards and out to 400 yards.
If I could have gone further, I would have, but the fact remains that Western Pennsylvania is not amazing countryside for 1,000-yard shots.
In my opinion, though, nearly a quarter-mile can still show excellent accuracy capabilities for a rifle. All rifles were thoroughly cleaned before they were shot.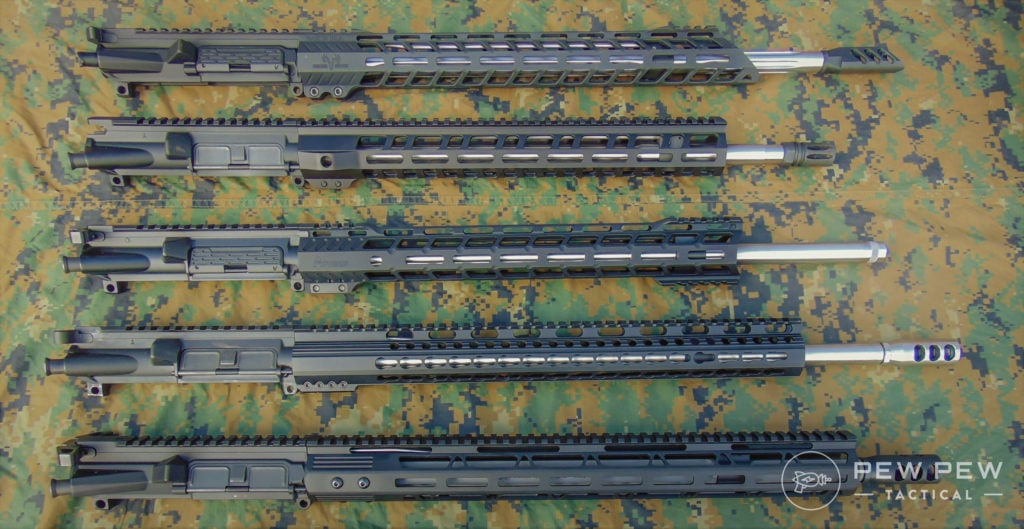 The lower that was used is a typical, forged T6 7075 aluminum receiver with a rifle length extension, using a LUTH-AR MBA-1. Lower parts are from CMMG, but the drop-in trigger is the Timney AR-15 Competition Trigger.
It's no over-exaggeration to say that the Timney is one of the smoothest drop-in triggers I have handled with a very crisp trigger pull and short reset.
This is an excellent choice for precision shooting at longer ranges.
All shots were taken off a bench using Caldwell Shooting Bags.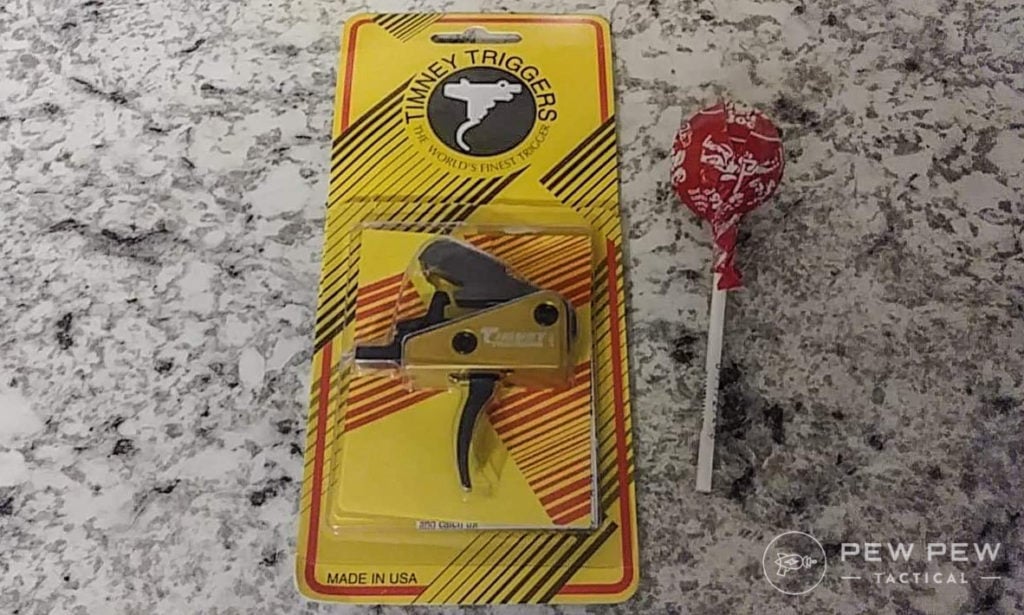 I used an ACME Machine 6-24×50 FFP with their TR-MOA reticle for the optic and have used this scope with a few different reviews. This is a great optic for anyone with a smaller budget looking for long-range glass.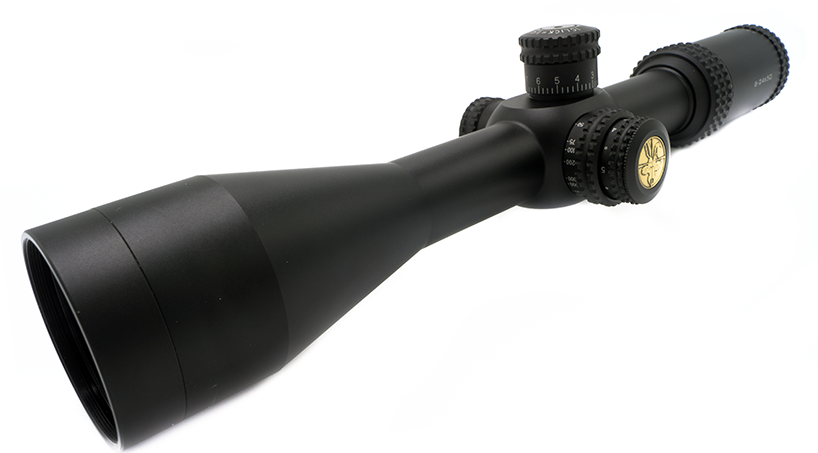 Ammunition used for accuracy testing was sent to me by Hornady. It consisted of Hornady Black ELDs in 123 grain and Hornady Custom SST in 123 grain.
As always in my experience, Hornady ammo performed great and was consistent with shot to shot. It is relatively inexpensive ammo regarding match-grade or hunting-grade ammunition.
I tend to shoot a lot of Hornady ammunition in my personal 6.5 Grendel rifle.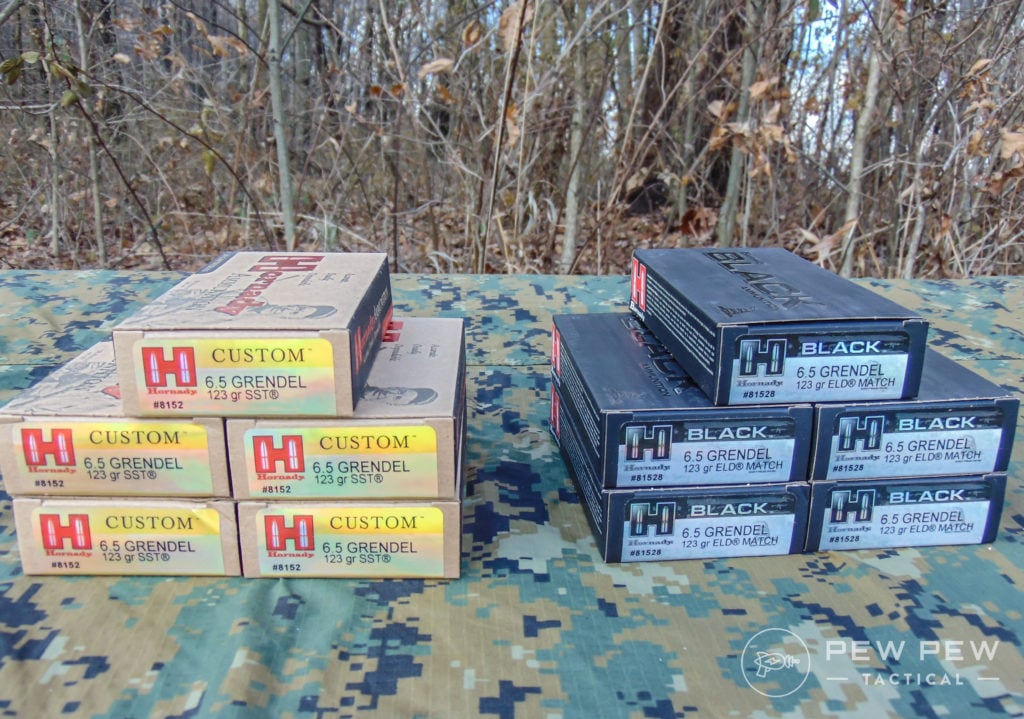 Best 6.5 Grendel Uppers
1. ACME Machine 18-inch Upper
ACME Machine sells and manufactures just about anything that you could use to build or upgrade your rifle.
They are a lower-budget, bargain retailer that can sell a product at a surprisingly low cost, while still offering higher-grade components like Ballistic Advantage, Aero Precision, Magpul, LUTH-AR, and their own line of products.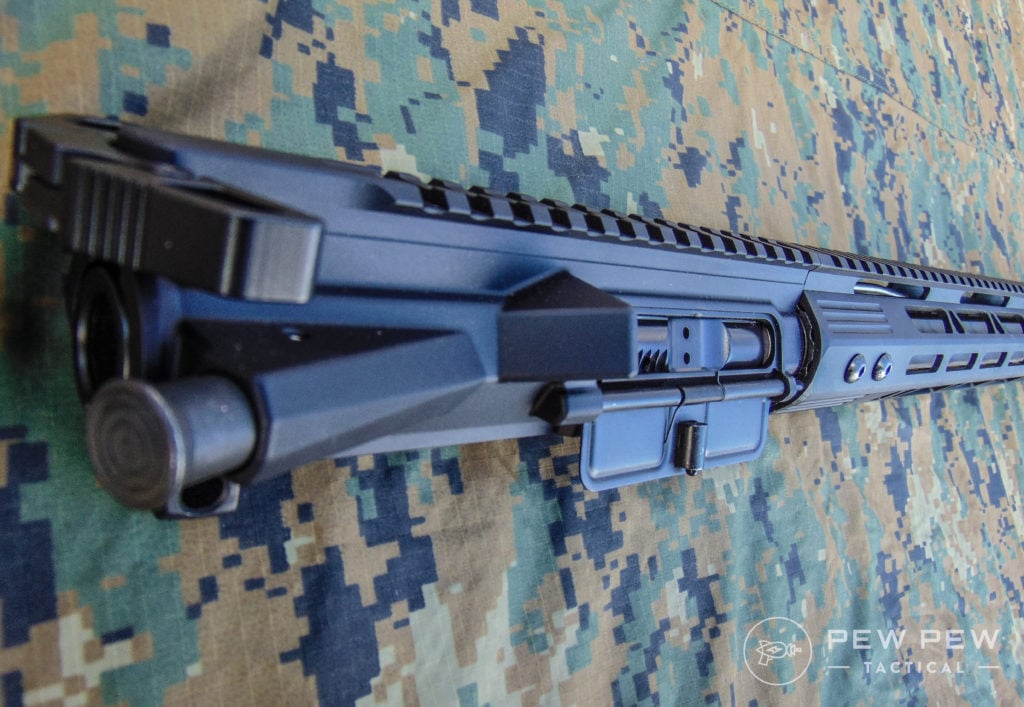 ACME Machine's entry into the 6.5 Grendel market utilizes a Ballistic Advantage barrel. The model that I received had an 18-inch fluted 416R stainless steel barrel. Its bolt carrier group is a fully nitrided system that uses a 9310 Type 2 Grendel bolt.
Mechanically, the weapon fed and fired flawlessly using a 5-round ASC magazine.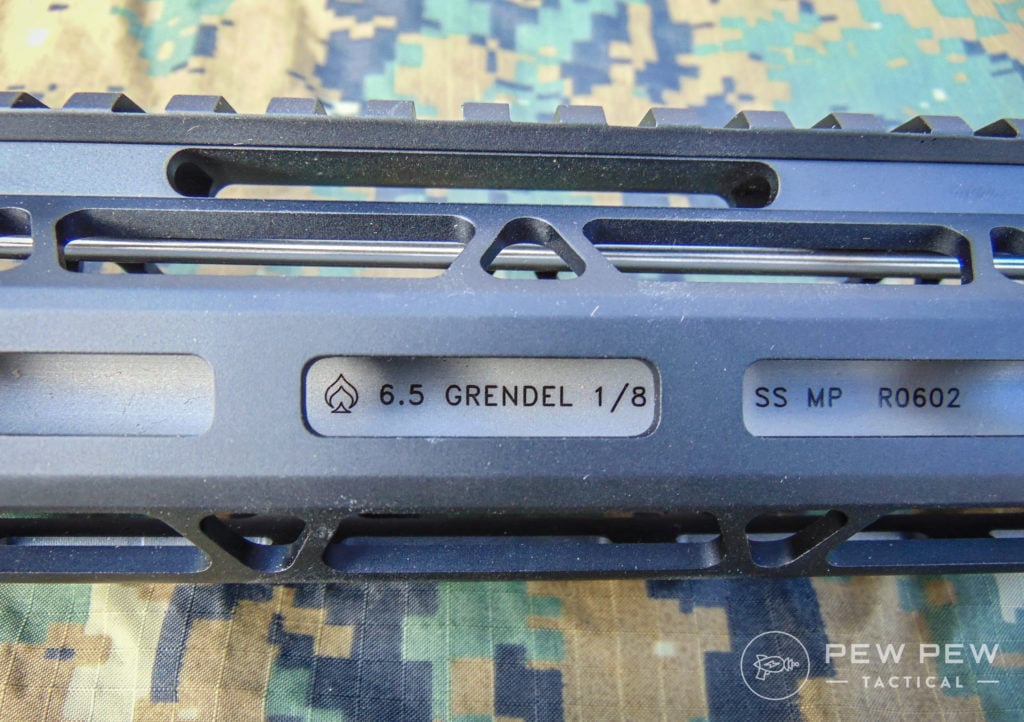 The upper receiver was an Aero Precision M4E1 and aesthetically provides a step up from the standard mil-spec world of forged receivers.
This upper came with an included ACME Machine 17-inch free-floated handguard and phosphate gas block.
To round it off, the upper came with an ACME Machine ambidextrous charging handle and phosphate 3-port muzzle device to tame recoil.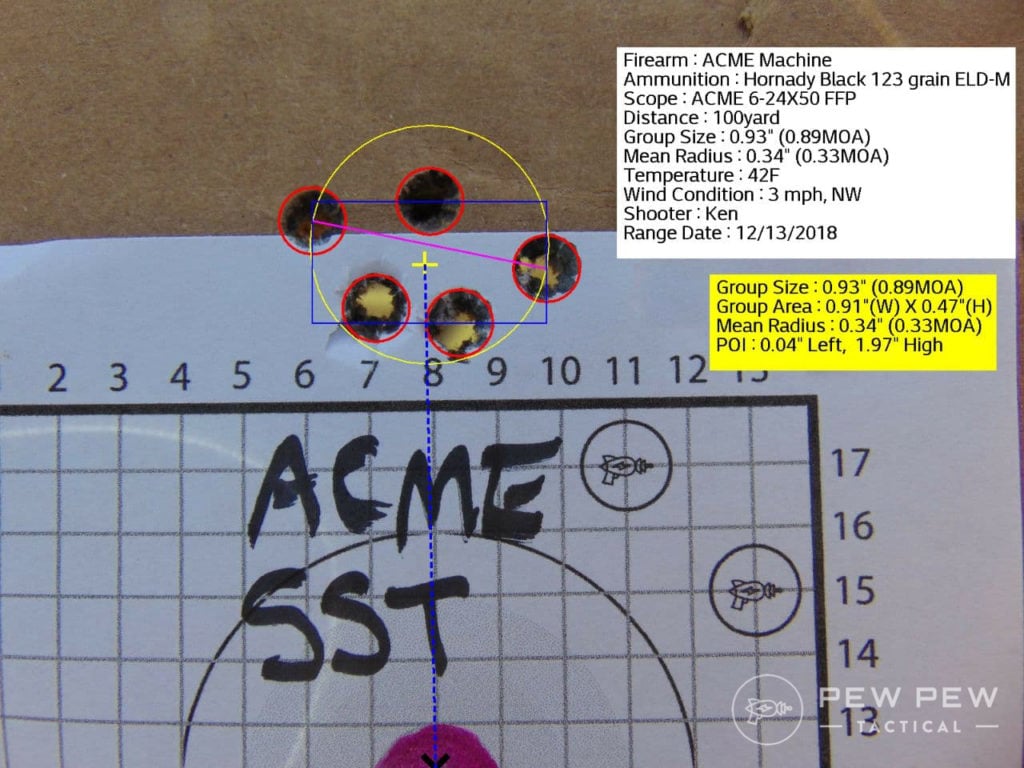 The Ballistic Advantage barreled upper from ACME Machine performed very well and shot under 1 MOA at 100 yards. The best 5-shot group measured in at .89 MOA.
After the barrel fouled, it tightened up more when I reached out to 400 yards. This upper was able to print a .74 MOA group that measured in at 3.1 inches at 400 yards.
I have had personal success with Ballistic Advantage before, so this did not surprise me.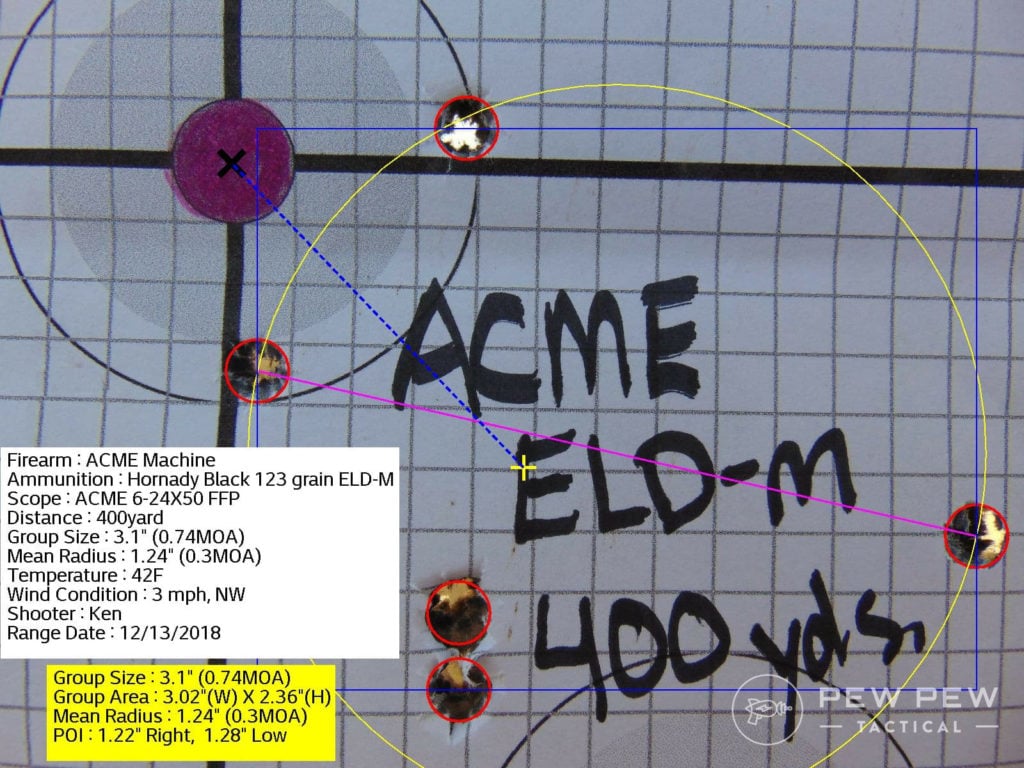 2. Atheris Rifle Company 20-inch Upper
This company produces a multitude of calibers with complete rifles and upper receivers. They are well known in smaller circles of the 6.5 Grendel Cult to have well-built, accurate rifles that won't kill your bank account.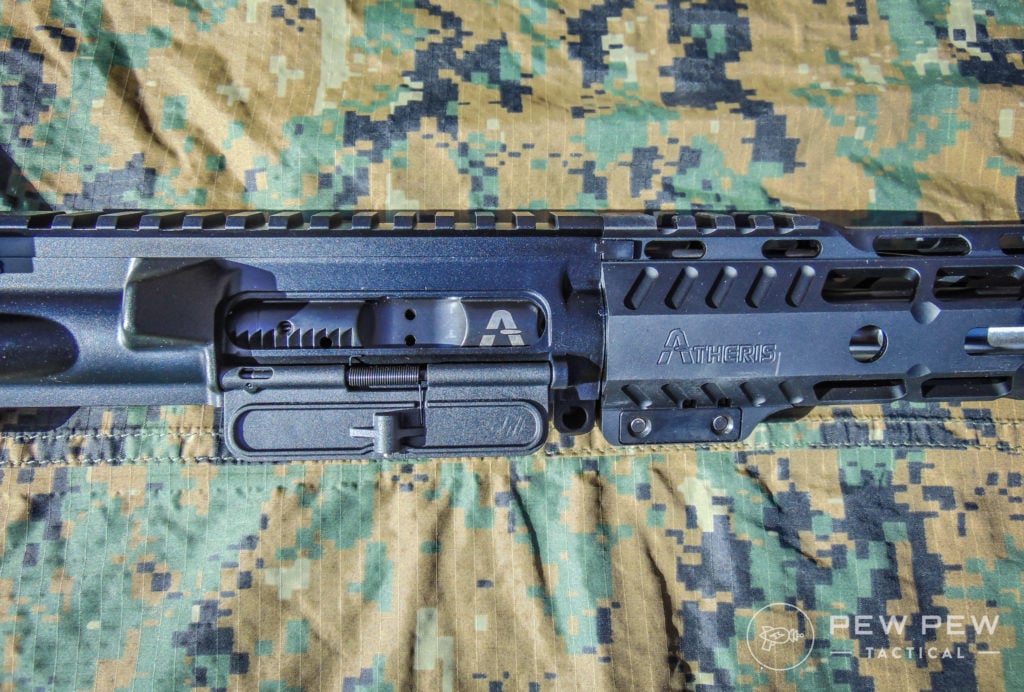 The upper that Atheris Rifle Company sent to me was barreled with a 20-inch Atheris barrel with a thread protector.
It uses a mil-spec, forged upper receiver with Strike Industries parts for the dust cover, and an Atheris ambidextrous charging handle. The bolt carrier group is a nitrided system with a 9310-steel bolt.
Just like all the other uppers, it performed flawlessly during my tests.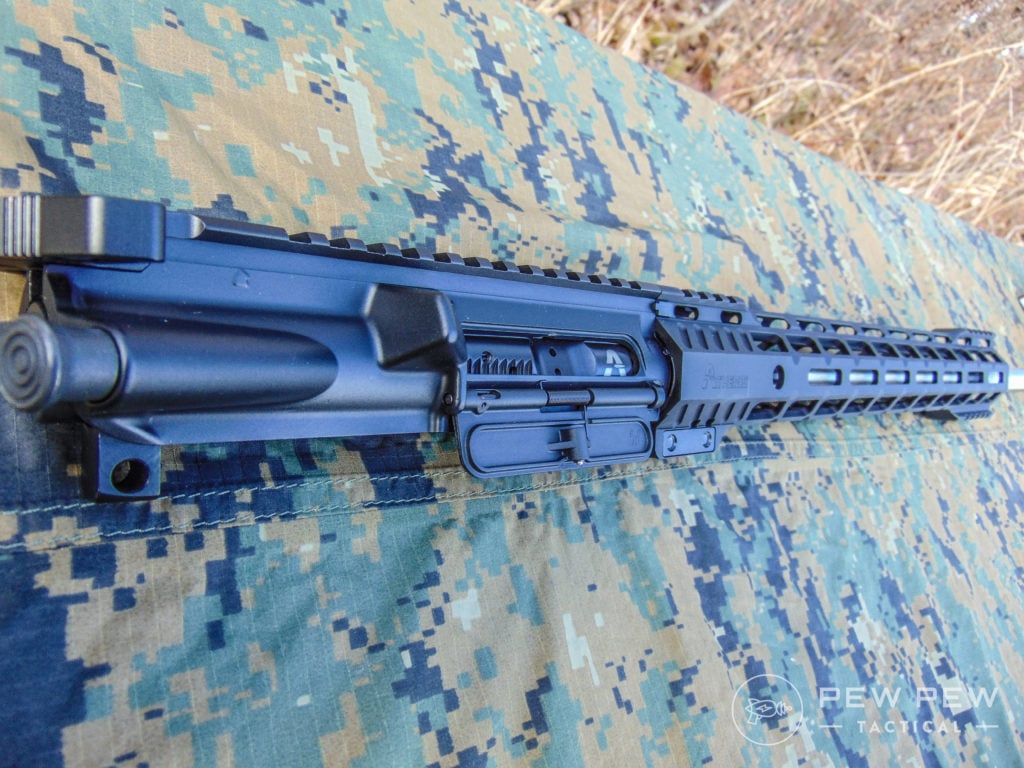 What really drew my eye to this upper is the aesthetics of the free-floated handguard. It is a 15-inch lightened M-LOK handguard that is 100% American-made. It offers a slim handguard with plenty of grip for your hand.
But it also features Picatinny rails on the end of the handguard toward the muzzle for attaching any accessory that you may want for the AR-15. By design, the handguard also uses an anti-rotation system for a rock-solid mount.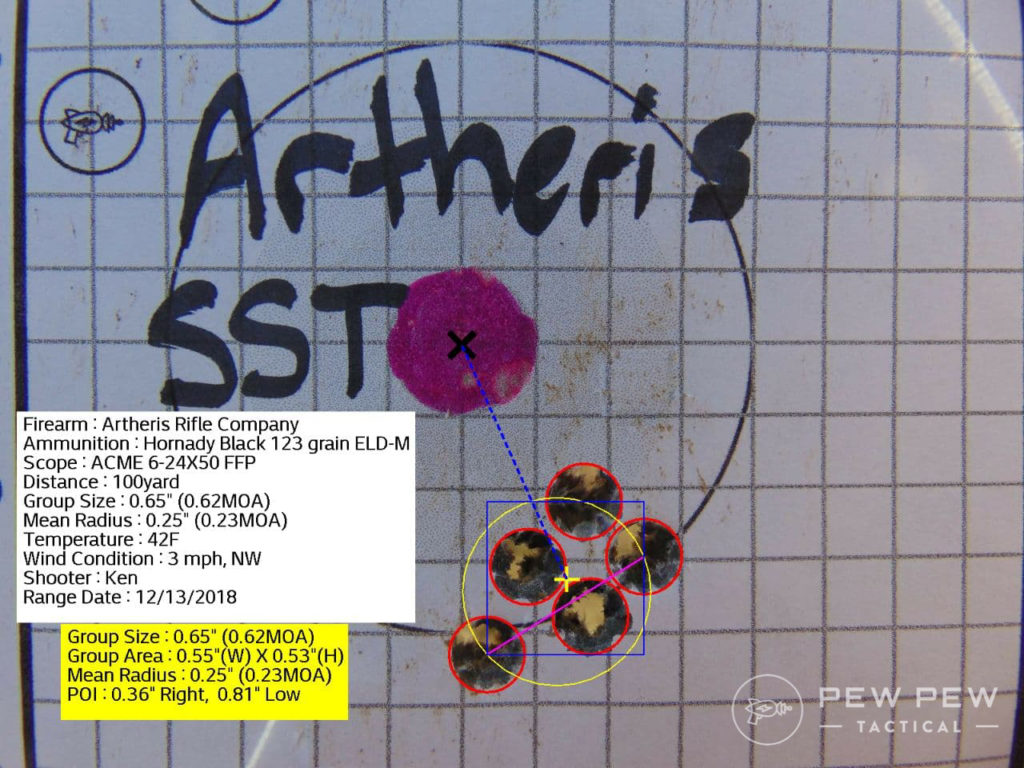 The Atheris 6.5 Grendel upper stepped up the competition at this point.
Its best 100-yard 5-shot group measured in at .62 MOA. Once the barrel fouled from previous zeroing shots and at 100 yards, it began to tighten up at 400 yards.
This upper's best 5-shot group at 400 yards measured .5 MOA at 2.09-inches. Atheris Rifle Company's experience really shines through with their 6.5 Grendel.
At $549, this upper is a shooter and seems to be capable of sub .5 MOA!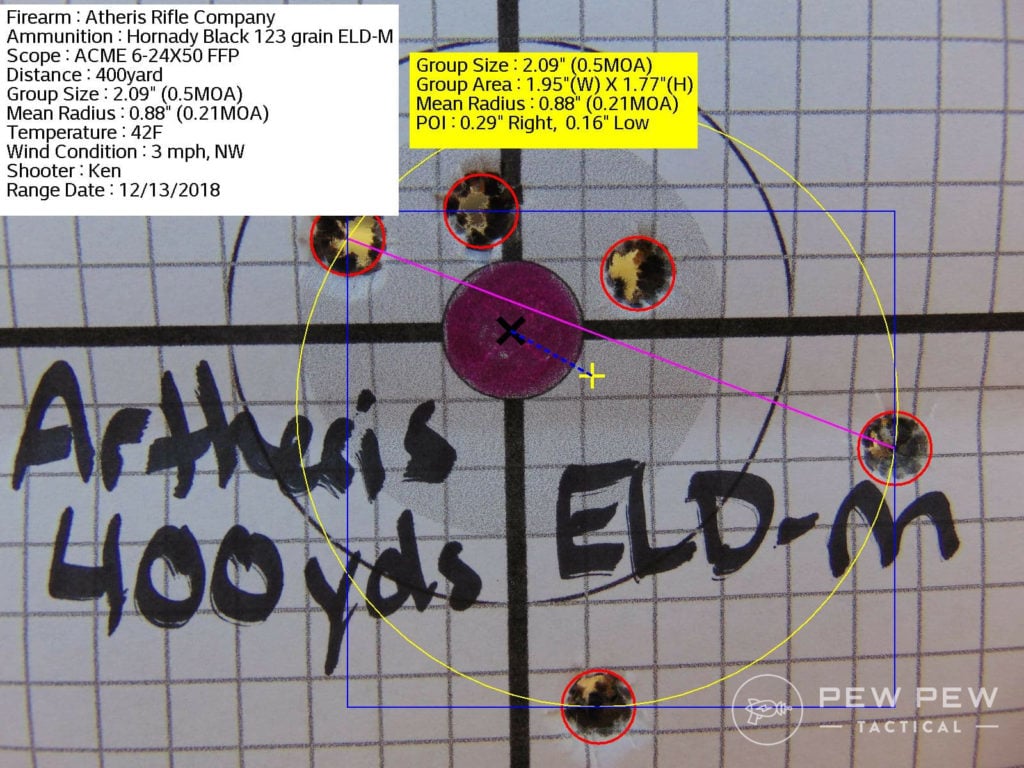 3. Grendel Hunter 20-inch Upper
This is another great company that is well known within the Grendel community.
If you are a fan of the 6.5 Grendel, you probably know or have spoken with Andy Hobein, the owner of Grendel Hunter, on forums or on Facebook pages.
He has a wealth of knowledge about the Grendel and is always willing to share.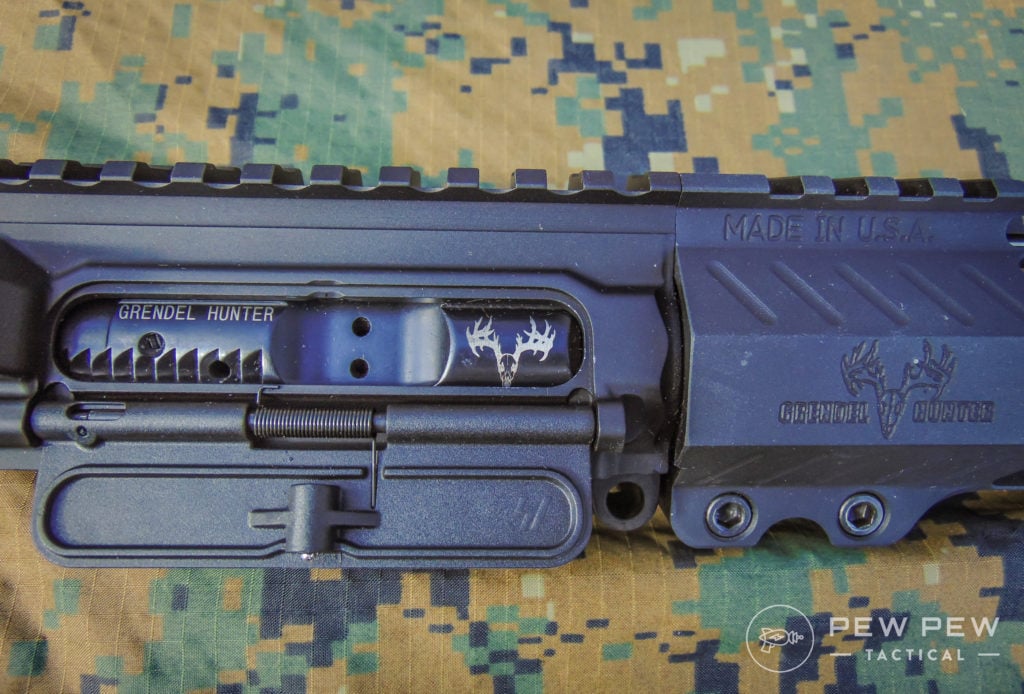 The Grendel Hunter upper that was sent to me uses a 20-inch Satern Liberty barrel with a Grendel Hunter designed slanted 3-port muzzle device. Its free-floated handguard is also designed by Grendel Hunter and features a slanted angle cut that matches the muzzle device perfectly.
This muzzle device is highly efficient in my experience.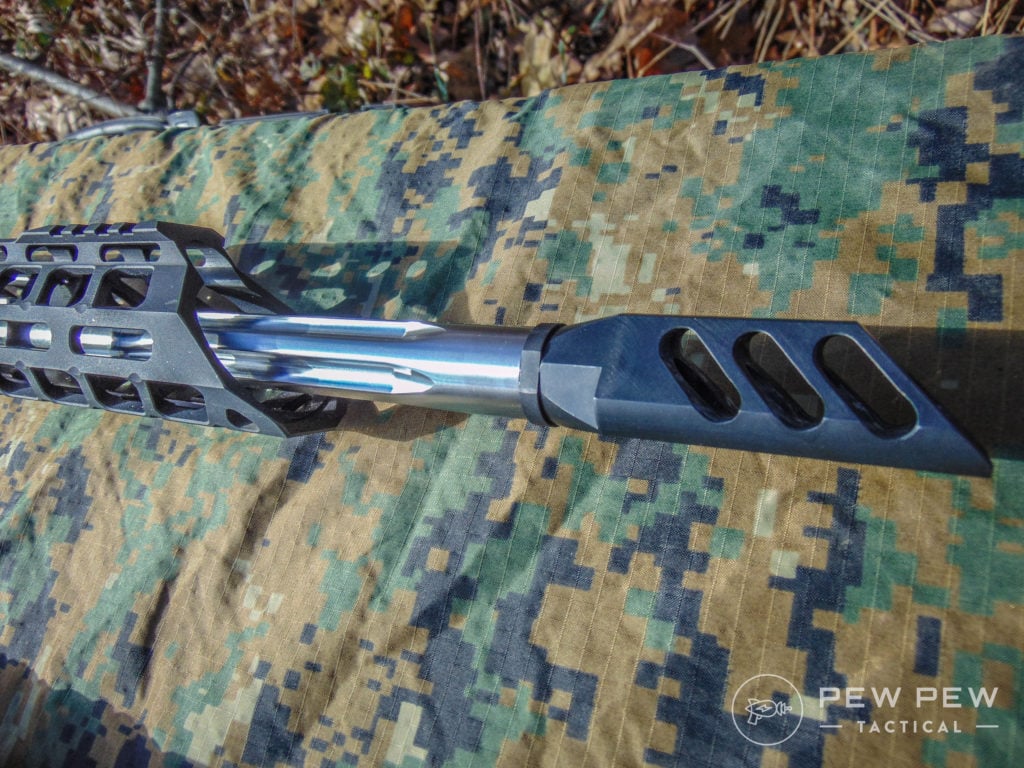 The receiver is an Aero Precision M4E1 upper and is built with Strike Industries parts, including their dust cover, forward assist, and a Strike Industries charging handle.
On the Grendel Hunter website, upgrading is easy with their drop-down menu, allowing customers to customize what they want.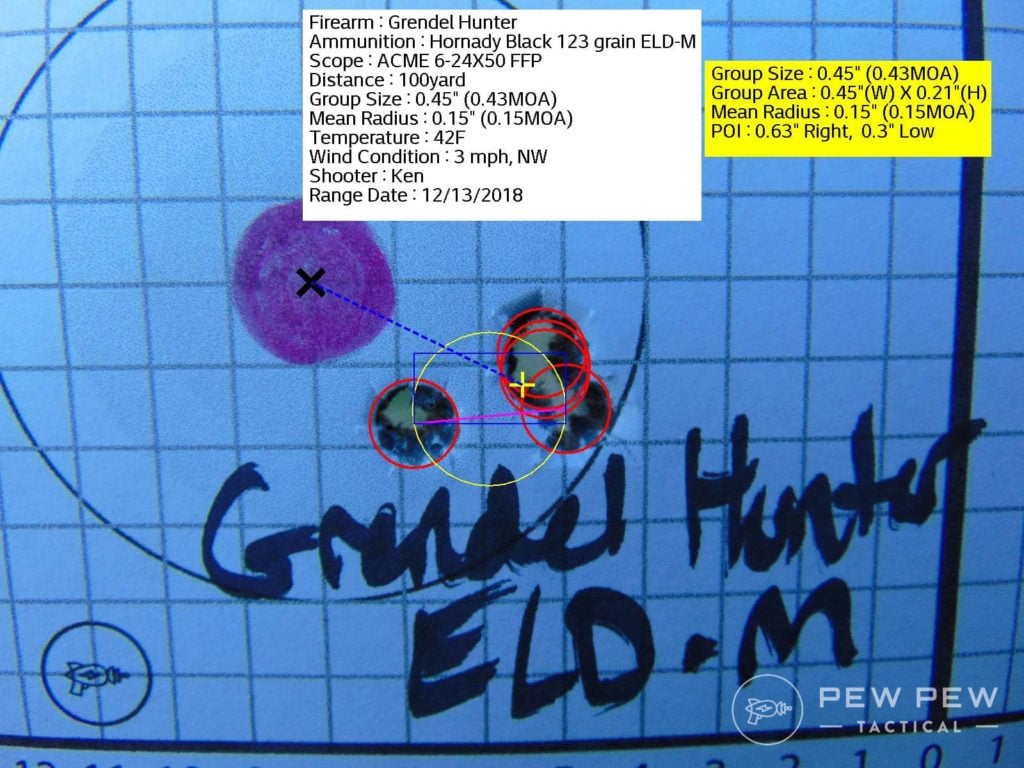 The Grendel Hunter upper was an absolute tack driver during testing.
With the Satern Liberty barrel, its best 5-shot group at 100 yards printed a .43 MOA, with one round that opened the group. Once I stretched its legs out to 400 yards, I was able to shoot a .44 MOA, 1.85-inch group.
A sub .5 MOA complete upper at nearly $650, in my opinion, is well worth it. Grendel Hunter has a winner on their hands.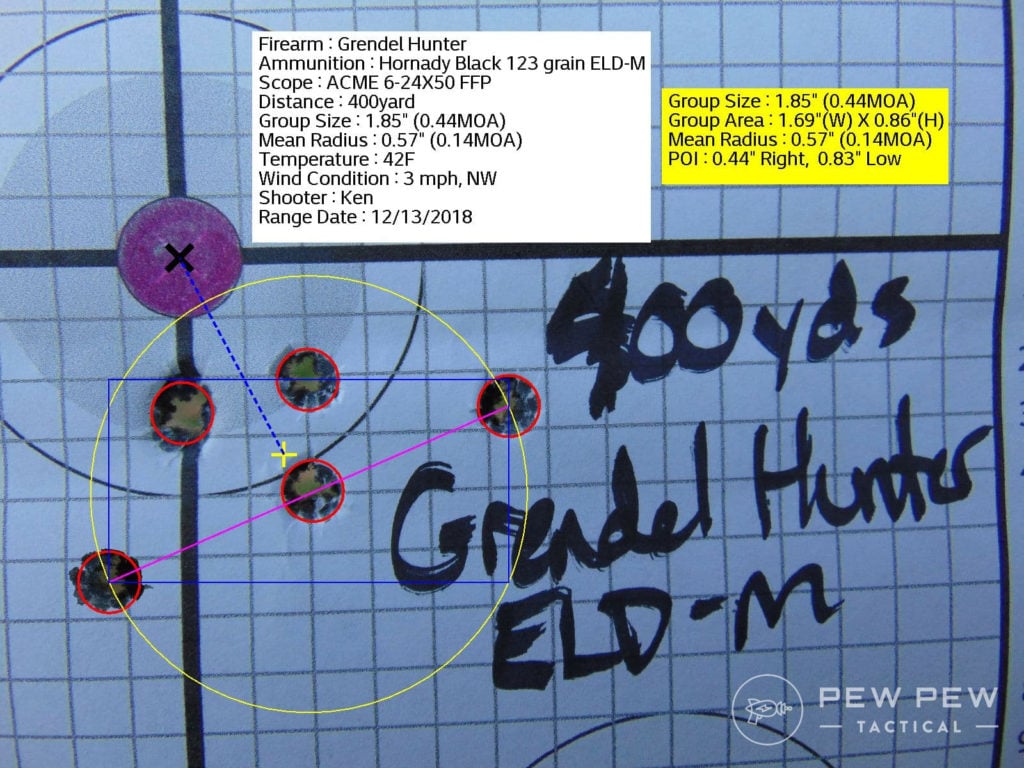 4. Palmetto State Armory 6.5 Grendel 18-inch Upper
This 18-inch upper from PSA uses a mil-spec, forged upper receiver.
The bolt carrier group is nitrided and opts for a 9310-steel bolt with "6.5 Grendel" laser engraved on the carrier. It uses mil-spec parts for the forward assist, charging handle, and dust cover.
Best Goldilocks 6.5 Grendel Upper
360
at Palmetto State Armory
Prices accurate at time of writing
Prices accurate at time of writing
The handguard is a free-floated, 15-inch MLOK with a solid design an integrated QD attachment point.
The 18-inch 416R stainless steel barrel is manufactured by PSA through D.C. Machine and in my experience, they are typically great shooters for the price.
The muzzle device is a typical A2-style muzzle device threaded for a 5/8×24 TPI barrel. I personally was able to stretch out to 1,000 yards with a PSA 6.5 Grendel rifle while in Wyoming with PSA on a media trip.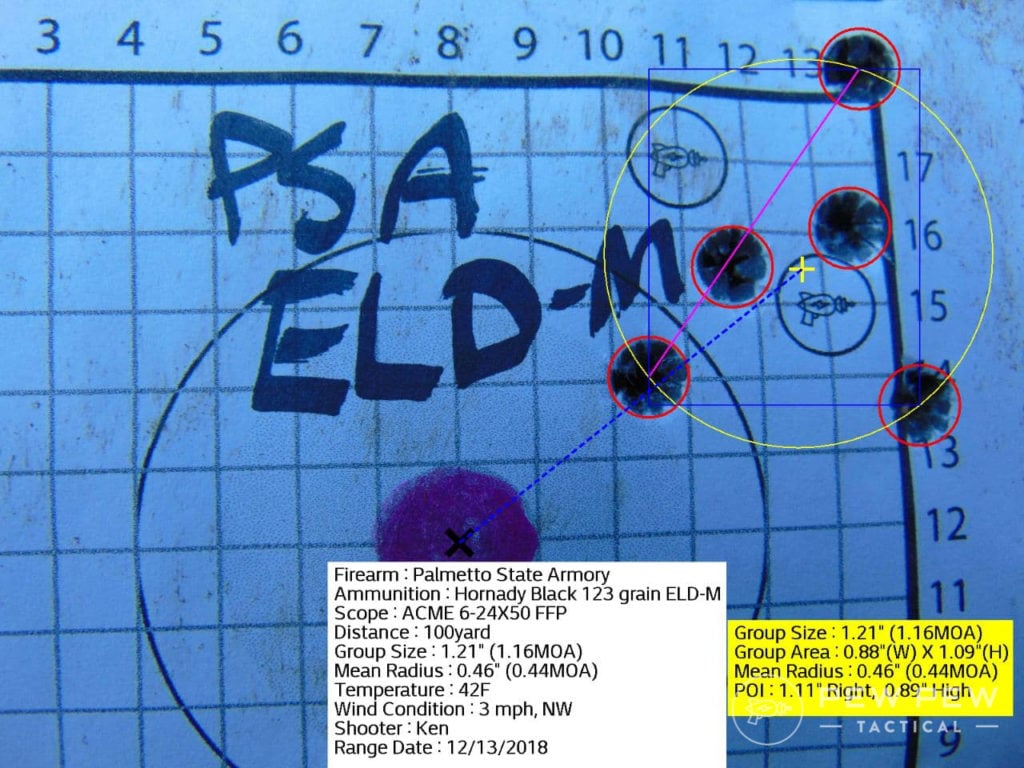 Shooting the PSA Grendel, I was able to make a respectable group at 100 yards measuring in at 1.16 MOA. After the initial zeroing and fouling shots, at 400 yards the barrel did prove to be sub-MOA putting out a 5-shot group at .86 MOA measuring in at 3.58-inches
At its price point, at under $400, it is a solid choice for anyone looking for a hunting or recreational long-range shooter.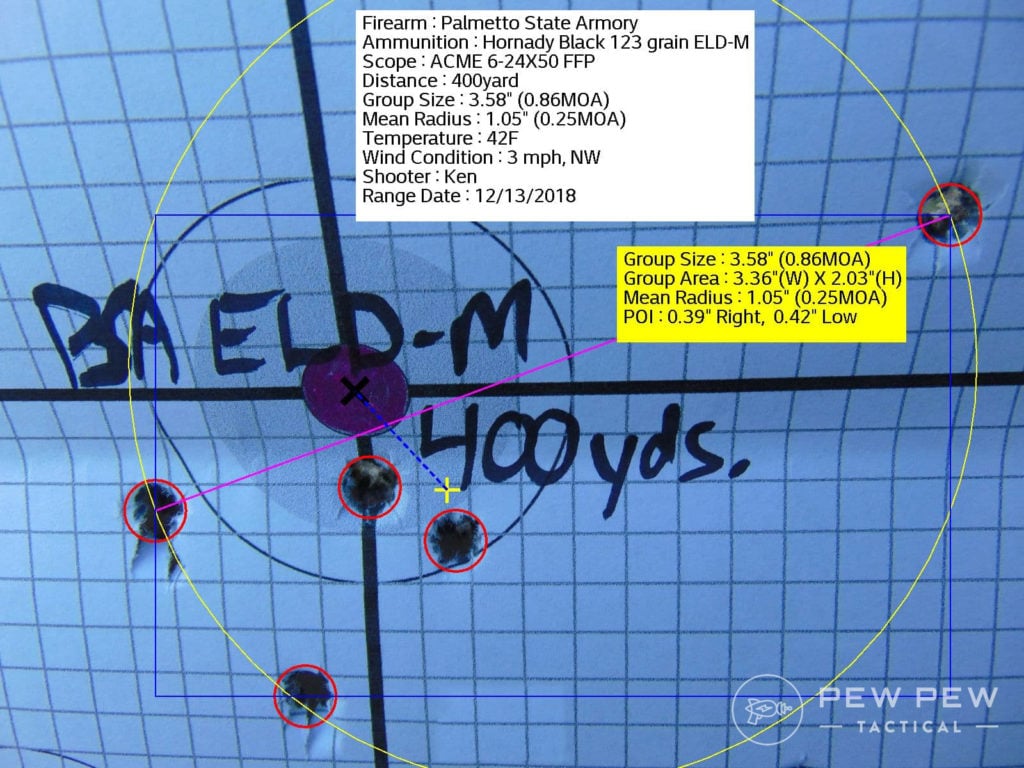 Plus…we at Pew Pew Tactical love their regular AR-15 Uppers (full review).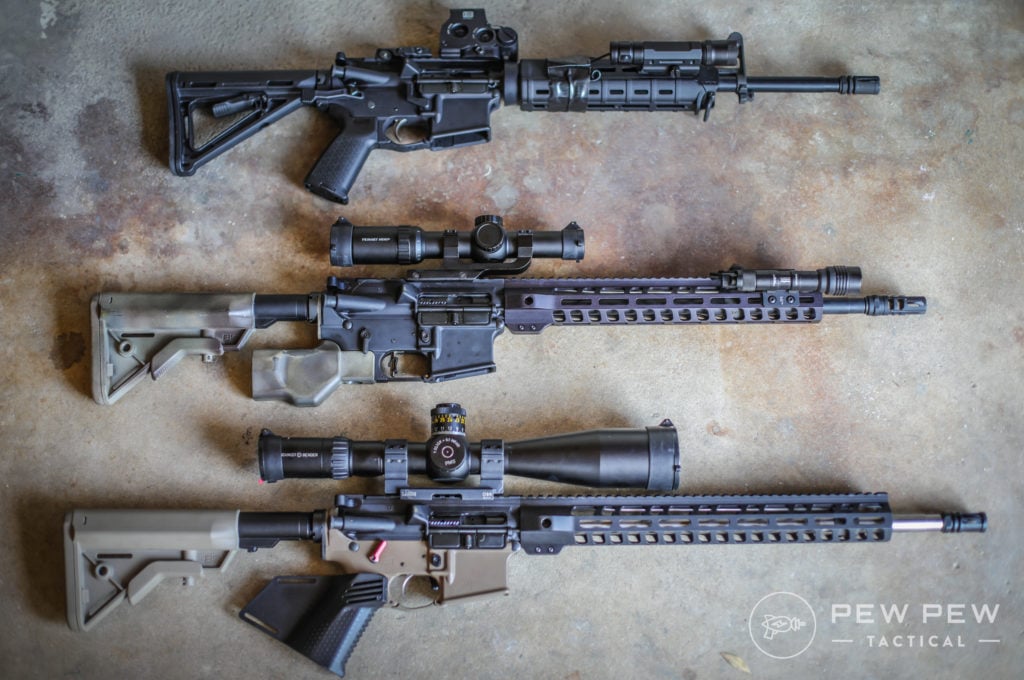 What's your take on the PSA Grendel? Give it a rating below.
5. Sanders Armory 20-inch Upper
Sanders Armory offers multiple offerings of varying calibers. Kelly Sanders, the owner, can be found on multiple pages dedicated to ARs on Facebook and is always willing to help people with information.
While this is getting more normal with social media, in my opinion, when an owner of a company is active on social media, that speaks volumes of their customer service.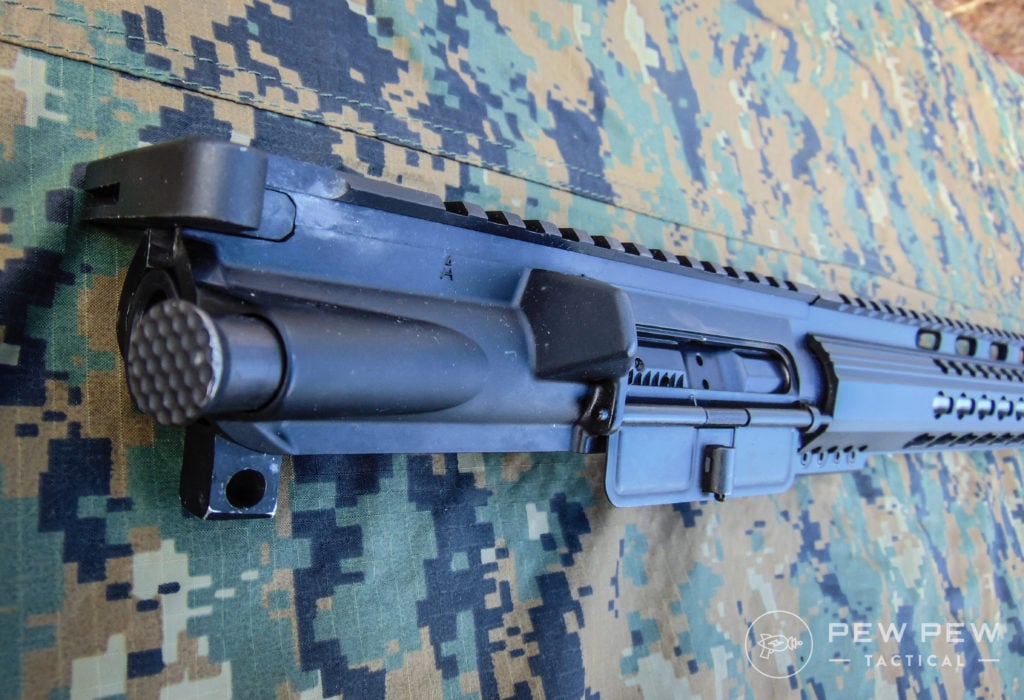 The upper that was sent to me has a 20-inch Sanders Armory barrel in 416R stainless steel with a 3-port stainless muzzle device. It's a mil-spec, forged receiver using a nitrided BCG.
And the handguard is a free-floated 16.5-inch, clamp-on, KeyMod design. It felt very solid running off the shooting bags or when I had mounted a bipod on it.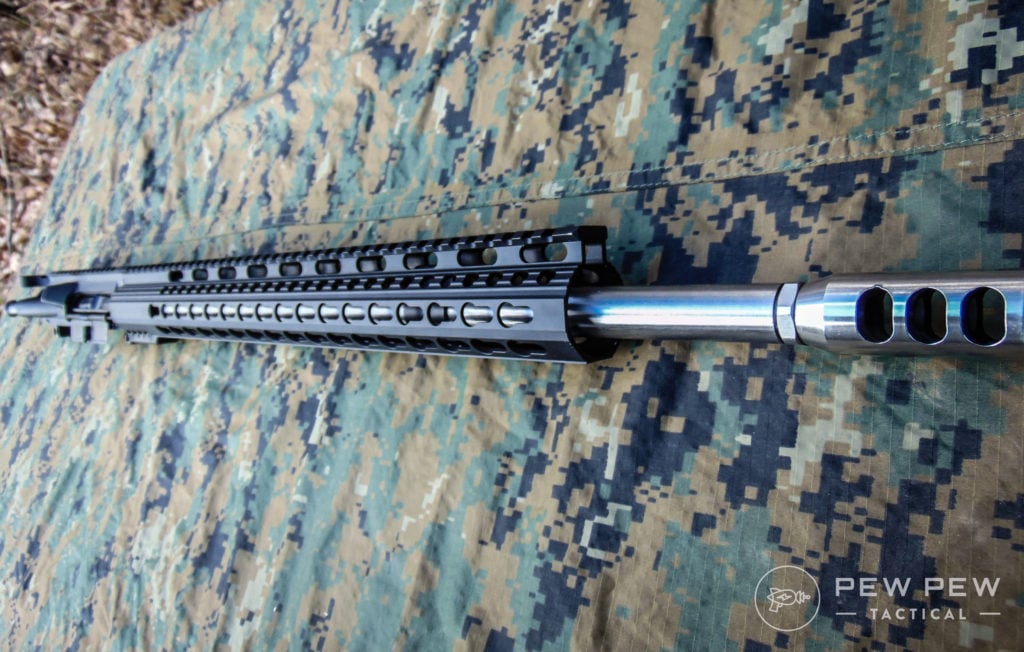 At 100 yards, this upper was able to print a .57 MOA group. After the other uppers tightening up a bit from all the zeroing shots, and 100-yard groupings, I had high hopes that this upper would do the same. It did not disappoint.
Out of all the uppers, the Sanders Armory 20-inch upper's best 5-shot group at 400 yards measured .37 MOA and 1.56 inches.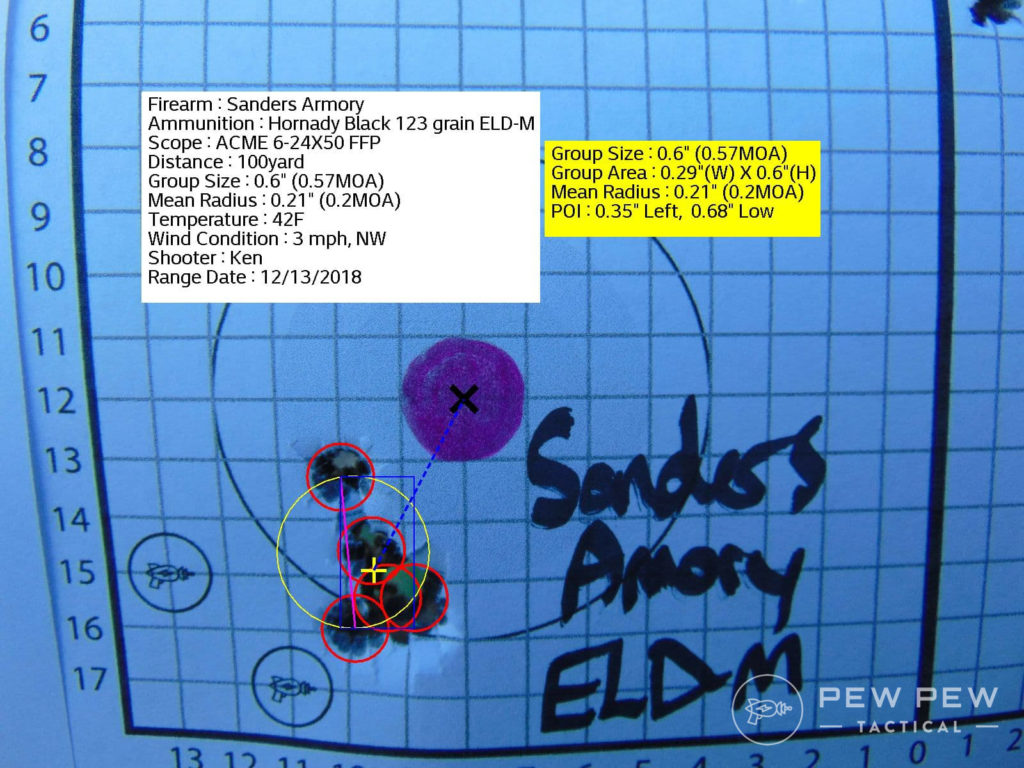 This complete upper is priced at $488 currently, so I feel the need to reiterate IT GROUPED 1.56-inches AT 400 YARDS!
While this upper does not look as flashy as other models, and I personally like M-LOK over KeyMod, this upper is a workhorse that can put up solid results in the accuracy department.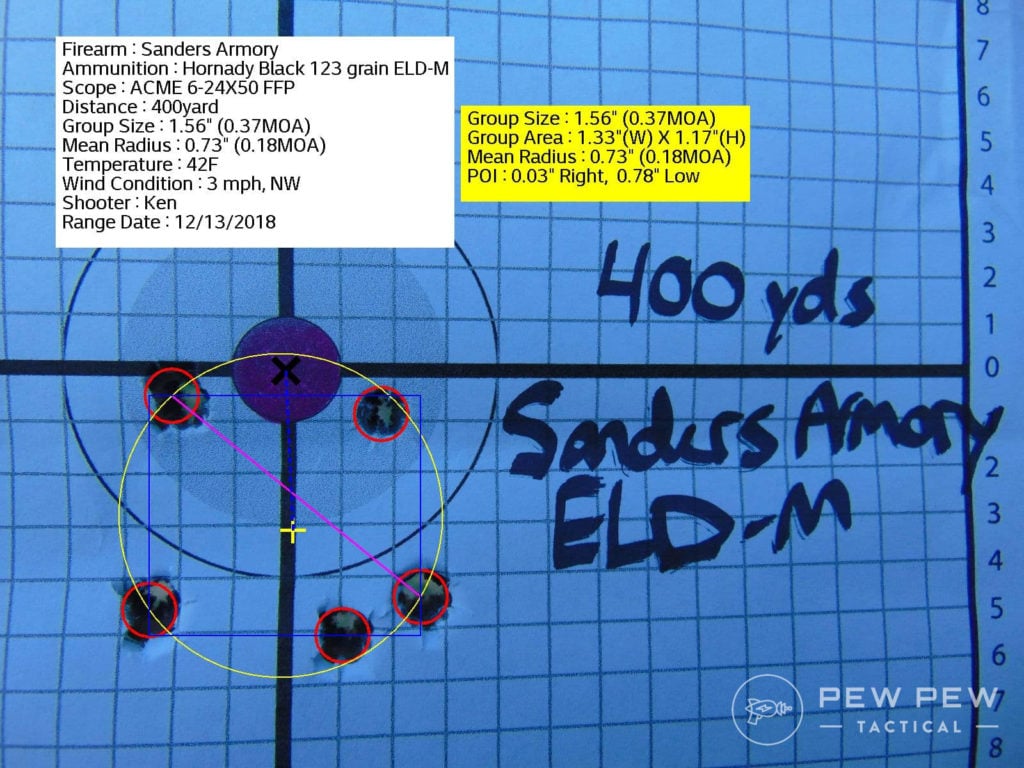 Conclusion
In my opinion, these uppers are all great buys…depending on what you want. With that said, all barrels are different, and YMMV.
Depending on your budget, and what you expect from a rifle, any of these choices could be a viable option. I can't honestly pick "the best" choice without the expectations of the shooter and their budget.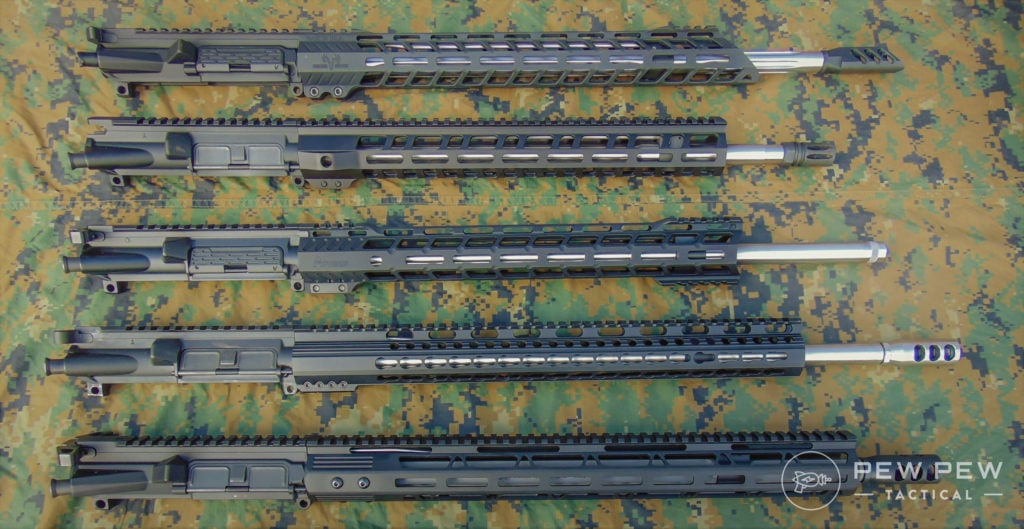 But in the end, hopefully, with the information in this article, you can make your best choice with the money you have.
It is safe to say though, that if you want a long-range cartridge for your AR-15, the 6.5 Grendel is a fabulous choice and will get the job done for your paper punching or hunting needs!
What 6.5 Grendel upper do you run? Take any game with it? Let us know in the comments! Don't forget to get some glass to go with your new rifle with our Best AR-15 Optics!