The AR-9 is a brilliant blend of rifle meets pistol caliber.
You get the stability of a long gun with the fun, practically non-existent recoil of 9mm. It's a beautiful pairing, ya'll.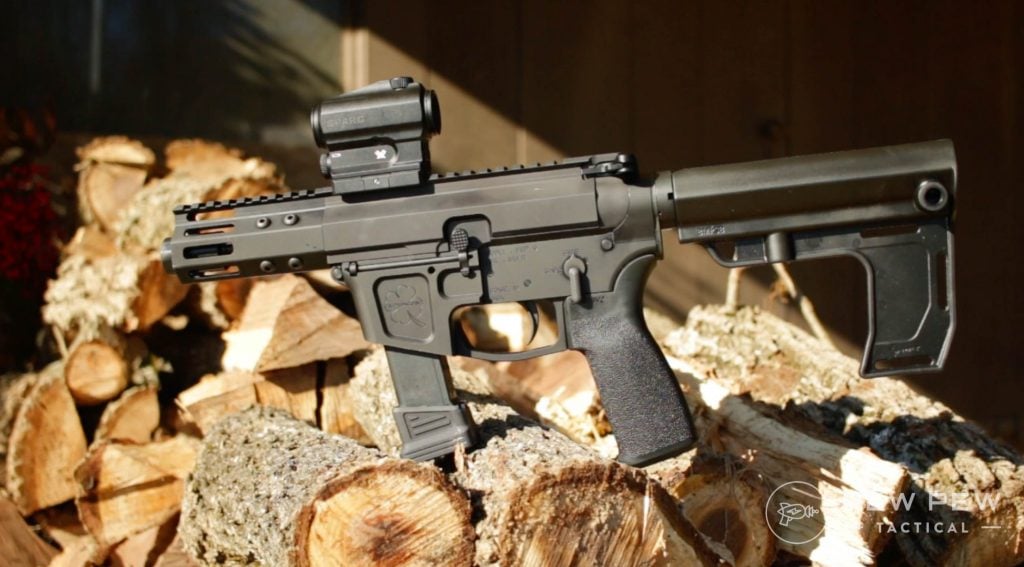 Foxtrot Mike currently has a pretty cool AR-9 platform. It's small and concealable with just enough bells and whistles to make it worth your time.
Oh and did I mention Glock compatibility…oh yeah. But more on that later.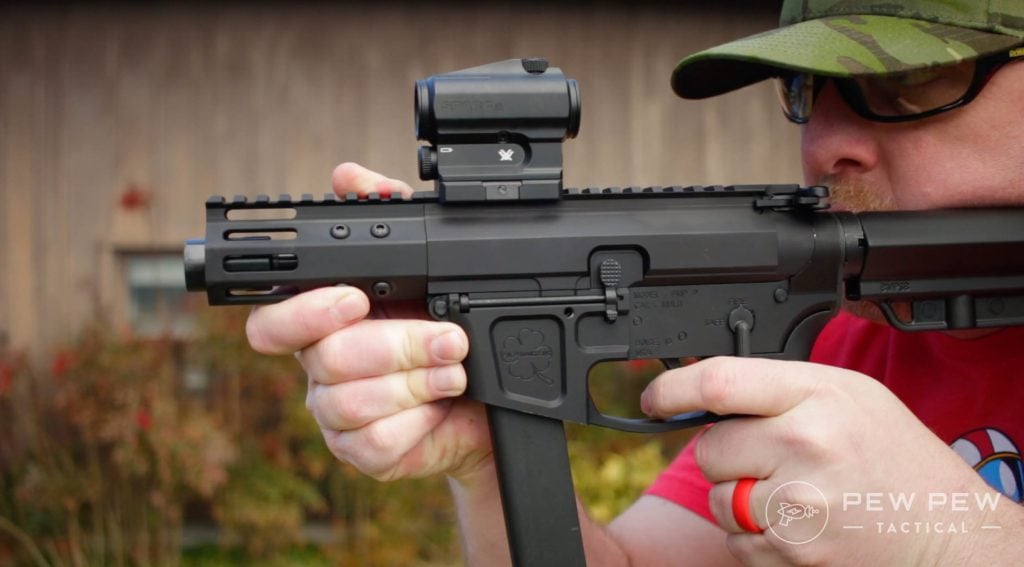 Today, we're taking a dive into the FM-9B from Foxtrot Mike to get to know this AR-9, what makes it cool, and what could be better.
By the end of this, you should know whether it's worth your cash or not.
If you want to skip the words and go straight to the action, make sure to watch our video below.
Also, be sure to check out Pew Pew Tactical on YouTube for some more cool gun videos.
Let's get to it!
Table of Contents
Loading...
Foxtrot Mike FM-9B: What Is It?
It's an AR-9 that…buckle-up for this one…takes Glock magazines. Hallelujah!
We love a gun with some versatility, and the ability to take your pistol and your AR to the range and use the same mags for both is fantastic!
670
at Brownells
Prices accurate at time of writing
Prices accurate at time of writing
Cool mag compatibility aside, the FM-9B sports a PCC AR design with various barrel lengths. 10-inches, 5-inches…you choose what works best for you.
For this review, I tested the little guy — a 4-inch barrel model that looks oh so tiny.
This AR-9 rocks a sweet little M-LOK rail with a blast diffuser at the front.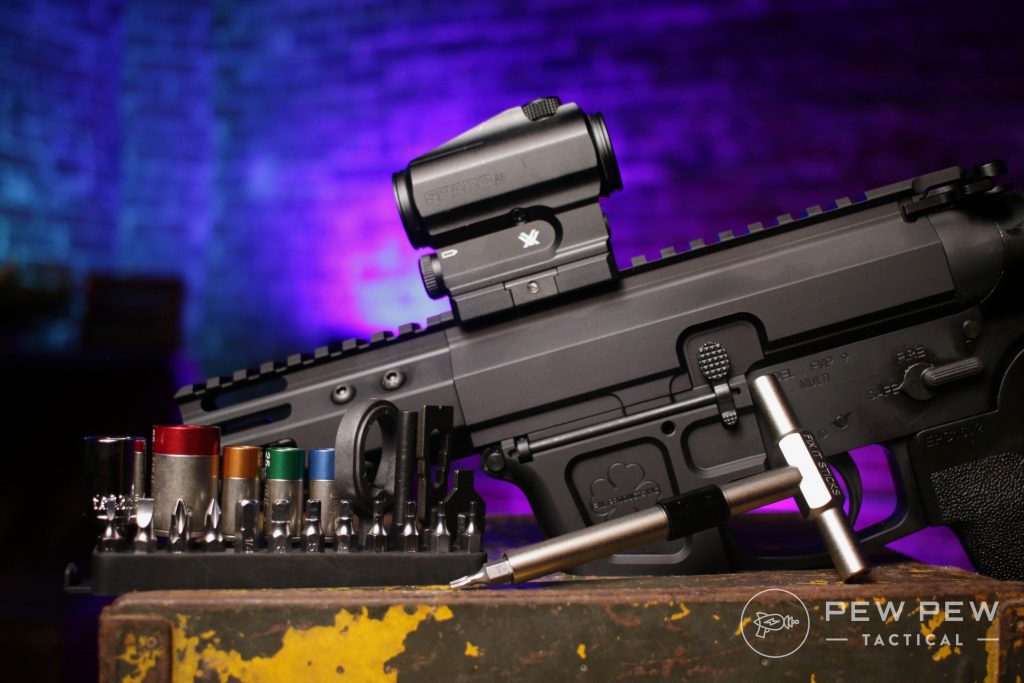 I tossed a Vortex SPARC Red Dot on the rails with Fix It Sticks, and, man, oh man, the combo was a dream!
The SPARC was the perfect size for this compact AR!
280
at Fix It Sticks
Prices accurate at time of writing
Prices accurate at time of writing
In addition to M-LOK, the build also offers an MFT Grip and an oversized mag release.
Having a slightly larger than average mag release is a welcomed addition to this platform. I really liked it a lot.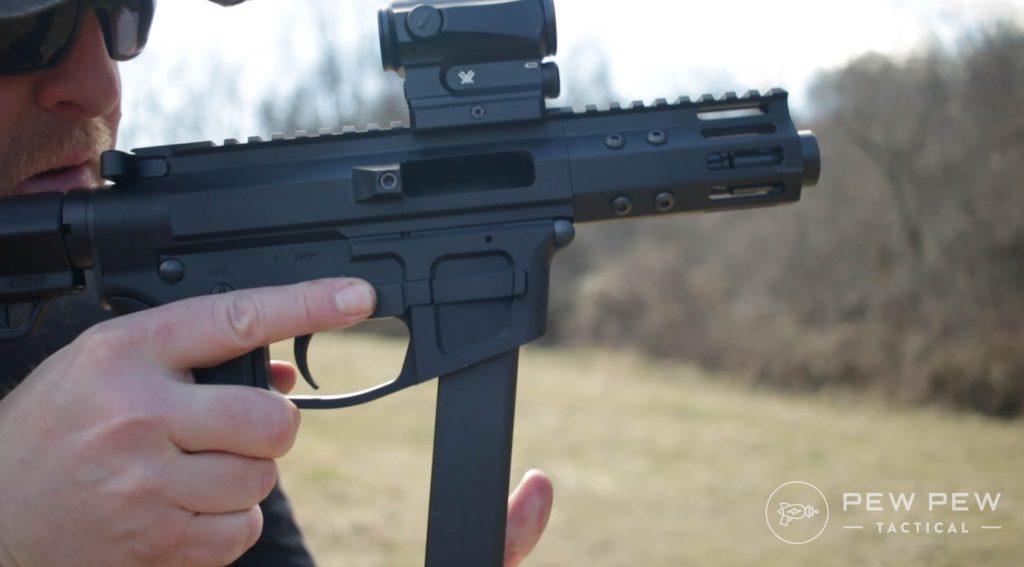 As far as aesthetics, Foxtrot Mike serves up a clean-looking gun.
While we're not usually huge fans of obnoxious logos, the four-leaf clover logo isn't all that bad. I definitely don't hate it.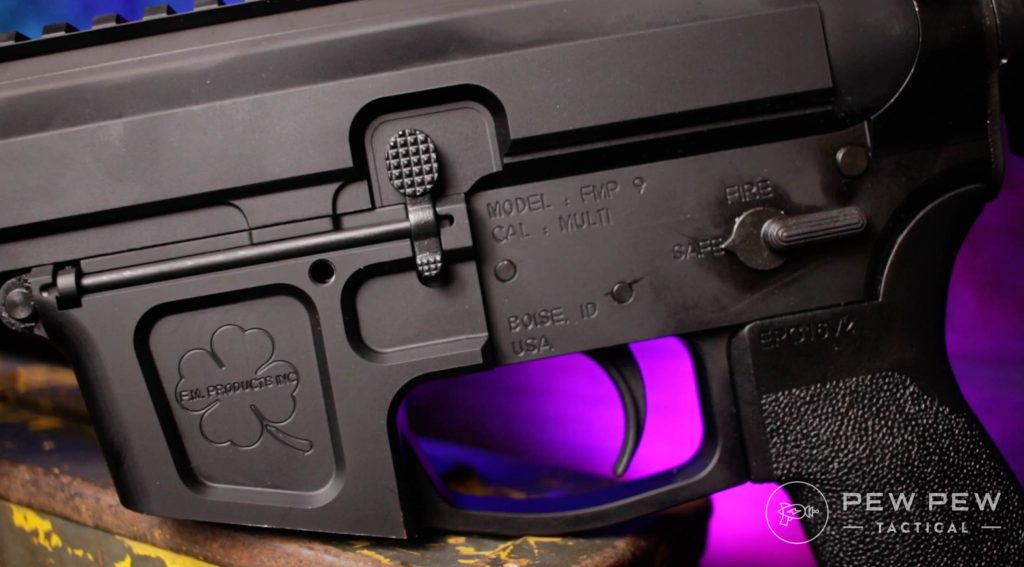 Controls all feel familiar and operate as you'd expect on an AR.
There are no surprises here, so fans of the AR platform will surely feel at home with the FM-9B.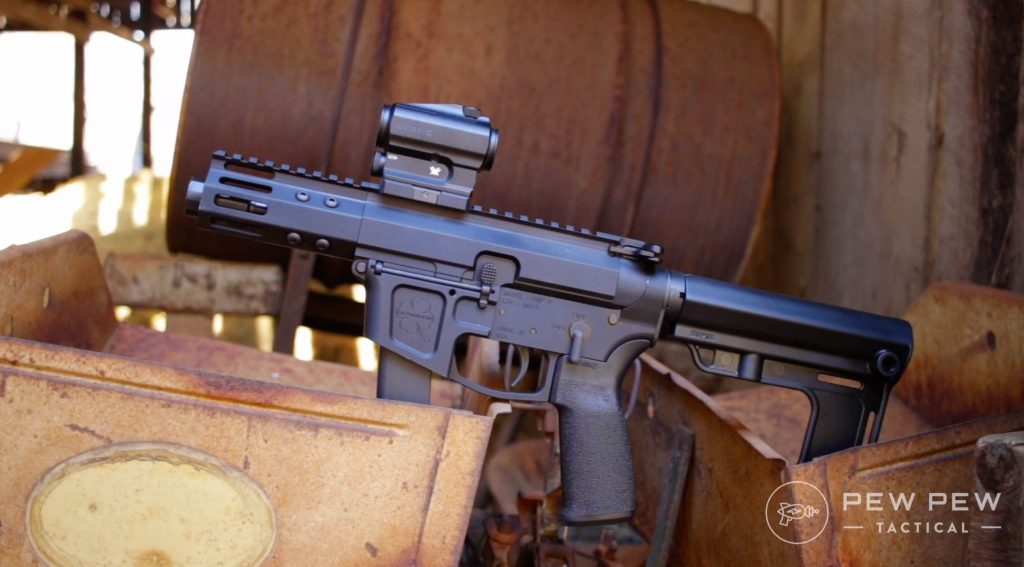 Also in the great category — the bolt release.
The machining on it gives it away. You can tell by just looking at this carbine that it's going to feel good. It does not disappoint.
So what's the bad?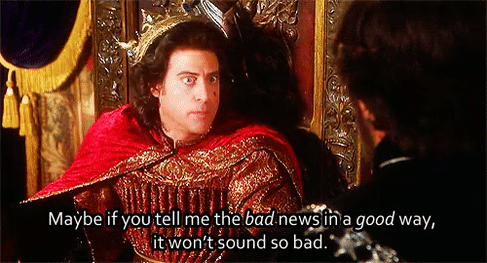 Well, it comes with maybe the worst box in the industry. So, if that's a thing you judge…move along, I guess.
MSRP right now as tested is $670.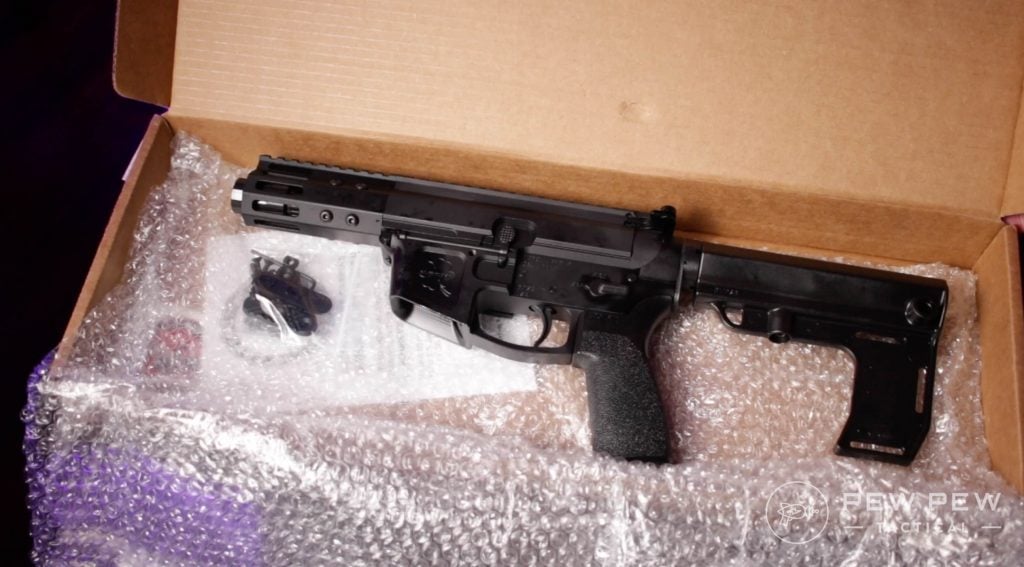 Range Time!
For the range test, I grabbed every Glock magazine I could find.
I really wanted to put this gun through its paces and see if it was finicky or picky with its mags.
Luckily, it handed all of my mags with ease. Every single one of them ran well!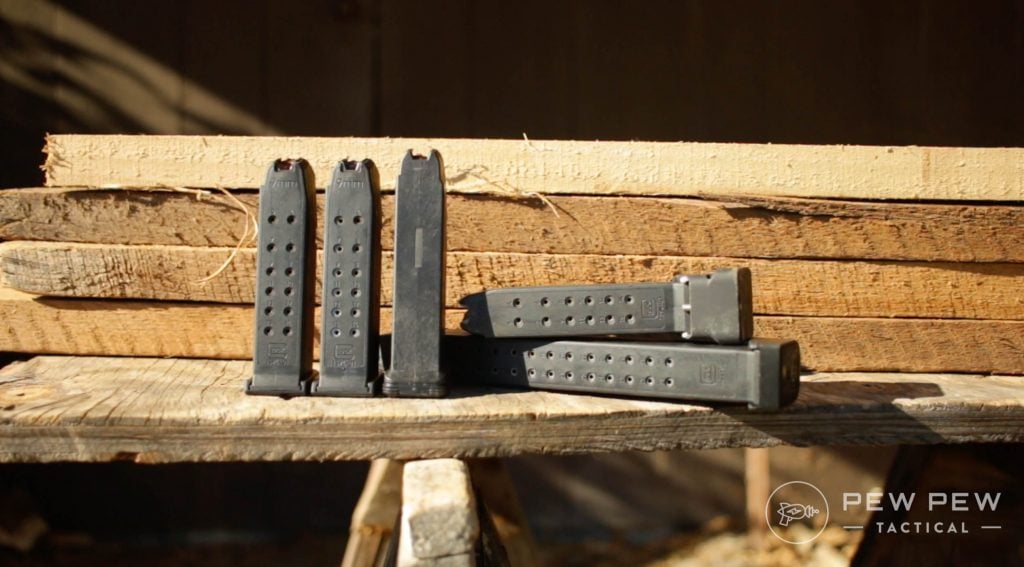 Ammo…well, that's another story. Right on the box in big, bold letters, it explicitly states that NO STEEL should be used with the gun.
So, that means I was stuck using brass. In this case, Blazer Brass.
Now, pre-COVID times this wouldn't be a huge issue. But because we're in the middle of an ammo shortage, a gun that only eats specific ammo is a little annoying — especially with 9mm prices right now.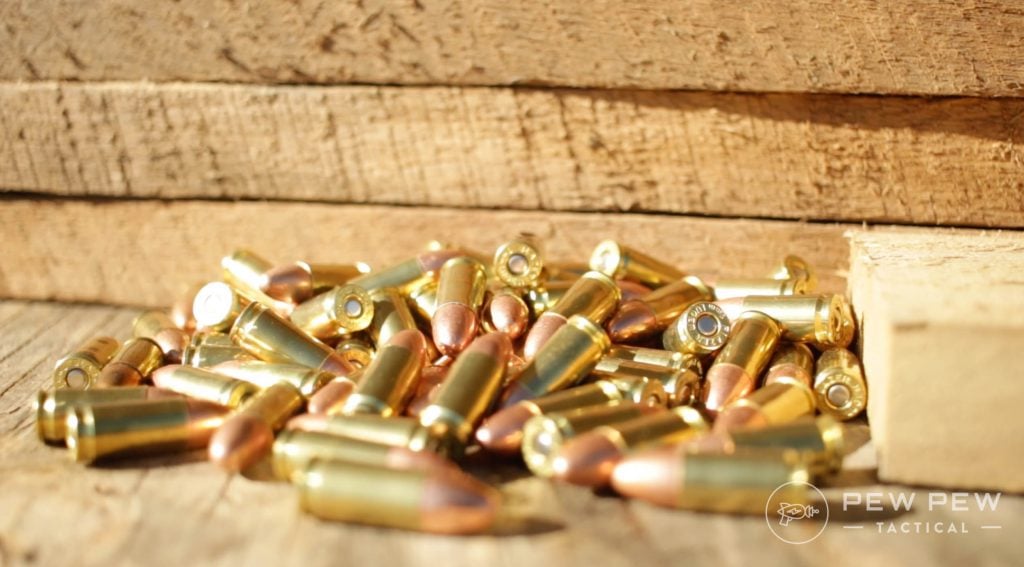 So, mark that on my shortlist of gripes.
At the range and fully loaded, the FM-9B did…really great!
Its trigger felt clean with almost zero uptake and a decent break. No complaints here.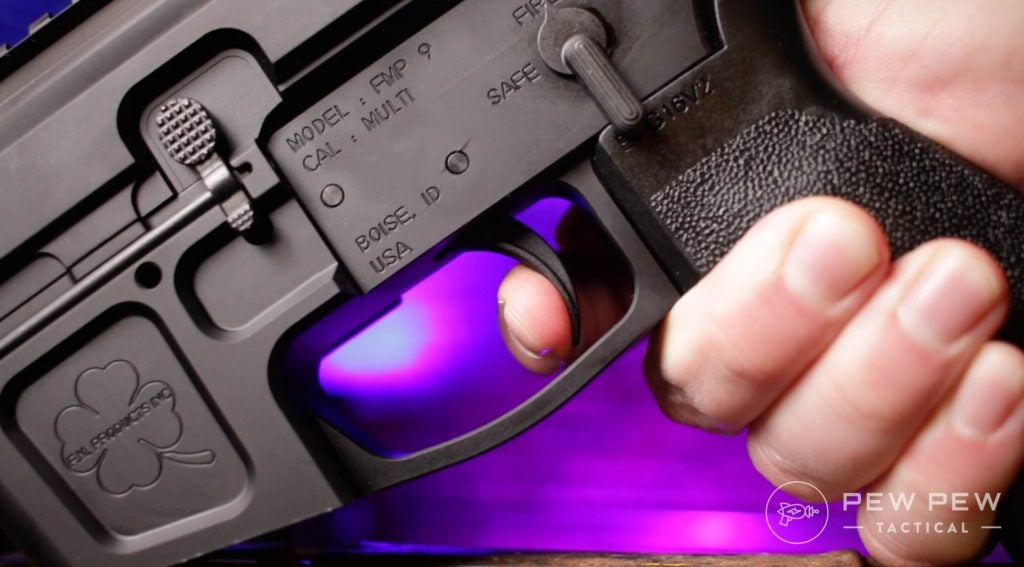 One thing Foxtrot Mike is known for is its patented last round bolt hold open. So did it work as intended? Yes, yes, it did.
In fact, it worked every time.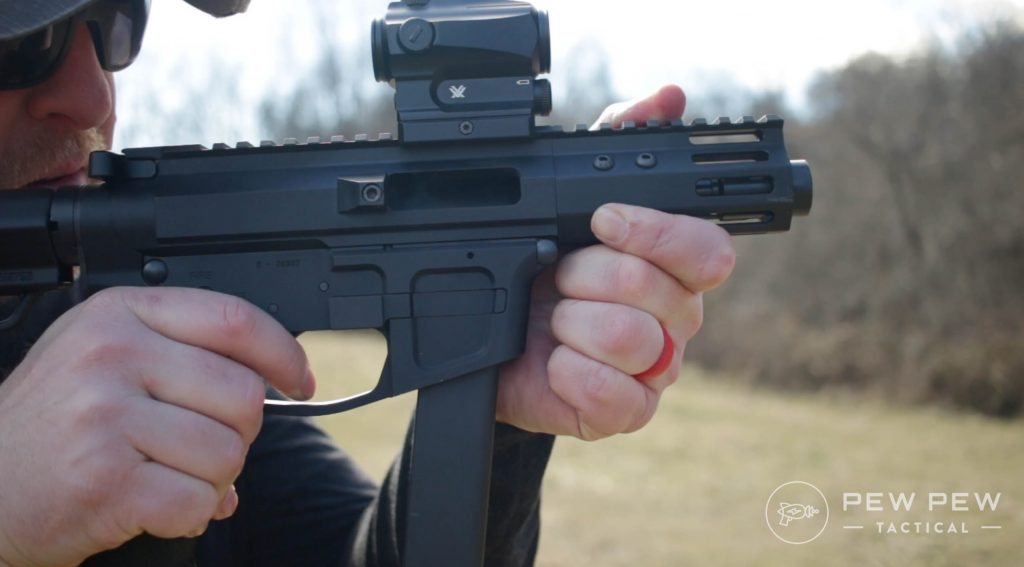 While the FM-9B ran smoothly, I did find that the carbine worked better when mags were not loaded to capacity.
Leaving just one round out made the AR run better overall. Is it annoying…kinda…but a lot of guns do better without a full mag, so it's a minor issue at worst.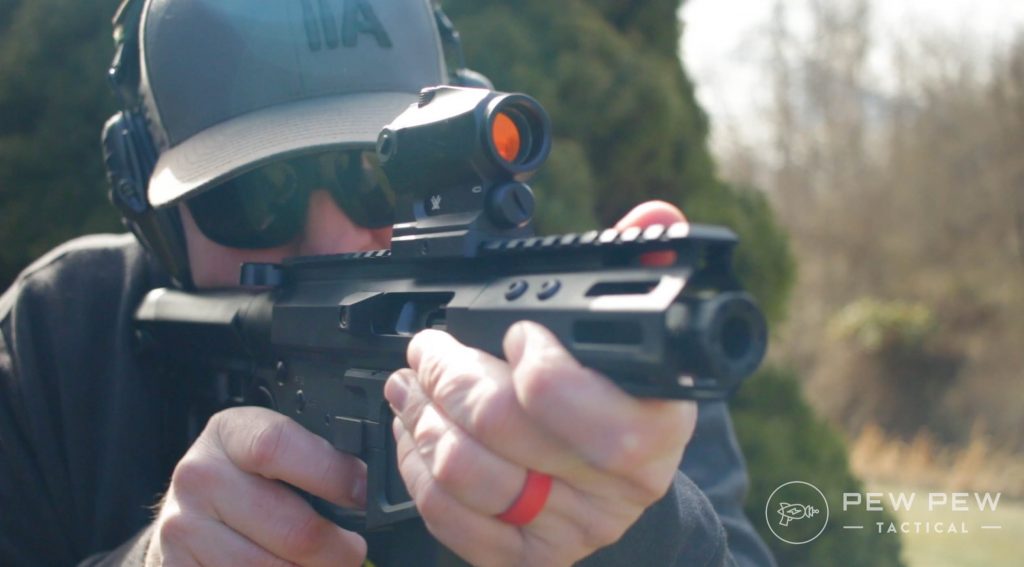 Accuracy-wise, I'd call this carbine surprisingly good. Sometimes, the smaller you go, the less accurate you'll be.
But the FM-9B goes a good job of keeping things on target. No doubt, the Vortex Sparc helped with that.
200
at Optics Planet
Prices accurate at time of writing
Prices accurate at time of writing
Now, this isn't good or bad, but this shorty is…well, short. So short that it doesn't offer a lot of purchase area for your off-hand.
I really had to pay attention to where my fingers were while shooting.
That said, its small design makes it perfect as a truck or backpack gun.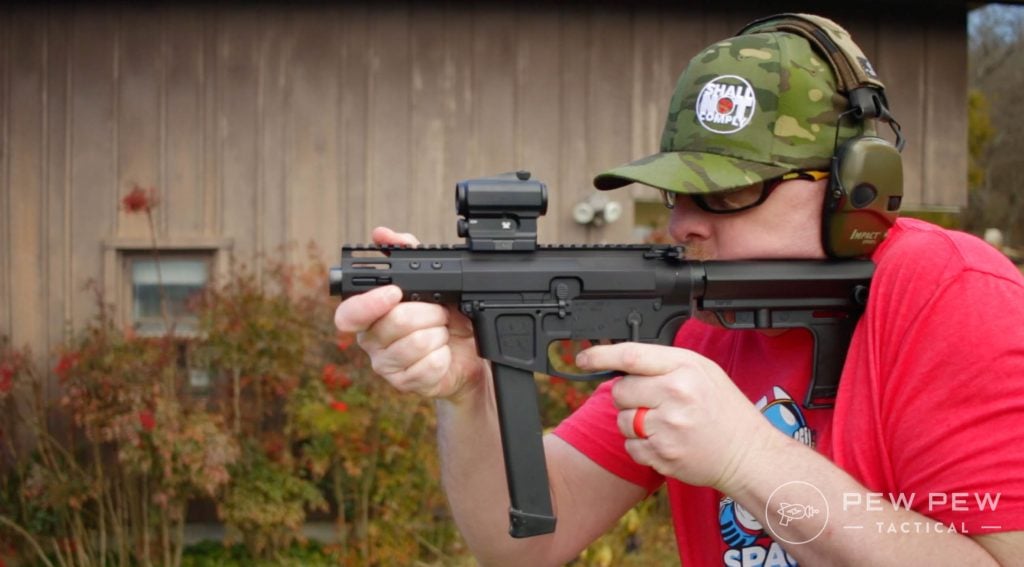 What I Like vs. What I Don't
Let's get down to the nitty-gritty. First up, what do I like about the FM-9B?
Number one on my list is machining.
You can just look at this carbine and see it's super well made. I like that the receiver is milled from a billet. Gives it a really nice look and feel.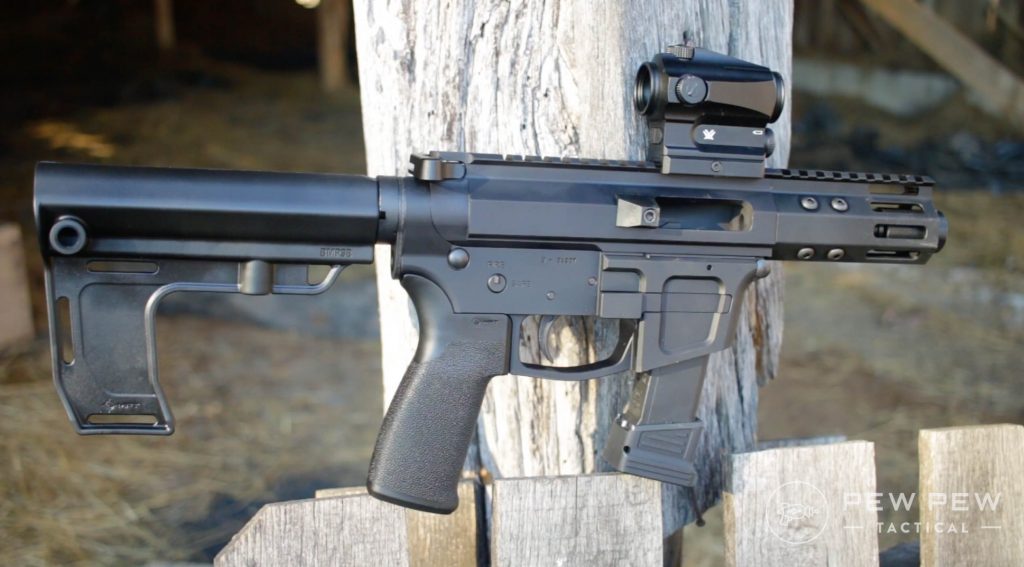 Second, I love how small it is — talk about concealment! Throw this little guy in your truck or backpack, and you're good to go.
Finally, I like the price. It's a great value!
If you're in the market for an AR-9 but don't want to spend a ton of money, the FM-9B is the way to go.
670
at Brownells
Prices accurate at time of writing
Prices accurate at time of writing
Now, let's look at what I think could improve.
Straight up, I'm not a fan of the brace in the back. It was uncomfortable, and I would have preferred something different.
That said, I can easily swap that out for something else, so it's not a dealbreaker.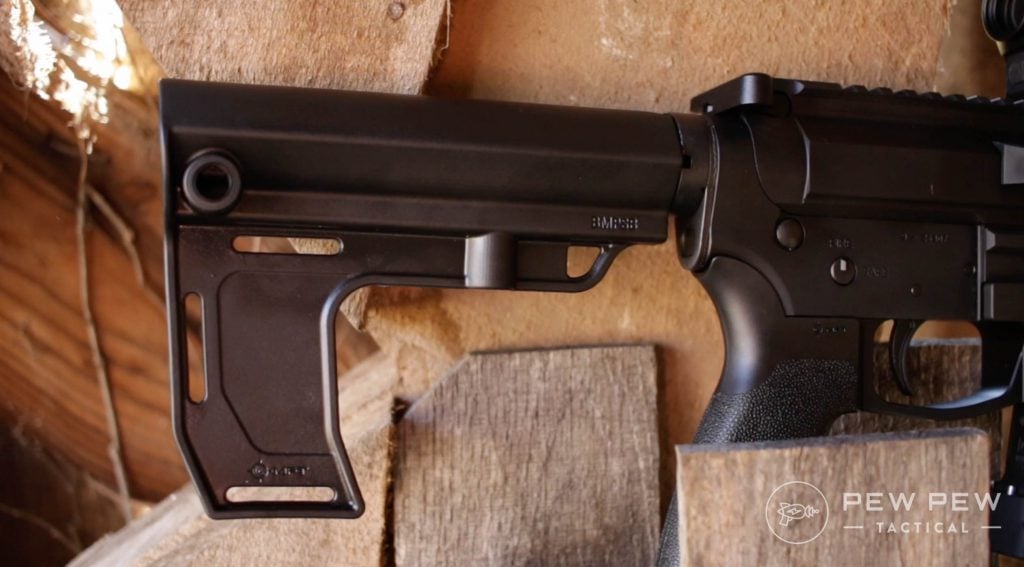 I'm also not a fan of its brass-only stance. In this current ammo economy, steel is easier to find and cheaper. Being forced to shell out big bucks for brass is not fun.
The biggest problem I have with this gun, though…it doesn't come with a single magazine. Not one.
I get that it takes Glock, and Glock is ubiquitous, but c'mon. Throw me at least one magazine!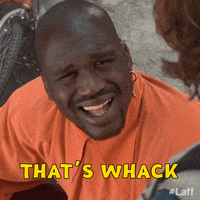 Finally, if you get the super short one like I did, you won't have rail space to do a light AND use a full firing grip.
That means if you want a home defense setup, you should probably consider a longer model with enough space to accommodate a light and good grip on the gun.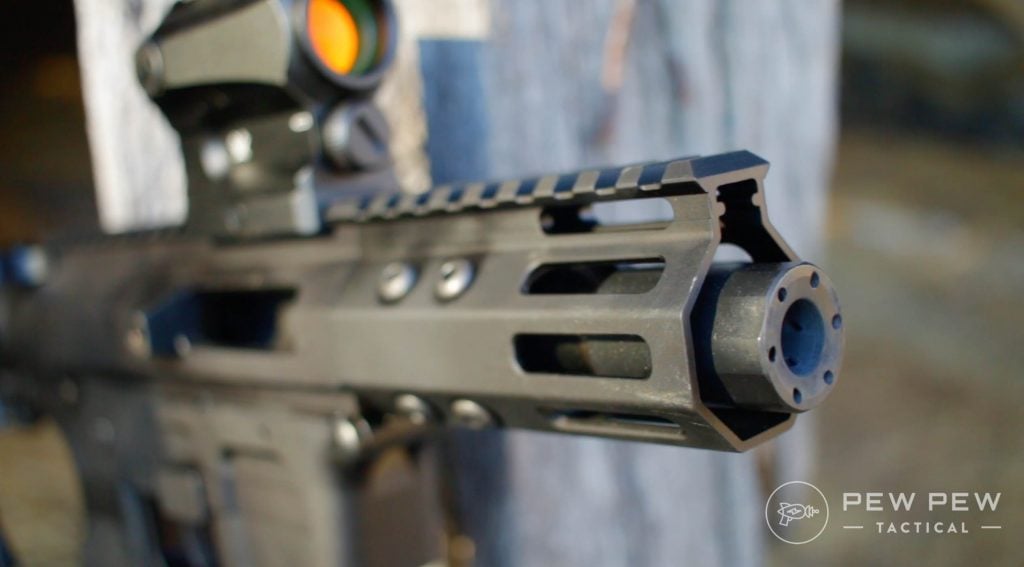 By the Numbers
Reliability: 4.9/5
It runs. It locks back on empty. And it feeds, as long as you don't pack those mags to capacity. My 30-round mags ran perfectly with 29.
Ergonomics: 3.5/5
It's made to hide under a truck seat, not mold to your beautifully-sculpted body. It's short and sort of uncomfortable. And you NEED to be careful where you put your fingers. But boy, oh boy, you can conceal it.
Accuracy: 5/5
For what it's made to do, you're gonna be pleased…it's a NAIL DRIVER. Just don't take it out to 300-yards and then send me an angry email.
Customization: 4/5
The 5-inch and especially the 10-inch versions would rate higher here. Not a ton you can do with that little rail, but you can certainly knock yourself out with red dot and trigger choices.
Value: 4.9/5
I really want this to be a 5/5. It's a lot of quality for that affordable price. If they could just throw in a couple mags, it would be the bees' knees for value. And don't get me started on that flimsy little box it comes in.
670
at Brownells
Prices accurate at time of writing
Prices accurate at time of writing
Overall: 4.5/5
Genuinely pleased with this test. It's affordable. It runs. And is maybe the ultimate backpack gun. Fun little gun.
Conclusion
If you're looking for a slim and trim AR-9 to slip into a backpack or car, you can't beat the value and size of the Foxtrot Mike FM-9B. It was reliable, accurate, and accepts Glock magazines.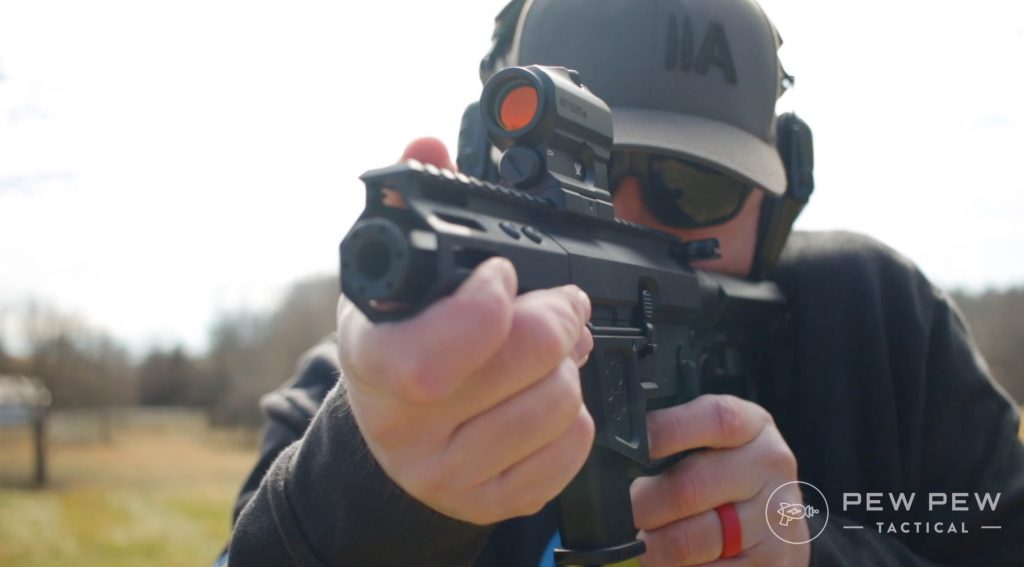 Just make sure you provide your own since it doesn't actually come with any mags.
All in all, if you want an AR-9 but want to stay on the budget-friendly side of things, the FM-9B fits the bill.
670
at Brownells
Prices accurate at time of writing
Prices accurate at time of writing
Again, if you just want to see this bad boy in action, check out the full video review below!
What do you think of Foxtrot Mike's FM-9B? Let us know in the comments below! If you're more of a DIY type, check out our Best 9mm AR-15 Uppers, Best PCC Triggers, and Best PCC Barrels to start building your very own AR-9.