I admit a bias for metal frames and DA/SA triggers, but I think just about everyone that has shot a CZ P-01 has to agree that it's a pretty awesome little gun.
Upgrade it with a red dot on top and you have a powerful package in a compact form that you're sure to love.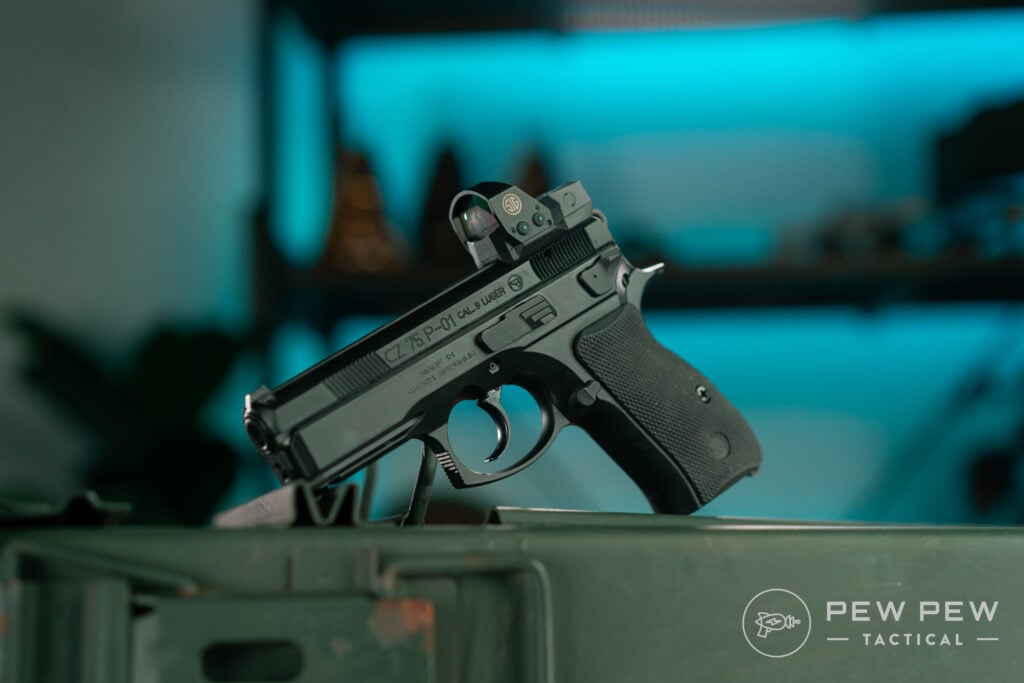 A wide range of ammo, over a year of shooting, and a red dot we haven't taken a look at before — we got a lot in-store today!
So keep reading to learn more about the CZ P-01.
Table of Contents
Loading...
History
The CZ P-01 is one of the greatest pistols ever made, period. But it is surprisingly unrepresented in the USA.
Basically a scaled-down version of the CZ-75, the P-01 was NATO approved in 2003 and heavily tested by a number of major militaries.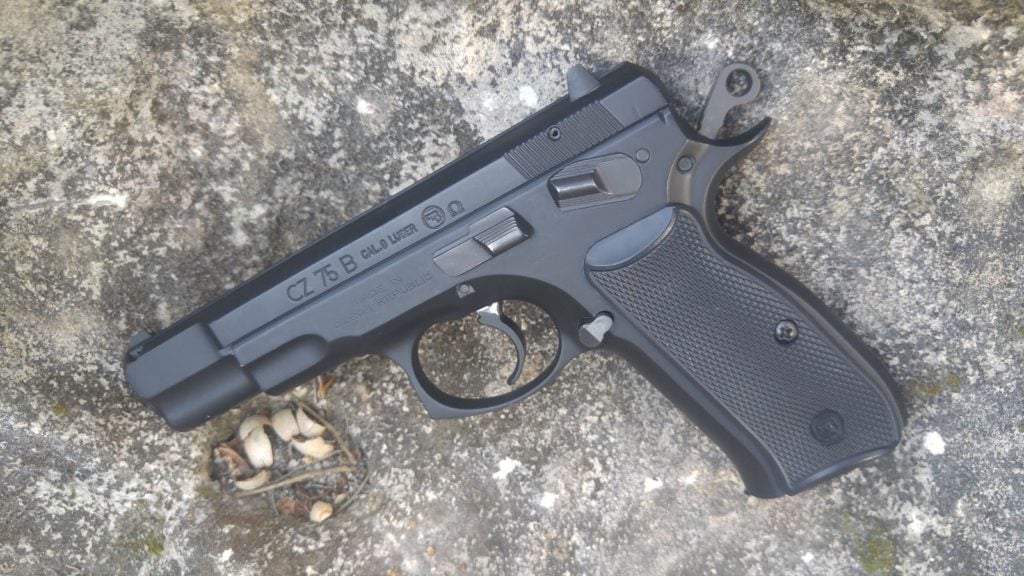 The US Army testing proved the CZ P-01 to have an MRBF (Mean Rounds Between Failure) of 2,142 rounds — and it replaced the CZ 75 as the Czech National Police sidearm.
Think of it as the CZ version of the Glock 19 if the CZ 75 was like the Glock 17.
It's smaller, lighter, handier, and easier to conceal. But it still retains all of the goodness of its larger older brother.
730
at Brownells
Prices accurate at time of writing
Prices accurate at time of writing
Specifications
Height: 5.03″
Width: 1.38″
Weight: 28.1 oz
OAL: 7.2″
Safety: Decocking level, Hammer Safety Stop, Firing Pin Block
Barrel: Cold Hammer Forged
Frame: Aluminum 7075 T6
Sig Sauer Romeo 1
Micro red dots are nothing new on pistols these days. As of right now, nearly all of my pistols have one mounted.
The Romeo 1 has been on our list of things to review for a while now.
So, when I found out they made a CZ 75 mounting kit for it and that the P-01 shares sights with the 75, I asked Sig to send out the kit so I could take a look!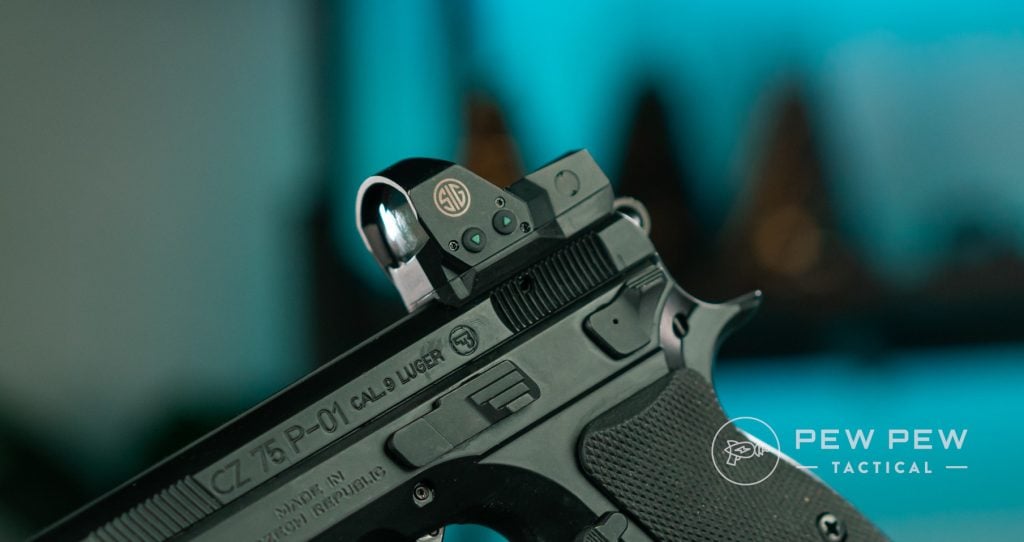 This is the first micro red dot of Sig's I've used and so far, I like it.
It's an open window design like most micro dots, fits the Romeo 1 footprint so you'll need a slide or mount made specifically for it, has a 5,000 hour run time, and is IPX7 rated.
Installing it is really easy — if you have a sight pusher to remove the P-01 rear sight.
127
at Brownells
Prices accurate at time of writing
Prices accurate at time of writing
I used both the Real Avid sight pusher and the Wheeler Engineering sight pusher, so removal was effortless.
Once the rear sight is off, just attach the plates and slide in the dovetail mount, screw in the sight, and you're good to go.
One odd thing did come up though.
I spent about an hour combing through the internet and I cannot find torque specs for the screws. I stopped short of calling Sig and just decided to guess.

My first try resulted in the optic being unable to zero far enough down to match POA to POI.
After some fiddling and some adjustment, I was able to find the sweet spot between a reasonable amount of torque on the screws and the optic being able to zero.
Not the best experience I've had installing a red dot, but not the worse either.
302
at Optics Planet
Prices accurate at time of writing
Prices accurate at time of writing
Range Report
If you've shot a CZ 75, the P-01 feels almost exactly the same. If you haven't shot one, then you should because they are awesome.
While the P-01 looks and carries like a compact pistol, it shoots like a full-sized.
I have mens XL hands and I comfortably grip thick guns like a Beretta 92FS or a CZ 97 B, and yet the P-01 fits my hands perfectly. It is an absolutely sublime grip feel.
But at the same time, PPT editor Alley loves to shoot my P-01 every range trip even with her much smaller hands.
The ergonomics of the P-01 are so well designed that they easily fit a huge range of hand types and sizes.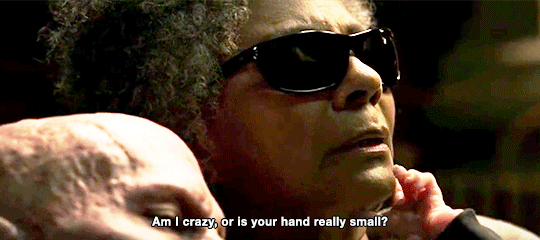 All without the need for adjustable back straps or taking a Dremel to the grip.
It's also crazy accurate. Red dot or irons, the P-01 simply puts rounds exactly where you want them to go.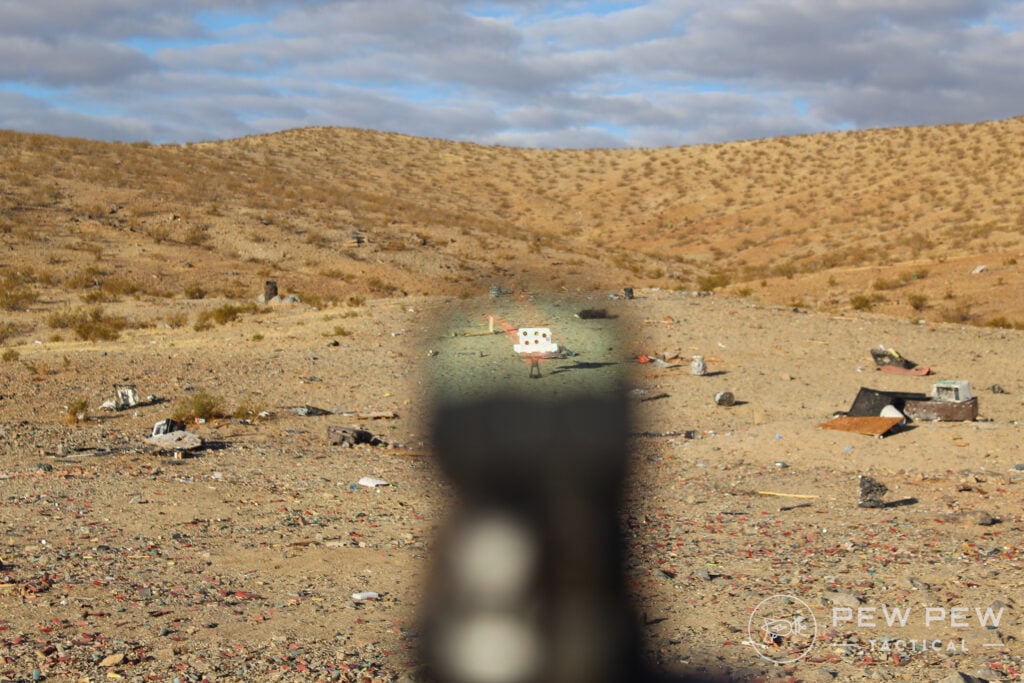 Between an excellent cold hammer-forged barrel and outstanding design, it is the most accurate compact I have in my safe.
Something that comes and goes in popularity is bore axis height. Generally, lower is better.
While there is an argument to be made that it isn't as important as some might claim it is, the P-01 has a very low bore axis. Combined with the metal frame and it simply eats recoil.
Everything about the P-01 adds up to being a great pistol, but with a secret ingredient…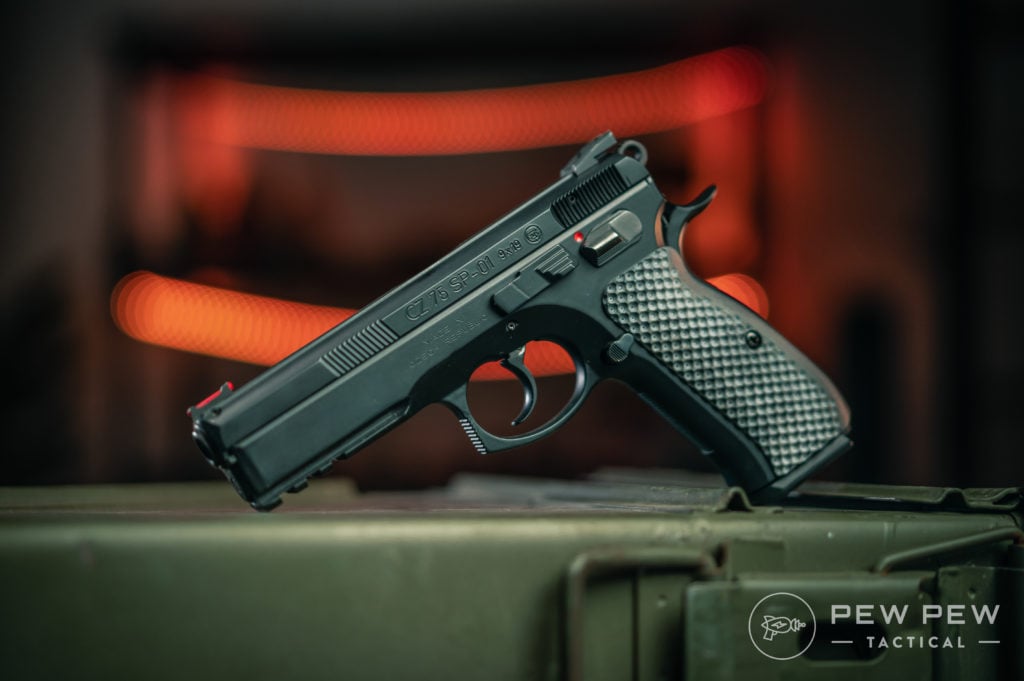 It's a small pistol that doesn't know it.
Most smaller guns feel like small guns, the smaller they are the smaller they feel.
CZ found the magic though and built the P-01 so that it's smaller, but doesn't feel like it.
Plus It Up
As great as the base P-01 is, throwing a red dot on it really takes it to a new level. 
I'm a huge believer in red dots for pistols.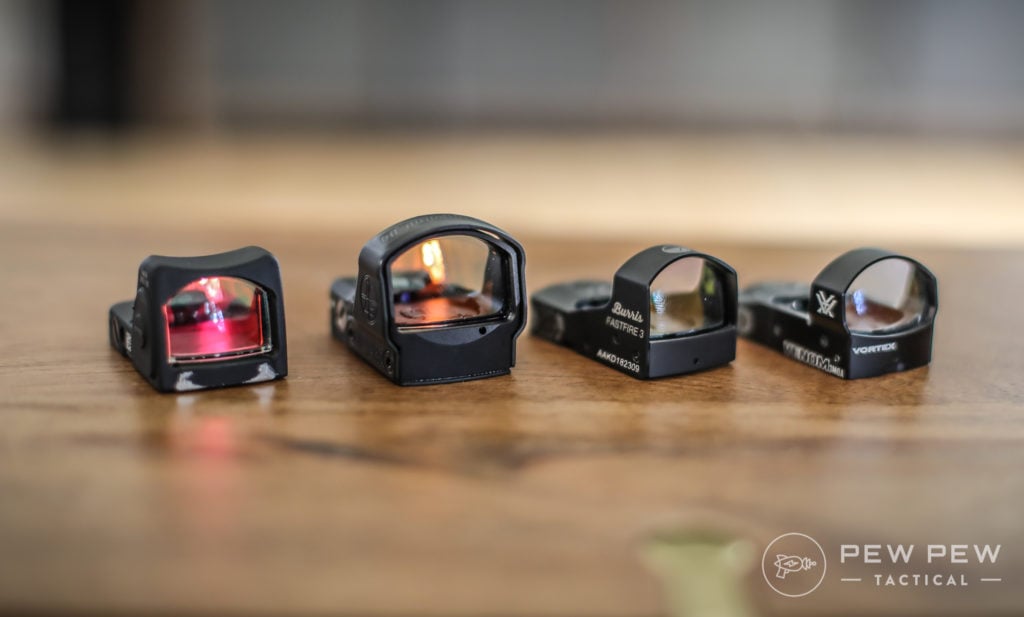 They make the best night sights, are the most natural way to aim, provide instant feedback to your aiming habits, and allow for much looser "good enough" sight pictures making accurate follow-up shots faster and easier.
302
at Optics Planet
Prices accurate at time of writing
Prices accurate at time of writing
The Sig mounting system for the CZ isn't as good as having a milled slide, but it's good enough to try it out and get used to it.
I don't think I would opt to long term carry it with just the mounting plate, but it's a much easier way to try out a red dot pistol than sending the slide to be milled straight away.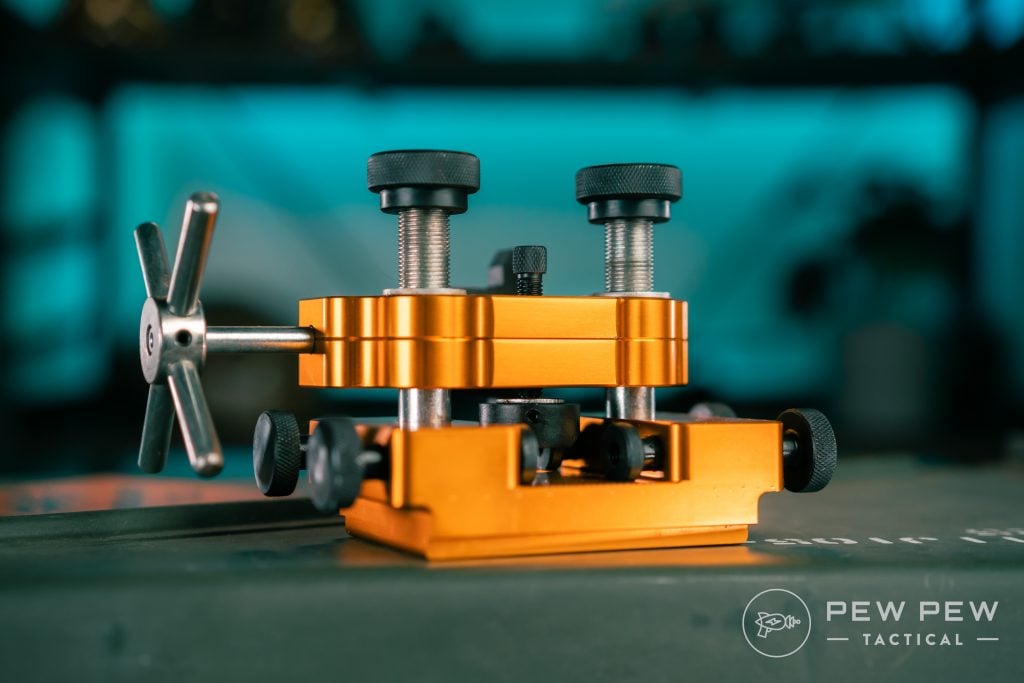 Holster Options
This part is a little hit and miss.
If you're just looking for a holster to fit the normal gun itself with iron sights, easy mode — lots of great options out there like Crossbreed Holsters and Hidden Hybrid Holsters.
But if you want to mount a red dot, either with the Sig mounting system or after getting the slide milled…your options are limited.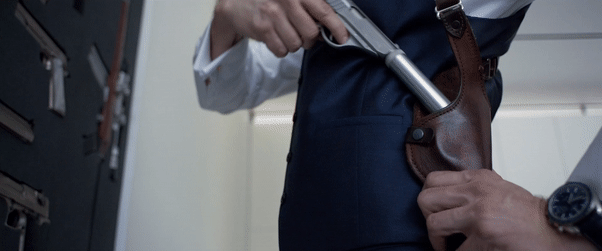 While I did find some brands out there that offer a red dot cut P-01 holster, most of them were from smaller brands that I haven't tried out.
None of them were from the main ones that I've used before like Crossbreed, HHH, Safariland, or DSG Arms.
The one offering I found from a brand I know is Dara Holsters — but it's only available for pre-order right now so I wasn't able to test it myself.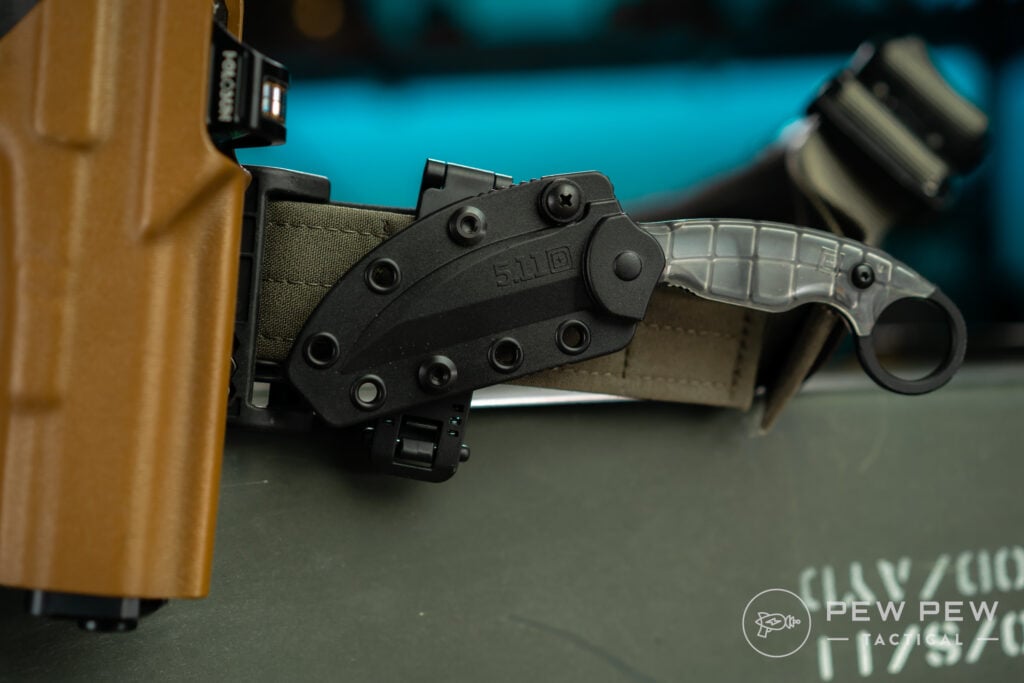 DSG Arms makes a normal P-01 holster and I would bet that with some tin snips I could make my own red dot cut.
But I didn't want to roll the dice on a gun that isn't currently on my CCW permit.
By The Numbers
Reliability: 5/5
Steel cased, weird Russian mystery ammo, fancy self-defense rounds, my P-01 has literally never had a failure or malfunction of any kind in 2,500+ rounds.
Ergonomics: 5/5
From large hands to small, the P-01 just fits. Your mileage may vary, but for me at least this is one of the most ergonomic pistols I've ever shot. Even the controls are in the right place and are decently sized for operation.
Customization: 5/5
Cajun Gun Works offers a huge range of upgrade options and aftermarket support if you want to play pimp your pistol.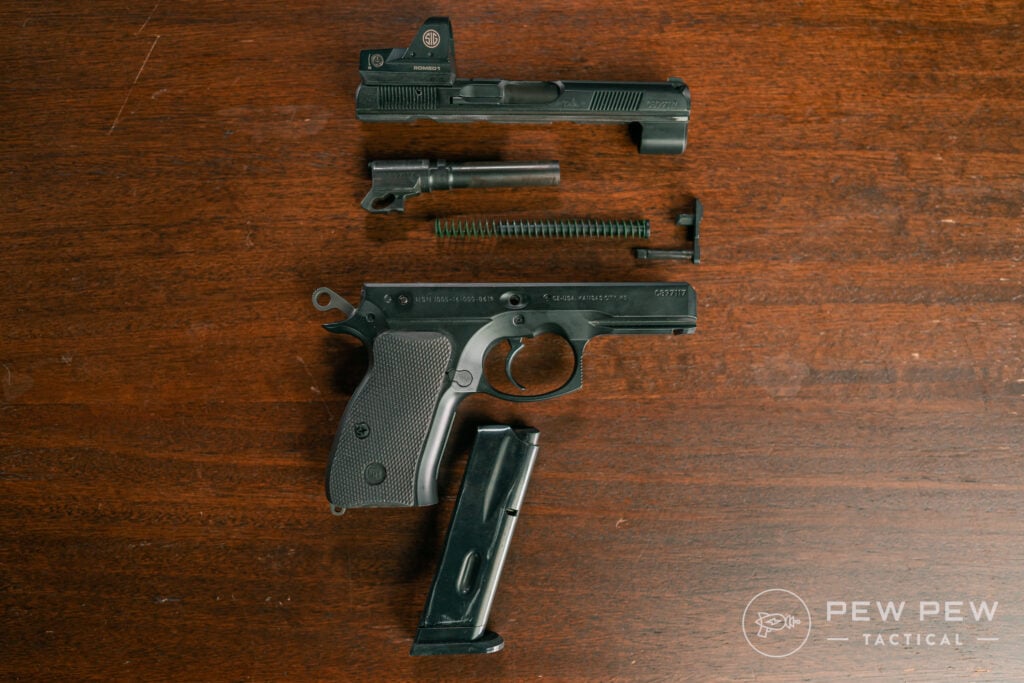 Value: 5/5
Give or take $40 or so, you should be able to find the base P-01 for about $600 new. For a metal-framed pistol, that isn't a bad price at all. To me it's a great value, I think you'll find that too.
730
at Brownells
Prices accurate at time of writing
Prices accurate at time of writing
Overall: 5/5
Conclusion
While the P-01 has a great iron sight, easy to install red dot via the Sig Romeo 1 kit, and is by far one of my favorite guns to shoot, it might not be for everyone.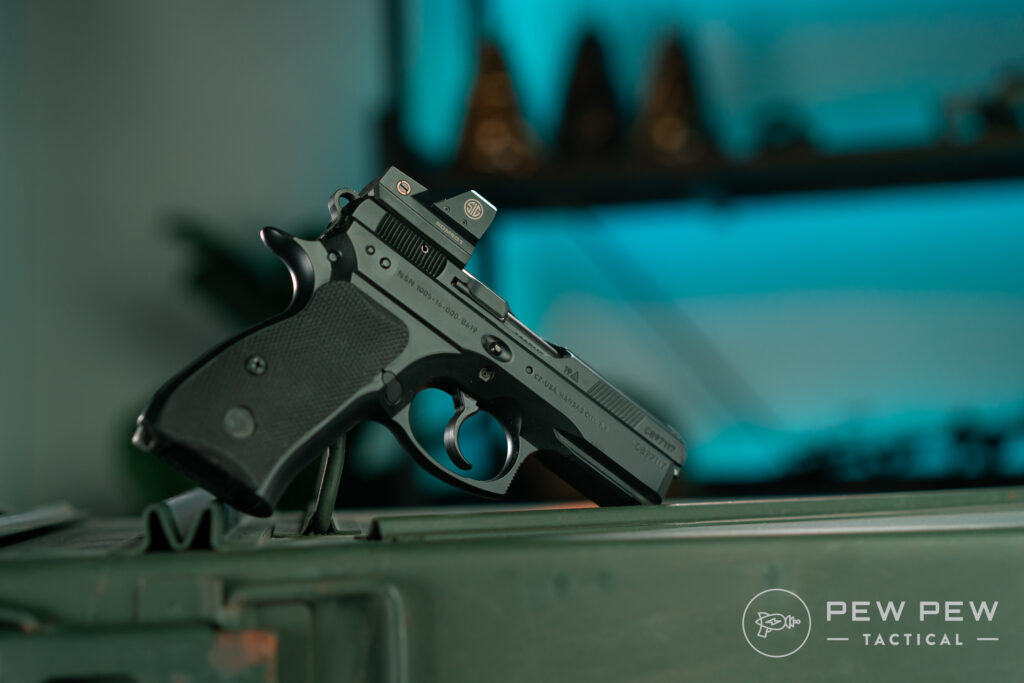 If you like DA/SA triggers, enjoy the weight of a metal frame, or shoot a CZ of some kind in competition, then the P-01 might be the perfect compact carry option for you.
If you don't though…well, it's a great little gun anyway. 
730
at Brownells
Prices accurate at time of writing
Prices accurate at time of writing
How do you feel about rear sight mounted red dots? What about DA/SA triggers? Let us know in the comments! For some more heavy-weight contenders, take a look at the Best Metal Framed Semi-Auto Pistols!