The AR-15 world grows daily. Much like the universe, it's constantly expanding and growing, becoming more and more fruitful for the AR-15 owner.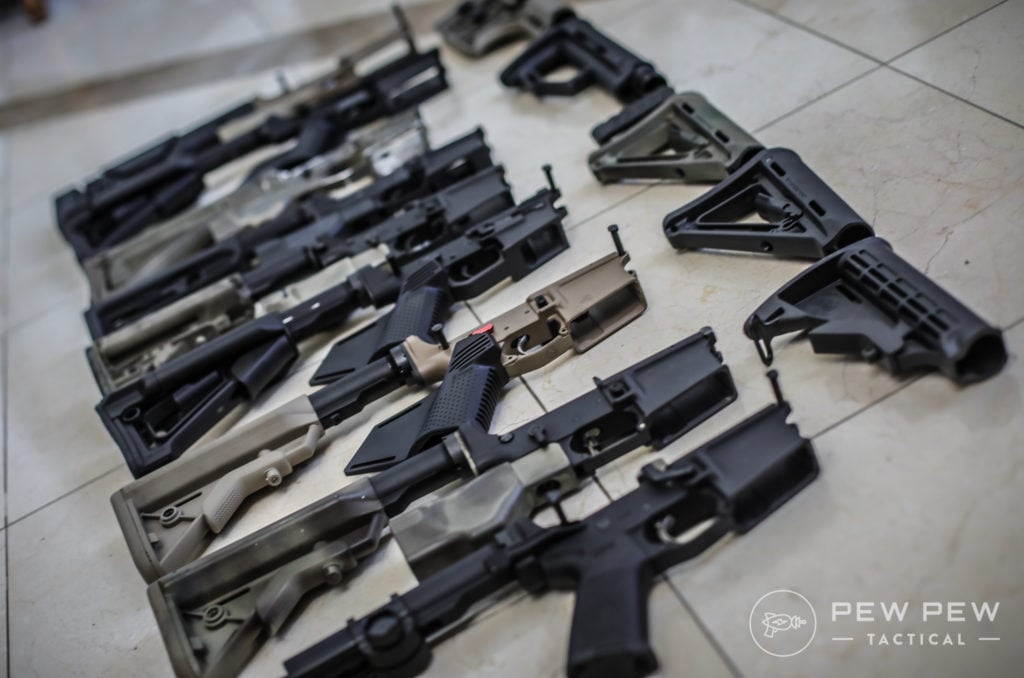 It's also quite beneficial for first-time buyers, as the massive amount of AR-15s produced has helped drive the price down.
Thanks to its overwhelming prevalence in the market, the AR-15 has become an excellent and affordable platform for shooters seeking a modern, semi-auto rifle.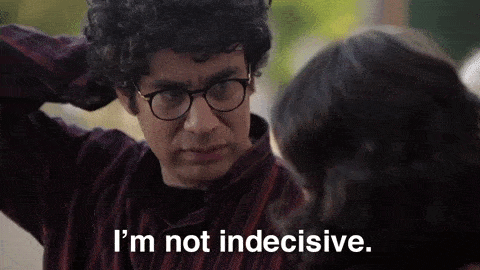 Today we are going to cover both complete rifles and build kits that allow you to get an affordable rifle without sacrificing quality.
Sometimes building a rifle can save you a few bucks, but complete rifles can save you some time and difficulty. That's why we wanted to bring you both options and allow you to make that choice.
Summary of Our Top Picks
Table of Contents
Loading...
Best Budget AR-15s
If you are looking to buy a complete rifle or just snap a complete upper and lower together to save yourself the hassle, these are our top picks.
1. Palmetto State Armory PA-15
Palmetto State Armory is one of the companies that made AR-15s accessible to the masses and arguably the most popular. These days they produce a crazy amount of different rifles, handguns, and more.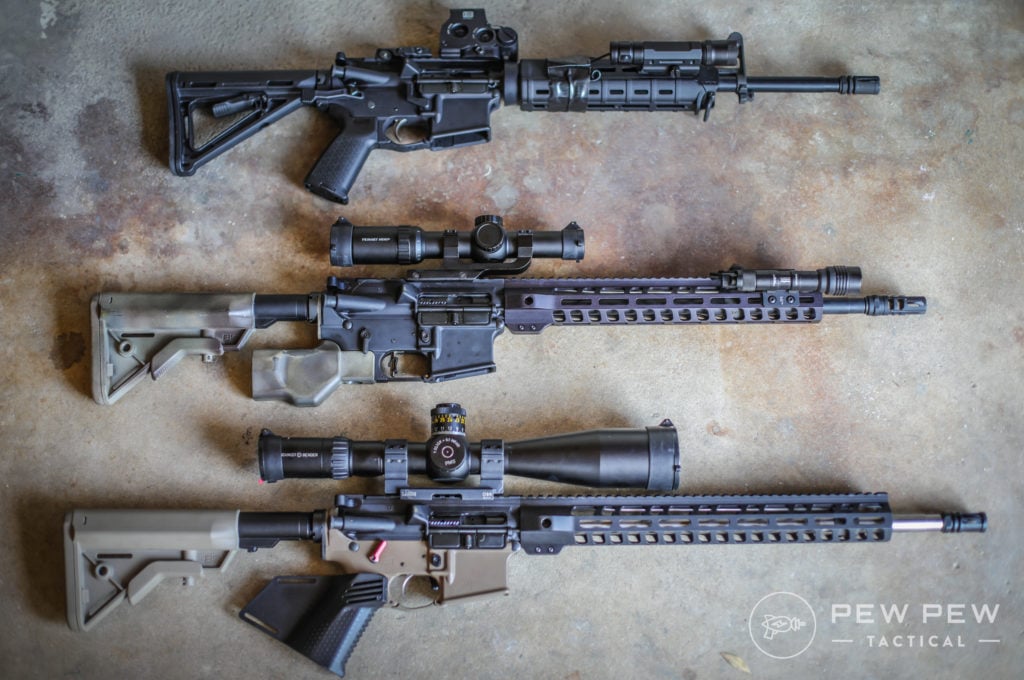 Their PA-15 remains one of the most affordable, entry-level AR-15s on the market. A base model can be had for $500, and blemished models can be had for even less.
The cheapest models come with standard furniture, polymer handguards, and fixed front sights. Various color options are typically available.
They also offer a PA-15 with a mid-length gas system, which is worth the extra $30, in my opinion, to get the smoother shooting gas system and longer handguard.
If you don't mind supplying or buying a stripped lower receiver and snapping the parts together, you can save even more money.
Best Overall Pick
489
at Palmetto State Armory
Prices accurate at time of writing
Prices accurate at time of writing
PSA is well known for its build kits, and this is a great way to get some upgraded features without breaking the bank. The PSA 16-inch mid-length build kit comes with Magpul furniture for less than $400.
The 16-inch Classic Rifle Kit with a free-floating M-LOK rail and included sights costs just a hair over 400 dollars. Add a lower, and you can be into your rifle for less than 500 dollars and have a fairly modern AR-15 variant.
What's your take on PSA? Rate them below!
2. Radical Firearms RPR
For those who want a complete, modernized AR-15 rifle on a budget, the Radical RPR has you covered.
More often than not, budget AR manufacturers cut costs by putting basic furniture on their rifles. Many users often end up spending more money to upgrade or replace these features to have a more modern, comfortable gun.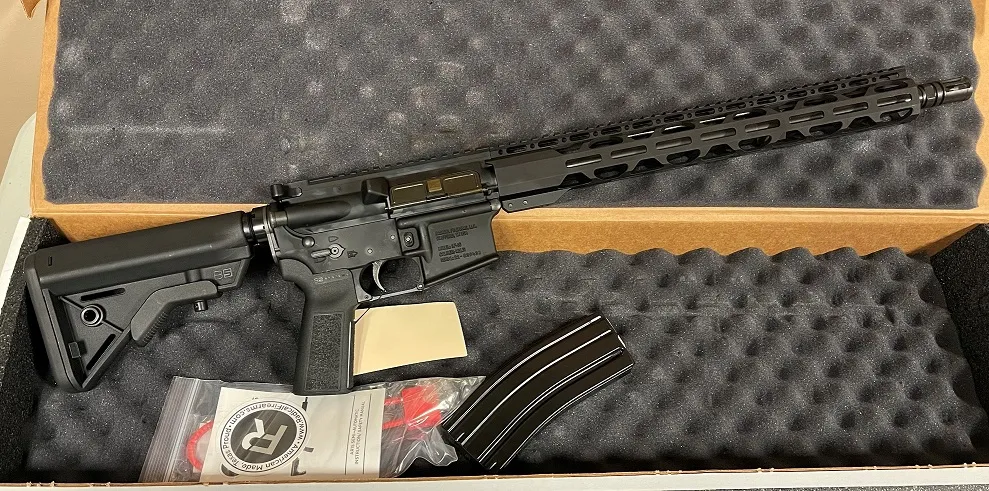 Luckily, the Radical RPR comes with a chunk of the good stuff already. B5 systems stock and grip and a 15-inch free-float M-LOK handguard ensure that you won't feel like you are back in 2004 when you take your brand-new AR out of the box.
Worried about quality? Radical has been upping their game recently and is even supplying weapons to Brazilian law enforcement agencies.
Best Budget AR-15
399
at Kygunco
Prices accurate at time of writing
Prices accurate at time of writing
All of that goodness still ends up only costing you about $399-$449 from most online retailers. At that price point, it is tough to beat.
3. Ruger MPR
For those looking for something a little more feature-rich or "mid-tier," we encourage you to check out the Ruger MPR (Multi-Purpose Rifle).
This rifle does come in at a higher price point, around $799, give or take a bit. So what makes it worth the higher price?
To start off, you get a Magpul MOE-SL stock and a Magpul MOE grip. In the front, we have a 15-inch free-float M-LOK handguard. The barrel is cold hammer-forged with a 1:8 twist and is capped off with a radial muzzle brake from Ruger.
Additionally, you get the Ruger Elite 452 trigger. This is a two-stage trigger that offers a crisp 4.5-pound break and is a welcome upgrade over the standard mil-spec trigger found in most budget builds.
Best-Optioned Budget AR-15
799
at Gunprime
Prices accurate at time of writing
Prices accurate at time of writing
With the furniture, the muzzle brake, and the upgraded trigger, we feel like the MPR justifies the price.
4. Sig M400 Tread
Budget is as budget does, and for less than $1,000, it's tough to get better than the Sig M400 Tread series.
The Tread represents Sig's attempt to create a good beginner's rifle. If you want a rifle that works out of the box and does so with style, then the Tread is hard to top.
Sig has a whole series of Tread rifles at different price points, but for this article, we are looking at the standard Tread.
It is a 5.56 caliber rifle with a standard 16-inch barrel, but it departs from most budget ARs by embracing some fancier features and furniture.
This includes a lightweight M-LOK modular handguard and a free-floated barrel for better accuracy. Sig teamed up with Magpul to provide a very supportive and comfy six-position SL-K stock, and it is complemented by a solid ergonomic pistol grip.
Mid-Tier Option
850
at Palmetto State Armory
Prices accurate at time of writing
Prices accurate at time of writing
A stainless steel 1:8 twist barrel provides solid accuracy and is topped off with a 3-prong flash hider. The trigger isn't crazy, but it s a solid single-stage design with polished parts for a nice smooth pull.
All in all, the M400 Tread isn't the cheapest rifle, but you still get a lot of gun for the money. Check out our full review of the M400 Tread here.
5. Bear Creek Arsenal BC-15
If you are looking to stay under the $500 mark, you should take a look at Bear Creek Arsenal's offerings.
Not only does Bear Creek offer affordable AR-15s, they offer them in a wide variety of calibers. Looking for a .300 Blackout, .350 Legend, .223 Wylde, .450 Bushmaster, or even a .50 Beowulf? BCA has complete rifles in all of these calibers under the $500 mark!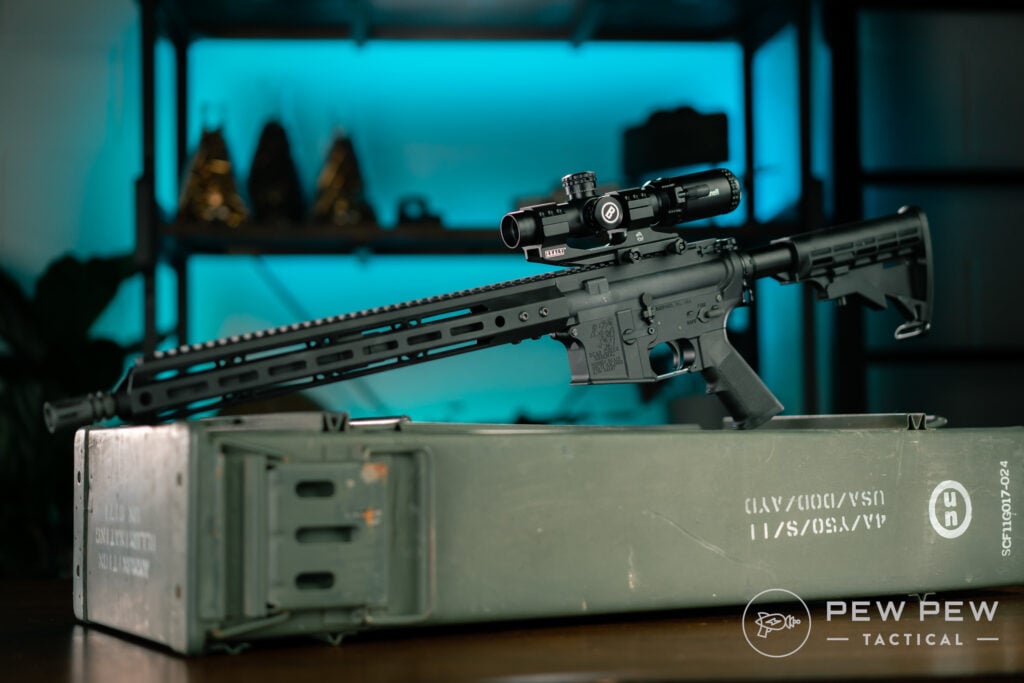 Another cool thing is that they also offer side-charging uppers, which is far less common but interesting nonetheless.
Also, if you want to save even more money, you can purchase a complete upper and lower separately and shave off about $50. You can cut even more costs if you go for a stripped lower and install the lower parts kit yourself.
Bear Creek Arsenal now offers complete uppers with cold hammer-forged barrels for very reasonable prices.
489
at Bear Creek Arsenal
Prices accurate at time of writing
Prices accurate at time of writing
Whether you are looking for a specific configuration on the cheap or just want to dip your toes into a new caliber, Bear Creek probably has what you are looking for.
6. IWI Zion-15
Many first-time AR-15 buyers are simply looking for a reliable gun that won't fail them when they need it the most.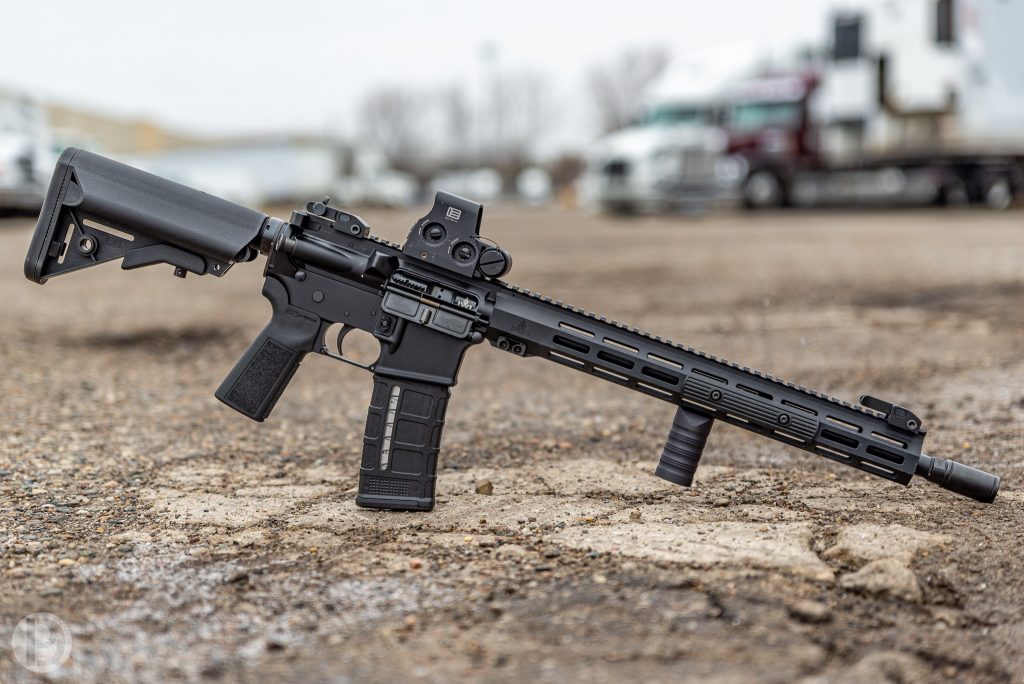 The IWI Zion-15 is just that. Everything you need, and nothing you don't.
Adorned with a B5 Systems stock and grip, and a 15" free-float M-LOK handguard, the Zion-15 doesn't need much in the way of upgrades out of the box.
It has a 1:8 twist barrel, a mid-length gas system, and a standard A2 birdcage flash hider. The Zion weighs in at 6.9 pounds and is ready to be carried anywhere.
799
at Palmetto State Armory
Prices accurate at time of writing
Prices accurate at time of writing
IWI has long been known for making high-quality, duty-ready firearms, and the Zion-15 is no exception. It is a bit spendier, around the $750-850 mark, but the admission is well worth it.
Whether you are at the range or in a serious-use situation, the Zion's exceedingly good build quality will provide peace of mind that you have a rifle that will work every time.
How to Build a Cheap AR-15
For those wanting to save a few dollars, have more customization options, or simply want the experience of building a budget AR-15, this section is for you.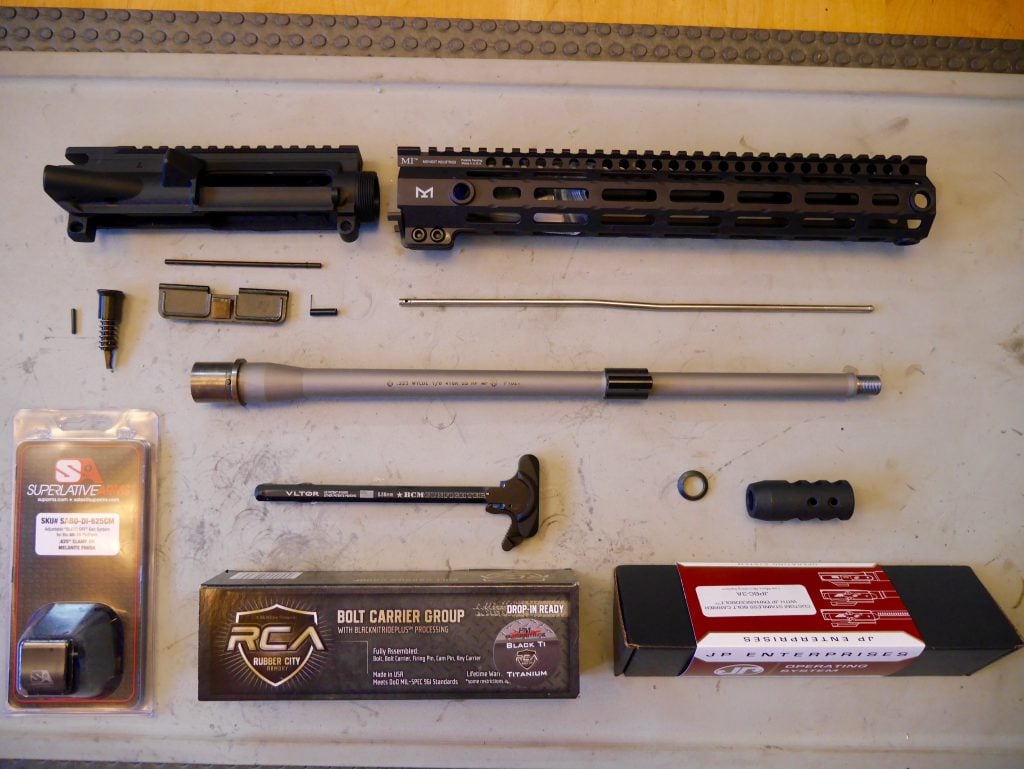 Remember, it's way easier to build an AR-15 than you might think. See for yourself and check out our build guides below!
Now, let's talk about parts.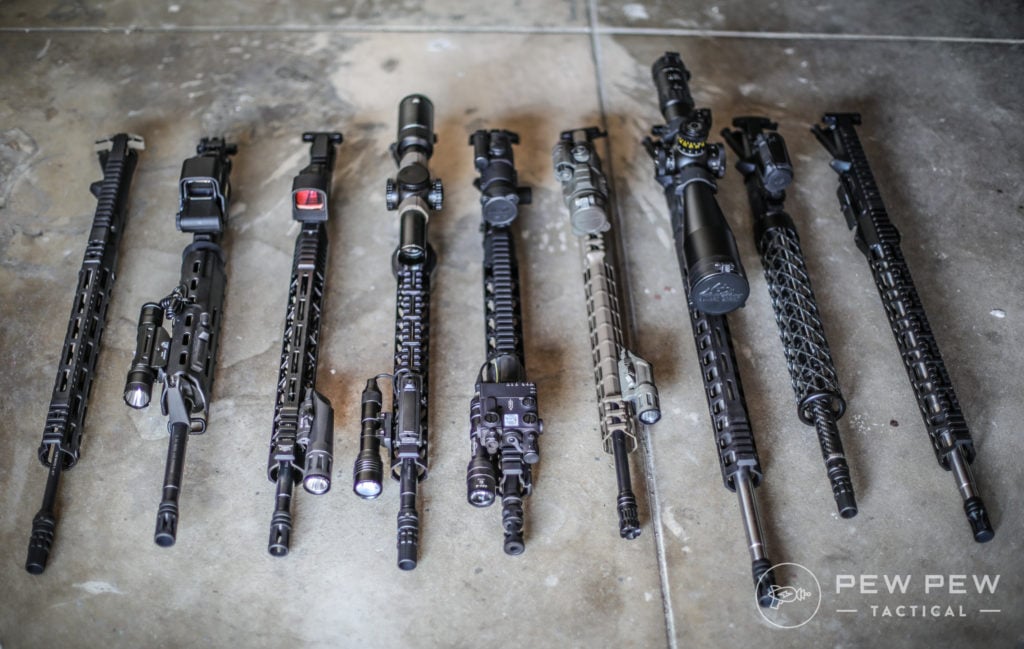 Parts You Can Skimp On
Like anything else, sometimes you pay more for a name than the materials and manufacturing, and with AR-15s there are a few parts that you can go the cheap route with and be just fine.
Lower: I like cool-looking lowers as much as the next guy, but a lower is a lower. There's not a huge amount of difference between the $30 ones, and the $300 ones aside from aesthetics and strength, but you shouldn't be doing anything to your lower that could break it anyway.
49
at Palmetto State Armory
Prices accurate at time of writing
Prices accurate at time of writing
Check out our Best AR-15 Lowers for more info.
Handguard: This one is a toughie, but in general, you can get by with a basic A2 handguard at the minimum. Comfort and the ability to add accessories is the main factor here, but a good free-float handguard can help with accuracy too.
27
at Brownells
Prices accurate at time of writing
Prices accurate at time of writing
Check out our Best AR-15 Handguards if you want to ball it up a little more.
Stock: A cheapo stock will be just fine. You can swap them out with about five minutes' effort, and there are tons of options out there. A2 and M4 style stocks are almost literally a dime a dozen, and if they're good enough for our armed forces, they're good enough for us.
31
at Brownells
Prices accurate at time of writing
Prices accurate at time of writing
If you want a complete breakdown and review of a bunch of stocks though, read the Best AR-15 Stocks.
13
at Brownells
Prices accurate at time of writing
Prices accurate at time of writing
Lower Parts Kit: Most of them are the same anywhere you look, and other than the trigger, you are never gonna notice a difference. Some LPKs come with a grip and trigger, so that can save you money and extra steps.
65
at Primary Arms
Prices accurate at time of writing
Prices accurate at time of writing
Parts to Spend Your Money On
Trigger: The trigger is your primary interface point with your rifle, so it makes sense to start there if you're looking to get something a little nicer with better performance. Try to aim for a lower parts kit with no trigger so you can pick your trigger yourself.
Make sure to do your research before buying the trigger that is right for you. A great starting point is our Best AR-15 Triggers article.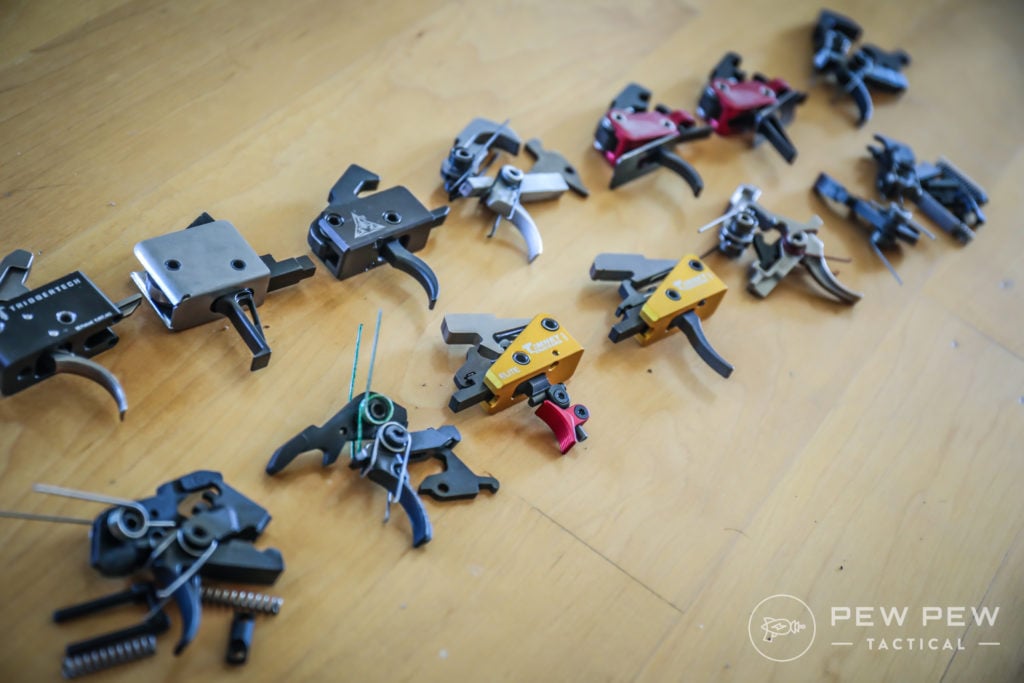 When it comes to bang for your buck, I highly recommend the Rise Armament AR-15 Rave 140 since it is super easy to install, cheap, and is a great trigger.
129
at AR15 Discounts
Prices accurate at time of writing
Prices accurate at time of writing
Barrel: After the trigger, the barrel is going to be your biggest accuracy bottleneck, so if you're going to upgrade, this is your second stop. Faxon is often at the top of our list for barrels, with their Gunner profile being the top of the top.
Goldilocks Barrel
175
at Faxon
Prices accurate at time of writing
Prices accurate at time of writing
Again, this is one of the critical parts — so take some time and read through our Best AR-15 Barrels & Manufacturers before choosing the barrel that is right for you.
Final Thoughts
Affordable ARs can be tricky. You can certainly get some junk if you aren't careful. Even with that said, the platform has become so popular and so widely produced that truly bad ARs are getting less common.
The biggest downside to most affordable AR-15s is dated furniture, which in practice doesn't have that big of an effect on the rifle's usefulness and effectiveness.
The good thing is that the market makes it plenty easy to upgrade along the way!
PPT Contributor Matthew Collins contributed to this article.
What do you think of our list? Already have a great affordable AR? Let us know in the comments below! Want to learn more about the AR-15 platform as a whole? Check our page, AR-15 Rifles [The Definitive Resource]!