Biden unveiled a new rule that would make it illegal as of August 24, 2022 to manufacture a kit without a serial and for resellers to sell without conducting a background check. It's currently being challenged so we'll see what happens!
Update: As of November 2022, 80% Arms is exempt from the current ban so you're able to buy both jigs and receivers together.
Looking to complete your own AR 80% lower receiver?
Today, we're going to go over the best 80% AR-15, AR-10, and AR-9 lower receivers out there. And…we've done our fair share of 80% through the years.
Plus, the best jigs to help you get to the 100% mark.
And most recently…we've even added our favorite Glock 80% frame projects.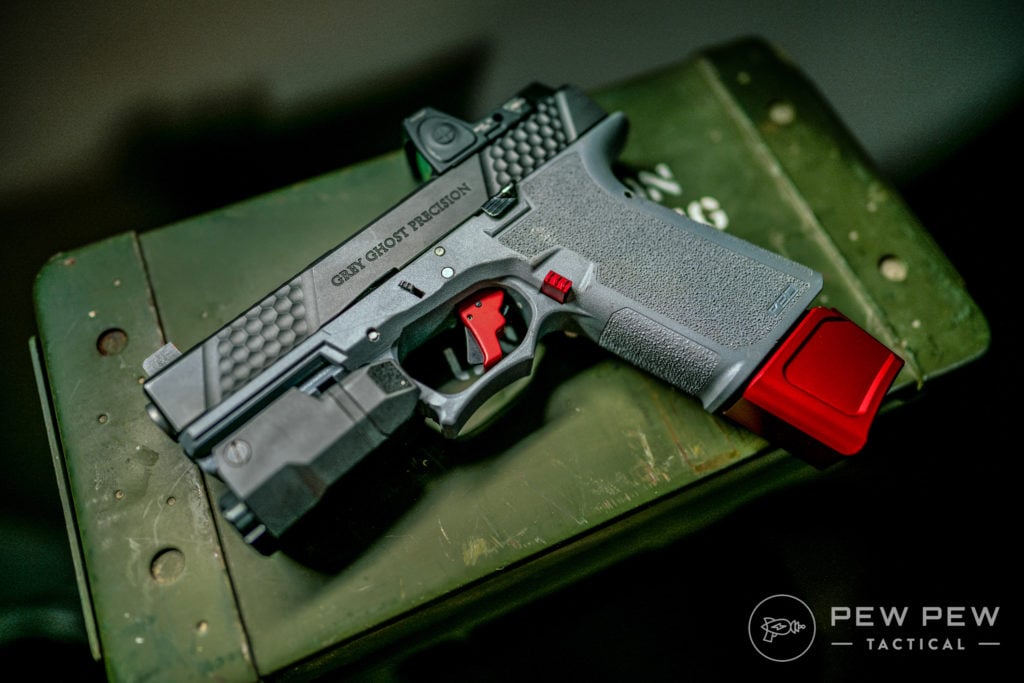 Here's our favorite picks…but given the current situation things are selling out fast.
Summary of Our Top Picks
And for Polymer80 Glock-style builds, check these quick links (selling fast):
Brief Overview of 80% Lowers
First, you should really check out our other article on what exactly is an 80% lower.
TLDR; an 80% lower receiver is an unfinished lower that is nominally sold as a "paperweight" or other novelty and not a firearm.
If you're buying a finished AR lower, you're technically buying a firearm in the eyes of the ATF.
Meanwhile, an 80% lower is technically not a firearm until you finish machining it, so you can get them delivered straight to your house without paying FFL fees.
As long as you're manufacturing the firearm for personal use, and are otherwise allowed to own said firearm in your state, you're good to go.
Yes…it's a "ghost gun" in that most places don't require serializing/registration, but that's a loaded term so we won't be using it for the rest of the article.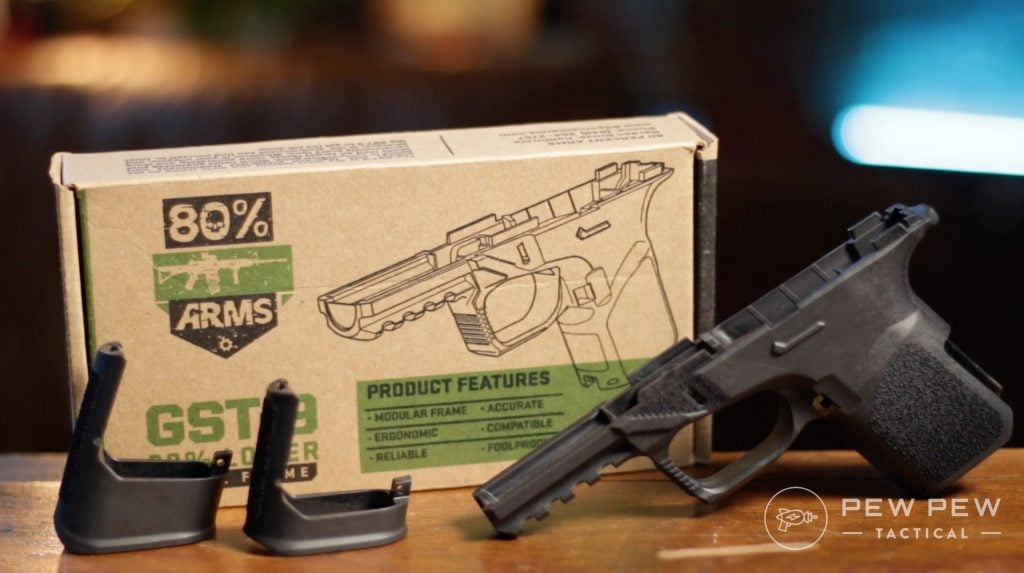 What Makes a Good 80% Lower?
There are a few things to consider when choosing your first AR-15 80% lower…
Name Brand
First, tempting as it may be, don't buy from Uncle Leroy's Backwoods Firearms.
Small manufacturers are extremely hit or miss, and often lack the precision of a larger, well-known manufacturer.
In firearms, as with most things, the "cover your ass" rule is firmly in place.
During one of the previous panic buy periods…we bought a no-name 80% that had multiple alignment problems and required re-drilling of pivot pin holes.
Materials
Polymer lowers are easier to machine, but are more prone to scratching and gouging as well as full-on breakage if you aren't careful.
Make sure they are reinforced around the buffer tube area as well since that's where most can fail.
Aluminum comes in two flavors, forged and billet.
Basically, the only thing you need to know is that forged aluminum is generally considered to be stronger, but almost no-one will get near the stress levels for it to come into play.
There's also the issue of 6061 vs 7075 aluminum…6061 is softer and will be easier to machine.
7075 is the standard for "real" lower receivers but the difference in strength is so little that I doubt someone could break a 6061.
Plus, 6061 is actually more corrosion resistant.
Coating
One final consideration is the choice between anodized and non-anodized 80% lowers, assuming you're working with an aluminum lower.
Personally, I would go with a non-anodized lower because you're going to be milling out large portions of it and exposing non-anodized metal anyway.
Usually, that means you're just going to have the thing re-anodized or paint anyway so I'd just go with the cheaper option of the raw aluminum.
Of course, you don't have to worry about that with polymer as you're just exposing more of the same polymer as you're doing your machining.
Best AR-15 80% Lower Receivers
Let's start with the most popular of 80% lowers…the AR-15.
1. 80% Arms
Their AR-15 80% lower is 6061 billet but is cleanly machine and is anodized very well in the two our team has completed.
Billet gives you the ability to have some slight differences from more mil-spec lowers…such as more aggresive lines which I like.
The 6061 aluminum also made it possible to do deeper milling cuts each time which saves time (more on this in the jigs section).
Plus they work perfectly with 80% Arms' jig.
And the finished product has worked in all our tested uppers.
Check out the full review of the entire process here. We've gone through both Gen 2 and Gen 3 versions.
Or check out their other 80% versions like raw billet and even flat dark earth versions.
Want an easy kit to finish your lower build? Check out PSA's MOE Lower Build Kit.
2. James Madison Tactical
Personally, I'm not a fan of polymer lowers.
It's a really stupid hangup I have that's in no way founded off anything rational. I own Glocks and other polymer-framed guns…but no polymer framed ARs.
Maybe one day I'll change that.
If I do, it'll almost definitely be a James Madison Tactical lower. I've heard nothing but good things from these guys, and I know several 3-Gun and Precision AR shooters that use these lowers. I've shot some of those guns and even competed with one, and I have nothing but nice things to say about it.
Hard to keep in stock but their .308 version is still available.
Their manufacturing process is also really cool. They use their own polymer-fiber blend with special care taken at common stress points to build a really cool, lightweight lower that is corrosion resistant far beyond what you'll get with a metal lower.
3. Anderson Manufacturing
Anderson Manufacturing is one of the big juggernauts of AR part manufacturers.
With their 7075 80% lowers, you're buying from people who've been making AR parts of years and who sell ridiculous numbers of the things.
There's a certain comfort in buying from an established, reliable company.
Personally, I've built two ARs off Anderson completed lowers and with the rest of the team we're probably in the dozens.
These things are rock solid, and in the case of my first competition gun, have been through hell and back with no issues.
However, lately they've been hard to come by.
If you get one of their 80% lowers and you do your part with the machining (it's the harder 7075 aluminum so go slower)…I have no doubt that you'll end up with a reliable, well-done product.
4. Polymer80
Polymer80 is the other contender for my first polymer lower, especially if I decide to go the 80% route. These guys and gals specialize in polymer 80% lowers…hence the name.
Of course…we've done tons of their Glock 17 and 19 80% builds.
They also have a freakin' ton of cool colors available which is perfect if you like to personalize your builds a bit more.
For me, I like building AR's not just to shoot, but also for the mechanical challenge that comes with this type of thing.
Its really fun to take a box of parts and turn it into a working rifle that you can hunt, compete, and even defend yourself with if need be.
The cool thing about Polymer80 lowers, besides the awesome colors, is the jig sets you can get with them.
For $80, you can get the lower, the bits you need, and the jig to guide you…basically, everything but you need except for the drill.
Hard to find as well nowadays.
Best AR-10 and AR-9 80% Lower Receivers
1. 80% Arms
There's not as many AR-10 and AR-9 80% lowers out there so I gotta give it to 80% Arms since we tried them and they work well.
Check out the size difference in the AR-10 80% Lower.
And I'm glad the mag latch is already installed in the AR-9 Lower. YES…it takes Glock mags.
Now…onto the jigs!
Best AR 80% Jigs
We've built a couple 80% lowers through the years…starting years with a jig where we had to send a money order to some guy. Or silver dollars…he took those too.
And for the longest time it was the same design…drill a bunch of little holes with your drill press first.
Then attempt to "mill" or cut off material in a horizontal manner with a drill press…something that was never meant to do that.
Result…lowers that still worked but took forever (~3-4 hours) and looked gross in the fire control pocket.
Enter the next generation of 80% jigs…where you only need a normal drill and a router.
Note: an 80% lower requires some pretty advanced machining, so the quality, fit, and finish of the final product is going to depend entirely on you.
1. 80% Arms Easy Jig 3
Hands down the best 80% jig we've used is the Easy Jig 3.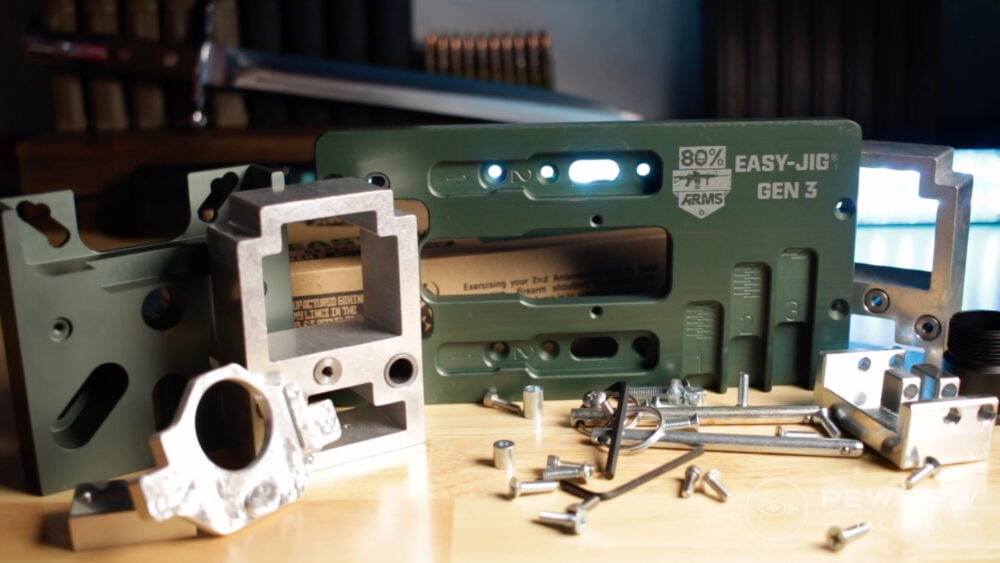 We've also completed our Full Review of the Easy Jig with a corresponding video as well:
We got the multicaliber version which can easily make the AR-15, AR-45 and AR-9 platforms.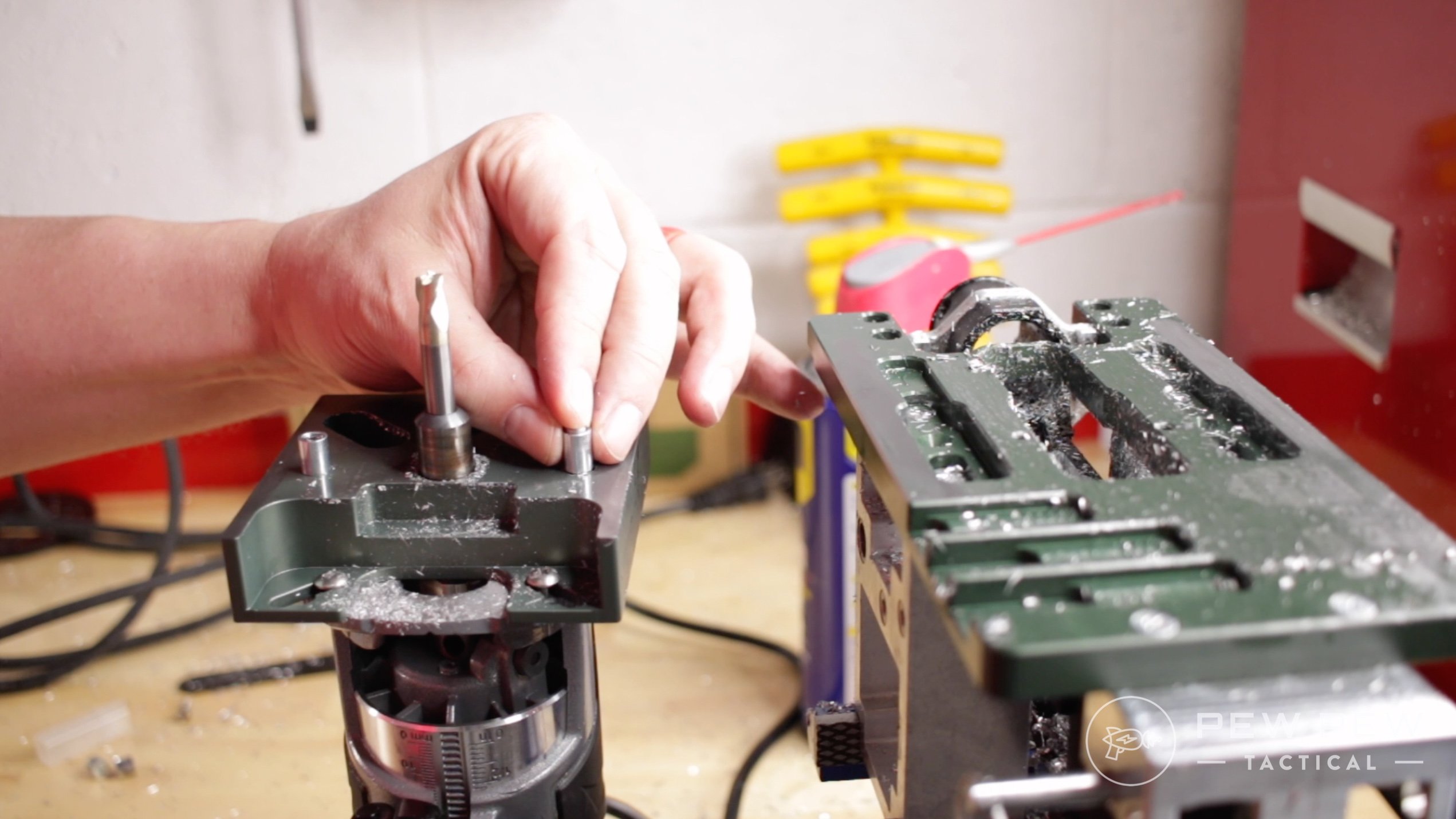 And that's the router that basically spins the end mill bit…for our Gen 2 project we used a Ridgid R2401 Router ($90) that didn't need any extra parts to work with the Easy Jig 2. For the Gen 3 build, we grabbed a router from 80% Arms.
We recommended getting the drill bits kit since it does need a special end mill. Or if you want to save a little money…get the end mill and the other things at Home Depot.
MUCH easier than the older jig designs and only took me about 1.5 hours.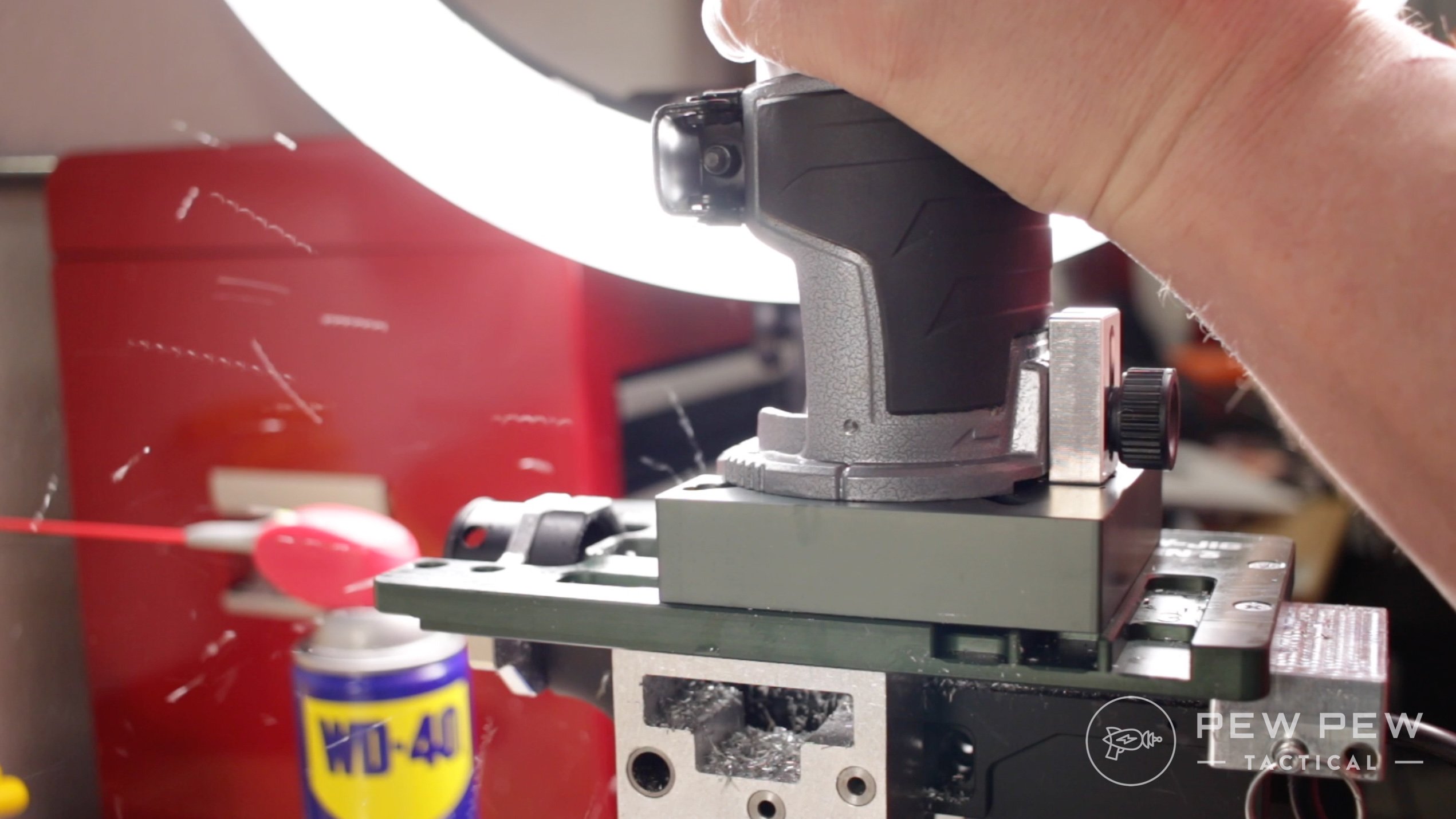 Here's the final product…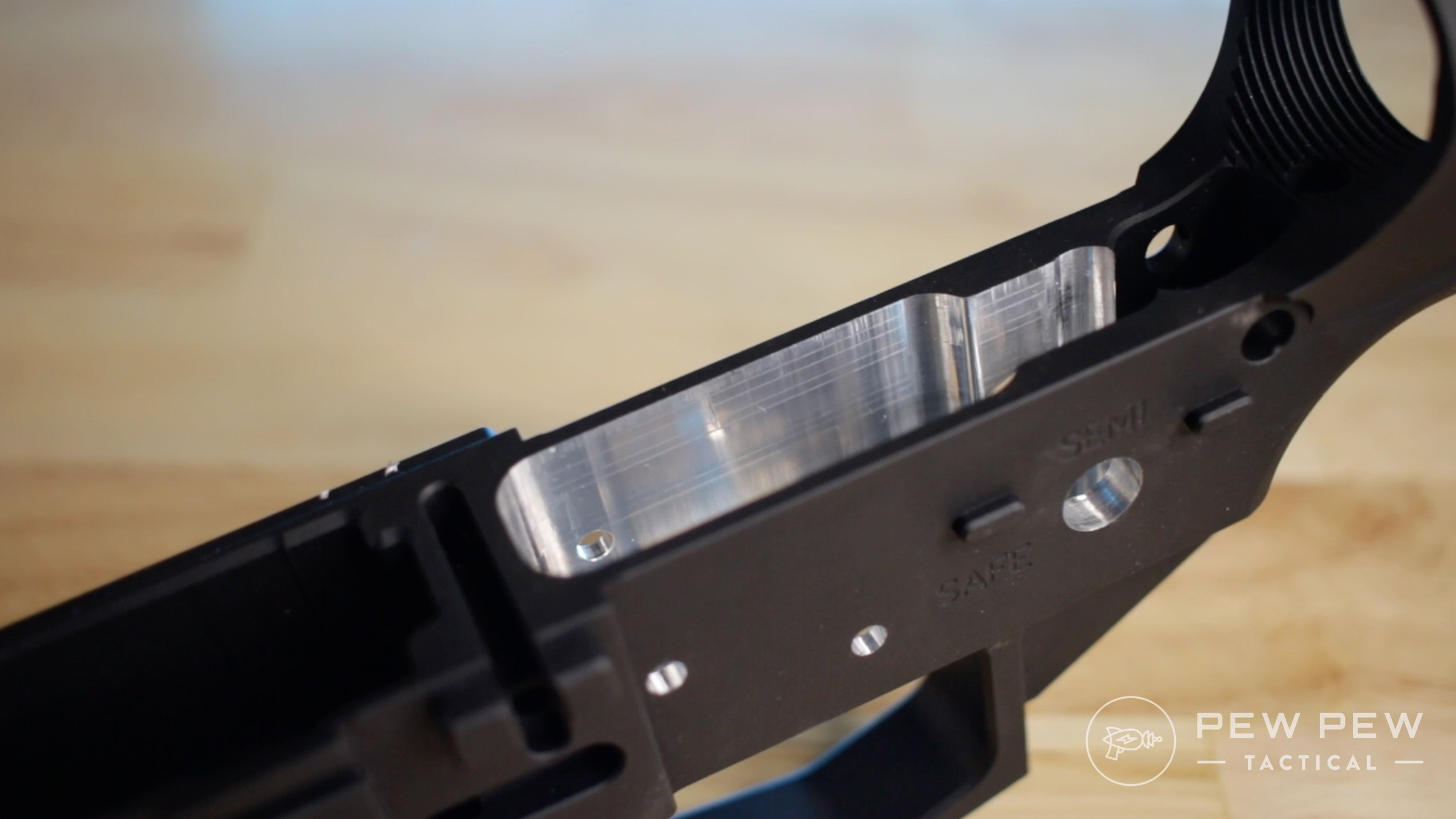 It's definitely on the pricier side at around $250…but you're looking to save up to 2.5 hours per lower. I'd highly recommend just building more (lol) or splitting the cost with friends.
What's your take on the Easy Jig 3?
2. 5D Tactical Universal 80% Jig
Another contender in the router-based universal jig world is the 5D Tactical Universal Jig ($259).
Like the Easy Jig 3, it can do AR-15, AR-9, and AR-10 80% lower receivers.
So far it looks like it has great reviews (and tons of fans in the comments) but is priced a little higher at $289.
We're looking forward to testing this bad boy out in the future too!
3. Anderson Manufacturing 80% Jig
However, if you still want to do it old school and have a drill press and more time (to save around $70 compared to the AR-15/AR-9 Easy Jig)…Anderson has their 80% jig.
Best Glock 80% Frames
1. Polymer80
I alluded to Polymer 80's Glock frames above but now we'll dive a little deeper. There's also a ton of options based on what you want.
There's also tons of options for size of handgun (things are selling fast):
Fancy a super custom Gucci Glock with all its parts handpicked? Or simply want the satisfaction of building one yourself without the hassle of going to the gun store?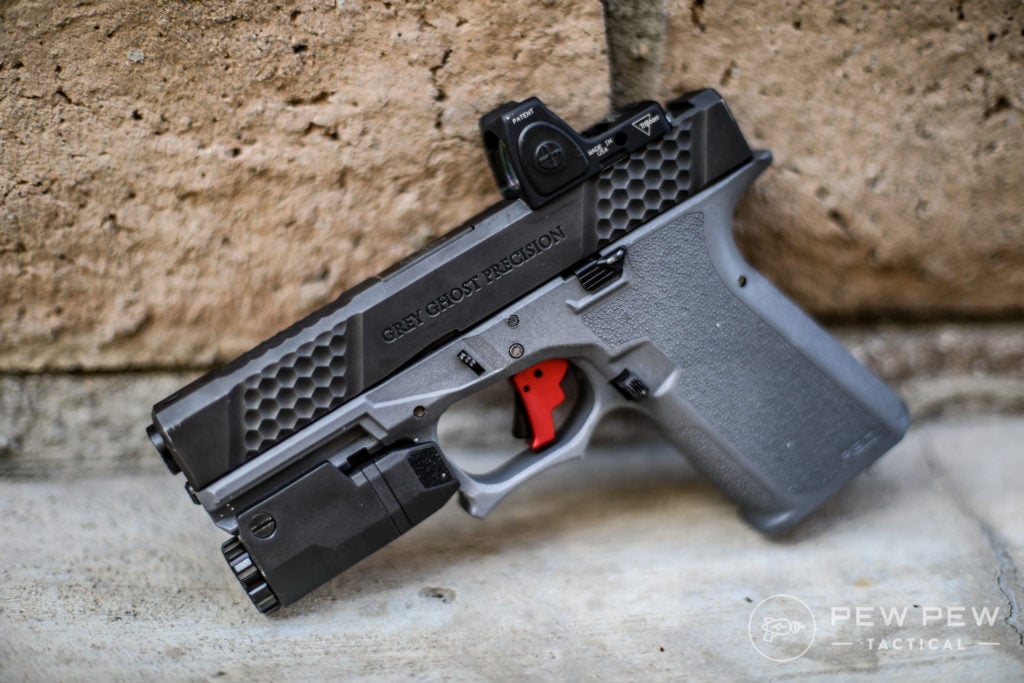 P80's kits now range from the Glock 19, Glock 17…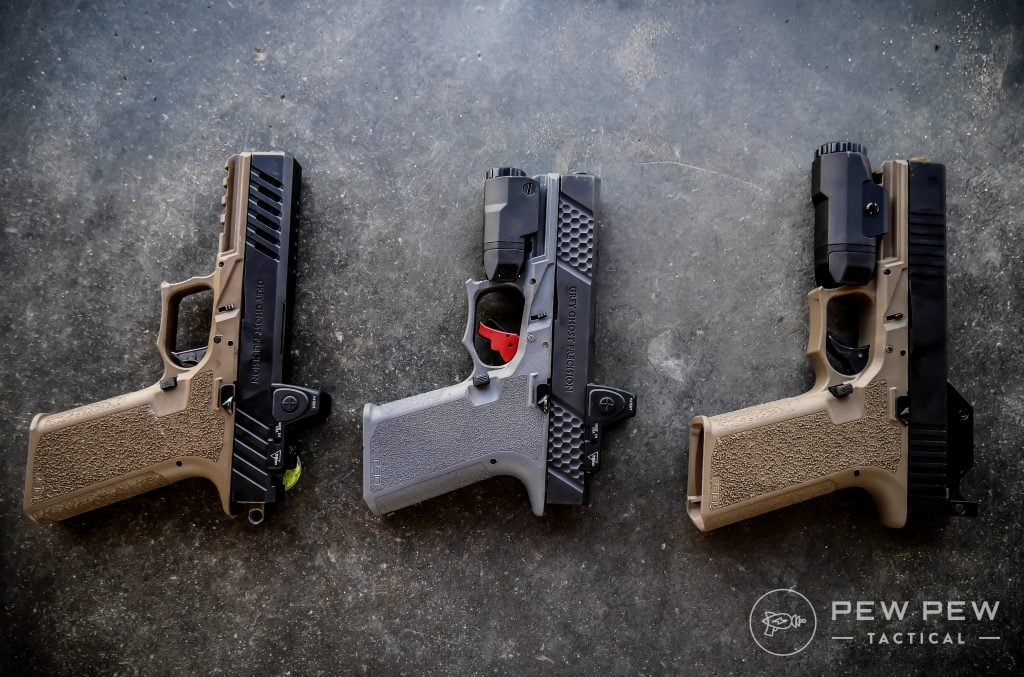 And now even the single stack G43 series.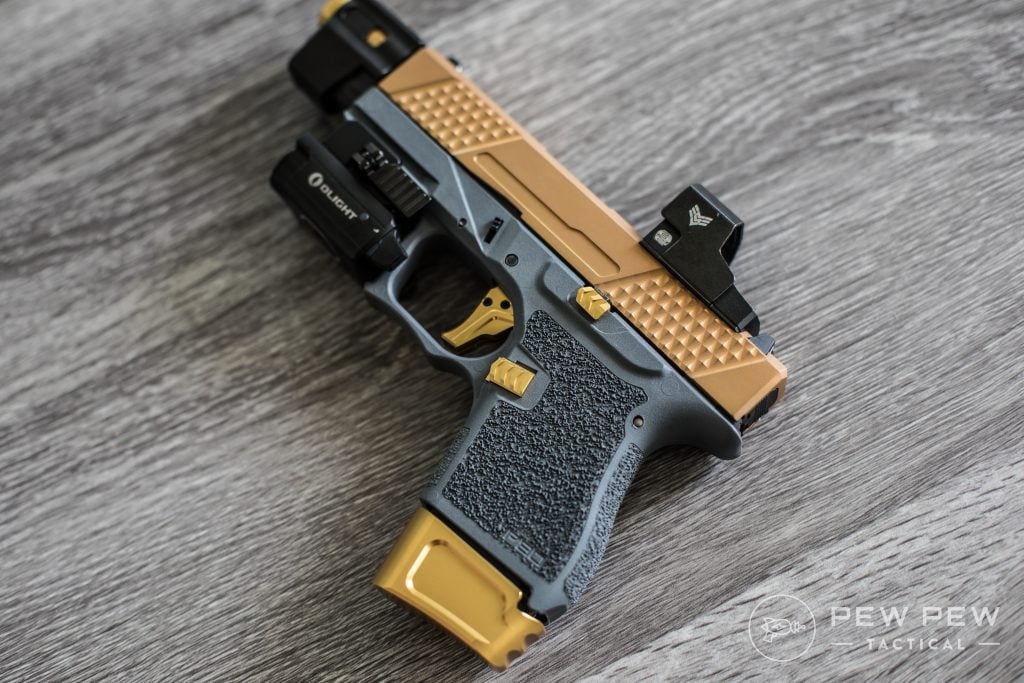 They are MUCH easier to complete than AR-15 lowers since you're dealing with polymer material instead of aluminum. And there's a lot less to remove.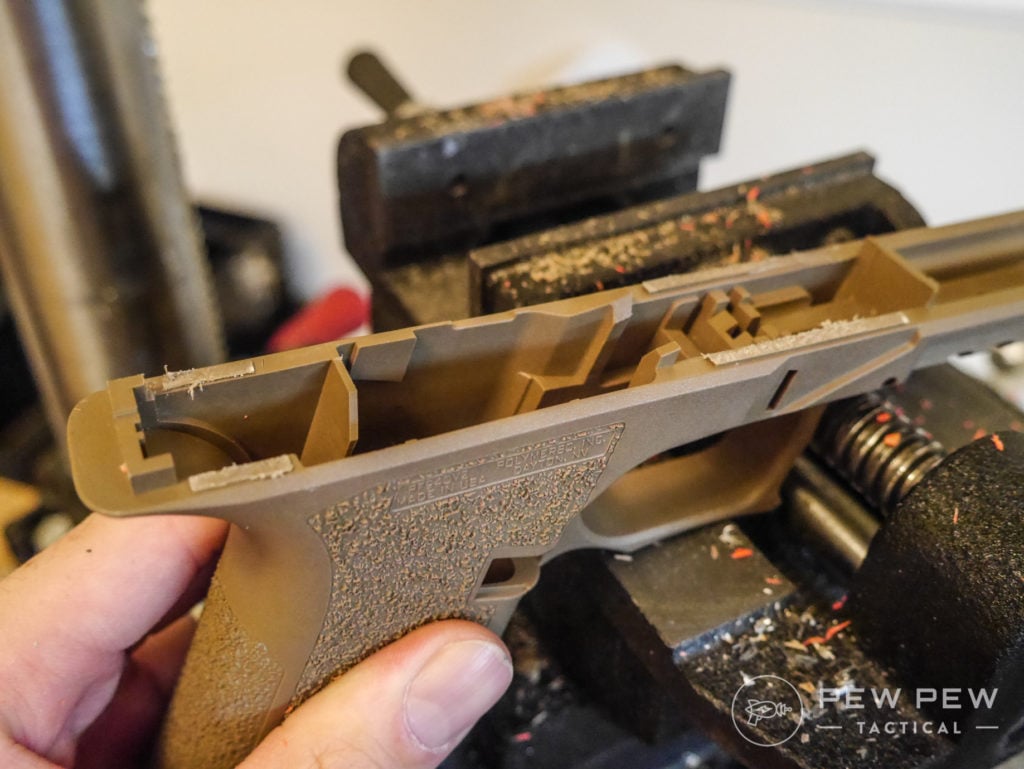 You still need to be careful especially with the hardest part which is milling out the barrel block.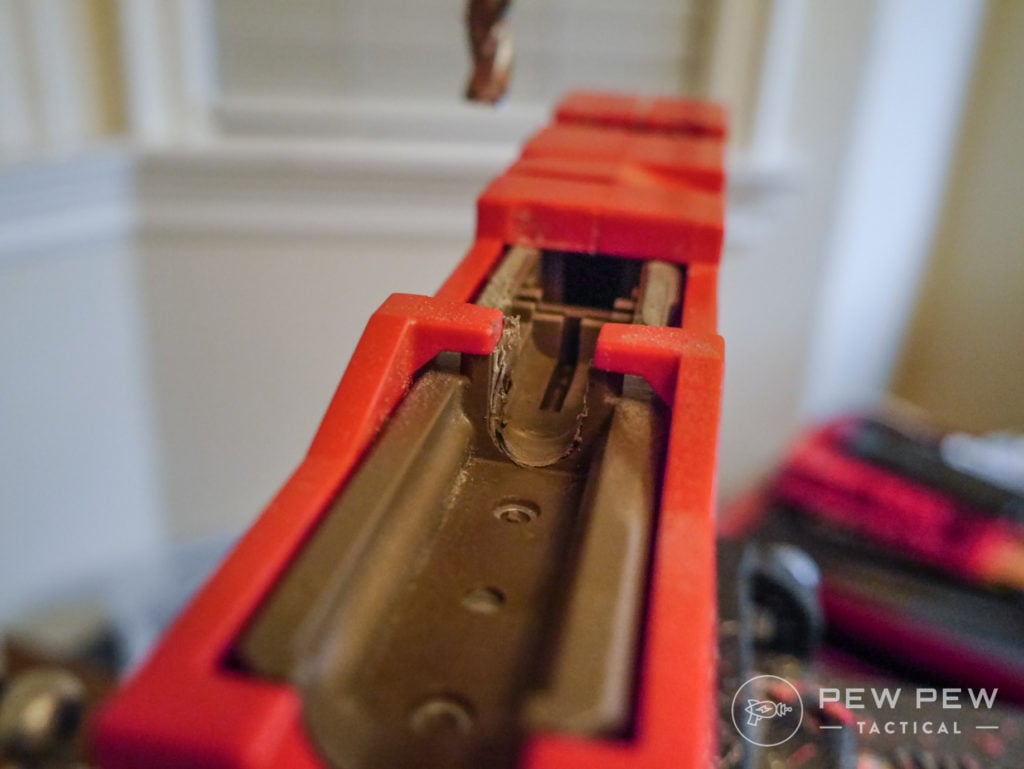 But I go through everything you need in my Polymer80 Glock Build Guide.
kit overviews
additional tools needed
step by step instruction
tips & tricks
full parts list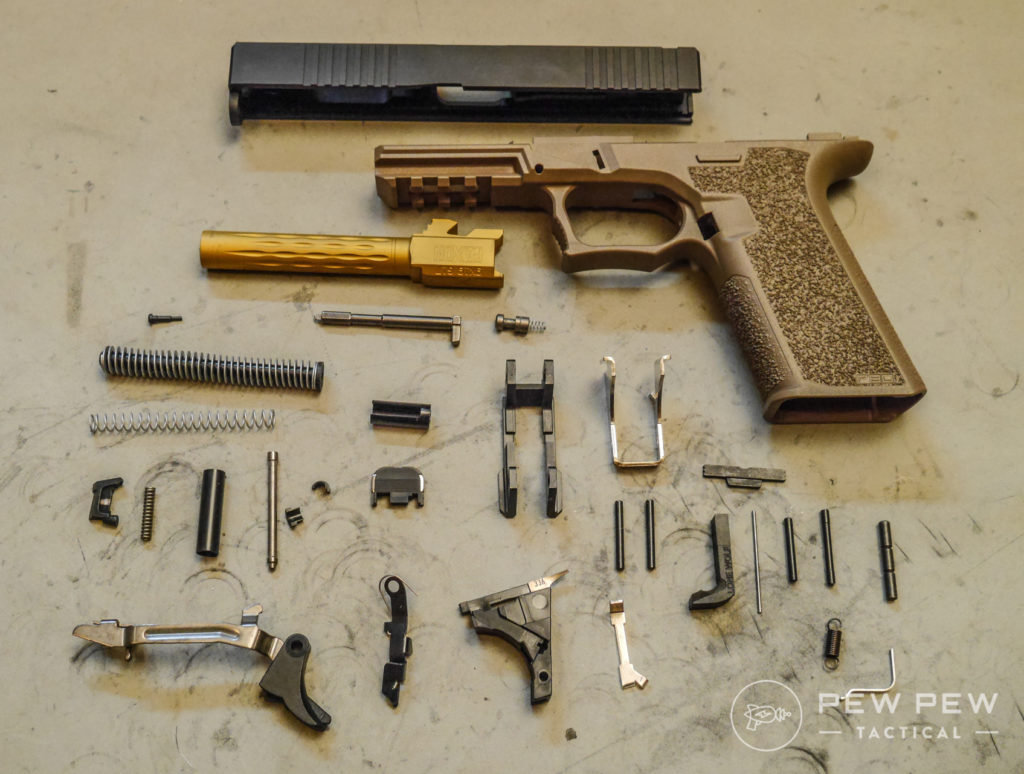 2. 80% Arms
A relative newcomer to the Glock world is 80% Arms (which you should be tired of hearing by now) with their GST-9.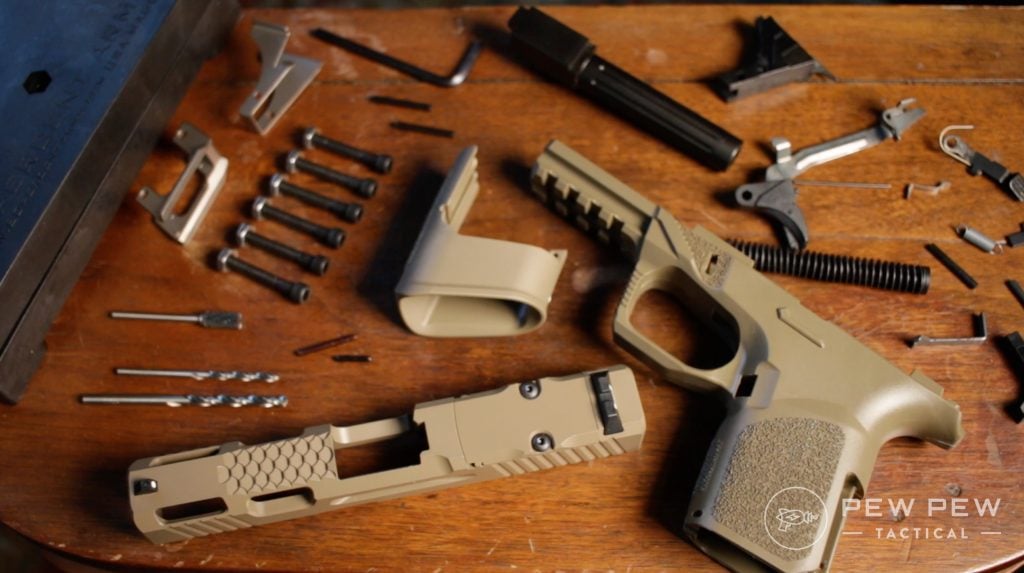 It's similar in process to the Polymer80 but there's some grip enhancements that let you switch between sizes.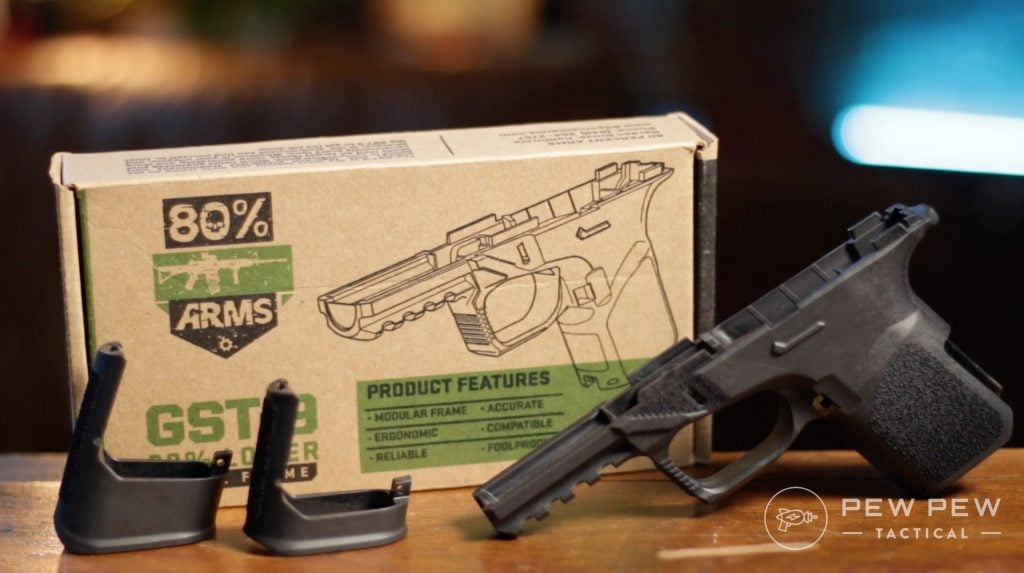 Fancy a subcompact grip…boom! Want it a little larger to mimic a G19…boom!
We go through the entire process and build list…complete with video in [Review] 80% Arms GST-9 Build.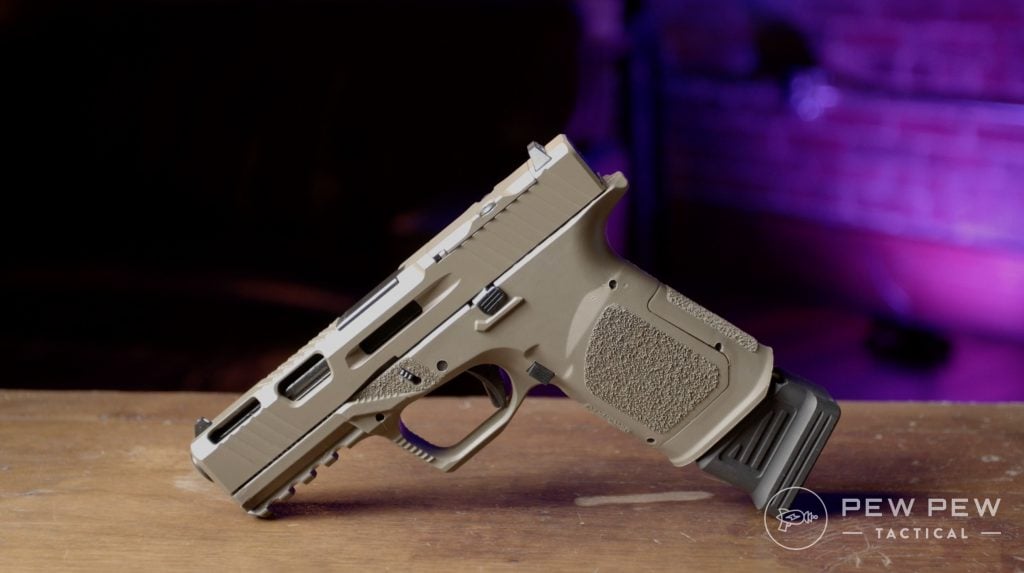 Parting Shots
There you have it, folks. These are our favorite 80% lower manufacturers AND jigs.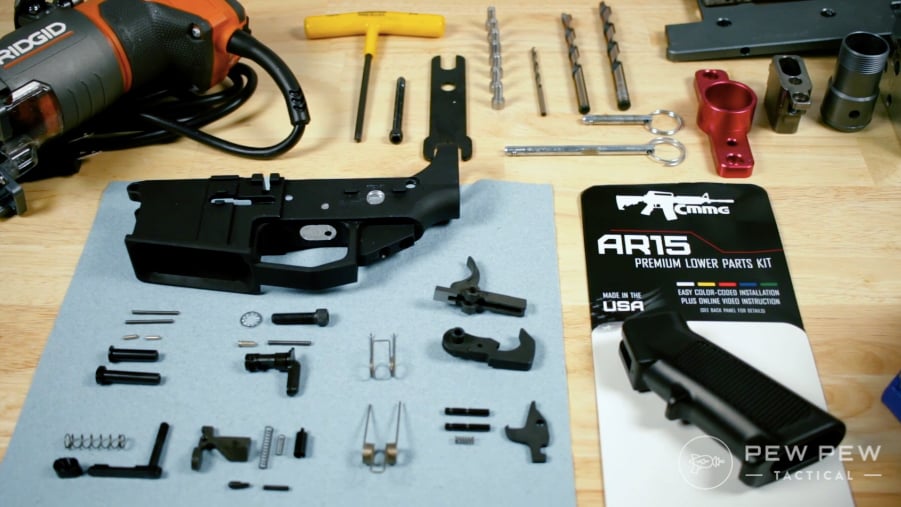 Check our Best AR-15 Lower Parts Kits to finalize your lower and also our AR-15 Ultimate Resources if you need any help assembling or choosing parts.
There's a good amount of choices for 80% lower receivers…from 6061 to 7075.
If you gotta have mil-spec harder 7075 aluminum…go with Anderson.
Or if you want an easier milling time…go with 80% Arms.
If you want a polymer lower where you get the jig AND lower for around $80…I like P80 based on my good experiences with their Glock kits.
BUT…if you go aluminum…stick with the Easy Jig 3. We've tested it. And your sanity will thank you.
Want to complete a Glock frame instead? Go with Polymer80 and check our Complete Guide.
Need to choose other parts to complete your AR-15? Check our Best AR-15 Lower Parts Kits and also our AR-15 Ultimate Resources.