Looking for the best AR-15 stock to upgrade or finish a new build?
It's an important decision.
One that will impact cheek weld, weight, your wallet, and most importantly…looks (duh).
I've built, bought, and shot a lot of AR-15s…from general builds to lightweight, pistol caliber carbine (PCC), and precision rigs.
If you want to know the best buttstock for your specific purpose…read on! I've laid out a bunch of different models I recommend to help you narrow down your search!
We also have a separate article for Pistol Braces, if that's more your speed.
Summary of Our Top Picks
Best Adjustable AR-15 Stocks
1. Magpul MOE
This bad boy set a baseline from the mil-spec (military specification) buttstock, which did its job.
The Magpul MOE (Magpul Original Equipment) was on my first rifle…and as you'll see coming up…I like to rattle-can my AR furniture.
The cheek weld on the MOE vs the Mil-Spec is roughly the same.
But it just looked so much cooler…plus it had a bunch more places to place a sling.
If your first rifle comes with one, too…you can't go wrong.
But if you're looking for my new favorite "standard"…keep on reading!
2. Mission First Battlelink Minimalist
The Battlelink Minimalist is taking over with lightweight builds.
It probably gives up a little structural integrity by losing the triangle shape…but you lose a few precious ounces.
And if you find it snagging on equipment…you can bungee or paracord something together.
Cheek weld is an upgrade from the Magpul MOE, but nothing to write home about.
And how about a back shot? You get a little more traction on your shoulder, and I like that little curve in.
If you're thinking of a lightweight build but don't want to go ULTRA lightweight (and heavy on price)…this is the one to get.
3. B5 Systems Bravo
My go-to for a competitive/speed build where you still want to have a great cheek weld is B5 System's Bravo.
It's lightweight for the extra amount of space to get that perfect and repeatable cheek weld.
If you're used to "regular" buttstocks, then switching over to one with a great surface like the Bravo stock will change your life.
Check out my bottom two rifles rocking the Bravo.
My first Bravo stock now lives in my accuracy testing lower.
The back is pretty normal and gives a good grip without snagging.
PLUS…it's not too bad on the wallet at under $60.
My overall favorite for the best adjustable buttstock at a reasonable price.
What's your take on the B5 Bravo? Give it a rating below.
4. B5 Systems Bravo-C Stock
B5 expanded its line of stocks after the Bravo, and one simplified version is the Bravo-C. This fixed-position buttstock still has a lot to offer.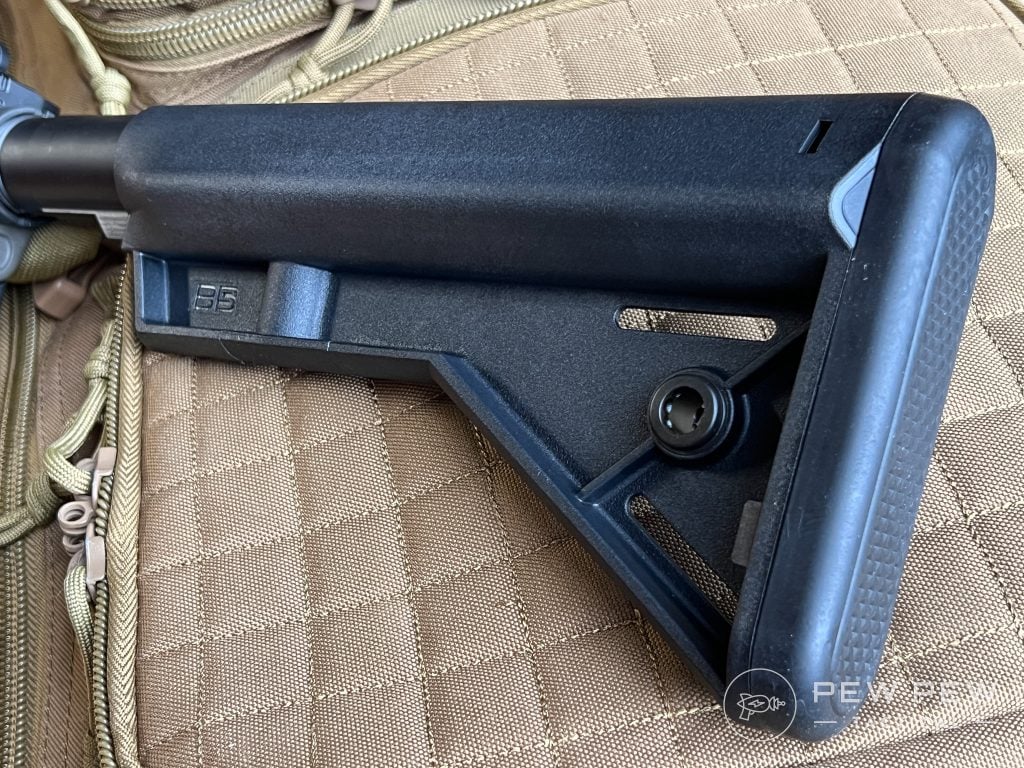 Mounting into position with a set screw, the Bravo-C has a long length of very ergonomic top side that allows you to find optimal cheek weld without pulling your beard hairs.
The Bravo-C also features an anti-rotation QD mount and fixed sling points. It also has color-matched hardware, and that's important because it comes in five colors to fit your build.
5. Magpul MOE-SL
Next up is another Magpul creation…the MOE-SL…or slimline.
It's a definite upgrade from the MOE and close to the Bravo in terms of cheek weld for me. But still not better.
It matches up the Bravo in weight and price too. So if you want a better cheek weld than normal and love the look over the plainer Bravo…get the SL.
6. Magpul STR
The Magpul STR has my favorite cheek weld of all the adjustable stocks.
It comes in a little heavier at 12.5 ounces but the STR (storage type restricted) also has water-resistant battery tubes on the side.
Oh…and did I mention the cheek weld?
It's huge…you could land a plane on that thing! And for your face…it makes it super comfy and repeatable for whatever optic you'll be using.
It came on my PSA AR-10 .308 (full review) and it was great shooting a larger caliber.
Back has the same footprint as the regular MOE…but again, you can see that nice slope for storing batteries and giving you comfort.
My favorite cheek weld buttstock if you don't mind the larger size, weight, and price. Also great for precision builds if you want something easily collapsible.
7. VLTOR IMOD
One of the first buttstocks to have an expanded cheek weld was the VLTOR IMOD.
I've shot this bad boy probably the most…and it shows. However, it's stood the test of time and thousands of rounds.
Plus it has probably given me a lot of paint on my face.
It's very comparable to the Magpul STR in terms of cheek weld (edge still to the STR)…and it has battery compartments as well.
And for about $20 more…you'll shave off some ounces.
So if ounces = pounds…and pounds = pain…but you still want an awesome cheek weld…the IMOD is for you.
Best Fixed & Lightweight AR-15 Stocks
8. Strike Industries Viper Fixed
I really wanted to like this one for my featureless builds.
(Want more builds? Check out the AR-15 Featureless Guide.)
Strike has been one of the most innovative and affordable companies out there…and I love their featureless grips.
But their Viper Fixed Stock is a miss for me.
Price was right, but the large screw inside messed up somehow, and I couldn't install it for the life of me. Many forums and YouTube videos later…I gave up.
AND it's taking a buffer tube down with it…
9. Magpul MOE Fixed
Magpul's entry into the fixed stock world is the MOE Fixed Stock.
Not an original name…but very decent for the price.
Installs very easily and has the same cheek weld as a regular MOE.
If you want a fixed stock with no trouble, such as pinning or buying another gadget…the MOE fixed is the way to go.
10. Battle Arms Development LBS
Another entry into the ultralight arena is BAD's LBS (Lightweight Butt Stock).
It's crazy light at 3 ounces.
And gives you a smooth buffer tube as a cheek weld.
Be sure that you're ok with the short length of pull on a regular buttstock…since now you're stuck with your buffer tube length.
Tension has been great, and it should be able to handle a mortar since it's directly against the buffer tube. However…I haven't tried it and wouldn't recommend doing it.
Great for an SBR with a more vertical-angled pistol grip which will help with the short buttstock.
Best Precision AR Stocks
11. Luth AR
If you want something heavier and really adjustable for not just length of pull…but cheek rise too. Luth's AR stock does so at a reasonable price.
Both the rear and cheek weld sections are able to be minutely adjusted and locked to suit your scoped rifle needs.
Here it is on my Aero M5 .308. (See the full review!)
Cheek Weld is better than the MOE but not approaching the others that have a slanted edge.
However, the name of the game is adjustability and rear weight. In that area, the Luth AR excels.
Plus…it's more affordable than the current gold standard that is coming up.
Weight: 19 oz for rifle-length version
12. Magpul PRS
The go-to for a precision AR stock…Magpul's PRS Gen 3.
It definitely feels more quality than the Luth with its construction and easier adjustment knobs that have a satisfying click.
Cheek weld is also slightly better.
Plus, it can fit on both rifle and carbine-length buffer tubes.
I also like the flat bottom, so you can get a good sandbag base under there.
This is what you get when you're serious about precision in the AR-10 and AR-15 platforms.
It has the weight and price tag to warrant it.
Final Thoughts
There you have it…a dozen of the most popular AR-15 buttstocks out there.
Hopefully, you've figured out which one is right for your purpose and budget.
To sum it up…
My favorite overall adjustable stock is the B5 Systems Bravo:
While the one with the best cheek weld is Magpul's STR. It can also function as a precision stock if you're looking for lighter weight and maneuverability at the cost of minute adjustments.
And the no-frills fixed stock of the day is the Magpul MOE Fixed:
If you're going ultralight and want adjustability…go with ELF's Ultralight:
And for the gold standard in precision stocks…take a look at Magpul's PRS:
How did we do? Any popular stocks that you want to see in a future article update? Want more AR-15 upgrades? Check out our AR-15 Ultimate Guide.