I'll confess…I'm a dyed-in-the-wool fan of blued steel and fine walnut.
But despite my love for that style, most days you'll find me toting a "dishwasher gun" — composite stock and stainless steel.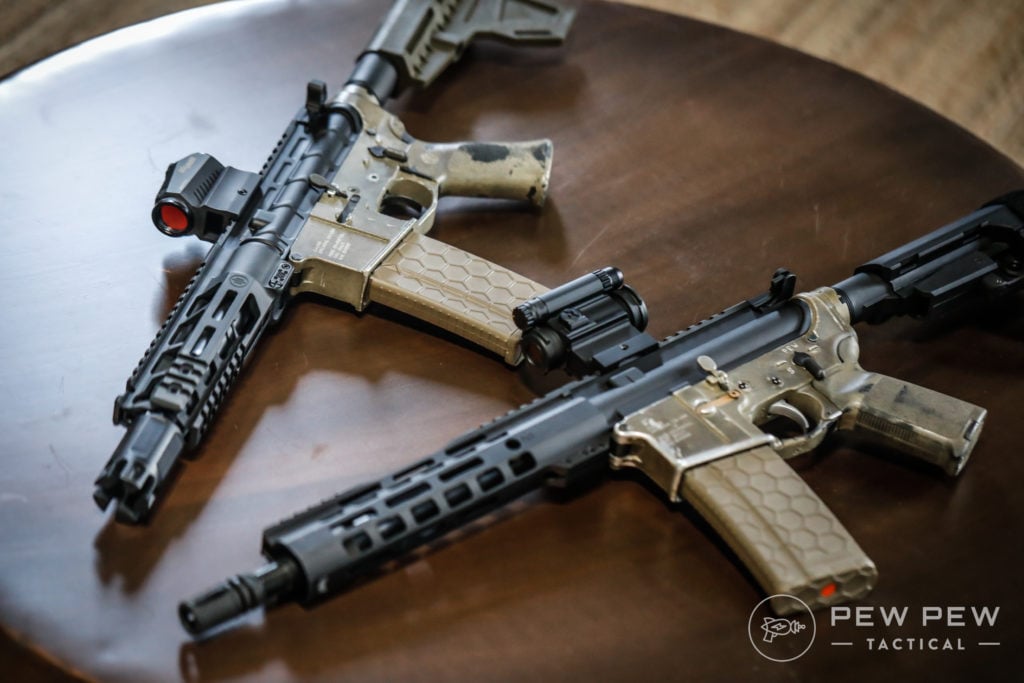 But you'll also find me plinking and sniping at the occasional ground squirrel with an AR-style .22 LR.
A .22 LR AR gives you all the benefits of the AR-15 platform, but with the barely-there recoil of the .22 LR. And if you're after varmint, they're a great way to take care of small game.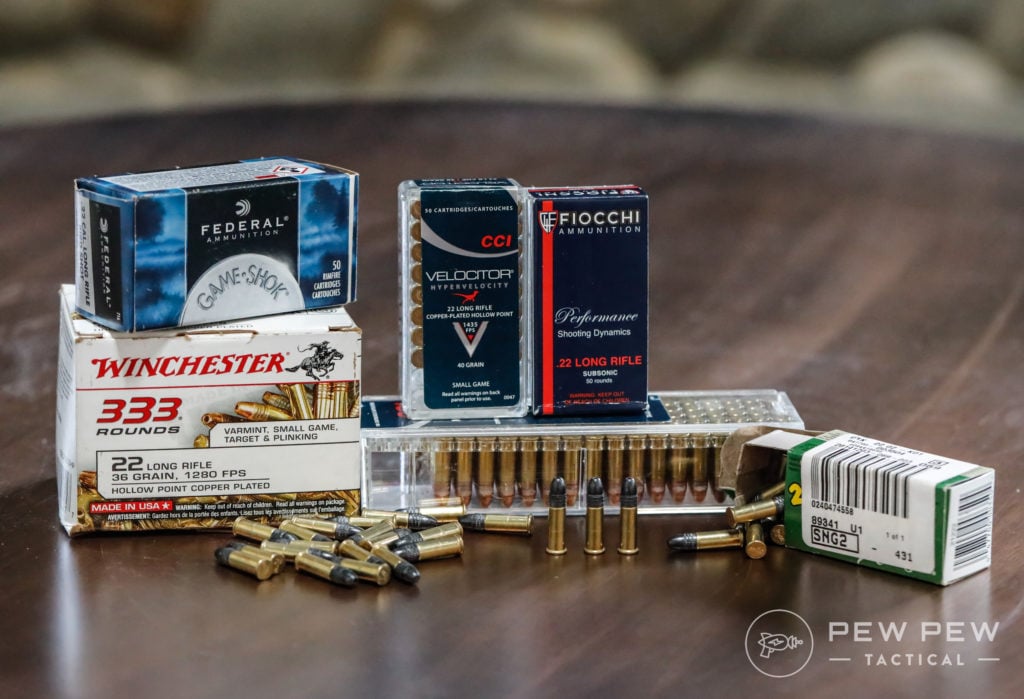 But what is the best .22 LR AR? Well, we've narrowed down some options, bringing you some of our favorites. So keep reading!
Table of Contents
Loading...
Best AR-15 in .22 LR
1. Walther Colt M4 Carbine
Looking at it, the Colt M4 Carbine, it doesn't scream ".22 LR PLINKER."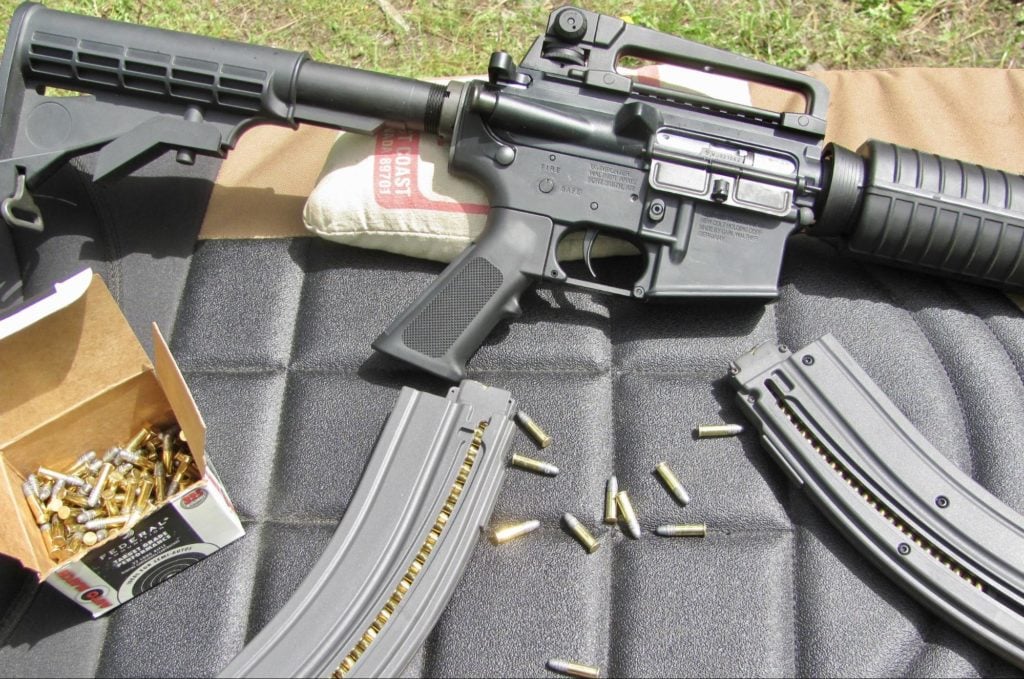 It sports a 16-inch Parkerized M4 pattern barrel with a flash hider and an anodized aluminum upper and lower.
The front sight fixture is all metal with an elevation adjustable front sight post and a bayonet lug if you are so inclined.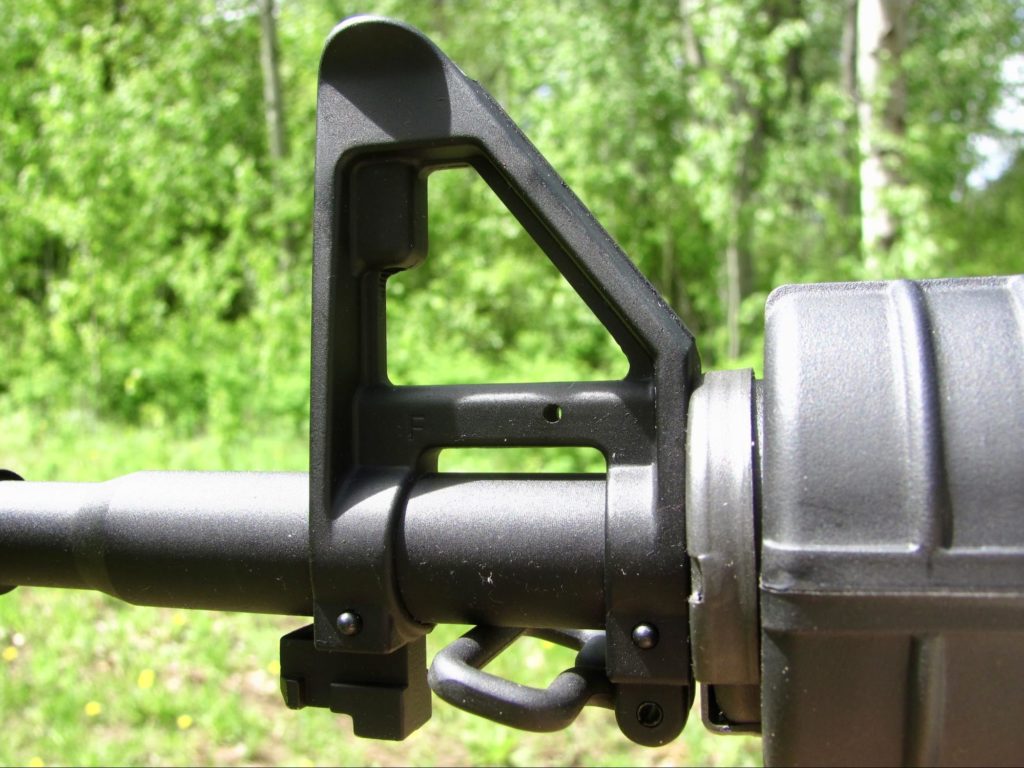 The carbine has a traditional forend with no rails or slots for accessory mounting and the buttstock is a 5-position sliding affair common to most ARs today.
Up top is a traditional removable carry handle with an A2 adjustable sight assembly. Under the carry handle is the flat-top Picatinny rail for mounting scopes, red dots, etc.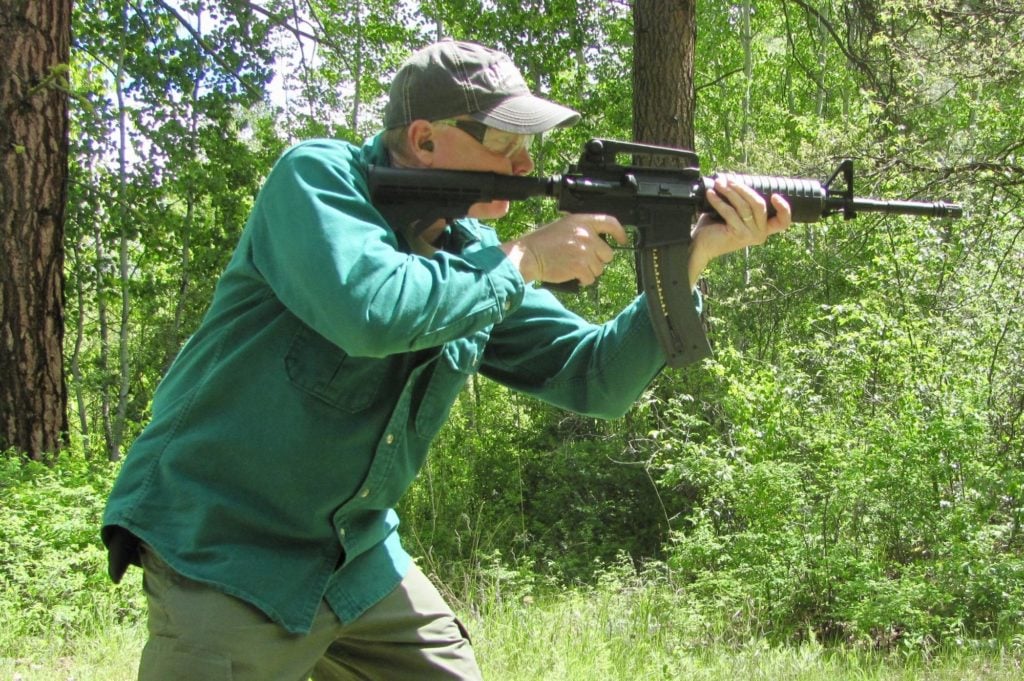 The trigger is OK. My trigger scale showed a bit over 8lb for an average. There is a bit of taking up, then a pretty hard pull, and a bit of overtravel.
It is not the best for shooting precision groups from the bench, but then again — neither is the M4 Carbine.
Magazines are available in 30-round, 20-round, and 10-round configurations.
The little rifle is fun to shoot, unloading a box of .22 LR in short order.
Best M4 Clone in .22 LR
382
at Brownells
Prices accurate at time of writing
Prices accurate at time of writing
What do you think of the Walther Colt combo? Rate it below!
2. Smith & Wesson M&P 15-22
As mentioned earlier, the Smith and Wesson M&P 15-22 launched the same year as the Colt M4 .22 Carbine.
The Smith and Wesson is a fine AR platform .22 Long Rifle option for shooters and is currently available in several variations.
These rifles feature a polymer upper and lower and as such weigh a bit less at just over 4-pounds.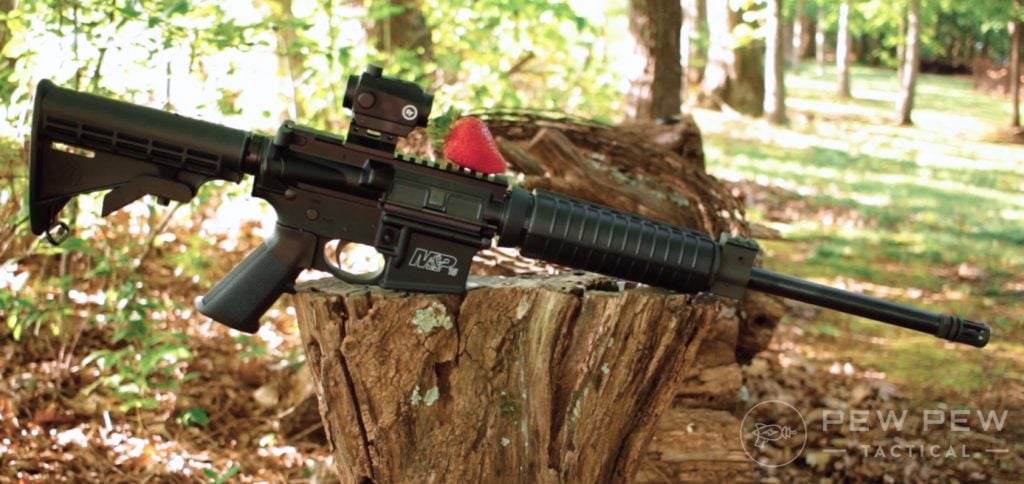 While there is no forward assist button on the Smith and Wesson and the bolt release button is fully functional.
Magazines are available in 10-round or 25-round models.
The S&W M&P 15-22 is supplied with Magpul M-LOK forends, 6-position buttstock, and Magpul MBUS folding sights.
442
at Kygunco
Prices accurate at time of writing
Prices accurate at time of writing
This gives you a lot of options for optics, lasers, and lights to customize your rifle for your needs.
For all your plinking and training needs any of the S&W M&P 15-22 variations will serve you well.
3. CMMG Mk4le
CMMG is probably best known for its conversion kits and upper, but they also supply rifles in .22 Long Rifle.
899
at Sportsman's Warehouse
Prices accurate at time of writing
Prices accurate at time of writing
The Mk4le is the basic model and features an M4 profile 16-inch barrel, front sight, forged upper and lower, 6-position buttstock, and MBUS rear sight.
This gun weighs in at 6.2 pounds. Magazines are available in 10-round and 25-round capacity.
4. Tippmann M4-22 Pro
Offering a solid .22 LR option for those who like that AR-15 style, Tippmann's M4-22 Pro brings a 16-inch barrel length to an overall 31.25 to 34.5-inch length (depending on stock position).
In total, you get a .22 LR rifle that weighs in at 5.22 pounds.
499
at Palmetto State Armory
Prices accurate at time of writing
Prices accurate at time of writing
The M4-2 Pro is mostly Mil-spec compatible and works alongside a variety of AR-15 stocks, handguards, and sights.
All in all, this rifle is a great addition to your rifle collection.
Best .22LR Conversions and Uppers
1. CMMG Bravo AR-15 Conversion Kit
As mentioned above, when one thinks about using their existing AR platform to shoot .22 Long Rifle, CMMG is often the first option that comes up in an internet search.
The Bravo kit consists of a stainless bolt carrier conversion and a 25-round magazine.
Simply remove your bolt carrier group from your upper, insert the CMMG conversion kit, load the mag and go.
Best AR-15 .22 LR Conversion Kit
220
at Brownells
Prices accurate at time of writing
Prices accurate at time of writing
All in all, for a budget-friendly way to shoot and train with your AR the CMMG conversion kits offer a lot of bang for the buck.
Finally, CMMG and a host of other manufacturers offer dedicated .22 Long Rifle uppers to mate to your AR lower for low-priced plinking and training.
2. Palmetto State Armory .22 LR Complete Upper
PSA is well known for its quality and budget-minded AR-15s, AR-10s, and AK-47s — and this dedicated .22 LR upper is no different!
369
at Palmetto State Armory
Prices accurate at time of writing
Prices accurate at time of writing
For the money, it's a great way to turn any AR-15 into a plinking king or make training with your standard rifle a lot cheaper.
It comes fully ready for the range with a dedicated .22 LR barrel, BCG, and charging handle.
3. Mk4LE Upper
The Mk4le upper is identical to the full rifle offering with the exception that no rear sight is supplied.
You simply remove your .223 upper, pin on the .22 LR upper, load up your magazines, and hit the range.
450
at Optics Planet
Prices accurate at time of writing
Prices accurate at time of writing
With a dedicated upper you will likely see an improvement in accuracy because the barrel is specifically bored and rifled for .22 Long Rifle bullets.
A .223 bullet is actually .224-inches in diameter whereas the .22 LR is .223-inches. In some AR barrels, you may not get quite the accuracy because of the bore diameter and twist rate.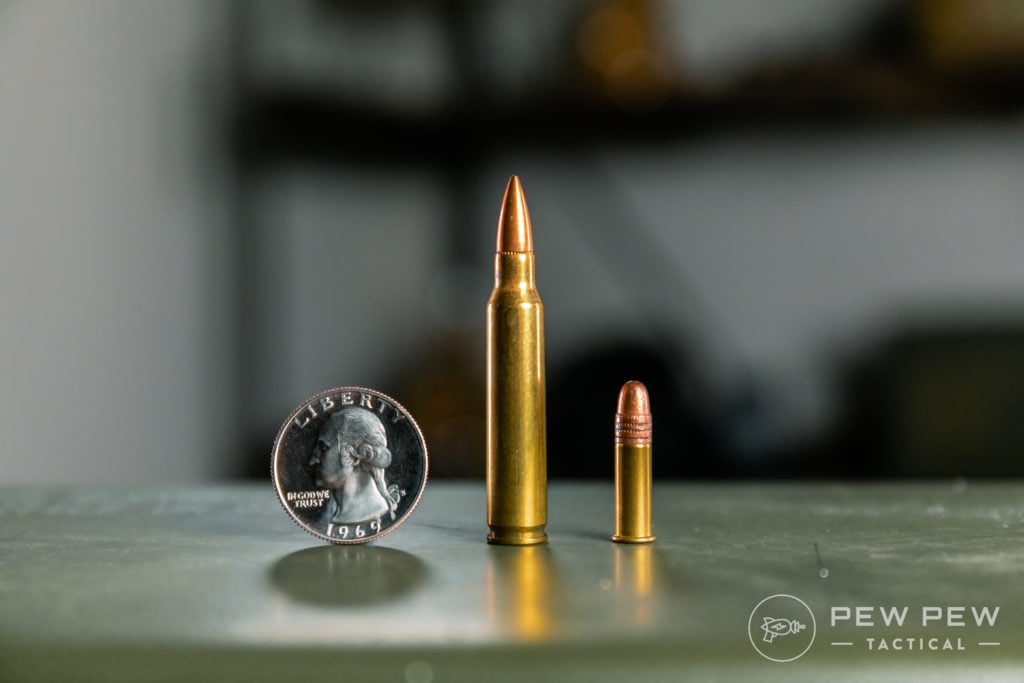 But with a .223-inch bore and the slower twist specified for .22 LR, you will likely see much tighter groups.
Conclusion
Hopefully, this glimpse into the world of .22 Long Rifle ARs gives you some ideas on your options.
From fully dedicated rifles to conversion kits to uppers, there is a way for everyone to get more practice and training with their AR platforms.
Regardless of the option or options you choose, get out there and have some fun shooting your .22.
What kind of rifle do you plink and train with? Let us know in the comments! If you're looking for more great AR-15 information, check out our Definitive Resource!