If you've built your own AR-15, and it just wasn't enough for you, you may be looking for something even bigger and better to try your hand at.
If so, the AR-10 is calling your name!
The AR-10 isn't as modular as the AR-15, but it is trending that way.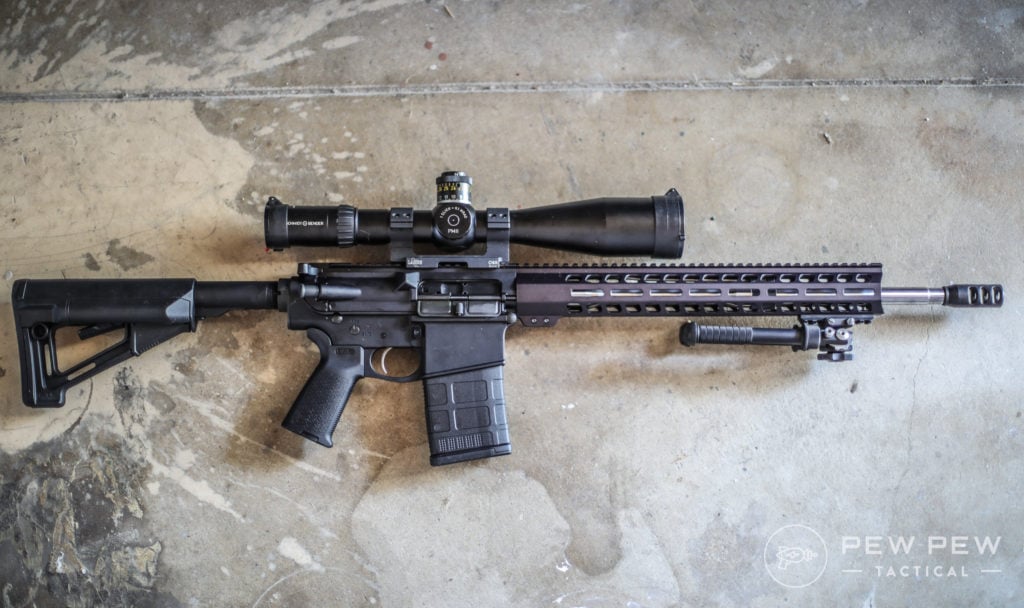 While the AR-15 and AR-10 can share some parts, one thing they can't share is their barrels.
The barrel of your gun is incredibly important, but you know that.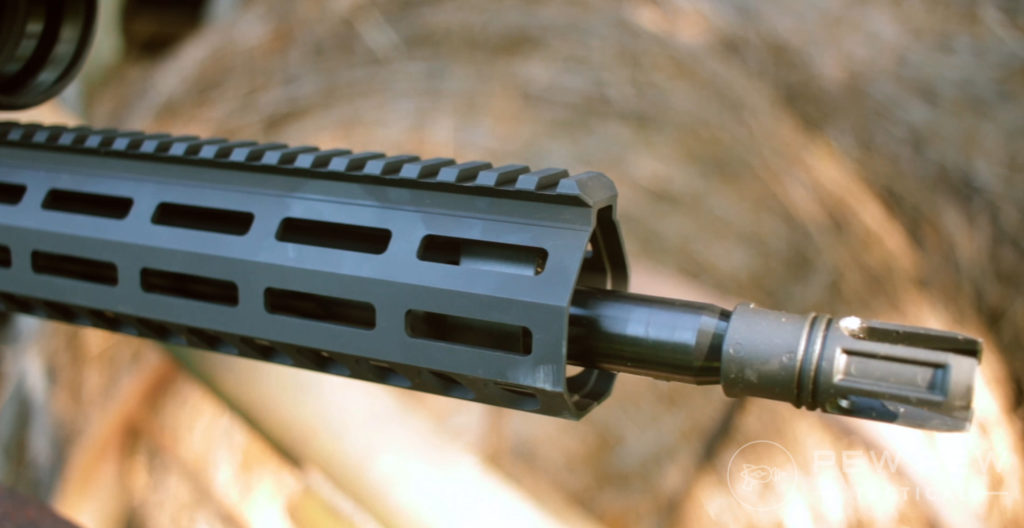 Sure, it can determine the velocity of your ammo, the accuracy of your weapon, but it can also change how the gun handles and even the legality of the gun.
Let's look at a few diverse barrel options and talk about why, who they're for, and where you can get them.
Table of Contents
Loading...
The AR-10: Big Brother to the AR-15
Do you guys remember that show Tool Time with Tim Allen? It was a staple of my childhood and the main character's catchphrase was always "More power!"
I bring all this up because for some reason I can't help but picture Tim Allen screaming MORE POWER when describing the AR-10.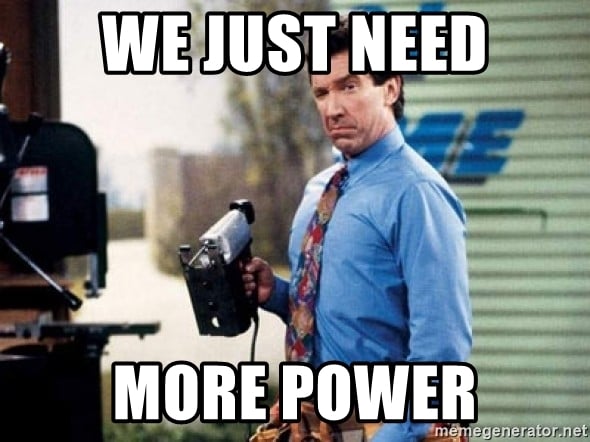 In reality, the AR-15 is the AR-10 with less power because the AR-10 came first.
The AR-10 was the original Stoner Armalite design and was a product of its time. The full-powered battle rifle was still the NATO standard for weaponry, and the powerful 7.62×51 was the round to rule them all for infantry rifles.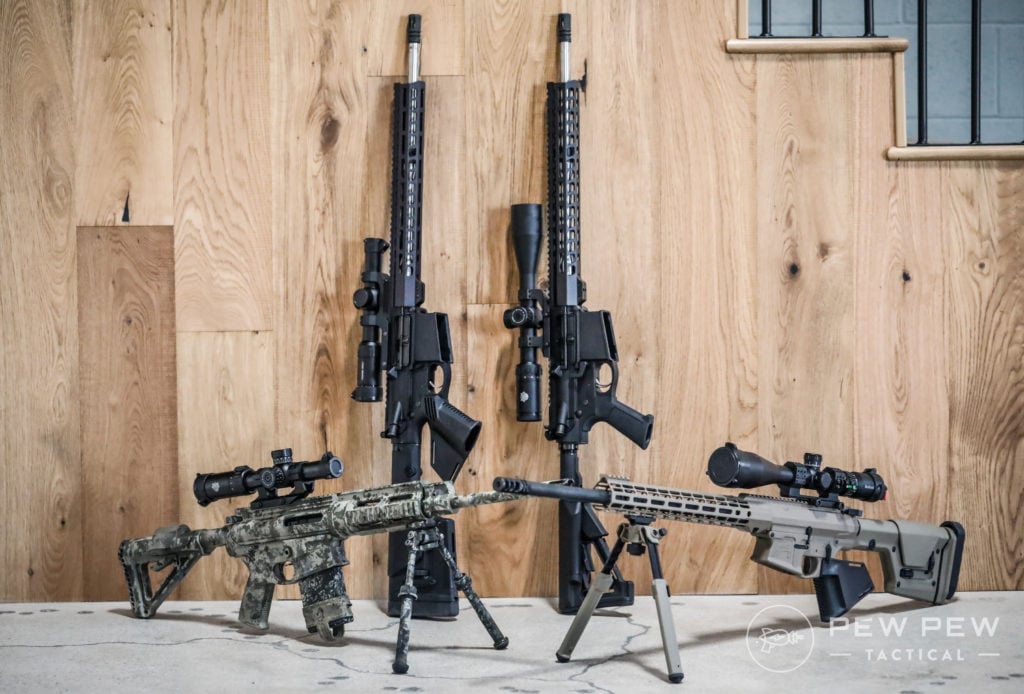 The AR-15 has always been a bit more popular with everyone. Militaries, police forces, and civilians all love the AR-15, but the AR-10 is starting to get some love.
A lot of guys have built or bought AR-15s en masse and are beginning to look at the bigger brother for something new.
This is especially true with the success of rounds like the 6.5 Creedmoor and the rise in long-range shooting (see our reviews for the best precision sniper rifles for beginners!).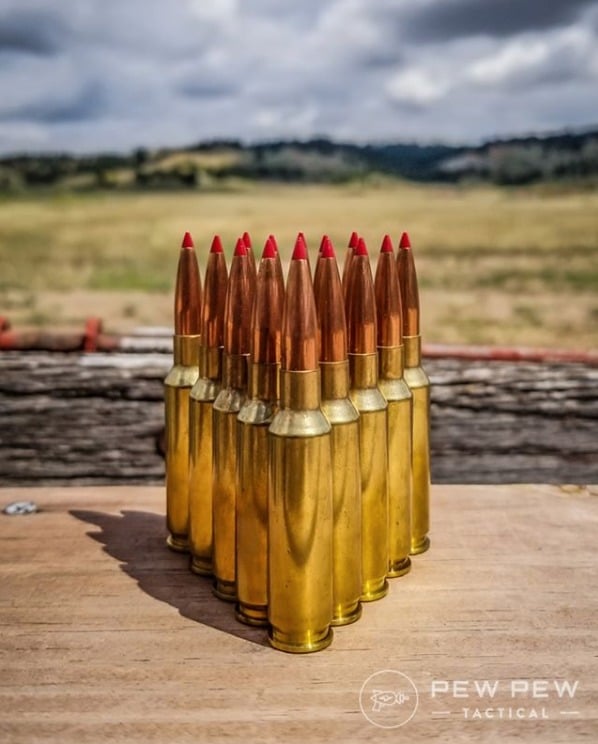 The Many Patterns of an AR-10
AR-10s are tricky animals.
They have two different patterns — which essentially means two different ways to build a gun via magazines, receivers, etc. The two patterns are the DPMS and Armalite.
The DPMS pattern is way more common and likely takes up 90% of the AR-10 market. These rifles have cheaper magazines, a ton of different manufacturers producing receivers, and tons of different parts.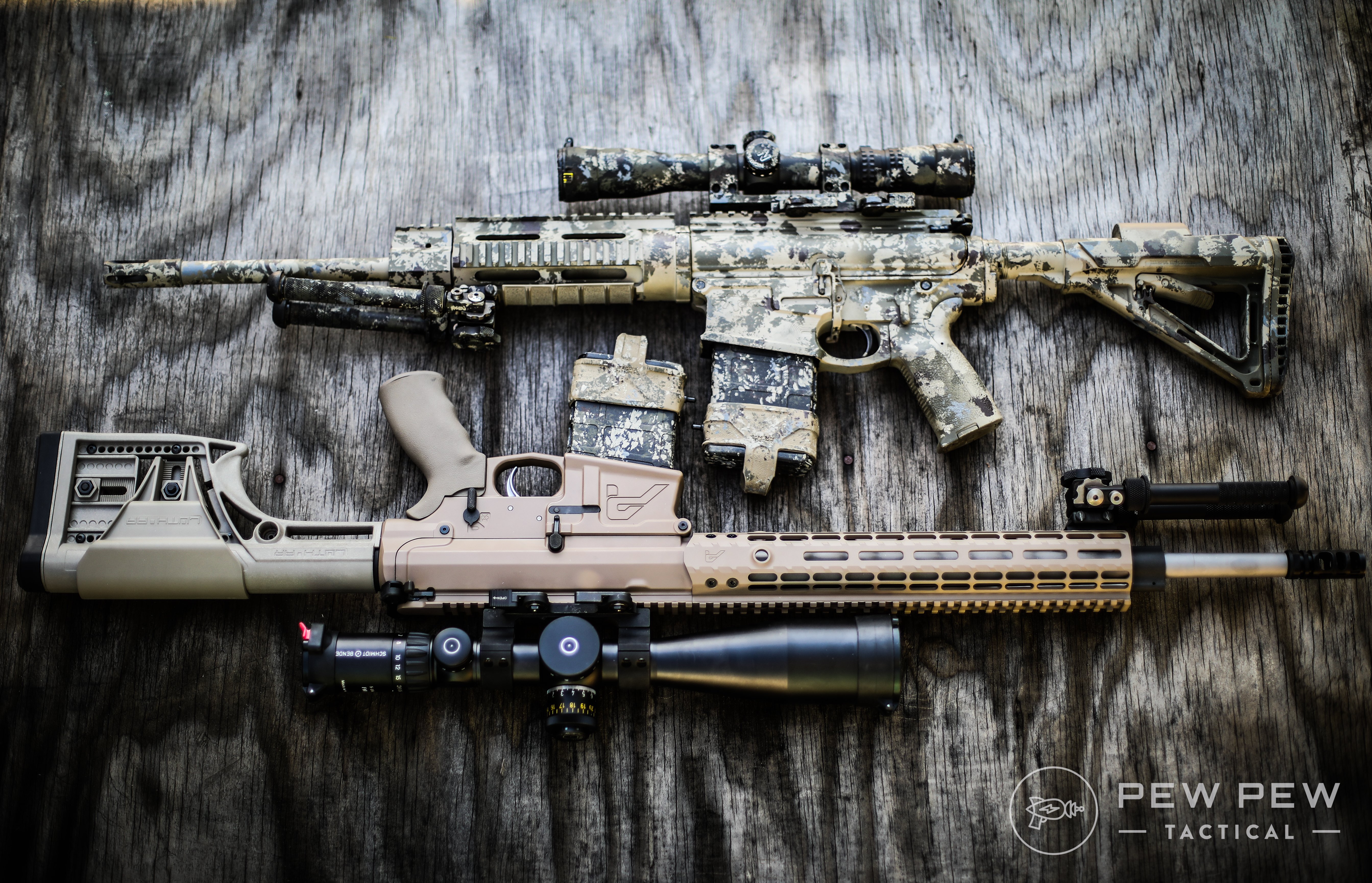 For that reason, I could only find barrels for DPMS guns across the market. The oddball Armalite pattern is here or there, but I doubt many people use the pricier, and harder to find Armalite pattern. So keep that in mind when shopping for any AR-10 pattern part.
Sold on a new barrel for your AR-10 build?
Great!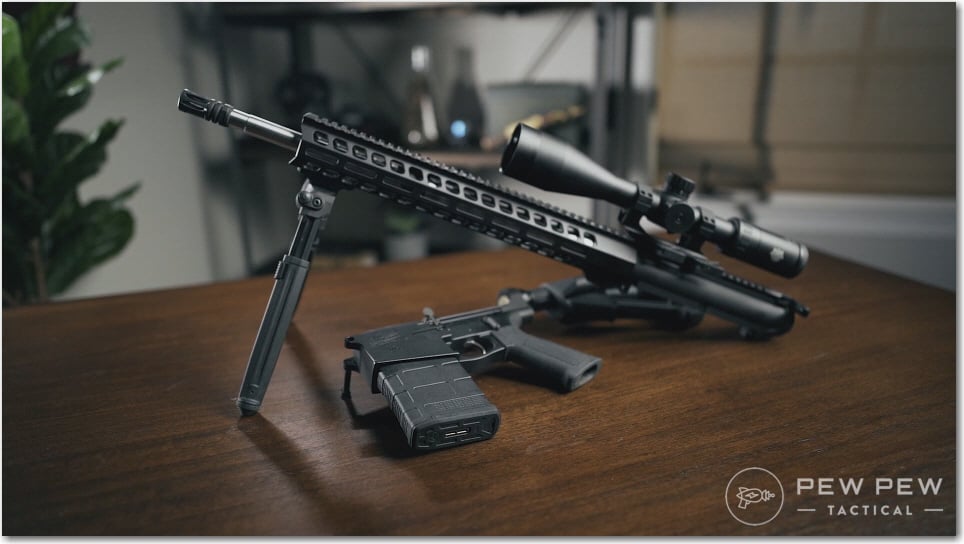 We've rounded up a collection of our favorite options for just about every budget and need. You're pretty sure to find something that will work great for you and your AR-10.
Let's take a closer look.
Best AR-10 Barrels
1. Palmetto State Armory
So this is a two-in-one category because the AR-10 is most popular in two calibers: the .308 and now the 6.5 Creedmoor. Regardless of which caliber you choose, a budget option should be on the table.
I went with Palmetto State Armory, and if you've done anything with ARs, you know their name. They make a variety of different guns, and they often do it at a great price. These are great for a first AR-10 or if you are on a tight budget.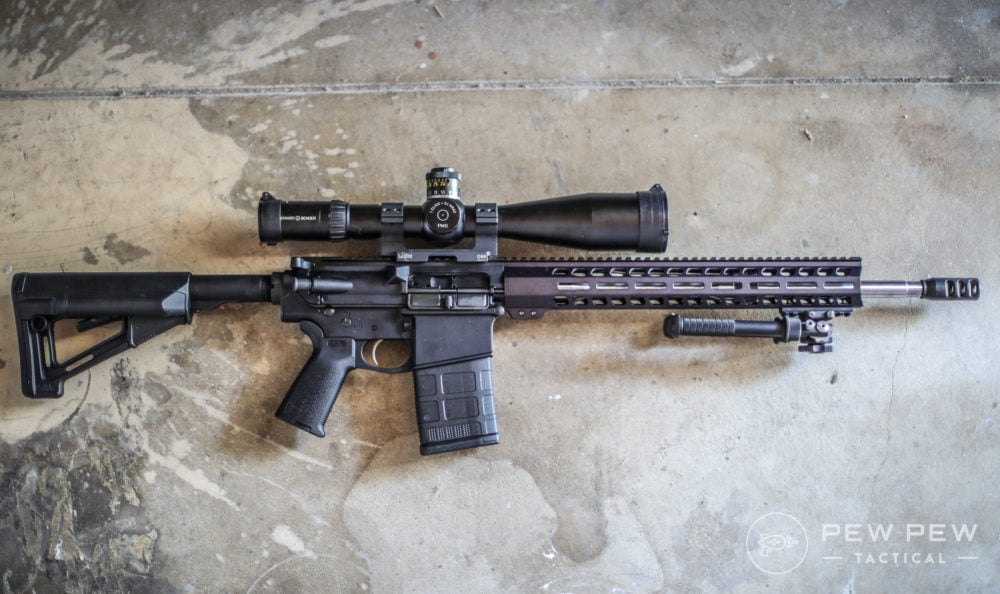 The two barrels are, of course, very similar in design and the material used. They are both made of stainless steel, which will enhance accuracy a smidge. Of course, stainless steel will wear out sooner, but are any of us going to shoot a barrel out?
We aren't Daniel Horner, so I'm sure stainless steel will work fine for our applications. The barrels are also a heavy-profile, rifle-length 20-inch design. They are, of course, threaded so you can top it off with whatever muzzle device you choose.
The PSA 20″ 6.5 Creedmoor barrel has a 1:8 twist rate, so you stabilize rounds in the 139 to 142 grain well. This barrel sells for a hair over $200. We're a big fan of the PSA 6.5 Creedmoor upper, which includes this barrel — check out our review on it!
250
at Palmetto State Armory
Prices accurate at time of writing
Prices accurate at time of writing
The PSA 18″ .308 Winchester variant has a 1:10 twist rate so your most common .308 projectiles will be well served. This barrel sells for less than $200 and it's a steal at that.
250
at Palmetto State Armory
Prices accurate at time of writing
Prices accurate at time of writing
Both barrels are DPMS compatible.
2. Faxon Match Series
Do you want to build a gun capable of hitting the hat off a mockingbird at 100 yards? We got you covered!
Well, not us, but Faxon Firearms has you covered with their match series, 20-inch, heavy fluted barrel.
349
at Faxon Firearms
Prices accurate at time of writing
Prices accurate at time of writing
The Faxon Match Series barrel is a very heavy-duty design, and one made for those demanding a high-quality barrel without worrying too much about the cost. While this isn't the cheapest barrel, you are getting a lot for your money.
The barrel fluting will help reduce weight and the 20-inch, stainless steel barrel weighs only 2.4 pounds — which is very nice. The barrel is 416-R stainless steel, which makes it a better option for precision shooting.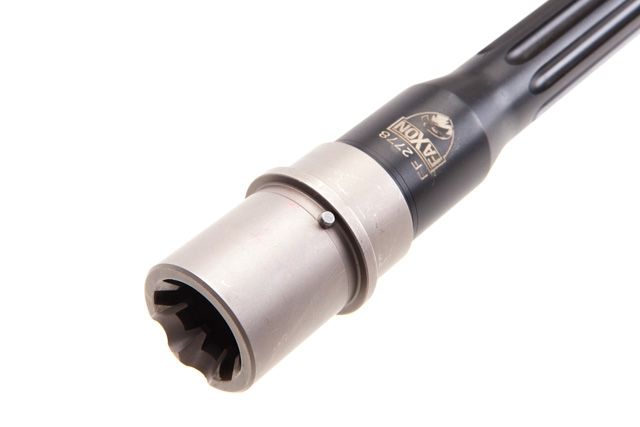 The rifle has a salt bath nitride finish and is button rifled with a 1:10 twist rate. The barrel is a magnetic particle inspected and sports an 11-degree polished target crown. The fluting not only reduces weight but does helps the barrel cool a bit faster between strings of fire.
The barrel extension is DPMS LR .308 compatible and has a nickel Teflon-coated finish. It'll last just about forever in the most common AR-10 platform out there.
Faxon has created an excellent barrel for those looking to build a high-powered, accurate, semi-automatic gun in the traditional, hard-hitting .308 Winchester. It's almost a shame to put a handguard over it with it being as pretty as it is.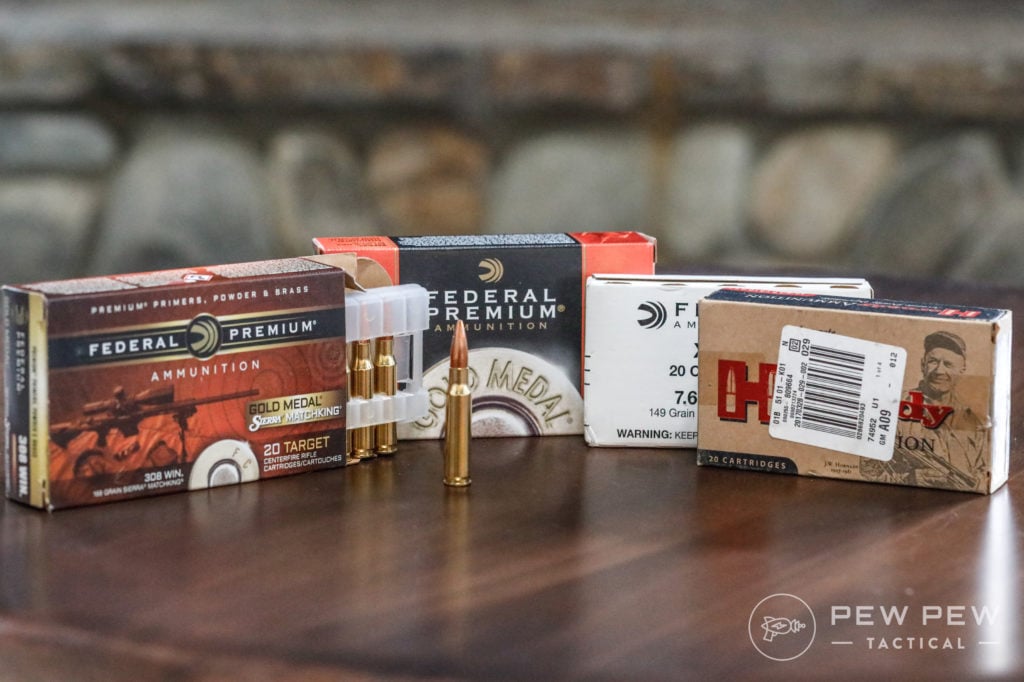 What's your take on the Faxon?
3. BSF Carbon Fiber Barrels
Did you catch yourself thinking that Faxon barrel is nice, but I want something lighter, and maybe a little pricer?
Perhaps you thought you could make a fun "Flex on the Poors" post over at r/guns and get some invisible internet points? Or maybe you just like the cutting edge of barrel technology and want to get your hot little hands on it?
Money is no object barrel
569
at Brownells
Prices accurate at time of writing
Prices accurate at time of writing
Well, you can have all three with a BSF barrel. These barrels utilize the always excellent 416R stainless steel underneath a carbon fiber sleeve. The mix of both steel and carbon fiber creates a durable, but lightweight barrel capable of excellent accuracy.
BSF uses a jacketing method rather than a wrapping method. They claim wrapping can trap heat and cause delamination.
Their carbon fiber is designed to expand at the same rate as 416R stainless steel. There are also slots milled in the carbon fiber which will allow air to reach the barrel and help it cool.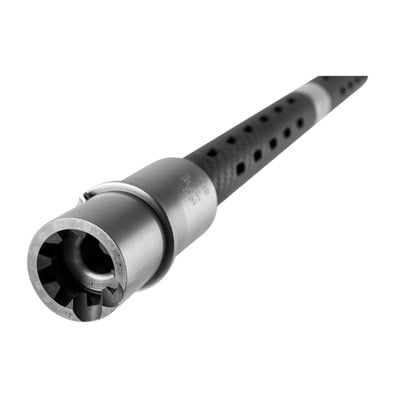 These barrels are available in both .308 and 6.5 Creedmoor for the AR-10. The lengths vary from 16 to 24 inches, and the barrel can be had fluted to reduce even more weight. The choices are expansive, but so is the price so beware of that.
Admittedly these are perfect for a Gucci AR-10 build. These barrels are only DPMS compatible.
4. Aero Precision .308 Barrel
Aero Precision is a fantastic company that makes some tremendous rifles, and rifle components. Aero Precision makes a ton of different barrels, but I chose one that is a little different from what we've seen on this list so far.
We've seen a lot of stainless steel barrels, so let's mix it up and add an excellent CMV barrel.
Goldilocks AR-10 Barrel
240
at Aero Precision
Prices accurate at time of writing
Prices accurate at time of writing
CMV stands for chrome moly vanadium and compared to stainless steel its a little less accurate, but a lot stronger. The 16-inch barrel makes it as short as it can be to be a title 1 rifle. The CMV barrel makes sense when it is only 16 inches long.
A 16-inch barrel isn't designed for superbly long range. As a carbine, the gun will likely see more rounds fired rapidly at close range. CMV barrels will last nearly forever, and your gun will run longer than you'd expect.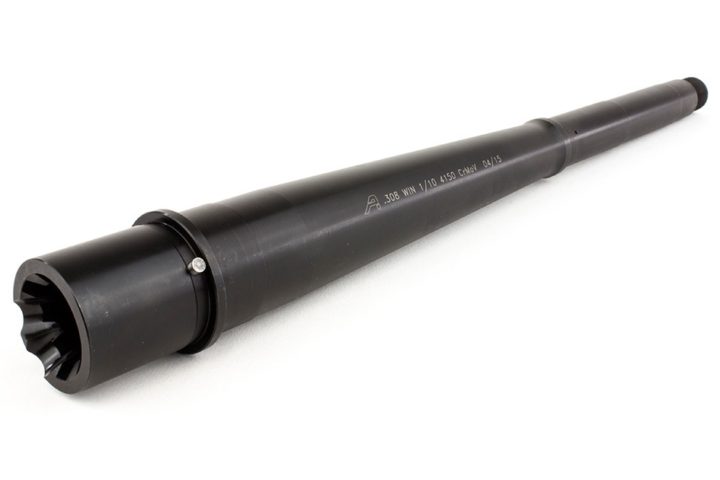 The Aero Precision .308 barrel has a QPQ finish to keep a high level of corrosion resistance and to shrug off the rust.
The Aero Precision barrel is also tested to an extreme, and this includes a high-pressure test followed by magnetic particle inspection to looks for cracks and damage not visible to the naked eye.
Aero Precision makes barrels for both the 6.5 Creedmoor and the .308 AR-10 barrels in a variety of lengths, but 16 inches combined with a CMV steel makes this a mighty close-range sledgehammer.
The barrel is threaded, sports a 1:10 twist rate, and has a heavy contour to it.
5. Wilson Combat Super Sniper
Wilson Combat is known for making some of the most excellent firearms on the market.
From their finely tuned 1911s to their always excellent shotguns, they do a bit of everything. The Wilson Combat Super Sniper barrel lives up to its reputation of being just fantastic.
Pure Accuracy King
335
at Brownells
Prices accurate at time of writing
Prices accurate at time of writing
The Wilson Combat Super Sniper barrel is best found in 6.5 Creedmoor and is purposely built to shoot longer and heavier rounds. These rounds are what is commonly used in long-range shooting.
The barrel is made from stainless steel and has a 1:8 rifling twist rate. The rifling is a right-hand twist and is precision button rifling.
The Super Sniper is a long 24 inches, but it maximizes the 6.5's velocity and allows the shooter to reach out and touch their target. The barrel is long and made of stainless steel so you can expect it to be massive.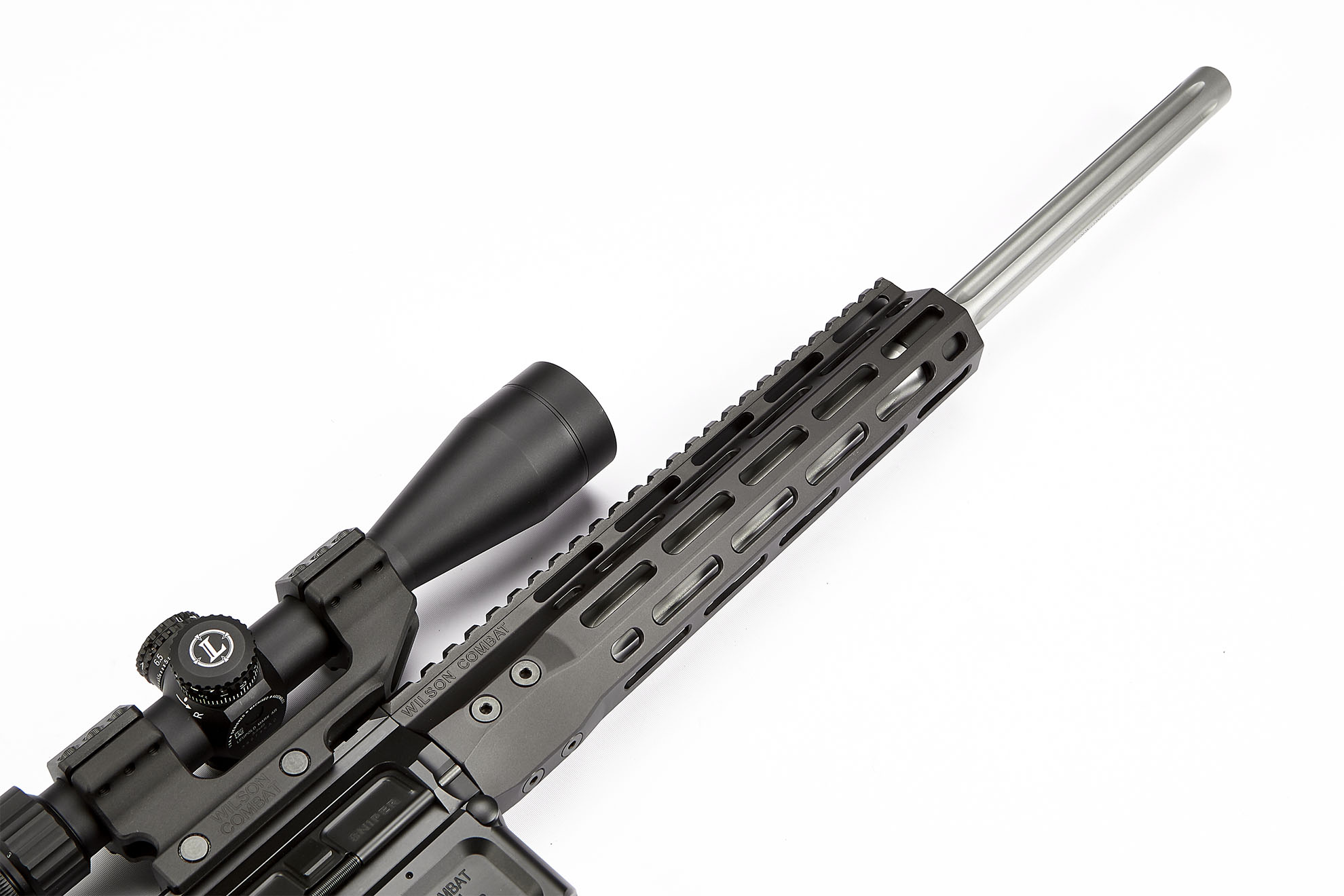 To help a little with this weight the barrel is fluted. It still tips the scales at 63 ounces. However, if you are shooting long-range targets, you are likely in a prone position, and this isn't a big deal. This barrel is designed to be as accurate as possible.
This is the go-to option for reaching out to 1,000 yards with consistency. This will undoubtedly give you an edge for hitting targets far away and producing teeny tiny groups. Wilson Combat also does a body good, or a receiver good, and they don't slack here.
6. Ballistic Advantage 12.5 .308 Tactical Government Carbine
Oh my…who doesn't want an AR-10 with a 12.5-inch barrel? Seriously? It's a tiny powerhouse that is perfect for an SBR or a pistol build.
I know what you are thinking…a 12.5-inch AR-10 in .308 seems mighty uncomfortable.
210
at Ballistic Advantage
Prices accurate at time of writing
Prices accurate at time of writing
Well admittedly it's not as smooth as a 24-inch barrel, but it is entirely controllable. I had some time with a 12.5-inch barrel at a SHOT Show Range Party, and it was quite comfortable with a good muzzle device.
Even with a linear comp, the flash is still pretty damn bright — but, man, is it cool.
The Ballistic Advantage 12.5-inch barrel is a 4150 Chrome Moly Vanadium barrel that will resist the heat and pressure put on it by tons and tons of rounds fired downrange. With a barrel this short you have a fun build, and I'm sure you'll be putting plenty of rounds downrange.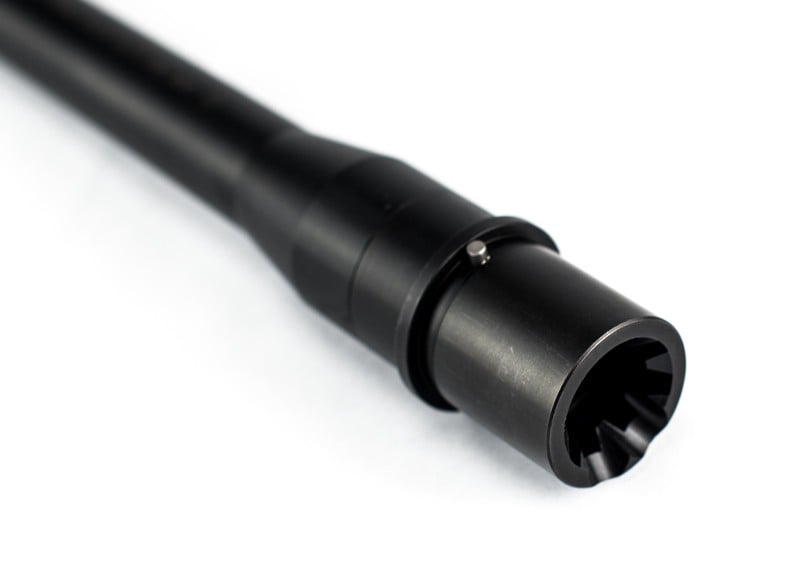 The Ballistic Advantage 12.5-inch barrel also has a QPQ finish for increased corrosion resistance and a nice strong finish. This little fellow is an interesting choice and will allow you to maintain a compact rifle when using something like a suppressor.
Other than that you'll have a compact gun that is quite fierce in a very light and small package. I can't think of a use for a .308 with a 12.5-inch barrel, but this is America! Let freedom (and your ears) ring!
Otherwise BA does have some nice 6.5 Creedmoor barrels recently as well.
7. Criterion Barrels
If you need the best precision for a price that won't buckle your knees, Criterion is one of our top picks.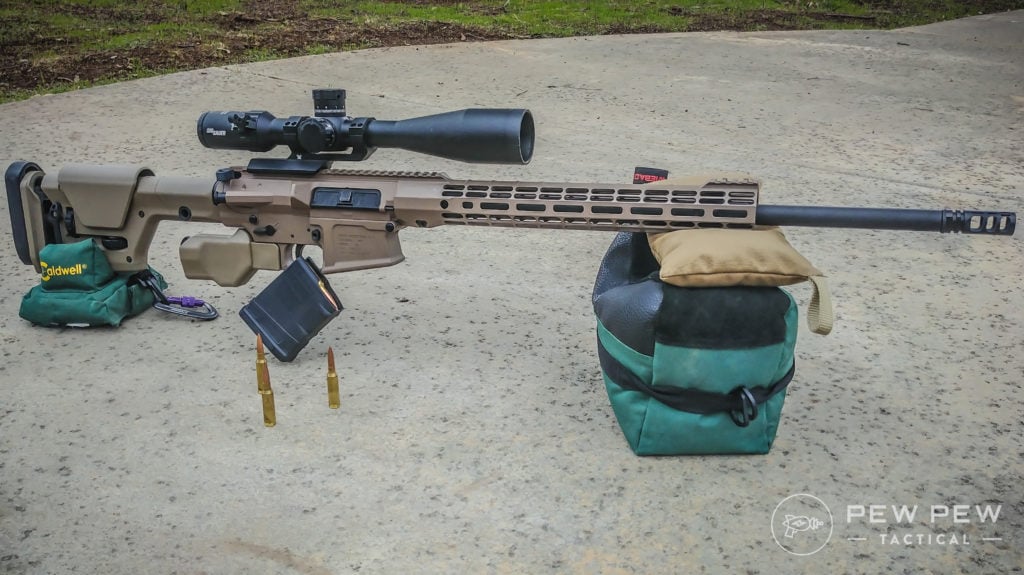 While the extra's on David's rifle has gone through some changes, the Criterion barrel has been outstanding from the first shot.
Getting sub-MOA with an AR-10 isn't nearly as easy as the cherry-picked groups you'll see online might lead you to believe. The fact is that gas rifles need a lot of great parts to work together perfectly to produce truly accurate rifles.
Several factory loads are sub-MOA with this rifle and most of that is due to having a great barrel.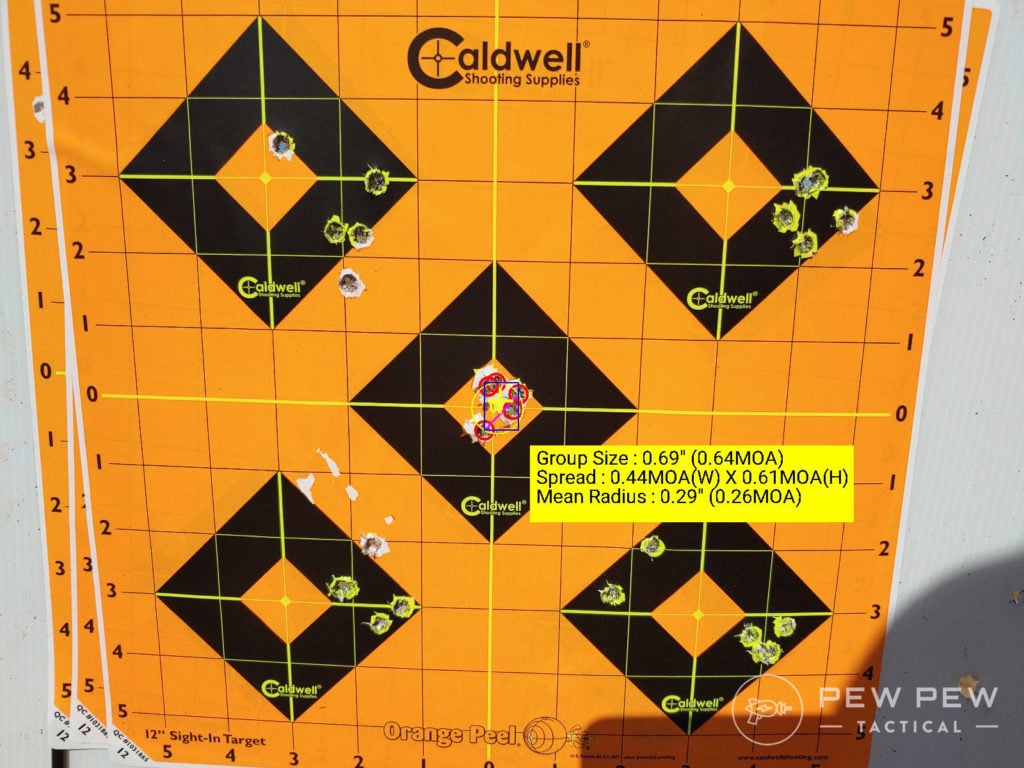 We REALLY recommend Criterion!
340
at Brownells
Prices accurate at time of writing
Prices accurate at time of writing
Conclusion
The AR-10 is an excellent gun.
With modern parts, accessories, and manufacturers we are seeing the AR-10 rise from the ashes. What was once considered heavy and cumbersome is quickly becoming the handiest option for a full-powered semi-automatic rifle.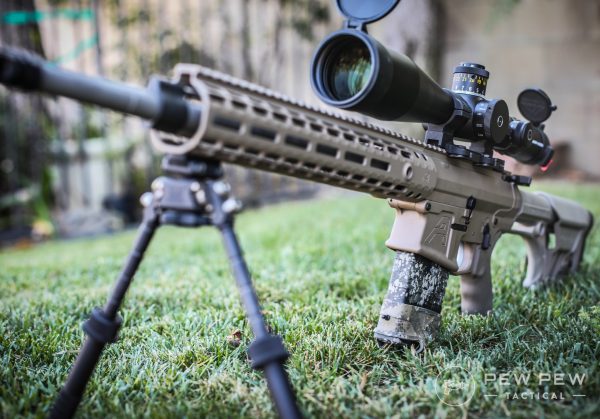 The AR as a platform is extremely easy to modify and change, like its younger sibling, the AR-15, and one of the most significant components is the barrel.
The choice of a barrel for your build is a significant one, and you choose a barrel based on your needs. Long-range, close-quarters shooting, and hunting all have different needs, so choose wisely.
Have you tried out any of these barrels? If so, what did you think? Let us know in the comments below! Interested in more best upgrades for the AR-10? We've got a bunch: