Want to hit a man-sized target at over a half mile?
There are few people who attempt it, mostly because people assume they need a high-speed rifle, and high rise budget to get their round out there.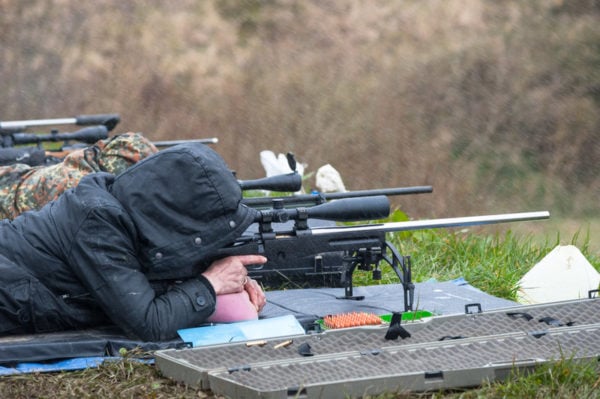 $1,000 is plenty to get you to 1,000-yards. A rifle for precision shooting at long range doesn't have to cost thousands, and I've assembled a list of the best budget long range rifles to help you stretch your dollars.
But first, let's talk about what you want from a long range rifle.
Table of Contents
Loading...
Mechanical Accuracy of a Rifle
Reaching out to 1,000-yards isn't too hard if you know what you're doing and have a rifle that can do it. While most of the task is on you the shooter, having good equipment makes it a lot easier.

The accuracy of a rifle is generally measured in MOA, it is effectively a cone of uncertainty. That cone starts at the muzzle and gets larger as it moves out to the range.
That cone can be measured in MILs or MOA – we'll use MOA (minute of angle…roughly 1-inch diameter at 100 yards) – and is determined by the mechanical accuracy of the gun, among other factors.
You can't overcome this.
If you were to strap a gun down and make sure it was 100% motionless between shots and it shot 1 MOA, you'd get no better than 10" in the group at 1,000 yards with no other variables.
The mechanical accuracy of the gun and ammo is almost never the weak point in a system, but is always the limiting factor.
Basic Requirements
Now that that's out of the way, let's talk about what you should expect from a long range rifle.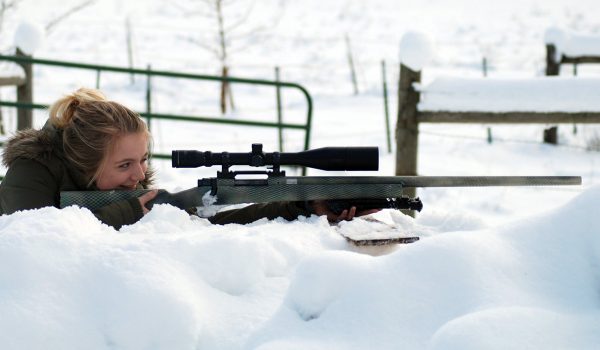 1 MOA Accuracy or Better
Your rifle must shoot 1moa with good ammo and do so reliably. At 1,000 yards, 1moa means you can expect no smaller than a 10" group without accounting for any other variable.
More is always better here, but you do hit a point of diminishing return with cost.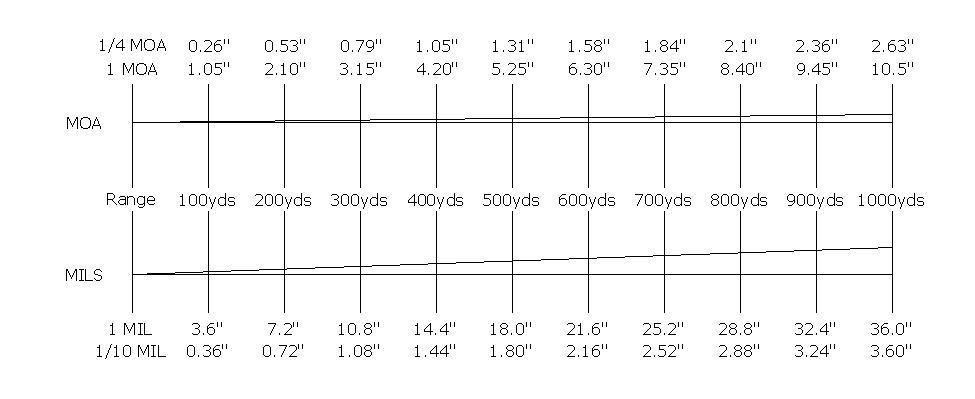 Most modern bolt-action rifles made by a respectable vender will shoot sub-MOA and a lot of them even come with the guarantee from the factory.
Free-Float Barrel
For optimal accuracy, you really want a barrel that is free-floated. From barrel whip to barrel heat to making sure your rest doesn't deflect the barrel, there are a lot of reasons why a free-floated barrel greatly improves your potential accuracy.
When you're in the store looking at your rifle, take a dollar bill and slip it between the barrel and the stock to check that it is really free-floating.
Rigid Forend
The forend of the rifle's stock must be rigid enough to support the weight of a gun and preferably hold accessories like a bipod without flexing. You can compromise on this, but you'll wish you hadn't.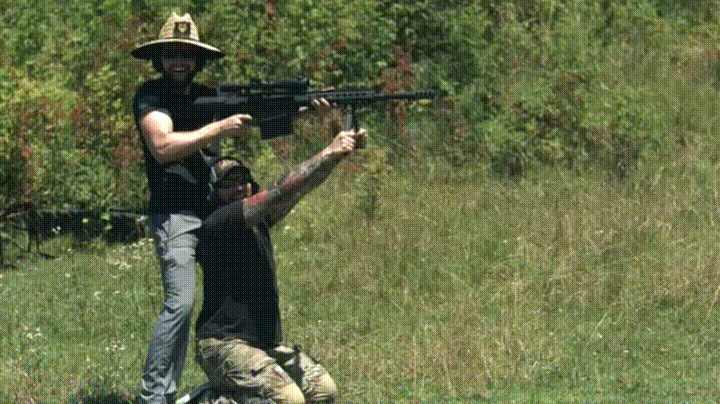 Predictable Trigger
Your trigger doesn't have to be the best in the world. It can be heavy, creepy, and gritty, but it MUST be predictable.
A light, crisp trigger with no overtravel or take up is good because it feels simple and predictable when shot.
Properly Shaped Stock
The stock must be shaped properly to allow for proper scope alignment and good support for the forend end and toe of the butt.
You also need a well-shaped pistol grip on the stock so you can get the most control over your trigger.
A short length of pull can work for someone who will always be shooting prone, but you can't go wrong with a standard length of pull.
Bonus: Aftermarket Support
This isn't required, but it's really nice to have and something you might want to keep in mind.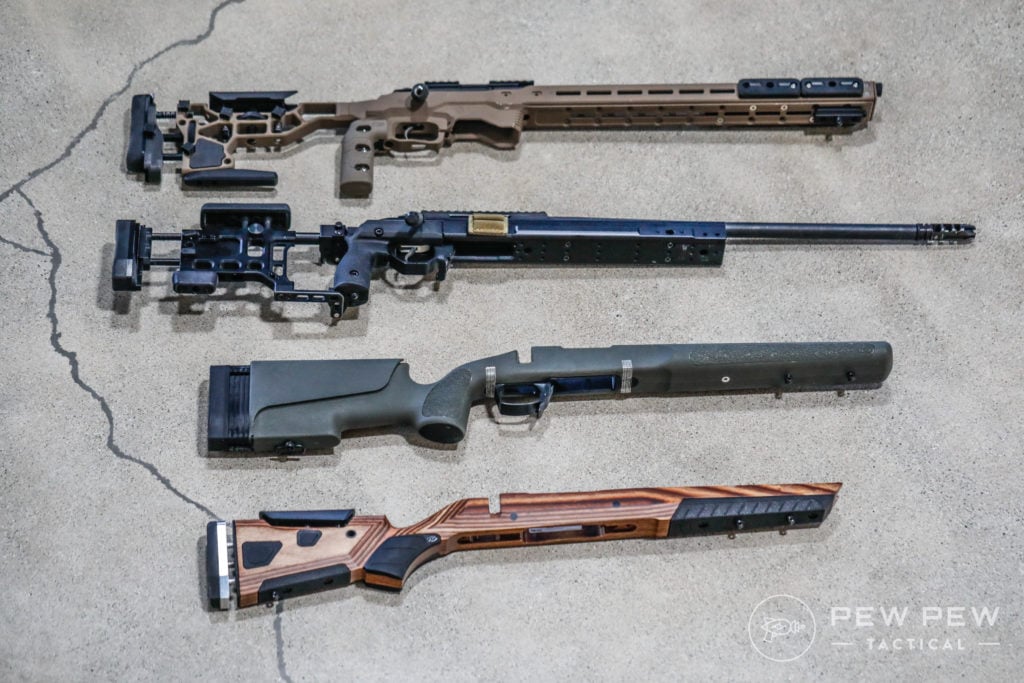 Upgrading and tweaking your rifle will cost a lot less than buying a new one later and will really help fill in any gaps you find once you get a feel for what you want.
If you choose a rifle platform that has a lot of aftermarket support, like a Tikka or Remington 700, sourcing upgrades is a lot easier and often cheaper than if you go with an obscure rifle.
Cartridge Selection
To be clear – this is a much-simplified version. We could go on for pages about what cartridges are good and why you should choose them, but that is more advanced information and this is a beginner's article.
There are two huge players right now in the short-action long-range cartridge world: .308 Winchester and 6.5 Creedmoor.
If you want to reach past 800-yards we recommend 6.5 Creedmoor.
There is nothing wrong with .308 Win and for a lot of applications and a lot of people it is a great cartridge, but right now – 6.5 Creedmoor is king.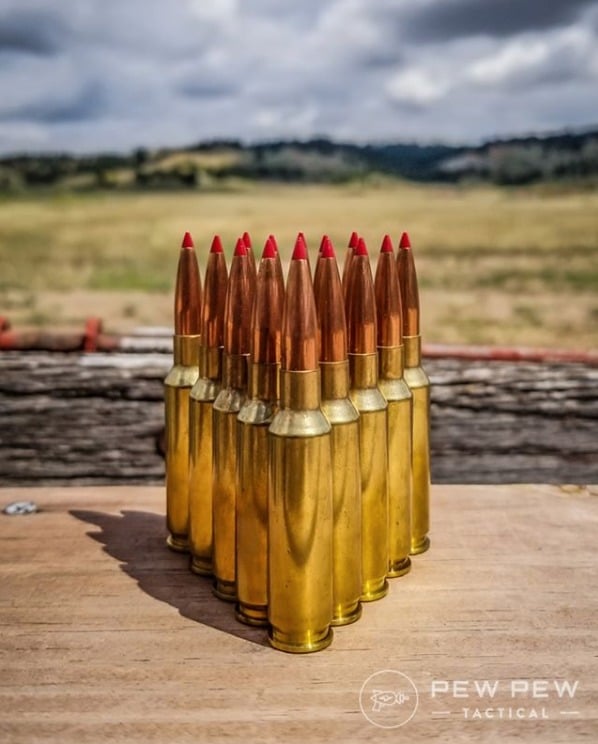 There are a lot of cartridges that are outstanding for long-range and depending on your exact needs one of those might be better than 6.5 Creedmoor, but generally speaking, 6.5 Creedmoor will get 95% of the jobs done that 99% of you readers need.
Large selection of ammo, reasonable match-grade prices, very high-quality practice/plinking ammo for a cheaper price, outstanding ballistics, huge parts compatibility since it is based on the .308 cartridge. 6.5 Creedmoor ticks all the boxes.
Best 6.5 Creedmoor Hunting Ammo
33
at Lucky Gunner
Prices accurate at time of writing
Prices accurate at time of writing
Best 1,000-Yard Rifles For Under $1,000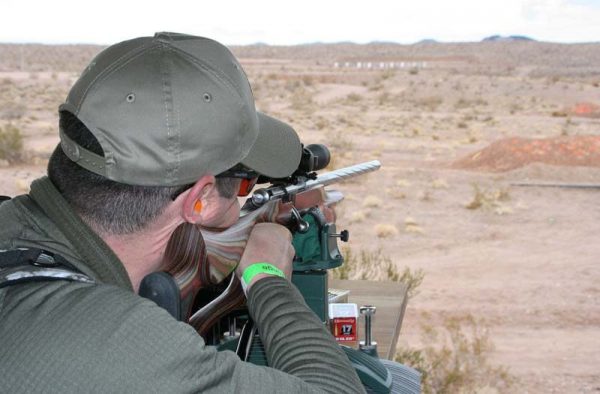 1. Tikka T3 CTR
Tikka rifles are excellent shooters.
I've been toting a T3 Lite Stainless in .308 Winchester for many years. The rifle is my primary backcountry gun for deer, elk, bear and whatever else I think I may need to hunt.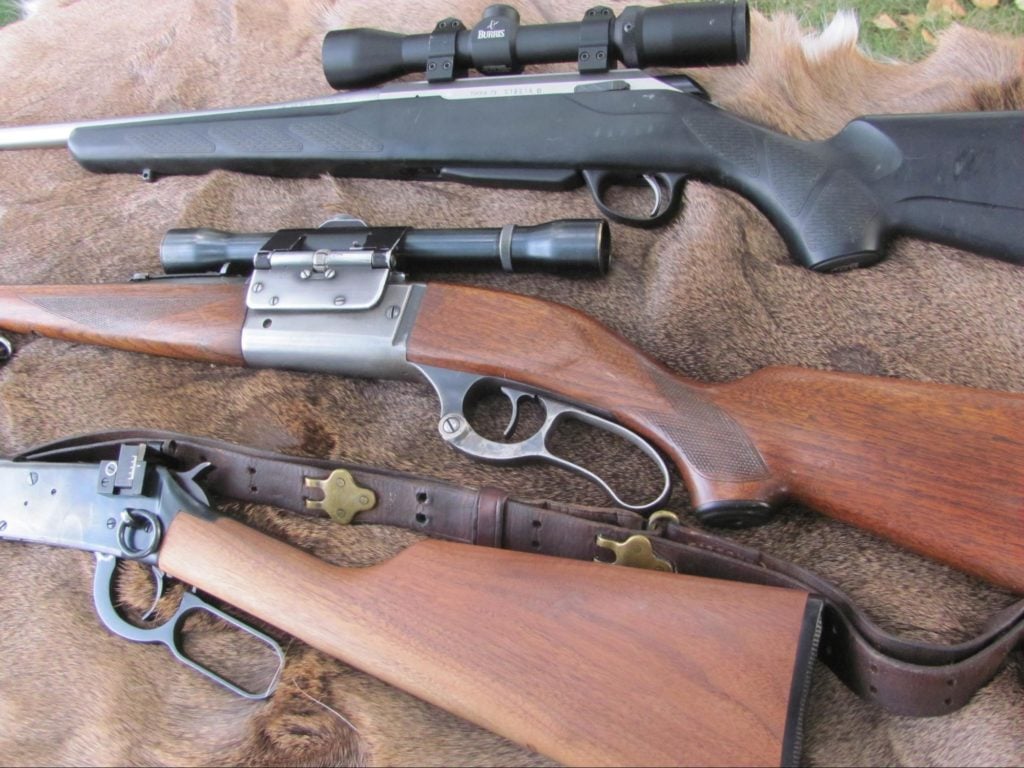 It shoots groups well under an inch with factory ammo or handloads. To say I am a bit partial to Tikka rifles is probably an understatement.
The T3 CTR (Compact Tactical Rifle) is just what the range master ordered for someone looking for a platform to learn on and build from with regard to long range shooting.
A huge selling point for the Tikka is that the action itself is glass smooth. It feels like it's running on ball barrings smooth.
The rifle is available in the following cartridges:
.223 Rem
.243 Win
.260 Rem
.308 Win
6.5 Creedmoor
7mm-08 Win.
Any one of these cartridges is perfect for long range shooting as well as hunting.
The CTR can be had in stainless, or black steel. Right or left-handed. The trigger is available as either a single set trigger or a single-stage trigger and is adjustable by the owner down to just two pounds.
The rifles come with a synthetic stock with a fixed cheek piece and a new interchangeable grip module. The grip can be configured in a traditional style or fitted with a more vertical module that makes shooting from the bench or competition positions more natural and comfortable.
Tikka barrels are made in the Sako factory. So when you buy a Tikka, a Sako barrel is being screwed to the Tikka receiver. Tikka guarantees sub-MOA 3-shot groups from all their rifles.
In addition, the barrel is threaded 5/8"-24 to easily allow the addition of a muzzle brake or suppressor.
The Tikka bolt shroud is now metal. Early T3 models were plastic. Under the bolt shroud is a cocking indicator. On the left side of the receiver is the bolt release.
The CTR is fed by Tikka's own steel 10-round magazine. The magazine fits flush with the trigger guard and can be ejected without removing the trigger hand from the grip.
On top of the receiver, the rifle is drilled and tapped with extra screw placements to firmly anchor a Picatinny rail and mount your choice of glass securely.
1075
at Guns.com
Prices accurate at time of writing
Prices accurate at time of writing
It's also the rifle of choice for more than just me!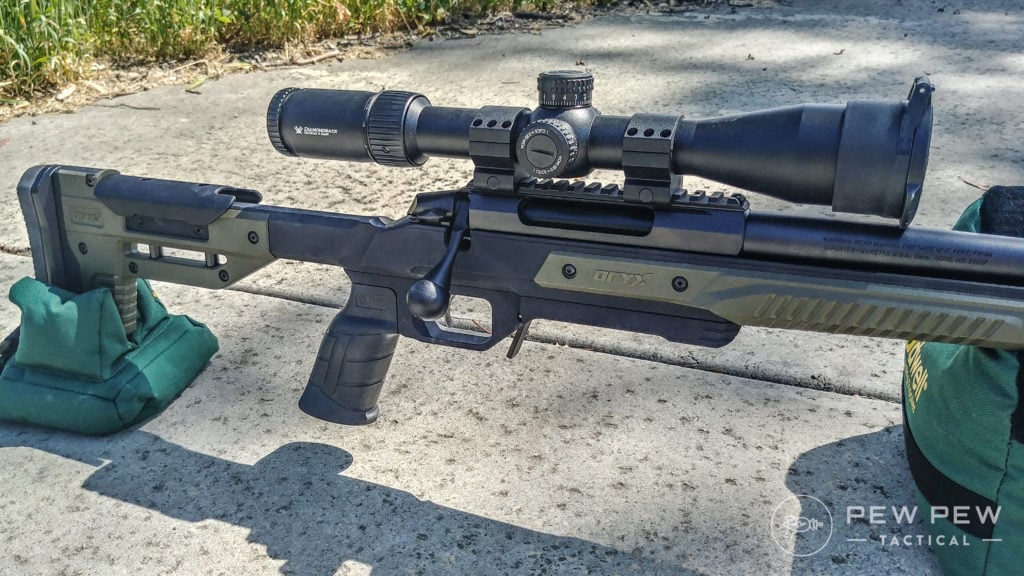 What's your take on the Tikka?
2. Bergara B-14 HMR (Hunting and Match Rifle)
Bergara has long been known for producing extremely accurate barrels.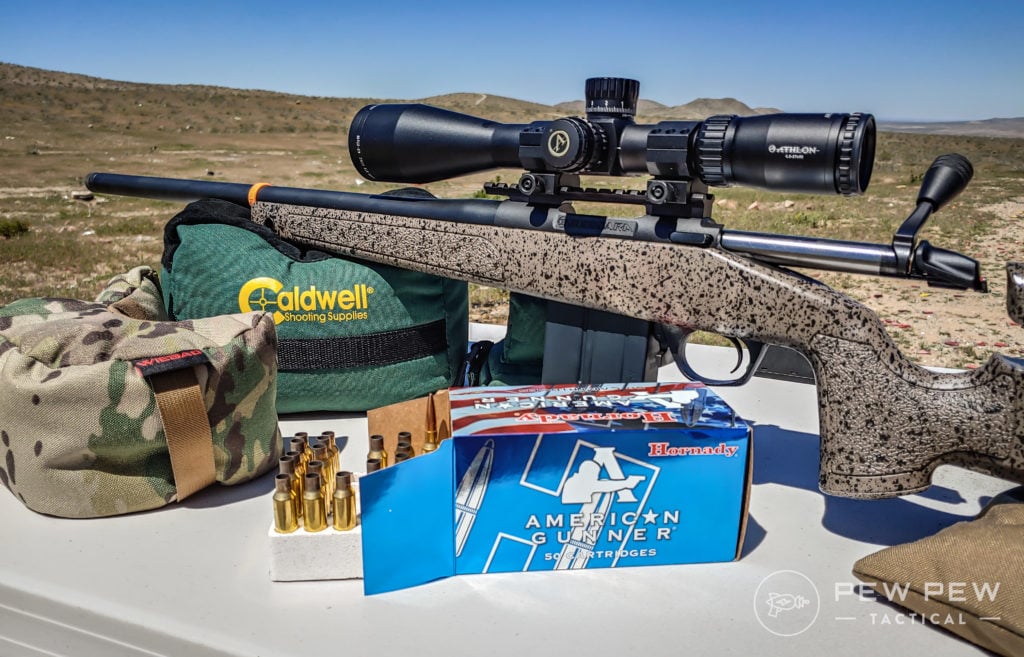 They have now taken all that barrel building knowledge and coupled it with the some of the best armorers from the US Marine Corps Precision Weapons Section to build extremely accurate rifles for both hunters and competitors.
The HMR is designed to serve as a long range rifle as well as a hunting rifle. But what role it is best for depends on what configuration you get it in.
Currently, the HMR is available in the following cartridges:
.22-250 Rem
6mm Creedmoor
6.5 Creedmoor, .308 Win
7mm Rem Mag
.300 Win Mag
.450 Bushmaster.
The rifle weighs in at 9.6 to 9.9 pounds depending on configuration and barrel length varies from 20 to 26 inches.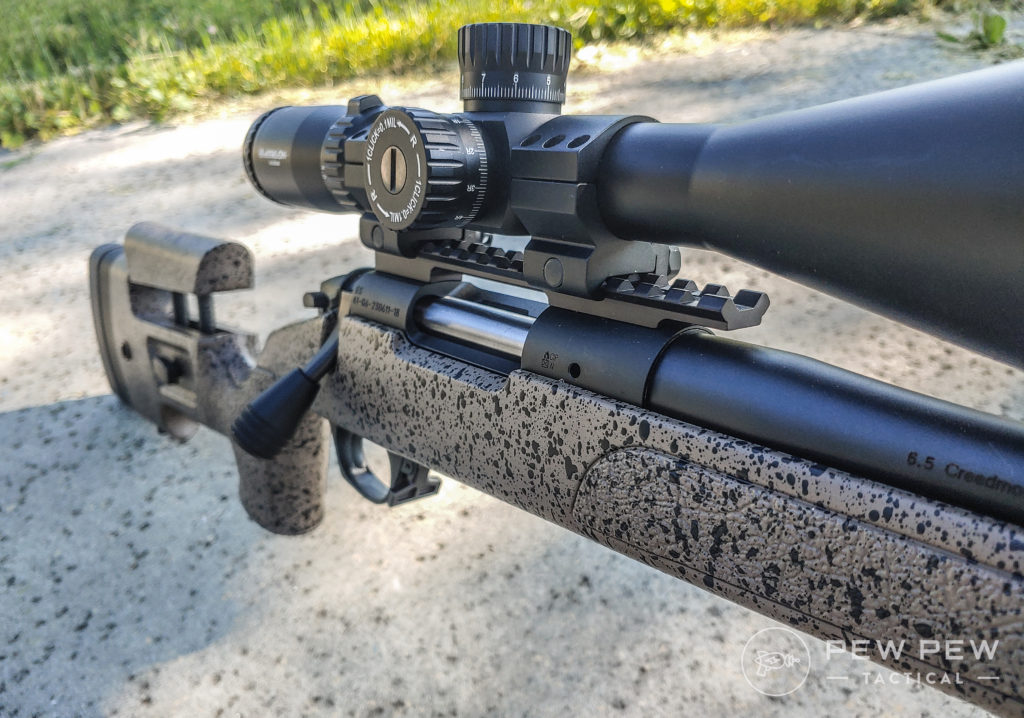 All barrels are threaded 5/8"-24 and come with a knurled thread cap. Some cartridges are available in a left hand action.
This is actually something that is fairly hard to find in a lot of rifles, so it's nice that the HMR has that option!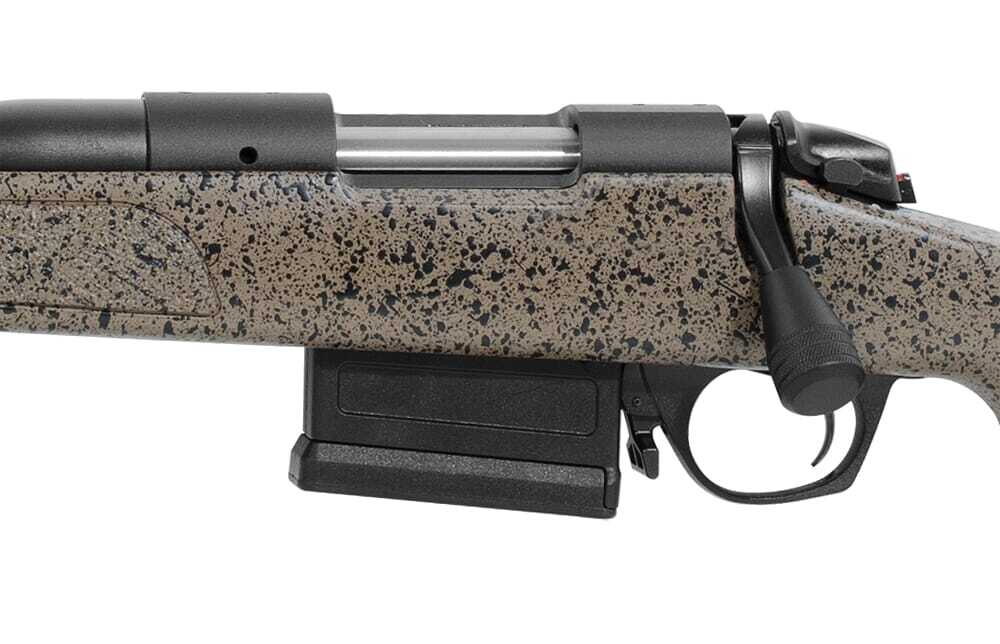 Coming standard with a mini chassis system is adjustable for length of pull and has an adjustable cheekpiece and the barrels is fully floated.
It also comes with an adjustable trigger set at three pounds. The bolt handle is oversized and knurled for a good grip and easy manipulation.
The top of the receiver is drilled to accommodate any Remington Model 700 optics base and rings and safety is located on the right side of the receiver and the bolt release is on the left side.
Each HMR comes with a 5-round AICS-style magazine.
HMR rifles are guaranteed to produce sub-MOA groups at 100 yards.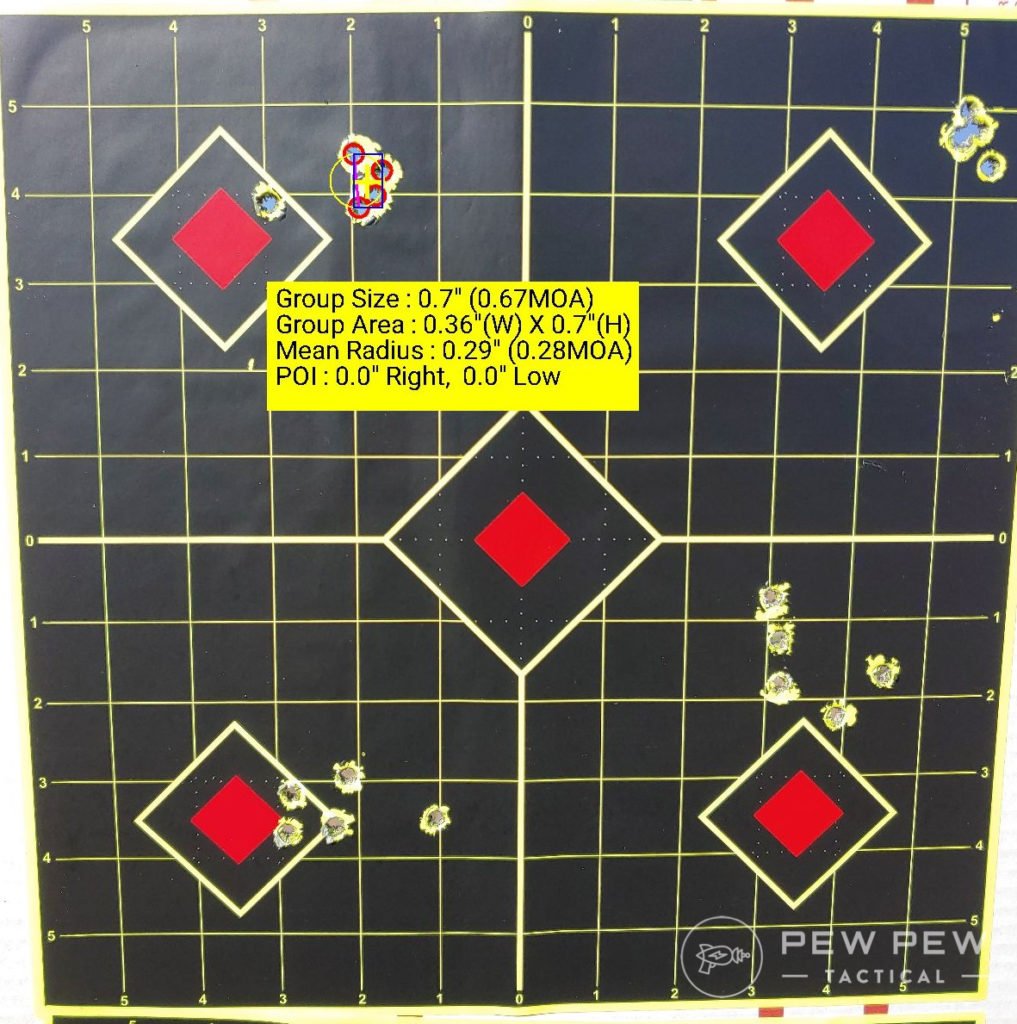 1000
at Cabeals
Prices accurate at time of writing
Prices accurate at time of writing
The huge strengths of the Bergara, besides being a great rifle, is that they use AICS magazines that are widely available and the actions are built to be Remington 700 footprint, meaning that they can fit most chassis, stocks, rails, and triggers that fit the Remington 700 also.
This opens up a LOT of aftermarket options! Be sure to take a look at the Best Remington 700 Stocks and Chassis!
If you want the complete story on the Bergara B-14 HMR, we have the hands-on review for you!
3. Savage 10 BA Stealth
Savage has been turning out some incredibly accurate rifles in the last few years. Regardless of your past impressions about looks, and a perceived low-cost rifle, the results speak for themselves.
A prime example of this is the Savage 10 BA Stealth!
I have a bit of experience with the Savage Axis in .308 Winchester. I actually won the rifle in a raffle a few years ago. It is a package rifle with a very entry level Bushnell 3×9 scope.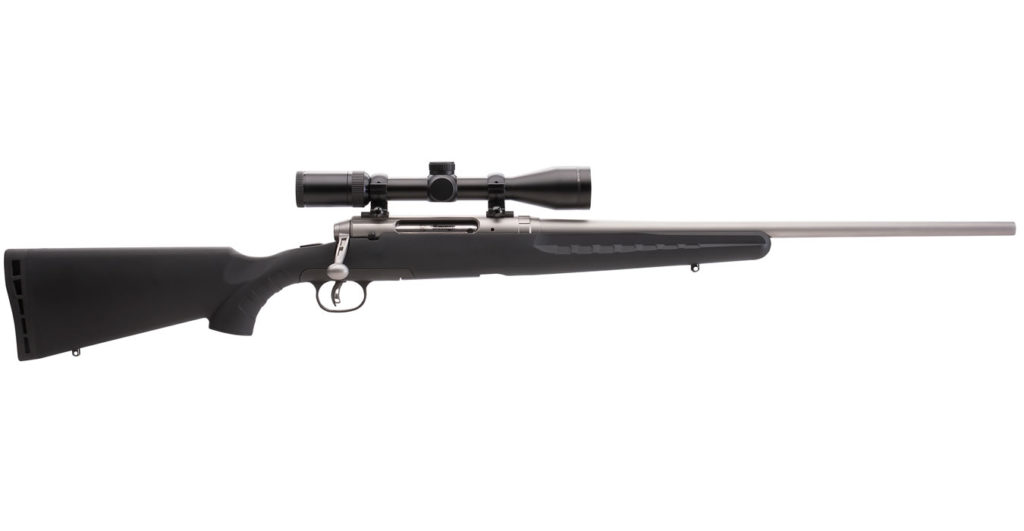 I mounted the optic and headed to the range with same ammo I feed my Tikka. Low and behold…one half inch and smaller groups right out of the box. Say what you want, Savage rifles shoot.
The 10 BA stealth is based on a Model 110 blueprinted action mated to a very high-quality Savage barrel. The rifle is then mounted up in a Drake monolithic chassis specially modified to Savage's specs and is machined from a solid billet of aluminum.
The buttstock is a Fab Defense GL-SHOCK shock-absorbing, six-position adjustable assembly with an adjustable cheekpiece.
Savage's uses the superb Accu-Trigger and is fully adjustable.
Barrels are 20-24 inches depending on the cartridge selected and come with 5/8-24" threads and a thread protector. The barrel is fully free-floated in the Drake chassis. The M-Lok forend allows for easy mounting of rails and bipods.
1015
at Brownells
Prices accurate at time of writing
Prices accurate at time of writing
The top of the receiver is complete with an EGW rail to accommodate the optics of your choice. A 10-round magazine feeds the Stealth.
4. Remington 700 Long Range
This rifle is built to reach out and touch things way out there. Remington 700 has been around for a loong time and has a richly proven track record.
Available in .25-06 Rem, 7mm Remington Mag, .300 Win Mag, .300 Remington Ultra Mag, and .30-06 Springfield, this rifle will satisfy your need for long-range shooting as well as perform exceptionally well in the field.
All chamberings are built around the Model 700 action and a heavy contour 26" barrel.
The stock is a Bell and Carlson M40 Tactical Stock with a full-length aluminum bedding block. There is an additional swivel on the forend to accommodate a bipod and sling.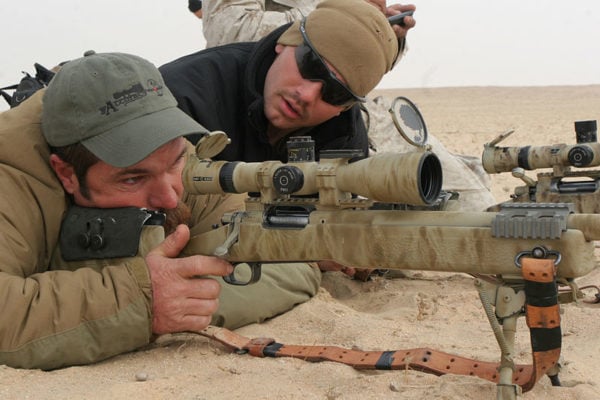 The controls are classic 700 with a two-position safety, a user-adjustable X-Mark Pro trigger and the receiver is drilled and tapped for bases or a Picatinny rail.
Best Beginner Bolt Action Rifle
650
at Cabela's
Prices accurate at time of writing
Prices accurate at time of writing
One note about Remington – it's true they've had issues for the past ~10+ years after being bought by Freedom Group. However, the issues are mostly present in their lower-end shotguns and rifles.
If you get anything other than the most budget tier option then you shouldn't have a problem.
And there's also tons of variants…we go over all of them in Best Remington 700 Rifles.
5. CZ 557 Varmint
Chances are you won't see a lot of CZ rifles at a PRS match. However, if you want a rifle that is capable of shooting extremely small groups and doing it in style, take a look at a 557 Varmint.
The rifle has a distinct walnut stock with a wide, flat forend, a near-vertical pistol grip, and a high cheek piece to place your eye in perfect alignment with your optic.
Nice plus is that the grip area is stippled for a secure hold and the toe of the buttstock is flat so it will recoil perfectly on your rear bag.
39
at Amazon
Prices accurate at time of writing
Prices accurate at time of writing
Barrel is 25.6" long and is a heavy contour. The cold hammer forging allows you to wring out the most accuracy possible.
Trigger is fully adjustable, and if it is remotely as good as the trigger on my 527, you will love it!
The rifle is available in .308 Winchester and is fed from steel, 10-round detachable magazines.
Optic mounting is via a 19 mm dovetail on the receiver. You can use CZ rings, or mount a rail up top for the long-range optic of your choice.
820
at Sportsman's Warehouse
Prices accurate at time of writing
Prices accurate at time of writing
Buying Tips
Now whether you choose one of these rifles or not, there are a few more things to keep in mind when it comes to purchasing your long range rifle.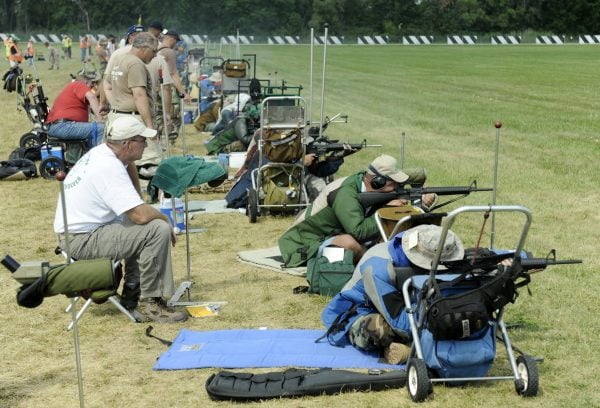 Spend Money Where It Will Make a Difference
Spending double to get a rifle that shoots 3/8ths MOA vs a rifle that shoots 1moa isn't going to help nearly as much as better optics, better ammunition, or more time on the range will.
You can buy equipment to make shooting easier, but you can't buy anything to make you a better shooter. Spend money where it counts.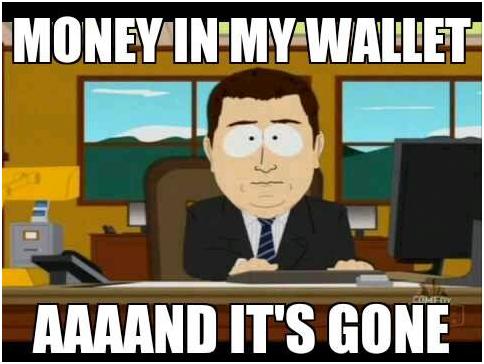 Don't Get Bogged Down in Trends
There's plenty of trends in shooting. Brands, cartridges, calibers, and even the colors of guns fall in and out of style. Just because most guys shoot .308 doesn't mean .270 win or .30-06 won't get you to 1,000 just as easily.
Ignore Magnum Mania
You probably don't need a magnum cartridge. Any benefit you get in a magnum cartridge in terms of external ballistics is negated by cost, recoil, and noise. The only time you would need a magnum is hunting or when you're going for a 2-mile challenge.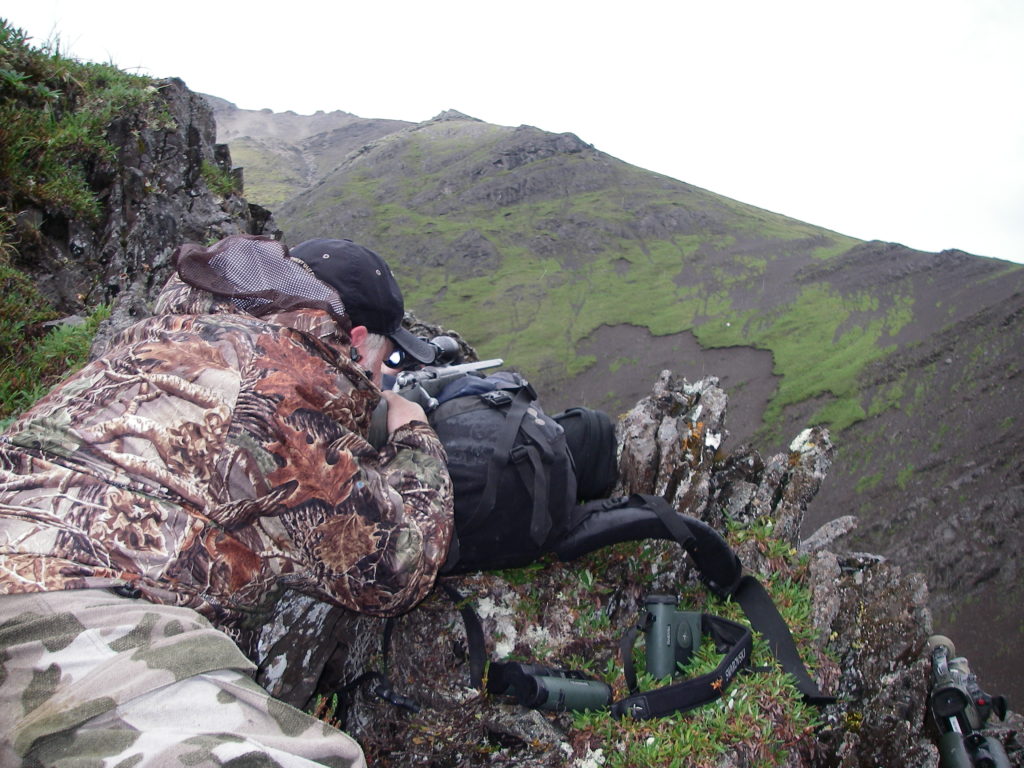 Even shooting at very long ranges, out to 2500-yards, can be done with conventional cartridges as long as your round stays super-sonic.
Run What You've 'Brung
At the end of the day, you can only shoot what you've got. If all you can bring to the range is a beat up .30-06, go for it!
As long as you can see the target, you can shoot at it safely. Again, 1,000 yards isn't as hard as it's made out to be and it can be done with most people's deer rifles.
Get Good Practice
If you're ever torn between getting new guns or getting more practice, buy ammo for more practice. The high precision ammunition needed for long range shooting is expensive in any caliber, including .308.
"Decent" practice ammo – depending on caliber and the brand you like – will normally be around 75-90 cents per round. One of our favorites for 6.5 Creedmoor is Sellier & Bellot 140gr FMJBT.
Best 6.5 Creedmoor Range Ammo
15.50
at Lucky Gunner
Prices accurate at time of writing
Prices accurate at time of writing
You can expect to pay over a dollar per round for the really good match grade stuff, and 800 rounds of ammo will make you a better shooter. A new rifle won't.
Take Good Advice
When you start out, you'll be approached by all sorts of "experts." Just because someone can afford a .338 Lapua doesn't mean they have any idea of what they're talking about.
Listen to the guy who can show you what to do, not the guy who tells you what to do.
Parting Shots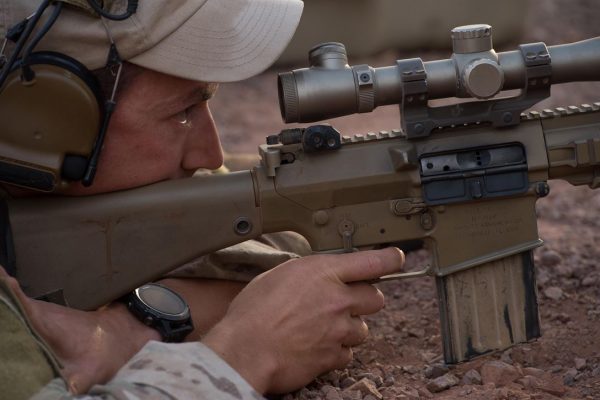 Hopefully, the options above give you a place to start if you are looking at getting into long range shooting.
Obviously, you will need a scope that provides the adjustment necessary to engage targets at long range and that will enable you to see the bullet impacts on the target.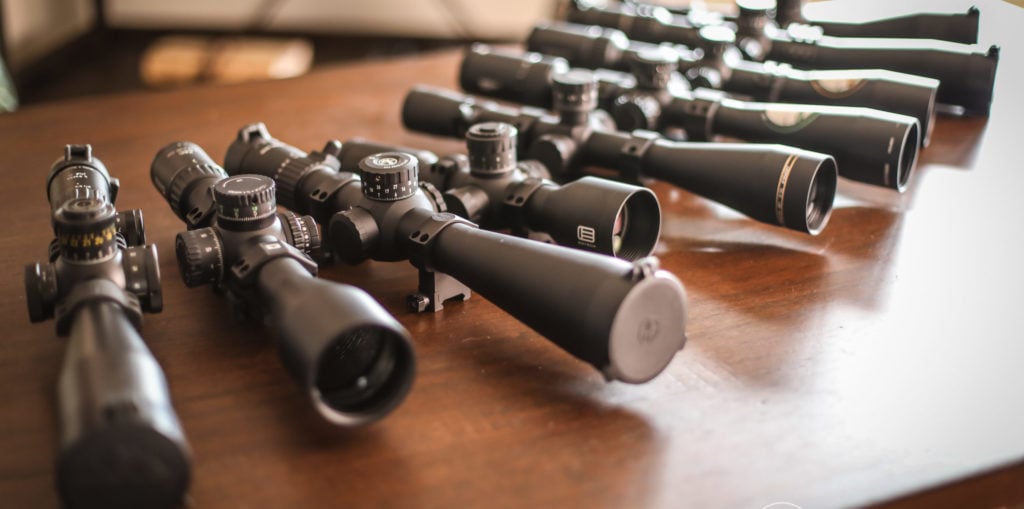 By keeping the rifle part of the equation at $1,000 or less, hopefully, more shooters can get in on the PRS matches in their area or at least begin to explore the world of long range shooting.
You don't need to spend thousands of dollars to access equipment capable of hits at extreme ranges. The most important aspect of the long range game is time on the trigger and learning how to interpret the conditions.
Tell us about the rifles you use for your long range shooting and what is working for you. For some great optics options, take a look at the Best Long Range Scopes!