Want to hit a man-sized target at over a half mile?
There are few people who attempt it, mostly because people assume they need a high-speed rifle, and high rise budget to get their round out there.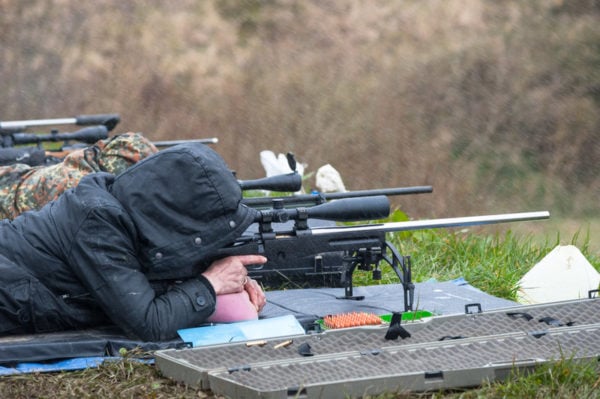 $1,000 is plenty to get you to 1,000-yards.  A rifle for precision shooting at long range doesn't have to cost thousands, and I've assembled a list of the best budget long range rifles to help you stretch your dollars.
But first, let's talk about what you want from a long range rifle.
Table of Contents
Loading...
Mechanical Accuracy of a Rifle
You can hit a man-sized target at 1000 yards with any cartridge that'll make it out there.  There were guys in the old west competing in 1000 yard Creedmoor competitions with 45-70 and 45-90 black powder guns and aperture sights.

There's a misconception about shooting that "the group with the smallest hole means I did everything right."  In reality, there's a "cone of uncertainty" associated with every rifle and ammo combination.  That cone starts at the muzzle and gets larger as it moves out to the range.
That cone can be measured in MILs or MOA – we'll use MOA (minute of angle…roughly 1 inch diameter at 100 yards) – and is determined by the mechanical accuracy of the gun, among other factors. 
You can't overcome this. 
If you were to strap a gun down and make sure it was 100% motionless between shots and it shot 1 MOA, you'd get no better than 10" in the group at 1000 yards with no other variables.
The mechanical accuracy of the gun and ammo is almost never the weak point in a system, but is always the limiting factor.
Basic Requirements
Now that that's out of the way, let's talk about what you should expect from a long range rifle.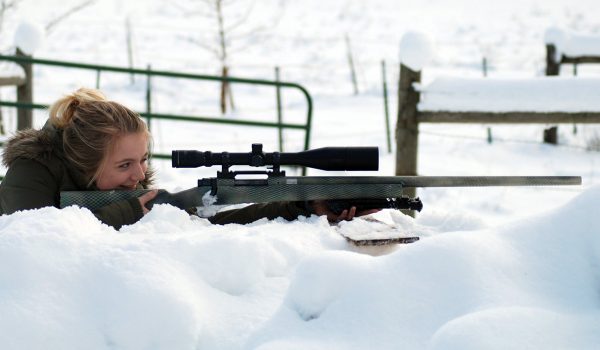 1 MOA Accuracy or Better
Your rifle must shoot 1moa with good ammo and do so reliably.  At 1000 yards, 1moa means you can expect no smaller than a 10" group without accounting for any other variable.  More is always better here, but you do hit a point of diminishing return with cost.
Free Float Barrel
The barrel must be free floated for optimal accuracy, especially as the barrel heats up.  Bedded barrels are hit and miss and generally not appropriate for long range shooting.
Rigid Forend
The forend of the rifle's stock must be rigid enough to support the weight of a gun and hold a bipod without flexing. You can compromise on this, but you'll wish you hadn't.
Predictable Trigger
Your trigger doesn't have to be the best in the world. It can be heavy, creepy, and gritty, but it MUST be predictable.  A light, crisp trigger with no overtravel or take up is good because it feels simple and predictable when shot.
Properly Shaped Stock
The stock must be shaped properly to allow for proper scope alignment and good support for the forend end and toe of the butt.  You also need a well-shaped pistol grip on the stock so you can get the most control over your trigger.  A short length of pull can work for someone who will always be shooting prone, but you can't go wrong with a standard length of pull.
Best 1000-Yard Rifles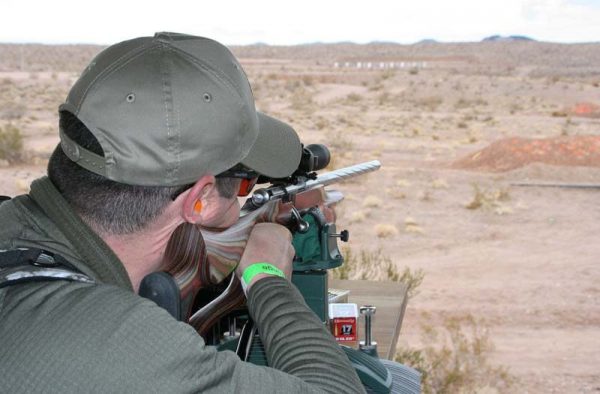 Now let's talk about the guns themselves!  All of these rifles are great options with all of the features that I discussed above.
1. Remington 700p
The Remington 700 is the big daddy when it comes to the long-range accuracy crowds.  No other rifle has reached such a ubiquitous status as the 700, despite Remington's recent troubles.
The main reason for this is simply that the Remington 700 is the most customizable bolt action rifle in production.  You can have any number of stocks, rings, bases, bolt, bolt handles, and barrels for the Remington 700.  There are entire rifle actions you can purchase from aftermarket companies and assemble a "Rem-lin": a 700 made of entirely non-factory arts.
The Remington 700 is also an excellent choice if you're on a budget, because it has dozens of excellent rifle models that can all be upgraded later on when you have more money to spend on your rifle.
If you're going to pick up one of these as a beginner rifle, stay away from the 700sps and spend the little bit of extra cash for the 700p.
The 700p is the "Police" model that features a longer barrel, more precise and durable parts, a heavier duty finish, and a comfortable stock.  99% of shooters will be happy with a 700p for the entirety of the time they shoot long range.  I have personally made hits constantly out to 1300 yards with a .308 700p.
The Reminton 700 is the high-performance beginner gun for long range shooting.
Caliber: .308 (.300 Win Mag for a tad over $1000)

Overall Length: 45.75″

Barrel Length: 26″

Weight: 9lbs

Magazine Style: Hinged Floorplate

Magazine Capacity: 4rd
What's your take on the 700?
2. Savage FCP-SR
The FCP-SR is one of Savage's most popular long range rifles. 
Despite coming in at less than a grande, the Savage FCP-SR packs in just about every feature a proper "tactical" rifle should.  It has an oversized bolt handle, purpose designed stock with sturdy forend and double sling studs, and a removable box magazine.  It even comes with an excellent 20moa scope base, something other manufacturers have failed to do.
This is a good first rifle for long range shooters who are on the smaller side because it is itself a svelte rifle that is available with a short barrel.
The only critique of this rifle is that the barrel is on the short end for this type of gun.  I certainly appreciate short barrels for hunting, carbines, or home defense guns, but for a long range rifle, I feel a 24" tube is about the practical minimum for a rifle regardless of caliber.  Especially if it's going to be a range-only rifle, get the 24" model even though it somewhat harder to find.
Caliber: .308

Overall Length: 44.25″ or 46.25″

Barrel Length: 20″ or 24″

Weight: 8.75lbs or 9lbs

Magazine Style: Detachable

Magazine Capacity: 10rd
3. Savage 111 Long Range Hunter
Yes, this rifle breaks the convention of using an inexpensive cartridge like .308, but I just love this rifle so damn much that I couldn't leave it off this list.  It is certainly an expert's gun and I couldn't recommend it to a total beginner, but the quality and design of this rifle can't be ignored.
This rifle has a magnum length action with a sexy 26" tube.  It is surprisingly devoid of bells and whistles, but it does its job exceptionally well without them. 
The stock design is one of the rifle's best features.  Its long length and slim design allows you to position your body behind the gun to absorb the recoil of the .300 Win Mag and 7mm Rem Mag.
One of the few extra features this rifle does have is the adjustable cheek piece built into the gun.  It works exceptionally well and is a requirement for a hard-recoiling rifle.  The best thing you can do for your accuracy with a magnum is got a rock-solid setup.  Otherwise, you'll be beaten to hell and back.
Essentially, nothing on this rifle needs to be changed.  Even a muzzle break is included, if you're so inclined.
Caliber: .300 Win Mag or 7mm Rem Mag

Overall Length: 47.5″

Barrel Length: 26″

Weight: 8.65lbs

Magazine Style: Hinged Floorplate

Magazine Capacity: 3rd

Price: $999.00
4. Mossberg MVP LR Rifle
If you need a gun for a youth or for carrying around all day, look no further than America's favorite shotgun manufacturer! 
This is an excellent rifle for smaller statured people or for carrying around because of its short barrel and short overall length.  This compact construction makes the rifle feel lighter in hand, even with glass mounted up.
Small details you'll appreciate, like an included scope base, adjustable trigger, fluted barrel, adjustable stock, and pistol grip style stock, make for a better, more customizable weapon. 
The gun comes from the factory with a box magazine that works well and aftermarket mags are easy to find. Those mags, by the way, hold an awesome 11 rounds!
There's really not much of a reason not to spring for this gun.
Caliber: 7.62mm NATO

Overall Length: 39.5″

Barrel Length: 20″

Weight: 8lbs

Magazine Style: Box magazine

Magazine Capacity: 11rd

Price: $975.00
Buying Tips
Now whether you choose one of these rifles or not, there are a few more things to keep in mind when it comes to purchasing your long range rifle.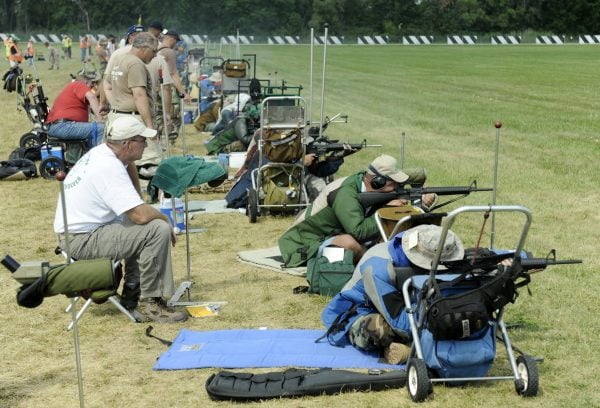 Spend Money Where It Will Make a Difference
Spending double to get a rifle that shoots 3/8ths MOA vs a rifle that shoots 1moa isn't going to help nearly as much as better optics, better ammunition, or more time on the range will.  You can buy equipment to make shooting easier, but you can't buy anything to make you a better shooter.  Spend money where it counts.
Don't Get Bogged Down in Trends
There's plenty of trends in shooting. Brands, cartridges, calibers, and even the colors of guns fall in and out of style.  Just because most guys shoot .308 doesn't mean .270 win or .30-06 won't get you to 1000 just as easily.
Ignore Magnum Mania
You probably don't need a magnum cartridge.  Any benefit you get in a magnum cartridge in terms of external ballistics is negated by cost, recoil, and noise.  The only time you would need a magnum is hunting.  Even shooting at very long ranges, out to 2500-yards, can be done with conventional cartridges as long as your round stays super-sonic.
Run What You've 'Brung
At the end of the day, you can only shoot what you've got.  If all you can bring to the range is a beat up .30-06, go for it!
As long as you can see the target, you can shoot at it safely.  Again, 1000 yards isn't as hard as it's made out to be and it can be done with most people's deer rifles.
Get Good Practice
If you're ever torn between getting new guns or getting more practice, buy ammo for more practice.  The high precision ammunition needed for long range shooting is expensive in any caliber, including .308.  You can expect to pay over a dollar per round, and 800 rounds of .308 will make you a better shooter.  A new rifle won't.
Take Good Advice
When you start out, you'll be approached by all sorts of "experts."  Just because someone can afford a .338 Lapua doesn't mean they have any idea of what they're talking about.  Listen to the guy who can show you what to do, not the guy who tells you what to do.
Parting Shots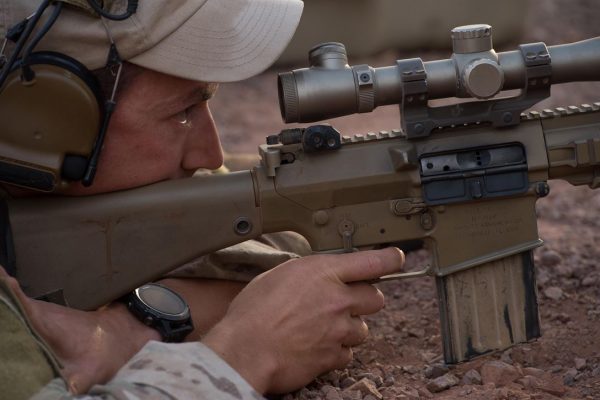 Even just shooting at 100 yards is impressive and difficult to the uninitiated.  In reality, 1000-yards is the same.  It's really just a mental barrier and a jumping off point for shooting even greater distances.  If you have the luxury of shooting at long range often, you'll realize this pretty quickly.
So grab a gun, get to the range, and shoot!