Do you know what I would have said about the Glock 43X before I got my hands on one?
I would've said it was just silly.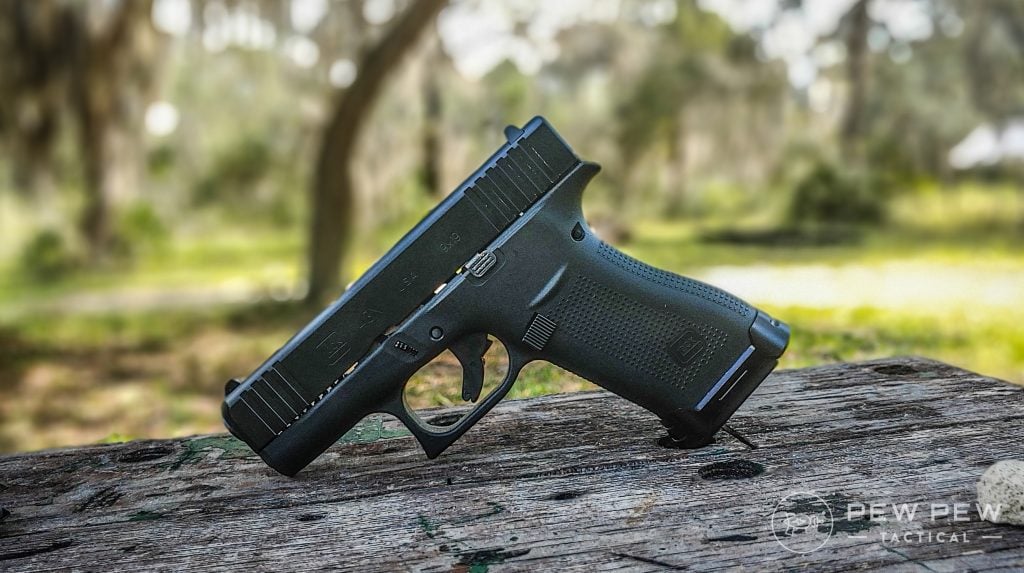 It didn't provide the Glock 19-like size of the Glock 48 and wasn't as small or as efficient as the Sig Sauer P365. It just seemed weird — size, capacity, and all.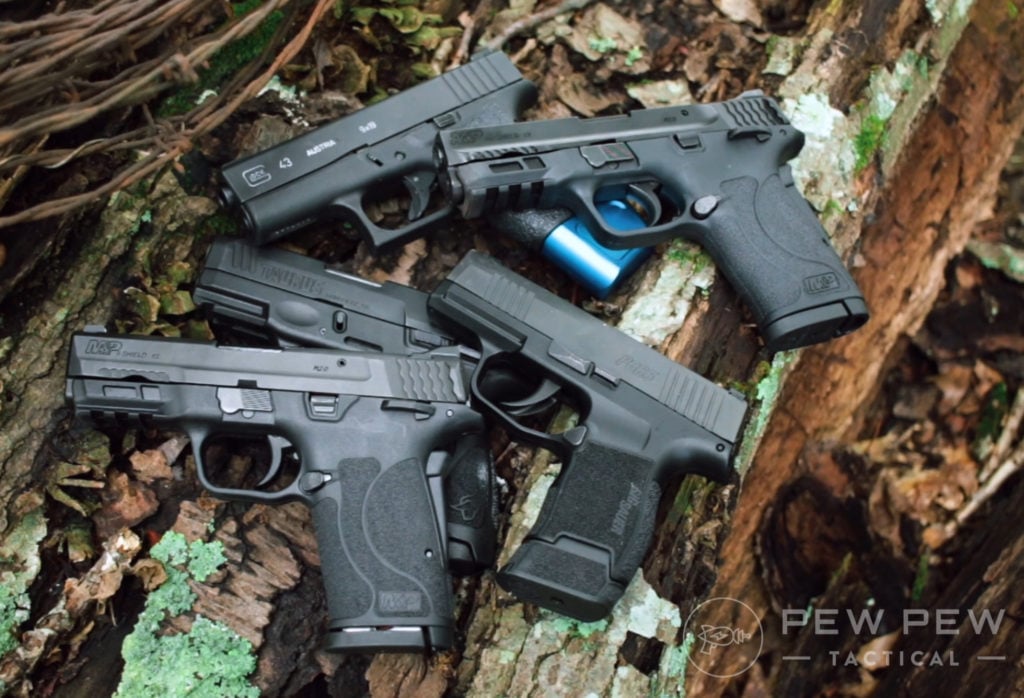 But, after getting my hands on one, I found the Glock 43X to be a surprisingly awesome little gun.
So, let's take a deeper look into the Glock 43X platform. We'll look at what works and what doesn't and talk about some other variants in the 43X series.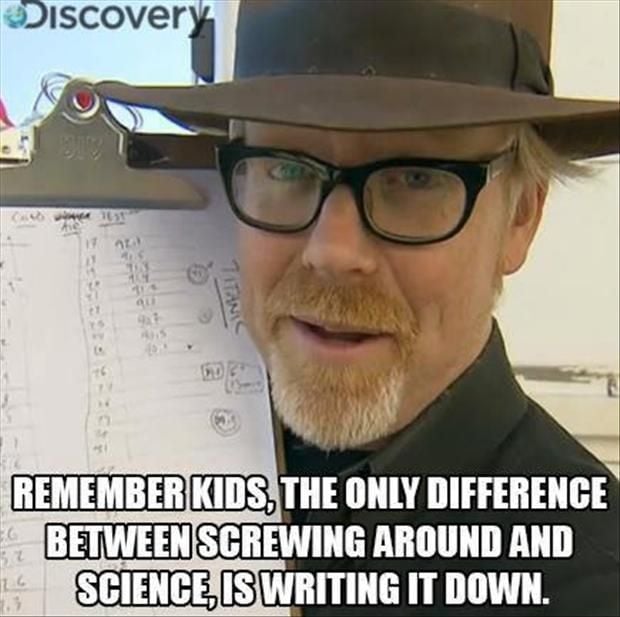 By the end, you'll have a good idea of whether this is a gun you'd like to add to your concealed carry rotation.
Table of Contents
Loading...
G43X Specs & Features
Features & Specs
Glock G43X Specs
Magazine Included
2 x 10-Round
Glock G43X Features
10-round magazine capacity
Features
The Glock 43X and Glock 48 premiered simultaneously at 2019's SHOT Show. They appeared to be a reaction to guns like the Sig P365.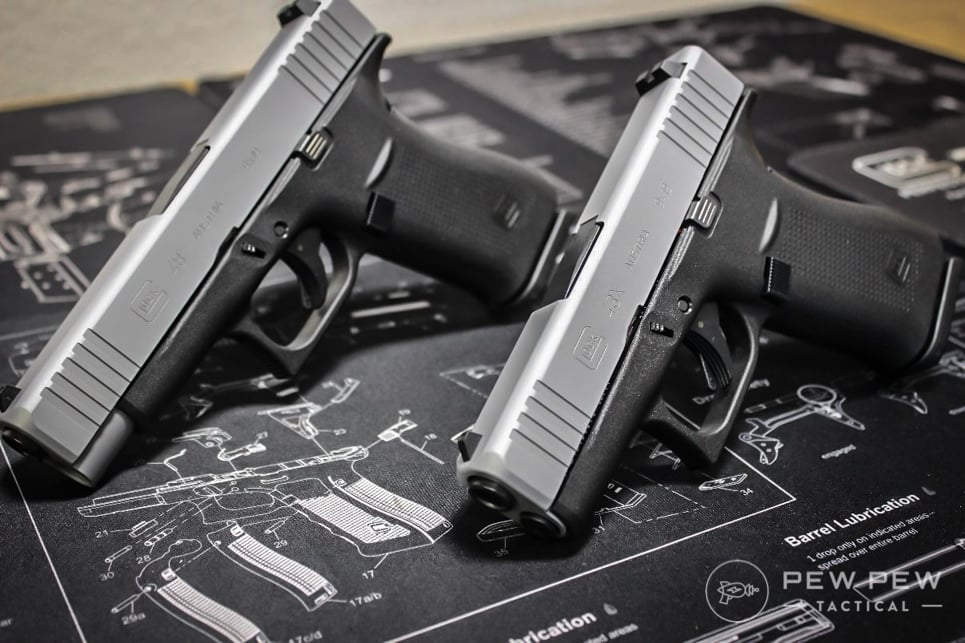 The Glock 43X has a short slide and barrel that tops out at 3.41 inches total with an overall length measuring 6.5 inches.
This gun weighs 18.7 ounces empty and, unlike me, the Glock 43X is a short boy at 5.04 inches tall.
448
at Kentucky Gun Co.
Prices accurate at time of writing
Prices accurate at time of writing
Also unlike me, the Glock 43X is narrow, only 1.06 inches wide. It's a little gun, but it's larger than most little guns, ya dig?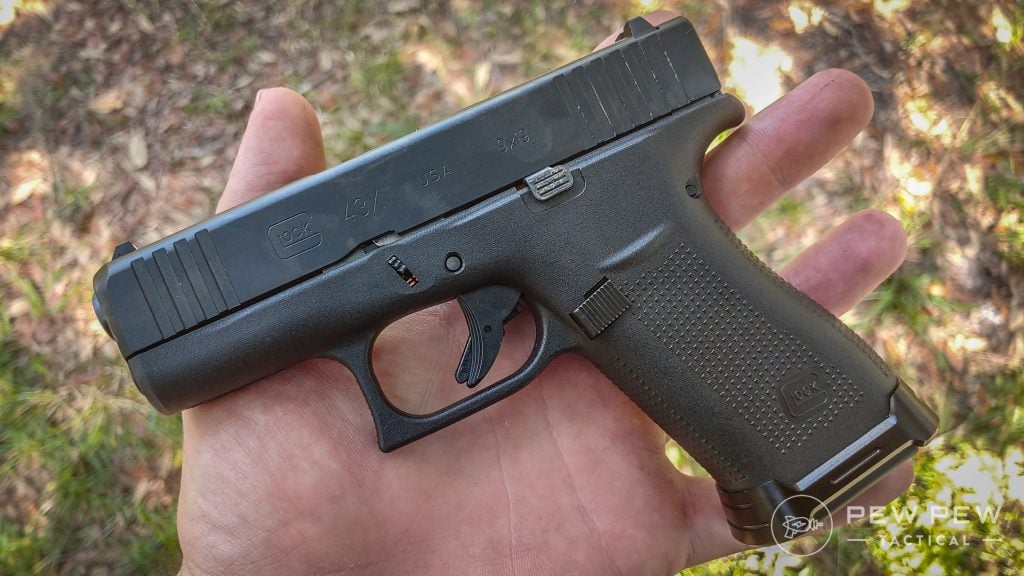 Pinning down the generation of the Glock 43X is tough — it's basically a Gen 5 design.
We see the lack of finger grooves, the front, and rear serrations, the Glock marksmen barrel, the high visibility follower, and that extended beavertail.
However, the ambidextrous slide lock is not present on these slimline pistols. These guns exist outside of the current generation standards but maintain mostly Gen 5 goodies.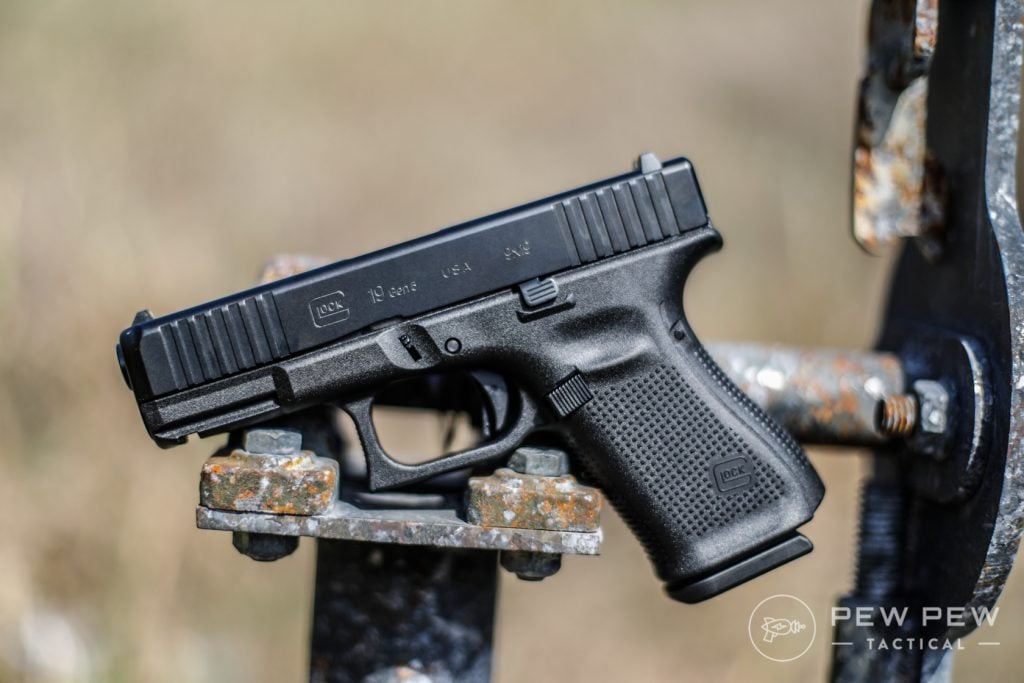 In the box, we get two standard 10-round single-stack magazines. Compared to the Sig P365, this size isn't exactly efficient.
However, a company called Shield produces 15-round mags that sit flush fit with the grip and give you a bit of a boost.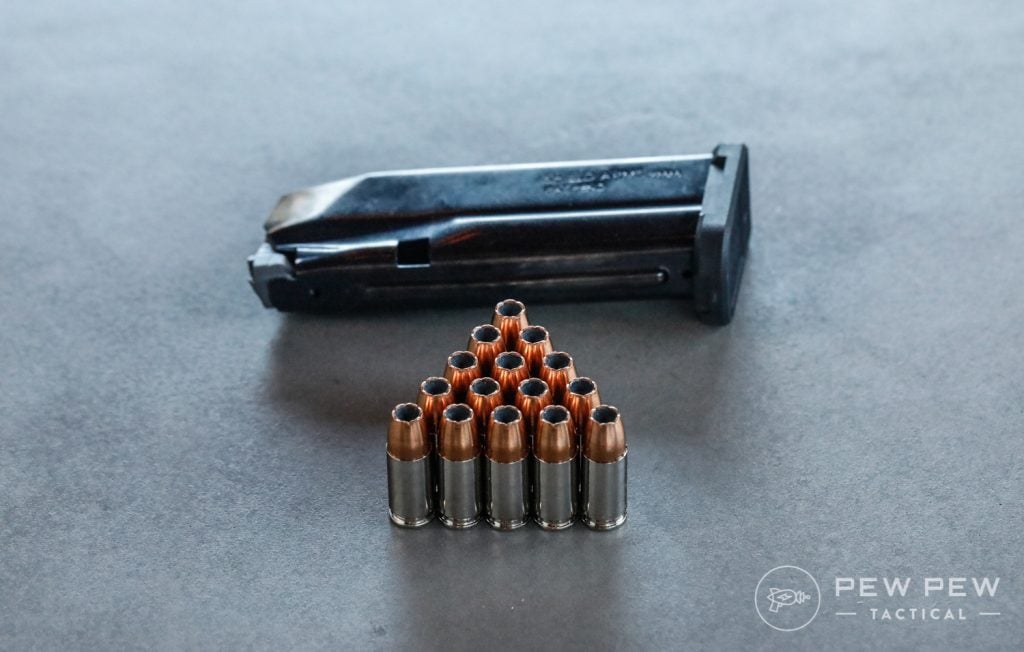 39
at Gunmag Warehouse
Prices accurate at time of writing
Prices accurate at time of writing
ETS produces clear polymer magazines with a 19 round capacity that sit a fair bit below the grip.
You can't change the grip of the Glock 43X via interchangeable backstraps, so you get what you get.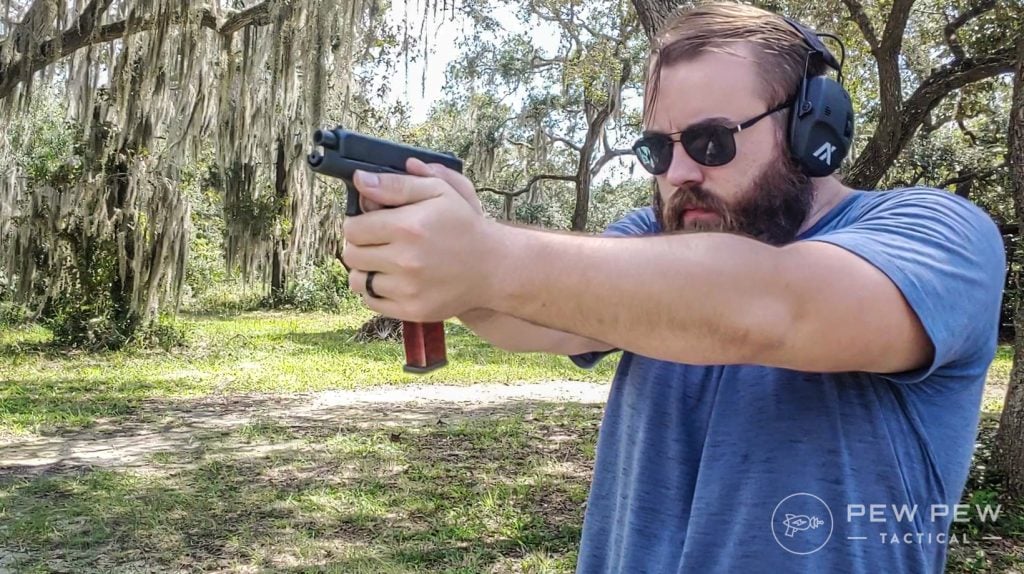 Additionally, you get those not-so-great plastic Glock sights that will have you scrambling to find replacement sights pretty quickly.
The Glock 43X might be a variant of the 43, but don't expect any magazine compatibility.
Glock 43X mags won't fit into the 43, and extended magazines designed for the Glock 43 do not function with the 43X.
I only mention this because Glock's always championed magazine interchangeability.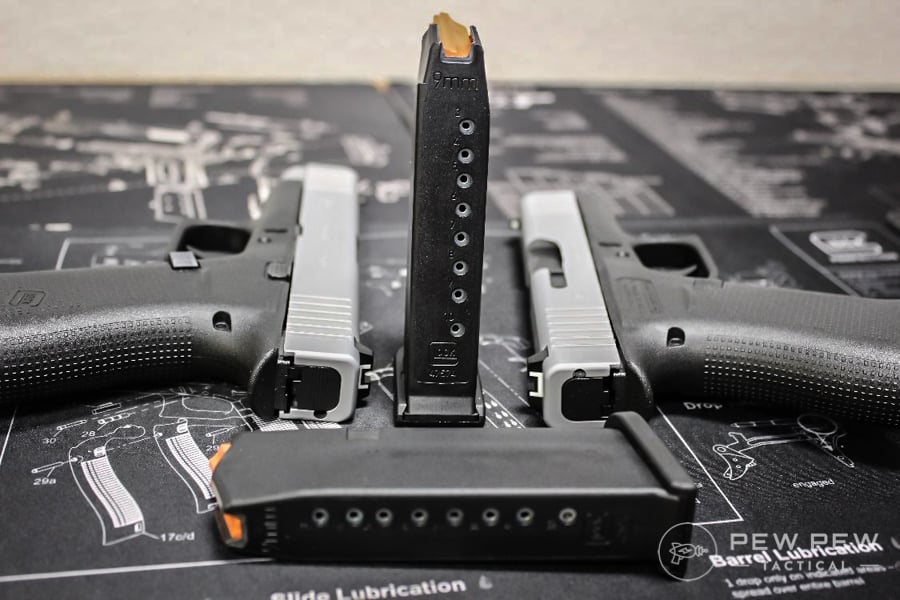 Glock 43X Variants
I have the standard, boring Glock 43X. It's black on black with nothing fancy.
This isn't the only Glock 43X currently out there, though.
Glock originally premiered the guns with stainless steel slides, but later discontinued the stainless models. (They're not on the website anymore, so boo on them.)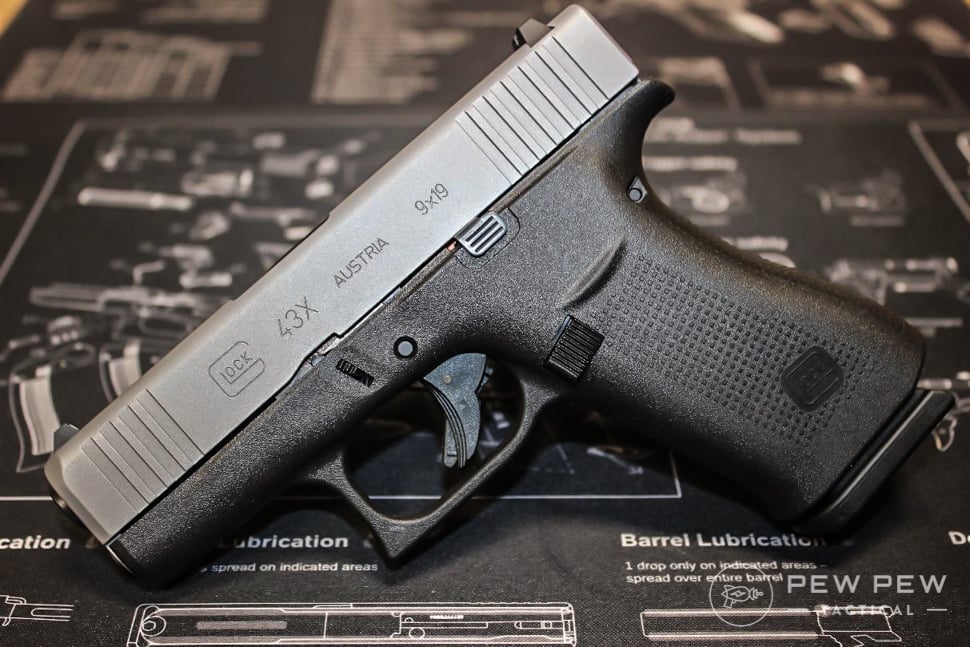 But no worry, Glock has another variant of the G43X that you might want to consider — the MOS.
MOS stands for Modular Optic System, which isn't exactly an apt description for the slimeline MOS series.
590
at Guns.com
Prices accurate at time of writing
Prices accurate at time of writing
Unlike other MOS series handguns, the slimline models lack interchangeable plates.
It comes with what's almost the universal footprint for micro-optics, the Shield RMSc.
249
at Brownells
Prices accurate at time of writing
Prices accurate at time of writing
This footprint allows you to use optics like the Shield, as well as options for Swampfox, Riton, Holosun, and SIG.
Only Trijicon decided to take their RMRCC in a different direction with a weird footprint.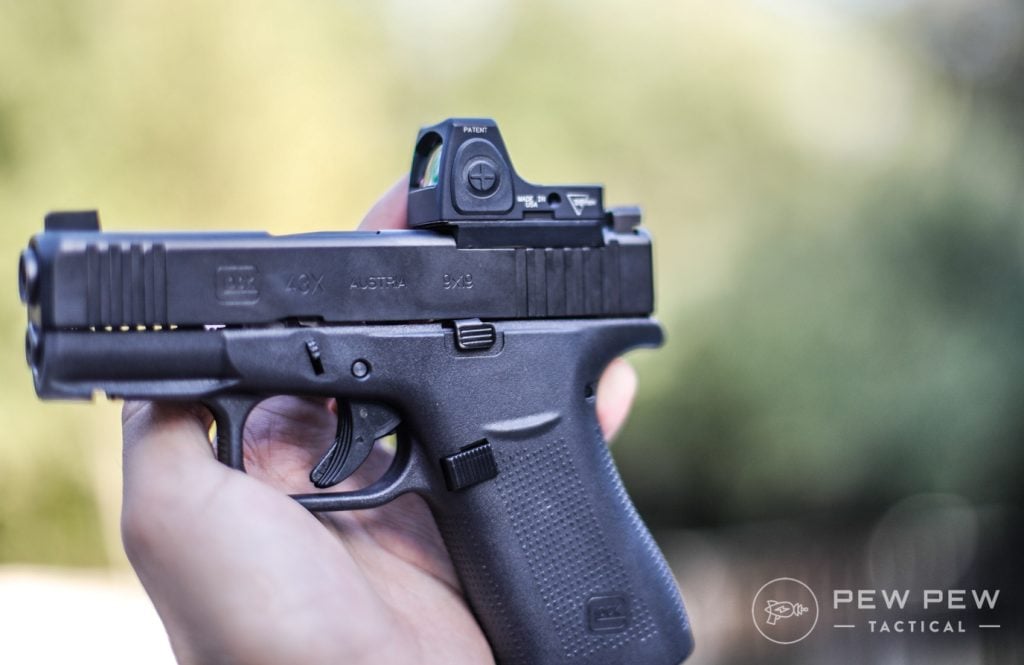 Besides the optic mount, the Glock 43X also comes with a small one-slot Picatinny rail.
You can easily attach a light like the TLR 7 SUB to this thing. With a light and optic, you can take your concealed carry pistol to new levels of awesome. (And weight and bulk.)
Want to see more of the Glock 43X MOS? Check out our review or see the video below.
Who Is The G43X For?
Obviously, this is a weapon designed for concealed carry.
It's small, lightweight, and rather easy to handle. The Glock 43X looks weird size-wise, but it actually makes a little sense once you start slinging lead.
It's a perfect option for a new concealed carrier or a concealed carrier who wants a comfortable gun.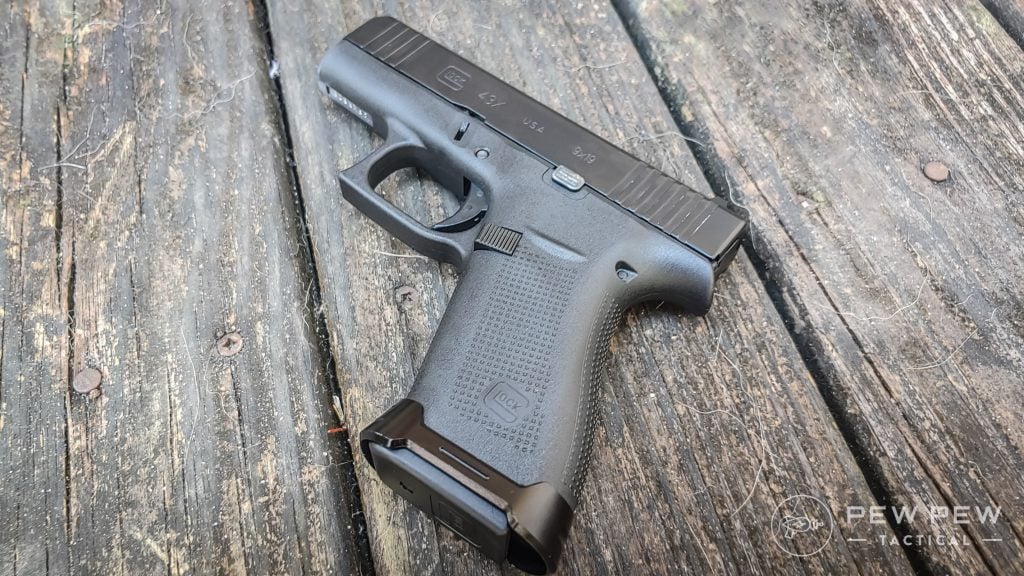 First, the shorter barrel and slide make the G43X a better option for deep concealment and even OWB.
But why would you want the longer grip of the 43X, though? If you want a short gun, wouldn't you just go with the Glock 43?
Well, the Glock 43X provides a short, easily concealable barrel with a grip that fills the hand.
Instead of having a two-finger grip, you can fit the whole band on the 43X's big grip. More grip equals more comfort and ultimately more control.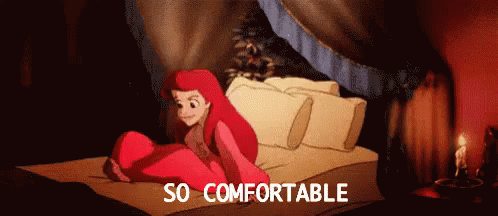 I never enjoyed shooting the Glock 43, but I enjoy shooting the 43X.
The standard 43X is great for concealed carry, but the MOS series would be even a respectable choice for home defense.
Paired with a light and optic, you can solve a lot of problems.
Field stripping is also the same as other Glocks…but we've got our specific G43x video right here.
To The Range
I hit my backyard range with a bucket of ammo and both ETS and Shield magazines.
I wanted to try a little bit of everything to see if it was best to stick to OEM or if the aftermarket functioned well.
Ammo-wise, I brought some standard 115-grain FMJs, some hefty 147-grain subsonic loads, and a few 124-grain +P JHPs to round things off.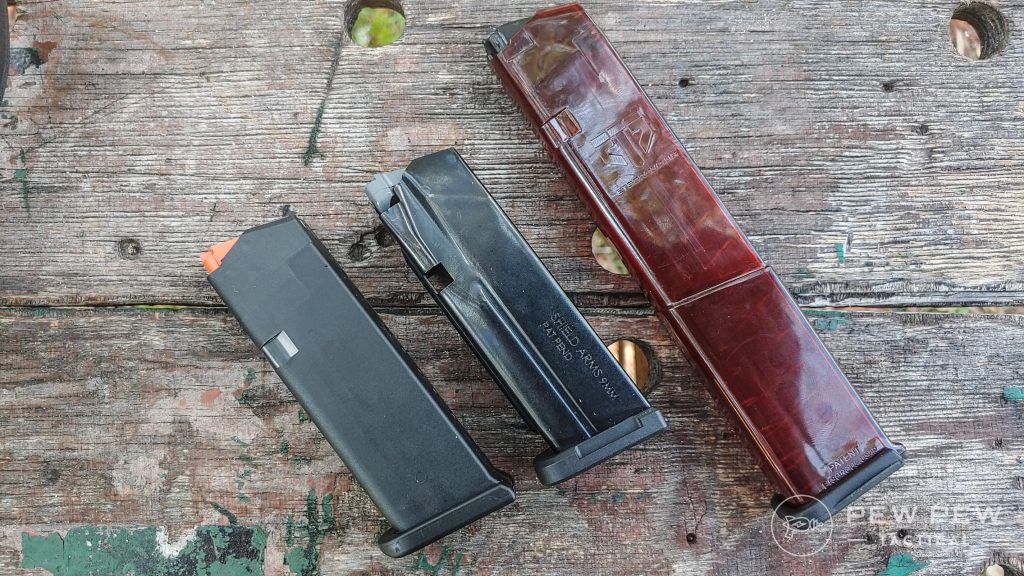 My experience with the OG Glock 43 wasn't great — it tore my hand up and I got some hefty slide bite. In general, it wasn't a great pistol for me.
I didn't approach the Glock 43X with high hopes but I felt pleasantly surprised.
That little extra beavertail does wonders for protecting my mitts from that dreaded slide bite.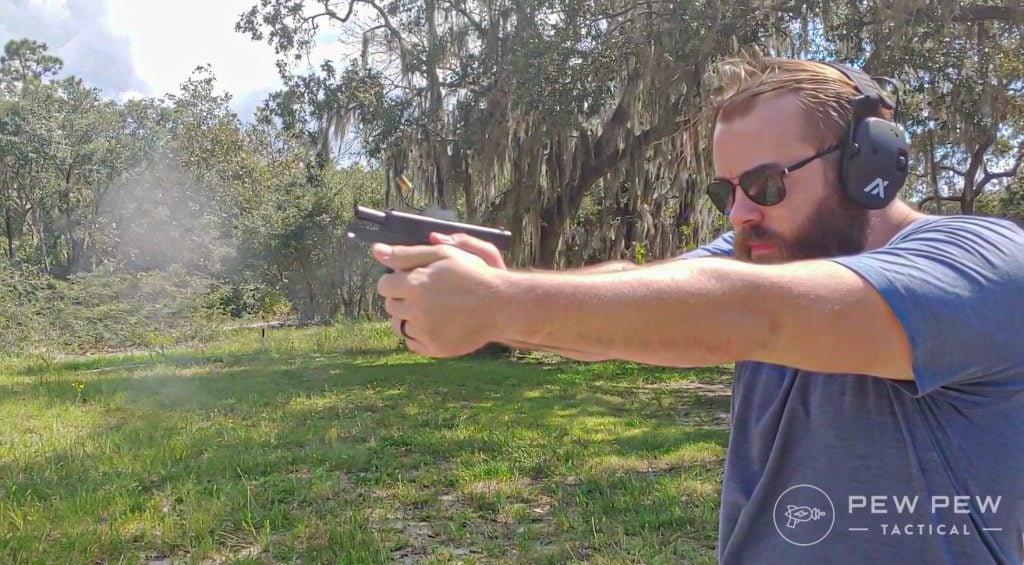 I can still get a nice high grip on the gun and maximize control. Not to mention, that big grip fills my hands perfectly!
My biggest pet peeve is a hanging pinky, and it occurs more often than not with my 2XL sized hands and me. So I can't hate the G43X.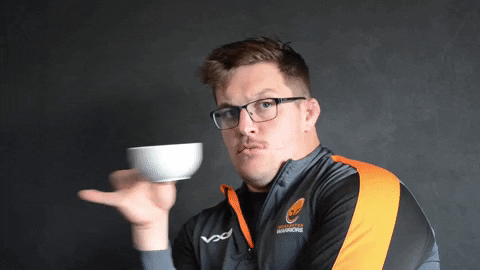 I ran a number of drills with the gun and found my ability to reload to be quite nice.
With a lot of small guns, including the Sig P365 and Hellcat, I have to essentially release most of my grip on the gun to allow the magazine to fall.
The magazines feature pinky extensions, and my pinky pins them in the gun and prevents them from dropping free.
With the slightly longer Glock grip, my finger never interacts with the magazine, and no pinky extension is required.
This way, the magazines just drop out, and I can reload quite quickly. Just for fun, I shot the El Pres side by side with the Glock 43X and the P365.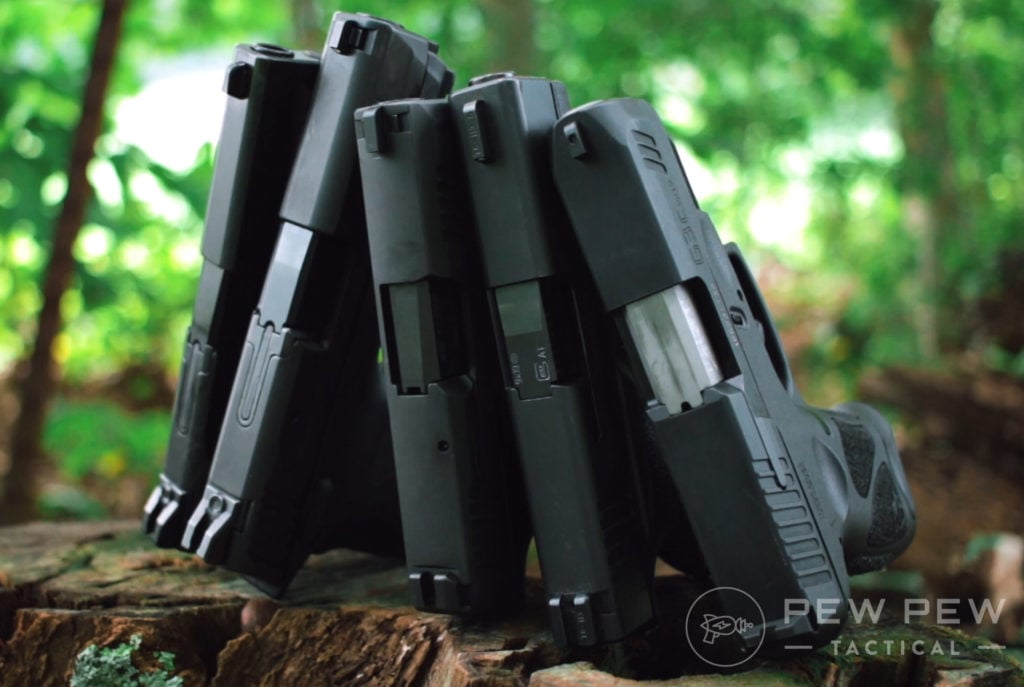 Due to the reload, I could easily score a faster run with the G43X than the Sig P365 — a quarter of a second faster or more on each run.
A longer grip might make the gun harder to conceal, but it makes the gun oh so much easier to shoot.
That big grip also allows me to control the weapon quite easily.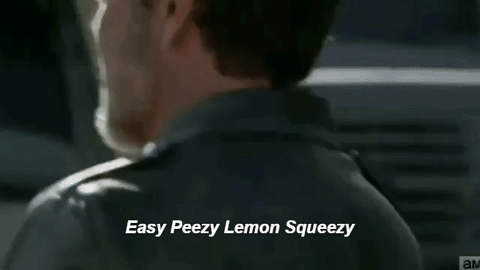 Sure, it is a little snappy due to the shorter barrel, but it doesn't try to wrestle its way out of your hands. The short slide makes tracking the front sight easy and getting back on target quick.
Even with the more powerful 124-grain +P JHPs, the Glock 43X proves itself controllable and easy to wield.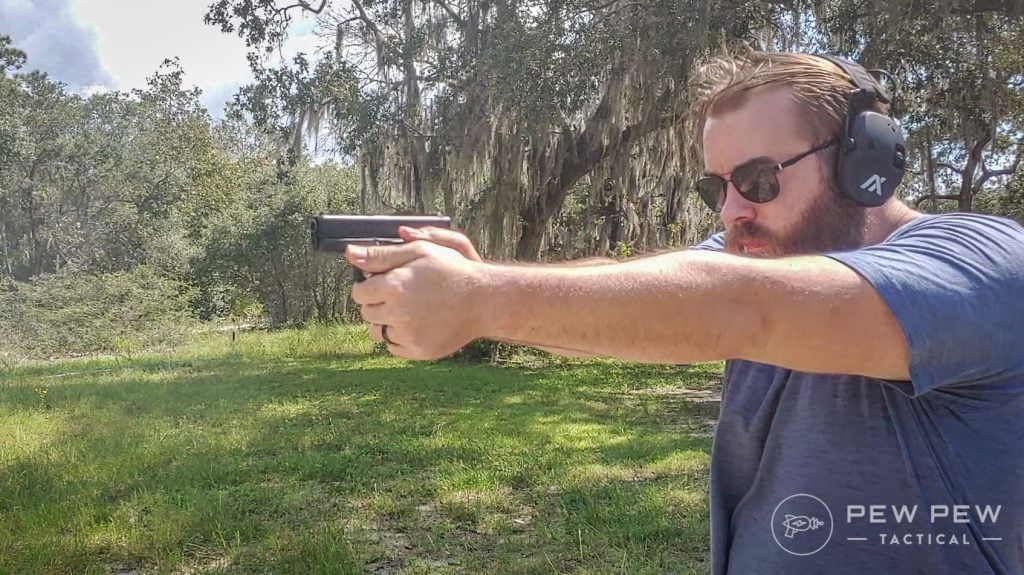 What about accuracy? Well, I saved it for last for a reason. On my first range trip, I thought the gun was all over the place. I thought I sucked at shooting.
Well, it turns out the rear sight was drifted slightly to the right.
Other than my Vickers Gen 3 gun, every other Glock I've purchased has had an offset rear sight placement.
A little Kentucky windage is all it took to fix the problem, but it did make precision shooting more or a gamble. At 25-yards, I can clear my gong rack.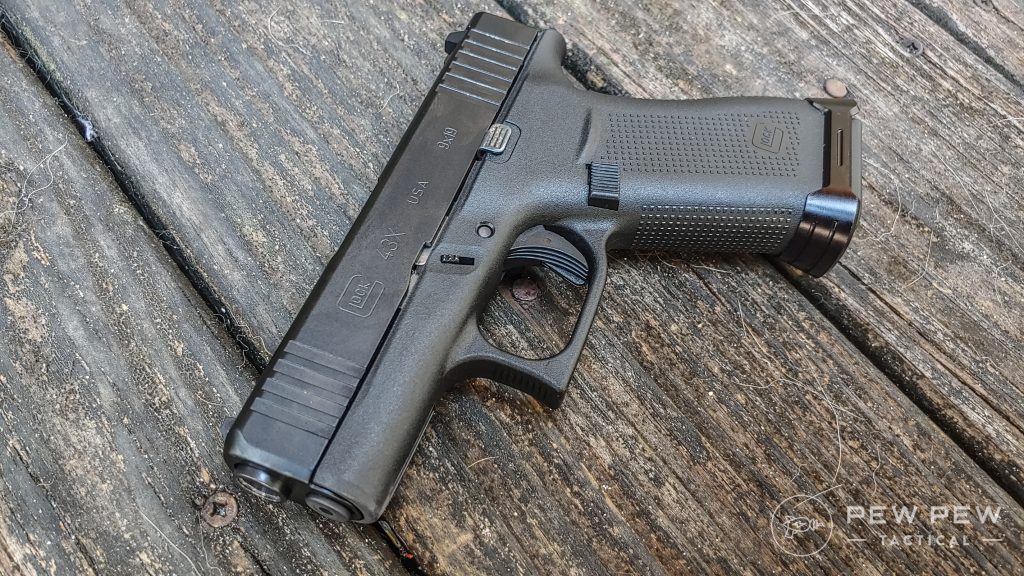 A series of 4- to 8-inch gongs occupy the rack, making them spin and swing isn't tough to do.
It's no marksmen pistol, but it's more accurate than any concealed carrier will likely require.
If you've ever fired a Glock, you know what to expect trigger-wise.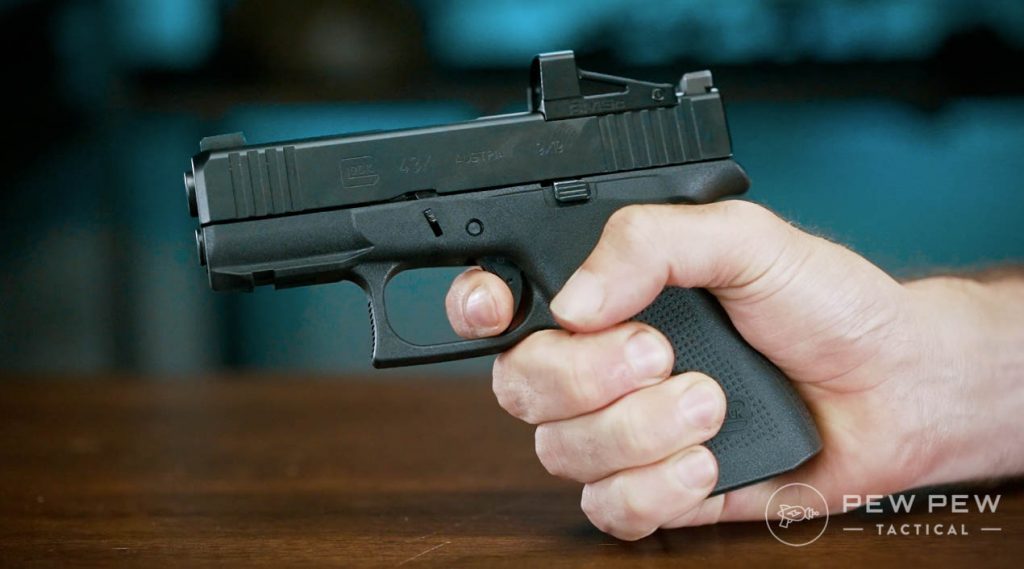 It's a bit stiff, but the pull is short, and it breaks consistently. The reset is quite tactile and very audible.
It's not bad by any means and represents your standard duty style striker-fired trigger well.
Like a Glock, it runs reliably and goes bang with every trigger pull. Not only with the OEM magazines, but the Shield mags and the ETS mags work wonderfully.
Must-Have Accessories
Though not a feature of the gun itself, it's always a big bonus to be able to find useful accessories for a new piece.
Shield Arms S15 Magazines
These 15-round magazines give the Glock 43X the micro compact treatment and add five more rounds in a flush-fitting magazine.
If you plan to use them long-term, then you'll need to replace your polymer magazine release with a metal one to avoid it being chewed up.
39
at Gunmag Warehouse
Prices accurate at time of writing
Prices accurate at time of writing
Tyrant Designs Magwell
This micro magwell is all metal and makes slamming home magazines a fair bit faster, and even provides a nice textured area for your hand to rest.
66
at Rainier Arms
Prices accurate at time of writing
Prices accurate at time of writing
Elite Tactical Systems Magazines
Need an extended mag? Or fairly priced training mag? Then the ETS magazines offer a rock-solid little option at a very low price point.
17
at Brownells
Prices accurate at time of writing
Prices accurate at time of writing
By The Numbers
Reliability 5/5
Glock's bread and butter is simplicity and reliability — the 43X has that in spades. I've yet to run into a single malfunction of any type. I'd love to put a wider variety of ammo through it, but with things the way they are, it's not an easy task to accomplish.
Accuracy 4/5
It's a small pistol, so it will never be a bullseye pistol. I was annoyed the sights were moved slightly to the right, but it didn't affect the gun's mechanical accuracy. And it puts rounds where I wanted them.
Ergonomics 4/5
Like most Glocks, the slide release gets pinned down by my thumbs. Other than that, I can't complain ergonomically. The simple controls are easy to reach, the grip is thin, and reloads are fast.
Customization 5/5
Again, it's a Glock, and as a Glock, it's very simple. Simple allows for near-endless customization. You can swap triggers, magazine releases, slide locks, add magwells, barrels, and whatever else you want to customize your G43X.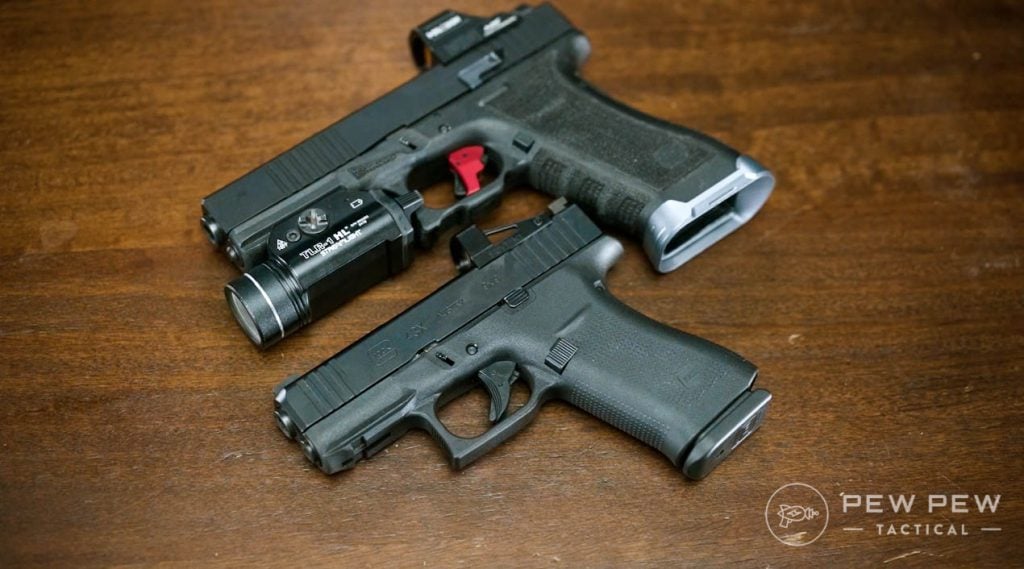 Value 3.5/5
This might seem harsh, but the $450 price tag puts it in the realm of guns like the Sig P365 and Hellcat but it doesn't pack the same punch. The plastic sights and the only okay trigger bring the value down.
Overall 4/5
The Glock 43X brings Glock to a more modern concealed carry market. It's easy to shoot, easy to carry, and makes for a potent defensive firearm. The Glock 43X is a very competent concealed carry pistol and performs admirably as a combat pistol.
448
at Kentucky Gun Co.
Prices accurate at time of writing
Prices accurate at time of writing
Field Strip & Reassembly
If you've field stripped one Glock you've done them all…but we made a specific 43X one just for you!
Conclusion
The Glock 43X put the comfortable in comfortable concealed carry. It's also super easy to shoot and perfectly capable of defensive shooting.
As you'd imagine, it's a Glock, and Glocks do a lot of things right.
If you're looking for a thin little 9mm that's also fairly easy to shoot and control, then the G43X has your number.
And once you've picked one up, make sure to check out how to field strip the Glock 43X in the video below.
Have you shot the Glock 43X? What was your experience? Let us know in the comments below and leave a review. For more 9mm pistol recommendations, check out our list of the 13 Best 9mm Pistols.