Fifteen years ago, equipping a red dot on your rifle was a pretty novel concept.
Having it on your pistol? Almost unheard of.
Fast-forward to the present, and we have red dots, green dots, and even…amber dots?! Not only are dots widely available, but they also come in many different flavors.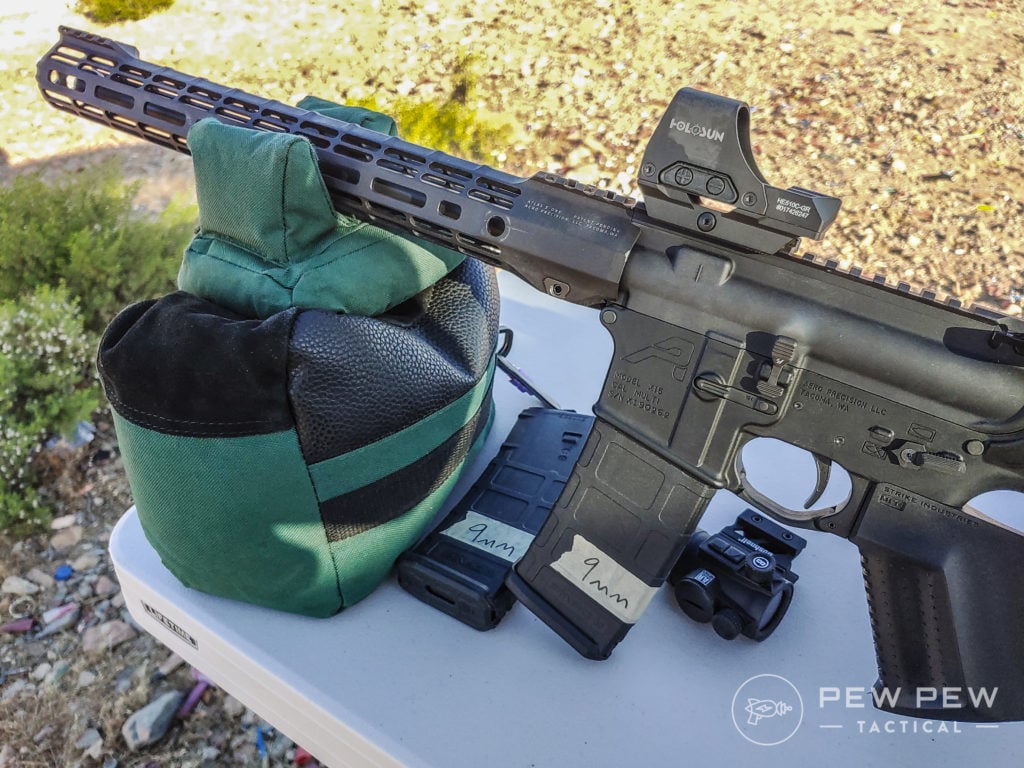 But the colorful world of dots can be confusing. As the technology continues to evolve, you may be pondering the hows, the whys, and which optic is ultimately right for you.
Today, we're going to delve into the best green dot options as well as the science, history, and applications of red and green optics.
Summary of Our Top Picks
Editor's Pick

3 reticle settings, solar battery assist, Shake Awake

Best Closed Design

Closed design, pricey

Most durable

Durable and rugged, 1 year battery life, night vision settings

Best pistol green dot

Pistol worthy, simple dot, affordable

Best value

20K hour battery life, 2 night vision modes, budget friendly

Best holographic sight

Holographic, durable, 600 hour battery life
Table of Contents
Loading...
5 Best Green Dot Optics
1. Holosun HE510C-GR Elite
The Holosun HE510C-GR Elite has quickly become my favorite optic in recent months. This is The One that instantly converted me to green dots after a single range trip.
Now I have two. See what happened there?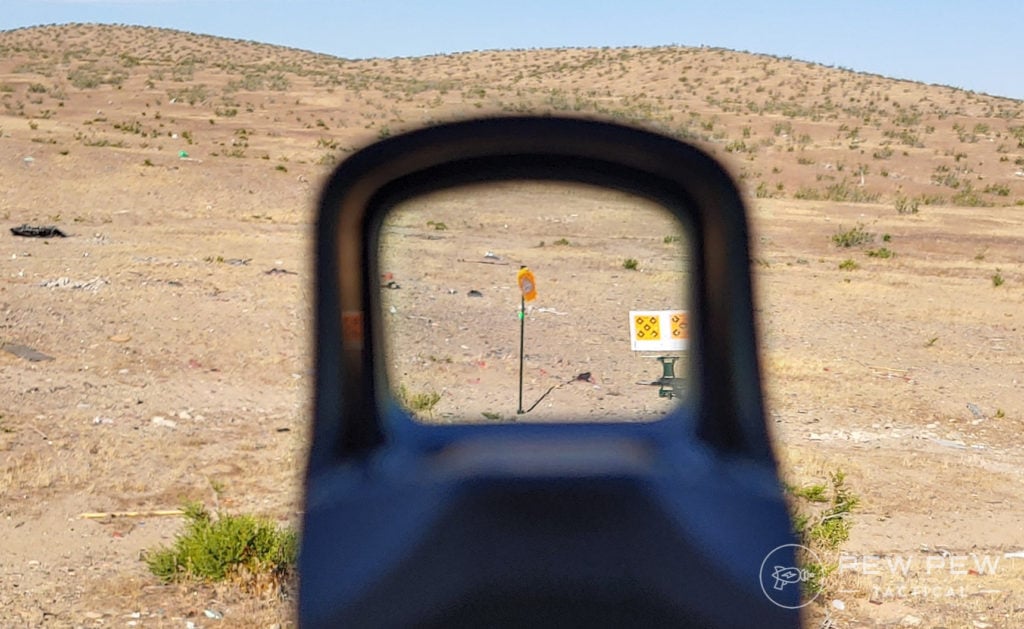 Holosun hasn't done me wrong so far. All in all, it's an incredible, feature-rich optic that won't break the bank.
It comes with three reticle settings (dot, dot and circle, or circle), a Titanium-alloy protective hood, solar battery assist, Shake Awake, an internal battery tray so you can replace batteries without having to rezero, and a 50,000-hour (over 5 years) max battery life.
That's an extremely impressive battery life for a green reticle.
And make no mistake, this isn't your standard red dot design. The HE510C-GR Elite comes with a 32mmx24mm lens, giving you plenty of room to see your target and anything near it.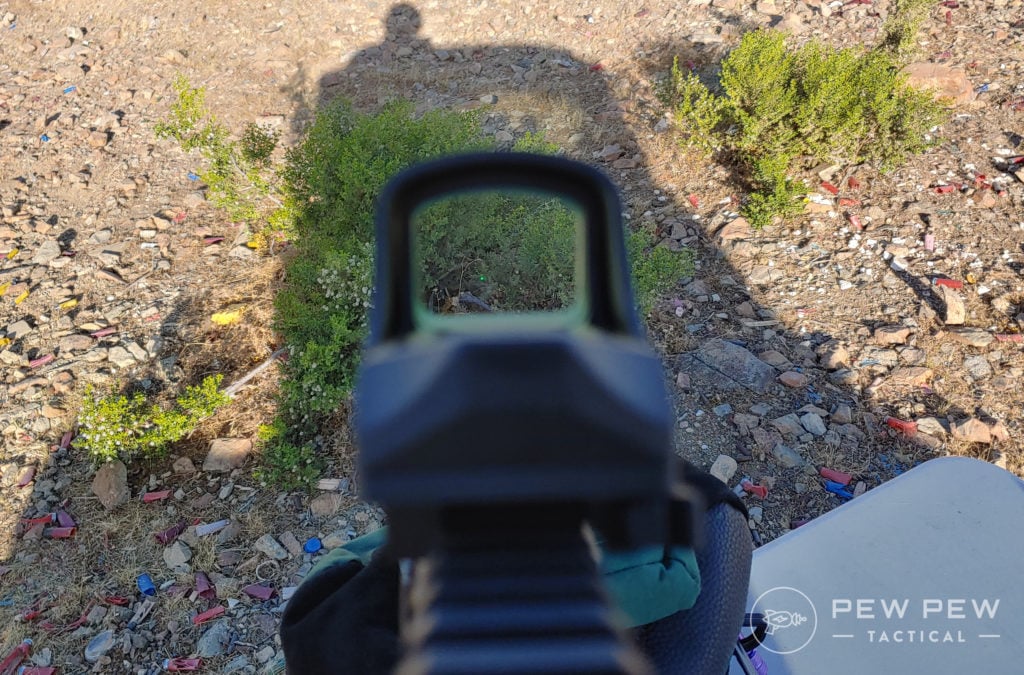 I've been beating mine around for close to 6 months now, and both optics are in perfect shape…minus some cosmetic scratches. But that's just the price of playing hard and having fun.
Overall, I have no complaints and highly recommend the Holosun HE510C-GR Elite.
339
at Brownells
Prices accurate at time of writing
Prices accurate at time of writing
The only downside to this design is that the emitter is exposed and could theoretically get blocked with mud, debris, and other stuff.
This hasn't happened to either of my Holosuns so far, but I can certainly see the potential.
Whenever this happens, I just wipe away the dirt and everything is good to go again. It's a minor inconvenience, but it doesn't distract or detract from my shooting in any way.
But if you aren't too keen on that exposed emitter, you may want to try the HE512T. It has a closed design, so you don't have to worry about debris getting trapped. The only hitch is that it's significantly more expensive.
Best Closed Design
499
at OpticsPlanet
Prices accurate at time of writing
Prices accurate at time of writing
2. Trijicon MRO
We have a whole video review on the Trijicon MRO. It's one of the best on the market — both in red and green dot flavors.
If you're looking for a bomb-proof optic, then you can't go wrong with an MRO. While the features aren't popping, this is a true duty or SHTF-quality dot.
It's hard not to be a fan of the green model: the battery life can last up to a year, the lens is 25mm, the glass quality is amazing, and the brightness adjustment knob (6 levels!) is user-friendly.
The MRO also rocks 2 night vision settings, if that's your thing.
Just be prepared to drop some cash on this one.
Most durable
379
at OpticsPlanet
Prices accurate at time of writing
Prices accurate at time of writing
What's your take on the MRO?
3. Holosun HS407C-GR
The Holosun HS407C-GR is the dot I run on my Glock 19 CCW. After putting in a few thousand rounds, I can honestly say that I would trust my life to it.
While I use the 407C model, there are several other flavors to consider. The 507C is basically the same optic, but it comes with multiple reticle settings, much like the 510C (dot, circle, or dot and circle).
If you want to go big, check out the HE508T. It's the overbuilt, titanium housing, "cool guy" model.
But I picked the 407C because I wanted a simple dot that was in stock…and comparatively cheaper.

All three models feature solar battery assist, Shake Awake, and 50,000-hour battery life.
They also come with a Picatinny mount for your rifle or PCC, but you can always remove it and equip the dots on any RMR footprint mount.
And to complicate your decision, all of these options share the same Version 2 design.
Kudos where it's deserved, though; V2 gives you a battery tray that can be accessed without having to remove the optic. It's a great perk when you need to change out the battery.
Best pistol green dot
364
at Amazon
Prices accurate at time of writing
Prices accurate at time of writing
4. Sig Sauer MSR Green Dot
Not sure if green is right for you? In that case, the Sig Sauer MSR is my top recommendation due to the low cost of entry.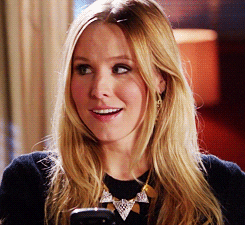 The Sig Sauer Romeo5 has long been one of the best sub-$200 optics on the market, but the much newer MSR is an outstanding offering for even less money. This green dot version is solid too!
With a 20,000-hour battery life, 2 night vision modes, a top-mounted battery compartment, and lens covers, you really can't go wrong with this budget option.
It even comes with a mount, so you're ready to go right out of the box.
The only problem is finding one in stock. It seems like Sig doesn't make a whole lot of the green MSRs, so if you see one, grab it!
Best value
89
at Amazon
Prices accurate at time of writing
Prices accurate at time of writing
5. EOTech XPS2-0GRN
Need a holographic sight? EOTech has you covered with their XPS2-0GRN (why do dots have such complex names?!).
This model is everything you would expect from an XPS2 EOTech dot: it's bomb-proof, it can run with the front glass shattered, and the dot is super fine even under magnification.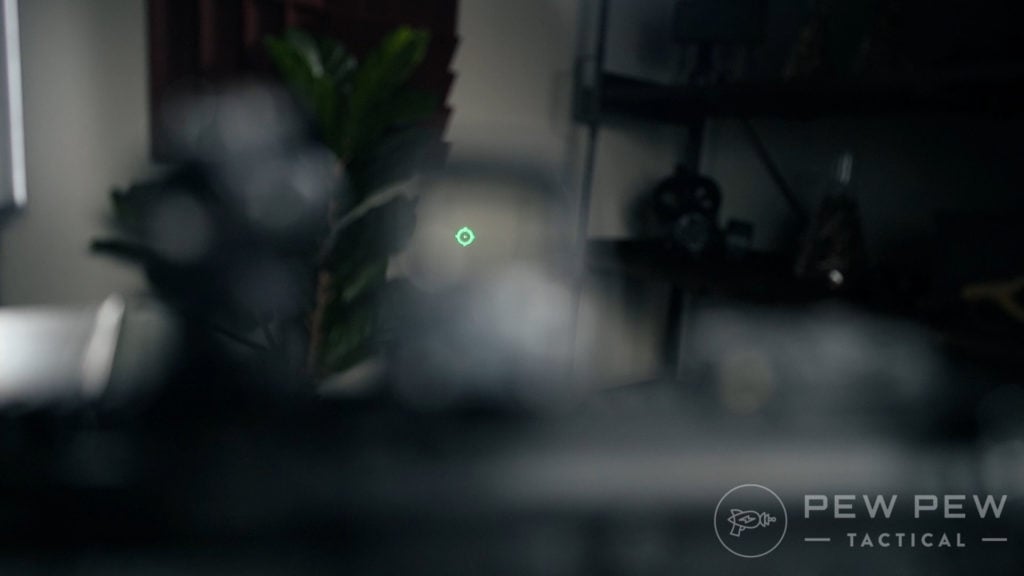 Honestly, I can't imagine how much engineering went into perfecting the XPS2-0GRN.
Holographic sights and green dots require serious battery power individually, yet somehow this combo model still has a 600-hour battery life.
That may not sound like much when compared to Holosun's 50k, but it's pretty amazing in the world of holographic sights.
Best holographic sight
689
at OpticsPlanet
Prices accurate at time of writing
Prices accurate at time of writing
Red vs. Green: Get On My Wavelength
Optics usually come in two main colors: red and green. There are a couple of weird outliers, but let's ignore them for now, seeing as they're primarily one-offs.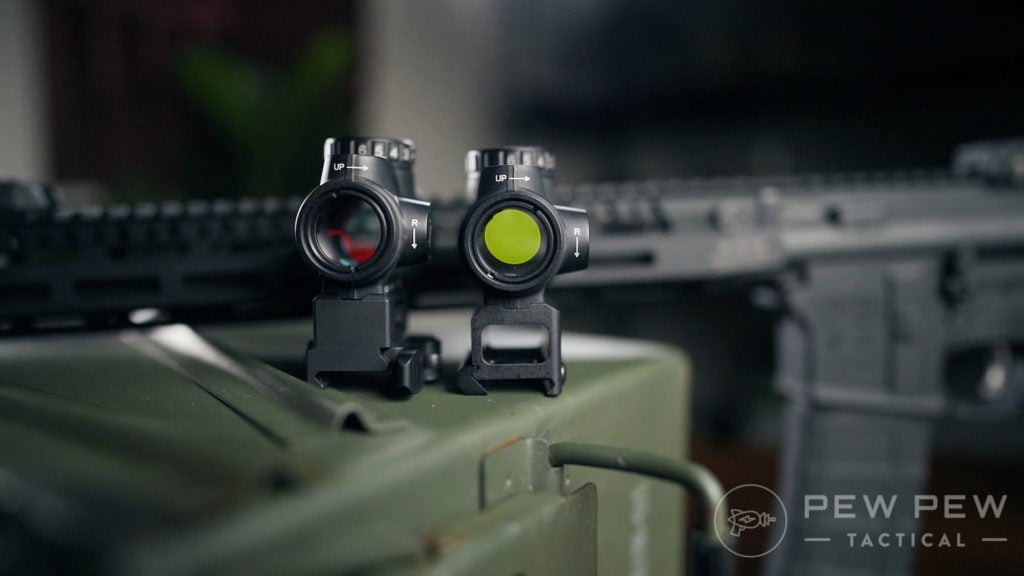 Why red and green? It all comes down to biology and batteries.
Biology
When it comes to the animal kingdom, humans reign supreme. Thanks to natural selection, we get to enjoy good vision and really good color vision.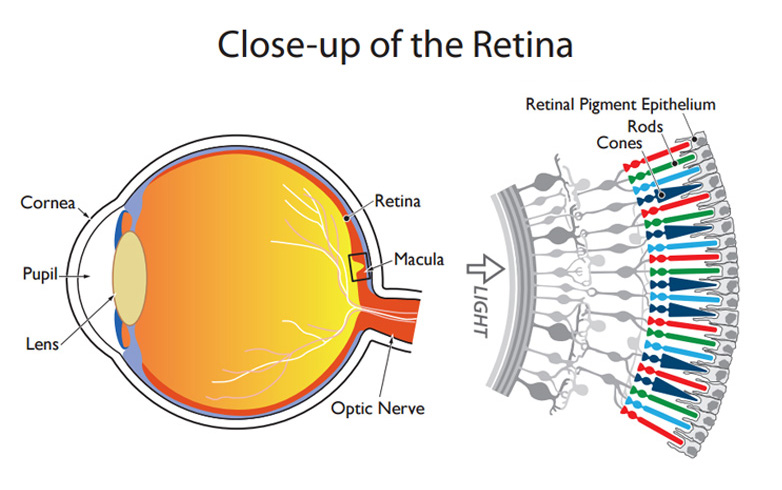 Dogs, mice, horses, and other mammals tend to rely on scent for survival, so their vision is comparatively okay, at best.
Here's the tl;dr version of how vision works: You have rods and cones in your peepers. They take in light, filter the wavelengths, and tell your brain what you're seeing.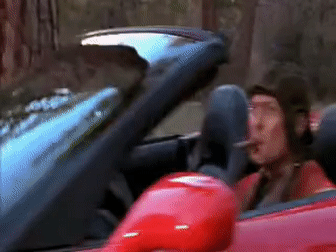 While most mammals are dichromatic (they have two types of cones), humans are trichromatic, and our three types of cones react to different wavelengths of light: short (blue), medium (green), and long (red).
Kind of. I mean, it doesn't follow the RBG model quite like that, but it's close enough for this article.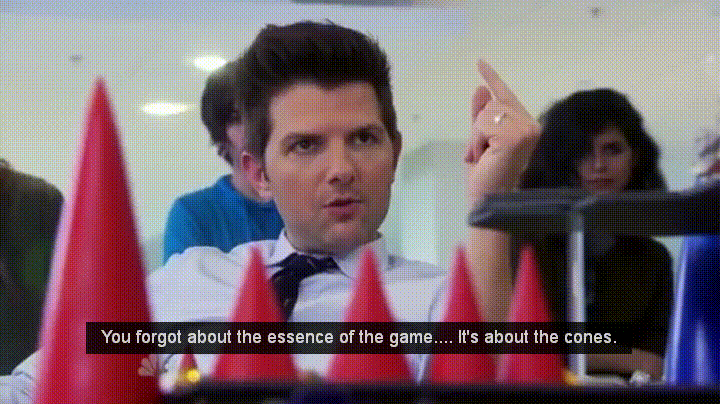 But humans are a little odd, even among other animals with trichromatic vision.
Most trichromatic animals have cones that are evenly spaced out across the visible light spectrum. Humans don't. Ours are clustered toward red and green, with the blues being much weaker.
Why do we see red and green better? Why did we evolve in that direction instead of something else?
As far as I can Google, we don't know. There are a couple of good guesses involving things like social cues or the ripening of fruit, but these are just theories.
And that concludes our extremely abridged breakdown of why humans have color vision and how it works!
Batteries
Okay, so this science is really, really complex. If you want a more general overview, but at a 5th-grade level, Bill Nye Season 1 Episode 16 "Light and Color" is your friend.
The ultra-short analysis is that different colors are produced based on the energy in the photons.
In the visible light spectrum, shades of red take the least amount of energy while violet shades take the most.
If you don't remember your rainbow colors it's (from most to least energy): violet > purple > indigo > blue > green > yellow > red.

Most red dots are around the 650nm wavelength, math math math that's 184 kJ/mol of energy.
Most green dots are around the 540nm wavelength, math math math that's 221 kJ/mol of energy.
To summarize: Red dots are red because the batteries last longer. And we can see a whole bunch of shades of red, so it works out really well.
So, Why Green?
Remember that our cones are clustered toward red and green? Ya, it's also lopsided – sort of.
This is easier to explain using numbers instead of colors because of…well, science.
Light is wavelengths, the distance between the peaks are in nanometers, those distances give a number, and every color has a number.
Red is 625nm-740nm.
Green is 520nm-565nm.
For humans, long and medium cones peak at 560nm and 530nm, respectively. As you can see, both of those peaks are in the green zone.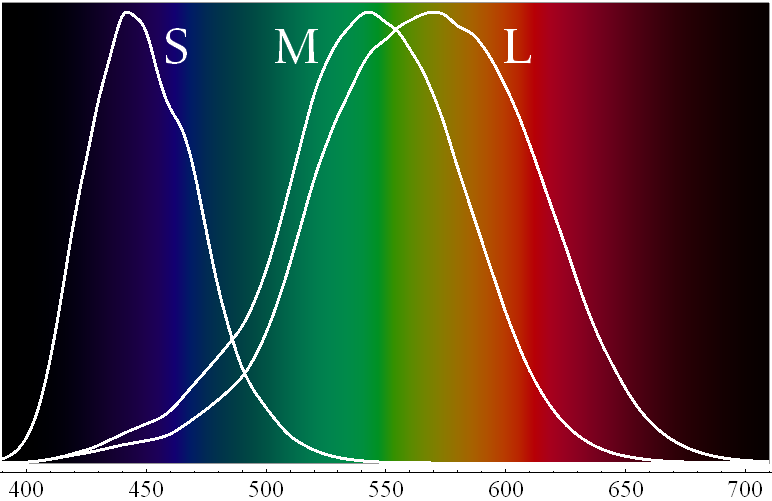 So, even though our long cones see red and our medium cones see a tiny bit of red, both of them see a lot more green—more shades, more depth, more vibrance—than any other color.
How much more? About 30x as much green.
Green is our color. Our brains pick it up faster, we process more of it, and it just works best for an optic.
If We See Green Better, Why Aren't All Sights Green?!
Batteries.
It takes a lot more juice to power a green dot than it does a red dot. And since most people can see red well enough, the optics companies defaulted to that option.
However, in recent years, the technology behind optics and batteries has improved by a LOT, so many of these companies are starting to dabble in green colors.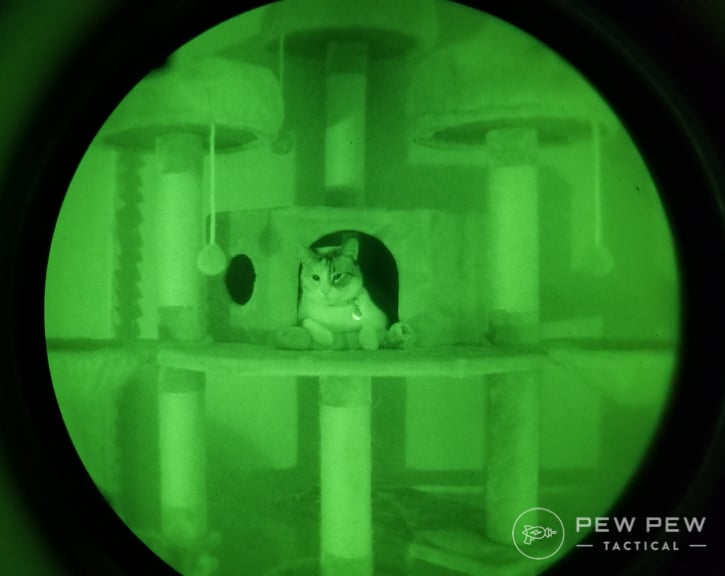 Green is actually fairly common, just not in illuminated optics. Until recently, anyway.
Have a night sight? What about night vision goggles? Probably green.
Decades of trial and error experimentation have proven that green delivers the best depth perception. Our eyes are basically designed to see more shades of this color, making it ideal for stealthy nighttime optics.
Does Green Actually Make A Difference?
It depends.
This is where we make a detour from clean-cut science and delve into the nitty-gritty truth that color perception is not a universal experience.
When it comes down to comparing your vision vs. my vision, you might be better off with green (which, by the by, might not even be my green), or you might be better off with red.
I'll detail some cases for each, but first, let's just look at if green can help.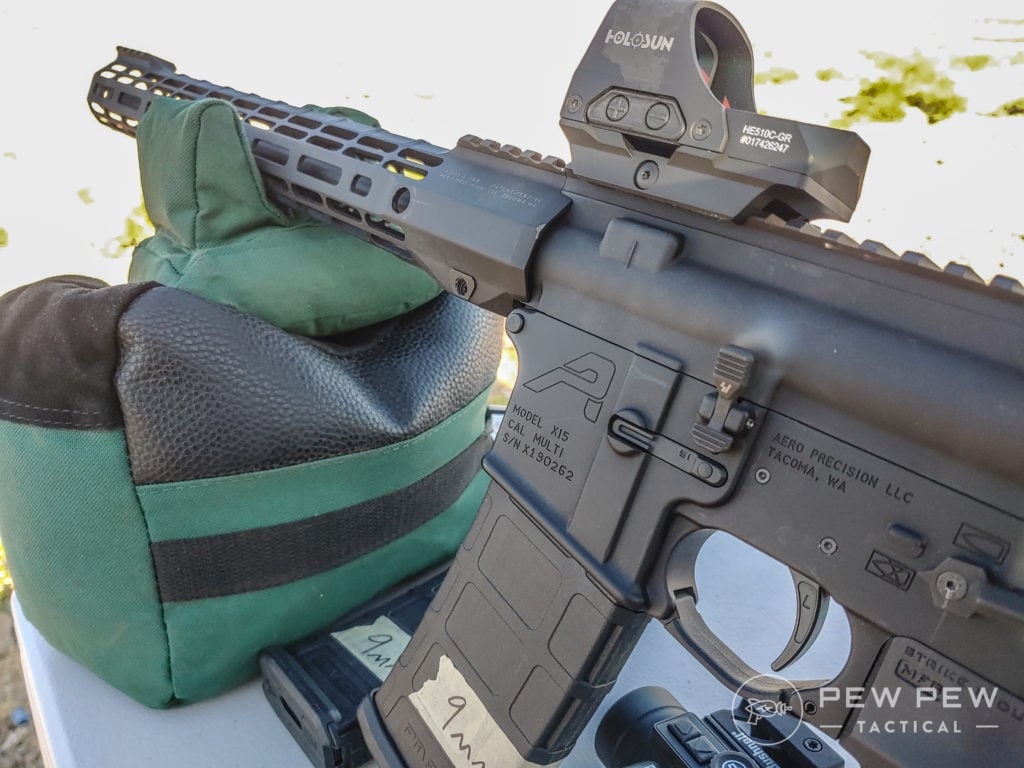 I tried out my first green dot simply because I wanted to. Why not, right? I won't pretend that I had any real reasons behind the decision. If anything, it was just a simple "eh, may as well" experiment.
Jokes on me, because I became a quick convert. After the first range trip, I went home and ordered three more green dots—two for rifles and one for my Glock.
Yup. I am totally sold on them.
A Simple Experiment
Shot timers don't lie. If you want to see if something actually makes a difference in your shooting, test it on the clock.
My test was super simple, just me and a 9mm PCC shooting steel at 7-yards and 12-yards. For a red dot, I used a Bushnell TRS-26, and the green dot was my Holosun HE510C-GR Elite.
The drill I completed is very straightforward and easy to replicate: Start from low-ready, safety off. At the beep, fire two shots at the first steel plate, then transition to the second steel plate and fire one more shot.
2+1 with a transition between.
For the record, the targets are a Caldwell 10" Coffin and a 4" round gong.
46
at Brownells
Prices accurate at time of writing
Prices accurate at time of writing
This drill requires speedy target acquisition, transitions between multiple plates, and headshot-sized accuracy on the smaller gong.
It's a great general cross-section of close-quarter shooting, the likes of which might be found in a local match or a home defense scenario.
I ran the drill 10 times for each optic — so 20 times total.
Here are the final times:
| Red Dot | Green Dot |
| --- | --- |
| 1.95 | 1.67 |
| 1.97 | 1.70 |
| 1.97 | 1.73 |
| 1.98 | 1.73 |
| 1.98 | 1.89 |
| 2.10 | 1.93 |
| 2.12 | 1.97 |
| 2.16 | 1.89 |
| 2.18 | 1.87 |
| 2.19 | 1.77 |
For this drill, I recorded a 2.06-second average with the red dot and a 1.82-second average with the green dot.
That doesn't sound like much of a difference, but it is measurable and not insignificant. Shaving a quarter of a second off of your average time for a fast drill just by changing the dot color is a big deal.
My slowest time with the green dot was faster than my fastest time with the red dot (with the exception of 1 rep).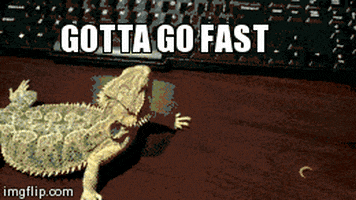 Now there are a few caveats I could make with this information, such as this was a very simple drill, these were low round counts, and 10 reps of each optic isn't a huge data set.
But the shot timer doesn't lie. Green was faster. And in my personal training, I can feel the difference even when not on camera.
Is A Green Dot Right For You?
Maybe.
The answer to this question depends on a lot of personal factors, including not-so-simple biology.
If you're older, have poor sight, or astigmatism — you should look into a green dot, even if you've passed on red dots before. There is a good chance that a green option will work much better for you.
Another consideration is where and how you plan on using the dot.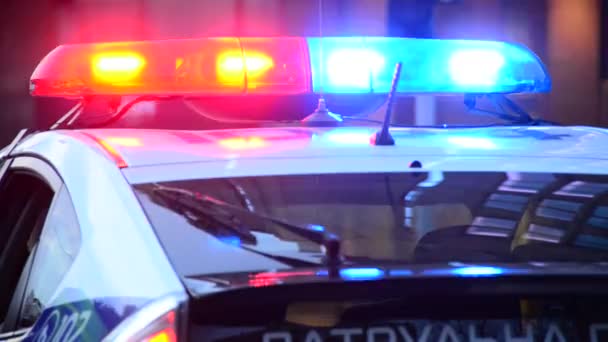 The first person in my circle to make the switch to a green dot is a big city LEO.
He has a dangerous job and didn't like that it was so easy for a red dot to get lost among all the other red lights – taillights, squad car lights, etc. – in his environment.
It's a problem that he'll never have to worry about with a green dot.
My reasons for going green are less critical but still life-changing. Green dots are cleaner, sharper, and help me be faster on target.
Conclusion
For many, green dots are a huge improvement over red dots because of eye physiology. Faster target acquisition, better contrast, sharper reticle…the list goes on.
The only downside? Battery life and cost. But hey, the shot timer doesn't lie when it comes to results!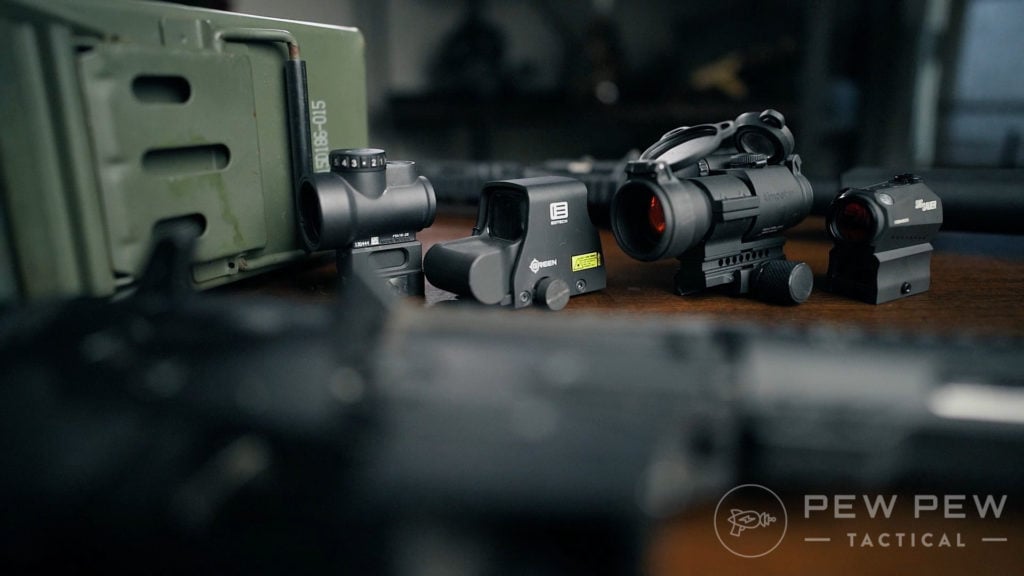 Again, whether you love it or meh it will come down to your eyesight and personal preferences. I won't pretend that it's the greatest thing since the moon landing, but I'm definitely a convert.
Give it a shot! You might just join the green cult too.
What are your thoughts on green? Have you tried one of those amber ones yet? Let us know in the comments! For some more badass optics, take a look at the Best AR-15 Scopes & Optics.