When you think 1911…you think of the big and slow .45 ACP.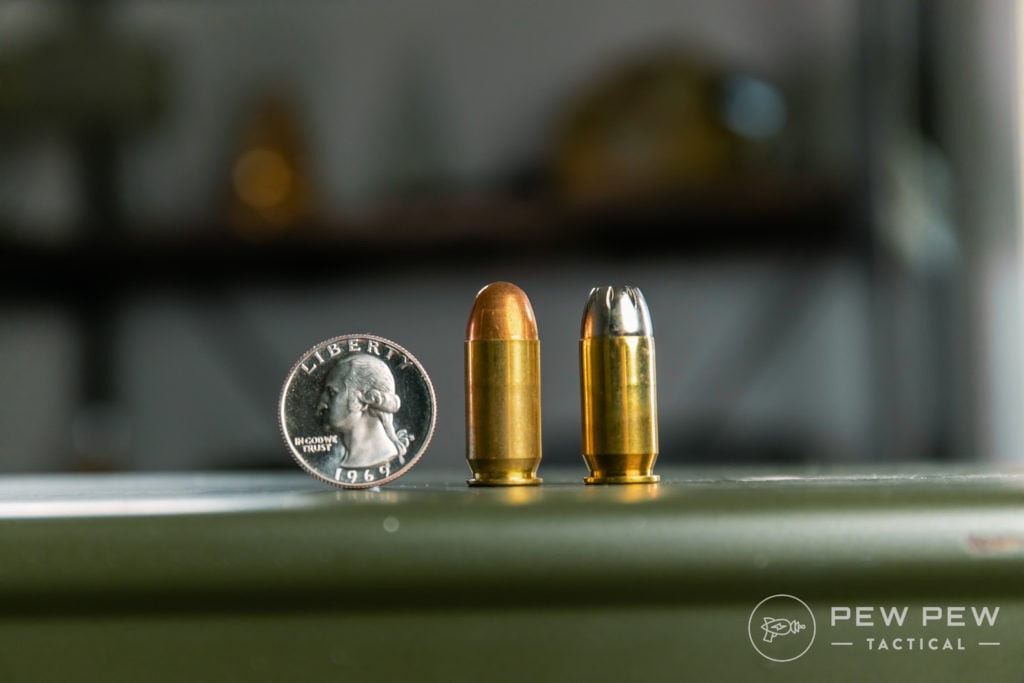 The .45 ACP incorporated a 230-grain bullet at about 850 feet per second in a semi-automatic platform and proved to be a very reliable and robust fighting handgun.
TWO WORLD WARS!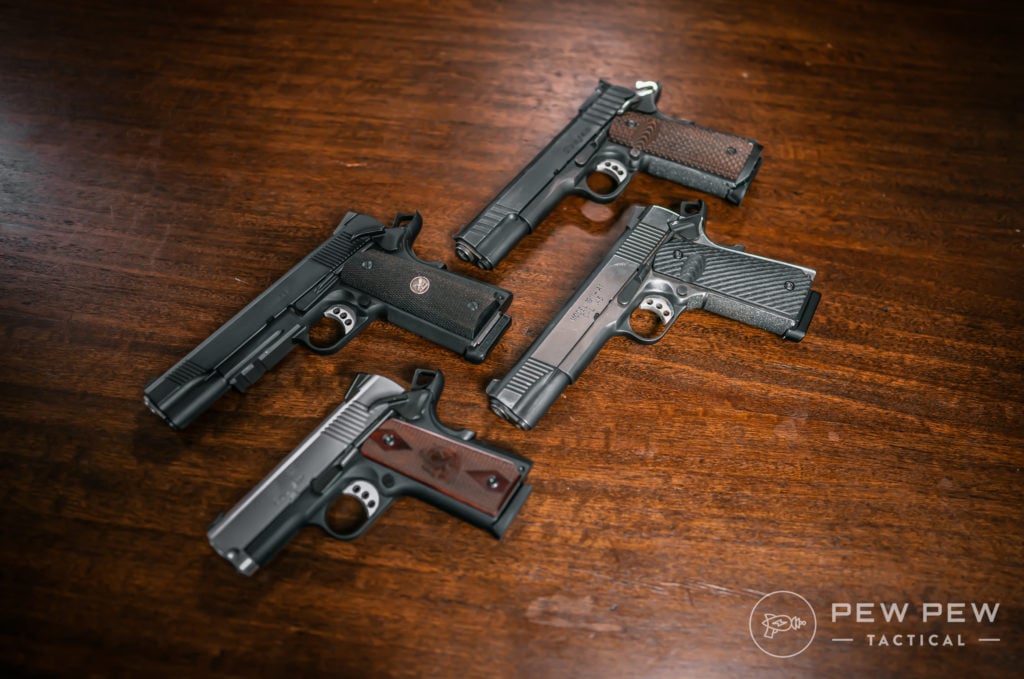 So what if we take the original 1911 and built a pistol around the easier shooting 9mm round?
Then we have the awesome history, ergonomics, and trigger pull of the 1911 in a very easy to shoot cartridge with a great track record as a defensive round (using new hollowpoint technology).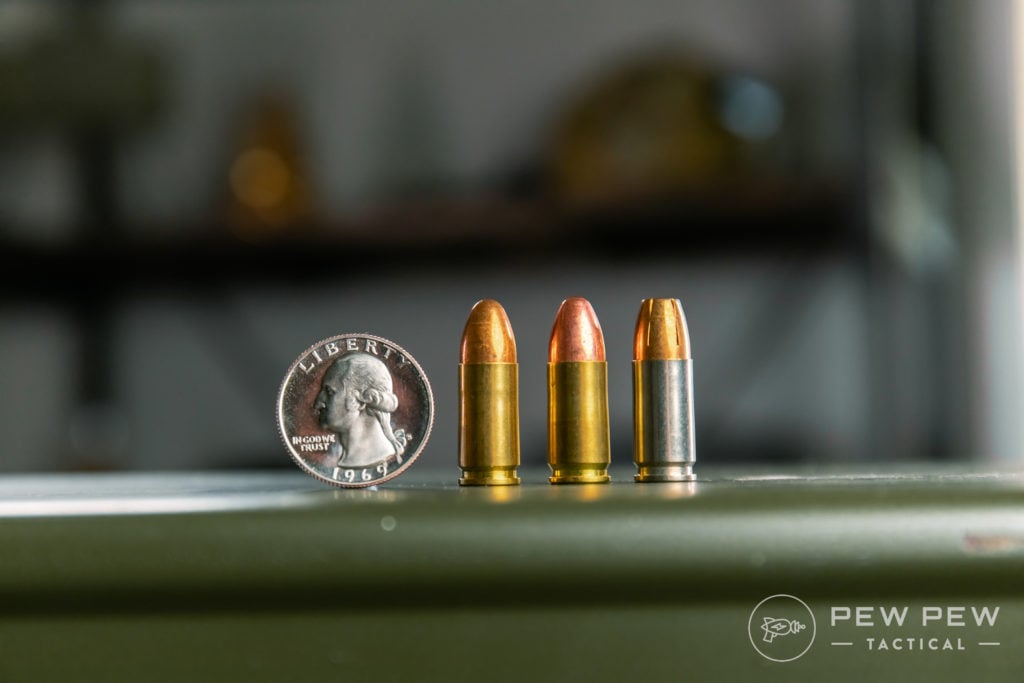 Sounds good?
Then let's dive into a few of our favorite 1911s chambered in 9mm.
Summary of Our Top Picks
Best 9mm 1911s
1. Springfield EMP
Let's start off with something a little more diminutive…the Springfield EMP 9mm.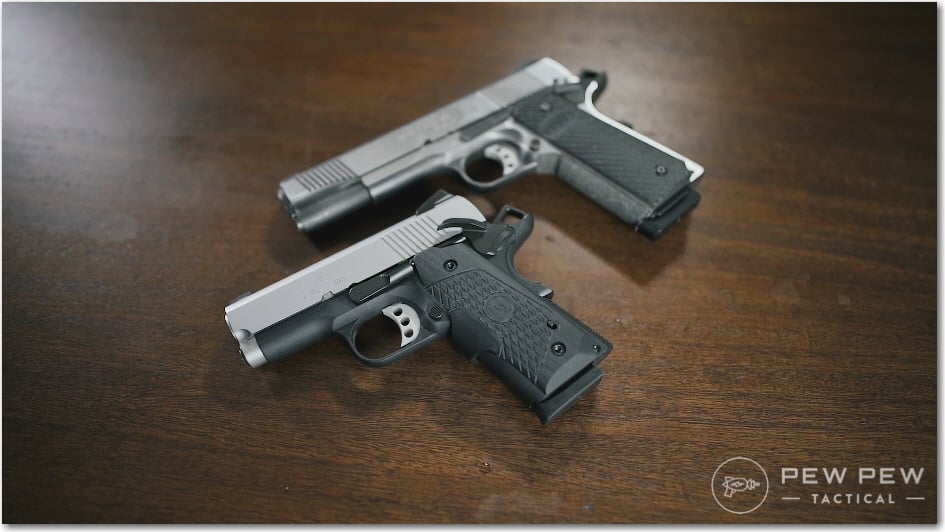 Easy shooting with a 3-inch barrel since you still have the full steel weight of the 1911 platform.
And another advantage of 9mm? More ammo! This tiny and concealable 1911 gives you nine rounds.
Plus, there are plenty of ways to upgrade it with lights and lasers.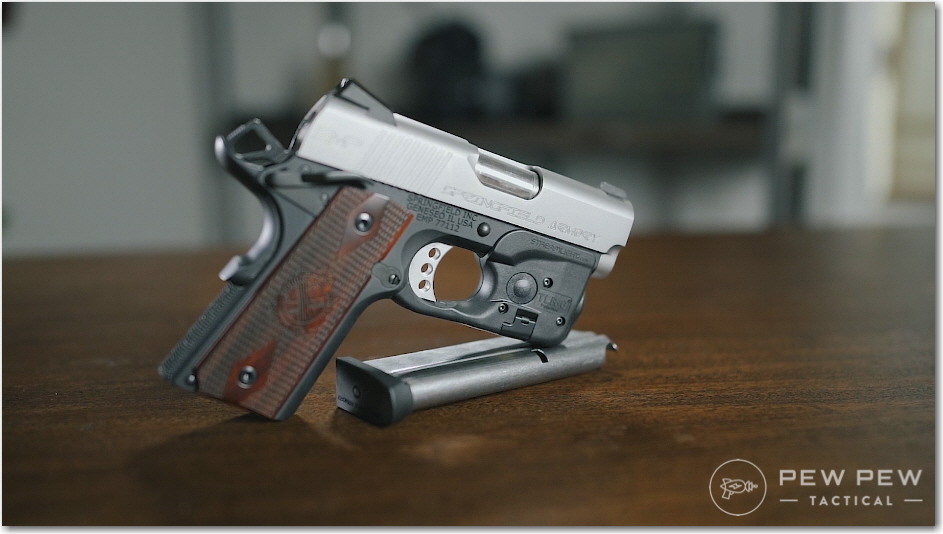 If a concealed 9mm 1911 is what you're looking for…you can't go wrong with the EMP.
Easiest to Conceal
779
at GrabAGun
Prices accurate at time of writing
Prices accurate at time of writing
2. Staccato 2011s
We're going to veer a little into the future now…
Staccato is the rebranded and sexier STI International (probably the most winning of competition 1911 manufacturers).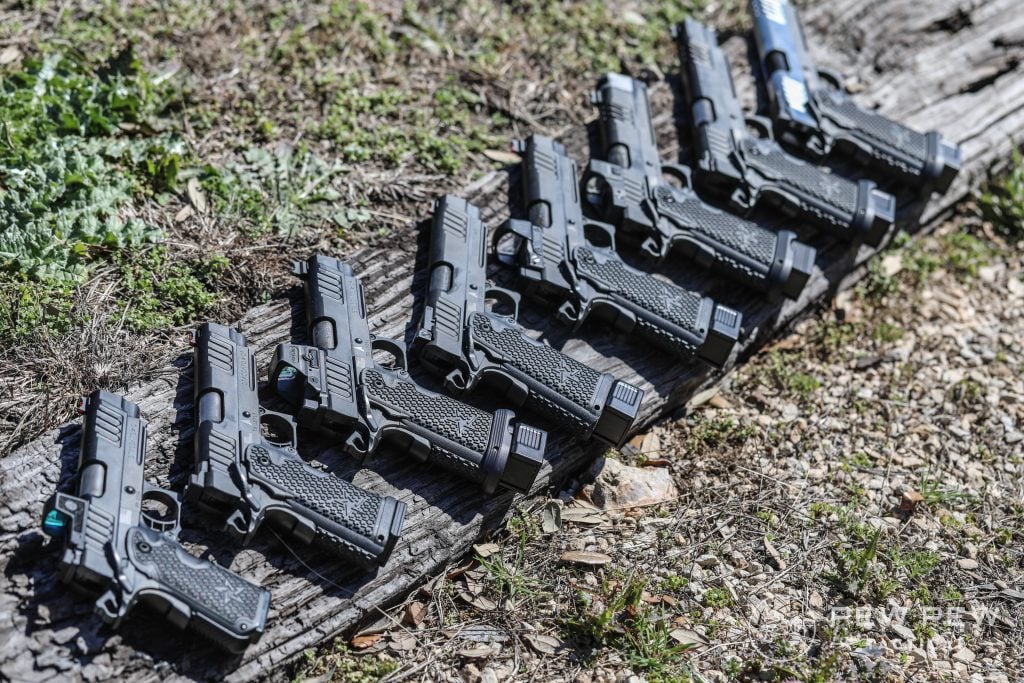 And they do one thing the best…9mm 1911s that are so advanced they are now known as 2011s.
They have their concealed carry oriented C DPO, which is single stack and is optic ready.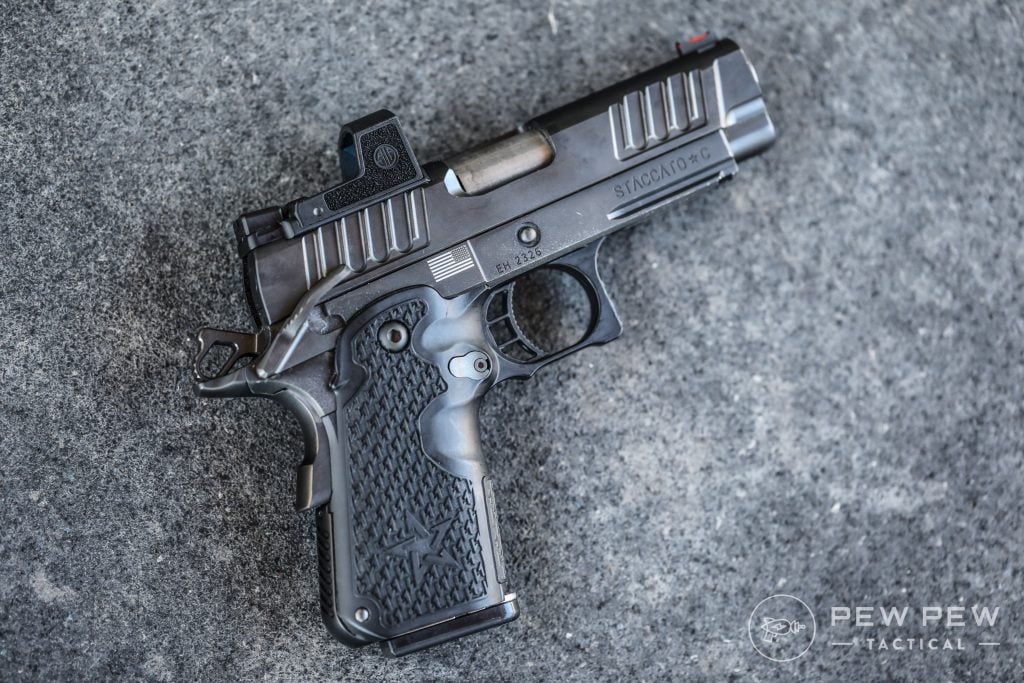 But if you're looking for concealed…go with the Staccato C2, which brings the capacity to 16 rounds of 9mm goodness.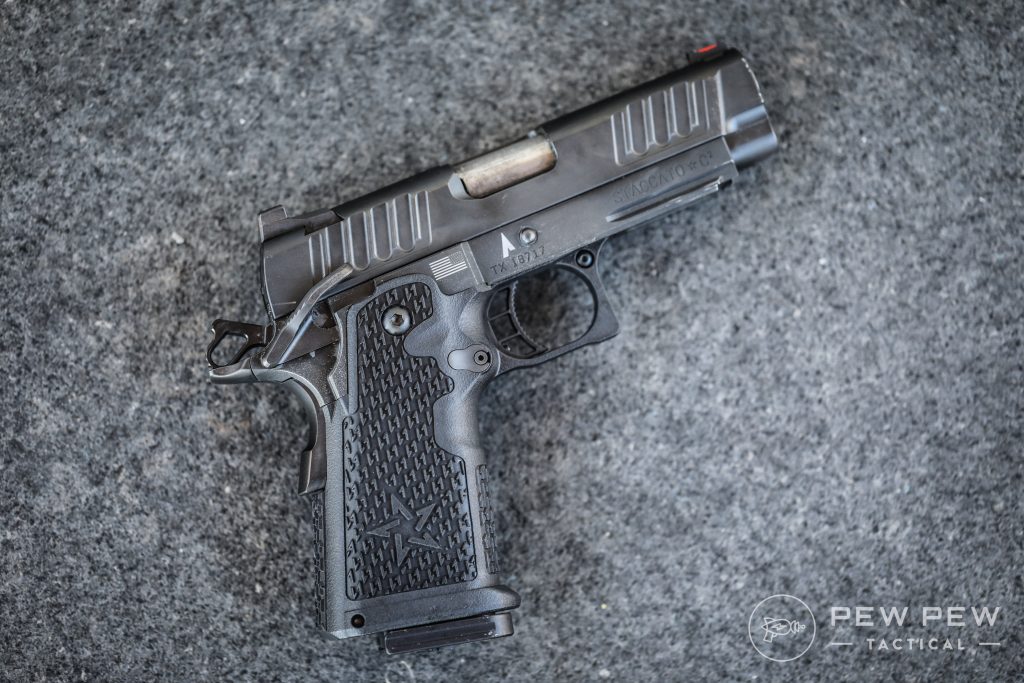 It's a little thicker but the same weight as the regular C.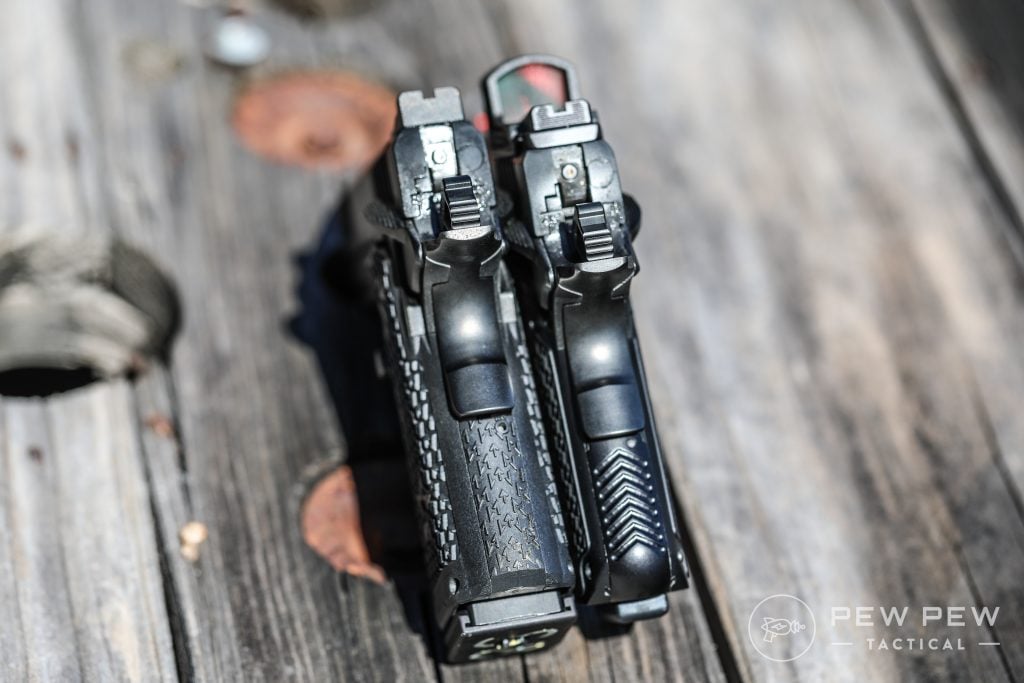 And oh yes…it shoots super smoothly.
About the only downside is the high price, but you really get what you pay for here.
1999
at Staccato
Prices accurate at time of writing
Prices accurate at time of writing
See the full review of both the C and C2 here…along with our full video review too:
If you're looking at duty or general use…tons of law enforcement agencies are using the Staccato P series.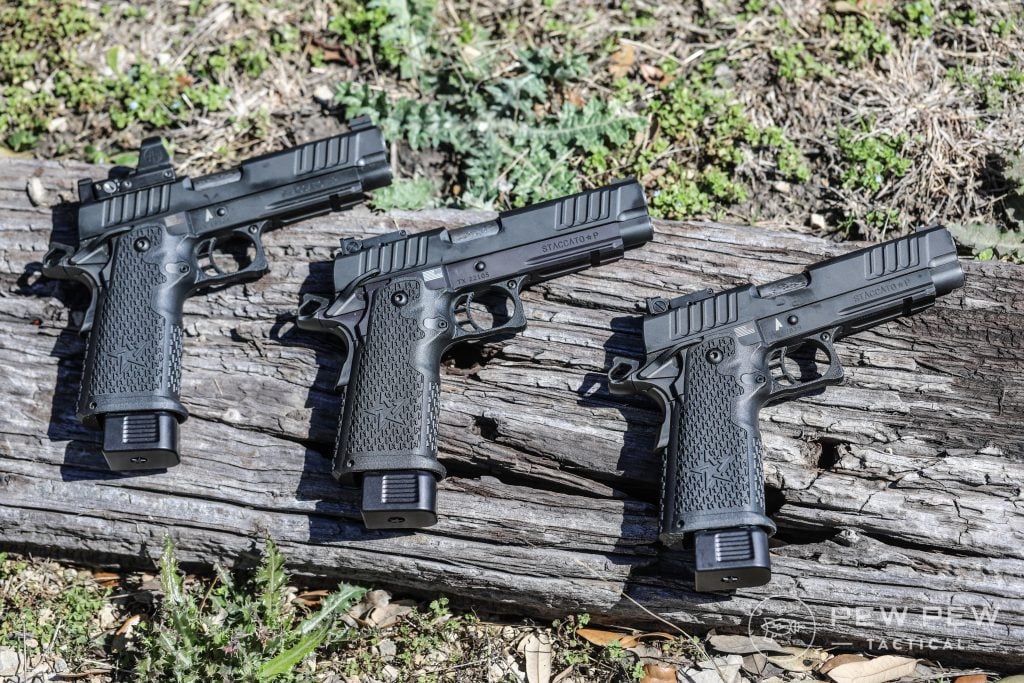 But if you're looking for a competition gun…that's what Staccato does the best.
Check out the Staccato XL, which, you guessed it…is longer than regular-sized 1911s.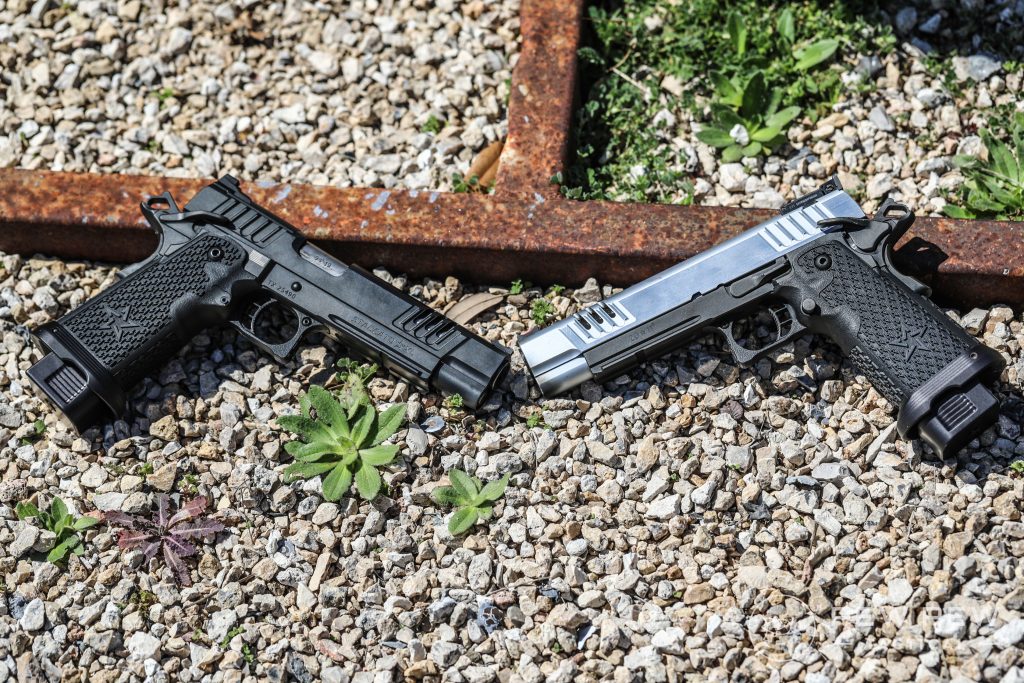 With great length comes a longer sight radius and more weight to soak up that recoil. Giving you probably the smoothest and flattest shooting I've ever experienced.
There's also a .40 S&W version if you want to be super competitive with a major power factor in USPSA. But the 9mm will serve you well in steel challenge and Tactical Games (where most elite class winners use the XL).
Best Duty Pistol
3399
at Staccato
Prices accurate at time of writing
Prices accurate at time of writing
How about the ultimate gamer gun? Check out the flagship Staccato XC which stands for compensated and is optic-ready.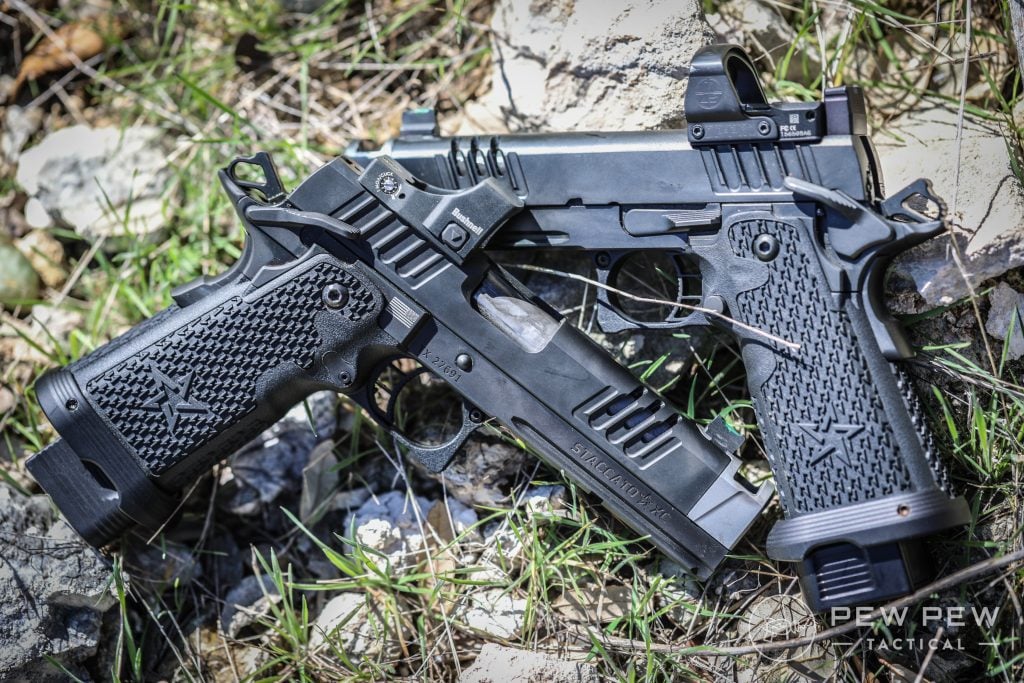 It'll put you into open class for most competitions. But when you want the best and fastest gun (not just 9mm 1911s)…you want to check it out.
Check out the gas shooting out the top and keeping the gun ultra flat!
But…you really got to pay to play!
4299
at Staccato
Prices accurate at time of writing
Prices accurate at time of writing
Check out our full review of the Staccato XL and XC right here. Along with a YouTube video:
What do you think of Staccato? Rate them below!
3. Desert Eagle 1911 C
Usually, when you think Desert Eagle, you think big, like autoloading pistols in .44 Magnum, .357 Magnum, and .50 Action Express.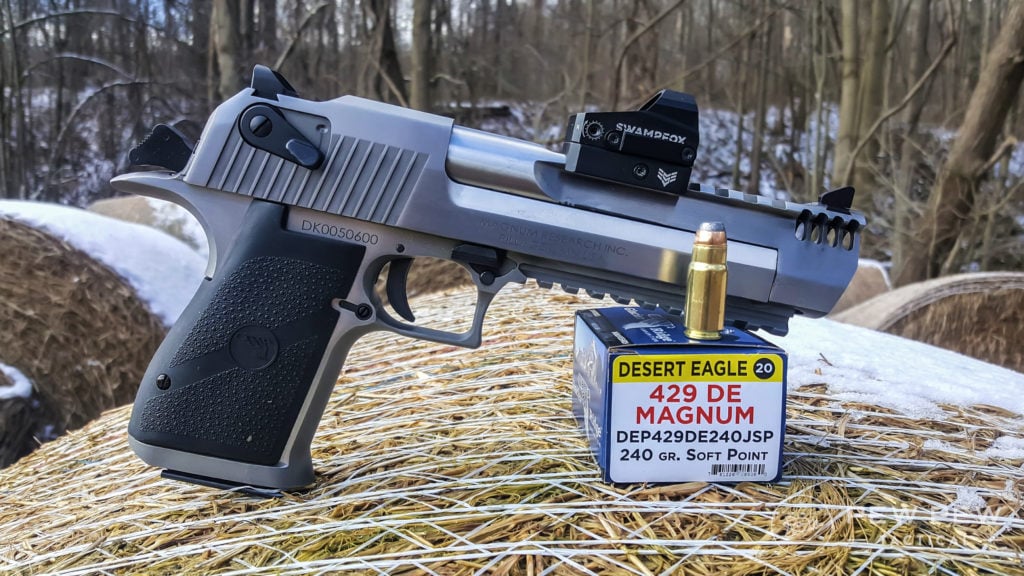 It's true Magnum Research is famous for its big revolvers and big semi-autos, but they really should be famous for their quality, and the Desert Eagle 1911 Series is no exception. The 1911 series is available in three different barrel lengths; C series is 4.33 inches, G series is 5.01 inches, and the U series is a very compact 3-inch barreled pistol series.
The 1911 series guns all ship with two magazines. The compact U series have 8-rounders, and the C and G series feature 9-round mags.
Budget Pick
818
at Guns.com
Prices accurate at time of writing
Prices accurate at time of writing
Features like a high ride beavertail grip safety, extended magazine release, extended thumb safety, and full-length stainless guide rod make these guns ready to carry or compete with right out of the box.
The bigger guns are all steel, while the 3-inch models have an aluminum frame.
4. Kimber Pro Carry II
Kimber America makes more 1911s than any other company in America. There are 19 different variations of 9mms alone to choose from.
Personally, I like the Pro Carry II. It's got a 4-inch barrel, so it's a 'Commander' size gun and easy to conceal.
Runner up CCW Option
813
at Kygunco
Prices accurate at time of writing
Prices accurate at time of writing
The frame is aluminum, while the slide is steel and features low-profile fixed sights. The two-tone color scheme is classy looking, and the rosewood grips finish out the good looks.
There is a full-length guide rod to keep things running smoothly, and, at 28 oz., there is enough weight to keep the recoil at a minimum and keep you shooting all day long.
The Pro Carry magazines hold 9 rounds, so with one in the pipe, you have 10 total rounds at your disposal.
5. Springfield Range Officer Compact
Springfield Armory has been building 1911s since 1985 and currently has 11 offerings in 9mm.
The Range Officer Series has just about everything one could want in a solid performing 1911 handgun.
Classic Look
830
at Palmetto State Armory
Prices accurate at time of writing
Prices accurate at time of writing
It has classic good looks, with a matte anodized aluminum frame and Parkerized steel slide that houses a 4-inch barrel and full-length guide rod.
Up top, the Range Officer has a fiber optic front sight with a low-profile combat rear sight to get you quickly and easily on target.
The grips feature the Springfield Crossed Canon logo and diamond checkering in rosewood. If you haven't picked up on it, I'm a sucker for nice wood and dark, blued steel guns. Each Range Officer ships with two 8-round magazines.
6. Ruger SR1911
Ruger entered the market 1911 in 2011, the 100th anniversary of the 1911 with their SR1911 series of guns.
Like everything Ruger does, these guns are robust, built in the U.S., and worth a close look if you want to add a 1911 to your collection.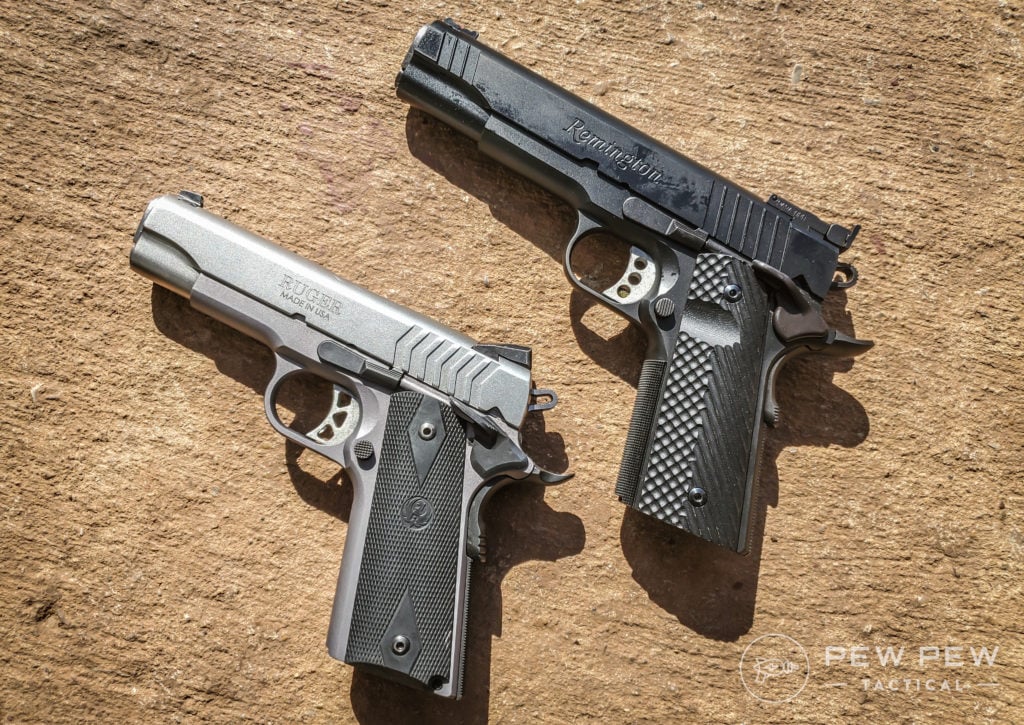 Most Rugers are heavy, and this 9mm is no exception at 29.3 oz. The frame is gray anodized aluminum, and the slide is stainless with Novak 3-Dot sights.
To enhance accuracy, the stainless slide and 4.25-inch barrel are machined on the same tooling and from the same bar stock.
Like many of the fine 1911s today, the Ruger has a beavertail grip safety and extended thumb safety.
On many 1911s, the plunger tube for the thumb safety and the slide stop is staked to the frame, but on the Ruger, the plunger tube is integral to the frame and cannot become loose, damaged, or bent.
BEST BANG-FOR-THE-BUCK
859
at Guns.com
Prices accurate at time of writing
Prices accurate at time of writing
There is a visual port to provide confirmation of a loaded chamber as well.
Magazine capacity is nine rounds. This is a great, no-frills pistol that will provide a lifetime of service and shooting fun.
Final Thoughts
Of course, this is just a sampling to whet your appetite for a new 1911 in 9mm. Are these the best 9mm 1911s? With so many great guns on the market these days, it's hard to say, but I believe they all represent fine quality, reliability, accuracy, and availability.
None are custom, but all include many features on pistols built by the finest custom shops. They are all reliable, accurate, and have the classic good looks that 1911s should have.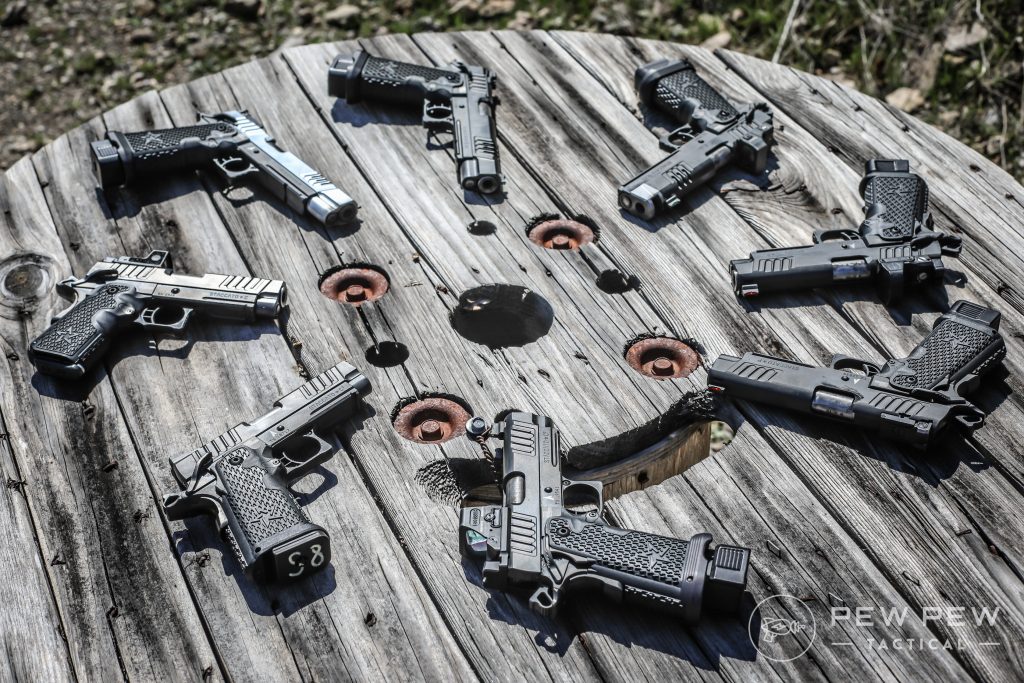 Of course, you may prefer a different 9mm 1911 (and if you do, tell us in the comments!), but these are all great options, and regardless of your decision, you can't go wrong having a genuine 1911 in your collection.
After all, it's one of those guns every gun nut needs.
What do you think about 9mm 1911s? What is your favorite caliber 1911? Let us know in the comments! For some more 1911 action, take a look at the Best 1911 Pistols For The Money and the Best 1911 Mods!