Really love 1911s…the look, grip angle, trigger pull, and controls?
But know a full-size Government .45 ACP version is a little difficult to concealed carry?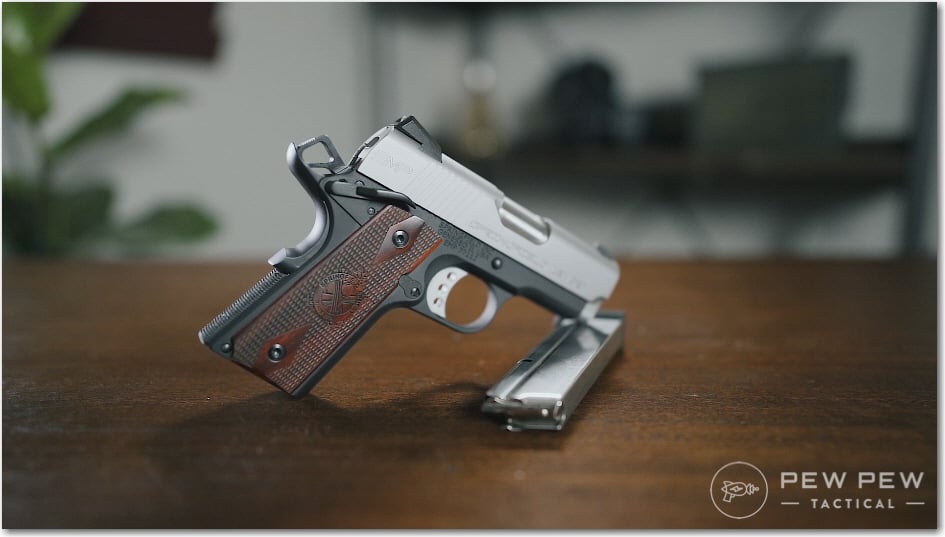 Enter…the tiny-boi Officer's sized 1911s with 3″ barrels.
Today we'll go over Springfield Armory's 1911 EMP (enhanced micro pistol) chambered in 9mm. By the end, you'll know if this could be for you.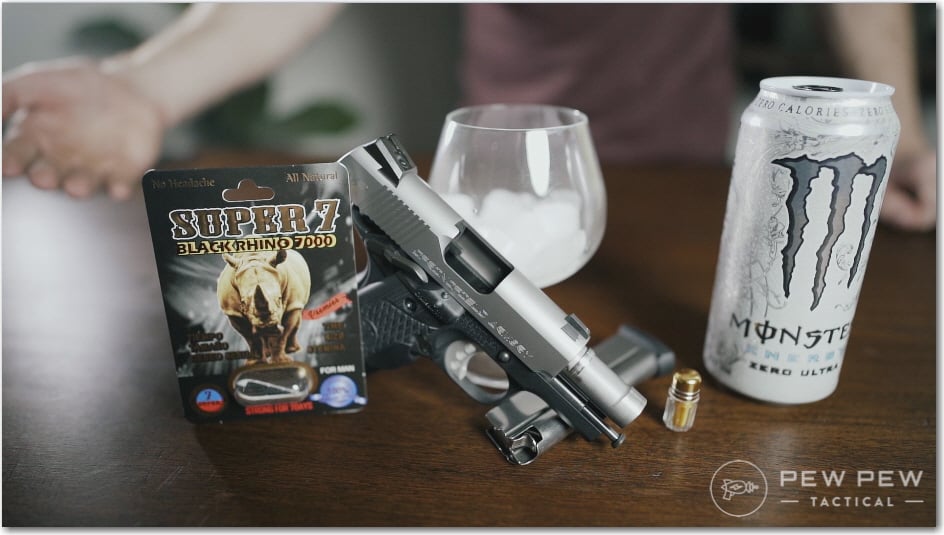 But…if you're triggered by 9mm vs .45 ACP debates…you might want to skip this.
779
at GrabAGun
Prices accurate at time of writing
Prices accurate at time of writing
Otherwise…let's get started first with an extra-sassy video review:
If you enjoyed that, please consider subscribing to our YouTube Channel. New stuff every week!
Now let's get on with the written article where we go a little more in-depth.
Table of Contents
Loading...
Fit & Feel
The EMP is over $1000 so I expect it to be a cut above standard 1911s.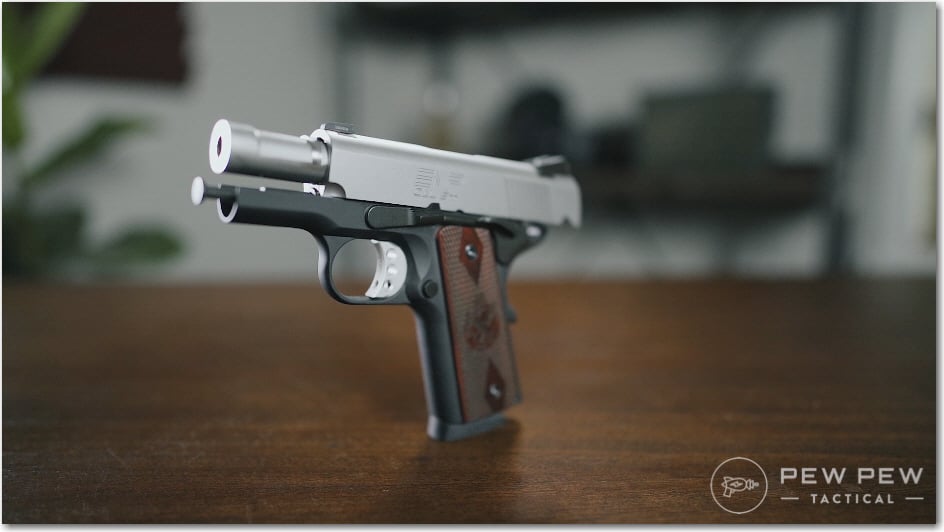 I wasn't disappointed.
The two-tone version with wooden grips is a beauty to behold. No discolorations or machining cuts I could see.
And although it's sub-compact with an aluminum frame (27 oz)…it feels super solid in your hands.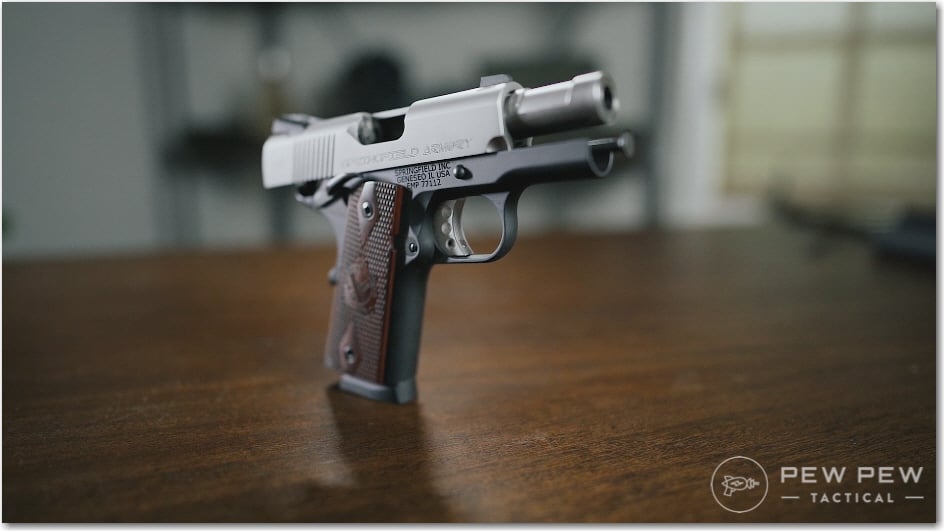 The grip is only slightly grippy so it won't snag, and the front magazine well is completely un-checkered.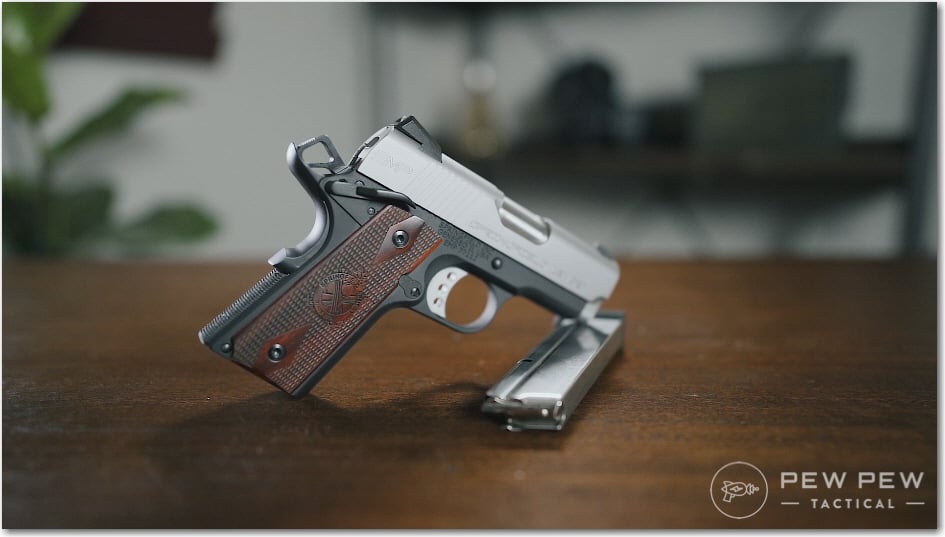 However the rear magazine well is nicely checkered at probably 30 LPI.
I have slightly smaller hands and have no problem with a Glock 43 Sig P365…so the grip size was perfect for me.
But John in our video thought it was a little small. If you have meaty hands you might want to test it out "in-hand."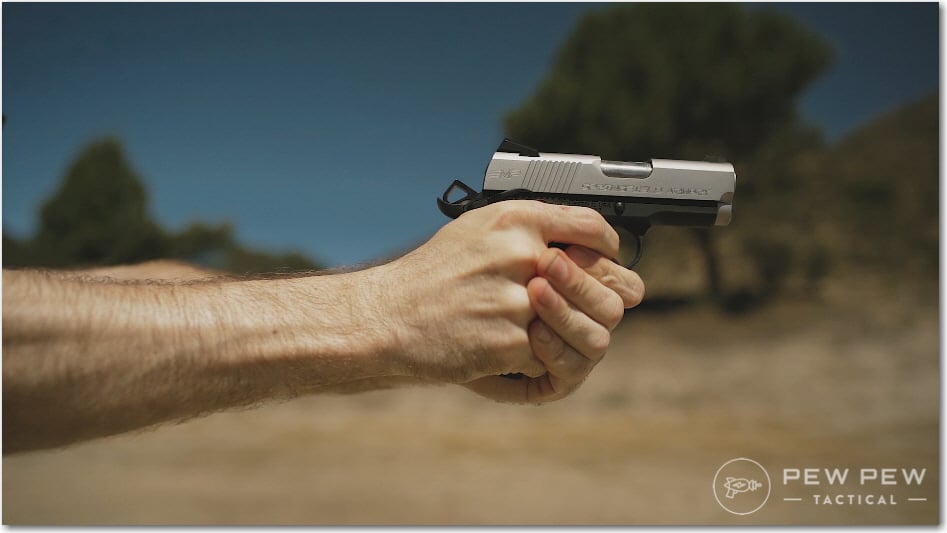 You also get an ambidextrous safety.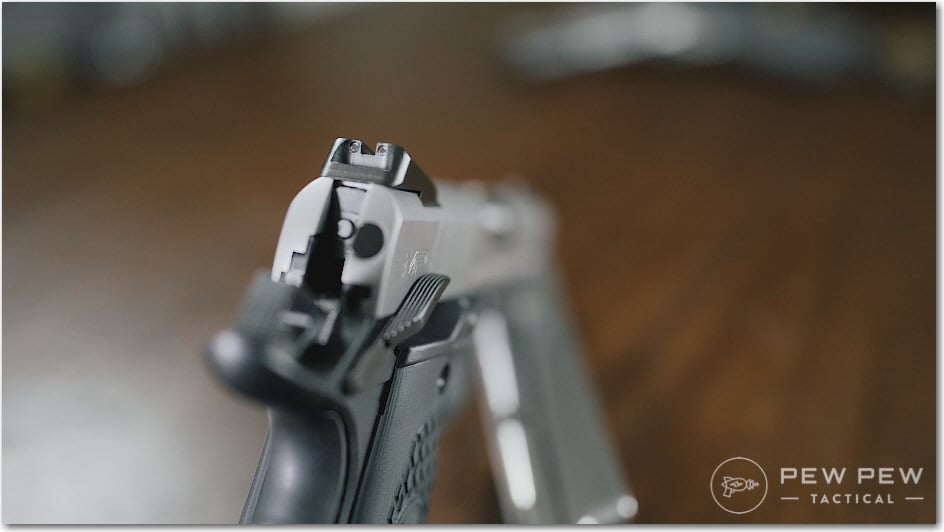 And if you're a stickler for the ejector and firing pin matching with the slide…it does a great job there too.
Slide is well fitted for a factory gun and it should smooth out even more with a bunch of rounds.
Trigger is a good 5.5 lb with some take-up, nice wall, and clean break.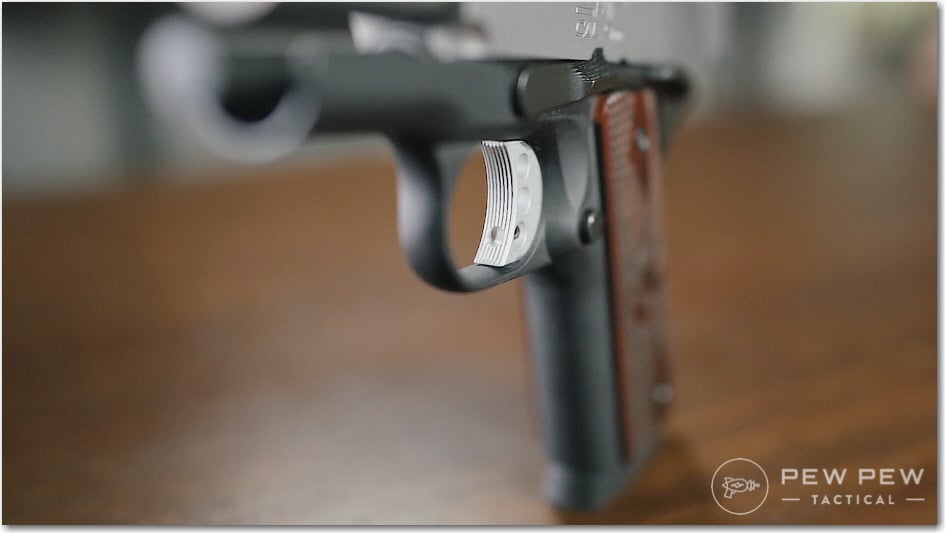 There's also an adjustable post-travel screw that helps somewhat…but it's not mind-blowing. Reset is very strong.
Magazine release is not ambidextrous and is a little small and hard to press…which is actually what I'd like in a carry gun. Mag ejection is super strong.
Slide release lever is in the standard 1911 place…which for me means I can't reach it well all the time.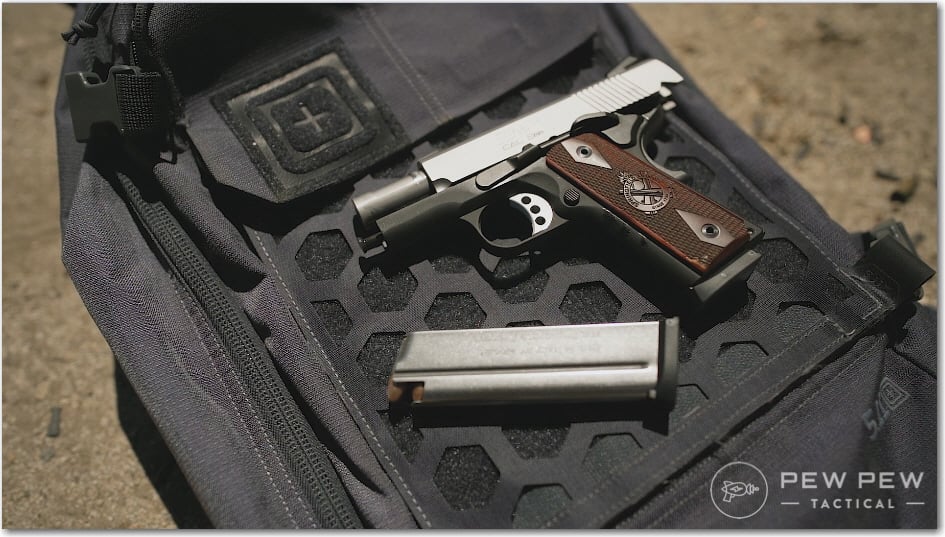 But I'm already used to either using my weakside thumb or sling-shotting the slide.
Now…how does it shoot?
Shootability
Sub-compact guns aren't very fun to shoot.
But sub-compact guns with a nice aluminum frame AND in 9mm are a blast.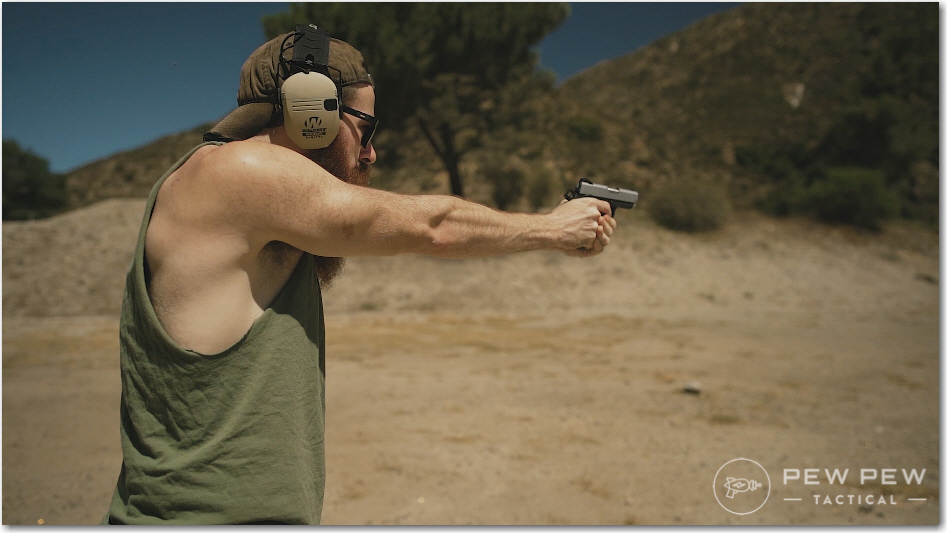 It's snappier than a full-sized gun.
But with some heft at 27 oz (compared to 30 oz of a loaded Glock 19)…the EMP is super controllable and it's easy to shoot through a bunch of mags.
Quick mag segue…these mags from Mec-Gar feel really nice and you get three of them in the box.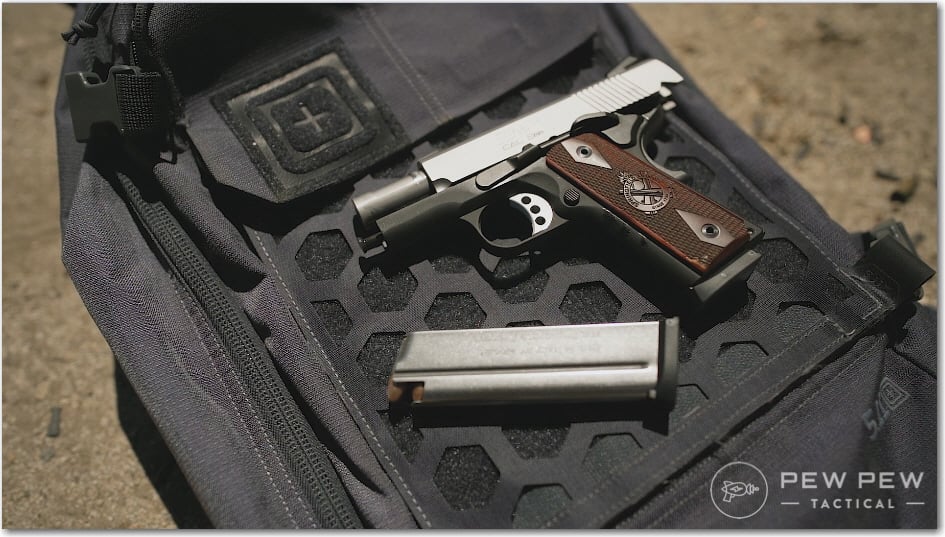 We got some nice dirt and dust into them during our shoot and they kept going.
Accuracy
With 3″ of barrel…even a bull one…you're not looking at laser like accuracy at 25 yards.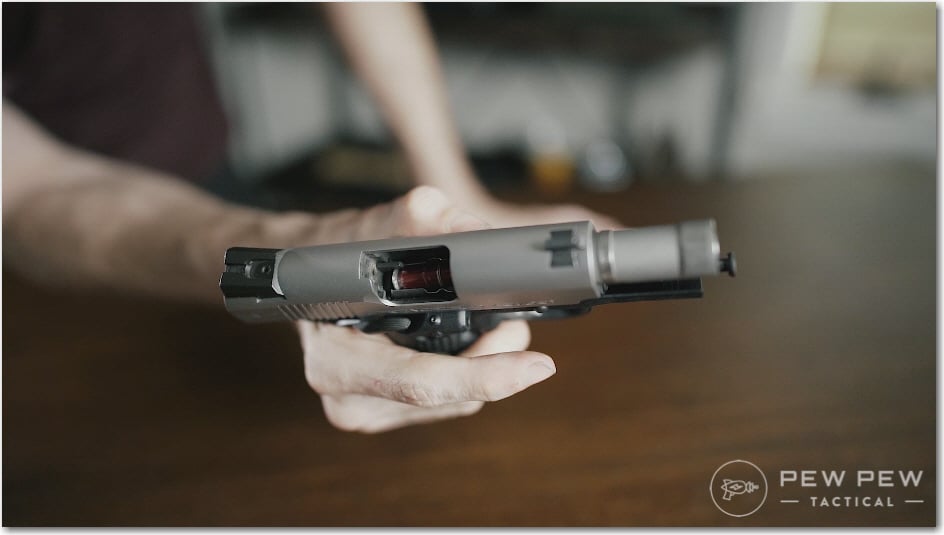 We kept most of our shooting to CCW distances but still managed to hit a 100 yard IPSC torso sized plate around 30-40%.
It's a standard 3-dot sight system.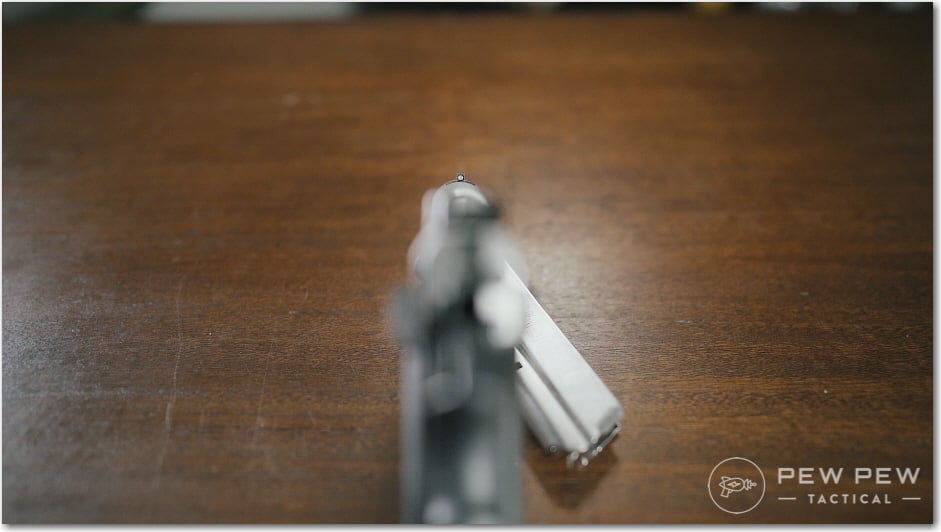 And I'm glad it comes factory installed with night sights.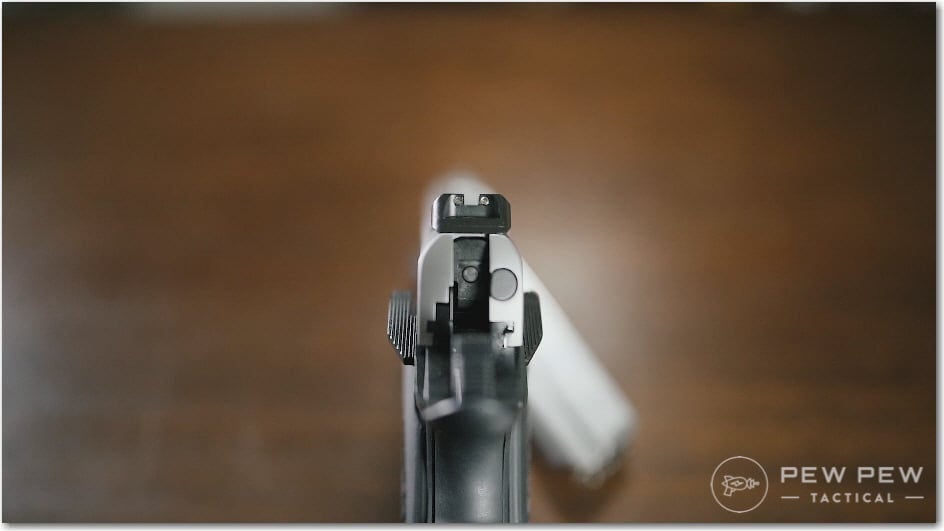 We did the majority of our shooting with some dry steel cased ammo that jams up my other pistols and PCCs.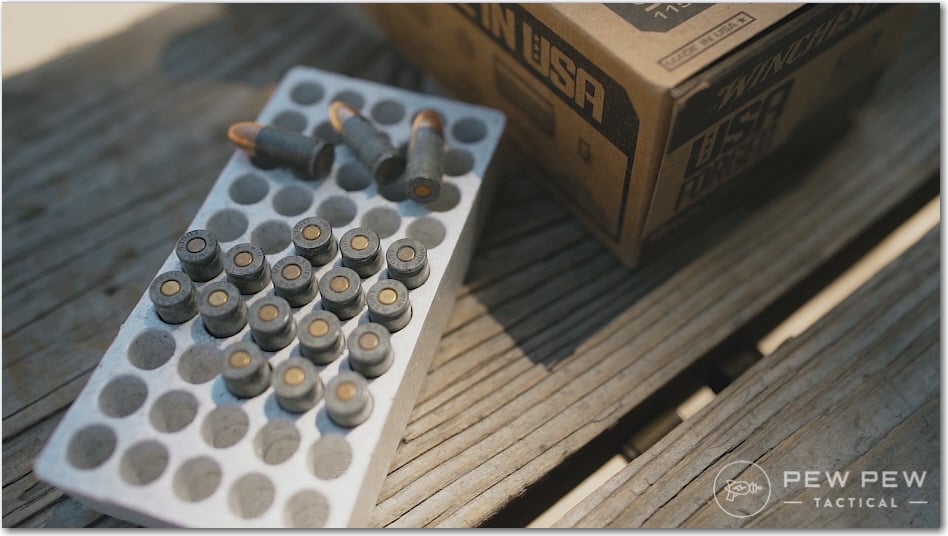 100% reliability.
Then we did some 7 yard accuracy tests with plinking ammo and hollowpoints while standing and at a quick pace.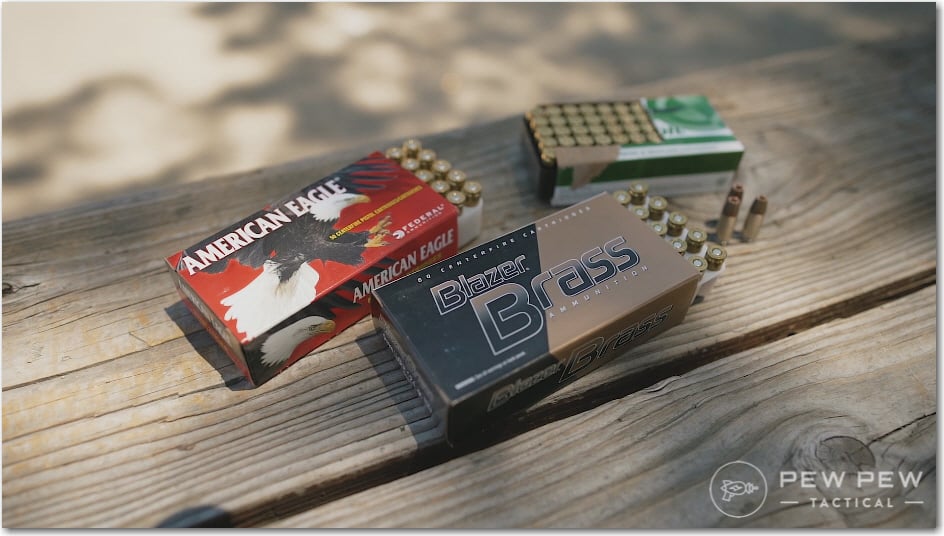 Here are the results…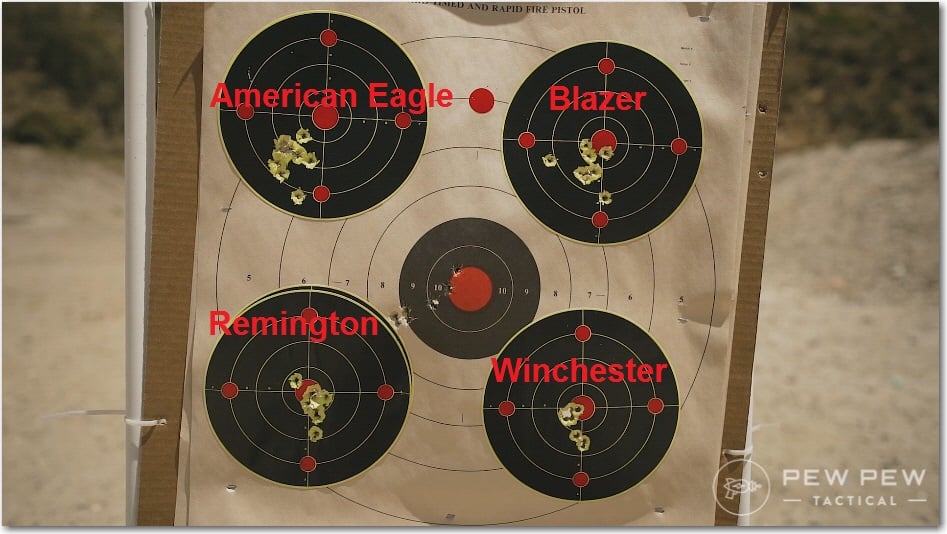 Way under minute of bad guy.
And I'm glad that the Winchester hollowpoints fared the best.
Check out our favorite plinking and self defense rounds in Best 9mm Ammo.
Reliability
Smaller framed 1911s have the reputation of being unreliable.
I'm really glad the EMP was 100% reliable with all 500 various rounds and mags we fed it.
For a true carry gun I'd run it to the 1000 round count without malfunctions. But it's well on its way.
Upgrades & Accessories
Oh yes…I love upgrades. But for a carry gun I wouldn't do anything to the gun itself…and not that it needs anything.
If it's more of a fun gun…I'd point you to my 1911 gunsmithing series:
Otherwise…there's still a great option for lights with the Streamlight TLR-6.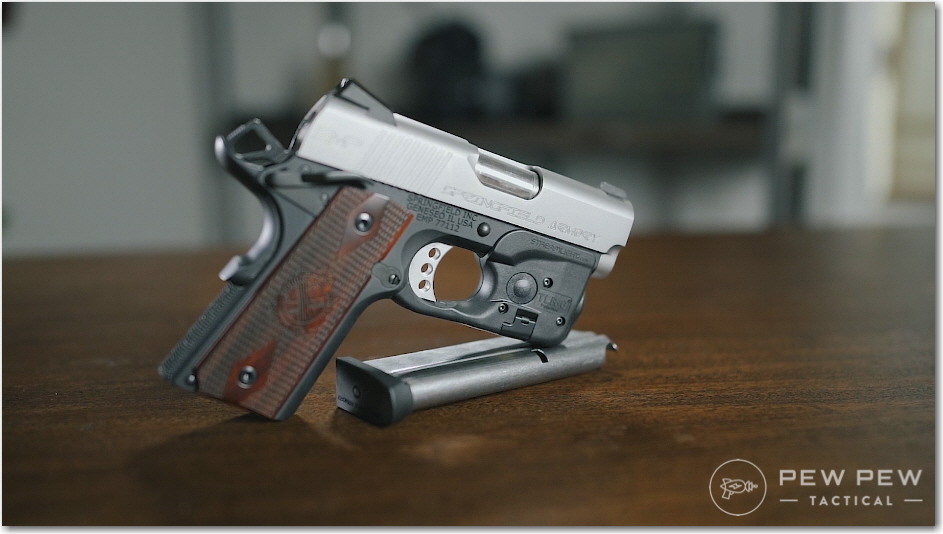 This nifty light and laser combo clamps onto the trigger guard and frame to give you 100 lumens of light.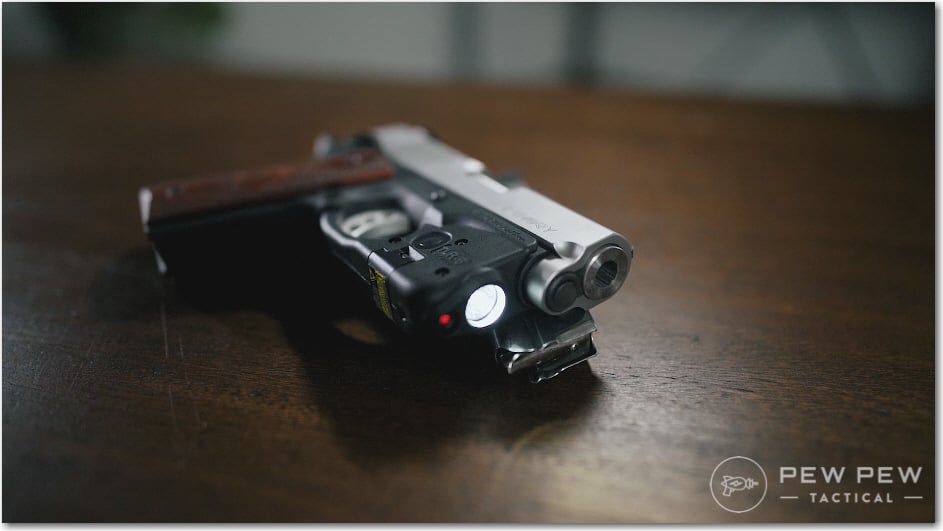 Not the brightest comparatively but should be enough for close target verification.
98
at Amazon
Prices accurate at time of writing
Prices accurate at time of writing
However, your holster selection is going to be much more limited.
If you're looking for a nice laser without changing holsters…check out the Crimson Trace Master Series Red Lasergrip.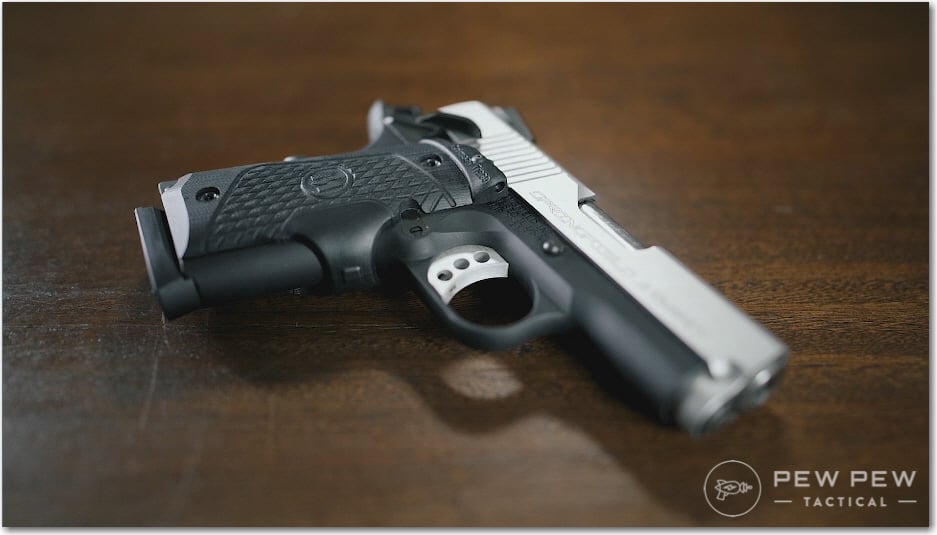 It costs a pretty penny and slightly swells your grips, but gives you easy access to a laser with your middle finger.
360
at Amazon
Prices accurate at time of writing
Prices accurate at time of writing
Now how about mags? I recommend going with the original…
20
at GunMag Warehouse
Prices accurate at time of writing
Prices accurate at time of writing
Holsters
You can't forget holsters…especially if the EMP is likely going to be your CCW gun!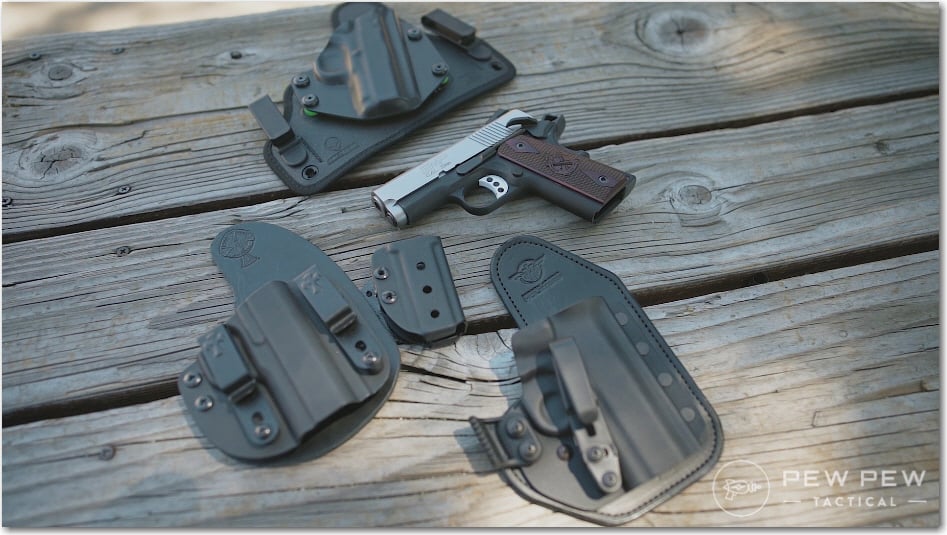 We tested a couple of our go-to holster brands (Best Concealed Carry Holsters).
Our favorite was the Hidden Hybrid Holster appendix carry model. It took a little while to adjust retention of the gun, but worked great afterwards.
Our normal go-to Crossbreed brand had a weird peculiarity with its new Reckoning model…it almost all the time disengaged the thumb safety when we holsters.
Not cool with a single-action gun!
We still love Crossbreed's other offerings…but it looks like the Reckoning holster for a small 1911 is a no-go.
60
at Crossbreed
Prices accurate at time of writing
Prices accurate at time of writing
Another favorite is the Aliengear Cloak Tuck 3.5 IWB which is normally carried in the 4 or 5 o'clock position.
John didn't care too much for it based on his personal preference/pants selection, but I like the rubbery material and price.
51
at Amazon
Prices accurate at time of writing
Prices accurate at time of writing
Specifications
Caliber: 9mm
Forged Aluminum Alloy Frame, Forged Stainless Steel Slide
Single-Action, Ambi-Safety, Grip Safety
3″ Stainless Steel Match Grade, Fully Supported Ramp, Bull
9+1 Capacity
Low Profile Combat, 3 – Dot Tritium
Overall Length: 6.6″
Height: 5″
Weight: 27 oz
By the Numbers
Reliability: 5/5
No failures of any kind in 500 rounds…most of it with crappy steel-cased ammo. Mags worked well too even with drops into fine dirt.
Accuracy: 4.5/5
For its purpose, it did great. Shoots way better than me with about 1-2 MOA groups at 7 yards with defensive ammo. Even with adrenaline it's minute of bad guy.
Ergonomics: 5/5
Great 1911 controls and I like the ambi-safety. My complaint of the mag release is personal. Thoughtful checkering and just enough slide serrations.
Looks: 5/5
Love the bi-tone color and wooden grips. I wouldn't change anything about it.
Customization: 4/5
It's an un-railed 1911…but that doesn't stop it from lights and lasers nowadays. You can also swap out the grips or sights for something different…but I don't see the need to. Internals can be completely changed…but why for a CCW gun?
Bang for the Buck: 3.5/5
You could spend half the money for a reliable sub-compact CCW gun. But would it look and feel as nice as a well-built 1911?
Overall Rating: 4.5/5
Conclusion
The Springfield EMP in 9mm is a reliable and beautiful 3″ 1911 but may be eclipsed by other CCW options for it's capacity, weight, and high price. However the weight and caliber make it soft-shooting and fun at the range.
But regardless…you can tell I like the Springfield EMP. So much so that I bought it after this test.
779
at GrabAGun
Prices accurate at time of writing
Prices accurate at time of writing
It's familiar to 1911 lovers but in a smaller, lighter, and cuter package.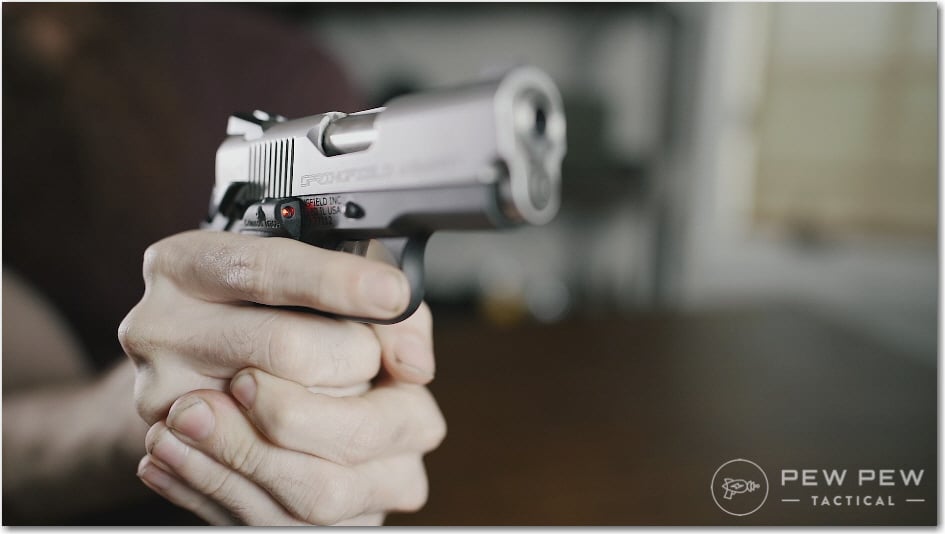 Plus it's been 100% reliable and in the end that matters the most. AND it's California Compliant on the roster.
What do you think of the EMP? Check out more of our favorite Concealed Carry Guns (By Caliber).