While the gold standard for AR-15s has always been and likely always will be the 5.56 NATO cartridge, one of the best things about the AR platform is that it is just so darn flexible.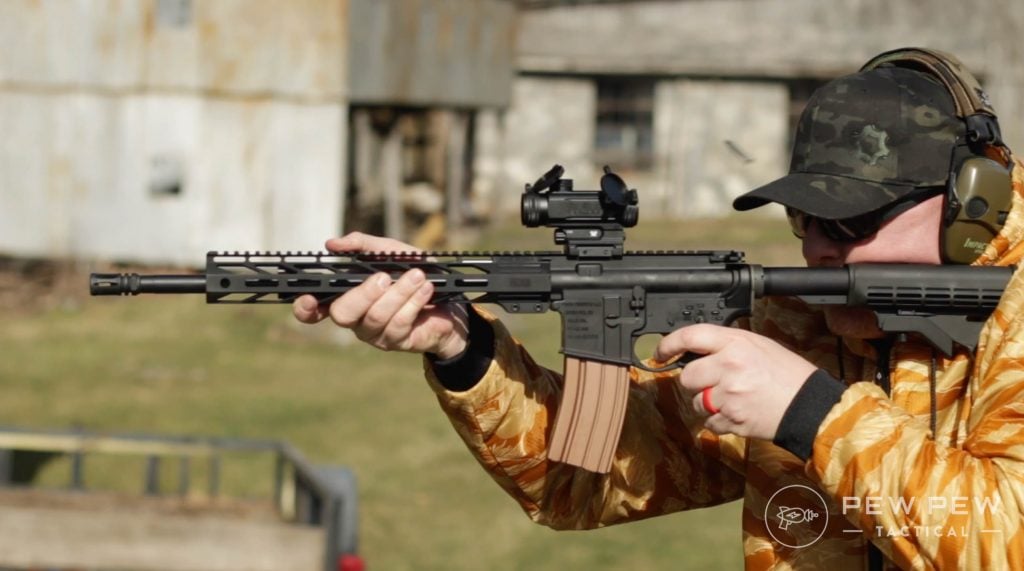 From .22 LR to .50 cal heavy weights, the AR can support a lot of flavors of cartridges. Most of the time, all it takes is a new upper and some new mags.
With so many options out there, we've broken it down to the most common (and some weird ones) to get you off on the right track.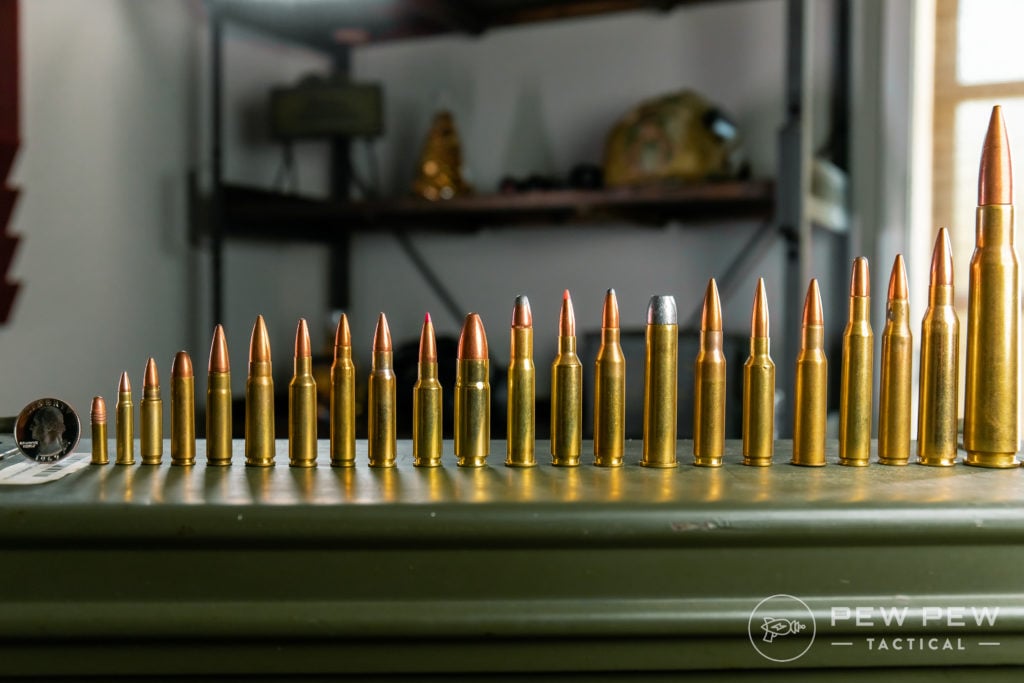 Table of Contents
Loading...
How to Choose an Alternative AR-15 Cartridge/Caliber
Choosing a rifle cartridge isn't as simple as just picking the one that's the most powerful or the coolest.
Picking the right rifle cartridge can change almost everything about the characteristics of your rifle.
The basic categories to choose a cartridge involve compromises of power, cost, and usefulness…just like deciding on the perfect car.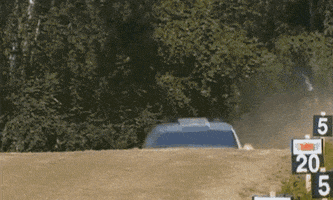 Power: This is the biggest balancing act and involves the most real-world experience.
Flexibility: A feature that sounds great in theory but can be hard to pull off.
Availability: More is always better here, consider not only the supply but also the demand.
Cost: Cheaper is always better, the cheapest rounds tend to be the best and most widely used.
Pursuit of Power
The power of the cartridges involves two main types of power: penetration and velocity. It may seem like these two types are the same thing. While they are related…they are two different beasts.
Defining the exact power of a cartridge is hard to nail down in a scientific sense. Numbers such as the kinetic energy of a round can tell you a lot about a round but it's certainly not the only important thing.
You can think of the velocity of the bullet like the engine on a truck. It produces all the power/force necessary for the truck to move, but the transmission is what connects the engine to the wheels.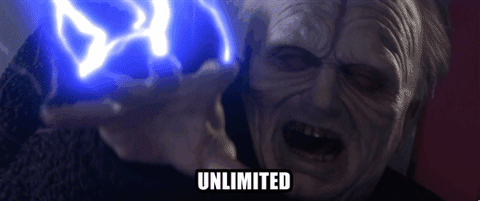 Without the transmission, the truck won't get off the line. Bullet weight is the "transmission" that causes penetration.
Velocity is a great thing but without an adequately heavy bullet, velocity is irrelevant. Bullet weight is what causes penetration and lethality.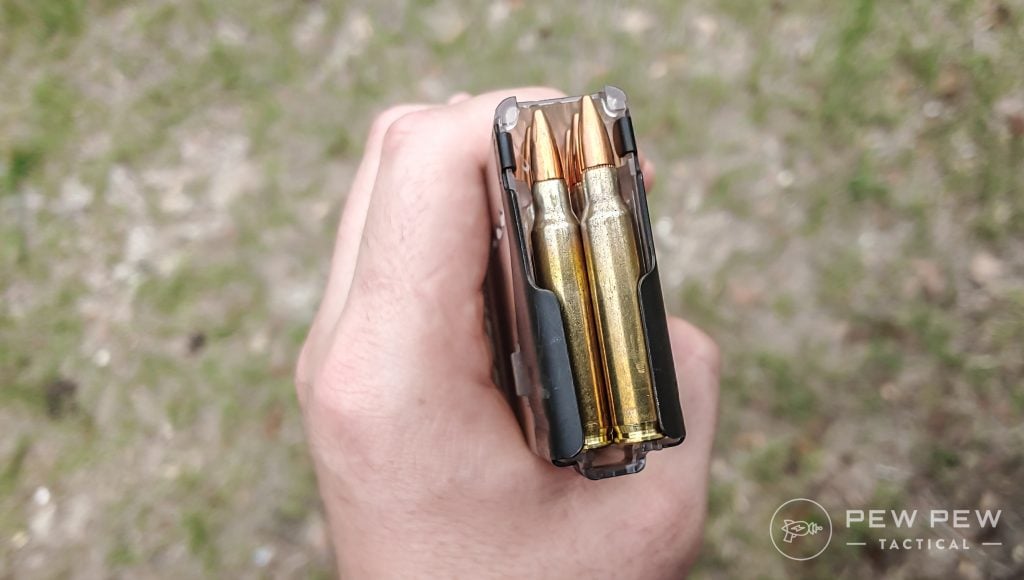 Cartridges that throw heavy bullets at medium velocities are more powerful than a lighter bullet traveling faster because light bullets lack the ability to penetrate and cause damage.
Just like you wouldn't use a Ford Fiesta to move a boat you wouldn't get in an 18-wheeler to drive to work. The balance of power is the key.
Depending on what you're shooting at you may need far less than you think.
Flexibility
If you're on a budget, just getting started, or just want an all-around gun, flexibility is important.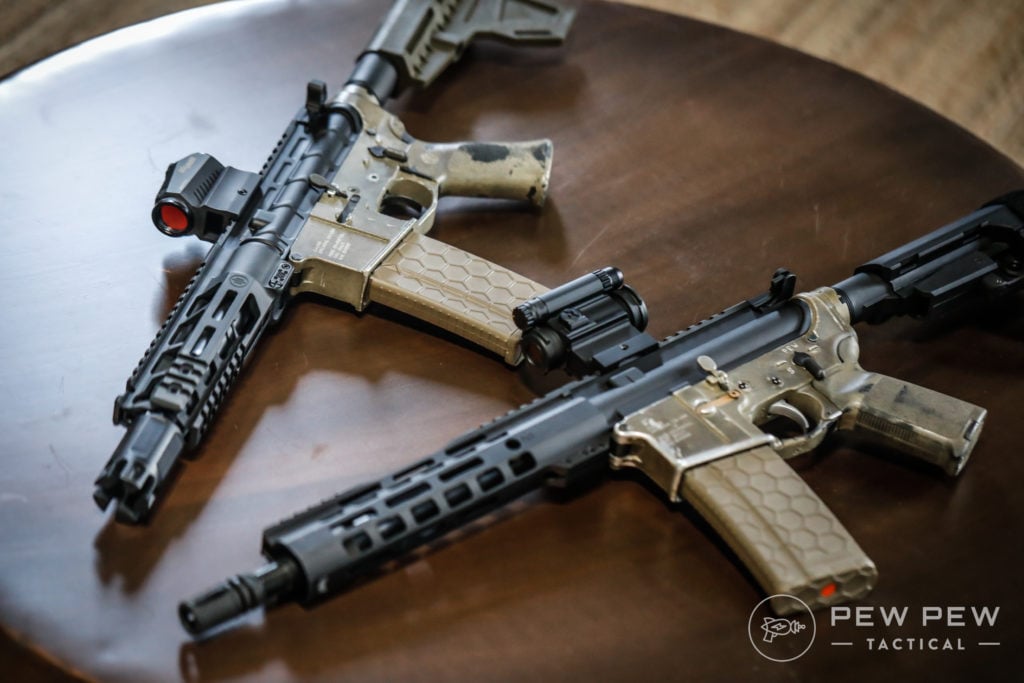 I realize this is a pretty nebulous term because no single rifle can do everything perfectly, but some guns can do most things well.
Guns are really defined by their cartridge, so if you want a gun that will do most things, focus on a round that serves many options.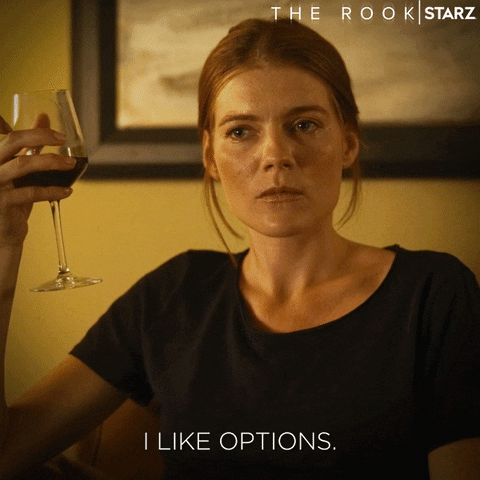 I also recommend to not be tempted to buy too powerful of a cartridge for the job you have.
There's a time and place for a big thumper like a .50 Beowulf (engine blocks anyone?) and just thinking it's plain cool is a valid enough reason.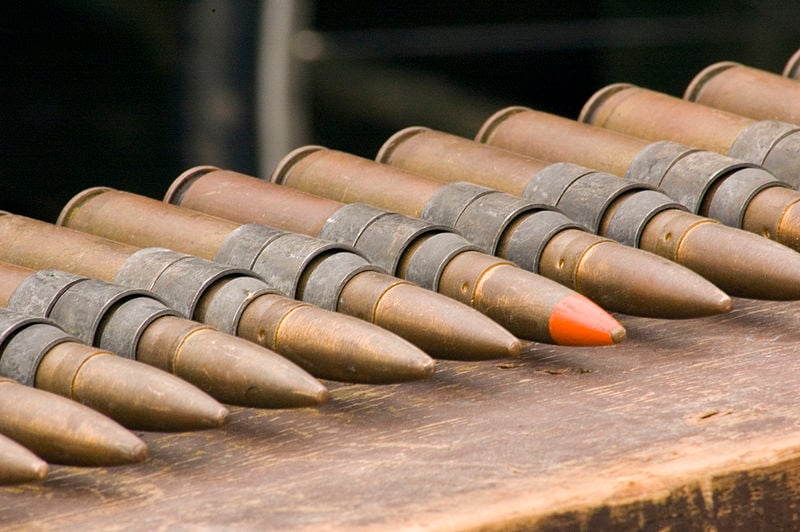 Remember it can be tempting to buy a stout round to show off but you're going to pay for the extra materials in the round and recoil to your body.
Narrow down why you're upgrading your AR-15 and you'll probably find it's for one of these jobs:
Home defense

Hunting

Competition shooting

Training
Depending on what your uses are, bigger doesn't always mean better.
Availability & Cost
If you buy a gun you have to feed it.
And the cost of ammo is one of the single biggest factors of how often you shoot. Not sure where to buy, see our favorite places to buy online.
When the cost of ammo goes up or you just can't find it, you won't be able to shoot. So, definitely factor that in!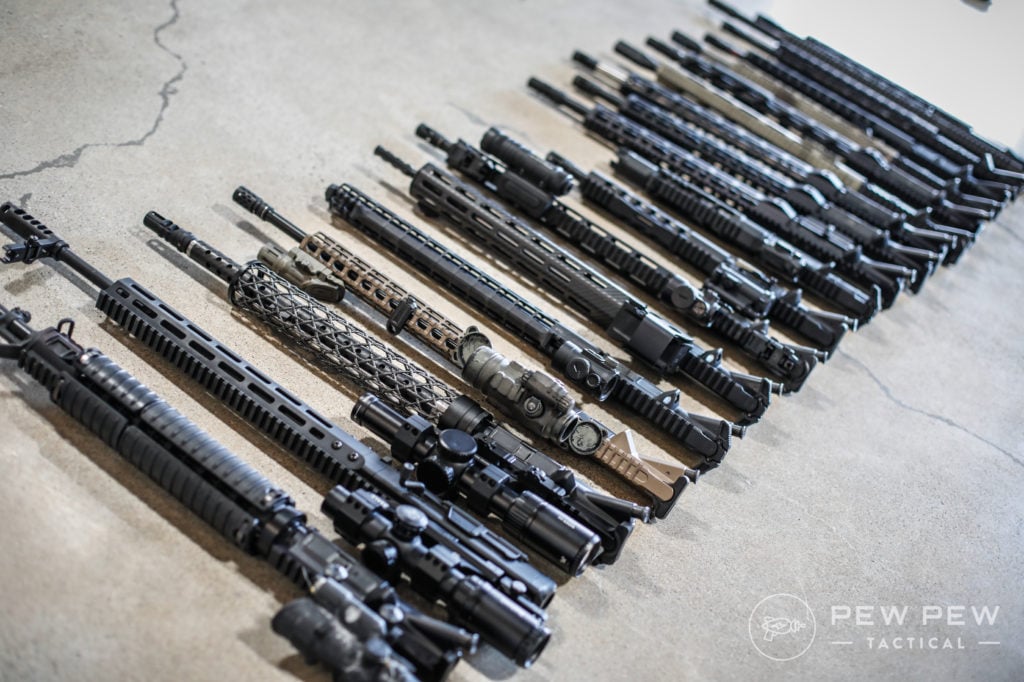 Also, the cost should include the necessary modifications you need to make the gun run right.
It may be tempting to build one yourself but remember that these can be finicky. If the upper you build doesn't run right you're out of luck.
But don't worry, we'll recommend some solid uppers for each new caliber.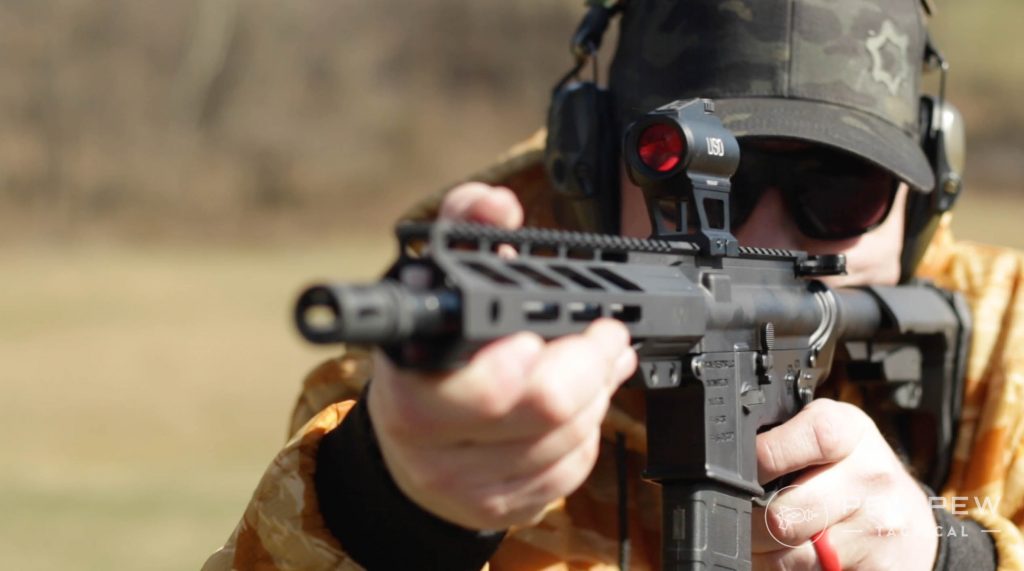 Best AR-15 Alternative Cartridges
.300 AAC Blackout (.300 BLK)
The .300 BLK was born out of necessity as a replacement for the sub-machine gun MP5SD which shot 9mm. It needed to be based on the M4 rifle, match or exceed a subsonic 9mm bullet, and be as quiet as possible.
Advanced Armament Company (AAC) took a .223 case, blew the mouth out to .30 caliber, and filled it with pistol powders.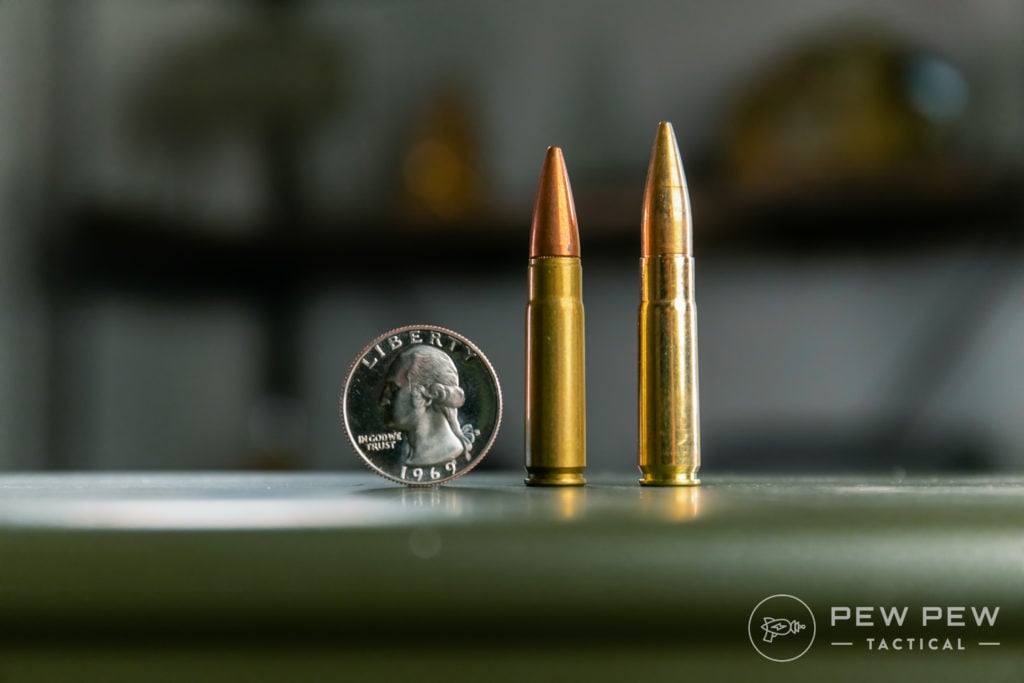 BAM!
You now have a juiced-up .30 caliber cartridge for your AR-15 that needs only a barrel change. No difference in magazines, lower receivers, or bolt carriers.
Pros & Cons of .300 BLK
Some really awesome things about .300 BLK are its performance out of a short barrel and the ability to shoot subsonic ammo with zero problems.
The .300 BLK was designed around a 9-inch barrel and it gets roughly 95% of its full potential with that barrel. Making it the absolute best cartridge for short-barreled rifles and suppressed guns.
Check out our recommended Aero .300 BLK complete upper receivers.
475
at Aero Precision
Prices accurate at time of writing
Prices accurate at time of writing
It is an ideal home defense gun with subsonic ammunition because it's hearing safe if you use a suppressor.
If you've never lit off a gun, let alone a long gun, in a confined space I will personally attest that it hurts. A lot.
Choose your ammo carefully though for home defense. Large and heavy rounds like the bigger .300 BLK offerings tend to over-penetrate.
There are a few good options though, so take a look at our [Study] Home Defense Overpenetration: Shotgun, Handgun, Rifle for a LOT more detail.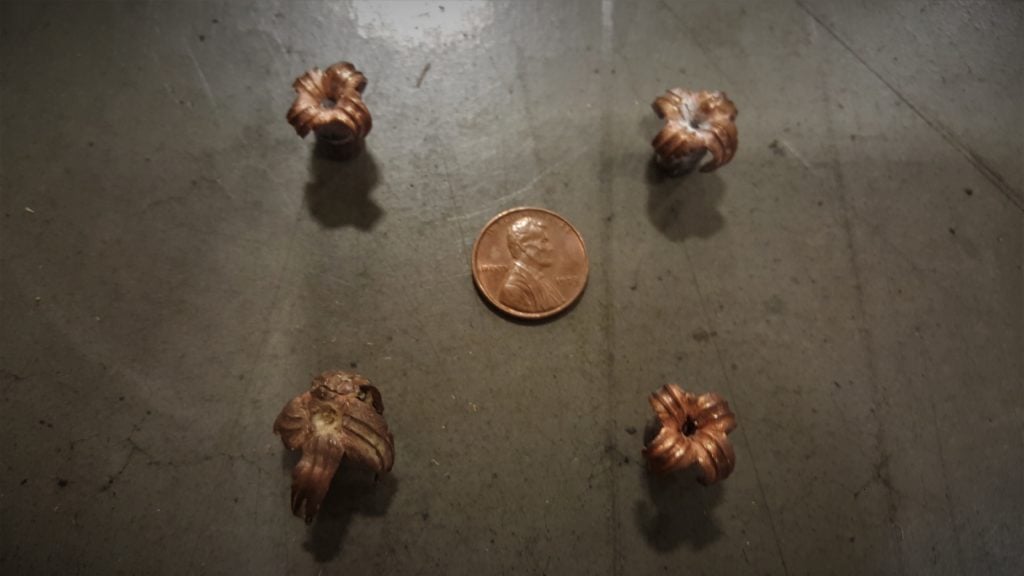 It isn't perfect though, the supersonic rounds drop like a rock and the subsonic drop like a…less aerodynamic rock.
For subs, you're looking at about 100 to 150-yards of max effective range. Supersonic you can push to about 300-yards, but it's not ideal.
6.5 Grendel
The 6.5 Grendel made its debut at the Blackwater Training Facility in North Carolina in the summer of 2004.
The idea behind it was to neck down the 7.62×39 — the round made for the original AK-47 — to .264 caliber to take advantage of the favorable ballistics of the 6.5mm bullet.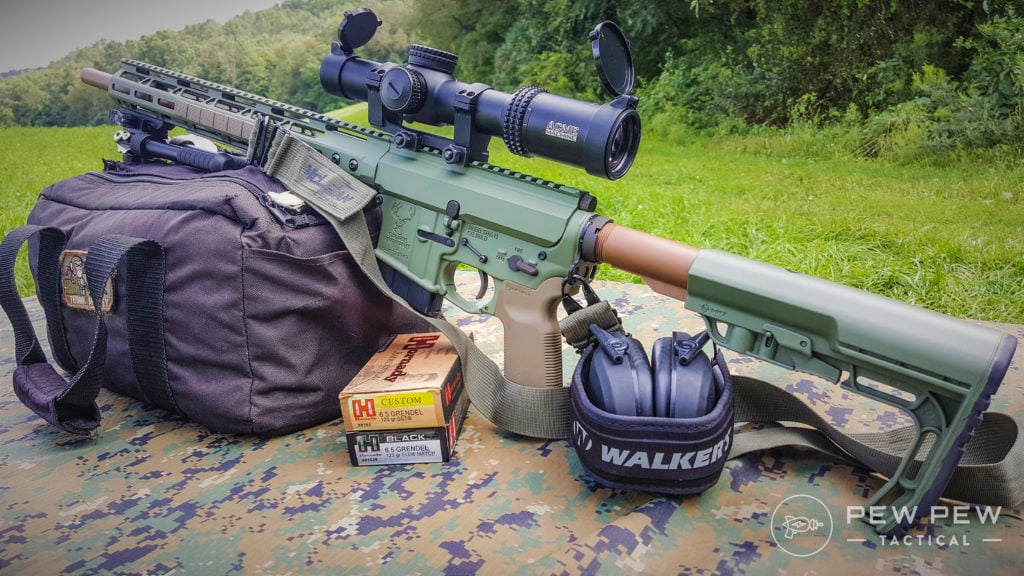 Pros & Cons of 6.5 Grendel
The advantages of the 6.5mm bore are the extremely high ballistic coefficient and high sectional density. These two qualities make this round outperform the 7.62 NATO in both terminal and exterior ballistics.
It shoots flatter, stays supersonic longer, penetrates deeper, and has less recoil than a 7.62 NATO.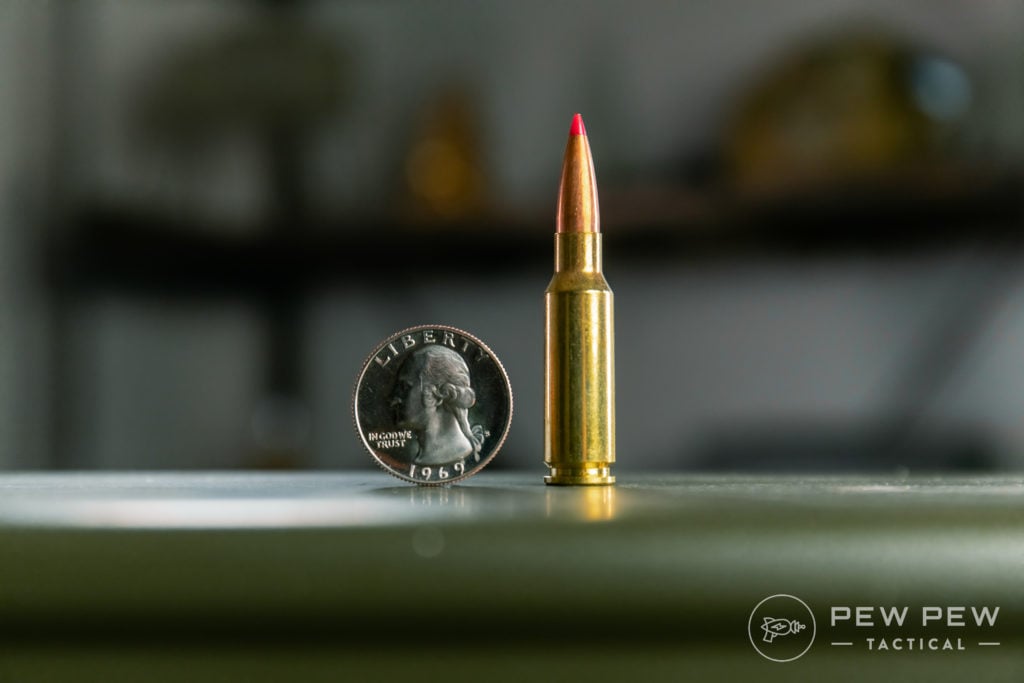 This sounds like an infomercial but the numbers are there, making this a great round for hunting and competitive shooting.
As a tactical round for home defense, it's too expensive, around $0.90 to $1.20 a round. It also offers no advantages within 300-yards.
And it's often hard to find uppers with under 20-inch barrels.
Issues with the 6.5 Grendel range from the common (15+ round magazines are hard to get) to the really weird (how my Yeet cannon can shoot sub MOA with Hornady black and 4+ MOA with Hornady SST).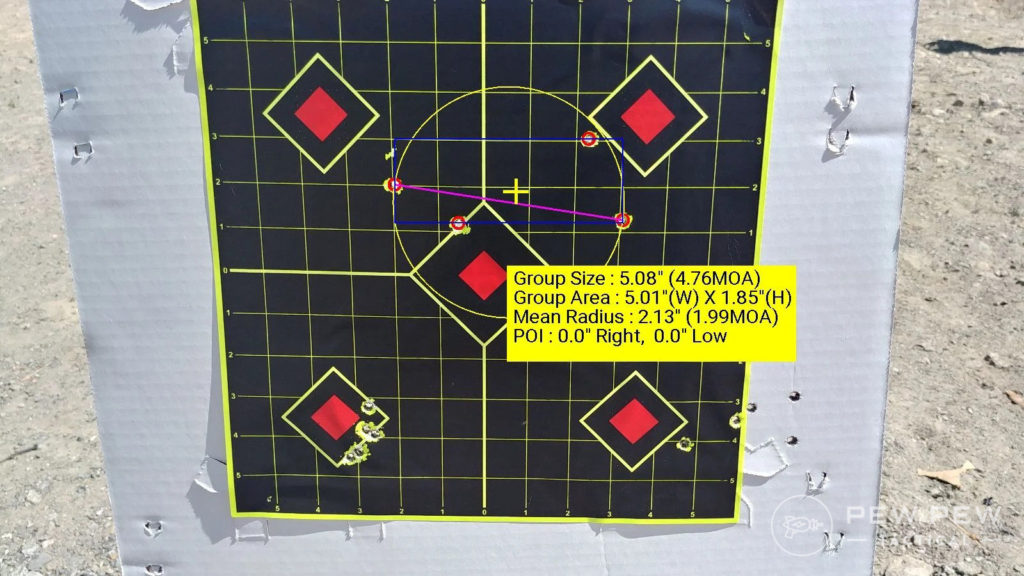 Grendel really benefits from hand loads, like a LOT. Finding factory ammo isn't the hardest in the world, but finding one that your rifle really likes though will almost always take some testing.
If all this doesn't phase you, check out some 6.5 Grendel Uppers.
6.8 SPC
This round was developed as a long-range option for the M4 for the Army's marksmanship unit. They needed an exhibition round that would work well with the M4 to shoot in competitions and light field use.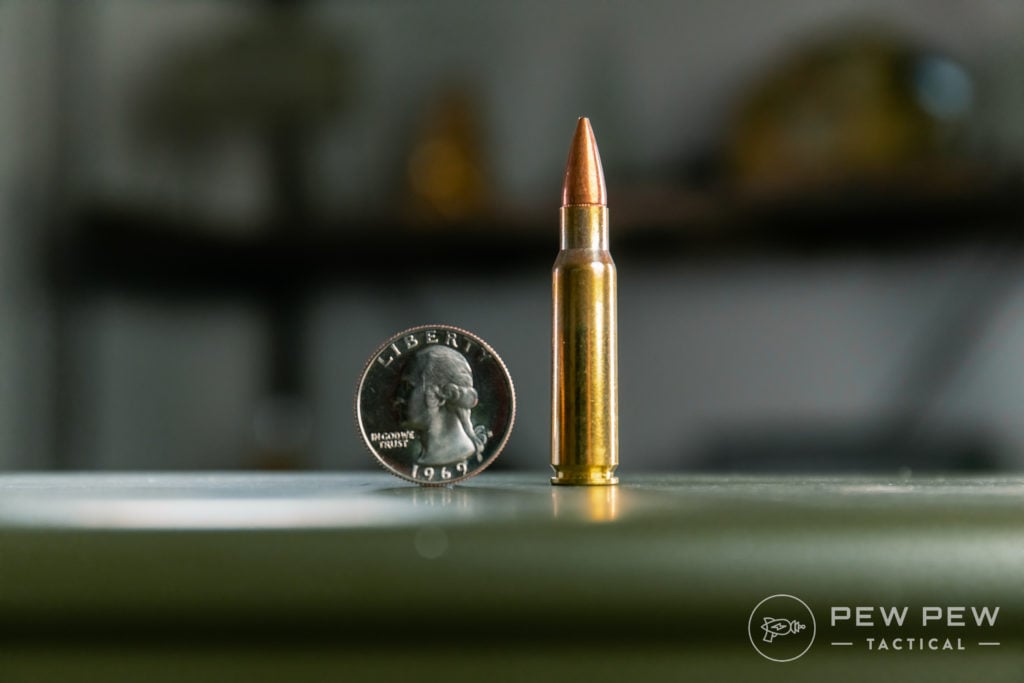 It was put up against the .300 BLK and 6.5 Grendel for replacement of the 5.56.
While it performed admirably at ranges further than 250-yards, there was no practical point for the military using it since engagements were usually less than that.
Pros & Cons of 6.8 SPC
This is a very cool round and it's calling card is as a short range hunting round that shoots further than the .300 BLK and hits harder than the 5.56.
It's a .270 caliber bullet right around 115-grain that clocks in around 2,600-feet-per-second.
It's true that it carries 40% more energy than the 5.56, but the real advantage is the extra penetration and ballistic coefficient that comes with the extra bullet mass and cross-section.
The downside to the 6.8 SPC is the availability of magazines.
23
at Brownells
Prices accurate at time of writing
Prices accurate at time of writing
Standard mil spec mags won't work, because the feed lips and follower are different to accept the wider case.
Of course, the barrel and bolt have to change but you only need one of each, and they can be bought in a package like this one. Multiple magazines, on the other hand, can be hard to track down.
The other problem — like Betamax vs. VHS, 6.8 SPC kind of lost out to 6.5 Grendel in popularity. Anything 6.8 SPC can do, Grendel does just as well or slightly better.
Really, 6.8 SPC doesn't offer much different — not enough to really carve out a place in the market.
.458 SOCOM
The best of the big woods thumpers, the .458 SOCOM was developed to have serious close-quarters battle (CQB) stopping power for special operations forces.
The reason this cartridge beats out the other big-bore AR-15 cartridges is because of the short-barreled performance and availability of bullets in .458 diameter.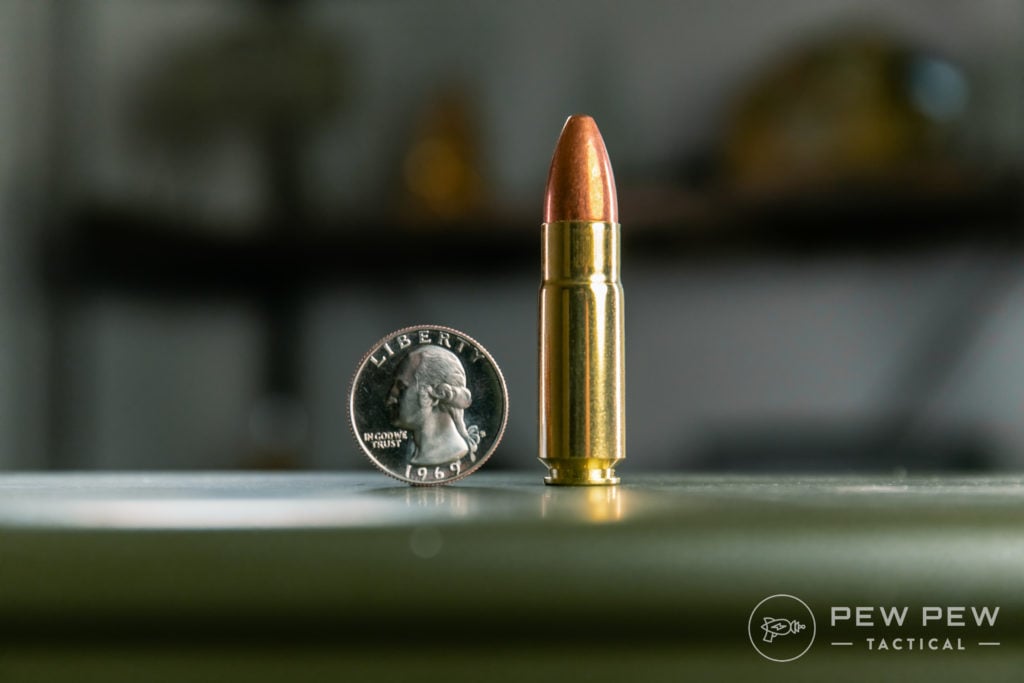 Pros & Cons of .458 SOCOM
The .458 is a necked down .50 AE (of Desert Eagle fame) case which opens it up to a multitude of .458 bullets. It also uses fast-burning powders and heavy bullets that make it ideal for SBRs and suppressors.
Unlike the .300 BLK whose subsonic rounds are a poor choice for hunting, the .458 throws 350-grain slugs that can be used out to 75-yards for hunting thin-skinned game.
With subsonic ammunition, you get performance on par with a hot-rodded .45 Colt and with supersonic rounds, you get .45-70 glory wrapped in AR-15 clothing.
The .458 SOCOM saw limited use in the middle east for CQB operations because it throws a huge man stopper of a round in a small package.
Radical Firearms makes some great .458 SOCOM uppers.
.50 Beowulf
Coming from the minds that brought the 6.5 Grendel is the .50 Beowulf (which then kicked off the big-bore AR-15 concept).
The origins of this round have been said to lie with the military as a means to stop vehicles at security checkpoints and prevent car bombings.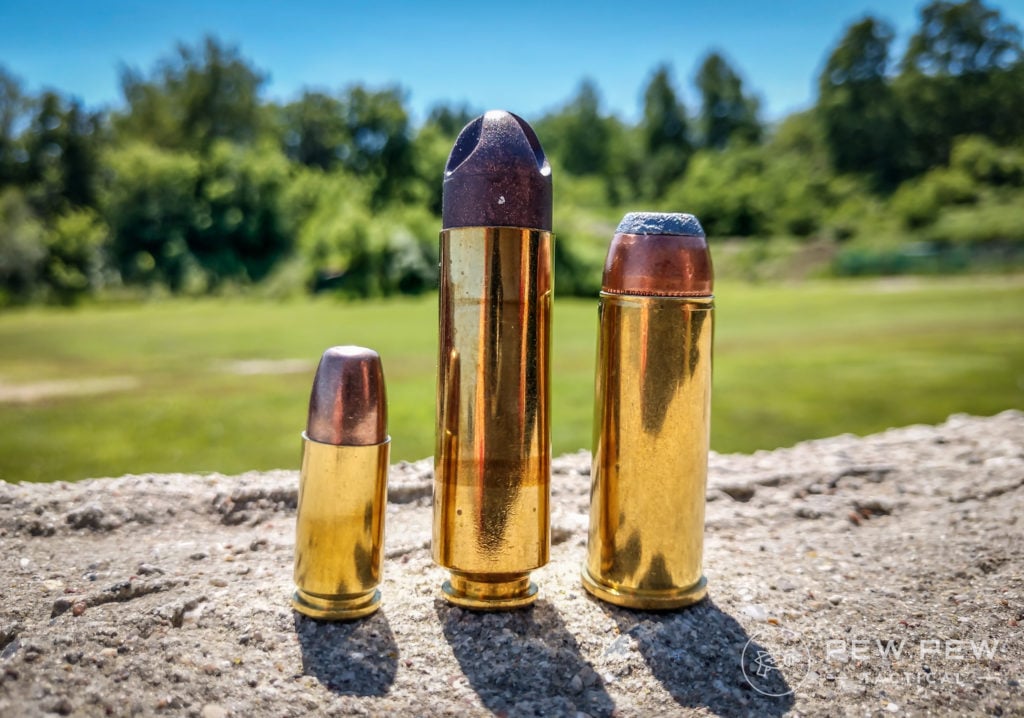 Pros & Cons of .50 Beowulf
The .50 Beowulf is one of the ultimate "wow" rifles. It kicks like hell on both ends, creating a clap of thunder when your wallet slams empty as you buy the ammunition.
The .50 Beowulf is a decent choice for hunting as it'll certainly drop anything in North America. Trajectory is a slight concern as is the cost and availability of ammunition.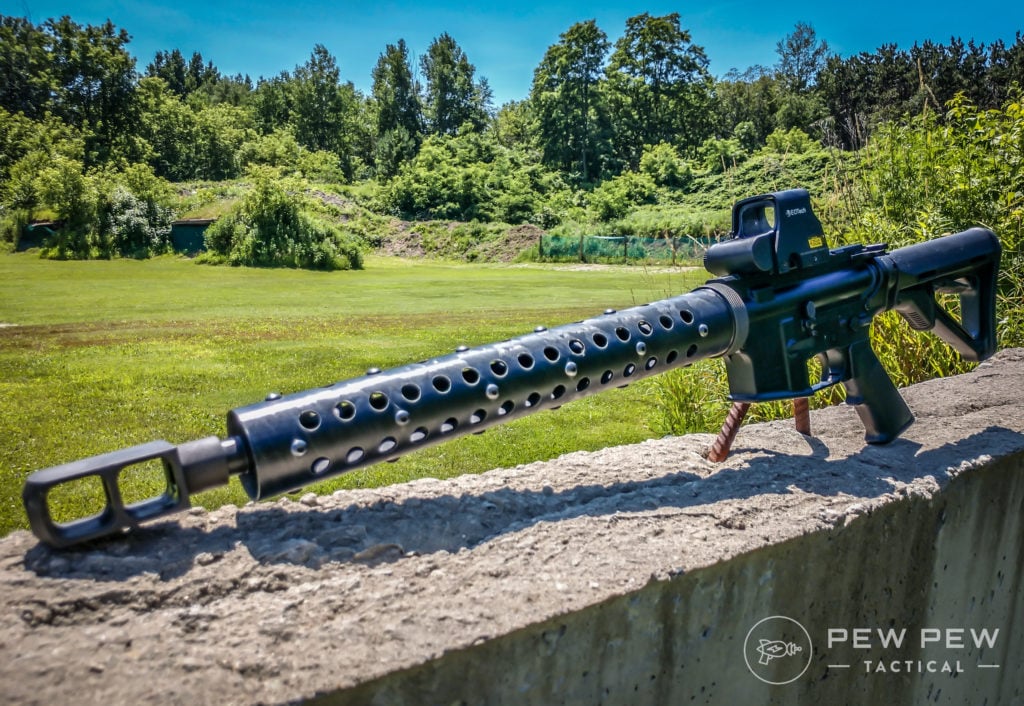 Ammo options have come a long way in the last few years for the .50 Beowulf, though. But once ammo's gone, it takes a long while before anyone restocks it.
As a home defense round, it serves no real niche. It's huge but normally comes with hard and deep penetrating bullets. I guess if you're worried about being able to clap someone from the other side of the house while firing through every wall in your home — send it.
The key to using this behemoth is to get close and use bullets that'll reliably open up and dump massive amounts of energy.
Find some great .50 Beowulf Uppers from the original maker, Alexander Arms.
6mm ARC
One of the newest kids on the block for the AR platform, there isn't a ton of information out about the 6mm ARC yet.
Developed by Hornady for "the Department of Defense" we know that the 6mm ARC was officially adopted by… someone, but no idea who.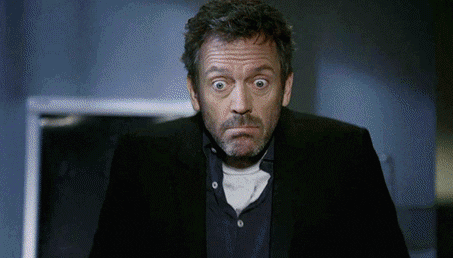 The ballistics are impressive though and it's a very soft round to shoot.
Pros & Cons of 6mm ARC
Ballistics are outstanding! Basically, take 6.5 Grendel and juice it up a little. 6mm ARC is supersonic past 1,000-yards from an AR and that is very cool.
The downsides though are long.
Ammo is unobtainable right now and even pre-pandemic the options were Hornady or…Hornady. It's taken me three months to get my hands on 200 rounds of 6mm ARC.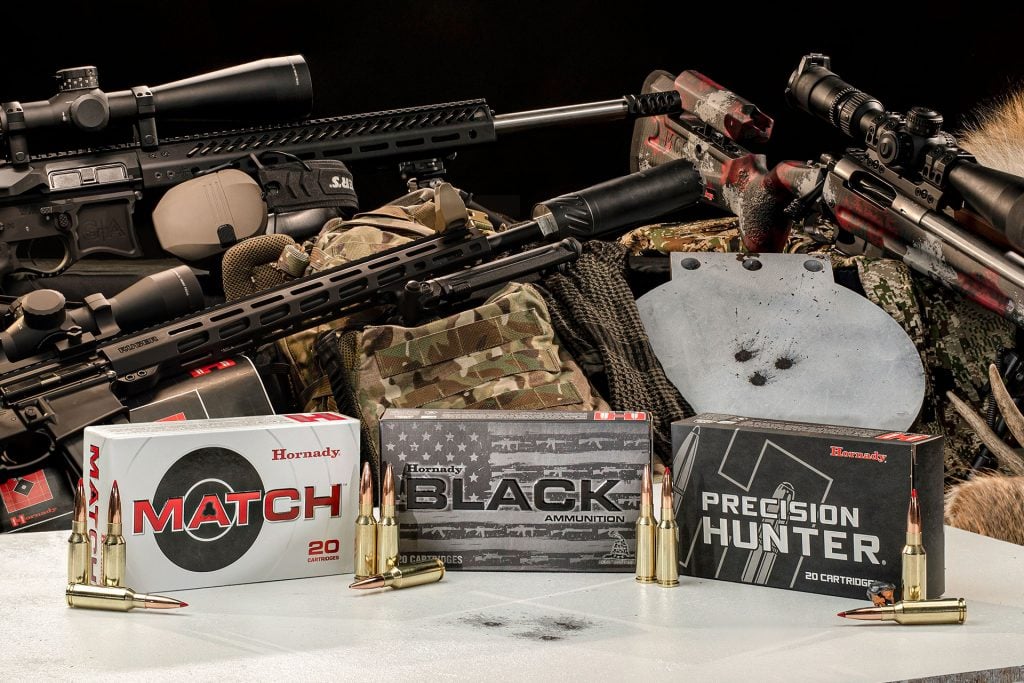 It is a reloader's dream though since 6mm bullets have a HUGE range of options that are amazing.
Building or buying an 6mm ARC rifle right now is pretty tough though, because barrels are also difficult to come by.
While availability of ammo and parts will sort itself out eventually, right now you would be a very early adopter of the cartridge and need to know what that means going into it.
We don't have a recommended list of barrels or uppers yet, but we will once we get some more time with them.
Pistol Calibers: 9mm, .45 ACP, 10mm
Pistol Caliber Carbines are fun. And cool. No one can change our minds on those facts.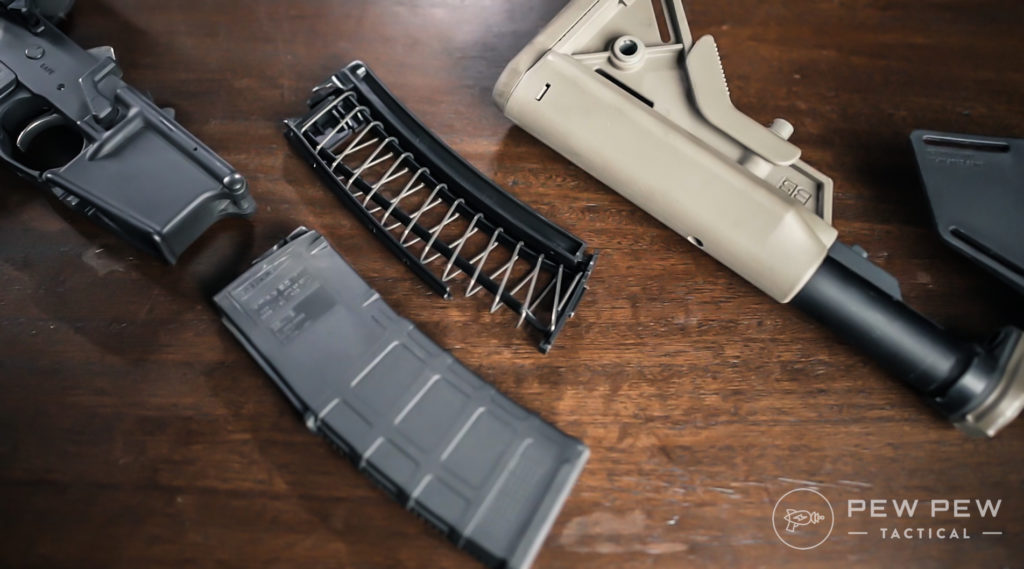 While it might seem odd to just make a pistol bigger, a PCC can be a great option for home defense or training. Even in times like these, 9mm is still a good bit cheaper than 5.56.
When it comes to turning your AR into a PCC you have several options. With magwell and magazine conversions, you can use the same lower as normal but switch out the upper.
Pros & Cons of Pistol Calibers
You have a few options when it comes to what caliber you pick, but by far the most common is 9mm. There are loads of conversion kits. Not to mention it's easy to get barrels and BCGs. Oh, and bonus, it's way easier to tune.
9mm is great for training. Sure, the recoil isn't exactly the same, but weapon handling is, making it a great option for lower-cost training. It's also not a bad option for home defense.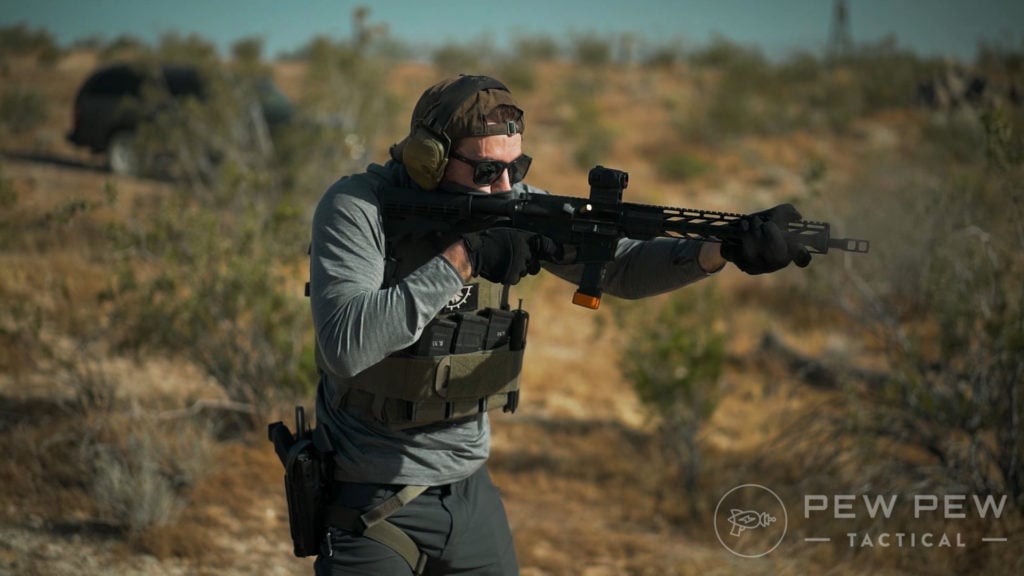 But if you're feeling sparky, you can also turn your AR into a .45 ACP, .40 S&W, or 10mm PCC.
Bigger calibers like .40 S&W to 10mm can be used for hunting at shorter ranges. And, let's be real; they're just fun. Plus, the options of training and such — but less effective since it's more expensive.
.22 LR
It's America's cartridge…older than Coca-Cola…the cartridge most of us learned to shoot on. And it's pretty awesome in an AR too.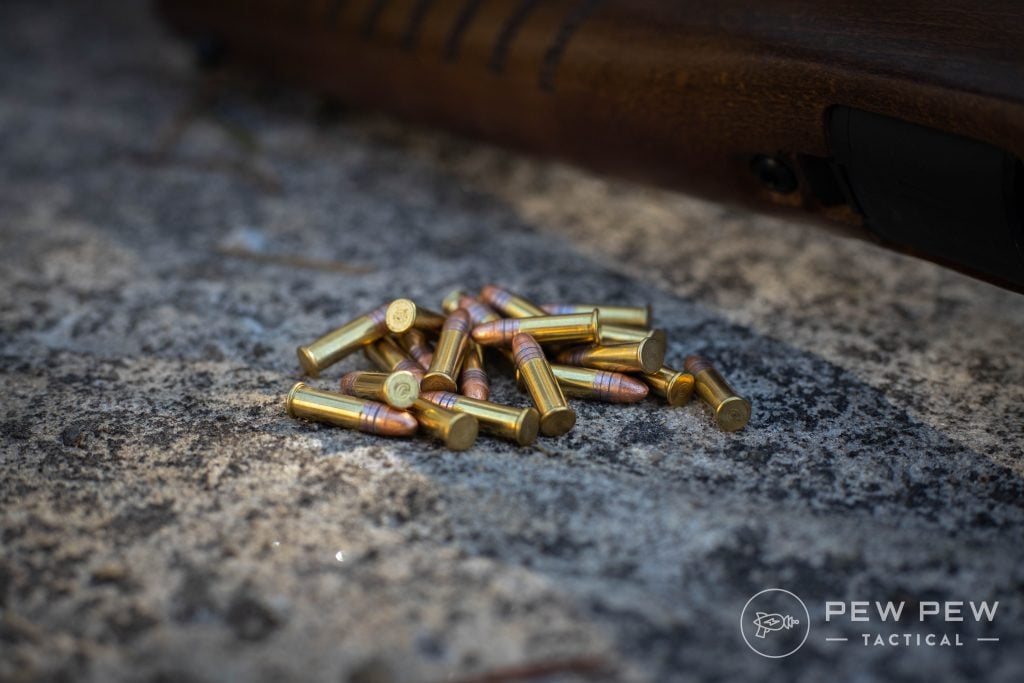 With dedicated uppers and conversion kits, it's really easy and fairly cheap to get into .22 LR. You'll need new magazines, but other than that you can get away with just a BCG conversion if you want.
5.56 barrels don't have the right twist and aren't the perfect size for .22 LR, but they are close enough that you can do decently well with a standard 5.56 barrel.
Pros & Cons of .22 LR
.22 LR is perfect for small game, teaching kids, plinking fun, training, and a lot more.
Conversions like the CMMG kit are easy to install and inexpensive, and that is on top of .22 LR being 1/5th or less the cost of 5.56.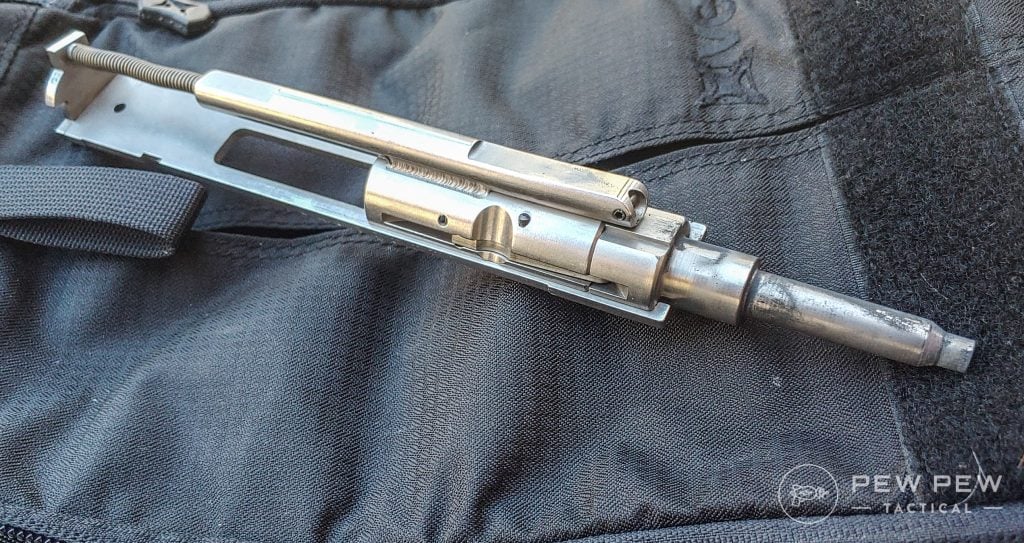 Downside is that it's not a viable self-defense round. Even the best .22 LR is still not dead on reliable enough to bet your life on. .22 LR just lacks any kind of punch behind the round.
The other thing to keep in mind is that not all triggers play well with BCG conversions like the CMMG kit. A standard AR has a free-floating firing pin, but most .22 LR ARs or AR kits use a spring-loaded firing pin.
Some aftermarket triggers, especially ones with lower pull weights, don't have enough punch to reliably run those BCGs. Standard milspec is good to go though!
369
at Palmetto State Armory
Prices accurate at time of writing
Prices accurate at time of writing
7.62x39mm
The classic Russian cartridge, for many years 7.62×39 ARs got a really bad rep due to reliability issues.
Thankfully, most of those have been solved now and there are some solid options on the market.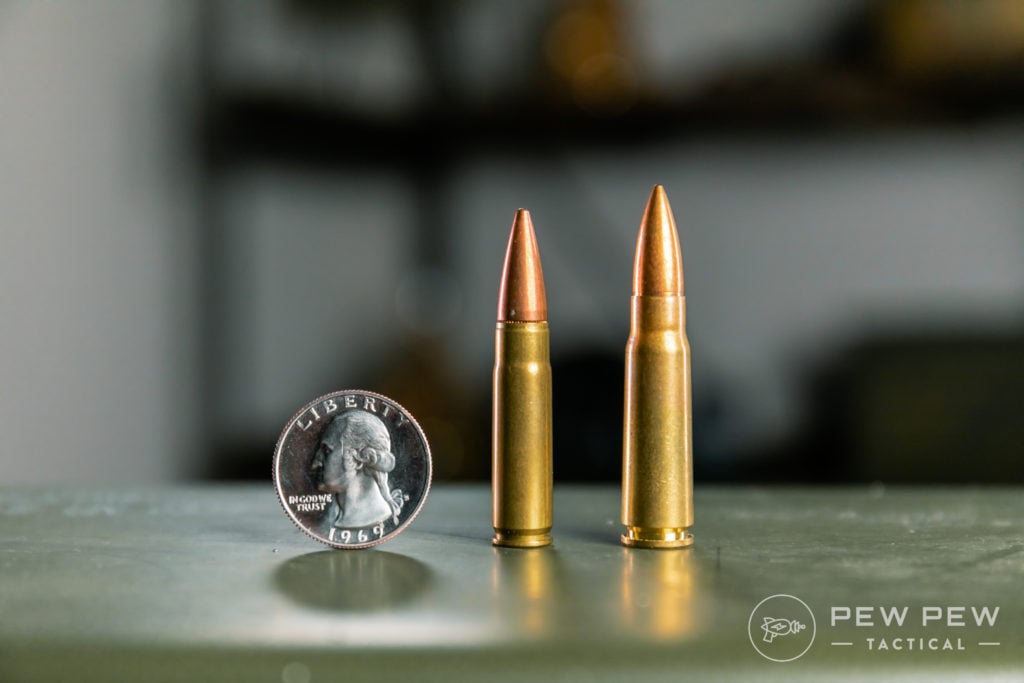 Think of it as .300 BLK but cheaper and a little more annoying to get running well in your AR. Once you do get it up and running, though, it's basically the same performance and advantages.
Suppressor use, short range, need more punch, all of it applies to 7.62×39 like it does .300 BLK.
Pros & Cons of 7.62×39
Remember the reliability issues I mentioned? Ya, those are the biggest cons — feeding and bolt breaking, to be specific.
Feeding issues can be solved by getting a good barrel and using good magazines. We like DuraMag and ProMag for 7.62×39.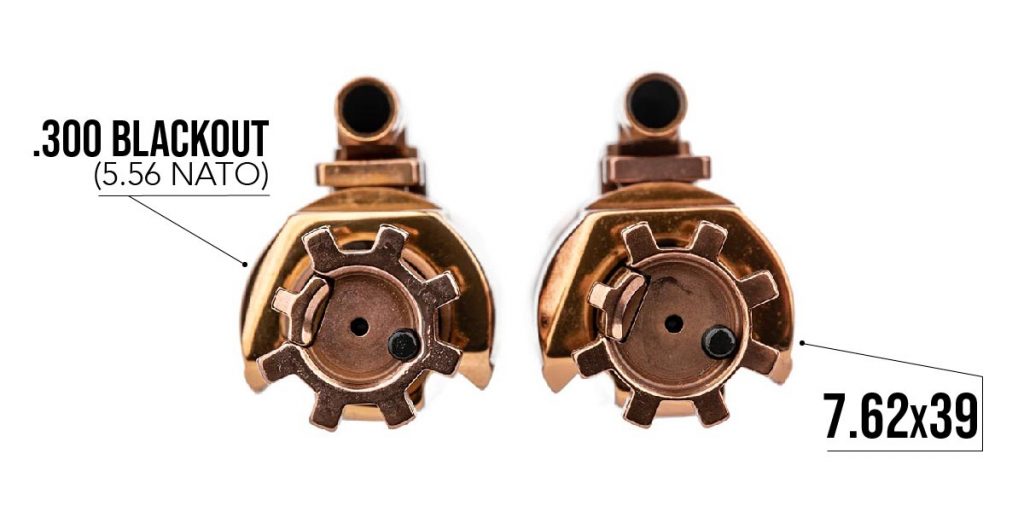 Another problem lies in the bolts. These bolts, even great ones, are fundamentally weaker than most other AR bolts. Because of the cartridge size, a 7.62×39 bolt face doesn't leave much meat on the bone for durability.
LMT, Windham Weaponry, and Young Manufacturing all make great bolts; but you might want to get an extra, just in case.
If you're really crushing on a 7.62×39 AR platform, though, consider a dedicated rifle. Sure, that knocks it out of "best alternative cartridges" but it will dramatically increase reliability and durability.
Personally, I love the KS-47 from PSA — and it takes AK mags!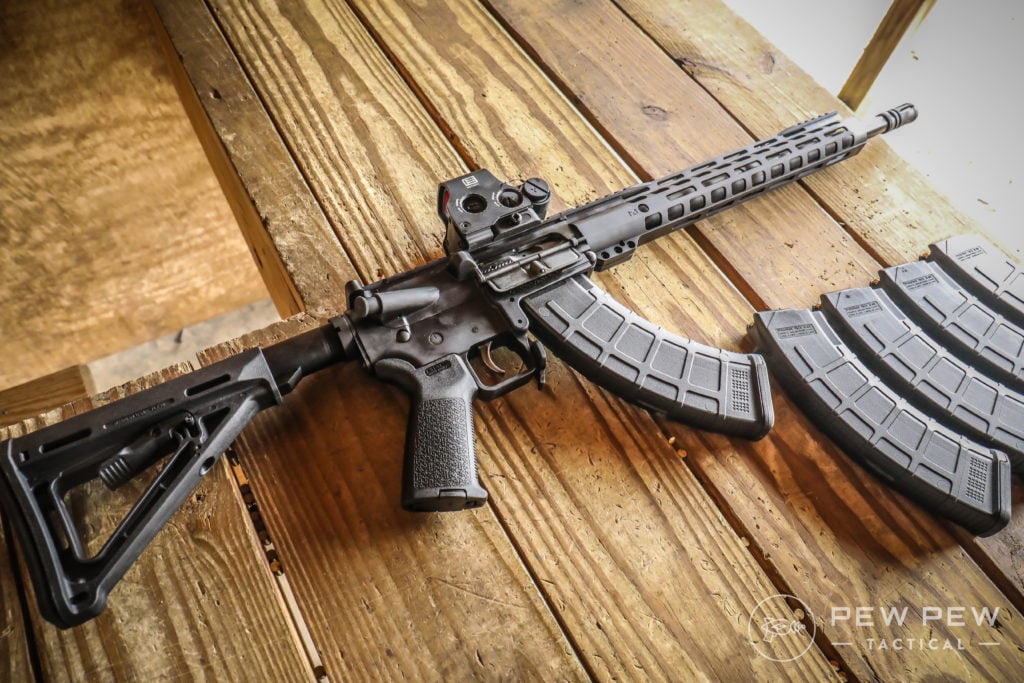 The Bad and The Ugly
There are some more caliber conversions for the AR platform that are worth mentioning, but we don't recommend them. Still, it's fun to talk about.
5.7x28mm
Yep, it's the same little guy in the Five-seveN and P90.
For a long time, this round wasn't available. (The company that made the uppers went belly up.) However, recently CMMG brought the 5.7×28 cartridge back to the AR-15!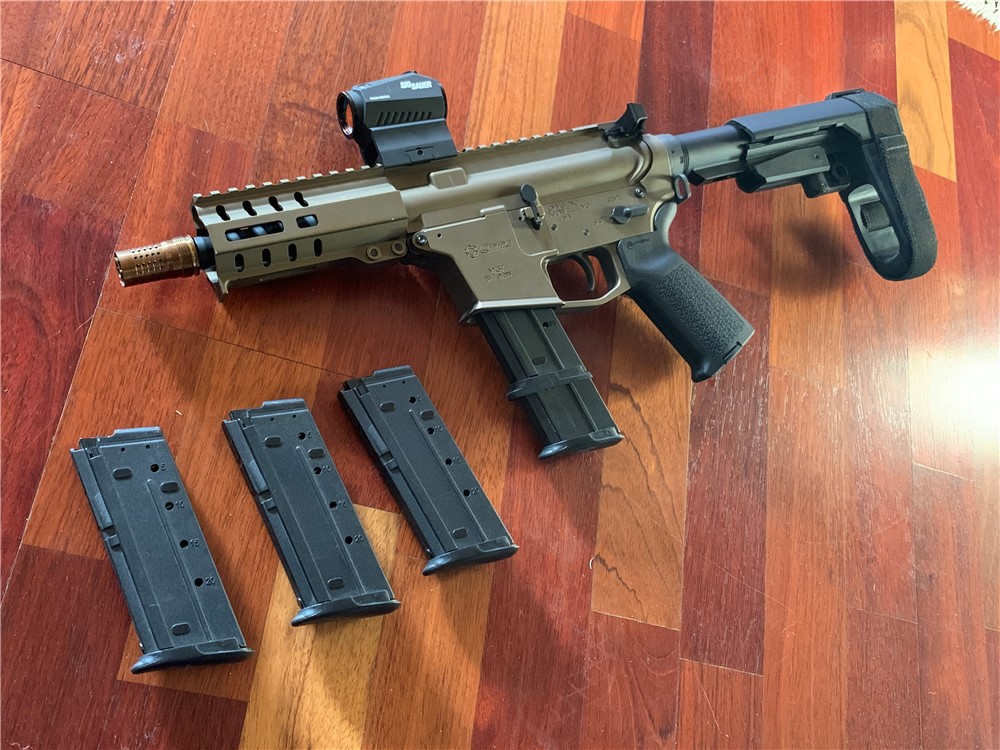 The downside is that uppers are expensive, very hard to find in stock, and use several proprietary parts. Let's not forget magazines are pricey and the ammo itself is a wallet buster!
Basically, the price hurts at every step. It is also kind of a novelty cartridge in the AR. There really isn't anything it does in an AR that isn't done as well or better by other rounds for a lot less money.
Now if those OG uppers with the P90 top-loading magazines that dropped spent brass into gutted-out AR mags return…we'll be all over that!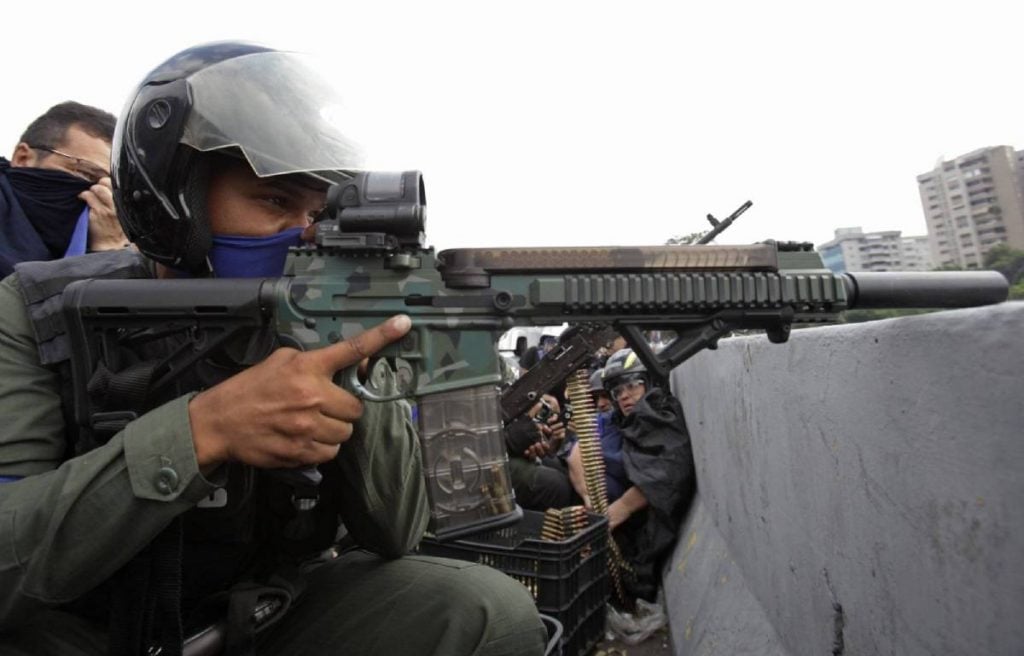 .224 Valkyrie
We've talked a lot about .224 Valkyrie and, personally, I enjoyed it. But as the last few years have rolled out…the Valkyrie is dead in the water…for the most part.
Decent at long range and hunting, .224 Valk had a lot of promise. But issues with barrels, twist rate, powder, factory ammo, and the fact that 6mm Grendel, 6.5mm Grendel, and now 6mm ARC are better in almost every possible way — well, the .224 Valk just didn't keep up.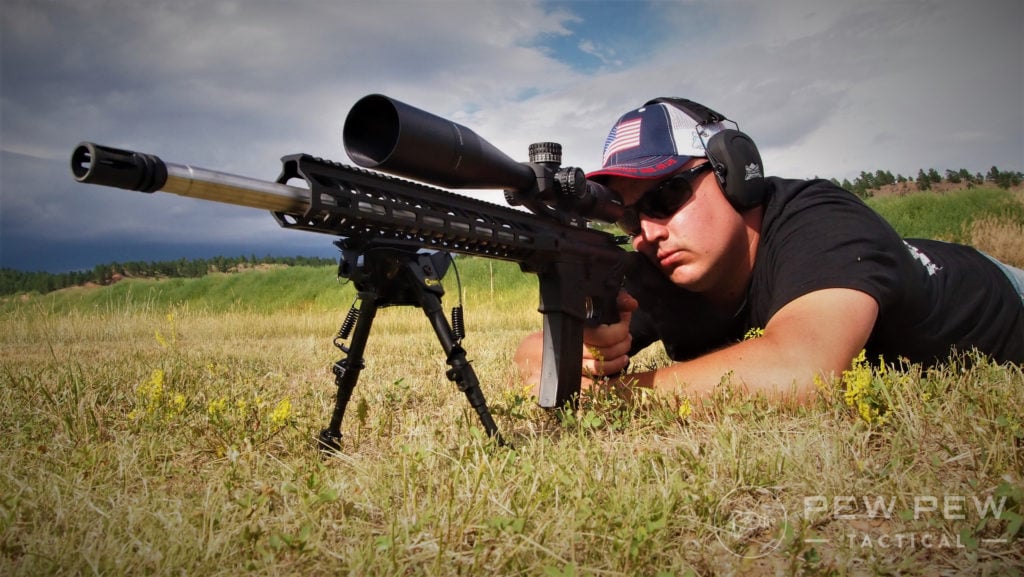 It isn't a bad round and there are still a lot of parts out there, but if you want long-range and hunting…you can do better.
.22 Nosler
Another big splash that later fizzled, the .22 Nosler has also fallen by the wayside much like the Valkyrie.
Designed to be a screamer, this cartridge could push a 70-grain round at 3,000-feet-per-second. Honestly, Nosler is great for pushing a ton of speed out of a small cartridge.
But, as happens with many new cartridges, the factory ammo offerings just aren't enough to support it. Most of the ammo comes from Nosler but even they don't produce enough of it, especially right now.
Other brands have almost totally ignored it despite it being a SAAMI spec round.
And, again, with 6.5 Grendel and 6mm ARC on the market, there are simply better options available.
.458 HAM'R
We love Wilson Combat, but the .458 HAM'R is another dead cartridge.
Designed by Wilson Combat for hunting, the specs are basically .458 SOCOM but juiced up — very attractive to hunters!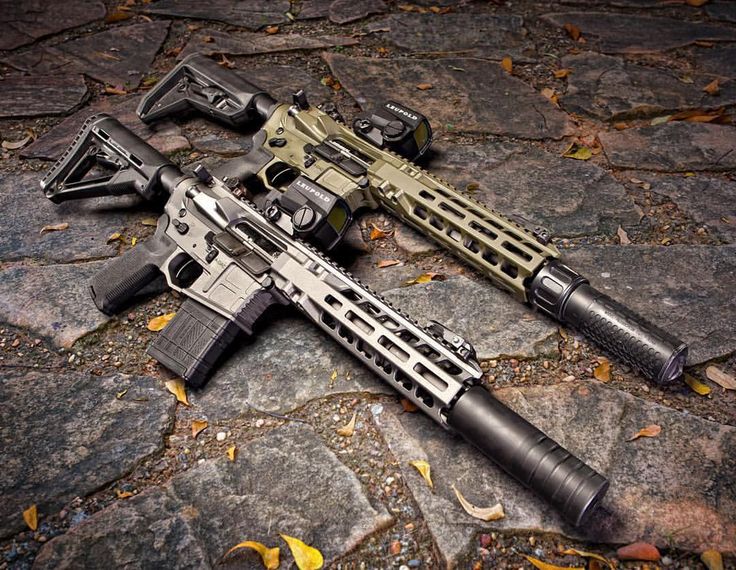 Sadly, .458 HAM'R isn't SAAMI approved making this a wildcat of a cartridge. For now, that means Wilson Combat is the only source for parts and ammo.
Of course, that makes things expensive and very limited in selection.
However, Wilson Combat's 300 HAM'R is SAAMI approved. As the name suggests, it's a .30 caliber round that is kind of like 300 BLK but juiced-up. More speed, more energy, and flatter shooting make the 300 HAM'R a cool option.
We'll wait on judging it until some more manufactures start to offer options, though.
Conclusion
Choosing an alternative AR-15 cartridge is fun! But you do need to choose wisely and balance your options.
The hardest part can be just taking the plunge and picking a cartridge (and realizing you might need to learn how to reload that expensive ammo).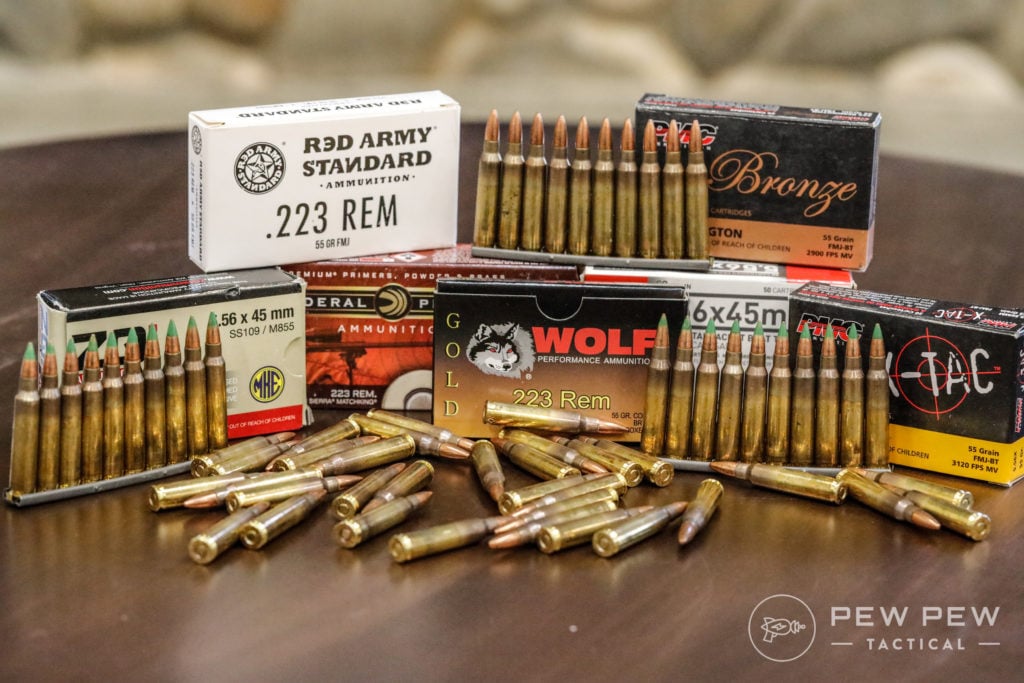 Some rounds are still boutique and may disappear in the future but for now, they're fantastic if the purpose suits your mission.
Choose the one you like best and shoot it until the barrel burns out.
In the meantime, which round do you think will be next for mass acceptance? Let us know in the comments! Ready to trick out your AR-15, check out our definitive list of upgrades or shop for a new AR altogether with our list of the Best AR-15s.