If there's one thing the firearms industry has plenty of…it's "revolutionary" products.
And 90% of the time, it's pure propaganda.
But then there's the other 10% of the time, where a product comes out, usually quietly, and it really is revolutionary. One such product is the Ruger Precision Rifle.
Best Long-Range Beginner's Bang For The Buck
1499
at Palmetto State Armory
Prices accurate at time of writing
Prices accurate at time of writing
Originally released in 2015, the Ruger Precision Rifle was designed from the ground up to take the advantages of high-end rifle chassis systems like the MDT TAC-21 and to then bring those advantages (which we'll dig into more in a moment) to the average consumer at a more affordable price.

And for the most part, that original first gen RPR did exactly that. Ruger brought a chassis rifle to market at a then-shocking price of about $1,200. It's no exaggeration to say that this rifle changed the industry.
Precision Rifle shooting has taken off as the hot new shooting sport in the past few years.
That's in large part due to the RPR and the rifles it inspired like the Bergara B-14, Mossberg MVP-LC, and the Tikka T3 Tactical making it easier than ever to just pick up a rifle at the local gun store, no custom modifications needed and go out and compete for under $2,000.
Today, we're going to take a look at the latest generation of the RPR, the rifle that kicked off the precision chassis rifle revolution, and see if the newest iteration is all it's cracked up to be.
We're also going to look at the benefits of this style of rifle, and why it makes precision rifle shooting so much more accessible to the average shooter.
Let's get to it.
Chassis vs Stock
Given the fact that the RPR has only been out for about four years now, and chassis rifles, in general, haven't been popular in the mainstream for very long, there's probably a fair few of you out there wondering…what is a chassis rifle, anyway?
Well, for your car, the chassis is what everything else sits on, right? The frame that everything else attaches to. The foundation of all the other parts.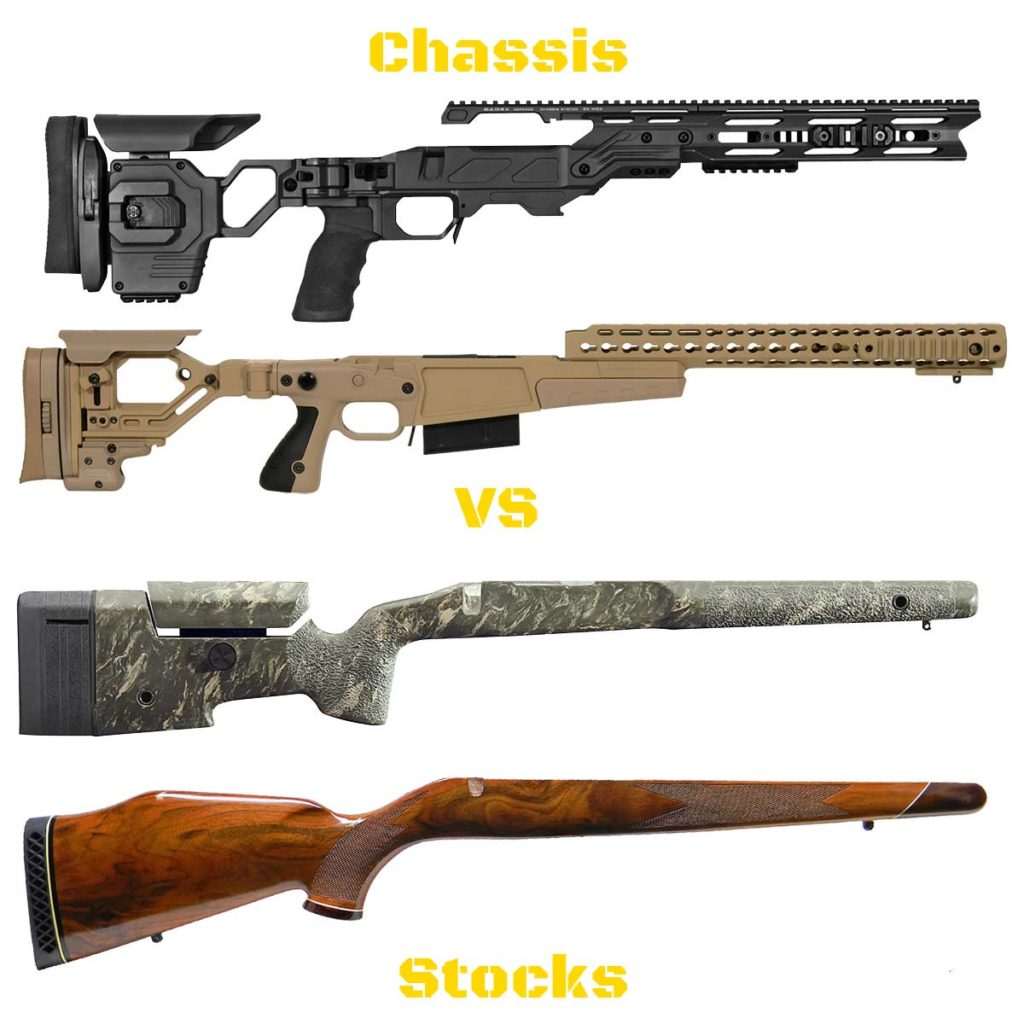 The same is true in the world of rifles. The chassis of a rifle is the foundation that the action, trigger, optic, barrel and everything else is supported by.
It differs from a traditional stock in that you have one solid piece that is designed to provide a stiffer, more consistent platform, and they're usually more modular and customizable as well.
The Benefits of a Chassis Rifle
As any long-range shooter will tell you, consistency is the key to accuracy, and that's the primary benefit of a chassis system like that of the Ruger Precision Rifle.
Instead of traditional bedding blocks and fiberglass filler, you have a solid piece that attaches to the action and leaves the barrel completely free to do its thing without any exterior interference.
Also, a chassis allows you to quickly install a new action with just the turning of a few screws…no gunsmithing, custom fitting, or precision bedding work required. I have put barreled actions in chassis systems in under ten minutes before, and barrel swaps take about as long.
They're definitely a boon to gunsmiths if nothing else.
Furthermore, with about 90% of chassis setups, you get a level of modularity that you otherwise wouldn't with a more traditional stock. On the RPR for example, you can swap the handguard, pistol grip, and buttstock out for any of the myriad of AR-15/AR-10 compatible examples out there.
The RPR also comes with a threaded barrel and a threaded bolt handle so you can swap in whatever muzzle device you want, along with a fancy bolt handle if the stock one isn't to your taste, or you're like me and just enjoy personalizing your firearms.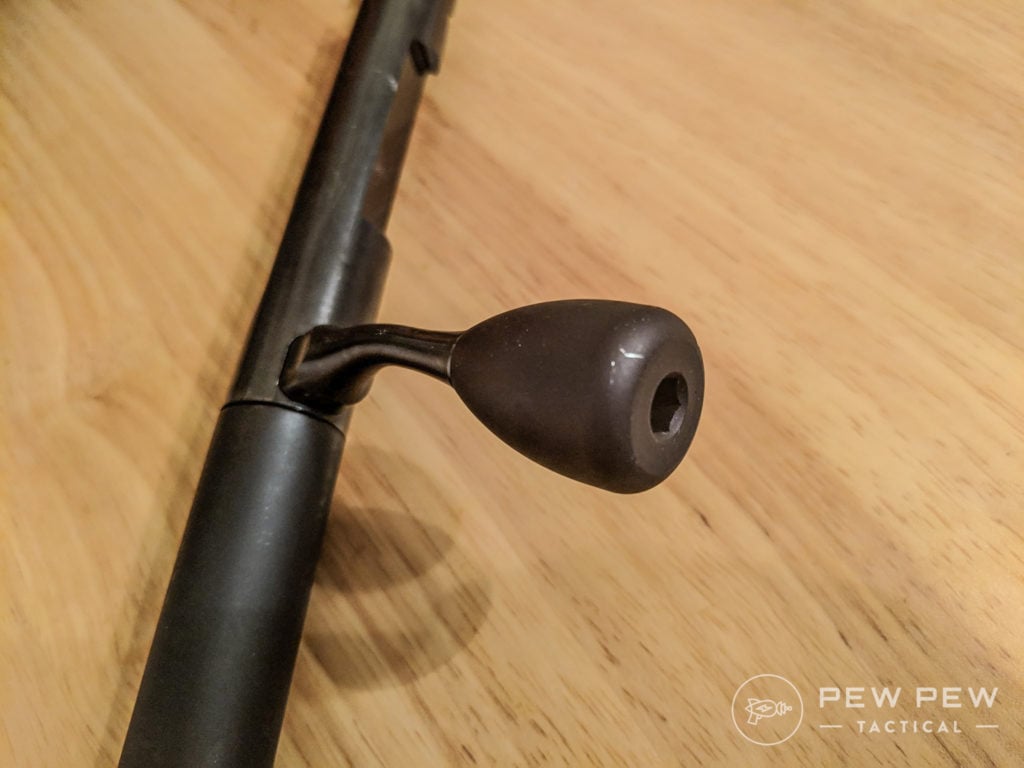 All of this makes a chassis rifle like the RPR a much more customizable choice than most factory rifles, especially when compared to rifles with a more traditional stock, even aftermarket ones.
What Makes the Ruger Precision Rifle so Great?
Mainly, the thoughtfulness and effort that went into the design.
I don't know who exactly has been behind the upsurge in quality new products from Ruger over the past several years, but they've been putting out some really affordable, well-designed products of late.
There's the RPR of course, the 10/22 Takedown, the Pistol Caliber Carbine, and the SR1911 might be one of the best budget 1911's around.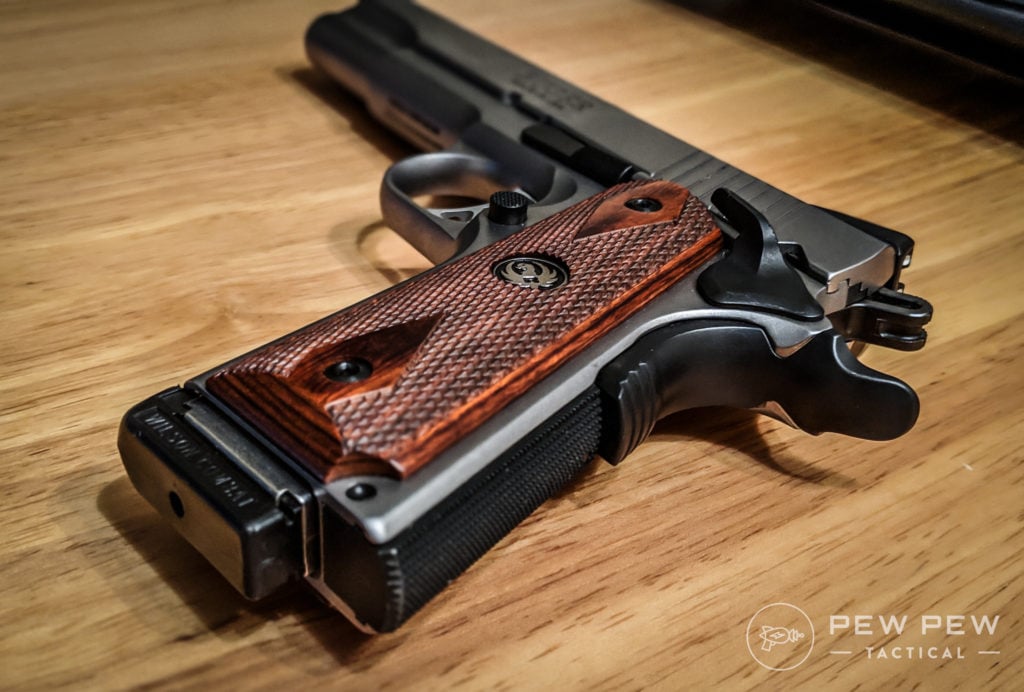 The original RPR is very much a reflection of this dual focus on affordability and practicality.
I don't think there's anyone that can argue against the fact that the RPR was designed by shooters…for shooters.
They built a competent precision chassis rifle from the ground up and left out all the unnecessary bells, buzzers, and whistles that other companies might have been tempted to throw in to command a higher price point.
What we're left with is a lean, well-appointed, and thoughtfully put together a rifle that offers one of the best values in the industry.
Furniture and Muzzle Brake
The first generation Precision Rifle had a highly adjustable folding stock that could be tweaked for the length of pull, comb height, and fore and aft cheek rest position. This kind of highly adjustable stock was, at the time, extremely rare on factory rifles in this price point. The Gen III model has the same stock as far as I can tell, and it is still as rock-solid as ever.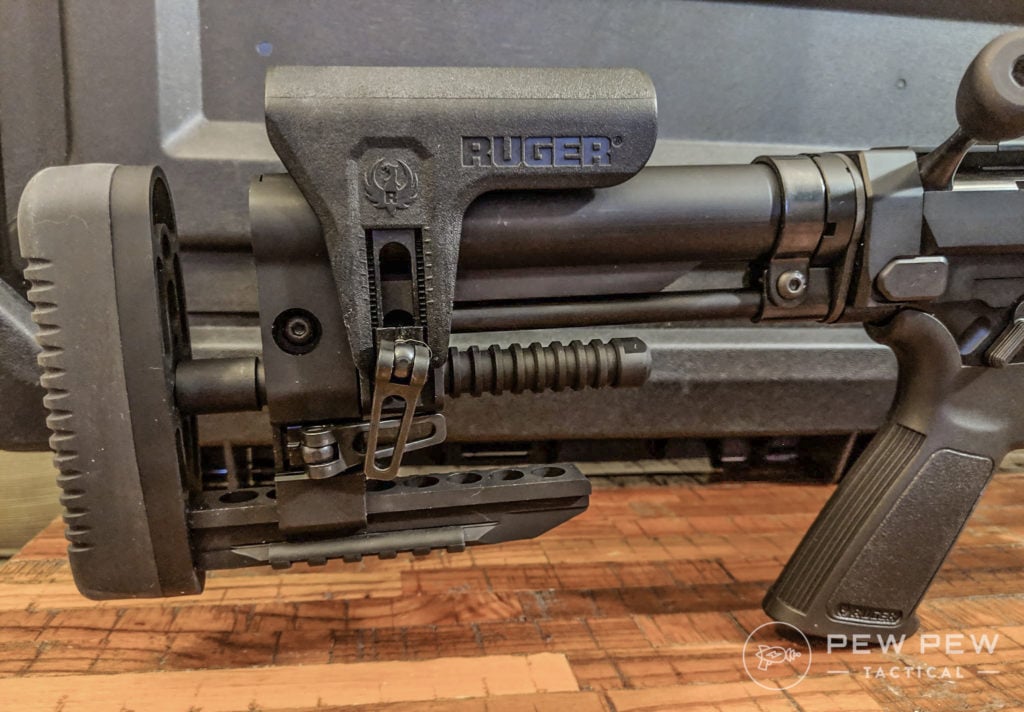 One of my very few quibbles is that the cheek rest can be a bit of a bear to get locked into position as the vertical and fore/aft adjustment is controlled by the same lever, so adjusting it takes some fiddling to get right.
Other than that, the stock is fantastic in my opinion, and a good mix of adjustability and affordability.
You also have a rail section on the toe of the stock where you can add a monopod, or if you're like me and plan to use a sandbag or squeeze bag, you can just throw a grippy rail cover on and call it a day (or leave well enough alone and leave it as is).
I also really love the folding stock as it makes transport and storage a breeze, and it locks into either an open or closed position with authority.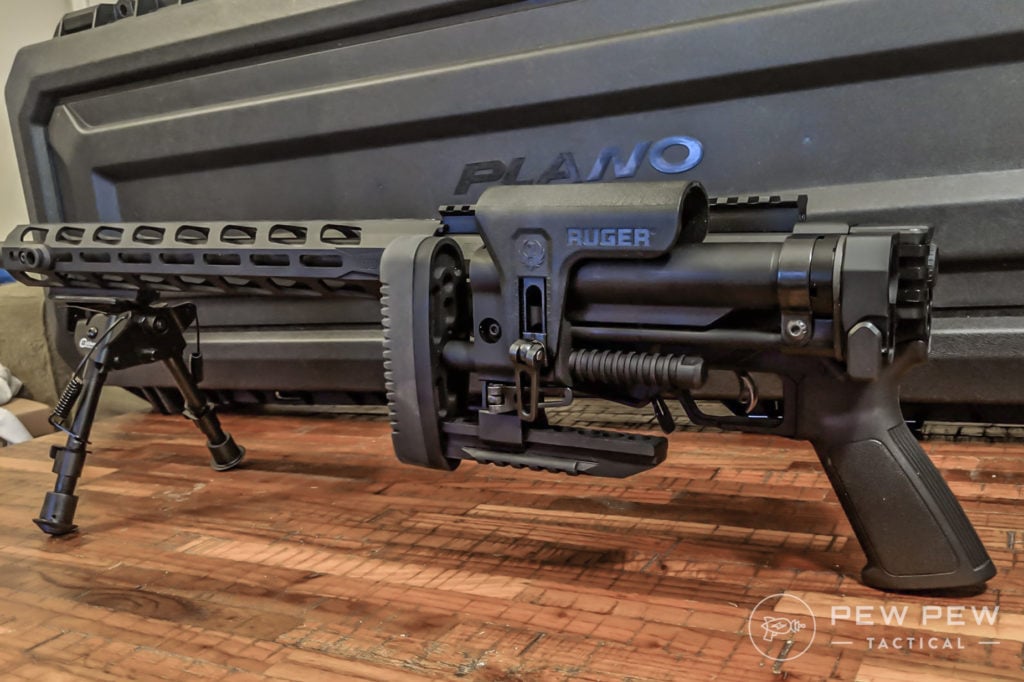 I've lugged this gun through the woods on backcountry hunts this past fall (although at almost 15lbs with optic and bipod, it was more of a workout than I wanted) and I've beaten it up at PRS club matches, and let friends abuse it at the range as well, and the stock still locks into position as solidly as it did the day I took it out of the box.
With the stock folded out of the way you can also easily remove the bolt for cleaning, no tools or finicky disassembly required.
And of course, if you don't like the stock, you can swap it out for any buffer tube-compatible stock. The Magpul PRS stock is a popular choice, and I personally love the Luth MBA-3 stock, but you can throw whatever you want on there.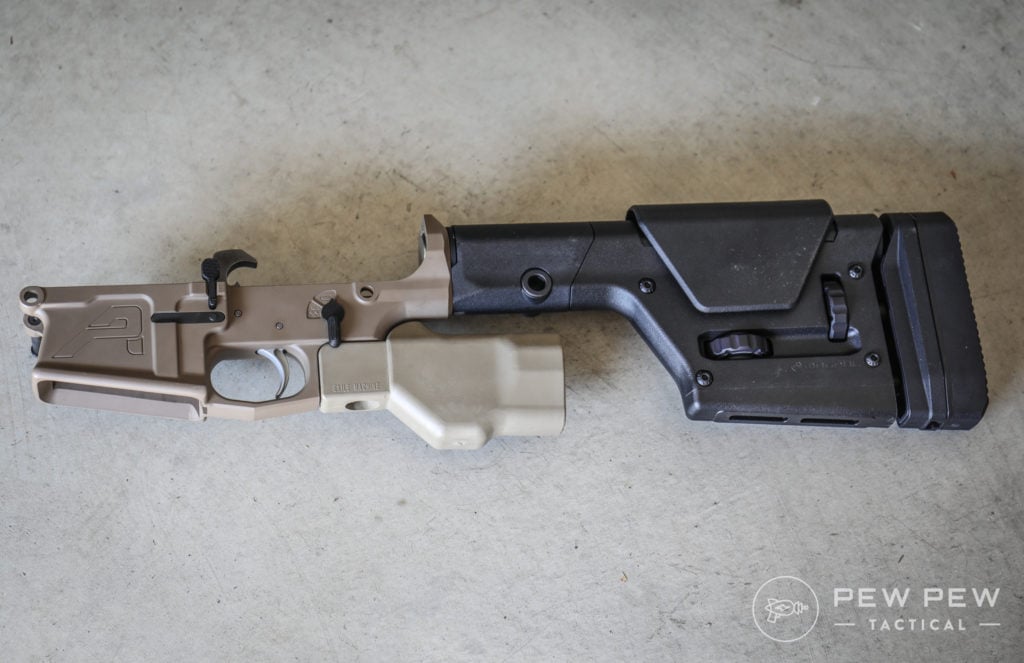 Moving forward a bit, you have an AR-style pistol grip that you can leave alone, or swap out to your preferred version. The grip you get is adequate, but nothing special, and you probably have an AR-type grip you'll like better.
I highly suggest experimenting with other grips because they're a cheap and easy way to customize your rifle, and getting a consistent, comfortable grip is key to being successful with precision shooting.
Finally, furniture-wise, we have the handguard, which has actually been updated from the first generation.
The new RPR has an M-Lok forend as opposed to the Keymod version on the original. I, personally, don't have super strong feelings one way or the other, but for what it's worth, the M-Lok attachment method is ever-so-slightly stronger, and it seems to be a little more popular in general now, which makes finding attachments easier.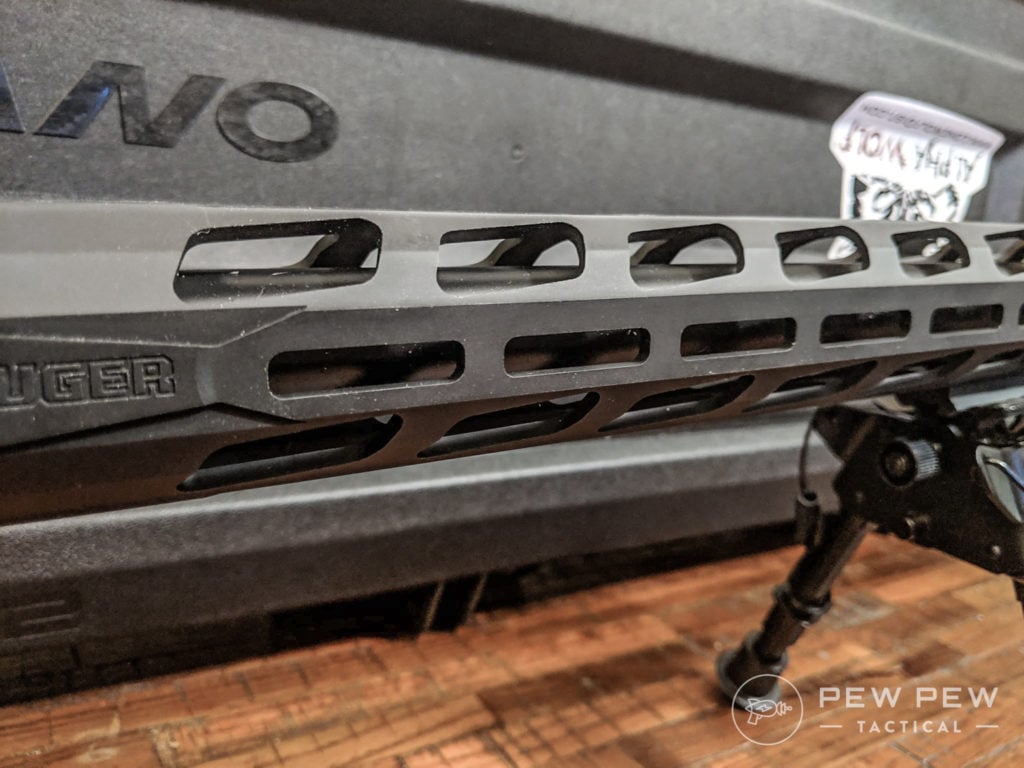 This handguard also comes with a small rail section and a couple of QD cups so you can easily slap a sling and a bipod on the rifle. You also have a full-length rail on top, including a 20-MOA rail above the receiver, which is perfect for most of the shooting you'll be doing with this rifle.
You also get a pretty excellent muzzle device on the end of the barrel, Ruger's hybrid muzzle brake, which does an admirable job of taming the already light recoil of the heavy rifle.
Personally, I'll be swapping mine out for a suppressor here shortly, but the factory brake is perfectly acceptable.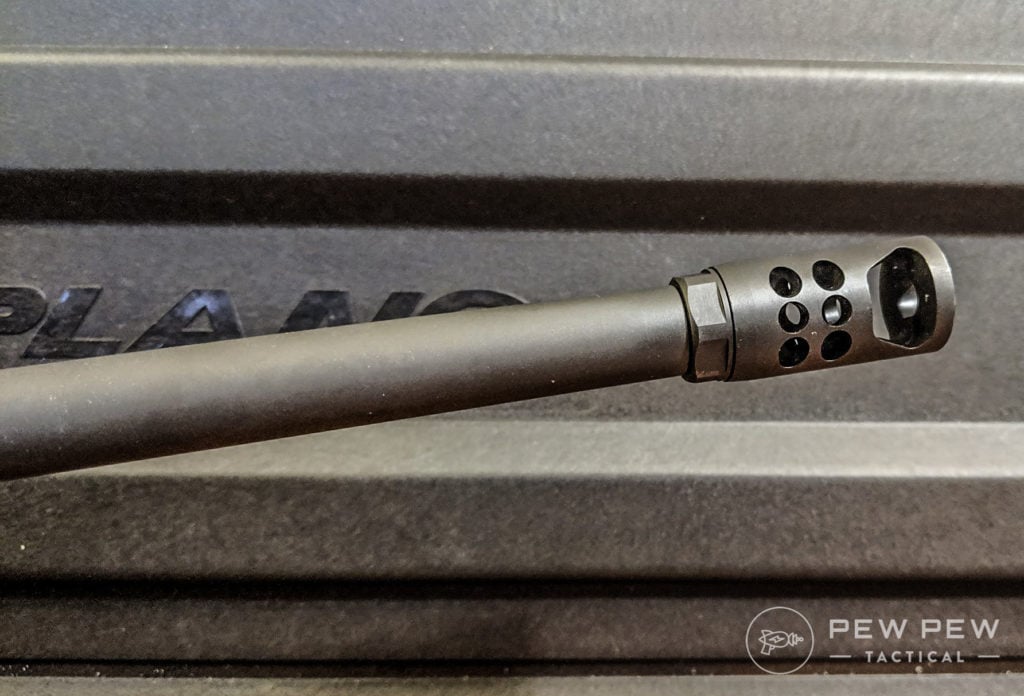 Trigger, Safety, Bolt, and Magazine Release
The trigger is one of the most important parts of a precision rifle, and it's probably no surprise that the RPR trigger is excellent.
It's an adjustable affair with a safety blade very similar to the Savage Accutrigger, meaning you can tune it down to a very light pull weight and not have to worry about it being set off by inertia if you happen to bump or drop it.
My RPR trigger came set at 2.5lbs almost exactly, and while you can adjust it from 2-5lbs, I never felt a need to fiddle with it, although if you are so inclined, it's a fairly easy affair, and the Allen wrench you need is hidden in the bolt shroud.
The trigger isn't the best I've ever had my finger on, but it's damn close, and may very well be the best factory trigger I've ever pulled, certainly if you only count other rifles in the RPR's price range.
Given the RPR's popularity though, you'll have no problem finding an aftermarket drop-in option, or parts like new springs or a new trigger shoe. Timney makes an outstanding 2-stage drop-in replacement trigger for the RPR now too!
275
at Brownells
Prices accurate at time of writing
Prices accurate at time of writing
The safety is a 45-degree model that will feel familiar to anyone that's handled an AR-style rifle before. It doesn't lock the bolt, so the rifle can be cycled with the safety on, which I like, and the safety is solid and tactile which is always good.
Extending down at the rear of the AICS/SR25-compatible magwell is where you'll find the magazine release tab, very AK or HK feeling to it.
Two included Magpul magazines drop free easily, and actually lock the bolt back, which you might like, or you might hate if you're looking to manually feed single rounds into the chamber from the top.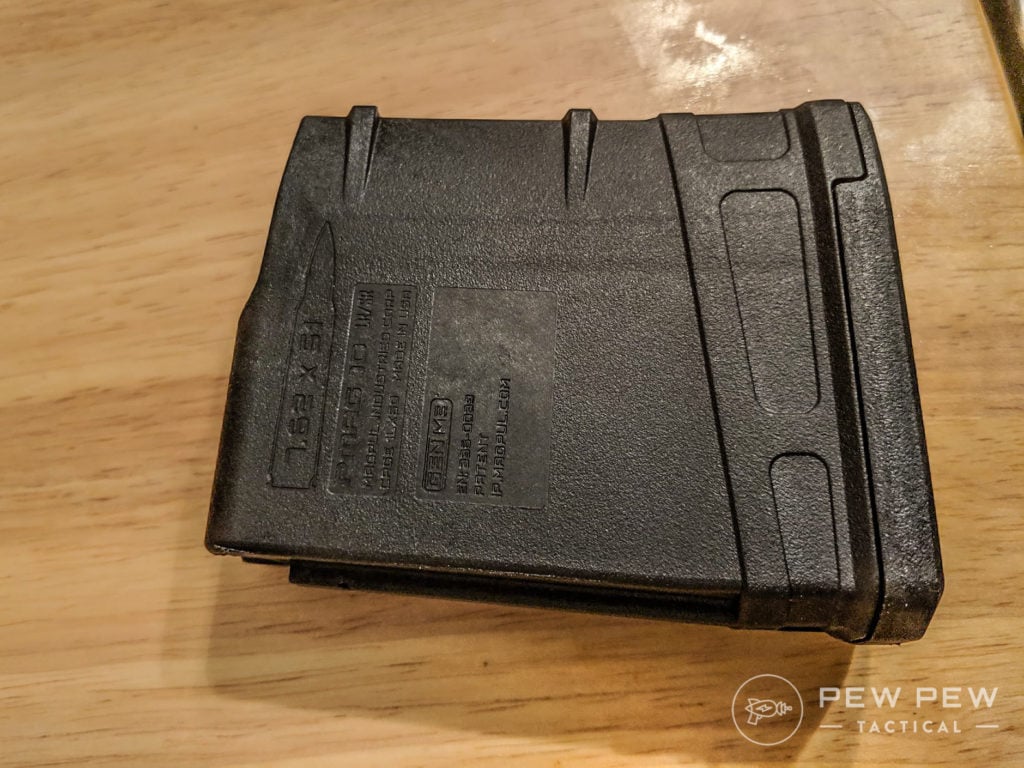 That said, AICS mags won't lock the bolt back, so that's an easy fix. Either way, new magazines are cheap.
One last note about the mag release: it has a hole in it for the Allen wrench hidden in the bolt shroud. You run the wrench up through that hole to adjust the trigger pull weight.
Speaking of the bolt, it's a three-lug job with a 70-degree throw, and is almost identical to the bolt in the Ruger American Rifle, save mostly the extended shroud on the end, and the bolt handle. That shroud helps the bolt cycle smoothly in the buffer tube-esque rear of the receiver.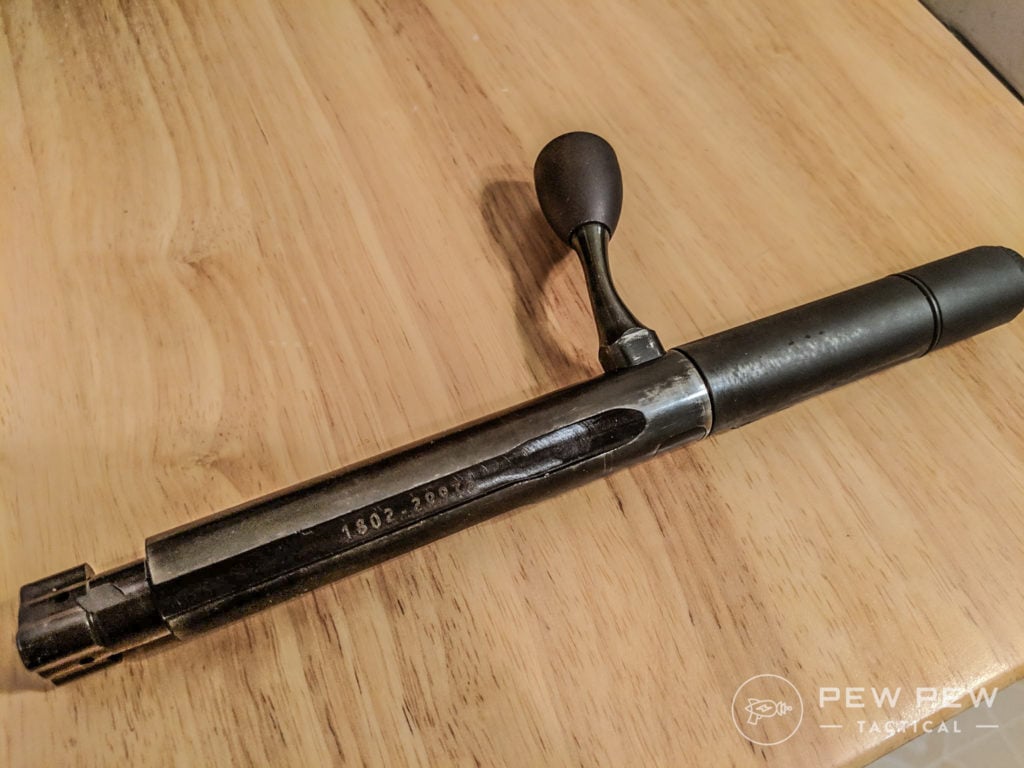 Shooting the New Ruger Precision Rifle
Alright, that's all the features and crap out of the way. All that sounds really good of course, but how does the gun shoot? That's what really matters after all.
Honestly, better than it has any right to, in my opinion.
Don't get me wrong, Ruger makes good stuff. They're one of my favorite manufacturers, in case you couldn't tell.
And I had, of course, read all the press about the Gen I and Gen II RPR's so I knew the rifle did alright, but I was still wildly unprepared for how the gun would do at the range.
The RPR comes chambered in .223, .308, 6mm Creedmoor, and 6.5mm Creedmoor, with the slightly more expensive Magnum version available in .300 Win Mag and .338 Lapua Mag (which I desperately want, but we'll save that one for later).
I personally love the 6.5mm Creedmoor cartridge, so that's what I went with for this gun as I think it's the best choice for a PRS rifle, though the 6mm Creedmoor version is just as good. The .308 I would avoid unless you're already very used to the round, and the .223 version is more of a training rifle so you can shoot a similar beast, but feed it cheaper ammo.
In the spirit of the "everyman's precision rifle", I put a cheapo Caldwell bipod on the gun, topped it with a very affordable Vortex Diamondback 6-24×50 scope, and went to the range with a few different factory ammo options.
Yes, if I wanted to make a serious run at a PRS match with this gun, I'd throw an Atlas bipod on the gun, swap out the stock and handguard, work up a handload, and probably top it all off with a scope that costs twice as much.
But this is a budget rifle designed for shooters that are looking to get into this precision rifle thing without breaking the bank. So what do you get for your money?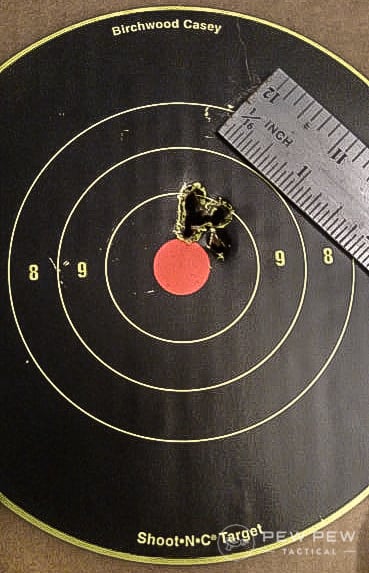 How about .75 MOA accuracy with factory ammo? My rifle liked Hornady's ELD-M factory ammo the best, and with those loads I was hitting T-box targets at 400 yards with no issues whatsoever.
Best 6.5 Creedmoor Match Ammo
26
at Lucky Gunner
Prices accurate at time of writing
Prices accurate at time of writing
The "T-box" for those of you who aren't familiar, is the area snipers and other tactical shooters are trained to aim for. It's the area around the eyes and nose that you put the third shot of your "failure to stop" drill into.
Go look in the mirror and see how big that area is. Unless you've got an exceptionally big noggin, you're looking at an area about the size of an index card. This rifle was hitting that size target out of the box, within one ten round magazine. That's absolutely insane to me.
Stretching the legs on the gun a bit further, I was hitting IDPA-sized targets at 600 yards with shot after shot, and in later range sessions had no problem reaching out to targets at the thousand-yard line.
Since then, I've put maybe 500 rounds down the barrel, and I've never once had any reason to doubt the gun. I even dragged it through the woods and over the mountains of North Georgia on a deer hunt just for shiggles and gits, and I didn't have a single issue.
Other than being reminded how much it sucks lugging an almost 20lb rifle through the woods. But hey, this isn't a hunting rifle, not really. This gun is designed to win long-range shooting competitions.
And in the right hands, it most certainly will.
Upgrading the Ruger Precision Rifle
The Ruger Precision Rifle is designed to be good to go out of the box, but perhaps the best thing about it is the fact that it can grow with you as you find out what you like as a shooter, and what you need to succeed.
The barrel is held on with a proprietary barrel nut from Ruger, but you can easily upgrade the barrel and handguard if you're so inclined.
Personally, I want a nice carbon fiber barrel from Proof Research for mine, but they're expensive as all get out (with good reason).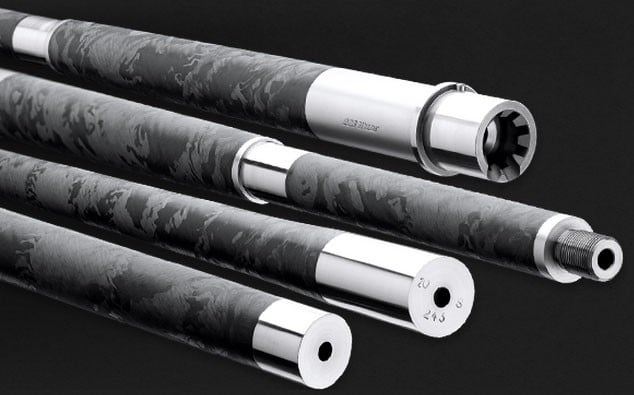 Other than that, I like the Luth MBA-3 stock, and the Magpul MIAD grip, and I want to find a lighter-weight handguard at some point. In general, the rifle is as customizable as you could want, and you'll have no problem making a great rifle even better, or just making it more your own.
By the Numbers
Ergonomics 4/5
The rifle is…heavy. Not quite overly so, but it's definitely not a lightweight hunting rifle. Other than that though, either the rifle will be comfortable, or you can quickly adjust/swap parts to make it comfortable for yourself.
Accuracy: 4/5
Again, the gun is more accurate than it has any right to be. The only things that are going to beat this gun definitively are going to cost twice to three times as much, and will probably need to be custom ordered. Good luck finding something off the shelf that will give you a significant performance upgrade, and still be in the same price bracket.
Reliability: 5/5
It's a precision bolt action rifle. There's nothing on it that's going to fail you.
Customization:4/5
If you want to change it, you can. The chassis system and the overall design means that just about everything is either adjustable or replaceable. You can even strip it down to the action and replace the chassis if you want.
Looks: 4/5
It's got a decidedly military-esque, AR-15-style aesthetic that it's hard to find fault with, and you can get a number of factory Cerakote options, including a Marine Corps red, and an American Flag paint job for maximum freedom points. I'd like to see more factory colors, but hey. You can't have everything at this price point.
Price: 5/5
Speaking of, holy crap the price. This thing is almost criminally cheap and frankly, I have no idea how Ruger makes money on them. I honestly can't think of a better value out there in the firearms industry right now.
Overall: 4.5/5
Conclusion
The Ruger Precision Rifle is an affordable, highly accurate rifle, which makes it a great starter gun for new precision shooters. It can be a little on the heavy side, but there is a good reason it's such a popular rifle.
Overall, I think Ruger hit it out of the park with the original RPR, and while the Gen III model might not light the world on fire like the Gen I did, but it certainly has enough little improvements and changes to still be worth the cost of admission if you don't already have a precision rifle.
Best Long-Range Beginner's Bang For The Buck
1499
at Palmetto State Armory
Prices accurate at time of writing
Prices accurate at time of writing
Though Tikka, Bergara, Mossberg, and now even Remington are making great chassis rifles in this price bracket now, Ruger still deserves credit for kicking off the craze, and for getting it so right, right out of the gate.
Check out some more awesome rifles in Best 1000 Yard Rifles Under $1000 and also Best Long Distance Scopes.