Some guns are straight-up legends in the firearms community and the FN SCAR is one such gun.

With a military background, the SCAR platform is iconic and memorable.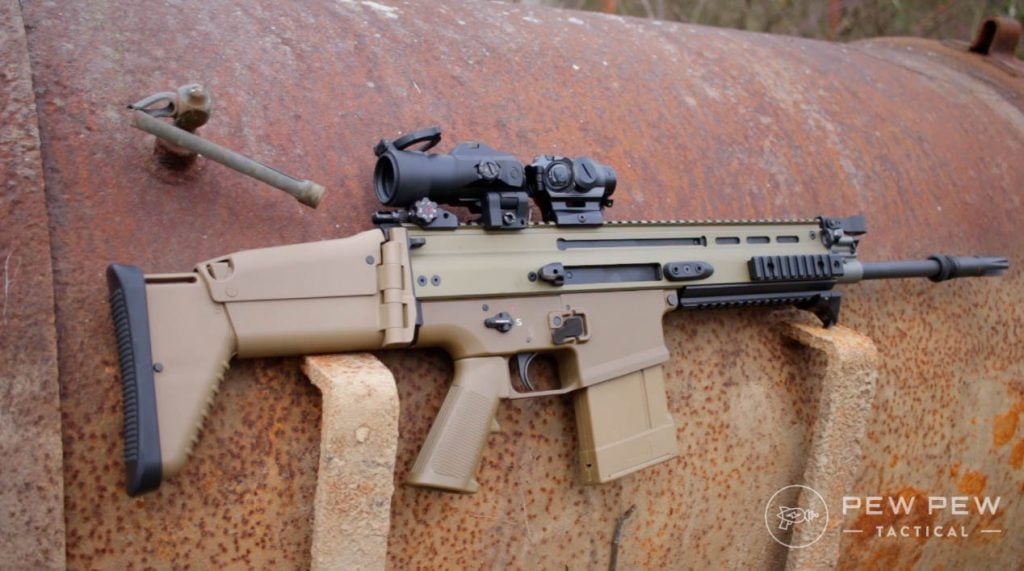 Making appearances in Jason Bourne, Batman v. Superman: Dawn of Justice, Kingsman: The Secret Service, and a host of other notable action movies, this battle rifle has cemented its place in pop culture.
But how does it actually hold up on the range? With a hefty price tag, is it even worth your consideration?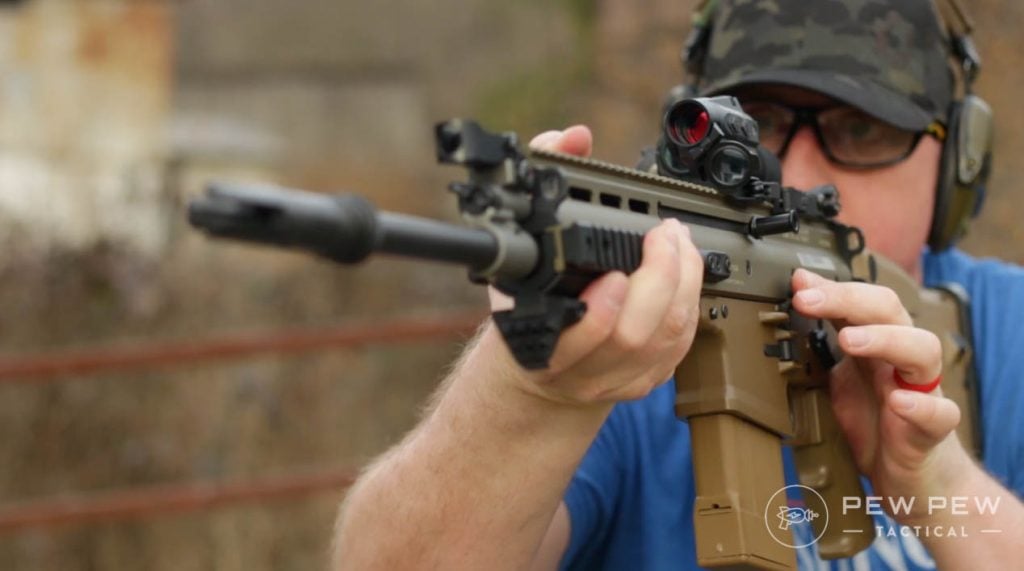 Well, lucky for you, I'm here to answer both of those questions.

I got my hands on the FN SCAR 17S recently and spent some time with this rifle to see just how good it really is.
Best Modern Battlerifle
3771
at Guns.com
Prices accurate at time of writing
Prices accurate at time of writing
So, follow along as I walk you through the SCAR to help you answer the question: is it worth it?
If you like to skip the text, check out my video review below.
As always, you can see some of our other cool content on the Pew Pew Tactical YouTube page.
Table of Contents
Loading...
What is the SCAR?
Made in the U.S. by Belgian manufacturer FN, the SCAR — Special Operations Combat Assault Rifle – was designed as a battle rifle for U.S. Special Operations Command.
The SCAR offers two variants, the SCAR-L and SCAR-H, referring to light or heavy. The Light version chambers 5.56x45mm while the heavy takes on the power packing 7.62.x51mm.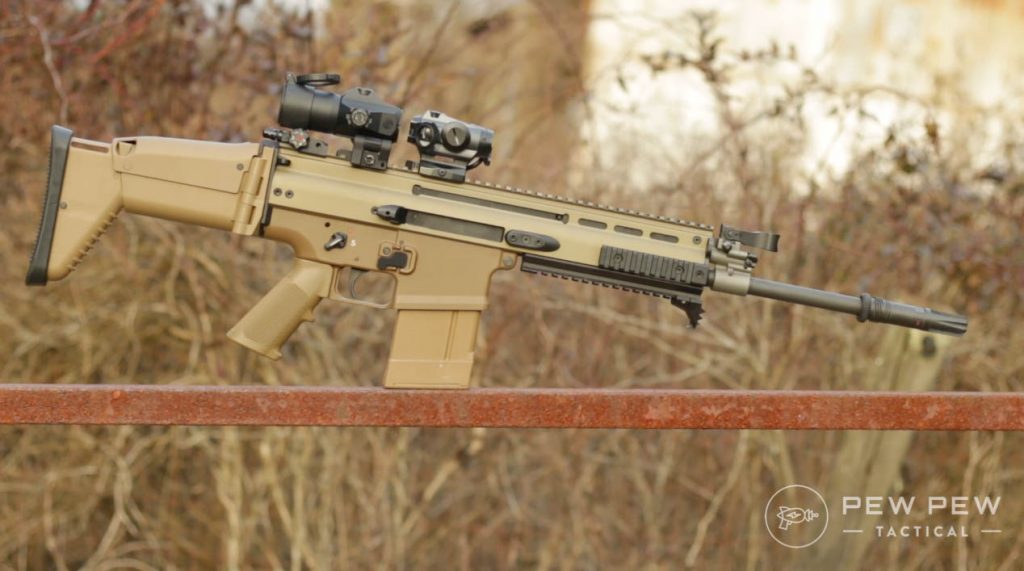 Today, it's used by the U.S. armed forces and 20 other countries worldwide.
The model we're taking a look at, though, is the SCAR 17S.
This bad boy is a gas-powered, semi-auto BEAST. It fires 7.62 x 51mm round…or as most folks call it, .308. (Ya'll duke out the differences in the comment section.)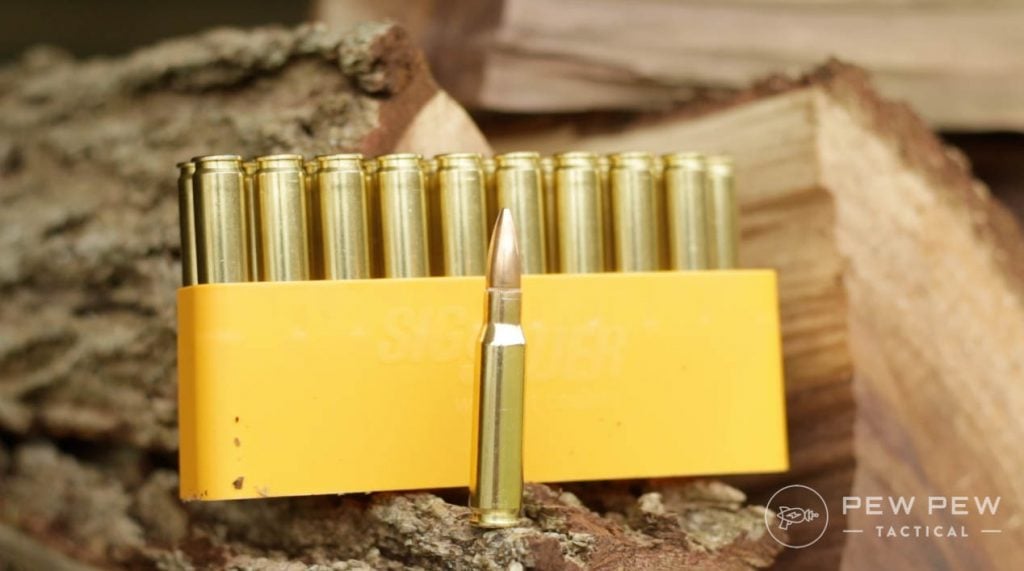 Think of the .308 as a tool for shooting at a target…through a car door. Yeah, it's got a lot of punch.
Personally, I think everyone should have a .308 in their arsenal.
The SCAR features a 16.25-inch barrel length with 1:12 RH twist. Magazine wise, you get 10 or 20-rounds. Not bad, not bad at all.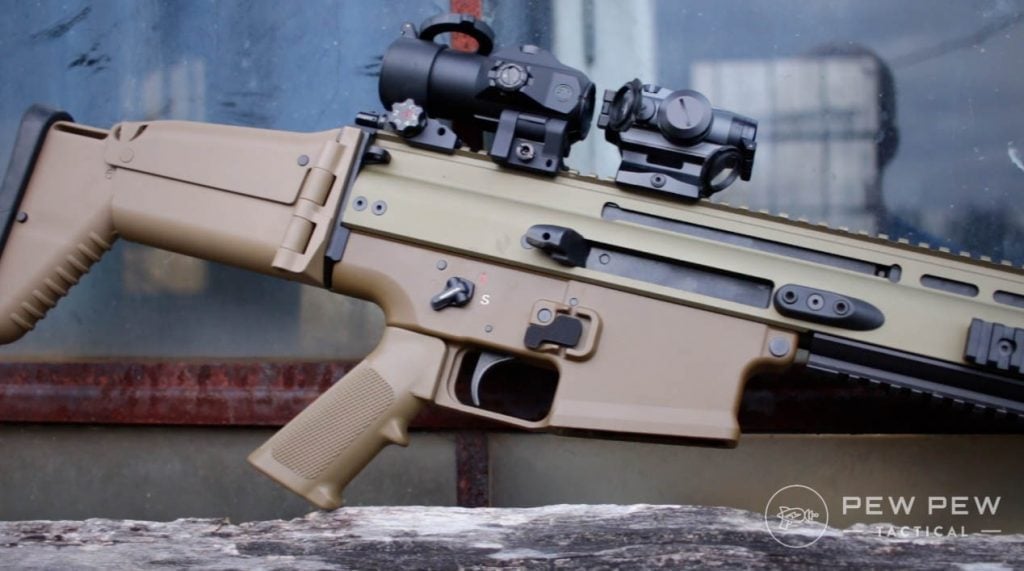 Unloaded and without glass, this service rifle weighs in at 8-pounds.
MSRP right now? Let's all take a deep breath…$3,569.
Street price can be much higher, at least right now. #ThanksCOVID
Let's Talk Ergos
Ergonomics are cool on this one.
Everything feels big and chunky, but the controls are fairly familiar.
However, you'll need monster fingers to reach the bolt release.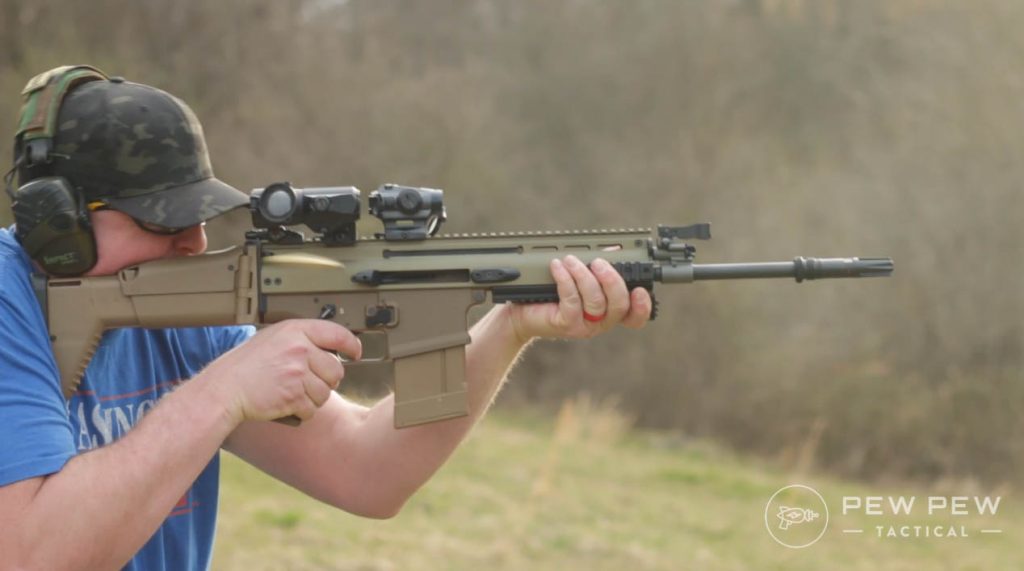 Cool thing is the controls are all ambidextrous. So, you lefties can move the charging handle to the other side, no problem.
As far as the trigger, I genuinely don't have an opinion on it. It works great, but it's nothing to write home about — sort of a non-event.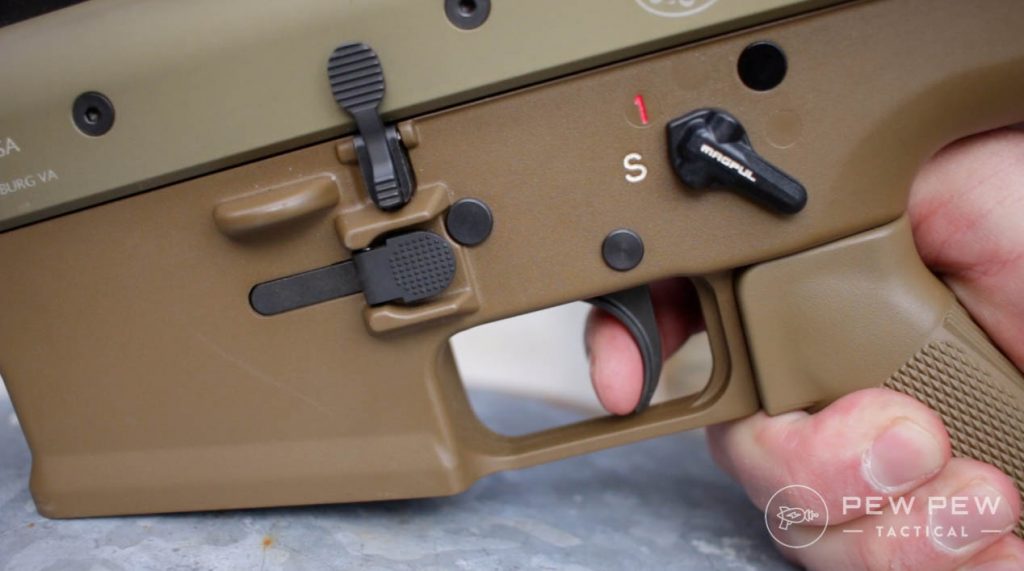 Up front is a series of quad rails so you can add accessories.
I tossed on a Noveske Barricade Support. Pretty nifty and handy to have.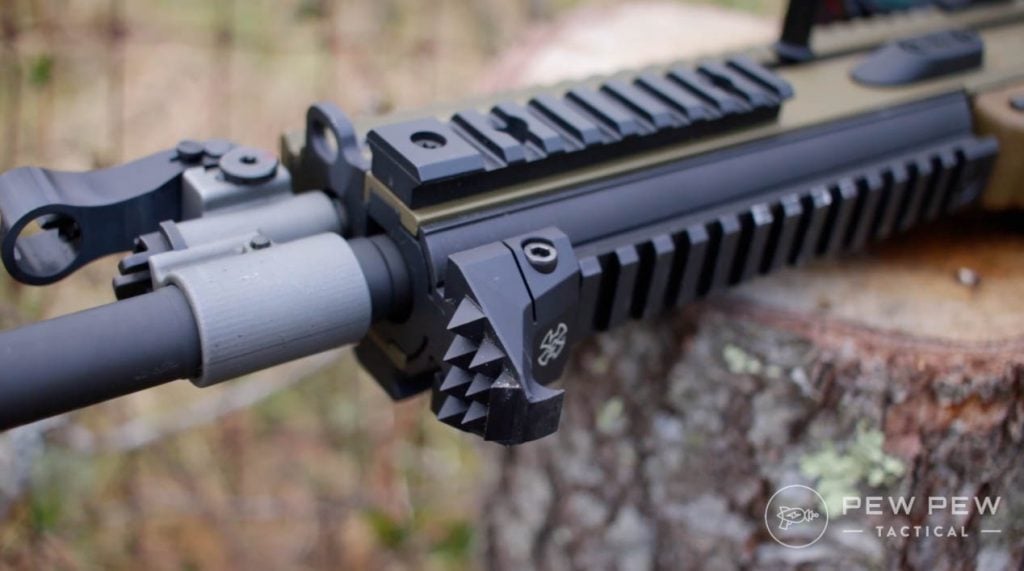 As far as aesthetics, I know some folks don't like all the colors, but I think it is one of the best-looking rifles on the market.
Overall, I like the looks.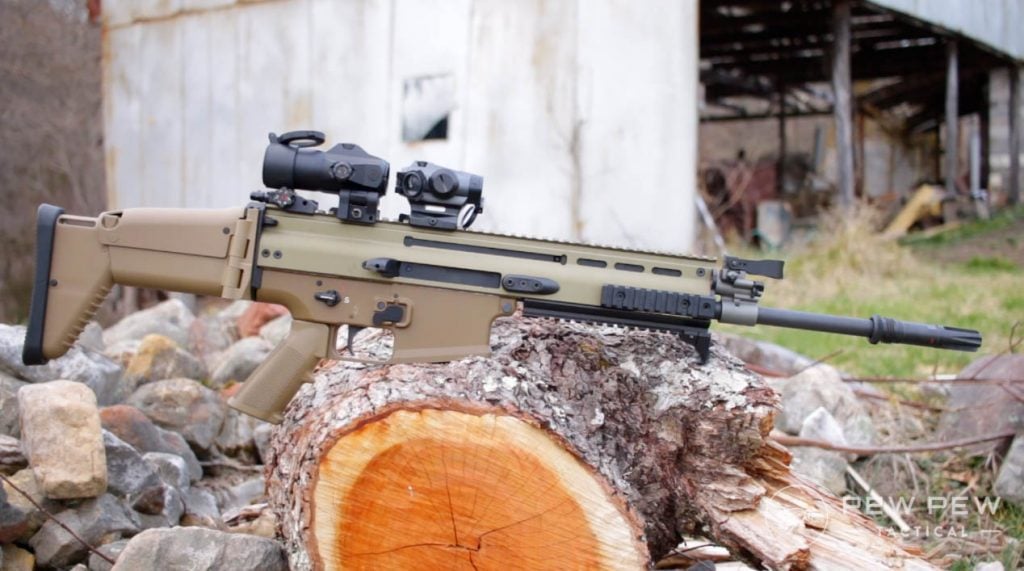 Range Time!
For this test, I used Sig Sauer Elite ammo — nothing but the best.
I loaded up and let 'er rip.
Without exaggerating, this thing runs like a Ferrari.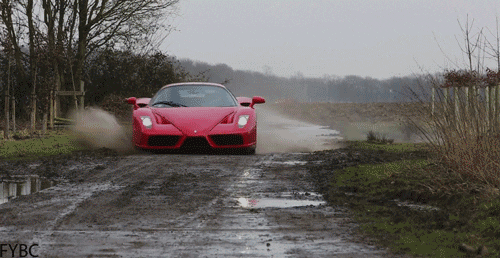 I don't really know what to compare it to because it is unlike any other gun I've ever worked with.
Charging it is smooth, and it all just runs like a sewing machine.
I sort of assumed it would be a beast to handle, but it's not. The weight eats up the felt recoil, and it is genuinely a pleasure to shoot.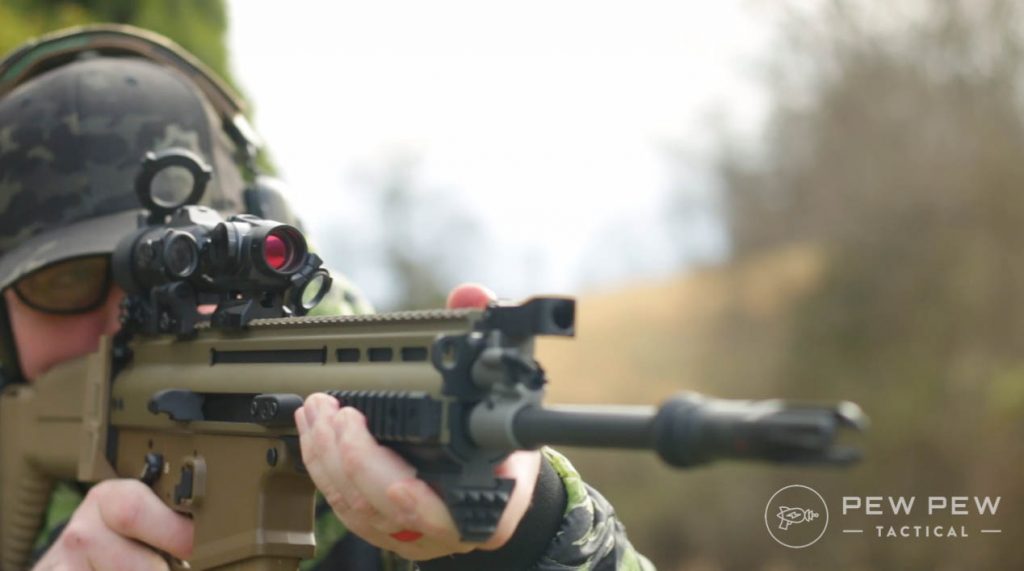 I had zero issues. This gun runs. But let's be real, it should run especially at this price point.
Optics
The SCAR ships with iron sights and they're great, but I wanted to kick this platform up a notch.
So, I added the Sig Sauer Romeo and Juliet red dot and magnifier set.
246
at Bereli
Prices accurate at time of writing
Prices accurate at time of writing
As far as accuracy, this is unequivocally a 1,000-yard rifle. That's been proven for the last decade in Spec. Ops
The SCAR in the right hands is stupid accurate.
I didn't go past 200-yards. But a .308 at 200-yards…well, you're literally stacking rounds into the same hole.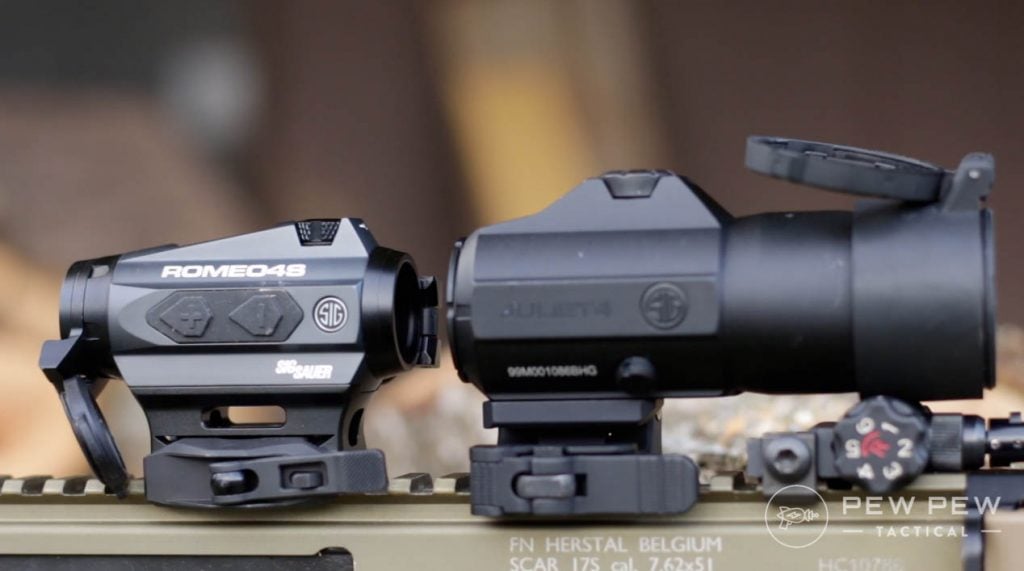 That's the .308, and I drove nails with it.
It's no surprise the military loves this thing.
Pros/Cons
So, let me tell you what I like and don't.
First, you can't beat that legendary reliability. It's made to go into combat, and it's gonna run. Period.
Second, I love the iron sights. They fold down if you don't need them and are rock solid if you do.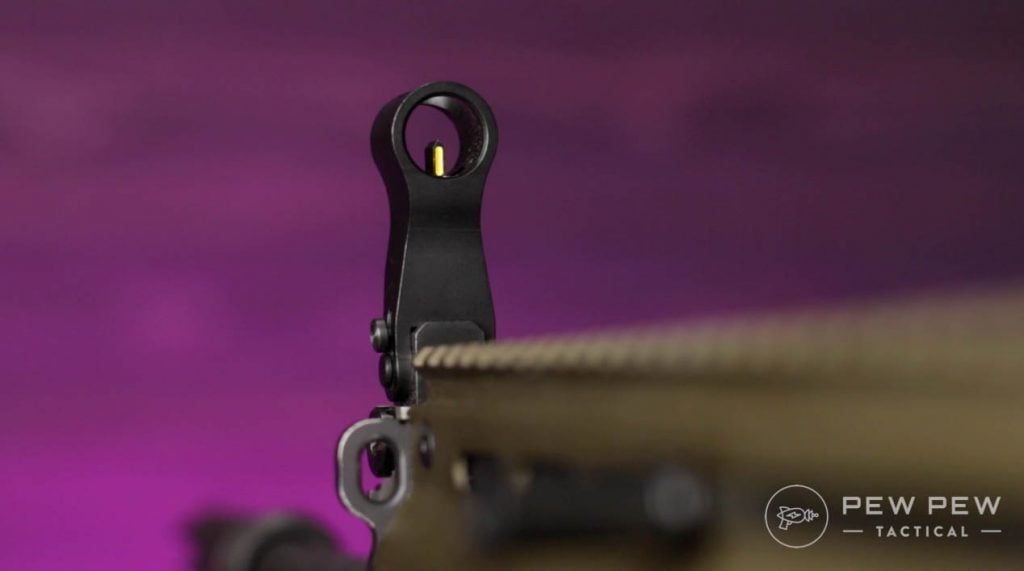 Third, I dig the folding stock. It's a help for packing into your range bag.
And finally, I love how robust the entire platform is. The rails and upper receiver are all beefy. In your hands, you can just feel the quality.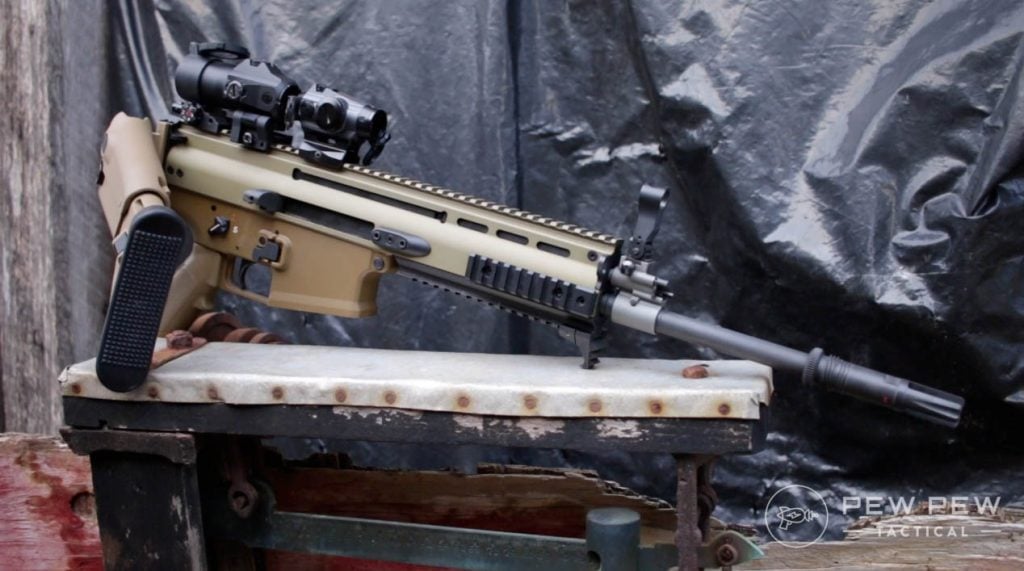 Now, as far as shortcomings or drawbacks, let me give you two.
First, the SCAR is notorious for eating glass. If you put on a cheap optic, kiss it goodbye because the SCAR will thump in into oblivion.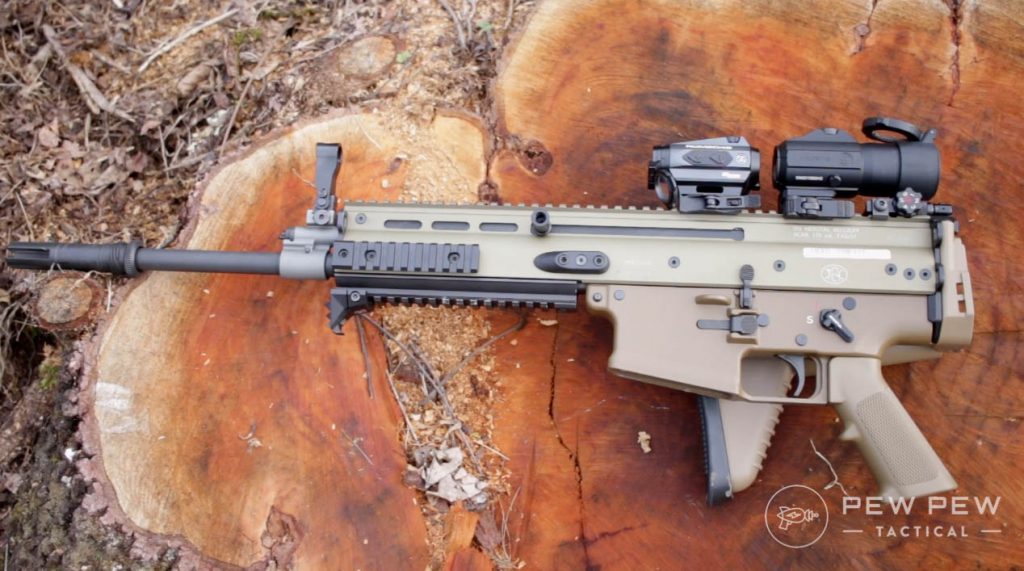 Lesson to be had here: if you pick up a SCAR, do your homework on optics and get something sturdy.
The other drawback is an obvious — price. No way around it; it's HIGH.
And also, keep in mind that magazines and ammo are pricey too. On this one, buy once, cry twice.
By the Numbers
Reliability: 5/5
This number should be much higher. It's the most reliable rifle ever tested by U.S. Special Operations.
Ergonomics: 3.5/5
It's like holding a log with quad rails. But boy, you sure look cool while you do it.
Accuracy: 5/5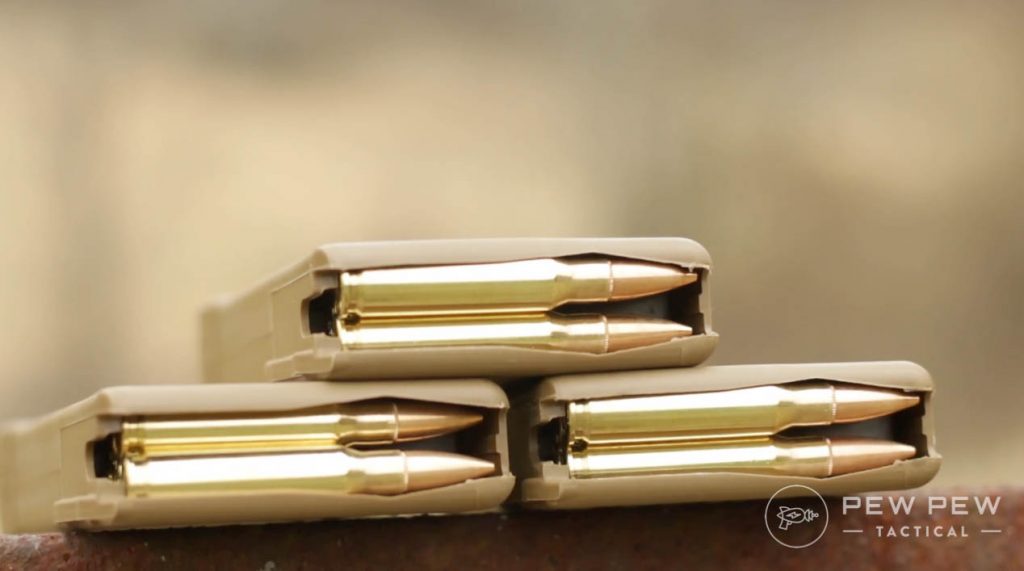 As long as you stay realistic with the 7.62 NATO round, you're gonna drive nails.
Customization: 4/5
Rails for days, and lots you can do. Just don't expect to do as much swapping out as you do on the AR platform. Limited aftermarket.
Value: 5/5
It's high. But for that price point you get a battle rifle that is unparalleled.
Best Modern Battlerifle
3771
at Guns.com
Prices accurate at time of writing
Prices accurate at time of writing
Overall: 5/5
We're gonna let those chunky ergos slide. The SCAR didn't just live up to the hype, it surpassed our expectations. Sorry about your wallet.
Conclusion
Overall, I had a great time with the FN SCAR 17S. I was excited to finally get my hands on one, and it lived up to the hype, surpassing my expectations.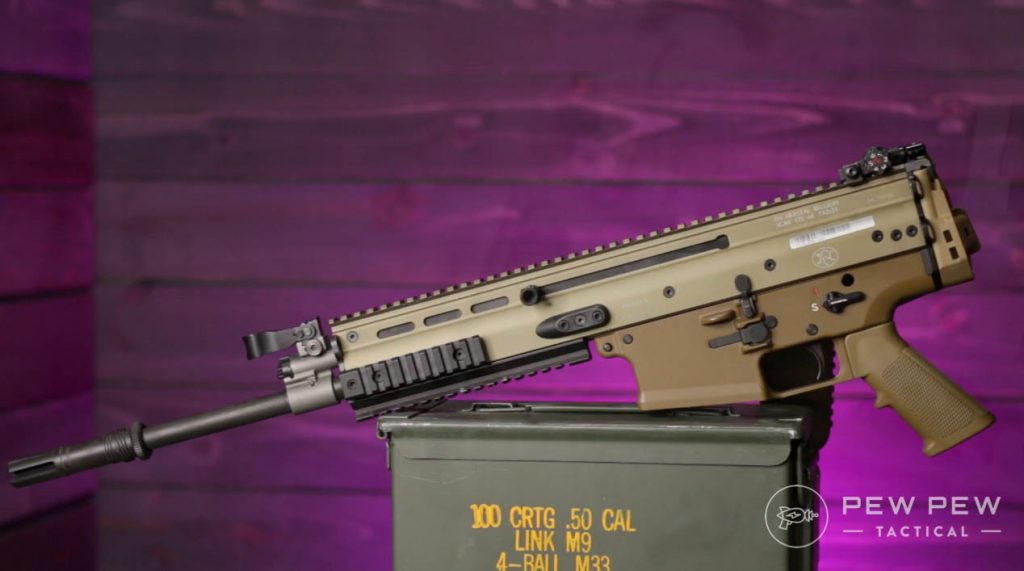 Without putting too fine of a point on it, it is unlike any other rifle I've ever worked with. I love it and you will too…if you can get past that lofty price point.
To see the FN SCAR 17S in all its glory, be sure to watch the video below.
Best Modern Battlerifle
3771
at Guns.com
Prices accurate at time of writing
Prices accurate at time of writing
What do you think of the FN SCAR 17S? Love it or hate it? Let us know in the comments below. Want some more military-style guns you can own? Check out our round-up of the Best Civilian Legal Versions of Military Only Guns.