The revolver is not dead. At least, Connecticut-based Charter Arms doesn't think so.
Charter Arms has staked its corporate life on revolvers with 13 different categories of wheelguns and a total of 90 models in its catalog.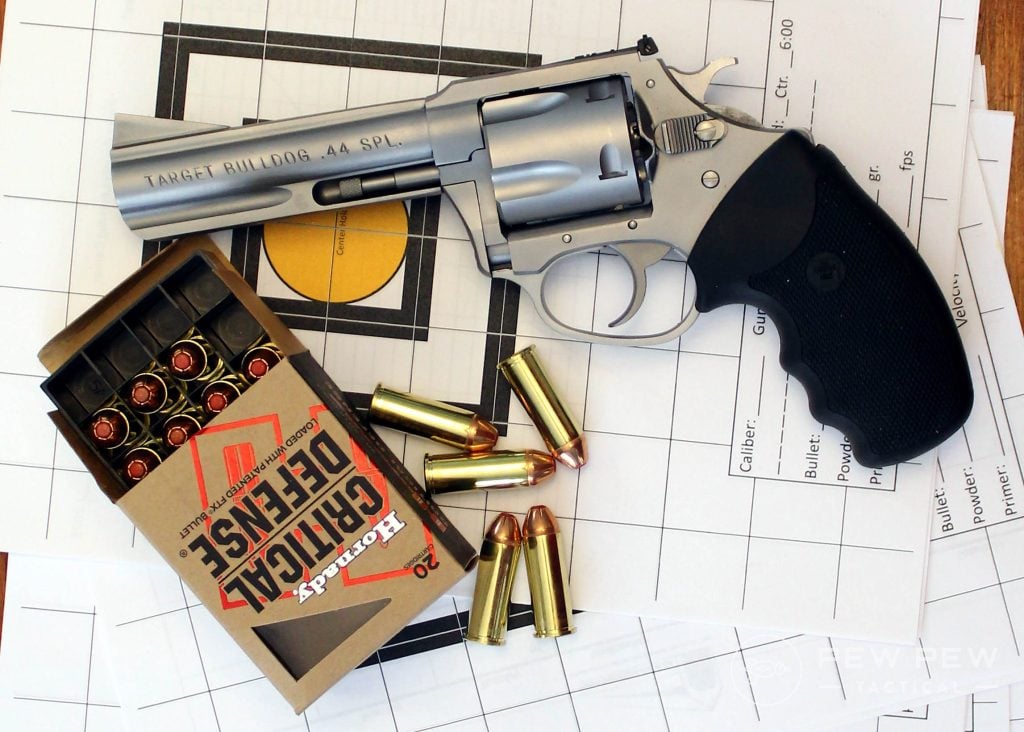 So, today let's look at some of Charter Arms revolvers. I'll be sharing my experiences with the Charter Arms Pathfinder, Target Bulldog, and Mag Pug revolver models.
I have a long history with revolvers — both shooting and reviewing them. I can't wait to share why I think the Charter Arms revolvers are some of the most fun revolvers out there.
So, keep reading!
387
at GrabAGun
Prices accurate at time of writing
Prices accurate at time of writing
Table of Contents
Loading...
Charter Arms Revolvers Specs & Features
| | | | |
| --- | --- | --- | --- |
| | Target Bulldog | Mag Pug | Pathfinder |
| Action | DA/SA | DA/SA | DA/SA |
| Caliber | .44 Special | .357 Magnum | .22 LR |
| Length | 7.2″ | 7.32″ | 3.75″ |
| Barrel Length | 4.2″ | 3″ | 2″ |
| Weight | 22 oz. | 23 oz. | 19 oz. |
| Capacity | 5 | 5 | 8 |
| Trigger Pull | SA: 3 lbs. 7 oz. DA: 7 lbs. 14 oz. | SA: 3 lbs. 10 oz. DA: 8 lbs, 6 oz. | SA: 4 lbs. 3 oz. DA: 8 lbs, 2 oz. |
| Price | $422 | $390 | $387 |
Specs for Charter Arms Pathfinder, Target Bulldog, and Mag Pug. Source: Charter Arms
Charter Arms Revolvers Pros & Cons
Pros
Reliable

Affordable

Accurate
Cons
Finish can be rough sometimes
The Bottom Line
Charter Arms Pathfinder, Target Bulldog, and Mag Pug are tough, reliable revolvers sold at price points that allow almost anyone to get into them. Calibers range from .22 LR to .45 ACP. They're hard to beat for what they are.
Where Did Charter Arms Get Its Start?
Doug McClenahan started Charter Arms in 1964 and quickly gained a reputation for building affordable, backup .38 snub-nosed revolvers that found their way into many a policeman's pocket.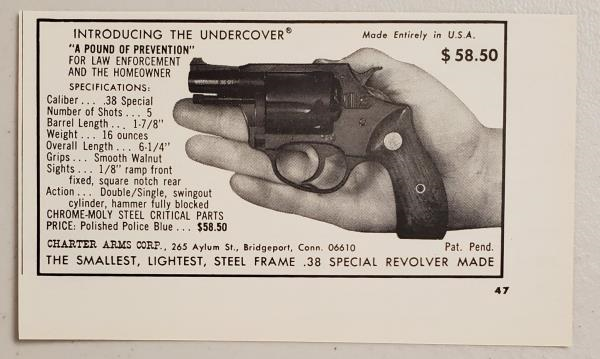 In 1973, they came out with the gun that really put them on the map — the Bulldog .44.
This 5-shot, wooden-gripped .44 Special took shooters by surprise as .44 Special revolvers were few and far between. I owned one myself in the mid-'70s and would carry it on my motorcycle excursions.
Some of you may know of the Bulldog through its dubious reputation as the gun used by the 1976-'77 when serial killer David Berkowitz, also known as "Son of Sam."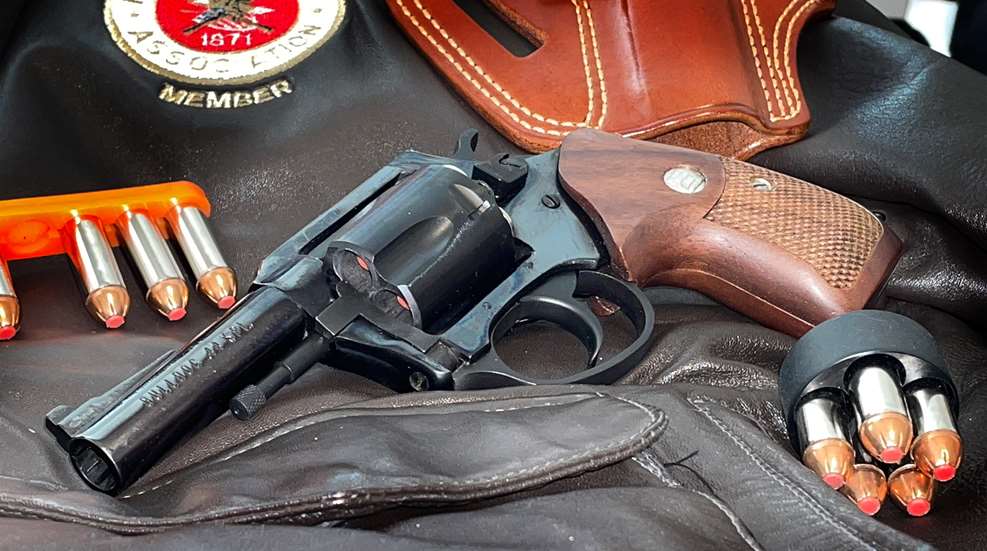 Over the following decades, the company went through a few iterations (Charco, Charter 2000) until it returned to its original Charter Arms handle in 2007, under the distributorship of MKS Supply.
The revolvers built today are well-built guns that tend to last.
They use a solid frame and lack a side plate, meaning that the frames can support a bit more pressure, and most models feature a shrouded ejector rod to help reduce the chance of it being bent.
Charter Arms Target Bulldog Review
Charter Arms revolvers are, for the most part, for concealed carry since most have short barrels.
While their 4-inch Target Bulldog is geared toward…you guessed it…target shooting, plenty of shooters have been known to carry 4-inch guns.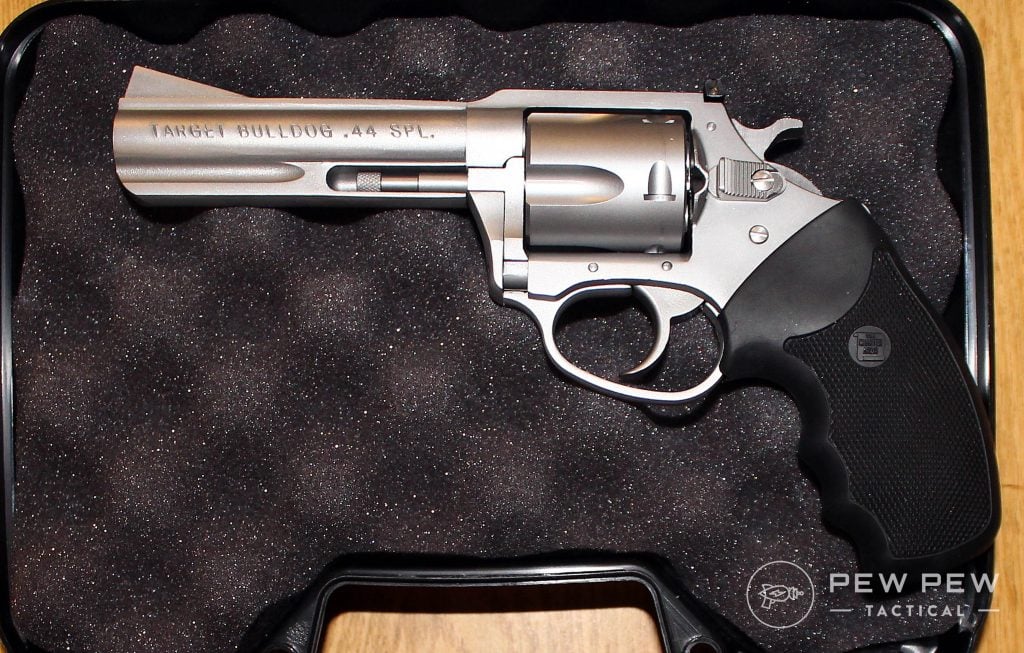 Here in Indiana, .44 Special out of a 4-inch or longer barrel is deer-legal.
I killed a big doe once at over 100 yards with my Smith & Wesson 629, with a potent .44 Special loading, so I could see the argument for carrying a Bulldog as a backup or a woods gun.
422
at GrabAGun
Prices accurate at time of writing
Prices accurate at time of writing
Ergonomics: Fit & Feel
One thing that bugs me when I shoot some revolvers is the area where the grip meets the trigger guard. If there is any "sharpness," for lack of a better word, in that junction, my middle finger gets beaten up.
A 22-ounce gun firing a hot defense load can cause that to happen; fortunately, I didn't feel that at all when I shot Hornady Critical Defense loads through the Bulldog.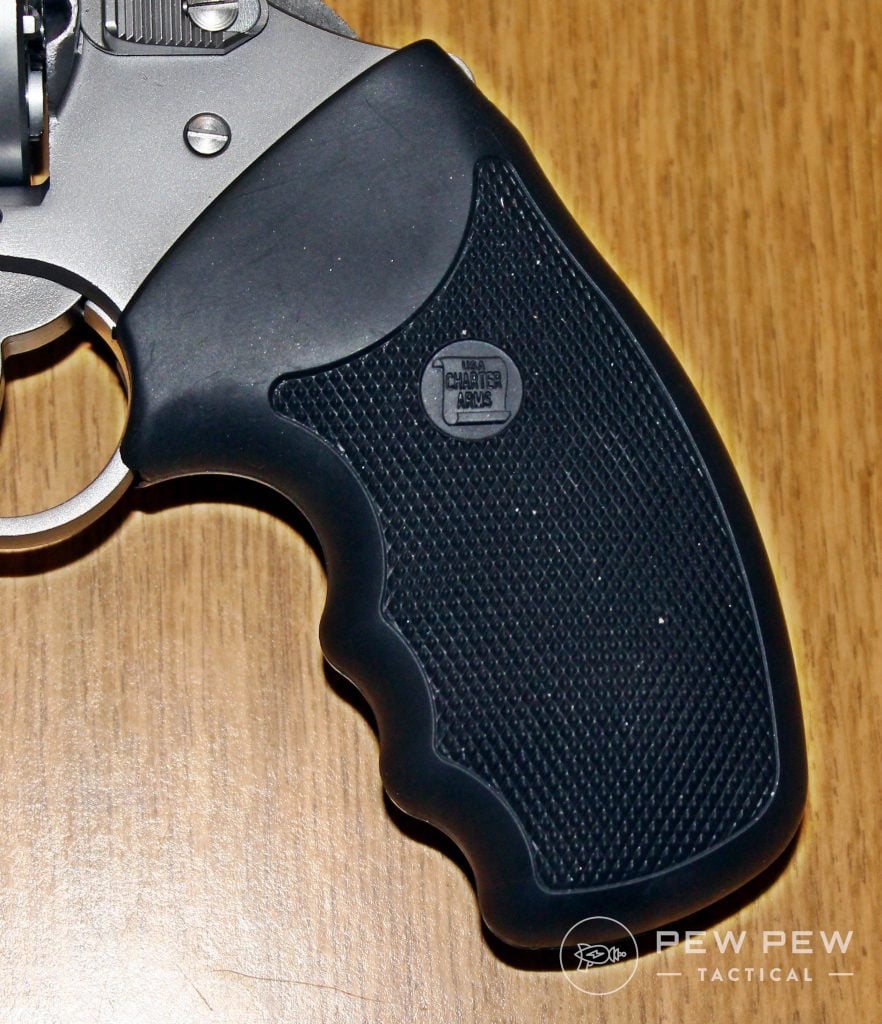 If you don't like the supplied rubber grips, you can snag a nice set of rosewood grip panels from their website for $50.
One minor hiccup common among most (not all) of the Charter Arms revolvers made today is the front sight. It is a straight ramp that goes all the way up to a sharp point.
In my experience, this is a holster shredder. I usually will take the point down and round it a bit with a file. Not enough to affect sighting, but just to knock the point off.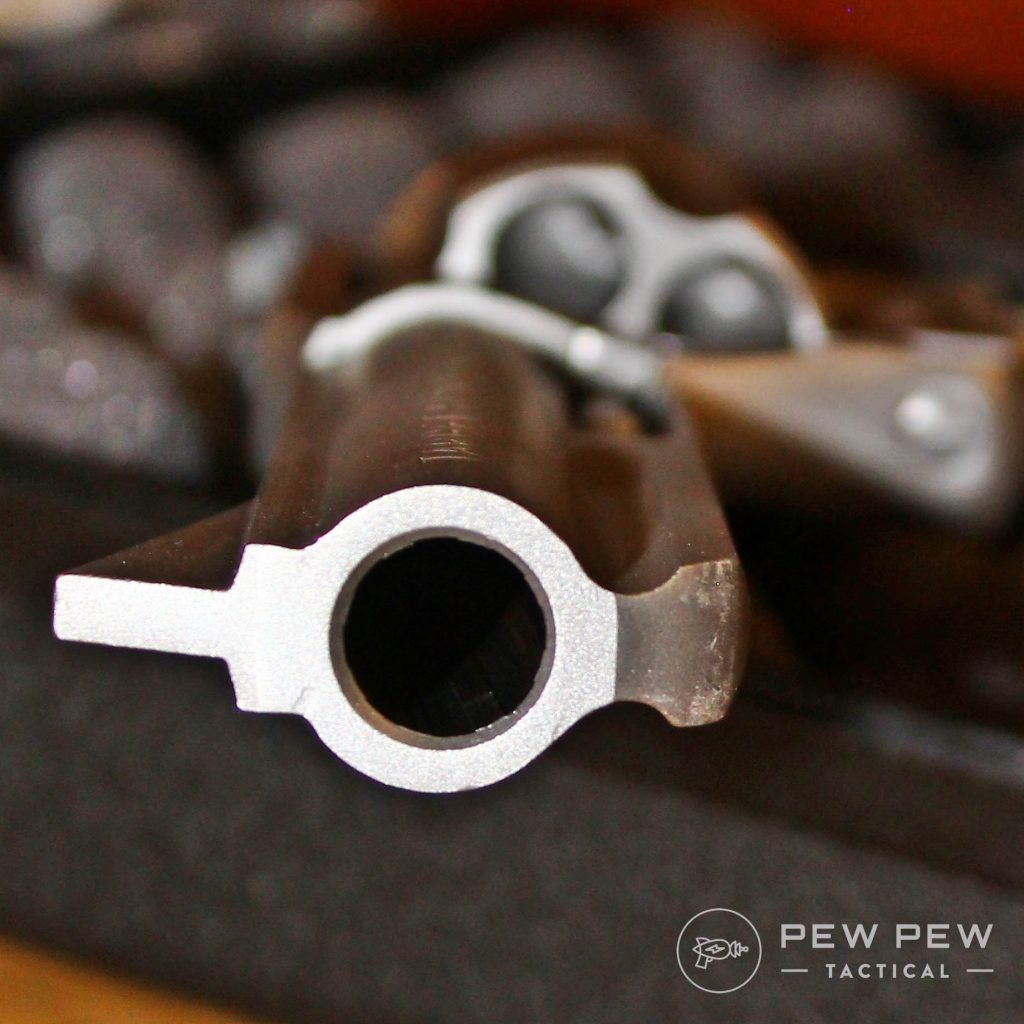 The front sight is about the only thing I wish they would change.
Overall, the Bulldog fits my hand well and points naturally.
What Sets It Apart?
So…why buy a Charter Arms .44? I can think of a few reasons.
First, there just aren't that many .44 Specials out there. Ruger makes a few GP100 5-shot revolvers in .44 Special.
The Ruger is an excellent gun and built like a tank, but the thing is, you could buy two Charters for the price of one GP100.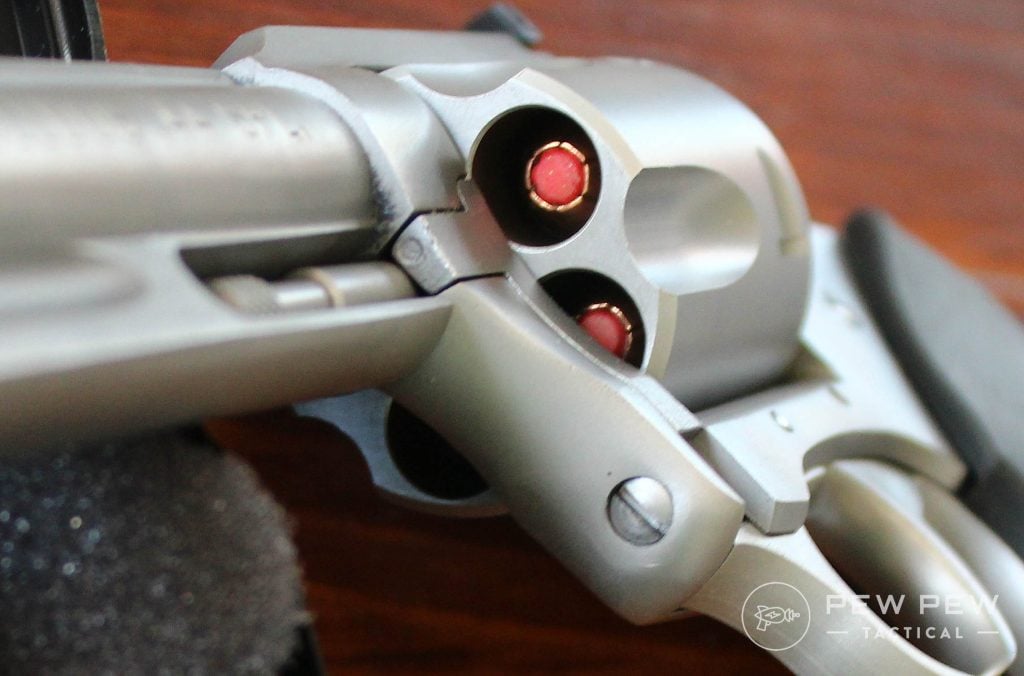 Ruger also offers a few single-action revolvers in .44 Special, but like the GP100, they are all distributor exclusives and may be tougher to track down.
Except for a few special runs in recent years by Smith & Wesson and other makers, the .44 Special just isn't around much outside of offerings from Charter Arms and Ruger.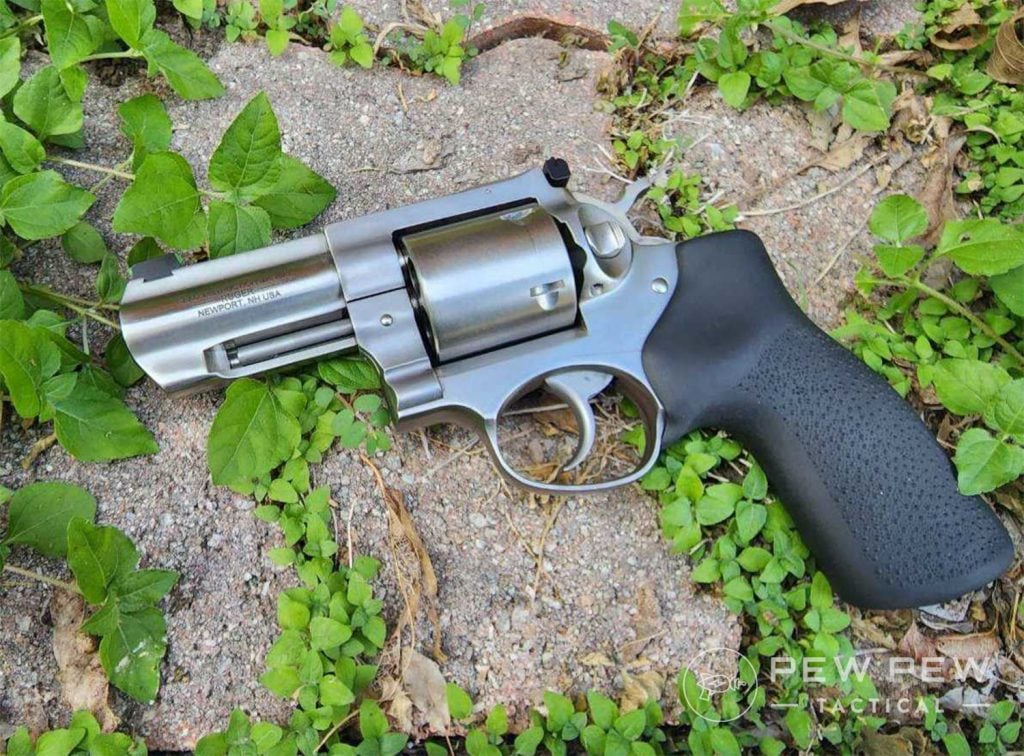 Of course, you can always buy a .44 Magnum and carry specials in it, but that sort of defeats the purpose. The .44 Special was popular because the guns that shot it were lighter and easier to pack than those made to fire its more-powerful magnum cousin.
And that is where the Bulldog has found its niche — as a lightweight, affordable revolver chambered in a capable large-diameter cartridge.
Reliability & Accuracy
The old .44 Special, and I go way back.
I remember shooting reduced loads with wax bullets with my original Bulldog in my basement during the Blizzard of '78 when I couldn't go anywhere. That little gun helped save what little of my sanity was left when work was shut down for literally a month.
The .44 Special is an excellent cartridge for reloading, and the nice thing about it is that you can shoot it in a .44 Magnum revolver or carbine. It has less kick and allows you to practice without rattling your molars.
But I decided to forgo hand-loaded ammo for this test and purchased some Hornady Critical Defense before tossing the gun on my Ransom Multi-Cal Steady Rest.
As you can see, at around 15 yards, it was very accurate. I won't say it put all its shots into one hole, but this isn't bad.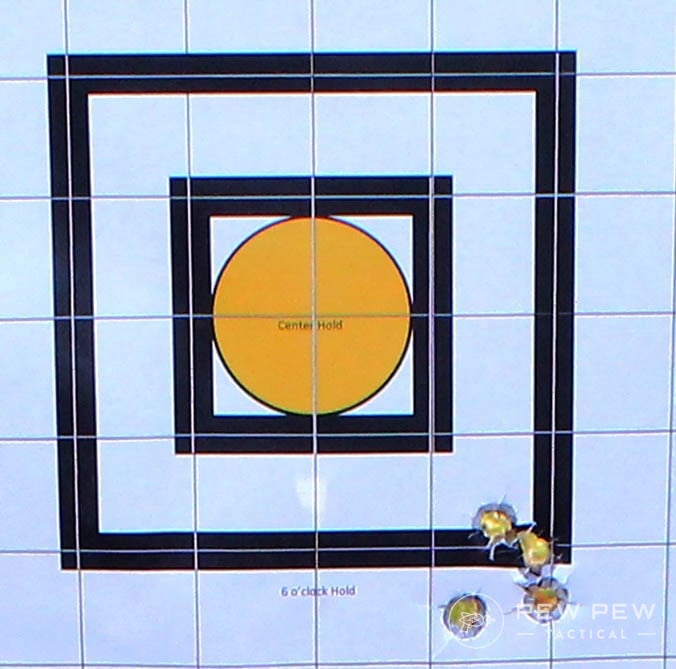 I would've done even better if the gun wasn't shooting so low. The rear sight had been backed almost all the way out (up) when I got the gun, and now I know why.
I had to end up holding on the top center of the black target square, and you see where it printed. If the gun were mine, a few minutes of quality time with a file and the front sight would solve the low-shooting problem.
You may like the idea of a revolver but might not be sold .44 Special.
Luckily, as mentioned above, Charter makes a ton of revolvers in everything from .22 LR to .45 ACP.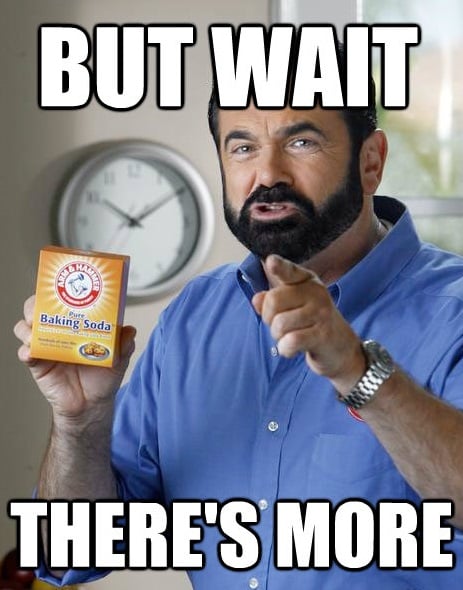 Charter Arms Pathfinder Review
Pros
.22 LR

Comes with snap caps

Budget option

Great for beginners
Cons
Seasoned shooters might not like this

Less oomph than other models
I was blessed to have another Charter Arms gun arrive before the review deadline.
My wife has been searching for a .22 LR revolver to tag along with her on her various outings, and I found one in the Pathfinder.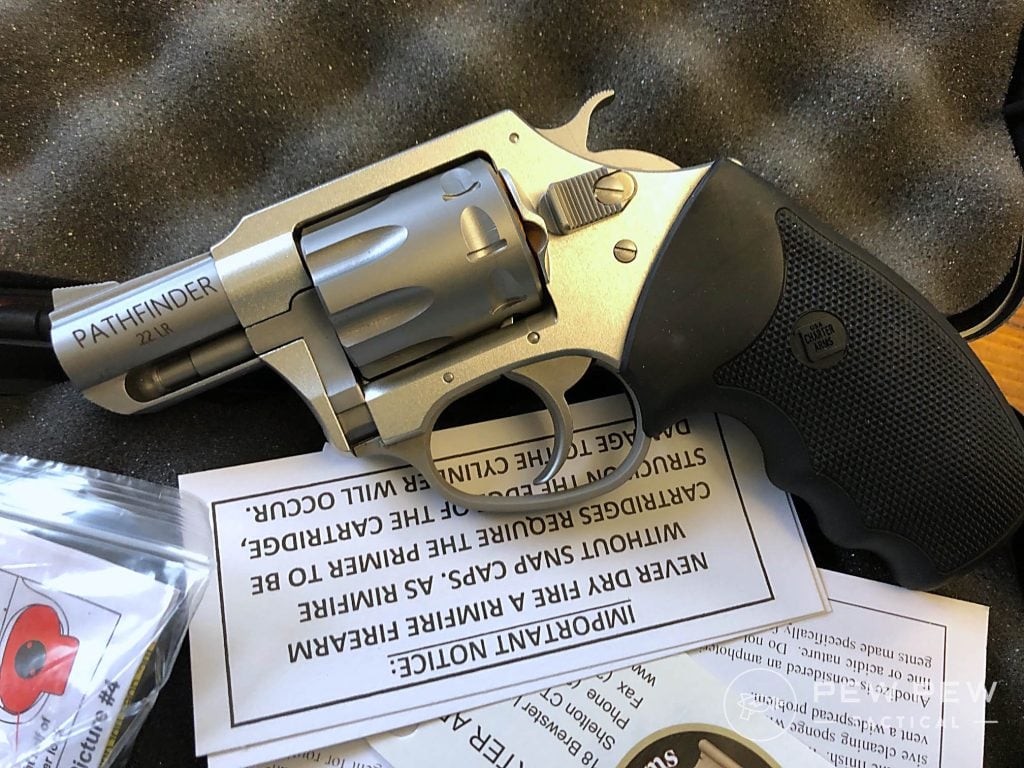 Here we have a two-tone finish and an aluminum frame. It is an attractive look for this gun.
Included from the factory were snap caps — yay! Dry-firing rimfire guns can potentially cause damage to the edge of the chamber or the firing pin, so these were welcome.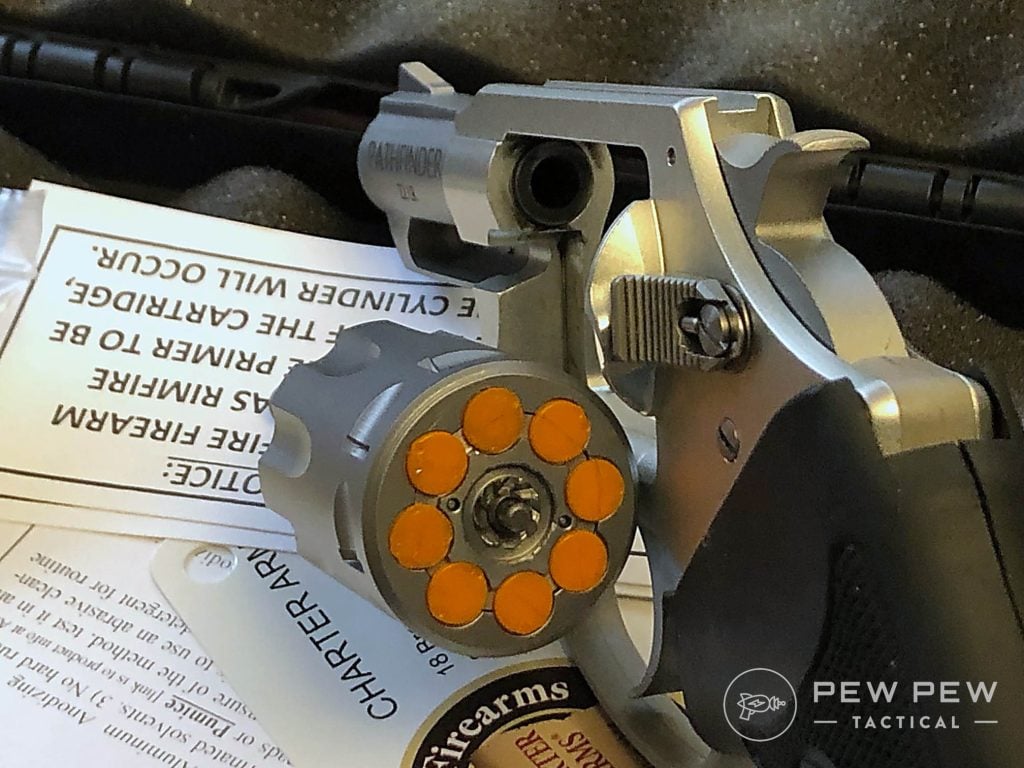 This gun is just another alternative if you are looking for a well-made, less expensive revolver.
A reminder, all Charter Arms guns come with a limited lifetime warranty to the original owner.
387
at GrabAGun
Prices accurate at time of writing
Prices accurate at time of writing
Unfortunately, this one only came in time to snap some photos, but I have previously owned the 4-inch version of this gun. It was accurate and worked well.
I decided to buy both the Pathfinder and the Mag Pug; I like Charter Arms guns if you can't tell.
What do you think of the Charter Arms Pathfinder? Rate it below!
Charter Arms Mag Pug Review
Pros
.357 Magnum

3-inch barrel

Adjustable rear sight

Polished finish
Cons
Lots of smoke and muzzle flash

Recol might be too much for some
Mag Pug, you ask? As you may have guessed, Mag in the name means it is one of Charter's heavier-caliber guns.
This .357 Magnum revolver is a 5-shot, 23-ounce, 7-plus-inch long gun. It is polished to the point where you could use it as a mirror to comb your hair (I like "blingy" revolvers if they're not over the top).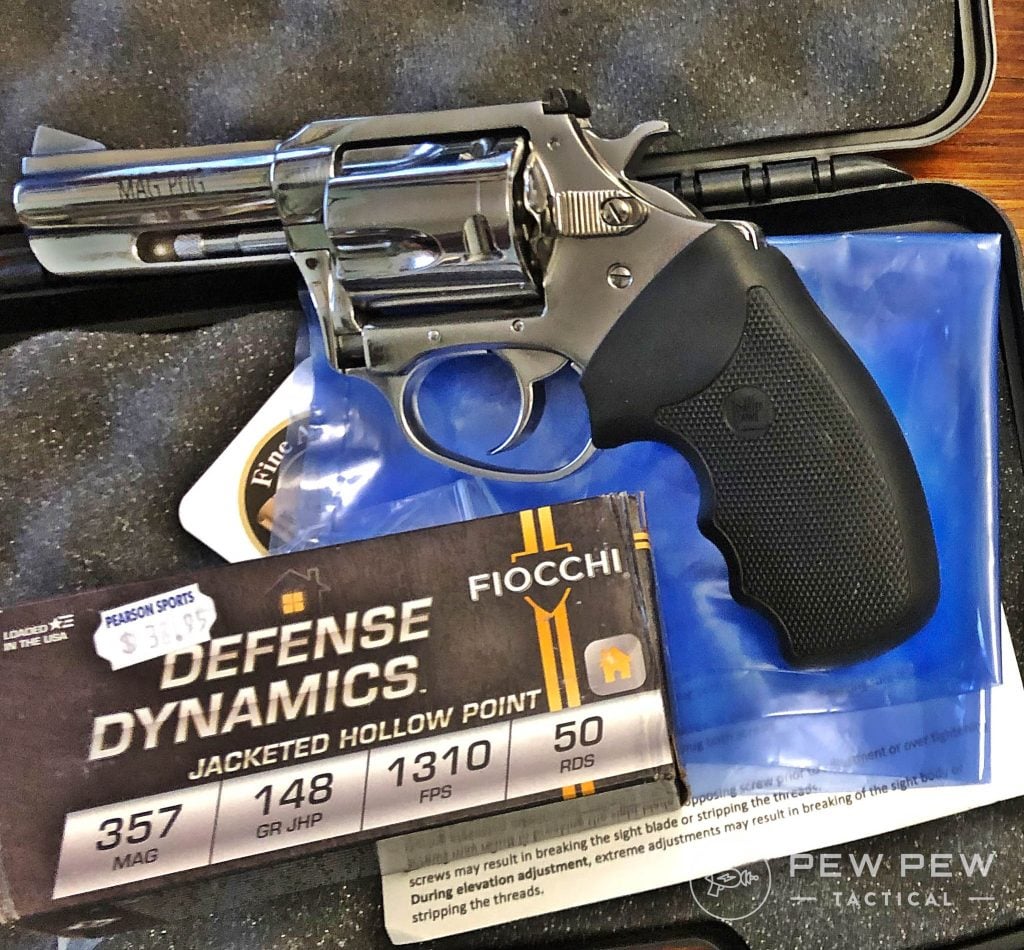 It sports an adjustable sight which is important, especially on a short-barreled gun capable of shooting anything from low-powered .38 Specials up through deer-level .357 Magnums.
In my experience, the two loads shoot to vastly different points of aim.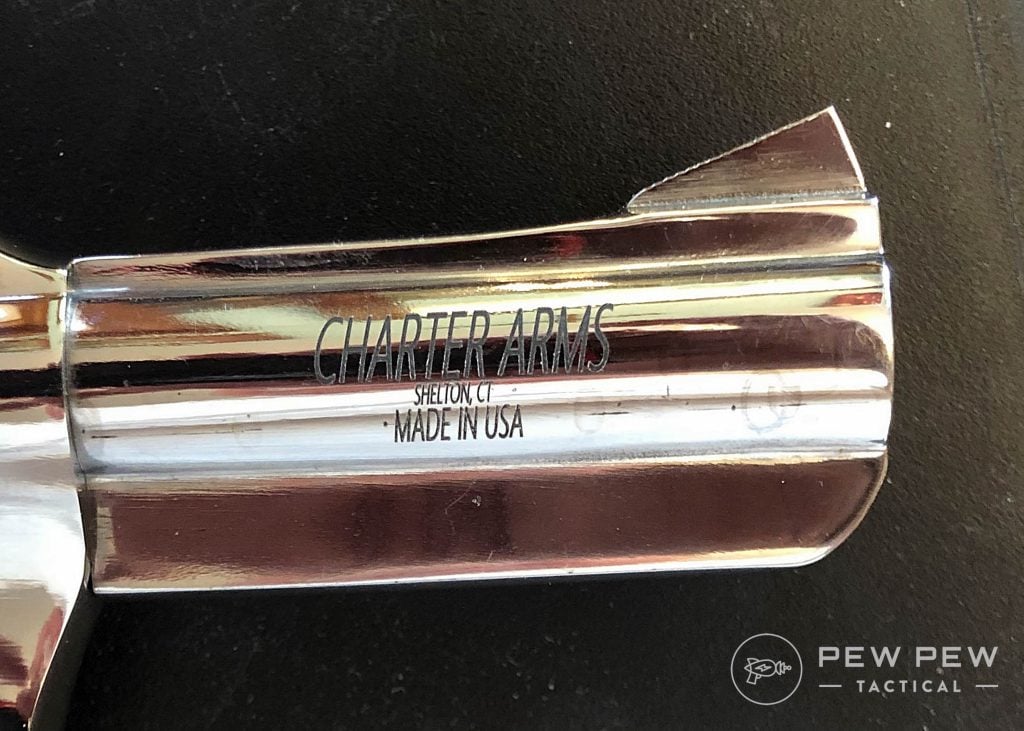 Speaking of shooting, the Mag Pug was a pussycat with .38 Special loads, even those of the +P variety. But any. 357 Magnum load I shot truly announced its presence like the Wizard in The Wizard of Oz — lots of smoke, flash, and noise.
Magnum loadings caused a fair bit of bounce, but the molded rubber grip helped. This is a gun that I will shoot with mostly .38s, but I won't be averse to throwing in magnum loads at any time.
390
at Kygunco
Prices accurate at time of writing
Prices accurate at time of writing
I held the Target Bulldog alongside the Mag Pug and noted that the frames, the sights, and the grips are pretty much identical.
The main difference in the Mag Pug is that the chamber walls can be a bit thicker to hold magnum pressures since they are not cut for the larger .44 Special bullets.
Charter Arms Revolvers By the Numbers
Accuracy
4.5/5
These were accurate enough for their purpose.
Reliability
5/5
Customization
5/5
Lots of accessories available.
Ergonomics
5/5
Value
5/5
You can't beat the value here, for the dollar.
Overall
4.5/5
You can't go wrong with these revolvers.
Upgrades & Accessories
Upgrades & Accessories for Charter Arms Revolvers
Final Verdict
If you're looking for an inexpensive, no-frills revolver, the Charter Arms guns a worth a hard look.
The .44 Special is a proven defense round, and the Bulldog is a solid firearm that you can get into for around $400…what's not to like?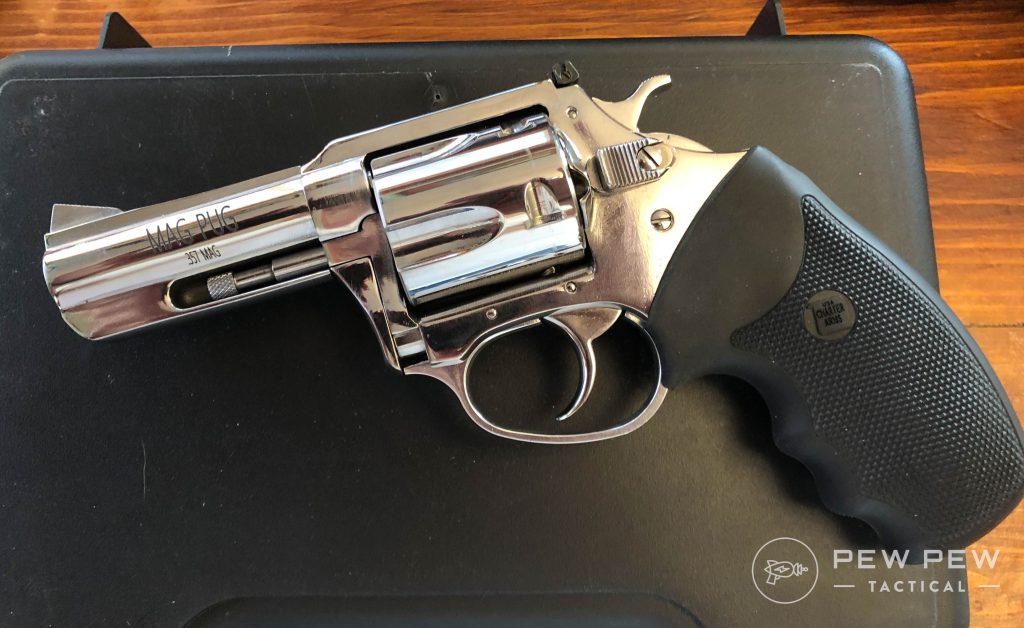 If the .44 isn't your thing, Charter Arms has other offerings out there, like the excellent Mag Pug, the Pathfinder, and plenty of other options and color combos to tickle your fancy.
What are your thoughts on the Charter Arms revolvers? Let us know in the comments below! Charter makes some great guns, but if you are interested in other revolvers, check out our article on the 8 Best Revolvers for 2023!