Do you know what type of firearm has enjoyed amazing staying power?
Revolvers!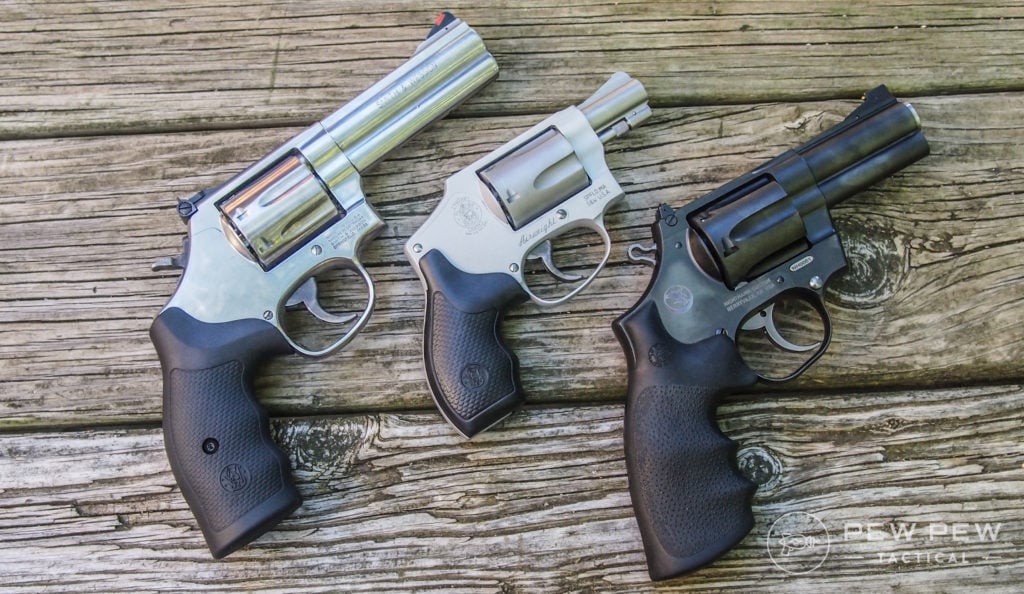 You'd think after the 1911 came out, the revolver would have hit that dusty trail, only to be brought out for fun here and there.
Yet, there are still major revolver manufacturers making everything from plinkers to big bore blasters.
Revolvers are still popular and improving and seeing new growth, and we've isolated what we think are the best on the market and broken them down into separate and distinct categories.
So keep reading to see our favorites!
Summary of Our Top Picks
Best Revolvers for Defense, Hunting, & Plinking
1. Heritage Arms Rough Rider
Pros
Lots of sizes and shapes

Great plinker

Good price
Cons
Not built for CCW or competition
Plinking is the age-old art of just having fun with guns.
It's informal, non-competitive, and can be a way to work on casual marksmanship skills.
Plinking can typically be done with any caliber, but the classic .22 LR rimfire round is often the most affordable and fun way to get it done.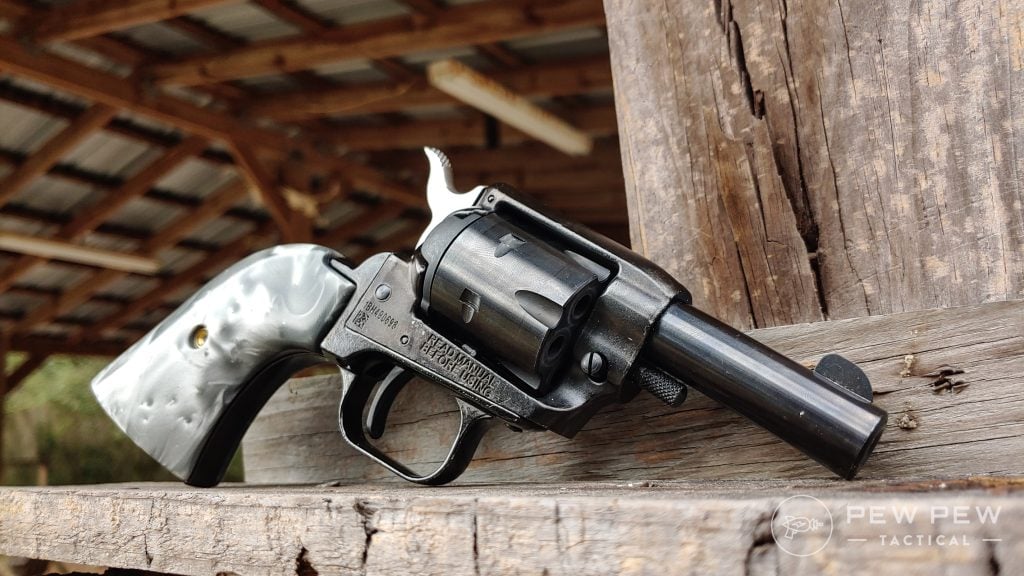 The Heritage Manufacturing Rough Rider series of revolvers make for great plinkers. They are incredibly cheap and come in a multitude of sizes and shapes.
From the absurdly long 16-inch model all the way down to the 1-inch, no-sights Boot model.
There is something for everyone, even for those who want to mount a red dot. The Rough Rider series are great guns that are perfect for the casual plink session.
Best Plinker
109
at Palmetto State Armory
Prices accurate at time of writing
Prices accurate at time of writing
They are plenty accurate and have that Colt Single Action Army design that's to die for. Heck, sometimes they can be had for less than $100 if you catch the right sale, but they rarely drift above $200.
If your collection is missing a revolver and you have a tight budget, Heritage Manufacturing guns are for you.
2. Smith & Wesson 327 TRR8
Pros
Tactical style

Optics rail

Light compatibility

8-round capacity
Cons
Might be too much gun for average user
Tactical revolver — I bet you didn't expect to hear that one today.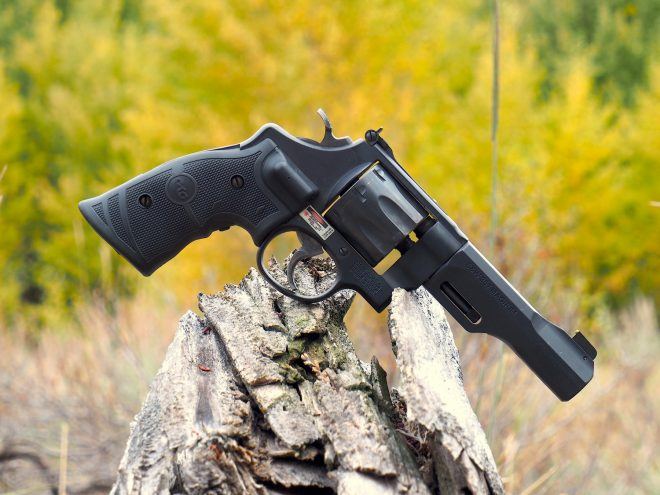 A tactical revolver might seem silly, but in the modern age, why not?
Legend has it that the S&W Model 327 TRR8 was designed for police with shields because the lack of a slide ensured they could reliably shoot through the shield ports.
While no SWAT cop likely carried one, they are about as tactical as a revolver can get. This includes the presence of both an optic rail and a light rail.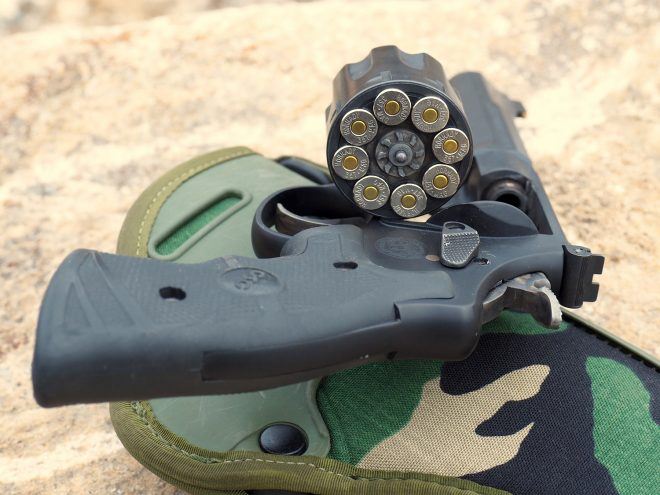 You also get an 8-round capacity with .357 Magnum rounds. S&W cut the gun to use moon clips, which make reloads very fast and easy. The iron sights are massive and easy to see, and the rear sight is adjustable.
This gun was built from the ground up to be a modern fighting revolver. There was a reason it was the Punisher's choice in Season 2 of Daredevil.
TV shows aside, if I had to pick a revolver for home defense or duty, it would be this model.
Best Tactical Revolver
1403
at Primary Arms
Prices accurate at time of writing
Prices accurate at time of writing
Its combination of features makes it about as modern as a revolver can be. The TRR8 is a viable option if you live in a state with rigid gun control.
3. Chiappa Rhino
Pros
Low bore axis

Tame recoil
Cons
Price

Sight height over bore

Complex internals
The Chiappa Rhino takes revolvers and turns them on their head.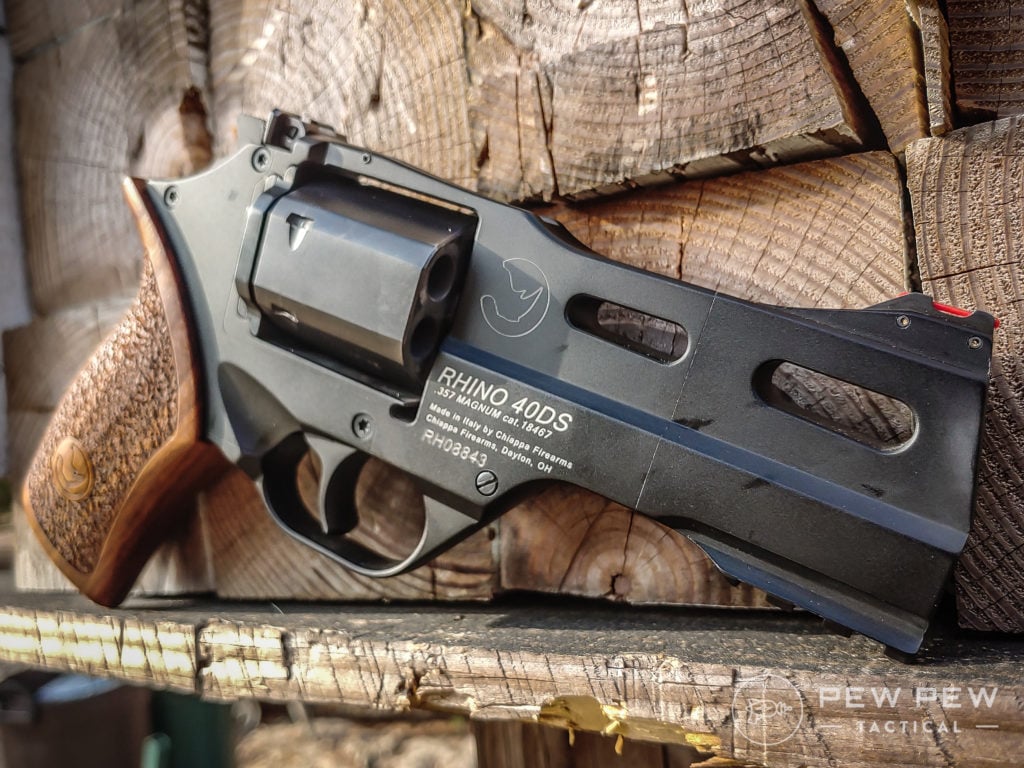 Typical revolvers align the barrel with the top chamber of the cylinder. Chiappa designed the Rhino to align the barrel with the bottom cylinder.
With the bore more in line with the wrist, it sends recoil rearward instead of upward. This helps control the forces from heavier rounds like the .357 Magnum.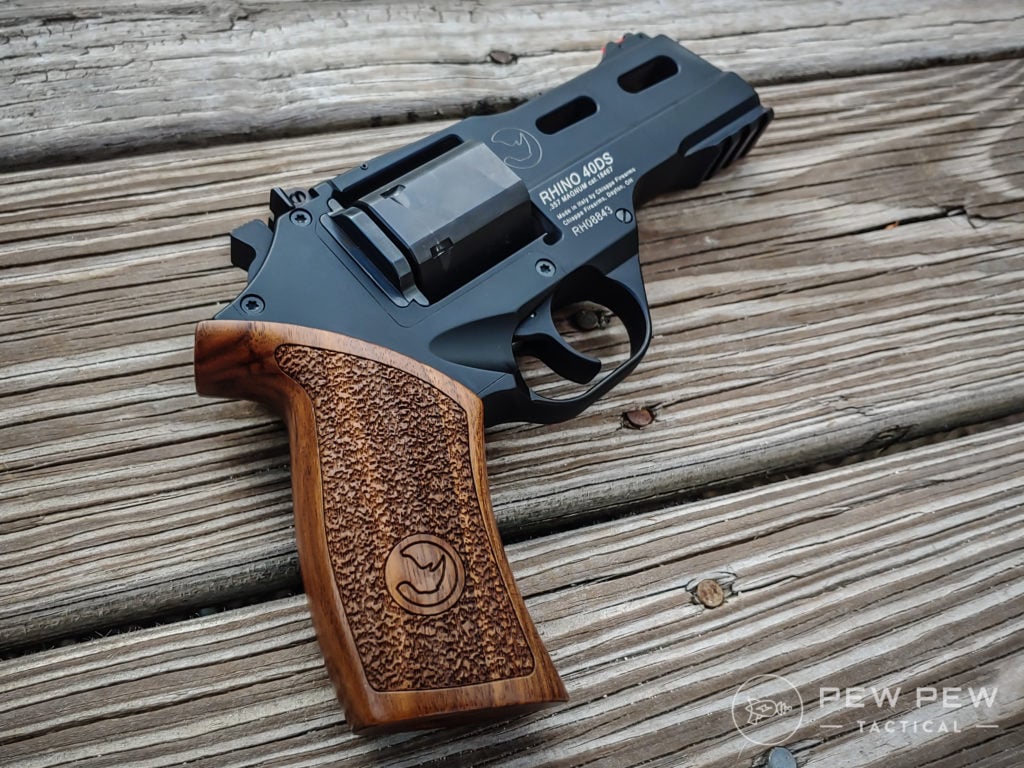 That's not where the space cowboy ends, though. Chiappa added a bottom rail to the gun for lights, and on models with six-inch barrels, there is an optics rail on top for adding a red dot or optic of choice.
An optically enhanced revolver with a light looks like it'd fit in the holster of a Marshal on a Moon colony.
The Rhino gets even weirder as the hammer at the top isn't a hammer but a cocking device. You can cock the weapon into the single-action mode with it, but it rests forward. A red plunger is there to show you that it's cocked.
858
at Kygunco
Prices accurate at time of writing
Prices accurate at time of writing
It is an oddball gun for sure, but a fun one nonetheless. You can also check out our full review of the Rhino here!
4. Ruger LCR
Pros
Lightweight

Affordable

Amazing trigger

Easy to conceal
Cons
9mm version requires moon clips

Short grip
The Ruger LCR is the Glock of revolvers, and I mean that in more ways than one.
Obviously, the first comparison is the polymer frame and portions of the gun, but it runs deeper than that.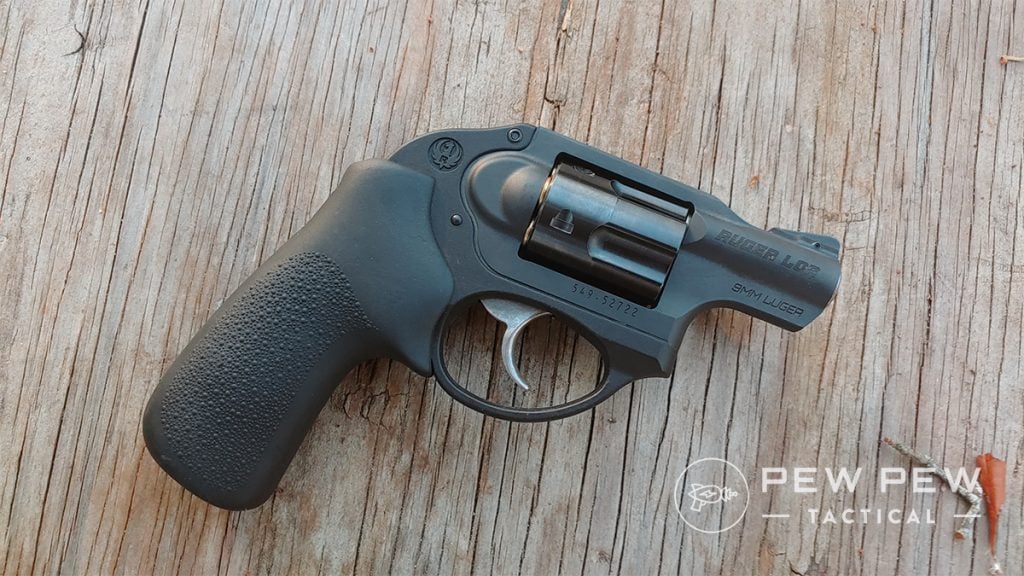 Ruger has made a simple, functional, and easy-to-use revolver. It is chambered in a multitude of calibers, including .38 Special, .357, 9mm, .22 WMR, .22 LR, and even .327 Federal Magnum.
Shooters can opt for a shrouded hammer or the LCRx model with an exposed hammer.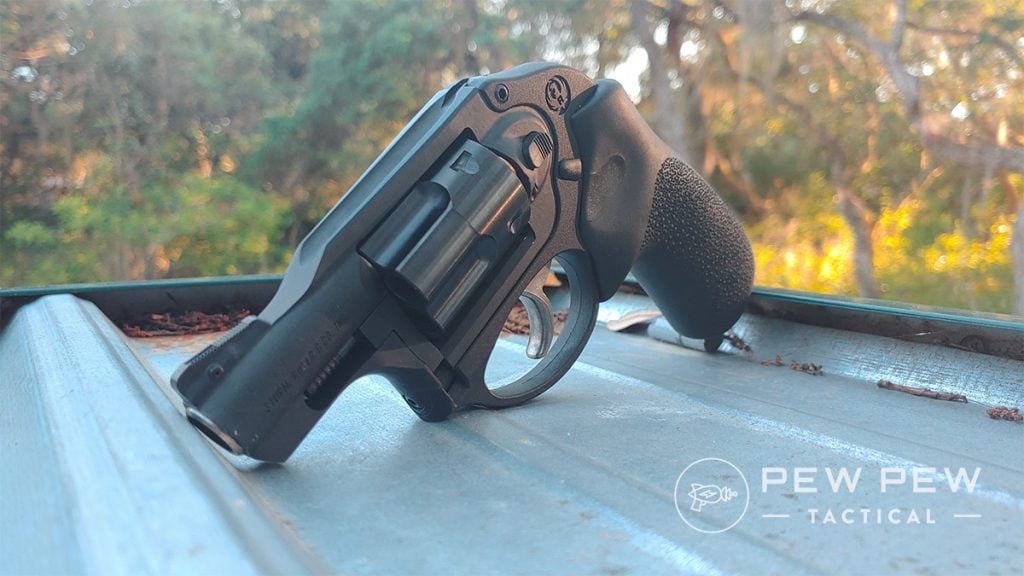 The gun also comes in at an affordable price point and can be commonly found for less than $500. Their popularity makes it easy to find good holsters, which goes a long way when it comes to concealed carry.
Did I mention it has the best stock double-action trigger I've ever used? Holy crap is Ruger's friction-reducing design effective! It's a great trigger that makes shooting the little gun a heckuva lot easier.
Best for Concealed Carry
553
at GrabAGun
Prices accurate at time of writing
Prices accurate at time of writing
The small size and lightweight make it easy to tuck away and hide, and It's comfortable regardless of the carry method. The LCR might not be fancy with a classic design, but it's a workhorse of a revolver.
You can take a look at our full review of the 9mm Ruger LCR here!
5. Ruger Super Redhawk .454 Casull
Pros
Integrated scope ring mounts

Dual chambering for .454 Casull and .45 Colt

Extremely durable
Cons
Recoil can be harsh on pistol scopes
There are a lot of good hunting revolvers out there, but the Super Redhawk in .454 Casull finds the right blend of power, smart design, and modernization to make it one of the best.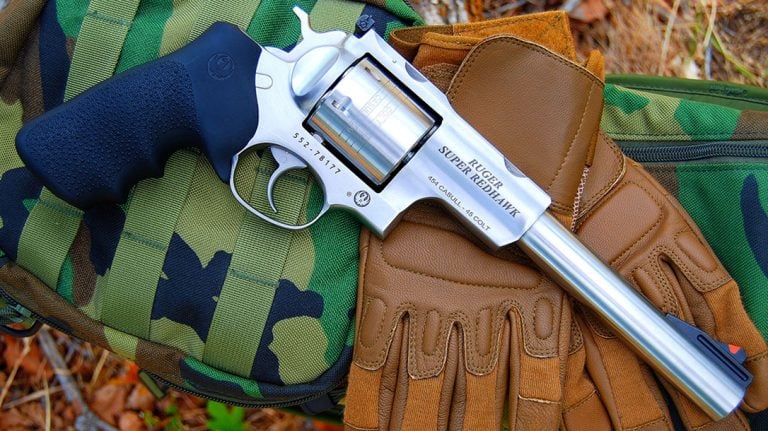 While people love .460 S&W and .500 S&W, they are kinda silly and not much better than .454 Casull for handgun hunting.
With the Super Redhawk, we get a variety of lengths, from the downright flashbang worthy 2.5 inches to the nice 9.5-inch option. To me, the five or 7.5-inch is just perfect balance-wise.
The Super Redhawk is a traditional DA/SA revolver with Ruger's massive, beefy frame. Double action makes the gun easier to use with a single hand, and this is an important feature for things like unexpected bear defense.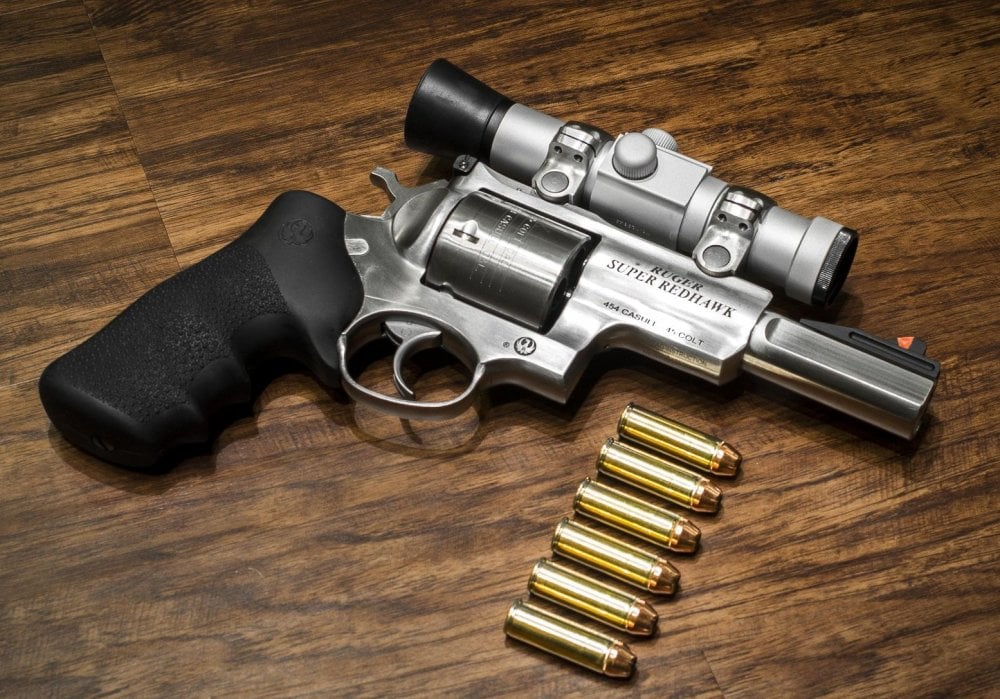 It's a large, robust gun designed to absorb the recoil from big, heavy cartridges. It's not absurdly large like an x-frame .500 S&W, but it's no air weight.
Integrated scope bases make adding optics easy. In my experience, these guns are very accurate and, for magnum caliber guns, fairly easy to shoot and handle.
Best Hunting Revolver
1122
at Kygunco
Prices accurate at time of writing
Prices accurate at time of writing
Another bonus of .454 Casull is the ability to chamber the lighter .45 Colt loads. It also holds six rounds versus the 5 of some larger calibers. When you put it all together, the Super Redhawk is an excellent hunting revolver.
6. Taurus 856 Executive Grade
Pros
Reliable

Accurate

Pelican Vault case
Cons
Limited capacity

Not speed loader compatible
Taurus is known for its very budget-friendly guns but also for some QC issues in the past.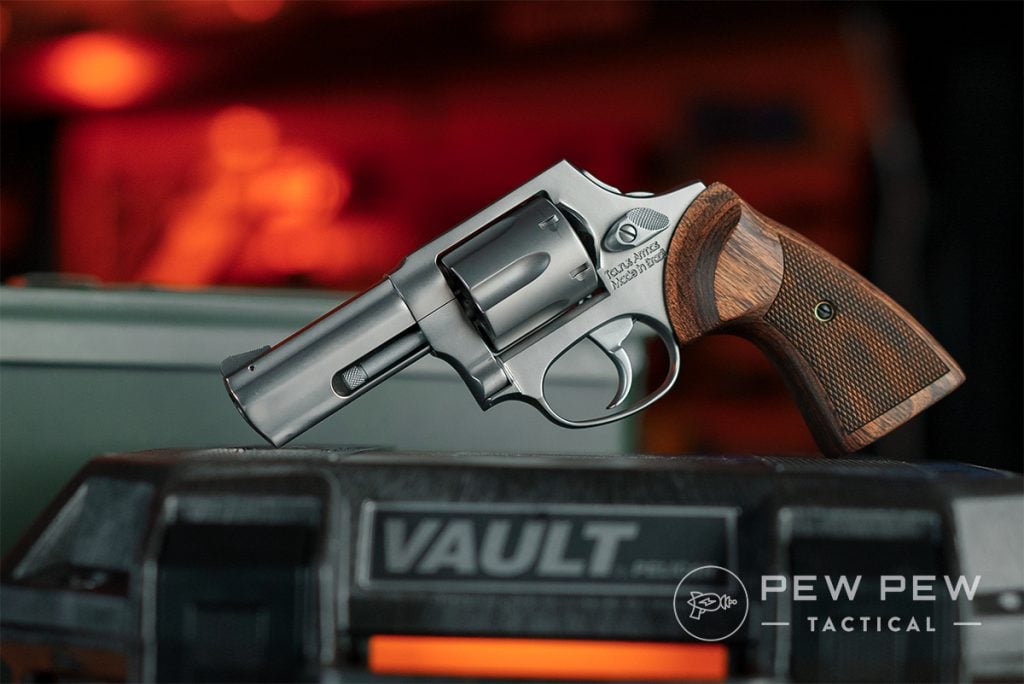 They have a few big moves and have retooled with experienced personnel, which seems to be showing with the 856 Executive Grade.
But still, I approached the gun with caution, thinking, sure, it's pretty, but does it work?
It turns out it works pretty dang well. The 856 Executive grade isn't Taurus' cheapest revolver, but it's a bargain when you examine the gun's performance.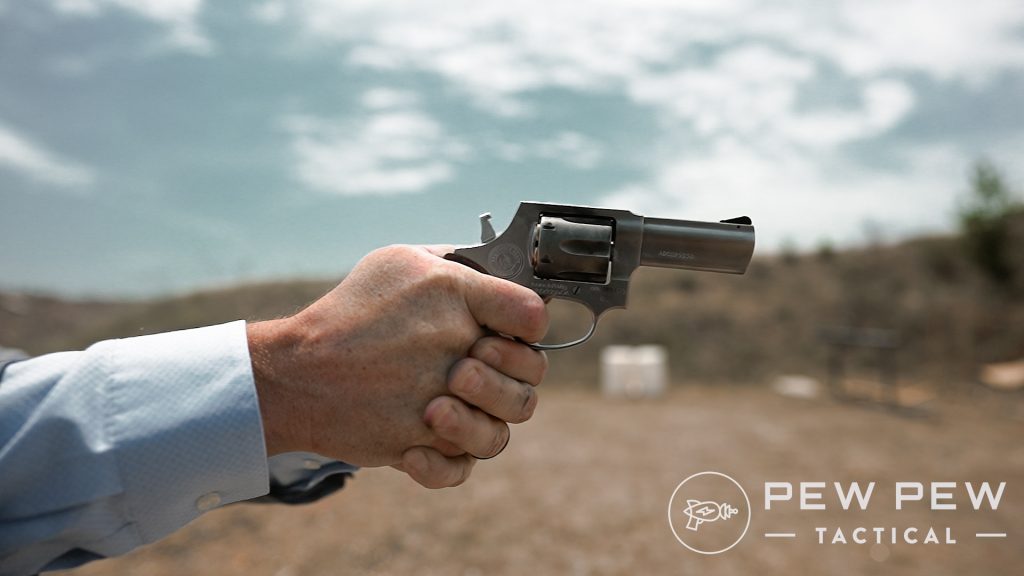 It's surprisingly easy to shoot with an excellent trigger.
While designed for concealed carry, it isn't your typical snub nose. The 3-inch barrel makes the gun much easier to shoot, tames the muzzle blast, and adds a little extra velocity and sight radius.
Although the hammer is bobbed, the double-action trigger is so smooth that you'll barely miss a single action option.
A nice set of Altamont wood grips fills the hand and makes it easy to get control of the gun.
522
at Kygunco
Prices accurate at time of writing
Prices accurate at time of writing
It's an impressive showing for Taurus, and I'm excited to see the Executive Series continue, especially since the gun costs less than $600.
What do you think of the Executive Revolver? Rate it below!
7. Uberti 1851 Navy
Pros
Black powder revolver

Lightweight and easy to shoot

Affordable
Cons
Can be tricky to learn

Not for beginners
You haven't lived until you've tried to master the black powder revolver. I once heard someone say it was a bit like alchemy to really figure one out.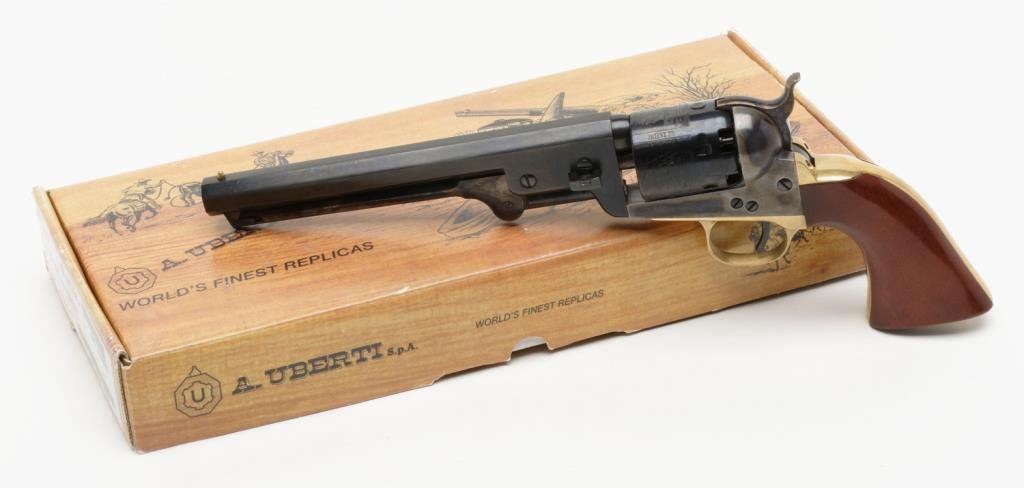 Uberti is well known for their replicas and produces some of the finest cowboy guns out there. Stick with suggested load data from respected sources to keep things safe.
If you want an easy to get into black powder revolver, the Uberti 1851 Navy will be tough to beat. It's a .36 caliber gun that's light and easy to shoot. The 1851 Navy comes in a few different configurations and finishes, but they are all very affordable.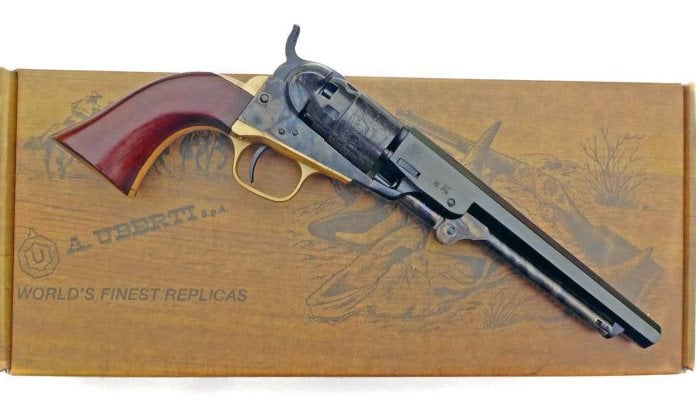 In most cases, you don't need an FFL to transfer them since they are technically not firearms. Order one online and have it shipped to your house.
Uberti's 1851 Navy revolvers are good-looking guns that faithfully replicate the classic revolvers of the era. They are robust and a great way to experience history.
Best Black Powder Revolver
341
at Kygunco
Prices accurate at time of writing
Prices accurate at time of writing
Trust me, while it seems intimidating to get into, the thrill of firing a black powder and seeing the smoke and smelling the burning powder is well worth it. Plus, it's living history in your hand!
8. Colt Python
Pros
Iconic look and feel

.357 Mag/.38 Spl chambering

Tons of fun to shoot
You can't deny the cool factor of the Colt Python. It's always been a revolver that is just gorgeous and eye-catching.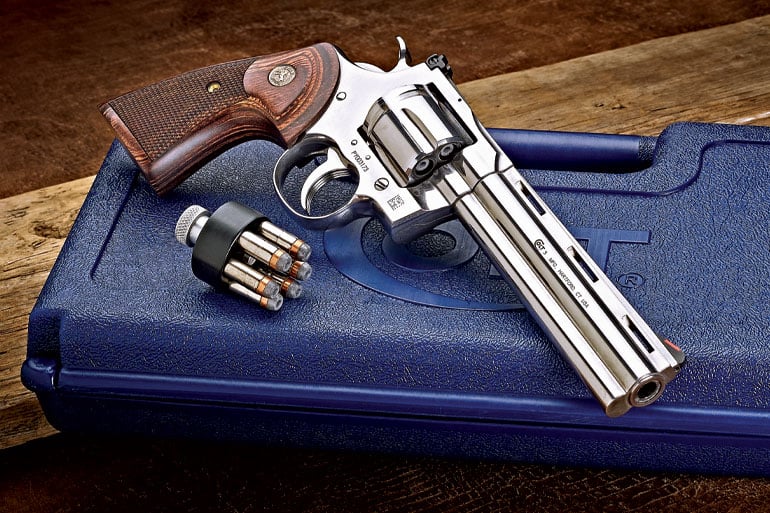 People were deeply saddened when they were discontinued, but Colt finally brought them back after being on ice for 15 years.
Colt specifically brought back the high-polish stainless steel models with the wood grips. The classic ventilated rib across the top is one of the easiest ways to identify the Python and one of the reasons it's so dang cool.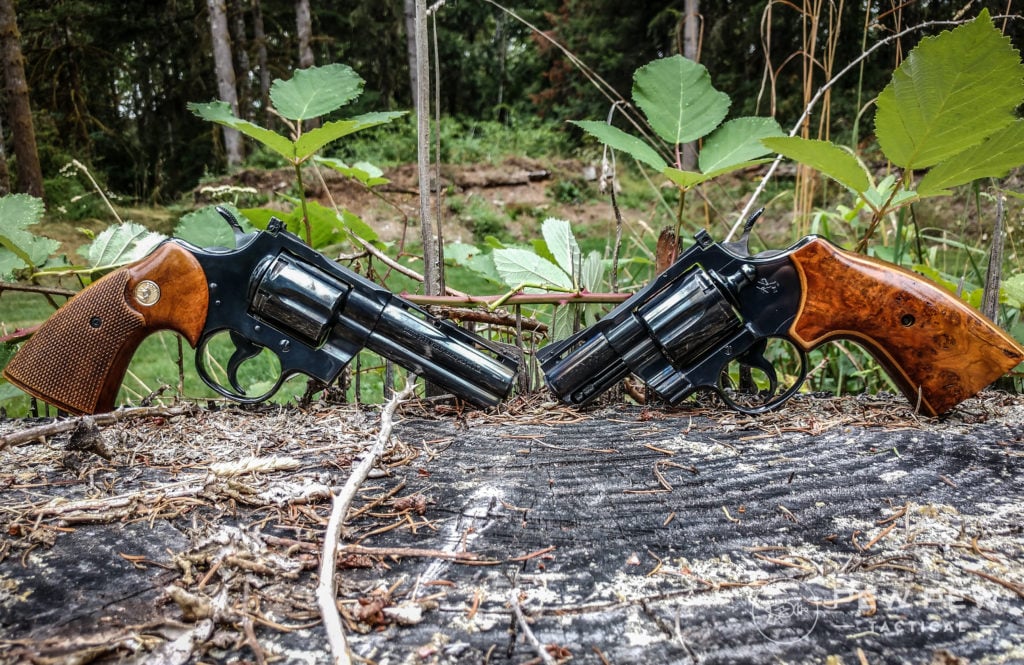 Shooters can pick between the 3-inch, 4.25-inch, and Rick Grimes popularized 6-inch barrel.
Adjustable sights and a buttery smooth trigger ensure the gun shoots as nicely as it looks. These great big guns eat .357 magnums like candy and won't put pain in your hand round after round.
You can't help but enjoy just holding this mix of steel and wood. It's so utterly cool and classic, like a vintage muscle car. It's uniquely American, and while it's not a modern fighting gun, it doesn't need to be.
1440
at Kygunco
Prices accurate at time of writing
Prices accurate at time of writing
Just like the '67 Mustang won't win a LeMans race, it's still gonna be the coolest car out there.
Final Thoughts
The revolver doesn't seem to be going anywhere soon.
Heck, I am excited to see the new bullpup revolver from Zenk. When you have things like that on the horizon, it shows that these guns are far from dead.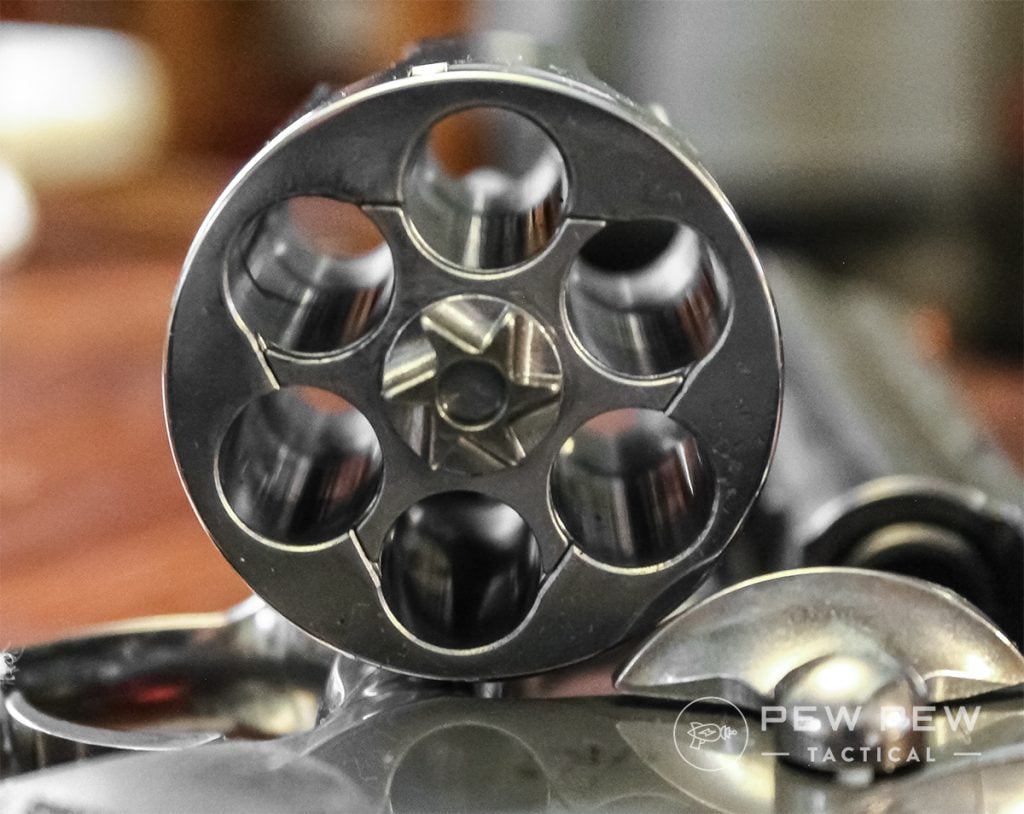 Are there any revolvers you feel should have made the list? Let us know in the comments below! Just looking for the small stuff? We got you covered with our article on the 7 Best Concealed Carry Revolvers!