Simple.  Reliable.  Powerful.  Effective.  Tested.  Proven.
Each of the six rounds you place in a .357 Magnum revolver delivers some of the best performance from a handgun.  Its bare-bones design and easy-to-use mechanism make it perfect for beginners.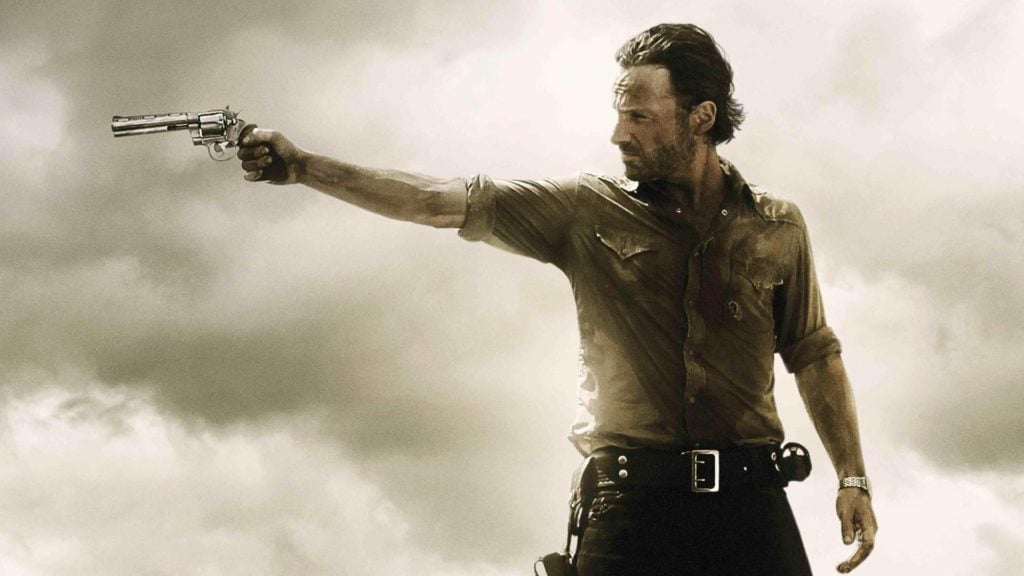 The utility of the .357 Magnum round makes it just as pleasing for experienced shooters.
Considering the diverse ammunition loads available, it is easy to find one that works for you.
Best .357 Magnum Revolvers
Colt Trooper MK III
Colt Python
What is the .357 Magnum Cartridge?
The .357 Magnum cartridge is a revolver round with a .357 inch bullet diameter.  It was first introduced in 1934 and serves as the foundation of the "Magnum Era."
Then, as now, everyone wanted more powerful ammo.  This ammo has diverse use ranging from target shooting to self-defense and hunting.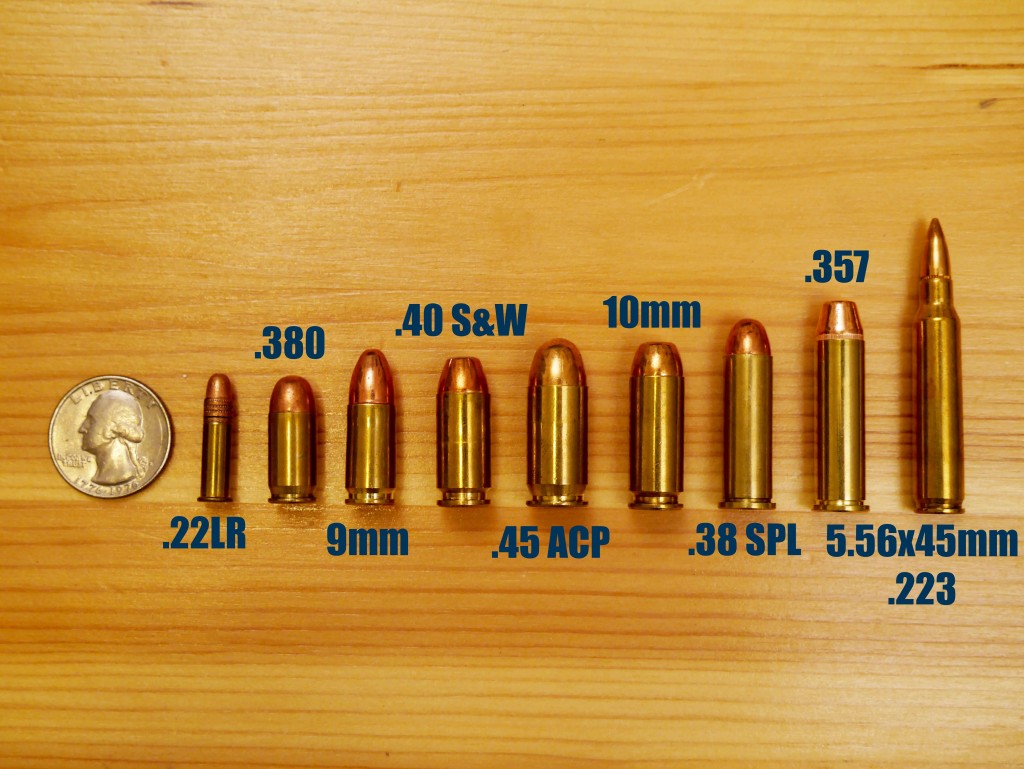 This round is based on the earlier Smith & Wesson .38 Special cartridge.  It was first designed with a 158-grain semi-jacketed soft point( flat) bullet.
Since more of the bullet's mass is outside the cartridge, there is more room for powder in the cartridge.  The 158-grain semi-jacketed soft point bullet permits quicker transfer of energy, which enables the bullet to do more damage.

Aside from being much more powerful, the .357 Magnum round also needed a 1/8 inch longer case to hold more gunpowder.  This longer case makes it impossible to load a .357 Magnum round in .38 Special revolvers.  The extra length prevents the revolver's cylinder from closing and locking into place.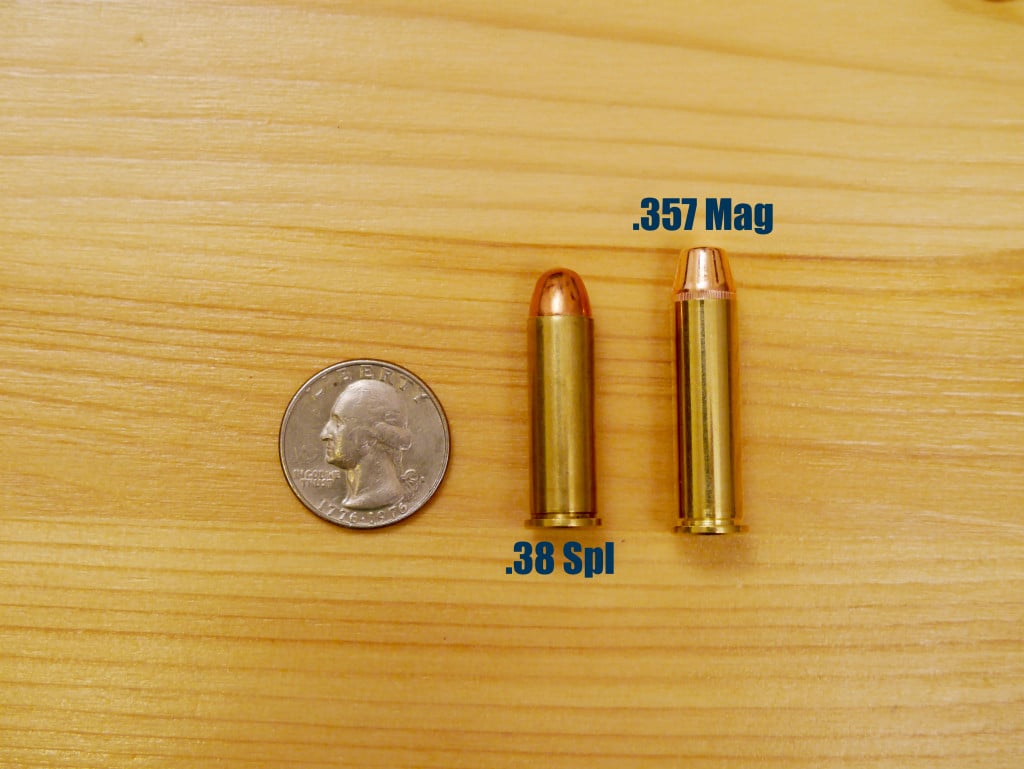 Check out our picks for the best .38 Special & .357 Magnum ammo for home defense, target shooting, and hunting.
History of the .357 Magnum Cartridge
The development of the .357 Magnum cartridge was shepherded by some of the most brilliant minds of the era.

Smith and Wesson also played a key role in the development of this round and helped design pistols to use it.  Finally, Winchester Repeating Arms produced the first .357 ammo available for consumer use.

There are four manufacturers of .357 Magnum revolvers that make some of the best models in the world.  The history of these companies is as fascinating as the .357 Magnum revolvers they make.
We'll be using the terminology of Single Action (SA) and Double Action (DA).  Basically, single action is where you have to manually cock the hammer before firing…like in Westerns.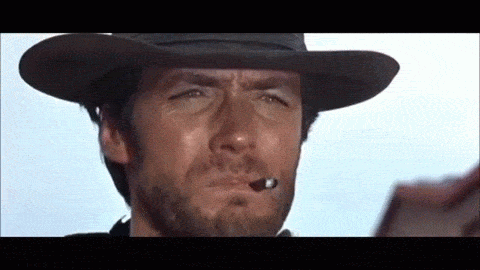 And double action is where the trigger pull cocks the hammer for you.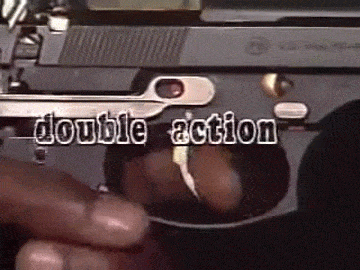 Many models of revolvers have the ability to switch between the two…you can manually cock the hammer to be in single action mode…or pull the longer trigger to get double action.
Now let's quickly go through them!
Smith & Wesson
The Smith & Wesson company first started in Norwich Connecticut in 1852.  Horace Smith and Daniel B. Wesson, the founders, wanted to sell a lever action repeating pistol.

Bad business practices and money problems plagued Smith & Wesson.  Finally, they sold the business and the lever action designs to Oliver Winchester in 1854.  Later on, in 1866, he founded the world famous Winchester Repeating Arms Co.

The second Smith & Wesson company was formed in 1856.

Smith & Wesson's first .357 Magnum revolvers became available in 1934.  This pistol had an 8 ¾ inch barrel that shot 158 grain bullets at a velocity of 1515 ft/sec.  These revolvers had many features for owners to choose from.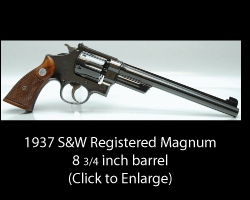 In 1957, Smith & Wesson started using their famous model numbering system.  The .357 Magnum revolver was then known as the Model 27 built on an "N" frame.  The "N" frame is the largest frame used for the S&W .357 Magnum revolvers.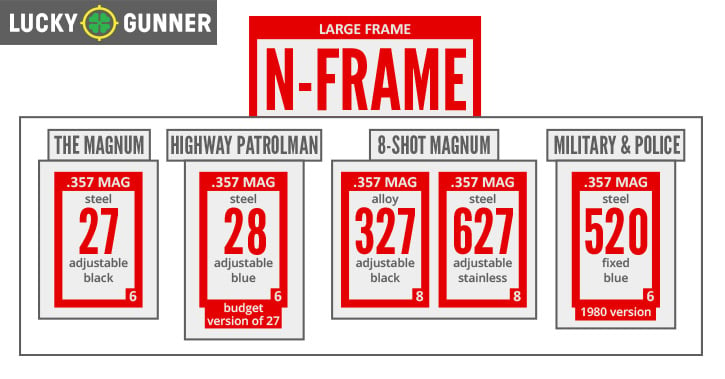 Smith & Wesson's lighter "K" frame Model 19 was released in 1957.  Once again, this gun was developed to meet the special needs of law enforcement.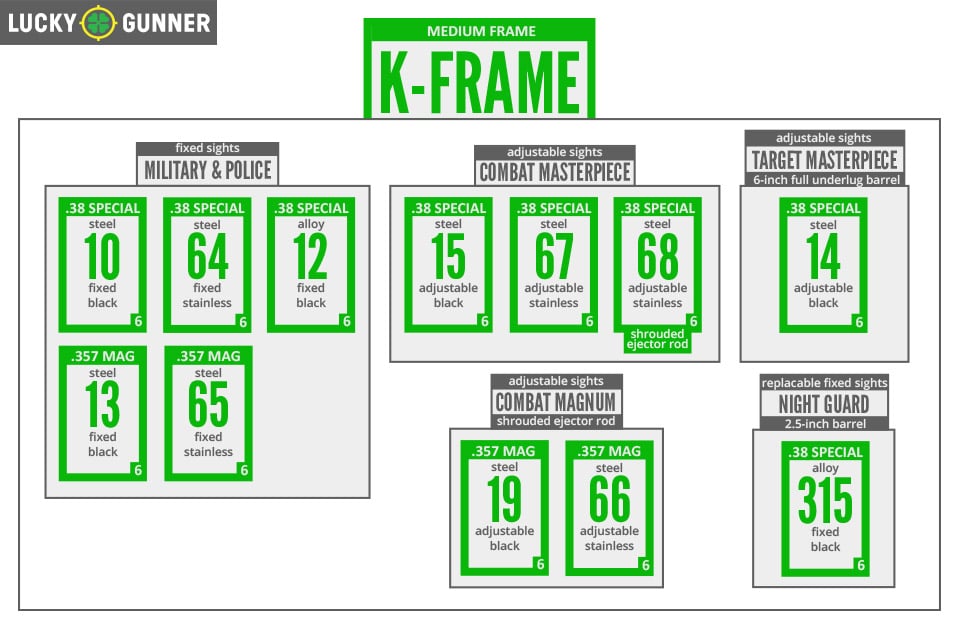 Today, K frame revolvers are obsolete. Some private citizens still use them for self-defense, target shooting, and hunting.  You can also find some "L Frame" revolvers that are somewhere between the "K" and the "N" in frame size.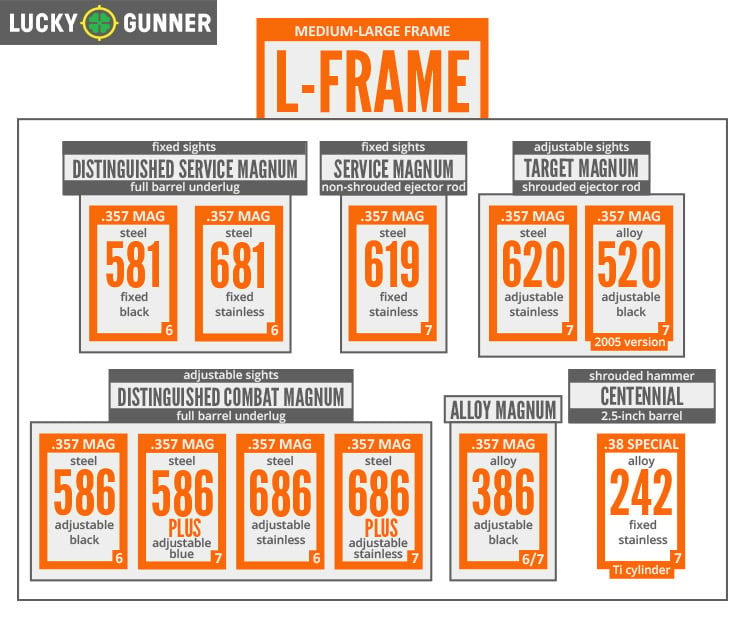 There are three revolvers types in the "J" Frame series. They are the Chief's Special, The original Bodyguard, and the Centennial.
Sturm, Ruger, & Co. Inc.
This company is usually referred to by its shorter name, "Ruger."  Ruger is well known for .22 caliber pistols and rifles that shoot centerfire and rimfire ammo (Best .22LR Rifle for Beginners).  They are also famous for shotguns and the .357 Magnum DA/SA, DA only, and SA Revolvers.

In 1972 Ruger introduced the Ruger Security-Six, Service-Six, and the Speed-Six Revolvers.  These guns were for the law enforcement, civilian self-defense, and military markets.
The GP-100 was introduced in 1985 to replace this series.  It is a medium frame, DA/SA revolver designed to shoot full powered .357 Magnum rounds.  You can choose between 3, 4, and 6-inch barrels.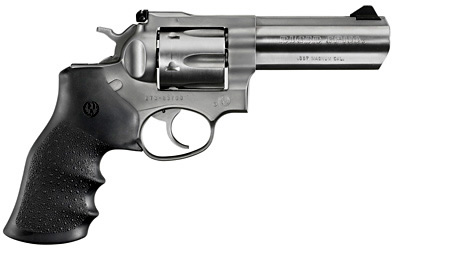 In 1979 Ruger introduced the Redhawk revolver.  It was an upscaled version of the Security-Six, DA/SA revolver.  The Redhawk is a heavy framed revolver that is quite popular with hunters who prefer to use a handgun.

The SP-101, introduced in 1989, is a DA/SA or DA only small frame revolver.  It comes in 2 ¼ inch, 3 1/16 inch, and 4 inch, barrel lengths, which make it a favorite of people looking for a small magnum gun.

Ruger also manufactures .357 Magnum revolvers including the Blackhawk and the Vaquero.  The Vaquero is a retro-style revolver that was made for cowboy action shooting fans. It looks a lot like the old Colt Single Action Army Revolver of 1873 and their clones.
Colt Manufacturing Company
Samuel Colt founded two firearms companies.
The first was Colt's Manufacturing Company in 1836.  His second company was called Colt's Patent Firearms Manufacturing Company founded in1855.  In history, Colt is usually given credit for making single shot pistols obsolete.
One of Colt's most famous revolvers is the 1873 Colt Single Action Army in Colt .45 caliber.  It was popular with the public and used in the US military from 1873 to 1892.  It is also known as the gun that won the West.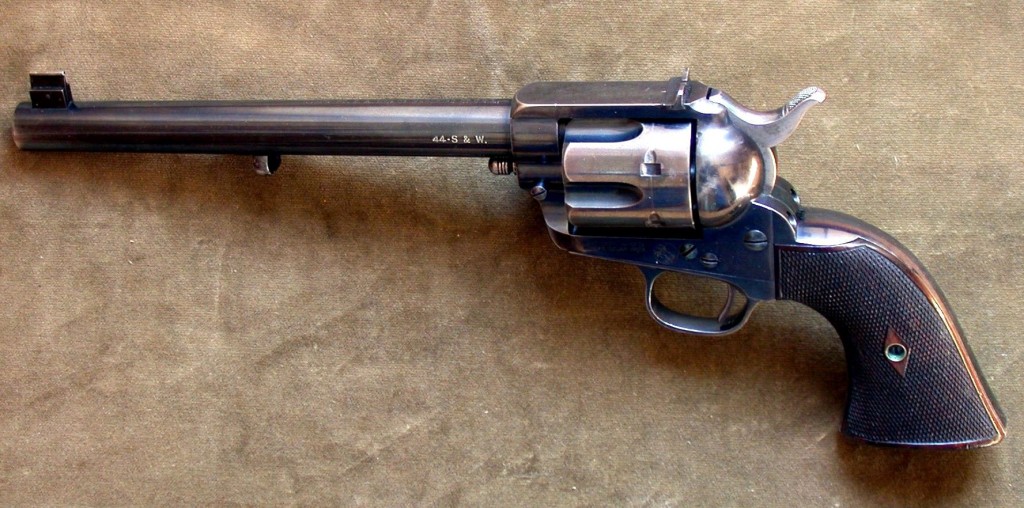 Taurus International Manufacturing Inc.
The history of Taurus includes buyouts, mergers, and purchase of other gun companies.
In 1980, Taurus bought the Beretta weapons plant in Sao Paulo.  This gave them control of Beretta's tooling and design drawings. Since then, they have been able to manufacture a diverse range of handguns.

In 1984 Taurus USA was formed to better work the American marketplace.  They used the new plant in Sao Paulo to make new and improved handguns for the US marketplace.  These guns are not clones of Smith & Wesson and Beretta Firearms.

Finally, in 1997, Taurus bought out the Rossi company.  This gave them the equipment and the rights to manufacture the Rossi brand name.  This includes all revolvers, rifles, and shotguns.

Taurus has several .357 Magnum Revolvers in their production line.  They have successfully created large, small, and medium frame stainless steel revolvers.  They also have polymer .357 Magnums.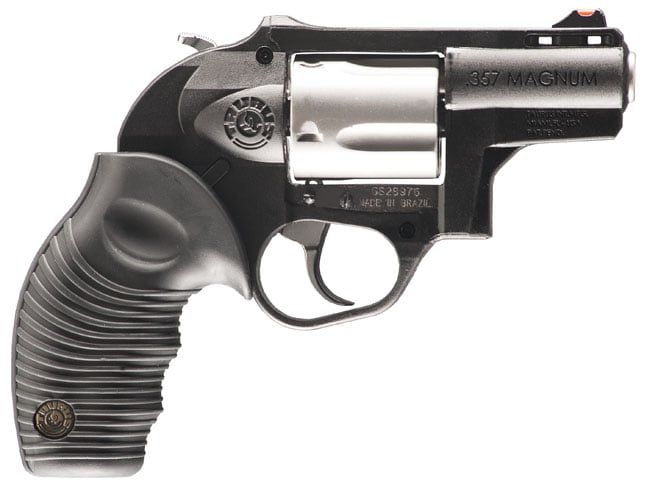 Now that you know a little more about the companies and history…let's jump into the good stuff!
Best .357 Magnum Revolvers
One thing I like most about .357 Magnum revolvers is I can shoot .38 Special ammo in them.  
Even though .38 Special ammo is cheaper, I still get a good defensive round plus it is good practice.  
Beginning shooters, as well as professionals, can shoot the low-velocity target or +P loads.  This helps novice shooters that need to shoot more ammo to develop muscle memory.
Here are some of my favorite .357 Magnum revolvers arranged by frame size.  
Bear in mind that we all have different hand sizes and hand strengths.  What I find to be a good weapon may not work as well for someone else.  You can use this list as a starting point, but do test guns out before buying so that you know which one is best for you. 
Small Frame Revolvers
These revolvers are easy to conceal in a holster, purse, or fanny pack.  
Their size also makes them easy to draw and bring to bear quickly.  Small frame revolvers usually weigh between 12 oz and 2 lbs when empty.  This is an advantage in a situation where the distance between adversaries is 3 to 10 feet.
Each of the revolvers that I prefer features a DA/SA mechanism.  All you have to do is draw, aim, and pull the trigger.  There is no slide to pull back or safety to release.  The safety on these revolvers is the heavy DA trigger pull.

For small frame revolvers, I don't recommend always shooting heavy loaded .357 Magnum ammo.  It is possible to wear out or break important parts of the revolver under these loads.  For general target practice, shoot .38 Special ammo.  To simulate the carry .357 Magnum ammo, use .38 Special +P or low velocity .357 Magnum ammo.

The following are my preferred .357 Magnum small frame revolver models:

Best Small Frame Revolver
The Model 60 is a 5 shot DA/SA stainless steel "J" frame revolver.  
It has a 2 ¼ inch underlug barrel and exposed hammer.  The grips are black synthetic material that wears well.  It also has a front blade sight and fixed rear sight.  The Model 60 is an excellent concealed carry revolver if you want a lot of firepower in a small package.  
I also like this gun because it is stainless steel, and the extra weight helps control recoil.
The SP-101 ($550) is a 5 shot DA/SA .357 Magnum stainless steel revolver.
It has synthetic black grips, front ramp sight and fixed rear sight.  I like the 3-inch underlug barrel for this model.  The stainless steel version handles moisture better than blued steel.  The SP-101 will give you plenty of firepower in a small package.  
Medium Framed Revolvers
These revolvers usually weigh between 20 and 40 oz unloaded.  You can carry them concealed easily with a 4-inch barrel if you wear loose clothes.  They also conceal well in a fanny pack.
Since the barrel is longer, it will take more time to draw the weapon and bring it to bear on the target.  You can compensate for this problem with practice.
As with the small frame revolvers, I prefer DA/SA trigger action and stainless steel.  Since these weapons are a little heavier, they will better control .357 Magnum recoil.  You will get better accuracy in rapid fire on the second and third shots.
For these guns, I still recommend using .38 Special ammunition for practice, or lead round nose or FMJ.  Practice with light .357 Magnum ammunition to simulate heavier loads.  Before you quit shooting for the day, shoot at least 2 cylinder loads of your defensive ammo. 
The following are my medium frame revolver choices:
Best Medium Frame Revolver
The Ruger GP-100 ($650) is a 6 shot .357 Magnum revolver with a DA/SA action and stainless steel medium frame.
I prefer the 4-inch underlug barrel, adjustable rear sight, and ramp front sight.  This gun comes with black Hogue grips and exposed hammer.  The weight of this revolver is a little heavier, which helps stabilize and control recoil.
4. Colt .357 Magnum Trooper MK III Series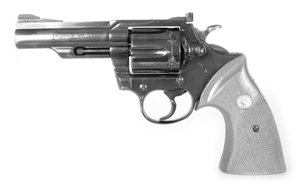 This revolver features a 6 shot cylinder, DA/SA action, blue steel finish.
It also comes in a nickel finish, which I do not recommend because it reflects light and can give your position away.  I recommend the 4-inch heavy barrel with a solid top rib and a shroud to protect the ejection rod.  This gun also has an exposed hammer, rear adjustable sight, and ramp front sight.  The Trooper is a good solid revolver that can easily handle the recoil of a .357 Magnum round.
However, you're likely going to have to find it on the used market.
Best Large Frame Revolvers
These revolvers weigh between 25 to 60 oz. empty depending on the materials used to make the revolver.
As with medium frame revolvers, you will find that it takes longer to bring a gun with a 4 or 6-inch barrel to bear on a target.  You will need to practice often and build up strength in your hand and wrists to use these guns.  
While these guns are powerful, their large size and heavy weight make them harder to conceal.  They will still print their location if you wear loose clothes and use a good holster.

On the plus side, these guns can handle large amounts of heavily loaded .357 magnum ammunition.  You can also shoot for extended time periods without feeling recoil discomfort.  For target practice, I still recommend using the .38 special ammo to save money.  Use some practice time to shoot mid-range .357 Magnum ammo and finish with a few "hot" defensive rounds.
Best Large Frame Revolver
The S&W 627 Pro ($950) is an 8 shot .357 Magnum DA/SA.
It is a stainless steel "N" large frame revolver with a 5-inch custom underlug barrel. This gun is also quite stylish with an 8 round fluted cylinder and choice of black synthetic or wood grips.
The Model 627 also has a large trigger and hammer, and adjustable rear sight with a gold bead front sight.  It handles .357 Magnum ammunition very well and you will feel little recoil when firing.  As another advantage, you can choose to load this gun using an eight-round moon clip.
Best Animal Protection Revolver
The Redhawk ($970) is an 8 shot revolver with a 2 ¾ inch barrel…this high-grade stainless steel revolver also has a DA/SA action.
I recommend the 2 ¾ inch barrel with underlug to protect the ejection rod.
The weight and heavy construction of this revolver make it durable when used with heavy ammo.  It is also very comfortable to fire and remains stable with light recoil.  You can also use an eight-round moon clip for faster reloading.  This gun is ideal if you are going into dangerous animal country.  It will fit well in a waist holster or in a fanny pack.  
7. Colt .357 Magnum Python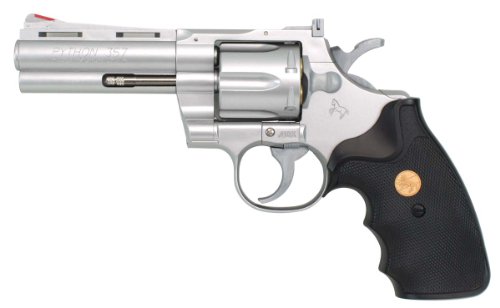 This revolver is a 6 shot DA/SA revolver and made from blued steel or nickel steel.
I prefer the blue steel 4-inch barrel with a full barrel underlug.  The Python also has a ventilated top rib and shroud to protect the ejection rod.  You can also get match grade wood grips and adjustable sights.  I found the weight of this revolver ideal for stabilizing the recoil from .357 Magnum ammo.
Prepare to pay a pretty penny for it on the used market.  Rick Grimes approved!
Conclusion
Before you buy a .357 Magnum revolver, it is good to know a little about the company histories and designs.
When combined with a clear idea about what you plan to use the revolver for, it will be easier to know what to expect.
Remember, the decision to buy a gun will change your life.  It is best to make a good choice so that you do not waste time and effort on a weapon that won't work for you.
Let us know what .357 Magnum you have or are now going to buy!  And if you want to see more of our favorite guns & gear…check out Editor's Picks.