It might be easy to overlook, but the grip is critically important on your AR! Not just how, but what you grip can mean the difference between a hit and a miss.
Finding what is best for you isn't always the easiest thing to do in a market that is saturated to the eyeballs.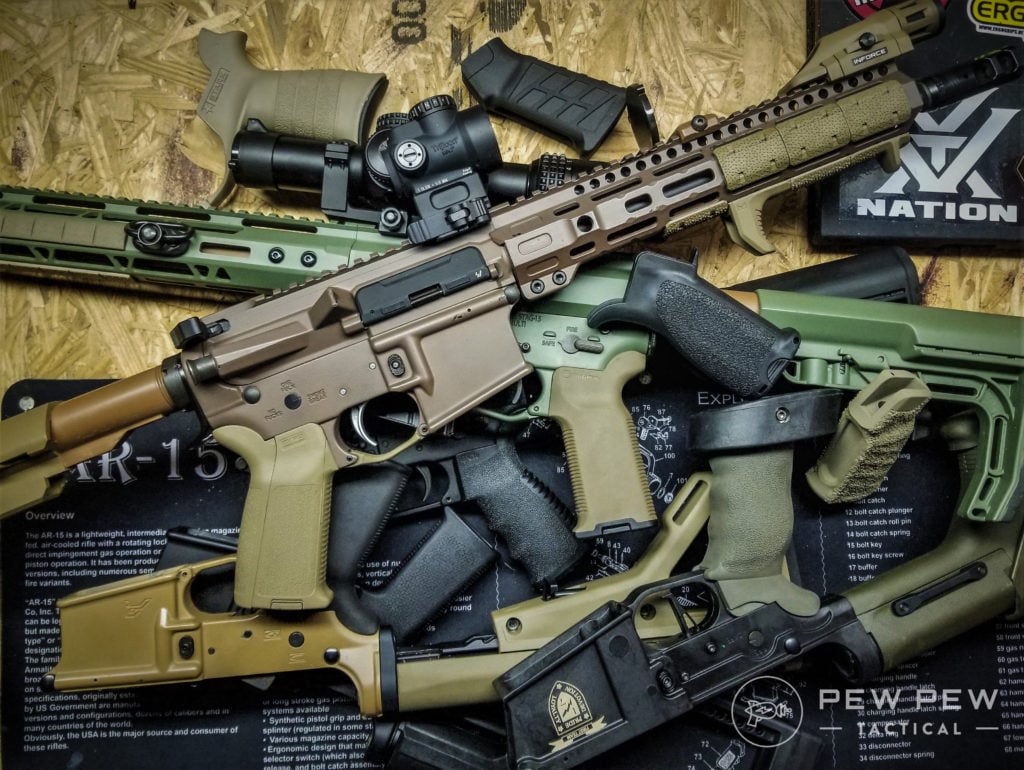 I will be going over some of my favorite grips, discuss some newcomers, and the differences between models.
Ergonomics, texture, and grip angle will be discussed, as well as affordability.
Keep in mind, everyone is different, and YMMV based on comfort, but these companies offer something for everyone!
Summary of Our Top Picks
Best AR-15 Grips
We've organized these grips by brand, not necessarily in order of excellence!
MAGPUL Industries
Magpul has been a huge force within the firearms community, especially with AR shooters. They may have the biggest selection of anyone for different models and different budgets.

The best part is you could practically open their catalog of grips, throw a dart, and end up with something that will work for you.
Their full line-up has many different color options and most models also come with a latching inner grip compartment for various gear.
1. Magpul K2/K2+
Slightly different than the rest of the line-up, the Magpul K2/K2+ models have a slightly more vertical angle and under swept contour at the top of the grip.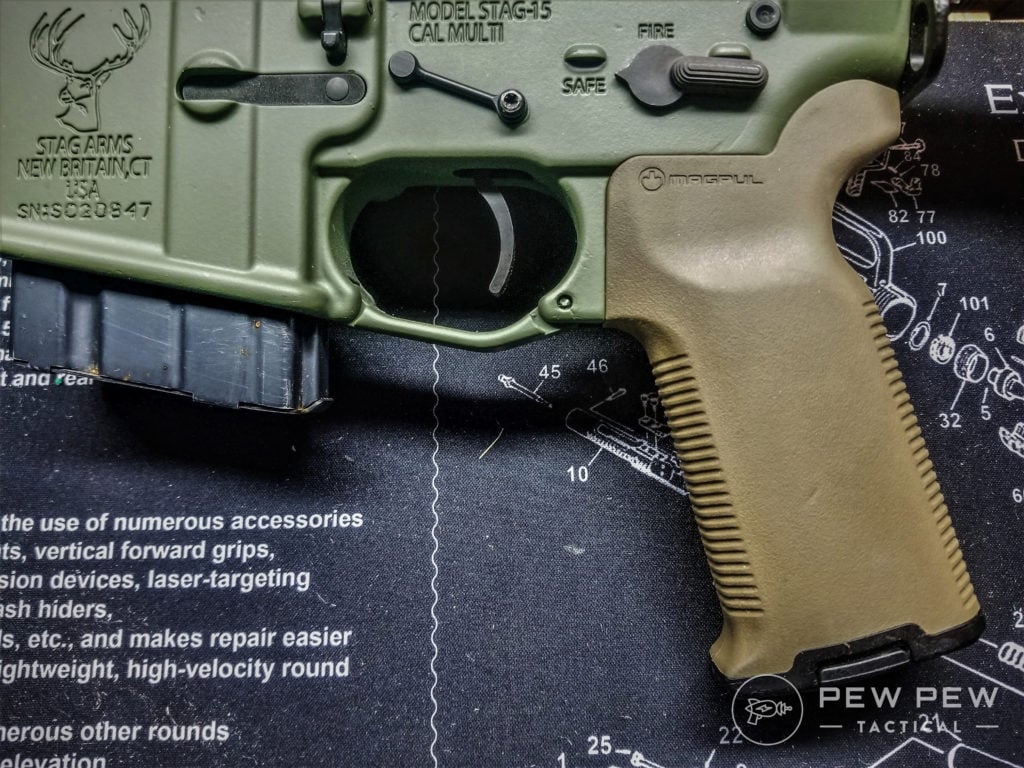 It may not be for everyone, but I really dig it. Purists that like the typical A2 grip, may find the grip angle odd, but the recess at the top of the grip provides some good texture.
I personally own a K2+ in FDE on my home-rolled 6.5 Grendel hunting rifle. It has spent its time bouncing from build to build.
Between the rubber texture and the naturally high pistol grip I tend to use on AR15s, this grip suits its role well. Added points for the tacky rubber texture.
2. Magpul MOE/MOE+
This offering shares the same grip angle as the typical A2 grip but has a flat front face without a finger groove. The Magpul MOE/MOE+ also has a beavertail to aid shooters with a high pistol grip.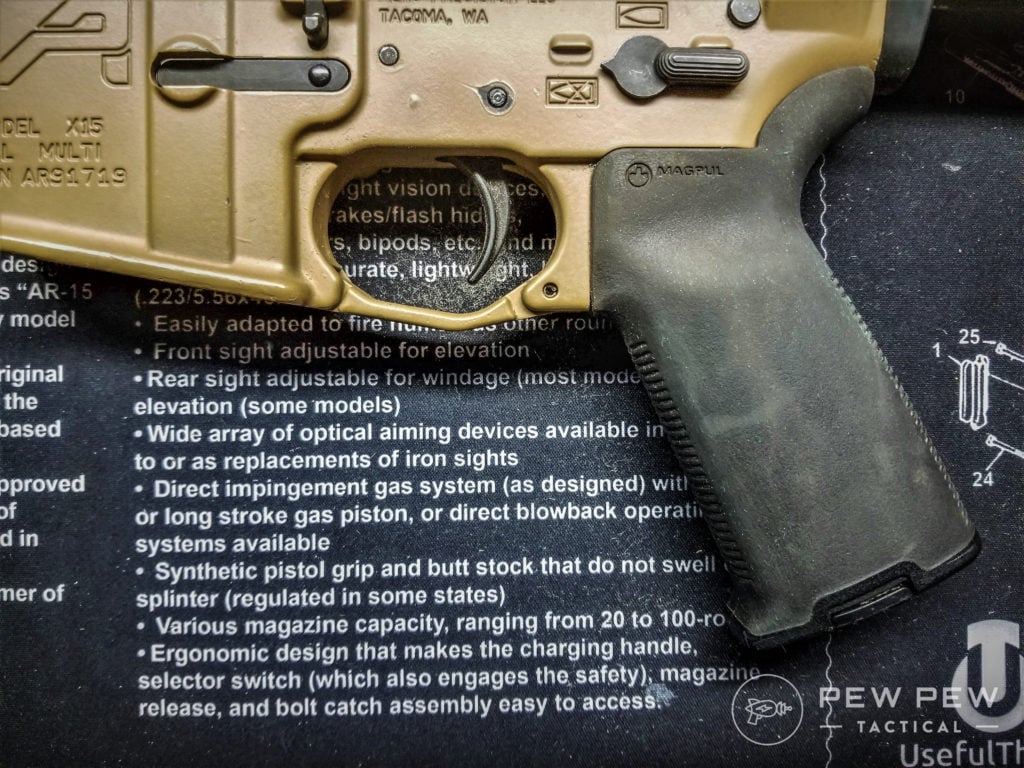 The (+) models are worth the extra money in my opinion. The tackiness of the rubber is excellent.
The front strap of the grip is ribbed for your pleasure, and overall this grip is one of the best general-purpose grips on the market.
If you are stepping up your grip game, the MOE/MOE+ is worth a solid look and can appeal to most people.
What's your take on the MOE+ grip?
3. Magpul MOE-K/SL
This one is lightweight and well suited for shooters with smaller hands. Unfortunately the MOE-K or SL model does not offer a (+) model, so no options in a rubberized grip.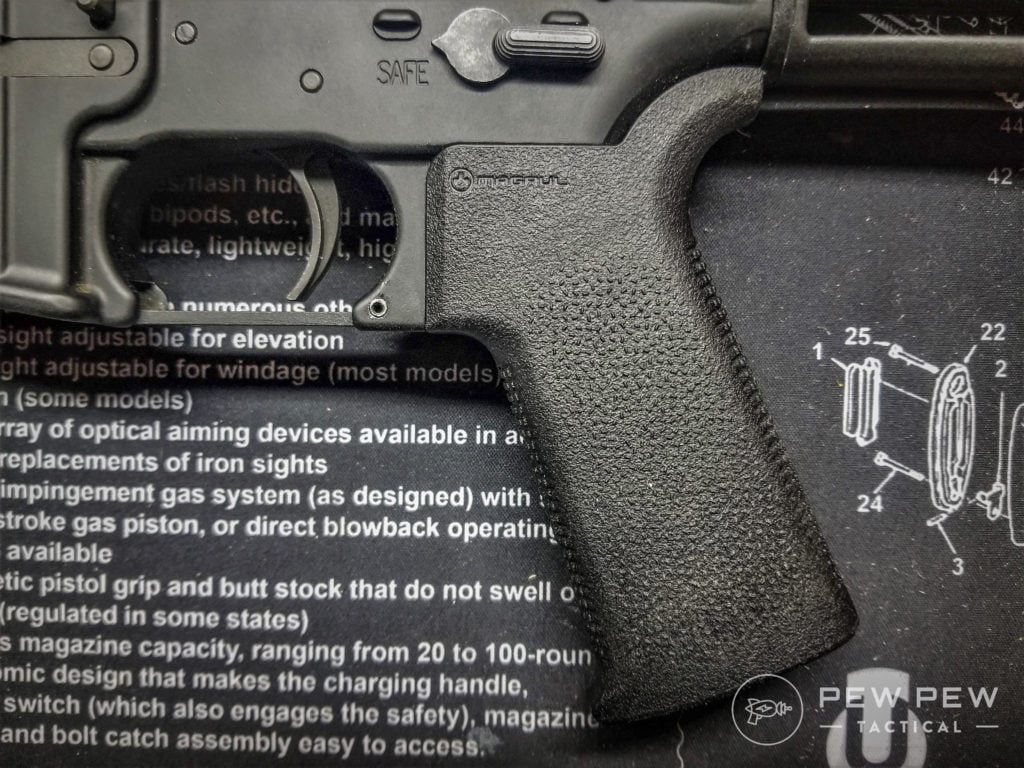 Overall, the grip is thinner than the other models available with Magpul and offers good texturing on the plastic.
The K and SL versions of the MOE grip are very similar. The only difference is that the K does not offer a beaver tail on the backstrap of the grip.
While this isn't an absolute necessity, I tend to go with grips that have a beavertail. These models do not offer grip storage.
4. Magpul MIAD Gen 1.1
The MIAD, or Mission Adaptable Grip, is one of my personal favorites. I currently have one on my precision AR15 build and my 11.5-inch pistol build.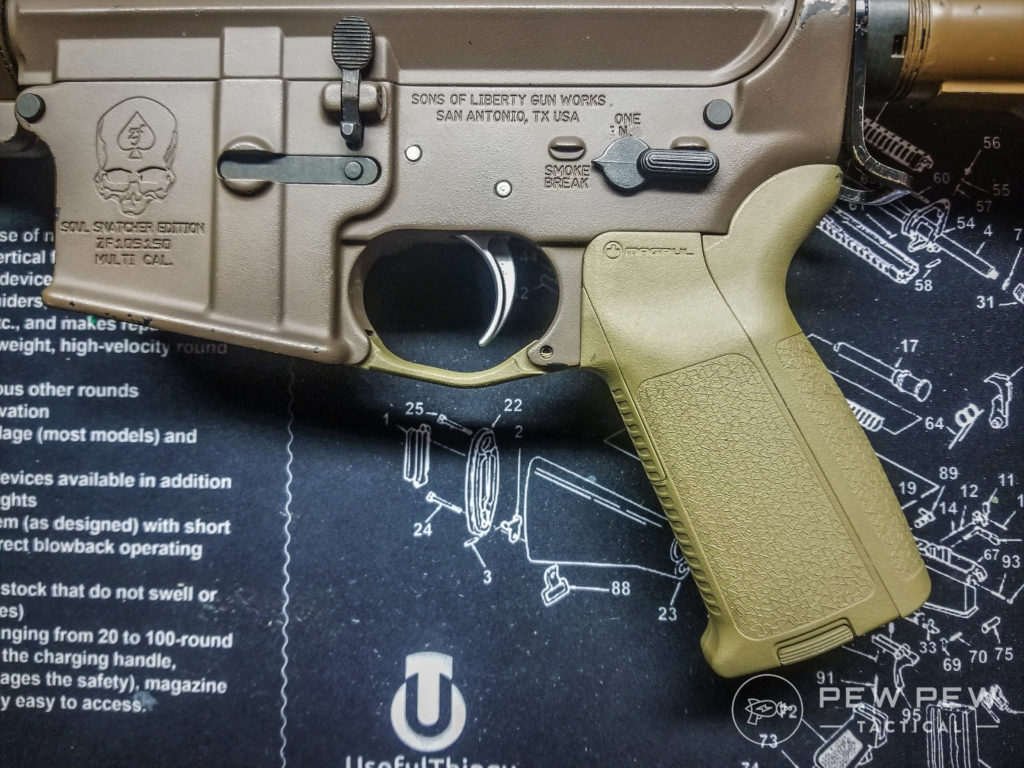 I have found it able to perform any task due to its ability to change the backstraps.
The reason it is called the Mission Adaptable Grip is because of the three different sizes of backstraps available in the kit.
There are two front straps included, so shooters can either have a flat A1 face, or a finger groove like the A2. This grip can fit almost any shooter.
Bravo Company USA
Bravo Company USA has been known to produce quality firearms for some time now. Their aftermarket parts are no exception.
Between handguards, stocks, charging handles, or assembled AR15s, it would be hard to find someone that was unhappy with their purchase.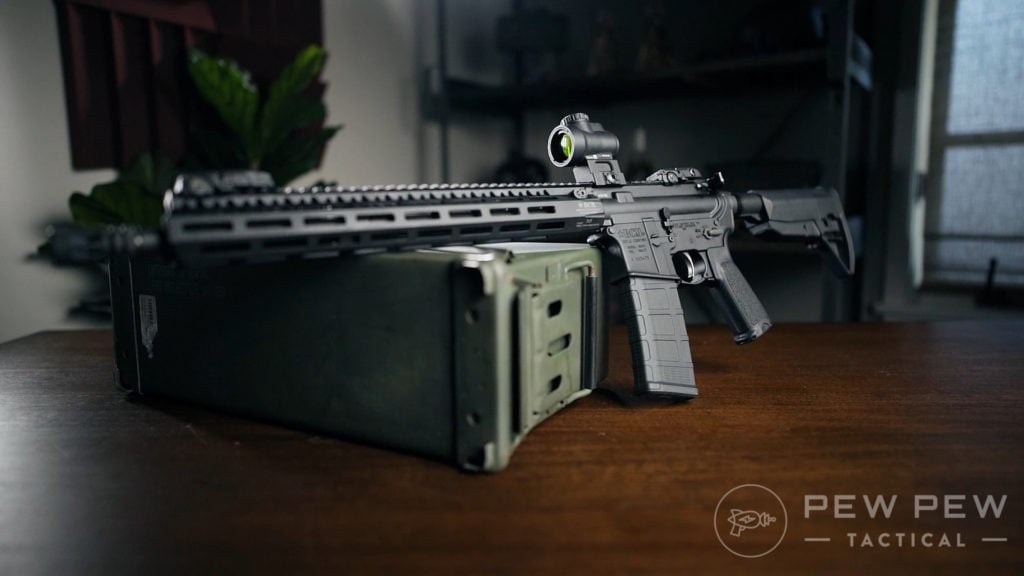 All their grips are made in America, and color options include Black, FDE, and Foliage Green. The models look similar with minor differences, and they have a modular model as well.
Let's go over the differences between the Mod 0 through Mod 3.
5. BCM Mod 0
The Mod 0 along with the whole BCM lineup, uses a more reduced angle with their grips to accommodate the modern stances of gunfighters with the M16/AR15 platform.
A reduced angle grip generally gives better ergonomics but YMMV. The Mod 0 is a bit different without the addition of a high-ride beavertail and is more like the A2 in that respect.
But that is the only similarity. The front is completely flat with ridged texture, and the rear is oversized like an H&K 416 grip, though not as drastic.
6. BCM Mod 1
The Mod 1 has a high-rise beavertail and the same aggressive texturing on the sides as the other models. The same reduced angle is present in this model but it is less thick in the back portion of the grip.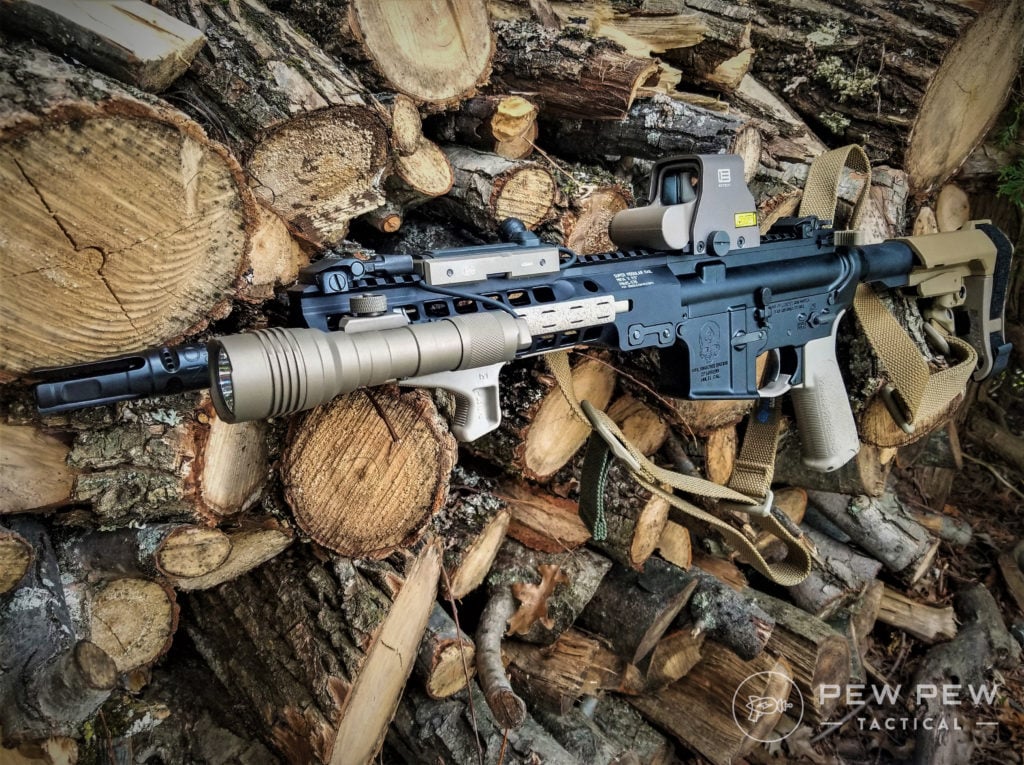 Inside the frame of the grip, there is a latched compartment, which is present in all BCM model grips.
The Mod 0 and Mod 1 feature the same thickness in the design of the grip. And they also share a removable insert to close gaps between the receiver and trigger guard.
7. BCM Mod 2
The Mod 2 has the features of the Mod 1 but is modular with the backstrap like the Magpul MIAD. However, it has only the top beaver tail section modular.
It comes with three alternate beaver tails that each have different depths of curve.
8. BCM Mod 3
My absolute favorite grip from BCM is the Mod 3.
It lacks certain features that the Mod 0 through Mod 2 have, such as the removable insert, or the interchangeable beavertails, but it makes up for that with a thicker grip.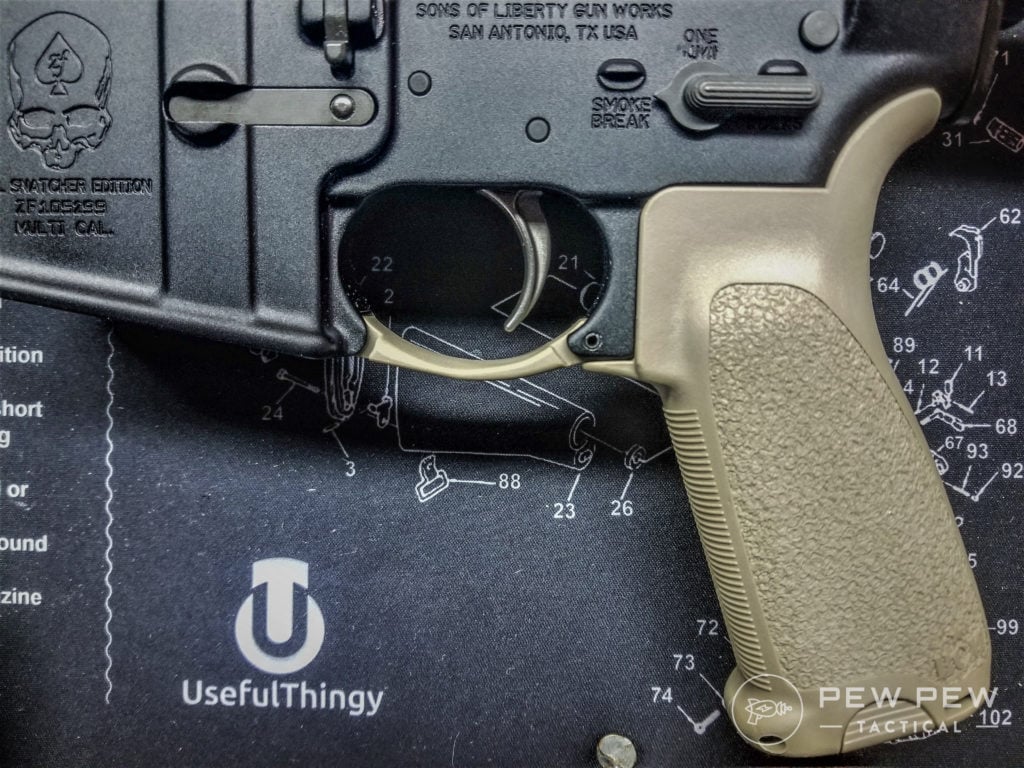 While this may not be for everyone, I am a big fan of keeping things simple.
The Mod 3 has the same latched, internal storage system, has a tab to close the trigger guard void, and just feels great in my hand.
This model is also the most inexpensive, which makes it an easy KISS (keep it simple, stupid) choice.
ERGO Grips
Ergo is the master at rubberized grips, these things just stick to your hand. Since the original SureGrip, many models have been added to the catalog, but all typically have the same type of tacky rubberized grip.
Colors vary by model, but can include Black, FDE, OD Green, Grey, Pink, Blue, and Purple.
Keep in mind that there are many knockoffs out in the wild of the interweb, so make sure if you purchase an Ergo Grip, do so with a reputable dealer. There are a few different models, and they offer something for everyone.
9. Original SureGrip
Among the SureGrips, you can find multiple models that offer different features. Whether you want an A2 style without a beavertail or the added grip with a higher pistol grip, ERGO has you covered.
The rubberized texture is one of the best.
While some shooters may not want finger grooves, in my experience, the ERGO grips are not as deep as other models. This provides a little more natural feel when using a high pistol grip, unlike a typical A2 grip.
10. Tactical Deluxe
The Tactical Deluxe is one of my favorite grips for bench rifle or precision rifle work in the AR platform.
Between the oversized palm of the grip, amazing rubberized texturing, and the option to run a palm shelf, this is a great choice for long-range work.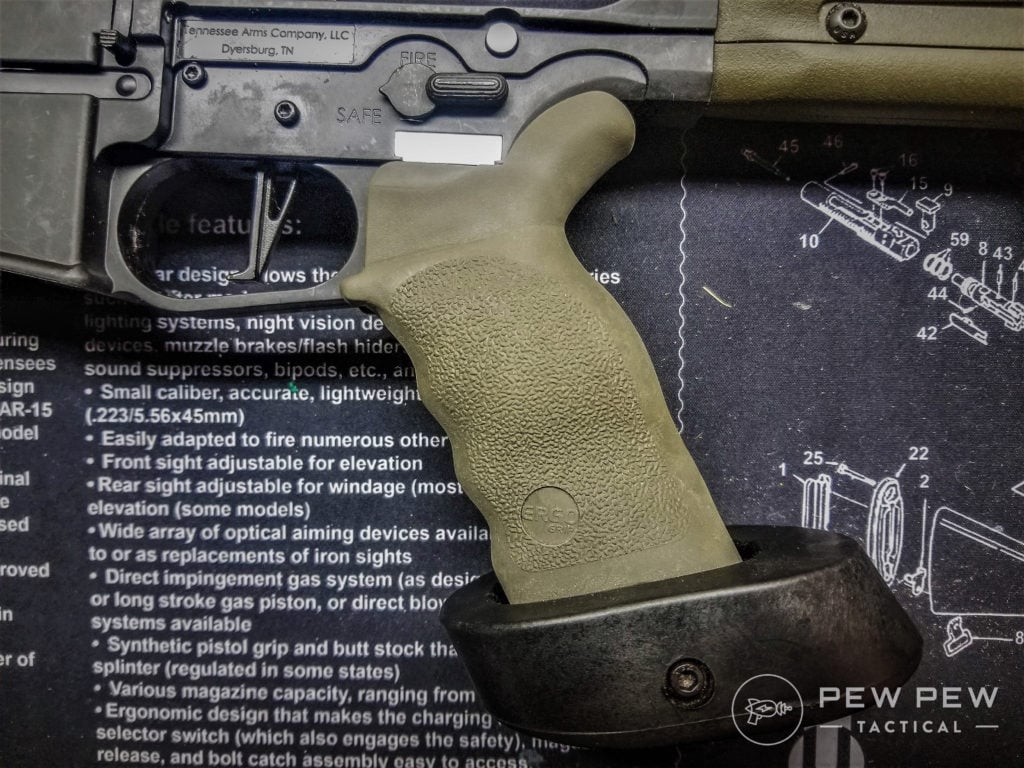 There are five models of Tactical Deluxe Grips. Two models have the palm shelf and three models without.
Both have options for a flat top or beavertail. One of the models is their Zero Angle Grip, which is vertical. This could be a great choice for an AR or a precision rifle chassis.
Stark Equipment
Stark Equipment was founded five years ago and offers grips and angled foregrips for the AR, and the AK. Their design is a little different than the others previously mentioned as it lowers the overall grip of the hand to be more in line with the trigger.
11. Stark One Grip
The Stark One Grip and the AR Rifle Grip are essentially the same model. The Stark One uses a built-in trigger guard that replaces an existing one.
Since more manufacturers offer built-in trigger guards with billet and forged receivers, Stark Equipment made the AR Rifle Grip lack those features. It also makes the AR Rifle Grip less expensive.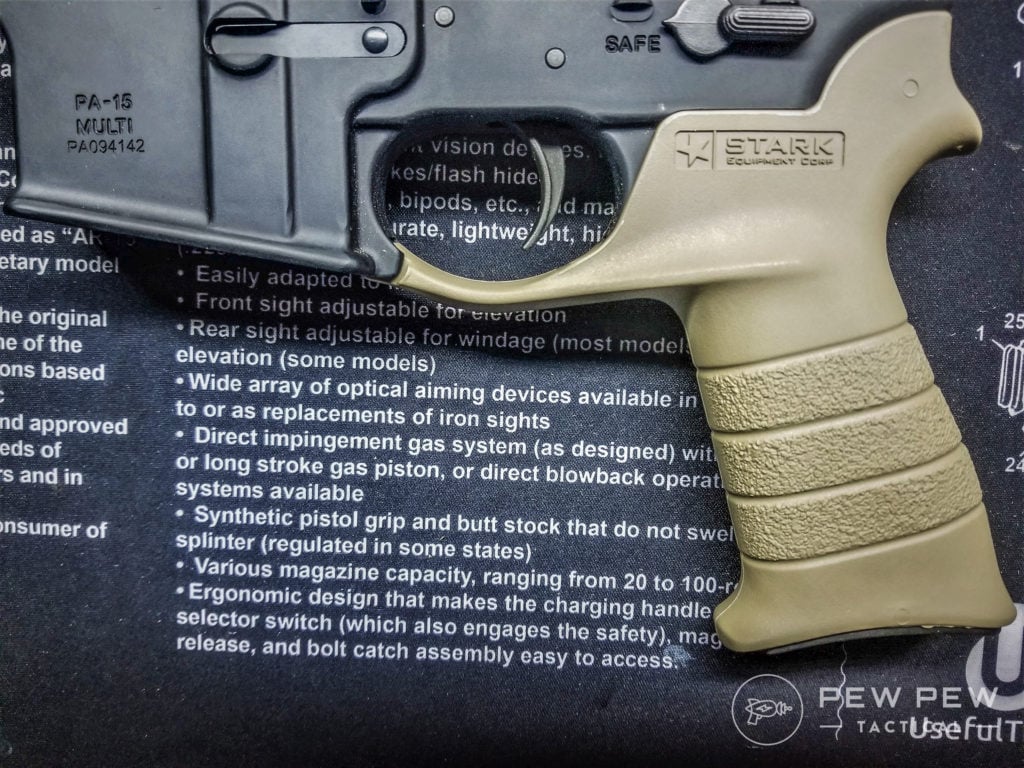 The overall design lowers your grip due to a lowered beaver tail. This allows room for optional QD sling swivel mounts to be installed in the grip.
Both models offer secured internal storage within the frame for batteries. Its shape reminds me of an M249 SAW grip and takes me back to the smell of burnt powder and hot brass laying on the ground.
Tyrant Designs
Tyrant Designs brings American-made AR-15 upgrades to those that prefer to keep things Stateside. Skirting the usual FDE or matte black, Tyrant offers vibrant colors that will spice up any AR build (but they do have matte black too if that's your thing).
12. Tyrant Designs Mod Grip
A relative newcomer that's definitely growing on me for its aesthetics.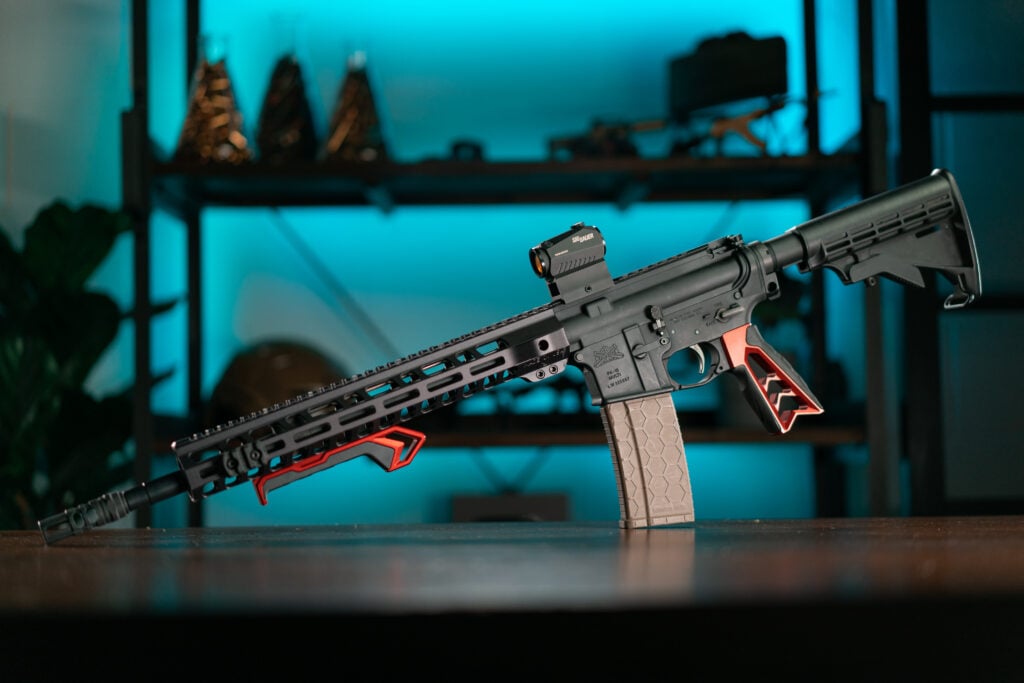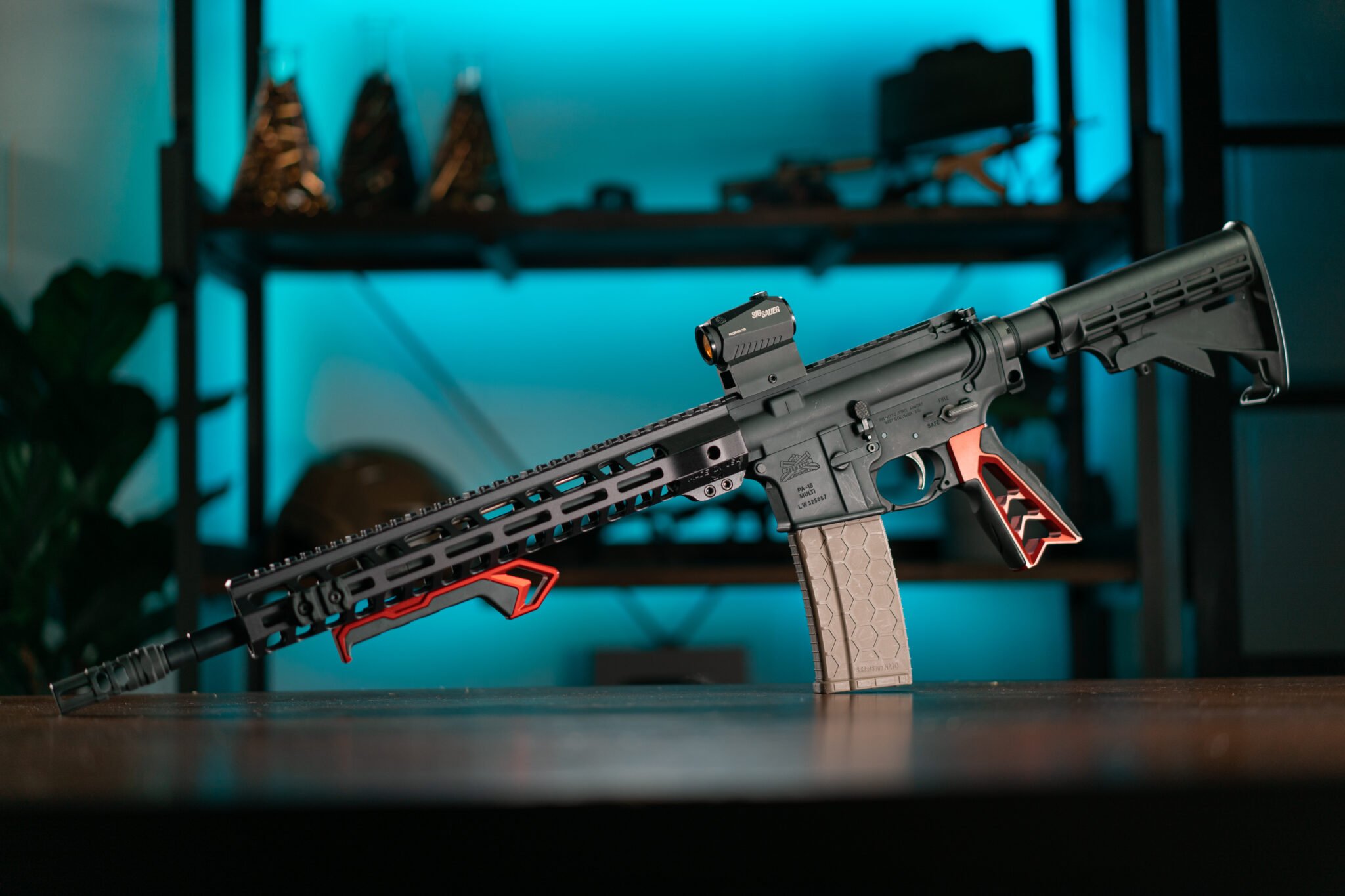 The Mod grip gives you the right amount of grippiness with its rubber front and back.
I like the rear swell and how I can get a super-high grip when needed.
Only thing I would ding it on is I would have liked to see an extra finger indent on the front…but that's for my specific hand geometry.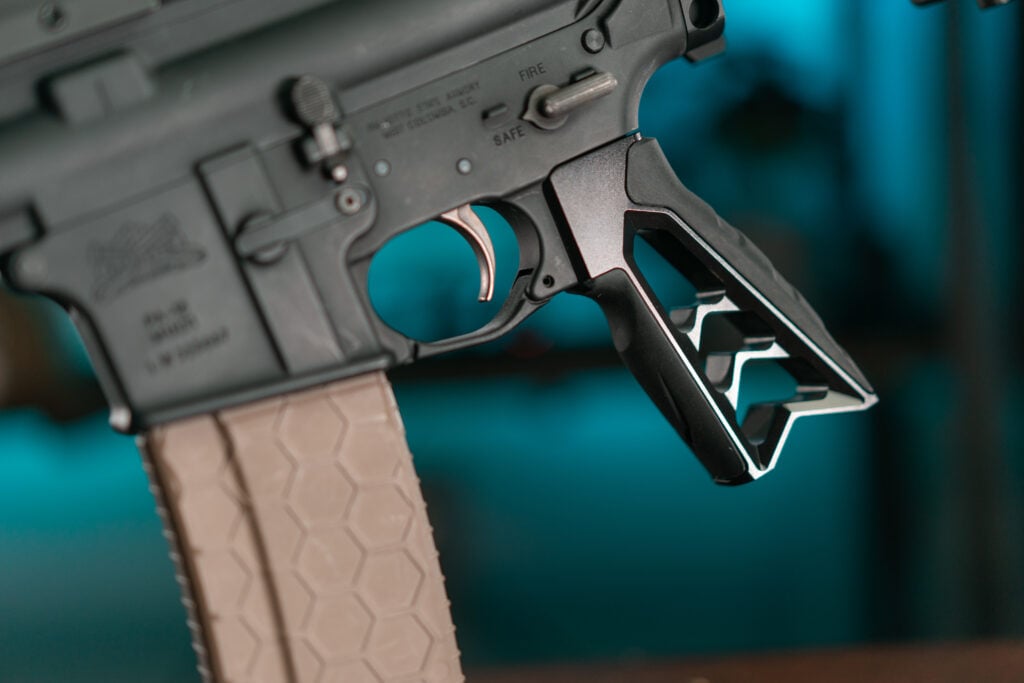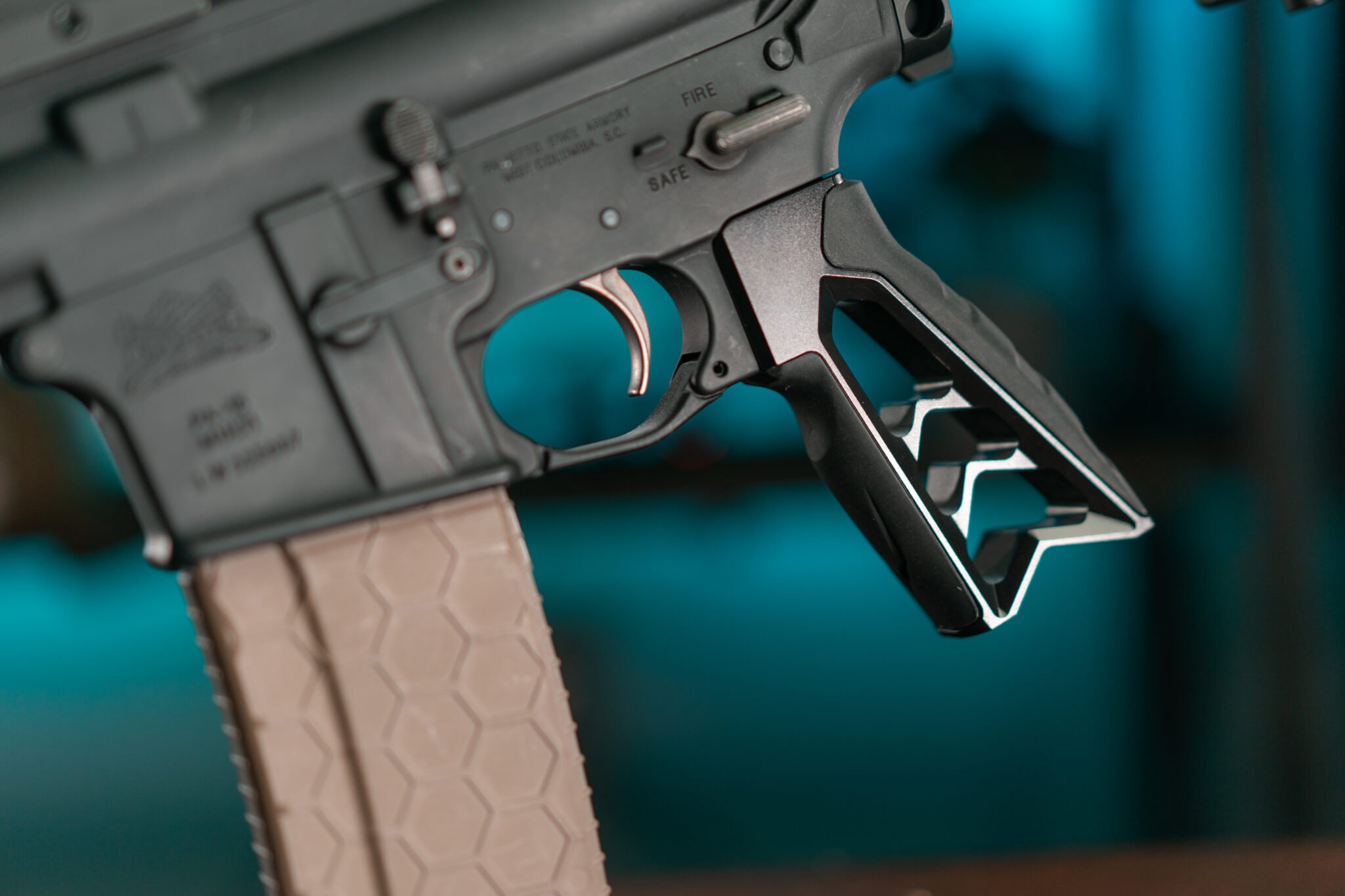 A little pricier but it's milled out of solid aluminum.
Hogue
We would be remiss if we didn't list one of the most popular grip companies in the industry…Hogue. Offering a ton of grips for a range of weaponry, this company also manages to keep costs down.
So if you need an uncomplicated AR grip that won't break the bank, Hogue is your boy.
13. Hogue Overmolded, Beavertail AR-15 Pistol Grip
The Overmolded, Beavertail AR-15 Pistol Grip brings an overmolded style with a beavertail that provides a bit more in the way of LOP.
Not to mention this grip comes in at an affordable price.
It's available in black and tan colors, so if you're looking for some snazzy design…you won't get it here. But you will get a fairly reliable grip that is wallet-friendly.
THRiL Inc.
THRil Inc. produces a number of products including AR-15 furniture like grips and stocks, as well as a couple of magazine options. All their wares are made in the USA.
14. THRiL RTG
This grip is a no-nonsense option that has good standard features while being very affordable. With a 19.5 degree angle, the Rugged Tactical Grip is comfortable and ergonomic feeling.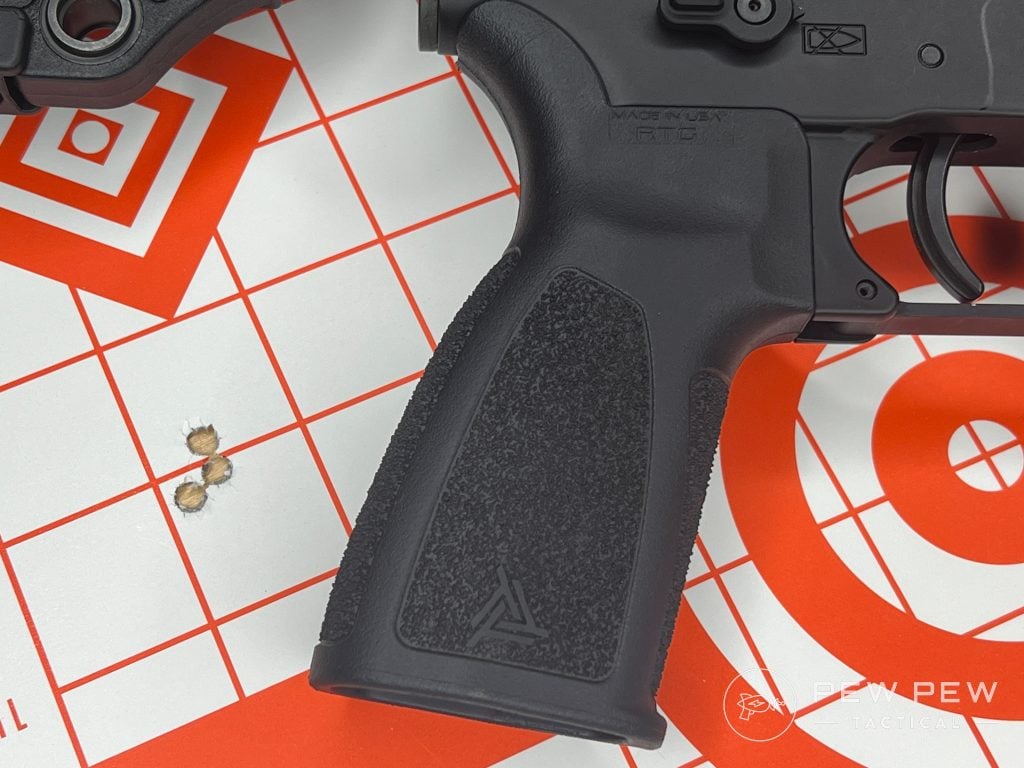 This polymer bodied grip is very lightweight and features four distinct panels of laser stippling on the front, rear, and both sides. This adds a great amount of traction without being too rough.
The RTG also has thumb wells up top that add to the overall comfort and a reference lip at the bottom of the grip.
Final Thoughts
There are many different companies within the firearm industry that make grips to accessorize your rifle.
Out of the ones I use all the time, my go-to general purpose "Goldilocks" grip is the Magpul MOE+ for its nice beavertail, grippy rubber texture, and ribbed front strap.
My simple pick is the BCM Mod 3 for a reduced grip angle that makes it more ergonomic (at least for me). Plus it's the most affordable on the list!
Bench shooting or going long-range? I love the Ergo Tactical Deluxe with palm rest.
What other grips have you used? Need another awesome upgrade, check out our Best AR-15 Upgrades super-article.