There's been some resurging interest in compensators lately, as a few manufacturers have come out with options for various handgun models.
The argument could be made that anything improving our accuracy is worth checking out.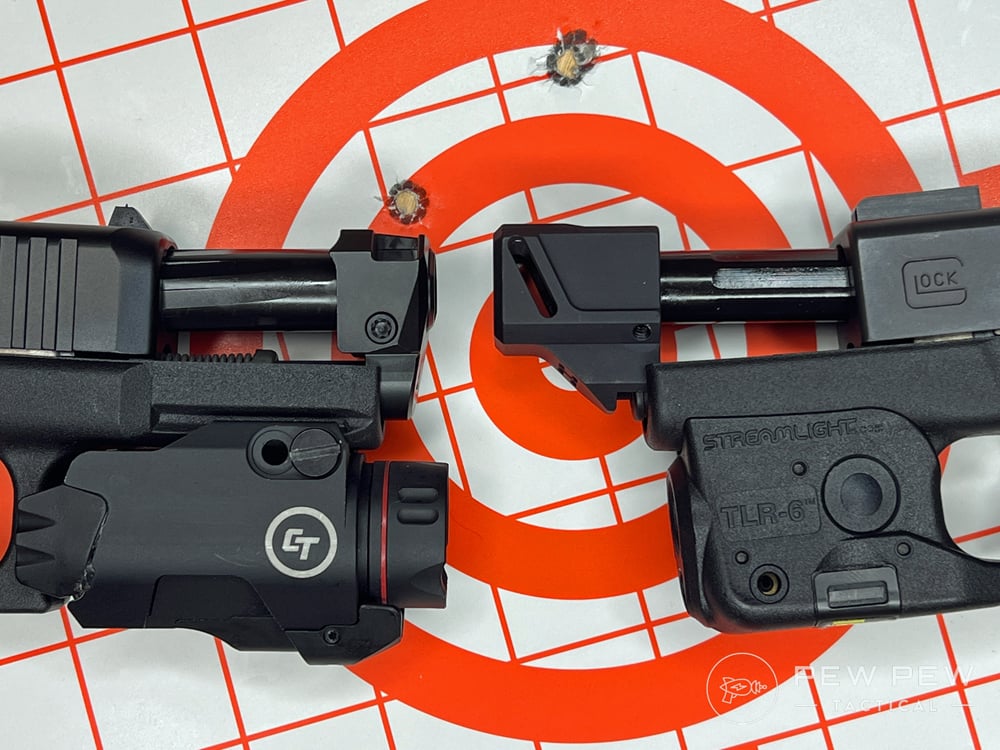 We gathered up a few models from a couple of different companies to try them out. We also list a few we haven't tried yet.
While we don't have any hard science, the results were impressive, and we'll share our thoughts, along with some videos, below.
Summary of Our Top Picks
Table of Contents
Loading...
What Are Compensators?
Compensators are devices that are fixed to the end of a muzzle with the intention of making the gun shoot flatter. You've probably heard the term "shoot flat" before, but what does this mean?
It refers to the reaction of a handgun once you pull the trigger. Semi-automatics and revolvers both react to the small explosion we create when we press the trigger.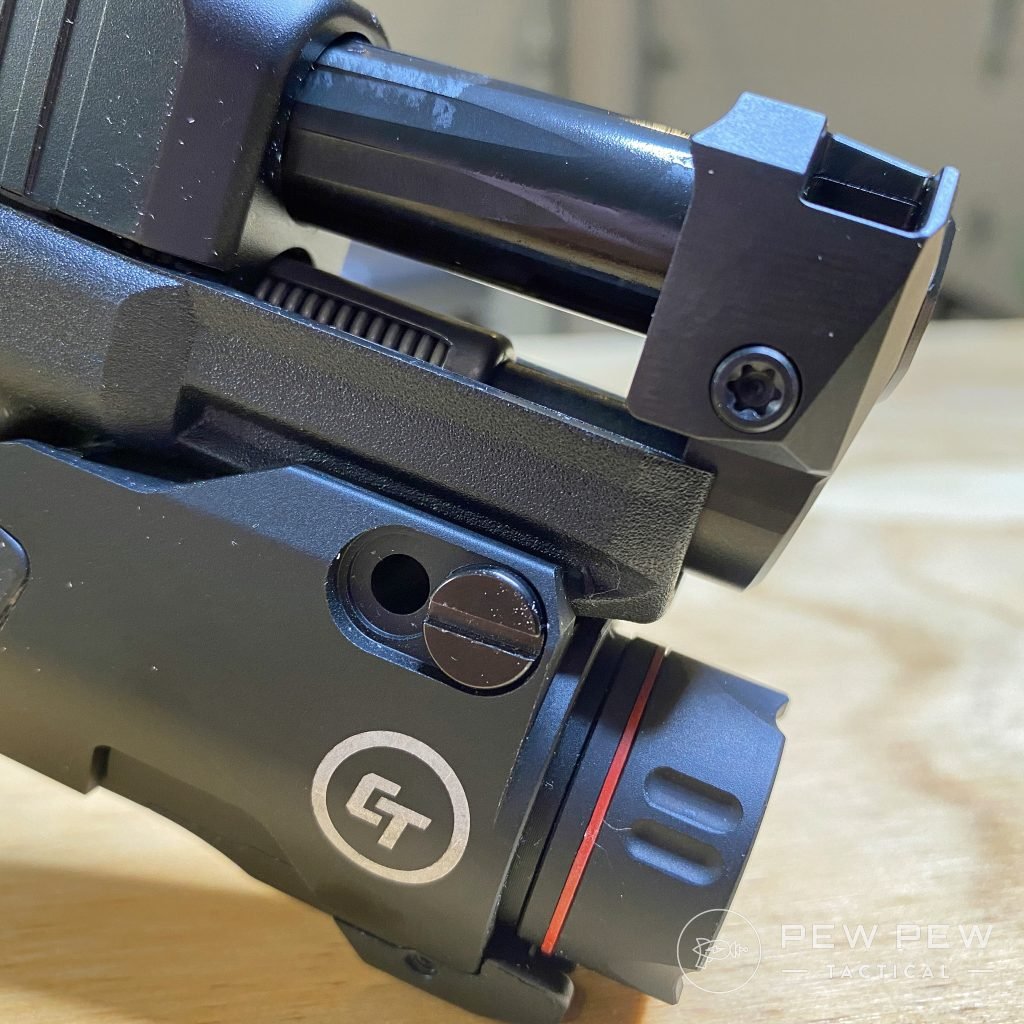 In the case of semis, the detonation sends gases and a bullet out the end of the barrel. The slide rocks to the rear, ejecting the spent casing, then inserting a fresh round from the magazine upon its return.
Revolvers have less going on after the shot happens but experience the same reaction of the gun. There is typically a bit of muzzle flip, meaning the muzzle goes in an upward direction under recoil.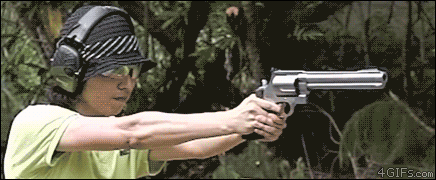 Training, grip, weapon mass, bore axis, and caliber all apply to how much muzzle flip might occur. Compensators are designed to help tame muzzle flip.
Irresistible Force
Why would we want to try and stop this from happening? After all, you can't deny physics!
While this is true, there are plenty of reasons you'd want to prevent or dampen muzzle flip. First off, it can make the weapon safer to handle.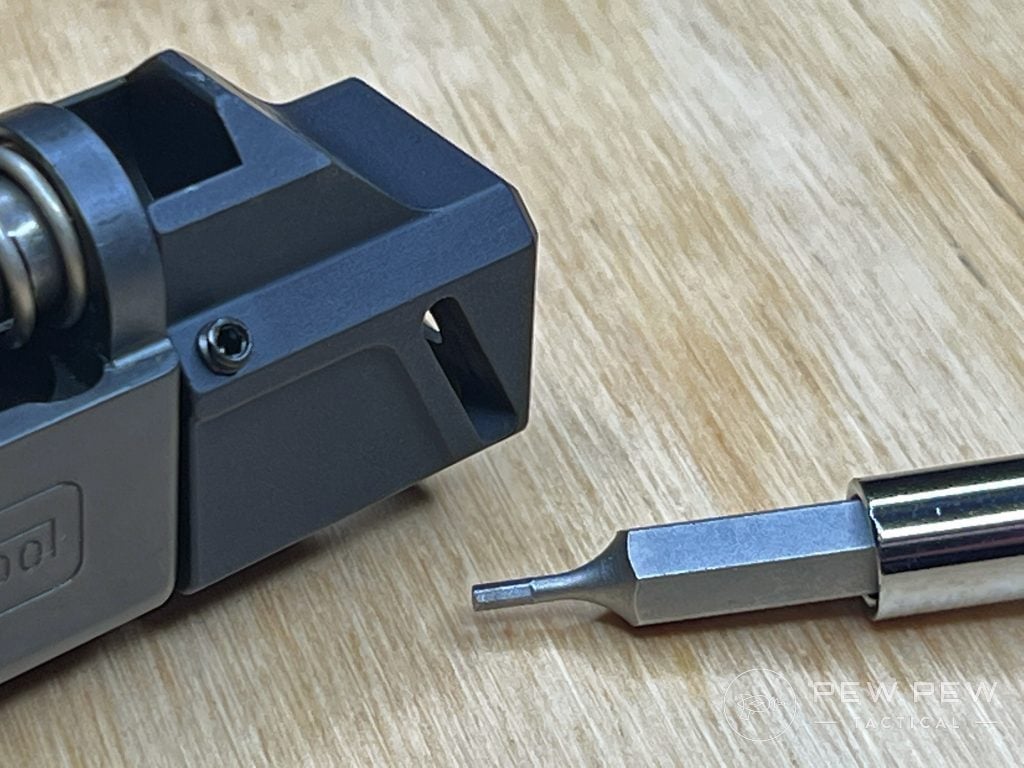 Probably most important, it can make follow-up shots a lot quicker.
Very often, we temporarily lose sight picture after we take a shot. How long it takes to recover often comes down to training, experience, rate of fire, and the gun. The bigger the caliber, the more forces at work.
Compensators work by redirecting the expelled gasses that come out of the barrel. They generally direct these gasses up, creating downforce to counteract the upward motion of the barrel.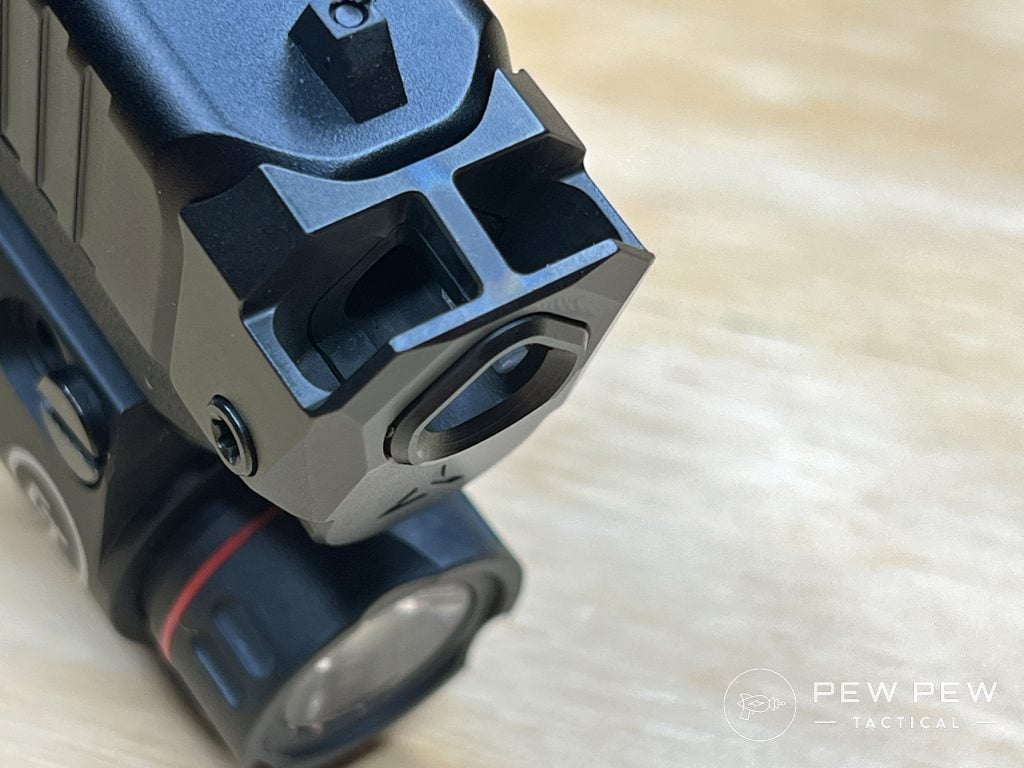 This allows the shooter to recover from recoil quicker and reobtain sight picture. So with the basics out of the way, let's take a look at a few different options.
Best Pistol Compensators
1. Faxon Firearms EXOS-523
Faxon Firearms sent the EXOS compensator for both the Glock G43 and Glock G43X for us to try out. They included a couple of their barrels, too but noted their comps will work with other threaded barrels.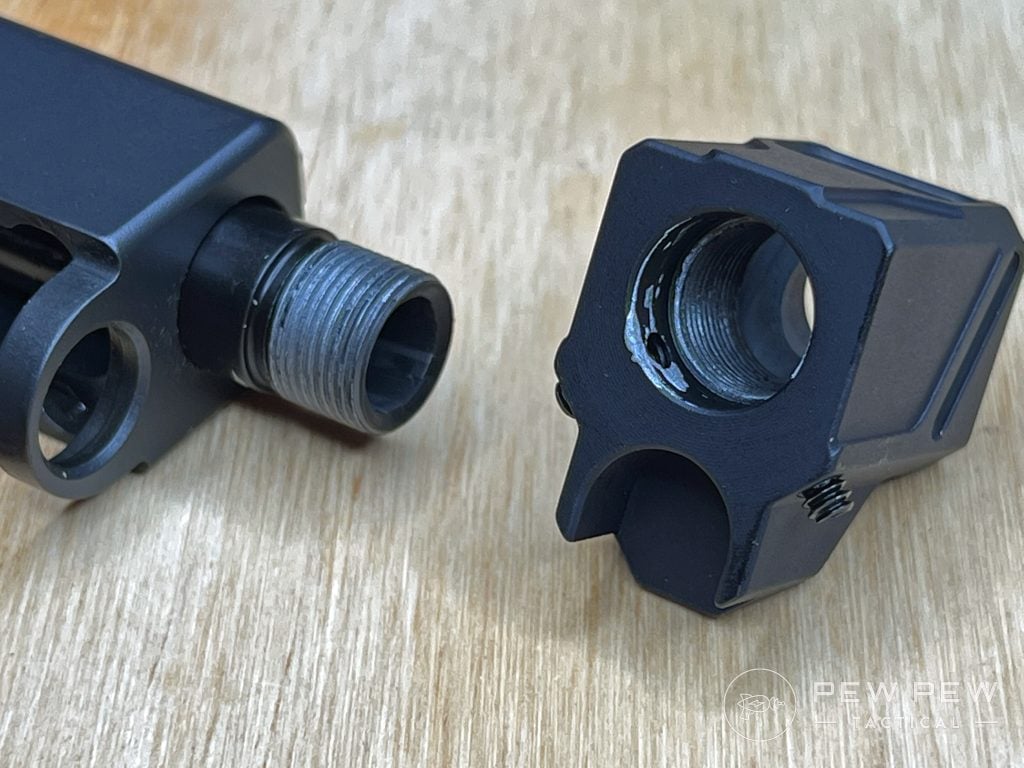 Installation was easy. We swapped out the stock barrels for the Faxon threaded variety.
Next, we simply screwed on the 1/2×28 thread compensator until it was as far as it could go while still being timed — meaning squared up with the slide of the pistol.
Best for Micro Compacts
85
at Faxon Firearms
Prices accurate at time of writing
Prices accurate at time of writing
Faxon strongly recommends using a drop of red Loctite (included) on the threads when installing the EXOS. This is applied only to the threads of the barrel.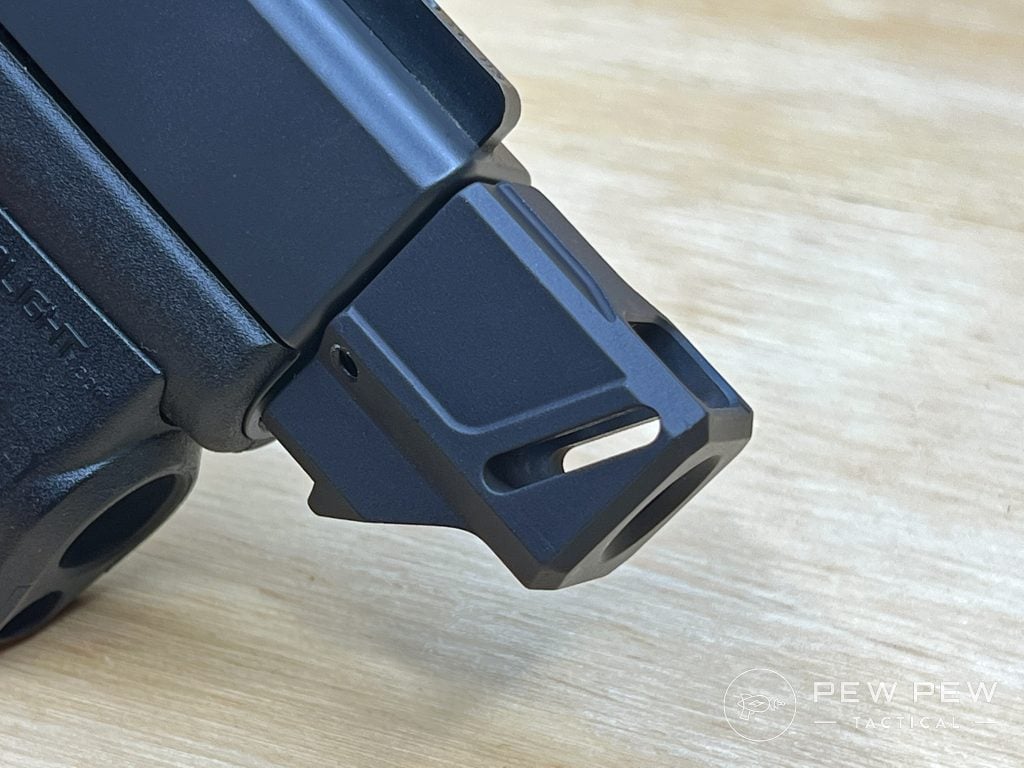 Once this was done, we screwed in the two set screws on either side of the device. With this done, we were off to the races.
I really wasn't sure what to expect, but started off slow enough, just seeing if I could tell any major difference. It was pretty clear I was getting back on target a little quicker.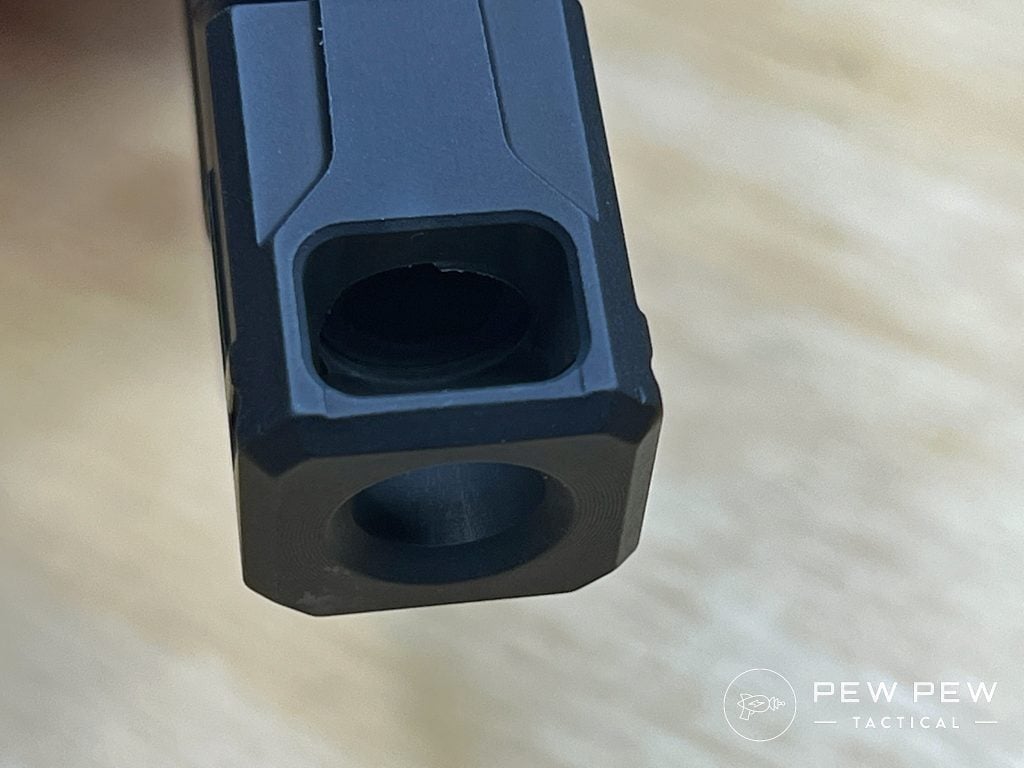 We ran both guns with the comps and could really tell a difference when we sped up the rate of fire. Normally I can only fire so fast before my rounds start walking up, then going over the target.
With the EXOS installed on both guns, we could fire at an impressive rate and still ring steel. The change in performance was impressive.
It's no wonder when you look at the design. There are two tiny slots on the side, but a large hole up top to vent most of the escaping gasses in that direction.
2. Radian Afterburner
One of the downsides to running a comp is it adds a little extra length to your pistol. Sometimes, it's enough to make your holsters not work anymore if they aren't open on the bottom.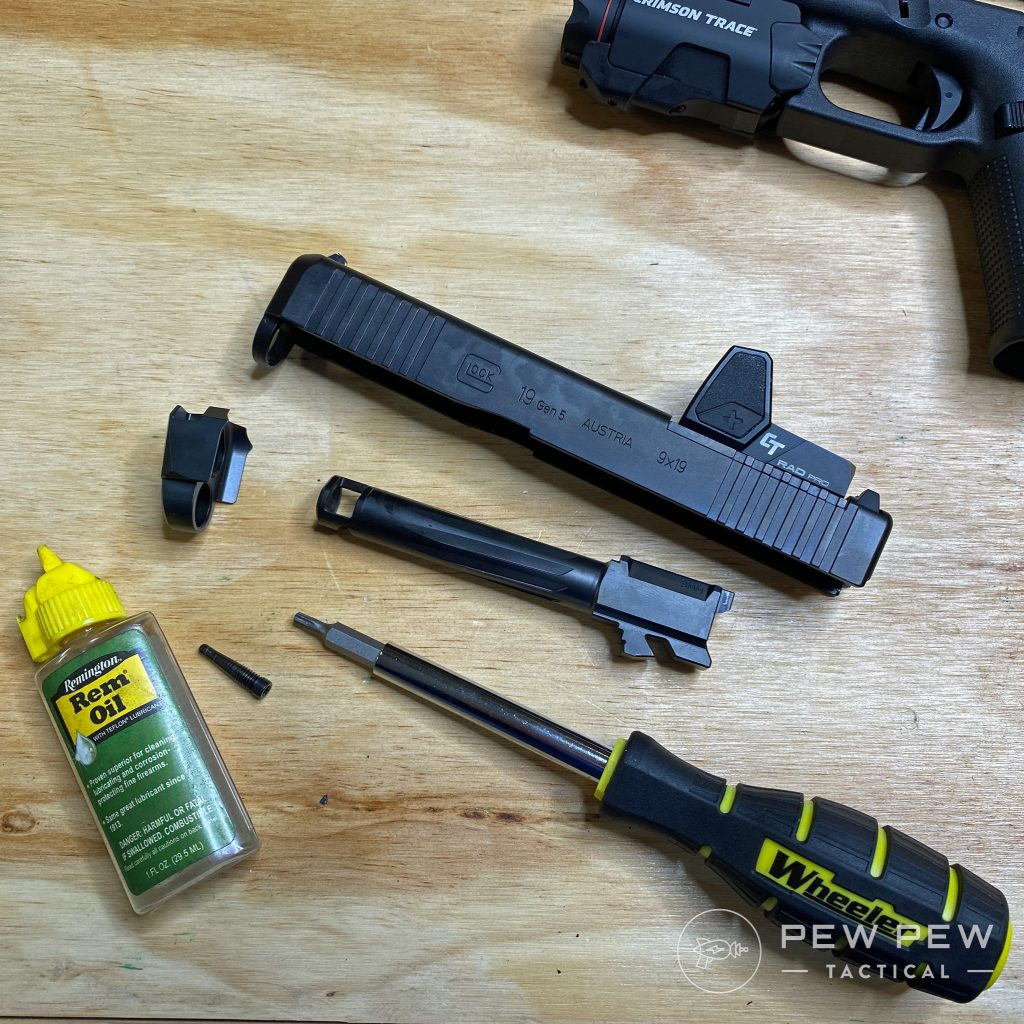 Radian took the idea of a compensator and made it even smaller. In this case, the Radian Afterburner only adds a half-inch!
That being the case, you might ask how it performs. We tested it out and can say it did extremely well!
The Afterburner is part of a system that involves a proprietary barrel called the Ramjet. It is designed only for Gen3, Gen4, and Gen5 Glock 19s.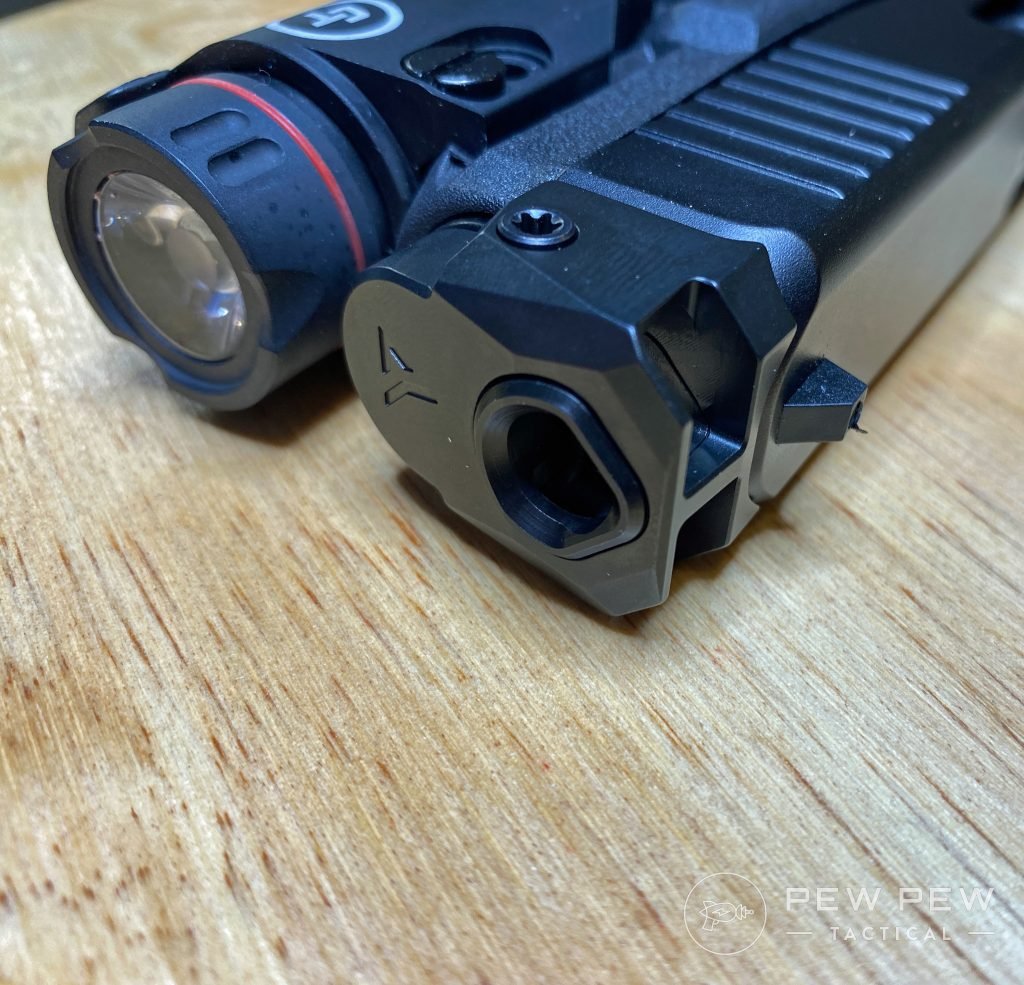 The two work together to tame recoil. The fluted, match-grade barrel routes gasses to the comp, which expels them exclusively out the top.
The Afterburner and Ramjet mate up using a taper lock and angled v-groove on the underside of the barrel. A pin inserted on the side keeps the comp timed to the barrel.
The result is impressive for such a small piece of hardware. Radian claims the combo reduces recoil up to 47% when using 115-grain ammunition.
During testing, we found a significant reduction in felt recoil and quick target reacquisition. However, I was able to eventually shoot too fast and cause my rounds to track up and over the target.
But in my comfort zone, I was able to enjoy faster shooting speeds without missing. It's also pretty cool that the comp only makes the G19 the equivalent length of the G17, so holstering issues need not be so daunting.
Most Compact
389
at Radian Weapons
Prices accurate at time of writing
Prices accurate at time of writing
3. Agency Arms 417 Compensator
This compensator is made for a number of different Glock models from Gen3 through Gen5 and comes in a few different colors.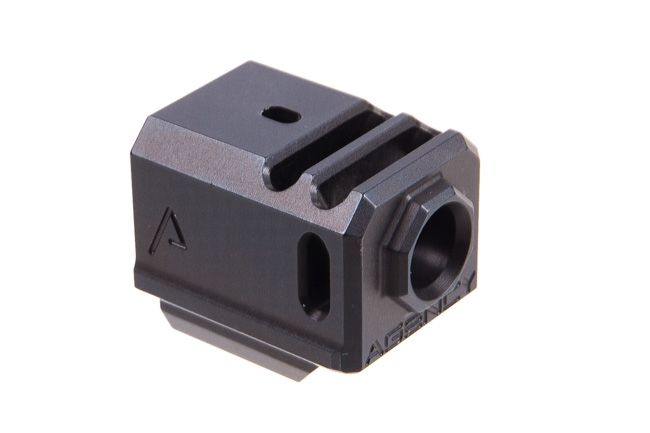 The 417 has single or dual port options for redirecting gasses. These are located on the top and sides.
Another cool feature is the 417 has a hole to mount your front sight. This lets shooters take advantage of just a little bit more sight radius.
Front Sight Ready
100
at OpticsPlanet
Prices accurate at time of writing
Prices accurate at time of writing
What's your take on the Agency Arms? Rate it below!
4. Tyrant Designs T-Comp Compensator
Like others, the T-Comp is designed to work with several Glock models across different generations. It differs quite a bit in its design, though.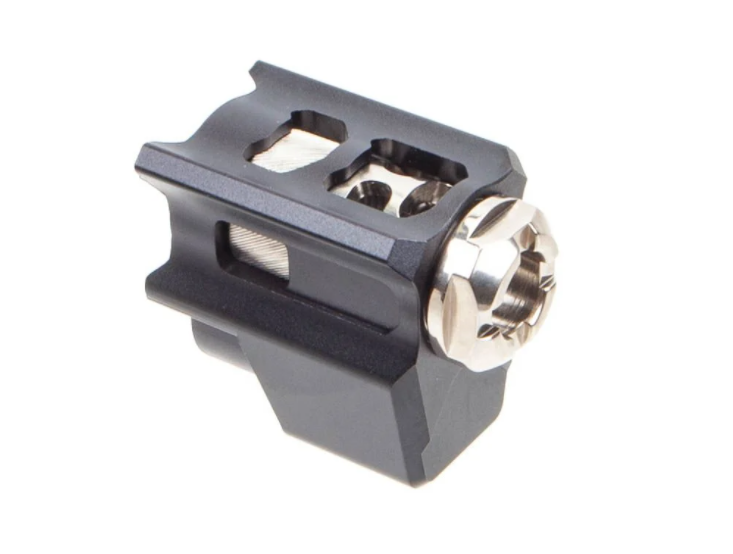 Like most compensators, it relies on a threaded barrel, but the T-Comp has a barrel extension portion that threads on. There is another piece that looks like a slide extender that covers the barrel extension.
Both the barrel extension and slide extension are heavily ported and allow gasses to get directed up. This design definitely gets marks for looks.
Easiest to install
80
at OpticsPlanet
Prices accurate at time of writing
Prices accurate at time of writing
5. Killer Innovations Velocity Compensator
The Velocity Compensator from Killer Innovations has an innovative design feature. Sure, it routes gasses out to stabilize muzzle flip, but this innovation lies in the mounting.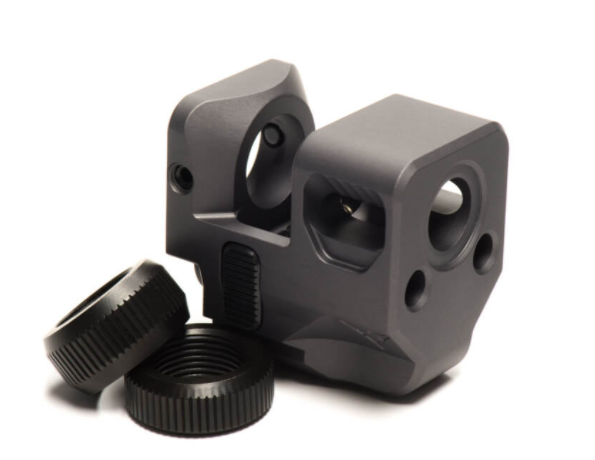 Some compensators struggle to get a flush fit with the slide because of timing on the threads. The Velocity uses a large threaded locking ring to hold it right up against the shoulders of the barrel, making for a tight fit.
The company claims this also improves accuracy. The Velocity is available for the Glock G17 and Glock G19 in all generations.
Most Innovative
104
at OpticsPlanet
Prices accurate at time of writing
Prices accurate at time of writing
6. Herrington Arms HC9C
The Herrington Arms HC9C is probably one of the best compensators for people dipping their toes in the proverbial pool.
It's pretty no-frills – but, at roughly 0.6 ounces, it does what it needs to do. The HC9C eliminates vertical and horizontal recoil.
90
at Herrington Arms
Prices accurate at time of writing
Prices accurate at time of writing
What makes it so good for beginners? Well, it's purpose-built for carry.
With a stock recoil spring, it'll work reliably and eat any ammo you throw at it. For less than $90, a lightweight and well-engineered compensator is a steal.
Not rocking a Glock? No worries, Herrington has comps for Sig Sauer, Walther, and CZ.
7. Strike Industries Mass Driver Compensator
Although not the cheapest compensator on this list, the Strike Industries Mass Driver Compensator wins the title of "best budget compensator."
Why? It's an all-in-one package for $90. That means there's no need to buy a threaded barrel or recoil spring.
Best All in One
85
at OpticsPlanet
Prices accurate at time of writing
Prices accurate at time of writing
If you're a researcher like me, you're saving hours of "best threaded barrel for Glocks" and "lighter recoil spring" Google searches.
Saving money and time while also turning your gun into a space gat? Sounds like a win-win to me.
8. Suarez International Street Comp
The Suarez International Street Comp is just that. Well, not just that, it's pretty good at eliminating vertical and horizontal recoil while keeping a low profile too.
It does everything a compensator needs to do while going the extra step and looking hella cool.
44
at Suarez International
Prices accurate at time of writing
Prices accurate at time of writing
Sure, you may need to fiddle around with ammo selection and recoil springs to draw full benefit but looking cool as hell makes it all worth it. In my opinion, anyway.
Oh, did I mention, it runs for a very tempting sub $60 price tag.
9. Griffin Armament Micro Carry Compensator
The Griffin Armament Carry Comp is slick. In fact, it's so slick you might not even know what it is just by looking at it.
It's so unorthodox in design that it goes full circle back to orthodox again. I mean, just look at it.
Best for CCW
60
at OpticsPlanet
Prices accurate at time of writing
Prices accurate at time of writing
The comp looks like a comp and thread protector hybrid. Its low-profile design is perfect for carry, especially on smaller handguns like the Sig Sauer P365 or Glock 4G3x.
One drawback to having such a low-profile design, you lose the counterweight effect that a larger compensator would have. But, having diverted gas is still a marked improvement over stock.
10. KKM 4-Port Compensator
Don't let the price tag scare you off — this is the original.
The Roland Special KKM barrel and KKM Compensator join together in a package deal to create the flattest shooting, best performing offering on this list.
75
at KKM
Prices accurate at time of writing
Prices accurate at time of writing
It does everything it needs and sets the standard for Rolands and Faux-lands everywhere. Its track record speaks for itself.
Final Thoughts
We are fortunate to live in a time where there are so many options to help tame muzzle flip!
All of these models are Glock-centric, but there are comps available for other gun manufacturers too — as we test them out, we'll be sure to add them.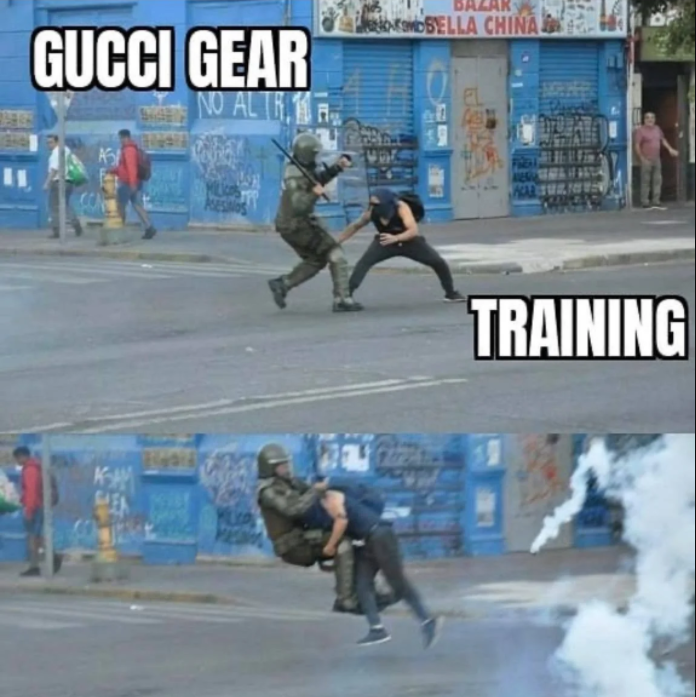 And while the products we tested are great, they are no replacement for training. Grip and stance are foundational to shooting well.
With good skills established, you can take your flat shooting to the next level with these compensators!
Do you run compensators? Have you used any of these models? Let us know in the comments below and be sure to check out our 7 Best AR-15 Muzzle Brakes & Compensators for rifle comps.