We love the Glock 43.
But, like any firearm, you also need a holster to carry it in.
Fortunately, the Glock 43 is very popular, so there's a wide variety of holsters available for it.
Unfortunately, all those options can make choosing a good holster tricky and overwhelming.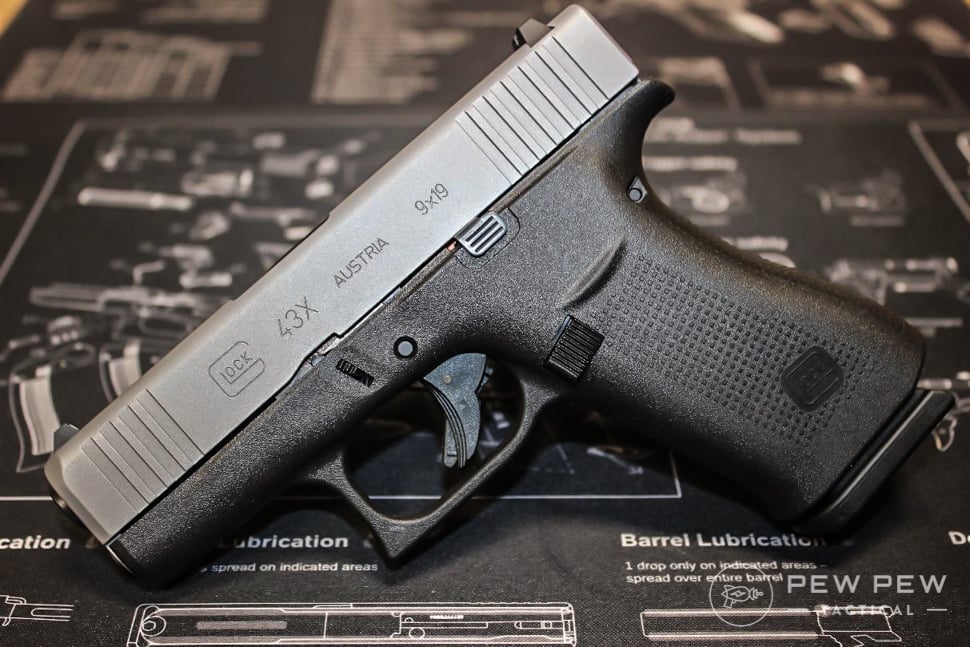 So thank the deity of your choice that you have me, because I'm going to walk you through everything you need to know to pick out a quality holster for your Glock 43 that also works with your lifestyle and budget.
You're welcome.
I'll start by talking about what qualities your holster needs, then I'll move on to the different holster types that are available, and finally, I'll wrap up with some recommendations for holsters of each type.
Now if you've already got a solid understanding of holsters and are just here for the recommendations, you can skip down to them, but I'd recommend reading through anyway. A quick refresher never hurt anyone.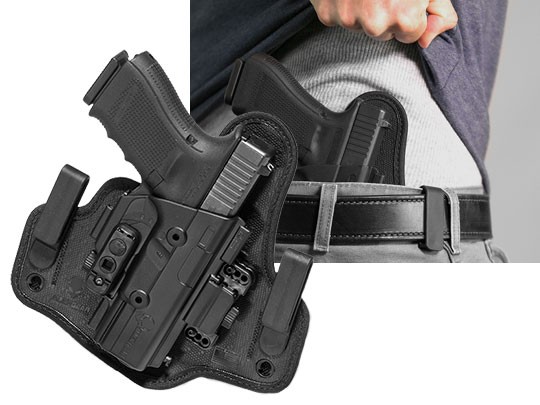 Choosing a Good Holster
Obviously, a holster's job is to hold your firearm when you aren't using it, but that doesn't mean just any holster will do.
Your holster is also responsible for protecting your gun when you're not using it, preventing accidental discharge, and making sure you can quickly pull your gun when needed, whether that's in competition or a defensive situation.
To make sure that a holster can adequately do all that, there are a few factors that you should check before you get it.
We're going to look at those now.
Comfort
Comfort may seem secondary to some of the things we'll talk about next, but don't underestimate how much it matters.
If a holster isn't comfortable, you probably won't actually wear it, so you'll still need to buy a holster that you'll actually use for your Glock 43 and you'll have a useless holster just sitting around your home.
Try on any potential holster before you buy it.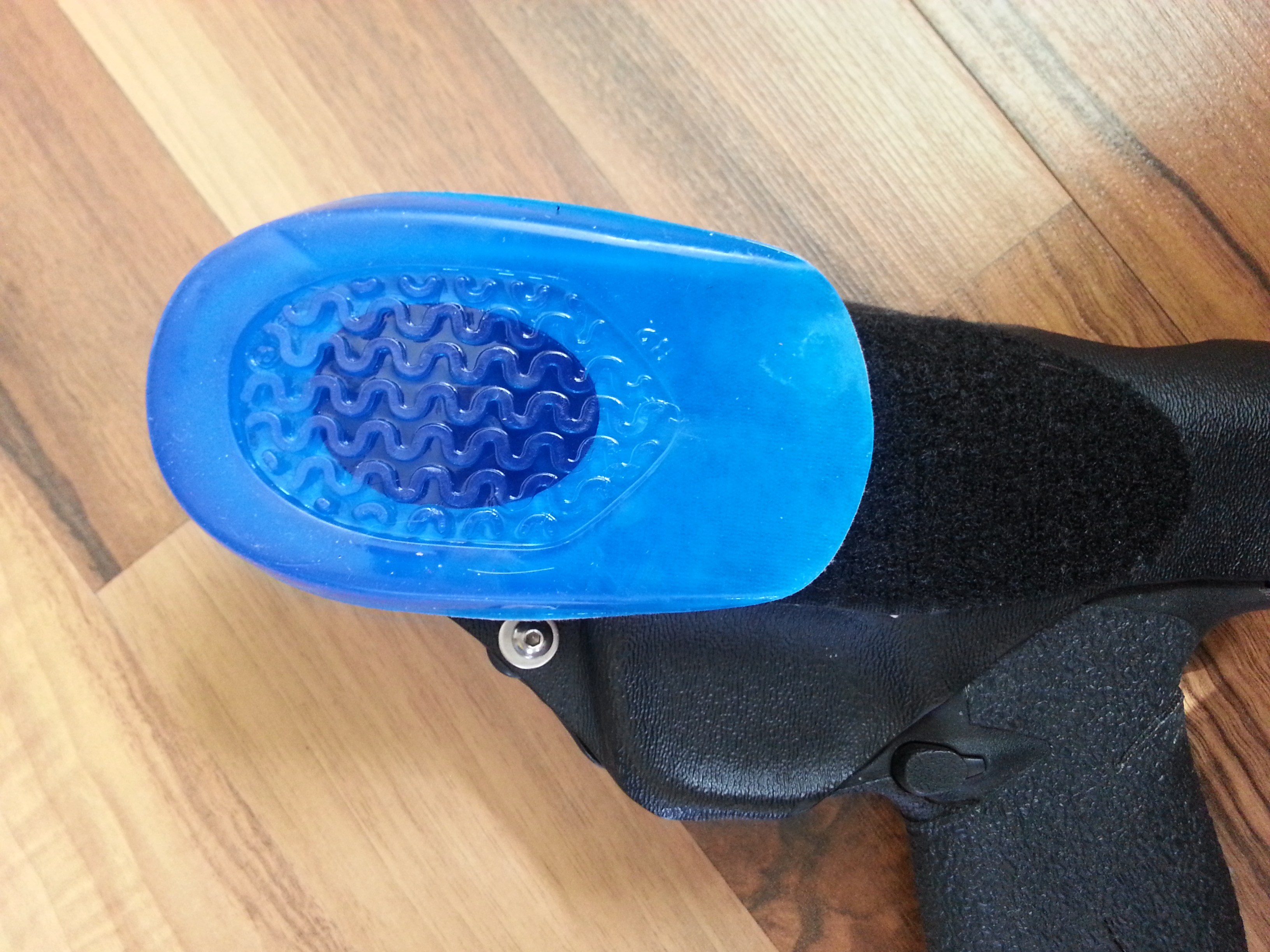 Make sure it doesn't rub as you go through normal motions. Even minor rubbing over an extended period can end up causing irritation or even bruises or blisters, so just avoid it.
This is especially important with holsters made of hard materials like Kydex. You could probably get away with a bit of rubbing from a softer material like leather, especially if you'll have a layer, like an undershirt, between your skin and the holster.
Also, check that the holster both is secure and feels secure. A holster is kind of like a strapless dress–it doesn't matter if you know that it won't actually slip; if it feels like it will, you'll still be tempted to tug on it all night.
Of course, pulling up a dress doesn't (usually) give away where a firearm is concealed, so this is even more important with holsters.
Sorry, guys, I don't have a comparable metaphor for you.
Protection
Your holster should be made out of a durable, protective material that can defend your Glock against impacts and scratches. Popular options are leather, nylon, and a variety of polymers such as Kydex.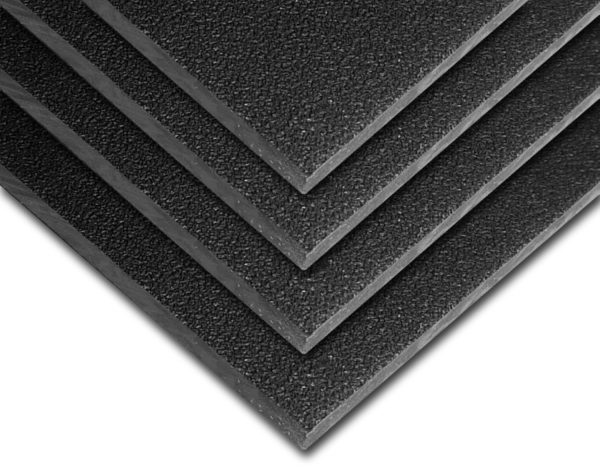 Just be aware that hard materials can scuff your gun as your holster and draw it. If that's a concern for you, go with a soft holster or make sure that your hard holster has a soft lining.
Retention
Retention just means that your gun won't fall out of your holster, even if you turn it totally upside down.
Holsters use either active or passive retention systems, or sometimes both at once.
An active retention system requires the user to engage and disengage the retention system. This could be a thumb break or strap that keeps the gun in the holster and needs to be released for you to draw the weapon.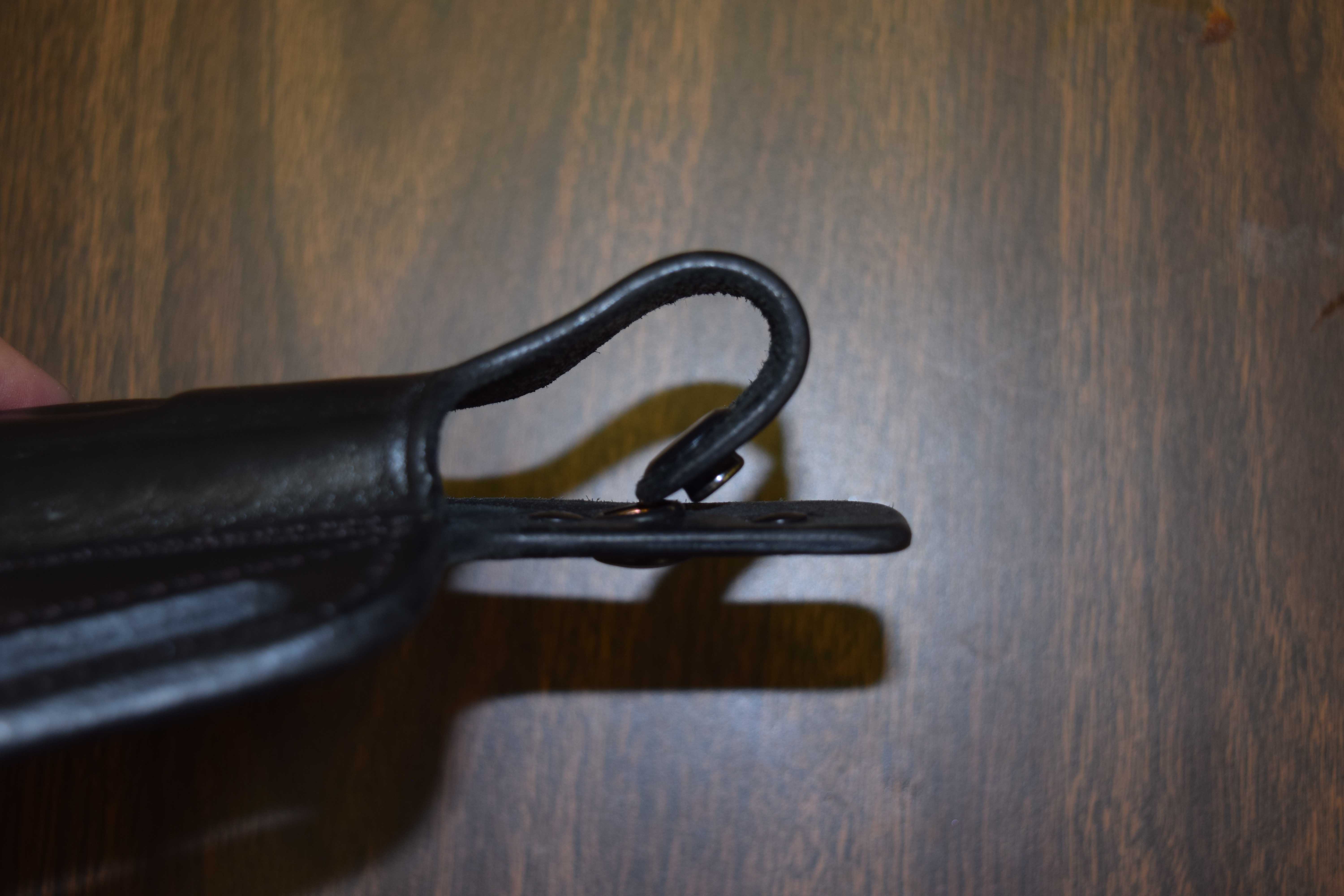 Passive retention holsters are made of hard material that is molded to the shape of the gun and use friction to keep it securely in place. These holsters usually have screws that can be tightened and loosened to change the amount of friction and therefore the level of retention.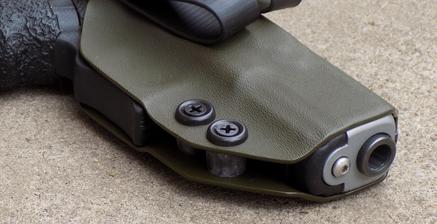 However, while your gun should definitely stay firmly in your holster when not in use, you should also be able to quickly draw it when you need it.
Concealment
Concealability depends on the holster type, shape, and material, as well as your build and the clothing you wear.
I'll mention how easy the different types of holsters generally are to conceal when I talk about them below, but you'll really have to try out a bunch of options to see what works for you.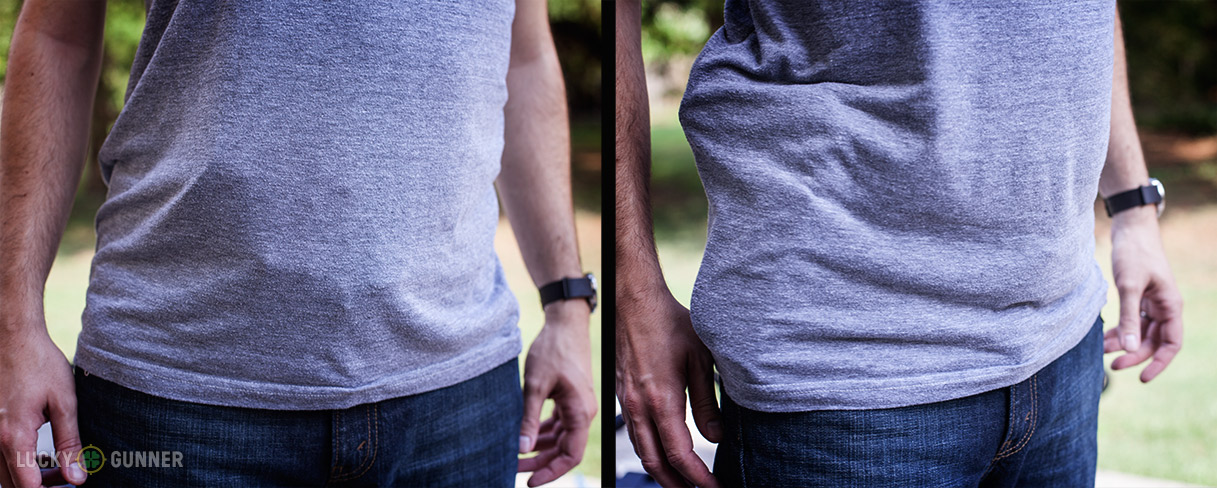 Now if you don't plan on ever concealing your weapon, this isn't necessarily a factor that you need to consider, but if you do, then you'll have a concealable holster already.
Then again, maybe you want the excuse to buy another holster. I'm not here to judge.
Trigger Coverage
Pretty much exactly what it sounds like.
Your holster should securely cover your Glock 43's trigger to prevent accidental discharge.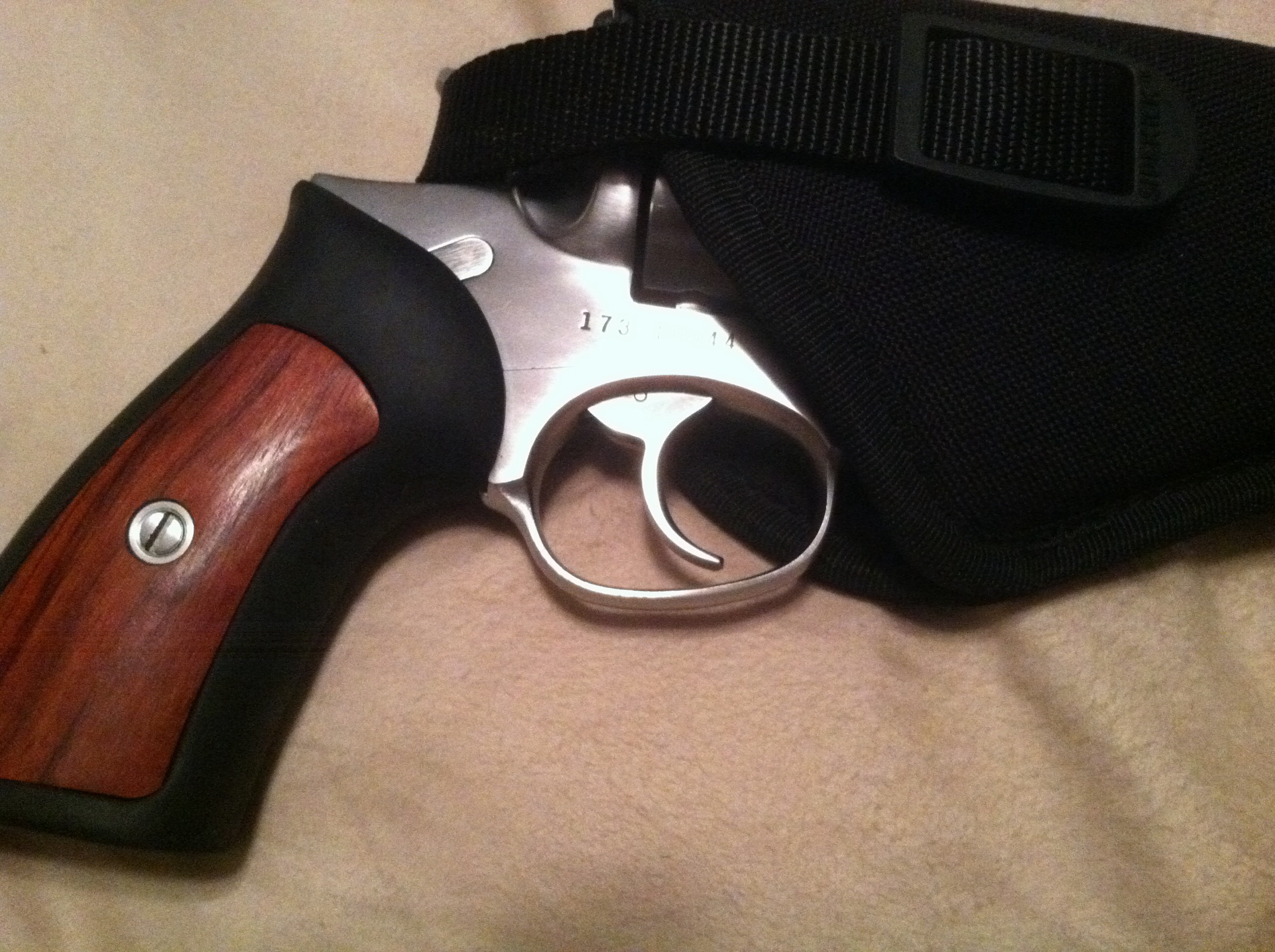 There are lots of holsters out there that don't offer adequate trigger coverage, but I genuinely don't understand why anyone would risk themselves and those around them by using them.
Just don't do it.
Positive Grip
Positive grip just means that you should be able to draw your gun, one-handed, ready to shoot with a combat grip in place.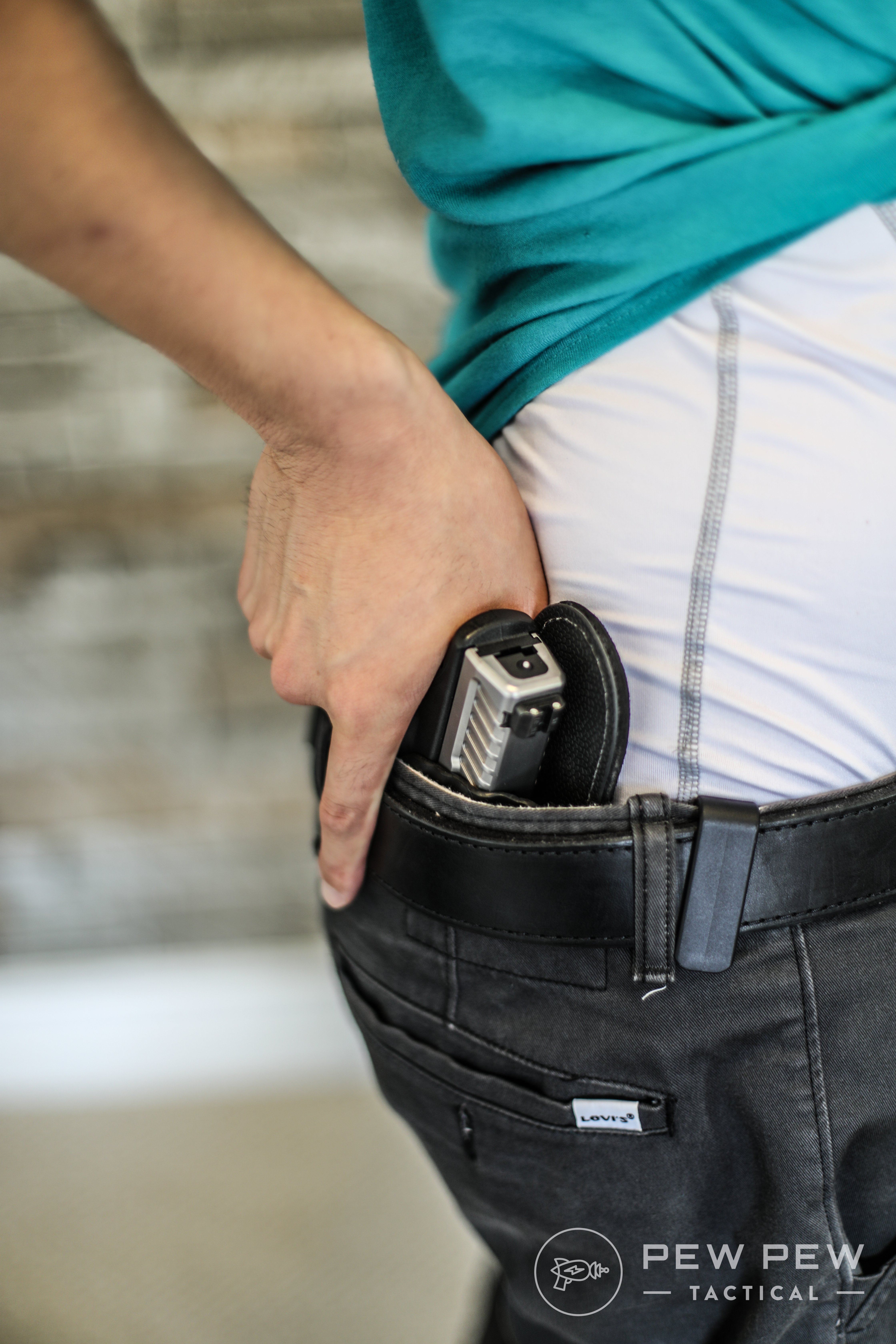 It may take some practicing to be able to do this reliably in all positions and in close quarters, but it should at least be possible with your holster.
Holster Types
Alright now that you know what to look for in a holster, let's talk about some of the categories that you can choose from.
Outside the Waistband
This is exactly what it says on the tin.
Outside the waistband, or OWB, holsters attach to your belt and rest outside of your waistband. Duh.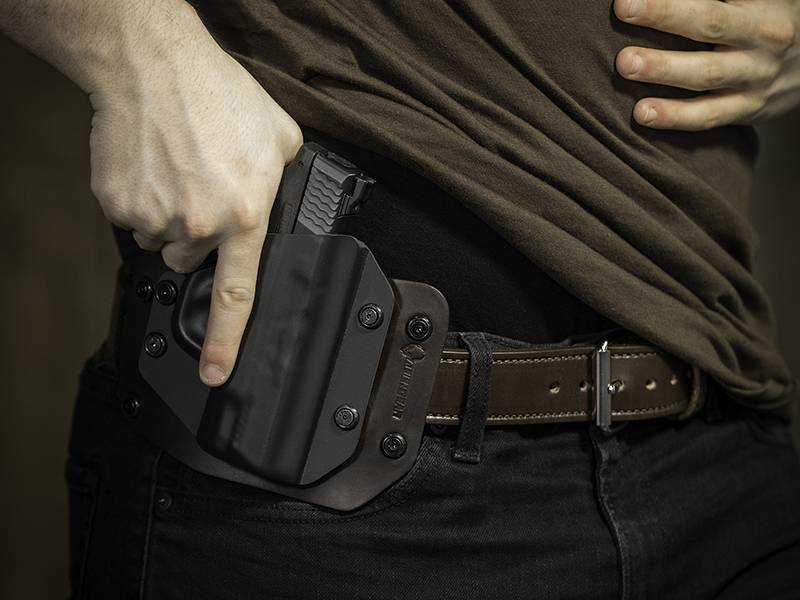 This style is particularly common in tv shows and movies because it's easily filmed, but in real life, it's not so popular.
While OWB holsters are one of the more comfortable holster types and keep your firearm in any easy to access position, they print (make a visible bulge in your clothing) easily, so they're difficult to conceal. With a subcompact pistol like the Glock 43, this isn't as significant as it is with bigger guns, but it definitely still happens.
Inside the Waistband
You can probably guess what these holsters are like.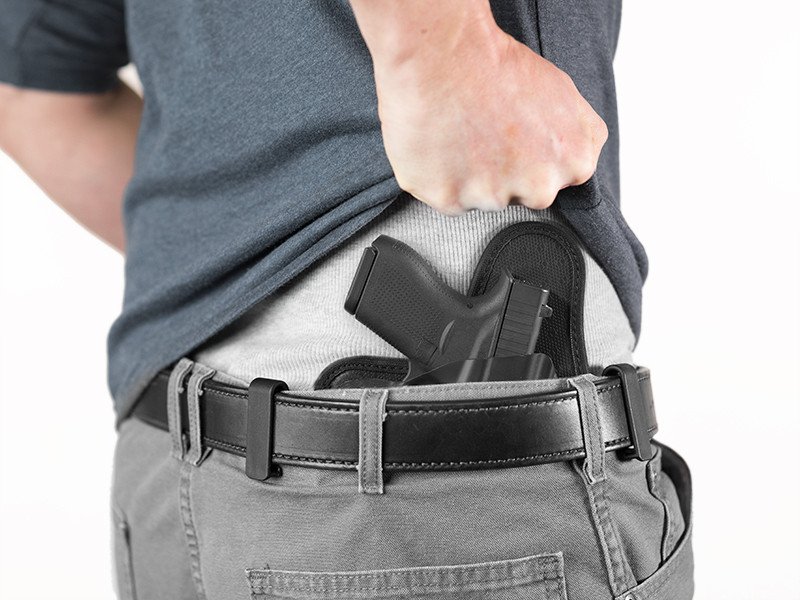 These holsters attach to your waistband and fit inside your pants or skirt or whatever other visible apparel you choose to cover your bottom half.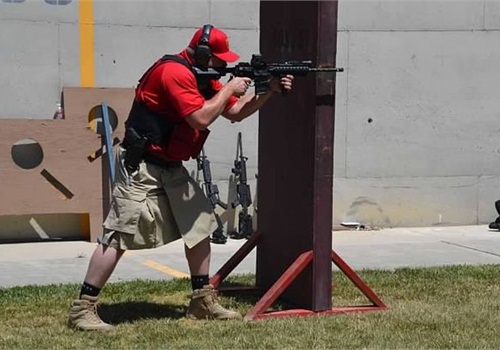 IWB holsters are probably the most popular choice for concealed carry because they don't print as much as other holsters. On the other hand, it takes more practice to get a positive grip each time you go to draw your pistol and they can be uncomfortable, especially if worn without an undershirt.
Shoulder
If you've ever watched a spy flick or police procedural then you've seen a shoulder holster.
They look badass and are actually popular among plainclothes law enforcement officers, but they're a bit of a mixed bag for most of us civilians.
They conceal well when worn over a shirt and under a jacket, but obviously only as long as you keep your jacket on.
You can also wear them under a loose shirt and it conceals well enough, but since the holster itself sits against your ribs, it can be difficult to get to your weapon quickly, especially with a tucked in shirt.
Muzzling is also an issue while wearing most shoulder holsters, which position the gun so that it's pointing directly behind you, and it's difficult to draw from a shoulder holster without accidentally muzzling bystanders.
Ankle
Ankle holsters aren't a popular first choice for a primary weapon, but many people who carry a backup gun carry theirs in an ankle holster.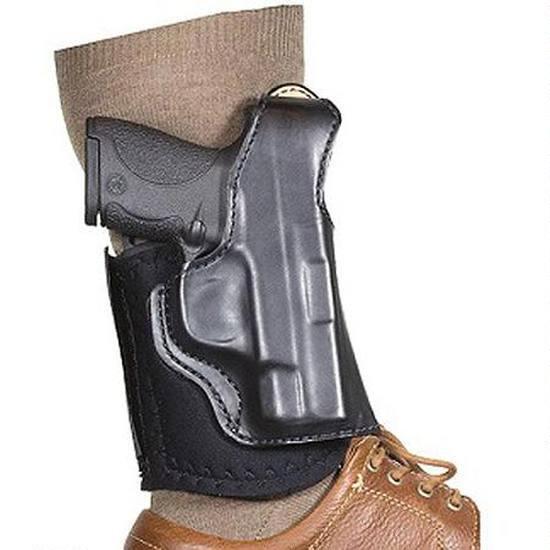 Ankle holsters tend to be uncomfortable, especially if you have hairy legs, and guns in ankle holsters can be difficult to access.
Women-Specific Holsters
While women can absolutely carry any of the holster types above, there are also holster types that are particularly designed for women, like thigh holsters, purses with holsters built in, and holsters designed to be switched between bags.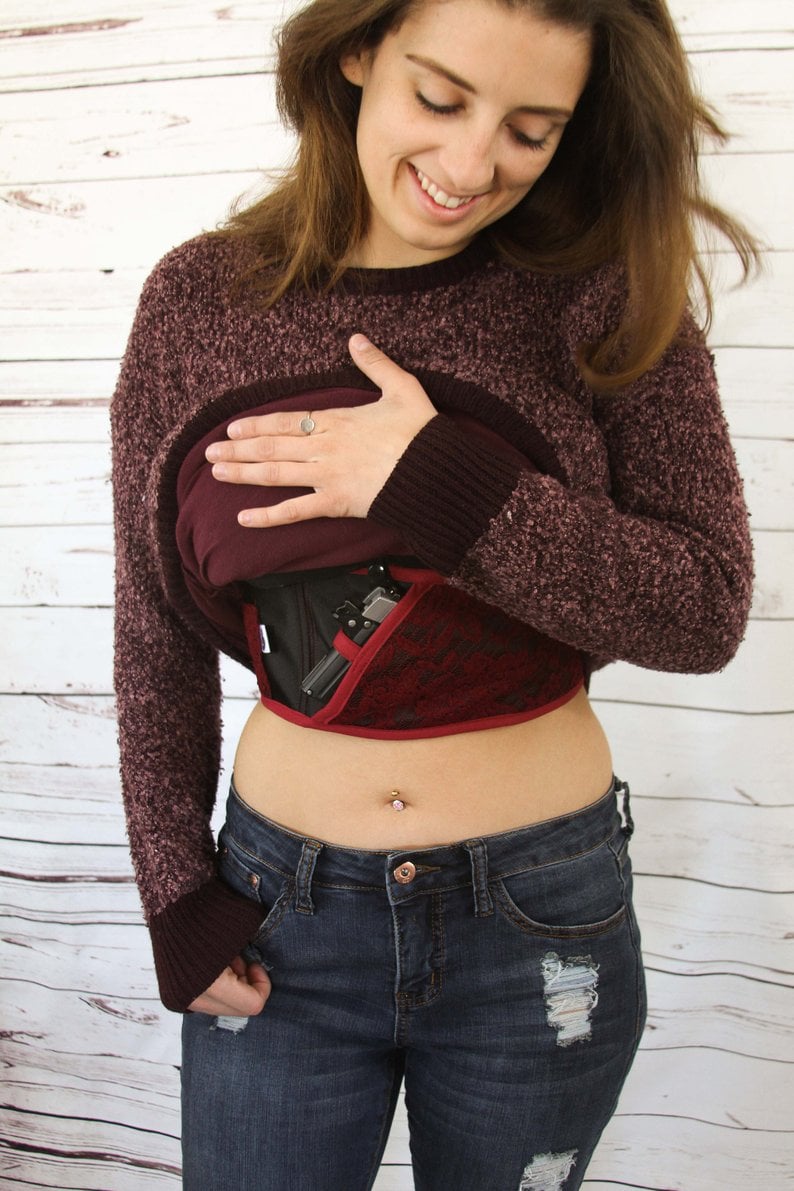 There are also holsters in each of the categories above that are designed particularly for women. Sometimes this can be an advantage since holsters are typically designed with men's bodies in mind and therefore may not be as comfortable and functional on women.
Best Glock 43 Holster Recommendations
Now, the part you're really here for: our top recommendations on holsters for your Glock 43!
You've been patient enough, so let's get down to it.
OWB Holster Recommendations
If you want an OWB holster with a classic look, you can't beat this beautiful leather one from Azula, available in both black and brown.
45
at Amazon
Prices accurate at time of writing
Prices accurate at time of writing
It's a pancake holster, meaning that it's made from two attached pieces of leather with a space molded to fit the gun in between. The soft leather will protect your gun from dings and scratches, while taking on a patina of its own.
This Alien Gear holster offers incredible versatility.
50
at Amazon
Prices accurate at time of writing
Prices accurate at time of writing
The holster comes configured as a paddle holster, but the paddle can be detached and swapped out for the belt slide that also comes with the holster.
The holster's retention level and cant are both adjustable, allowing you to position your Glock 43 just the way you want it.
IWB Holster Recommendations
The Cloak Tuck 3.5 holster is another excellent, highly adjustable holster option from Alien Gear, with adjustable cant, retention level, and ride height.
Best Value (IWB)
51
at Amazon
Prices accurate at time of writing
Prices accurate at time of writing
A neoprene panel on the back of the Kydex holster makes it more comfortable to wear while simultaneously keeping your gun safe from bumps and scratches.
What's your take on the Cloak Tuck 3.5?
It's Hidden, It's Hybrid! This became our catchphrase around the office while we were testing the HH holsters because it's true. They are also comfy, but we couldn't think of a fun way to add that to the catchphrase.
Amish leather backing with a Kydex shell for your weapon, these holsters deliver on everything you need.
70
at Hidden Hybrid Holsters
Prices accurate at time of writing
Prices accurate at time of writing
Great retention, comfy, long-lasting. We've been very happy with every kind we've tried and we've tried… a LOT.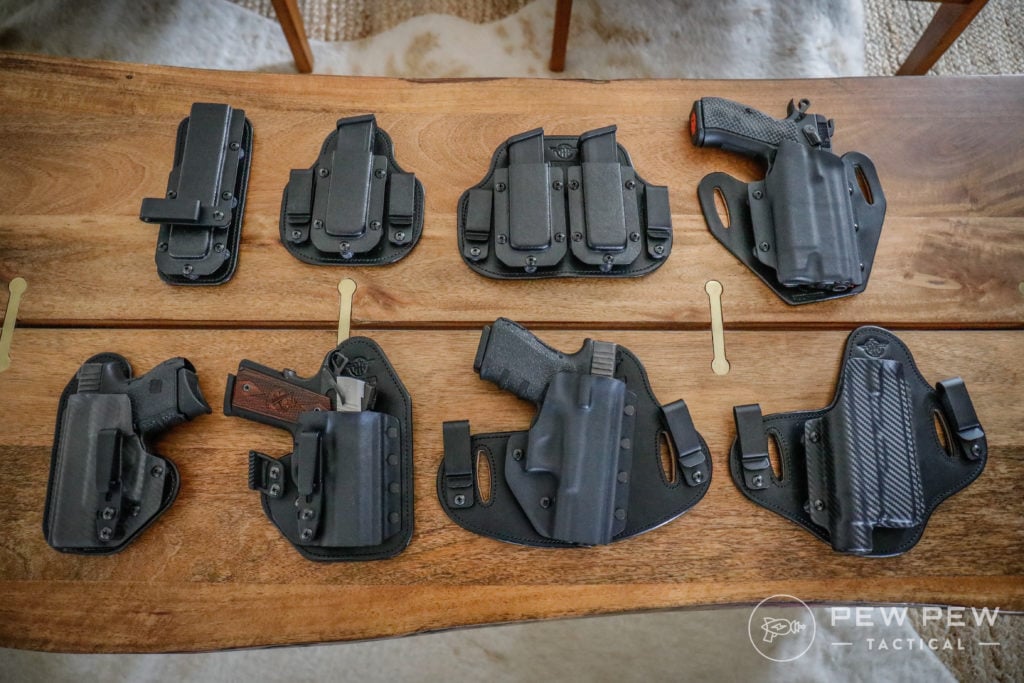 For the Glock G43 this is one of the perfect holsters. If you want to go even further with your hybrid load out — you can also grab some magazine holders!
35
at Hidden Hybrid Holsters
Prices accurate at time of writing
Prices accurate at time of writing
You'll see this holster recommended across the Pew Pew Tactical website because we pretty much all agree that it's one of the best, if not the best, no-frills holster out there.
The holster keeps your Glock 43 well protected and securely in place with durable Kydex construction, but it's also very comfortable, has a low profile, and is super lightweight.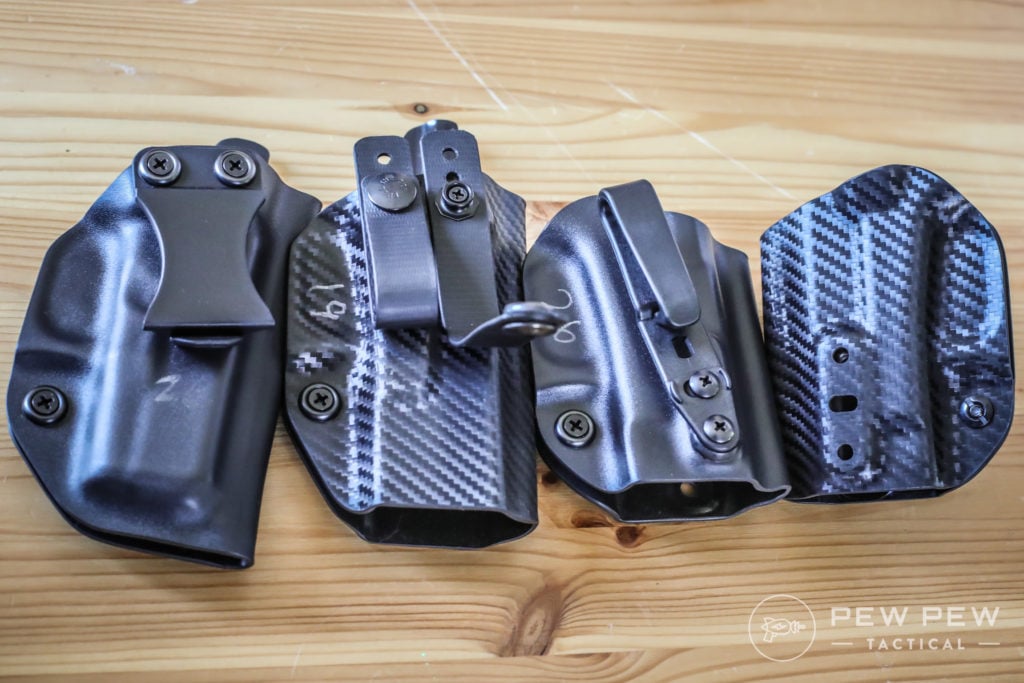 Gets It Done (IWB)
37
at Concealment Express
Prices accurate at time of writing
Prices accurate at time of writing
What's your take on the Concealment Express?
Shoulder Holster Recommendations
If you want to feel like a character from an action movie, this is the holster to go with.
84
at Amazon
Prices accurate at time of writing
Prices accurate at time of writing
The quality leather just oozes classic appeal.
It's available in configurations for both right- and left-handed shooters, and the holster stays well-balanced thanks to a mag holster and gear loop on the side across from the gun.
This holster is lightweight, comfortable, and adjustable enough to fit just about any shooter and gun.
27
at Amazon
Prices accurate at time of writing
Prices accurate at time of writing
It's made of nylon, so it's waterproof and plenty durable enough for just about anything you could reasonably throw at it. It also has two extra pouches, perfect for a magazine or EDC flashlight.
The shoulders are padded to make them more comfortable but they aren't bulky, the straps are adjustable, and included velcro belt clips and a clip behind the shoulders helps keep weight balanced and the holster in place.
Ankle Holster Recommendations
Despite the name, these ankle holsters are actually elastic sleeves that fit around your ankle rather than socks–and they come in styles for both men and women.
40
at Femme Fatale
Prices accurate at time of writing
Prices accurate at time of writing
They have a 5" gun pocket, perfectly sized for a Glock 43, and can be purchased with or without a retention strap.
The material is soft and breathable and a plastic shield lines the inside of the gun pocket to prevent your pistol from rubbing against your leg.
Ankle SoxXx come in black, white, and tan to help them blend with whatever clothing you wear them with.
I prefer the comfort of Femme Fatale Ankle SoxXx, especially for a subcompact like the Glock 43, but if you'd like something that feels more secure, Uncle Mike's Nylon Ankle Holster is another excellent option.
30
at Amazon
Prices accurate at time of writing
Prices accurate at time of writing
The padded, wrap around, velcro adjustable style and elastic calf garter allow the holster to fit comfortably and securely on pretty much any leg.
The one criticism: the retention strap secures with velcro, which can alert an attacker to your location.
Women Specific Holsters
Garter holsters get a bad rap for slipping, but you don't have to worry about that with this one.
59
at Amazon
Prices accurate at time of writing
Prices accurate at time of writing
The Can Can Concealment Classic Garter Holster is made from military grade compression elastic, with hypoallergenic non-slip Tacti-Grip further making sure it stays firmly in place. And if you still want more assurance, you can use the built-in garter belt attachment loops to attach the holster to the Can Can Concealment Garter Belt.
You can fit two firearms and a spare mag in this garter, so your backups are just as accessible as your primary weapon. Rare earth metal magnets keep everything in place.
And the holster comes in four different sizes, each with three rows of hook and eye closures, and Can Can Concealment sells extensions for the holster, so you're sure to be able to get a fit that works for you.
Last on my list is the CrossBreed Purse Defender.
50
at CrossBreed
Prices accurate at time of writing
Prices accurate at time of writing
Now, I don't like off body carry, because keeping up with a purse is inconvenient enough without the added responsibility of keeping constant control of a firearm, but if I did purse carry, this is the only holster that I would use.
For starters, most CCW purses are less than attractive and they're often pricey, especially if you want different bag options and have to buy several.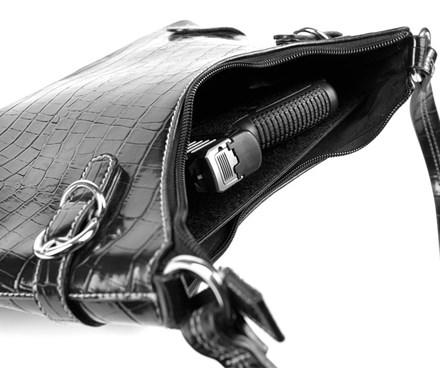 This holster takes care of that issue, because you can place it in just about any bag you want and easily transfer it between them, making any purse a concealed carry purse. Including that favorite one that you already have.
Conclusion
I usually like to end these kinds of articles with recommendations about which thing is best for what purpose, but with so many different holsters and each person's unique life, I can't really do that here.
So instead, I'm going to give you some advice that applies no matter which holster you go with:
Don't rush buying your holster. Try out several so that you know what you like and what you don't and are able to choose a holster that really fits your wants and needs.
Then, before relying on your holster of choice for EDC, make sure that you spend plenty of time drilling with it. Learn all the little tricks to it and establish muscle memory so that you know that you can quickly and easily get to your weapon when you really need to.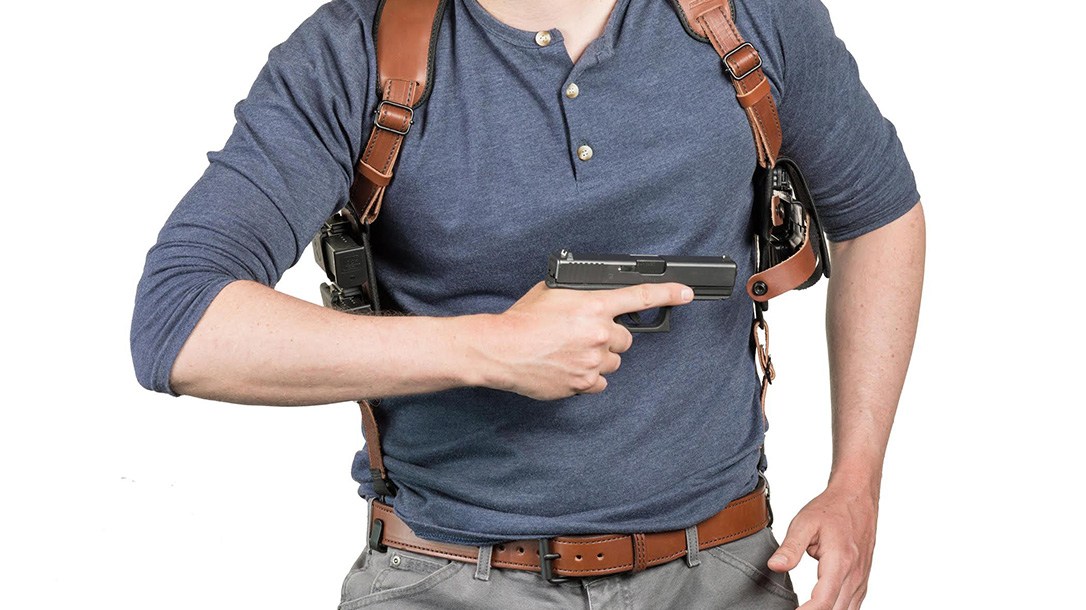 Do you have any advice that you'd like to add? Do you have any questions about selecting a holster for your Glock 43? Share your thoughts in the comments. Thinking about concealed carry? Don't miss our reviews on the best concealed carry holsters!