Done with AR-15's and ready to upgrade to big boy .308 AR-10's?
But be ready…with great power comes great responsibility.  Or at least a smaller wallet!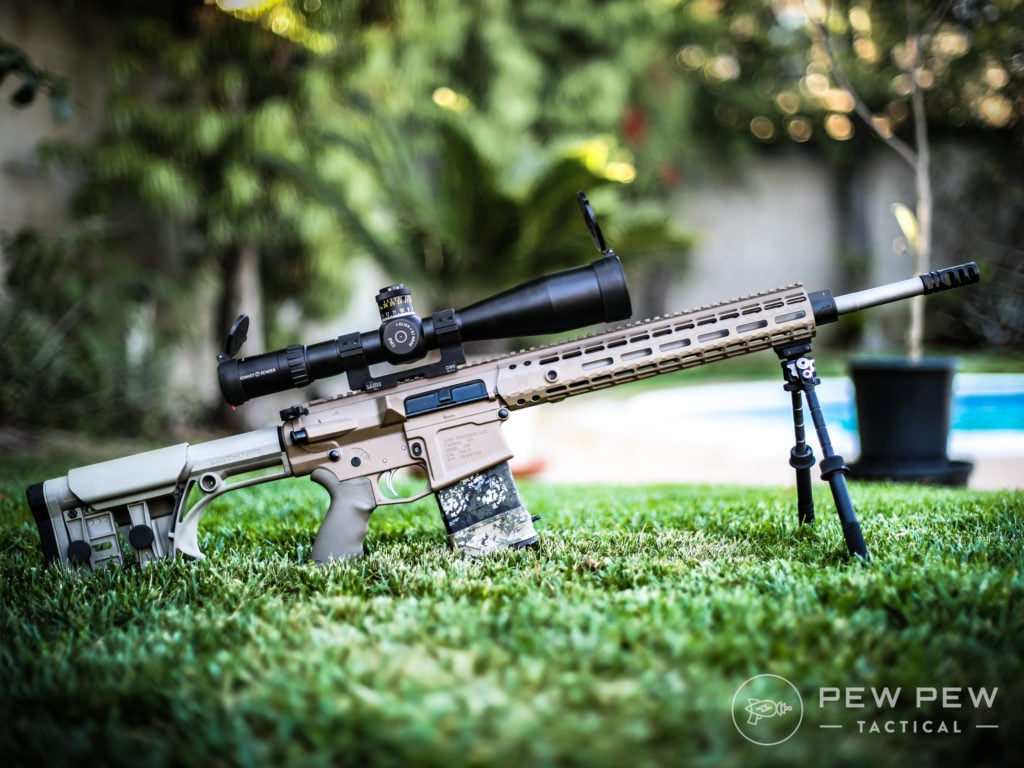 Aero Precision hit a homerun for me with their .223 M4E1 (review) so I had to get my hands on one of their complete .308 AR-10 style offerings.
So follow me as I walk through their M5E1 in terms of fit, feel, upgrades, and most importantly…accuracy & reliability.
Aero's Take on the .308 AR-10 Platform
The world of AR-10's is a lot more confusing than AR-15's since many manufacturers' parts do not play nicely with each other.  So I heavily recommend sticking with one maker…at least for the upper, lower, and lower parts kits.
Without further ado…
The full rifle I got was the M5E1 18″ Stainless Barrel ($1500-1800).
I knew from the get-go that I would change a bunch of stuff so I opted out of the complete rifle set.  But they have a pretty good setup with the Magpul PRS buttstock & grip.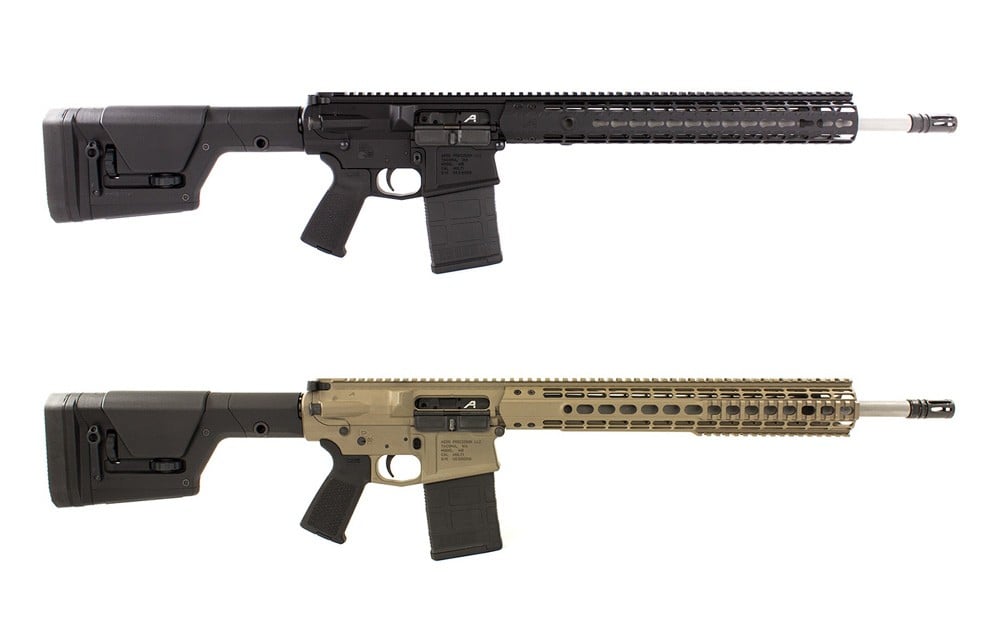 For me…I went with the Aero complete upper in 18″ stainless steel (M-Lok of course).  I feel 18″ is the perfect length for .308 while stainless steel gives the possible accuracy boost (plus I like the contrast).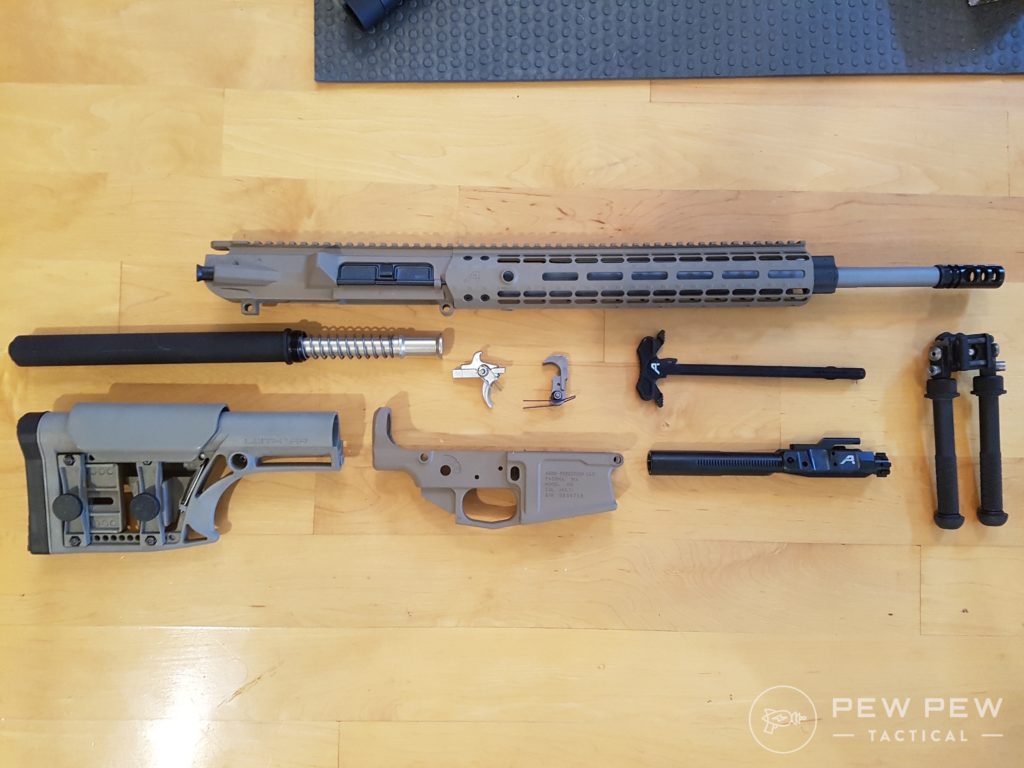 I paired it with the following:
Not shown (since I was still deciding):
Who Is It For?
The M5E1 .308 is for someone who is familiar with the AR-15 but wants something with a bit more oomph and range.
But be ready for the added expenses to…everything.  From ammo to scopes to rifle…you're going to be paying a lot more than AR-15 prices.
Fit & Feel
I don't know what else to say…it is dead sexy.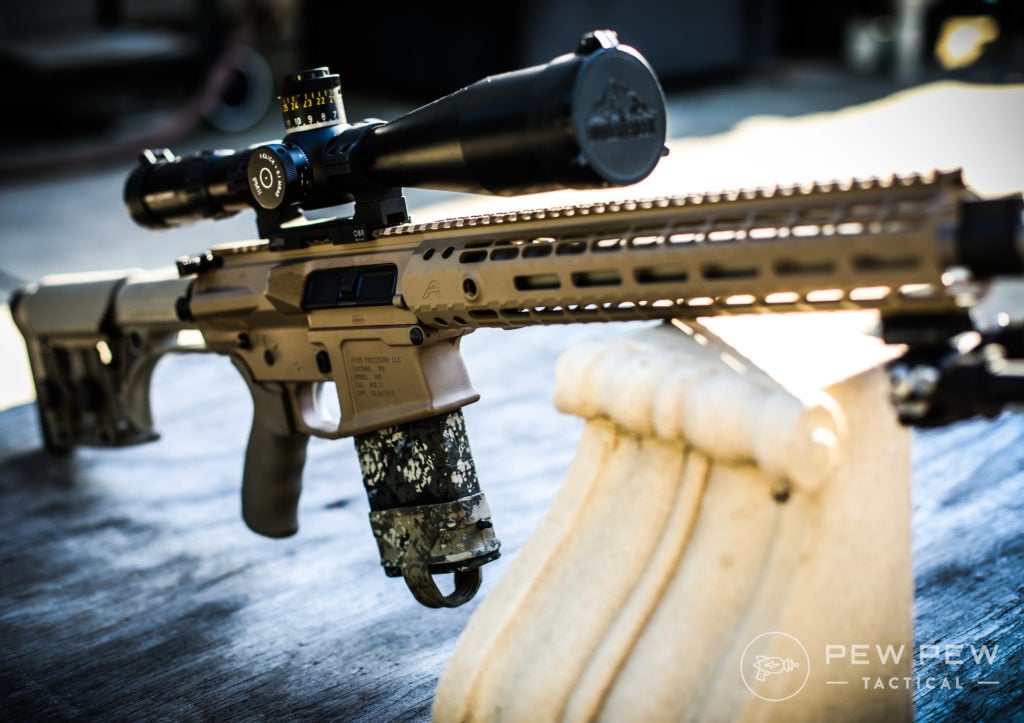 I love the more aggressive lines on the upper receiver and the new rail feels very solid in the hand.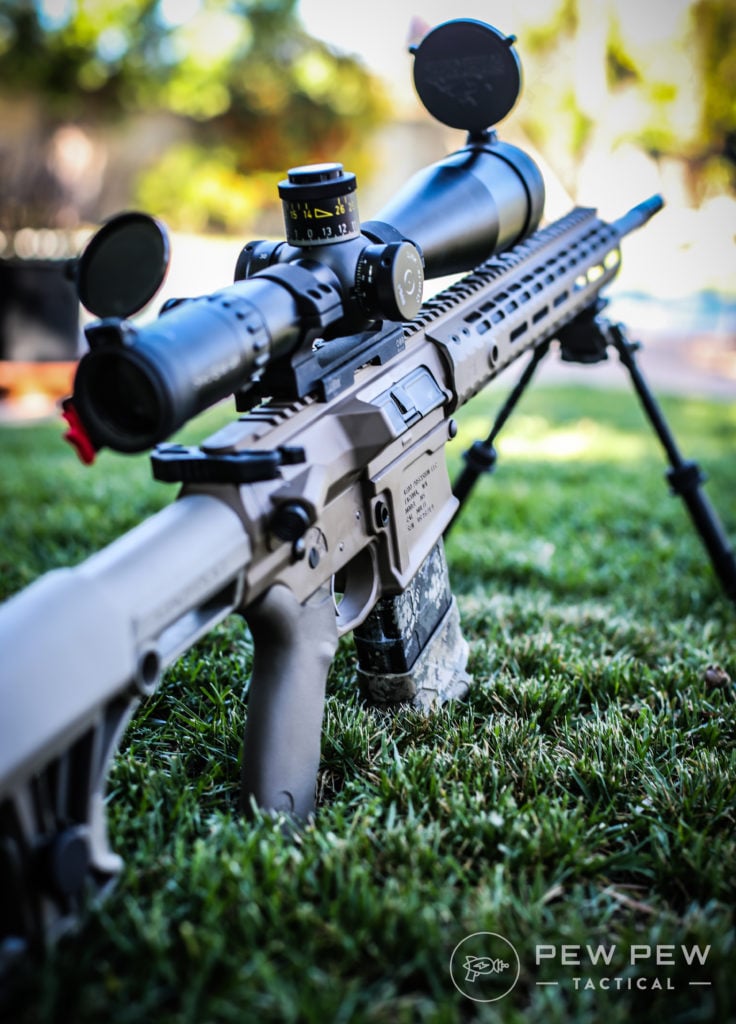 I didn't particularly like the Luth Stock ($140) since it rattled around a little bit.  But it's a good budget choice with plenty of adjustment options instead of opting for the Magpul PRS ($240).
The Ergo Grip was a pleasant surprise…it's for someone who likes a thinner profile and additional grip with a rubberized texture.
Before I forget…putting together the .308 Stripped Lower was much easier than a normal AR-15 lower assembly thanks to Aero adding in some nifty options like a threaded bolt catch and rear detent hole.  No more razor blades, flying parts, and cursing.
How Does it Shoot?
My other .308's have been temperamental with ammo so I made sure to get a wide variety…from surplus to expensive match ammo…and all the bullet weights I could find.
I quickly wiped everything down, cleaned the barrel, and lubed all the important bits.  And off to the range I went…3x in total.
Accuracy Tests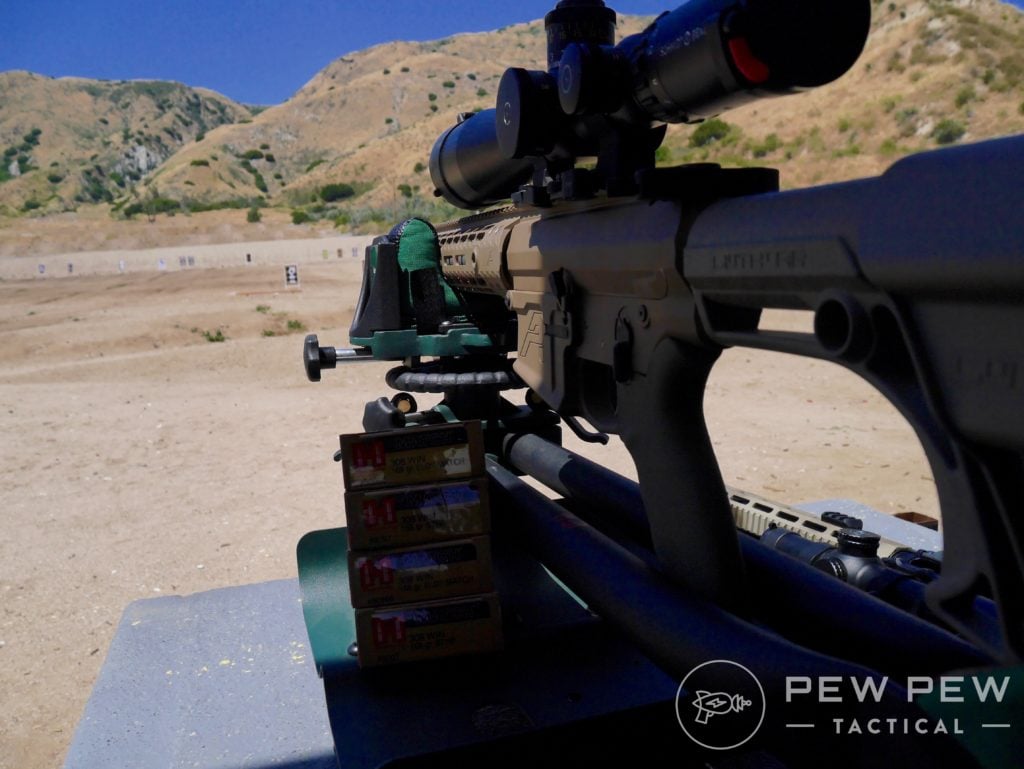 Again, I went with my hardcore lead sled and overkill scope to make sure I took as much human element out as possible.  I also upgraded the trigger to the ALG ACT which still maintains the reliability of mil-spec but makes it crisper and lowers the weight to 5lb.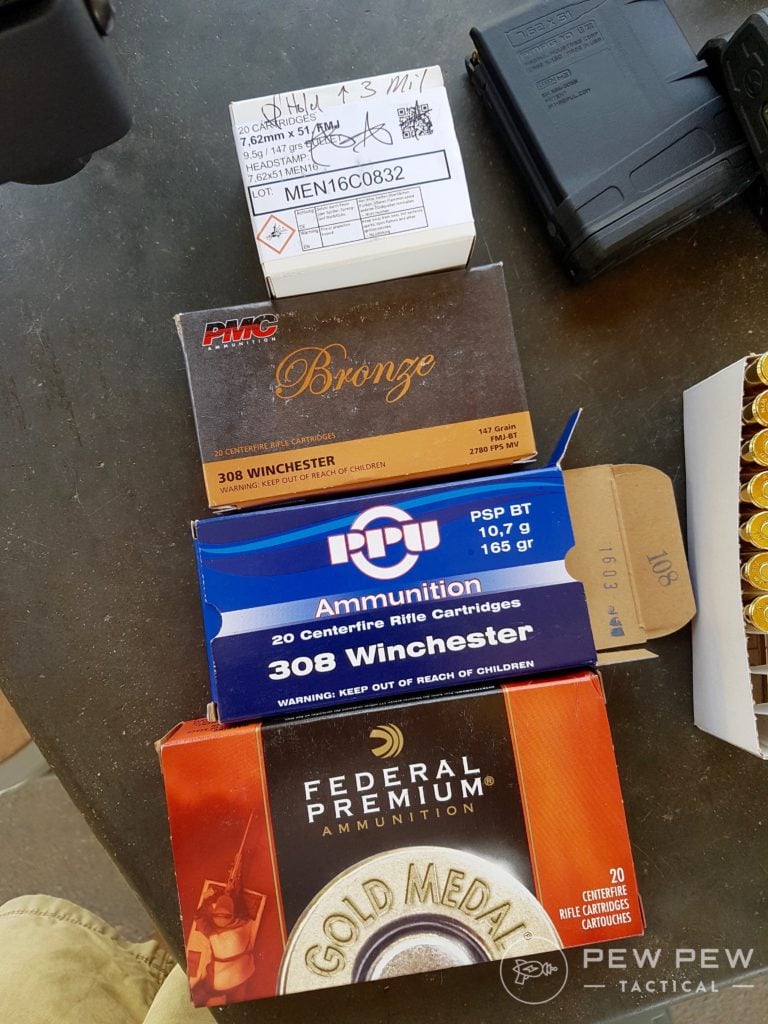 Here was the first batch of shooting…from the cheapest stuff I could find to some Gold Medal:
I shot 100 rounds of the MEN ammo since it was the cheapest.  It was easy to hit 100/200/300 yard steel from bench and prone positions.  So it was definitely "minute of man" capable right out of the box.
How about group shooting?  I shot each with 5 rounds at around a 10 sec/shot pace.  5 min barrel cooldown between each group.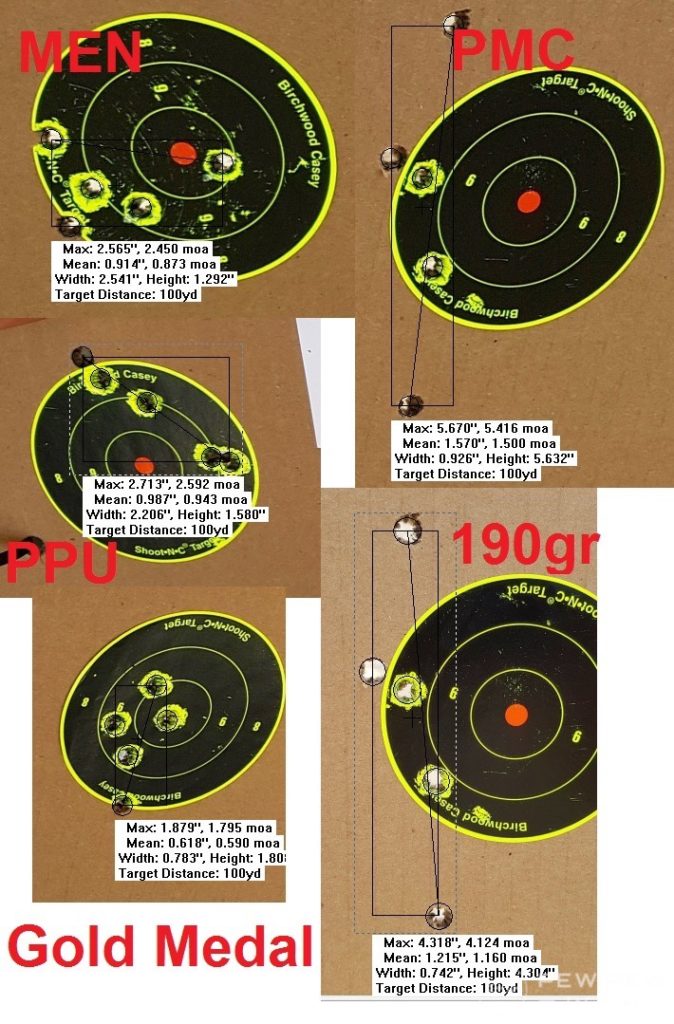 I was a little saddened…here's what showed up:
MEN 147 gr: 2.45 MOA
PMC 147 gr: 5.42 MOA
PPU 165 gr: 2.60 MOA
Gold Medal 168 gr: 1.76 MOA (best of the day)
190 gr: 4.12 MOA
I emailed Aero and got a response back in about a day…that my groups were correct for the ammo that I was shooting.  Which was probably a nice way to say stop shooting crappy ammo.
They further recommended some of their brands that shoot 1.5 MOA or less…all with a bullet weight around 168 gr.  So online shopping I went again: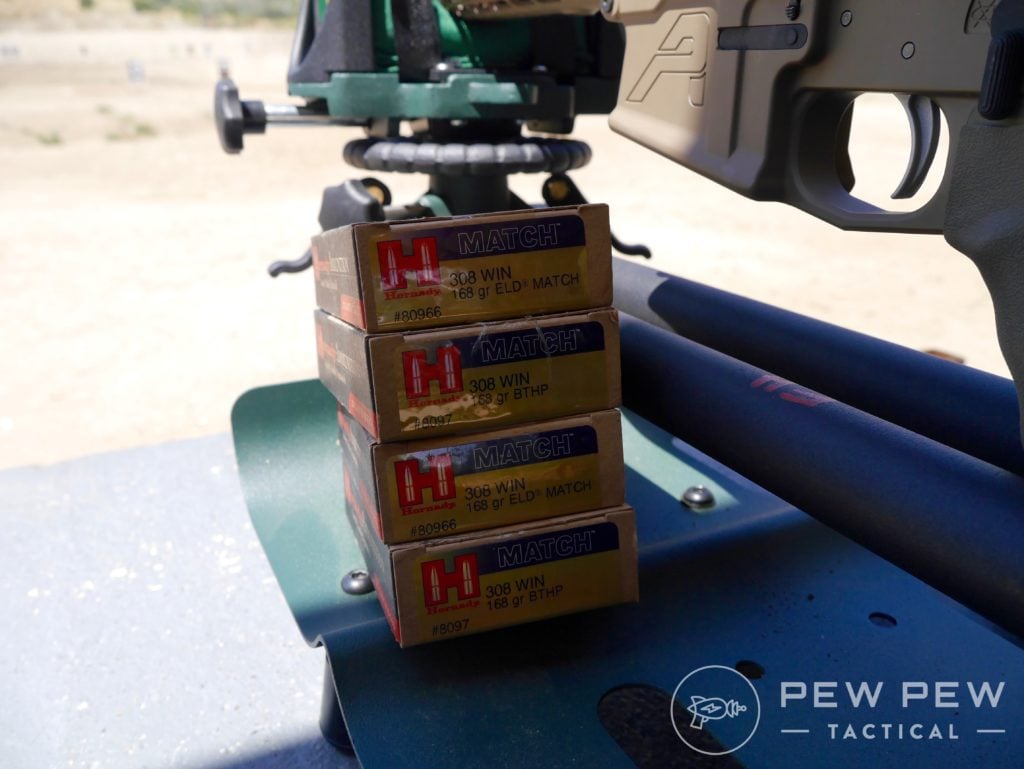 I opted with Hornady since that was their best recommendation…in both the Boat Tail Hollow Point and Ballistic Tip (ELD) varieties.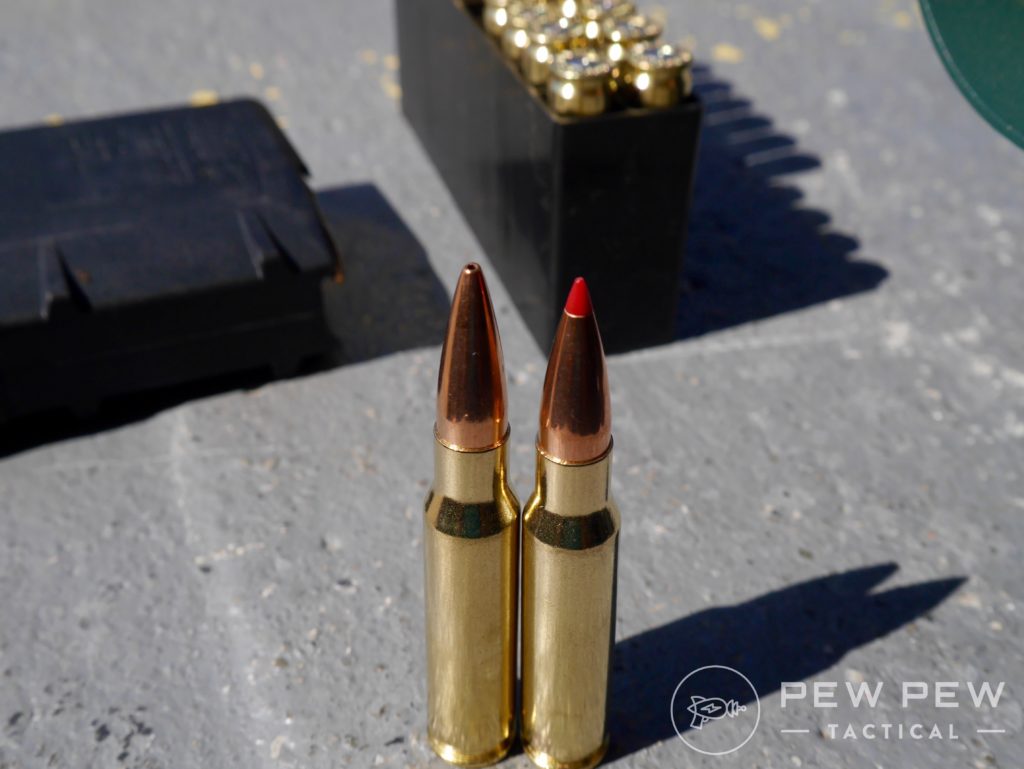 So how did they fair?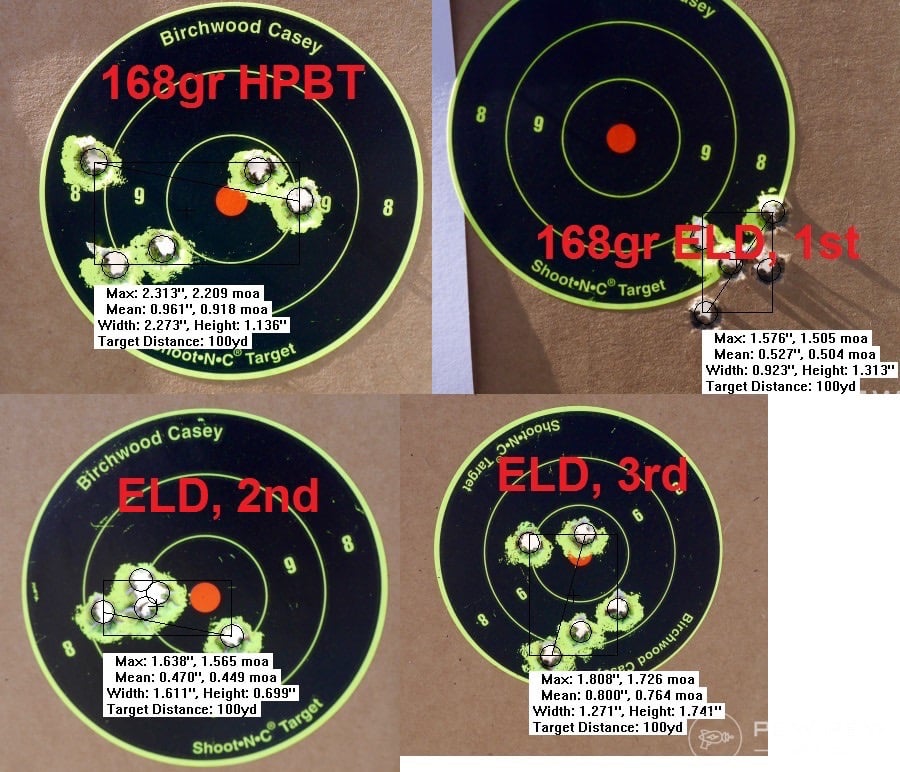 Turns out…much better.  ELD performed better than the BTHP so I did a few more groups with those:
Hornady 168 gr BTHP: 2.21 MOA
Hornady 168 gr ELD: 1.51, 1.57, 1.73 MOA
So a little over 1.5 MOA which is what I would expect at this price point.
Mrgunsngear also sees about the same accuracy with some other ammo.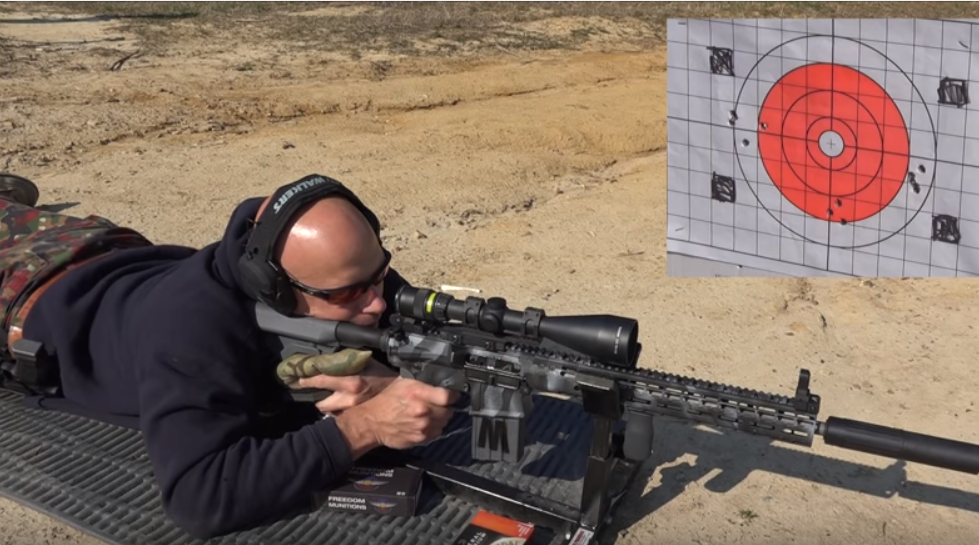 I have no doubt that if you were to start handloading you can bring it down to maybe even sub-MOA regions.  I'll be working on that in the coming months so stay tuned.
Recoil/Shootability
You're going to feel it a lot more than the AR-15.
You've got to get good placement in your shoulder and make sure your ear protection would bite against your buttstock.  But with the VG6 Gamma brake it's not too bad.
Once I took it off the lead sled and put on my final optic, my Nightforce NXS 2.5-10x ($1700), it was fun lying prone and ringing steel out to 600 yards (max for my range).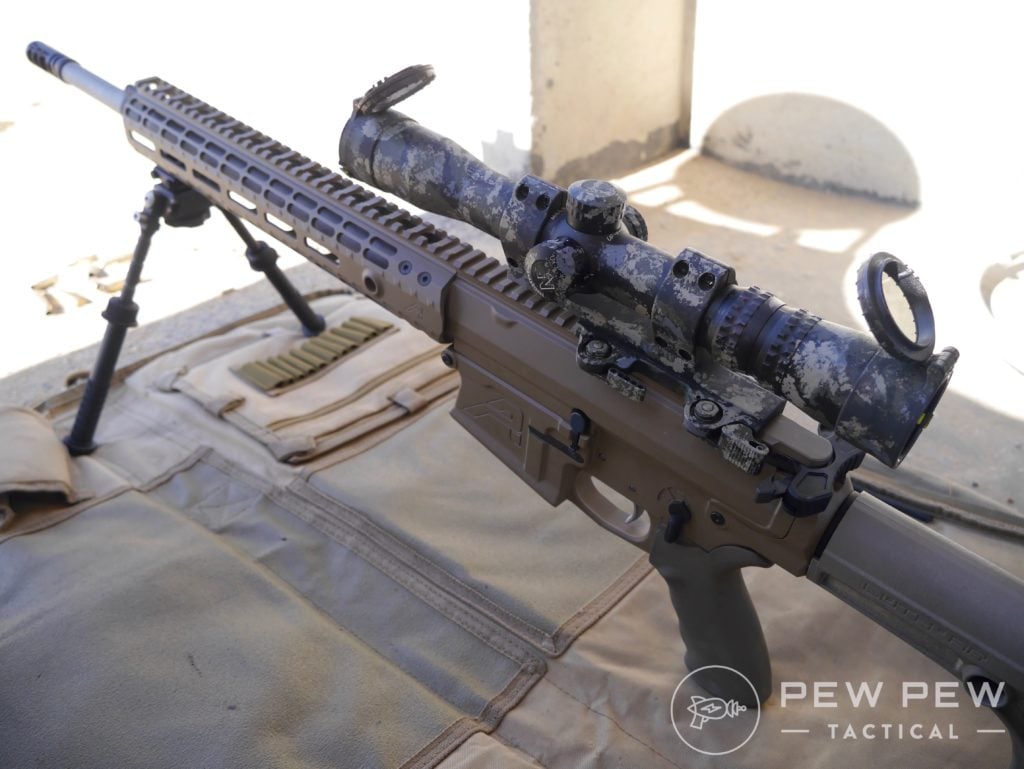 Standing offhand is still a chore since the rifle is pretty heavy (estimate of over 10 lbs)…but the brake does its job.
Need more convinving?  Check out Mrgunsngear's full review!
By the Numbers
Reliability: 5/5
No failures in the ~300 rounds I've fired.  I've been using Magpul 10 rounders ($17).
Accuracy: 4/5
You'll see up to 2.5 MOA with cheap ammo but once you start going Match…you'll see it drop to 1.5 MOA.  If you start reloading…you'll likely see much better results.  And you probably want to reload unless you're a true baller and $2 match rounds don't phase you.
Ergonomics: 4.5/5
The handguard feels great and so does the new grip…I would have opted out of the Luth buttstock and go with the Magpul PRS that Aero installs on the complete rifle.  They knew what they were doing.
Looks: 5/5
It's just so sexy!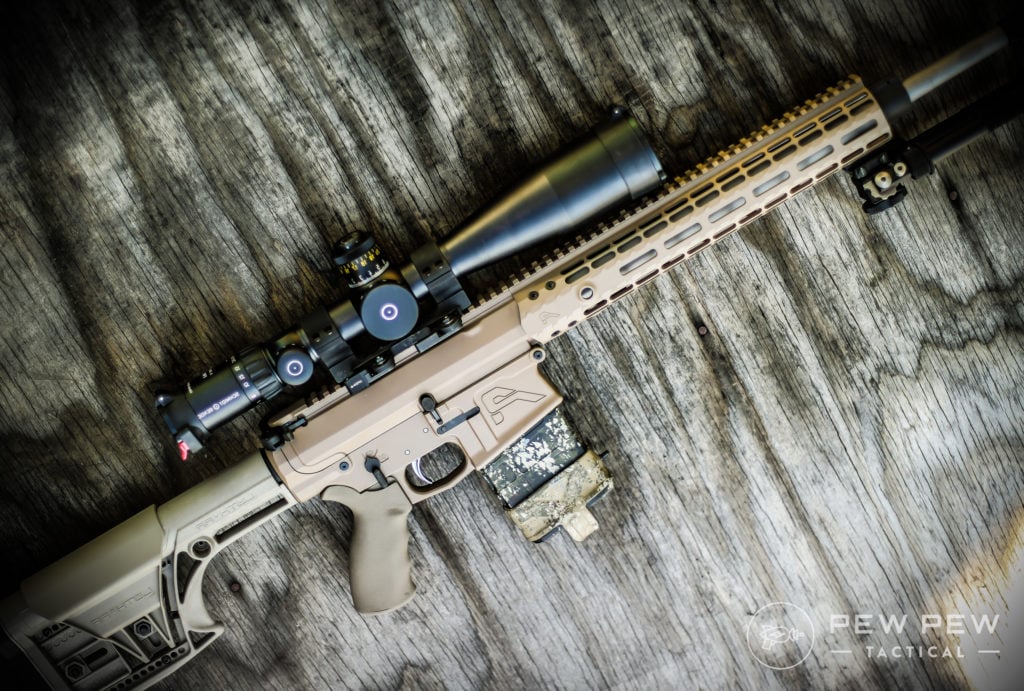 Customization: 5/5
It's basically a bigger AR-15 with M-Lok and Picatinny rails so the sky's the limit.  Check out my list of the best AR-15 upgrades if you need help.
Bang for the Buck: 4.5/5
I loved the Aero M4E1 and all their stripped uppers/lowers…the .308 M5E1 is no different.  
You get something that is great to look at, feels great in hand, shoots accurately, and is 100% reliable.
If you're looking to save…you can go down to a 16″ barrel which has always shot fine for me beforehand too.
Overall Rating: 5/5
Conclusion
If you've made the jump from AR-15 to it's big boy .308 brother…the Aero M5E1 ($1500-1800) is a great choice.  Or if you're like me and like to spec your other parts, the lower and complete upper are my top choices as well.
Want more choices?  Check out our Best AR-10s Guide.