We're always on the lookout for great AR-10s because we love 'em, and finding a good one can be tricky.
While Sig Sauer doesn't have a reputation for producing budget firearms for the cost-conscious, there is no denying that this company can manufacture some really great rifles.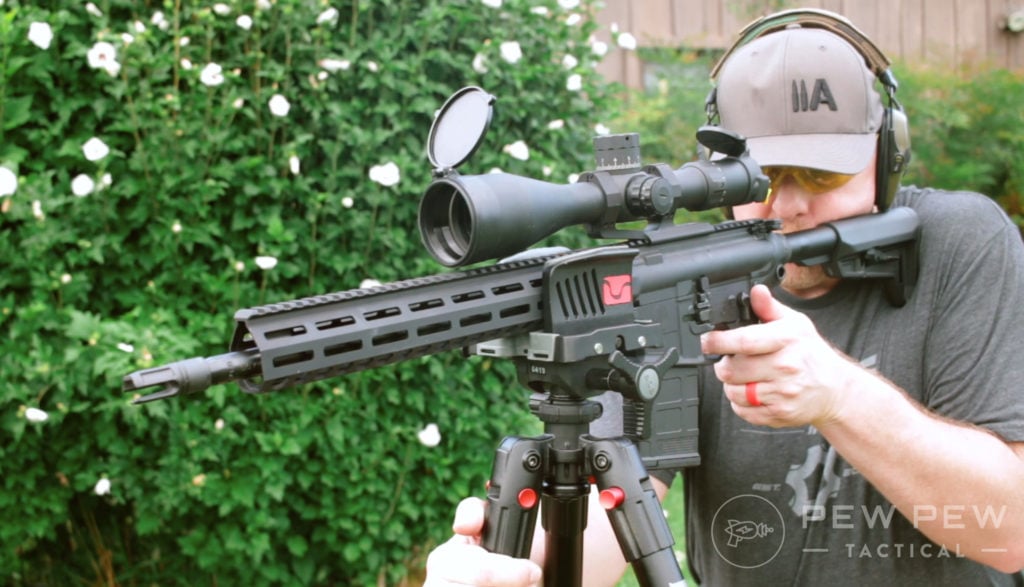 So we had to find out if the 716i Tread would live up to the Sig name with it's reduced price.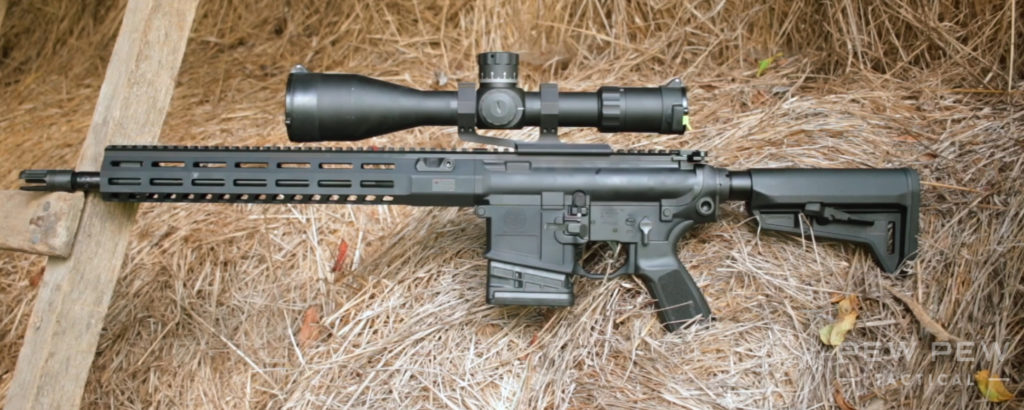 Johnny took the Sig Sauer 716i Tread out to the range and loved it so much that he won't give it back! We'll go over all the details and tell you why in this review.
Or, if you want to hear it from the man yourself, take a look at our video!
And don't forget to subscribe to the Pew Pew Tactical YouTube channel!
Table of Contents
Loading...
Sig Sauer 716i Tread Vs. 716G2
The main difference between the two Sig Sauer AR-10s is that the 716G2 is a short-stroke gas piston action while the 716i uses direct-impingement (like most AR-15s and AR-10s).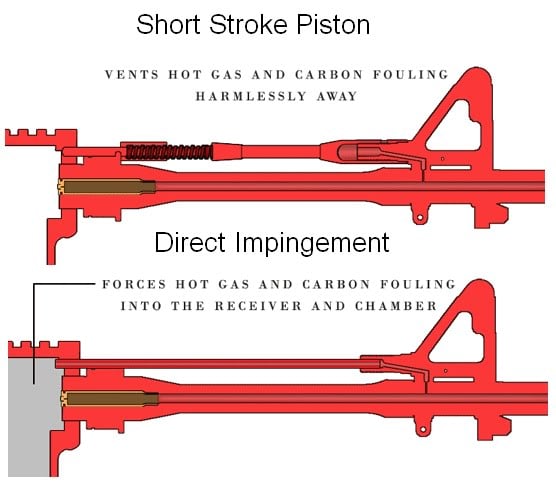 There are other minor differences, such as a different Magpul stock, slightly different Sig grip, and the 716i has a longer handguard but the same barrel length.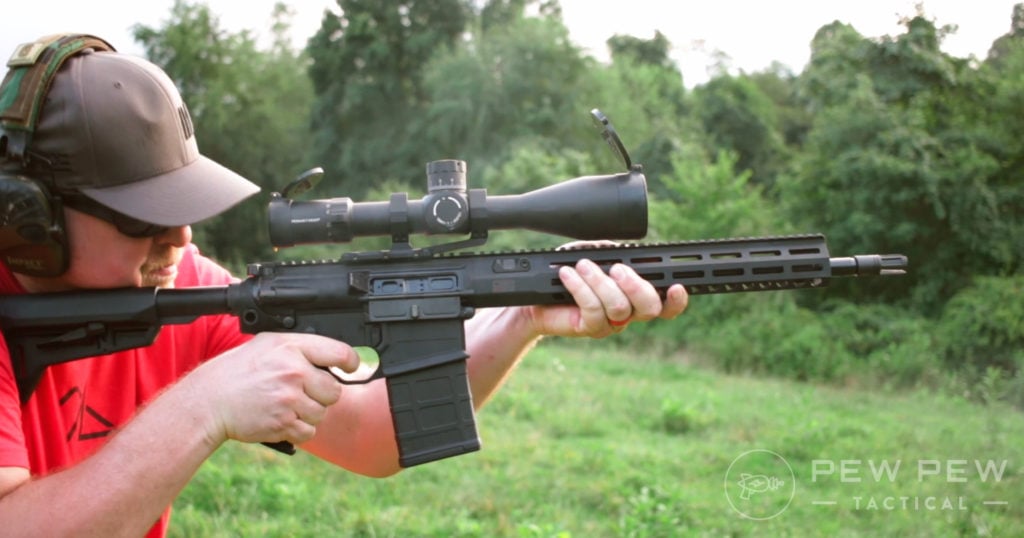 As a byproduct of being a short-stroke gas piston, the 716G2 is also a full pound heavier than the 716i.
But when it comes right down to it, the action is really the only difference that matters. Oh, and the price. You can get a 716G2 for around $1,800 and the 716i for around $1400 nowadays.
1499
at Kygunco
Prices accurate at time of writing
Prices accurate at time of writing
Specs
A spec sheet. Because y'all like that kind of thing.
Caliber: .308 Win
Barrel Length: 16-inches
Action: Semi-Auto
Gas System: Direct Impingement
Stock: Magpul
Trigger Type: Single Stage
Twist Rate: 1-10
OAL: 37-inches
Weight: 8.5 lbs.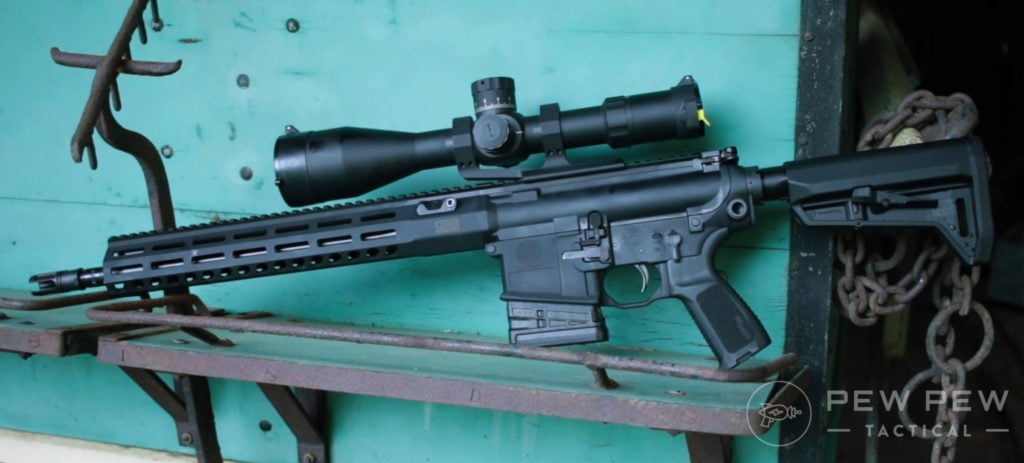 Range Report
Ya, the rifle ran flawlessly. The end.
Okay, okay! I'll elaborate. Not only did it run exquisitely, it was also gassed from the factory perfectly, the Ambi-controls are awesome, and it was a REAL nail driver!
The first and second groups out of this rifle were outstanding, even with Johnny shooting!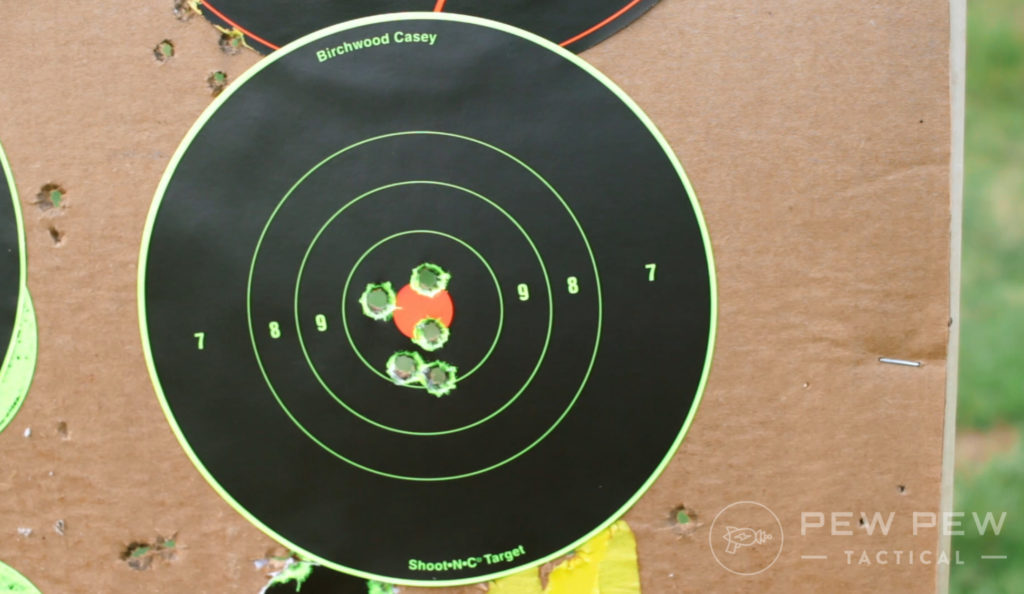 Shooting off a Deathgrip Tripod and from the shoulder, this rifle is just nice to shoot.
Gas System
DI is the classic gas system used in the AR-10 and the AR-15. It's also a system that is often over gassed to improve reliability. More gas = more oomph to make the system work.
One of the big complaints we've had with a few AR-10s is that they are waaay over-gassed. To the point of being annoying to shoot!
But Sig nailed it with the 716i. This rifle is perfectly gassed right out of the cardboard box it came in.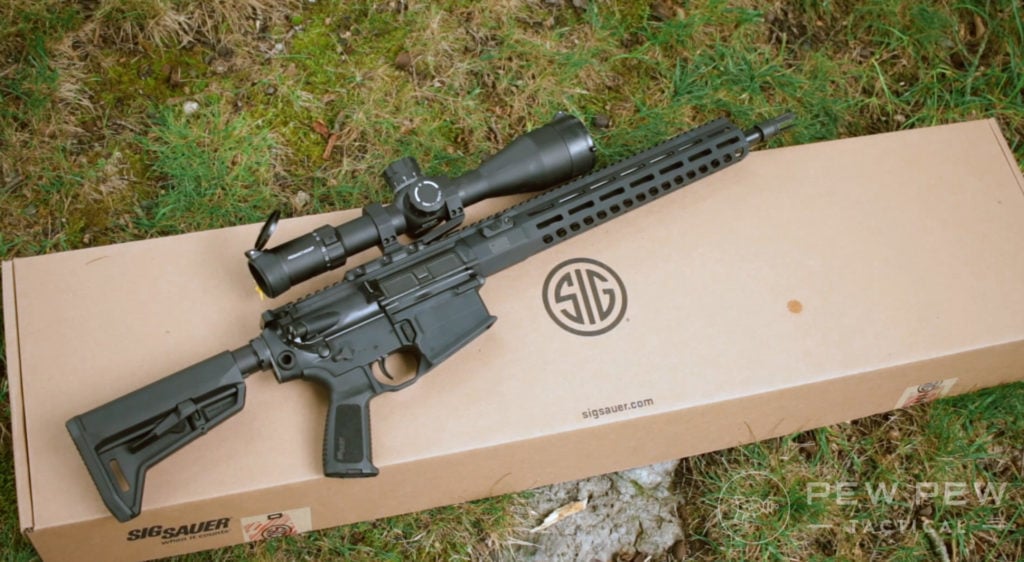 Controls
Ambi-controls on a "budget" rifle is really nice to see. It's not the end of the world if you don't have them, but what a great feature to include on the Sig Sauer 716i Tread.
That said, the 716i isn't perfectly Ambi. It comes with an Ambi-safety and mag release, but the bolt release/hold open and charging handle is left side only.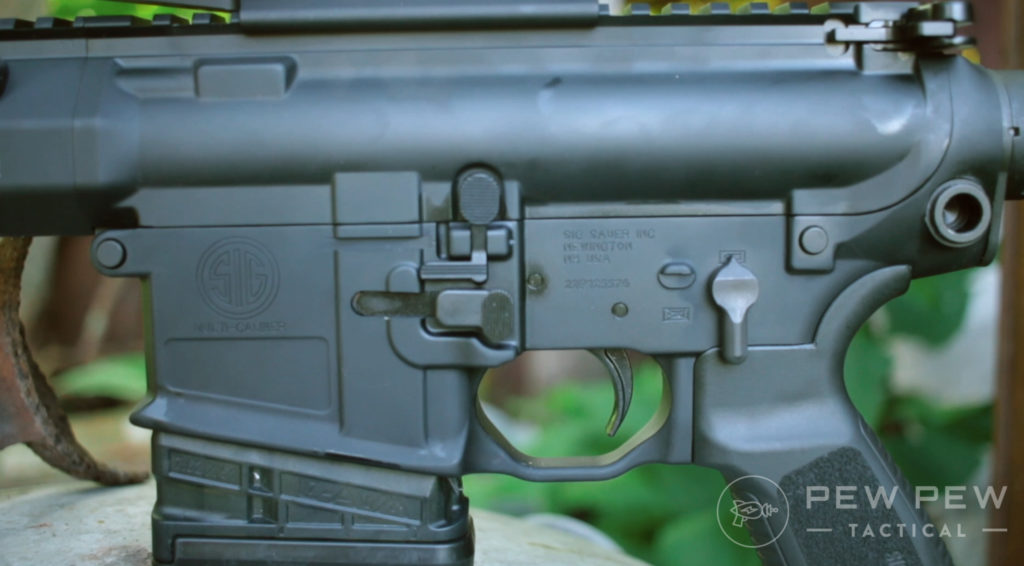 Since Sig designed these controls, you can expect high-end quality. The safety is crisp, the Sig grip is very Sig-like, and the trigger is clean if a bit milspecy.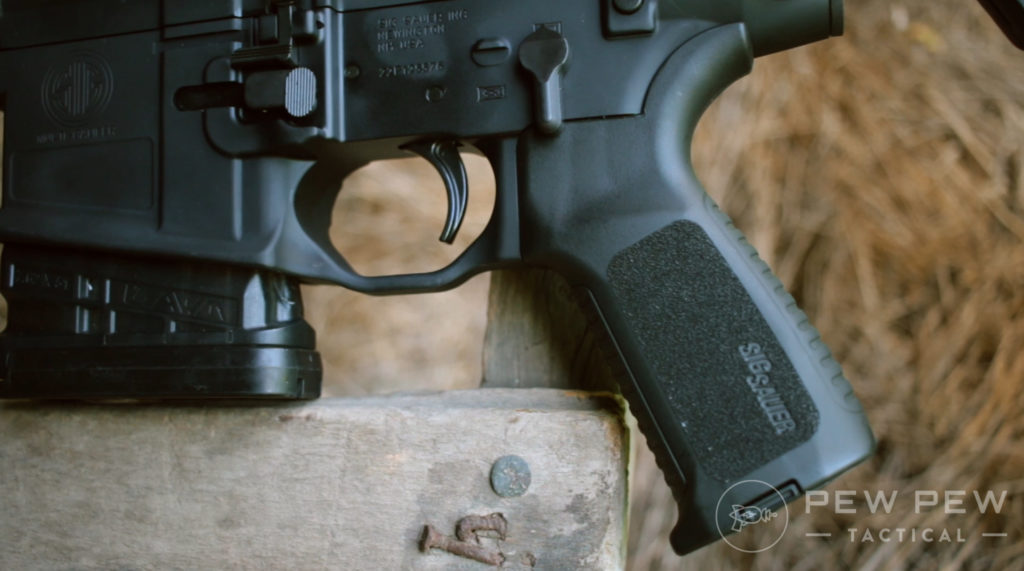 If you've shot a P365, the grip is kind of like that but bigger and fills the hand well.
Scope
If you've been reading our AR-10 reviews, you'll have seen this scope in action on the Danial Defense DD5 V4!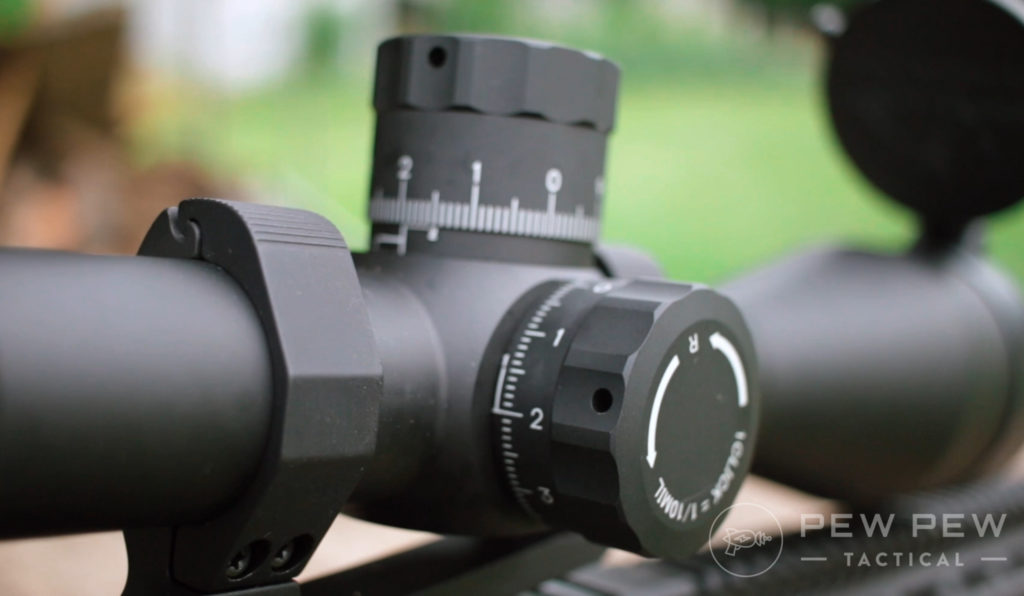 The Primary Arms PLx 6-30×56 is a great scope and a perfect pairing for an AR-10.
Low-end magnification is low enough for hunting or close target shooting, and the clear glass with 30x high-end magnification really lets you stretch your rifle out to the limit.
1500
at Primary Arms
Prices accurate at time of writing
Prices accurate at time of writing
Downsides?
One thing we need to pick on is the charging handle.
We're not fans of the milspec charging handles as it is, but the 716i comes with one that is extra slippy on the sides, making it difficult to get a solid grip.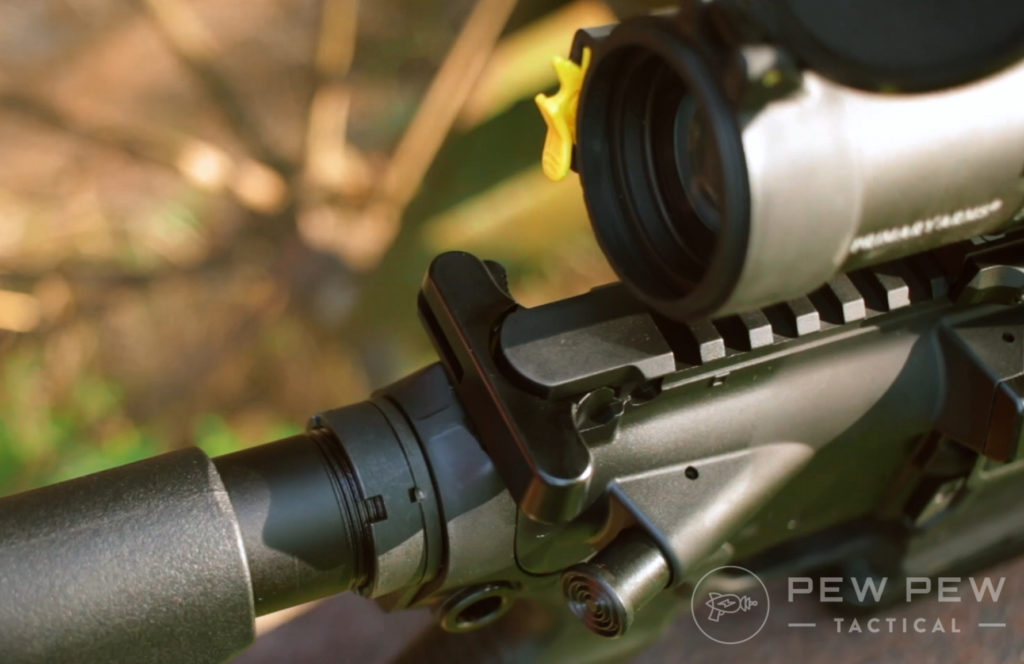 Due to their size, it can be difficult to get a real good grasp on an AR-10's charging handle, especially if you have a scope mounted.
The best upgrade we can recommend is to replace that charging handle with something new! That's Johnny's plan, also.
Personally, I'd recommend the Radian Raptor AR-10 charging handle. I love this charging handle; it's equipped on my Aero Precision M5 AR-10 build and my AR-15s.
90
at Primary Arms
Prices accurate at time of writing
Prices accurate at time of writing
Check out some more details in the Best Charging Handle review!
By The Numbers
Reliability: 5/5
It runs like butter.
Ergonomics: 4/5
I like the grips. Good adjustable stock. And love the ambi mag release.
Accuracy: 5/5
The only reason to own a 308. If your AR-10 isn't a 5/5, find a new one.
Customization: 5/5
The AR-10 platform has so much more room for activities.
Value: 4/5
Solid value in the mid-tier market. The Sig Sauer 716i kicks ass!
But right now, the price is really high due to pandemic inflation, so…
1499
at Kygunco
Prices accurate at time of writing
Prices accurate at time of writing
Overall: 4.5/5
Throw on some quality glass, and you're all set. Solid, solid rifle.
Conclusion
Sig is known for their high-end rifles and their outstanding pistols. They've changed the market with the P365, and they landed that sweet Army contract with the M17 and M18.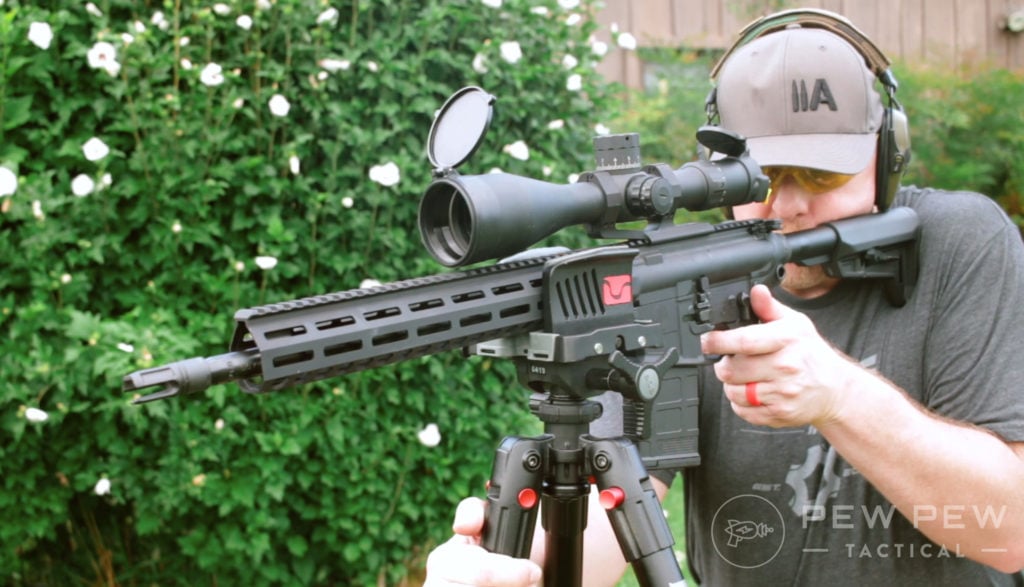 The Sig Sauer Tread 716i mid-tier AR-10 is a champ that runs like butter with great ergonomics, exceptional accuracy, and looks pretty to boot. Perhaps the best recommendation is that our reviewer demanded he be allowed to buy it for his personal collection.
Here's the video review one more time if you missed it!
What are your thoughts on AR-10s? Are we going to see a new battle rifle become the standard? Let us know in the comments!
And don't forget to take a look at the Best Long Range Optics for some choice glass to mount or Best AR-10s for some other options.