Finally, a full review on some of the reputed best ARs currently made.
The LWRCI DI (direct impingement) and IC-SPR (piston).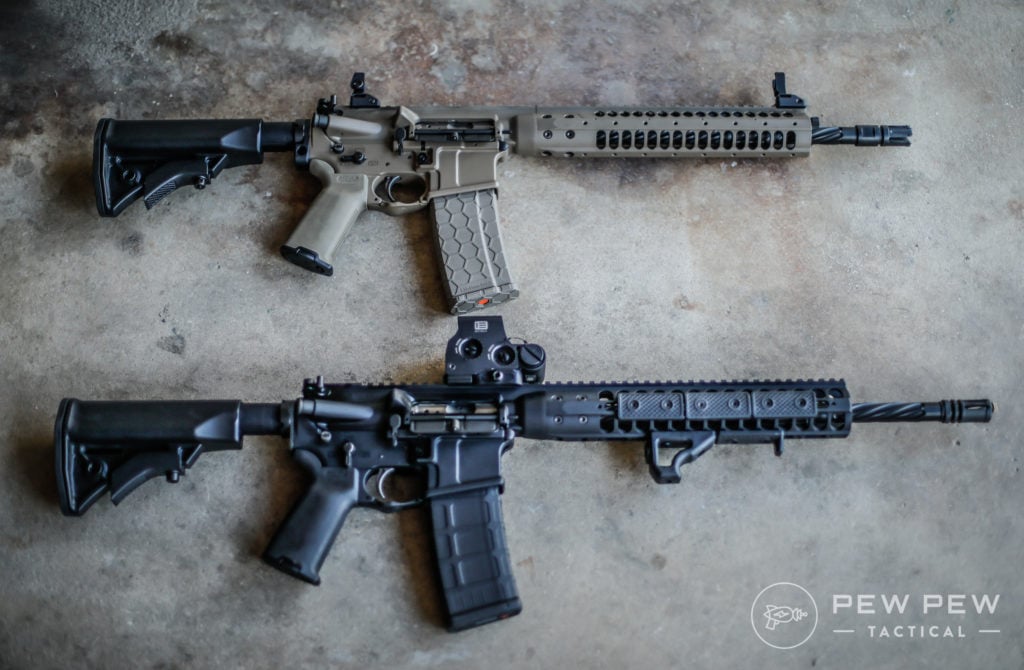 Follow us as my team and I test these two out to see if they are worth their premium price.
We have a full YouTube review right here…
If that helped, be sure to subscribe to our Channel since we're updating every week with more reviews!
We've also had some passionate response to this video/article from LWRCI and fans, if you see *Update* it's with added information.
Who Is It For?
Someone who wants a great rifle ready for anything out of the box
Someone who wants impeccable fit and finish
Someone who wants a fully ambidextrous lower
Someone from California who wants an AR-15 that looks "normal"
Oh yea…and someone who can afford the sticker price ~$1700 for the DI and ~$2400 for the IC-SPR (although we're seeing actual prices about $200 less for each)
1505
at GrabAGun
Prices accurate at time of writing
Prices accurate at time of writing
Best LWRCI Rifle
2250
at Brownells
Prices accurate at time of writing
Prices accurate at time of writing
Who is LWRCI?
It gets a little confusing since for the longest time they were known as simply LWRC…standing for Land Warfare Resources Corporation.
But now it has an extra I for LWRC International.
Whatever they are called…they burst onto the scene years ago for me with a couple features on Future Weapons (RIP Mack).
They focused on short-stroke gas piston ARs instead of the traditional direct impingement where the dirty gas goes back into the system.

For pistons…only the face of the piston gets the dirty gas.
Ok, this one is of a long-stroke piston of the AK…but you get the picture.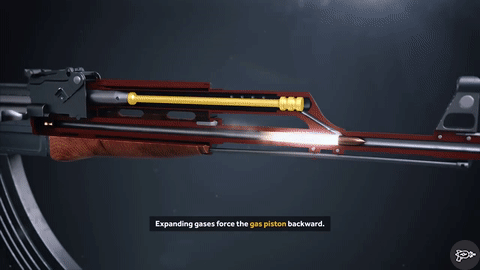 This makes them run cleaner and cooler. But at the expense of more parts, being a little front heavy, and the possibility of less accuracy because of more moving parts.
For more info check out our Best Piston Uppers and Conversion Kits.
Now that we got through that…let's move onto the actual guns!
Fit, Feel, & Finish
IC-SPR
First up…their piston AR! Here we have the beautiful IC-SPR.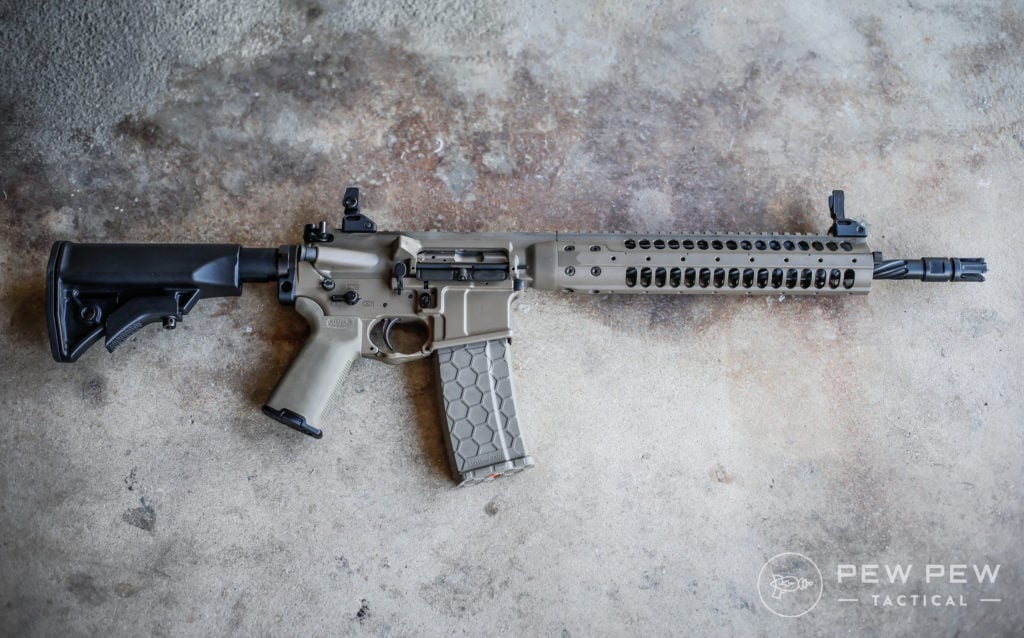 The IC stands for "Individual Carbine," the contest the US Army held to find its next generation firearm. The IC series is what LWRCI submitted before the contest was scrapped.
The SPR is the non-gas adjustable version. Check out the A5 for the adjustable version.
It's fit, feel, and finish are perfect.
LWRCI's upper and lower are double-coined to be in super-spec. And the upper is forged with the handguard attachment…giving it more strength and hopefully an increase in accuracy.
The SPR has a 14.7″ sexily-fluted barrel (that reduces weight by 20%) and a flash hider permanently attached to reach over 16″ so no stamps are necessary.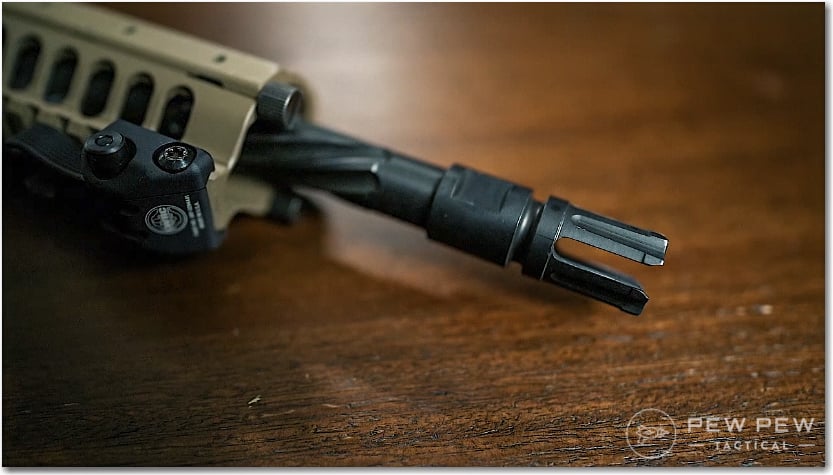 The buttstock is LWRCI and provides a great cheekweld in a small profile.
Plus you get some of the best flip up sights I've ever seen.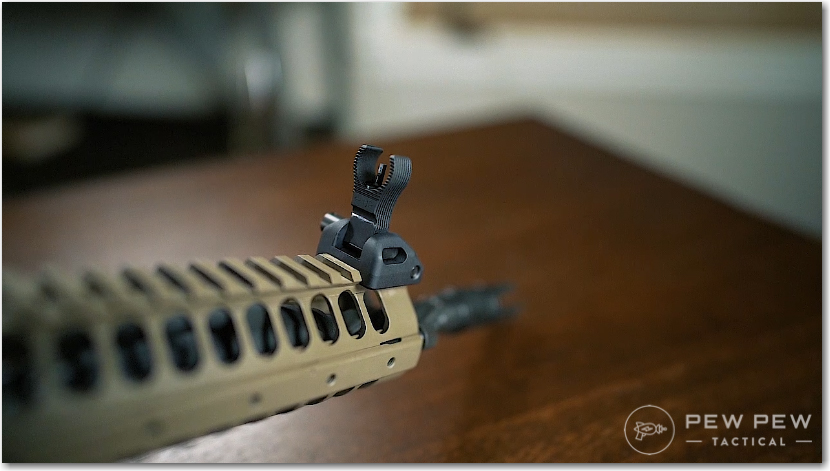 Let's go internal…
The BCG has the gas block built in…reducing a possibility of breakage if you tend to use your guns into the tens of thousands of rounds.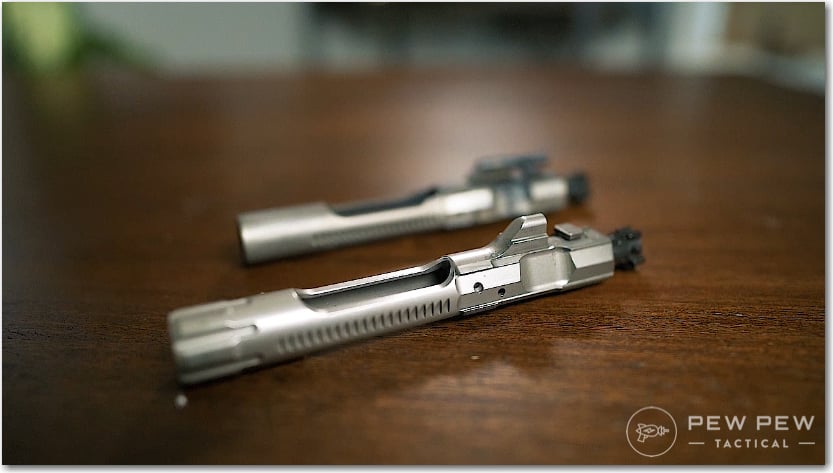 Oh yea…and did I mention the lower is fully ambidextrous? Great for lefties and utilizing the CA compliant model (more on that later).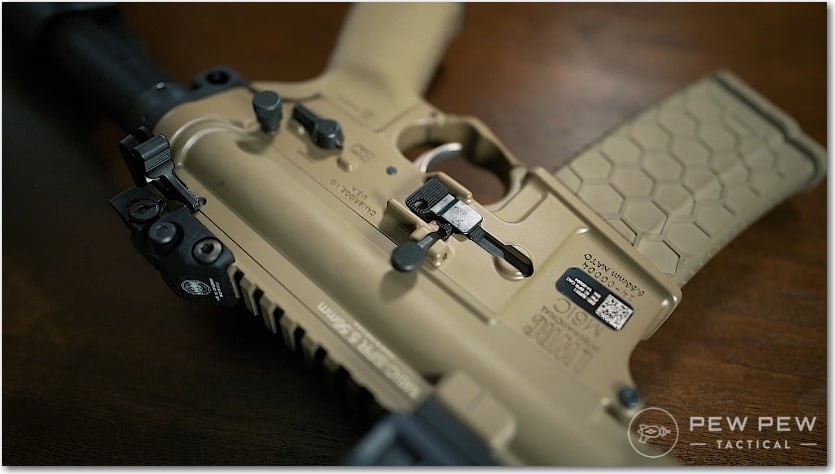 One thing I didn't like was the handguard.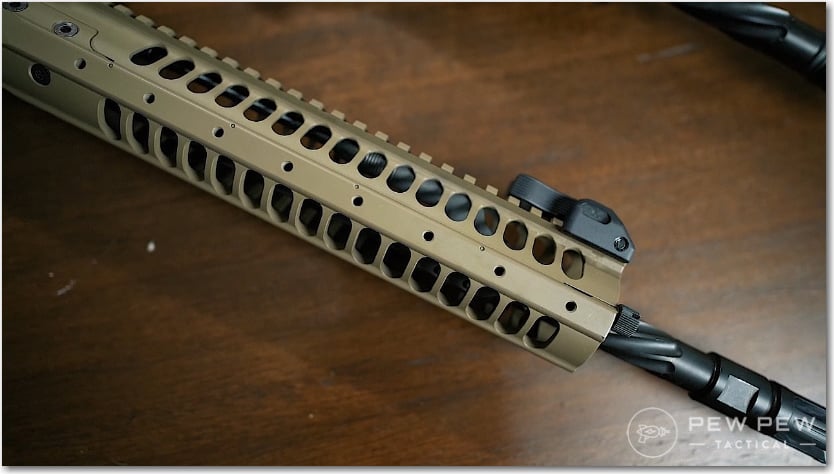 Sure, it looks nice and feels great. But it doesn't have M-LOK.
Like you need to buy proprietary Picatinny rails attached with Torx screws.
It's 2019…and M-LOK reigns supreme.
*Update* We heard back from an LWRCI engineer that due to some space limitations with their piston system they weren't able to offer M-LOK rails. Also, all commercial LWRCI rifles come with a rail kit, ours was simply missing.
Best LWRCI Rifle
2250
at Brownells
Prices accurate at time of writing
Prices accurate at time of writing
DI
The DI stands for direct impingement.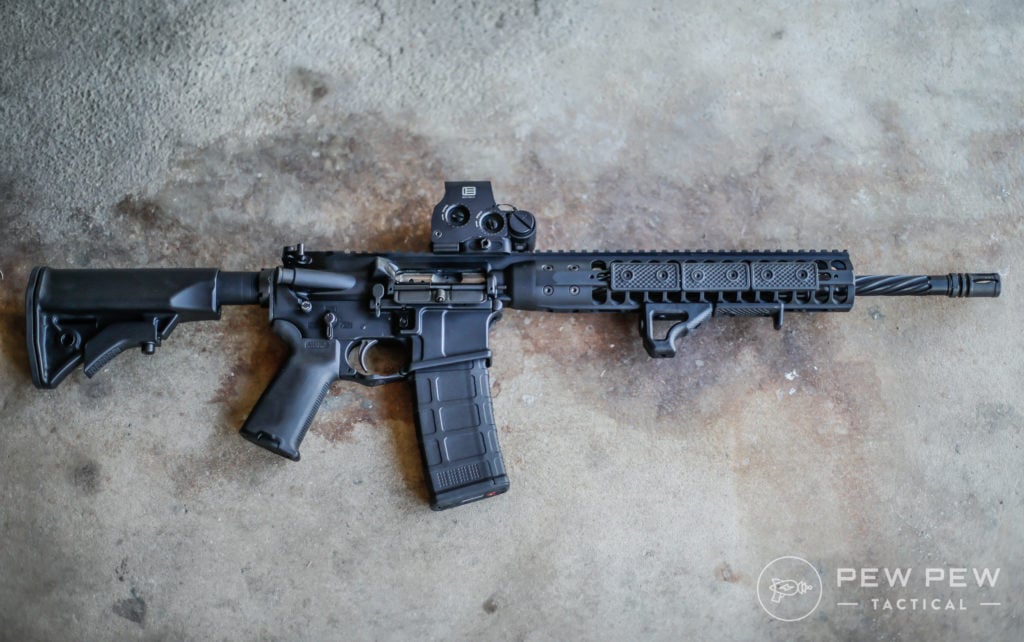 No surprise there.
LWRCI decided it was finally time to jump into the DI game utilizing the same lower and tech of their IC series.
Same thing…no complaints on fit, feel, or finish.
The DI differs internally (of course) but cosmetically it comes with a standard A2 flash hider and no flip up sights.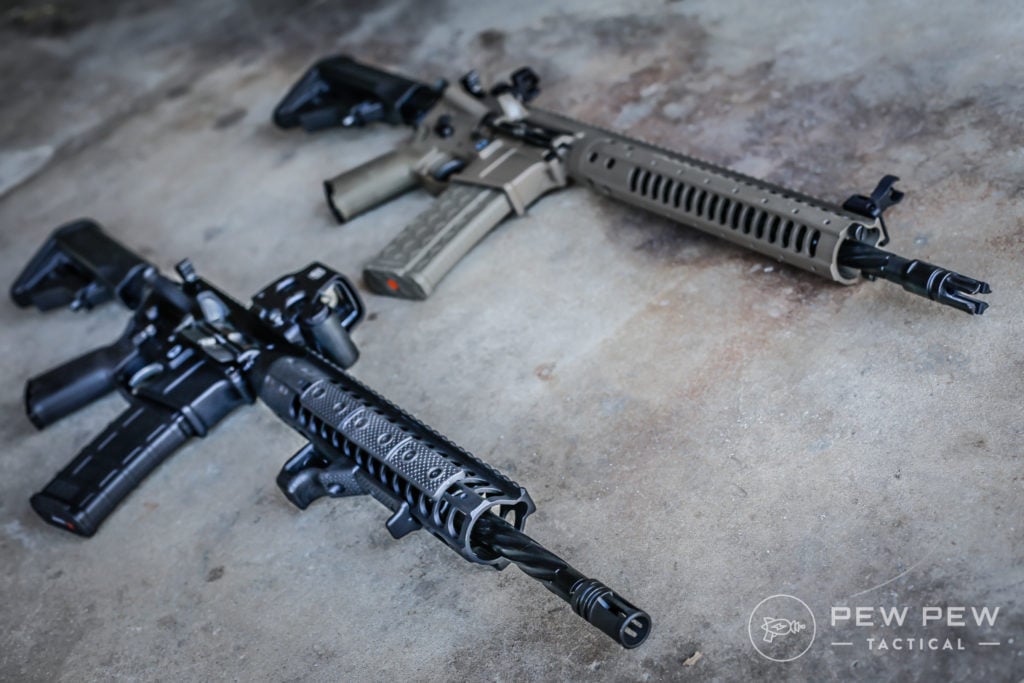 However, it does have some pre-installed panels and a grip that are comfy.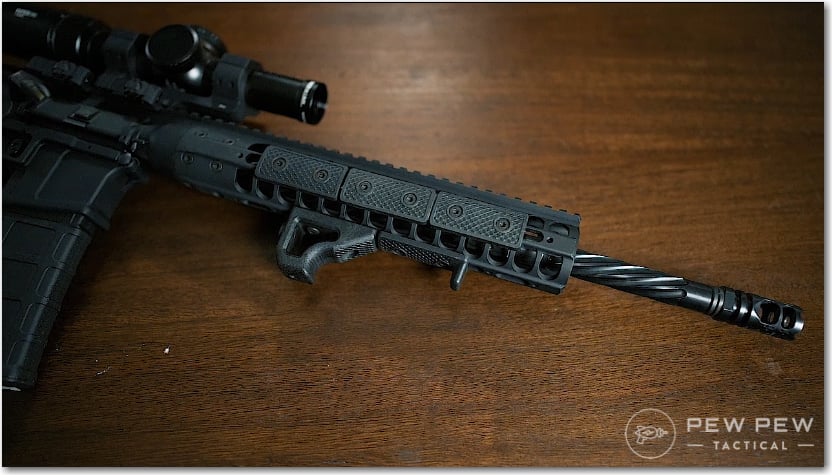 Is that M-LOK?
NOPES.
It only looks like M-LOK.
*Update* There are M-LOK versions of the DI but the proprietary version outsells it by a wide margin.
Ok…enough complaining about the handguards…how do the two shoot?
Shootability & Reliability
In one word…great.
Both of them ran flawlessly through all the hundreds of rounds we tossed through each over two months.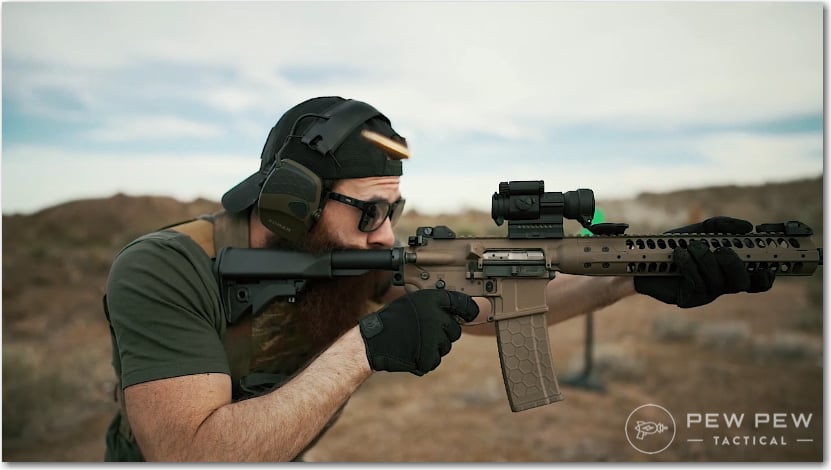 Only complaint is that the magwell started off a little tight but by the end of two range trips was fully broken in.
And if it matters…the flash-hider on the IC-SPR rings like a tuning fork.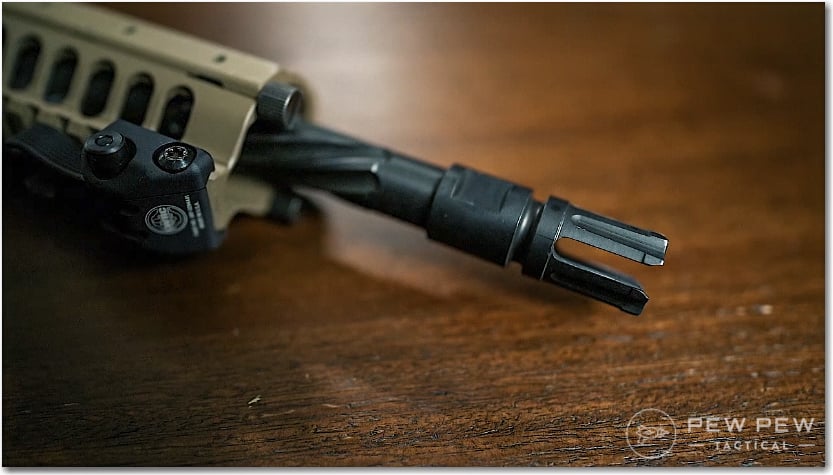 Again, check out the YouTube video for how great they shot.
Accuracy
For a $1700 and $2400 priced rifle I expected at least 1 MOA (1 inch groups at 100 yards) with good ammo.
Sadly…they didn't deliver.
After breaking in the barrel with a few range trips, I tested the rifle with a Schmidt & Bender 5-25x PMII (Best Long Range Scopes) and sandbags.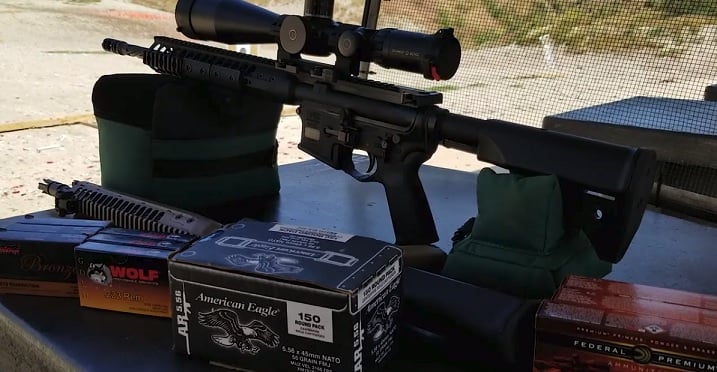 I used some of my favorite ammo (Best AR-15 Ammo) such as Wolf Gold, PMC Bronze, American Eagle XM193, and Federal Gold Medal Match.
*Update* I chose these for a mix of cheap plinking ammo (Wolf Gold, PMC Bronze), "military" ammo (XM193), and match ammo (Federal Gold Medal Match 77gr). At least for me, I don't have the $ to keep shooting match ammo and like to see some decent performance out of more affordable ammo.
I fired nice and slow 10 round groups with the same black lower of the DI (to keep the trigger consistent).
*Update* Conditions were around 80 degrees, low humidity, and negligible wind.
Speaking of trigger…it's nickel boron coated…but is not great. I'm sure it's reliable but I really wish a high-end AR would have some sort of crisper pull.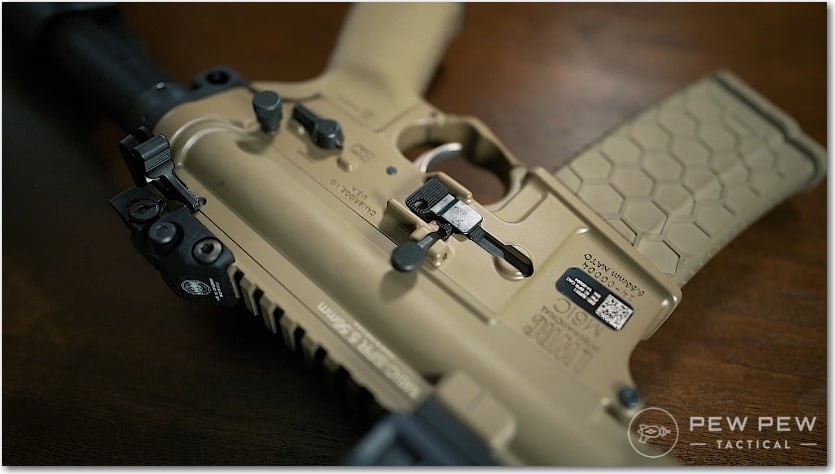 I'd estimate it at 6-7 pounds with some creep.
Here are the results for the DI (which theoretically should be more accurate because of less moving parts).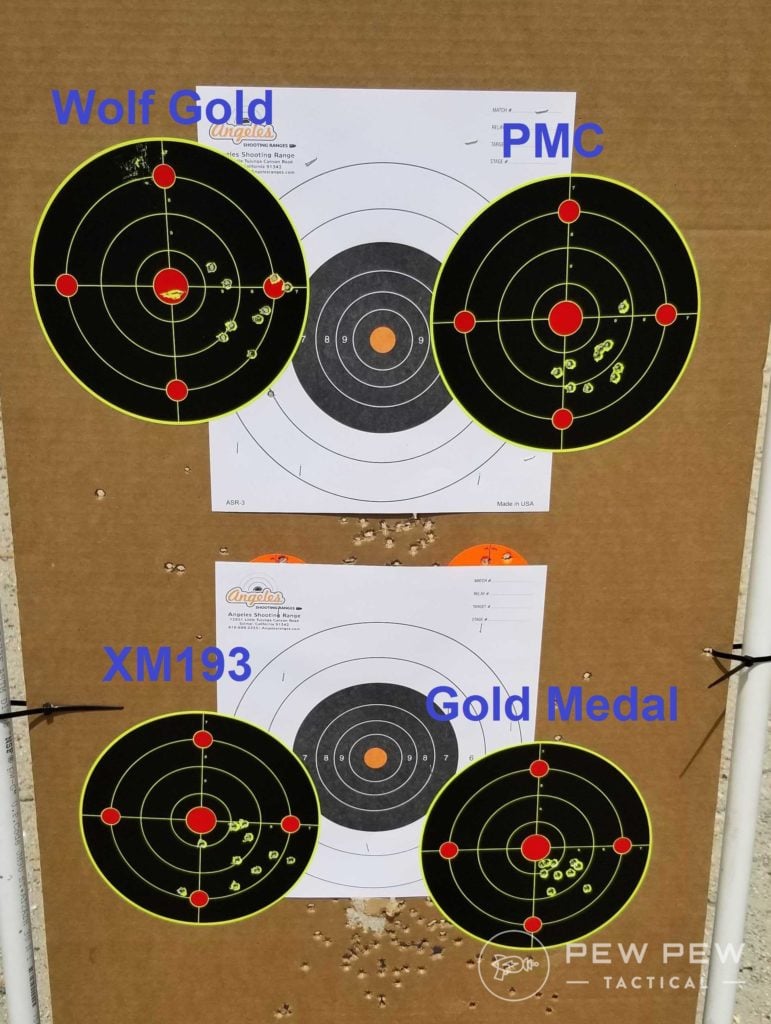 About 3-4 MOA with a slight edge to PMC out of the first three plinking ammo brands. The match-grade Gold Medal was a little smaller at 2-3 MOA.
For the IC-SPR…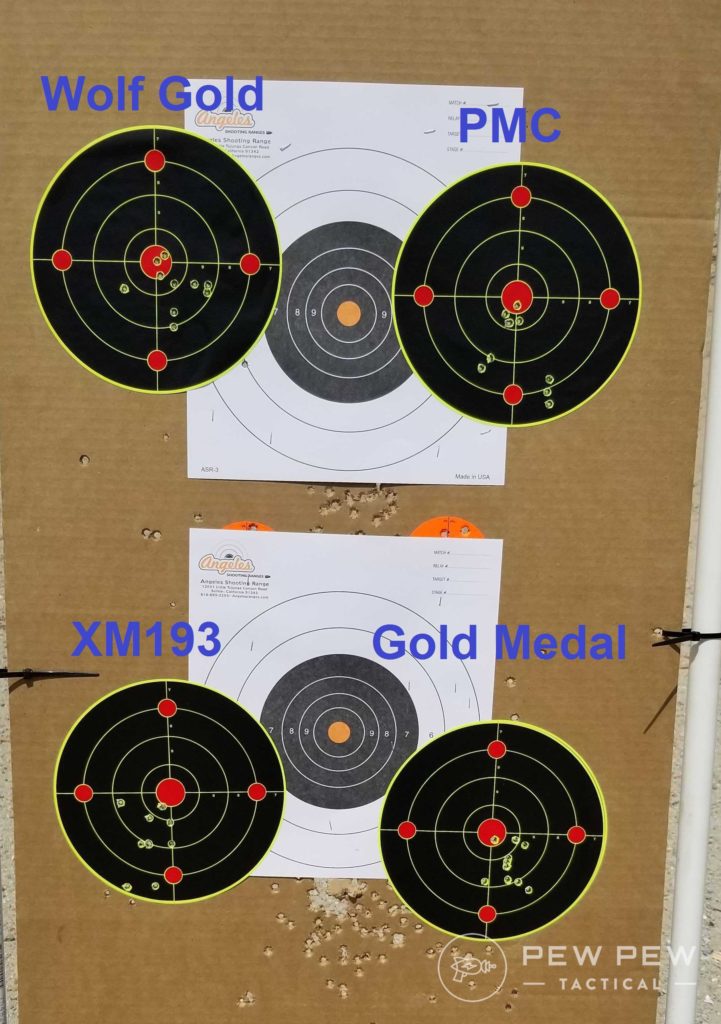 Along the same lines of 3-4 MOA and the slight edge to Wolf Gold. Good thing is I'm not seeing some immense difference between DI and piston.
Now…I took the best plinking ammo picks from each gun and swapped out the lower for my competition Timney 3.5 lb trigger (Best AR-15 Triggers) living in an Aero lower.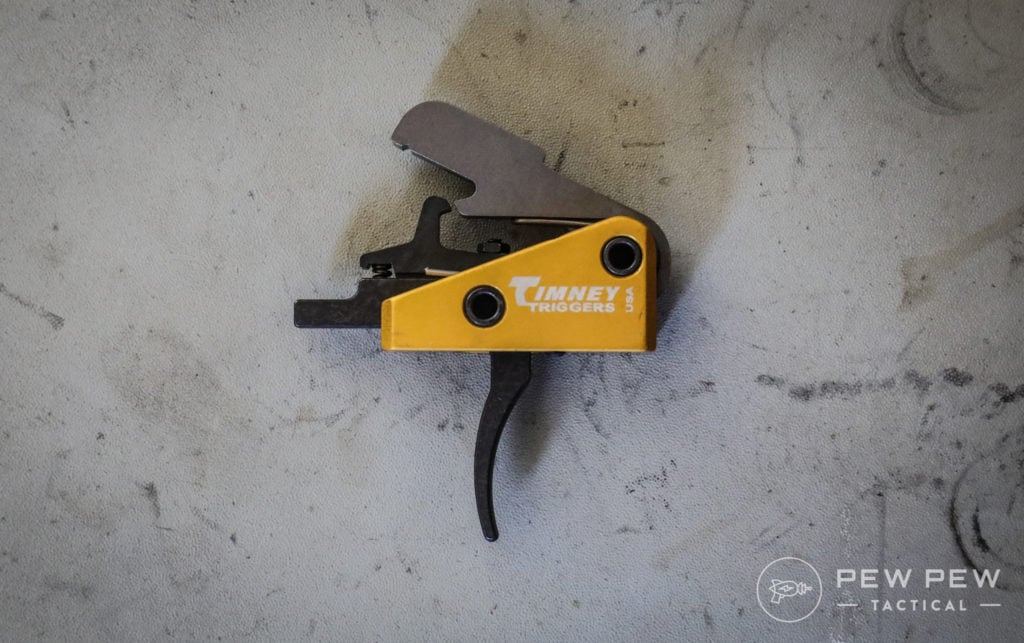 *Update* LWRCI let me know that their uppers perform the best with a matched LWRCI lower. This is actually a good impetus down the line to test the age-old question of does a tight upper/lower fit affect accuracy.
Here's the result: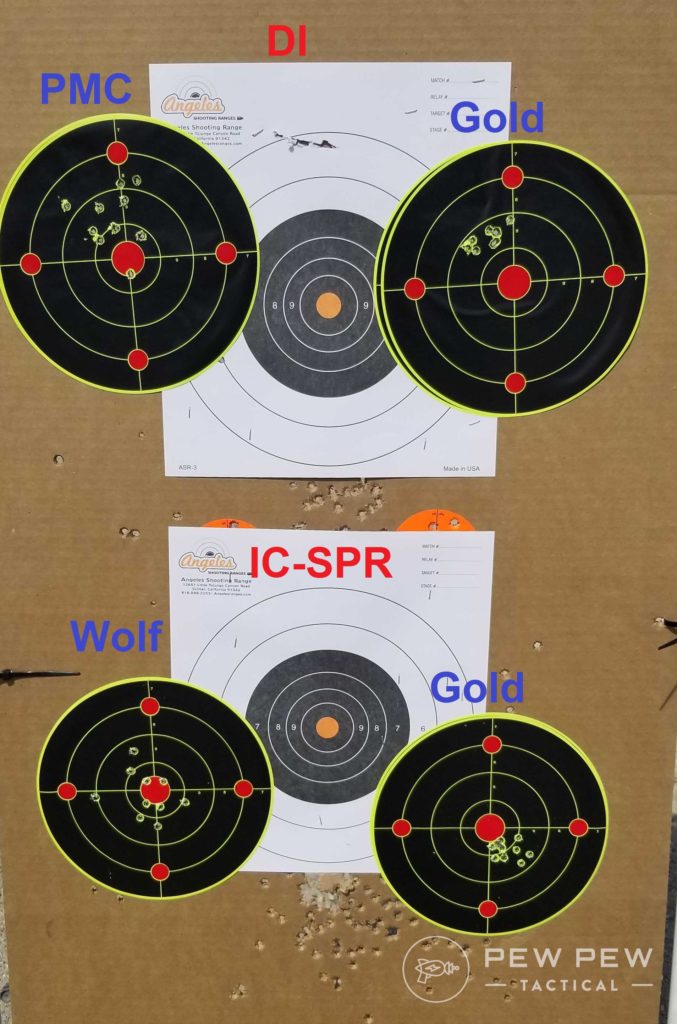 It did tighten up the plinking ammo…but I see a lot more difference for the match ammo. I'd estimate it at around 1.5 MOA which is decent.
One possible explanation is that the barrel is 1:7 twist which does favor heavier bullets more. All the plinking rounds were 55gr while the Gold Medal is 77gr.
But basically…trigger was meh and so was the accuracy. Still minute-of-man but I expected more.
California Compliant Model
However, a big thank you to LWRC for helping out some Californians who want their rifle as normal looking as possible…aka not going Featureless.
The CA Compliant lowers have a spring-loaded rear takedown pin that allows the upper and lowers to crack ever so slightly.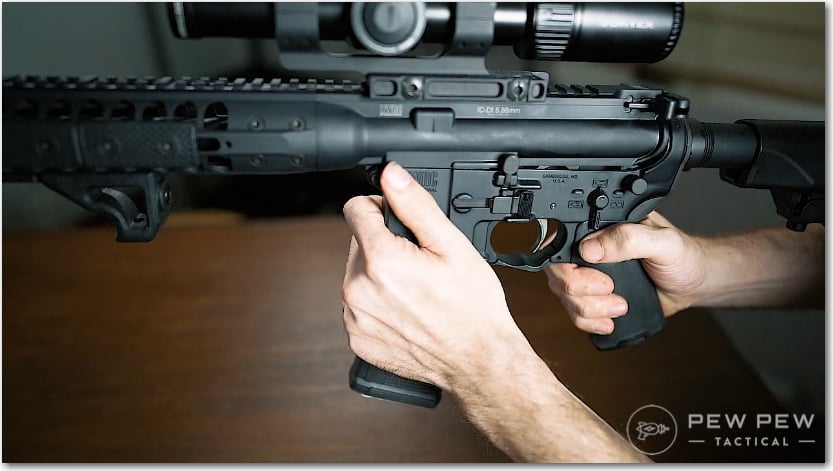 That slight distance disengages a pin inside the lower that allows the use of the magazine release.
It works pretty well except when you need to fully take apart the upper and lower halves. Then you have to slowly turn the pin and super-carefully pull it out.
But not all the way or else it comes out of the lower and you have to unscrew your buttstock and castle nut to reinstall…yup I learned the hard way!
By the Numbers
Reliability: 5/5
We shot around 300 rounds through each gun with several types of ammo and mags…and every time it went bang.
Accuracy: 3/5
Not bad if it were half or 1/3 the cost. But for the money…I'd expect more in terms of accuracy and trigger.
Ergonomics: 5/5
Everything felt great…and I'd give it a 6 if I could for the truly ambidextrous lower.
Looks: 5/5
Again…it's one good looking rifle with perfect fit and paint.
Customization: 3/5
It's an AR with a Picatinny rail on top so you can add just about anything. But why oh why isn't there factory standard M-LOK on the handguard?
Bang for the Buck: 3/5
On the high-end of the AR spectrum but I'll give a few props to the DI for coming with panels and grip…and the SPR for the really nice flip-up sights.
Overall Rating: 3.75
Conclusion
I really wanted to LOVE this rifle.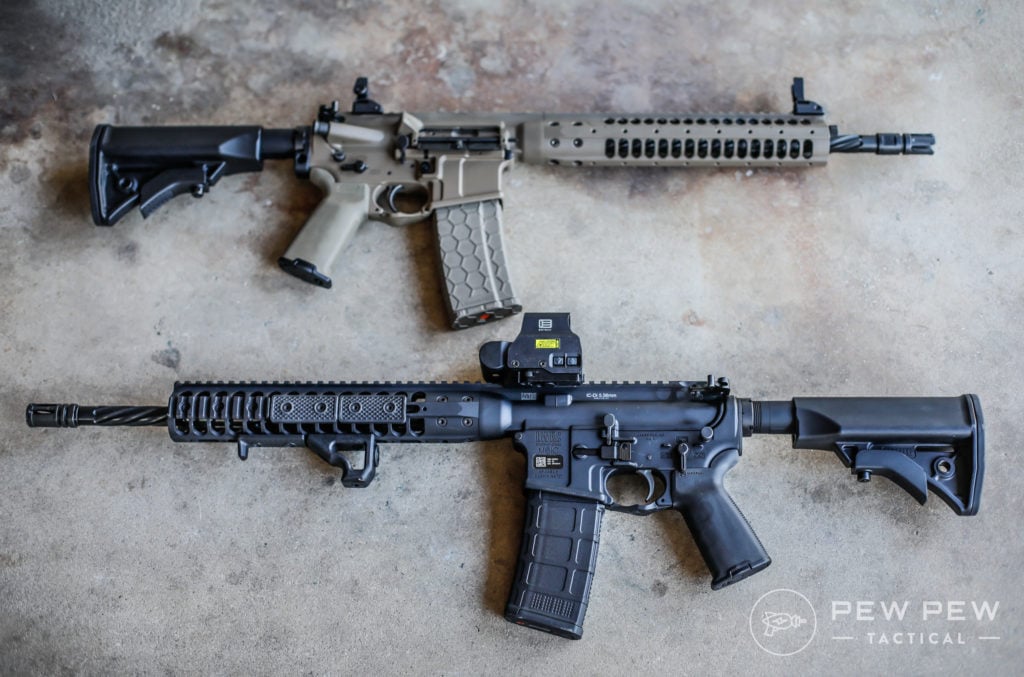 And I did until I realized I couldn't add a sling swivel to the handguard…or utilize any of my M-LOK flashlight attachments.
Then I got a little depressed from the accuracy report.
BUT…if you want a quality feeling, looking, ambidextrous, and reliable AR-15 (in both direct impingement and piston flavors) and can overlook some things…the LWRCI DI and IC-SPR might still be for you.
1505
at GrabAGun
Prices accurate at time of writing
Prices accurate at time of writing
Best LWRCI Rifle
2250
at Brownells
Prices accurate at time of writing
Prices accurate at time of writing
Let me know what you think! And check out some of our favorite AR-15 Upgrades and Scopes/Optics.