The AR-10 was Eugene Stoner's original design, but it has never gotten the same love as its younger brethren, the AR-15.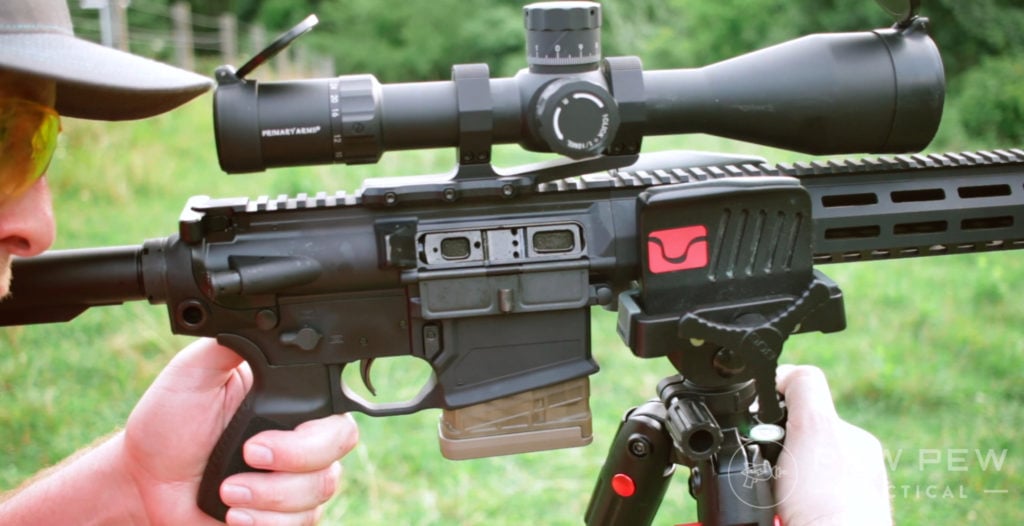 However, the AR-10 offers shooters the same benefits as the AR-15 but in a full-powered rifle cartridge, such as .308 Winchester, 6.5 Creedmoor, and many others.
With bigger calibers comes more power and range without sacrificing accuracy. As with the AR-15, the AR-10 can be seen in numerous configurations, including DMR-style rifles, standard 16-inch carbines, and short-barreled pistols.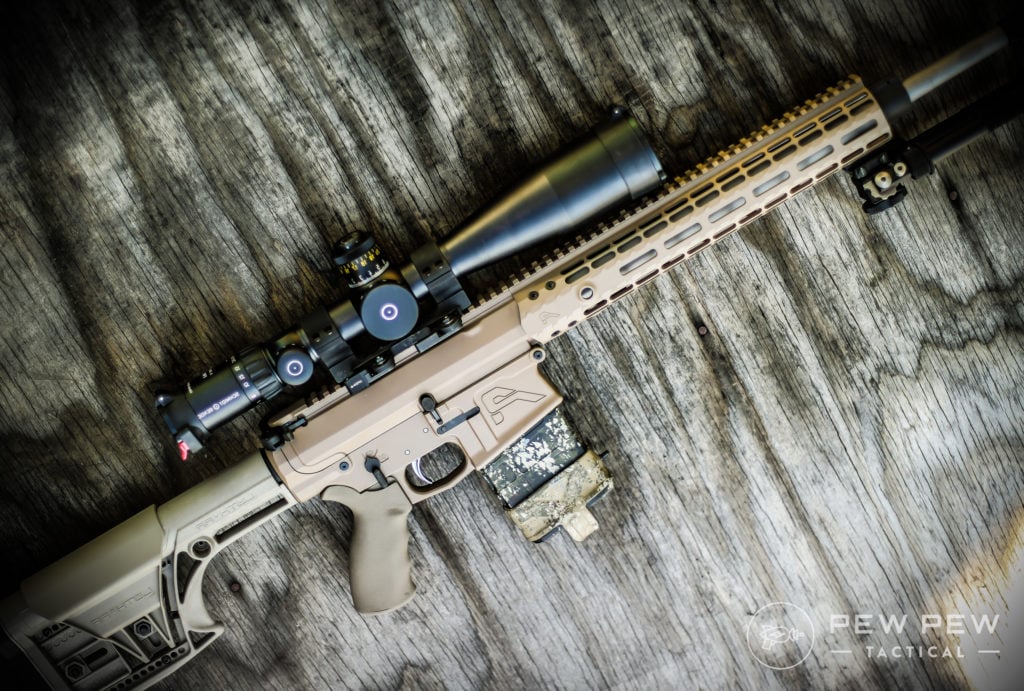 Like anything that bears the AR moniker, these weapons are made better with the presence of an optic.
Since these rifles are quite versatile in their design and intended purpose, we wanted to discuss a variety of optics that cover different use cases and price points.
With that said, let's dive straight in and see what optics deserve some space on that upper receiver.
Summary of Our Top Picks
Best AR-10 Scopes & Red Dots
1. Nightforce ATACR 1-8x24mm
Let me give you a friendly piece of advice, don't look through Nightforce optic unless you are positive you want to buy it.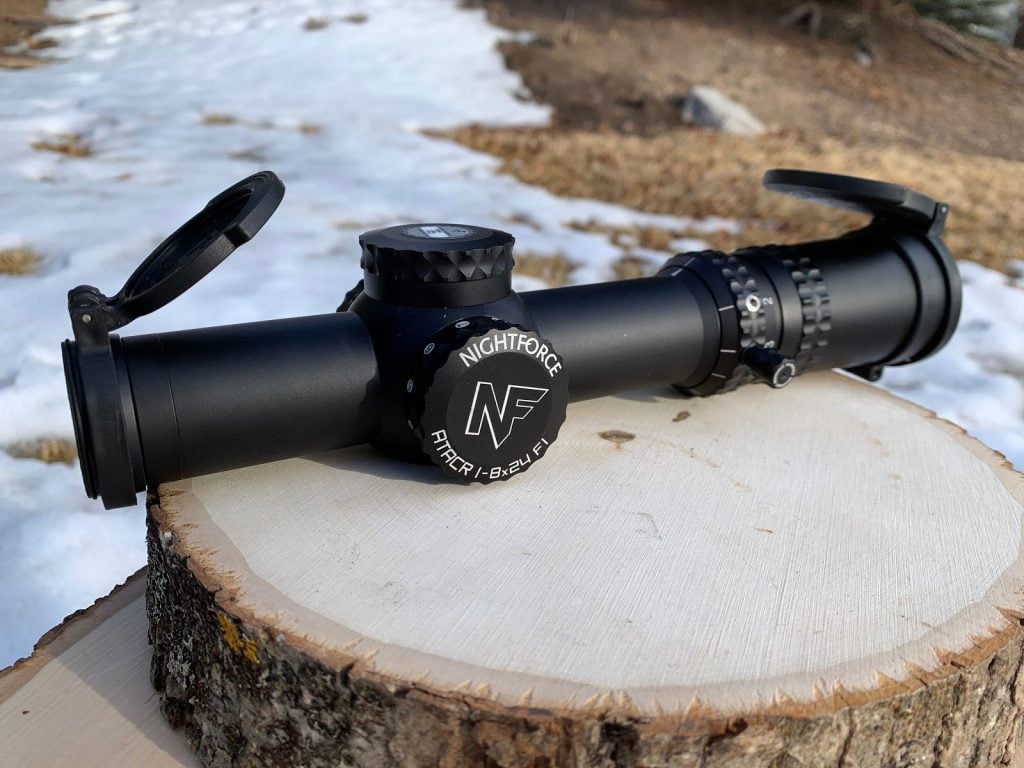 After seeing this level of clarity, you'll never want to go back to normal optics. Nightforce makes top-of-the-line optics for those with budgets to match.
The Nightforce ATACR 1-8x24mm is a professional grade LPVO, and by professional, I mean like SOCOM professionals; real hardcore gunslingers who need bombproof optics.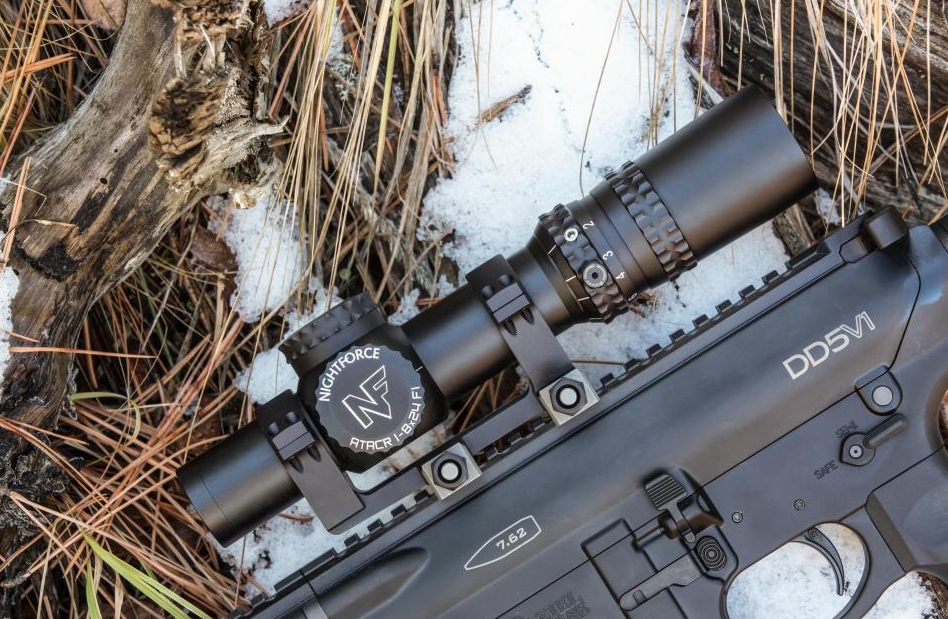 The Nightforce ATACR delivers excellent performance, brilliant clarity, and a multi-use reticle.
Although it may be initially daunting, the reticle allows you to fine-tune your elevation and windage estimation to deliver accurate and repeatable shots on target.
The Christmas tree-like scale of drop and windage points looks complicated but is fairly simple once you're behind the gun. If my infantry brain can wrap itself around it, I have nothing but faith that you can figure it out.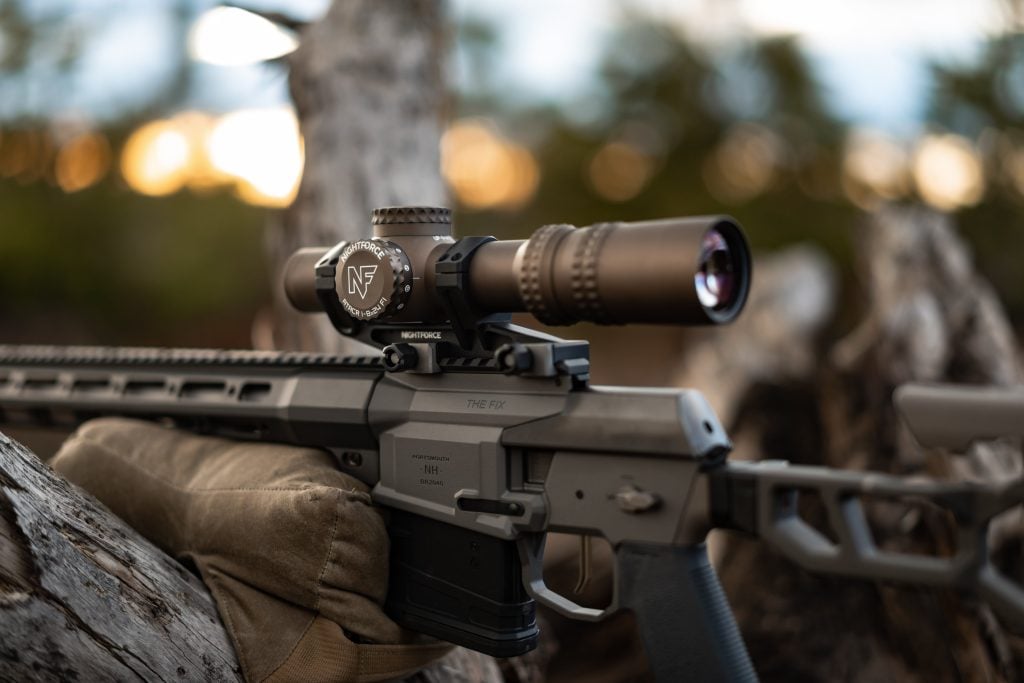 Being an LPVO, you can dial the magnification down to 1X and use this thing like a red dot. It's not quite as easy or reflexive to use as a red dot, but the generous eye box and eye relief will allow you to instantly go from spitting distance to 800 yards with a simple spin of the magnification ring.
The ATACR likely costs as much as your rifle, but if you want the best, you need to pull out the big bucks.
2800
at OpticsPlanet
Prices accurate at time of writing
Prices accurate at time of writing
2. Steiner Predator 4 2.5-10x42mm
For the last few years, as I hike into the Florida wilderness to hunt, I've toted an AR of some sort.
The AR series are excellent hunting rifles, and the AR-10, in particular, offers full-powered cartridges that are appropriate for most North American game.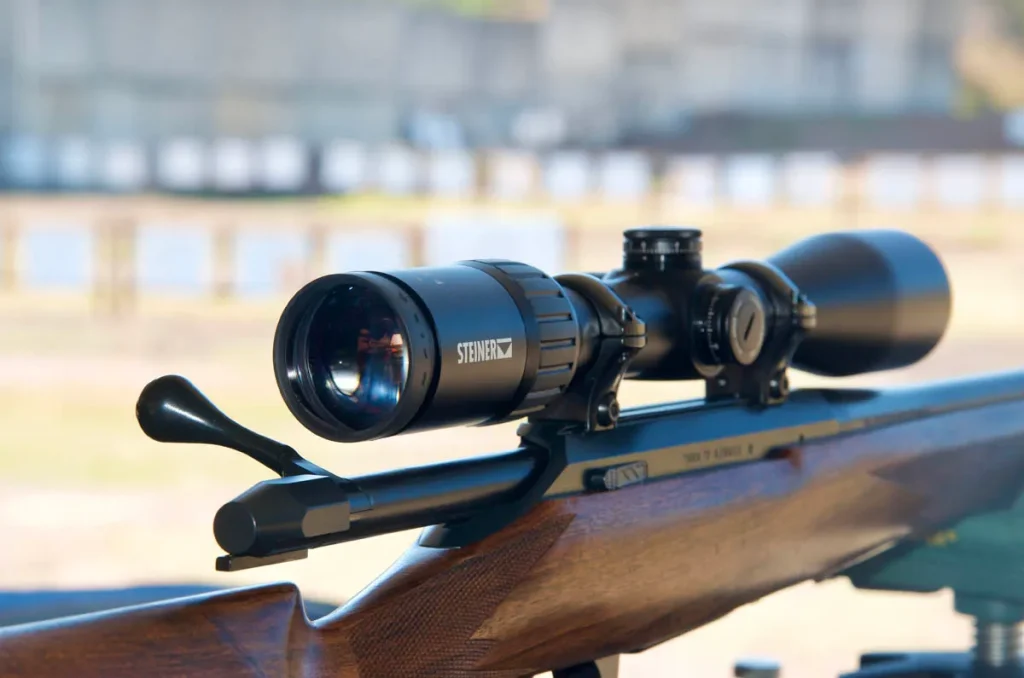 For hunters, equipping an AR-10 with an optic is a must, and the Steiner Predator 4 is designed specifically for the task of harvesting animals.
There are a few models, but I feel the Predator 4 2.5-10x42mm with the E3 reticle is perfect for the average AR-equipped hunter.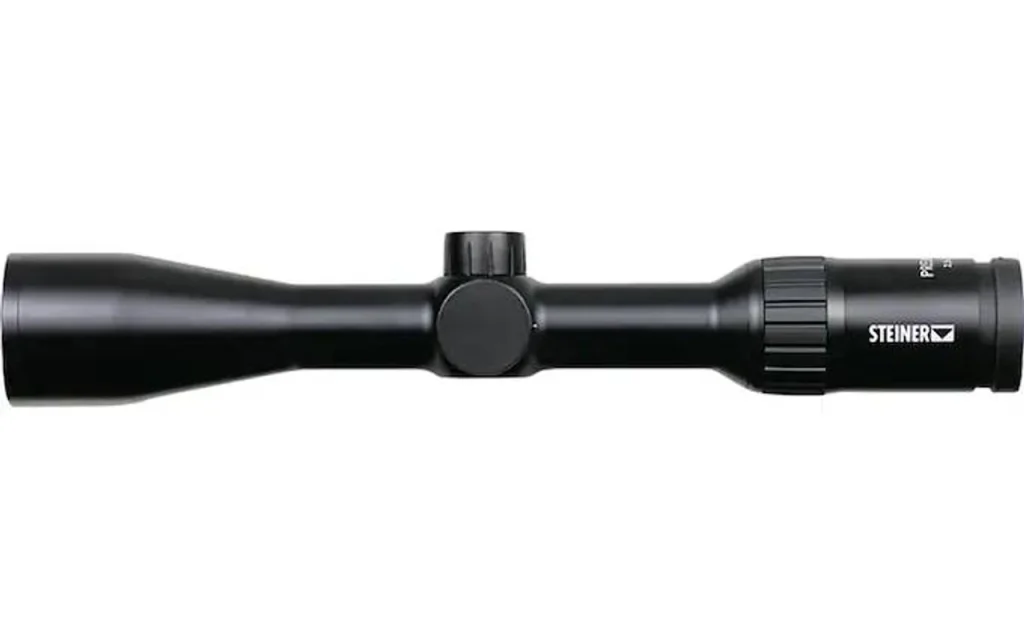 The magnification range is versatile, with a low end suitable enough for stalking but a high end powerful enough to reach out if need be.
The E3 reticle is a second-focal plane reticle, and hunting is one of the few tasks when I believe having a large reticle, regardless of the magnification, makes sense.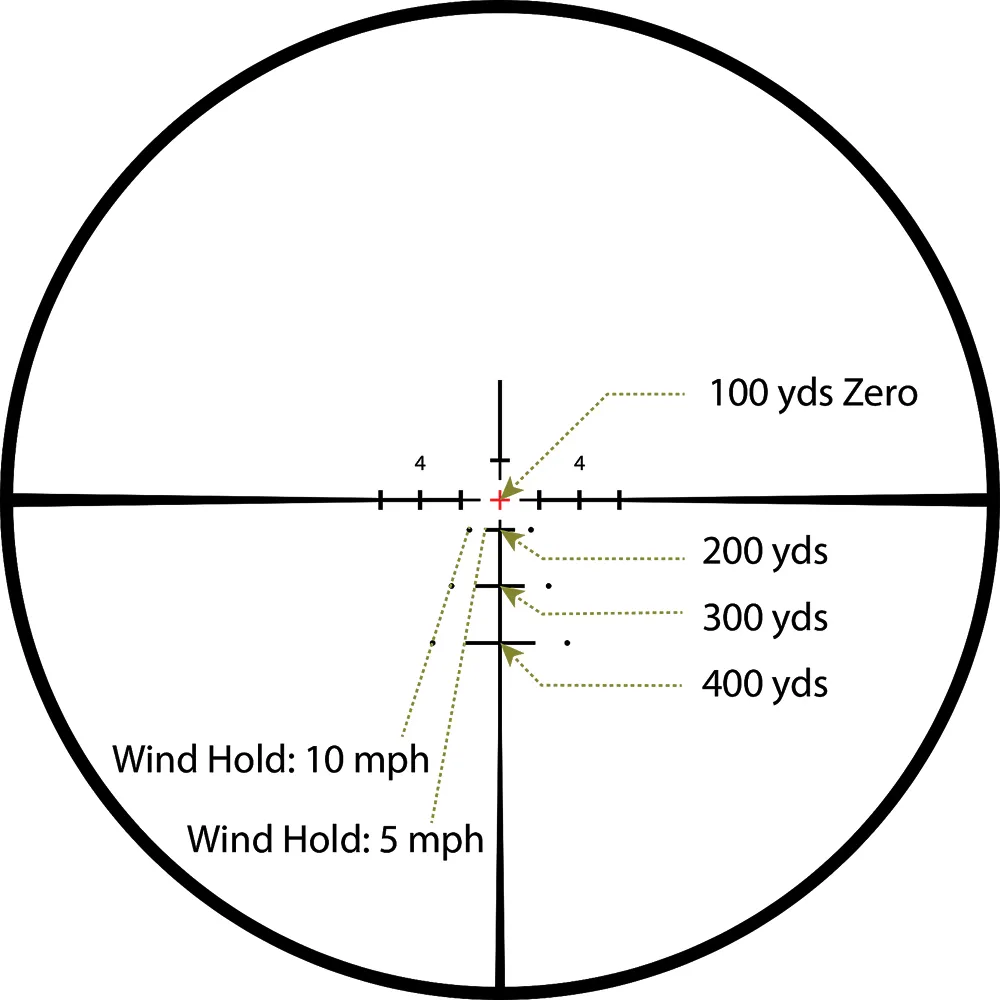 Steiner uses a Predator Diamond lens coating that offers high light transmission, high contrast, and a high-definition image. For AR-10-equipped hunters, this means a bright and clear image, even in low ambient light.
The field of view is rock solid and makes tracking animals as they move easy. When maxed out to 10x, you get a 12-foot field of view at 100 yards. When set to 2.5x, you get a 48-foot field of view.
If the AR-10 is your hunting rifle of choice, the Steiner Predator 4 is a great option.
Best Hunting Optic
899
at EuroOptic
Prices accurate at time of writing
Prices accurate at time of writing
3. Leupold Mark 5HD 5-25x56mm
If you are building a precision gas gun for PRS-style competitions or trying to create the ultimate semi-auto sniper rifle, then the Leupold Mark 5HD 5-25x56mm is the perfect way to top off your AR-10.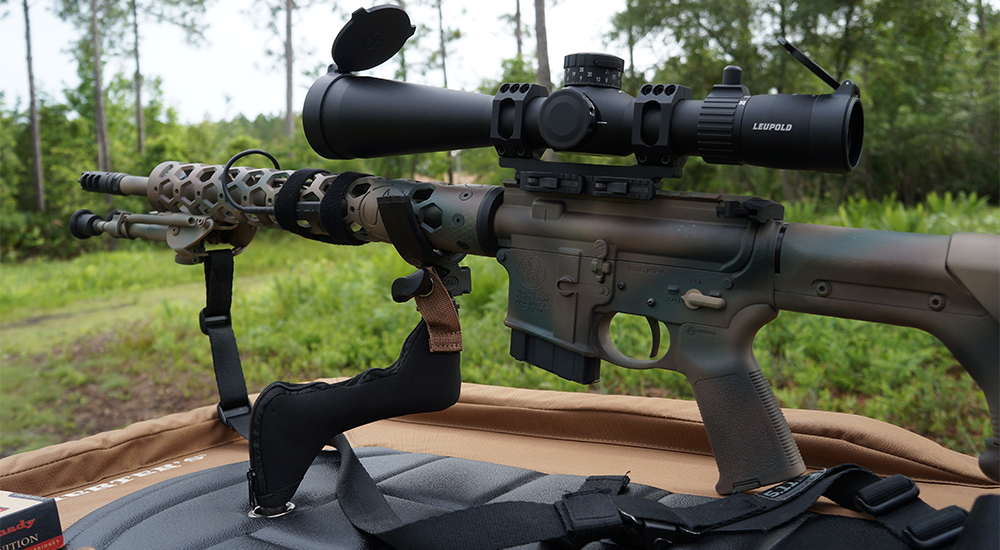 There are nine different reticles available for this configuration, but the PR2-MIL makes the most sense to me. I like the PR2 because the thinner crosshairs mean less target coverage. At long range, a thick reticle can work against you.
The PR2-MIL gives you a Christmas tree-like reticle that grants you all the drop and hold points possible to compensate for bullet drop and windage.

The Mark 5HD series are extremely well-made scopes designed for precision shooting. You get incredibly clear glass, a rugged design, dead-on 1/10 MIL adjustments, and a scope that is relatively lightweight for its size and design.
These adjustments will give you complete control over your reticle and allow you to fine-tune your zero to championship-winning standards.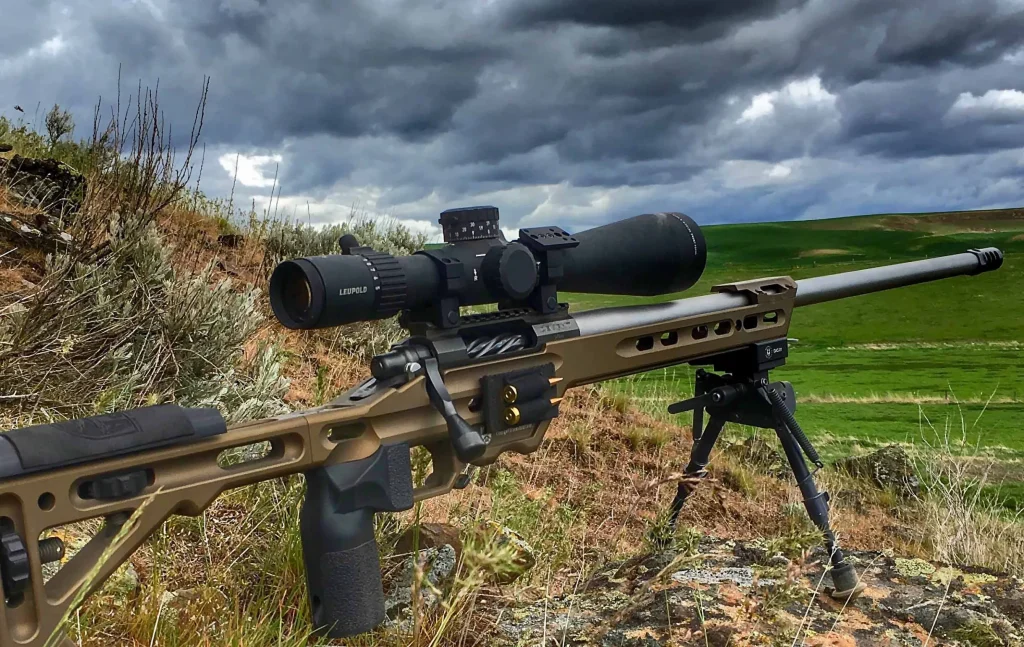 Not to mention, you get Leupold's killer warranty which is one of the best in the industry.
The Mark 5HD isn't your average optic and is a bit much for plinking or hunting — it's a dedicated precision scope. This optic would be best served on a quality AR-10 designed to maximize the range of your .308 or 6.5 Creedmoor round.
Best Long-Range Option
2099
at EuroOptic
Prices accurate at time of writing
Prices accurate at time of writing
4. Holosun HS510C and HM3X Magnifier
Some shooters may be using their rifles for close-range work. The Holosun HS510C, combined with the HM3X magnifier, can fill that role with ease.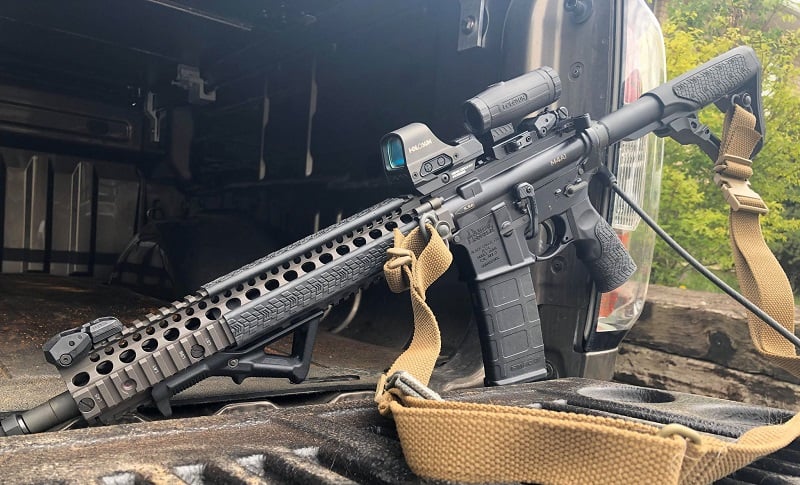 This combination allows you to lay down accurate fire up close and out to 300 yards fairly easily. A skilled shooter can take it even further.
I've beat and abused an HS510C and found it to be surprisingly durable for its affordable price point. It packs a ton of features, including shake awake, multi-reticle setup, integrated mount, solar panel backup, and more.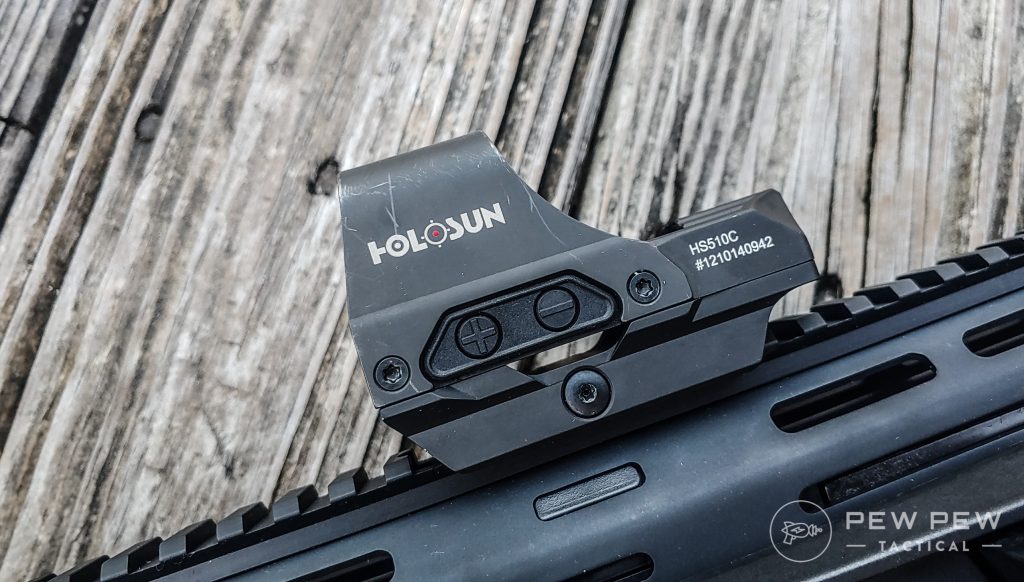 The HM3X is a lightweight magnifier that flips out of the way when not in use. This setup is a little simpler than an LPVO and offers you the benefits of a true reflex sight.
Versatility is the name of the game, and this combination is suitable for hunting in the tight quarters of the southeast, home defense, heavy metal 3-gun, or fun at the range. It's a solid setup ideal for close to medium-range shots.
Most Worth It Holographic Sight
309
at OpticsPlanet
Prices accurate at time of writing
Prices accurate at time of writing
At around $500 for the pair, Holosun's combination of magnifier and red dot makes for an affordable, budget option that's still worthy of the mighty AR-10.
Best 3x Magnifier
199
at Optics Planet
Prices accurate at time of writing
Prices accurate at time of writing
5. Primary Arms GLx 4-16x50mm FFP
Do you want a whole lot of scope for a reasonable price? If that's the case, the GLx series from Primary Arms has you covered.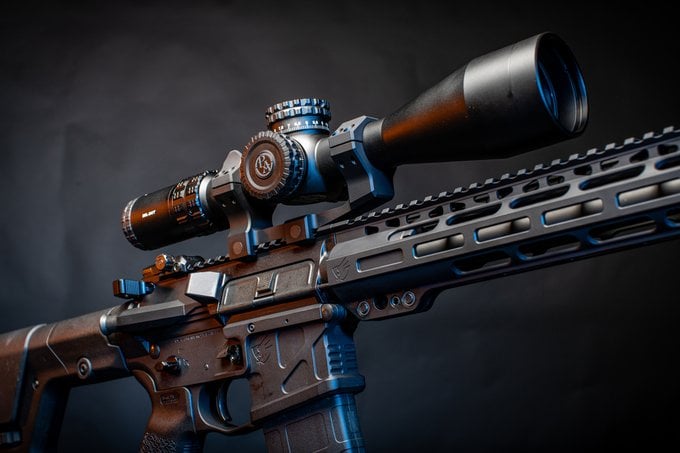 The 4-16x50mm model offers a wide, variable magnification range that makes the most of those full-powered rifle rounds.
The GLx series has plenty of reticle options, but the ACSS HUD DMR 308/223 reticle is a perfect pairing for a traditional .308 caliber AR-10.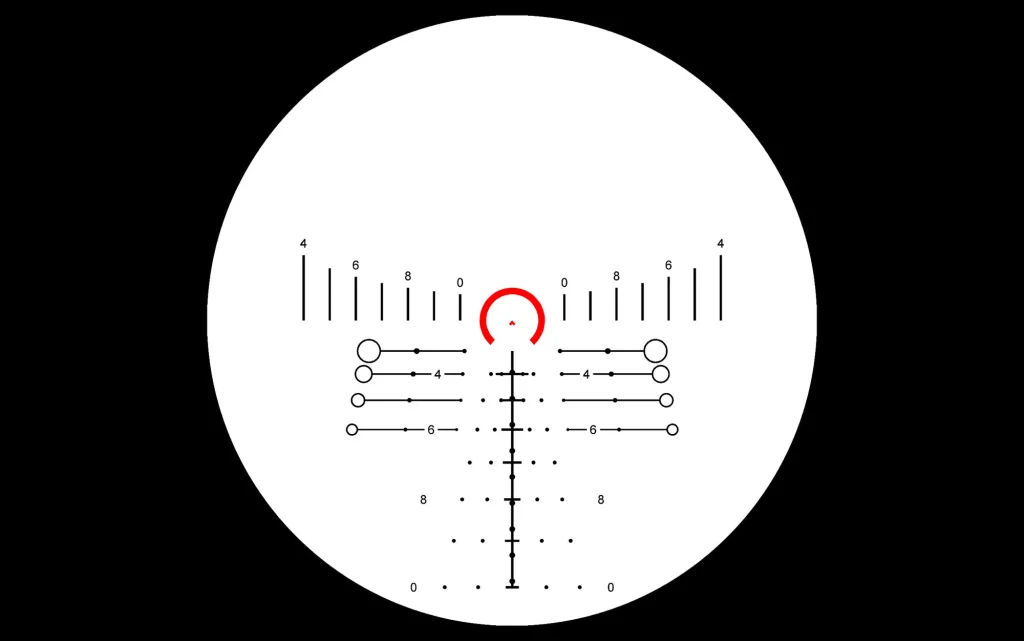 A purpose-built reticle gives you a point of reference for bullet drop out to 1,000 yards, as well as various wind calls to make windage and elevation less of a guessing and math game and more of a simple point-and-click.
As a first-focal plane scope, the donut reticle grows and shrinks with your magnification. At 4x, it's a big red dot for those close-range shots. At 16x, it's small and out of the way so as not to hinder those precision shots.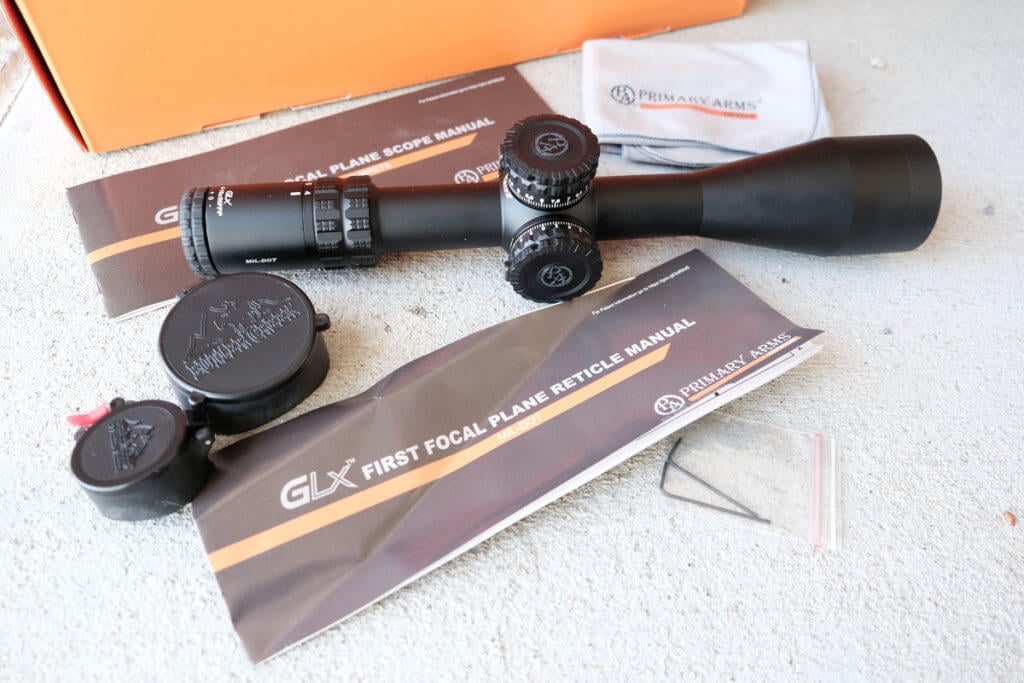 The glass quality is excellent, and throughout every level of magnification, we get edge-to-edge clarity that's tough to beat.
My main complaint is the brightness of the reticle; on brighter days, it doesn't always grab the eye. But other than that, the GLx gives you excellent performance at a good price point.
749
at Primary Arms
Prices accurate at time of writing
Prices accurate at time of writing
6. Trijicon VCOG 1-6X24mm
If you want a true go-to-war optic, Trijicon has you covered. They make some of the toughest optics on the planet, and the VCOG is no exception.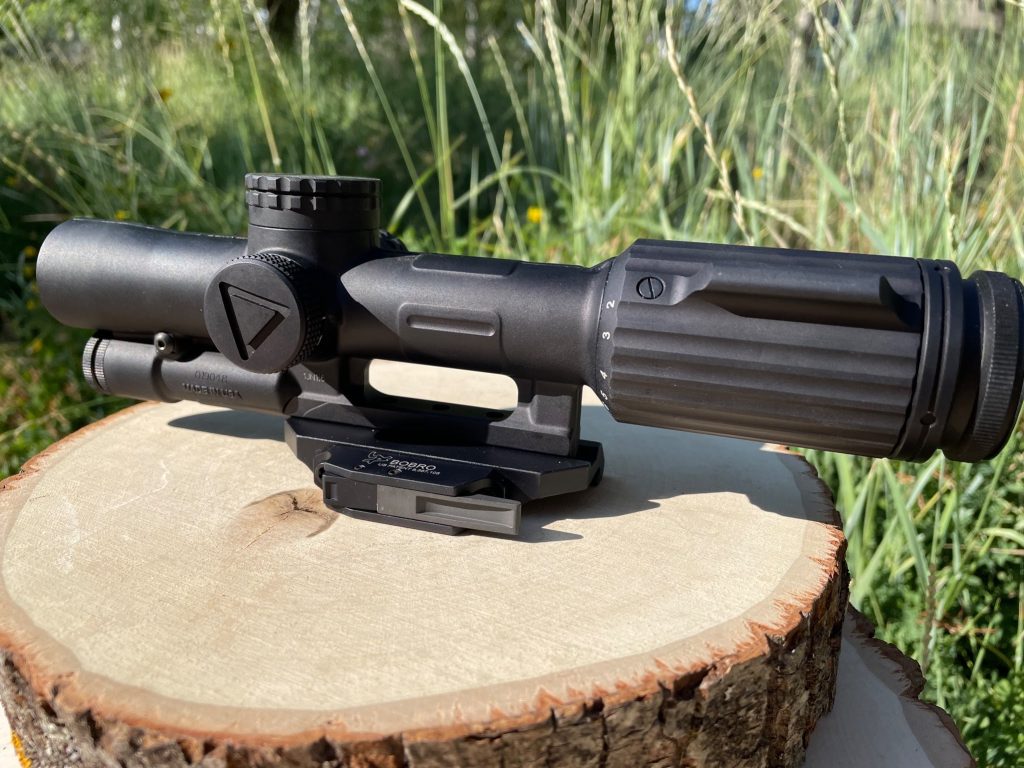 VCOG stands for Variable Combat Optical Gunsight, and it's an LPVO that's part optic, part hammer.
It's incredibly stout. You can play Navy SEAL with the thing due to its waterproof to 66 feet design, mil-spec tough internal electronics, and integrated mount.
For the AR-10, the VCOG with the .308 reticle is clearly the correct option.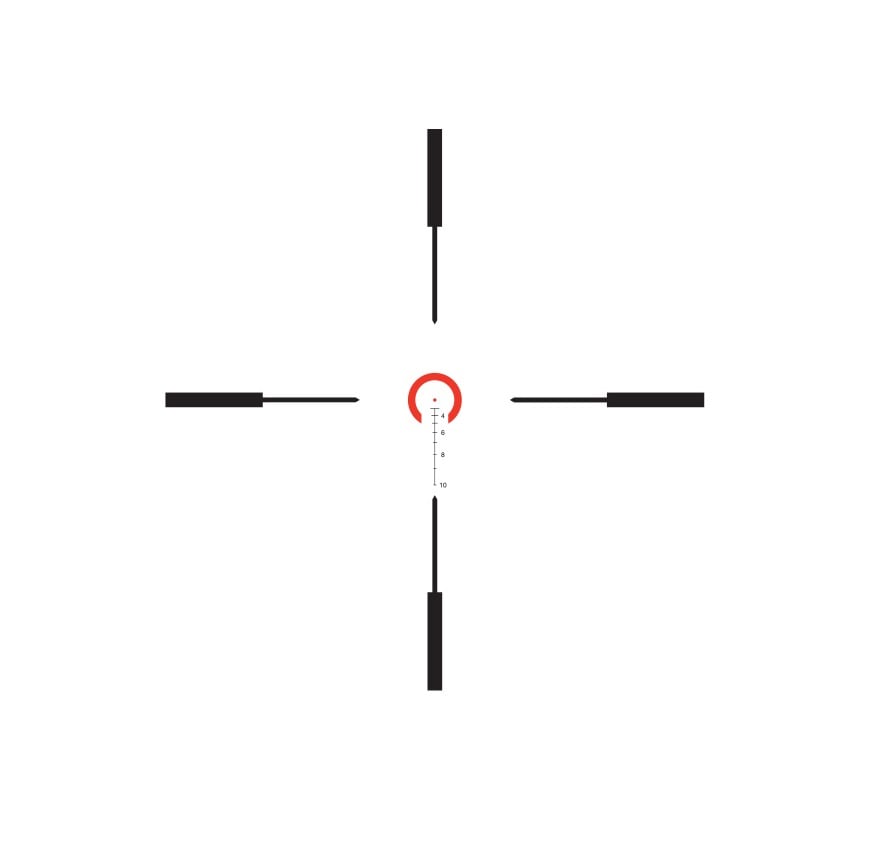 This reticle features a bullet drop compensator designed for 175-grain projectiles. The BDC gives you exact points of drop out to 1,000 meters. Sitting above the drop ladder is a donut of death that's brightly illuminated.
The VCOG is a first focal plane optic, so the dot shrinks as the magnification decreases until it creates what's essentially a handy red dot for close encounters.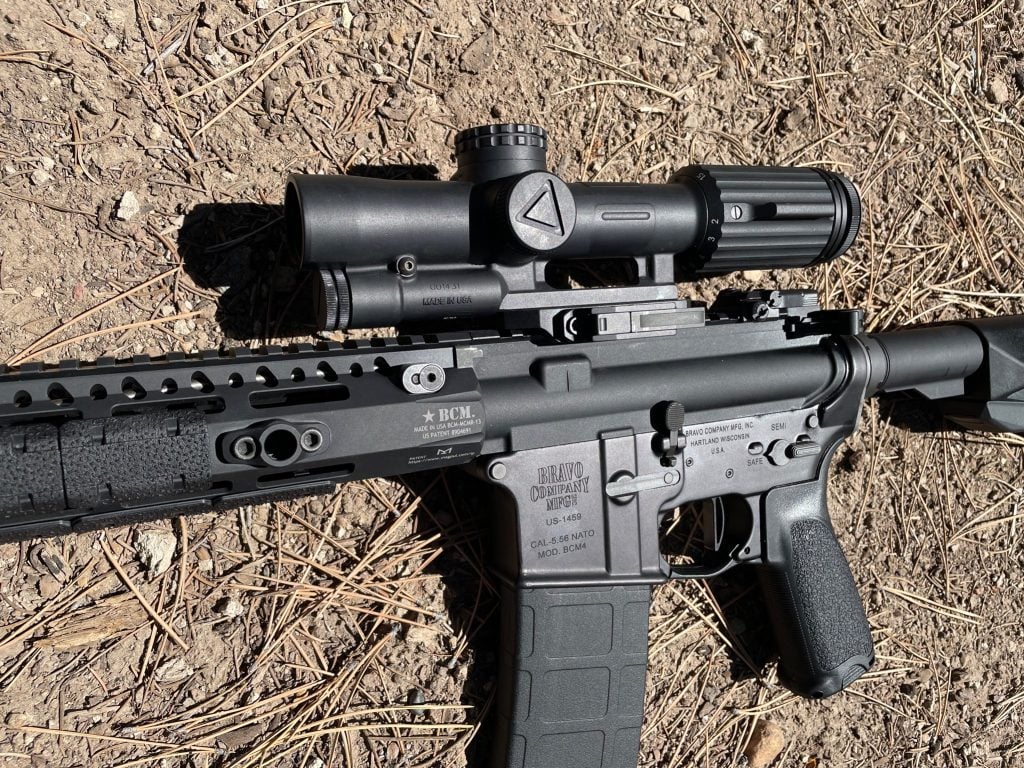 The downsides? Weight and price. It's a beefy optic, weighing in at 31.5 ounces. It is heavy on the wallet, too, with prices hovering around the $1900 mark.
With its integral mount, the VCOG is a true plug-and-play option. Toss it on your AR-10, and you'll be ringing steel before you know it.
Best Duty Optic
1884
at EuroOptic
Prices accurate at time of writing
Prices accurate at time of writing
What do you think of the Trijicon? Rate it below!
7. Swampfox Saber 5x36mm
Prism scopes are some of the most underappreciated optics out there. They offer users a fixed-power design in simple and often lightweight packages.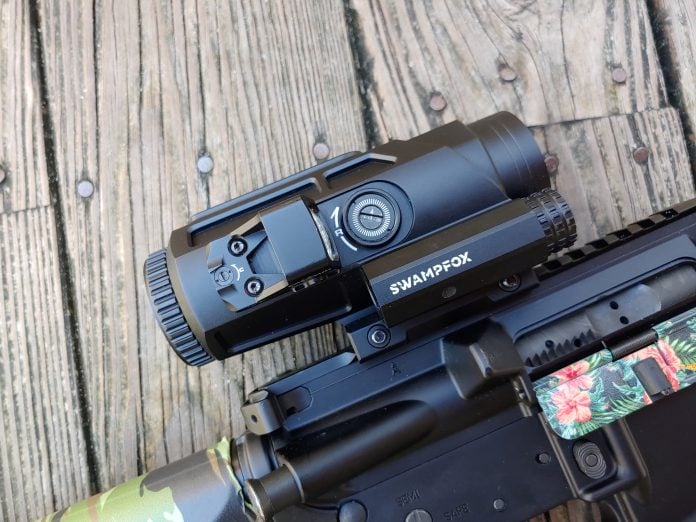 For the full-powered AR-10, I give the nod to the Swampfox Saber. This hearty prism scope provides a compact optic with a fixed 5x magnification.
The Saber gives you a massive field of view — 30.9 feet at 100 yards. It has a huge objective lens to help maximize that FOV and gather plenty of light to make your sight picture bright and clear.
While the Saber isn't the most compact prism, it isn't overly heavy, coming in at 24 ounces.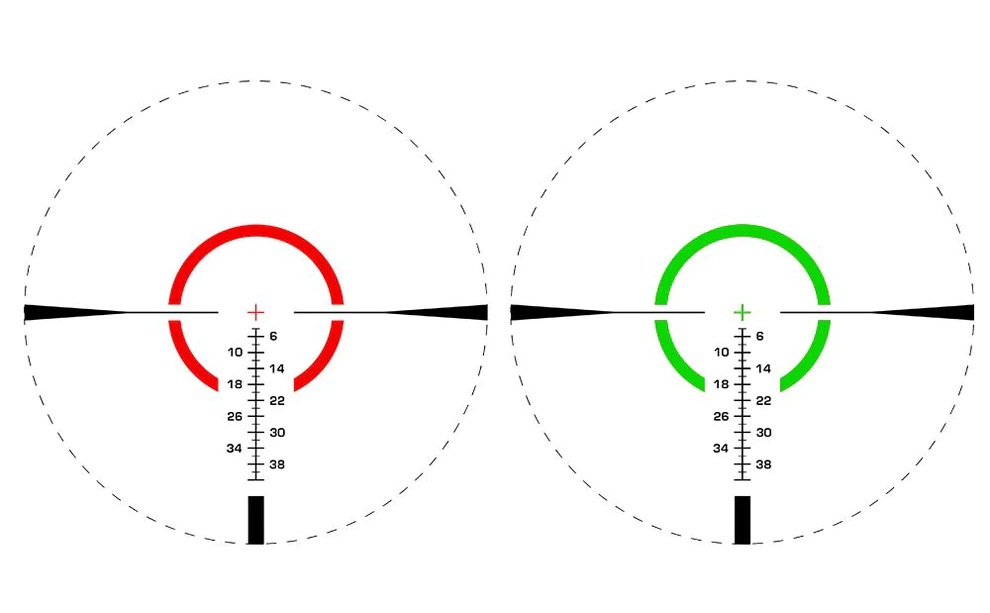 If you feel that being locked into 5x magnification is restrictive, the Saber offers two red dot-ready footprints. You can attach any RMSc footprinted dot on either side of the Saber to cover any close-range use cases you might have.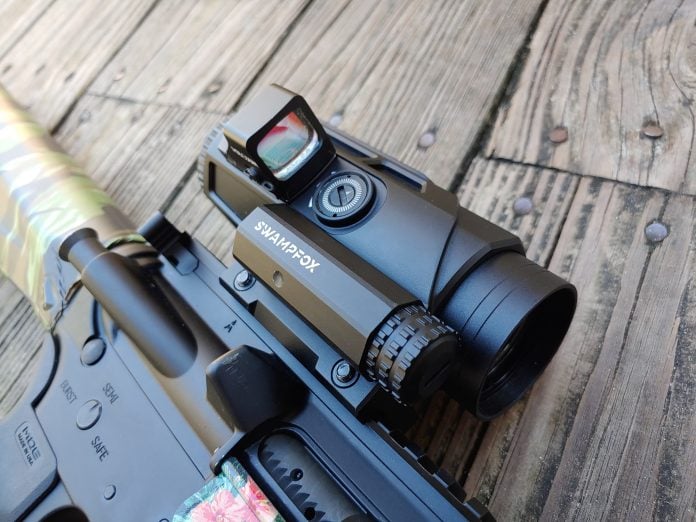 Inside the Saber sits an MOA reticle to allow for drop estimation. Around the main part of the reticle is a brightly illuminated three-quarters circle for closer range, rapid-fire shooting.
The Saber's class-leading field of view makes this a nice optic for spotting targets and tracking animals. At less than $400, the Saber is a capable yet affordable scope that won't break the bank.
Best Budget Option
330
at OpticsPlanet
Prices accurate at time of writing
Prices accurate at time of writing
Final Thoughts
The AR-10 is an awesome platform. They deliver serious power at longer ranges and are often made into designated marksman rifles, hunting guns, competition rifles, and more.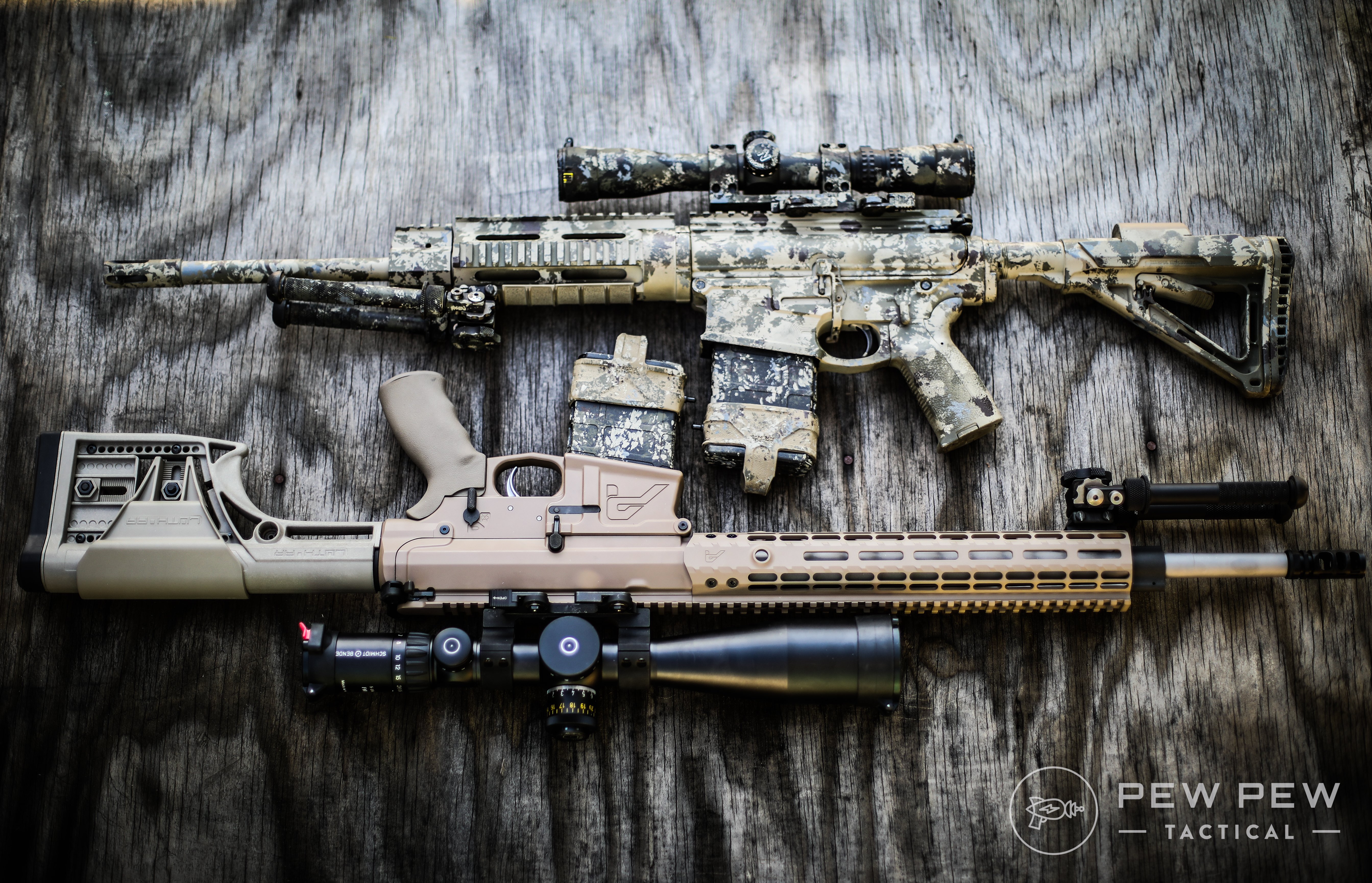 When choosing what role you want your AR-10 to fill, the sighting system that sits on top is incredibly important. A proper optic helps guide the weapon toward its specific purpose, so don't be afraid to be picky!
What's your favorite AR-10 Optic? Let us know in the comments below! Are you interested but don't have an AR-10 yet? Check out our Complete Buyer's Guide to the 6 Best AR-10s!