Confused by all the AK variants out there?
Don't worry…we were too.
We'll start with AK basics so you can see if an AK if for you. Plus some common questions such as milled vs stamped receivers.
Then…which one to get across different budgets and even countries.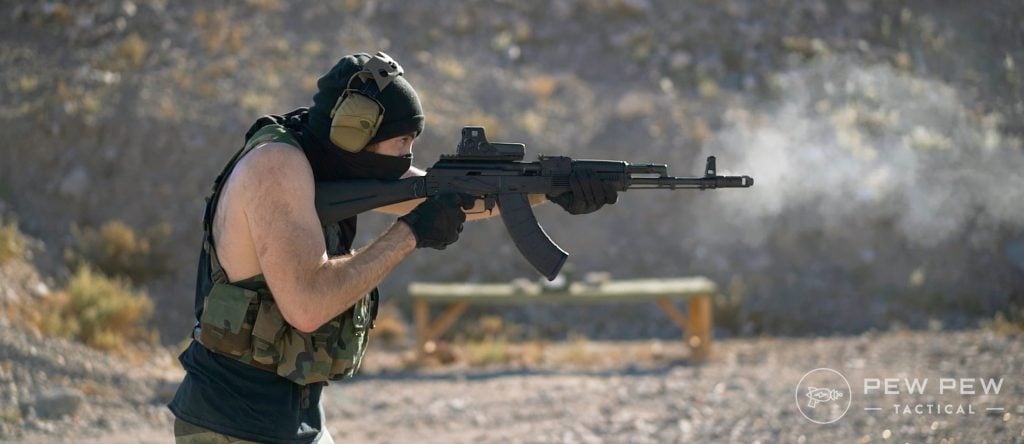 But first, a sneak peek!
Summary of Our Top Picks
Editor's Pick

US-made AKs that we love to shoot and are the best bang-for-the-buck.

Starter Pick

Romanian made AK that goes bang but sometimes has QC issues.

High-End Pick

Bulgarian goodness that's often known as the creme de la creme of AKs.

Best Milled Pick

Milled receiver versions of the Arsenal SLR series.

Another High-End Pick

Not much personal experience but highly regarded.

AK-103 Pick

Searching for that AK-103 look? PSA has it.

Israeli Upgraded Pick

An AK given the modern upgrade treatment.

9mm AK Pistol Pick

One of the most fun 9mm pistol caliber carbines you can shoot.
Brief AK-47 History
The AK-47 stands for "Avtomat Kalashnikova 1947" and was designed by Mikhail Kalashnikov. It was the main assault rifle of Eastern Bloc countries during the Cold War.
There are tons of variants but the one we think of most when we hear "AK-47" is the AKM.
And there are a lot of AKs…in a 2004 report, it was estimated that 100 million out of 500 million guns worldwide belonged to the Kalashnikov family of rifles.
Why Are AKs Awesome
Kalashnikov built the AK off principles of it being easy to mass-produce, easy to maintain, and easy to operate.
It's so easy…kids can use it.
Unfortunately…yes. When compared to the AR-15, the AK-47 is much easier to train users.
And of course, there's its reputation of superb reliability.
The AK achieves this due to its simplicity and use of loose tolerances.
Simplicity comes from the use of a long-stroke piston design which uses the gas from the round to move a piston and bolt carrier.
The gas doesn't directly contact a lot of things…it keeps things running cleaner (unlike ARs).
Everything is also large-and-in-charge so there's less possibility of small parts breaking.
Plus, while some things had to have tight tolerances…most didn't like the bolt carrier and trigger mechanism. Check out all that space in there.
It can take lots of environmental debris before something stops working.
Next up…ammo. The 7.62x39mm packs a bigger wallop with a larger caliber bullet (7.62x39mm) compared to the AR-15's round (5.56x45mm).
Check out our picks for the best AK ammo and the best AR-15 ammo.
Lastly…though it doesn't have as much upgrade capability as an AR-15…there's still A LOT you can do to make an AK your own.
Why AKs Suck
Common arguments are that the AK has inferior ergonomics when compared to more modern rifles such as the AR-15, increased recoil, and terrible accuracy.
Regarding ergonomics…I think it's true. Some things are harder to manipulate such as the safety and magazine release.
But since the charging handle is on the right side, most people will be able to use their dominant hand to more easily rack it compared to the AR's charging handle.
And because the round is larger…there definitely is increased recoil. But not so much that it would bother most (kids).
Lastly…the reports of the AK as inaccurate. It's a little true, comparatively.
Because of the looser tolerances and piston system…AKs usually are good for "minute of man" at 300-yards…meaning you'll hit a human-sized target if you do your part.
With my AK…I can ring 12-inch steel at 100-yards all day long.
Milled vs Stamped Receiver
This will come up as soon as you start digging into the world of AKs.
It means how the main receiver (metal piece that holds everything) was created.
The original AK-47s were milled, which means they took a solid piece of steel and took metal out to create the receiver "shell."
You can most easily tell these apart since they are much heavier…plus they don't have rivets.
The AKM, later on, was stamped which means they took a 1mm thick piece of steel and bent it into the shape.
Then used rivets (see the bumps) to add the other necessary parts.
This made it much easier to produce and saved a bunch of weight (1-2 pounds).
So what's the best?
If you're an AK purist, anticipate shooting a lot, or have a higher budget…go with the milled.
Battlefield Vegas which rents out TONS of guns did a Q&A session that said stamped receivers start to fail at the 100K round count while milled receivers have yet to fail.
Keep in mind, 100,000 rounds is a lot…chances are you won't even approach 5,000 in your lifetime.
So…stamped is fine.
Country of Origin
For a long time, AKs made their into the U.S. from former Eastern Blocs in the form of build kits. But thanks to both Obama and Trump…most of the "best" sources such as Russia have dried up.
These will be from factories such as Molot with their VEPR and Izhmash with Saigas. If you can still find them…they'll be at a much higher price.
BUT… there are still plenty of good ones out there. The rest of the guide will focus on AKs that you can still readily buy.
Ready for what you've been waiting for?
Best AK-47s
1. Palmetto State Armory PSAK-47
A good play on words…the PSAK-47 is also 100% made in the USA.
PSA makes reliable and super affordable AR-15s (full review) by doing everything in-house…from raw materials to finished rifles.
They applied the same concept to their AKs when they saw foreign build kits drying up.
In the beginning, they used some cast parts but now they are completely forged for maximum strength in their GF3 series.
Recently, I also tried some of their regular PSAK-47s along with their prototype AKV (9mm) and AKP.
And I also got the PSAK-47 in hand for a full review on shootability, reliability, accuracy, fit, finish, and more.
Check out the full PSAK review here.
AK Operators Union seems to agree too with their 5,000 round test on their Gen 2 version (billet trunnion).
Now…the best thing is that the PSAK-47 starts at $499 with their blemished Liberty Classic with standard black furniture.
That's almost $300 cheaper than the Romanian WASR 10.
However, I'd recommend spending a little more to get their "MOEKov" which combines the great Magpul MOE front handguard with the Zhukov folding stock. So clever, PSA…
Update: We have a full video review of the PSAK GF3:
If that helped, please subscribe to our YouTube channel since we're adding new videos every week!
What's your take on the US-made PSAKs?
2. WASR 10
The famous/infamous WASR 10 is manufactured in Romania — probably the most readily available foreign AK-47 right now.
It's also the cheapest and has a reputation of not having the best quality control…
Which for the one I have…is true.
The magazine well is rattly. Many had to be milled once they entered the states since they had to start their journey only able to accept single-stack magazines.
And the front sight is hilariously canted when zeroed.
It still works with irons…but it's at a weird angle so I upgraded to a red dot.
But how does it shoot?
Short answer…great.
I haven't had a malfunction even with random steel-cased ammo. And it's worked with several different kinds of magazines.
I even buried it in the dirt to test it out.
It worked…however, I would not recommend doing that since even to this day I'm still cleaning dust out of the receiver.
At Battlefield Vegas they said it has been super reliable and they have yet to shoot out a WASR barrel.
Also, AK Operators Union tests out a bunch of AKs, and their current WASR has over 10K rounds and is still going strong.
For a starter AK that might have some QC issues here and there…you can't go wrong with a WASR 10.
You used to be able to find them around the $700-800 range but now they approach and go beyond $1000.
3. Arsenal SLR Series
We jump up a little bit since the recent import bans have taken out a lot of the mid-tier AKs.
When you want the best AK money can buy…you go Arsenal.
Arsenal imports Bulgarian AKs and makes them good to go for the US market.
My favorite series is the SLR107. From there you can choose different furniture configurations…I like the SLR107R with the fixed stock.
4. Arsenal SAM Series
And of course, we'll throw in a milled version…
Check out the Arsenal SAM series that will set you back about $300 more than the stamped SLR versions.
5. Krebs Custom
I haven't had much experience with Krebs…but they come highly recommended.
Just be ready for some sticker shock as they start around $2,000.
6. Palmetto State Armory AK-103
PSA makes our list again, this time for its AK-103 platform.
Though the AK-103 occupies space in the AK-100 series, it adopts more modern features commonly seen on the AK-74M.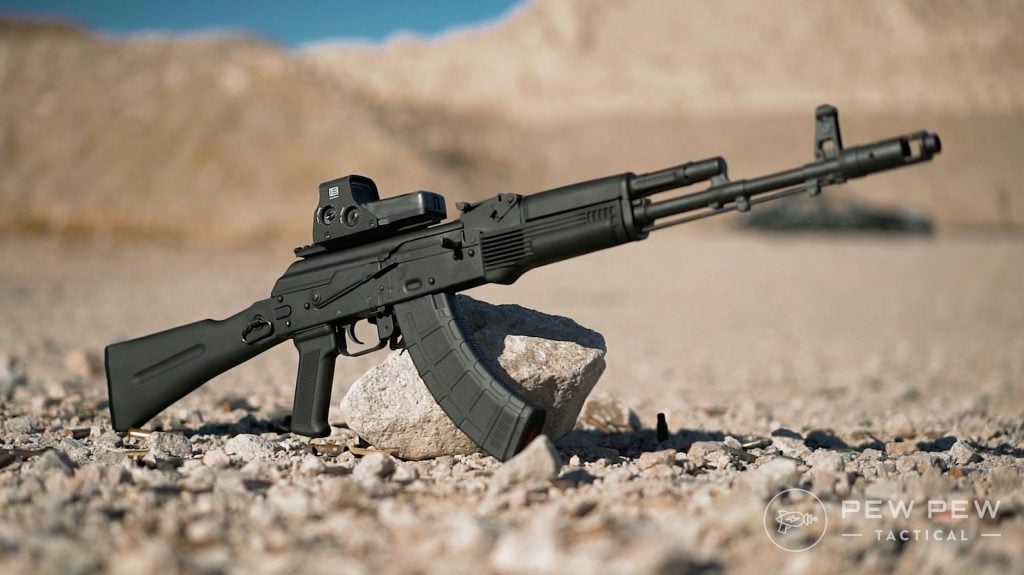 Sporting a 16-inch FN Herstal cold hammer forged chrome lined barrel, the PSA sports a sweet muzzle brake.
Why all the buzz about something like a muzzle brake? It really helps mitigate some of that 7.62x39mm recoil.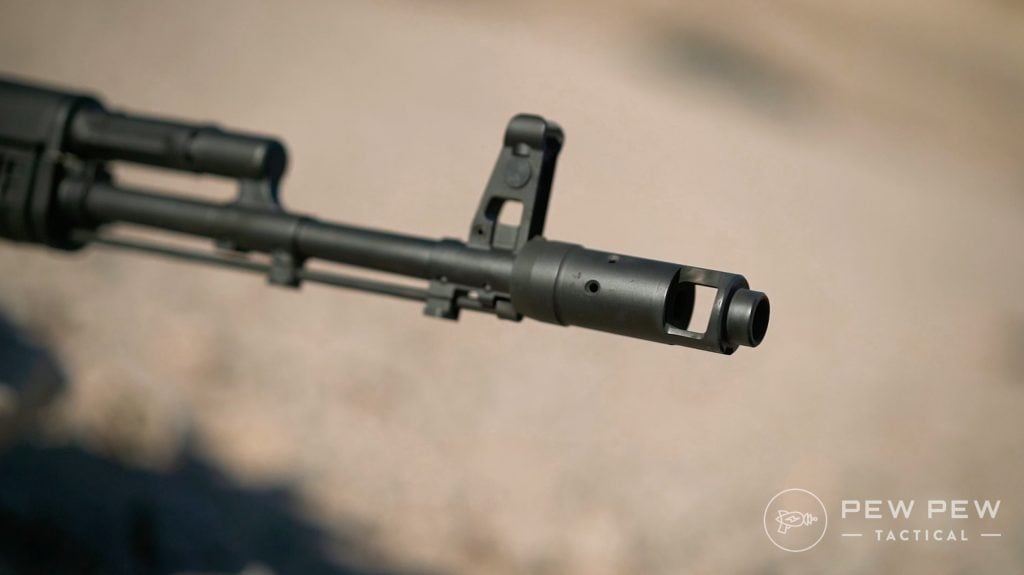 In addition to some nice features, the AK-103 is pretty affordable and comes in either a fixed stock or folding stock option.
We did a full review that you can read up on here.
Or if you prefer to kick back and watch, check out the video review below.
7. IWI Galil ACE Gen 2
Ok, don't come from me. I know that the Galil ACE Gen 2 from IWI is not technically "a real Galil"…but it's close enough.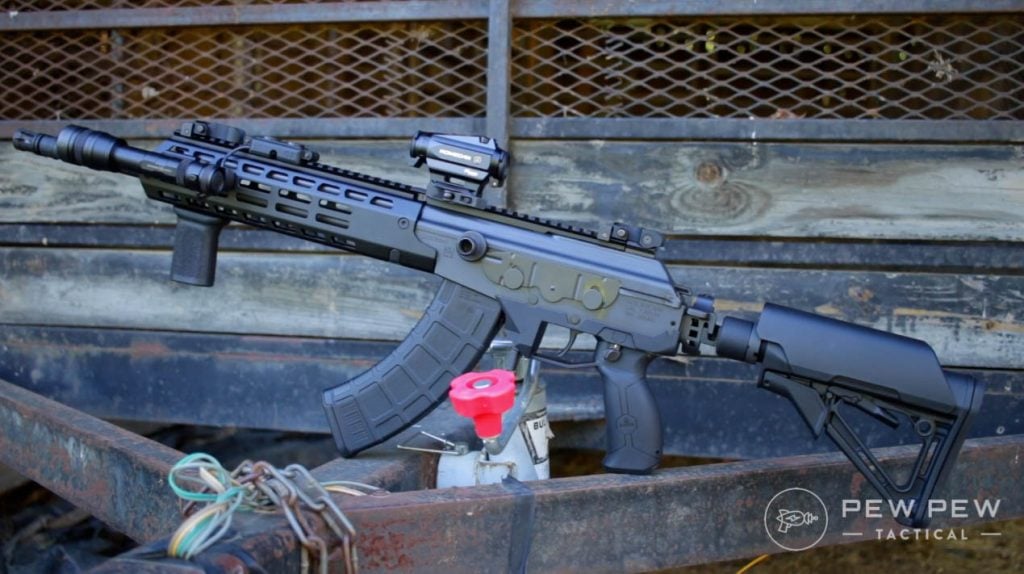 Based on the AK-47/Valmet, the Galil ACE gives you the same mechanics as the Galil, but in a lighter, smaller platform with a polymer lower receiver.
It's milled and runs 7.62x39mm — though IWI has other variations of the Galil in other calibers.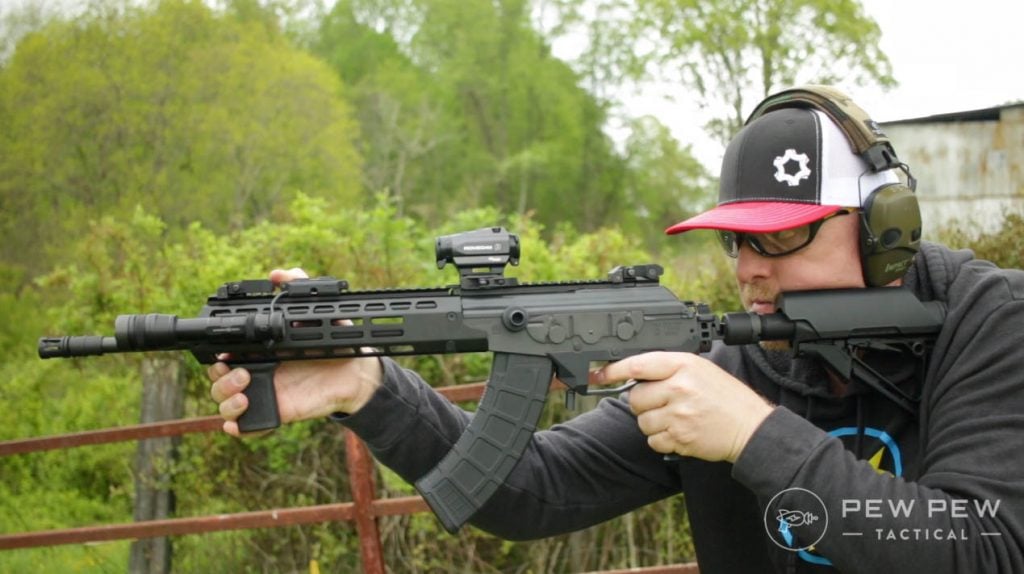 The Galil ACE Gen 2 brings a nice look and feel to it and it works great at the range.
Johnny took it for a spin and really liked it. You can read his full review here or watch the video below.
Best AK-47 Pistols
1. PSA AK-V and AK-P
Again, thanks to the embargo it's getting hard to get some Commie AKs into the country.
But PSA has got your back.
We love their AK-V in 9mm which is based on the Vityaz-SN used by Russian Special Forces.
The second-generation AK-V is passing all tests with flying colors.
And we have no problem recommending it for someone who wants something…different and super fun.
Though it's still selling out almost instantly…I'd get on PSA's email list if you want to snag it anytime soon.
Want something in traditional 7.62×39?
Check out their AK-P…the "p" stands for "pistol" duh…
Perfect for a truck gun with its short barrel and SB Tactical brace that makes it…a pistol!
Check out our full review of it here.
Plus full video from Johnny!
2. Lead Star Arms Barrage
Need something a…little sexier?
Check out Lead Star Arms' Barrage!
I've been waiting for Lead Star's PCC to come into stock so I could finally snag one. They are very high on my list for Best 9mm PCCs.
And if their quality flows through from their 5.56 ARs and PCCs…
I wouldn't hesitate to get their AK pistol version.
Do Not Buy List
Century Arms C39V2
For a while, this was one of the highest recommended AKs fully made in the USA. Sadly it has come to light that there are major design defects in the rifle that now place it firmly on the "don't buy" list.
If you want to hear the long version, I highly recommend this Military Arms Channel video that was made in collaboration with Rob Ski from Ak Operators Union, Local 47-74.
The short written version: after about 3,000 rounds the rifle has the high possibility of becoming unsafe to fire. This happened with both of their C39V2 AKs at right around the same round count.
If you already have a C39V2, you should inspect it closely (or have a gunsmith inspect it) to see if your rifle shares the flaw.
Conclusion
We're at the end…and hopefully, you have a slightly better understanding of AKs and which one suits you best.
If you're looking for the best value…you can't go wrong with a new made-in-America PSAK-47 for $499.
But if you're looking for something often regarded as the best AK variant out there…check out Arsenal's Bulgarian SLR series.
And lastly…the infamous WASR that might have some QC issues but will keep on trucking.
How did we do? Any that we missed? Check out our Best AK-47 Upgrades to fully accessorize your gun. Or…want an AR that takes AK mags? Check out our review of PSA's KS-47.