Want to make your AK-47 even better?
We've tried a lot of the stuff out there. Some of it worked great…other stuff…not too much.
So, we decided to help you out by pulling together some of our favorite upgrades for the AK-47 platform.
While this list does not include every option out there, it'll get you started as we span everything from furniture to optics mounting, triggers, and muzzle devices.
By the end, you'll know exactly what you need to make your AK the best suited for your task.
Summary of Our Top Picks
Best AK-47 Upgrades
1. AK Scope Rails
If your AK is equipped with a side rail, that means you can bring your AK to the next level by mounting an optic.
We like Midwest for all their AK stuff (and their AR-15 Handguards). There are a couple of different options.
Midwest Industries AK Railed Scope Mount
The Midwest Industries Rail is the most versatile mount since it gives you Picatinny rails on the top.
It uses a very secure and adjustable quick detach method, although reading the instructions is highly recommended. You don't want it too tight, and the disengagement system is a little hard to figure out initially.
For us, it has been so far so good with the zero when taking the red dot and mount on and off to field strip the gun.
Midwest Industries Gen 2 AK 30mm Side Mount
If you're rocking a 30mm red dot, like our favorite Aimpoint Pro (full review), you can shed some of that weight from the Picatinny rail with the Midwest Gen 2 30mm Side Mount.
The Cheaper Option
Disclaimer — I haven't tried this particular mount out, some readers may be looking for more budget options that have decent reviews, and the Wipboten AK rail fits that bill.
2. Gas Tube Optics Mounts
Replacing the gas tube with a railed version is what I have used as my optic mounting solution for the longest.
It holds zero very well but does heat up the optic, so you'll have to either shoot slowly or opt for a quality optic that is tough enough, like the Aimpoint H-1 pictured above (Best Red Dots).
It also places the optic a little farther forward, which gives you a great field of view but makes it a little harder to acquire the dot. This is not a problem if you have a proper cheek weld, though.
Ultimak AK Optic Mount
Ultimak's version is the gold standard and has worked for 5+ years for me.
Midwest Industries AK Gas Block Mount
Midwest has come out with their version, which features an adjustable nut that makes installation really easy. So far, it has proven to be as tough and durable as its Ultimak counterpart.
3. Handguards
The original handguard for the AK works well, and there are those that find anything but regular wood furniture blasphemy.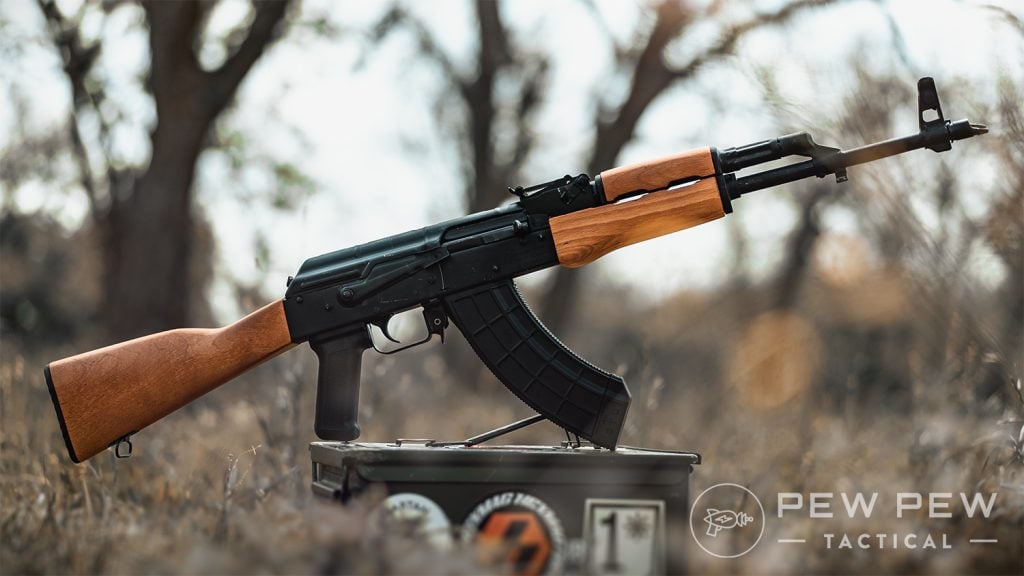 But I love my polymer furniture!
Magpul MOE AK Handguard
Magpul's MOE handguard is the same length as a standard AK handguard, but provides M-LOK slots for accessories, improved ergonomics, and holds up to the heat.
Midwest Industries MLOK Handguard
This offering from Midwest has you swap your original handguard for one with MLOK capability while also giving your AK a more updated look.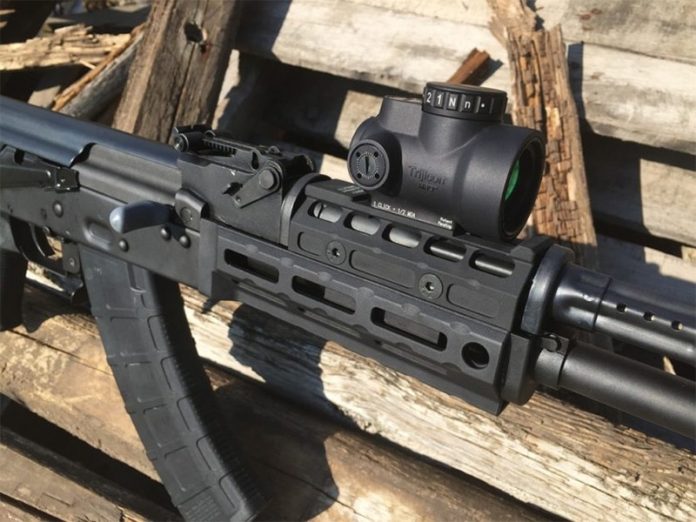 I used the older, discontinued Picatinny version of the Midwest Industries rail, and it secured all the attachments firmly, and the optic held zero.
The newer MLOK models also offer quick detach points for use with your favorite sling. Different length models are also available.
4. Buttstocks
Again, there's nothing wrong with the original stock…but I really like Magpul's Zhukov.
It is length adjustable, foldable, and features a robust attachment system (make sure to follow the instructions). It also has the ability to accept a cheek riser that easily clamps into place, which is useful for those considering using optics.
Plus, it looks super cool when combo-ed with the Magpul MOE handguard since I think the Zhukov front (above) is too long.
The Zhukov is my favorite AK stock as of now.
And if you're in love with a specific AR-15 stock (Best AR-15 Stocks), you can get an adapter that allows your AK to use any of them that you like.
Here's our go-to…
5. Pistol Grip
I haven't tried out too many aftermarket pistol grips for the AK, but I find them pretty similar to that of the AR-15s.
Magpul MOE AK Grip
This keep-it-simple-stupid grip fills the hand better than the thinner stock AK grip, adds some texturing to the front and rear, and has a storage compartment.
Hogue AK Grip
If you want to maximize the grippiness and like a more rubbery texture — I suggest the Hogue AK grip. The finger grooves and texturing provide an ultra-positive grip regardless of conditions.
Strike Industries Featureless AK Grip
If you're in a restricted state, we got you covered. The Strike Industries Featureless grip sports the unpopular but required fin for those who need state-compliant features.
6. AK Magazines
I love the old Bulgarian mags, but for new generation polymer magazines, Magpul's Gen 3 PMAG is where it's at. The AK versions of the PMAG have the same reliability and durability that their industry AR-15 counterparts do.
7. Piston
An over-gassed AK can cause premature wear and tear on the firearm itself, not to mention it can increase perceived recoil. So, it makes sense to prevent this by installing a new piston.
I recommend the KNS Precision Adjustable AK Piston. This is also a must-have for those who are considering suppressing their AK platform.
8. Smaller Parts
AK Safety Latch
Finally, bolt hold open capability on the AK! This safety lever has a notch in the middle that allows you to flip the safety up when the bolt is held to the rear and lock it into place.
9. AK Muzzle Devices
The AK-47 kicks more than the AR-15 thanks to the 7.62x39mm cartridge. Although the standard slant brake is ok — it can always be better.
The PWS muzzle brake tames the AK's native cartridge and makes shooting much more pleasant. I have an older PWS brake since I've run for years.
It tames the recoil and muzzle rise very well without adding too much mass or length to the end of the barrel.
Have a shorter-barrelled AK? How about a can that pushes the blast forward? These make it easier on the shooter, and your range friends will thank you too.
10. AK-47 Triggers
We end with a super important upgrade…the trigger.
Getting a better trigger (especially on an AK) is probably the best bang-for-the-buck upgrade for immediate accuracy improvements.
On my AK, the ALG AKT Trigger brought my trigger weight down to 3.1 pounds and reduced the post and pre-travel — Amazing!
Plus, the installation was fairly easy.
The ALG trigger would also make a great addition to those running 9mm AKs, like the KUSA KP-9 (check our video review).
What's your take on the ALG AK Enhanced Trigger? Rate it below.
Another option that yields a better overall trigger pull is the CMC Elite Trigger for the AK. This one does come at a much higher expense and potentially a much harder install (depending on your gun) than the ALG.
Remember, the best way to see how much of an upgrade your trigger really was is to measure the weights before and after. Check out the Best Trigger Pull Gauges recommendations.
Final Thoughts
Let's be real; customizing a gun is a very personal decision.
So, while these are some of the PPT crew's favorites, this is by no means a definitive list. There are a ton of other options out there for you when it comes to upgrades.
Whether you want to mount an optic affordably or fully trick out your AK to bring it to the 21st century, there's an upgrade for it.
But hopefully, we've helped you narrow down the list a bit.
Anything else you'd add to the list? Let us know in the comments below. And if you're looking at a new (or first) AK purchase, check out our Best AK-47 post. Or, now that you've got an optic mount, see our Best AR-15 Optics (since they are pretty much the same for AKs).